Are you looking for an easy and authentic Japanese recipe collection? Then you're in the right place! I understand that making Japanese food can be intimidating, but in fact, there are a lot of simple Japanese recipes out there that are easy to make!
Things always tend to seem harder than they are. You can say that about cooking Japanese food too.
In this post, I'm going to list 30 easy yet authentic Japanese recipes that you can start making today. Rest assured, they are all created by me, so I know exactly how each recipe goes.
1. Japanese Curry Using Roux Cubes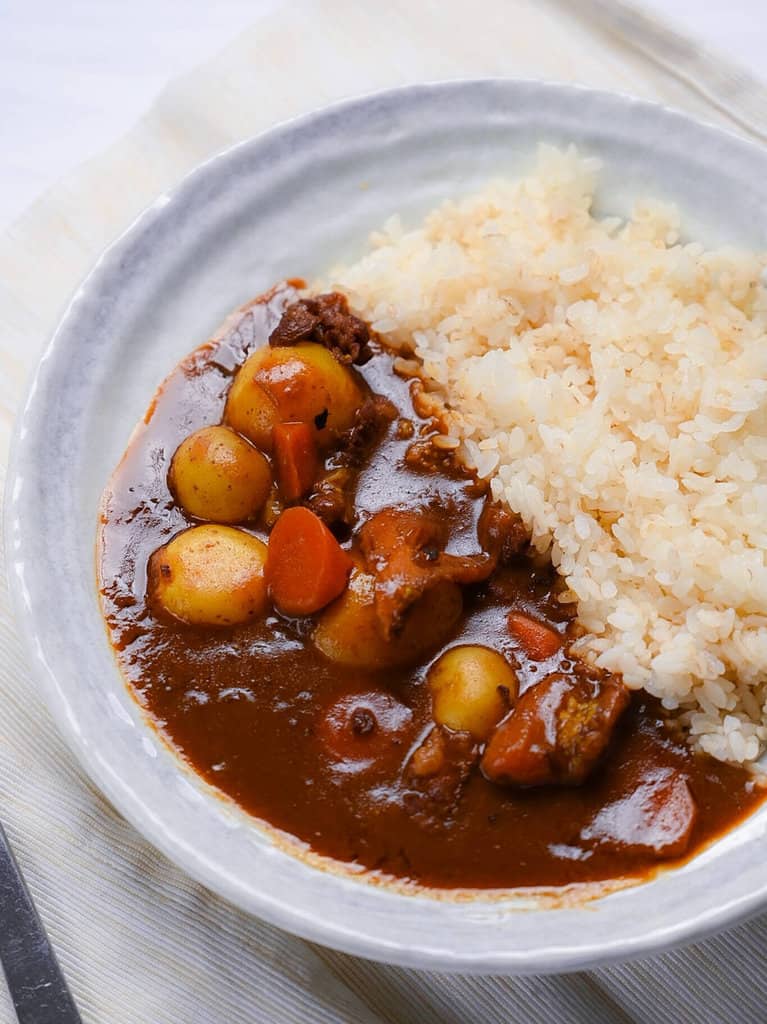 You might think making Japanese curry is not easy, but if you use pre-made curry cubes, I can say it's one of the easiest things to make at home! In fact, everyone uses curry cubes to make curry in Japanese households!

In my recipe post, I have included everything you need to know to make Japanese curry using pre-made cubes at home, as well as secret ingredients and tips to bring your Japanese curry to the next level!
Other recipes include Chicken Katsu Curry, Homemade Curry Roux, Curry Udon, and Beef Curry From Scratch!
2. Crispy Japanese Teriyaki Chicken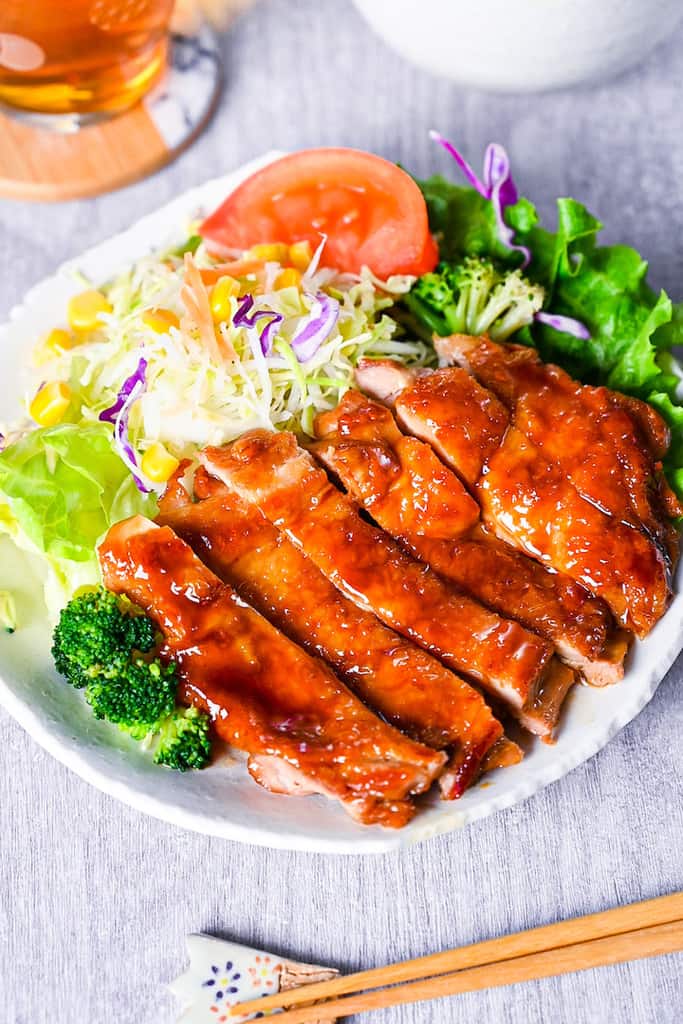 Want to make authentic teriyaki chicken? This is one of the best recipes I have created for this website.

Delicious Japanese teriyaki chicken made with succulent, skin-on chicken thigh coated in a glossy, sweet, and sticky homemade teriyaki glaze. Not only does it taste incredible, but it's ready in just 15 minutes!
3. Tokachi Style Butadon Pork Rice Bowl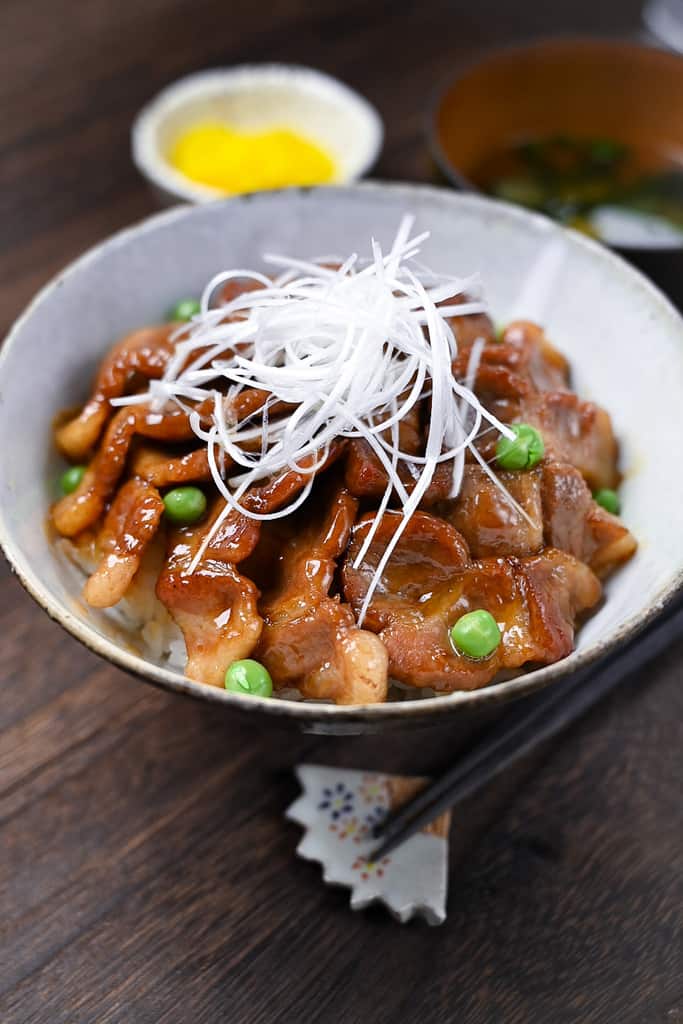 Succulent pork belly fried in a caramel soy sauce glaze and served on top of Japanese steamed white rice, Butadon is a comforting dish from Tokachi, a region in the northern Japanese island of Hokkaido.
Not only is it delicious, but it only requires a few ingredients and it's super quick to make!
4. Buta no Shogayaki (Japanese Ginger Pork)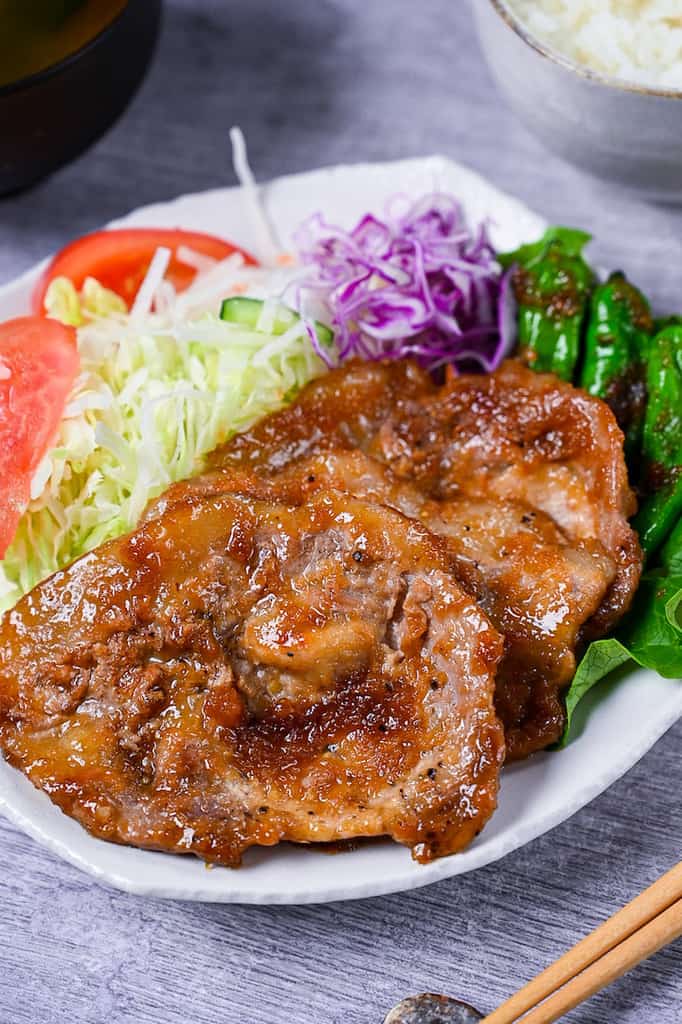 This ultimate Japanese "shogayaki" ginger pork (生姜焼き) consists of thinly sliced pork cooked in a fragrant sauce made with fresh ginger. It's ready in less than 30 minutes and is perfect for lunch or a midweek dinner.

If you already like ginger pork, this should be the first one to try! This is one of my go-to recipes when I don't know what to cook, it goes down a treat every time!
5. Japanese Potato Salad (Izakaya Style)
This smooth and creamy potato salad is packed with crunchy carrots, refreshing cucumber and crispy bacon then seasoned with Japanese condiments to make it the ultimate crowd-pleaser! It's perfect for parties, sides, or bentos!

This recipe is specially optimized for izakaya (Japanese-style pub) style and believe it or not, it's one of the most popular beer snacks in Japan.
6. Yakisoba (Japanese stir-fried noodles with pork)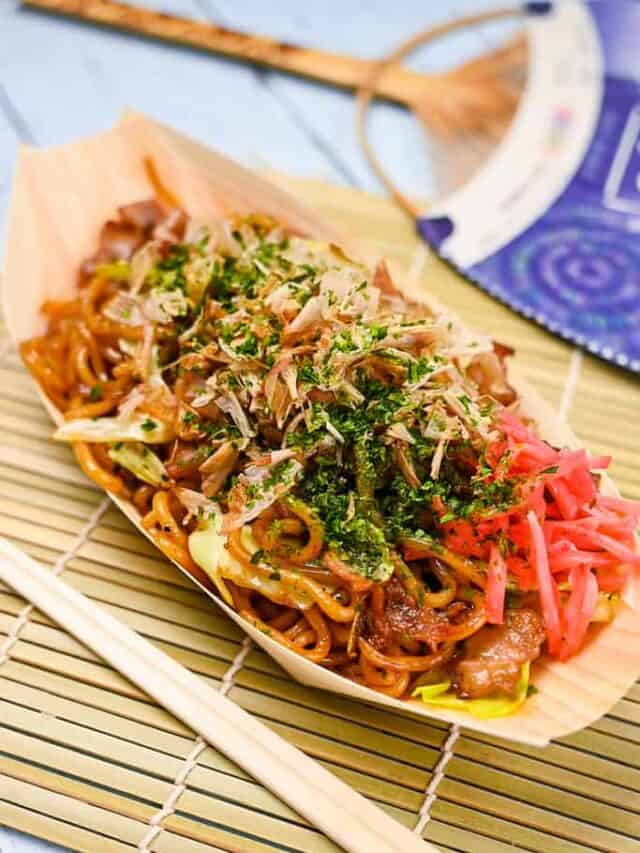 This authentic yakisoba is a Japanese street food classic! Firm noodles with thinly sliced pork and vegetables stir-fried in a tangy homemade sauce. This traditional dish tastes great and only takes 15 minutes, so what are you waiting for?
If you want to experience what Japanese festival food is like, you can easily taste it at home with this classic one-pan stir fry recipe!
7. Shio Lemon Seafood Yakisoba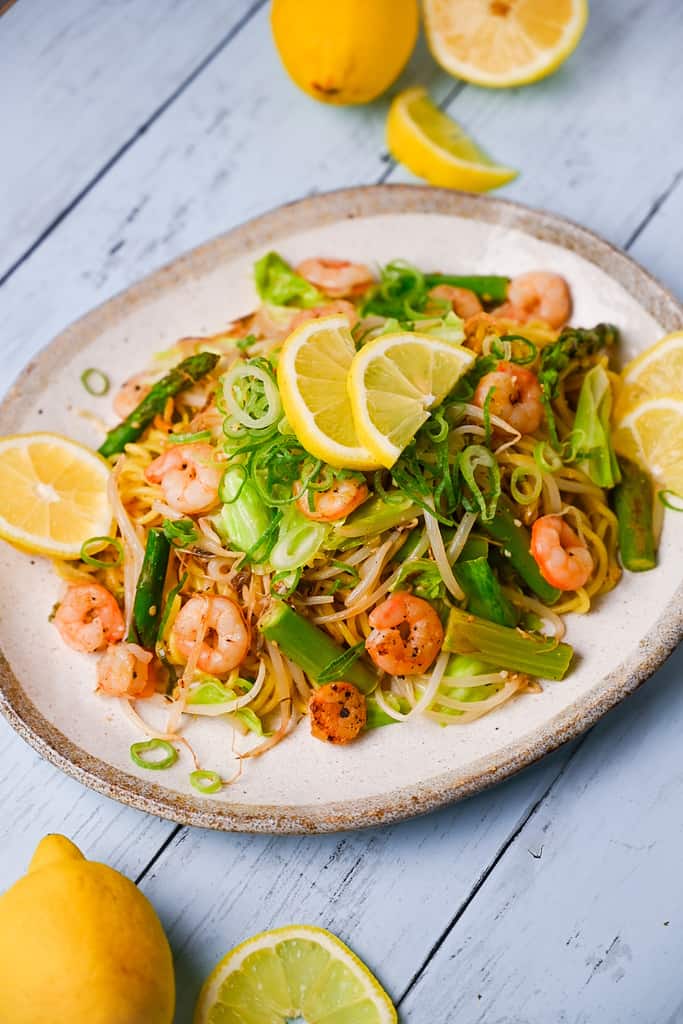 Shio lemon yakisoba is a zingy, refreshing variation of classic Japanese yakisoba! Made with fresh shrimp, crunchy asparagus, and stir fried noodles, which are then drizzled with a tangy lemon sauce, this dish is quick and easy to make, as well as a delicious dish to enjoy in summer!
If you feel like something a bit lighter and more refreshing than normal yakisoba, try this seafood yakisoba! It's just as easy as the classic one!
8. Oyakodon (Chicken and Egg Rice Bowl)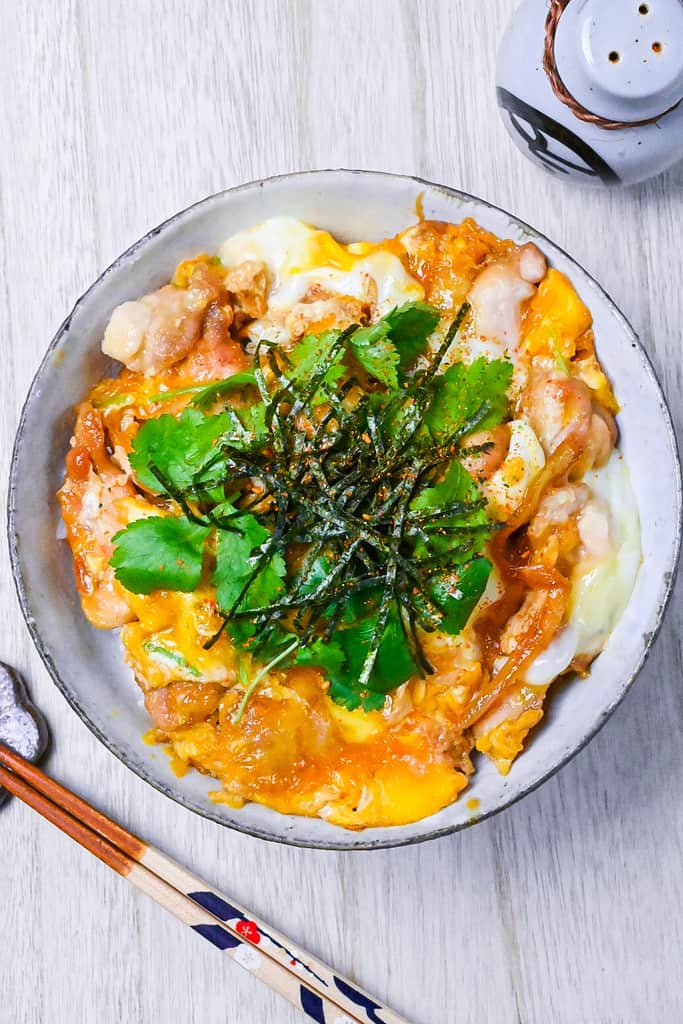 "Oyakodon" (親子丼) is a humble, cheap, and quick dish popular in homes and restaurants across Japan. Made with succulent chicken thigh, softened onions, and silky egg served over Japanese rice, oyakodon is a comforting dish you can easily make at home!
9. Gyudon (Japanese Beef Bowl)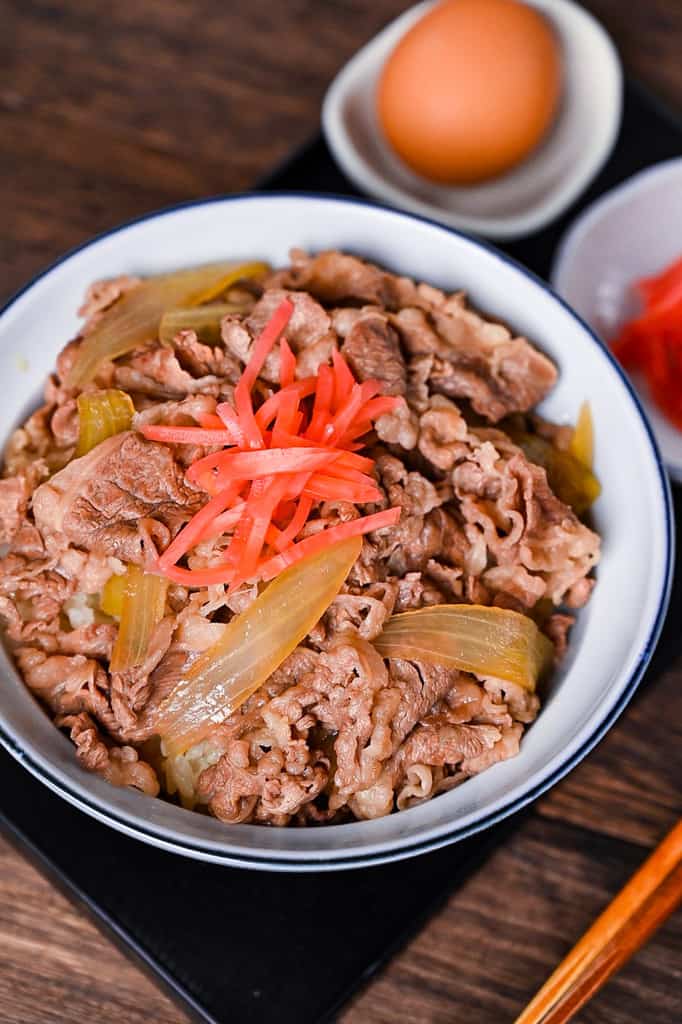 Gyudon is one of the most popular "fast food" dishes in Japan and of course it's not hard to make it at home too!
This delicious gyudon beef bowl is based on the signature dish from a famous chain restaurant in Japan called "Sukiya" and now you can make it in your kitchen! Thinly sliced beef cooked in a delicious dashi sauce with simmered onions served on a bed of fluffy Japanese white rice. So much comfort in one bowl!
10. Okinawa Taco Rice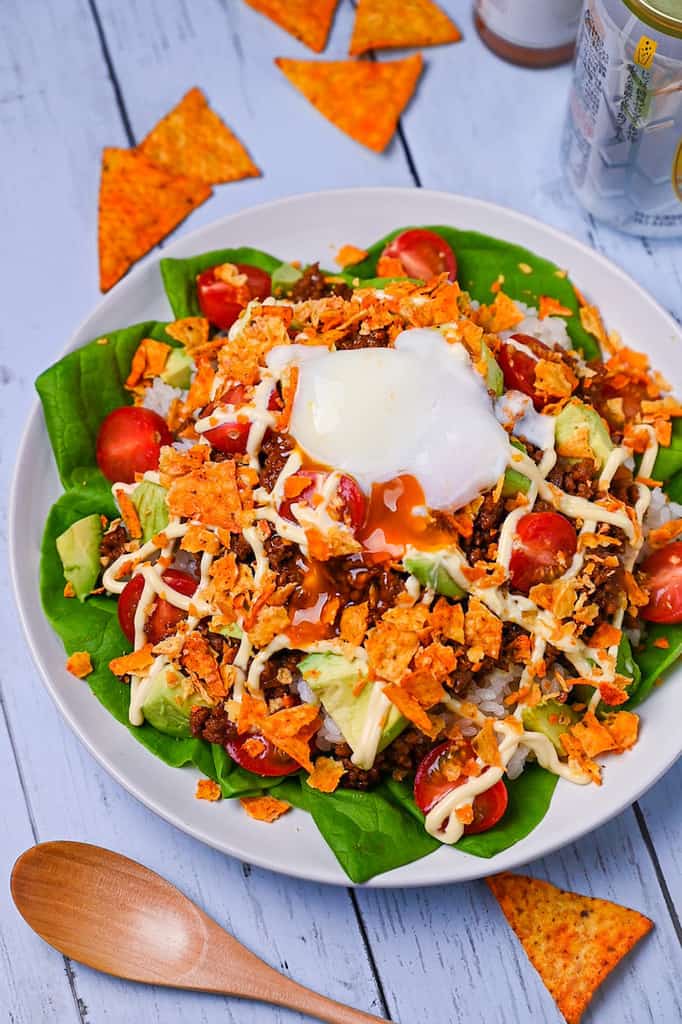 Taco rice is a delicious and colorful fusion dish from Okinawa. Japanese white rice topped with taco-style ground beef, fresh salad, crispy tortilla chips, and a soft-boiled egg, this dish is quick to make and every bite is packed with flavor.
I love all the different textures in this dish and it's one of my favorite recipes to make for lunch!
11. Butter Soy Sauce Wafu Pasta
Pasta is well-loved all over the world, and Japan is no exception. We have a huge range of Japanese-style pasta dishes called "wafu pasta" that typically use Japanese ingredients and condiments.
Give your pasta a unique twist with this butter and soy sauce-flavored pasta with Japanese mushrooms and bacon! Other popular wafu pasta dishes include mentaiko pasta and uni cream pasta!
12. Japanese Cream Stew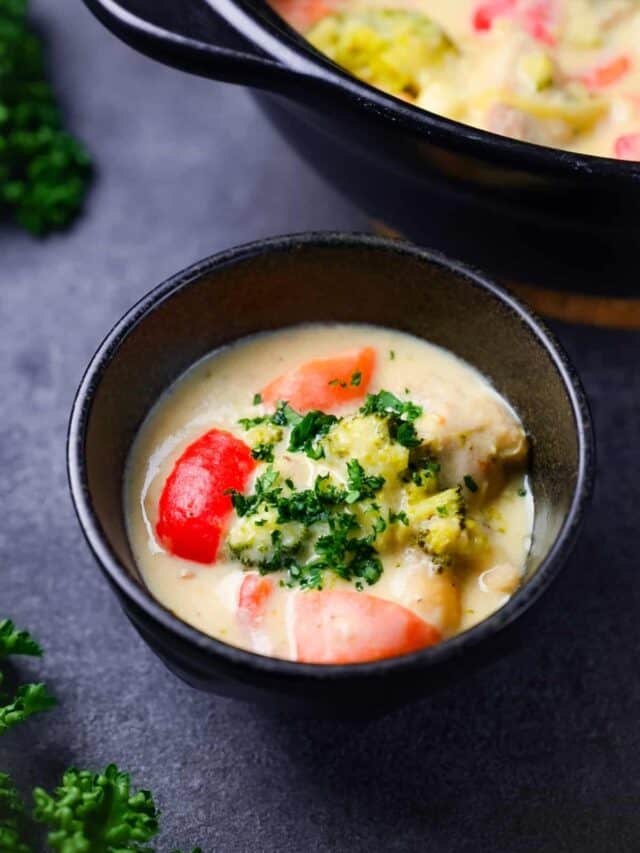 Rich and creamy Japanese-style cream stew made with chicken and vegetables. All you need is one pot and 30 minutes, it's so easy! Serve this dish with warm baguette for a delicious and comforting meal, it's especially great in the winter.
13. Pan Fried Tofu Steak with Japanese Sauce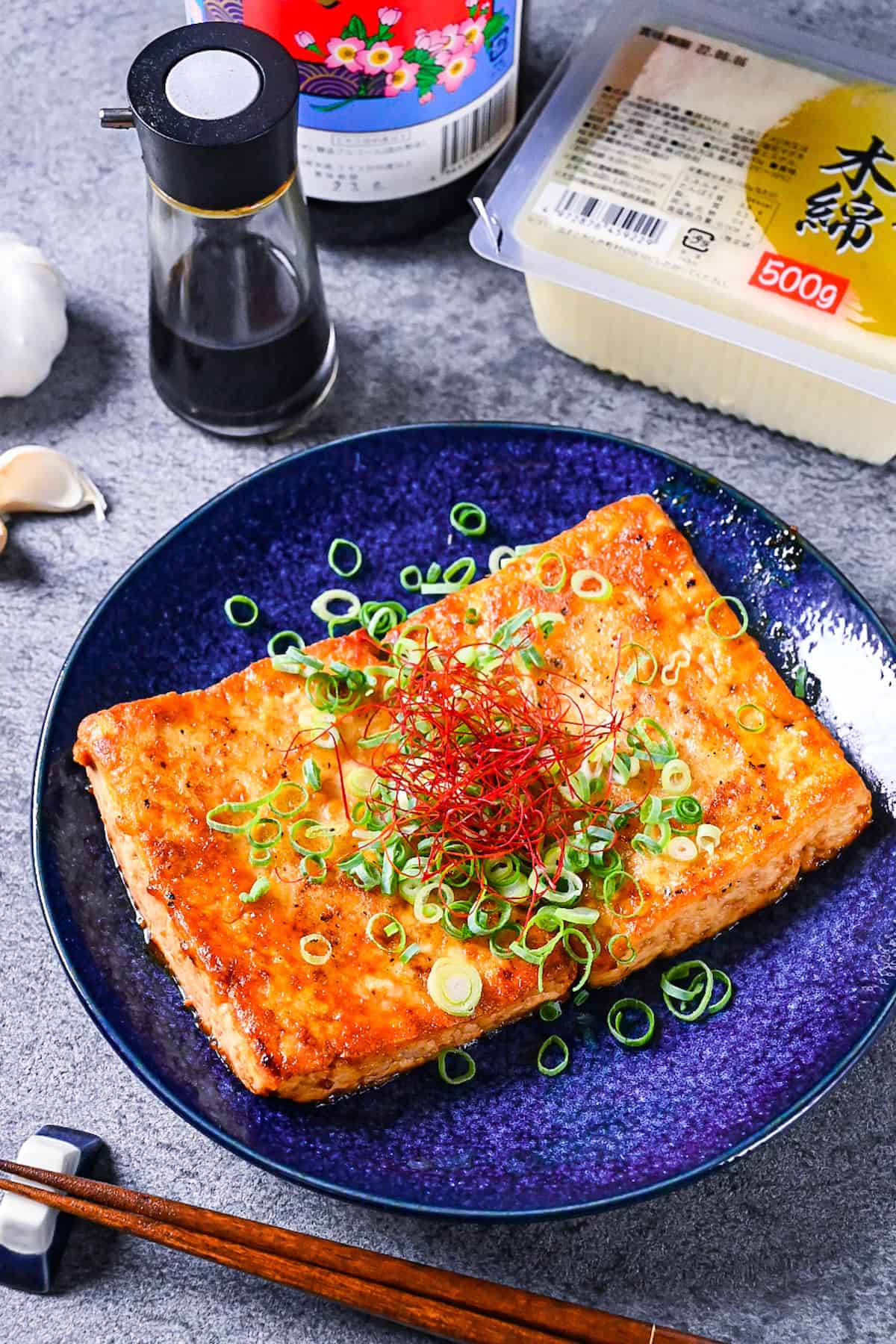 This delicious tofu steak is pan-fried until golden and crispy then coated in a sticky homemade Japanese-style glaze. You won't believe how satisfying a simple tofu dish can be until you try this recipe! Ready in just 15 minutes!
14. Buta no Yasai Itame (Japanese vegetable stir fry with pork)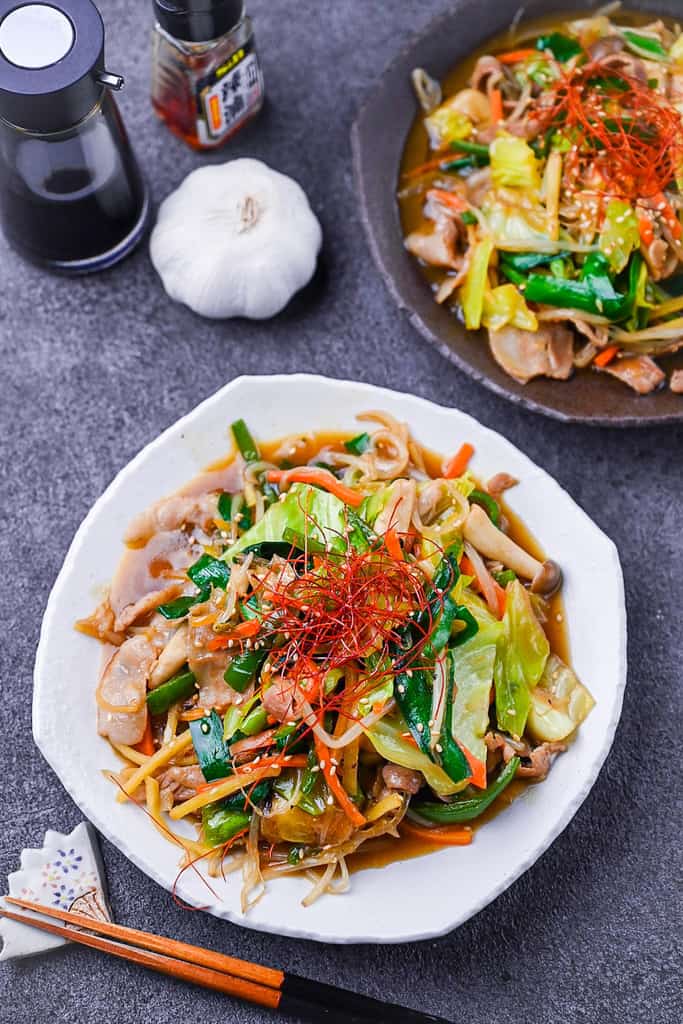 Buta no yasai itame is a delicious and fragrant stir-fry dish with thinly sliced pork and various vegetables served in an umami-rich sauce. It's quick, nutritious, and delicious!
Try this recipe when you like a quick, easy stir-fry dish. (It's also a great dish for using leftovers in the fridge!)
15. Japanese Chicken Salad (with homemade dressing)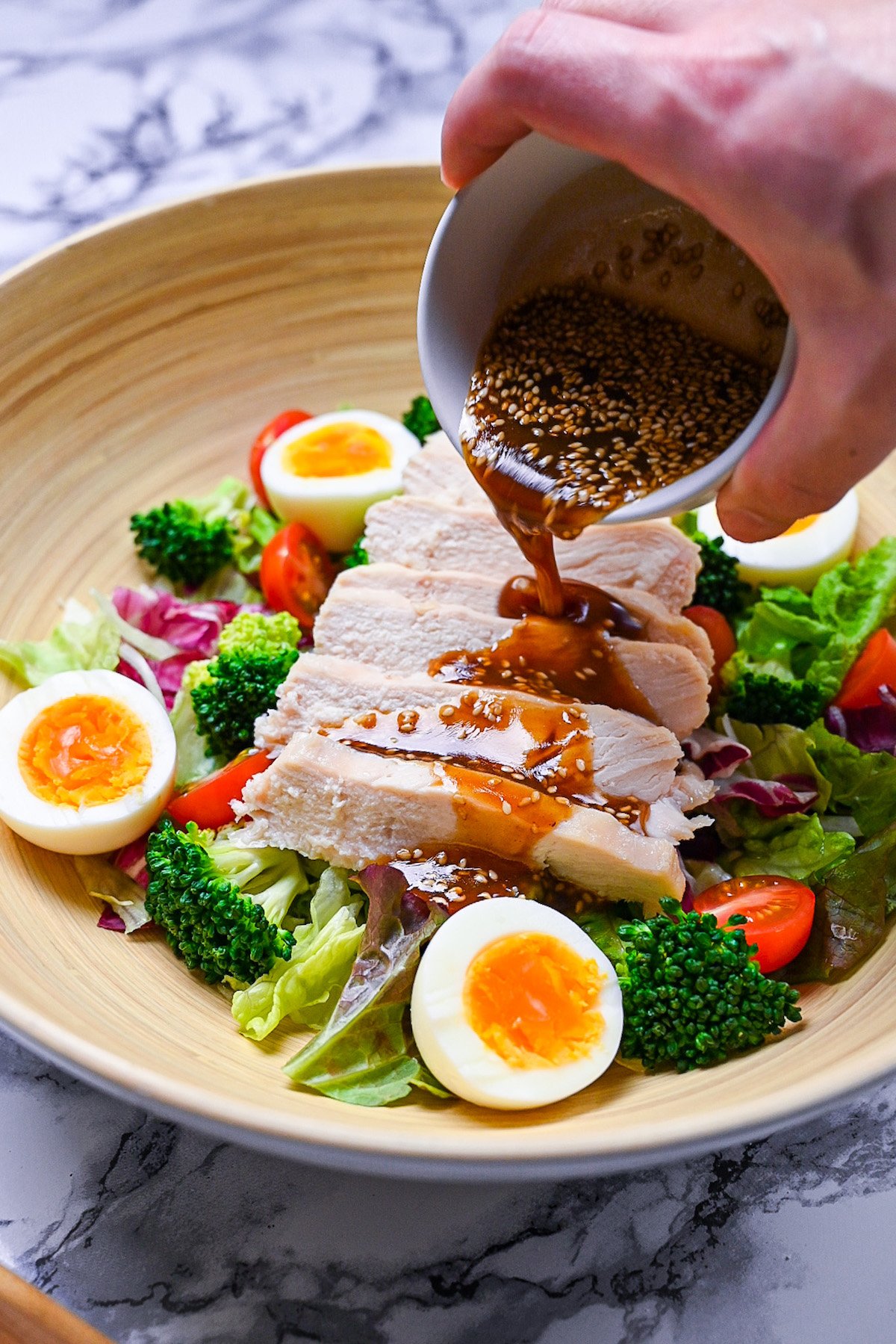 This Japanese chicken salad is made with perfectly tender and juicy chicken breast served over fresh salad vegetables, boiled eggs, and my special homemade Japanese dressing.
It's extremely easy to make and packed with nutrients! The only cooking part is the chicken and the dressing!
16. Saba no Shioyaki (Japanese style grilled mackerel)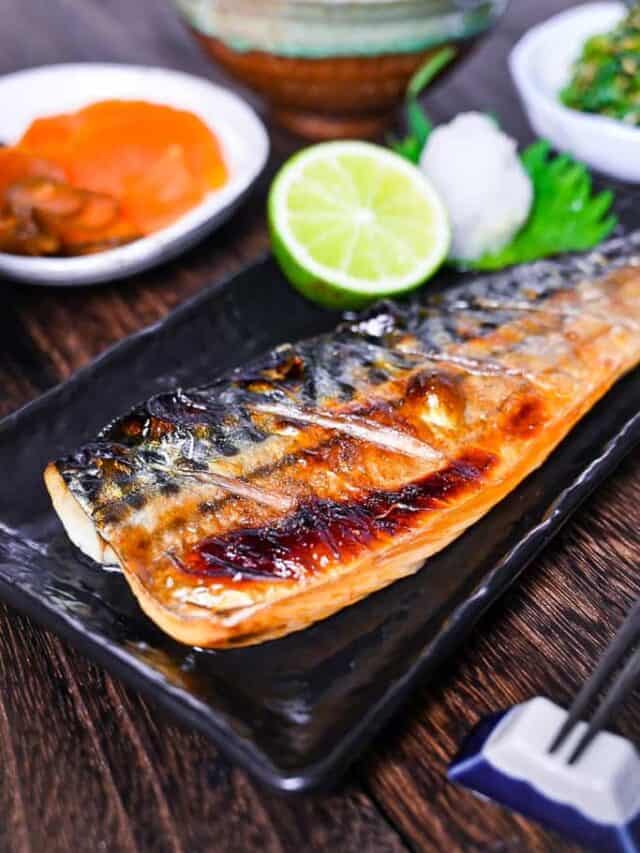 Japanese-style grilled mackerel with crispy skin and tender flesh, seasoned simply with salt. This easy recipe allows you to enjoy this delicious fish to the fullest in practically no time!
If you like mackerel, I want you to try this recipe! Enjoy it with rice and miso soup for a quick yet authentic Japanese meal.
17. Japanese Pickled Cucumber with Ginger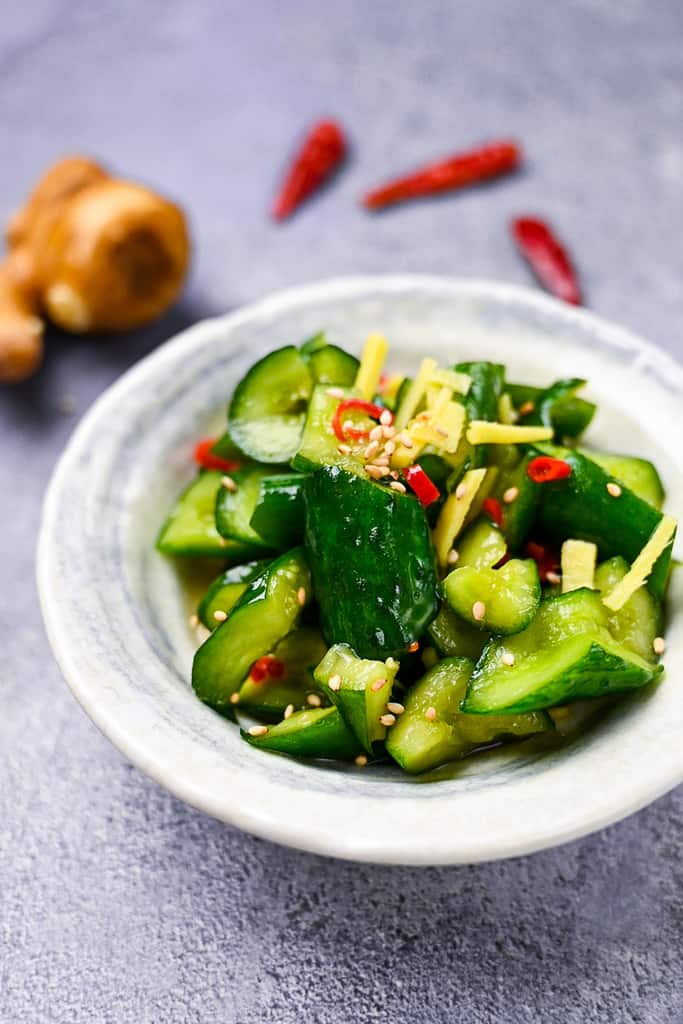 Pickles are so versatile and the perfect pallet cleanser or snack. None are more refreshing than this Japanese cucumber tsukemono flavored with ginger and a sprinkling of chili for a mild kick! They're seriously addictive!
It's always nice to have these cucumber pickles as a side when you make a Japanese meal!
18. Japanese Salted Salmon (Shiozake)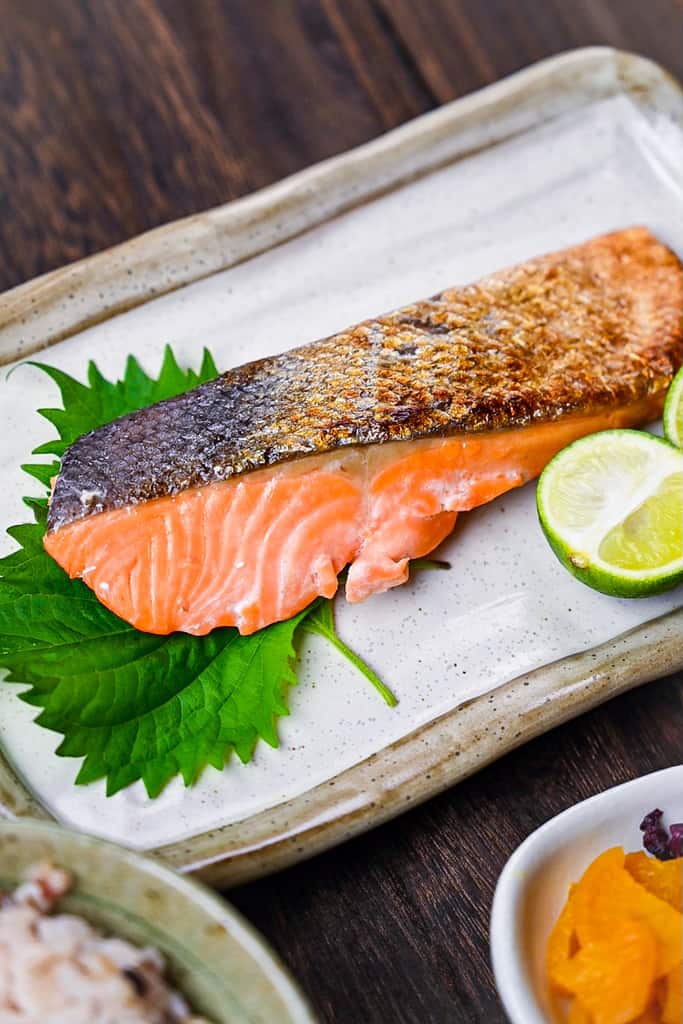 Japanese salted salmon is a classic breakfast dish, commonly served with rice and miso soup. Made with fresh salmon and seasoned simply with salt, the fact that you only need two ingredients almost makes this dish too good to be true!
In the recipe, I share all my tips and tricks to make it perfect every time.
19. Niratama (Garlic Chive and Egg)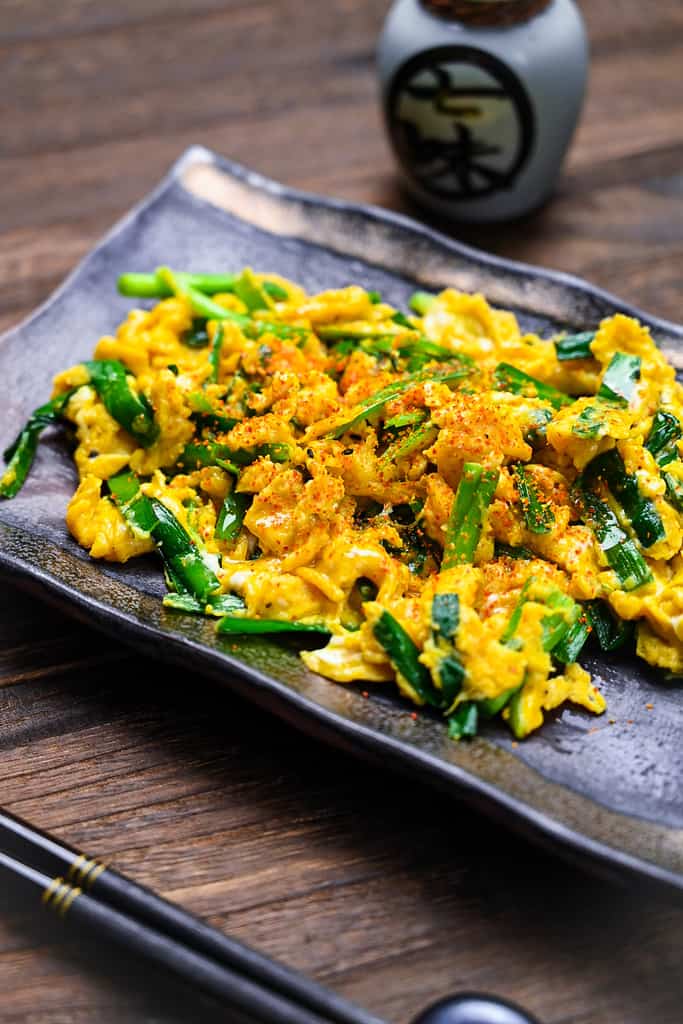 Looking for a recipe that only uses a handful of ingredients and takes no more than 5 minutes? Then this recipe is for you! Fluffy scrambled egg loaded with fragrant garlic chives, this niratama is a match made in heaven.
Not only is it delicious, but it's seriously quick and simple to make. This is probably the quickest recipe I have on this website!
20. Authentic Homemade Japanese Miso Soup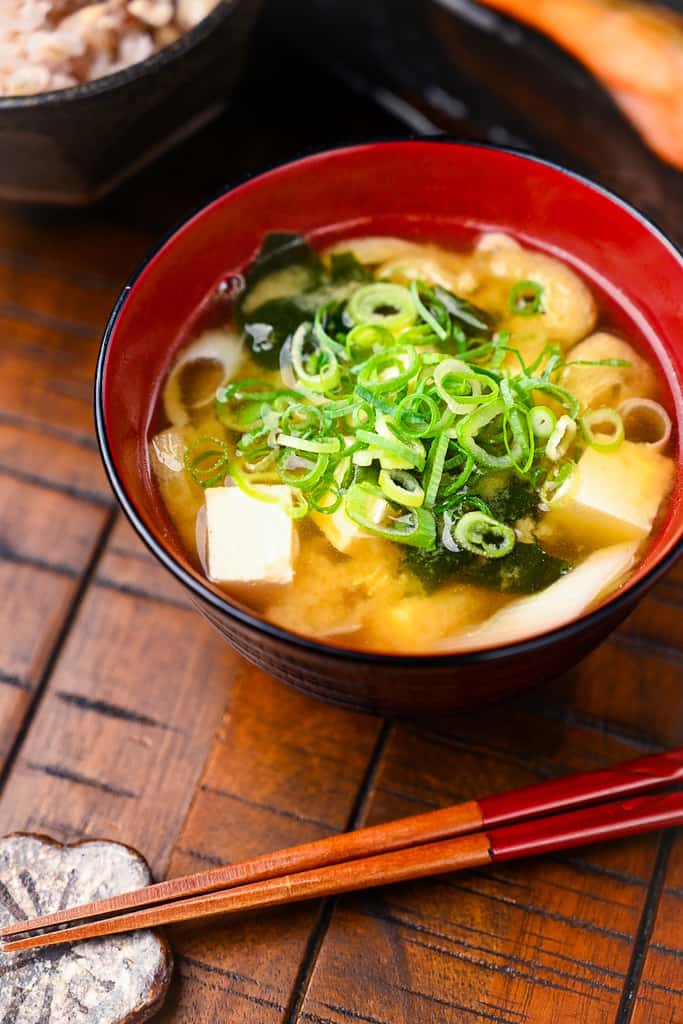 Miso soup is a traditional dish made with dashi stock, soybean paste, and a range of ingredients that vary from region to region. It's delicious, warming and makes the perfect side for any Japanese meal.
Making miso soup is not difficult once you know how, so let's learn how to make classic Japanese miso soup from scratch! There are also recipes for plant-based miso soup and mushroom miso soup!
21. Quick and Easy "Tonteki" Japanese Pork Steak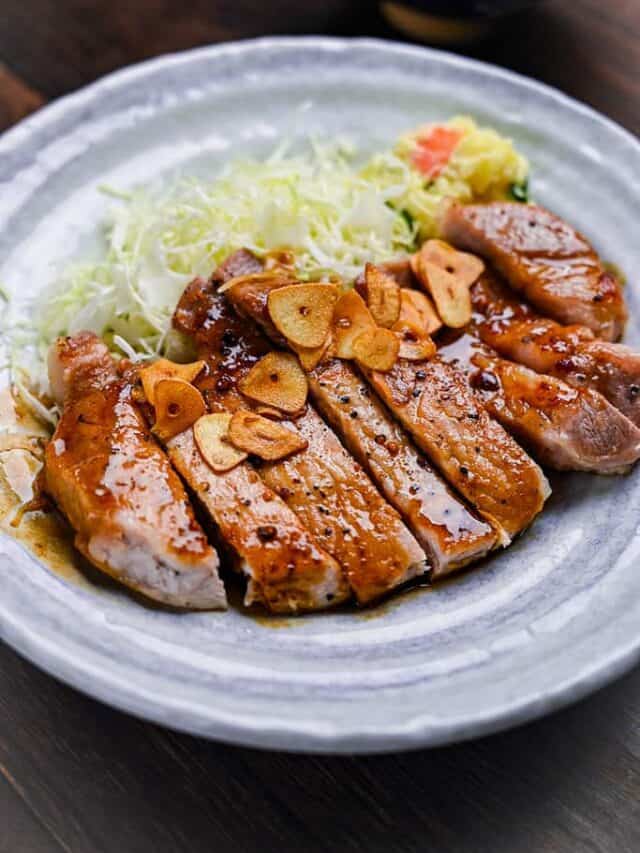 Steak doesn't have to be an expensive occasion. Japanese "tonteki" pork steak is made with pork chops drizzled with a tangy Japanese sauce and topped with crispy fried garlic. Delicious with rice and shredded cabbage, this dish is quick, simple, and easy on the wallet!
This is the recipe I always go back to when I'm like, "I want to cook something very quick and easy tonight", it's so satisfying too!
22. Garlic Teriyaki Chicken Bowl
Garlic Teriyaki Chicken Donburi is a delicious, comforting rice bowl dish that's quick and easy to make!
Juicy pan-fried chicken thigh cooked in a sweet homemade garlic teriyaki sauce served on a bed of fluffy white rice then topped with chopped green onion and a soft boiled egg. What's not to like?!
23. Easy 15 min Tantanmen Ramen
Tantanmen ramen is a delicious dish made with chewy ramen noodles served in a spicy and nutty broth. You won't believe how quick and easy it is to make, so impress your friends and family with this ramen restaurant-worthy dish. I have a surprise ingredient too!
24. Beef Hayashi Rice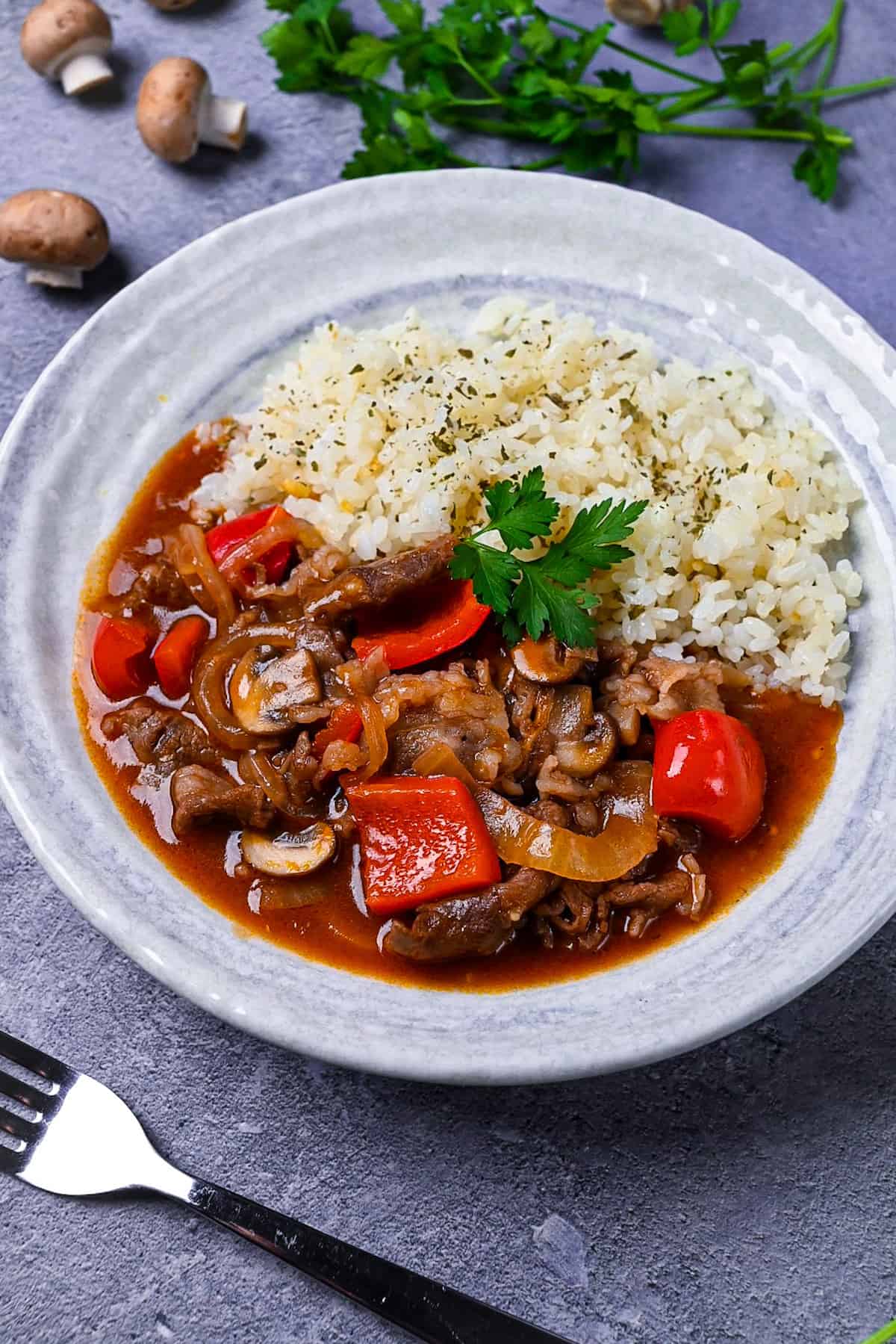 Hayashi Rice is a rich, tangy, and slightly sweet yoshoku-style dish made with thinly sliced beef, onions, bell peppers, and mushrooms in a delicious demi-glaze style sauce.
Don't be afraid of spending hours making demi-glaze, though. This is a shortcut recipe that doesn't skip on flavor!
25. Easy Pork Miso Ramen
This miso ramen is rich, tasty, and, most importantly, super simple! Chewy noodles in a flavourful miso broth, topped with seasoned pork, beansprouts, spinach, sweetcorn, and melty butter to add a decadent creaminess!
I know making ramen is extremely intimidating not many people dare to make it at home in Japan. But this recipe is optimized for home cooking and you don't need fancy toppings like chashu or ramen eggs! As long as you have noodles and miso, it's quick and easy!
26. Chicken Nanban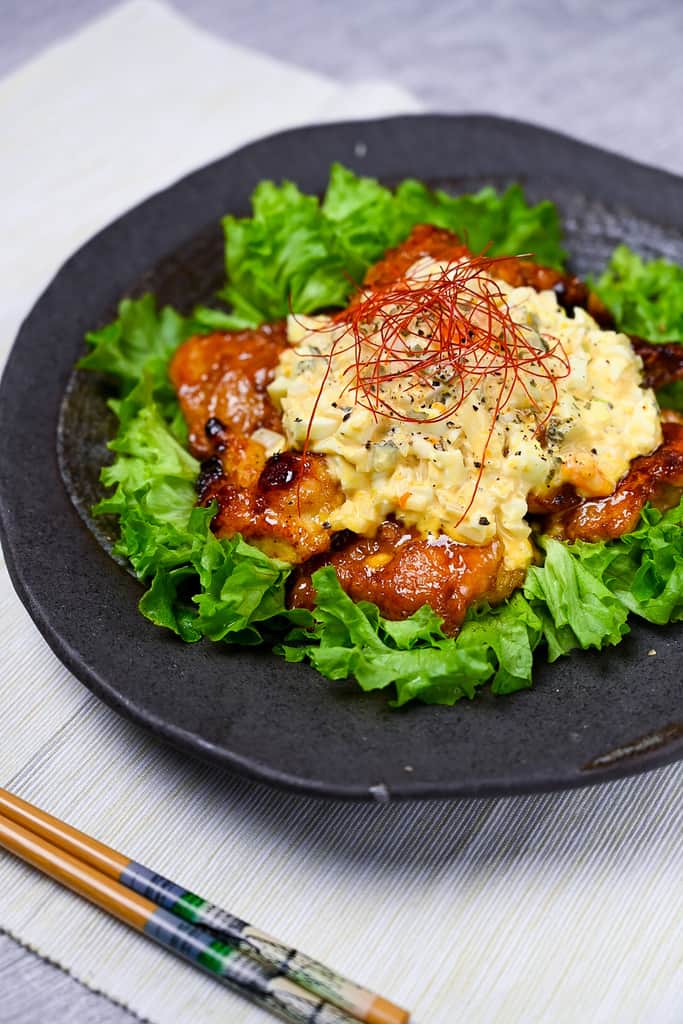 This delicious Chicken Nanban consists of fried chicken cooked in a sweet vinegar sauce and then topped with rich homemade Japanese tartar sauce. This dish was created in Miyazaki prefecture, Southern Japan, and has influences from Portugal.
It is now one of the most popular fried chicken dishes in Japan and you can make it from scratch in your kitchen!
27. Juicy Japanese Hamburg Steak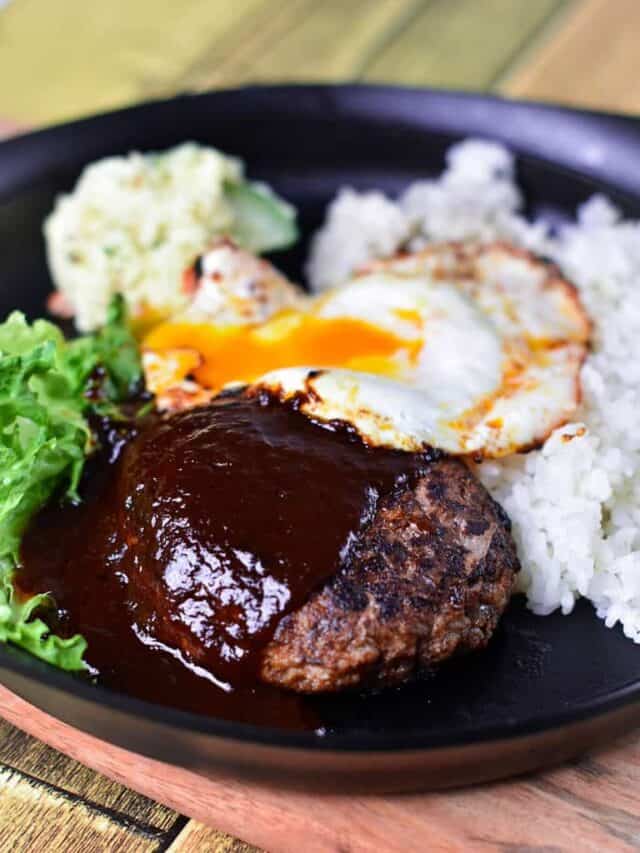 This simple, yet delicious Japanese-style hambagu steak is made with ground meat, and onions and seasoned with salt, pepper, and nutmeg, then drizzled with a rich and tangy homemade sauce.
The real beauty of this recipe is the homemade sauce! It's worth trying if you like hamburg steak!
28. Soba Noodle Salad with Summer Vegetables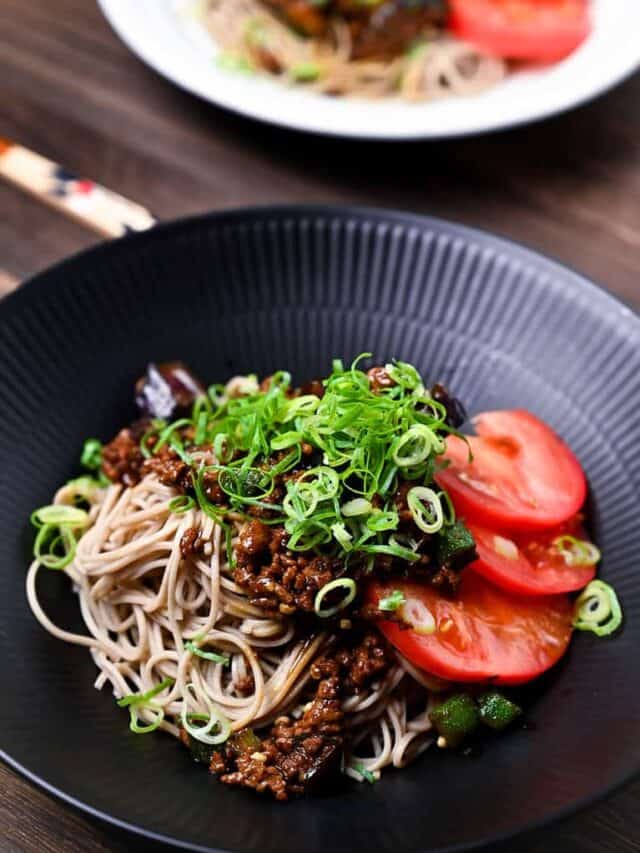 Noodles are a summer staple in Japan! This soba noodle salad with seasonal summer vegetables comprises chilled buckwheat noodles topped with tasty miso-flavored meat sauce and mixed with eggplant, okra, and tomatoes. It's quick to make, refreshing, and so delicious!
This is one of my easiest and quickest recipes, it's so tasty too!
29. Japanese Mapo Tofu (Mabo Dofu)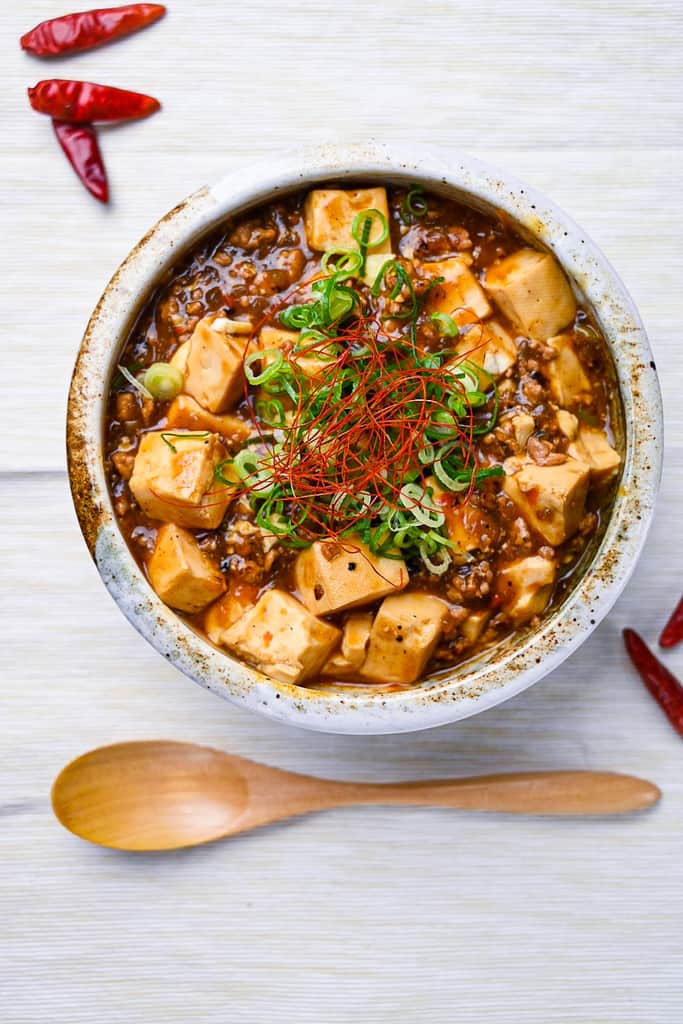 Mabo dofu is a delicious Chinese dish with a Japanese twist. Made with ground pork, tofu, and onions served in a fragrant and spicy sauce, the Japanese version contains miso and is not as spicy as its Chinese counterpart.
Mabo tofu is a Japanese family favorite and a typical home-cooked dish! There is also a recipe for plant-based mabo eggplant!
30. Tonkatsu (Deep-fried Japanese Pork Cutlet)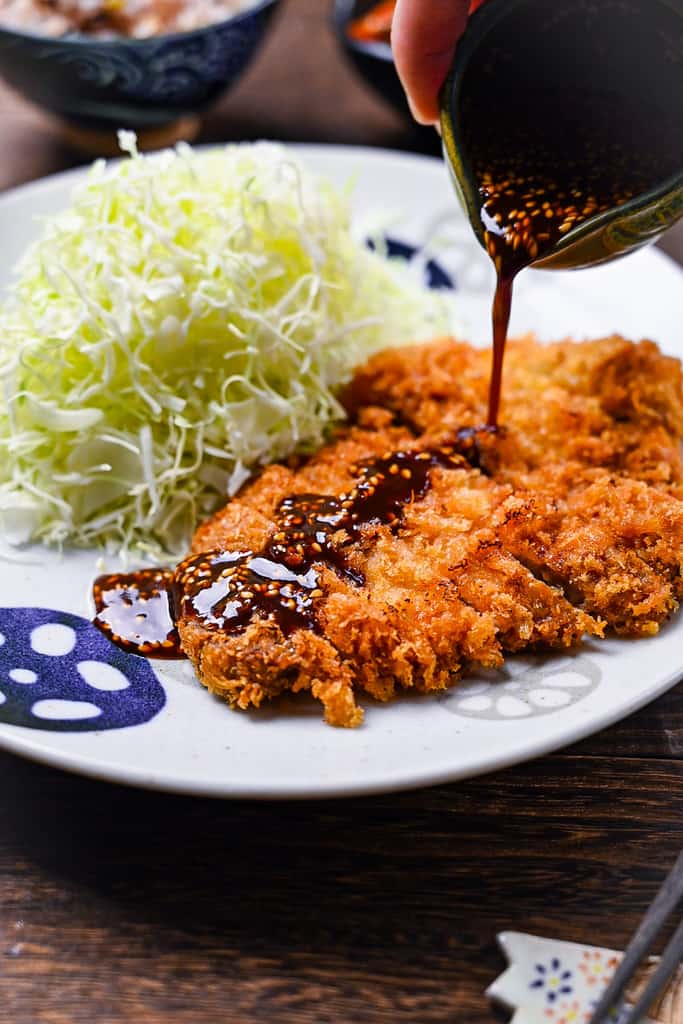 Japanese "tonkatsu" deep-fried pork cutlet is an absolute classic and my recipe will teach you how to make the crispiest, most delicious tonkatsu that can be served on its own with rice, salad, and miso soup (teishoku style) or as part of another dish!
If you want something deep-fried, then this recipe is an absolute must! There is also a recipe for homemade tonkatsu sauce!