Like any other cuisine in the world, chicken is one of the most popular meat choices in Japanese cuisine.
This trend has been particularly noticeable in recent years. In 2012, chicken meat surpassed pork, which had remained in first place for many years, becoming the number one consumed meat in Japan. Since then, it has firmly held its place in the number one spot to this day!
Anyhow, there are a lot of Japanese chicken recipes I want to share with you, so here I have listed 25 popular Japanese chicken recipes that you've gotta try!
1. Authentic Crispy Japanese Teriyaki Chicken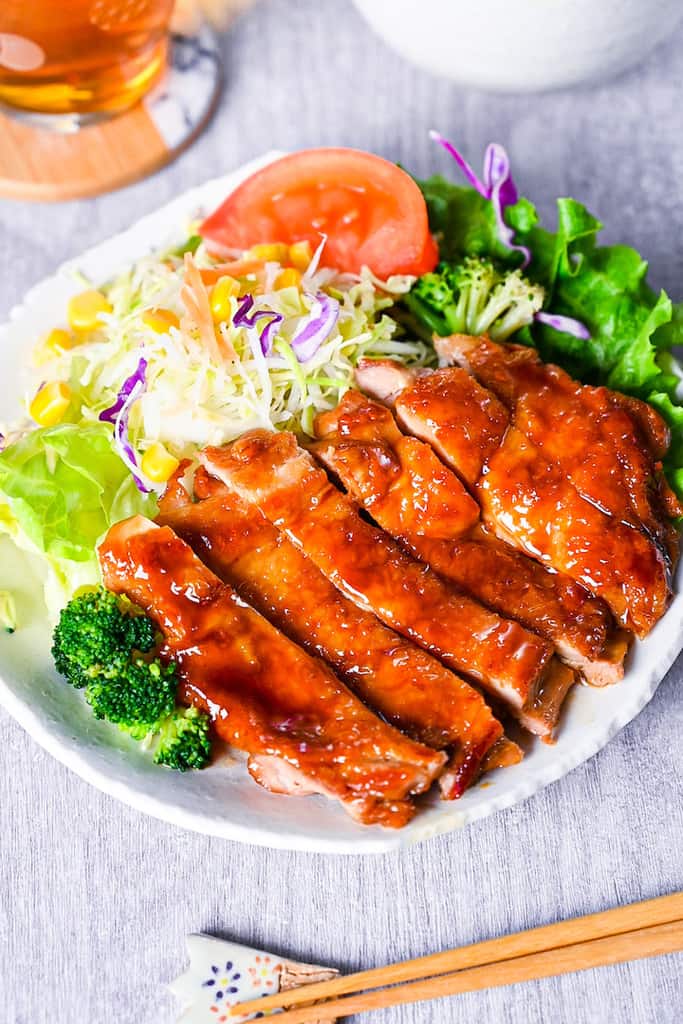 Delicious Japanese teriyaki chicken made with succulent, skin-on chicken thigh coated in a glossy, sweet, and sticky homemade teriyaki glaze. Not only does it taste incredible, but it's ready in just 15 minutes!
It's safe to say that this is one of the most famous Japanese dishes worldwide and one of the best recipes on my website. When I want a break from making new recipes, this is one of my go-to options when I want to cook something easy that also tastes great.
2. Oyakodon (Chicken and Egg Rice Bowl)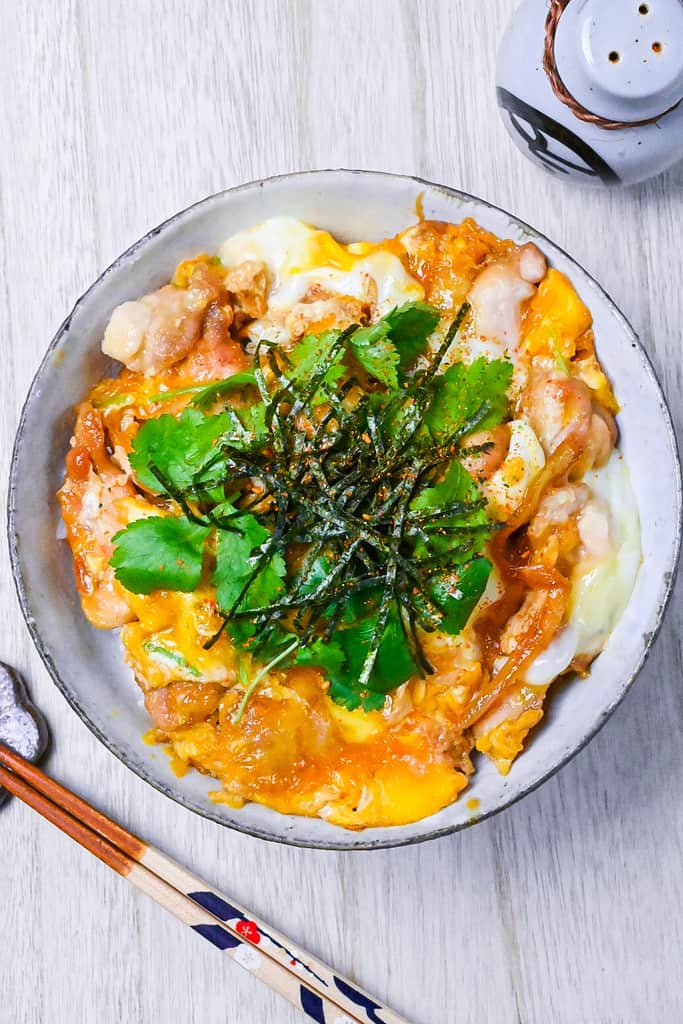 Oyakodon is a humble, cheap, and quick dish that is popular in homes and restaurants across Japan. Made with succulent chicken thigh, softened onions, and silky egg served over Japanese rice.
Another dish I make all the time, this recipe comes with many tips to make the best oyakodon at home!
3. Chicken Karaage (Crispy Japanese Fried Chicken)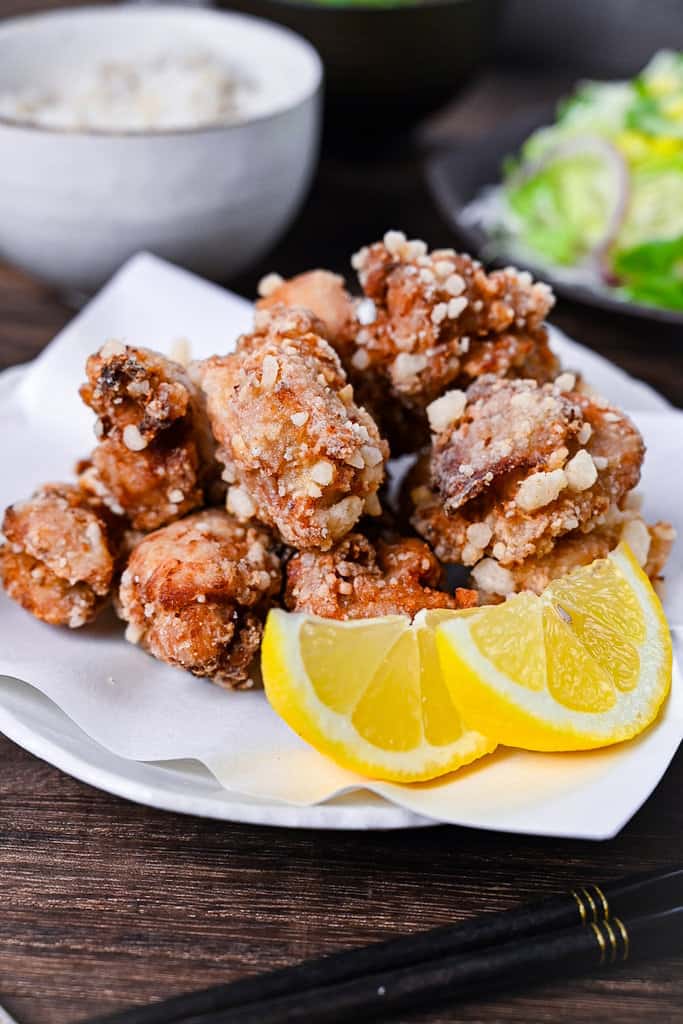 Karaage is a very special dish for me. My first ever dream when I was a kid was to open my karaage specialty food stand. At that time (more than 20 years ago), it sounded like a very strange dream, but now in the 21st century, karaage specialty food stands have become the biggest ever in Japan.
Maybe I should have pursued the dream really but you know, I was like 5 at the time. Anyhow, Karaage is still my favorite dish of all time and I could pretty much eat it every day, literally.
4. Chicken Tatsuta Age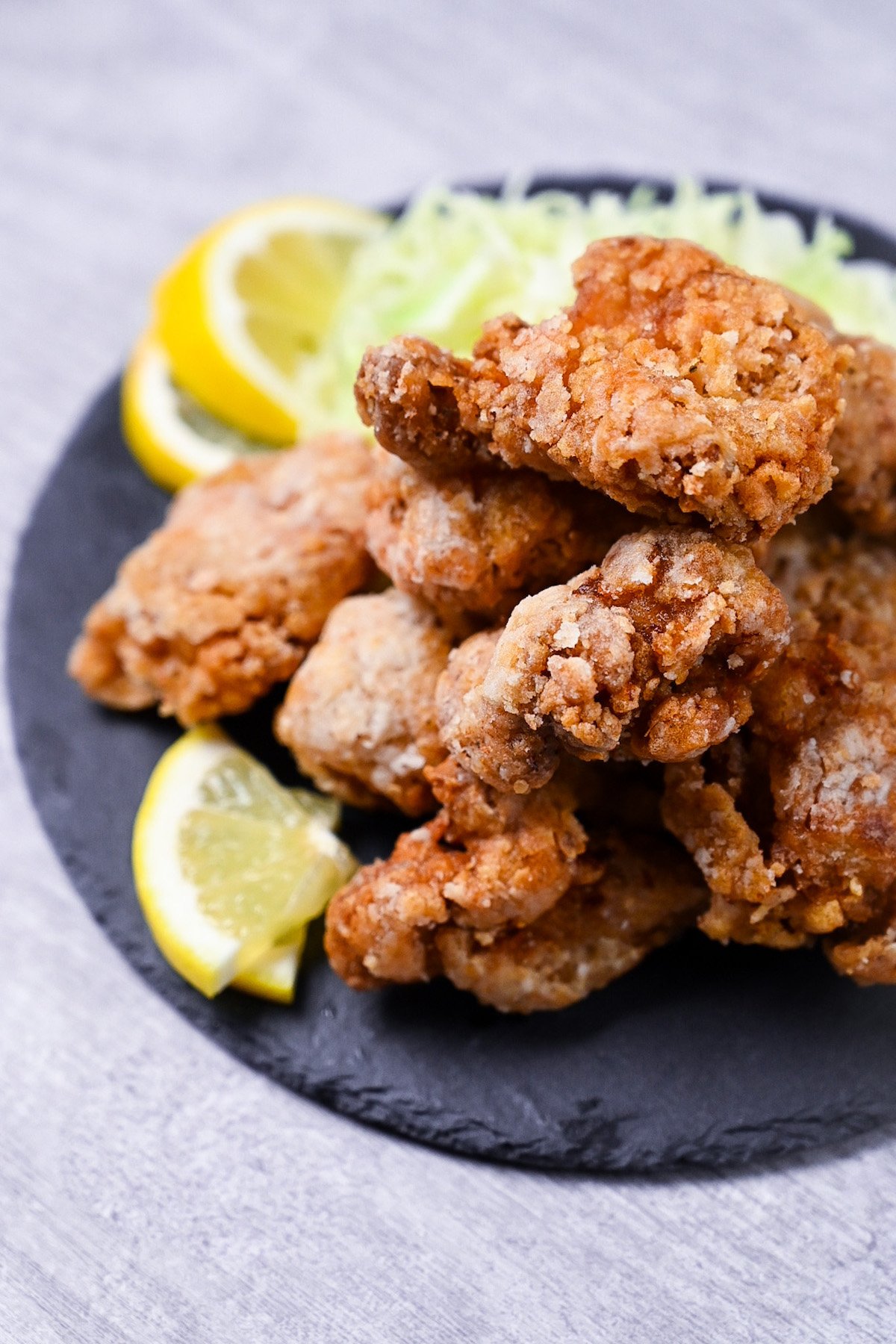 Tatsuta age is a delicious variation of karaage (Japanese-style fried chicken) made with succulent chicken thigh soaked in a soy-based marinade, coated in a layer of potato starch, and fried until golden like autumn leaves!
If you want a more crispy texture than karaage, try this tatsuta age recipe!
5. Oita Style Chicken Tempura (Toriten)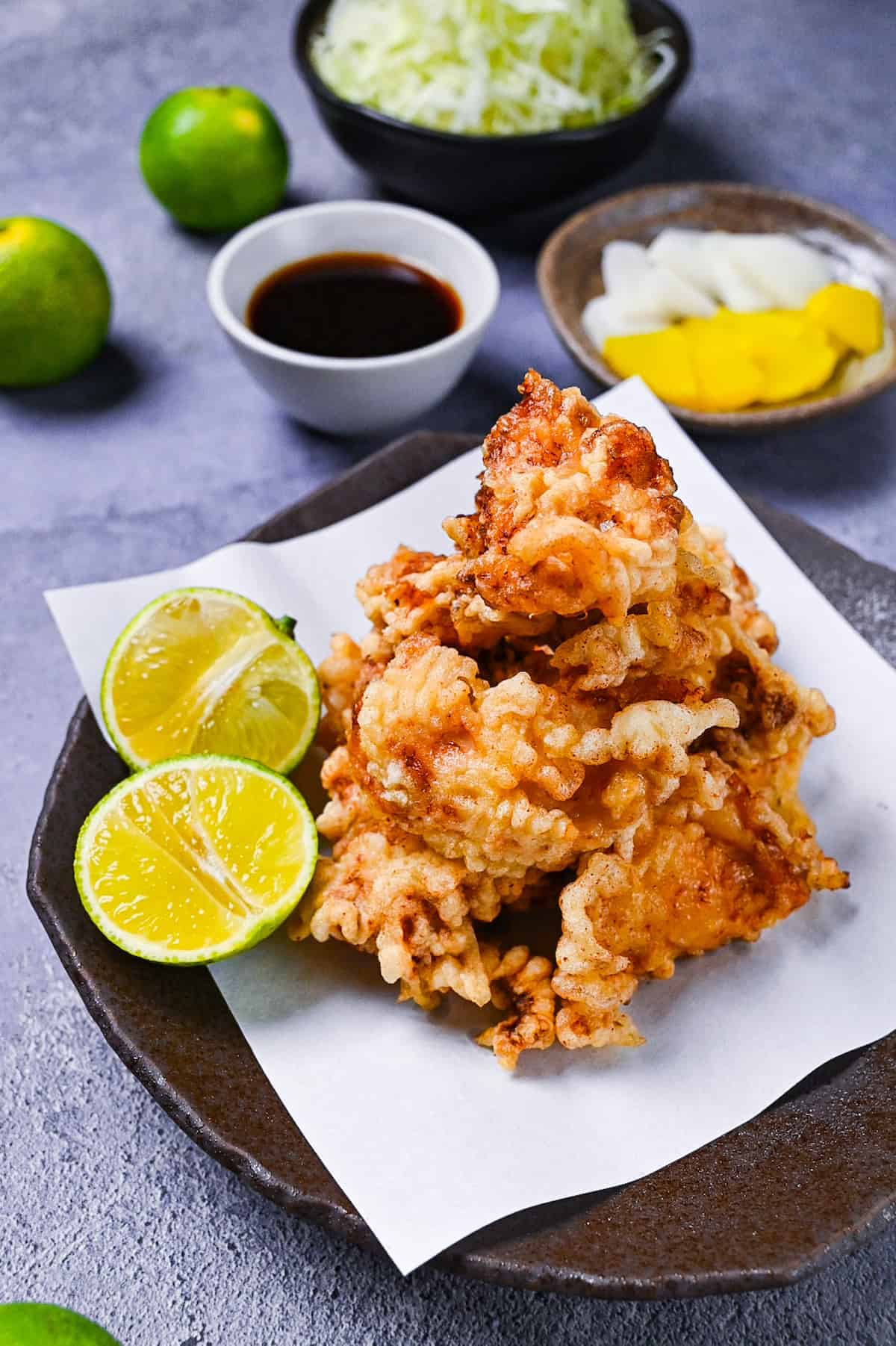 Toriten is a regional dish that hails from Oita, Japan. Made with succulent, marinated chicken breast coated in a fluffy tempura batter and deep fried, it's served with a bright and citrusy dipping sauce. When it comes to flavor, this regional chicken tempura ticks all the boxes!
If you like a soft textured batter than karaage or tatsuta age, I highly recommend this toriten recipe!
6. Chicken Soboro Don (Sanshoku Donburi)
Sanshoku don is a colorful and tasty dish with seasoned Japanese chicken, scrambled eggs and blanched spinach served on top of a bowl of hot and fluffy Japanese rice. It's tasty, filling, and perfect for dinner and lunchboxes!
If you like the sweet and savory type of flavor, I think this is a cup of your tea!
7. Chicken Soboro Onigiri (Japanese Ground Chicken Rice Ball)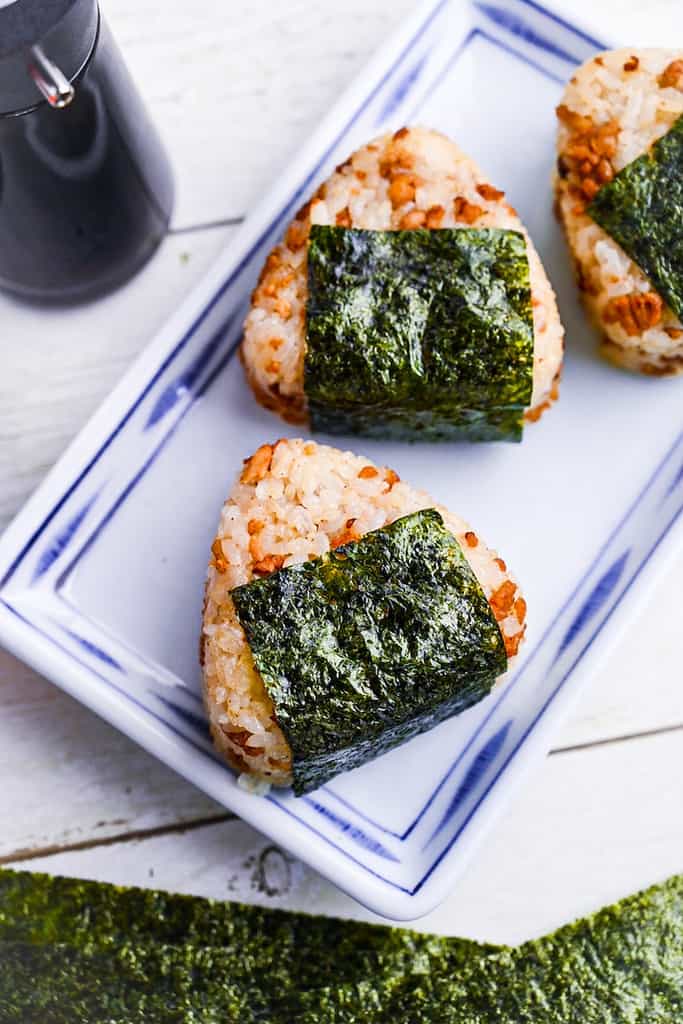 This is another variation of chicken soboro in rice ball form! Chicken soboro onigiri (rice ball) is made with ground chicken cooked in a savory Japanese-style sauce and then mixed with sticky white rice.
It's easy to make and has a delicious meaty twist on a classic lunchbox dish!
8. Chicken Yaki Udon
This tasty yaki udon is made with thick udon noodles, chicken breast, onion, bell peppers, and cabbage stir-fried in a delicious mixture of garlic, butter, and soy sauce. It's easy to make and only takes 15 minutes!
If you want something quick and easy to make for lunch, this is a great recipe to consider!
9. Chicken Tsukune (Japanese Glazed Meatballs)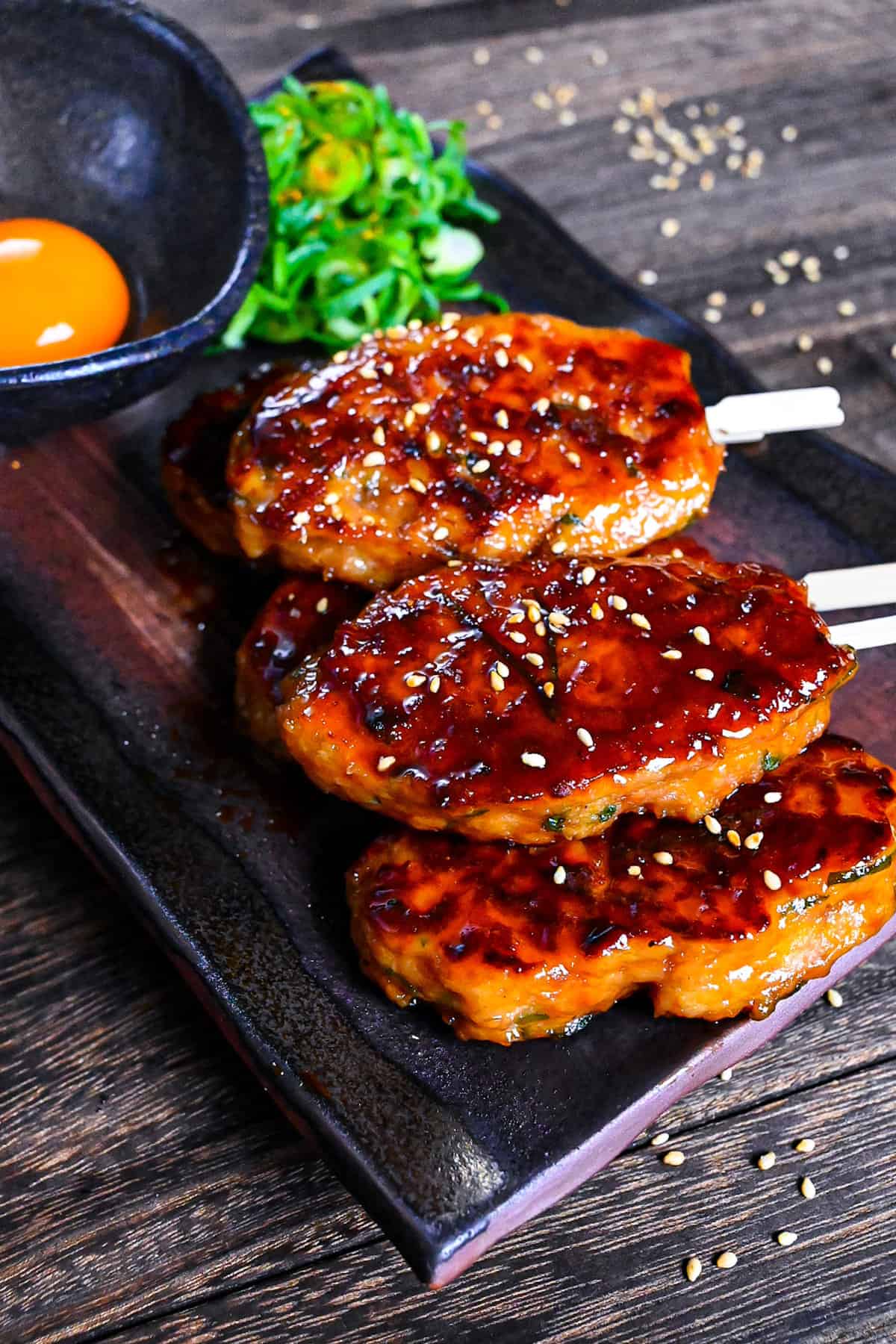 Chicken tsukune is a delicious and flavourful Japanese meatball often served at izakayas, yakitori stands, at home, and in bento boxes.
My homemade tsukune recipe is made with chicken thigh mixed with grated onion, shiso leaves, miso paste, and ginger amongst other seasonings. They are then shaped, fried, and coated in a delicious sticky glaze!
10. Japanese Teriyaki Chicken Pizza
Why not try this delicious homemade pizza with a Japanese twist? Tender chicken thigh fried in classic Japanese teriyaki sauce served on takeaway-style pizza dough with onion, sweetcorn, and a drizzle of creamy mayonnaise!
You might not believe it, but teriyaki chicken pizza is one of the most well-loved pizza variations for delivery pizza in Japan.
11. Saizeriya's Karami Chicken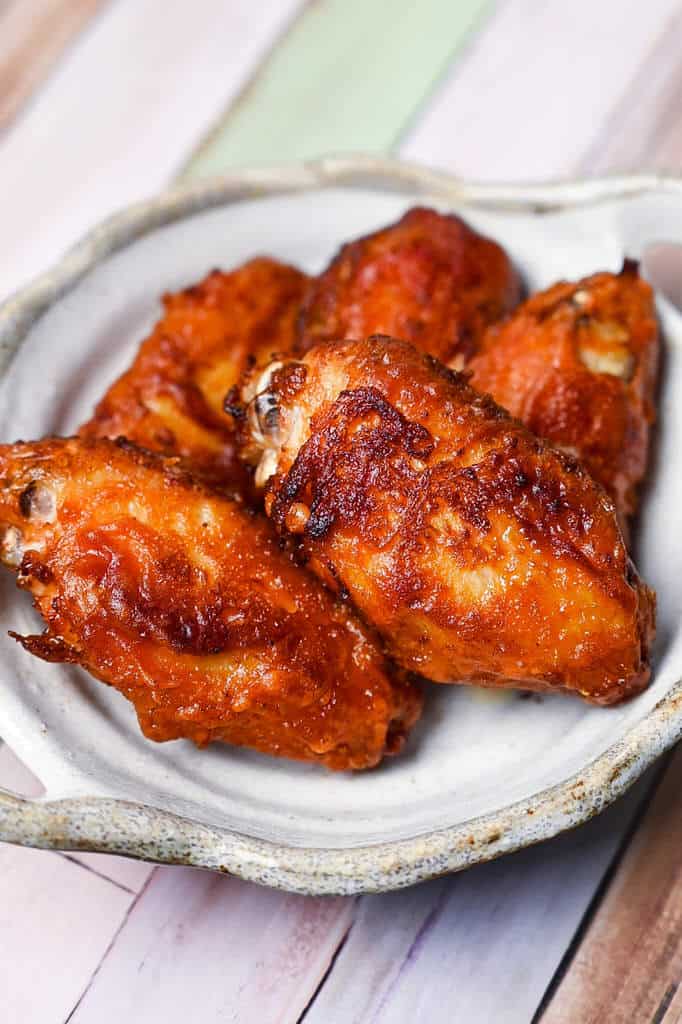 Karami Chicken is a well-loved side dish from a Japanese chain restaurant, Saizeriya. Made from succulent chicken wings that are coated in a sweet and mildly spicy sauce, I could eat these all day!
If you ever want to have fried chicken wings with a twist, this is the recipe I'd recommend!
12. Nagoya Style Tebasaki Chicken Wings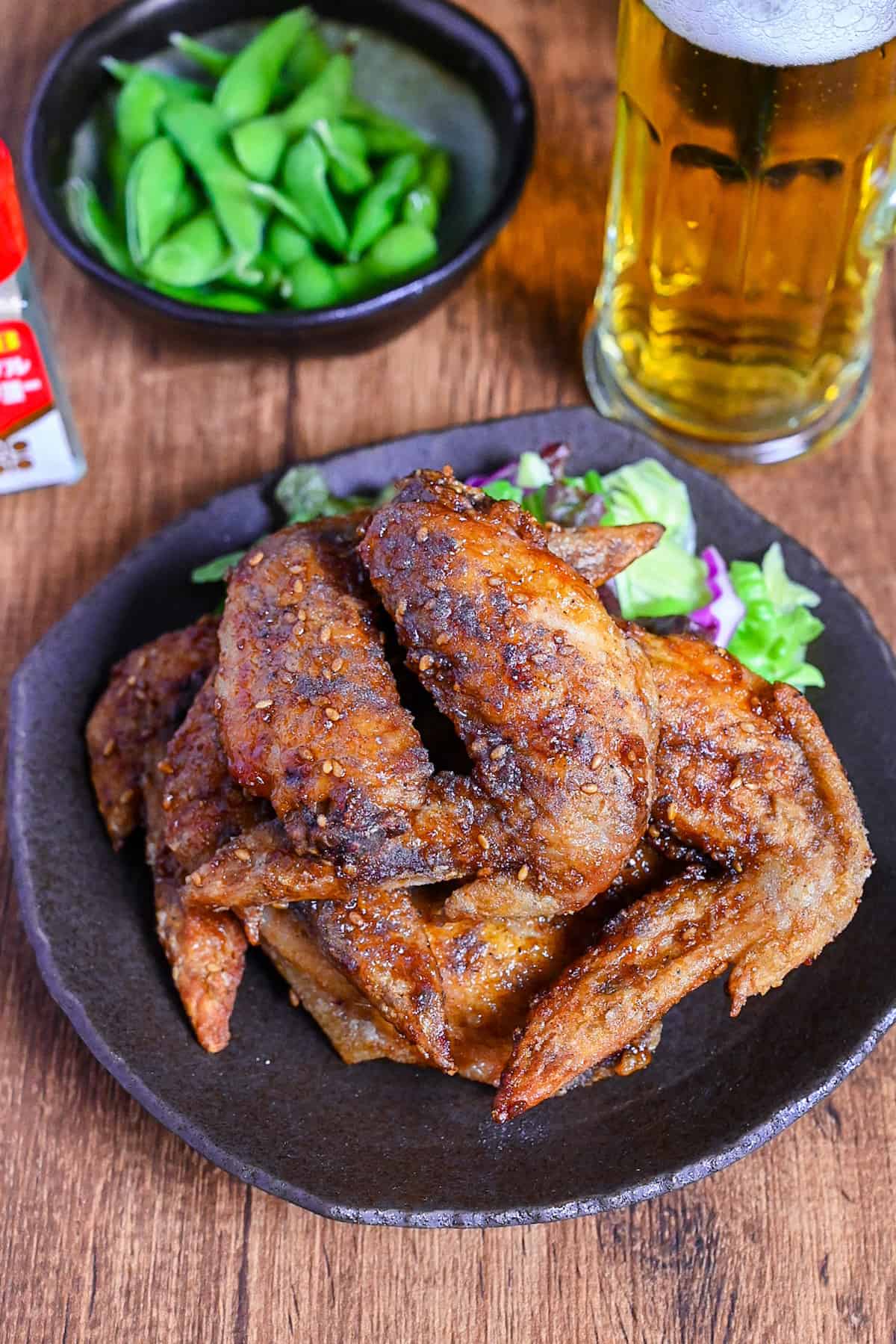 Nagoya Tebasaki (Nagoya style chicken wings) are delicious crispy deep fried wings that have been brushed with a special glaze and then generously dusted with a mixture of fine white pepper.
This is my regional food that I have loved all my life so of course, I highly recommend it!
13. Japanese Ketchup Fried Rice (Chicken Rice)
You might think Japanese ketchup rice sounds a bit kiddy, but don't be fooled! My Japanese ketchup rice (also known as Japanese chicken rice) is seasoned with various herbs and seasonings to give it a more sophisticated taste.
Made with chicken thighs, onions, bell peppers, and mushrooms, this elegant ketchup rice can be enjoyed by the whole family, not just kids!
14. Chanko Nabe (a.k.a. Sumo Stew)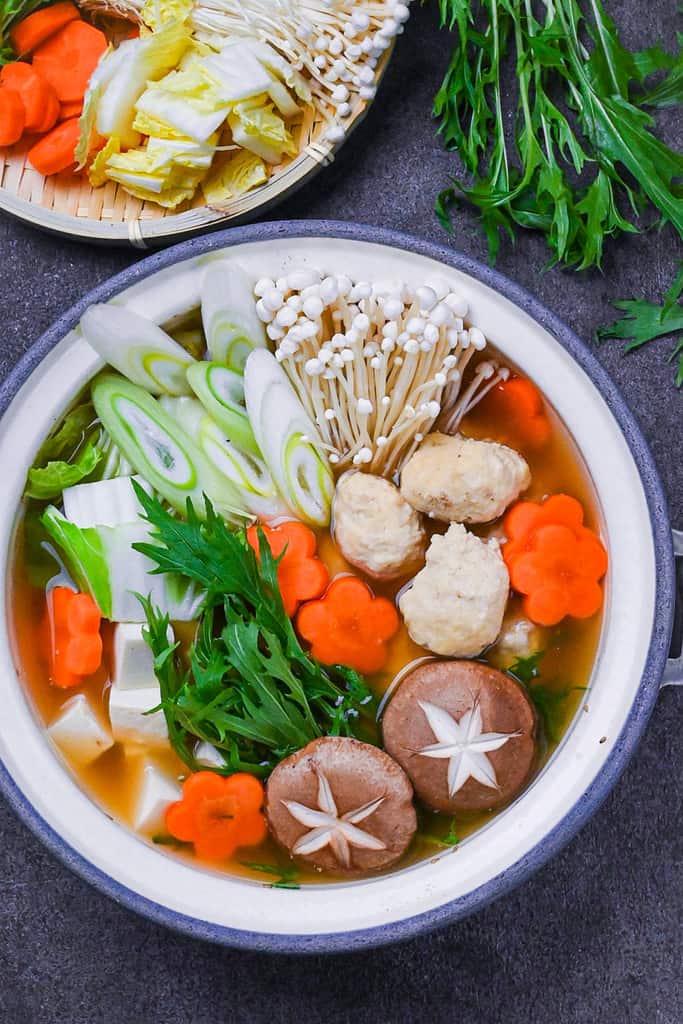 You probably know Japanese sumo wrestlers are huge, but did you know they eat very nutritious food? (They just eat loads of it!)
Chanko nabe is a traditional dish eaten by Japanese sumo wrestlers. Packed with vegetables, tofu, and delicious homemade chicken meatballs in a light dashi and chicken broth, why not enjoy this nutritious and warming dish at home?
15. Omurice (Japanese Omelette Rice)
Omurice is made up of ketchup fried rice with chicken and vegetables and then wrapped in a beautifully fluffy omelet.
It's bright, fun, and a popular dish to make at home and eat in restaurants, kids especially love it!
16. Karaage Don (Japanese Fried Chicken Rice Bowl)
Perfectly crispy Japanese-style fried chicken served on crispy cabbage and fluffy white rice. Drizzled with mayonnaise, a squeeze of lemon, and a sprinkle of spring onion, this is the ultimate donburi dish if you're a karaage lover like myself!
If you wanna eat chicken karaage and rice together anyway, why not combine them in the same bowl, donburi style?
17. Ootoya Style Black Vinegar Sweet and Sour Chicken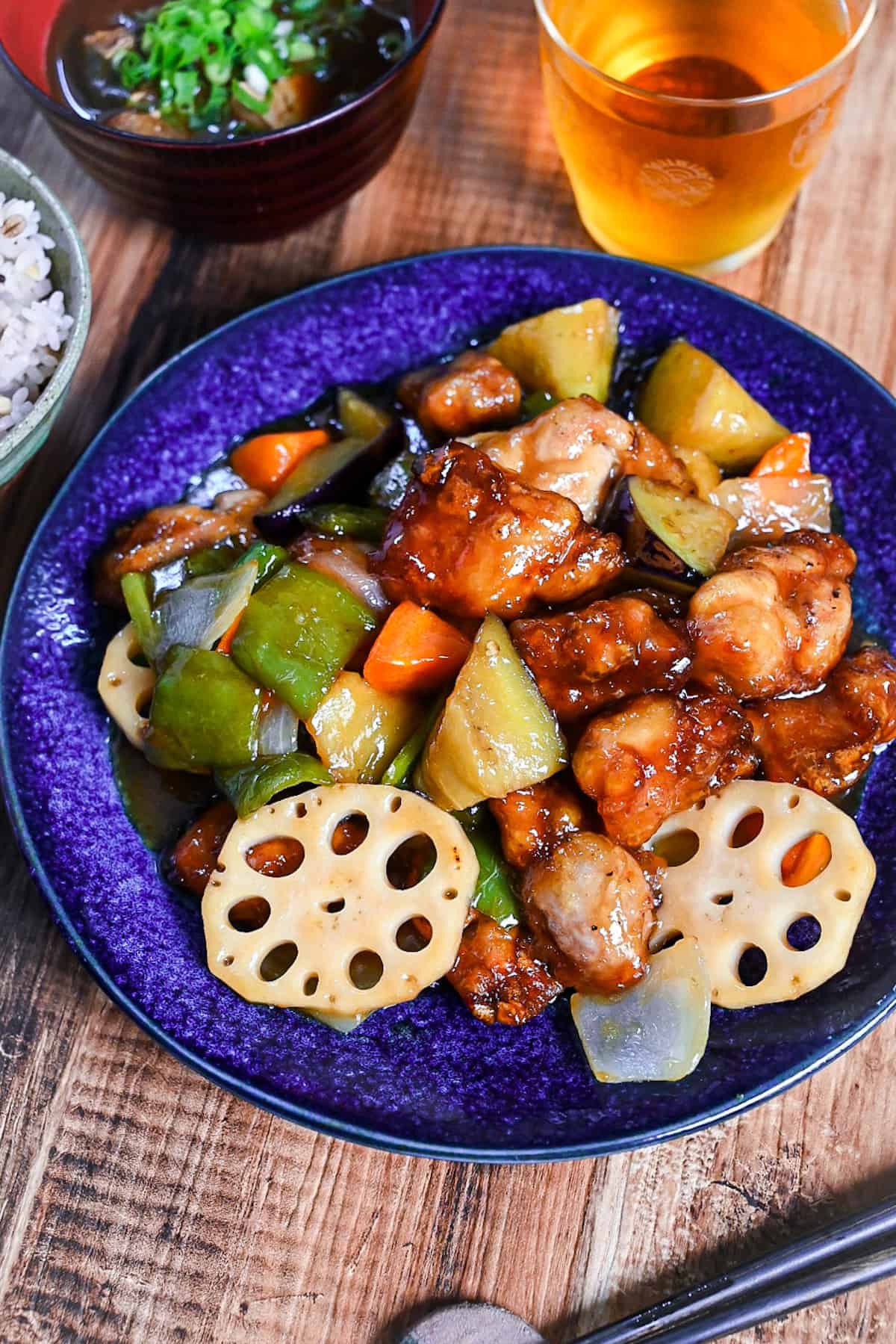 This "Tori to Yasai No Kurozu An" recipe is based on a vibrant dish that you can find at a well-known chain restaurant in Japan called Ootoya.
It's their most popular dish and for good reason! Delicious fried chicken with crunchy vegetables in a sweet and sour black vinegar sauce. It's so good!
18. Chicken Nanban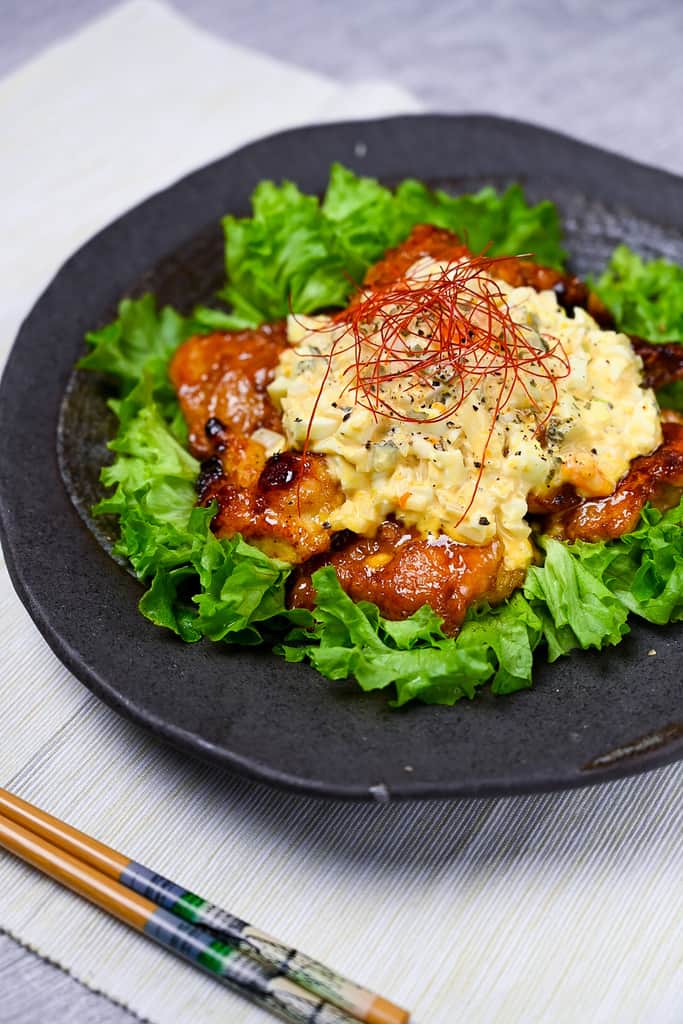 This delicious Chicken Nanban consists of fried chicken cooked in a sweet vinegar sauce and then topped with rich homemade Japanese tartar sauce.
This dish was created in Miyazaki prefecture, Southern Japan, and has influences from Portugal. It is now one of the most popular fried chicken dishes in Japan and you can make it from scratch in your kitchen!
19. Japanese Chicken Katsu Curry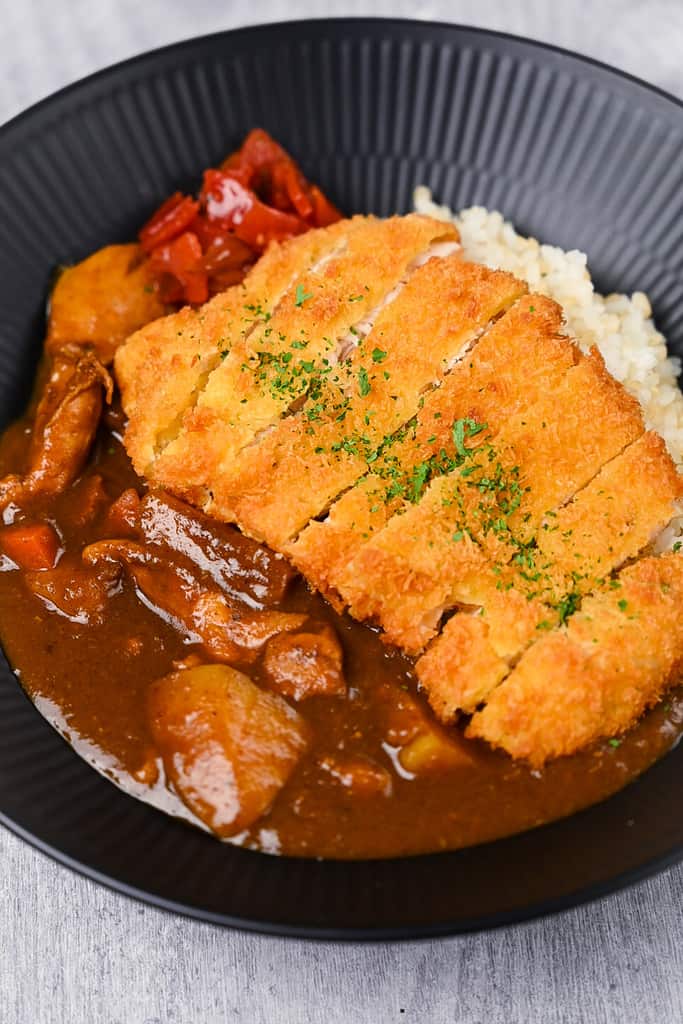 Japanese chicken katsu curry is the ultimate comfort dish! Tender chicken breast coated in a crispy panko batter and served on a thick, rich, and gravy-like curry.
Not only is it seriously delicious, but it's also a great dish for making in advance and storing in the freezer for a quick, easy meal during the week!
20. Crispy Chicken Katsu (Chicken Cutlet)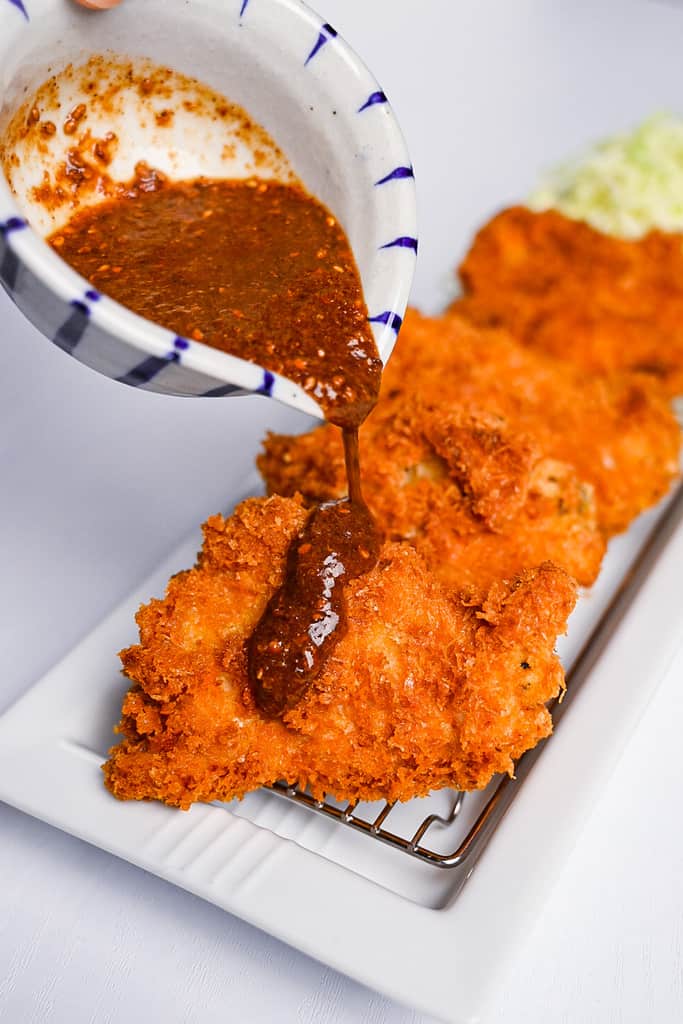 Chicken katsu is a versatile dish that you can make into pretty much anything! Enjoy it with rice, on donburi, in a sandwich, with curry... the list goes on!
Tender chicken thigh coated in a thick and crunchy layer of panko breadcrumbs and fried to perfection then drizzled with a delicious homemade katsu sauce. Every crunch is gonna have you dancing in your seat!
21. Takikomi Gohan (Japanese Seasoned Rice)
Takikomi gohan is a delicious and nutritious way to enjoy Japanese rice. Cooked with chicken, and seasonal vegetables and flavored with Japanese condiments, this dish is commonly enjoyed in the cooler autumn months with fish and miso soup.
Recommended to make with in-season mushrooms from your local area!
22. Oyako Udon (Chicken and Egg Udon Soup)
If you can make oyakodon, why not make oyako udon with udon noodles?
Juicy chicken thigh and fluffy ribbons of egg served in a light and delicious udon noodle broth, this oyako udon is quick and easy to make, but it's also a great budget meal that can be enjoyed for lunch or dinner!
23. Japanese Chicken Salad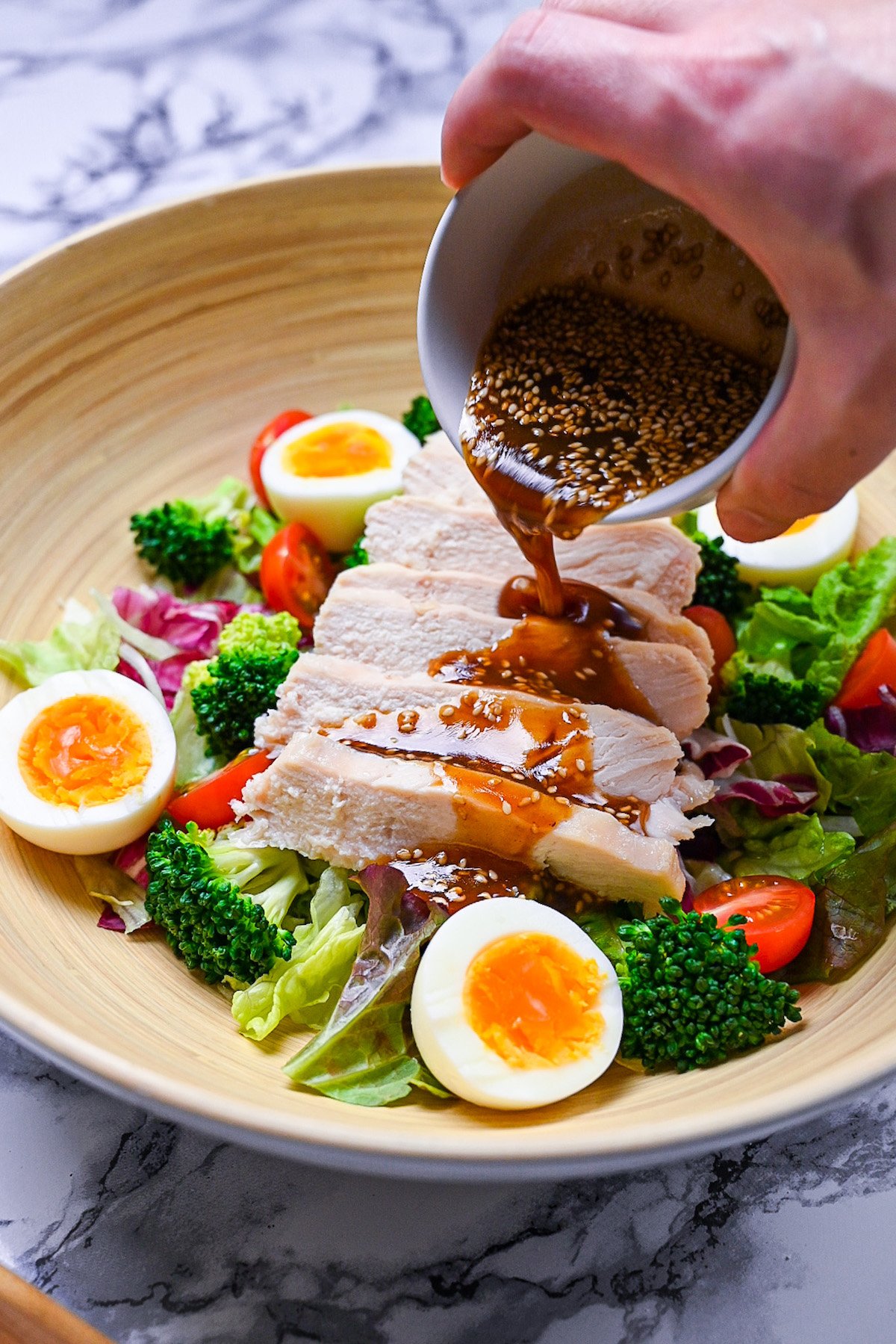 This Japanese chicken salad is made with perfectly tender and juicy chicken breast served over fresh salad vegetables, boiled eggs, and my special homemade Japanese dressing.
Mix and match with your favorite salad vegetables using this recipe!
24. Chicken Zosui (Japanese Rice Soup)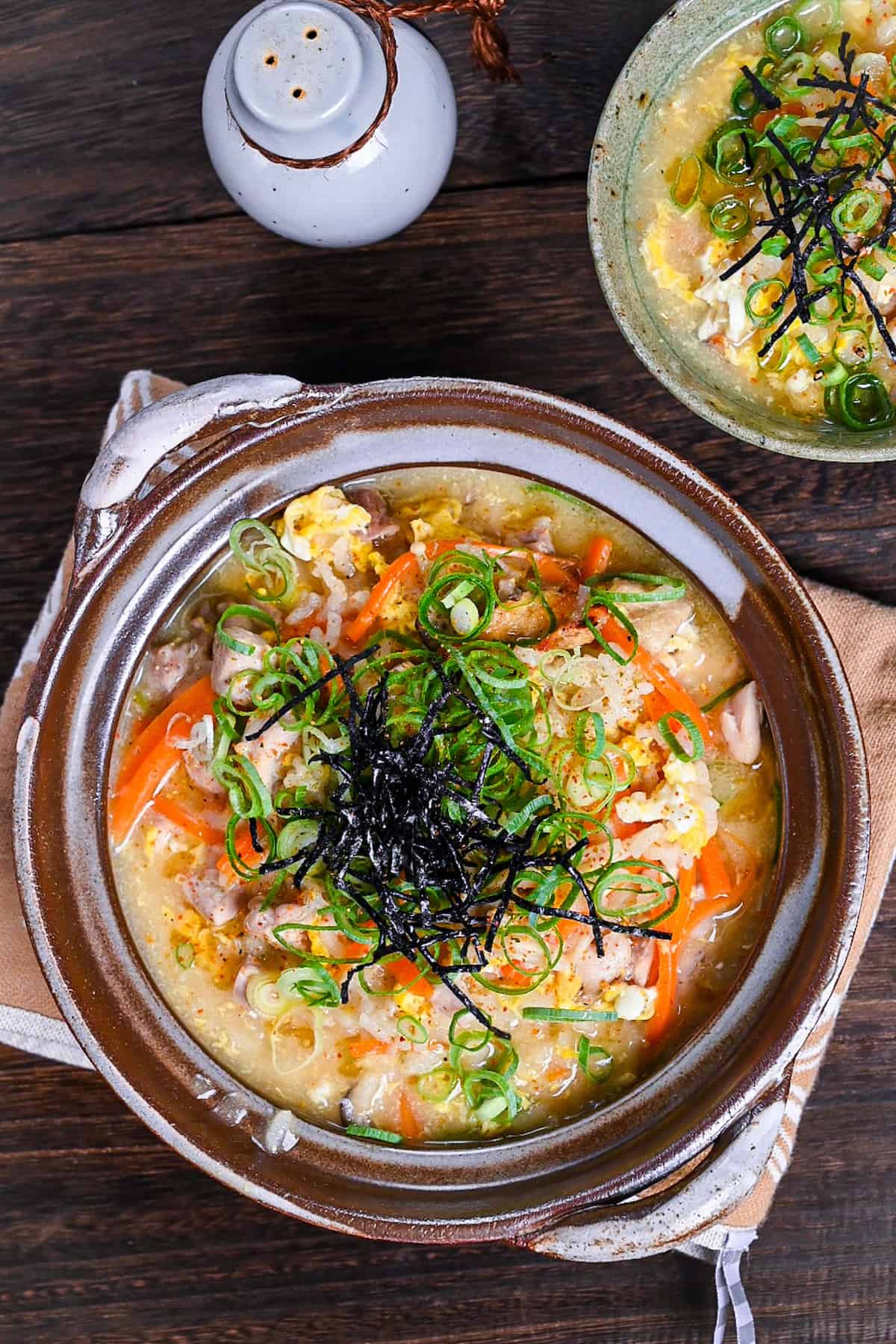 Zosui is a comforting dish with cooked rice served in a delicious soup with soy sauce or miso. My recipe has succulent chicken thigh, crispy chicken skin, and umami-rich mushrooms for the ultimate flavor.
This recipe comes with different tips to avoid common mistakes to make zosui as well!
25. Chilled Chicken and Citrus Somen Noodle Soup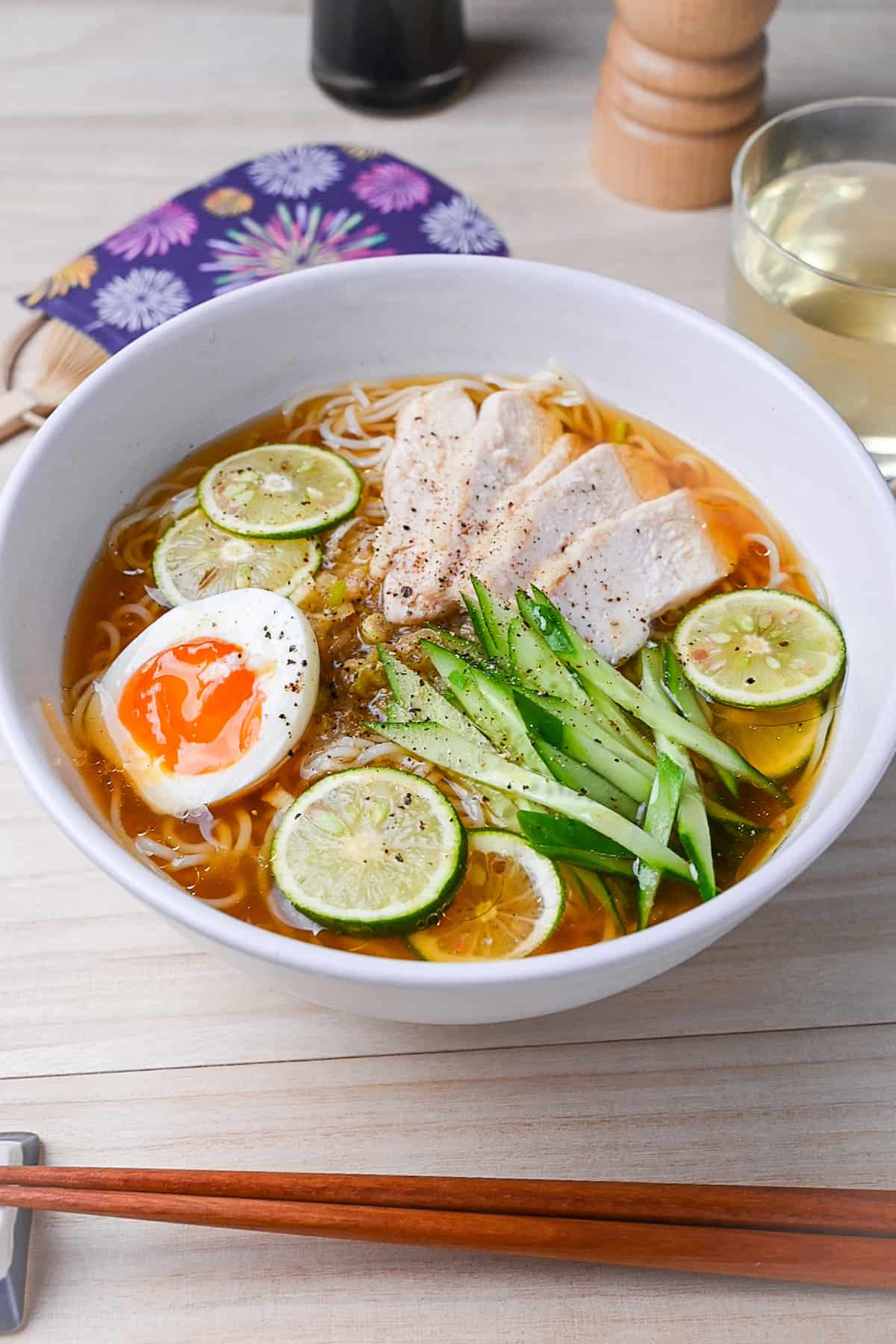 This delicious chicken and citrus somen noodle soup combines the refreshing elements of a salad with the satisfying taste of noodle soup. It's served cold and has a kick of citrus flavor.
Topped with tender chicken breast, crunchy cucumber, soft-boiled egg, and slices of sudachi (or lime!), it's easy to make and the perfect way to cool down on a hot summer's day!