Hiyashi Chuka is a cold, refreshing noodle dish topped with a variety of thinly sliced vegetables, meat and egg crepe mixed with a tangy sauce. Very little cooking is required and you have it on your table in just 20 minutes, perfect for summer!
Disclaimer: This post contains Amazon affiliate links. Sudachi Recipes earn a small percentage from qualifying purchases at no extra cost to you. See disclaimer for more info.
What is Hiyashi Chuka? A Japanese Summer Icon
Hiyashi Chuka (冷やし中華) is an iconic Japanese summer dish made with cold ramen noodles topped with fresh vegetables, meat or seafood and thin slices of egg crepe all served in a soy sauce and vinegar-based sauce. It's a vibrant and nutritious dish packed with flavor and texture.
Since hiyashi chuka requires very little cooking (just boiling noodles), it's especially great for hot days when you don't want to spend hours in the kitchen. It is also highly customizable and easily adapted to personal tastes and dietary requirements. (See more about ingredients and substitutions below!)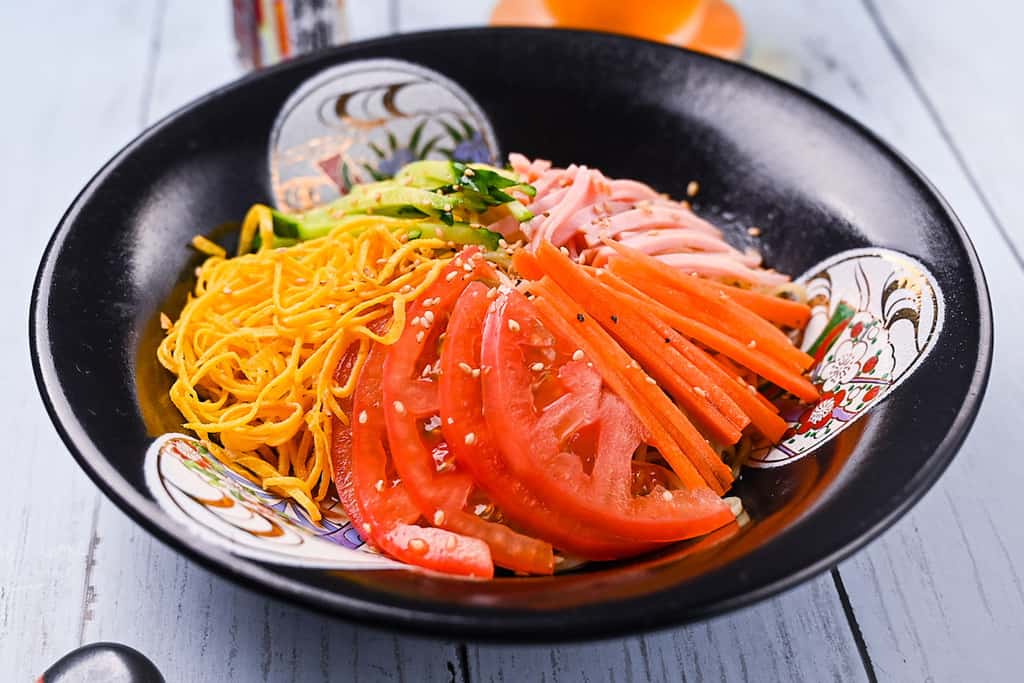 Main Ingredients and Substitution Ideas
Soy sauce – If you are looking for something reasonably priced, you can't go wrong with Kikkoman soy sauce. Please see our guide to soy sauce article to learn more about how to choose soy sauce in Japanese cuisine.
Rice vinegar – It is used to add a slight sourness. I recommend Marukan's rice vinegar. A readily available substitute in Western countries would be white vinegar.
Sugar – The sugar you usually use is fine, but I've been using light brown cane sugar for most dishes lately.
Sesame oil – It is used to add subtle flavor to marinades. I recommend Kadoya's sesame oil.
Egg – I made this recipe with medium size eggs, but you can use either S or L-size eggs.
Vegetables – Cucumber, tomato, and carrot, all cut into strips. You can substitute other vegetables, such as sprouts, okra, lettuce, boiled bean sprouts, fried eggplant, bell peppers, sweet corn, etc.
Ham – I used ham, but other popular ingredients include pork chashu, steamed chicken, canned tuna, boiled shrimp, and imitation crab.
Ramen noodles – It is best if you can get fresh ramen noodles. If decent ramen noodles are unavailable nearby, I recommend using spaghetti hacks instead of instant ramen noodles. Please see the Spaghetti Ramen Hack article for detailed instructions and reasoning.
Japanese mayonnaise – Kewpie mayonnaise is ideal, but other mayonnaise is fine too!
Make the dish suitable for vegetarians and vegans by omitting the proteins and eggs or swapping them out for plant-based alternatives!
Curious about the exact brands and products that bring my recipes to life? Discover the brands and ingredients behind my recipes at the Sudachi Amazon Storefront. Explore my handpicked pantry essentials and find your next kitchen favorites!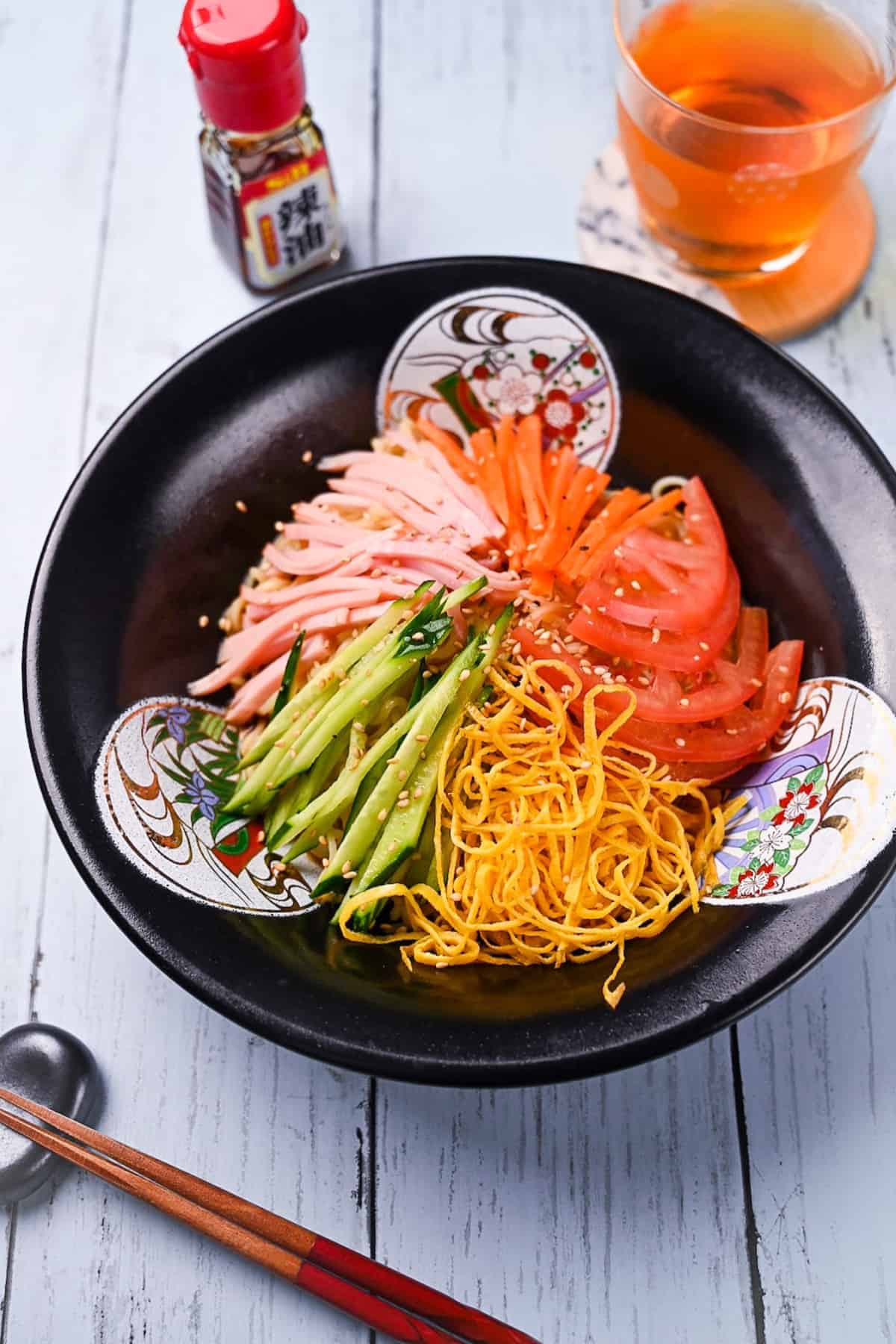 Step-by-Step Process
Here are my step-by-step instructions for how to make delicious refreshing hiyashi chuka from scratch, including how to make egg crepe (kinshi tamago). For ingredient quantities and simplified instructions, scroll down for the printable recipe card below.
How to Make Kinshi Tamago (Shredded Egg Crepe)
Preheat a frying pan on medium-low and spread a thin even layer of cooking oil around the pan using kitchen paper. Preheating is important to ensure the pan is evenly heated.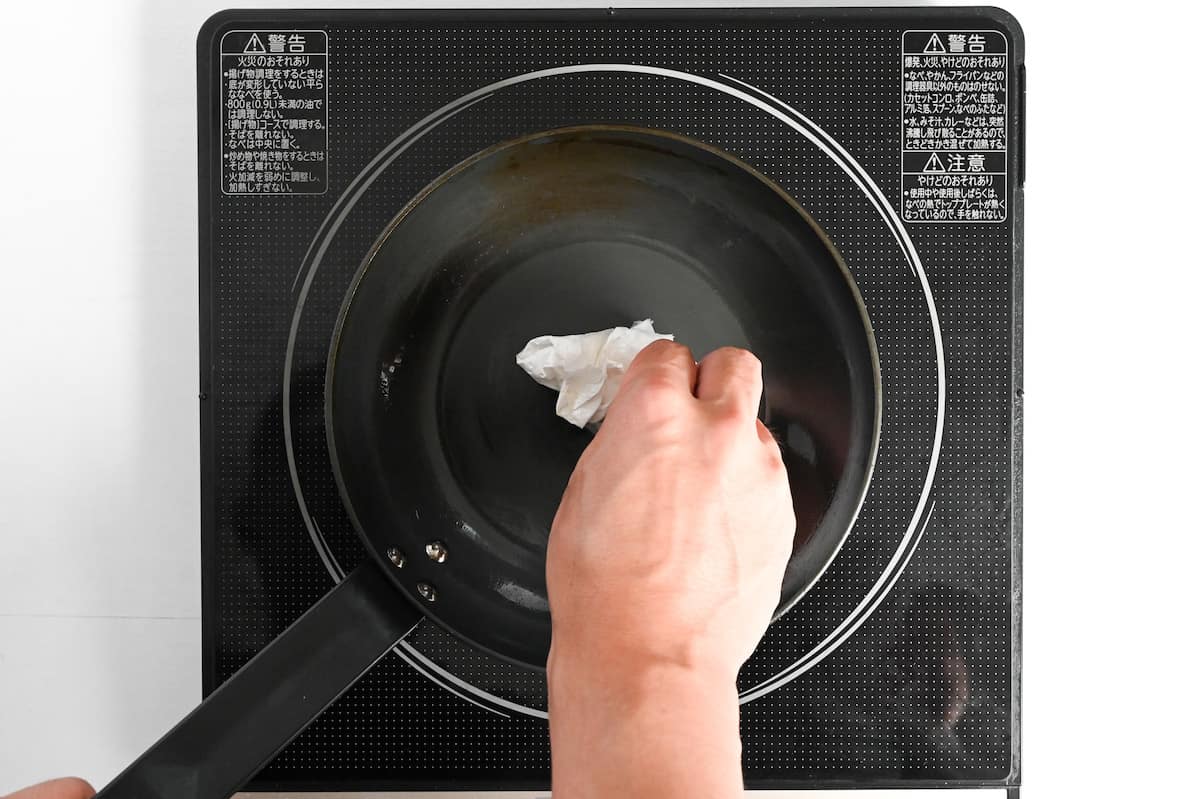 Crack an egg into a bowl and add a pinch of salt. Whisk thoroughly until the whites and yolks are combined, then pour it through a fine mesh sieve to make it smooth and lump-free.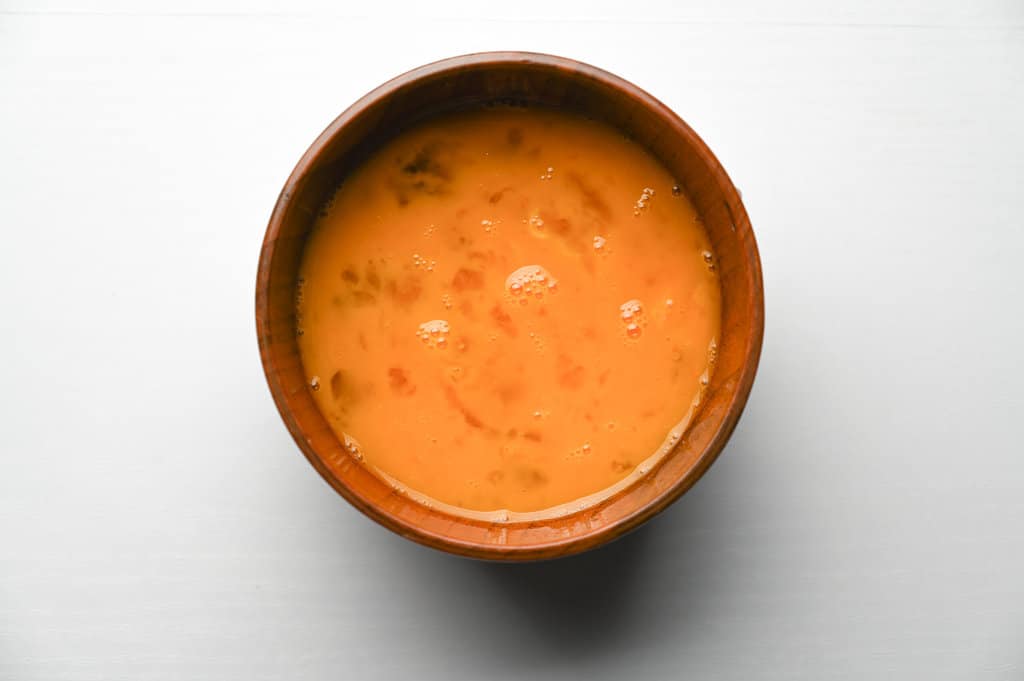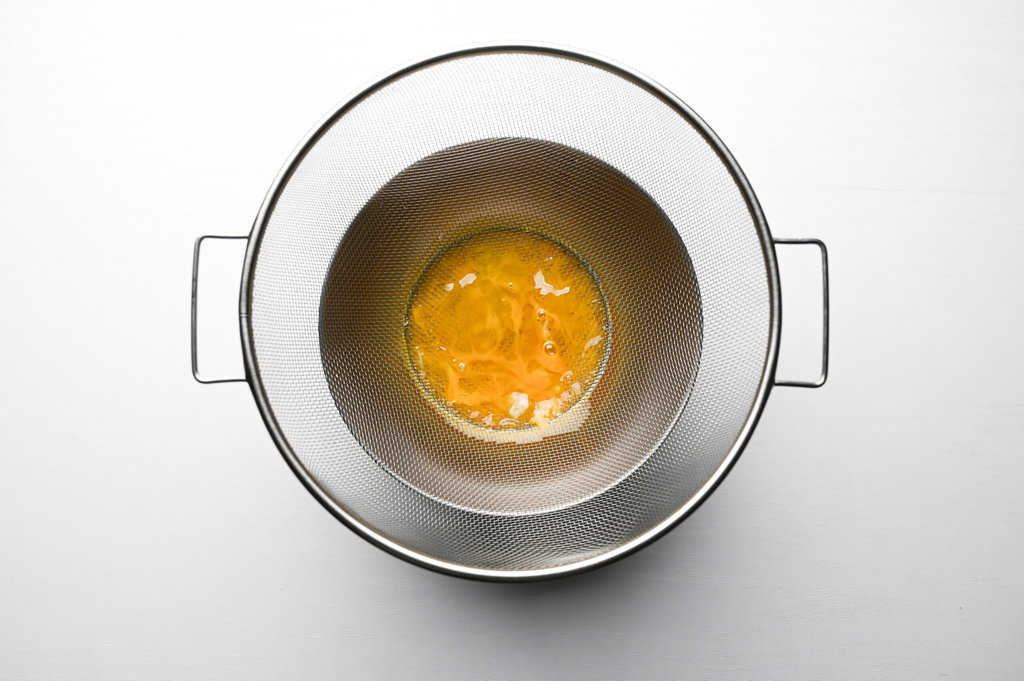 Pour the egg into the pan and tilt from side to side until it is evenly coated with no gaps. You do not need to add all of the egg in one go, a thin even layer is more ideal. You might need to do this in multiple batches depending on the size of your egg. Fry the egg until 80% cooked.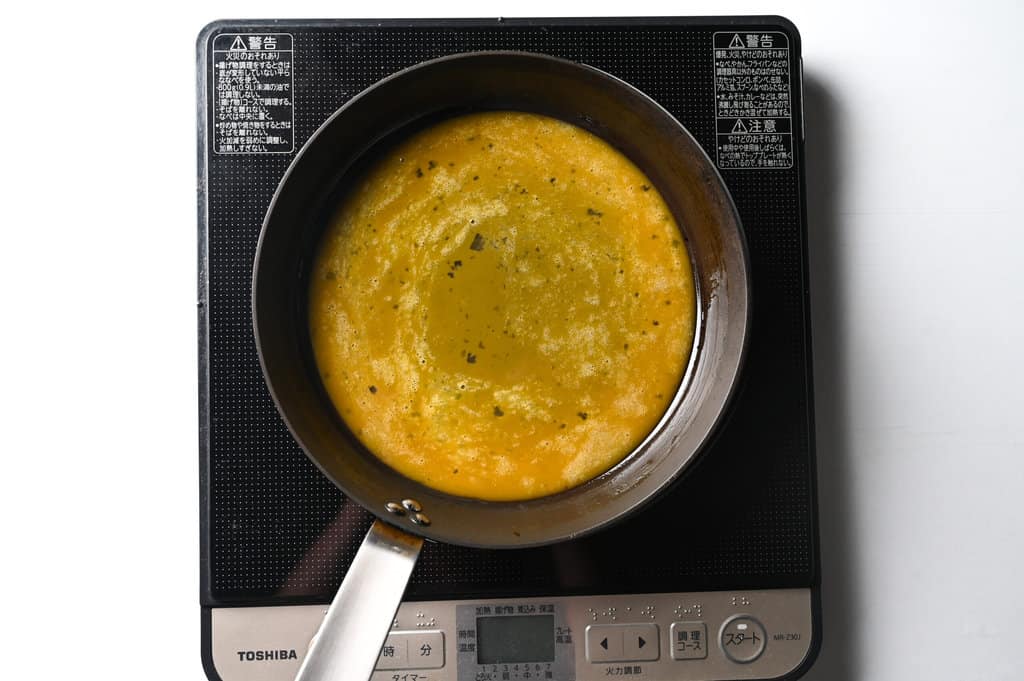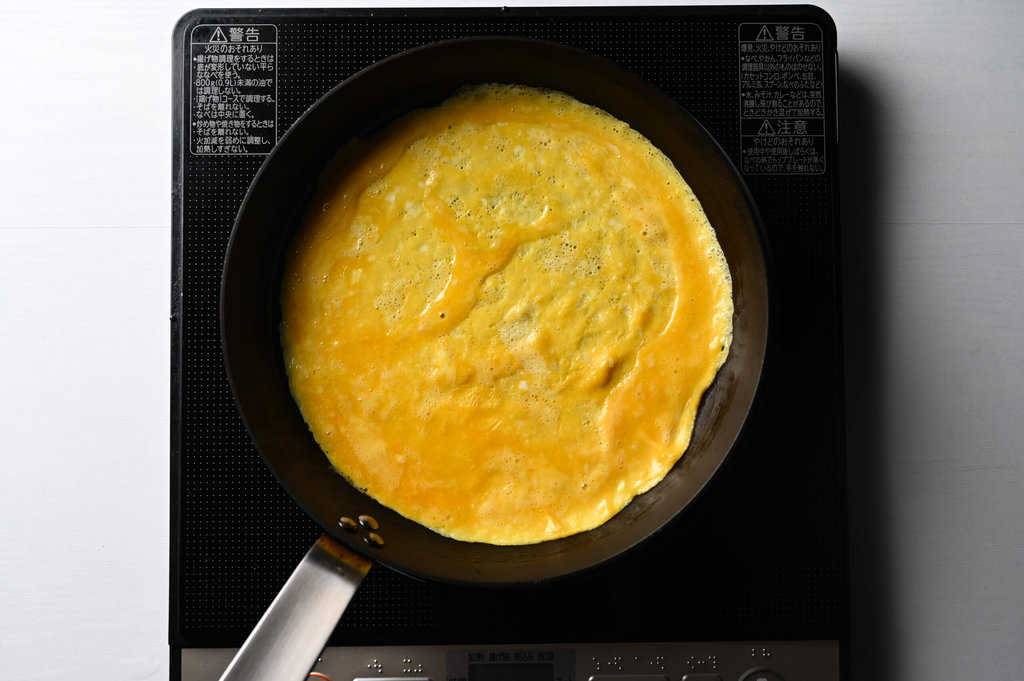 If making multiple batches
Make sure to grease the pan between each batch to prevent the egg crepe from sticking and ripping.
Use a spatula or knife and gently pull one of the edges away from the pan, then carefully peel the egg crepe and transfer to a chopping board. Cool for a few minutes and then roll it up and thinly slice.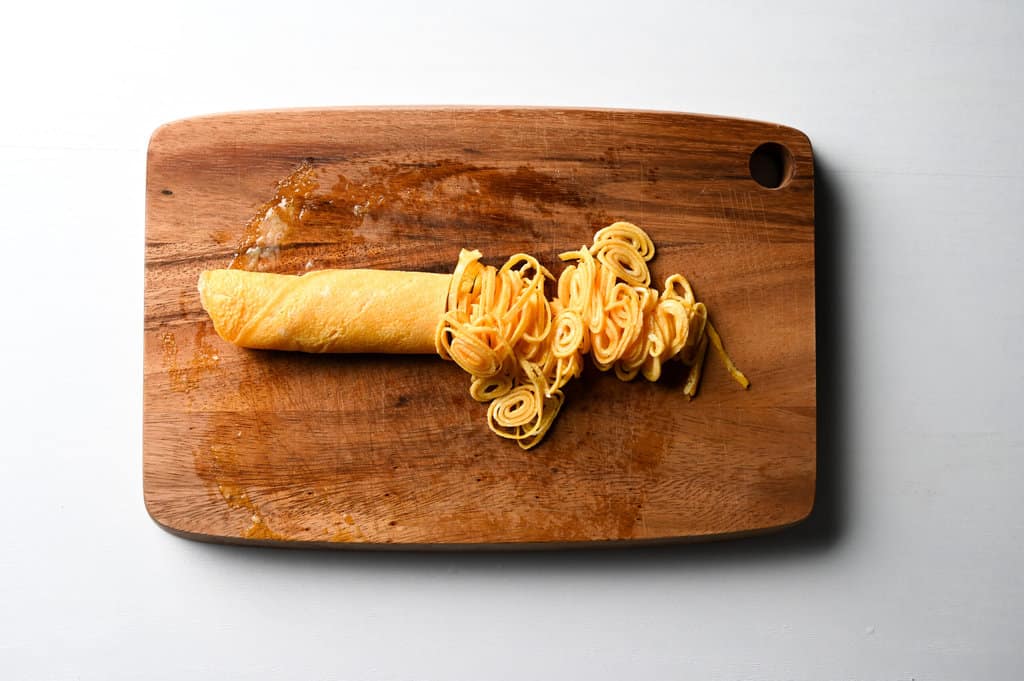 Set aside and prepare the rest of the dish!
How to Make Hiyashi Chuka
Mix cold water, soy sauce, rice vinegar, sugar, sesame oil and a pinch of black pepper to a jug and whisk until the sugar has dissolved. Chill in the fridge until it's time to serve.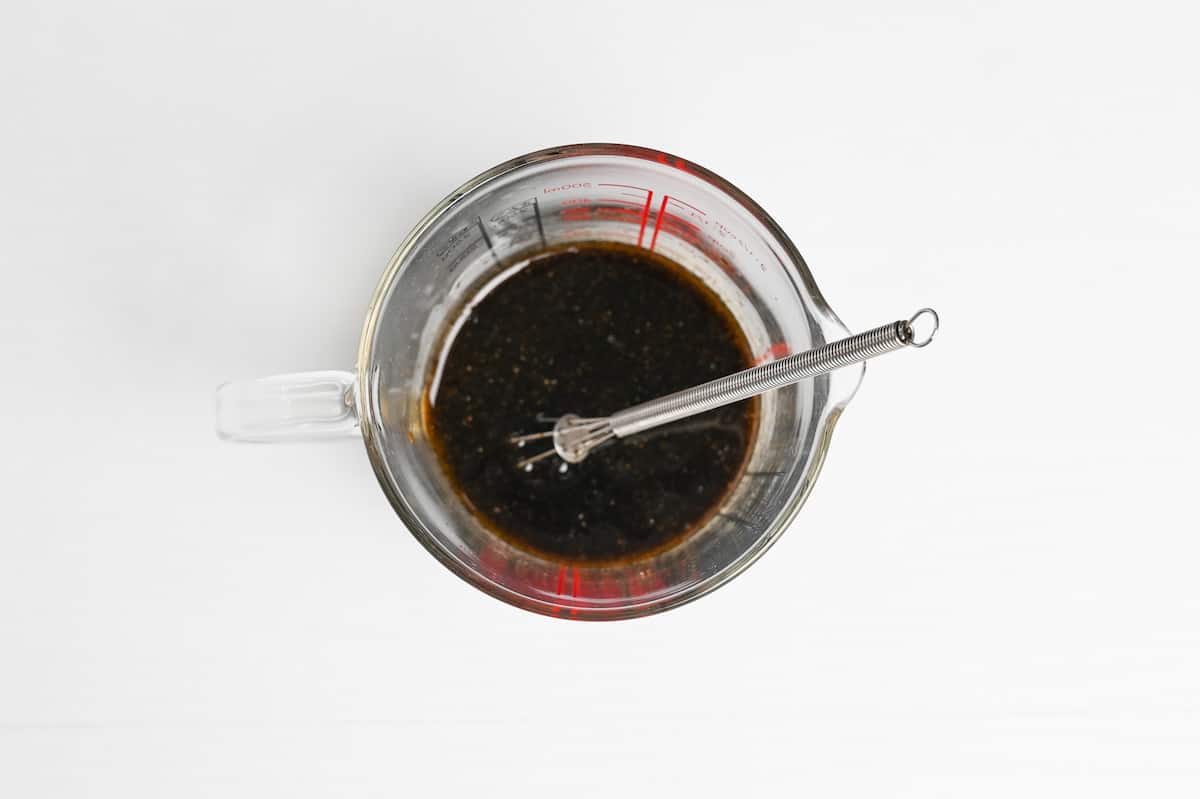 Want to make the sauce extra cold? Skip the water and add a few ice cubes instead. Test the taste right before serving and add a splash more water if necessary.
Bring a pot of water to a rolling boil and cook the ramen noodles for the time stated on the packaging.
Once cooked, pour through a sieve or colander to drain and then wash with fresh cold water. Not only with this wash off the excess starch, but it will also cool them quickly. Throw in a few ice cubes to chill them further.
Slice and julienne the ham and vegetables according to your preference, then plate up the noodles and arrange the ingredients on top.
Pour the sauce in the middle so that it travels through the middle of the noodles and pools at the bottom (this is for nice presentation).
Optional garnish ideas include a sprinkle of sesame seeds or a drizzle of Japanese mayonnaise or chili oil.
Mix well before eating and enjoy!
Storage Options
Unfortunately, Hiyashi Chuka is not recommended for storage as the noodles and cut vegetables tend to dry out. However, the sauce can be stored on its own in an airtight container in the fridge for up to two weeks.
Room temperature – Not recommended.
Refrigerated – Up to 2 weeks (only the sauce).
Frozen – Not recommended.
I hope you enjoy this refreshing hiyashi chuka recipe! If you try it out, I'd really appreciate it if you could spare a moment to let me know what you thought by giving a review and star rating in the comments below. It's also helpful to share any adjustments you made to the recipe with our other readers. Thank you!
More Japanese Summer Noodle Dishes
Check out some of my other cold noodle recipes!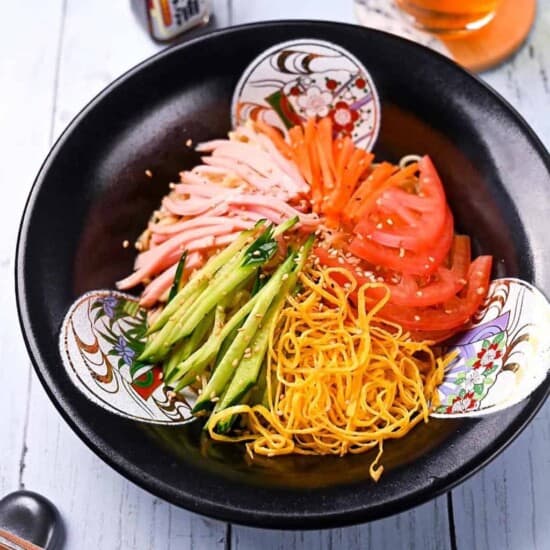 Hiyashi Chuka (冷やし中華) Cold Ramen Noodle Salad
---
How to make summery ramen salad "Hiyashi Chuka" topped with seasonal vegetables, ham and "kinshi tamago" (shredded egg crepe) served in a simple, refreshing, homemade sauce!
---
---
---
---
Ingredients
Hiyashi Chuka Sauce
50

ml

cold water

50

ml

soy sauce

50

ml

rice vinegar

1

tbsp

sugar

1

tsp

sesame oil

1

pinch

black pepper
Hiyashi Chuka
1

medium egg(s)

1

pinch

salt

1

tsp

cooking oil

50

g

Japanese or Persian cucumber(s)

preferably Japanese or Persian, cut into thin strips, about 2mm thick

70

g

tomato(s)

thinly sliced

70

g

carrot(s)

cut into thin strips, about 2mm thick

20

g

ham

slice 2mm strips

200

g

cooked ramen noodles

chilled

water

for boiling

3

ice cubes

1

tsp

Japanese mayonnaise

optional

½

tsp

chili oil

optional

1

tsp

white sesame seeds

optional
Instructions
First, make the sauce by taking a small jug and adding

50 ml cold water

,

50 ml soy sauce

,

50 ml rice vinegar

,

1 tbsp sugar

,

1 tsp sesame oil

and

1 pinch black pepper

. Mix well until the sugar is dissolved and store in the fridge until it's time to dish up.
Kinshi Tamago (Shredded Egg)
First, crack

1 medium egg(s)

into a bowl with

1 pinch salt

and whisk well.

Pour the whisked egg into a sieve over another bowl and mix with a spoon to help it pass through.

Heat a small non-stick frying pan on a medium-low setting and add

1 tsp cooking oil

. Use a paper towel to spread the oil around the pan and remove the excess.

Pour the egg into the pan and swirl it around, coating the bottom of the pan with an even layer.

Cook until the egg is 80% done (slightly soft on the surface) and remove from the heat. 

Peel the egg out of the pan and transfer it to a chopping board. Roll it up and thinly slice about 2mm thick.
Hiyashi Chuka
Boil the ramen noodles (follow the instructions on the packaging).

Once the noodles are cooked, drain the water by pouring them through a colander and then run them under cold water to wash and cool. Add a few ice cubes to make them extra cold.

Once chilled, divide the noodles onto two serving plates and top with thinly sliced

20 g ham

, vegetables (

50 g Japanese or Persian cucumber(s)

,

70 g tomato(s)

,

70 g carrot(s)

) and a handful of kinshi tamago.

Pour the sauce over the dish and optionally garnish with

1 tsp Japanese mayonnaise

,

1/2 tsp chili oil

or

1 tsp white sesame seeds

.

Mix well before eating and enjoy!
Notes
If you can't get ramen style noodles, check out my ramen hack, how to make ramen noodles using spaghetti.
If you want to make this dish vegetarian/vegan, you can omit the ham/egg and replace them with vegetarian alternatives.
If you don't want to use ham, it's also common to use shredded chicken, pork chashu, shrimp, imitation crab or sushi grade salmon.
Nutrition
Serving:
316.7
g
|
Calories:
298
kcal
|
Carbohydrates:
43.3
g
|
Protein:
12.9
g
|
Fat:
9
g
|
Saturated Fat:
2.08
g
|
Polyunsaturated Fat:
2.54
g
|
Cholesterol:
110
mg
|
Sodium:
1680
mg
|
Fiber:
4.3
g
FAQ
What is the difference between Hiyashi Chuka and Somen?
Hiyashi chuka and somen are different types of noodle dishes. Hiyashi chuka is made with chuka-men (ramen noodles), while somen uses somen noodles. Also, while Somen is dipped in a sauce like Mentsuyu, Hiyashi Chuka is eaten with vegetables and other ingredients with a soy sauce and vinegar-based sauce.
What is the history of Hiyashi Chuka?
The origin of hiyashi chuka dates back to 1937 when the manager of a Chinese restaurant in Sendai invented it as a secret plan to cover declining summer sales.
What does Chuka mean in Japanese?
Chuka generally refers to Chinese cuisine or Chinese-inspired Japanese cuisine.