Chicken Nanban is a delicious Japanese fried chicken dish from Miyazaki prefecture. Made with succulent chicken thighs coated in a fluffy egg batter, cooked in a sweet vinegar sauce and then topped with rich homemade Japanese tartar sauce, chicken nanban is one of the most popular fried chicken dishes in Japan!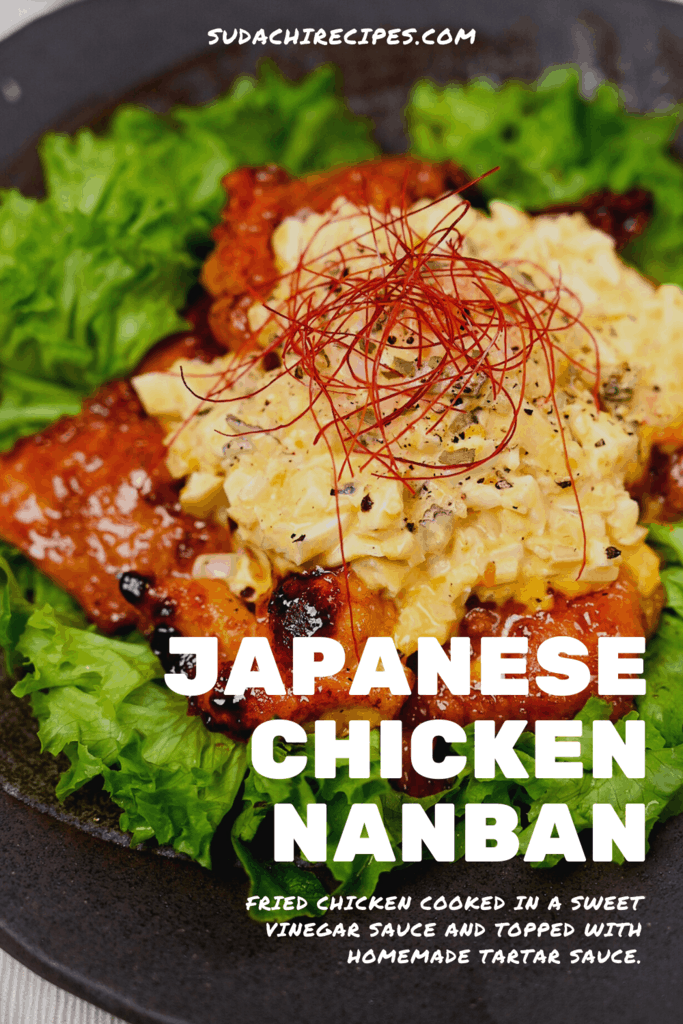 Disclaimer: This post contains Amazon affiliate links. Sudachi Recipes earn a small percentage from qualifying purchases at no extra cost to you. See disclaimer for more info.
What is chicken nanban (チキン南蛮)?
Chicken Nanban is a popular Western style "yoshoku" dish from Japan. It's made with juicy chicken thigh coated in egg and potato starch which is then deep fried and coated in a tangy, sweet "nanban" sauce. Lastly, the dish is topped with a rich and creamy Japanese style tartar sauce.
You can find chicken nanban in restaurants, homes, bento boxes and convenience stores. With all these flavours and textures going on, it's easy to see why chicken nanban is such a well-loved dish in Japan!
Chicken nanban is most commonly served with rice and shredded cabbage or salad.
Special homemade nanban sauce
Japanese style tartar sauce
Recipe to make chicken nanban without deep frying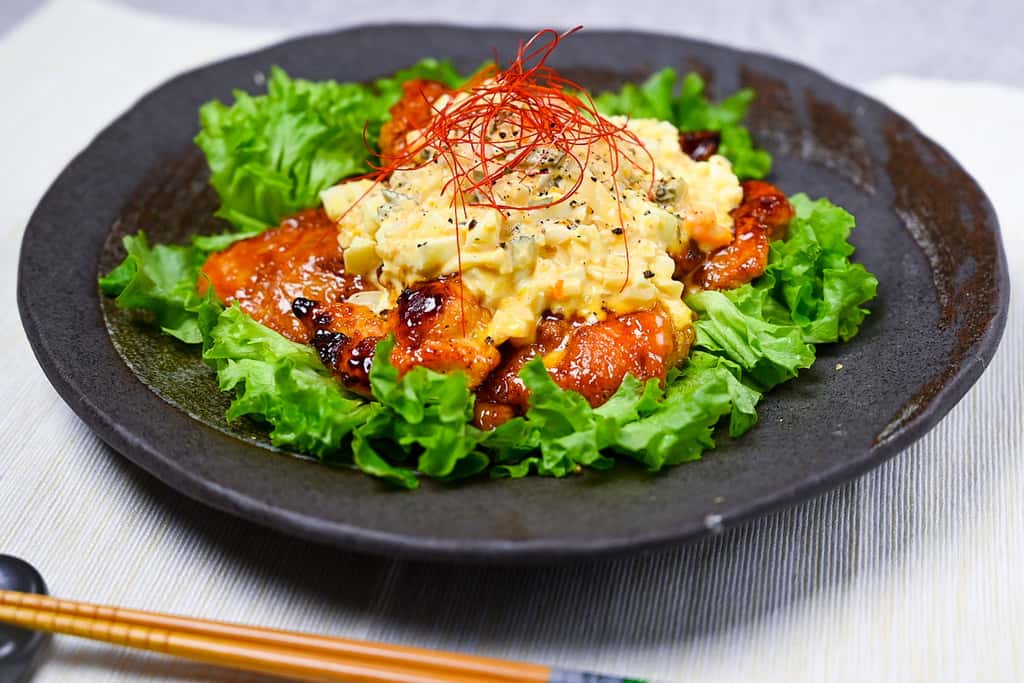 The Origin of Chicken Nanban
Chicken nanban originates from Miyazaki prefecture located in Kyushu, the southern island of Japan and has influences from Portugal. The dish is considered the soul food of "Nobeoka", a city within Miyazaki Prefecture where it was created.
Chicken nanban appeared around the 1960's and was served to workers at the Western style restaurant called "London". One apprentice went on to open his own restaurant called "Naochan", serving dishes that before this point, were only served to the other cooks.
Chicken Nanban became popular all over the city and travelled across Japan to large cities like Tokyo and Osaka. It came to be one of the most popular fried chicken dishes in Japan!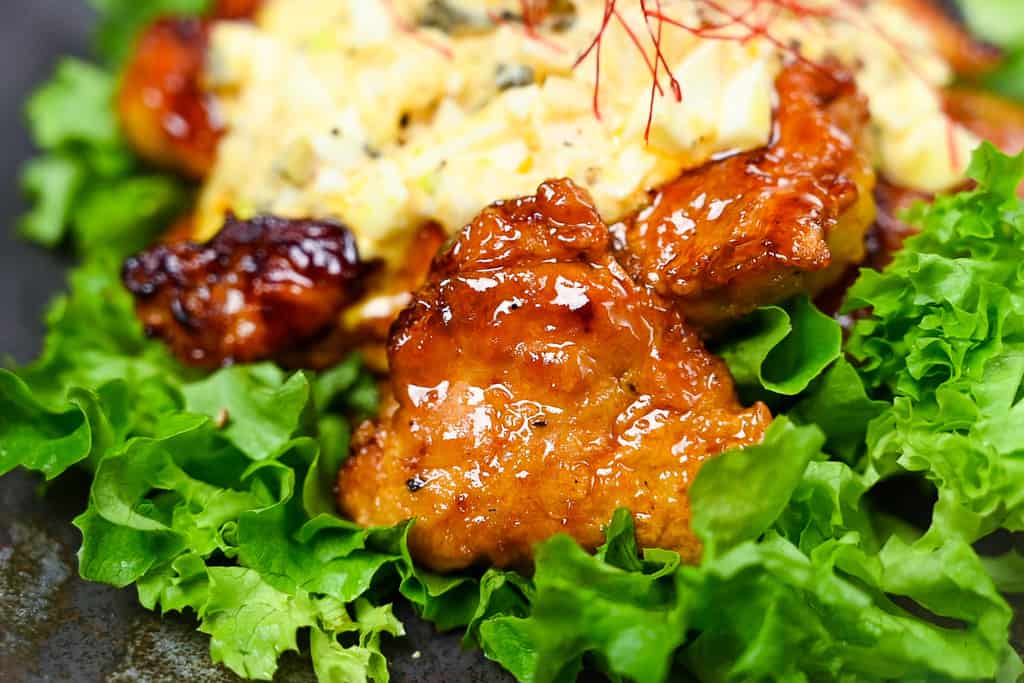 What is Nanban sauce?
Nanban sauce comes from another popular dish called "Nanbanzuke". Nanbanzuke is a fish dish served in sugar and rice vinegar with onions and carrots. Salmon nanbanzuke is popular, but it can be made with any fish, most commonly horse mackerel or smelt.
Nanbanzuke is served cold and is inspired by the Portuguese dish "escabeche". It is said that the Portuguese brought escabeche to Japan in the 16th century.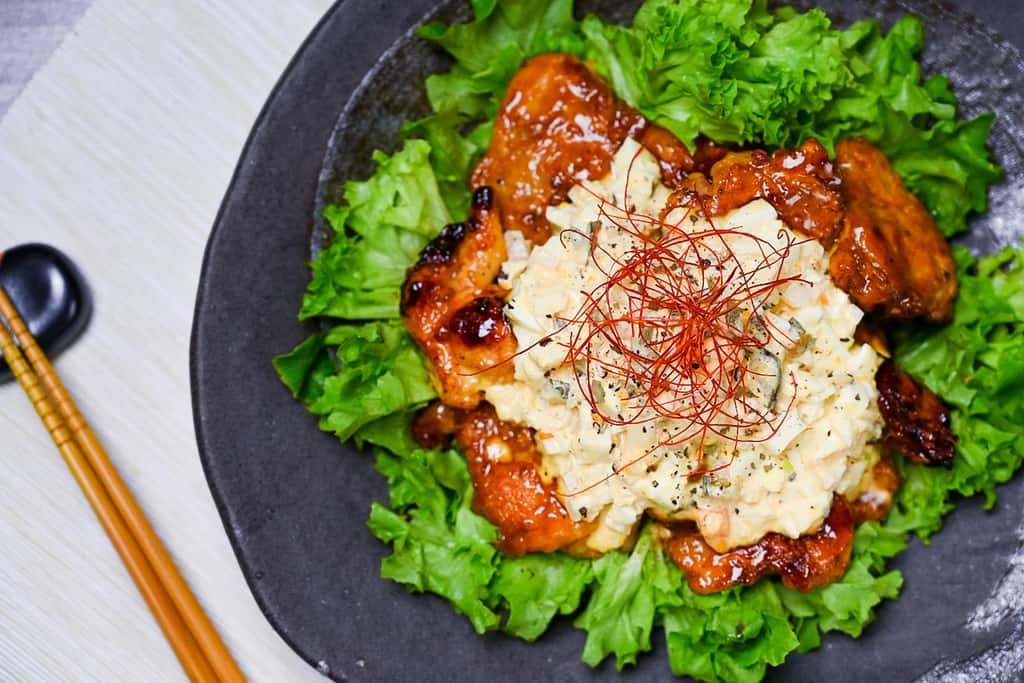 Nanban (南蛮) actually comes from the Chinese word "nánmán" which means "Southern Barbarians". It was a derogatory term for used in Chinese language back then to refer to non-Chinese from the south.
In Japan, nanban has a positive connotation, simply referring to high quality and desirable foreign goods, particularly from Portugal and Spain.
The Portuguese were the first Europeans to reach Japan and the 17th century is known as the "Nanban Trade" period where Portugal would trade things like guns, gold, lead and textiles for Japanese goods such as swords and lacquer ware.
There are actually a few famous Japanese dishes that originated from Portugal such as Tempura and Castella cake!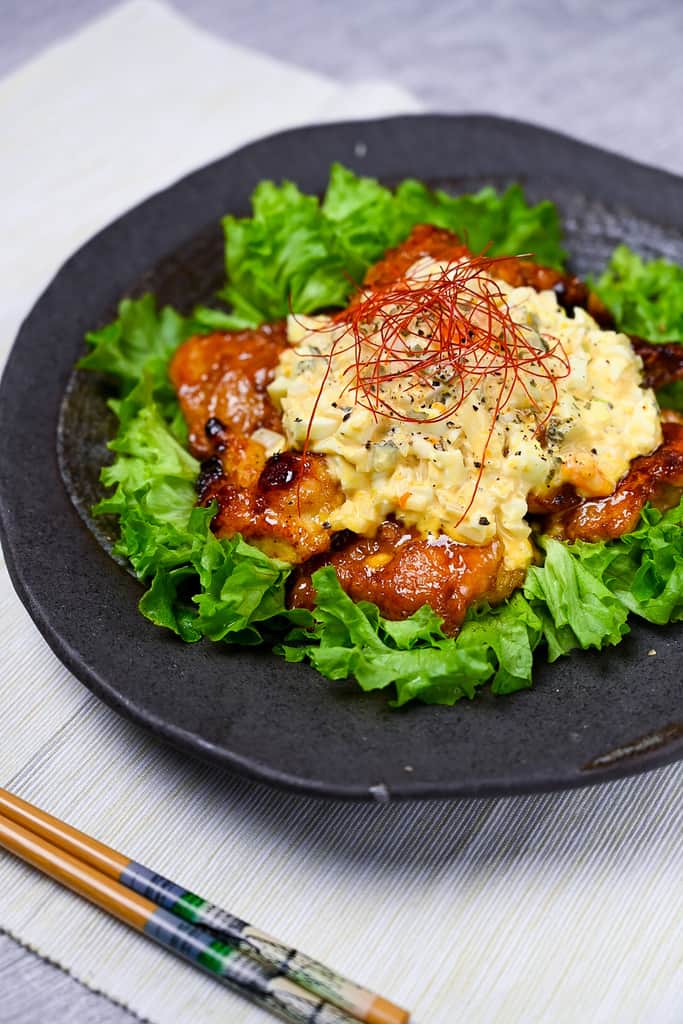 Chicken nanban vs karaage: what are the differences?
Chicken karaage and Chicken Nanban are both fried chicken dishes, so you might be wondering how they're different. Well actually, there are a number of differences from the preparation and cooking method, to the seasonings and way its served. Let's look at the distinctive differences in more detail.
Chicken karaage, also known as "Japanese fried chicken", is the most common and popular fried chicken dish in Japan. It's most commonly made with skin-on boneless chicken thigh that is marinated, then coated in a thin layer of flour or potato starch and deep fried. The marinade makes the chicken juicy and flavourful all the way through, and the outside is perfectly crispy.
Chicken nanban is also made with chicken thigh meat, but one of the key differences is the use of an egg batter which gives it a fluffier texture. In addition to the batter, the way its seasoned is also completely different. Chicken nanban is not marinated, rather, it's cooked in a tangy nanbanzuke sauce after its fried. Lastly, it is always topped with a creamy Japanese style tartar sauce and wouldn't be considered chicken nanban without it!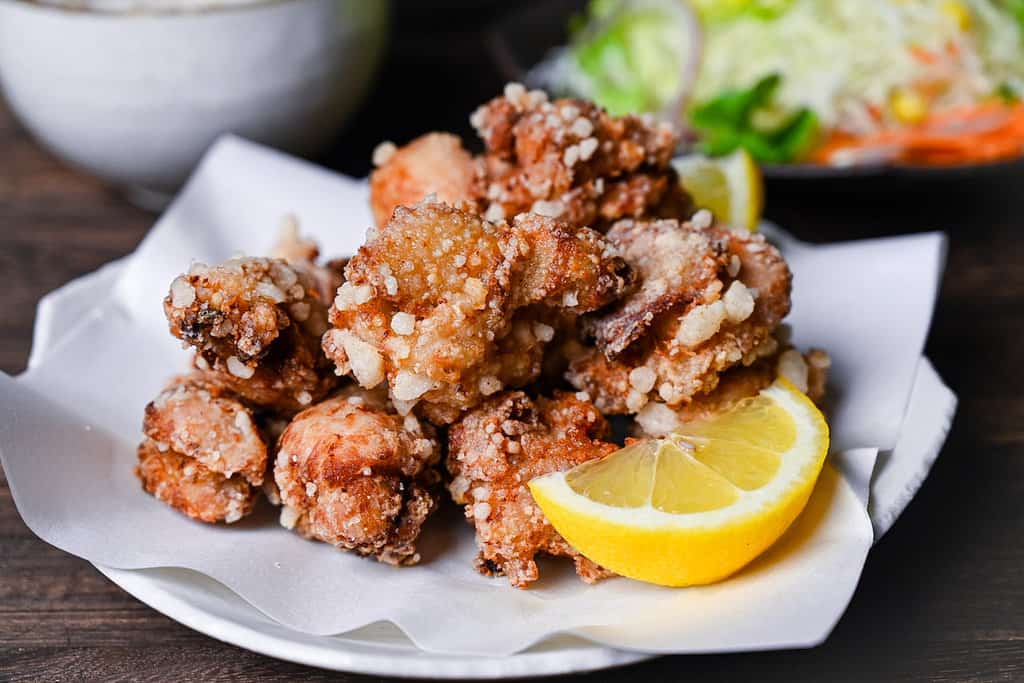 So, in summary, here are the key differences between karaage and chicken nanban:
| | Chicken nanban | Karaage |
| --- | --- | --- |
| Seasoning | Coated in a tangy nanban sauce after frying | Soaked in a soy based marinade before frying |
| Topping | Mostly comes with Japanese style tartar sauce | Often eaten on its own or served with lemon wedges |
| Popularity | Moderate | One of the highest in Japanese cuisine |
Ingredients to make this chicken nanban
To make Chicken Nanban using this recipe, gather the ingredients listed below. For your convenience, I've divided them into three groups: Tartar Sauce, Nanban Sauce, and Fried Chicken. Let's get cooking!
Homemade Japanese style tartar sauce
Boiled eggs – To create distinctive texture of Japanese style tartar sauce.
White onion – Can be substituted with red onion if you prefer.
Pickled gherkin – I used sweet gherkin in a jar like this.
Lemon juice – You can use either fresh juice or bottled.
Japanese mayonnaise – You don't have to use Japanese mayonnaise, but for more authentic flavor, I recommend Kewpie's mayonnaise.
Sugar – I used light brown sugar, but white sugar is also fine.
Tomato ketchup – I used Heinz tomato ketchup.
Salt and pepper – A pinch of each to lightly season.
Dry parsley – Chopped fresh parsley is also fine.
Nanban sauce
Fried chicken
Chicken thigh – boneless, preferably with the skin-on for the best texture.
Salt and pepper – A pinch of each for seasoning before frying.
Weak flour – Also known as cake flour, a low gluten flour is preferred to prevent the batter from becoming chewy.
Egg – Medium or large size, tenderizes the meat and makes the batter fluffy.
Potato starch – The top choice for fried chicken in Japan, but this can be substituted with corn starch.
Oil – Flavourless and high smoke point oil like vegetable oil or canola.
Instructions on how to make this chicken nanban recipe
Learn how to make chicken nanban and homemade Japanese tartar sauce totally from scratch with my step by step instructions. For full ingredient quantities, see the printable recipe card at the bottom of the page.
How to make Japanese style tartar sauce
Finely dice the ingredients
Finely dice the pickled gherkins, onion and eggs. The reason for dicing by hand (rather than using a food processor) is so that the tartar sauce has a chunky texture.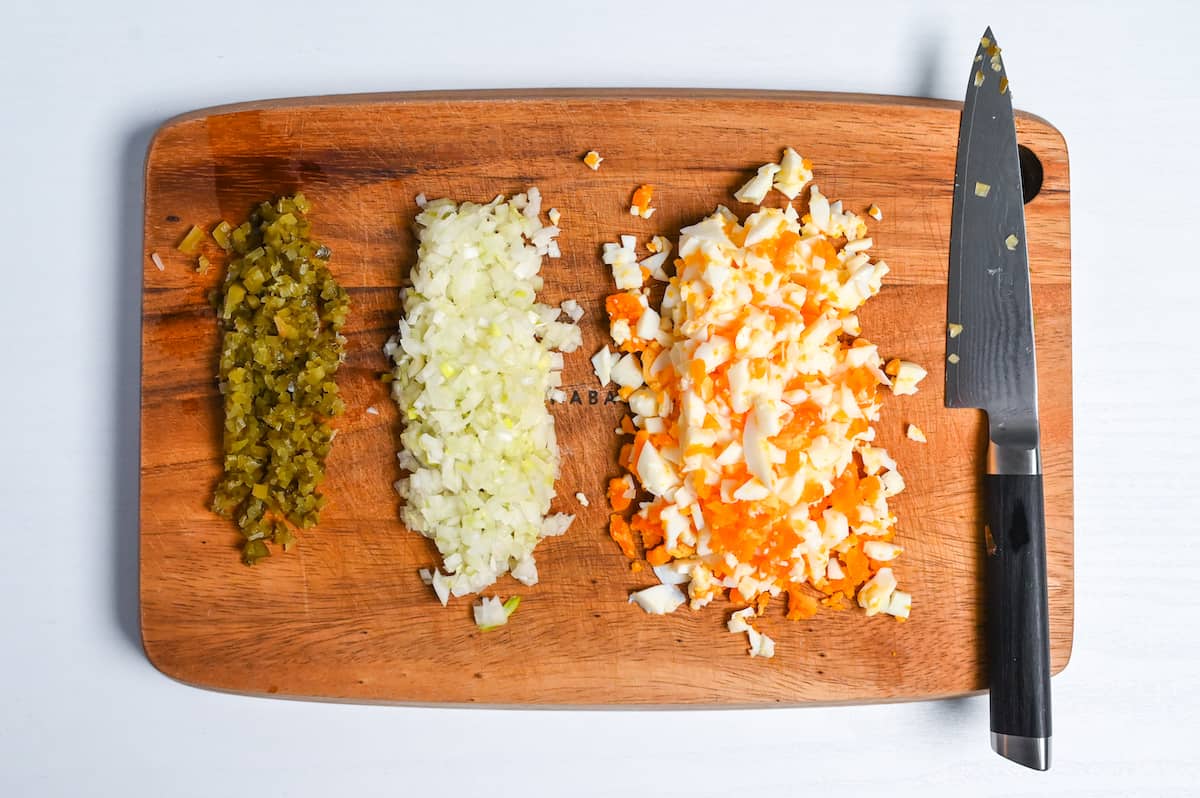 Place everything in a bowl
Add the diced ingredients to a mixing bowl along with lemon juice, Japanese mayonnaise, sugar, ketchup, salt, pepper and dry parsley.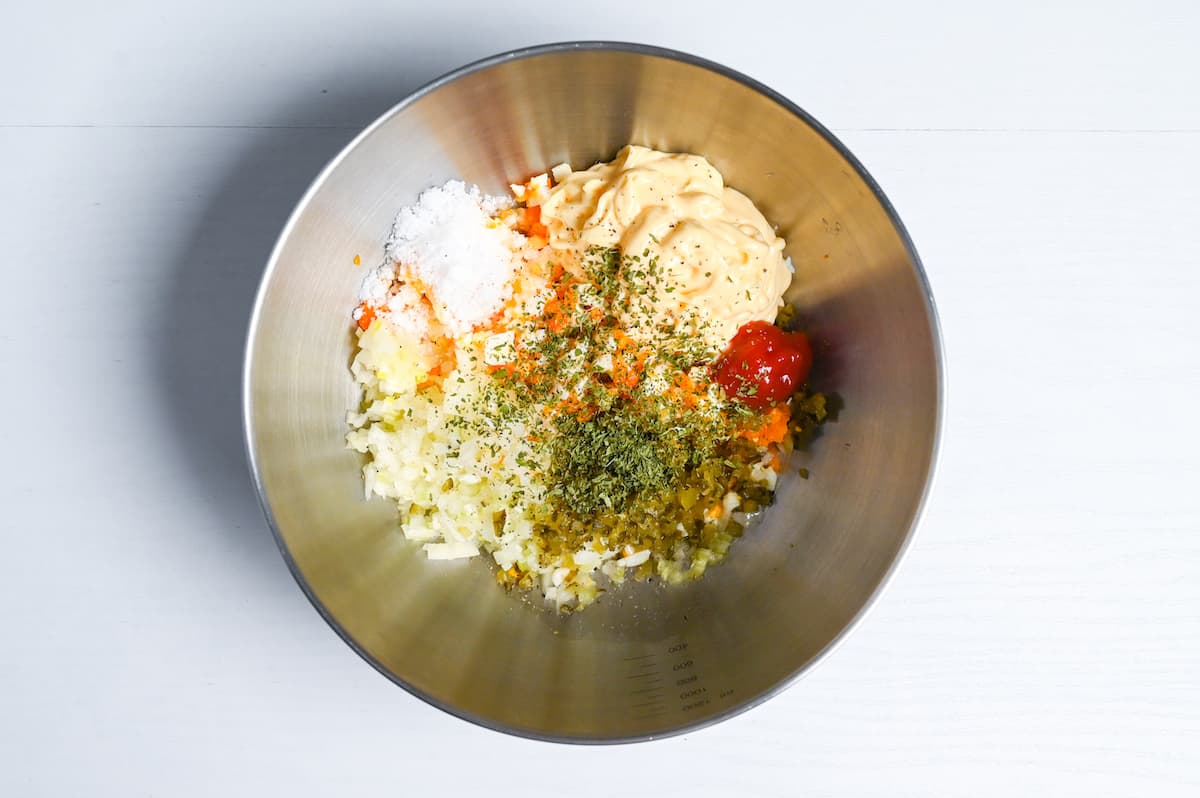 Thoroughly mix until all the ingredients are evenly distributed.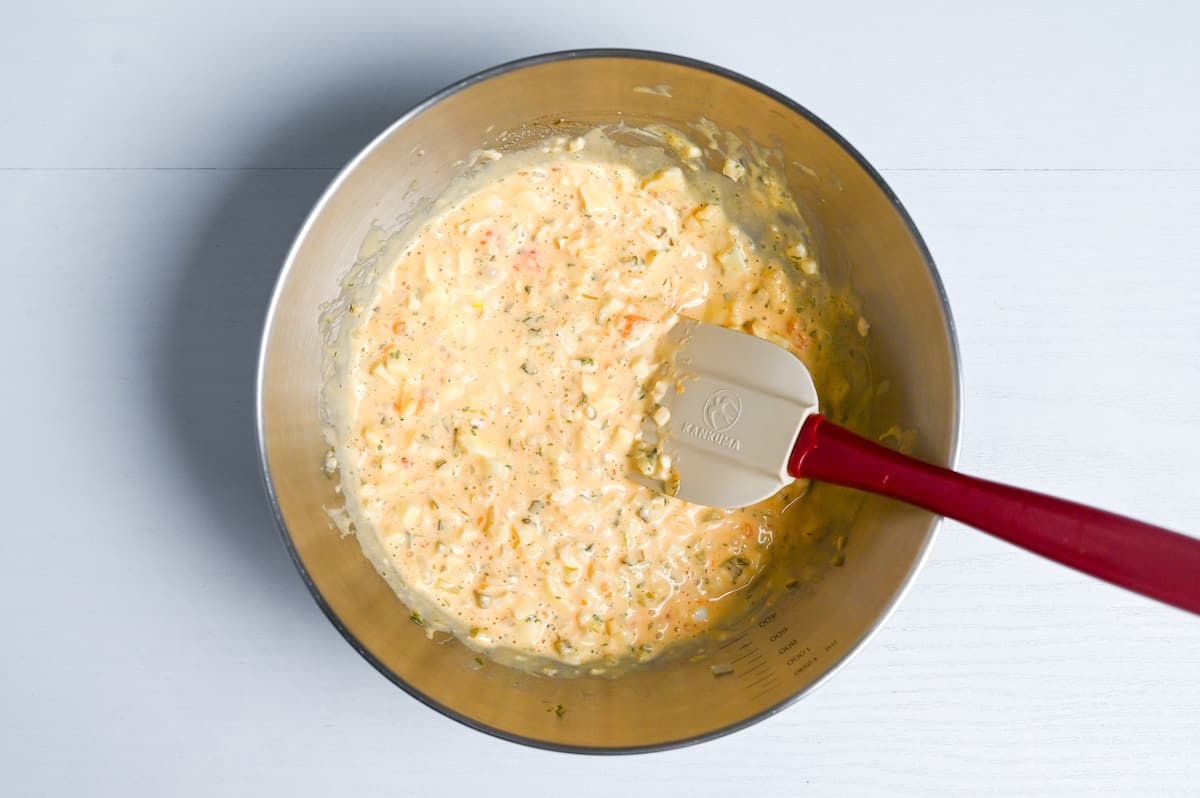 Transfer the tartar sauce to a container and chill in the fridge until serving time.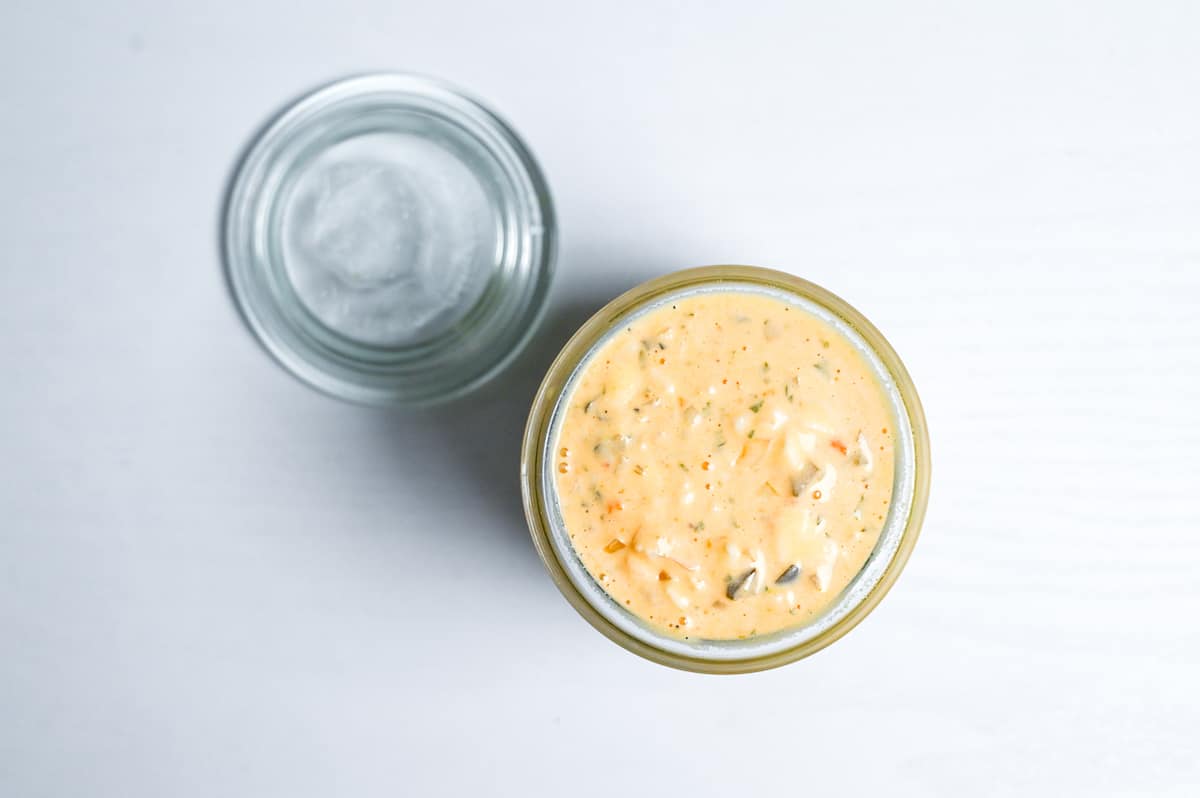 How to make chicken nanban
Take a small bowl and mix sugar, soy sauce and rice vinegar together. This is your nanban sauce. Set aside for later.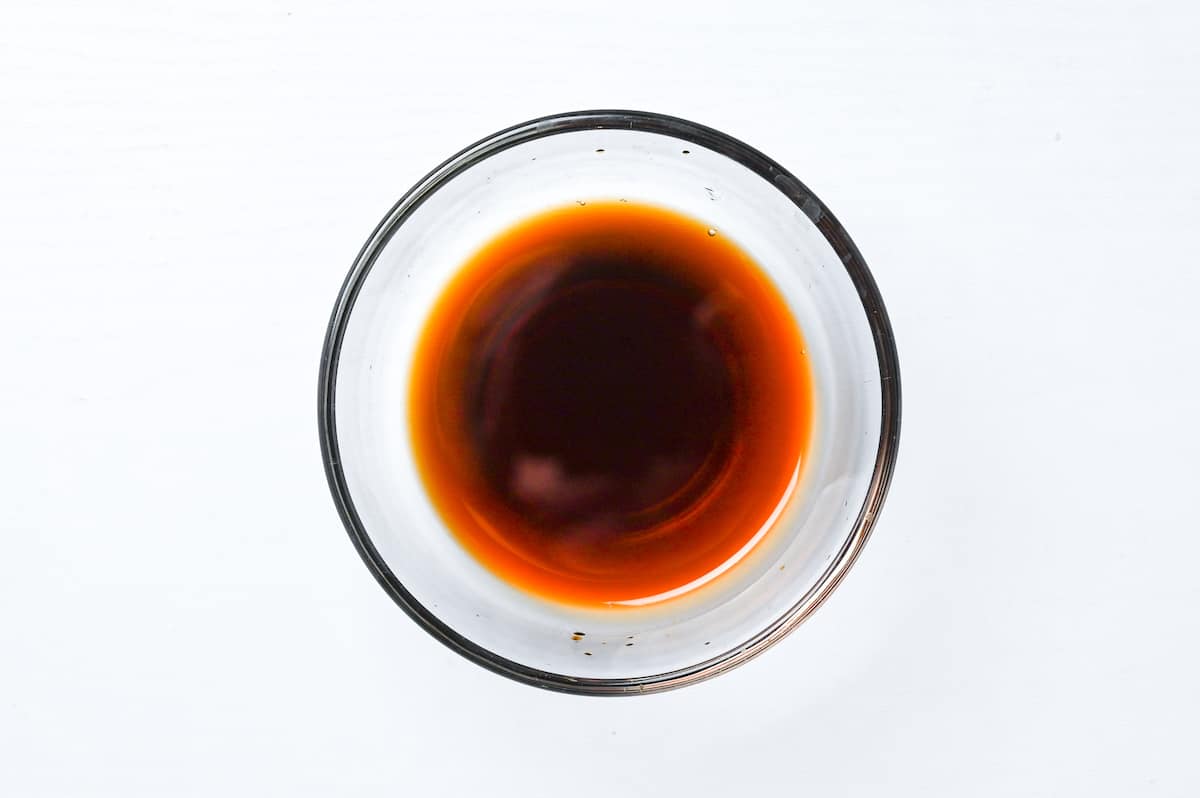 Cut the chicken thigh into bitesize pieces and place them in a bowl. Sprinkle with a pinch of salt and pepper, then add the flour and mix until evenly coated.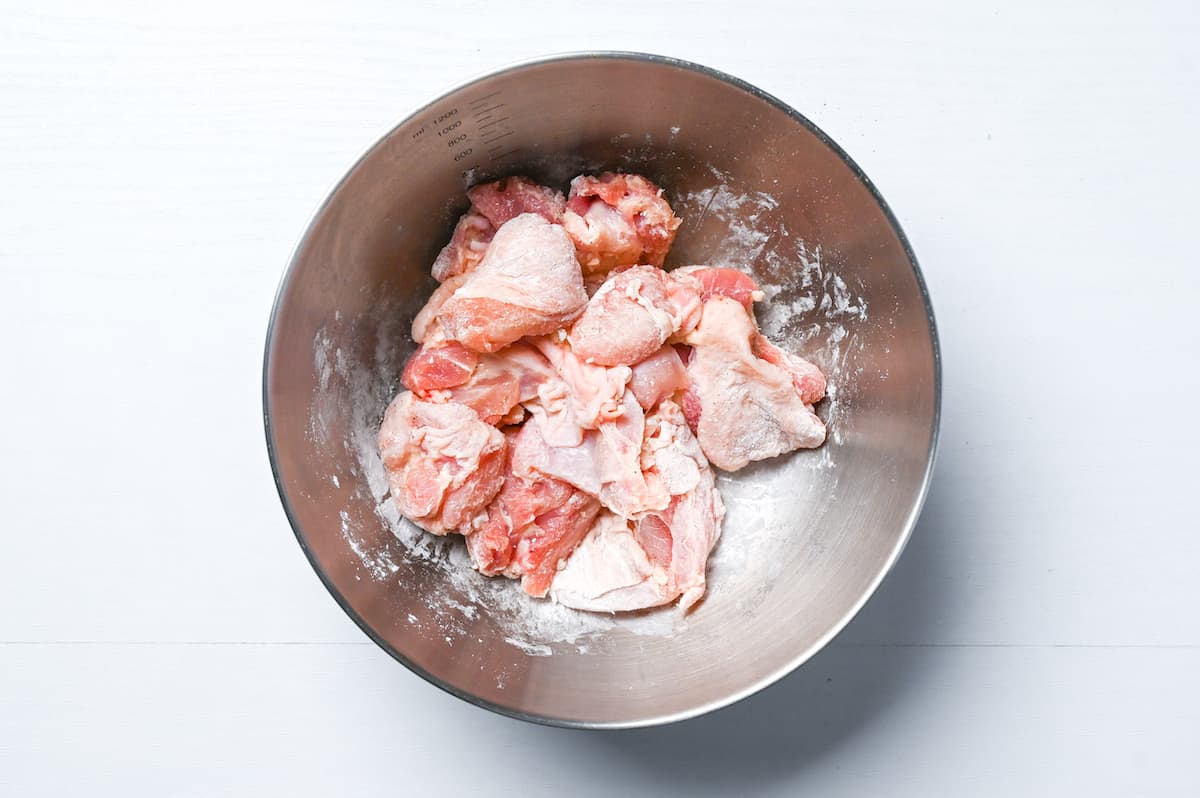 Try to cut the chicken so that the pieces are around the same size, this will ensure even cooking!
Crack the egg into the bowl and mix thoroughly. The egg not only helps form a batter, but it also tenderizes the chicken meat.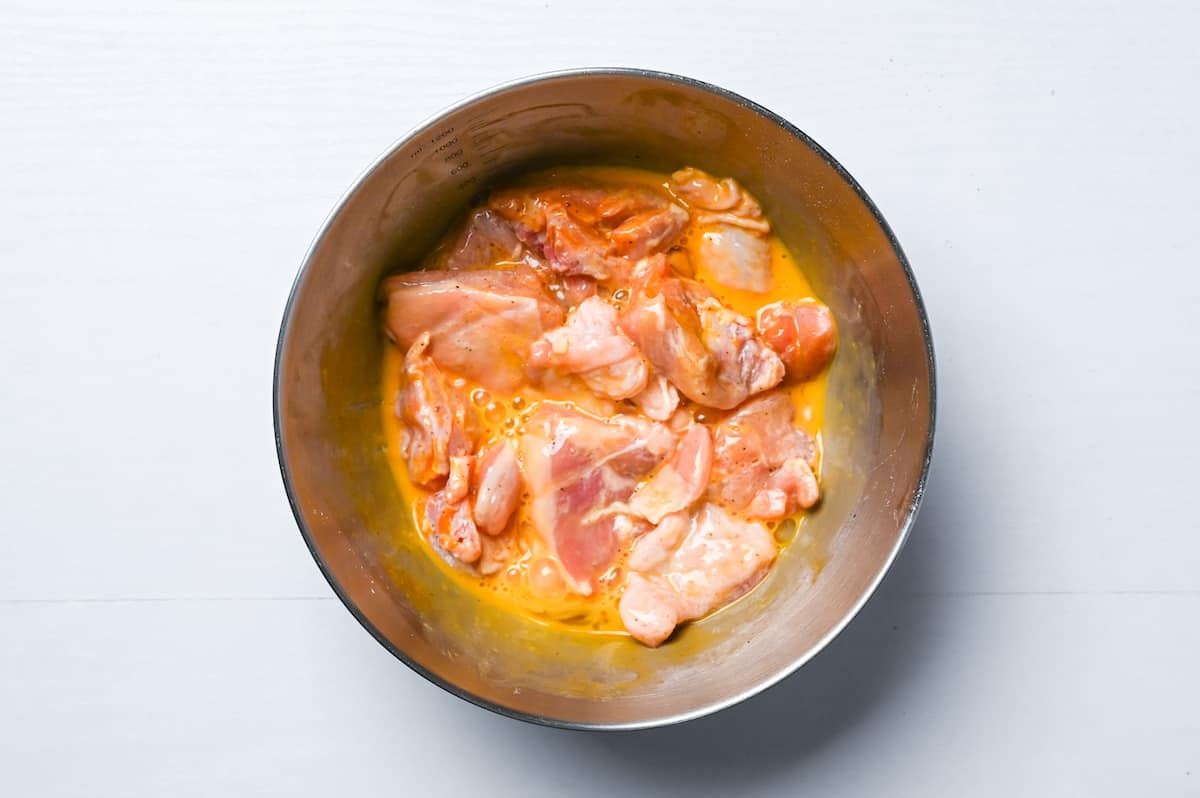 Add potato starch and mix thoroughly.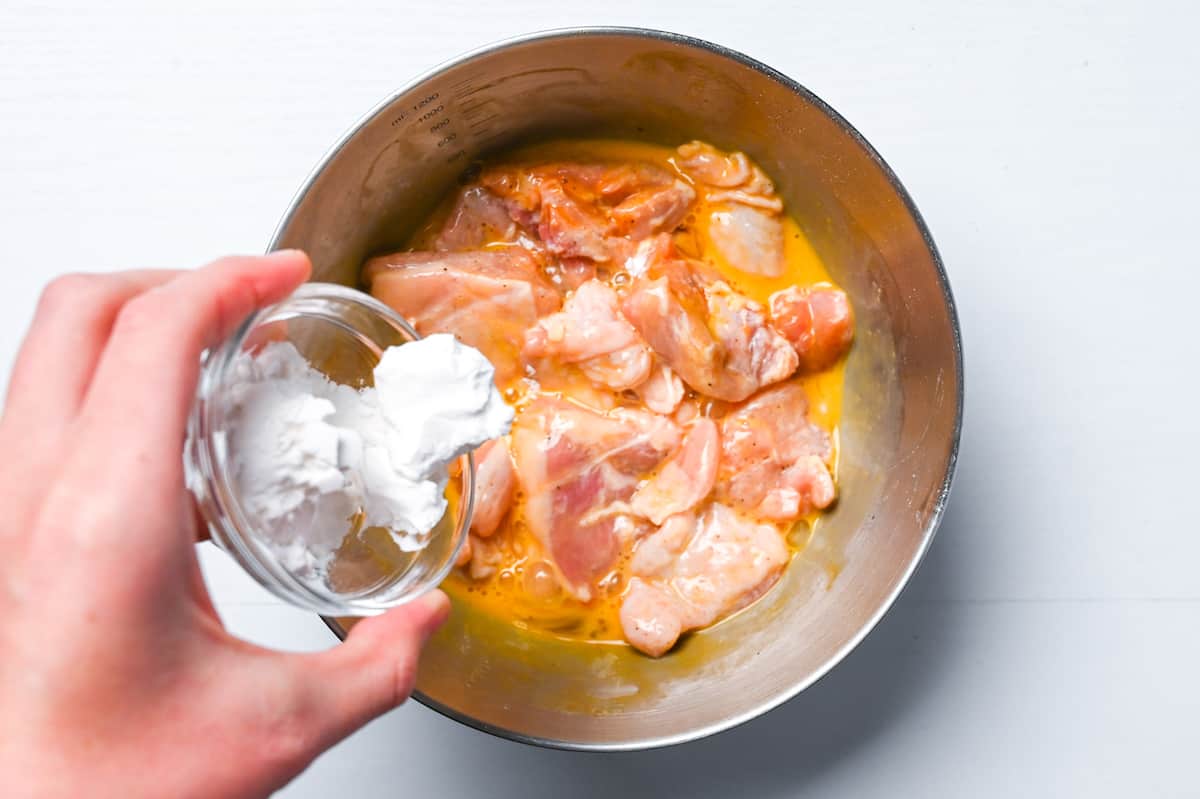 Make sure the starch is well incorporated without any lumps.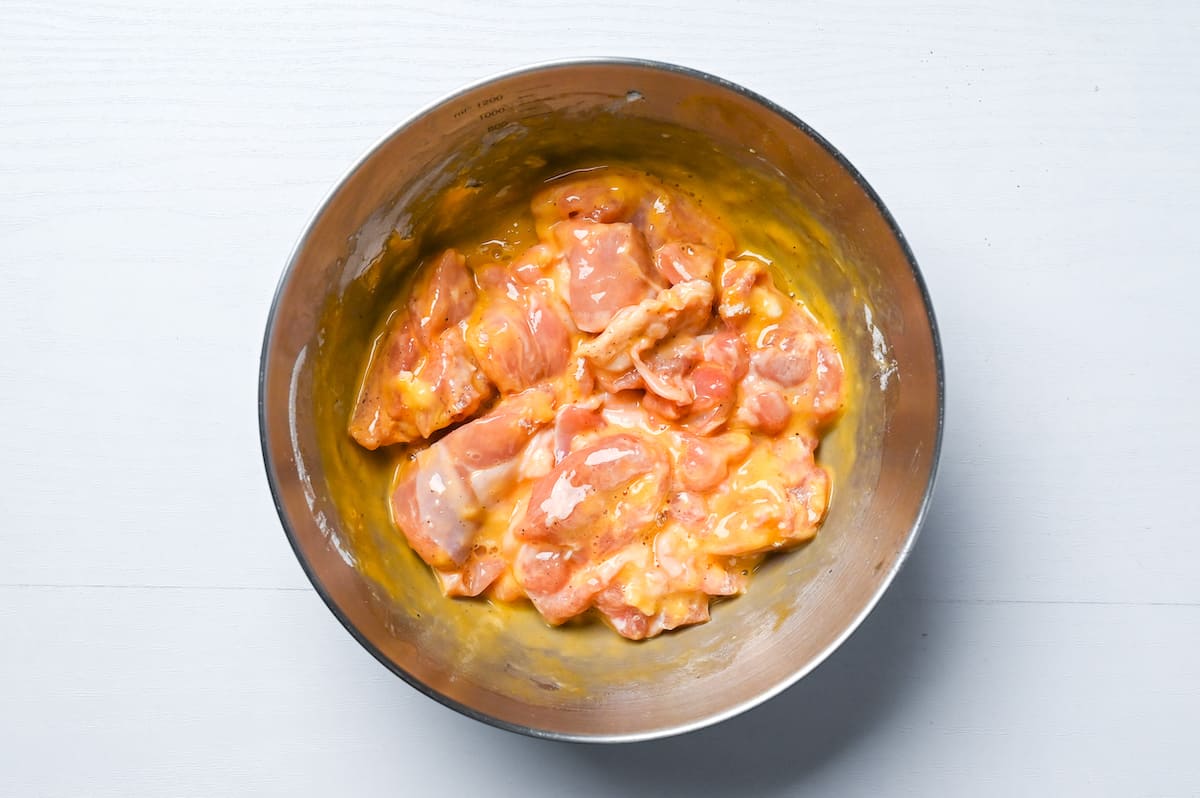 Heat a frying pan on medium. Once hot, add 2 tbsp of oil and swirl the pan so the base is evenly coated. Add the chicken and fry for 3 minutes on each side.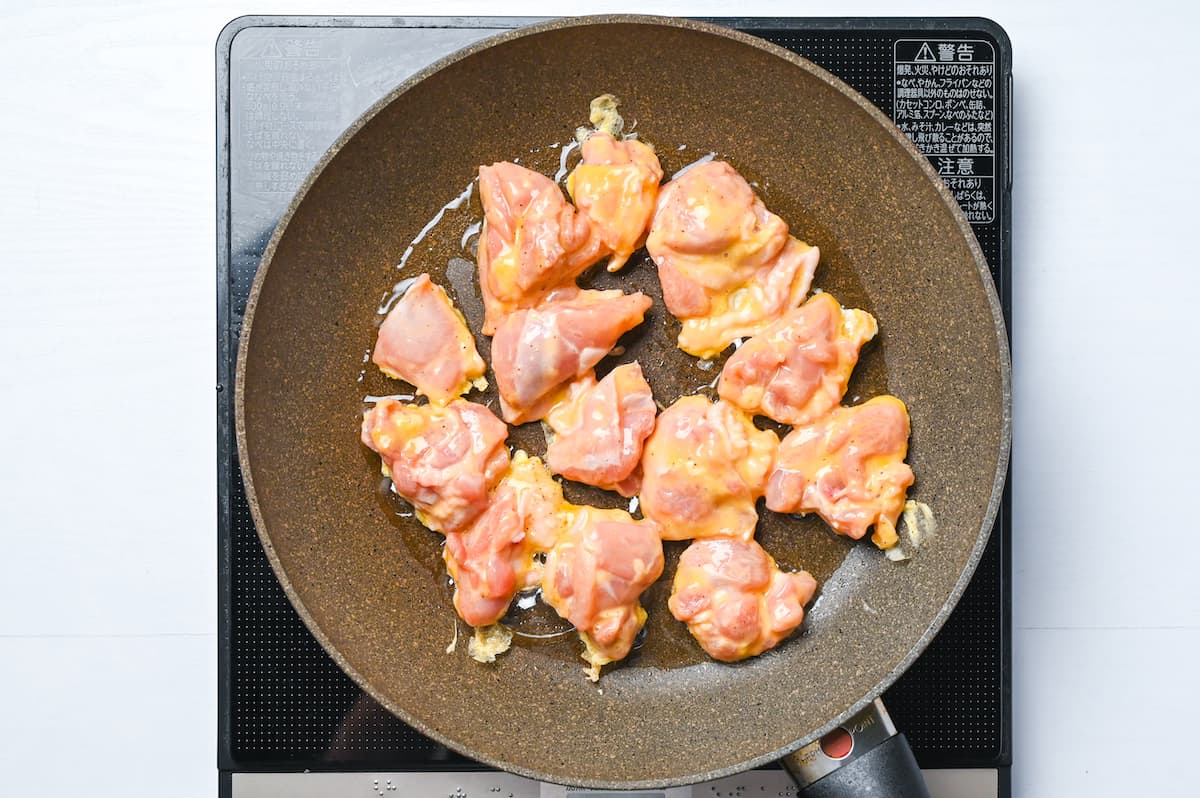 The batter should become golden.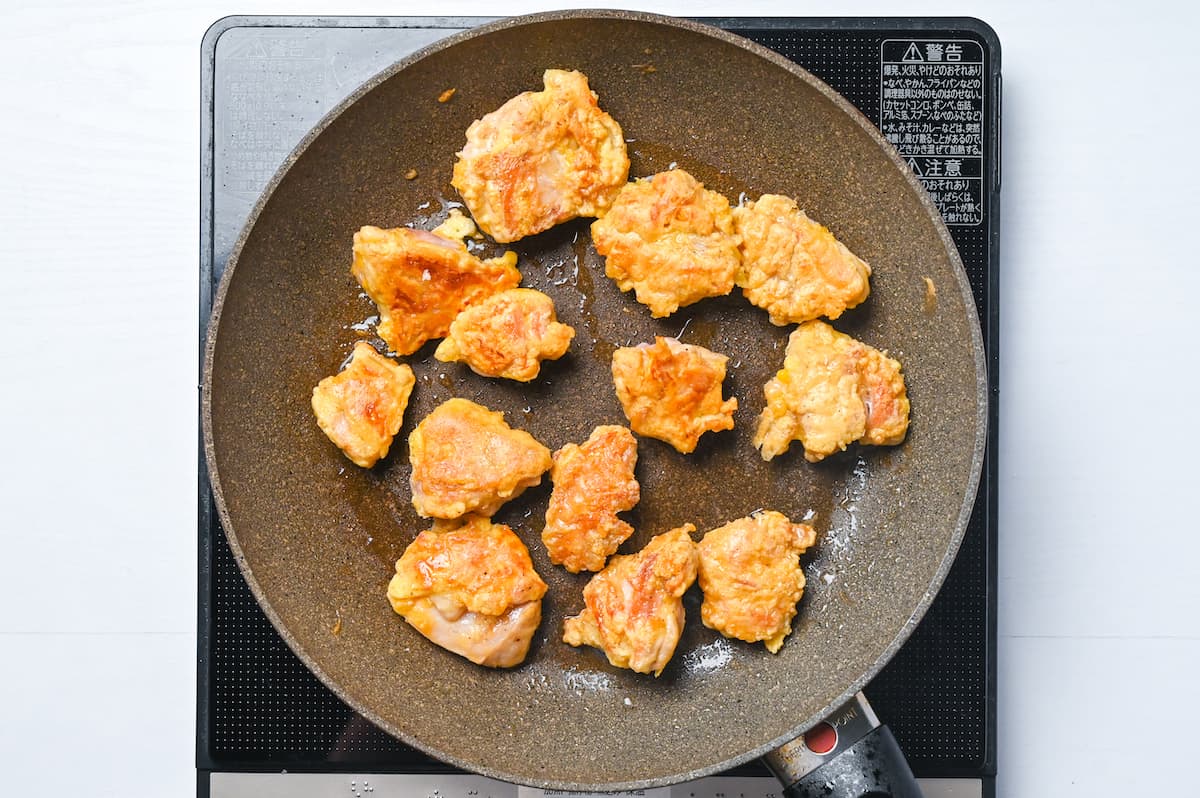 Once the chicken is cooked through, push it to one side and remove the excess oil with kitchen paper.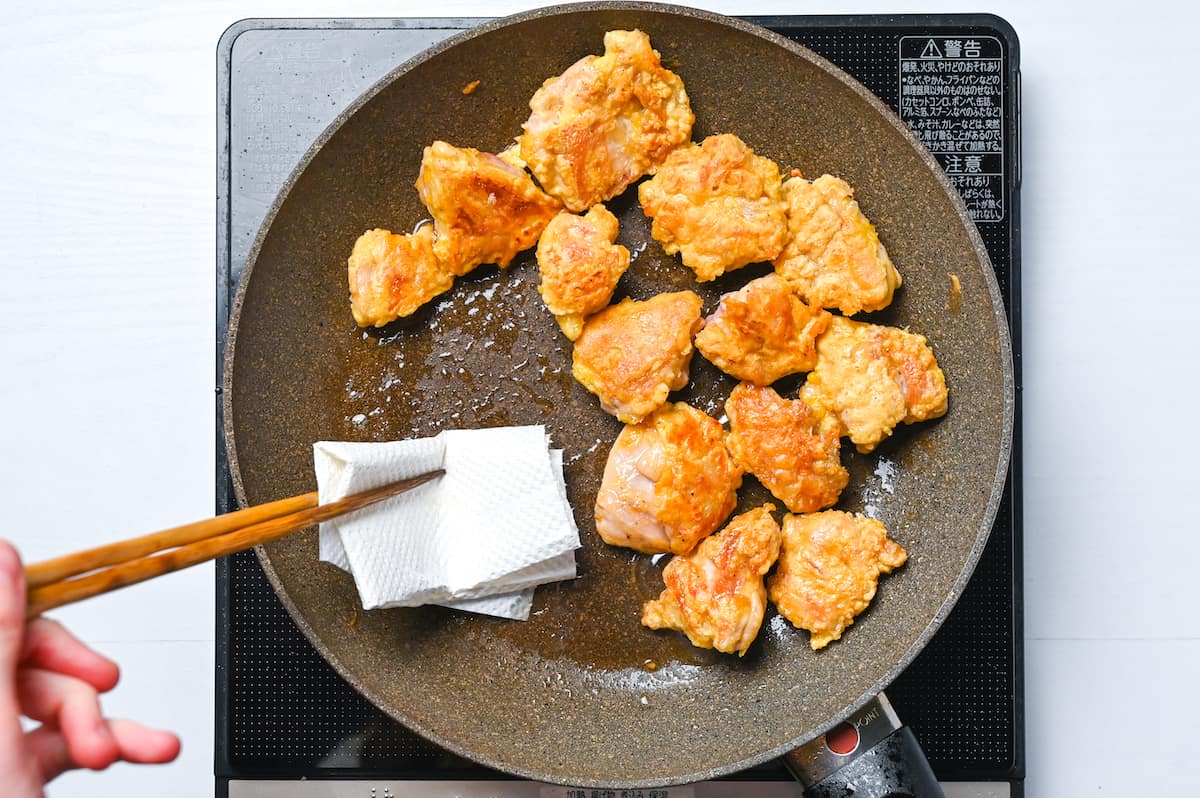 Reduce the heat to medium low and add the nanban sauce.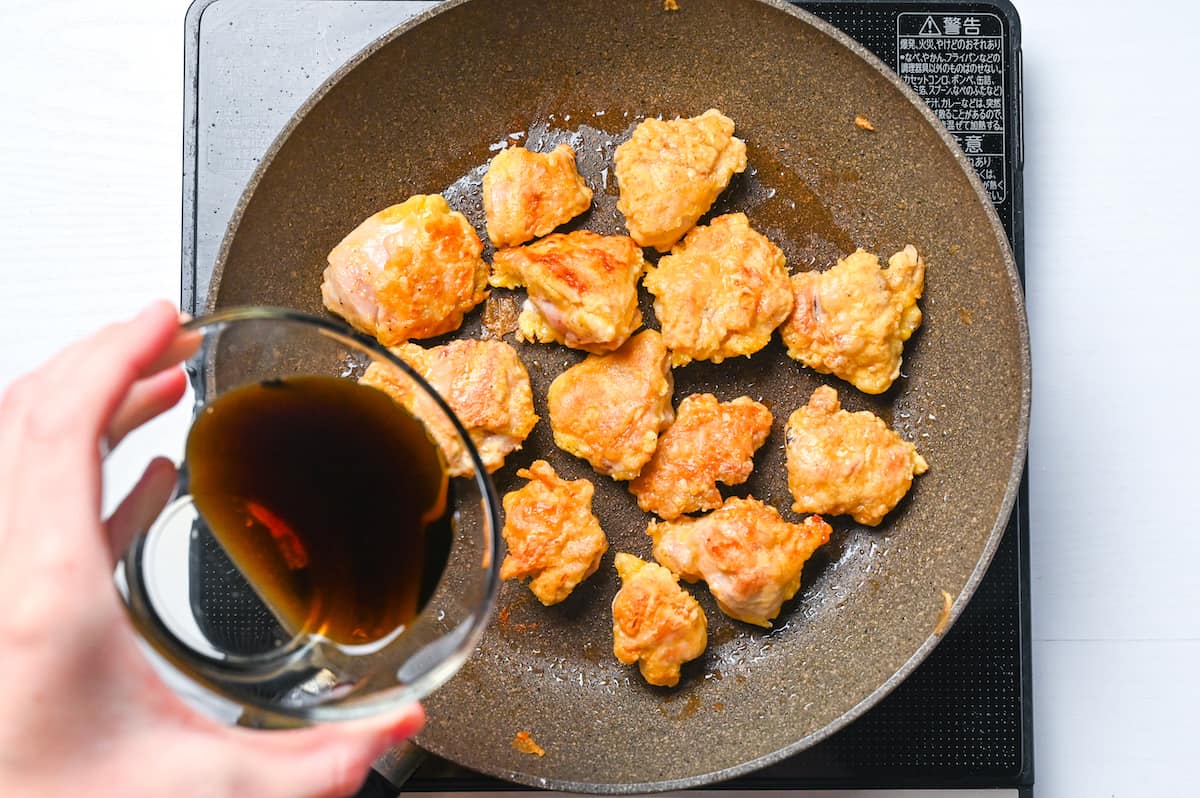 Move the chicken around in the sauce until every piece is covered.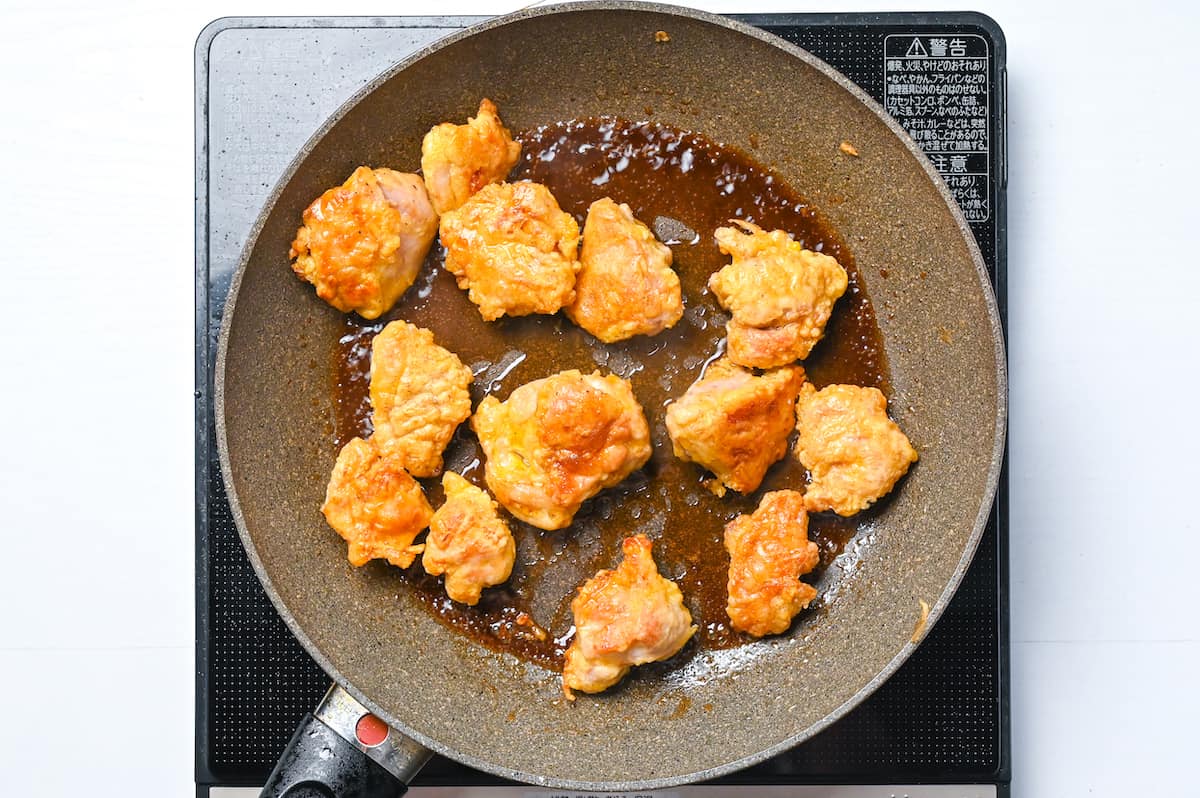 The sauce will thicken slightly, if it thickens too quickly then turn off the heat and finish cooking using residual heat.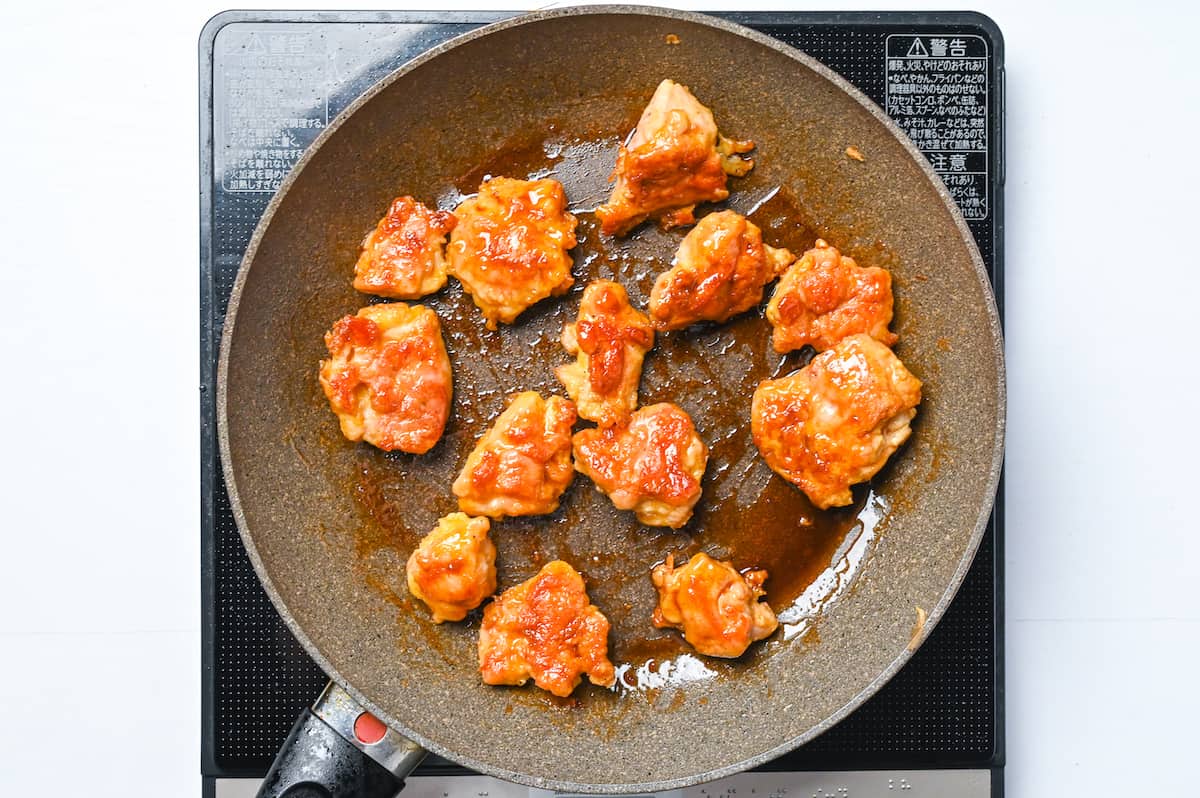 Arrange a bed of lettuce on serving plates and make a mountain of chicken nanban in the center.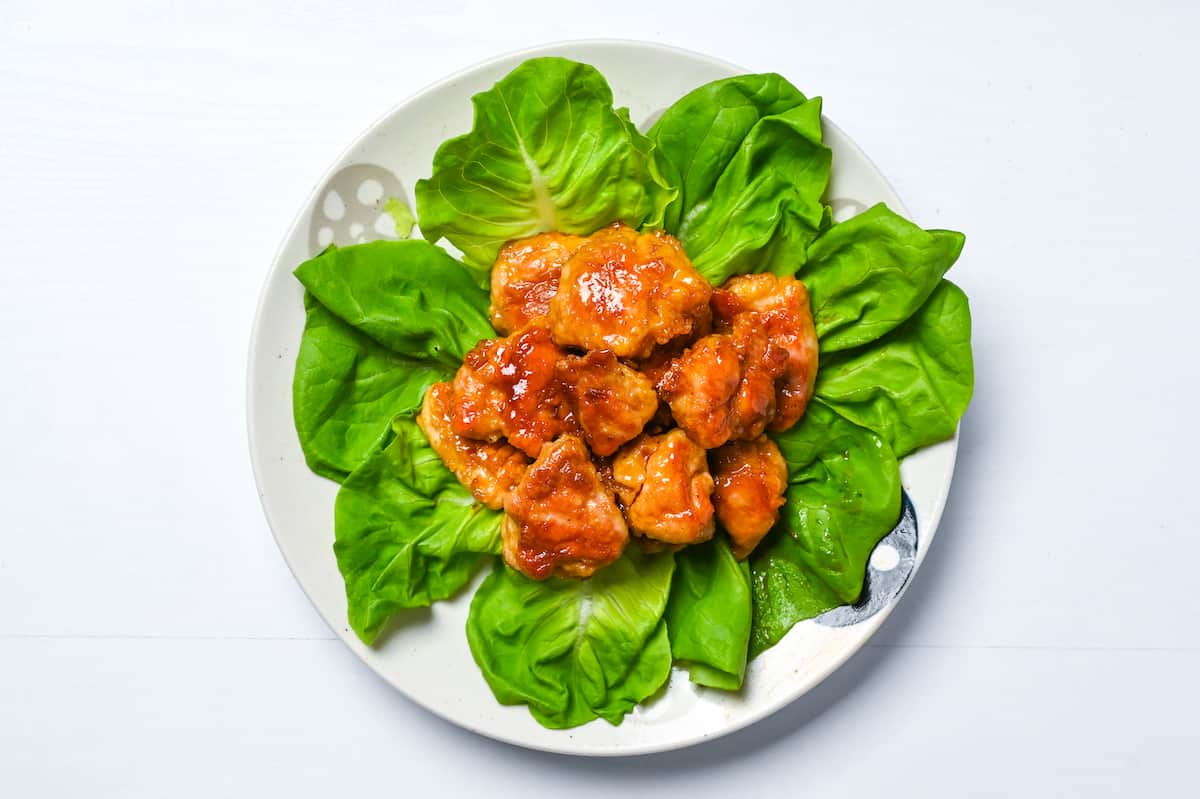 Top with a generous amount of tartar sauce. (Alternatively, you can serve the tartar sauce on the side for dipping.)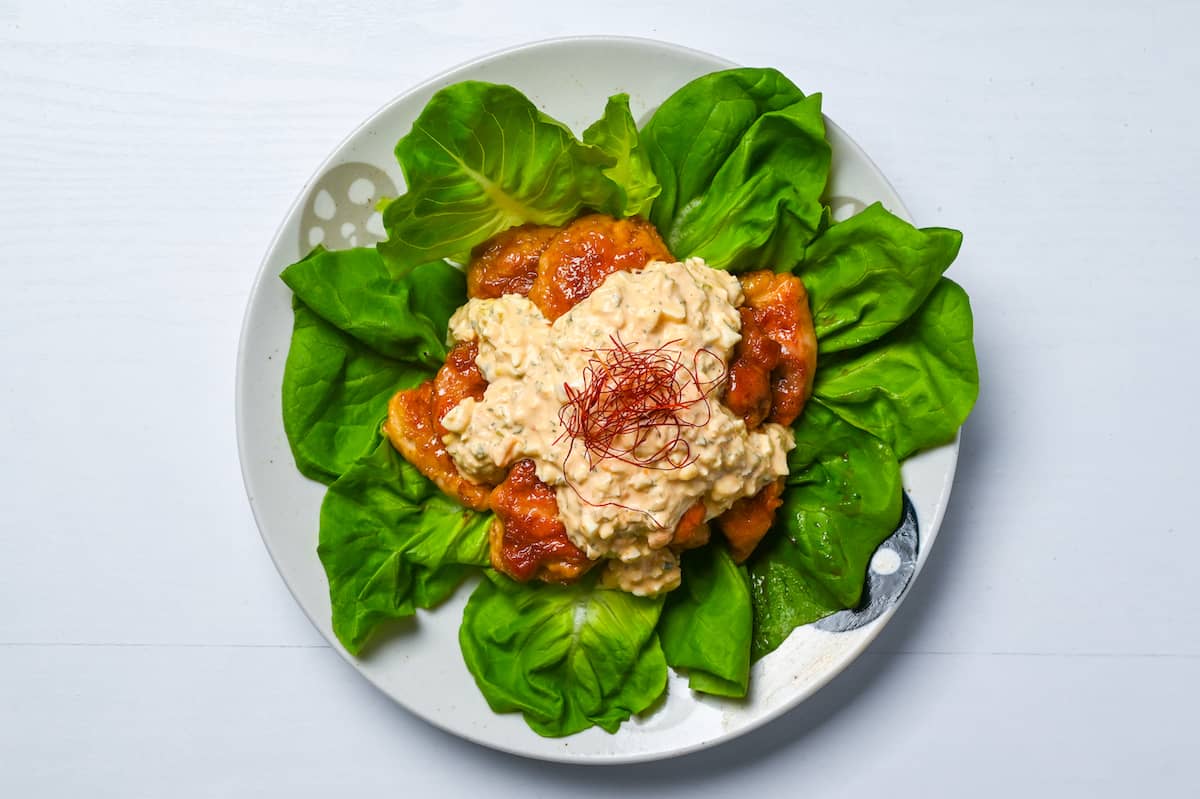 Enjoy!
Pairing/Serving Suggestions For Chicken Nanban
Wondering what to serve with Chicken Nanban? You're not alone! In this section, I'm going to share with you five handpicked dishes that perfectly complement Chicken Nanban. Let's dive in!
Freshly cooked Japanese rice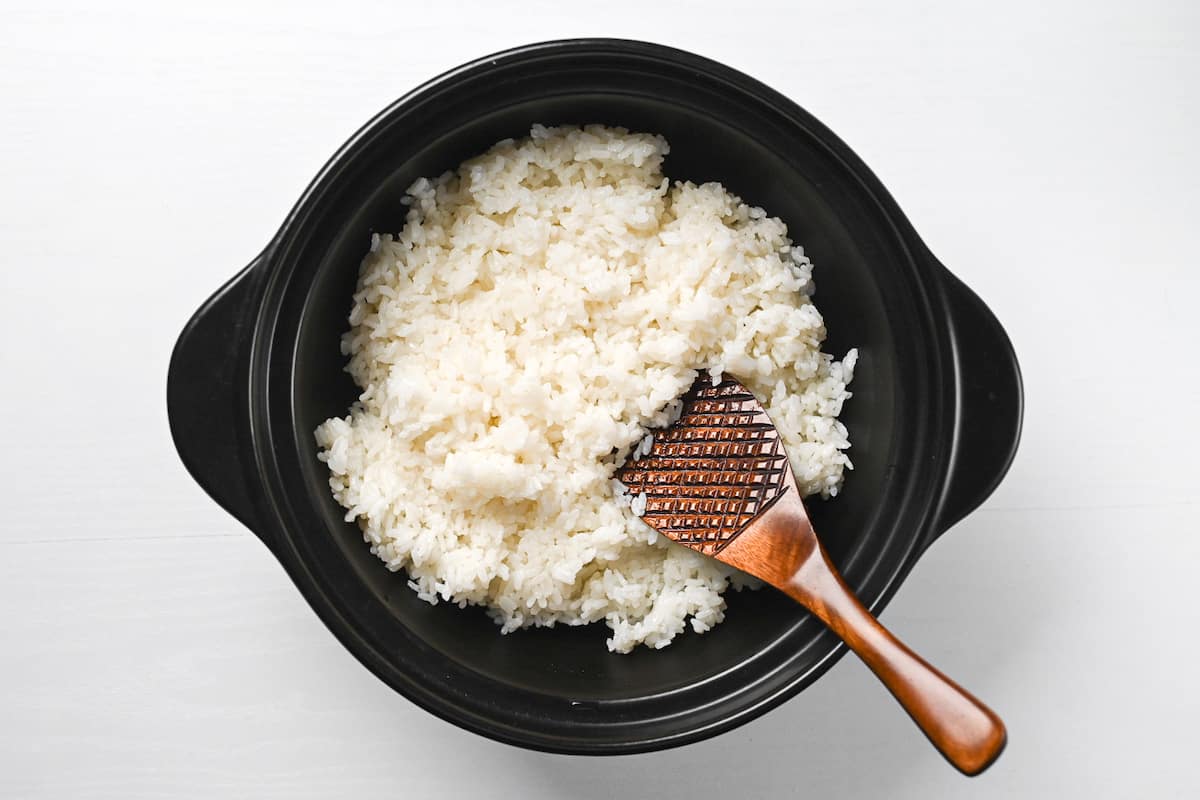 There is no doubt that chicken nanban and piping hot white rice go together like a dream. The rich flavor of chicken nanban is the perfect partner for the comforting warmth of Japanese rice.
And hey, if you don't have a rice cooker, don't worry! Check out my guide to making Japanese rice in a pot!
Miso soup
When you've got chicken nanban and white rice, a true Japanese food lover will crave some miso soup too. Bring all three together, and voila! You've got yourself a complete chicken nanban set meal!
The best part about miso soup? The endless variety! Mix up the ingredients or the type of miso paste and you've got limitless tasty possibilities. Don't forget to peek at my miso soup recipe to explore all these delicious twists!
Spinach ohitashi
Want to spice up your chicken nanban meal with another bite-sized treat? Spinach ohitashi is the perfect choice! This side dish features vegetables like spinach that are quickly blanched and marinated in a tasty blend of bonito stock or other dashi and soy sauce.
And guess what? A sesame spinach salad is an equally fantastic partner for your meal!
Pickled cucumber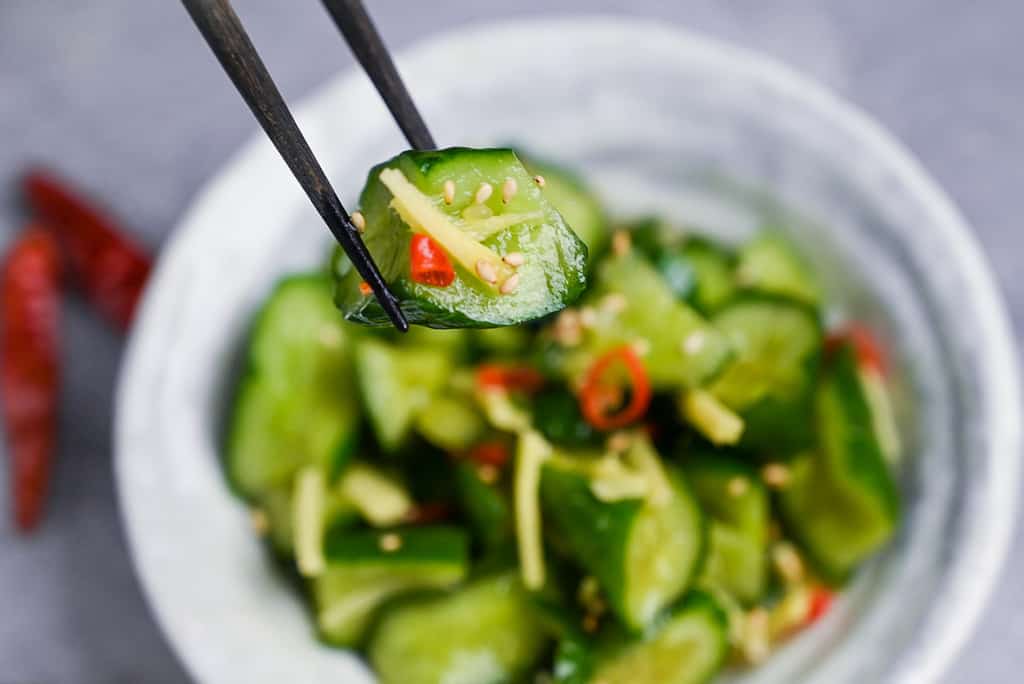 Imagine crunchy pickled cucumbers, a timeless Japanese side dish, flavored with dried chili peppers and ginger. Sounds delicious, right? My recipe whips up these refreshing pickles in no time.
Keep a jar handy, they compliment so many Japanese dishes!
Hiyayakko (cold tofu)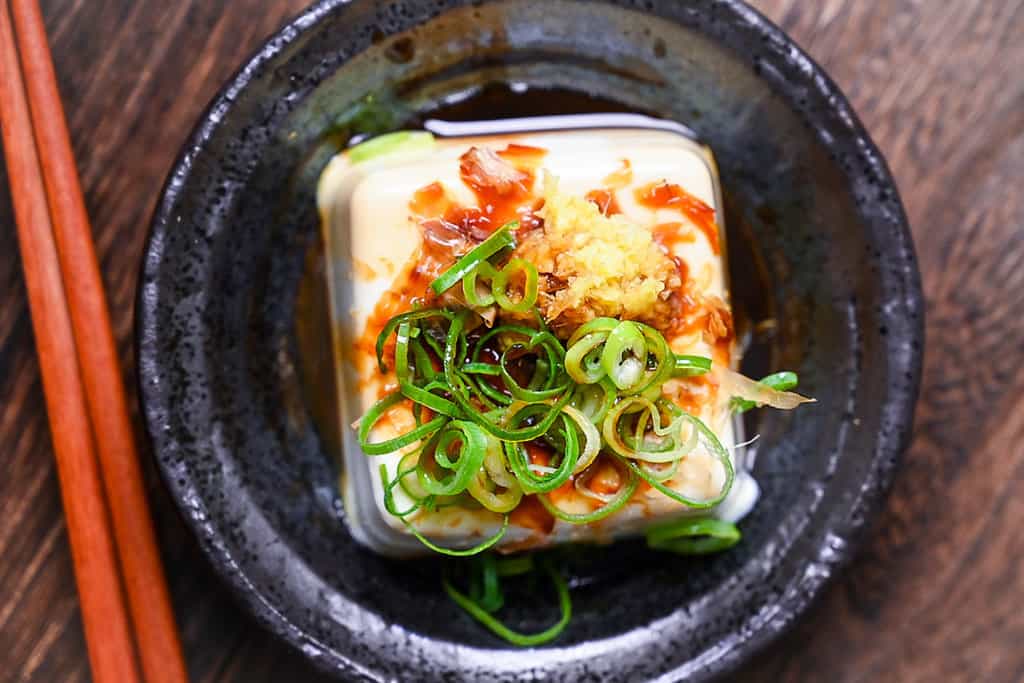 Say hello to Hiyayakko! It's tofu, chilled to perfection, cut into generous squares, and served with a drizzle of soy sauce and toppings like scallions, ginger, and dried bonito flakes.
This versatile side dish is a keeper! It complements any meal. Hungry for more? Check out my article Hiyayakko 101. It's packed with cool ideas for spicing up your chilled tofu. Dive in, you won't regret it!
I hope you enjoy making this delicious Chicken Nanban from scratch with homemade tartar sauce. If you make this recipe, don't forget to leave a comment and rating to let us know how it went! You can also tag us on instagram @sudachi.recipes we love to see your creations!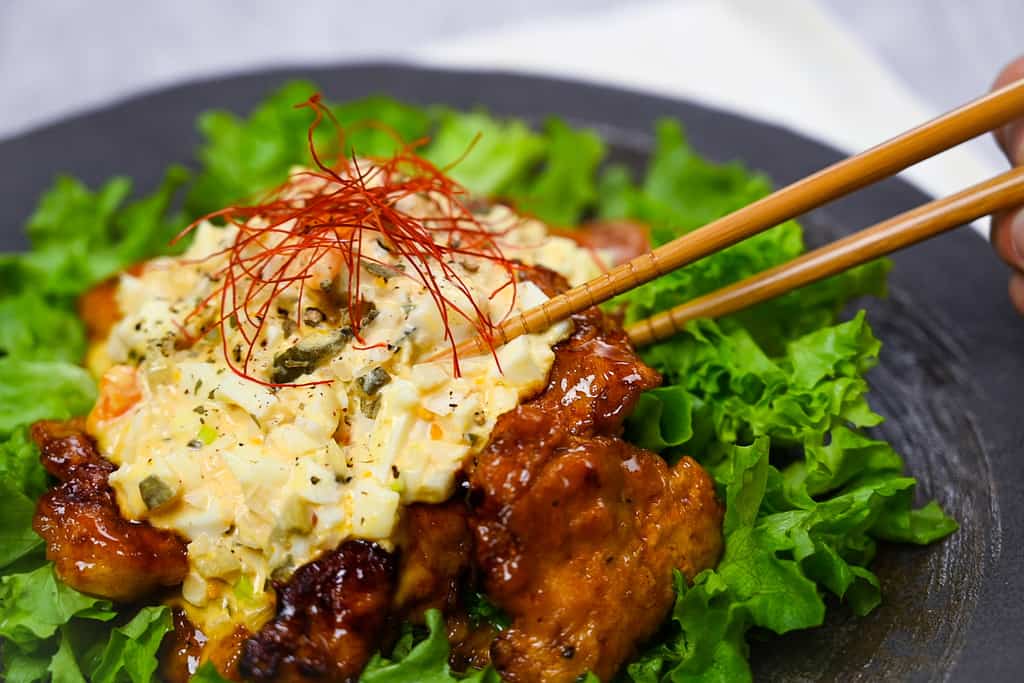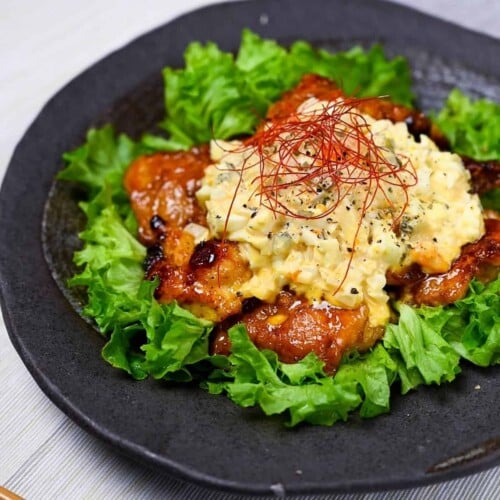 Japanese Chicken Nanban (with Homemade Tartar Sauce)
---
How to make delicious Japanese Chicken Nanban made with juicy chicken thigh pieces coated in a fluffy egg batter, a tangy vinegar sauce and a rich and creamy, homemade tartar sauce.
---
---
---
---
Ingredients
Tartar Sauce
1

small pickled gherkin

1

hard-boiled egg

½

tbsp

lemon juice

2

tbsp

Japanese mayonnaise

1

tsp

sugar

½

tsp

tomato ketchup

1

pinch

salt and pepper

¼

tsp

dry parsley
Nanban Sauce
1

tbsp

sugar

1

tbsp

soy sauce

1½

tbsp

rice vinegar

or apple cider vinegar
Chicken
300

g

boneless chicken thigh(s)

boneless, skin-on preferred

1

pinch

salt and pepper

1

tbsp

cake flour

1

medium egg(s)

2

tbsp

potato starch

or corn starch

2

tbsp

cooking oil

flavourless, high smoke point like vegetable oil or canola

1

bunch

chili threads

optional garnish

4-6

lettuce leaves

optional for serving
Instructions
Start by finely dicing

1 small pickled gherkin

,

1 hard-boiled egg

and

1 hard-boiled egg

and placing them in a mixing bowl. 

Add

½ tbsp lemon juice

,

2 tbsp Japanese mayonnaise

,

1 tsp sugar

,

½ tsp tomato ketchup

,

¼ tsp dry parsley

and

1 pinch salt and pepper

to the bowl.

Mix until all the ingredients are evenly distributed.

Transfer the tartar sauce to a sealable container and chill in the fridge until its time to serve.

To make the nanban sauce, take a small bowl and mix

1 tbsp sugar

,

1 tbsp soy sauce

and

1½ tbsp rice vinegar

together. Set aside for later.

Cut

300 g boneless chicken thigh(s)

into bitesize pieces and place them in a bowl. Add

1 pinch salt and pepper

and

1 tbsp cake flour

and mix until the chicken pieces are evenly covered.

Crack

1 medium egg(s)

into the bowl and mix until the chicken is fully coated in the egg.

Add the

2 tbsp potato starch

and mix until well incorporated and lump-free.

Heat a pan on medium. Once hot, add

2 tbsp cooking oil

and swirl it around until evenly coated. Add the chicken and fry for 3 minutes on each side.

Once the chicken is cooked through, turn the heat down to medium-low, push the chicken to one side and wipe away the excess oil with kitchen paper.

Add the nanban sauce and move the chicken around the pan until each piece is fully coated.

Once the sauce is slightly thickened and glossy, remove the pan from the heat.

Arrange

4-6 lettuce leaves

on a serving plate (optional) and make a mountain of chicken in the middle.

Top with a generous amount of tartar sauce and 

1 bunch chili threads

 for decoration.

Enjoy!
Notes
Leftover tartar sauce can be kept in a sealed container in the refrigerator for 4-5 days.
I recommend serving chicken nanban with rice.
Frequently Asked Questions
What chicken part should I use for chicken nanban?
I recommend using bonless skin-on chicken thigh for chicken nanban. You can also use chicken breast but it won't be as juicy as using chicken thigh.
Is chicken nanban the same as karaage?
Karaage is a method of marinating chicken and then lightly coating it with starch before deep frying. Chicken nanban is coated with egg as well so the method is different to karaage. If you're interested in karaage, check out my ultimate karaage recipe here!
What is chicken nanban served with?
In Japan, we often eat chicken nanban as a Japanese style set meal called u0022teishokuu0022. This means eating our main dish with rice, miso soup and pickles.

Chicken nanban is usually served with a side salad or shredded cabbage. It also goes well with fries or Western style sides, it's pretty versatile!
What is Nanban sauce made of?
Nanban sauce, commonly used in Japanese cuisine, is typically made from soy sauce, vinegar, and sugar. Some recipes may also include sake or mirin for added flavor. The combination creates a sweet, tangy, and slightly salty sauce that's perfect for flavoring a variety of dishes.
What is the meaning of Nanban food?
In food terms, u0022Nanbanu0022 refers to a cooking style influenced by Western culture. It introduces elements like deep-frying and sweet and sour flavors to Japanese cuisine. Key examples include u0022Nanbanzuke,u0022 a dish of vinegar-marinated fried fish, and u0022chicken nanban,u0022 fried chicken served with tartar sauce.