Japanese chicken katsu curry is the ultimate comfort dish! Tender chicken breast coated in a crispy panko batter and served on a thick, rich and gravy-like curry. Not only is it seriously delicious, but it's also a great dish for making in advance and storing in the freezer for a quick easy meal during the week!
Disclaimer: This post contains Amazon affiliate links. Sudachi Recipes earn a small percentage from qualifying purchases at no extra cost to you. See disclaimer for more info.
Jump to:
Katsu Curry
What is Katsu Curry?
Katsu Curry is a popular Japanese curry served with sticky Japanese rice and topped with a crispy breaded cutlet called "katsu". Katsu is most commonly made with pork chops in Japan (similar to a pork schnitzel) but can also be chicken or even beef.
Curry in Japan is often served with a red Japanese pickle called "fukujinzuke". (You can buy fukujinzuke on Amazon!)
Japanese Curry
Although curry has its roots in India, Japanese curry is actually a blend of roux and curry powder, first brought to Japan from the UK. As a result of this unique history, Japanese curry shares some similarities with European-style gravy.
Japanese curry is kinda sweet and the texture is thick and glossy, like a gravy. It's not as spicy as Indian or Thai curries, I think even people who don't like curry would like Japanese curry! It's probably one of the most popular home cooked dishes in Japan!
Japanese Curry Roux
When Japanese people make curry, we usually use the premade curry roux cubes. They look kinda like a bar of chocolate, and you can simply break it up and add it to water to make an easy curry at home.
The word "roux" comes from French and is a mixture of flour and fat that is cooked together and used to thicken sauces. When curry travelled from the U.K to Japan, it started as a roux mixed with curry powder, something we came to call "curry roux". I use S&B Japanese curry powder to flavour my roux.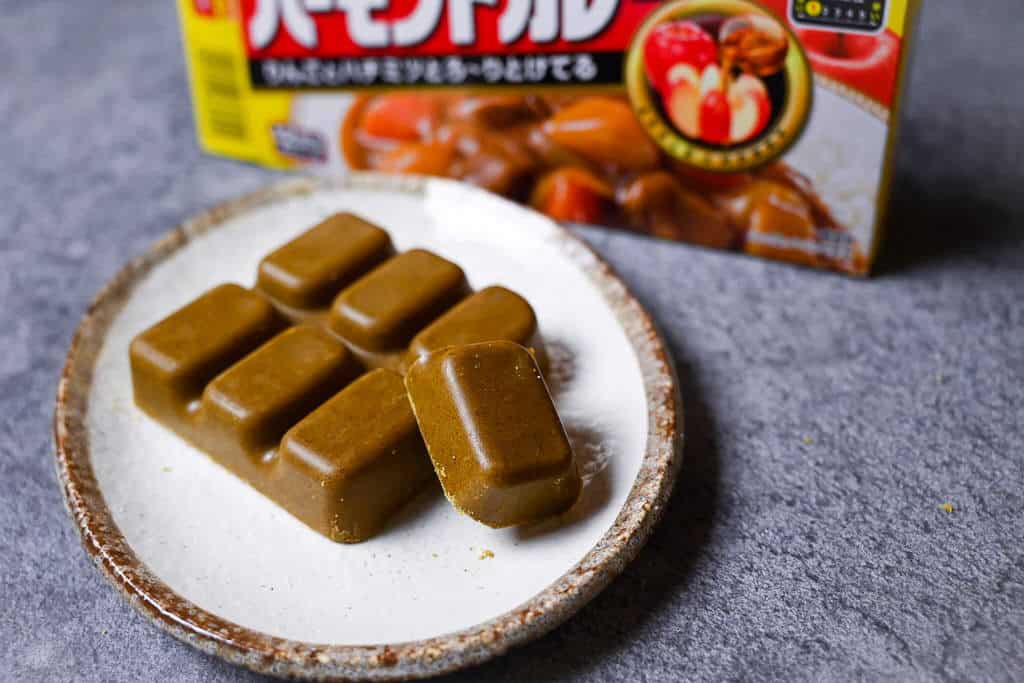 Japanese curry is made in a similar way to U.K style gravy, it's thick and sweet and was originally served in a gravy boat too. There are still some restaurants that serve curry like this in Japan.
Over time, more ingredients were added to curry roux and it become more complex with essence of meat and vegetables. Essentially, curry roux become a concentrated curry and now, the Japanese loan word "curry roux" (kare ru or カレールー) is used by everyday people and restaurants.
Japanese curry roux comes in so many different forms. Most commonly, the firm cubes but also as a paste or shredded so it can be sprinkled in. In fact, Japanese people even call the curry itself "curry roux", then curry roux with rice becomes "curry rice"!
My Japanese style curry roux is a thick paste, after refrigerating you can cut it into cubes and keep it in the freezer for up to 1 month.
Japanese Curry Ingredients
Japanese curry is often made with the following ingredients:
Meat (beef, chicken, pork, seafood)
Onion
Potatoes
Carrots
Of course you can change these up, but this is the most common combination of ingredients for curry in Japan. I often make a big batch of curry and eat it as it is on the first day, then the next time, I level it up with katsu so I can enjoy it even more!
Chicken Katsu
Although pork is more commonly used, chicken is also great for making a delicious breaded cutlet we call "katsu".
In Japan, chicken katsu is usually made with chicken thigh and served as a Japanese style "teishoku" set meal with rice, salad, miso soup and pickles. Actually, it's kinda rare to see chicken katsu with curry in Japan.
For this recipe I'll be using chicken breast. Although it's not as juicy as chicken thigh, it produces a delicious and crispy cutlet that goes perfectly with curry.
How to make Katsu
Making katsu is surprisingly quick and only requires a handful of ingredients.
Flour
Egg
Panko breadcrumbs
So traditionally, you coat the meat in flour to help the egg stick. Then you coat it with egg which helps the panko stick. If you want to make pork katsu, check out my recipe here.
One issue I've found with making katsu with chicken breast, is that the panko breadcrumbs tend to fall off. To prevent this, I made a batter with flour, egg and water and then I coat it in panko. I also add parmesan cheese to the panko, it's so good!
I personally use Hamaotome Soft Panko, but when I was in England I found that JFC Panko breadcrumbs were a great alternative and easy to find worldwide. (UK readers can find it in Sainsbury's!)
Storing and Reheating Curry
Japanese curry is the perfect dish for cooking in bulk and then eating later. It's also perfectly safe to eat as long as you follow these storage and reheating instructions!
Storing
24-48 hours: If you're planning on eating your curry leftovers within the next couple of days, you can simply let it cool and then keep it in the refrigerator in a sealed container or in the pot in which you cooked it.
48 hours+ : If you don't plan to finish the curry within 2 days, it's better to transfer the curry to a sealable glass container (plastic can be used but it will get curry stains). Make sure to remove the potatoes, potatoes don't freeze well in curry and tend to fall apart.
Japanese curry should be good in the freezer for about 1 month.
The katsu can also be frozen for up to 1 month in a freezer bag.
Reheating
Refrigerated: If you've kept the curry in the same pot you cooked it in, simply return the pot to the stove. You can also bake in the oven if your dish is oven proof, this will take about 15 minutes at 160°C or 320°F. (Keep the lid on to stop the meat from drying out).
If you put the chilled curry into containers you can microwave it for approx 3-4 minutes, stirring every minute.
Frozen: Microwaving is the easiest way, you can defrost it first if you prefer, but it doesn't really make any difference in the taste, only in the time. If you microwave from frozen then it will take about 6-8 minutes. (Make sure to stir every minute after the first 3-4 minutes)
The katsu is best reheated in the oven to maintain the crispy texture. Preheat the oven to 200°C or 400°F and bake. If it's defrosted it will take about 6-8 minutes, then a bit longer from frozen. Another option is to microwave it for a few minutes and then put it under the grill or toaster to crisp up out the outside.
Japanese Chicken Katsu Curry (チキンカツカレー)
How to make the ultimate comfort dish, Japanese Chicken Katsu Curry. Tender chicken breast coated in a crispy panko batter and served on a thick, rich and gravy-like curry.
Ingredients
Instructions
Curry Roux Style Paste
Start by adding

3 ½ tsp curry powder

and

2 ½ tsp cumin powder

to a pan (dry, no oil) and heat on medium. Mix them together and heat until fragrant and the color has darkened slightly, then remove from the heat.

Take a new pan and heat on medium. Once it's hot, add

1 tbsp beef fat

. (You can use oil or butter instead if you prefer.)

Once the fat has melted a little, add

3 garlic clove(s)

and

15 g fresh ginger

to the pan, and fry until fragrant.

Remove any excess beef fat and add

1 yellow onion(s)

(thinly sliced).

Fry the onion until caramelized for approximately 30 minutes (the onions will become dark brown in colour and soft). Stir occasionally and add 

50 ml water

halfway through to stop it sticking to the bottom of the pan and help make it into a paste.

Once the liquid has reduced to nothing and the onions resemble a thick paste, add

3 tbsp all-purpose flour

and mix thoroughly.

Next add the toasted curry powder and cumin from earlier, mix well.

Add a small amount of bouillon liquid stock and mix until more or less smooth (no big lumps of flour etc).

Add the rest of the bouillon gradually, mixing well each time. You might want to switch to a whisk to help make it smooth.

Add

3 tbsp marmalade

,

2 tsp coriander powder

,

½ tsp ground cloves

,

1 tsp cardamom powder

and

2 tsp ginger powder

to the mixture and whisk until incorporated.

Add

1 bay leaf

and simmer for 2 hours uncovered, stirring occasionally and removing any foam from the top using a mesh spoon.

Once thickened to a paste texture, transfer to a container and allow to cool.

Store in the fridge until use. (Preferably overnight.)
Making the curry
Cut

300 g boneless chicken thigh(s)

into bitesize pieces and sprinkle with

1 pinch salt and pepper

Thinly slice

1 yellow onion(s)

, and peel and cut

2 potato(s)

and

1 carrot(s)

into rough bite-size pieces.

Heat a large pot on medium, once it's hot add

1 tbsp unsalted butter

.

Fry the chicken pieces in the butter until the surfaces are browned to seal in the juices.

Once sealed, add the sliced onion and cook until slightly softened.

Next, add the potato and carrot along with 1 tbsp tsuyu sauce. Mix on the heat for about 1 minute.

Add

600 ml water

(if using boxed curry, check the instructions for the correct amount of water.)

Now add the

homemade curry roux

and mix it until it's dissolved into the water.

Add

½ tbsp honey

,

1 tbsp sake

,

½ tsp fenugreek powder

,

1 tsp tomato ketchup

and

1 pinch chili powder

. Mix well.

Simmer for 10-20 minutes or until it reaches your preferred thickness and stir occasionally. While it's cooking you can make the katsu.
Making katsu
Remove any skin and butterfly cut 

2 large chicken breast

. From the middle, cut horizontally until you're about 2cm/ ½ inch away from the edge.

Repeat on the other side and then open the chicken breast out.

Cut in half so that each chicken breast makes two pieces.

Sprinkle the chicken with

2 pinches salt and pepper

on both sides.

Wrap the chicken in plastic wrap and use a meat tenderizer or rolling pin to pound it until it's 1cm thick. (about ½ inch)

In a bowl, mix

100 ml water

,

2 medium egg(s)

and

100 g all-purpose flour

to form a thick batter.

Add

50 g panko breadcrumbs

and

4 tbsp parmesan cheese powder

to a plate, and mix them together.

Pour

6 tbsp cake flour

onto a plate and coat the surface of the chicken, brush off any excess.

Once the oil is hot, dip your chicken into the batter.

Cover the chicken in the panko mixture. Make sure they're fully covered before adding them straight to the oil.

Fry for 6 minutes (or until golden) turning the katsu over halfway through to make sure it's evenly cooked.

Transfer to a wire rack and allow any excess oil to drip off.
Serving
Dish up your rice on one side of the plate, and spoon the curry onto the other side.

Cut the katsu into 1cm strips and place it in the middle of the rice and curry.

Add 1 tbsp of fukujinzuke pickles to each plate.

Sprinkle with parsley (optional) and enjoy! 
Notes
For the bouillon in the curry roux paste, I add 2 maggi bouillon cubes to 900ml of water. Actually, you can speed up the cooking time by dissolving the cubes in less water, but the shorter cooking time might result in the paste not being as smooth. 
The roux paste can be stored in the fridge for about 1 week and frozen for 1 month.
If your curry becomes too thick, you can add more water a little at a time.
If your curry is too thin, you'll need to cook it for longer. You can try turning up the heat but make sure to keep stirring so that it doesn't stick to the bottom of the pot.
Prefer to the article above for storing and reheating instructions.
FAQ
What kind of curry is used in Japanese Katsu Curry?
Japanese katsu curry is made with a Japanese style curry that is slightly sweet, thick like gravy and not too spicy.
What are the red pickles served with Katsu Curry?
It's common to serve katsu curry with a red pickle called u0022Fukujinzukeu0022. Fukujinzuke is made with cucumber, daikon radish and eggplants usually.
What is Katsu?
Katsu isn't the name of the curry itself, it's the crispy cutlet served on top. Katsu is mostly commonly made with pork, but it can also be made from chicken or beef. It's often eaten as a Japanese set meal called u0022teishokuu0022 (served with rice, miso soup, salad and pickles) but it's often enjoyed with curry too.