Mentaiko Pasta is a popular Japanese-style spaghetti dish made with spicy cod roe sauce and topped with fragrant shiso leaves. The best part about this dish is how quick it is to make, you can make it in 15 minutes or less! Not to mention it's delicious; it's a household favorite!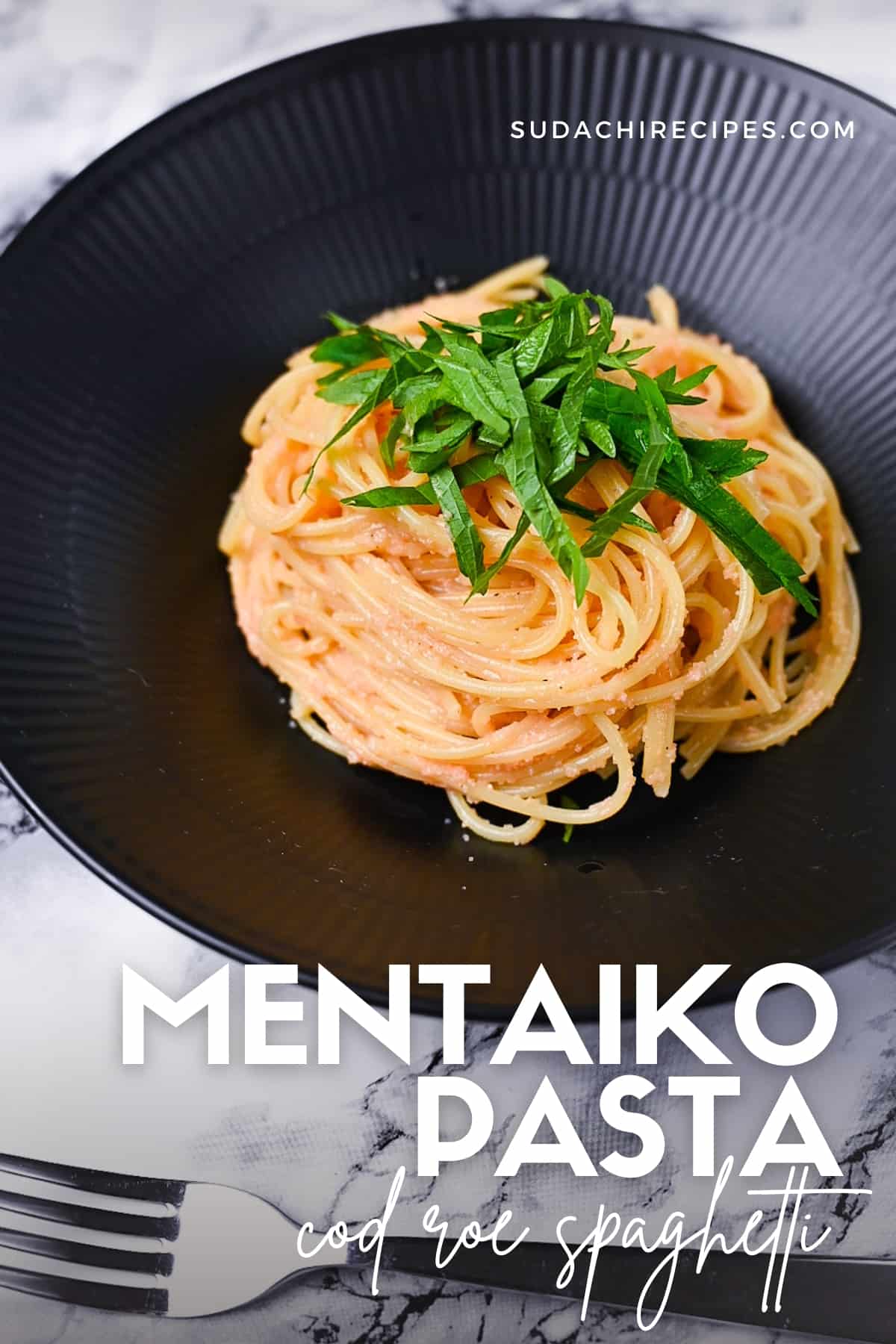 Disclaimer: This post contains Amazon affiliate links. Sudachi Recipes earn a small percentage from qualifying purchases at no extra cost to you. See disclaimer for more info.
Jump to:
What is Mentaiko (Tarako) Pasta/Spaghetti?
Mentaiko pasta is an uncomplicated yet tasty dish of spaghetti tossed in a flavorful sauce made from mentaiko, or spicy cod roe. It falls under the umbrella of "wafu pasta", in other words, pasta dishes made with some Japanese flair, but I'll explain more about that later.
To prepare it, raw cod roe is unraveled and blended with butter or olive oil to create a smooth sauce, then mixed with freshly boiled spaghetti. There are a range of customizations possible for this dish, with numerous variations that include additions like cream, cheese, mayonnaise, or soy sauce.
The beauty of this dish not only relies on the taste, but how quick and easy it is to make! With very little real cooking involved, mentaiko pasta can be whipped up in just 10-15 minutes making it a perfect option for lunch or a midweek dinner.
A Brief History
Mentaiko pasta traces its origins back to a pasta specialty restaurant in Tokyo called "Kabe no Ana" (壁の穴) or "Hole in the Wall." One day, a customer requested caviar pasta. Given the high cost of caviar, the chef substituted it with "tarako" (a non-spicy variant of cod roe) instead.
This tarako spaghetti gained popularity, and some people began to replace tarako with mentaiko for an added spicy, umami punch. Food manufacturers capitalized on this trend, offering convenient premade mentaiko sauce packets in supermarkets.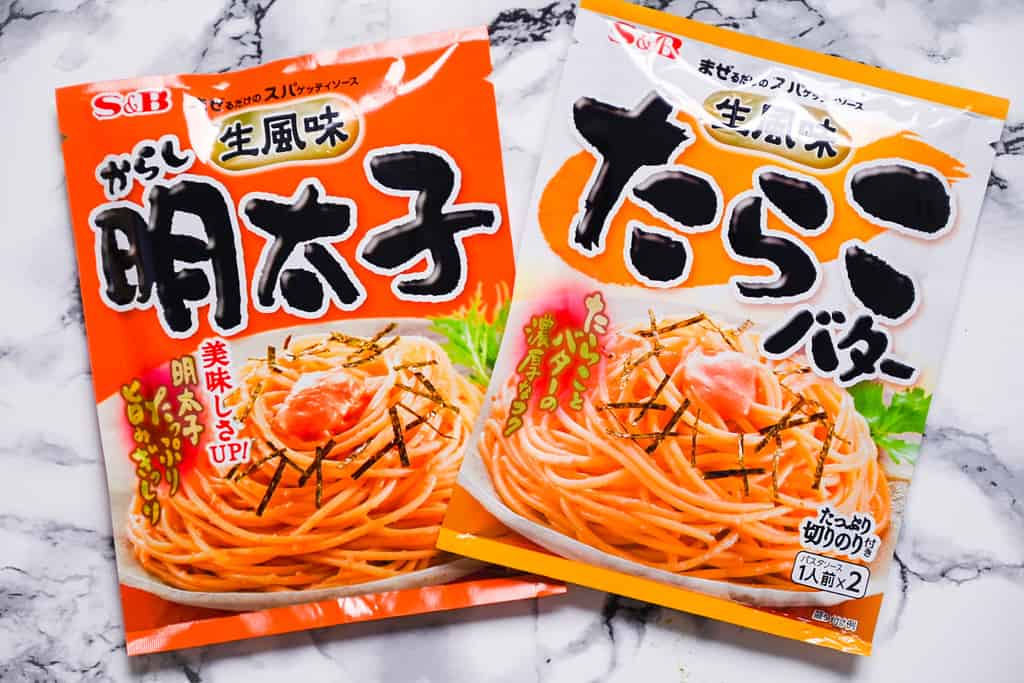 The typical mentaiko sauce blends soy sauce, black pepper, olive oil, and milk. It's incredibly easy to prepare and doesn't require cooking; the heat from the pasta is sufficient to warm it up!
What are Tarako and Mentaiko?
Tarako (たらこ) and Mentaiko (明太子) are both derived from the roe (eggs) of a type of cod known as Alaskan pollock. These eggs are encased in a thin, edible membrane similar to sausage casing.
Tarako is typically seasoned just with salt or brine, and its color can range from pale pink to vibrant red, often due to the addition of food coloring. Mentaiko, however, is seasoned with chili and spices, usually giving it a deep red hue. It is also sometimes referred to as "Karashi Mentaiko" (辛子明太子).
Traditionally, Japanese cuisine didn't feature spicy food. Mentaiko originated in the Korean peninsula and was introduced to Japan around the 1940s and 1950s. Alaskan pollock is called "myeongtae" in Korean, from which the term "mentai" is believed to be derived.
In Japan, Mentaiko underwent further development to appeal to Japanese palates, becoming less spicy and pickled. Today, Hakata in Fukuoka Prefecture is well-known for its Mentaiko production.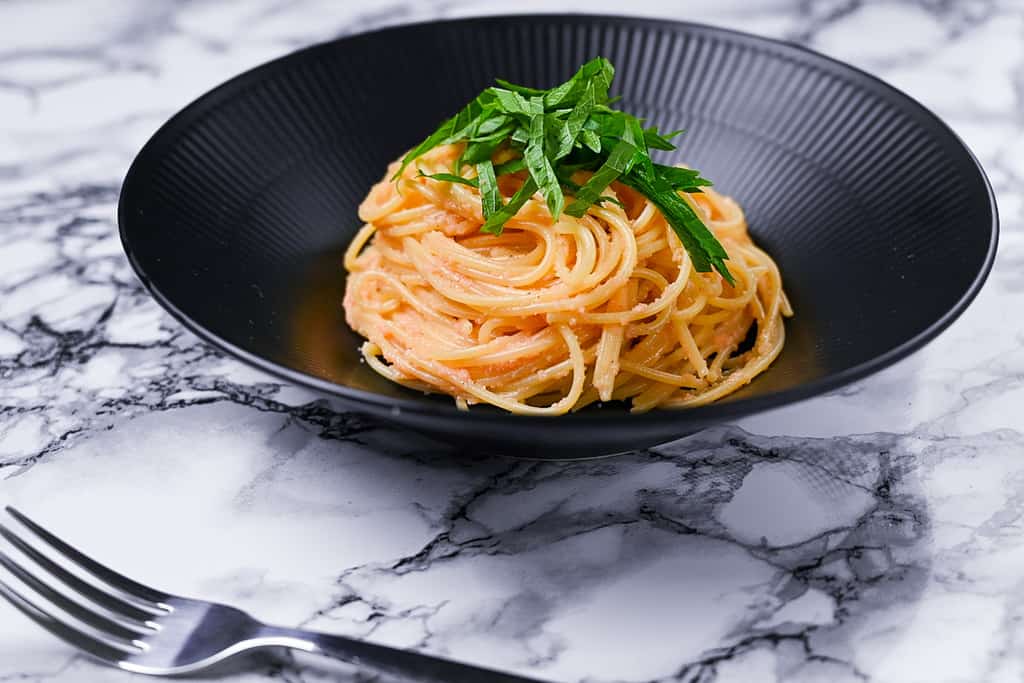 Wafu Pasta
Wafu Pasta (和風パスタ) offers a blend of Italian spaghetti and Japanese-style ingredients and flavors. Spaghetti made its way to Japan in the 1800s, but its popularity soared post-war, leading to wafu pasta becoming a beloved dish in restaurants and homes.
Japanese-style pasta often incorporates ingredients typically served with rice. These may include things like Japanese mushrooms, popular seafood like sea urchin (uni pasta) or cod roe, and other commonly used ingredients such as nori, shiso leaves, soy sauce, dashi, and bonito flakes.
According to a survey conducted by a Japanese site called "Nifty," the top 5 pasta dishes in Japan are:
Spaghetti Meat Sauce (スパゲッティミートソース)
Spaghetti Napolitan (ナポリタン)
Spaghetti with Tomato Sauce (トマトソース)
Tarako / Mentaiko Pasta (たらこ・明太子)
Spaghetti Carbonara (カルボナーラ)
This survey by Nifty News was conducted in 2016.
Ingredients and Substitutions
Dry pasta - You can use either thin 1.4mm "spaghettini" or "fedelini" or thicker 1.9mm "spaghetti" for this dish. The thin pasta readily absorbs and mingles with mentaiko, though it tends to get soft quickly. On the other hand, thicker pasta offers a more satisfying bite but may not blend as easily with the mentaiko.
Spicy cod roe (mentaiko) - I prefer spicy cod roe for a little kick, but this dish can also be made with regular cod roe (tarako) if you prefer.
Unsalted butter - I use unsalted butter to not change the salt content. If you use salted butter, you will have to adjust the amount of salt content from the other ingredients.
Olive oil - Extra virgin olive oil is recommended.
Tsuyu sauce - If not available, soy sauce can be substituted.
Whole milk - Use whole milk, ideally not skimmed or semi-skimmed milk.
Perilla leaves - In Japan, it is called "shiso" or "ooba", this relative of mint will add a refreshing element to your dish. You can also use kizami (shredded) nori instead. Both are optional.
Sliced lemon - Adds a little acidity and depth of flavor. This is completely optional.
I have listed my recommended Japanese condiments, tools, and ingredients in the Sudachi Recipes Amazon shop. If you want to keep making various Japanese foods at home, please check it out!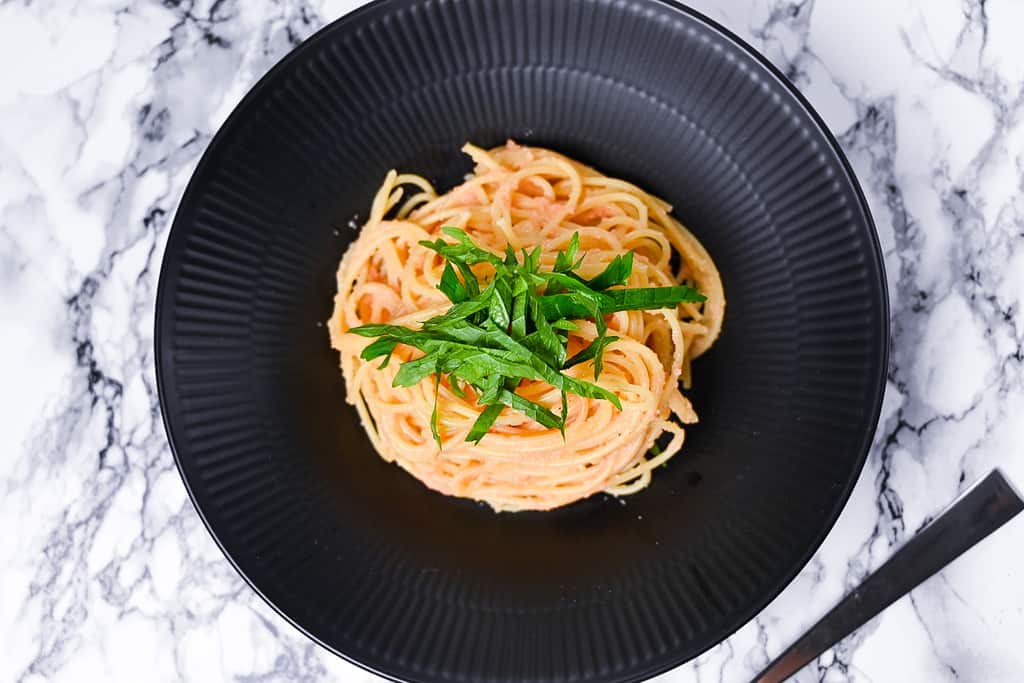 Step by Step Process
Here are my step by step instructions for how to make quick, easy and delicious mentaiko pasta in just five easy steps! For ingredient quantities and simplified instructions, see the printable recipe card below.
Bring a large pot of water to a rolling boil and add salt. Mix until the salt has dissolved and then add the spaghetti. Cook until "al dente" (firm to the bite). This is generally 1-2 minutes less than the time stated on the packaging.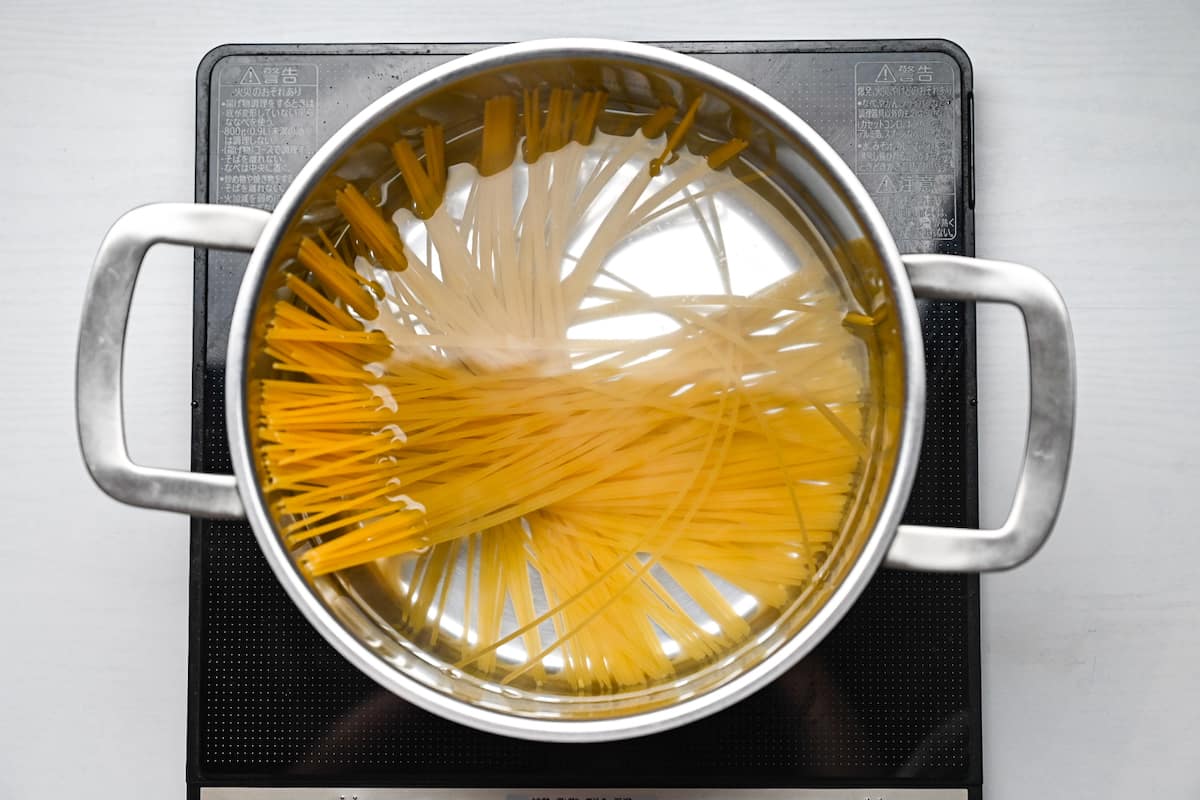 Tips for perfect pasta every time
Make sure to use plenty of water so that the pasta has room to move, this will prevent it from becoming slimy. Also, don't forget to salt the water, no-one wants tasteless pasta! Generally, I try to follow 1000ml (1 litre) of water and 1 tsp of salt for every 100g of pasta.
Make a horizontal cut across the membrane of the cod roe and peel it back. Use a spoon to scrape out all of the roe.
Don't throw the skin away!
I usually eat the membrane as a snack while I'm cooking, but it's also great with rice or even as a rice ball filling!
In a large mixing bowl, add the cod roe, butter, milk, olive oil, tsuyu sauce and black pepper. Mix them together until well combined.
I recommend using room temperature butter, but don't worry if you forgot to take it out of the fridge since the heat from the pasta will melt it later.
Add about 1-2 tbsp of pasta water to the bowl and mix well. This adds starch to the sauce which makes it slightly glossy and stick better to the surface of the pasta.
Once the pasta is al dente, drain the water and add it to the bowl.
Mix well until it's evenly coated in the sauce.
Transfer to serving plates and top with shredded perilla leaves (or kizami nori).
Enjoy!
Storage options
If you have made too much mentaiko pasta, it can be preserved by refrigeration or freezing.
When refrigerating, consider portioning it into individual servings before wrapping each portion in plastic wrap. Then place the wrapped portions into airtight zip-lock bags to prevent moisture loss and flavor deterioration. Before wrapping, you could drizzle some olive oil over the pasta to help maintain its quality. Generally, the dish can be stored this way for approximately 2 to 3 days.
If you're considering freezing your leftover mentaiko pasta, begin by tossing the spaghetti and sauce evenly together. This helps to ensure that the sauce does not become unevenly distributed during the freezing process. Like the refrigeration method, drizzle olive oil over the spaghetti and wrap each portion.
When packing for freezing, try to flatten the pasta as much as possible to ensure even reheating later. Place it in an airtight zip-lock bag and seal it before freezing. Typically, the pasta can be stored in the freezer for about 2 weeks, but it's best to consume it as soon as possible to maximize its taste.
However, it's important to note that compared to rice dishes, pasta dishes are generally better when consumed immediately after cooking. So, as a best practice, try to cook as much pasta as you think you will eat in one sitting.
Room temperature - Not recommended.
Refrigerated - Up to 2 to 3 days.
Frozen - Up to two weeks.
Mentaiko Pasta (Cod Roe Spaghetti)
How to make delicious Japanese style Mentaiko Pasta with freshly cooked spaghetti tossed in a tasty homemade cod roe sauce and topped with fragrant perilla leaves.
Ingredients
200

g

dry spaghetti

3000

ml

water

1

tbsp

salt

80

g

spicy cod roe "mentaiko"

-

or tarako

20

g

unsalted butter

-

room temperature/soft

1

tbsp

olive oil

1

tsp

tsuyu sauce -

or soy sauce

1

pinch

black pepper

1

tbsp

whole milk

3

perilla leaves

-

(ooba/shiso) thinly sliced, or kizami nori

1

slice

lemon(s)

-

optional
Instructions
First, bring a pot of

3000 ml water

to a boil. Once boiling, add

1 tbsp salt

and

200 g dry spaghetti

. Cook until "al dente" (firm to the bite).

Cut the membrane of

80 g spicy cod roe "mentaiko"

and scrape out the roe using a spoon. (You can eat the leftover skin with rice or put it in rice balls.)

Take a large mixing bowl and add the mentaiko,

20 g unsalted butter

,

1 tbsp olive oil

,

1 tsp tsuyu sauce

,

1 pinch black pepper

and

1 tbsp whole milk

.

Take 1-2 tablespoons of the pasta water and add it to the bowl of mentaiko sauce. Mix thoroughly.

Drain the rest of the water and add the cooked pasta to the bowl. Mix until the pasta is well covered in the sauce.

Transfer to serving plates and top with

3 perilla leaves

(or kizami nori).

Squeeze

1 slice lemon(s)

over the top (optional) and enjoy!
Nutrition
Serving:
178
g
Calories:
533
kcal
Carbohydrates:
74.1
g
Protein:
23.1
g
Fat:
18.3
g
Saturated Fat:
6.89
g
Polyunsaturated Fat:
2.03
g
Cholesterol:
163
mg
Sodium:
4406
mg
Fiber:
5.5
g
Other Wafu Pasta Recipes You Can Try at Home
There are several other Japanese-style pasta dishes besides mentaiko pasta. In this section, you will find some other recommended Japanese-style pasta recipe ideas.
Soy sauce and Butter Pasta
Butter Shoyu Pasta is a Japanese-style spaghetti dish which uses a simple yet flavorful blend of butter and soy sauce, creating a dish that's light, refreshing, and subtly rich.
In my version, I'll be enhancing this wonderful butter-soy duo with the earthy tones of Japanese mushrooms, the crunch of crispy bacon, and the robust taste of fresh spinach, resulting in an irresistible fusion of flavors that's sure to please any palate.
Wafu Pasta (Japanese Butter Shoyu Spaghetti)
Simple, quick and tasty Japanese-style "Wafu Pasta" made with spinach, mushrooms and bacon, then flavored with butter and soy sauce.
Check out this recipe →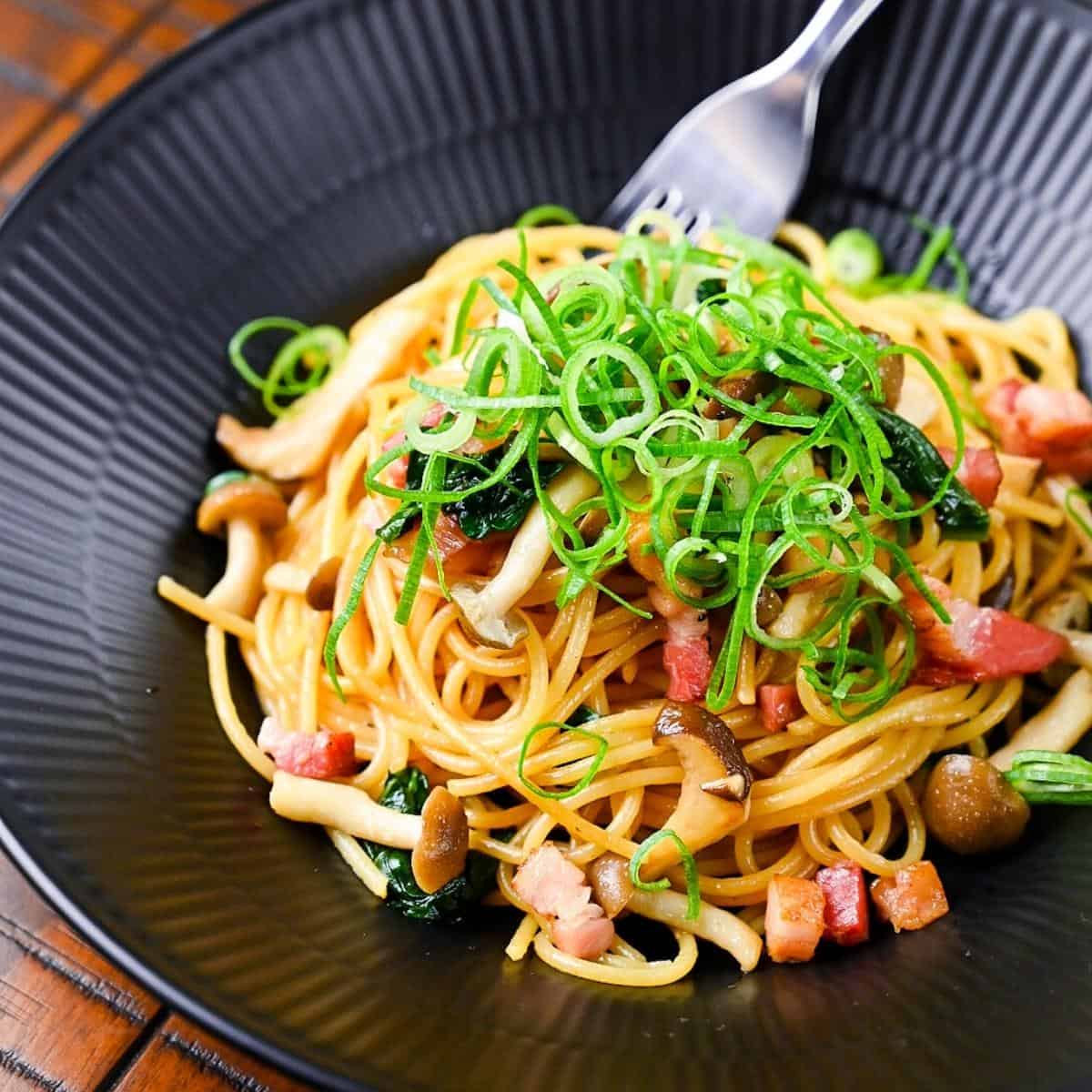 Uni Cream Pasta (Sea Urchin Spagheti)
Uni Cream Pasta is a gourmet dish highlighting the rich, sweet flavors of sea urchin, combined with pasta in a creamy sauce.
Its creamy texture and unique taste characterize this lavish dish, thanks to uni, which is often blended into an olive oil-based or cream sauce and tossed with al dente spaghetti.
Uni Cream Pasta (Creamy Sea Urchin Pasta)
How to make rich and delicious Japanese Uni Cream Pasta made with al dente pasta coated in a creamy tomato sauce flavored with sea urchin.
Check out this recipe →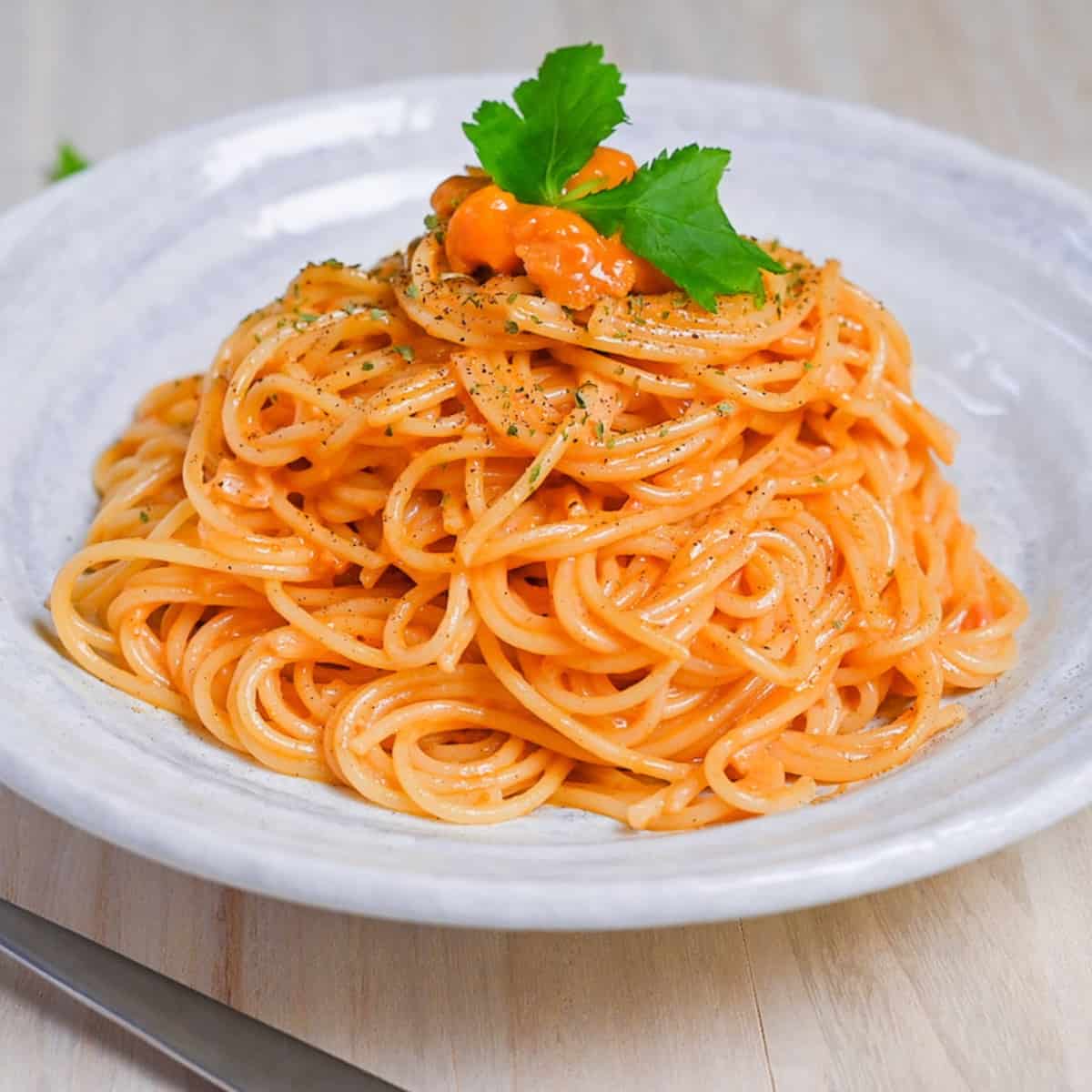 Spaghetti Meat Sauce
Spaghetti Meat Sauce is a flavorful "yoshoku" dish inspired by Italian Bolognese but adapted to suit the Japanese palate. Its origins can be traced back to the 19th century, when the American-style Bolognese, with ketchup-flavored meat sauce, was introduced by the U.S. occupation forces in Japan.
The dish differentiates itself from traditional Bolognese through a sweeter flavor, achieved using tomato ketchup and sugar, and it's richer in tomatoes while using less meat. Spaghetti is always the pasta of choice and typically, the sauce is served on top of the pasta rather than mixed in.
Japanese Spaghetti Meat Sauce (スパゲッティミートソース)
How to make Japanese Style Spaghetti Meat Sauce with ground beef, onions, carrots and celery cooked in an easy homemade tomato sauce. It's mildly sweet and super comforting, great for children and adults alike!
Check out this recipe →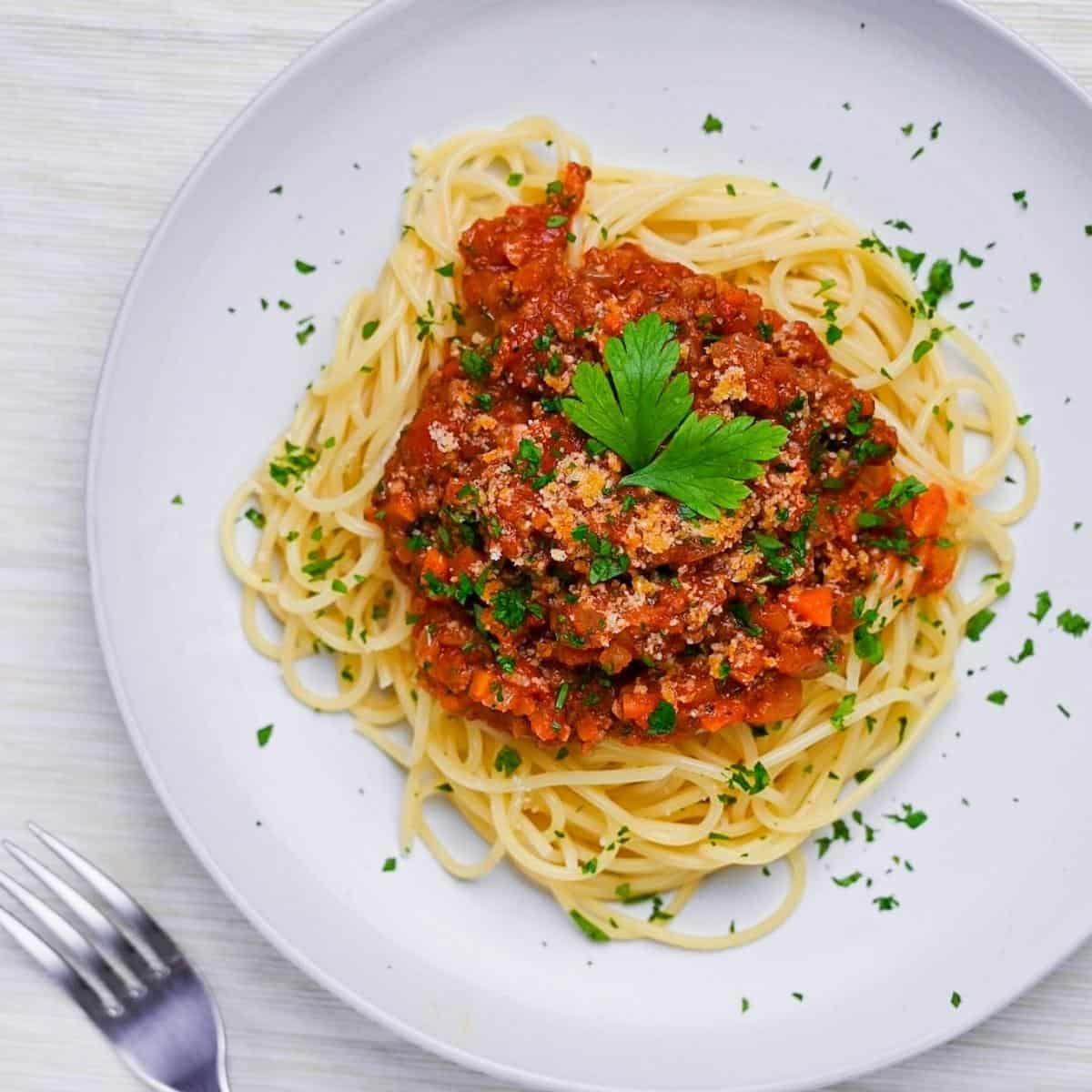 FAQ
What is mentaiko?
It's spicy cod roe from Alaskan pollock.
How are tarako and mentaiko different?
Tarako is cod roe seasoned with salt or brine, mentaiko has extra spices and often seasoned with chili to make it a little spicy.
What does tarako taste like?
It's a bit salty and not too fishy; it's well-loved by kids and adults alike.
What does mentaiko taste like?
It's the spicy version of tarako, so it's spicy, salty, and packed with umami. They vary across Japan and can be seasoned with different things.
Where can I buy tarako or mentaiko?
Unfortunately, they can be quite hard to find outside of Japan. Your best bet is to find a Japanese supermarket or an Asian supermarket. You could also try looking online.