Donburi (or don) is the ultimate Japanese comfort dish. A big, hot, steaming bowl of rice topped with pretty much anything you like! The beauty of donburi is that it's simple, versatile, and delicious.
Here are 16 of the best Japanese donburi rice bowl recipes to make you say "Umai!" (YUM!)
1. Oyakodon (Chicken and Egg Rice Bowl)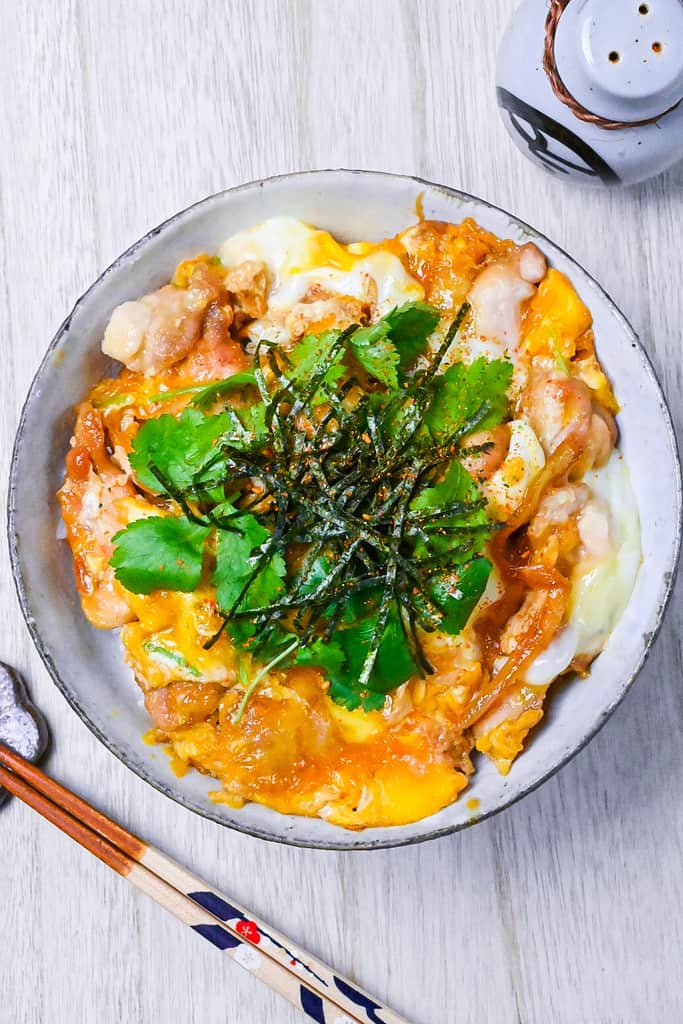 Oyakodon is such a classic donburi recipe that every Japanese person loves! It is said that Oyakodon came around in the Meiji period (1868-1912) or maybe even earlier. It is one of the oldest donburi recipes, coming second only to Gyuudon.
Made with succulent chicken thigh, soft onions, and fluffy steamed egg served over Japanese rice, oyakodon is a comforting dish that you can easily make at home. This a very quick and humble recipe, good for a quick lunch or a hearty dinner!
2. Gyudon (Japanese Beef Bowl)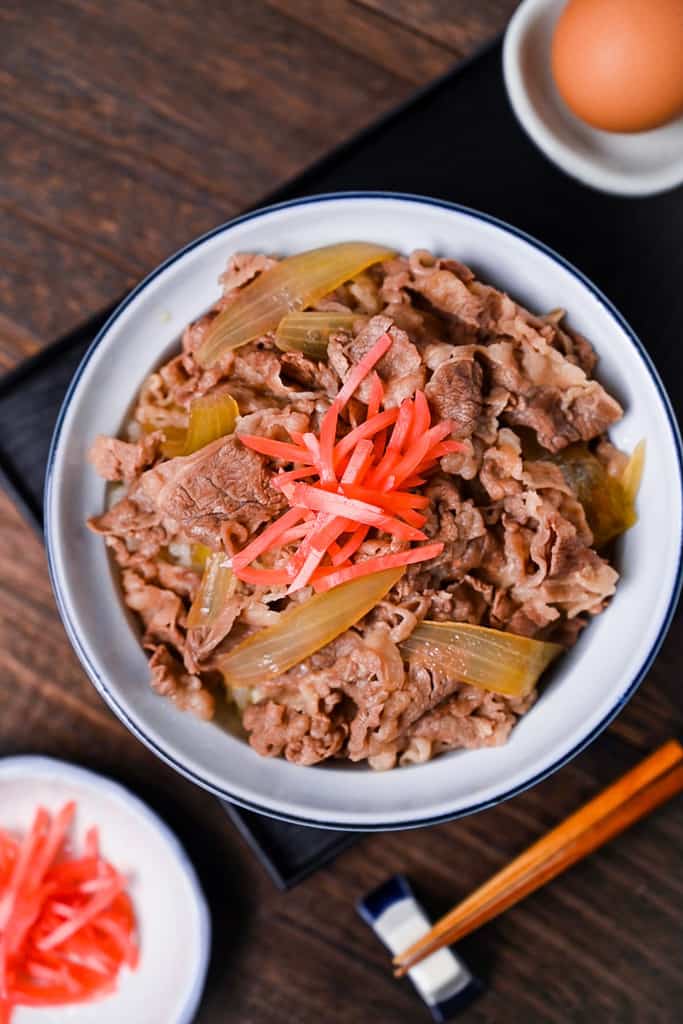 The history of gyudon goes all the way back to Meiji era but nowadays, Gyudon is widely considered as "fast food" in Japan. It's commonly served in popular diners in Japan.

Thinly sliced beef cooked in a delicious dashi sauce with simmered onions served on a bed of fluffy Japanese white rice. It's cheap and quick to make, not to mention delicious! Could it be any more perfect?
3. Tokachi Style Butadon Pork Rice Bowl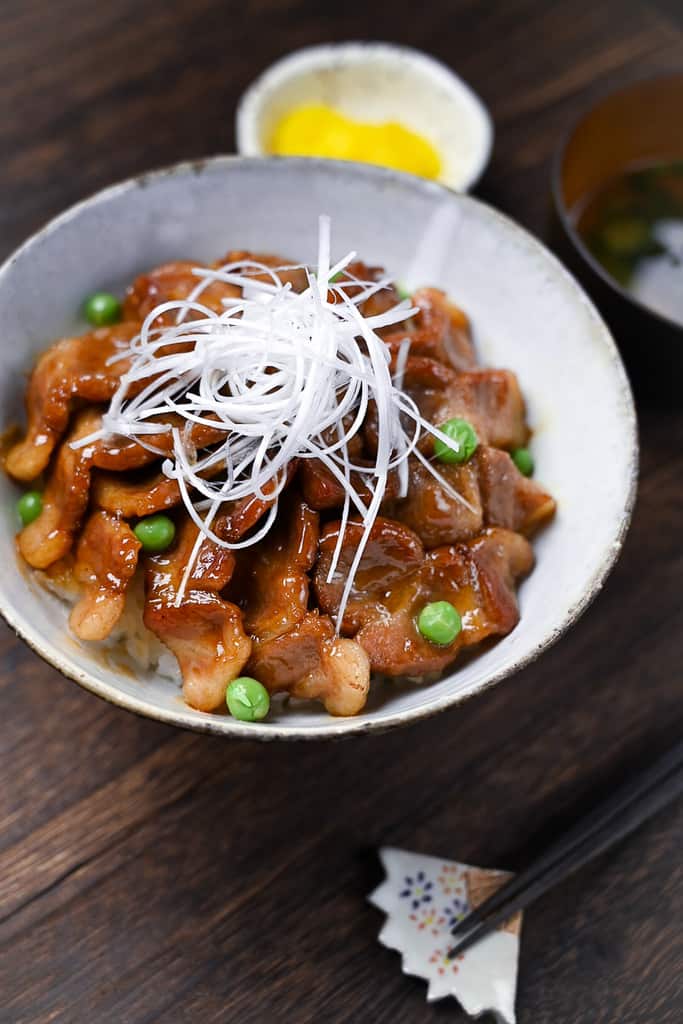 Chicken, beef…how about donburi with pork? Butadon is not as popular as Oyakodon or Gyudon, but it certainly is something you should consider making!
Succulent pork belly fried in a caramel soy sauce glaze served with shredded spring onions and green peas, this recipe is based on Tokachi (Hokkaido) style Butadon and is in a league of its own. A simple choice that is packed with flavor!
4. Japanese Pork Cutlet Bowl Katsudon
If you're feeling like treating yourself or eating something decadent, Katsudon is THE DONBURI for you.
It's somewhat similar to Oyakodon but you swap out the chicken, and replace it with a deep-fried pork cutlet instead! The rice is warm and fluffy, the egg is sweet, the onions are soft and the katsu is still crispy! It's the ultimate texture combination and pretty much perfection in a bowl!
5. "Karaage Don" Japanese Fried Chicken Donburi
Now, here comes my personal favorite. My mouth is watering just thinking about it! Crispy karaage (Japanese fried chicken) + Rice bowl… What more can I ask for?
It's not a traditional dish like the above 4, but certainly, something you shouldn't miss! This is something I personally could eat every single day.
6. Chicken Soboro Don (Sanshoku Donburi)
Okay two deep-fried donburi in a row, I should calm down here… So here is a classic "Sanshoku donburi" The name of this dish is a bit of a mouthful, but "sanshoku" (三色) means "three colors" and represents the 3 main ingredients to top this dish, chicken, egg, and spinach.
Because it's a colorful dish, this is also a popular option for a bento box (lunch box). You can sometimes find it in Japanese convenience store's bento boxes too. A wholesome donburi option for sure.
7. Chashu Donburi Rice Bowl
Chashu doesn't need to be limited to ramen! Why not use succulent Japanese pork chashu and flavorful ramen eggs to make this delicious rice bowl?
As you can imagine, ramen restaurants make chashu in big batches daily. The end cuts are not suitable for serving on ramen, but there's no need to waste it either! That's why end cuts of chashu are often used to make chashu don or fried rice for the workers.
8. Yakiniku Beef Bowl (Yakiniku Donburi)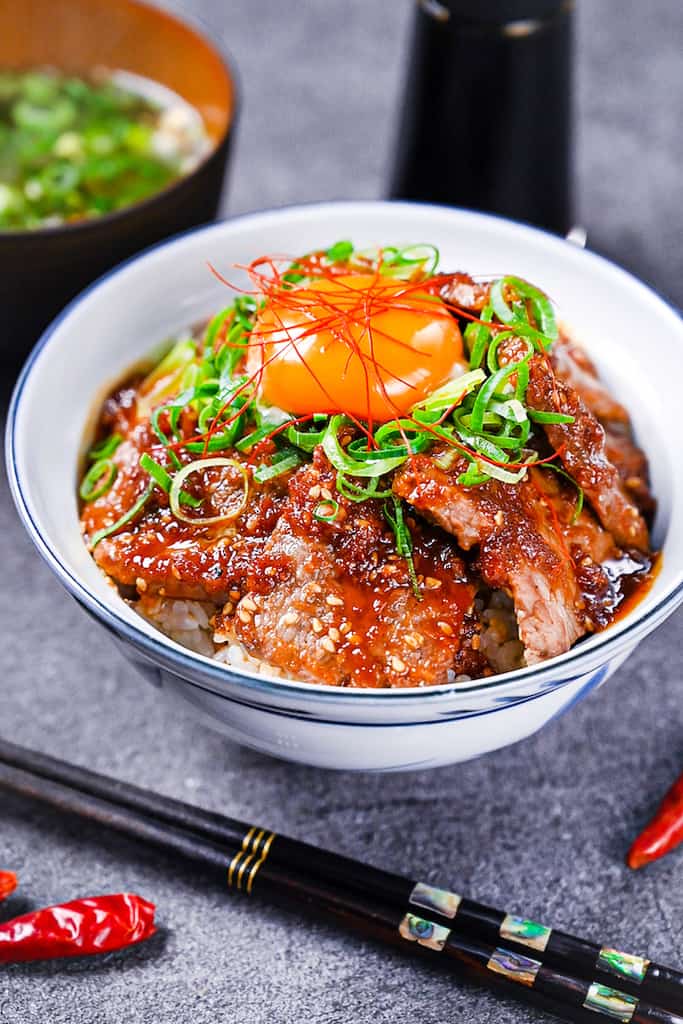 Yakiniku don is a dish where grilled meats (yakiniku) are served on top of a rice bowl with yakiniku sauce, maybe with a few vegetables.
I kept this recipe very simple and easy. You don't need premade yakiniku sauce, or special cuts of yakiniku meats to make yakinikudon at home. You can consider this steak on rice with a tasty Asian sauce! That's pretty much what it is!
9. Garlic Teriyaki Chicken bowl (Teriyaki chicken Donburi)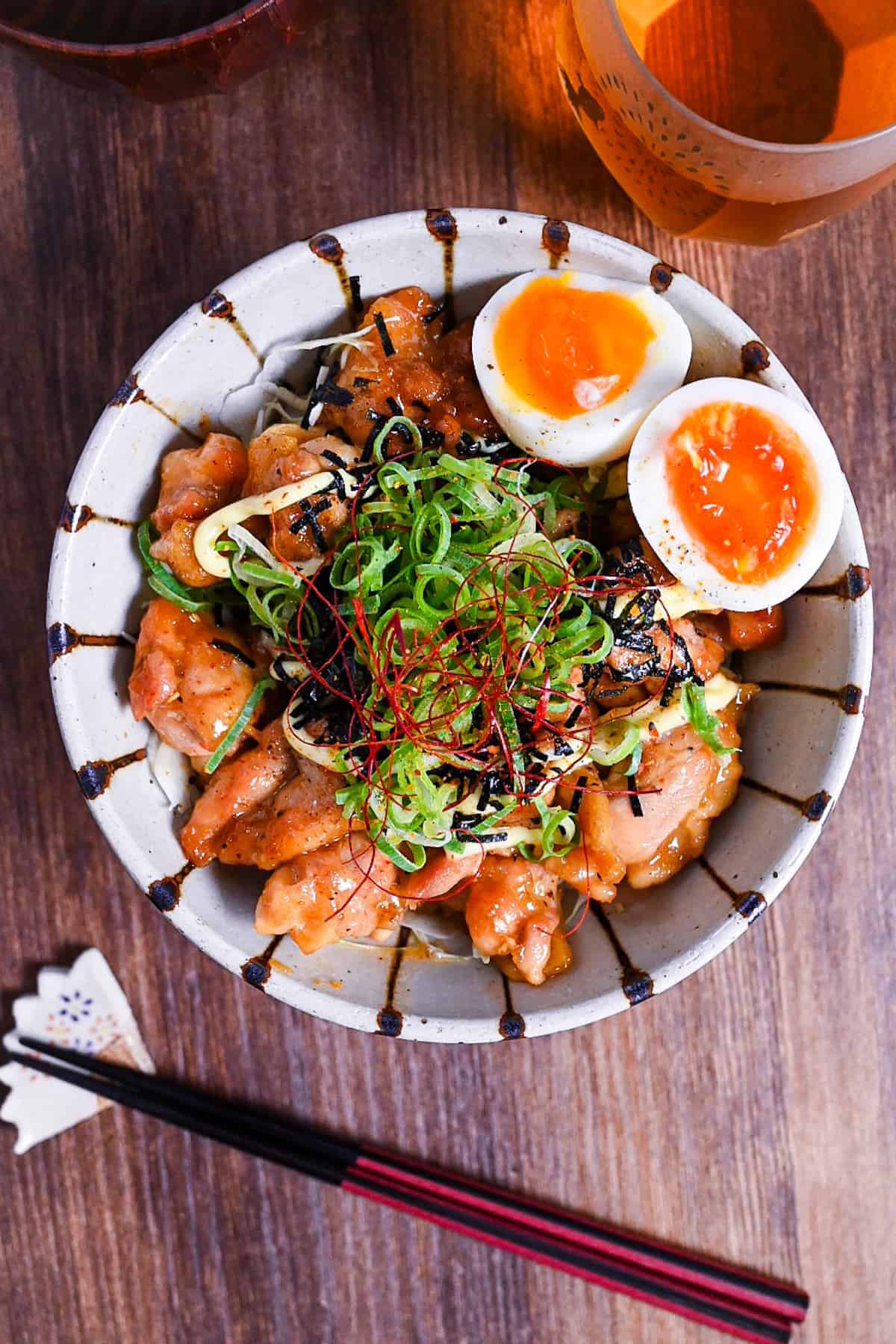 Teriyaki(照り焼き)is a method of cooking using a sweet soy sauce-based sauce. Teriyaki sauce is often used for chicken and fish (often yellowtail is used in Japan) but of course, you can use the technique for pretty much anything!
This delicious teriyaki chicken donburi is flavored with garlic for extra flavor and served with spring onion and mayonnaise. It's quick and easy to make too!
10. Marinated Salmon Sashimi Bowl (Salmon Don)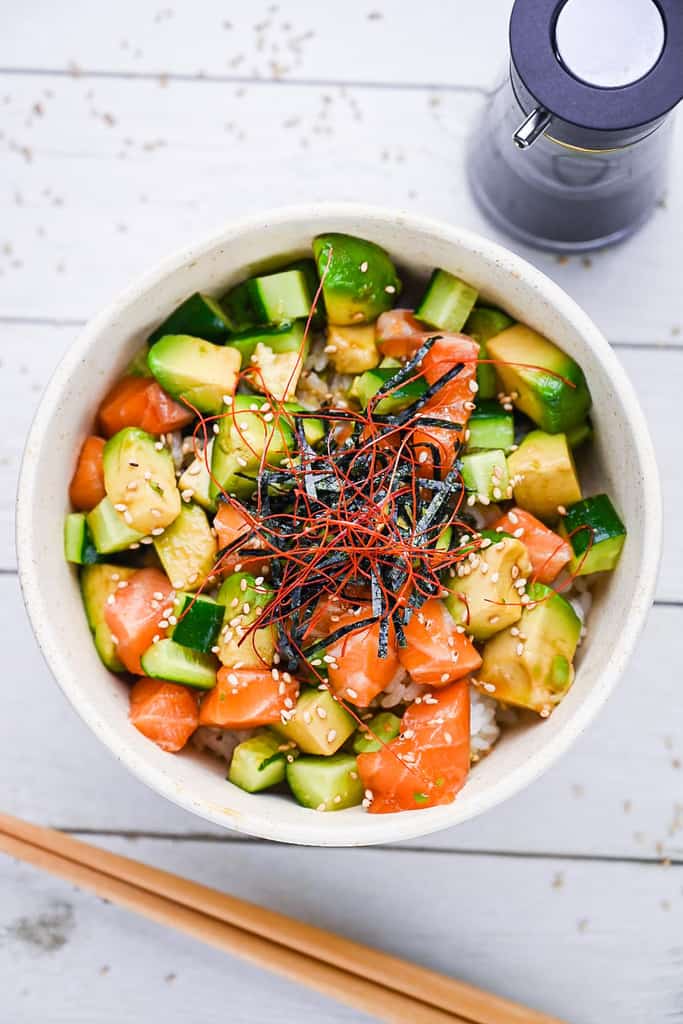 Tender sashimi grade salmon soaked in a delicious Japanese marinade and served with crunchy cucumber and fresh avocado over rice. This salmon donburi is refreshing, filling, and super quick to make!
This is one of my go-to recipes when I don't feel like cooking. It's refreshing yet satisfying and filling too. Whether it's summer or winter, for lunch or dinner, this dish is perfect anytime! You can check how to make the marinade and the steps in the recipe below!
11. Chaliapin Steak Don
This dish that gained popularity in the world of Anime! Chaliapin steak (シャリアピンステーキ) is a super soft steak that has been marinated in grated or finely chopped onions to make it extremely tender and then served topped with onions and a rich red wine sauce.
Chaliapin Steak became famous through an anime called "Shokugeki no Soma" (食戟のソーマ), also known as "Food Wars!" in English. The recipes featured on there create a lot of hype online and even though they're animated, you've gotta admit that they look so delicious, you've gotta try them in real life!
12. Maguro Zuke Don (Marinated Tuna Sashimi Bowl)
Maguro zuke don (マグロ漬け丼) is a type of rice bowl topped with marinated raw tuna. You can often find it served in teishoku-style restaurants or sometimes Japanese-style pubs we call "izakaya".
To be honest, this dish is not commonly made at home, even in Japan. However, it's extremely simple to make, so why not? You can check out the detailed recipe below!
13. Kaisen Donburi (Seafood Rice Bowl)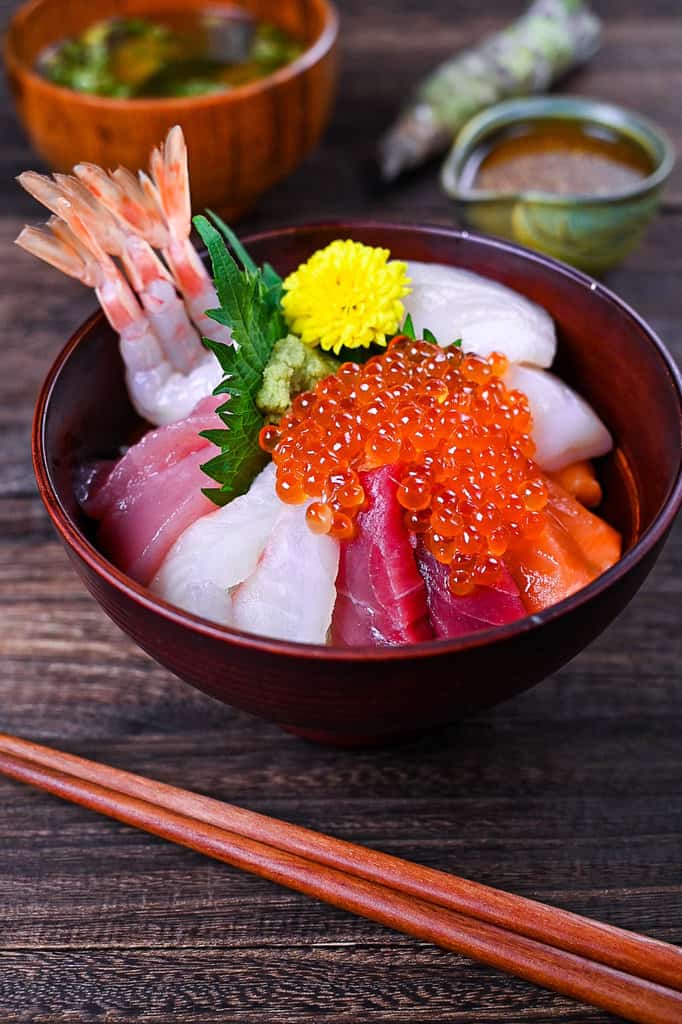 Kaisendon is a colourful rice bowl dish made with various fresh seafood. The fish used vary depending on the region, season, or personal preference.
The term "Kaisendon" is sometimes used as a generic term for seafood bowls, including tekkadon (tuna bowl), unidon (sea urchin bowl), kanidon (crab bowl), and zukedon (marinated seafood bowl), which use single ingredients.
14. Tekka Don (Red Tuna Sashimi Bowl)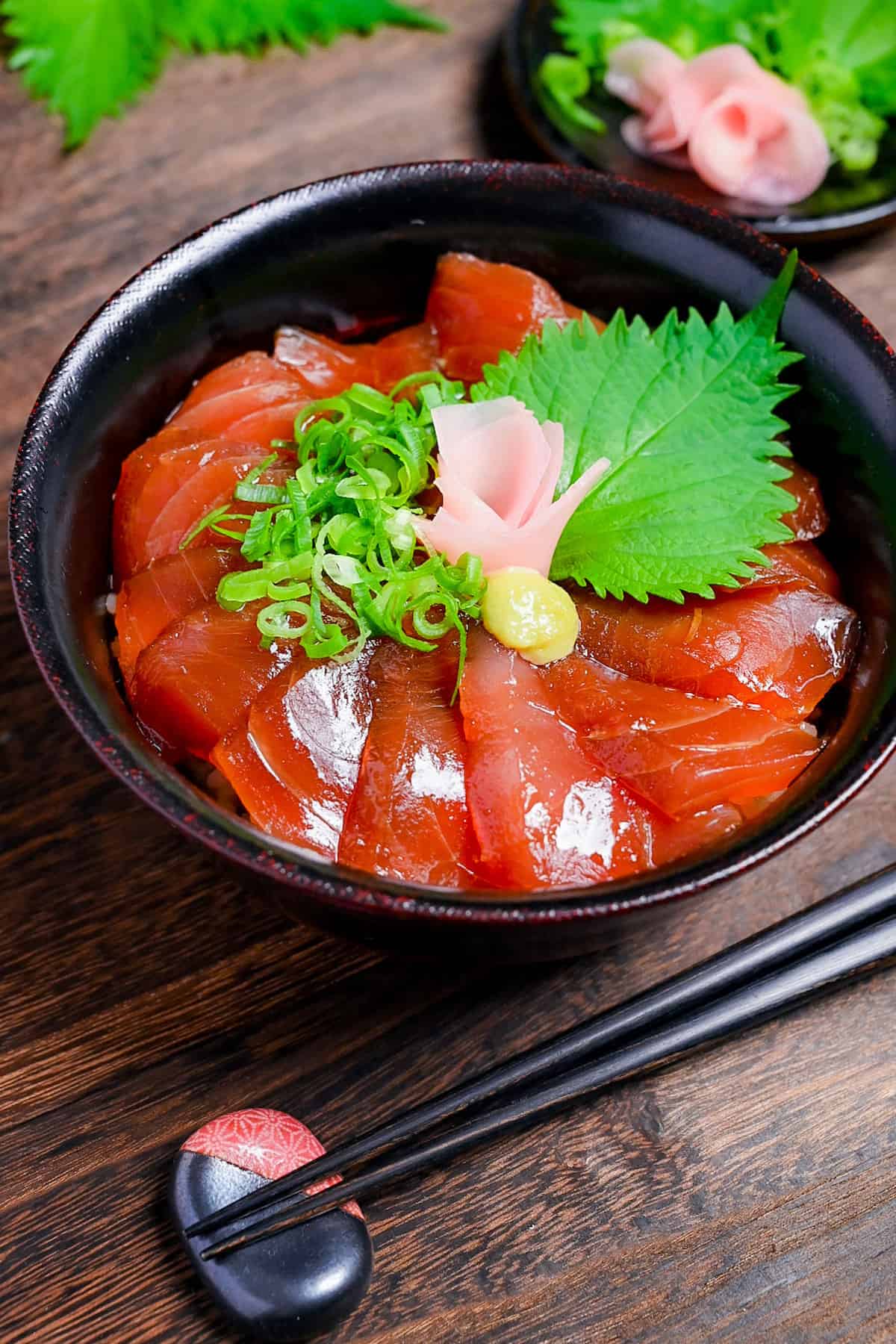 Introducing the captivating Tekka-don, a delightful bowl that combines the freshness of tuna sashimi, the aromatic touch of shiso leaves, the tangy notes of ginger, and the savory appeal of grilled seaweed atop a bed of perfectly seasoned sushi rice.
To enhance this already delightful dish, my recipe includes a homemade marinade that adds an extra touch of flavor. Discover the full recipe and unlock the secrets to an authentic tekka don!
15. Negitoro Don (Mashed Tuna Sashimi Bowl)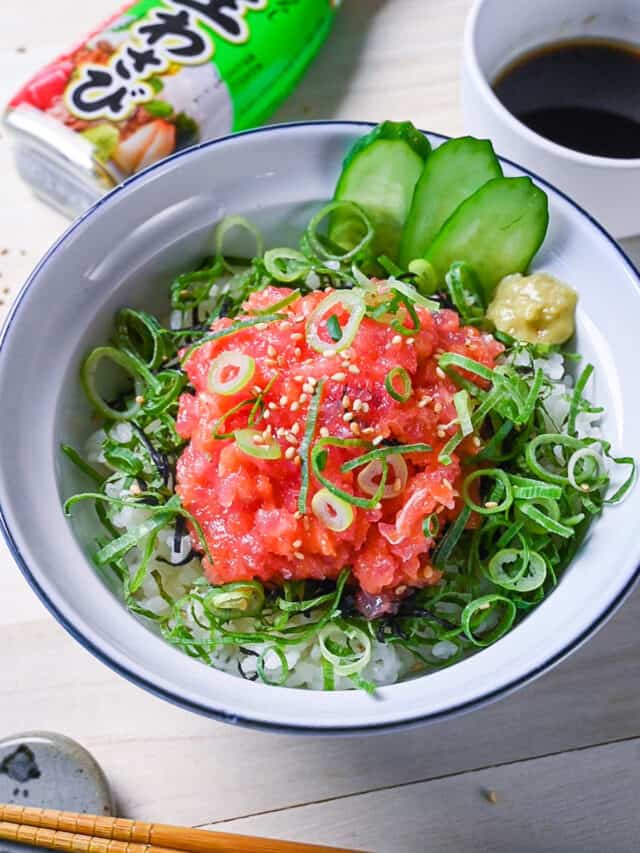 Introducing the intriguing Negitoro, a distinctive Japanese creation that showcases the art of utilizing every part of the tuna. Crafted with care, this dish emerged from the resourcefulness of vendors who ingeniously extracted tender morsels of tuna from every nook and cranny, leaving nothing to waste.
My negitoro donburi has salmon added in addition to the tuna to make it more succulent!
16. Unagi Donburi (Japanese grilled eel rice bowl)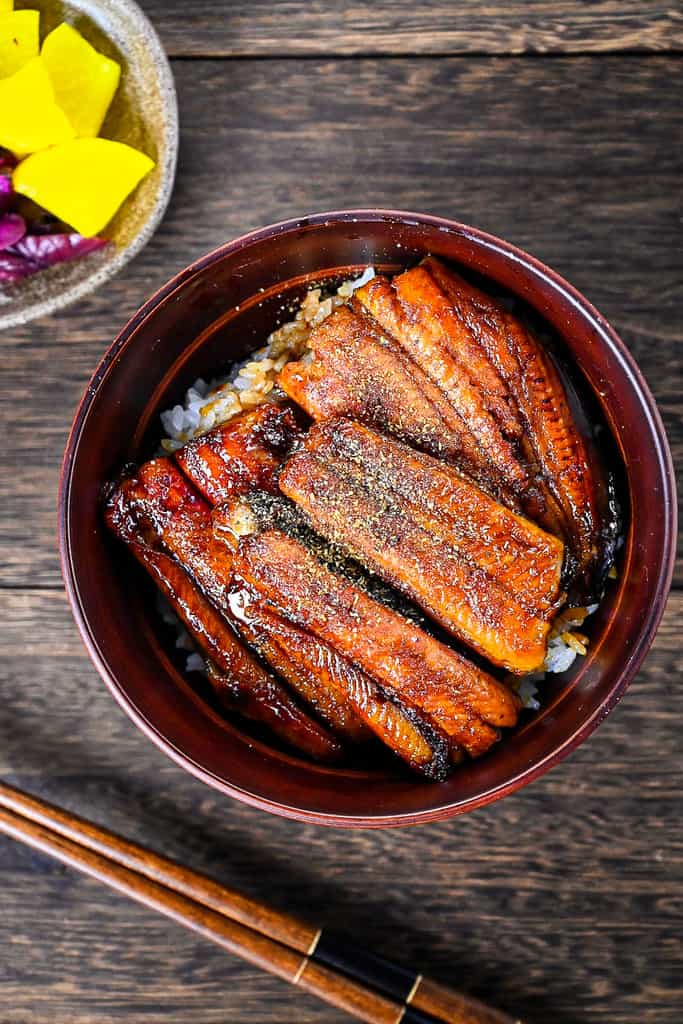 Unagi donburi is a popular Japanese summer tradition that involves a bowl of cooked rice topped with grilled eel, which is coated in a delicious sweet sticky glaze known as unagi sauce. The dish is prepared by pouring a special unagi sauce over the rice, then adding the grilled eel to the top of the bowl.
My recipe includes step-by-step instructions for everything from raw eel to prepping and grilling. Please check it out!