Tonteki is a delightful dish made with succulent pork steaks topped with a rich, tangy sauce, and golden, crispy garlic chips. Not only does it taste amazing, but it only takes 20 minutes!
Disclaimer: This post contains Amazon affiliate links. Sudachi Recipes earn a small percentage from qualifying purchases at no extra cost to you. See disclaimer for more info.
Jump to:
What is Tonteki (Japanese Pork Chop Steak)?
Imagine biting into tender, thick slices of fried pork chops, topped with a rich Worcestershire sauce base dark sauce and crispy fried garlic. That's Tonteki (トンテキ).
The name "Tonteki" is a fusion of two Japanese terms: "ton," signifying pork, and "teki," denoting steak. Thus, in its essence, Tonteki translates to "pork steak."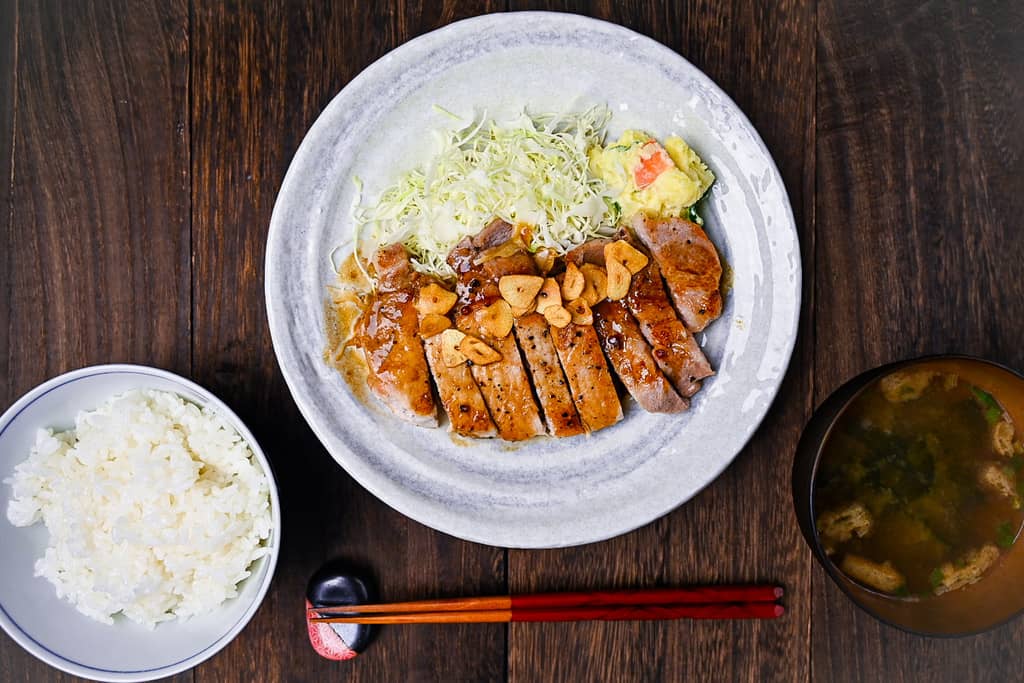 Originating in the 1950s from "Rairaiken" in Yokkaichi, Tonteki quickly became a hallmark dish of the region. While each place imparts its unique touch, the dish in Yokkaichi is often nicknamed "glove" because the deep cuts in the pork resemble a baseball glove when cooked.
For a dish to be recognized as Tonteki in Yokkaichi, it must meet specific standards:
Thick, sautéed pork slices
A rich, tangy sauce
A garnish of garlic
Accompanied by shredded cabbage
This dish is a symphony of flavors, yet its preparation is refreshingly straightforward. With a mere 20-minute investment, you can make a perfect meal for a quick lunch or a weekday dinner.
How I Developed This Recipe
In my journey to perfect the Tonteki recipe, the cooking technique for the pork took center stage. It was vital to achieve that delicate balance where the pork is cooked to perfection yet retains its juiciness. Overcooking was the nemesis, making the meat tough and devoid of natural moisture.
I also put a lot of effort into developing the tonteki sauce, which I am confident is the best I can make.
It has eventually become one of my wife's favorite dishes which she requests regularly, and I hope you will love it too!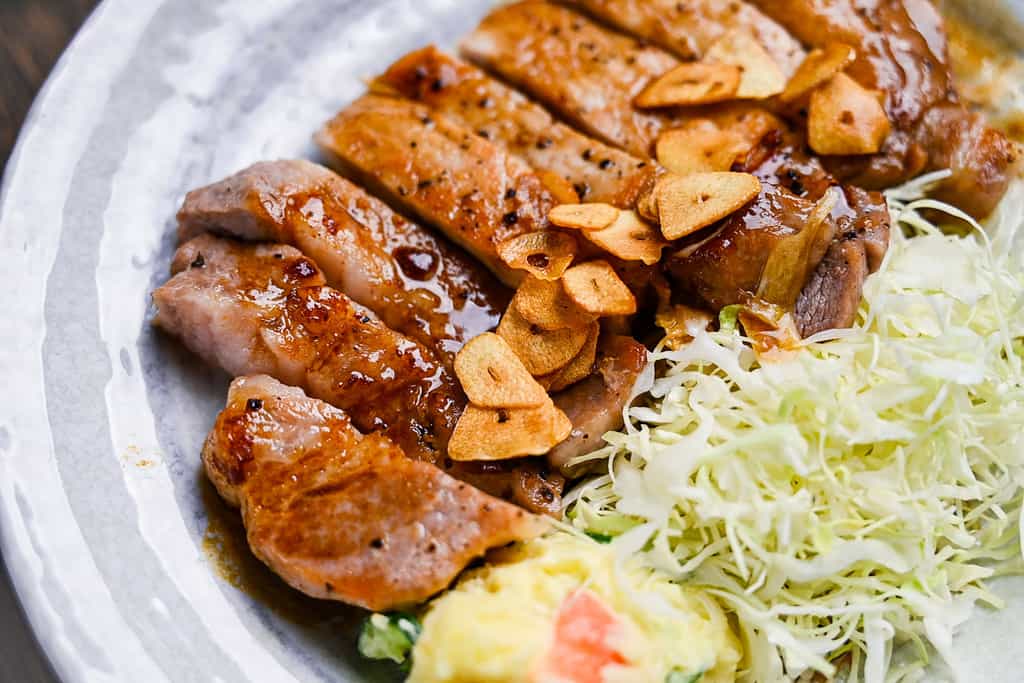 Ingredients and Substitution Ideas
Boneless pork chops: For a genuine tonteki experience outside Japan, pork chops are the way to go. In Japan, loin and shoulder chops are the top picks due to their perfect blend of lean and fatty meat. Some restaurants even use pork medallions or different cuts, offering unique textures and flavors. Feel free to experiment with local pork cuts to find your preferred taste. Just remember, thick slices are vital to capturing tonteki's essence!
Garlic: What sets this recipe apart is the use of garlic-infused oil. Garlic slices are fried until golden and later added to the steak, providing a deep flavor and a satisfying crunch. This garlic-rich oil is dual-purpose: it's used to fry the pork chops and concoct the steak sauce, ensuring every ingredient is fully utilized and maximizes flavor.
Olive oil: While other oils can be used, olive oil is the top choice for this dish.
Green cabbage: Green onions are the preferred choice here, mainly because they will be shredded and consumed raw.
Worcestershire sauce: This is a pivotal condiment, forming the backbone of the sauce.
Soy sauce: Kikkoman soy sauce is a solid choice for a budget-friendly option. Refer to our soy sauce guide for a deeper understanding of selecting the right soy sauce in Japanese cuisine.
Mirin: When shopping for mirin, aim for "hon mirin" (本みりん) for an unparalleled flavor. Hinode Hon Mirin is my recommendation for both quality and affordability. For more condiment and seasoning suggestions, check out my post on the 20 Most Useful Condiments and Seasonings for Japanese Cooking.
Honey and Unsalted butter: While not traditional in tonteki sauce, I've added butter and honey for depth, richness and sweetness. Choose unsalted butter to counteract the saltiness and, if available, local honey for an elevated taste. This unique addition is undoubtedly worth a taste!
I have listed my recommended Japanese condiments, tools, and ingredients in the Sudachi Recipes Amazon shop. If you want to keep making various Japanese foods at home, please check it out!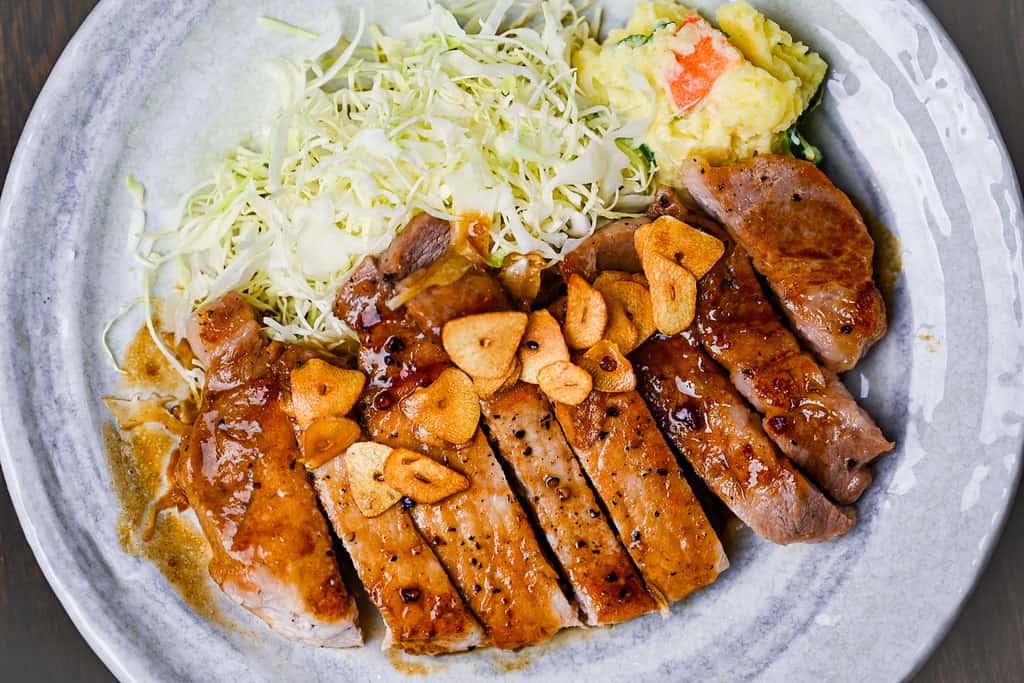 Step-by-Step Process
Here are my step-by-step instructions on how to make delicious tonteki with homemade sauce. I can honestly say that I make this dish often. It's perfect when you want to whip up something quick and delicious!
Start by cutting 3-4 slits through the fatty edge of the porks. Not only does this help prevent curling, but it also gives the pork the iconic "glove" shape it's famous for!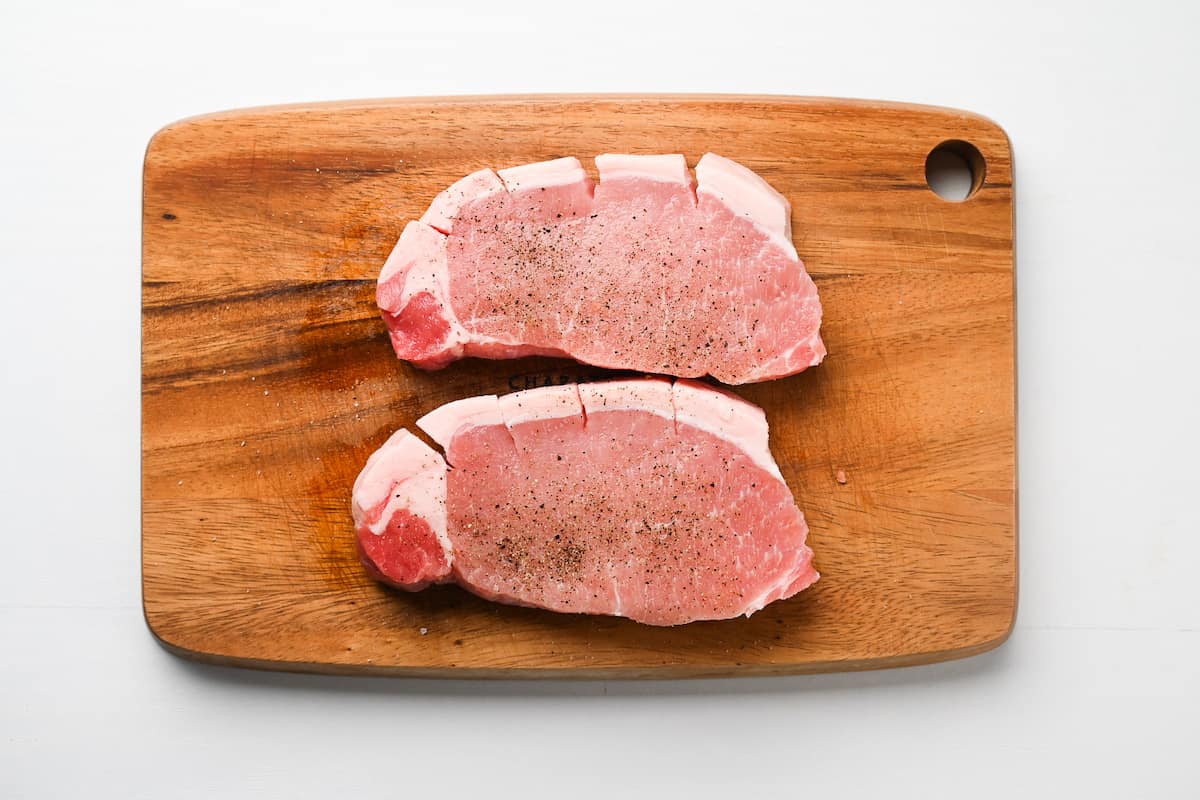 Sprinkle each side with a pinch of salt and pepper and set on the counter (not in the refrigerator) until it's time to cook.
Heat a frying pan on medium-low and add olive oil. Once it's hot, add thinly sliced garlic cloves.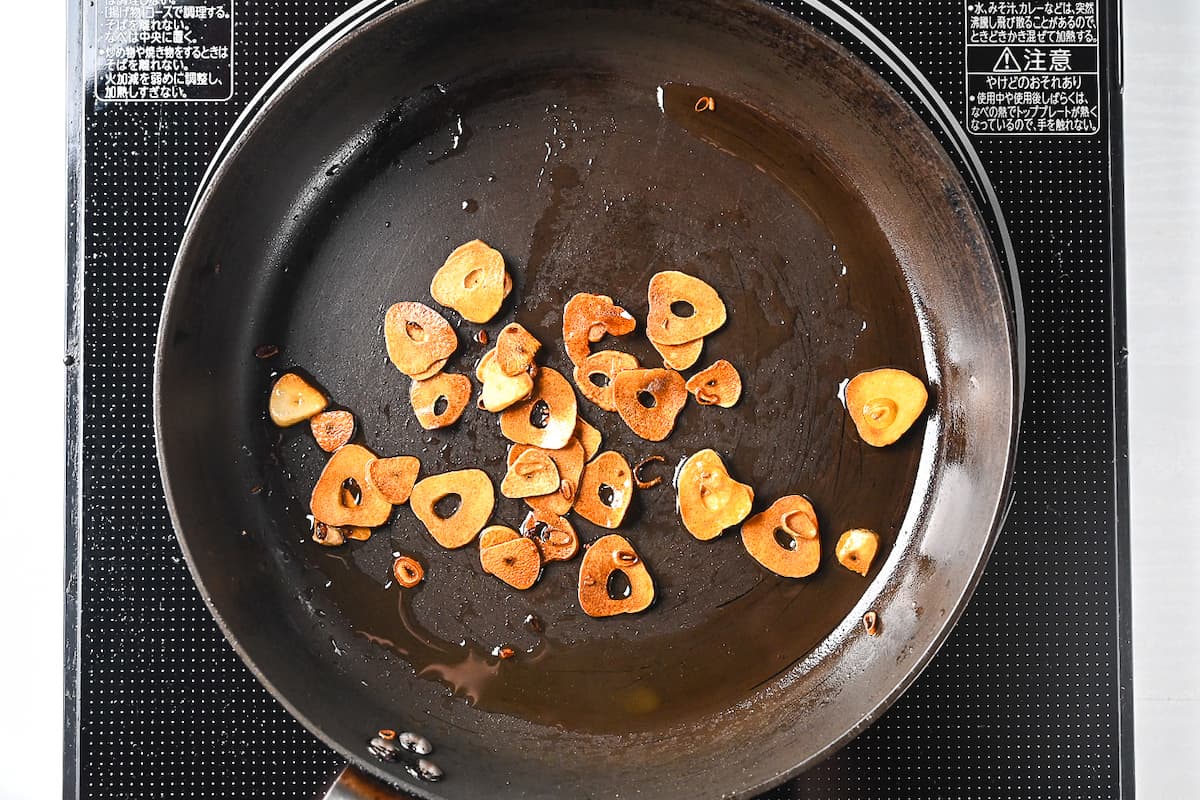 Turn the slices occasionally to ensure they're evenly golden on both sides.
Once crispy, place the garlic chips on kitchen paper to absorb excess oil.
Leave as much oil in the pan as possible
When taking the garlic chips out of the pan, be careful not to remove too much oil. We will use this garlic-infused oil to flavor the pork and sauce!
Using the same pan, add the pork and turn up the heat to medium. Place a lid over the top and fry for 3 minutes.
After 3 minutes, flip the pork over and cook the other side for another 3 minutes, again with the lid on. If your pork is particularly thick, it might need an extra minute or so on each side.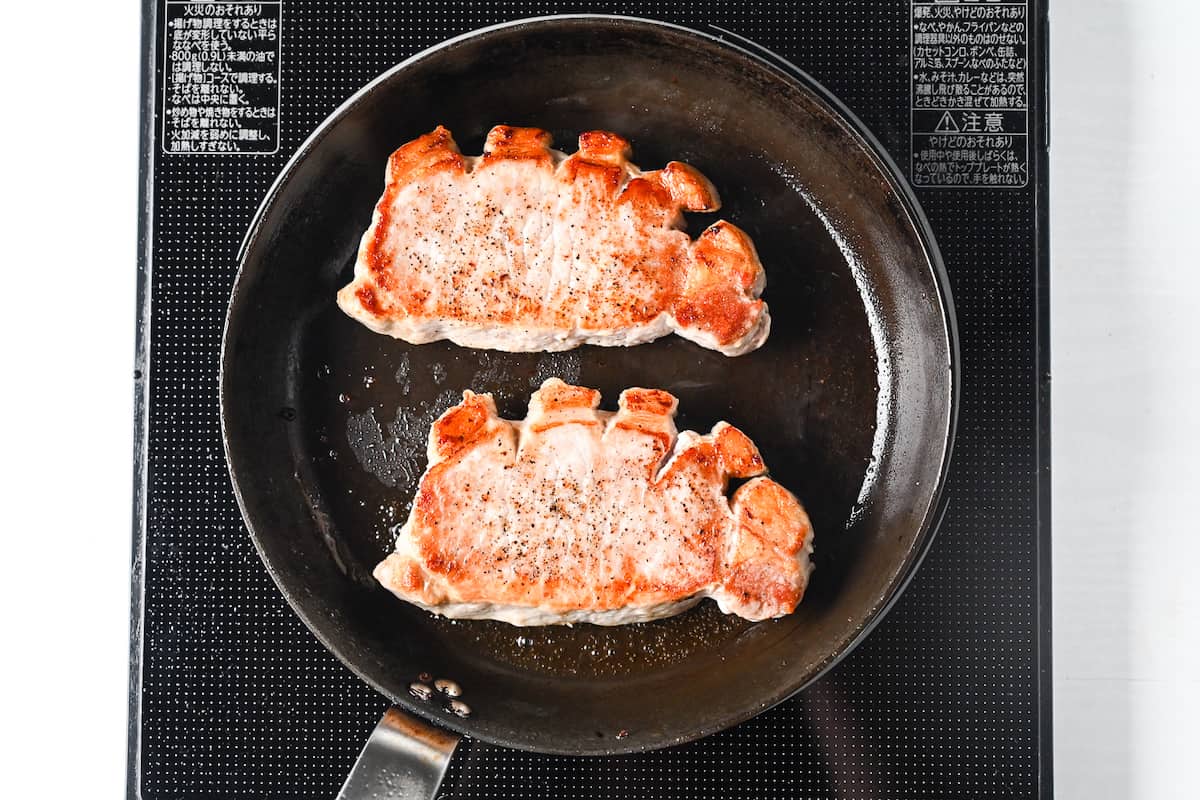 Once the pork is cooked all the way through, transfer to a plate and cover with aluminum foil. Rest until serving.
Using the same pan again, lower the heat and add the Worcestershire sauce, soy sauce, mirin, honey, and butter.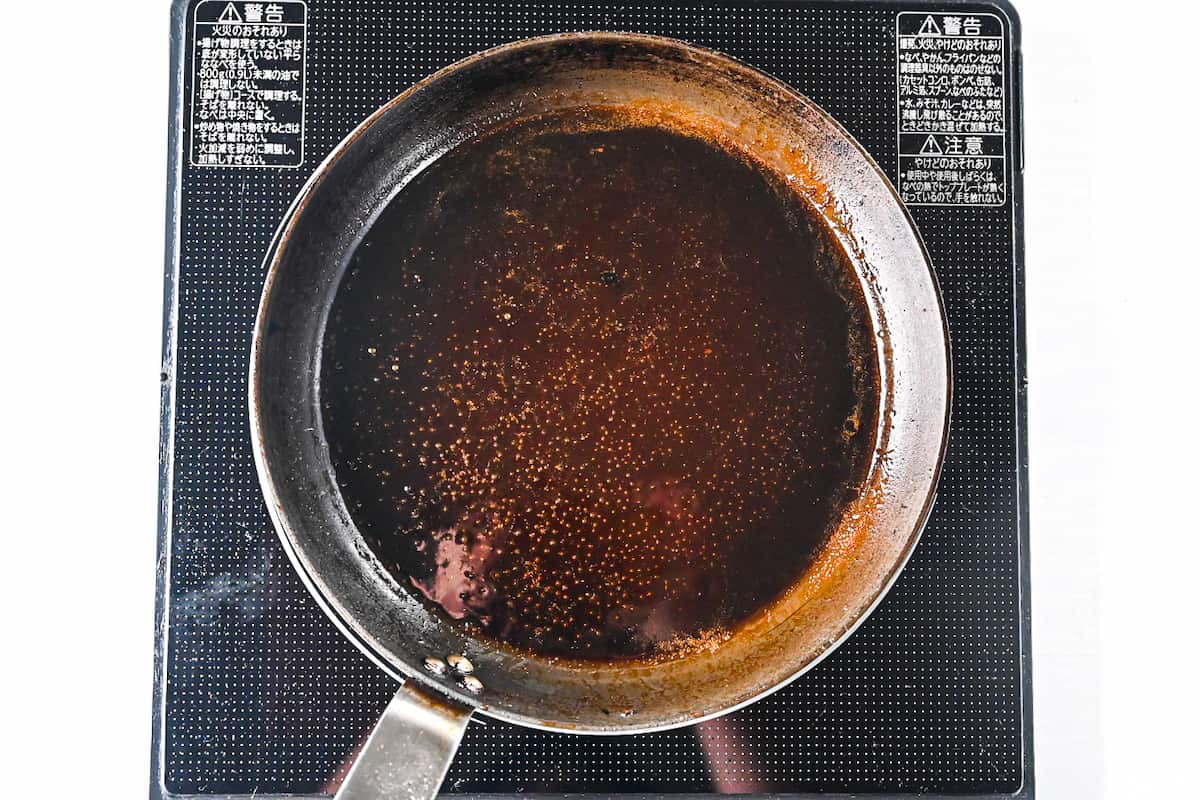 Cook until slightly thickened to a syrup-like consistency.
Cut the pork into thick slices.
Place each sliced pork chop on a plate next to a heap of shredded cabbage and then drizzle generously with the homemade sauce. Top with garlic chips and enjoy!
Storage
We advise against keeping tonteki in general. The grilling process makes the pork steak excessively dry when reheated. Additionally, the applied sauce makes it challenging to store as well.
It's best to prepare only what you intend to consume and enjoy it immediately.
Other Japanese Pork Recipes
Check out some of my other pork recipes!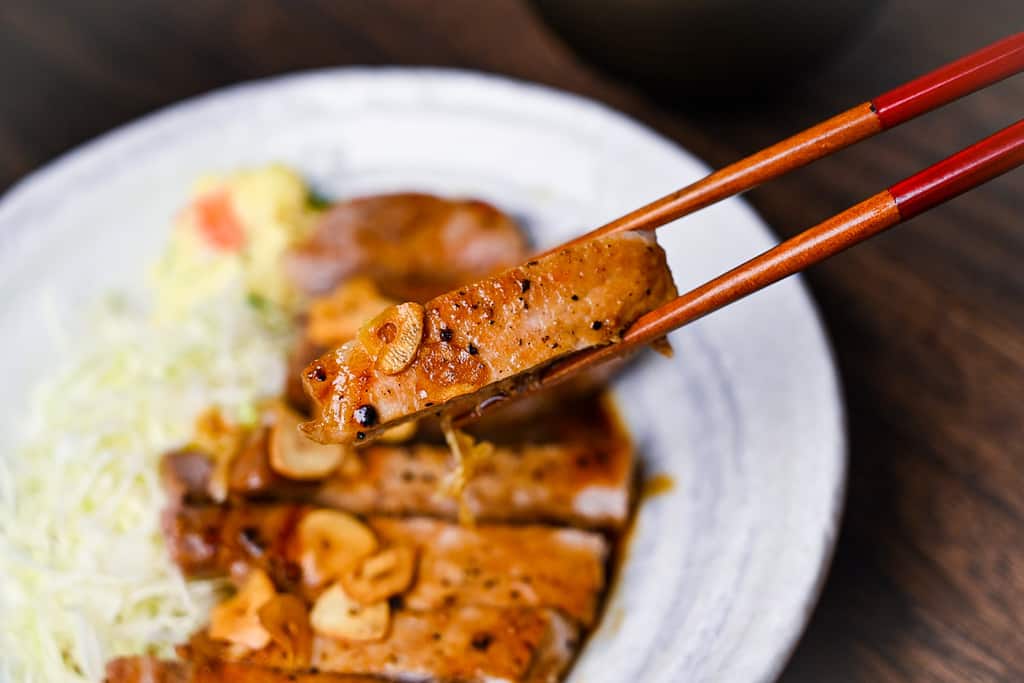 I hope you enjoyed this quick, easy, and delicious tonteki recipe! I would love to know what you thought of the recipe, so if you try it, make sure to comment below!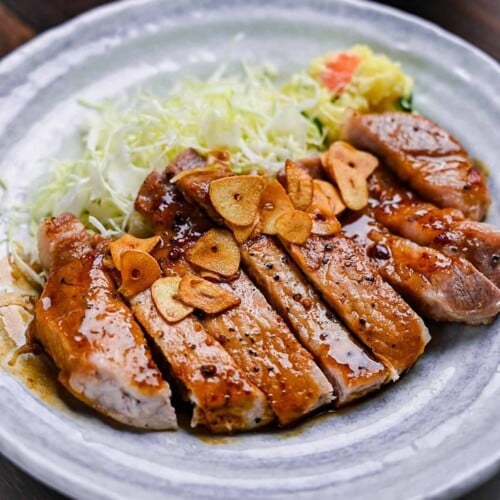 Tonteki (Japanese Pork Chop Steak)
How to make quick, easy and delicious "Tonteki" Japanese Pork Steak with crispy garlic chips and a tangy homemade sauce.
Ingredients
3

cloves

garlic

-

peeled and thinly sliced

2

tbsp

olive oil

250

g

boneless pork chop(s)

salt and pepper

100

g

green cabbage

-

shredded
Sauce
2

tbsp

Worcestershire sauce

1

tbsp

soy sauce

1

tbsp

mirin

1

tsp

honey

1

tsp

unsalted butter
Instructions
Take

250 g boneless pork chop(s)

and cut 3-4 slits in the fatty edge. Sprinkle with a pinch of

salt and pepper

on both sides and set aside for later.

Next, heat up a frying pan on a medium low and once hot, add

2 tbsp olive oil

and

3 cloves garlic

(thinly sliced). Fry until golden and crispy.

Once done, scoop the garlic chips out of the pan using a mesh spoon if possible, and place onto a paper towel to allow the excess oil to drain off. Leave as much oil in the pan as possible because we'll use it again.

Take the pork chops and place them in the pan. Increase the heat to medium and place a lid on top. Fry for 3 minutes.

Turn the heat down to medium-low and flip the pork chops over. Continue to cook for 3 minutes, again with the lid on. (It might need a few minutes extra if the pork is particularly thick.)

Transfer to a warm plate and cover with foil to rest and stay warm.

In the same pan, add

2 tbsp Worcestershire sauce

,

1 tbsp soy sauce

,

1 tbsp mirin

,

1 tsp honey

and

1 tsp unsalted butter

. Simmer on a low heat while stirring until thickened to a syrup-like consistency.

Cut the pork into thick slices.

Divide

100 g green cabbage

between each serving plate and lay the pork chops next to it.

Drizzle the sauce from the pan generously over the pork chops (you can also pour some over the cabbage and use it as a dressing) and top with the garlic chips.

Enjoy!
Notes
The pork chop cooking time is an estimate and may vary depending on the thickness of the meat.
Nutrition
Calories:
528
kcal
Carbohydrates:
21.7
g
Protein:
19.7
g
Fat:
38.9
g
Saturated Fat:
13
g
Polyunsaturated Fat:
3.5
g
Cholesterol:
75.5
mg
Sodium:
1229.5
mg
Fiber:
1.9
g
FAQ
Where did Tonteki originate?
The story goes that tonteki began in the 1950s at a Chinese restaurant called Rairaiken in Yokkaichi City, Mie Prefecture. Today, it remains a popular local dish loved by people all over Japan.
Tonteki vs Tonkatsu: What are the differences?
Tonteki and tonkatsu might sound similar, but they're distinct dishes. While both are pork-based, tonkatsu is a deep-fried cutlet with a flour, egg, and panko breadcrumb coating. In contrast, tonteki is a pork chop steak without any batter or crust. The sauces also differ: tonteki sauce is sweet and rich, whereas tonkatsu sauce has a sweet-sour profile.
Tonteki vs Pork sauté: What are the differnences?
While both pork sauté (ポークソテー) and tonteki are pork dishes in Japan, their preparation and flavor profiles differ. Pork sauté is seasoned simply with salt and pepper, pan-fried, and often paired with Western-style sauces like demi-glace, ketchup, or mustard. Tonteki, on the other hand, is characterized by its unique Japanese sauce, blending ingredients like Worcestershire sauce, soy sauce, and garlic. Though pork sauté might be referred to as pork chap (ポークチャップ) or pork steak (ポークステーキ), tonteki remains a uniquely flavorful take on pork steak.