Believe it or not, using beef is relatively new in the Japanese culinary world.
For centuries, due to Buddhist influences, Japan publicly prohibited meat consumption until the late 19th century. Of course, some rebellious gastronomes covertly savored meat, but it wasn't until 1871 when Emperor Meiji himself partook in eating beef that the official ban was lifted. The Japanese government's policy then pivoted, encouraging meat eating as a symbol of Westernization.
Fast forward to the present day, and beef has established itself within the tapestry of Japanese cuisine, with Wagyu beef standing as a prime example of this integration. In this article, we embark on a mouthwatering exploration of Japanese beef dishes that are highly recommended.
1. Beef Sukiyaki
Beef sukiyaki is a popular Japanese dish featuring thinly sliced high-quality beef cooked in a sweet soy sauce broth alongside green onions, carrots, mushrooms, and grilled tofu. Enhancing the richness, the cooked ingredients are traditionally dipped in whisked raw egg, creating a harmonious balance of flavors.
Sukiyaki's exquisite taste and premium ingredients make it a special dish often reserved for celebratory occasions like year-end gatherings and New Year's festivities.
Get ready to savor the sweet and savory combination of sukiyaki, accompanied by an authentic beef sukiyaki sauce/broth. With this easy-to-follow recipe, you can recreate this beloved dish in the comfort of your own home.
2. Japanese-style Beef Curry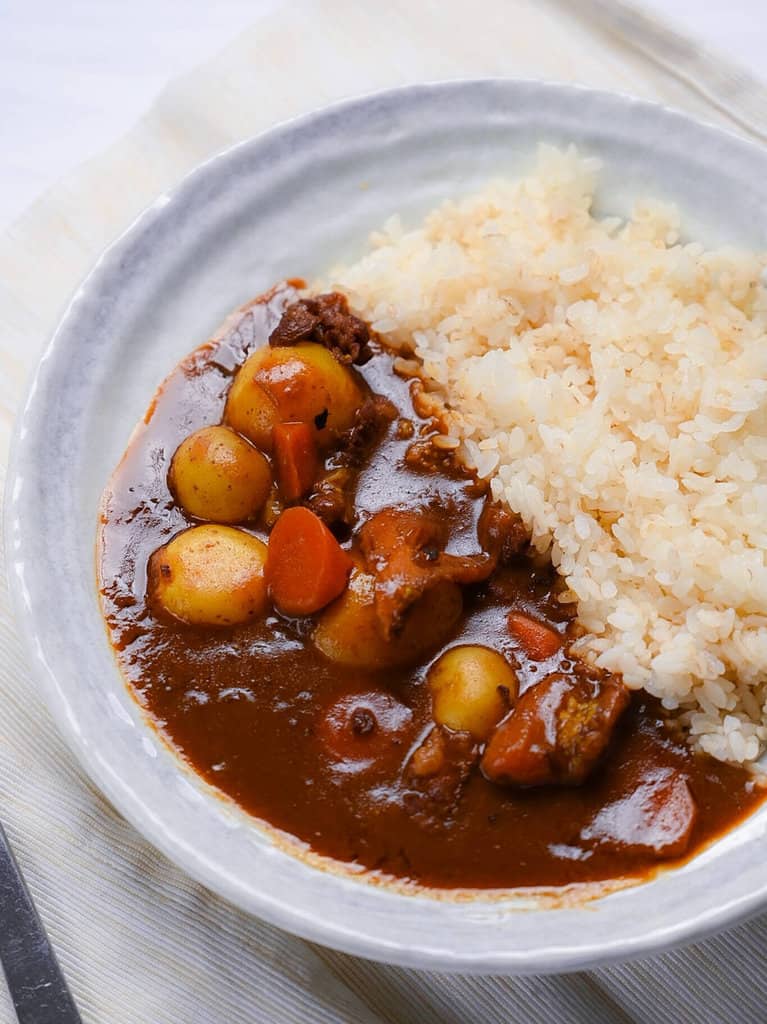 Japanese curry rice, or "kare raisu," has an intriguing history. Originating from India, the land of spices, it then went to the United Kingdom and eventually found its place in Japan. The travel of food and its journey is truly fascinating.
Japanese curry rice differs from its Indian counterparts in that it is milder in spice, sweeter, and has a thick, gravy-like consistency reminiscent of stew due to British influences. It has become one of the most beloved and popular dishes in Japan, enjoyed at homes, restaurants, diners, and takeaways alike.
3. Gyukatsu (Japanese Deep-fried Beef Steak Cutlet)
Gyukatsu, also known as beef katsu or beef cutlet, is a delectable Japanese yoshoku dish that features tender rare beef steak coated in crunchy panko breadcrumbs and deep-fried to golden perfection.
Gyukatsu is typically served with shredded cabbage, rice, and miso soup, accompanied by condiments such as salt, wasabi, or katsu sauce for dipping. Originating from the Kansai region of Japan, particularly Kyoto, and Kobe, where the culture of enjoying high-quality beef is cherished, gyukatsu has gained popularity for its irresistible combination of flavors and textures.
4. Gyudon (Japanese Beef Bowl)
Gyudon is a delicious Japanese rice bowl dish consisting of thinly sliced beef and onions simmered in a flavorful dashi sauce, then served over steamed rice. The beef absorbs the delicious sauce, and the dish is often garnished with red pickled ginger, green onions, and sometimes a raw egg yolk for added richness.
The name "gyudon" stems from "gyu" meaning beef and "don" referring to a rice bowl. It distinguishes this dish as being specifically made with beef, while similar rice bowl dishes exist with other proteins like pork (butadon).
5. Beef Udon Noodles Soup (Niku Udon)
Beef Niku Udon is a comforting and hearty noodle dish that features tender marinated beef, juicy onions, and chewy udon noodles in a rich and flavorful dashi broth. Beef adds a rich and meaty flavor, while pork udon offers a slightly different profile.
Indulge in this flavor-packed dish and savor the combination of tender beef, sweet and savory broth, and perfectly cooked udon noodles. This recipe provides step-by-step instructions, tips, and tricks to ensure a truly enjoyable dining experience.
6. Beef Hayashi Rice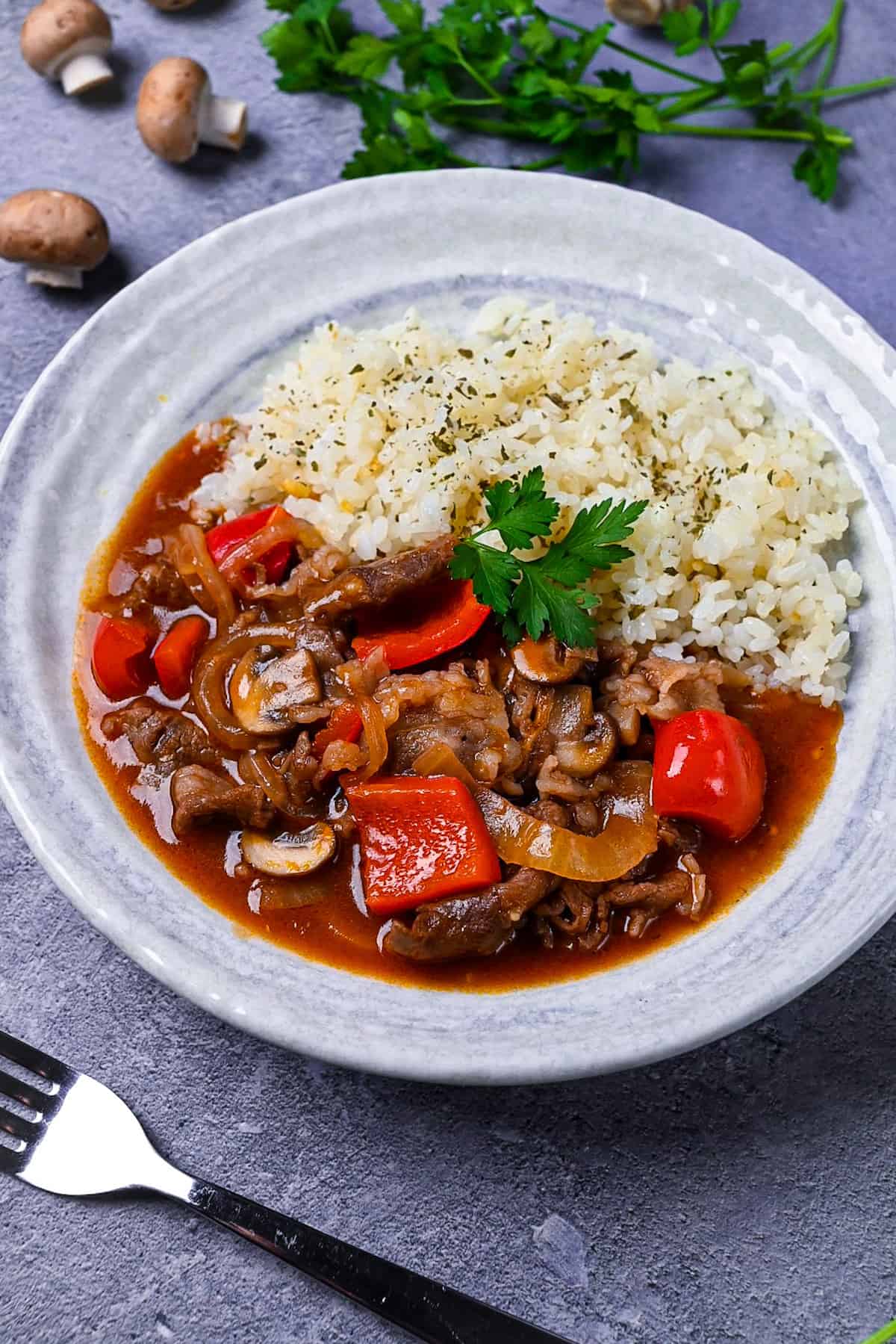 Hayashi Rice is a beloved Western-style dish with a Japanese twist. This hearty dish features thin slices of beef, tender onions, crisp bell peppers, and savory mushrooms, all cooked in a flavorful demi-glace style sauce.
Although the name implies that it's typically served with rice, hayashi rice can also be enjoyed with bread or mashed potatoes. This recipe includes a delicious garlic butter fried rice variation to enhance your dining experience.
7. Beef Kushiyaki
Beef kushiyaki, or Gyu-kushi, is a popular Japanese dish of delicious pieces of marinated steak skewered on bamboo sticks. These addictive beef skewers are perfect as a beer snack or a delightful addition to any party or barbecue.
In this recipe, I share a homemade yakiniku-style marinade for the beef kushiyaki. You can easily grill them using a Japanese fish grill, broiler, or barbecue. Whichever method you choose, the result will be tender, juicy, and incredibly satisfying.
8. Beef Negimaki
Beef negimaki is a dish made by wrapping thinly sliced beef around thick green onions and braising them in a flavorful sukiyaki-style sauce.
This recipe is quick and easy to follow, allowing you to enjoy the delightful combination of beef and green onions in a convenient and satisfying form. Whether you serve it as an appetizer or add it to your bento box, beef negimaki will surely impress with its taste and presentation.
9. Beef Sukiyaki Udon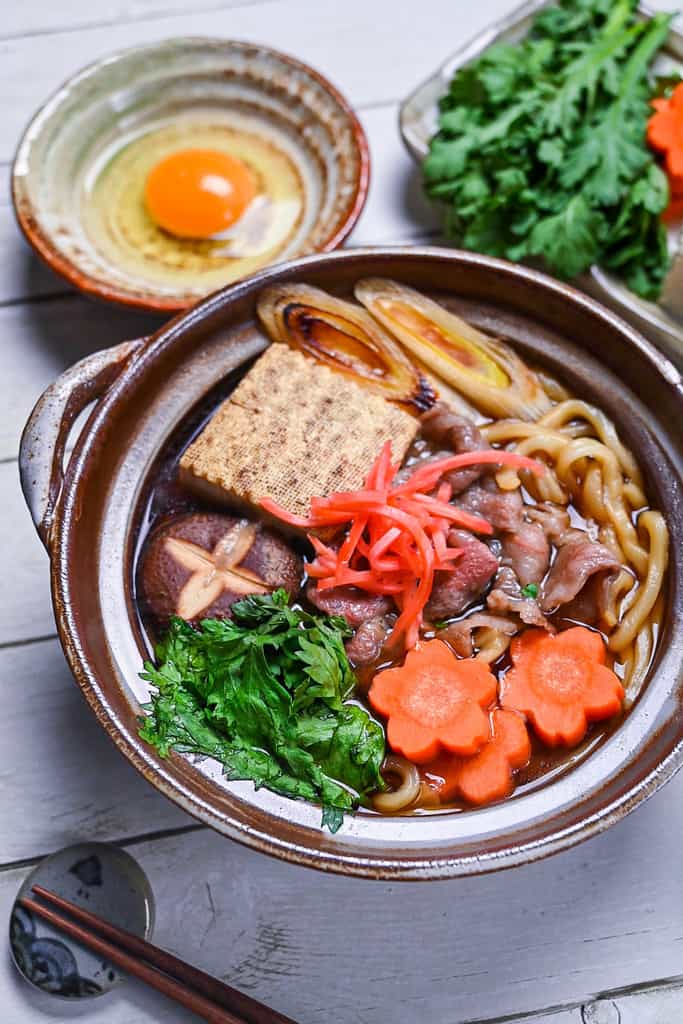 Sukiyaki udon is a delightful dish that combines the best of both worlds: the rich flavors of sukiyaki and the chewy udon noodles. In this dish, the udon noodles are served in a flavorful sukiyaki-style broth, simmered with tender beef, tofu, and various vegetables.
Making sukiyaki udon is relatively simple compared to actual sukiyaki, making it a convenient and satisfying meal option. The noodles cook quickly, and the broth is infused with the delicious flavors of sukiyaki, resulting in a hearty and comforting dish that can be prepared in under 30 minutes.
10. Yakiniku Don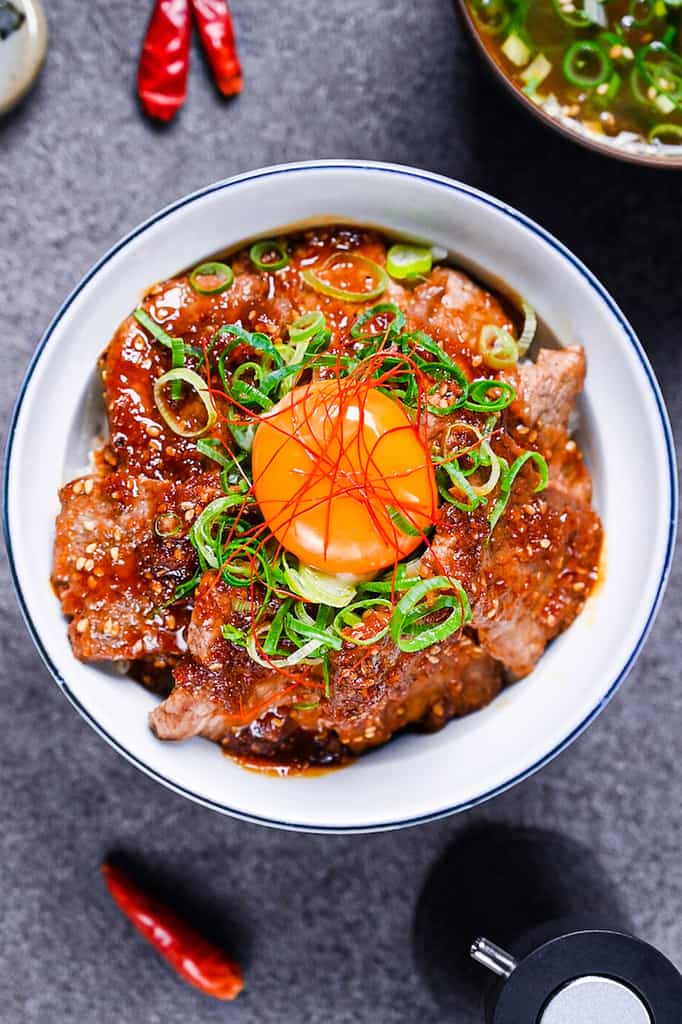 Yakiniku don is a delicious and satisfying dish that combines the flavors of grilled meat from yakiniku with the simplicity of donburi. In this dish, grilled meats such as beef, chicken, or pork are placed on top of a bed of rice, creating a flavorful and filling meal.
Whether you're a fan of yakiniku or looking for a new twist on donburi, yakiniku don is a must-try dish. Enjoy the delicious combination of grilled meats and rice in this satisfying and flavorful meal.
11. Beef Tataki
Beef tataki is a delightful dish that showcases a fillet of beef. The beef is seasoned, seared over high heat to create a beautiful outer crust, cooled, and then thinly sliced. It is commonly served either marinated or with a soy-based dipping sauce, garnished with green onions.
While it may resemble roast beef initially, the cooking method and serving style set it apart. The quick searing results in a mostly raw or rare interior, offering a melt-in-the-mouth texture reminiscent of sashimi.
12. Yakiniku Rice Burger
A rice burger is a unique twist on the classic hamburger, where cooked rice is pressed into a round shape to serve as the bun instead of bread. This concept was introduced by the Japanese fast food chain Mos Burger in 1987 and has since gained popularity across East Asia.
This Mos Style Yakiniku Rice Burger recipe offers a delicious Japanese take on the traditional burger. Thinly sliced beef is marinated and pan-fried in a flavorful, mildly spicy yakiniku sauce, then sandwiched between lightly seared rice "buns."
13. Menchi Katsu
Menchi Katsu is a popular yoshoku dish in Japan, which refers to Western-style dishes with a Japanese twist. This delicious dish features a seasoned meat patty made with a combination of ground beef and pork (or 100% beef), mixed with onions and other seasonings.
Although the name includes "katsu" (cutlet), Menchi Katsu resembles a croquette regarding texture and preparation. It is a beloved comfort food in Japan found in yoshoku restaurants and even some izakayas.
14. Tsukimi Burger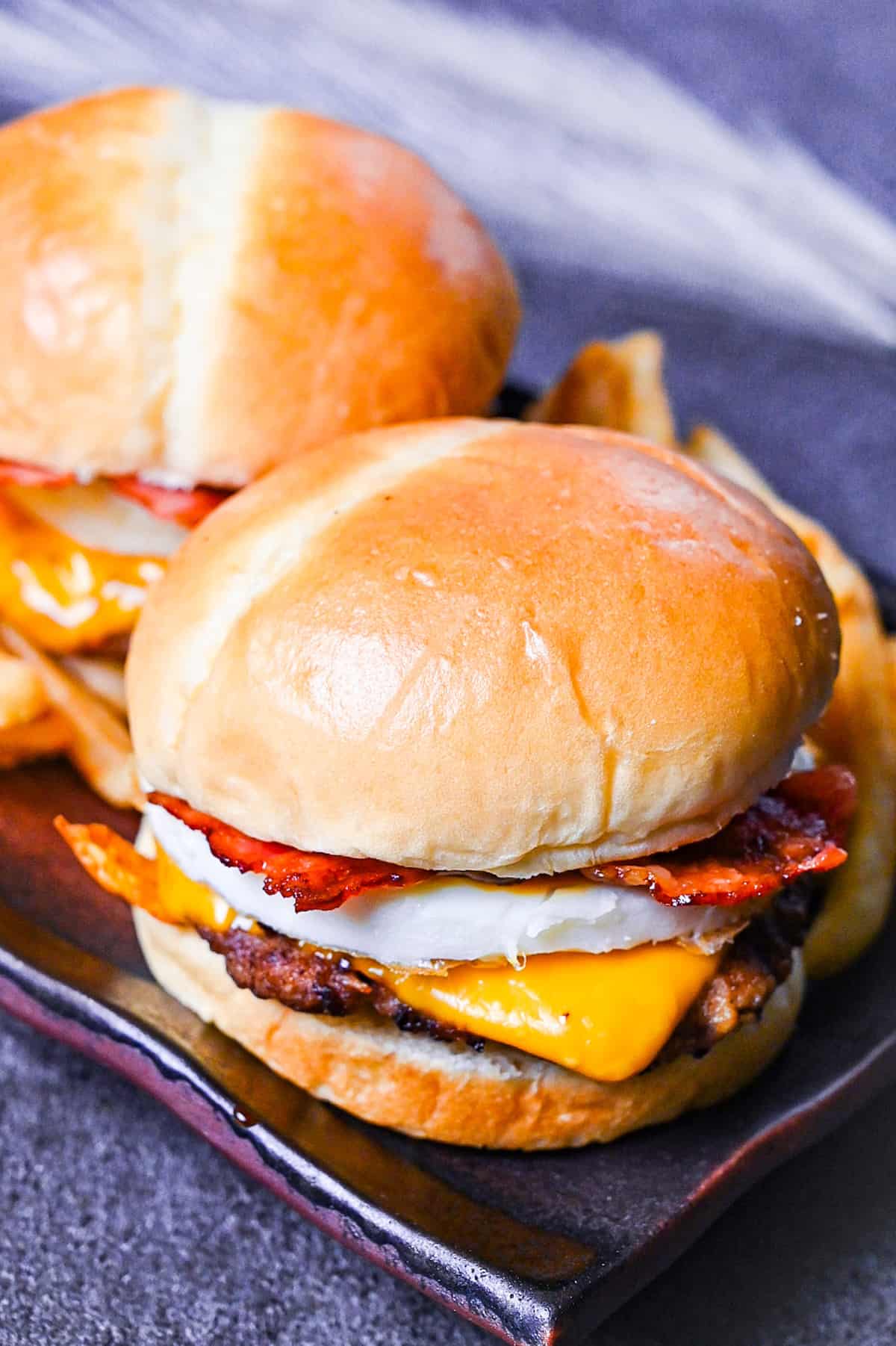 Tsukimi Burger holds a special place in the hearts of many Japanese people as a seasonal treat. It pays homage to the traditional custom of otsukimi, where people gather to appreciate the beauty of the full moon in autumn. The round egg on the burger represents the moon, adding a symbolic touch to the dish.
The homemade Tsukimi Burger recipe recreates the beloved McDonald's version, allowing you to enjoy this iconic burger all year round. The juicy beef patty, crispy bacon, creamy sauce, and perfectly cooked egg are layered between a soft white bun, creating a delicious combination of flavors and textures.
15. Soba Noodle Salad (with Summer Vegetables)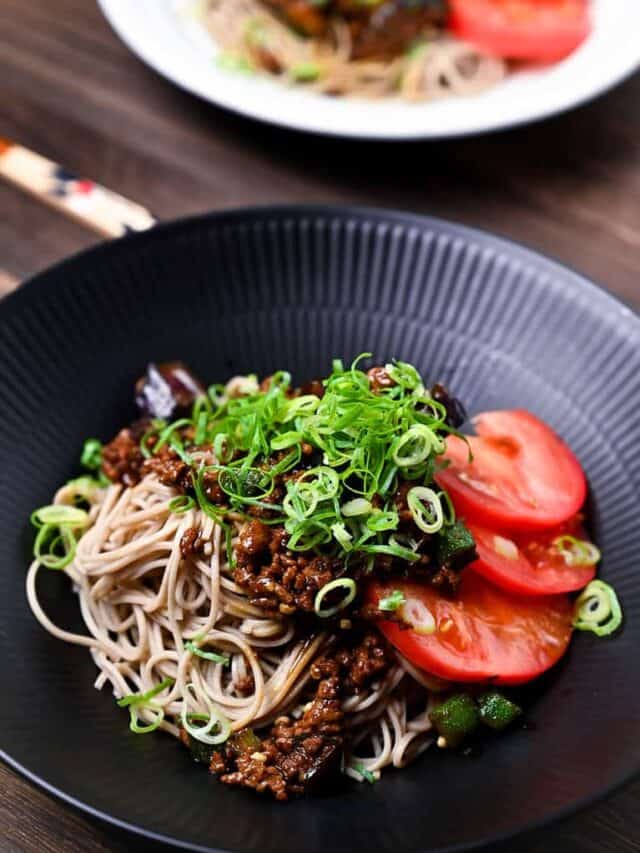 Soba noodle salad is a refreshing and delicious dish, especially in summer. The chilled buckwheat noodles provide a satisfying texture, while the seasonal vegetables add freshness to the salad. The dish's star is the miso-flavored meat sauce, which brings a savory and umami-rich element to the noodles.
The best part about this soba noodle salad is that it's easy to make. The noodles cook quickly, and the vegetables can be easily prepared and added. The miso-flavored ground beef adds depth of flavor and can be prepared beforehand, making it a convenient option for a quick and satisfying meal.
16. Hambagu (Japanese Hamburger Steak)
Hambāgu, a Japanese hamburger steak, is a beloved meat dish in Japan. It consists of a mixture of minced meat, typically beef or a combination of beef and pork, mixed with onions, panko breadcrumbs, eggs, and seasonings. The mixture is shaped into a patty and fried to perfection.
In this recipe, you'll find tips and tricks to create a juicy and tender hambāgu, as well as a homemade sauce that will elevate the dish to new heights.
17. Okinawa Taco Rice
Taco Rice, or "takoraisu," is a popular fusion dish in Okinawa, Japan. It combines the flavors of Tex-Mex with Japanese rice, resulting in a unique and delicious meal.
Taco rice is quick and easy to make, making it a great option for a weeknight meal or a fun gathering with friends. Its popularity has spread beyond Okinawa, becoming a beloved dish throughout Japan and beyond.
18. Saizeriya-style Milano Doria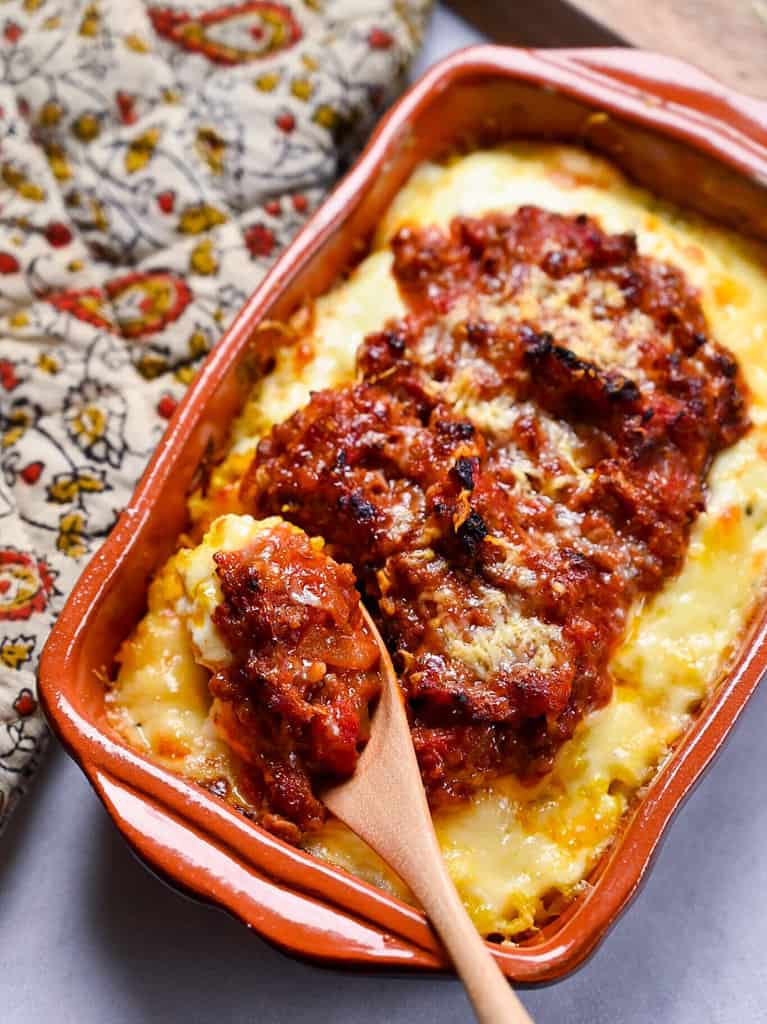 Milano Doria, or "Milano-style Doria," is a signature dish at the popular Italian-Japanese family restaurant chain, Saizeriya. This dish, along with other favorites like karami chicken, has become an iconic menu item at Saizeriya.
Milano Doria features a unique combination of flavors and textures. It consists of a bed of buttery turmeric rice topped with a creamy white sauce, ground meat sauce, and powdered cheese. The dish is baked until it turns golden and develops a delightful crust.