Yakisoba is a classic Japanese street food made with chewy noodles stir-fried with thin slices of pork and fresh vegetables in a tangy sauce. Enjoy authentic yakisoba at home with this 15 minute recipe!
Disclaimer: This post contains Amazon affiliate links. Sudachi Recipes earn a small percentage from qualifying purchases at no extra cost to you. See disclaimer for more info.
Jump to:
What is Yakisoba?
Yakisoba (焼きそば) is a popular Japanese stir-fried noodle dish inspired by Chinese chow mein. Yakisoba is made with Chinese wheat noodles called "mushi chukamen", similar to ramen in thickness and appearance.
These noodles are combined with pork, vegetables, and the signature tangy "yakisoba sauce." In this recipe, I'll share how to make yakisoba sauce from scratch! It's so easy, you'll never need to buy premade bottles again!
Originating from 1930s Tokyo, yakisoba's straightforward outdoor preparation has made it a staple at events like festivals, sports days, and cherry blossom viewings, as well as in homes and casual eateries.
Instant yakisoba serves as a quick treat for many, and regional variations compete in the B-class gourmet (B級グルメ) category, offering delicious dishes made from budget-friendly ingredients.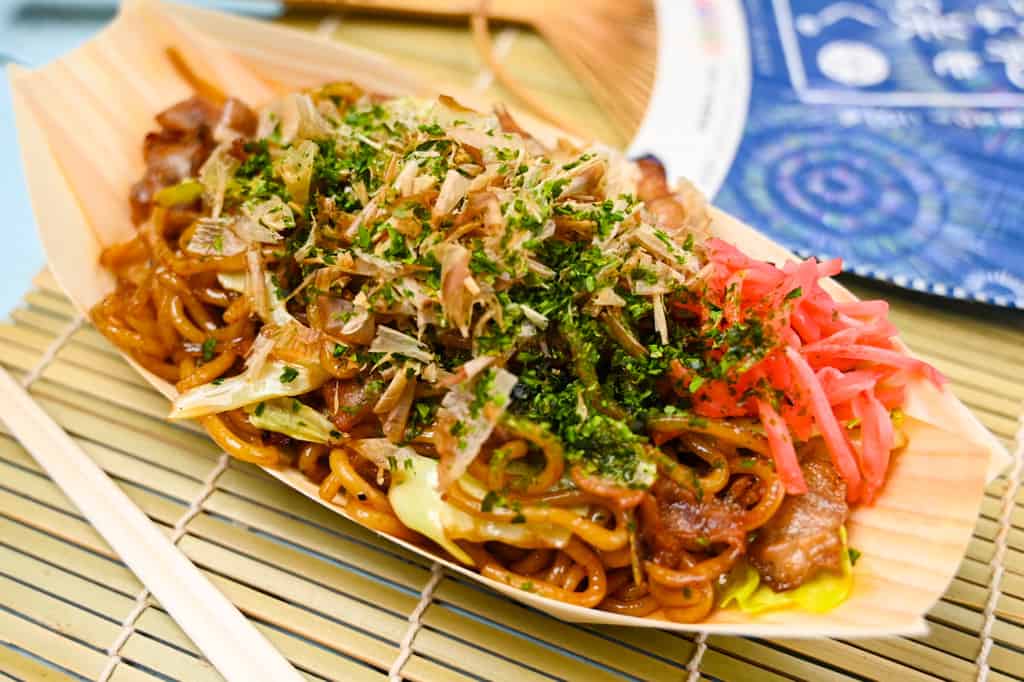 How I Developed This Recipe
In developing this recipe, my main goal was to craft an authentic Japanese yakisoba you'd enjoy at a Japanese festival and its iconic sauce from scratch.
While many in Japan rely on pre-made sauces and powders, my challenge was replicating that distinct flavor.
After extensive experimentation, I've captured the authentic taste using accessible ingredients. I hope you'll give it a try at home!
Ingredients and Substitution Ideas
Thinly sliced pork belly: This cut is preferred due to the delicious sweetness released from its fat during cooking. However, adaptability is the key. You can easily substitute with other pork parts, chicken, or beef. Make sure to adjust cooking times based on the meat used.
Yellow onion: Thinly sliced. While yellow onions are predominantly used in Japan, white onions can be a viable substitute.
Green cabbage: While green cabbage is the primary choice, you can use other types.
Pre-boiled Chinese-style noodles (chukamen): You can hard-boil ramen noodles like this product. If you struggle to find quality, consider spaghetti as a substitute. For this, refer to the Spaghetti Ramen Hack article for a comprehensive guide.
Oyster sauce: This sauce enriches the yakisoba sauce with profound depth.
Soy sauce: Kikkoman soy sauce is a reliable and cost-effective choice. For an in-depth understanding, refer to the soy sauce guide on selecting soy sauce in Japanese cuisine.
Worcestershire sauce: Its distinctive acidity and the meld of fruit and vegetable extracts are foundational to the yakisoba sauce.
Tomato ketchup: While any ketchup will do, Heinz tomato ketchup is my go-to.
Sake: Authentic sake is recommended. However, white wine or dry sherry can be used as more accessible substitutes.
Sugar: I often use light brown cane sugar these days, but your regular sugar of choice will work just fine.
Sesame oil: Kadoya's sesame oil is recommended for its delicate flavoring capabilities.
Toppings: I used red pickled ginger (benishoga), bonito flakes (katsuobushi), and aonori seaweed.
I have listed my recommended Japanese condiments, tools, and ingredients in the Sudachi Recipes Amazon shop. If you want to keep making various Japanese foods at home, please check it out!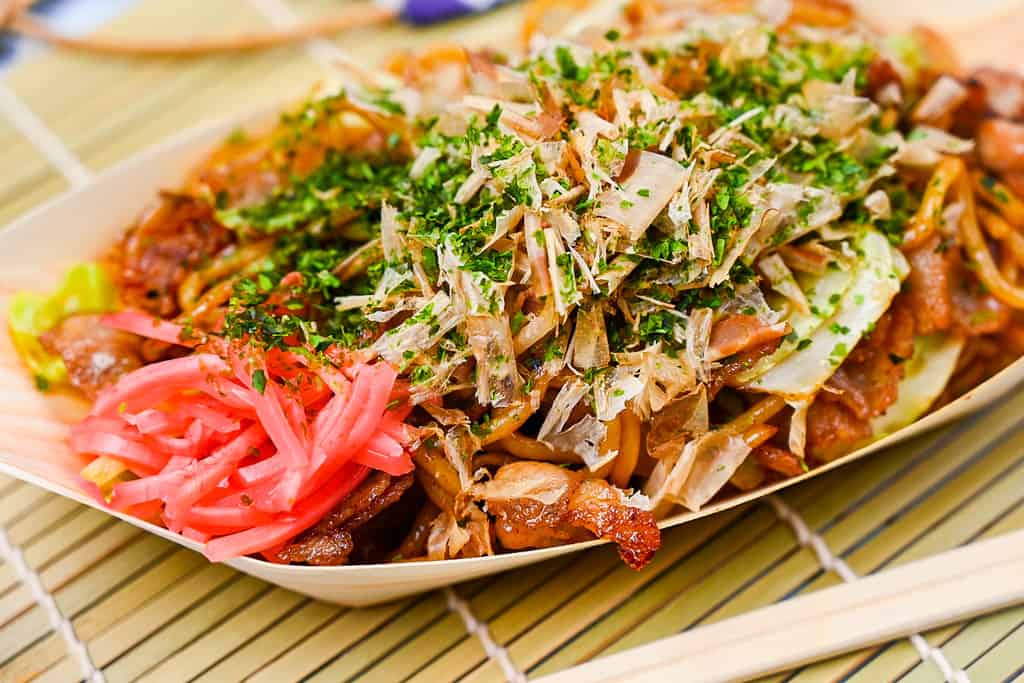 Additional Ingredient Ideas
I've kept the ingredients minimal in this recipe to emulate the festival style. However, homemade yakisoba often incorporates a broader range of elements, particularly vegetables.
Here, I'll discuss the common vegetables used in home-cooked yakisoba and the best times to add them.
Carrots: A popular addition to home-cooked yakisoba. Typically, one would use about a quarter to half of a medium carrot, roughly cut. It's best to add the carrot at the same time as the onion and cabbage.
Beansprouts: An economical way to make your yakisoba more substantial. Using between 50g to 100g (or about half to a full cup) of washed beansprouts can introduce a delightful crunch. Especially if added after the sauce has been mixed in, stir fry them for an additional 2-3 minutes.
Bell Peppers: A beloved addition to various Japanese dishes. You'd want to use approximately 50g, about a quarter of a large pepper, cut into thin strips. These should be added concurrently with the onion and cabbage.
Mushrooms: A fantastic way to introduce a different texture and more earthy flavor to your yakisoba. Any variety that's typically used in stir-fry dishes will do. Aim for 50g to 100g, and if they're the type that requires slicing, do so. Like the previous vegetables, mushrooms should be added alongside the onion and cabbage.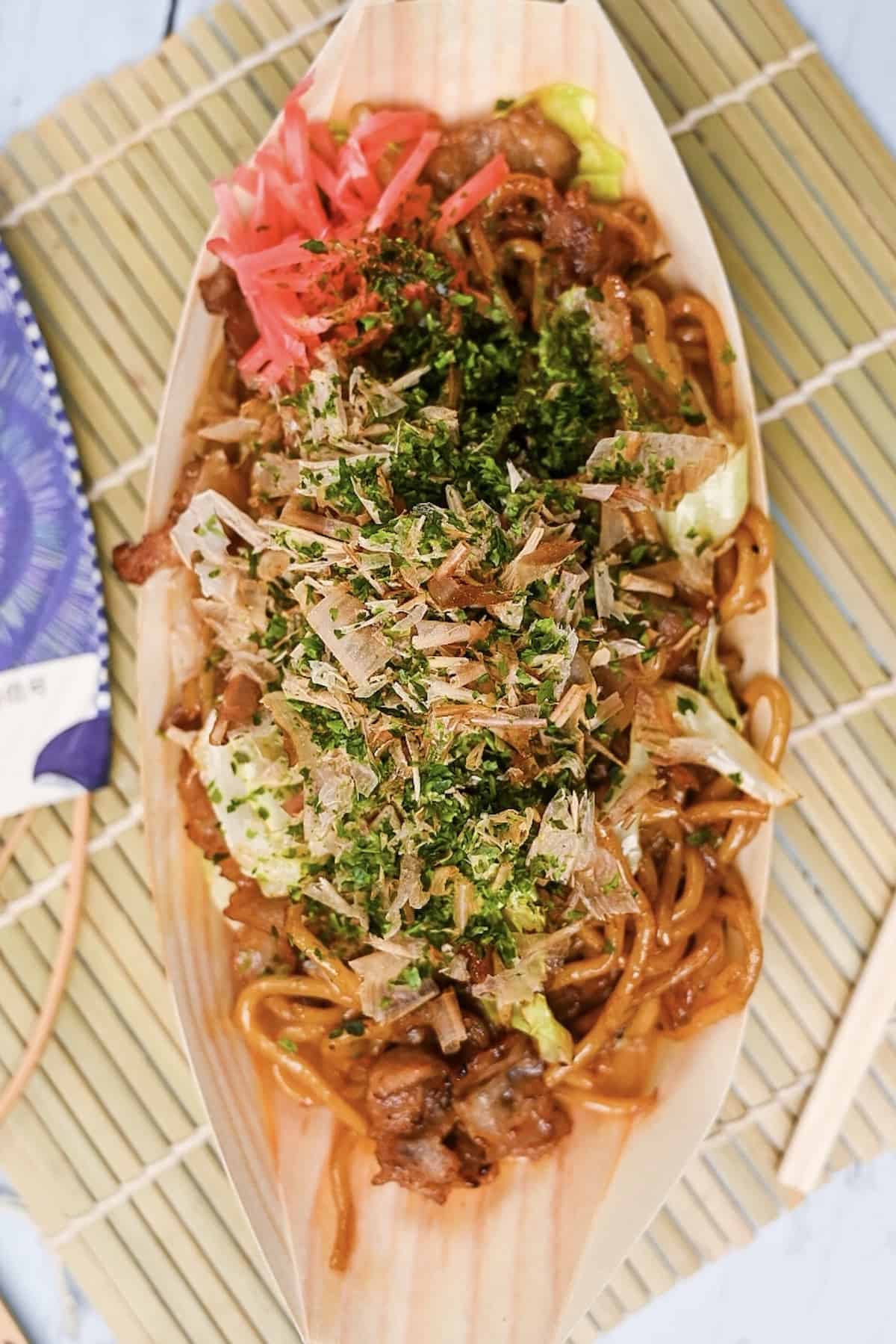 Step-by-Step Process
Here are my step-by-step instructions for how to make delicious street food-style Japanese yakisoba at home. For ingredient quantities and simplified instructions, scroll down for the printable recipe card below.
Take a small bowl and add oyster sauce, soy sauce, Worcestershire sauce, tomato ketchup, sake, sugar, black pepper and sesame oil. Mix well and set aside for later, it's that easy!
Heat a wok on medium high and add a generous amount of cooking oil. Fry the noodles until slightly browned and crispy, be careful not to burn. Cooking the noodles separately with oil will prevent them from becoming soggy and too soft.
Once they're done, transfer to a plate and set aside for later.
If you're using dry noodles, boil them for a few minutes less than the time instructed on the packaging. Once cooked, place them in a colander and rinse with cold water to remove excess starch (this should help stop them from sticking together). Shake thoroughly to remove the water and let them dry a little before you fry.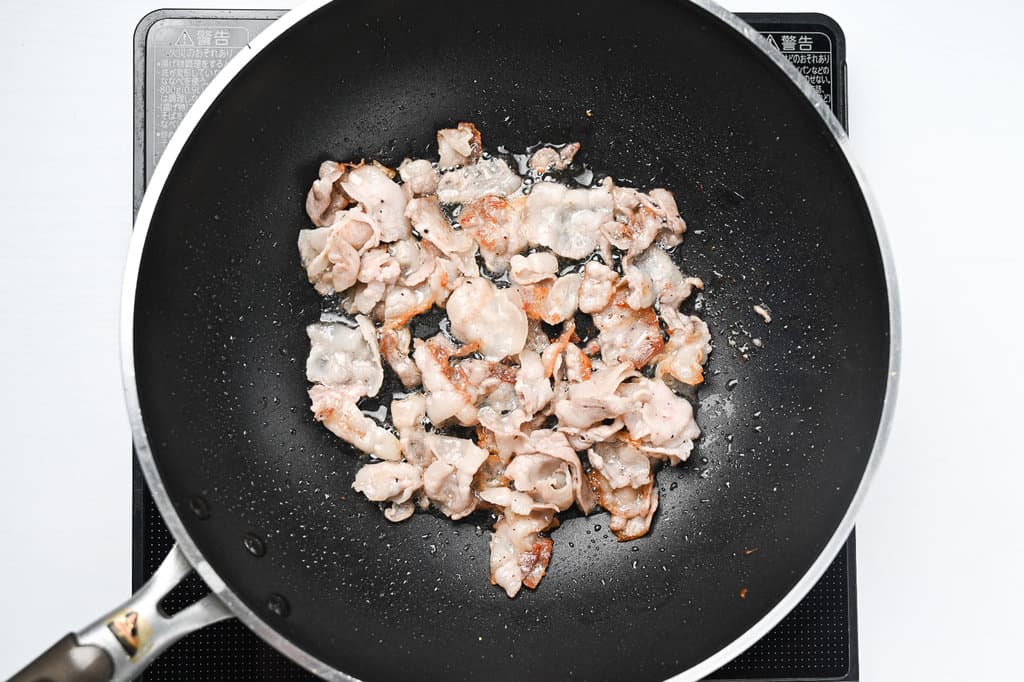 Add the pork to the same wok as before and sprinkle with salt and pepper. Fry until the meat is cooked and the fat is slightly browned and crispy.
Add thinly sliced onions and roughly chopped cabbage and fry until slightly softened.
If you're using additional vegetables, add them to the wok in order of firmness to ensure they cook properly (e.g. carrots first, mushrooms later etc.)
Push the meat and vegetables to one side of the wok and place the crispy noodles in the empty space.
Pour the homemade sauce over the noodles and mix until coated before mixing everything else together. This is to ensure the noodles pick up all of the flavor and you can appreciate the taste of the meat and vegetables separately.
Once the noodles are coated, mix thoroughly to evenly distribute the meat and vegetables, and stir-fry for 1-2 minutes. If you want to add beansprouts, add them now.
Plate up and add a generous amount of red pickled ginger (benishoga), bonito flakes (katsuobushi) and dried green laver powder (aonori).
Enjoy!
Tips and Tricks
In Japan, yakisoba is one of the most common dishes to make for lunch at home. This means there are so many tips and tricks out there for you to try as well!
Tips and Tricks for the Perfect Yakisoba
Fry the noodles separately in oil - this is so important that it's not just a tip, but one of the steps in my recipe! Frying removes excess moisture, the oil crisps up the noodles a little and this texture helps the sauce stick better. Better flavor, better texture, better yakisoba!
Prepare dry noodles carefully - if you don't have access to ready-to-cook noodles (preboiled and refrigerated) you might have no option but to use dry noodles. Boil until al dente (a few minutes less than the packaging states), rinse to remove the starch and then shake them in a colander to remove excess moisture. Once you've followed all these steps, you can fry the noodles and continue with the rest of the recipe.
Cut the vegetables thin and uniform - this keeps cooking time down and ensures they're evenly cooked.
Maintain a high heat - this will ensure the ingredients cook fast and don't steam. Steam equals soggy yakisoba.
Pick your vegetables carefully - be careful of vegetables with high water content since these can release moisture into the noodles and make the dish soggy.
Cook vegetables in order of firmness - This is advice for those who want to add additional vegetables. Adding them in order of firmness ensures everything is cooked properly and ready at the same time. Start with carrots and onions, then cabbage, then mushrooms (if using).
Don't cook too long - vegetables in yakisoba should still have a bit of bite, so be careful not to overcook them and let them become soggy.
Pour the sauce over the noodles - In my recipe, I coat the noodles with sauce first so that the flavor stands out, then mix the meat and vegetables later to allow all the individual flavors to shine through. This stops the flavors from becoming blended together.
Be generous with toppings - adding plenty of red pickled ginger, aonori and/or katusobushi (bonito flakes) is vital for authentic Japanese flavor. It also makes the dish more vibrant and visually appealing.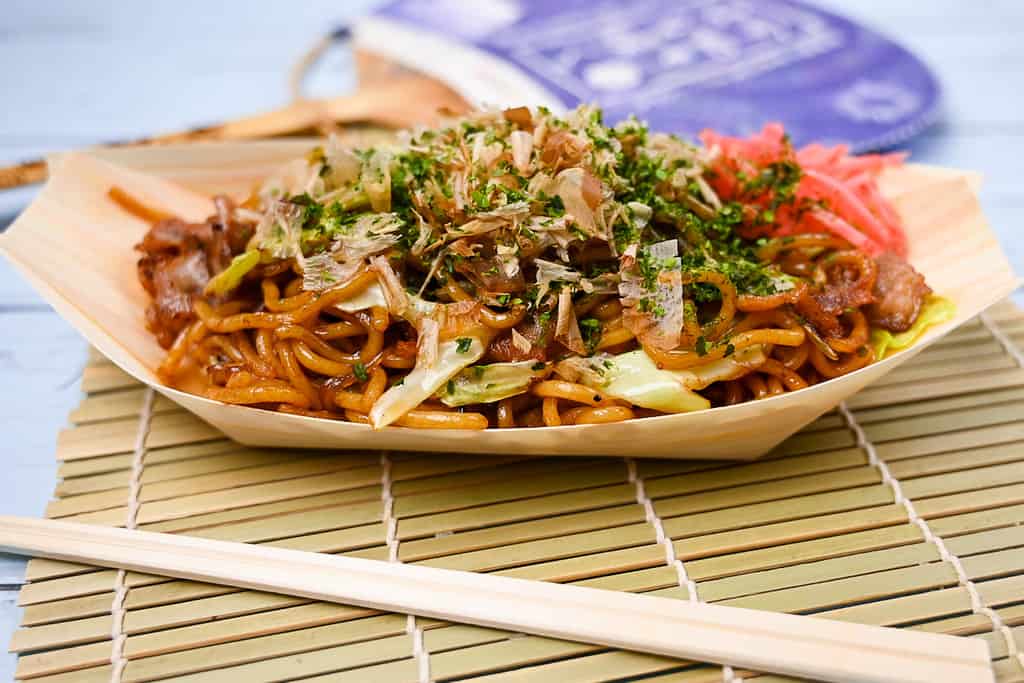 Storage
It's advised to store yakisoba in the refrigerator or freezer rather than at room temperature. When refrigerated, yakisoba can stay fresh for up to 2 days, and reheating it in a pan will yield the best flavor (although microwaving is also acceptable for convenience).
If you freeze it, spread each portion flatly before placing it in a freezer bag. Seal the bag securely to keep air out. Ideally, consume frozen yakisoba within two weeks for the best quality.
Room temperature - Not recommended.
Refrigerated - Up to 2 days.
Frozen - Up to 2 weeks (recommended).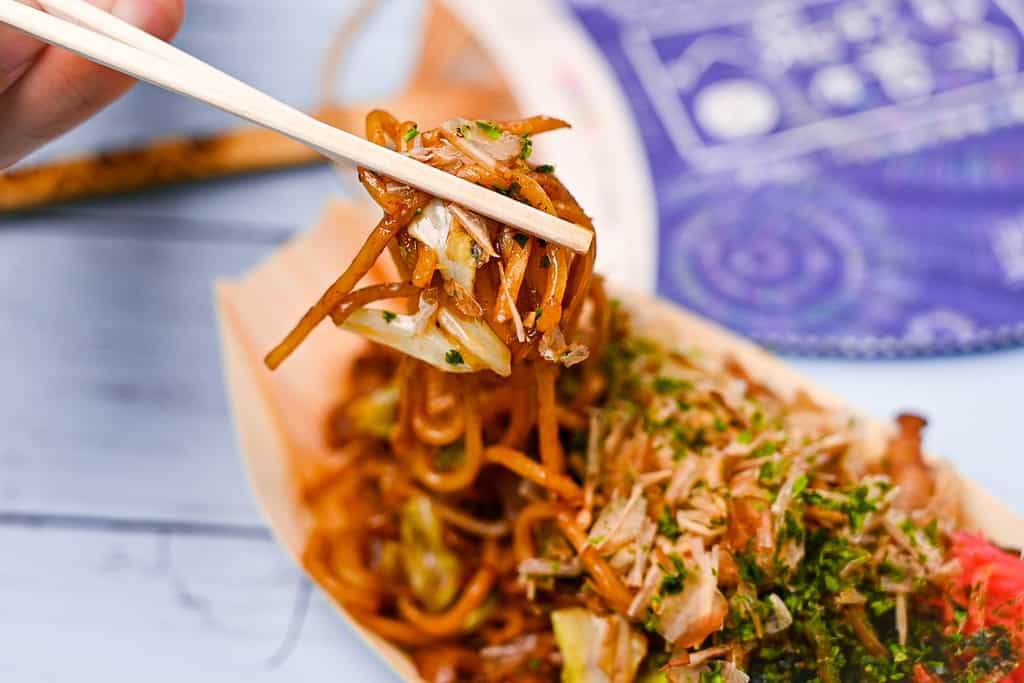 I hope you enjoy this street food-style Japanese yakisoba recipe! If you try it out, I'd really appreciate it if you could spare a moment to let me know what you thought by giving a review and star rating in the comments below. It's also helpful to share any adjustments you made to the recipe with our other readers. Thank you!
More Street Food Recipes
Enjoy more Japanese street food at home!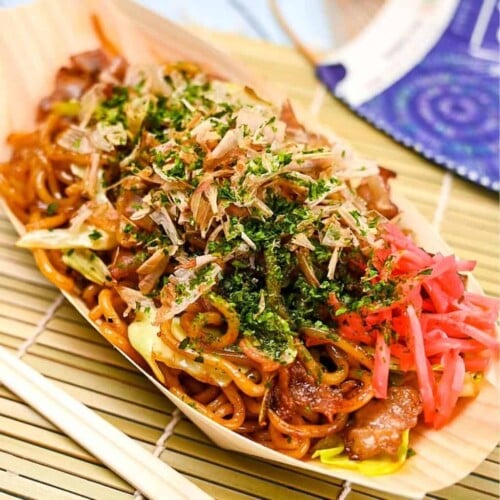 Authentic Yakisoba (Japanese Stir-fried Noodles)
Make classic Japanese street food from scratch in your own kitchen. This yakisoba is made with noodles, pork belly and stir fried vegetables cooked in a delicious homemade yakisoba sauce. Perfect for a quick lunch.
Ingredients
Yakisoba Sauce
1

tbsp

oyster sauce

1

tbsp

soy sauce

½

tbsp

Worcestershire sauce

1

tsp

tomato ketchup

½

tbsp

sake

-

or white wine

½

tsp

sugar

1

pinch

black pepper

1

tsp

sesame oil
Yakisoba
120

g

pork belly

-

thinly sliced (see note)

30

g

yellow onion(s) -

sliced

30

g

green cabbage

-

roughly chopped

200

g

pre-boiled Chinese-style noodles

1

tbsp

cooking oil

-

vegetable or sunflower

red pickled ginger

-

benishoga, optional

bonito flakes -

katsuobushi, optional

dried green laver powder

-

aonori, optional
Instructions
Start by making the sauce. Add

1 tbsp oyster sauce

,

1 tbsp soy sauce

,

½ tbsp Worcestershire sauce

,

1 tsp tomato ketchup

,

½ tbsp sake

,

½ tsp sugar

,

1 pinch black pepper

and

1 tsp sesame oil

to a small bowl and mix well. Set aside for later.

If you are using dried noodles, cook them for a few minutes less than the instructed time and pour them into a cullender, rinse with cold water and drain thoroughly so that're not too wet when you fry them.

Heat the wok or frying pan on a medium high setting and add

1 tbsp cooking oil

.

Add

200 g pre-boiled Chinese-style noodles

to the wok and cook until both sides are slightly browned and crispy but not burnt.

Once they're done, transfer the noodles to a bowl and set aside.

Next, add

120 g pork belly

into the same wok and sprinkle with salt and pepper. Fry until crispy.

Add

30 g yellow onion(s)

and

30 g green cabbage

into the wok together with the pork belly. (If adding other vegetables, add them in order of firmness. E.g Carrots first, mushrooms last etc.)

Once the vegetables are slightly softened, push everything to one side and add the noodles back in.

Add the sauce to the noodles.

Mix the noodles only, making sure they're evenly coated in the yakisoba sauce.

Mix everything together and fry for a 1-2 more minutes. (If you want to add beansprouts, add them here.)

Dish up and sprinkle generously with

red pickled ginger

,

bonito flakes

and

dried green laver powder

.

Enjoy!
Notes
If the taste is not strong enough, add a little more oyster sauce. ½ tsp at a time and taste test.
If you can't thinly slice the pork belly, unsmoked bacon is a great substitute. Pork is the most traditional choice of meat for this dish, but you can try it out with chicken or for a delicious vegetarian option you could use fried tofu!
Nutrition
Calories:
469
kcal
Carbohydrates:
36.1
g
Protein:
14.1
g
Fat:
29.3
g
Saturated Fat:
9.9
g
Polyunsaturated Fat:
5.7
g
Cholesterol:
42
mg
Sodium:
1231
mg
Fiber:
3.6
g
FAQ
Is yakisoba same as ramen?
Yakisoba is made with similar noodles to ramen. However, I wouldn't categorize yakisoba as ramen because yakisoba is not served in a broth. It's more of a stir-fry dish.
When do you eat yakisoba noodles?
This is a typical dish that people would eat for lunch in Japan or a festival/event. It's common to eat at home or in a bento (lunchbox), too.
How do you eat yakisoba?
In Japan, most people eat Yakisoba with chopsticks. Sometimes, it's served in hotdog buns as well (Yakisoba pan)
What's the difference between yakisoba and yaki udon?
Yakisoba uses Chinese-style noodles, whereas yaki udon uses thick and chewy udon noodles. They also typically use different kinds of sauce. Check out our garlic and butter soy sauce yakiudon!