Mapo Tofu / Mabo Dofu (マーボー豆腐) is a delicious Chinese dish with a Japanese twist. Made with ground pork, tofu and onions served in a fragrant and spicy sauce, the Japanese version contains miso and is not as spicy as its Chinese counterpart. Mabo tofu is a Japanese family favourite and a typical home cooked dish!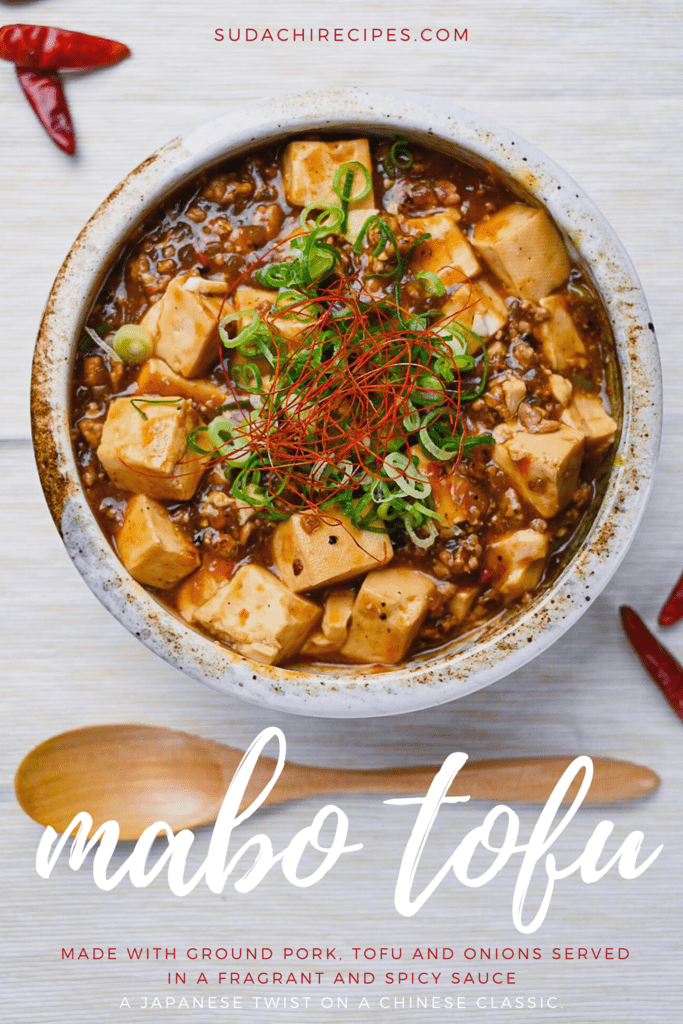 Disclaimer: This post contains Amazon affiliate links. Sudachi Recipes earn a small percentage from qualifying purchases at no extra cost to you. See disclaimer for more info.
Jump to:
What is "Mapo Tofu"?
Mapo Tofu (マーボー豆腐 or mabo dofu in Japanese) is a spicy dish made up of minced pork, tofu and onion in a thick, spicy sauce, and it's usually served with plain rice. Because the Japanese version is quite mild, even kids can enjoy it. In fact, it even appears in Japanese school lunch (that means it's a lucky school lunch day!)
Mapo Tofu is originally a Chinese dish, but it's also very common in Japan and most families eat it regularly. When I lived in England, I noticed that spaghetti bolognese is a family staple, so I'd say Mabo tofu is like that in popularity.
The fact that Japanese-style "mabo dofu" is a bit different from authentic Chinese Mapo Tofu makes it quite interesting. We use regular miso rather than Chinese miso, and it's quite mild so it can be enjoyed by everyone, even those with a low spicy tolerance!
Tips for Making Mapo Tofu
One of the best things about mapo tofu is how easy it is to make! All you need is one pan and about 25 minutes, it's a great midweek dish!
Here are a few tips for making delicious Mapo Tofu.
Tobanjan / Doubanjian (Chinese Chili Bean Paste)
One of the most important ingredients in this dish is called "la doubanjian", in Japan we call it tobanjan (トウバンジャン). It's a spicy Sichuan paste made from fermented broad beans, chilis, soy beans, salt and pepper.
One thing to be aware of is, there are two different kinds of this chili bean paste. While "la doubanjian" is spicy, "doubajian" (without the "la") is a non-spicy version. Keep an eye out for the difference. Hint: The spicy one is red and the non-spicy one is brown.
It's easy to find tobanjan in supermarkets in Japan because Szechuan style food is very popular here. In fact, it's the most popular type of Chinese food. You should be able to find it in well stocked Asian supermarkets, look for a label with "辣豆瓣酱" or ask for Chinese chili bean paste.
I personally use Lee Kum Kee brand which you can also buy on Amazon (affiliate link).
Use Ground Pork
While it's not a rule, I recommend using ground pork for Mapo Tofu. The juices in the pork add depth of flavour and umami to the dish. It also compliments the chicken stock in the sauce.
If you can't eat pork or you're looking for vegetarian substitutes, check out my mabo nasu recipe (spicy Mapo Eggplant). I use soy protein and crushed nuts in that recipe, it's a vegan recipe and it's seriously good!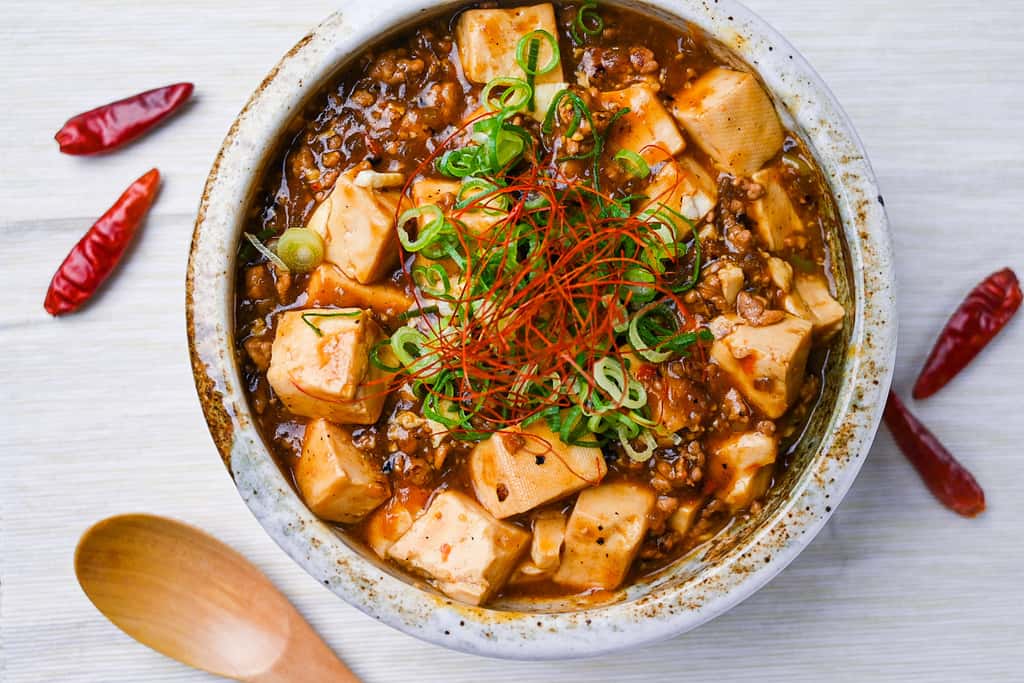 Thickening the Sauce
One of the key features of mapo tofu is the thick and glossy sauce. First I simmer the sauce, reduce the liquid and allow the flavour to become more concentrated. Once it's reduced by about half, I add a slurry.
To make a slurry, mix 2 tsp of corn starch with 1 tbsp of cold water in a small separate bowl. Once it's mixed, you can pour it into the hot mixture. This helps thicken the sauce, it becomes shiny and sticks to the tofu better. Alternatively you can use potato starch.
The reason we make a slurry with cold water is because if you add corn starch straight to the hot mixture, it will clump together and you will have gummy lumps in your sauce. If you find it's not thickening enough, just make another slurry and add it in. (Don't be tempted to add corn starch straight into the hot sauce!)
SUBSTITUTES FOR TOBANJAN
If you can't get tobanjan, I've read about a few substitutions you can try. (I warn you though, the taste will be quite different!)
Sambal Oelek (Indonesian chili paste)
Gochujang (Korean chili paste)
Add extra miso paste and chili flakes
So you have a few options to try. However, if you like spice and you're interested in Chinese cooking, I really recommend buying a small jar of tobanjan. Once opened you can keep it for a year in the fridge so you don't need to rush to use it up, it really is unique and delicious!
Check out some of my other fusion recipes
If you love Mapo Tofu, you should check out some of my other Japanese / Chinese inspired recipes!
Watch our video for how to make Japanese Style Mabo Tofu
Print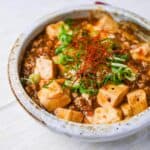 Japanese Mapo Tofu (mabo dofu)
---
Author:

Yuto Omura

Total Time:

25 minutes

Yield:

2 Servings
Description
Delicious and warming Japanese style Mapo Tofu (マーボー豆腐/mabo dofu). Ground pork and firm tofu cooked in a rich and mildly spicy Szechuan inspired sauce, best served with rice or noodles. (Serves 2)
---
Mapo Tofu
100g

(

4 oz

) pork mince

½

 white onion

1½ tbsp

sake

1 tsp

soy sauce

½ tbsp

awase miso paste (yellow)

1

pinch salt

1 tbsp

vegetable oil or sesame oil

½ tbsp

Chinese chilli bean paste (aka tobandjan - see post for info)

1 tsp

garlic paste

200

ml (¾ cups) chicken stock

300g

(

10 oz

) firm tofu

½ tbsp

oyster sauce

30g

(1) Spring onion finely chopped

1 tsp

black pepper

2 tbsp

of cold water mixed with 2 tsp cornstarch (to make a slurry)

2 tsp

chili oil

1

pinch of dry chili flakes (to garnish)

2

Portions of cooked rice (optional)
---
Instructions
Heat the pan on medium and add the pork mince. Sprinkle it with a pinch of salt and pepper and fry until browned. ( You don't need to add any oil at this point as the fat in the mince will create enough juices not to stick to the bottom of the pan.)

Add the ½ an onion finely diced into the pan together with the pork and fry until softened slightly.

 Next, add ½ tsp of sake, ½ tsp soy sauce and ½ tbsp of the miso paste and mix together with the pork.

Push the cooked mince to one side of the pan.

To the empty side of the pan, add 1 tbsp of sesame oil (or vegetable oil), ½ tbsp Chinese chilli bean paste (tobanjan) and 1 tsp garlic paste. Mix them together and fry until fragrant.

Pour 200ml of chicken stock into the pan, add the cubed tofu and bring to a boil.

Once it's bubbling, give it a mix and turn down the heat to a simmer.

Add 1 tbsp sake, ½ tsp soy sauce, ½ tbsp oyster sauce and 1 tsp black pepper to flavour the sauce.

Mix well and simmer until the sauce is reduced to about half.

Add the 2 tbsp of water mixed with 2 tsp cornstarch to the frying pan and mix, it will begin to thicken.

Once thickened, add 2 tsp of chilli oil, mix and turn off the heat.

Garnish with spring onion and extra chili flakes or chili threads for decoration. Best served with plain rice.
Enjoy!
Notes
Tobanjan has a unique flavour which is hard to substitute. See in post for substitutions, but be aware the flavour varies between chili pastes and can greatly affect the taste of the dish.
Prep Time:

5 mins

Cook Time:

20 mins

Category:

Meat

Method:

Frying

Cuisine:

Chinese/Japanese
Keywords: mapo tofu,mabo dofu recipe,how to make mapo tofu,chinese cooking,japanese mabo tofu,japanese cooking,fusion,japanese recipe,chinese recipe,tofu,pork,spicy mabo tofu from scratch,what do you serve with mabo tofu, Japanese mapo tofu, mapo tofu recipe, how to make mapo tofu, tobanjian substitutes, doubanjiang substitutes, what can i use instead of toban jian,mapo tofu from scratch, mabo tofu recipe