Disclaimer: This post contains Amazon affiliate links. Sudachi earns a small percentage from qualifying purchases at no extra cost to you. See disclaimer for more info.
What is Mabo Dofu?
Mabo Dofu (マーボー豆腐) is the Japanese adaptation of the famous Chinese dish "Mapo Tofu." It is made up of minced pork, tofu and onion simmered in a thick, spicy sauce, and it's usually served with plain rice.
Because the Japanese version can be quite mild, even kids can enjoy it. In fact, it even appears in Japanese school lunch, something I used to get pretty excited about as a kid!
Although Mapo Tofu is originally a Chinese dish, it's also very common in Japan and many families eat it regularly. When I lived in England, I noticed that spaghetti bolognese is a family staple, so I'd say Mabo Dofu is like that in terms of popularity.
The fact that Japanese-style "mabo dofu" is a bit different from authentic Chinese Mapo Tofu makes it quite interesting. We use Japanese miso paste rather than Chinese miso, and it's quite mild so everyone can enjoy it, even those with a low spicy tolerance!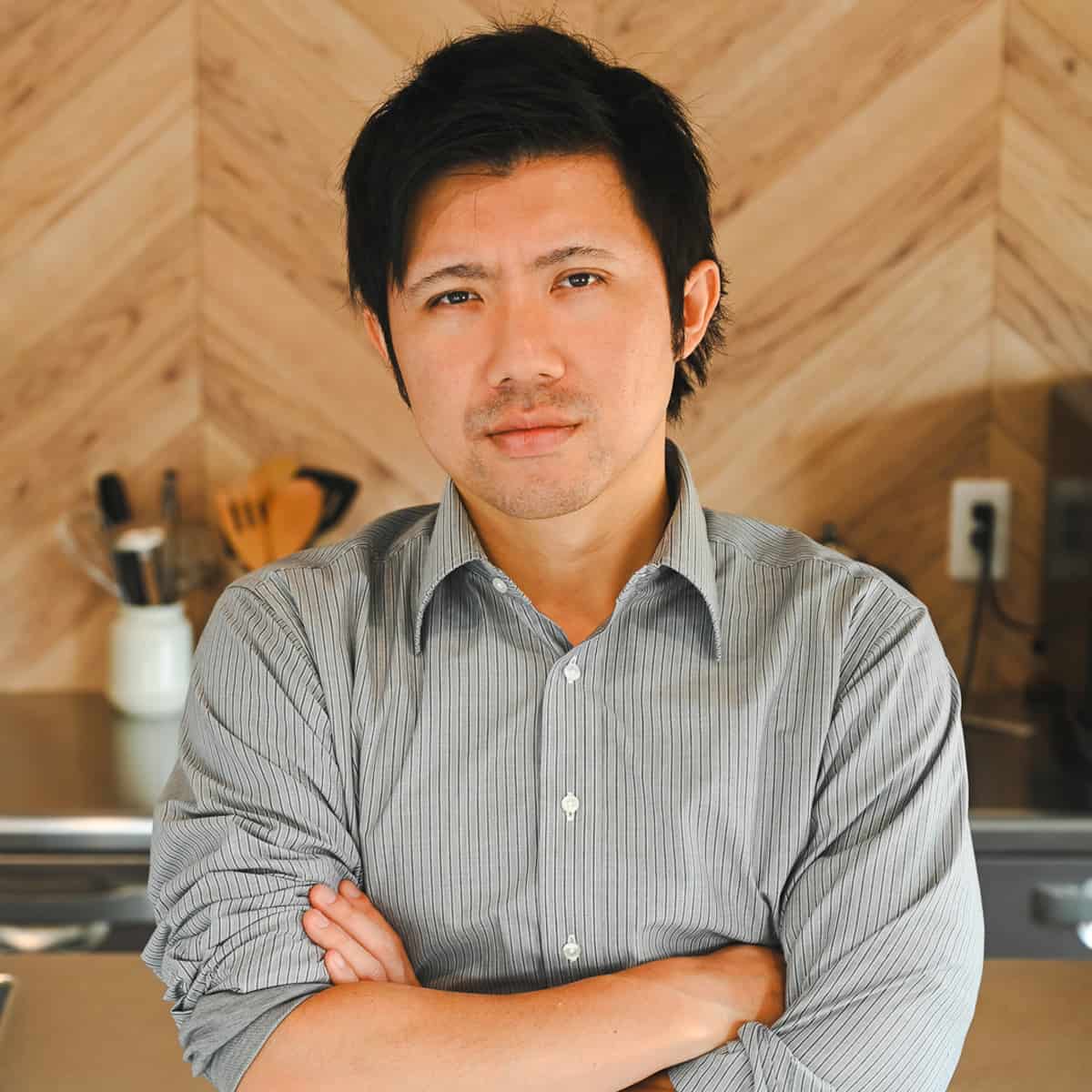 How I Developed This Recipe
---
Mapo Dofu in Japan comes in various styles. In authentic Chinese restaurants, the flavor is more similar to that of the original Chinese dish—quite different from the Japanese home-style version.
My recipe this time leans towards this homely approach, favoring less spice and a hint of sweetness. It's crafted to be approachable, with ingredients readily available worldwide.
It's a comforting, easy-to-make dish that captures the essence of Japanese home cooking while still nodding to its Chinese roots.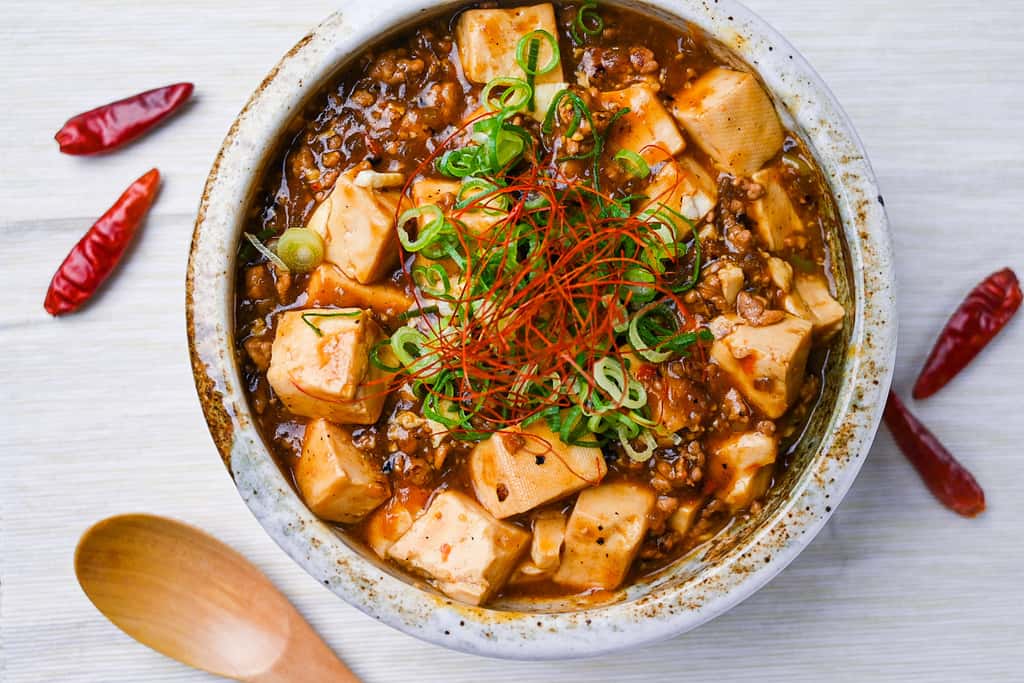 Ingredients & Substitution Ideas
Ground Pork: Pairs excellently with this dish's flavors. Ground beef, chicken, or a meat alternative can also be used, but pork is the best match.
Yellow Onion: Contributes sweetness and depth of flavor.
Sake: Used for umami, odor neutralization, and texture improvement in meats. Dry white wine, sherry, or Shaoxing wine are good substitutes. Omit if avoiding alcohol.
Soy Sauce: Japanese dark soy sauce (koikuchi shoyu) is recommended.
Miso Paste: Awase (yellow) miso paste is best for balanced flavor.
Chili bean sauce (Toban Djan): It's crucial for heat and flavor in Sichuan-style dishes.
Grated Garlic: Freshly grated cloves or store-bought S&B garlic paste can be used.
Chicken Stock: I made it with Youki's chicken bouillon powder and hot water.
Firm Tofu: Preferred for its texture in Mabo Dofu, but silken tofu is also an option.
Oyster Sauce: Adds depth, sweetness, and umami. Lee Kum Kee's premium oyster sauce is a good choice.
Chili Oil: Optional for extra spice.
Chopped Green Onion: Optional for garnish, adds freshness and color.
Cooked Rice: Serves as the perfect base to enjoy the rich flavors of mabo dofu.
Curious about the exact brands and products that bring my recipes to life? Discover the brands and ingredients behind my recipes at the Sudachi Amazon Storefront. Explore my handpicked pantry essentials and find your next kitchen favorites!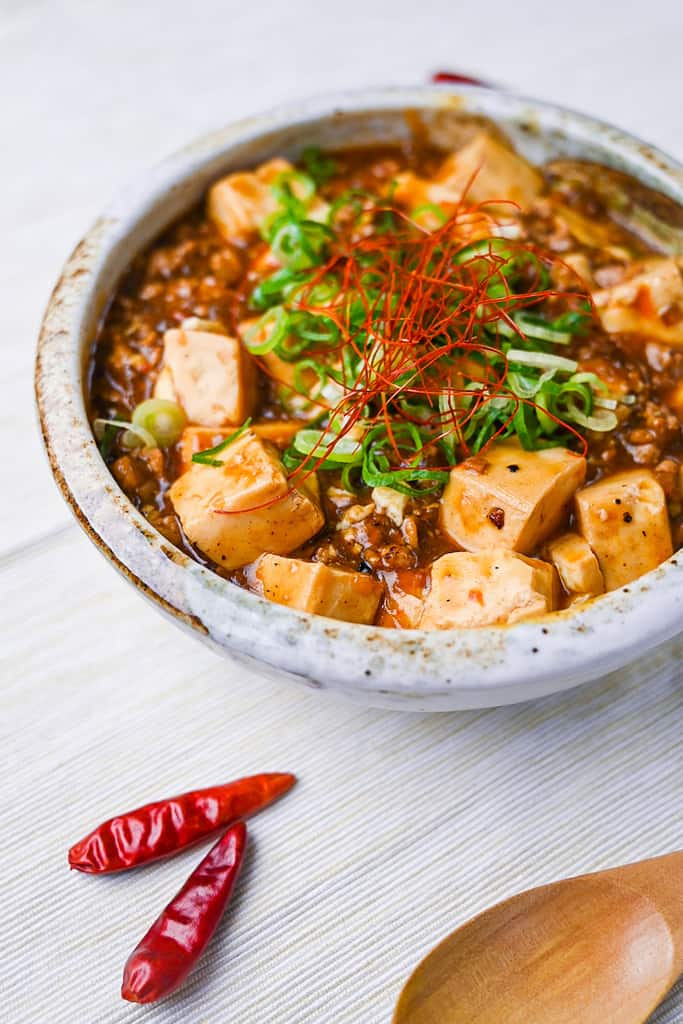 Visual Walkthrough & Tips
Here are my step-by-step instructions for how to make Mabo Dofu at home. For ingredient quantities and simplified instructions, scroll down for the printable recipe card below.
Heat a pan on a medium heat, and once hot, add the ground pork with a pinch of salt and pepper. (You can add a little oil if it's sticking, but generally the pork has enough fat to prevent it from sticking to the pan.) Fry until lightly browned.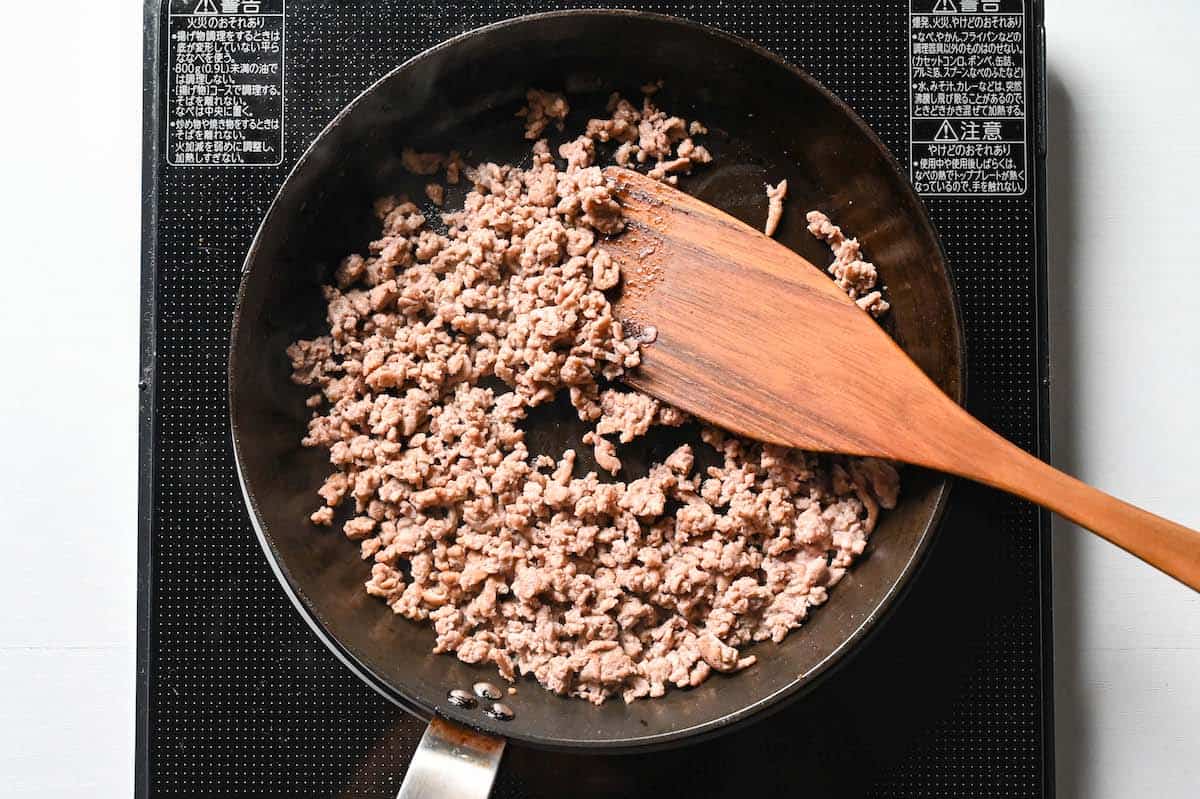 Add the finely diced onion and fry until slightly softened.
Add the sake, soy sauce and miso paste and mix thoroughly.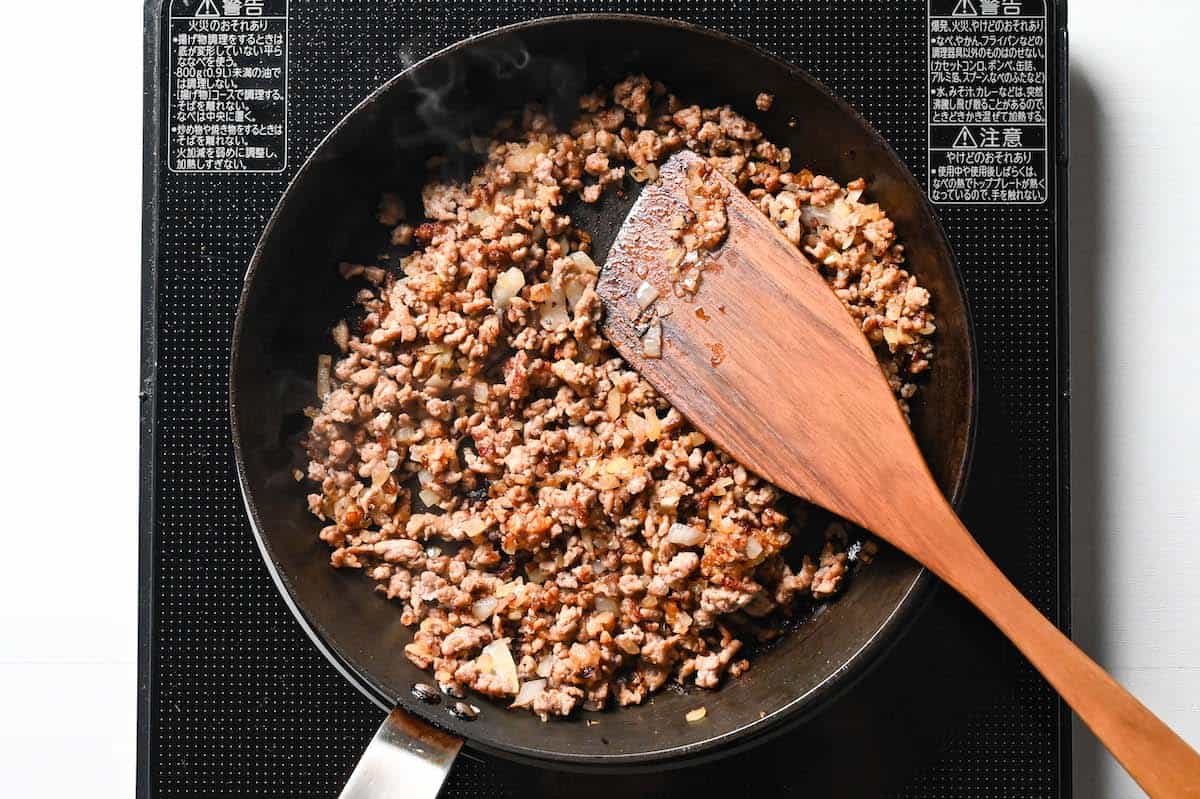 Push the seasoned meat to one side of the pan, and in the empty space, add sesame oil, fermented chili paste (tobanjan) and grated garlic (or garlic paste). Mix them together and fry for about 30 seconds or until fragrant, then mix with the meat until evenly distributed.
Add chicken stock and tofu
Pour the chicken stock into the pan, add the cubed tofu and bring it to a boil. Once boiling, turn the heat down to a simmer.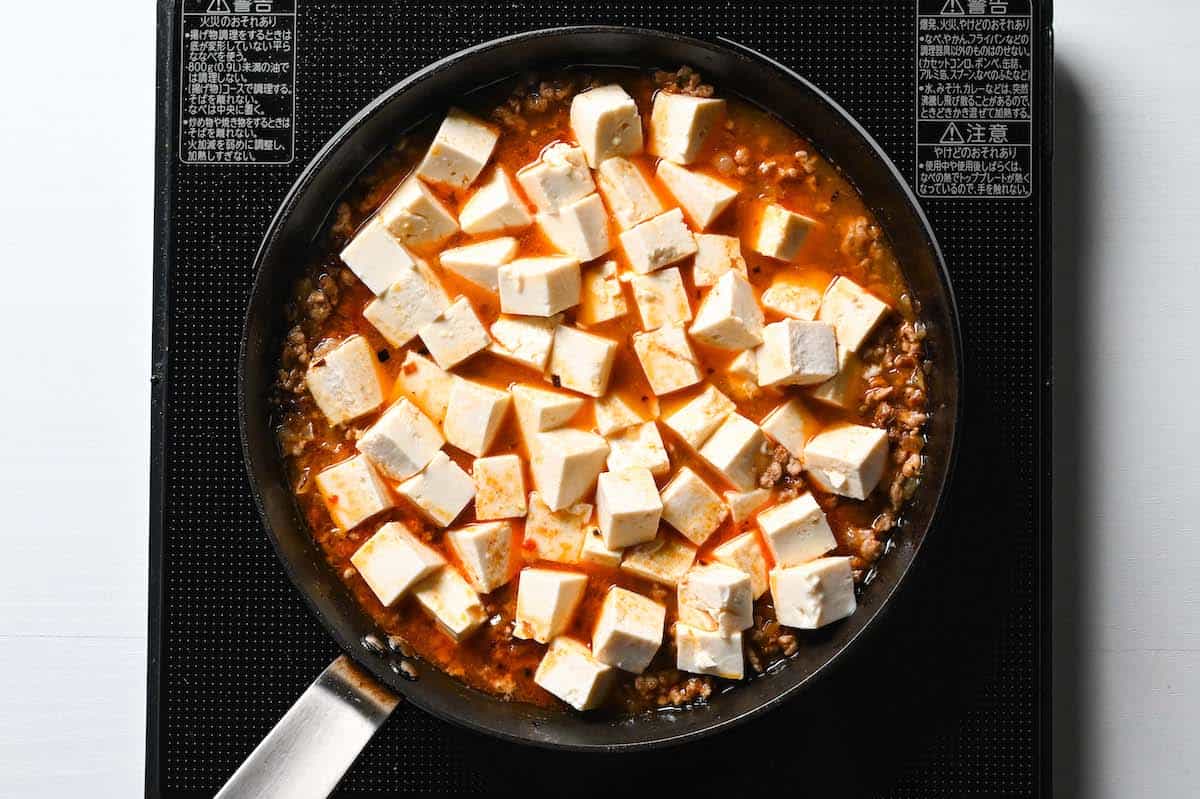 Add the sake, soy sauce, oyster sauce and black pepper. Mix well to flavour the sauce.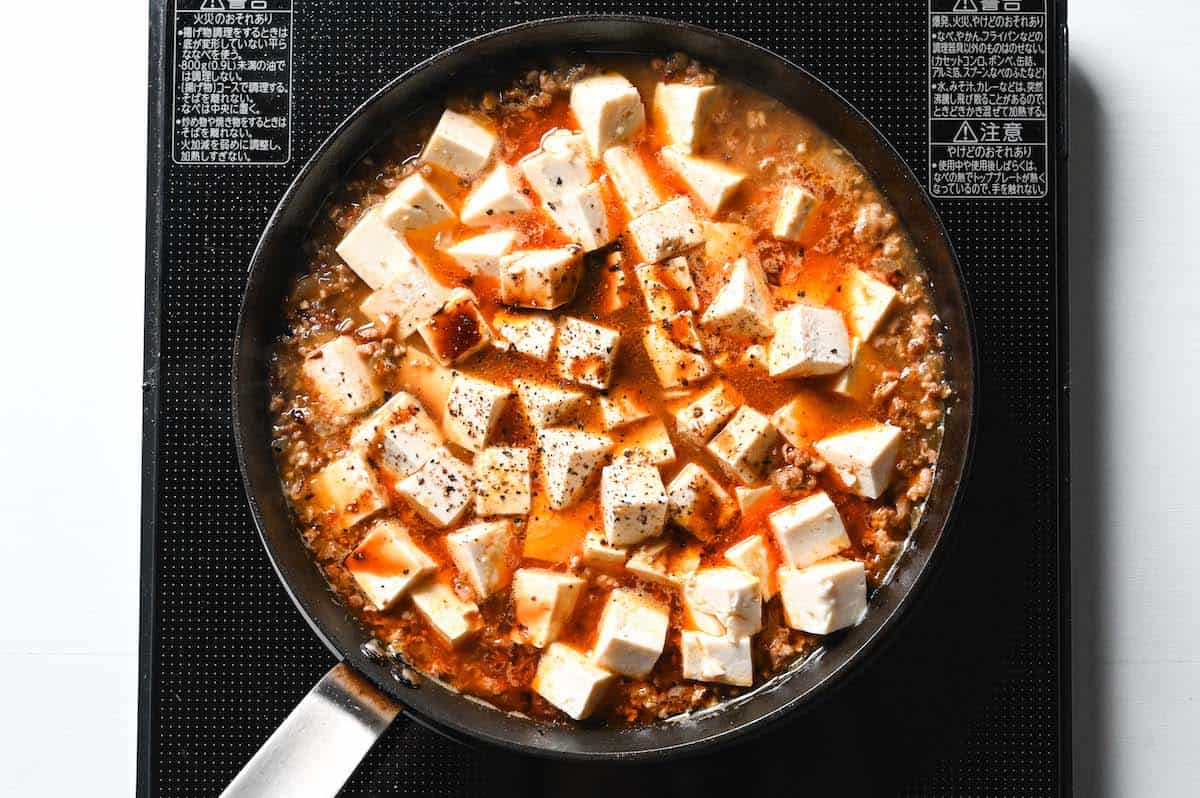 Simmer without a lid until the liquid is reduced by about half.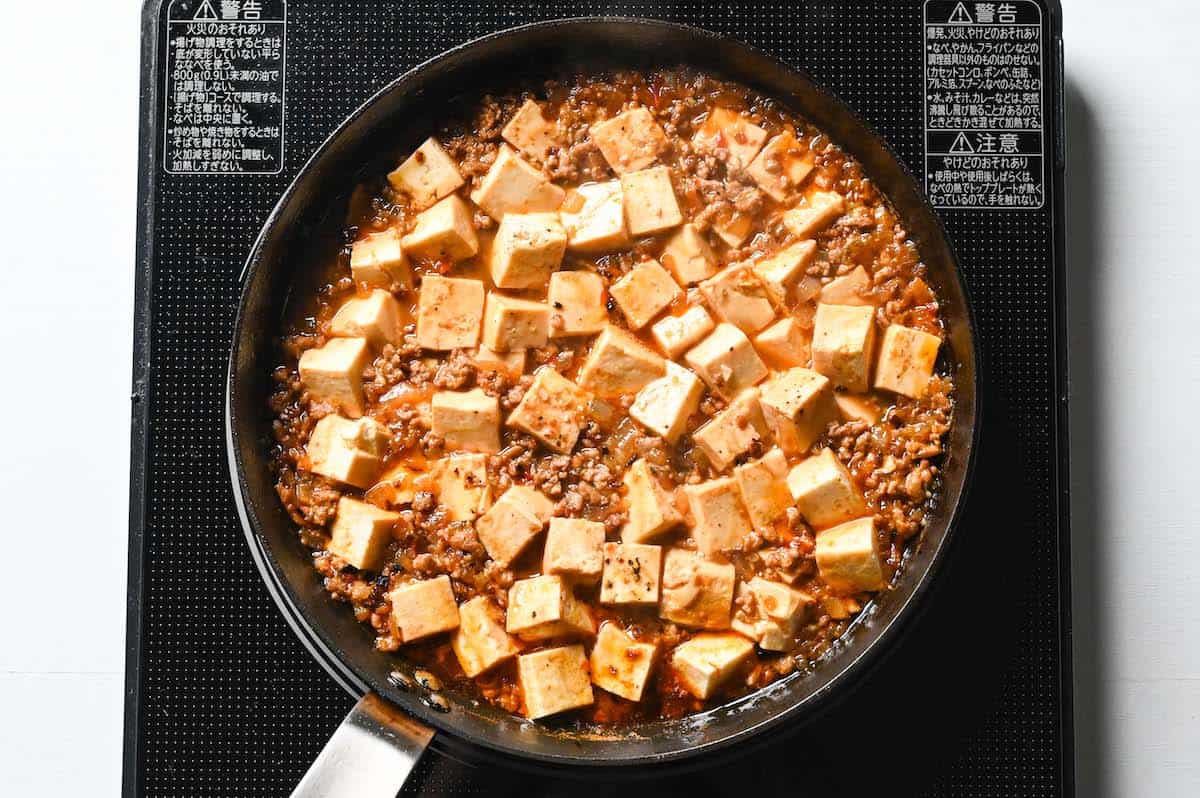 Mix cornstarch and cold water in a small bowl to make a slurry. Pour the slurry into the pan and mix. The slurry will thicken the sauce and make it glossy so that it sticks to the surface of the tofu.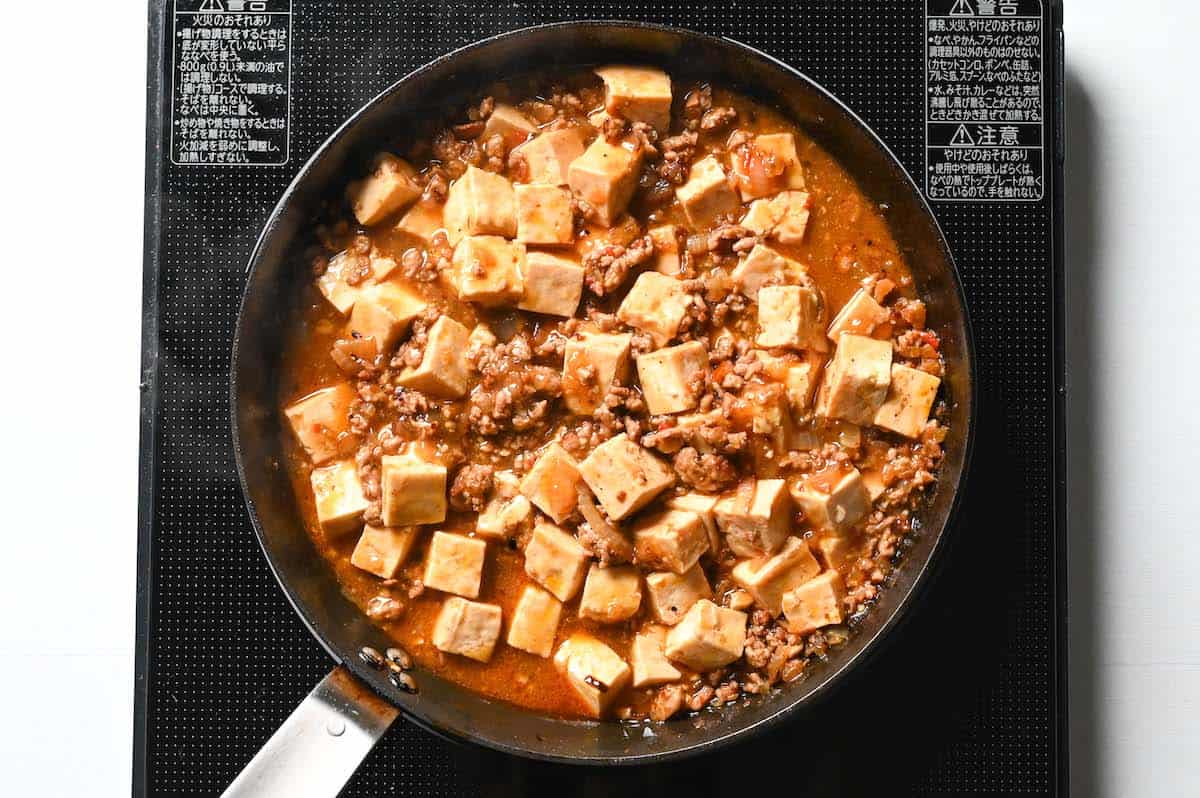 At this point, test the flavor and add a drizzle of chili oil to suit your tastes (optional). You can also add a little more salt, soy sauce or sugar at this point if you feel it's necessary. Once you're happy with the taste, remove the pan from the heat.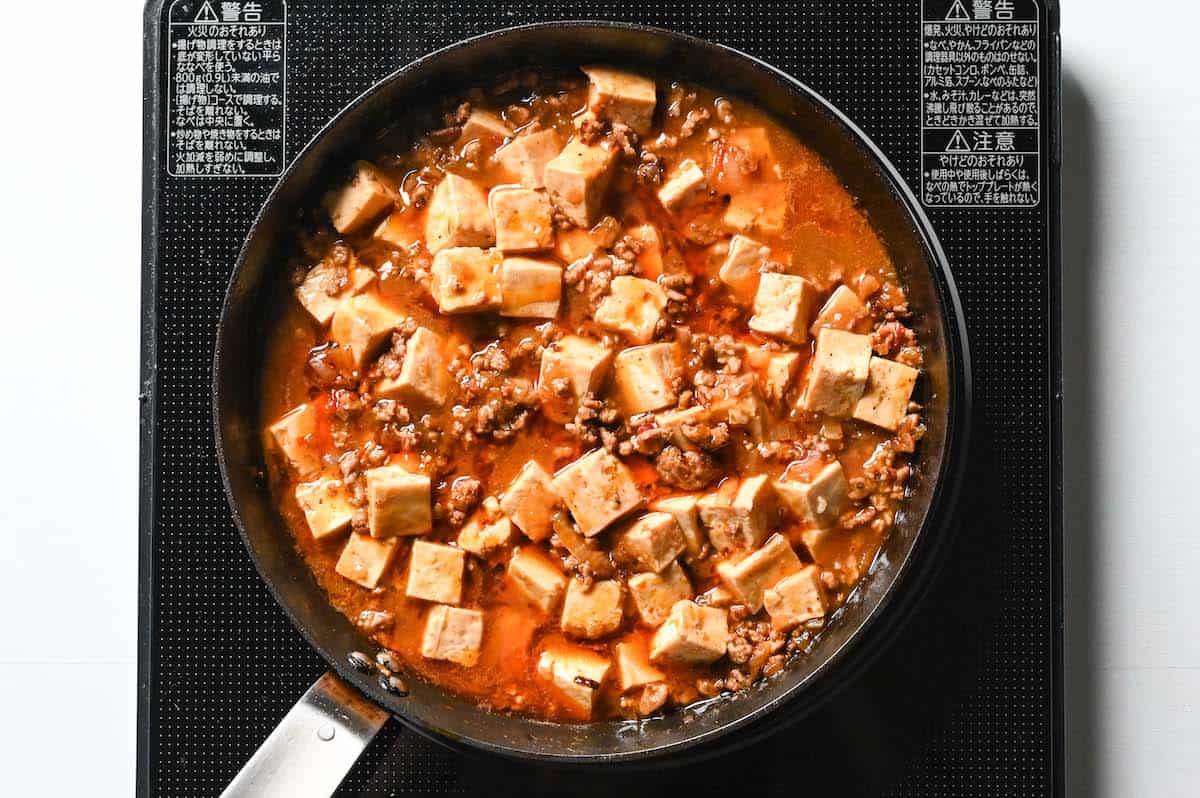 Dish up and sprinkle with chopped green onion and chili threads (optional). I recommend eating mabo dofu with rice.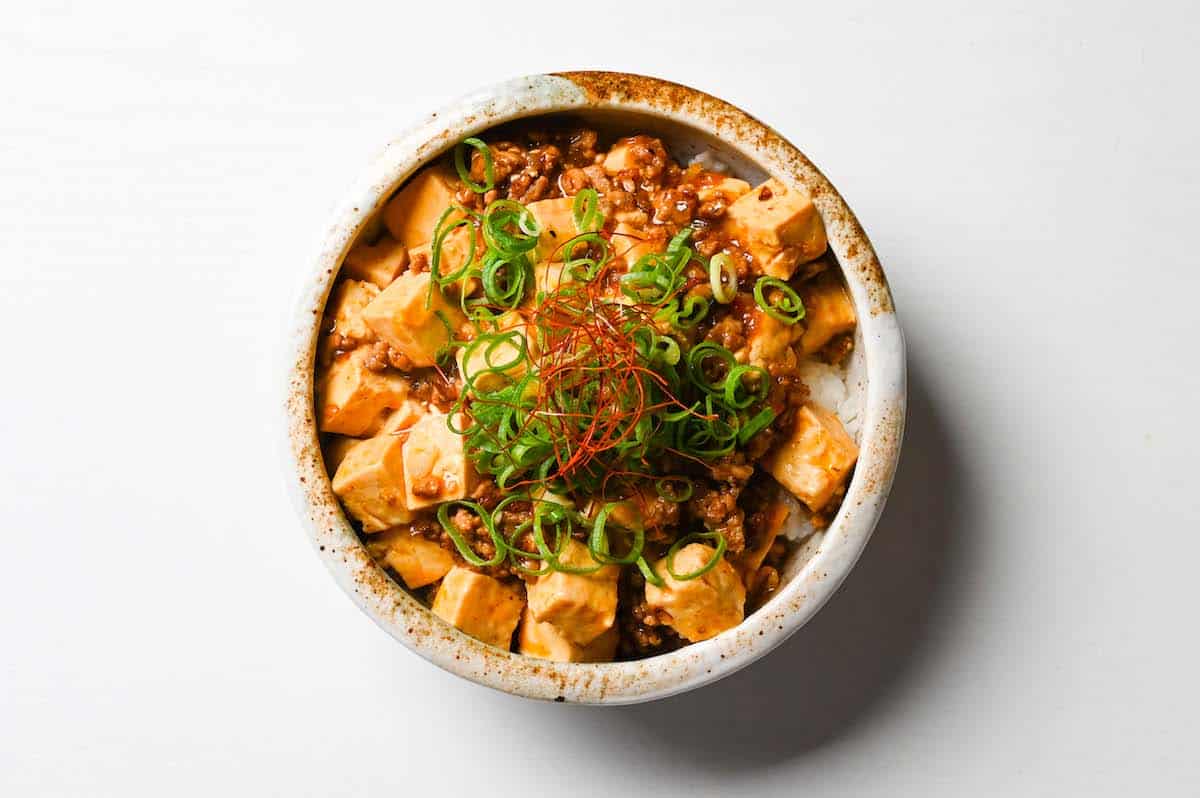 Enjoy!
FAQ
What is the origin of Mabo Tofu?
Mapo Tofu is a dish created about 100 years ago in Sichuan Province, China by Mrs. Chen. The dish, made using local tofu and mutton, gained popularity in Chengdu and was named after its creator, with "Mapo" combining the Chinese words for "pockmarks" and "grandma," translating to "Pockmarked Grandma's Tofu."
The dish's introduction to Japan in the 1950s by Chinese chef Chen Kenmin led to adaptations for the Japanese palate, making it sweeter and less spicy. Its popularity further increased when Chen's son, the renowned Iron Chef Chen Kenichi, featured it on television, solidifying Mabo Dofu as a staple in Japanese cuisine.
Is this Mabo Tofu spicy?
The level of spiciness in this dish can vary based on personal tolerance. Personally, I experience it as mildly spicy, considering that I have a moderate tolerance for spicy foods — neither particularly high nor low. To tailor the spiciness to your preference, you can adjust the quantity of chili bean sauce used.
Can I substitute chili bean sauce?
Tobanjan, a key ingredient in Chinese-influenced Japanese cuisine, is a spicy Sichuan paste made from fermented broad beans, chilis, soybeans, salt, and pepper. It's important to note there are two types: "la doubanjian" (spicy, red in color) and "doubajian" (milder, brown in color).
If tobanjan is unavailable, you can try Sambal Oelek (Indonesian), Gochujang (Korean), or a mix of miso paste and chili flakes, though these will taste different.
For lovers of spicy food and Chinese cooking, a jar of tobanjan is a great addition to your pantry. It stays good for up to a year in the fridge, offering a unique and delicious flavor.
I hope you enjoy this Mabo Tofu recipe! If you try it out, I'd really appreciate it if you could spare a moment to let me know what you thought by giving a review and star rating in the comments below. It's also helpful to share any adjustments you made to the recipe with our other readers. Thank you!
More Chuka Recipes
If you love Mapo Tofu, check out some of my other Japanese/Chinese-inspired recipes!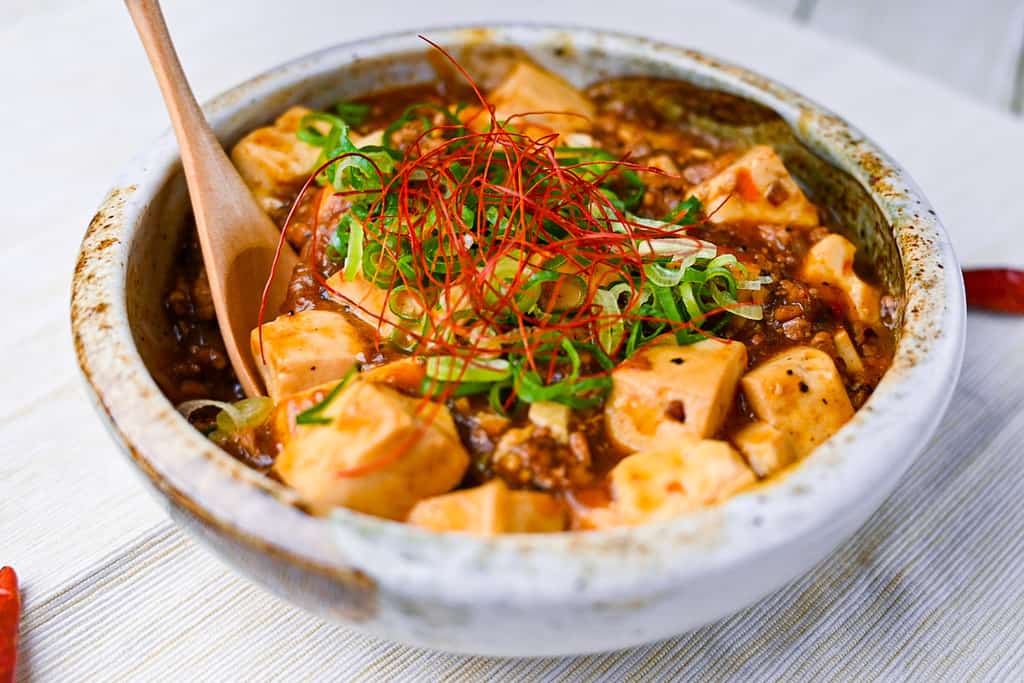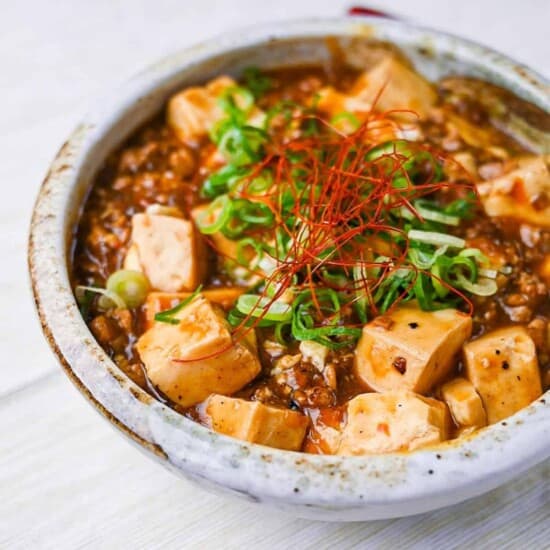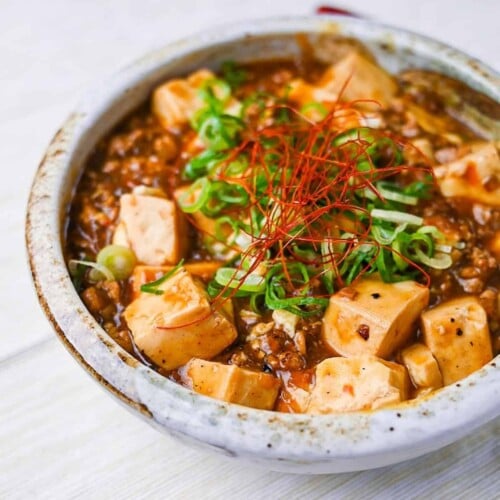 Japanese Mapo Tofu (Mabo Dofu)
---
Mapo Tofu is a delicious Chinese dish with a Japanese twist. Made with ground pork, firm tofu and onions served in a fragrant and spicy sauce, the Japanese version contains miso paste and isn't as spicy as its Chinese counterpart. Mabo tofu is a typical home-cooked dish loved by the whole family!
---
---
---
---
Ingredients
Pork
100

g

ground pork

1

pinch

salt and pepper

½

yellow onion(s)

finely diced

½

tsp

sake

½

tsp

soy sauce

½

tbsp

miso paste

awase/yellow

1

tbsp

sesame oil

½

tbsp

chili bean sauce

aka doubanjiang / tobanjan – see in post for more info

1

tsp

garlic paste

or grated garlic clove

300

g

firm tofu
Broth
200

ml

chicken stock

1

tbsp

sake

½

tsp

soy sauce

½

tbsp

oyster sauce

1

tsp

black pepper

30

g

green onion(s)

finely chopped

2

tbsp

cold water

to make slurry

2

tsp

cornstarch

to make slurry

2

tsp

chili oil

1

pinch

chili threads

optional garnish
Instructions
Heat the pan on medium and add

100 g ground pork

. Sprinkle it with

1 pinch salt and pepper

and fry until browned. (You don't need to add any oil at this point as the fat in the mince will create enough juices not to stick to the bottom of the pan.)

Add the

½ yellow onion(s)

(finely diced) to the pan and fry with the pork until slightly softened.

Next, add

½ tsp sake

,

½ tsp soy sauce

and

½ tbsp miso paste

and mix until evenly distributed through the pork.

Push the pork to one side of the pan and on the empty side, add

1 tbsp sesame oil

,

½ tbsp chili bean sauce

and

1 tsp garlic paste

. Mix them together for about 30 seconds – 1 minute. Once fragrant, mix with the pork.

Pour

200 ml chicken stock

into the pan, add

300 g firm tofu

(cubed) and bring the mixture to a boil, mixing occasionally. Once bubbling, turn the heat down to a simmer.

Add

1 tbsp sake

,

½ tsp soy sauce

,

½ tbsp oyster sauce

and

1 tsp black pepper

to flavor the sauce.

Simmer until the sauce is reduced to about half, mixing occasionally.

Take a small bowl and mix

2 tbsp cold water

with

2 tsp cornstarch

. Once smooth, add it to the pan and mix.

Once the sauce has become thick and glossy, add

2 tsp chili oil

, mix and turn off the heat.

Sprinkle with chopped

30 g green onion(s)

and

1 pinch chili threads

(optional).
Notes
Make it vegetarian switch out the pork for your favorite meat alternative, and use vegetarian miso paste, oyster sauce and vegetable stock to make this dish suitable for vegetarians and vegans. 
Nutrition
Calories:
386
kcal
|
Carbohydrates:
12.7
g
|
Protein:
20.4
g
|
Fat:
26.4
g
|
Saturated Fat:
6.1
g
|
Polyunsaturated Fat:
9.7
g
|
Cholesterol:
39
mg
|
Sodium:
1213
mg
|
Fiber:
3.3
g