Enjoy the unique flavors and textures of various mushrooms in this delicious homemade mushroom miso soup packed with 4 different kinds! Not only is it delicious, but also comforting, nutritious and easy to make!
Disclaimer: This post contains Amazon affiliate links. Sudachi earns a small percentage from qualifying purchases at no extra cost to you. See disclaimer for more info.
What is mushroom miso soup?
Miso soup (味噌汁) is a traditional Japanese soup that is an essential part of Japanese cuisine and is made by adding miso paste and ingredients of your choice to dashi (Japanese soup stock). Because it is quick and easy to prepare, as well as delicious and comforting, many families eat miso soup daily.
Mushroom miso soup (きのこの味噌汁) is one such miso soup that uses a variety of mushrooms as the main ingredient. Mushrooms and miso soup go well together, so please try it! In my recipe, I use four different kinds of mushrooms that are common in Japanese cooking, but you can adapt the recipe and use local mushrooms from your area.
If you want to know more about Japanese miso soup in general, please check my Miso Soup 101 article.
Recipe to make mushroom miso soup
Recommended types of mushrooms to use
Step-by-step instructions to make miso soup like a local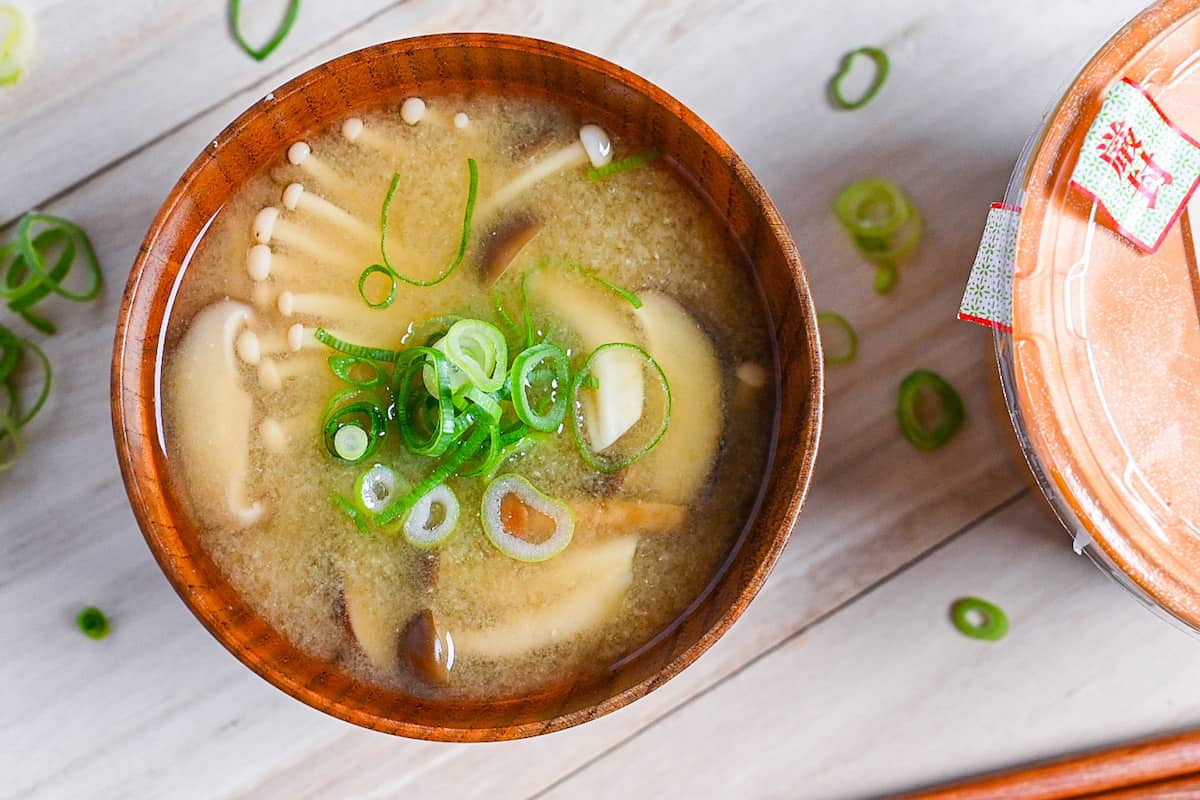 Types of mushrooms to use for your miso soup
It is said that there are about 20,000 mushrooms worldwide and 3,000 species in Japan that have proper names. Of course, not all are edible, but even with just a small percentage, imagine how many different variations of mushroom miso soup you could create!
So what kind of mushrooms go well with miso soup? Here are some recommendations to help you make your favorite mushroom miso soup, from popular mushrooms in Japan to mushrooms that are relatively easy to find in other parts of the world.
Nameko mushroom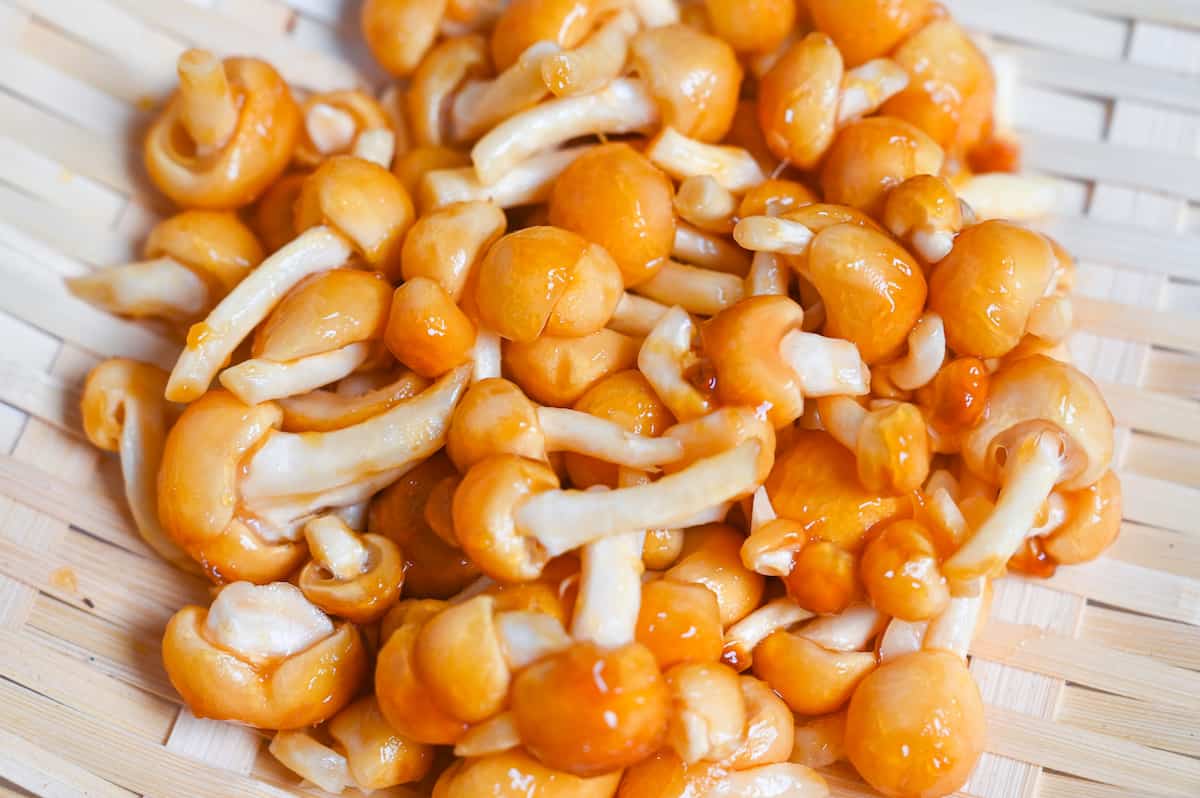 Nameko mushrooms (also known as "butterscotch mushrooms") are one of the most popular mushrooms added to miso soup in Japan. They are characterized by their slimy texture, brownish umbrella, white or brown stem, and gelatinous brown folds.
The primary season in Japan is from September to November, and commercially grown mushrooms are considered reasonable if they are uniformly grained and shiny throughout and if the capsules are thick.
Pectin, the ingredient that makes the nameko mushrooms slimy, is the perfect addition to miso soup. Not only does it enhance the flavor, but it also thickens the soup slightly.
In addition to miso soup, nameko mushrooms are sometimes used as a garnish for soba noodles or ohitashi.
Enoki mushroom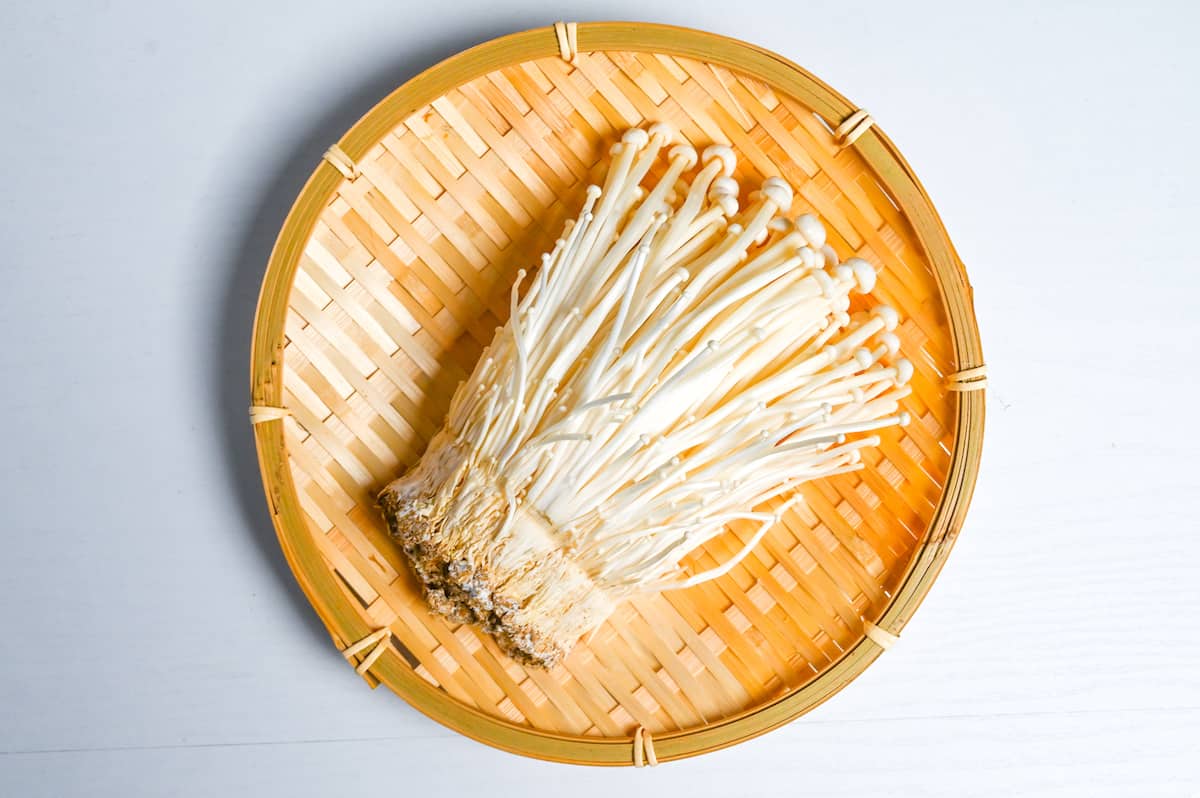 Enoki mushroom is a species of mushroom in the Ximejiaceae family. The wild species is a brownish-yellow color and grows on dead or fallen broadleaf trees such as enoki and zelkova.
Characterized by its crunchy texture, muted aroma, and mild flavor, it can be used in various dishes such as nabe (hot pot), stir-fry, and salad. As for the recipes on this website, it is used in dishes such as kenchin-jiru (Japanese vegetable soup) , sukiyaki, and chanko-nabe (sumo stew).
The primary season is from November to March in Japan. The cap should be as small as possible, the stem should be straight and taut, the length should be uniform, and the color should be white with no cloudiness for the best flavor.
Shiitake mushroom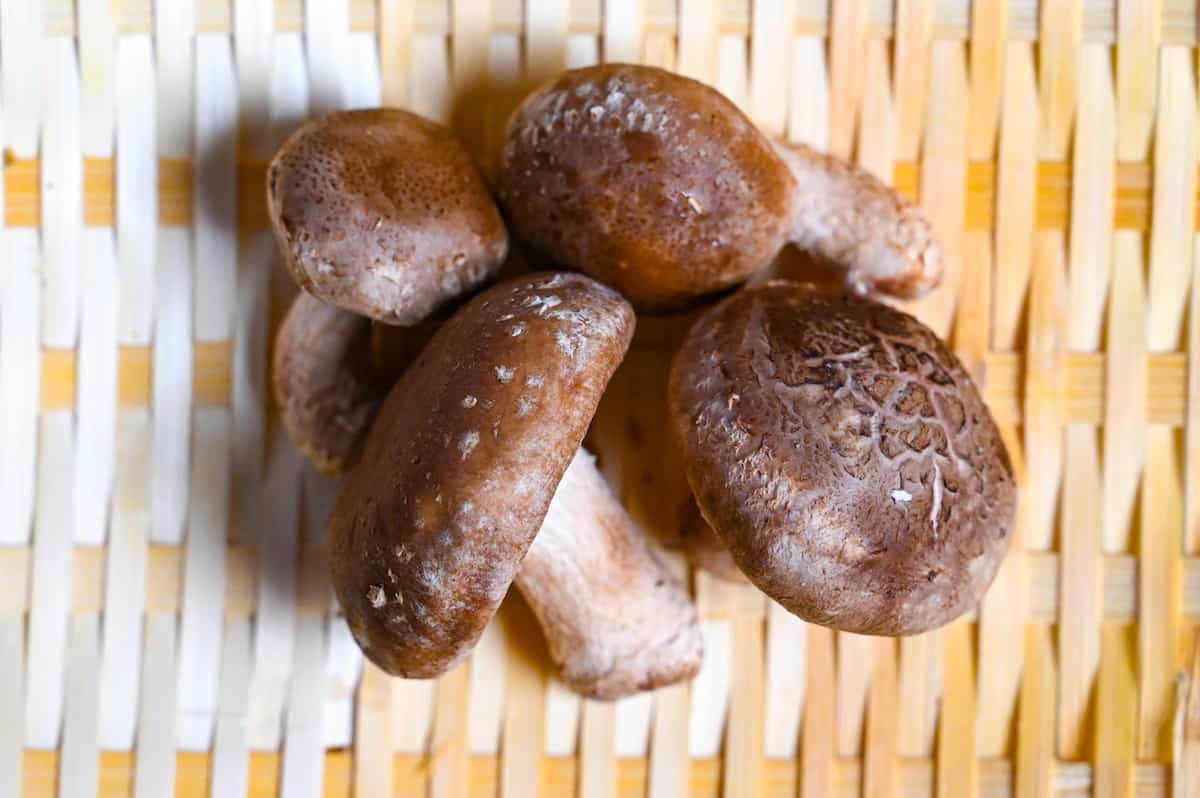 Shiitake mushrooms are well-known as one of Japan's most popular edible mushrooms and were once a representative autumn delicacy. But guess what? You can find them in supermarkets anytime, thanks to smart farming tricks like mycorrhizal and hydroponic cultivation.
Want to pick the best ones? Look for the ones with thick caps that curve inwards, a clean white underside, and stout, short stems. The best times to grab them are from March to May and September to November.
Once dried, the flavor of shiitake mushrooms intensifies. Its rich flavor profile makes it suitable for use as a dashi stock, and it is an indispensable part of vegetarian dishes in Japan.
Shimeji mushroom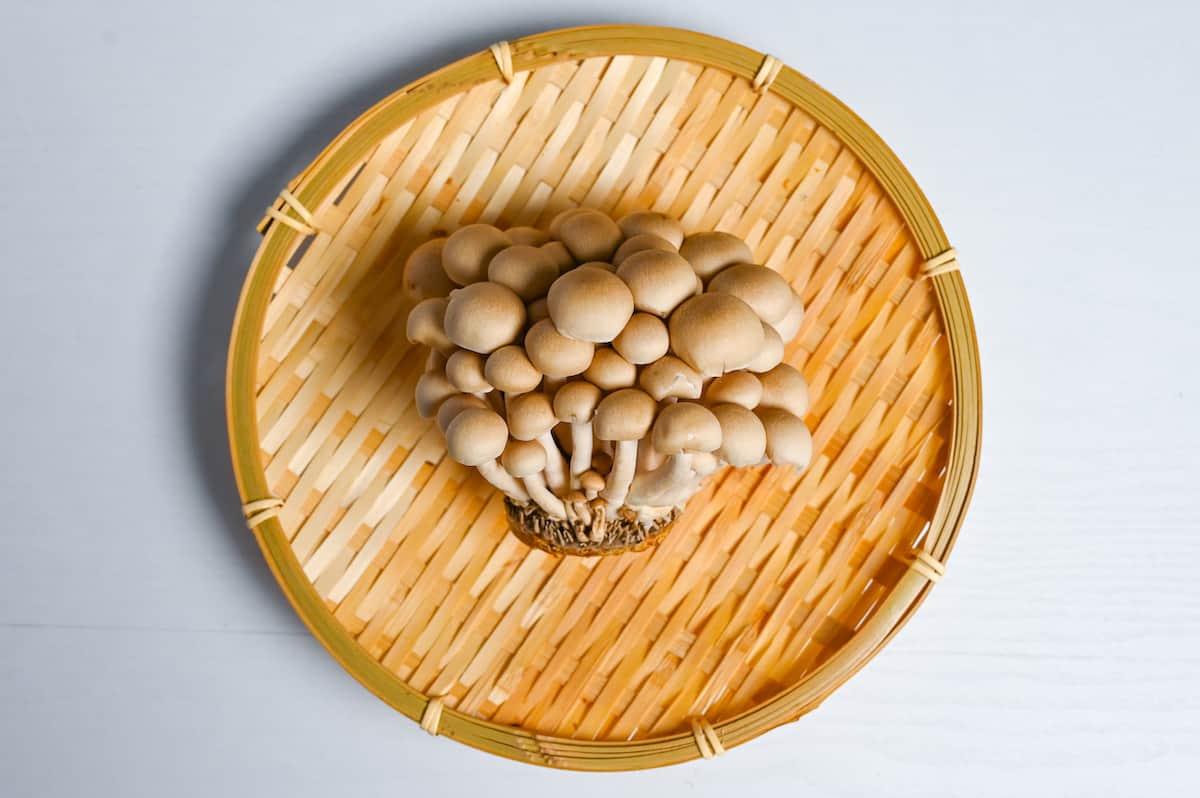 Shimeji mushrooms (sometimes known as beech mushrooms or clamshell mushrooms in English) are tiny bundles of joy and can be used in all kinds of meals. From stir-fries, to soups and hot pots, or even simply tossed into your cooked rice—they're one of the most versatile types of mushroom found in Japan. Here's a fun fact: unlike the mushrooms I already introduced earlier, there are actually many different kinds of shimeji mushrooms. We're talking about hon-shimeji, shakashimeji, and hatake-shimeji, to name a few.
As for what you'd typically find in Japanese supermarkets today, it's the cultivated "buna-shimeji." However, the subtly elegant, "white shimeji" has recntly become popular as well.
Button mushroom
The button mushroom, also known as the "common mushroom" is probably the most widely distributed mushroom species in the world. Naturally, they are also delicious when used in miso soup.
If you live in an area where the other mushrooms introduced so far are not easily available, button mushrooms are a great option.
A few more mushrooms to try
If you want to try more varieties of mushroom miso soup, here are a few more kinds that can be used:
Maitake (hen-of-the-wood) earthy and peppery flavors go perfectly with the saltiness of miso soup
Eryngi (king oyster) releases subtle umami when cooked and has a firm and satisfying texture.
Kikurage (wood-ear) mild flavour and great chewy texture perfect for soups.
Hiratake (oyster) subtle briney flavors adds depth and umami to the soup, once cooked the texture becomes velvety.
However, my personal recommendation is to experiment using local edible mushrooms that are available in your area! Miso soup is a versatile dish that is easy to make, so try to take advantage of local ingredients!
Ingredients to make this mushroom miso soup
Dashi broth – This broth is the base of miso soup. Choose from dashi made with dried bonito flakes and kelp, or vegetarian dashi made with kelp and shiitake mushrooms. You could also use instant dashi or dashi bags if you like.
Miso paste – It is a key ingredient for miso soup. I used awase miso, but you can use whatever is readily available in your area. See my miso soup 101 article for more information on the types of miso used in miso soup.
Mushroom of your choice – Use your favorite mushrooms. I personally used four kinds: nameko mushrooms, shimeji mushrooms, shiitake mushrooms, and shimeji mushrooms.
Soy sauce – A very small amount of soy sauce is used. If you would like to know the recommended brands, etc., please see my article for a list of the condiments to use for Japanese food.
Green onion – Finely chopped to garnish at the end.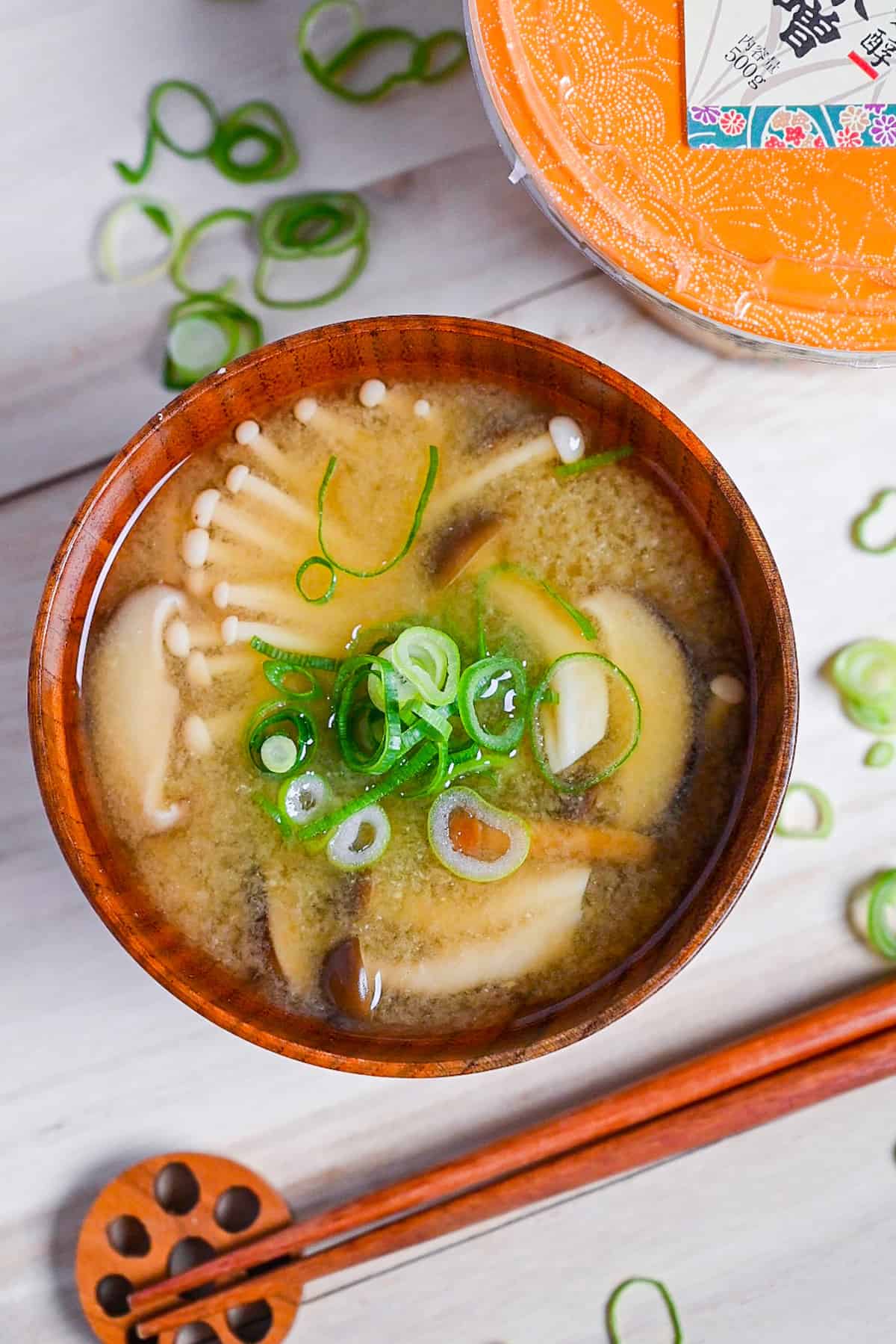 Instructions on how to make this mushroom miso soup recipe
Here is my step-by-step guide on how to make mushroom miso soup. If you have dashi to hand, it can be ready in 20 minutes or less!
Pour the dashi into the pot and bring it to almost boiling over a medium heat. I recommend making your own dashi, I have a recipe for kombu (dried kelp) and bonito flake dashi here. Alternatively, you could make your vegan dashi with dried shiitake mushrooms and/or kombu to make the soup completely plant-based.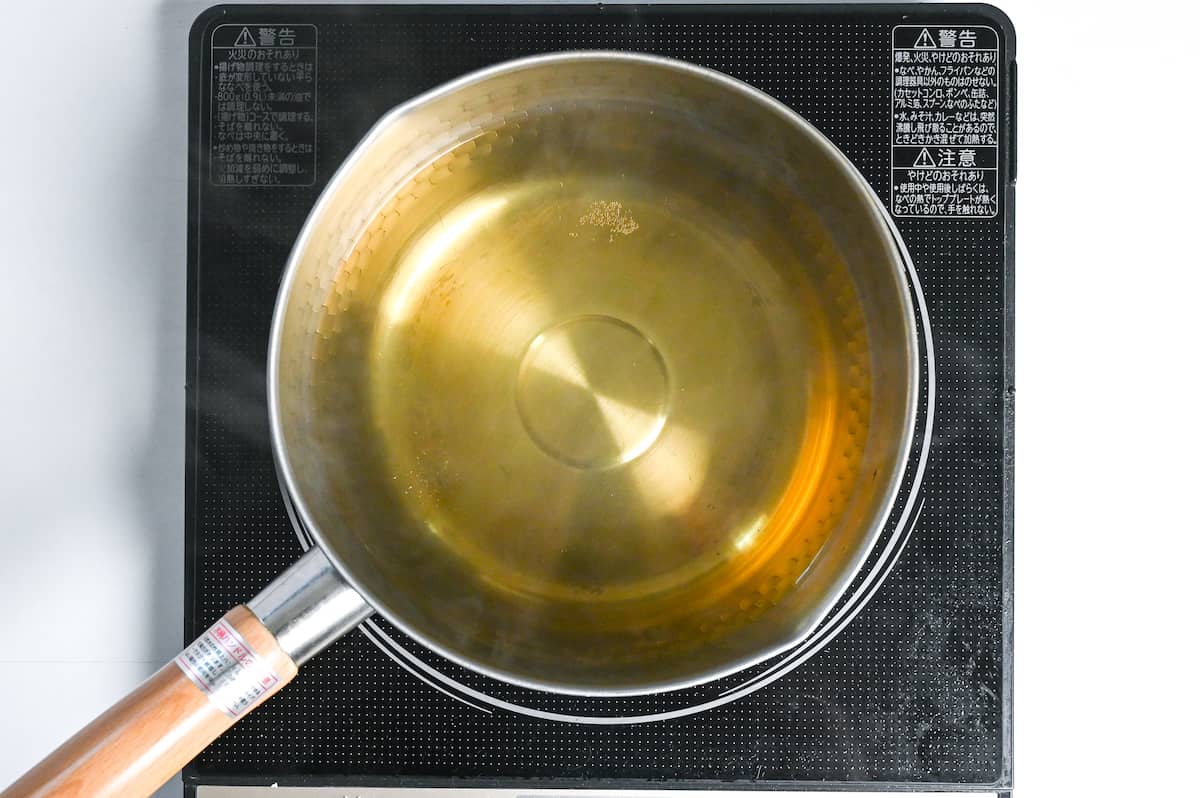 Once the dashi is almost boiling, add a small amount of soy sauce.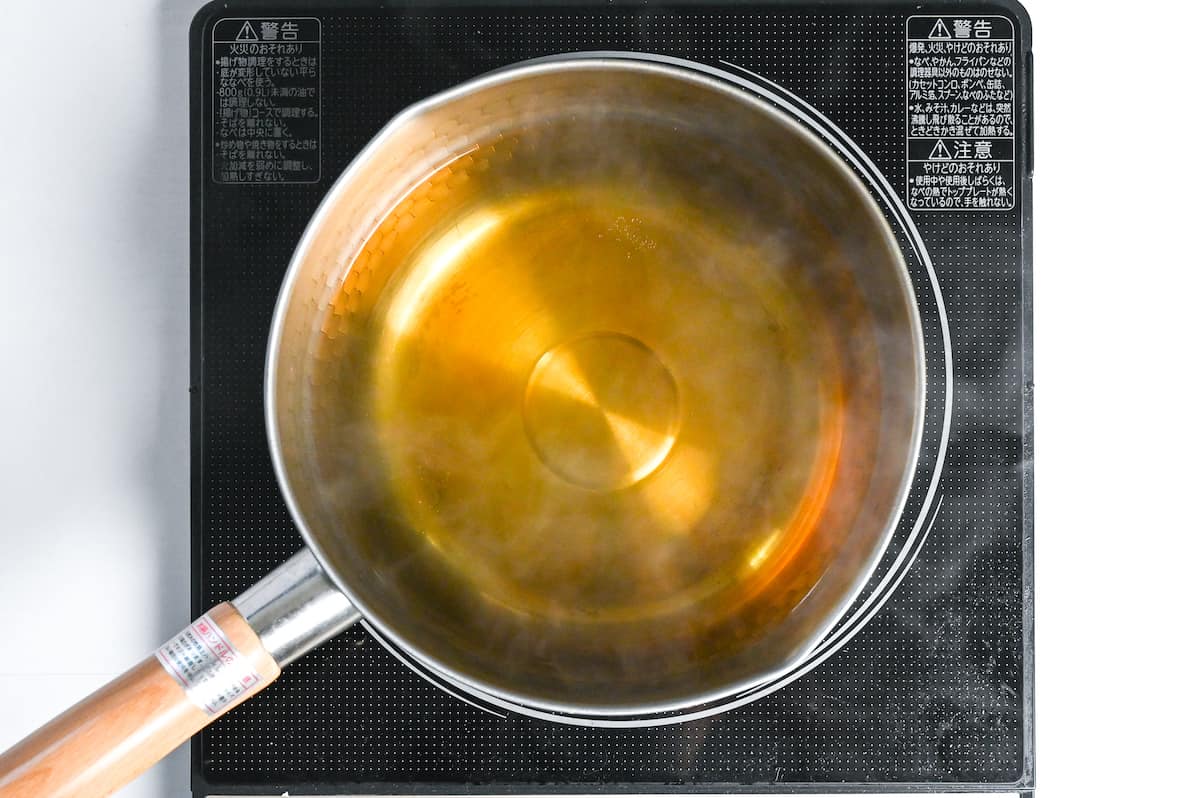 Add your choice of mushrooms and allow the dashi to come back to almost boiling. Once it starts to bubble, lower the heat to a simmer and cook the mushrooms for 3-4 minutes or until softened to your liking.
Cut and cook mushrooms according to size
Bigger mushrooms (like shiitake) should be thinly sliced so that they cook at the same rate as the smaller mushrooms. Smaller mushrooms can be trimmed and left whole.
Once the mushrooms are cooked, turn off the heat and measure out the miso paste onto a mesh spoon or ladle. Dip it into the dashi to saturate it and then use a whisk or chopsticks to break it up before mixing it into the soup. This will prevent lumps and help the miso paste distribute evenly.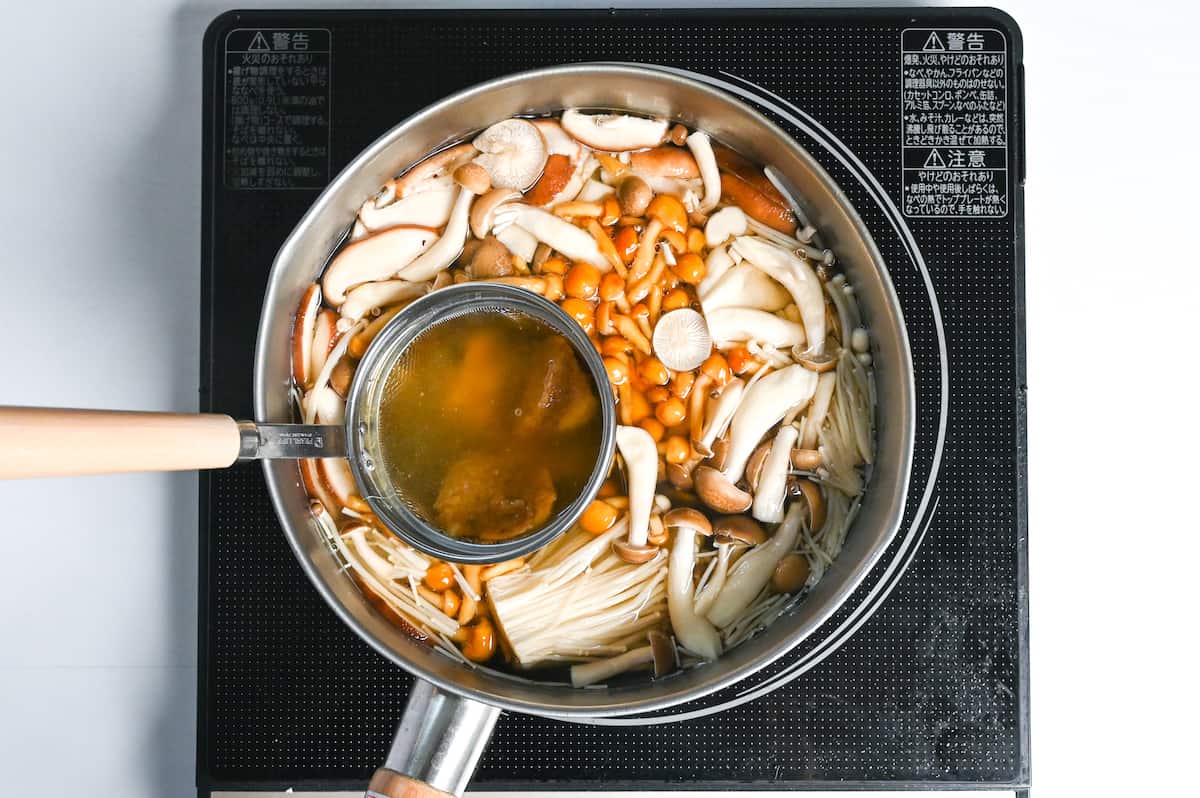 Why do we add miso at the end?
Miso paste is delicate and overheating can cause the flavour to deteriorate. For the best flavor, add it last after you've turned off the heat. (If you need to reheat the soup, be careful not to let it boil.)
Mix the soup well and divide it into serving bowls. Top with a sprinkle of chopped spring onion (optional).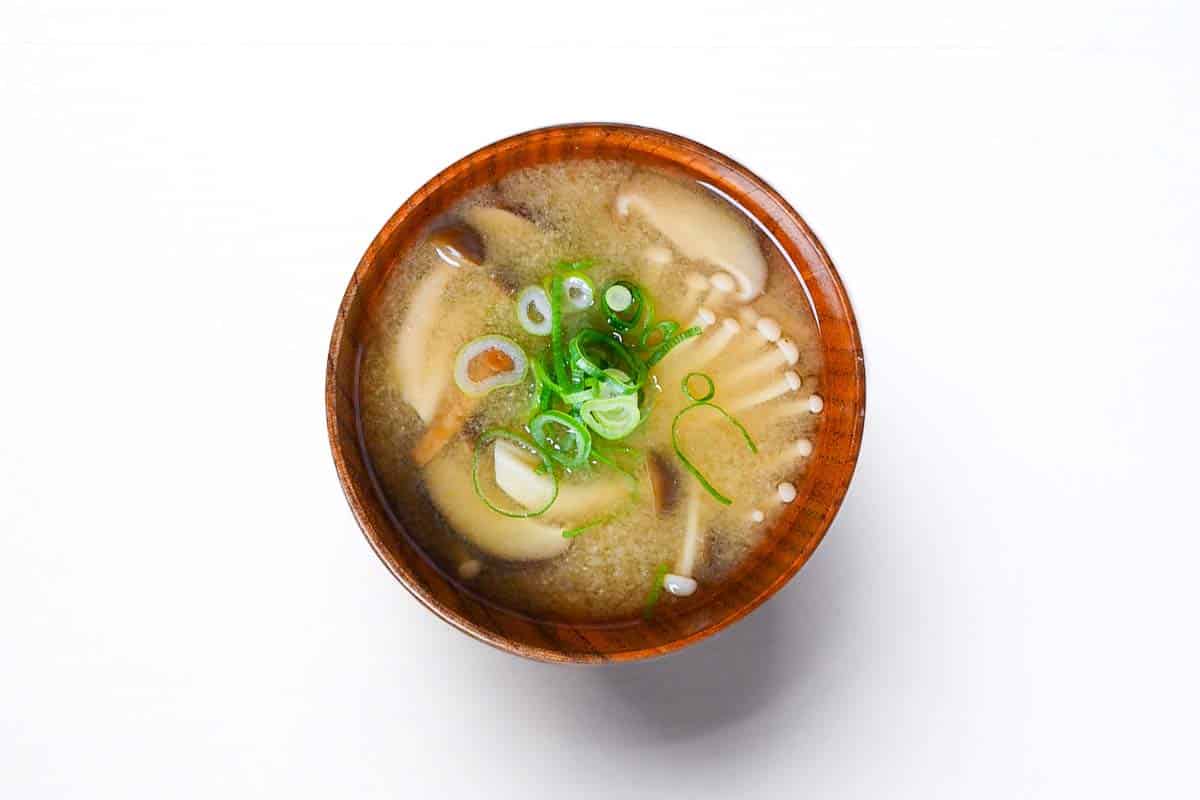 Enjoy!
Storage
Miso soup spoils quickly and is best eaten on the day it's made. It's common for families to either make it fresh for every meal, or make a large batch in the morning and reheat it for each meal that same day. Leftovers should be stored in an airtight container in the fridge and consumed within 24 hours.
To reheat, it's better to warm it on the stove until it reaches a suitable drinking temperature. Microwaving is possible, but be aware that it's easy to overheat it when microwaving and this will damage the flavor of the miso.
If you wanted to make a large batch of miso soup in advance, it's better to make the dashi and cook your ingredients so that they're ready to use. Dashi can last about 5 days in the fridge. If your ingredients are already cooked and dashi only needs heating, you can whip up a miso soup in minutes!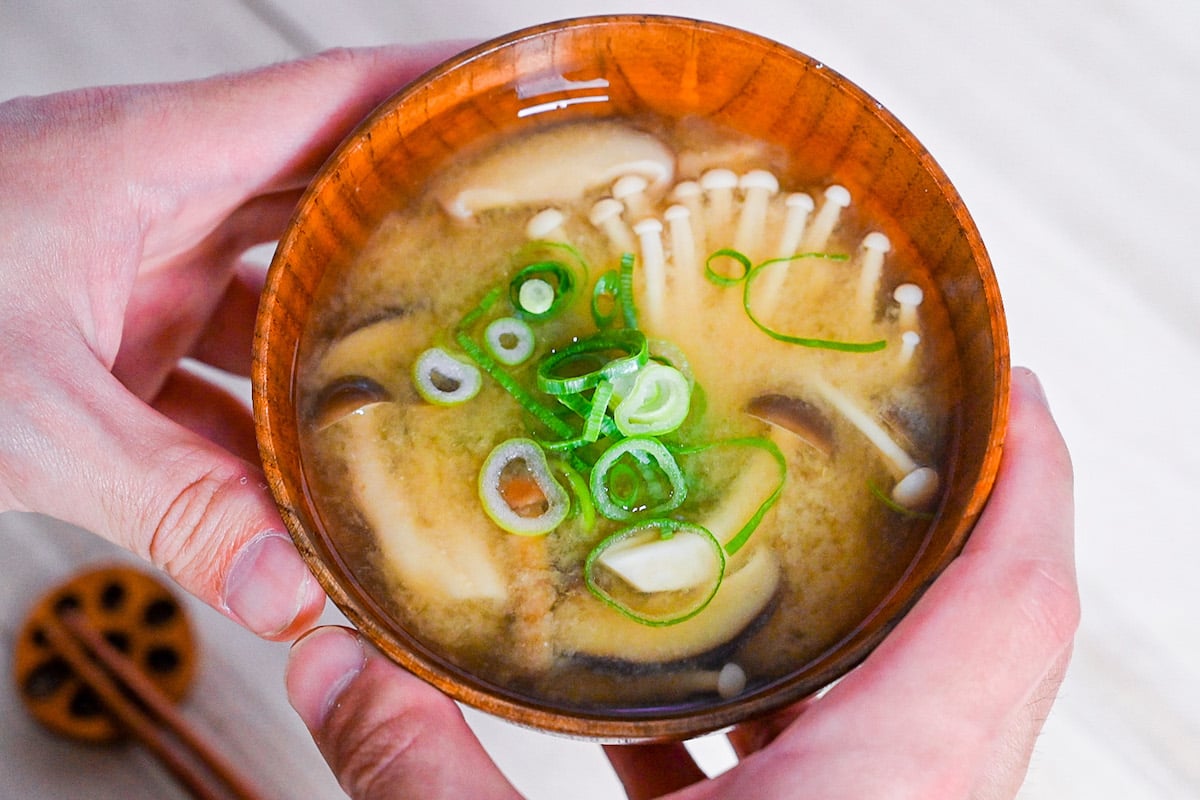 Pairing/Serving Suggestions For Mushroom Miso Soup
You've made mushroom miso soup, but what should you eat it with? Are you wondering about such a question?
In this section, I will introduce five dishes that go great with mushroom miso soup.
Freshly cooked Japanese rice
The combination of miso soup and white rice is inseparable for us Japanese. A simple evening meal is complete with white rice, miso soup, and a main fish or meat dish.
Therefore, we recommend that you also prepare Japanese rice when making miso soup. If you do not have a rice cooker, please read my How to Cook Japanese Rice without a Rice Cooker.
Japanese style ginger pork (shogayaki)
Ginger pork (shogayaki) is a popular dish that goes extremely well with rice and miso soup. The ginger-flavored sauce makes the rice extra amazing, and the miso soup you get afterward is irresistible.
My recipe for shogayaki differs from the usual ginger yaki, as I use grated apple and other ingredients. It is easy to make, so please give it a try!
Tonkatsu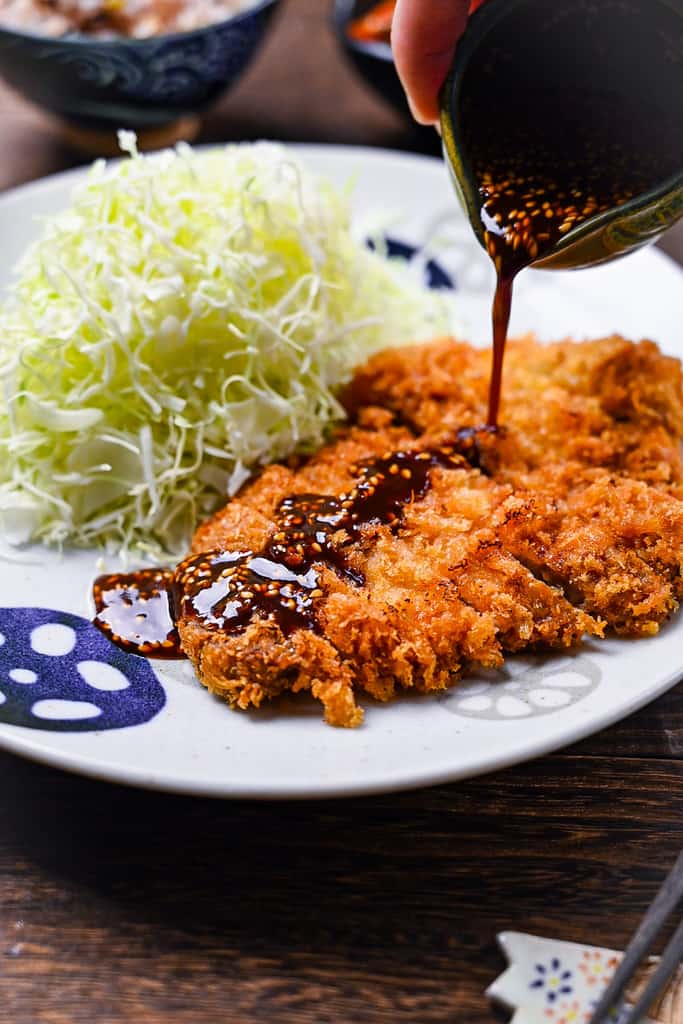 Why not combine deep-fried food and mushrooms with miso soup? Tonkatsu is a typical dish served with white rice and miso soup.
Usually pork is used, but chicken katsu is also recommended! If you are in the mood for fried food, try this dish!
Grilled mackerel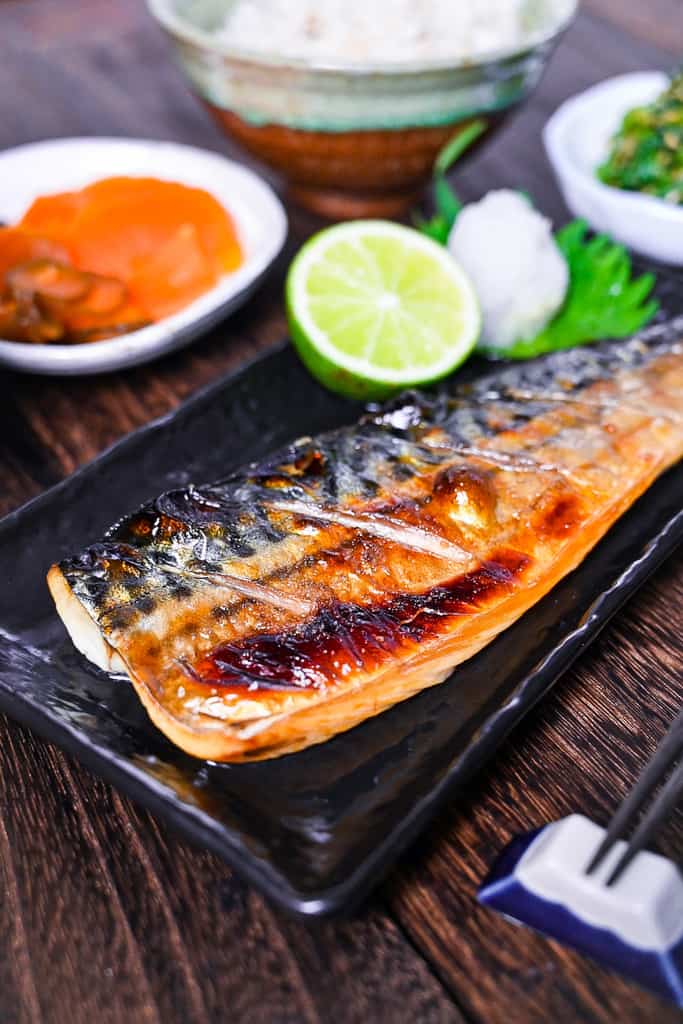 Feeling like fish instead of meat? In that case, Japanese-style grilled mackerel (saba no shioyaki) is a great option! It is easy to make, all you need is mackerel fillets and salt!
Other recommended dishes include grilled salmon, grilled saury, and mackerel cooked in miso!
Pickled cucumber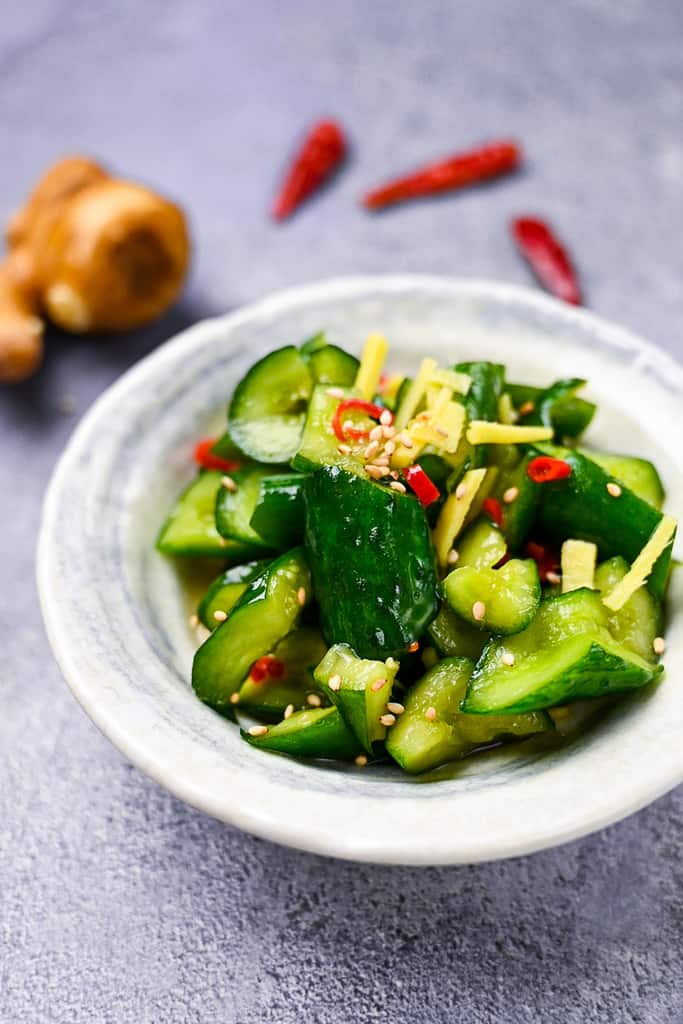 If you want another side dish in addition to white rice, miso soup, and the main dish, pickled cucumber is a great choice! It's a dish that goes well with all kinds of Japanese food, so you should definitely keep it on hand.
This recipe uses ginger and chili peppers, but other pickle recipes like pickled cucumber with wasabi or pickled daikon radish are also great options!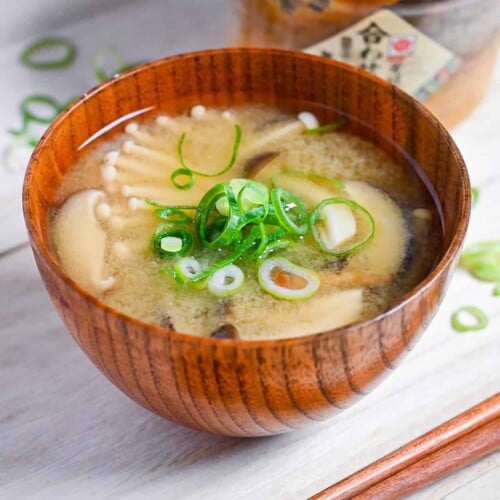 Mushroom Miso Soup (Kinoko no Miso Shiru)
---
How to make easy and authentic Japanese mushroom miso soup with 4 kinds of mushrooms!
---
---
---
---
Instructions
Cut

75 g fresh shiitake mushroom(s)

into slices, and trim the stems/roots of the

100 g enoki mushroom(s)

. Leave the

100 g shimeji mushroom(s)

and

50 g nameko mushrooms

whole.

Heat

1 liter dashi stock

in a pot over a medium heat.

Once the dashi is almost boiling, add

1/4 tsp soy sauce

.

Next, add the mushrooms and reduce the heat to a simmer. (If using additional firm mushrooms like king oyster, place them in first and cook them a bit longer.)

Simmer for 3-5 minutes or until the mushrooms have softened to your liking.

Turn off the heat, place

4 tbsp miso paste

on a mesh spoon, dip it in the dashi and whisk until it has broken up enough to disperse through the soup. (Avoid dropping the miso paste directly into the soup as it tends to clump together.)

Mix thoroughly, divide into serving bowls and sprinkle with

finely chopped green onion(s)

.
Notes
For best flavour, consume within 24 hours and reheat on the stove over a medium heat. (Avoid boiling as this will cause the flavour of the miso paste to deteriorate.)
Nutrition
Serving:
280.1
g
|
Calories:
47
kcal
|
Carbohydrates:
8.7
g
|
Protein:
3.6
g
|
Fat:
0.8
g
|
Saturated Fat:
0.12
g
|
Polyunsaturated Fat:
0.42
g
|
Sodium:
675
mg
|
Fiber:
3.3
g