Hayashi Rice is a rich and tangy yoshoku-style dish made with thinly sliced beef and fresh vegetables simmered in a delicious demi-glaze style sauce. Don't be afraid of spending hours making demi-glaze though, this is a shortcut recipe that doesn't skip on flavour!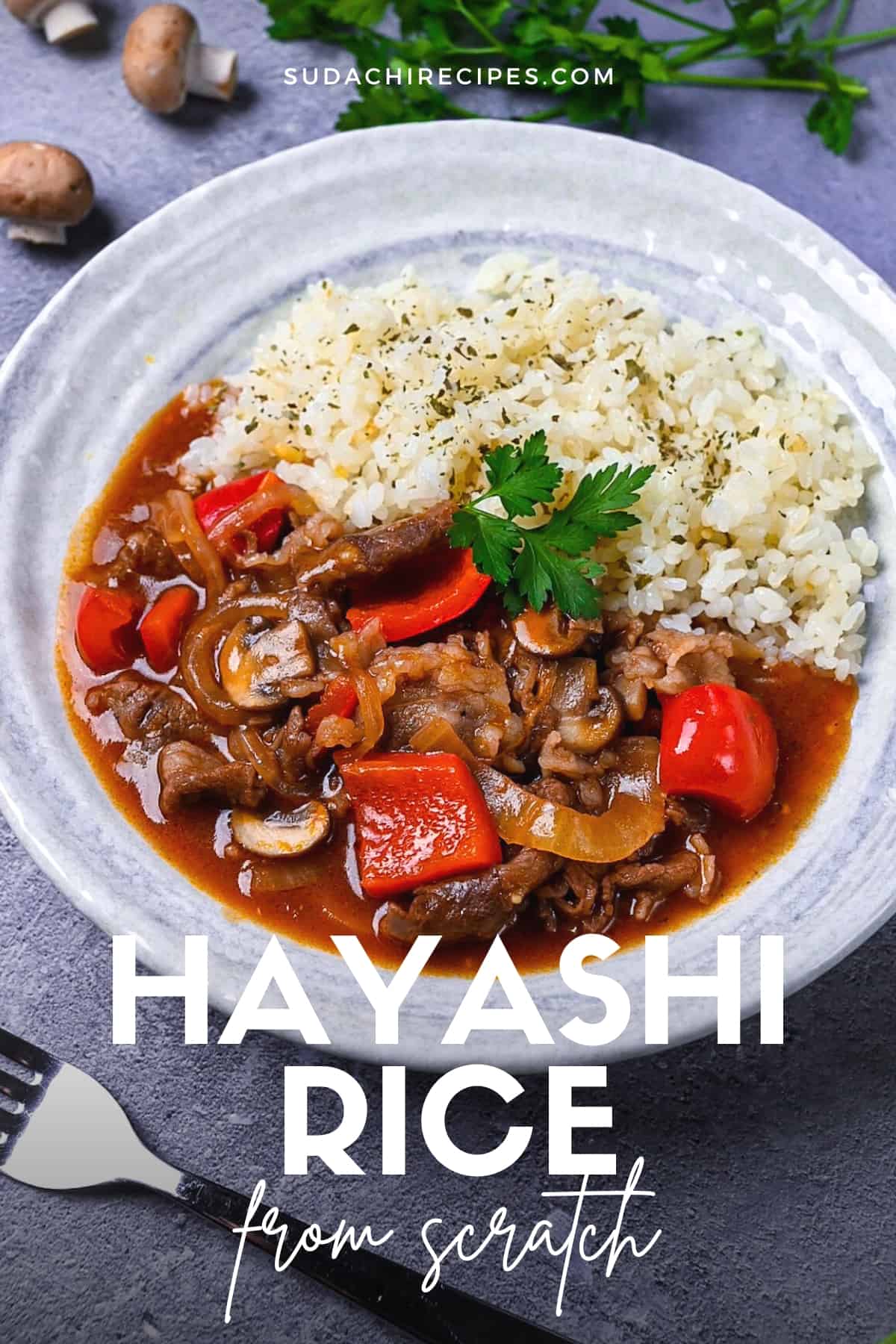 Jump to:
What is Hayashi Rice?
Hayashi rice (ハヤシライス) is a popular Western style dish in Japan. It's made with tender, thinly sliced beef, soft onions, crunchy bell peppers and earthy mushrooms all simmered in a tasty demi-glace style sauce.
You'd find this dish in many yoshoku restaurants across Japan, but it's also commonly made at home using store-bought roux cubes (a bit like the ones you use to make Japanese curry.)
As the word "rice" is included in the name, you can assume that hayashi rice is only served with rice, however it can also be enjoyed with bread or mashed potatoes too. I make hayashi rice with delicious garlic butter fried rice which is included in this recipe.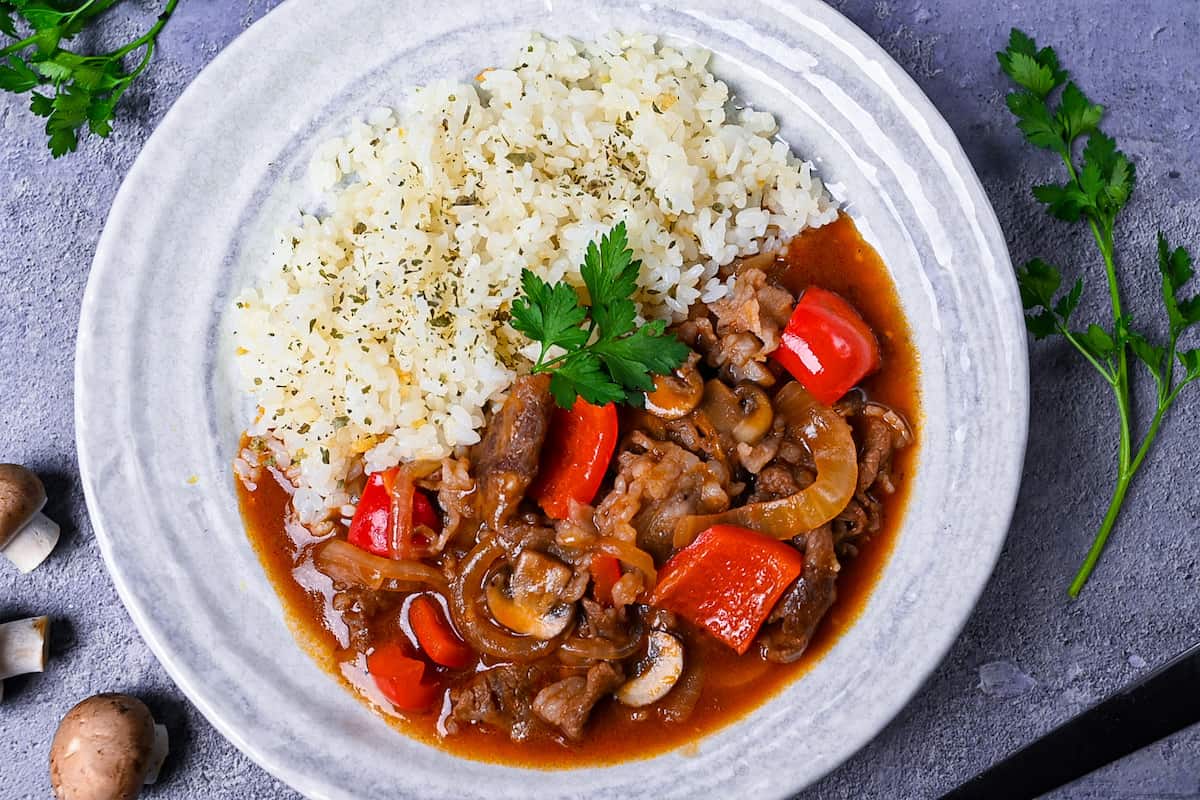 Origin of Hayashi Rice
Hayashi rice is a Japanese dish with Western influence, however the origin of this dish remains unclear. It is known to be created during the Meiji period (1868-1912) in Hyogo prefecture in Japan, however how it came to be is still a mystery.
There are different theories regarding the origin of its name as well. It is said that the name "hayashi rice" comes from English "hashed beef with rice" or "hashed and rice". Back then, there weren't so many people who could speak English in Japan and so "hashed" became mispronounced as "hayashi".
If you consider the theory of name, then we can assume the dish was inspired by "hashed beef". According to records, Hashed Beef was mentioned in old English cookbooks and refers to dishes where leftover roast beef was boiled with shallots and pickles to make stew. It has also been mentioned in an American home encyclopedia as a dish where thinly sliced beef is cooked with onions in anchovy sauce, mushroom gravy and ketchup. However, Hayashi Rice in Japan is often made with "Demi Glace" style sauce which is French in origin. It seems that Japanese Hayashi Rice took inspiration from all over the world!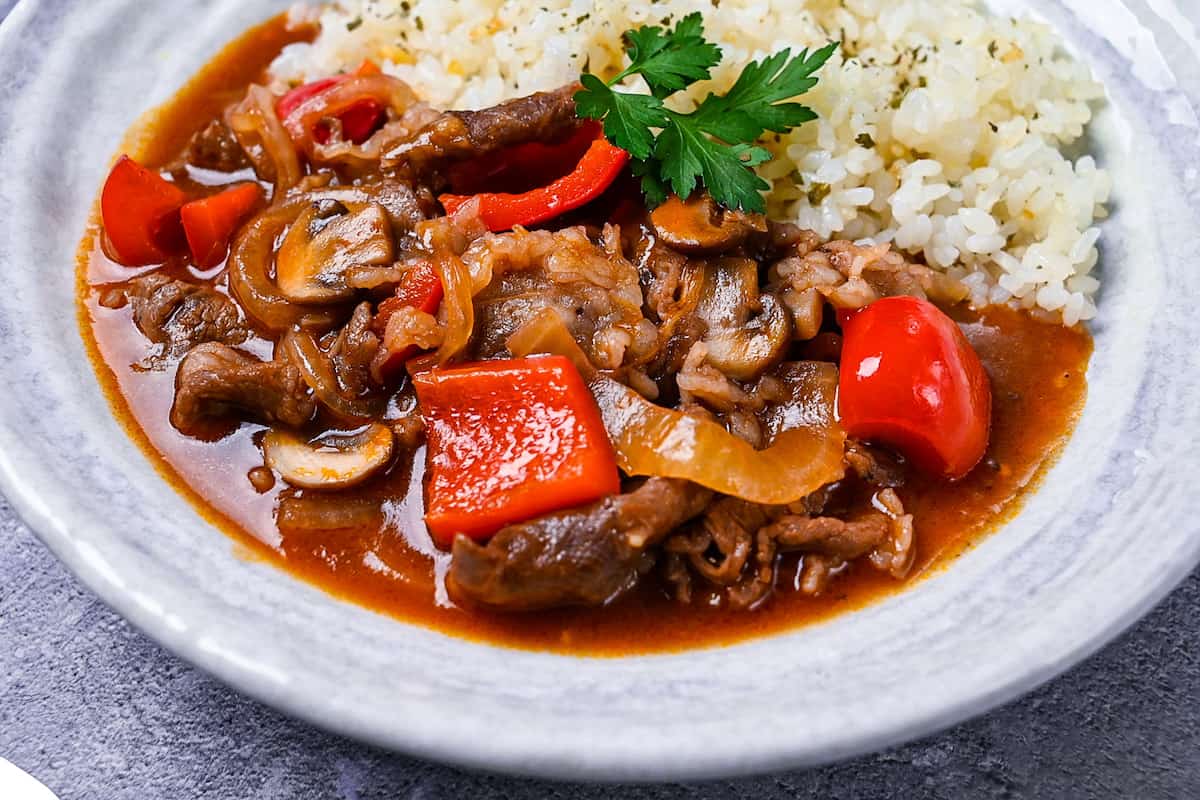 Hayashi rice vs Curry rice: what are the differences?
I must admit that when I was a kid, I considered hayashi rice as a "fake curry rice". I mean, they look very alike in kid's eye and I thought it's somehow a cousin of curry rice or something but tastes different. But in fact, they are two completely different dishes.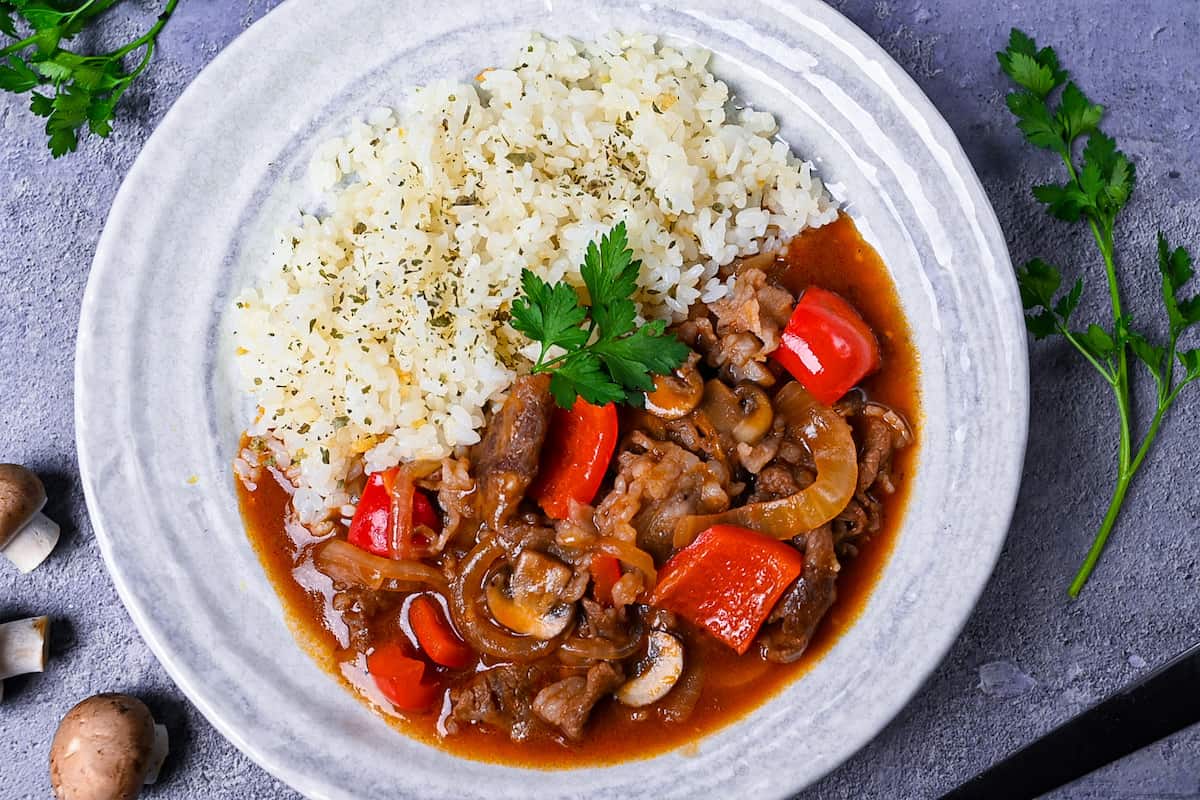 The first fundamental difference is that Japanese curry rice is a dish that evolved from India to England and from there to Japan, while hayashi rice's origin is not so clear but the sauce is mostly inspired by French cuisine. Even though they both have a gravy-like taste and texture, the flavours of each dish are vastly different.
To be more specific, curry rice uses a lot of spices and has a spicy and complex flavour, while hashed rice has a more sour taste of tomatoes and wine in a thick sauce. So making curry rice from scratch is strenuous (although I have curry rice from scratch recipe), but hayashi rice can be simple, even from scratch.
Here is the simple table for the differences between these two.
| | Hayashi rice | Curry rice |
| --- | --- | --- |
| Origin theory | Europe-Japan | India-UK-Japan |
| Meat | Always beef | Beef, pork, chicken or seafood |
| Commonly used vegetables | Onion, mushroom | Potato, carrot, onion |
| Spices | No | Yes |
| Popularity in Japan | Medium | High |
Can hayashi rice be made with chicken or pork?
As I mentioned above, beef is predominantly used and is the best option for this dish as beef pairs well with the tomato and red wine element of the sauce. However, if you prefer to use chicken or pork, you still can use these simply by switching out the beef.
When substituting meats, I recommend using fatty cuts that will add more flavour to the sauce. In the case of using pork, I would recommend thinly sliced pork belly and for a chicken version, skin-on chicken thigh cut into bitesize pieces would work best.
In this recipe, I use beef stock cube as well, but if you use different meats instead, you can also use other stock to match the meat of your choice.
Omuhayashi: beef hayashi rice with egg
If you combine hayashi rice and omurice, you can make a whole new dish that we called "omuhayashi". You simply make omurice as usual and then pour the beef hayashi stew over the top. It's seriously delicious, it's a double combo!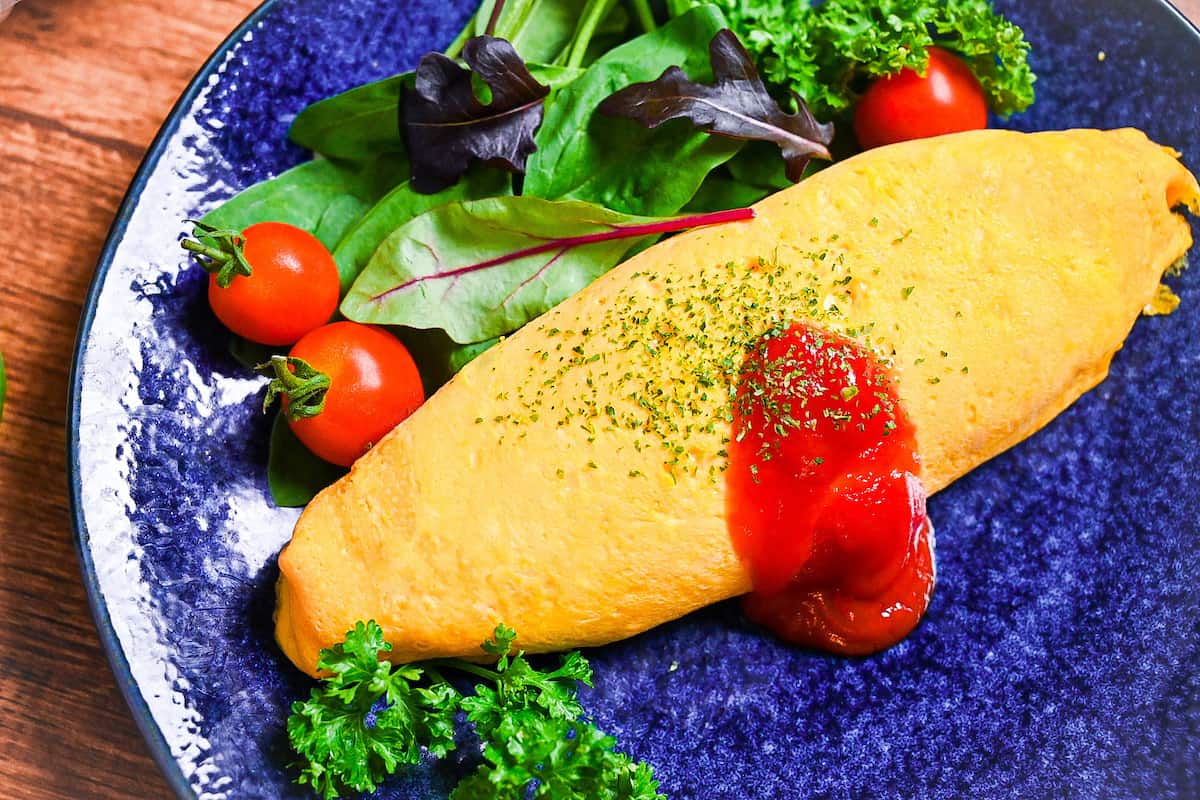 If you're interested in making "omuhayashi", see our recipe post how to make omurice here!
Ingredients to make homemade hayshi rice without roux blocks
Thinly sliced beef (fatty cut works best)
Salt and pepper
Plain flour
Unsalted butter
Garlic
Onion
Bell pepper
Baby chestnut mushrooms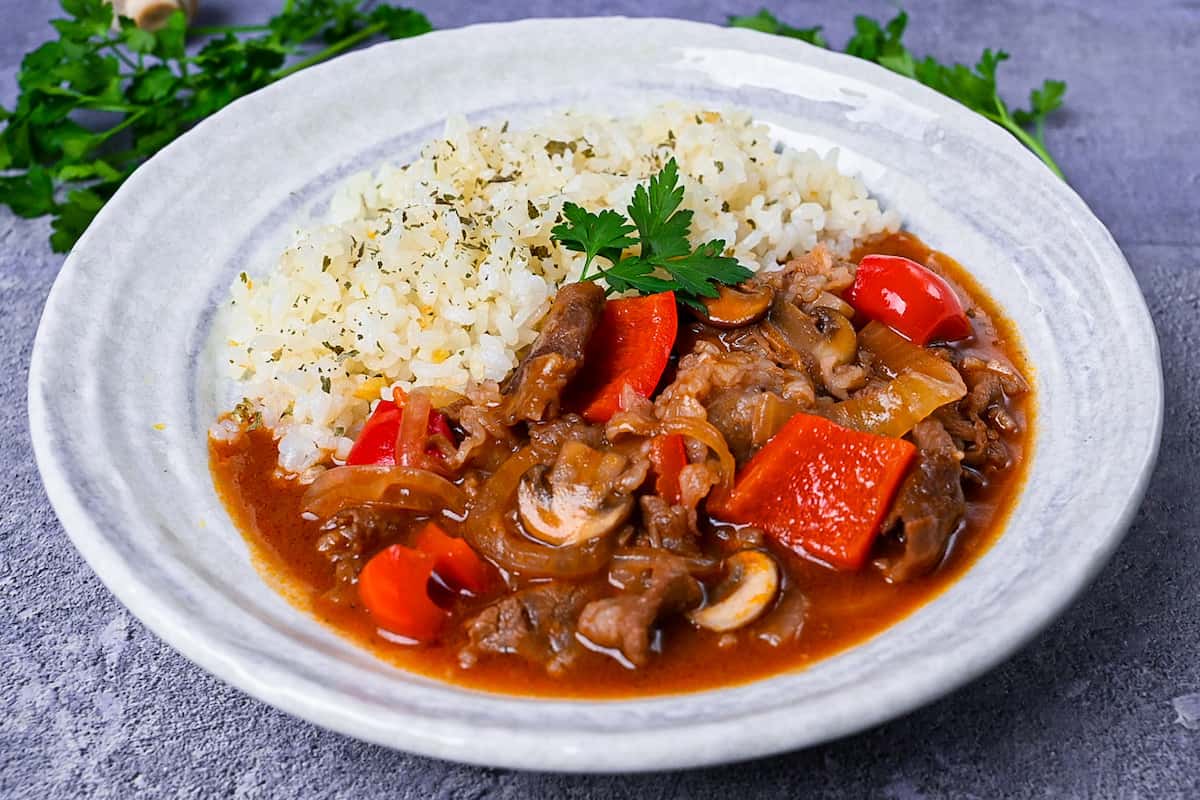 Hayashi Rice Sauce
Hayashi rice sauce is slightly sweet, but mainly rich and tangy. Here are a few of the ingredients used in hayashi rice:
These are also some of the key ingredients for making demi glace sauce (a thick brown sauce often used for yoshoku dishes) but making demi glace sauce is very time consuming as it requires making a roux from scratch and a long simmering time. This is a shortcut recipe that only takes 20 minutes and it tastes delicious!
Garlic Butter Rice
Unsalted butter
Garlic
Parsley
Hayashi rice is usually served with plain, white steamed rice and I've written a post on how to cook Japanese style rice here.
But I wanted to make this dish a little more special and indulgent, so I fried the rice for a few minutes with butter and one clove of garlic. I have to say, it's subtle but really compliments the hayashi beef!
You can also use left over rice for this, so it's a convenient way to use leftovers too!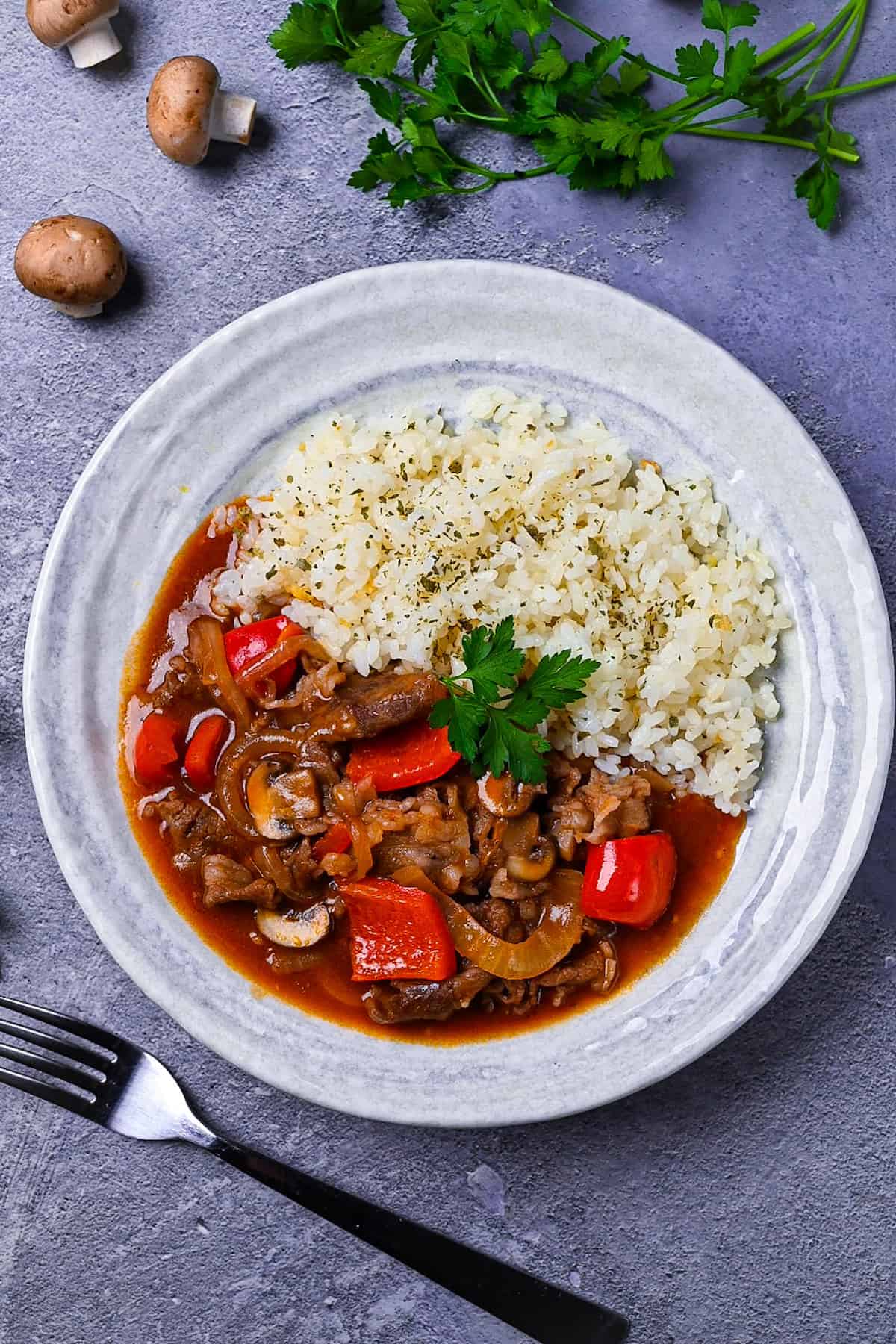 Instructions on how to make hayashi rice at home
Here are my step by step instructions on how to make hayashi rice from scratch at home! For ingredient quantities and simplified printable instructions, see the recipe card below!
Prepare the beef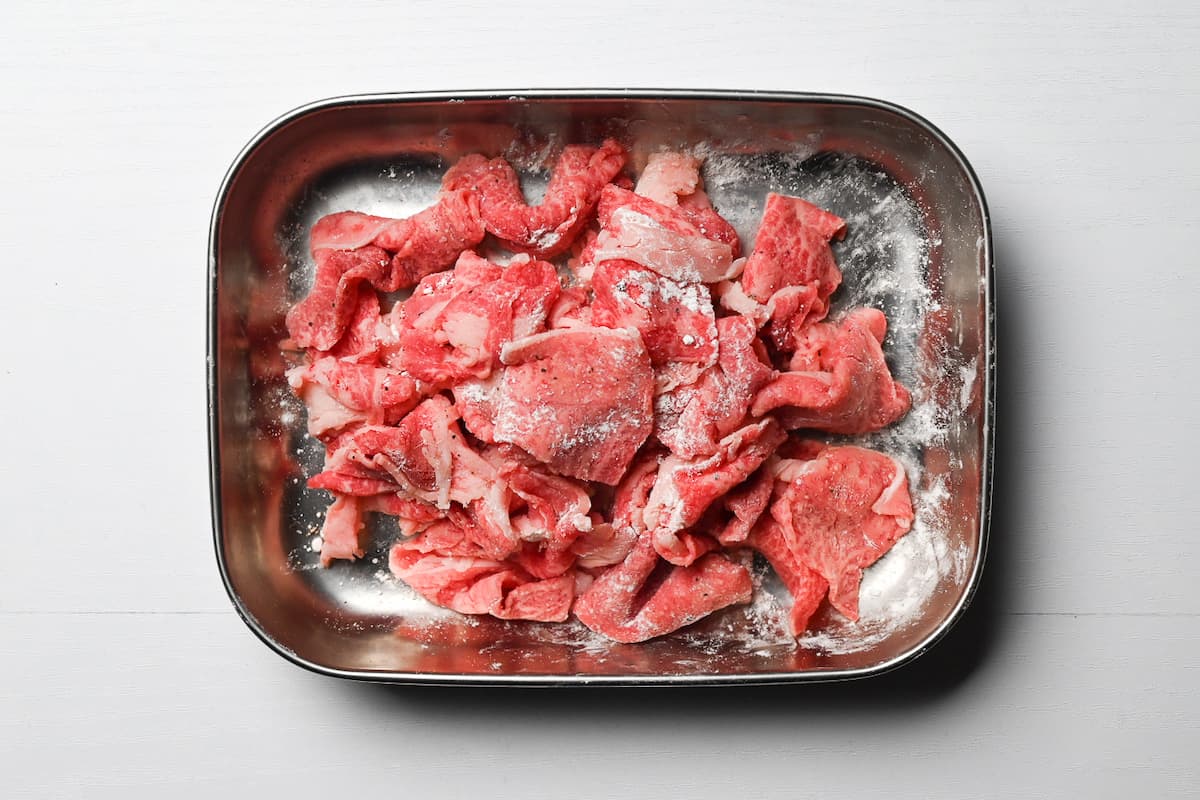 I use thinly sliced beef for this recipe. You can buy it already sliced, or store the beef in the freezer until firm (not frozen!) and cut it thinly using a sharp knife. Sprinkle the beef with salt and pepper and coat in a thin layer of flour.
The flour helps the beef pick up more flavour in the pan and also contributes to thickening the sauce.
Fry butter and garlic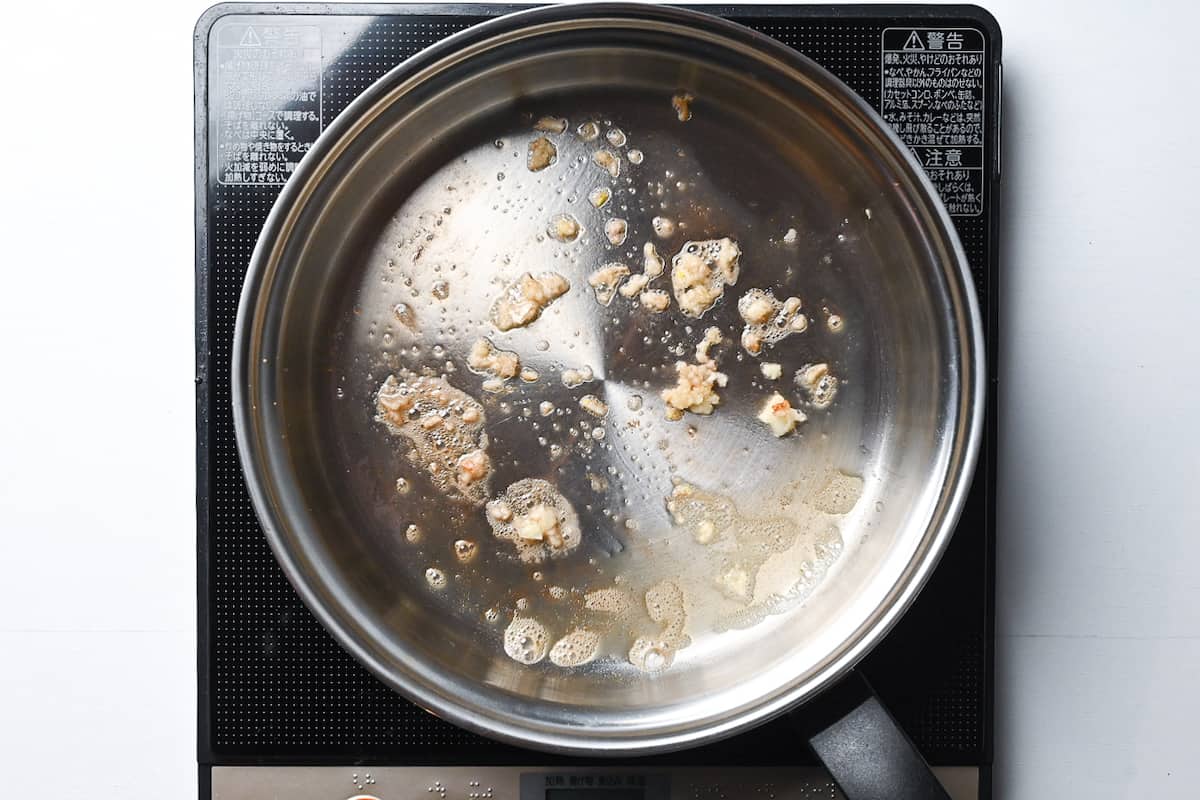 Preheat a large pan or pot to medium to medium-low and melt the butter. Crush your garlic cloves straight into the pan and fry until fragrant. Be careful not to burn the garlic as this can create a bitter taste.
Seal the beef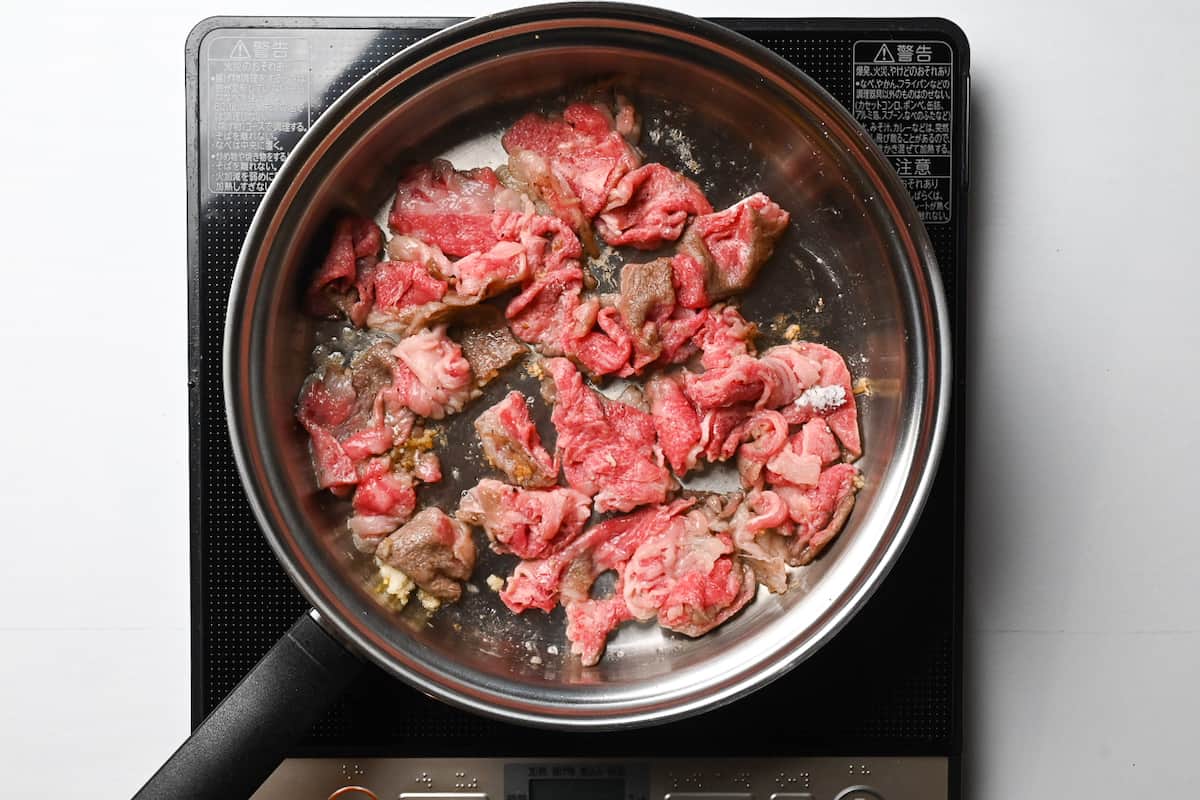 Add the beef to the pan and seal on both sides. This helps keep the juices in the beef making it tender and flavourful.
Soften the onions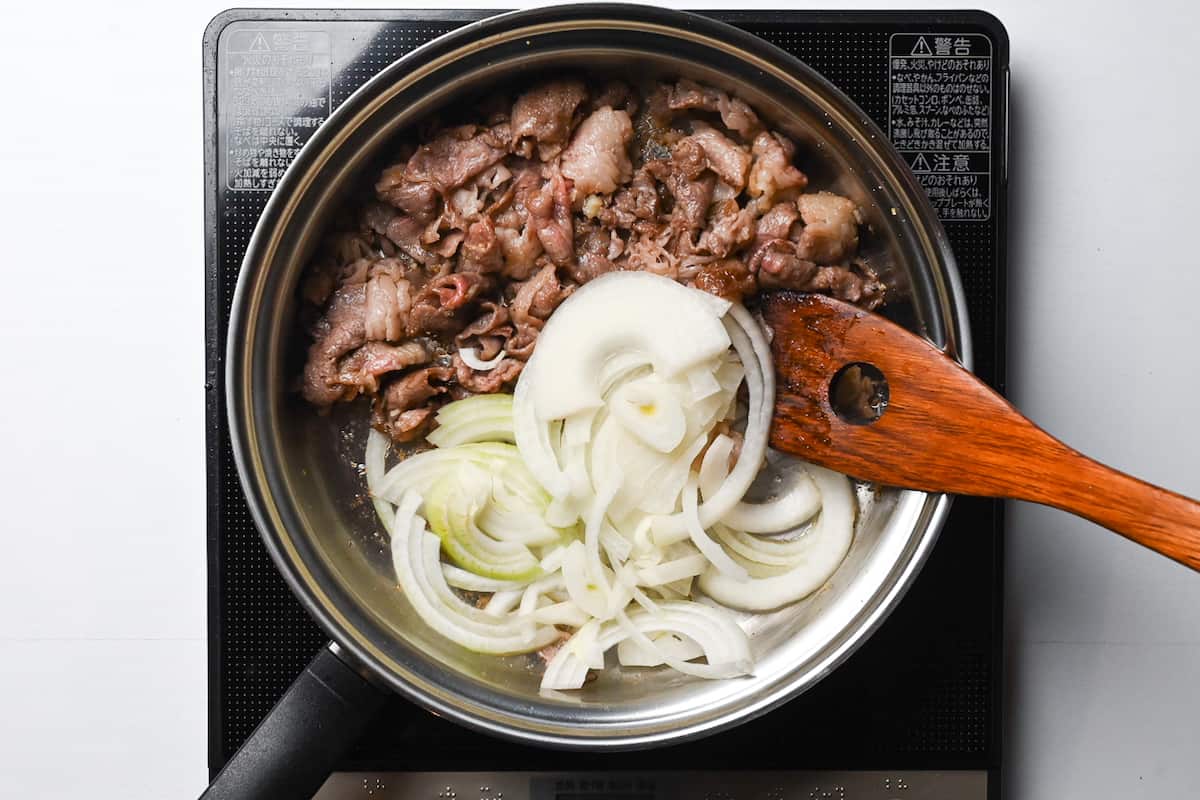 Add the thinly sliced onions to the pan and sauté until slightly softened. If they start to stick to the pan, feel free to add a little more butter or even a drizzle of olive oil.
Add the other vegetables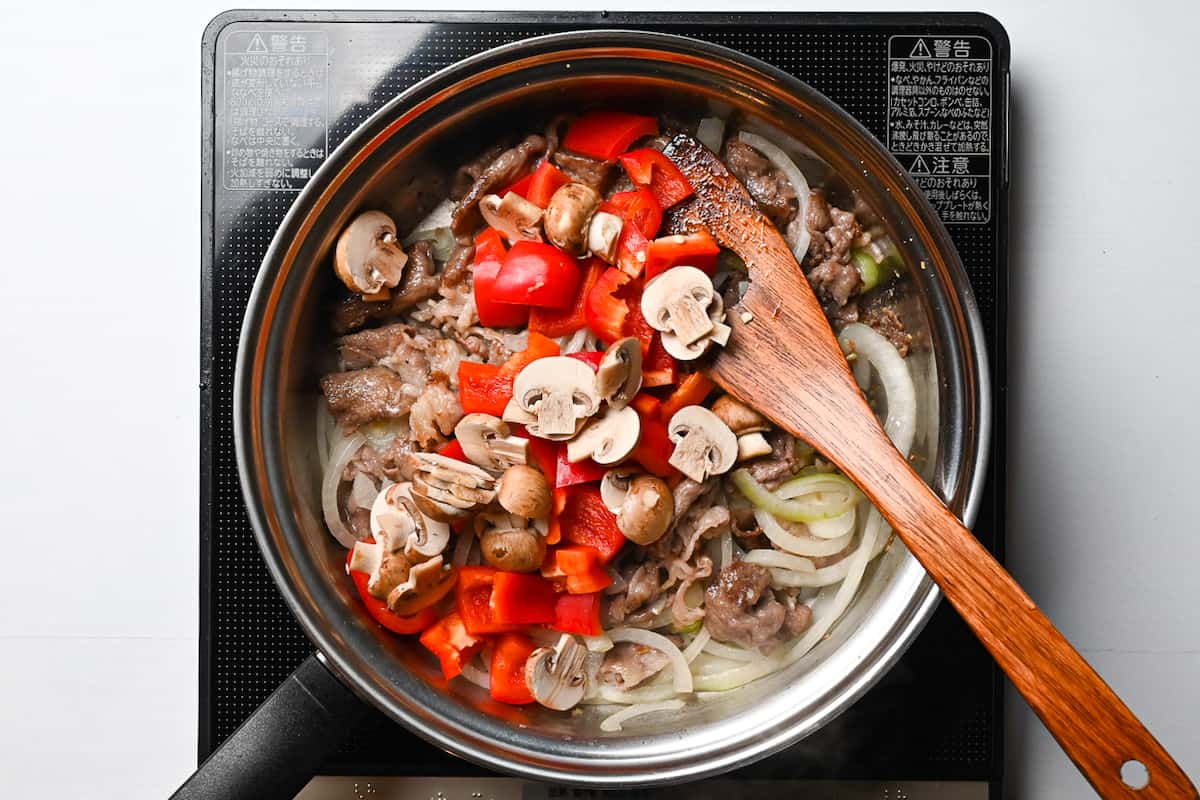 Once the onions are softened to your liking, add the bell pepper and mushrooms. I cut the bell pepper into squares and thinly slice the mushrooms. Stir fry everything together for about 1 minute and reduce the heat to low.
Make the hayashi "demi glace style" sauce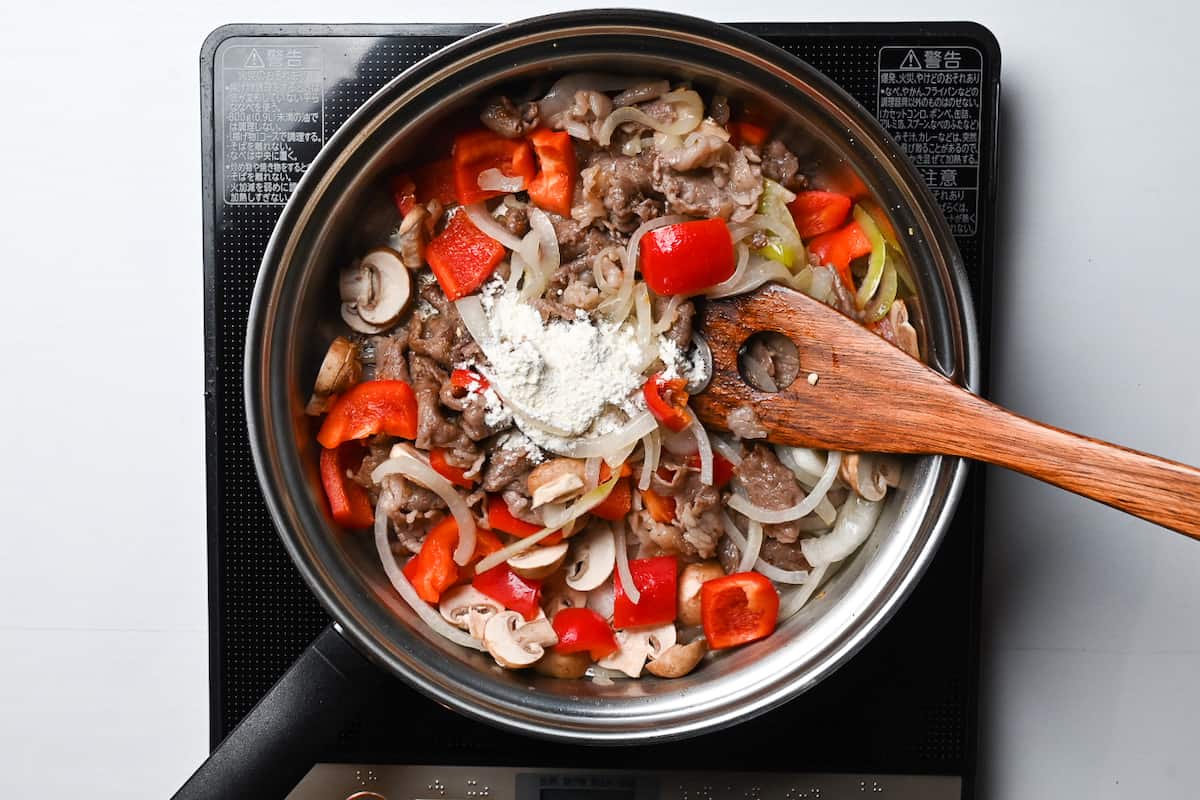 Before adding any of the sauce ingredients, add some plain flour and mix until evenly distributed over the ingredients. This will help the sauce stick to the ingredients and also contribute to thickening.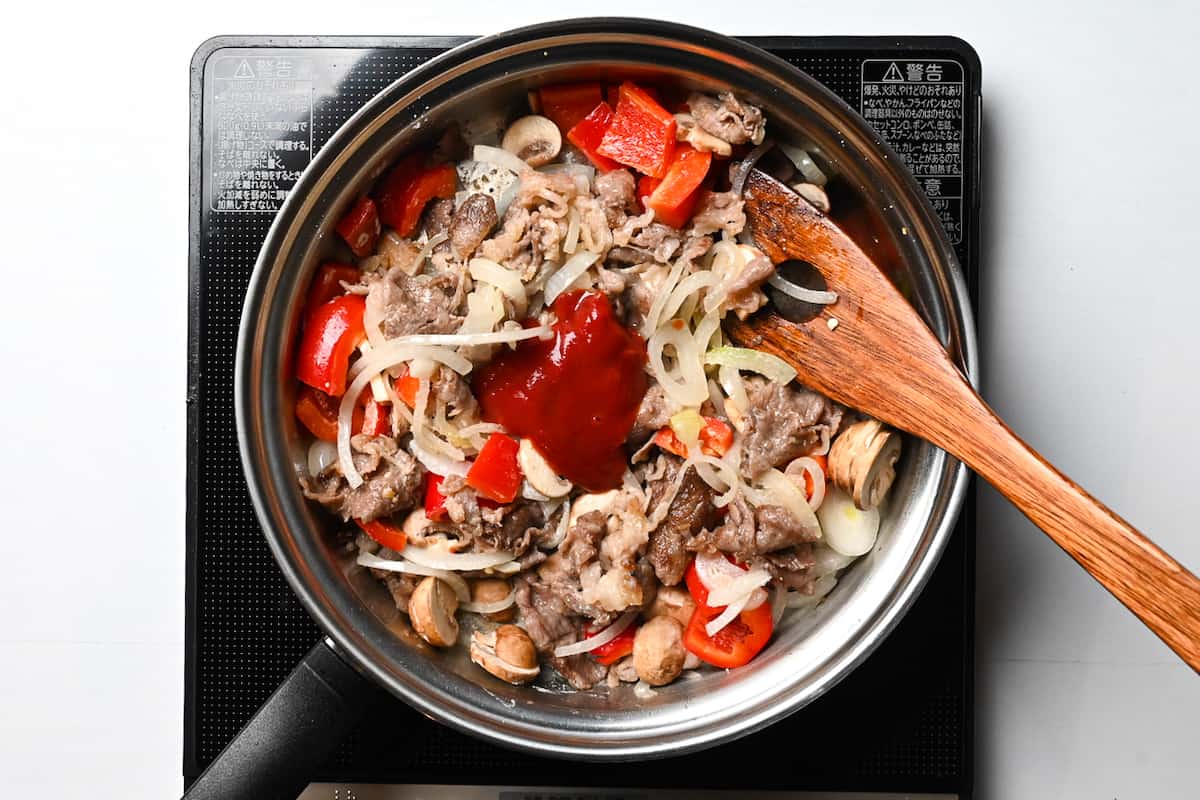 Next, add the ketchup and mix thoroughly.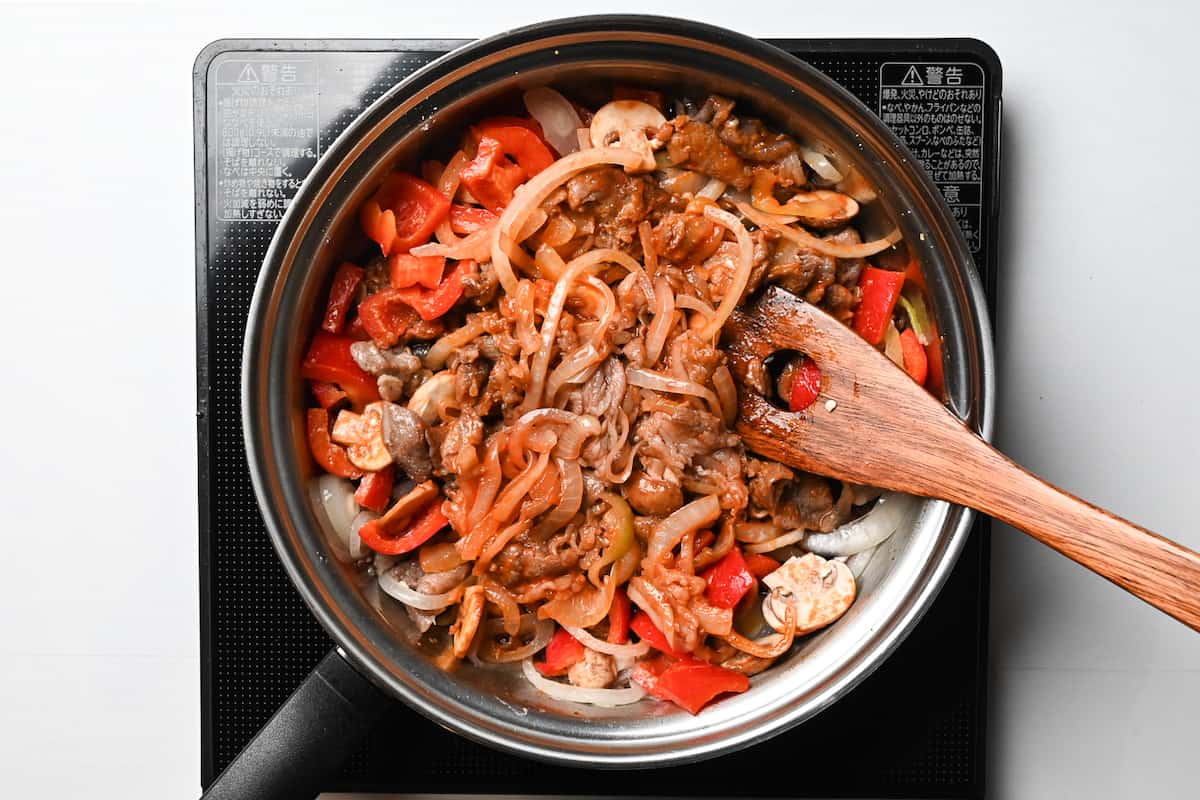 Once everything is coated in the ketchup, pour in the red wine and Worcestershire sauce.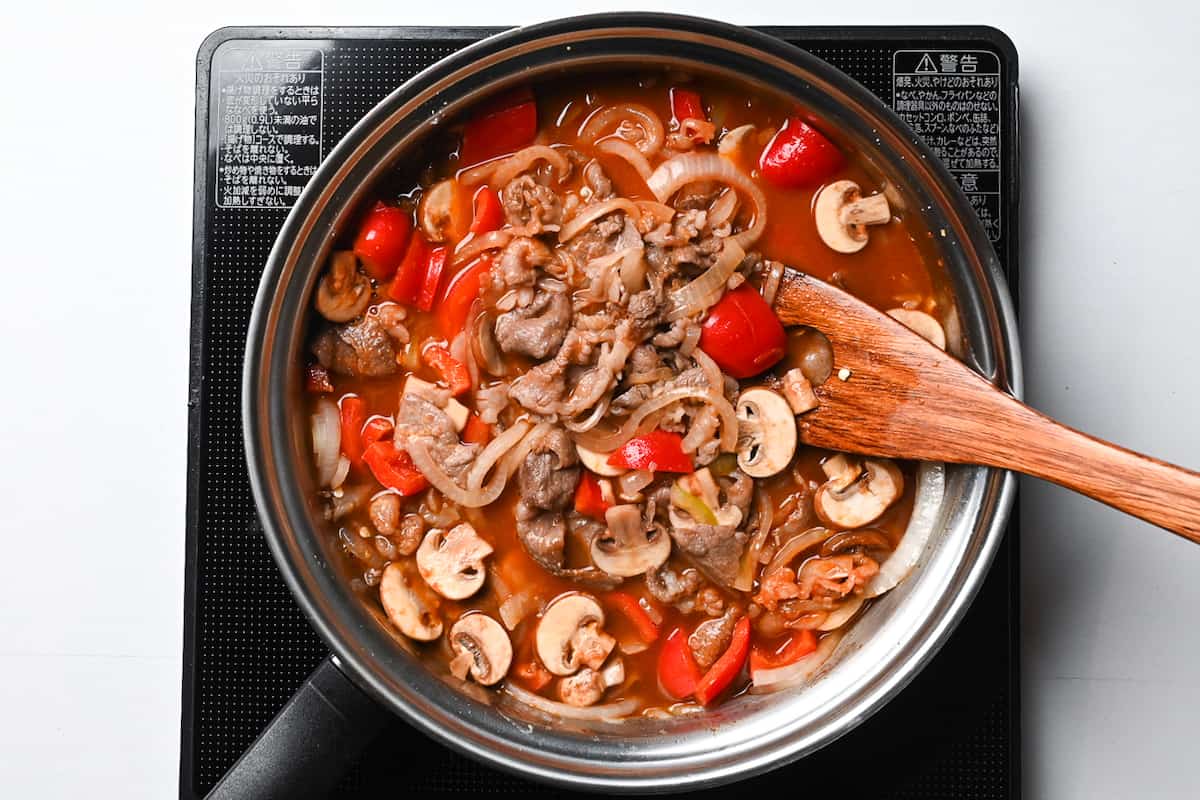 Finally, add the beef stock and turn up the heat to medium high, stir occasionally to prevent anything burning on the bottom of the pan. Once the mixture has thickened, you can turn the heat back down to simmer and keep it warm while you cook the rice.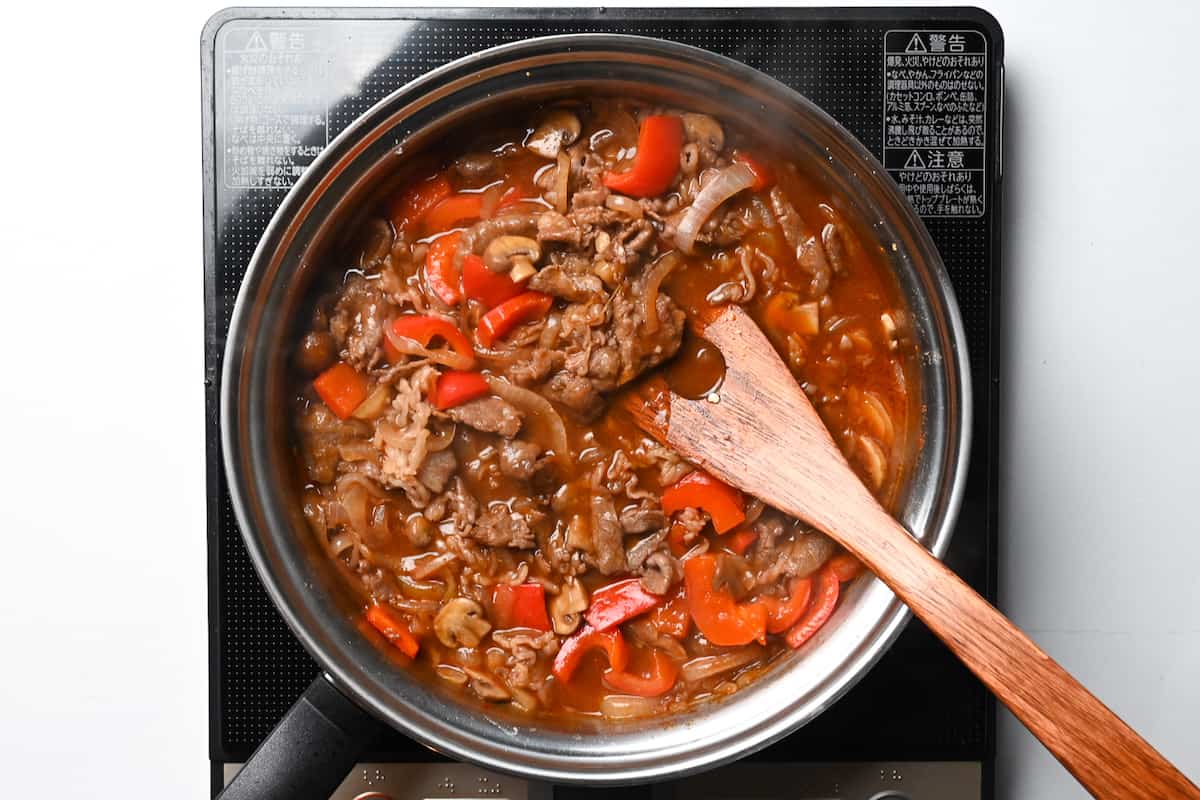 The sauce should be slightly thick and glossy like this.
Garlic butter rice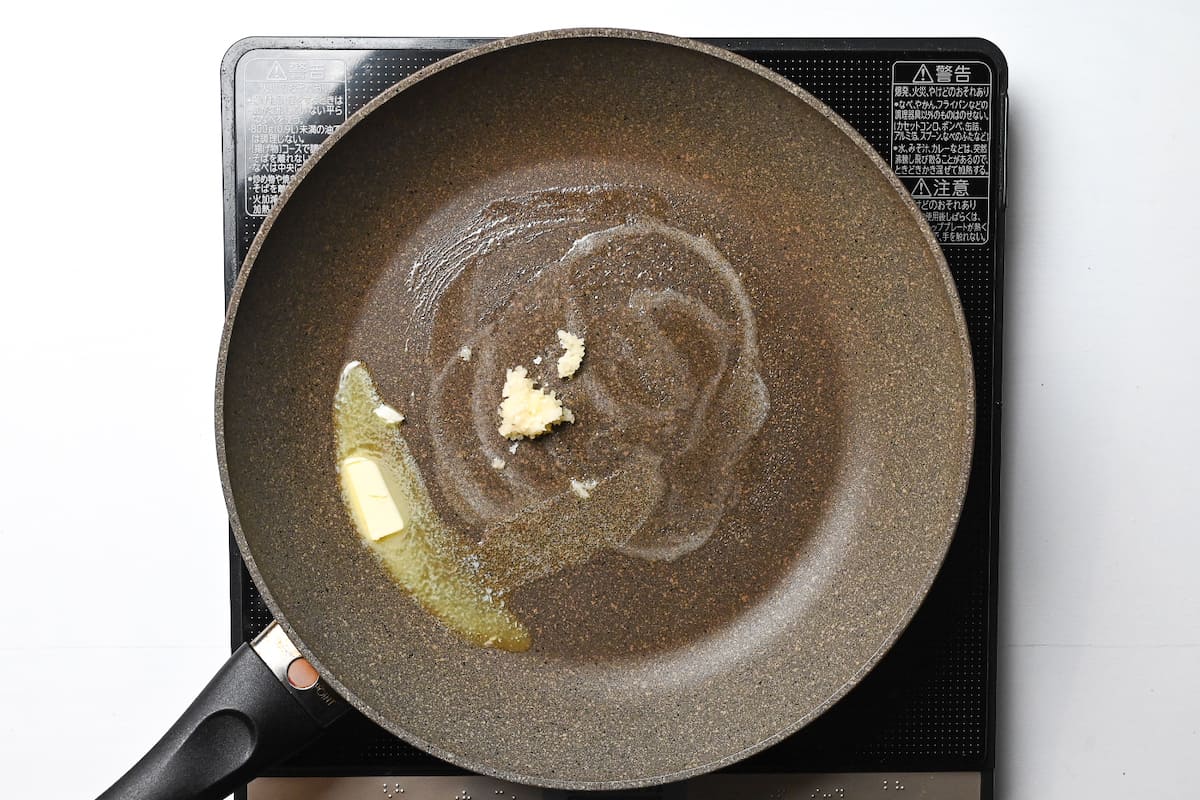 Heat a large pan or wok on medium and add butter and crushed garlic.
Once the butter has melted and the garlic smells fragrant, add the cooked rice to the pan and stir fry with a sprinkle of parsley until the rice is warmed through and the flavours are evenly distributed throughout the rice.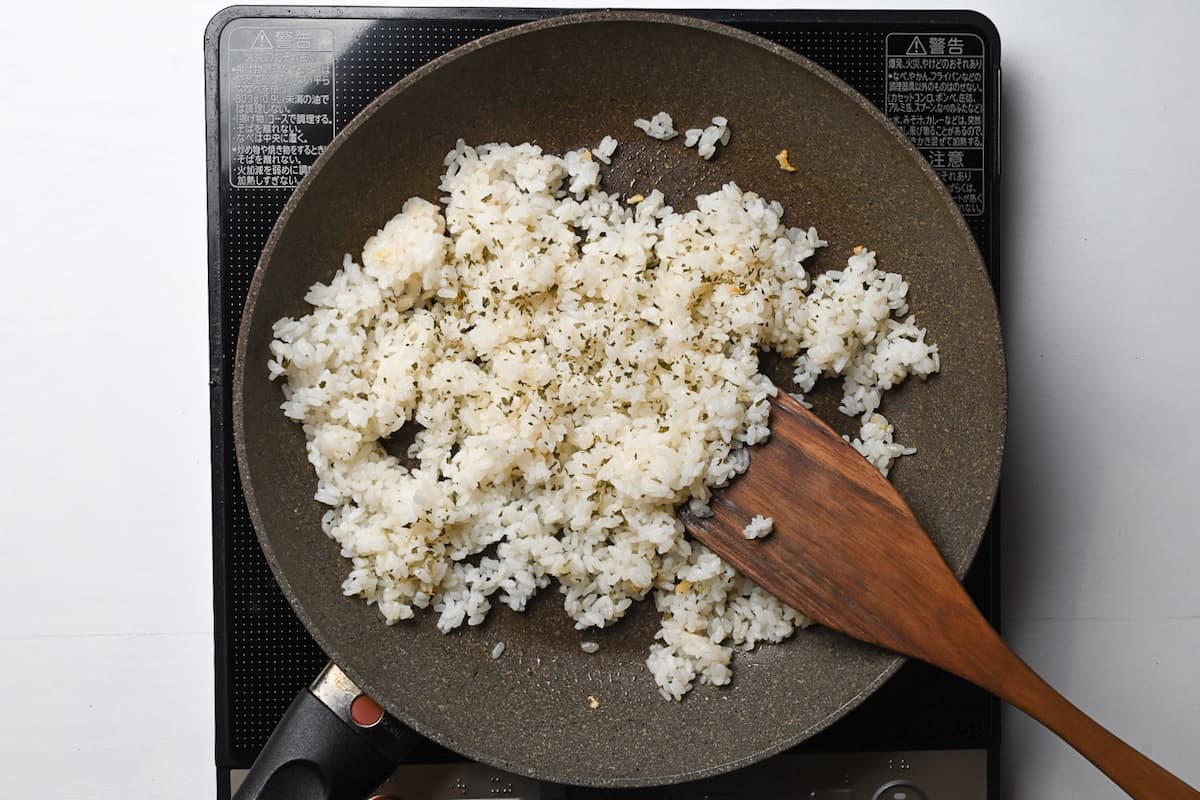 I always recommend using "day old" rice for any kind of fried rice dishes. Freshly cooked rice tends to become a bit mushy or sticks together, whereas leftover rice that has been cooked and chilled always makes perfect fried rice! Not essential, but recommended!
Dish up and enjoy!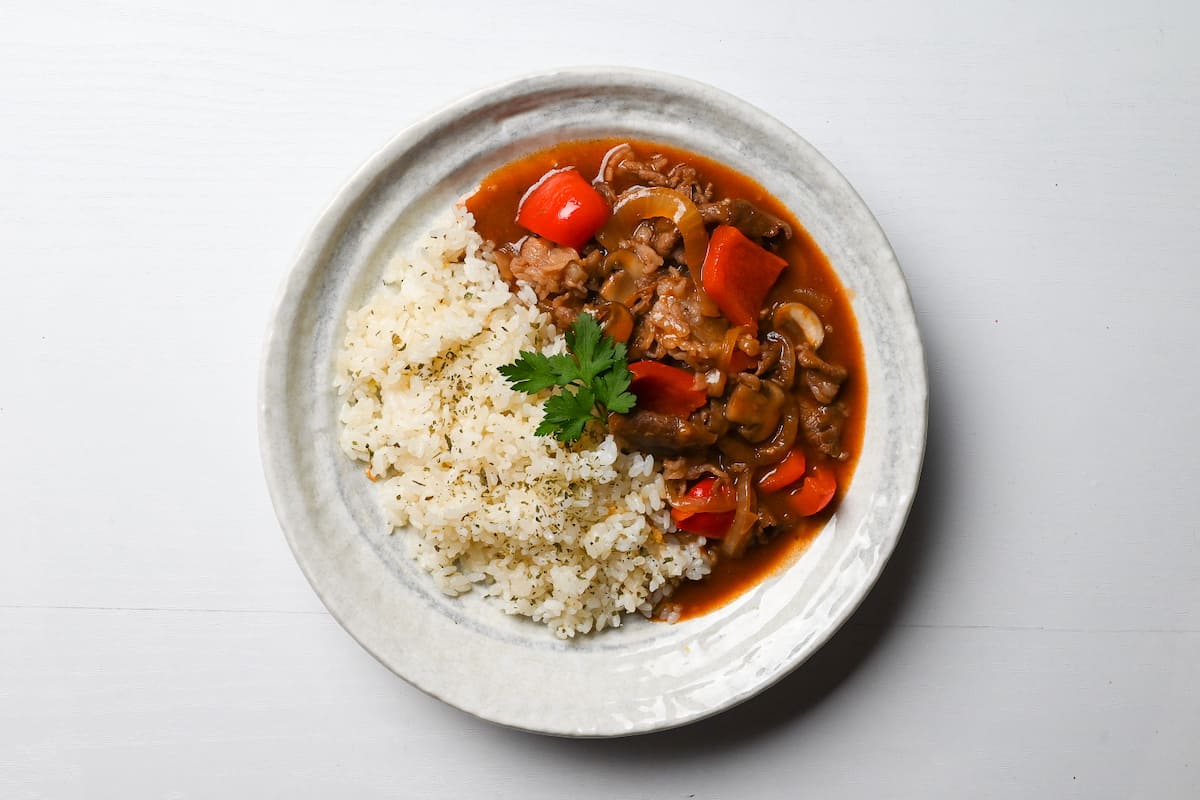 Serve your hayashi beef and garlic butter rice together on a plate, you could also decorate with a sprig of fresh parsley.
I hope you enjoy this delicious Japanese hayashi rice shortcut recipe!
Substitutions and variations of this hayashi rice recipe
In this section, I will list all the alternative ingredients, substitutions and variations against the recipe card below to make the best hayashi rice to your preference:
Chicken thigh or pork belly (instead of beef)
Mushroom of your choice (instead of baby chestnut mushroom)
Green peas
Aubergine (eggplant)
Spinach
Broccoli
Grated hard cheese for extra flavour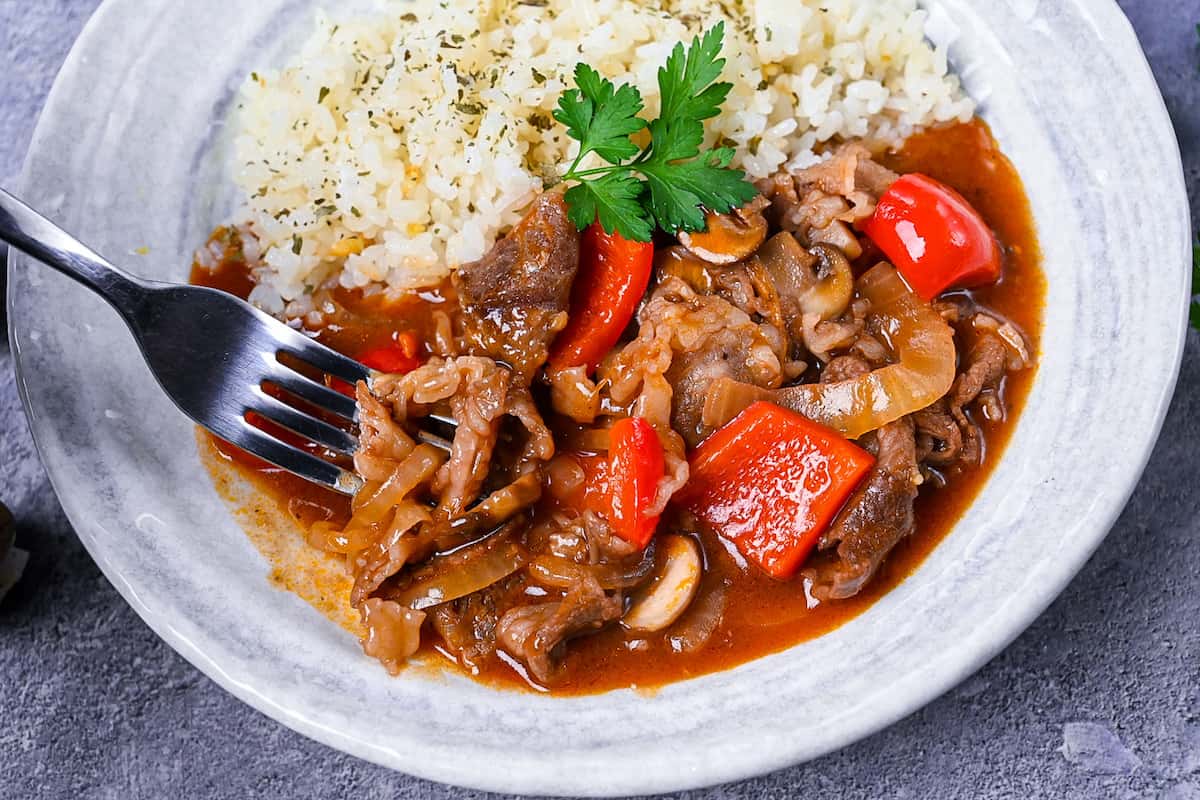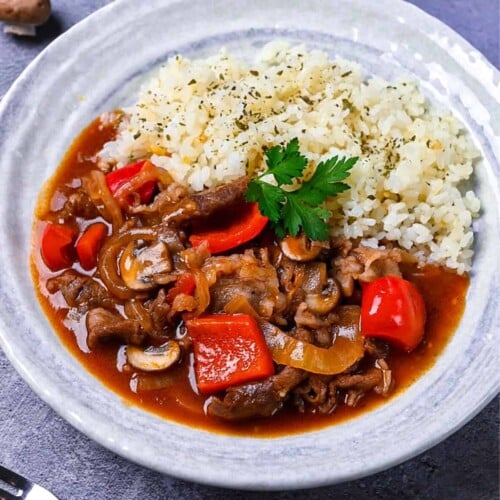 Beef Hayashi Rice (without roux packet)
How to make rich and tasty Japanese Style Beef Hayashi Rice. Tender beef simmered in a tangy sauce with bell peppers, button mushrooms and softened onions served next to fragrant garlic butter rice. 
Ingredients
"Hayashi" Beef
200

g

beef round

-

or boneless beef short rib, thinly sliced

1

pinch

salt and pepper

2

tsp

all-purpose flour

1

tbsp

unsalted butter

1

clove

garlic

-

crushed

100

g

yellow onion(s) -

sliced

150

g

bell pepper(s)

-

cubed

80

g

brown button mushroom(s)

-

sliced

1

tsp

all-purpose flour

-

to thicken
Sauce
2

tbsp

tomato ketchup

4

tbsp

red wine

2

tbsp

Worcestershire sauce

300

ml

beef stock

-

or maggi buillon
Instructions
Hayashi Beef
Sprinkle

200 g beef round

with

1 pinch salt and pepper

, and

2 tsp all-purpose flour

. Mix well until all the beef is evenly coated. 

Heat up a large pan on medium/medium low and add

1 tbsp unsalted butter

and

1 clove garlic

.

Once the butter is melted and the garlic is fragrant, add the beef to the pan and sear on both sides.

Next, add

100 g yellow onion(s)

to the pan and fry until softened.

Add

150 g bell pepper(s)

and

80 g brown button mushroom(s)

, mix and reduce the heat to a low setting.

Sprinkle

1 tsp all-purpose flour

over the ingredients in the pan and mix well.
Hayashi Sauce
Add

2 tbsp tomato ketchup

,

4 tbsp red wine

and

2 tbsp Worcestershire sauce

, mixing in between each ingredient.

Finally, add

300 ml beef stock

and turn up the heat to medium high. Stir occasionally.

Once thickened, turn the heat down to the lowest heat to keep it warm while frying the rice.
Butter Garlic Rice
Heat a separate pan on a medium heat and add

1 tsp unsalted butter

and

1 clove garlic

.

Once fragrant, add

2 portions cooked Japanese short-grain rice

and stir fry for a few minutes.

Sprinkle with

1 tsp parsley

and mix until it's distributed throughout the rice.

Dish up the rice onto one side of the serving plates and pour the hayashi beef next to it.

Garnish with fresh parsley and enjoy!
Notes
If you're cutting the beef into thin slices yourself, freeze for approx 30 minutes it firm it up and slice as thin as you can.
This recipe works well with leftover plain rice.
Nutrition
Serving:
649.2
g
Calories:
623
kcal
Carbohydrates:
82
g
Protein:
29
g
Fat:
20.9
g
Saturated Fat:
9.54
g
Polyunsaturated Fat:
1.04
g
Cholesterol:
87
mg
Sodium:
1175
mg
Fiber:
5.8
g