Noodles are a summer staple in Japan! This soba noodle salad with seasonal summer vegetables is made up of chilled buckwheat noodles that are topped with tasty miso flavoured meat sauce and mixed with aubergine, okra and tomatoes. It's quick to make, refreshing and so delicious!
Disclaimer: This post contains Amazon affiliate links. Sudachi Recipes earn a small percentage from qualifying purchases at no extra cost to you. See disclaimer for more info.
Jump to:
Soba Noodles
What are soba noodles?
Soba noodles are a type of Japanese noodle made with "buckwheat flour". They have a distinctive greyish brown colour and are similar to spaghetti in thickness. Compared to other noodles made with wheat flour, buckwheat soba noodles are considered healthier and are said to have more nutritional value.
Soba noodles have a great history of roughly 1400 years and are considered one of the most iconic Japanese dishes along with sushi or tempura.
You can buy dry soba noodles on Amazon.
Hot or Cold?
Soba can be served hot or cold.
As you can expect, people prefer cold soba dishes in summer and soba with hot soup in winter.
The most popular examples of soba dishes are:
Zaru Soba (ざるそば): Cold soba with dipping sauce (See my zaru udon recipe to learn how to make mentsuyu dipping sauce for zaru soba!)
Kake Soba (かけそば): Soba with simple hot soup
Tempura Soba: Soba noodles (hot or cold) served with tempura
This is only a small list but in reality, soba noodles are very versatile and can be used to replace spaghetti or other kinds of noodles in a whole range of dishes. The possibility of soba is limitless!
Summer favourites
What do Japanese people eat in summer?
Summer in Japan is extremely hot and humid, not an ideal condition for standing in the kitchen. That's why we opt for quick and easy dishes, whilst craving something cold and refreshing. Chilled noodle dishes are one of the most popular things to eat during summer. Here are a few of the most popular summer noodle dishes in Japan:
Cold Somen (thin wheat noodles)
Cold Soba "Zaru Soba"
These are a few of Japanese summery lunch legends!
Noodles are usually served cold with a dipping sauce. It's also common to eat cold noodles with tempura or salad.
Soba Noodle Salad with Summer Vegetables
In today's recipe, I use 3 summer vegetables:
Aubergine (Eggplant)
Tomato
Okra
But the vegetable choice doesn't have to be limited to these above, you can use any popular summer vegetables in your country! Bell peppers, cucumber and courgette (zucchini) also work great!
Fresh seasonal vegetables are the best!
Watch our video for how to make Soba Salad
Print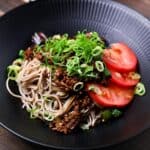 Cold Soba Noodles With Summer Vegetables (夏野菜そば)
---
Author:

Yuto Omura

Total Time:

15 minutes

Yield:

2-3 portions
Description
How to make delicious Soba Noodle Salad with Summer Vegetables! Chilled soba noodles topped with a tasty miso flavoured meat sauce topping mixed with aubergine and okra, then garnished with fresh tomato and spring onions. (Makes 2 large portions or 3 smaller portions)
---
2

Portions dry soba noodles (approx

200g

/

7oz

)
Water for boiling

3

Okra

1

Medium aubergine (eggplant) 

1

Medium tomato

2

Drizzles sesame oil (

one

for cooking,

one

for garnish)

100g

/ 3 ½ oz Minced meat (see note)

1 ½

Soy sauce

2 tbsp

Mirin

1 tbsp

Miso paste (I used awase/yellow miso)

2 tbsp

Chopped spring onion to garnish (optional) 
---
Instructions
First, prepare the vegetables. Slice a medium tomato, cut a medium aubergine into medium sized chunks and cut the okra into 2cm slices.

Heat a frying pan on medium and add 1 tsp of sesame oil.

When the oil is hot, add 100g of minced meat and fry.

Once the meat is cooked through, add the cut aubergine and continue to stir fry.

When the aubergine becomes slightly softened, add 1 ½ tbsp of soy sauce, 2 tbsp mirin and 2 tbsp of miso paste, mix thoroughly.

Now you can add the okra and mix all the ingredients together in the pan.

Cook until the liquid is reduced and then turn off the heat. Set aside until serving.

Boil 200g of dried soba noodles as instructed on the packaging. 

Once the noodles are cooked, pour the noodles into a colander to drain the hot water and run them under cold running water. (Add ice to make them extra cold.)
Transfer the soba noodles to 2 large plates (or 3 smaller plates).

Evenly distribute the meat and vegetables on the top of the noodles and lay the sliced tomatoes on the side.

Garnish with chopped spring onions and drizzle with sesame oil.

Serve up and mix well before eating.
Enjoy!

Notes
Any ground meat goes well with this recipe, we like chicken the best! You can use meat substitute like soy mince too.
You can use other summery vegetables such as bell peppers, courgette (zucchini) or cucumber. Be creative!
Prep Time:

5 mins

Cook Time:

10 mins

Category:

Noodles

Method:

Fry

Cuisine:

Japanese
Keywords: Japanese soba noodles,Soba noodle recipe,Summer soba recipe,Cold soba recipe,Soba noodles with summer vegetables,Soba noodles with miso,How to make cold Japanese soba noodles,Summer vegetables Japanese recipe, summer soba recipe, cold soba noodles, chilled soba noodles, summer soba, soba salad, soba noodle salad, soba vegetable salad,
FAQ
What are soba noodles made of?
Soba noodles are made from mainly buckwheat flour along with wheat flour and water.
Are soba noodles gluten free?
If the soba noodles are 100% buckwheat flour then they're gluten free, check the packaging carefully to be sure. Soba noodles are often made with a mixture of buckwheat flour and wheat flour.
What is the difference between soba and udon noodles?
Soba is grey-ish brown in colour and thinner than udon, whereas udon is white and tends to be very thick.
Can vegans eat soba noodles?
The noodles themselves are vegan. In this recipe you can replace the ground meat with soy meat and vegan miso paste to make it vegan.