This soba noodle salad is perfect for summer. Made with seasonal vegetables and chilled buckwheat noodles topped with a tasty miso-flavored meat sauce, it is easy to make, refreshing, and delicious!
Disclaimer: This post contains Amazon affiliate links. Sudachi Recipes earn a small percentage from qualifying purchases at no extra cost to you. See disclaimer for more info.
Jump to:
What is Soba Noodle Salad?
Soba salad is a type of noodle salad made with Japanese buckwheat noodles. The noodles are known for their distinctive greyish-brown color and firm texture.
While they can be enjoyed both hot or cold, soba noodles are a summer staple in Japan and are often enjoyed chilled on a bamboo tray and served with a simple dipping sauce as zaru soba.
Soba noodles are less starchy than other noodles, which means they don't tend to stick together even after cooling. This makes them a perfect addition to salads!
How I Developed This Recipe
In my exploration to develop the perfect soba salad recipe, I was met with a delightful problem: the inherent versatility of the dish. The possibilities were boundless, with no set guidelines or traditional rules tethering the concept of a soba salad.
With their unique texture and flavor, Soba noodles seamlessly pair with various vegetables and dressings. Yet, boldly, I chose to deviate from the conventional dressing route, introducing a robust miso meat sauce to the mix.
While this creation may not align with a typical salad image, the fusion of flavors is delicious. Have a try in the summer!
Ingredients and Substitution Ideas
To make my soba noodle salad with summer vegetables, you will need the following ingredients:
Soba noodles - either dry or frozen work well for this recipe. Simply boil, drain, and cool with ice before assembling the salad.
Tomato - adds a subtle sweetness and a refreshing taste to the dish. Use large tomatoes or mini tomatoes, depending on your preference.
Eggplant - This classic summer vegetable adds great texture and absorbs the flavor from the miso sauce. I use Japanese eggplants, but other mild varieties work too.
Okra - This unique vegetable has a sticky texture and mildly grassy flavor with a hint of bitterness. Another refreshing addition to this dish!
Ground beef - adds a rich flavor to the miso meat sauce. This could also be substituted with ground pork, chicken, or even a plant-based substitute.
Soy sauce - If you are looking for something reasonably priced, you can't go wrong with Kikkoman soy sauce. Please see our complete soy sauce guide to learn more about how to choose soy sauce in Japanese cuisine.
Mirin - When purchasing mirin, it is recommended to look for "hon mirin" (本みりん) for the best flavor. I recommend Hinode Hon Mirin as a high-quality and affordable option. See my 20 Most Useful Condiments and Seasonings for Japanese Cooking post for more recommendations.
Miso paste - awase (yellow) miso paste works best for this recipe. Make sure to use vegan miso paste if adapting the recipe for a plant-based diet.
Sesame oil - used both for cooking and garnishing to add a deep, nutty flavor. I often use Kadoya sesame oil.
Green onion - also known as naganegi, long onion, scallion etc. Finely chopping them and sprinkling them at the ends both a refreshing touch and eye-catching color.
I have listed my recommended Japanese condiments, tools, and ingredients in the Sudachi Recipes Amazon shop. If you want to keep making various Japanese foods at home, please check it out!
Feel free to customize the vegetables to suit your tastes! Other great vegetable additions or substitutions include:
Cucumber
Zucchini
Bell peppers
Edamame
Corn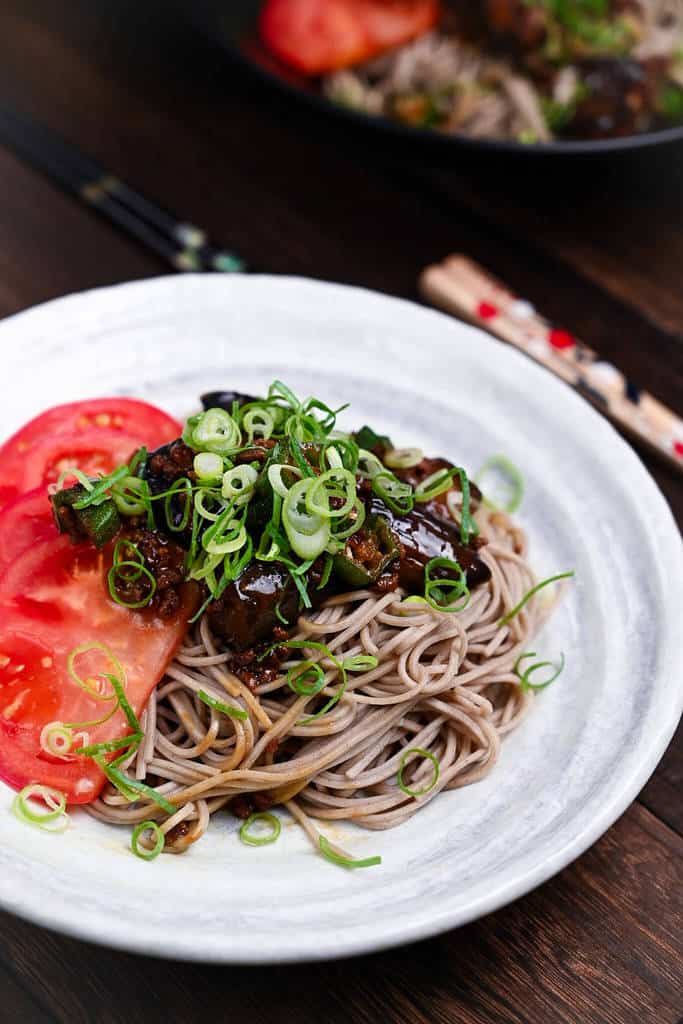 Step-by-Step Process
Boil your soba noodles according to the instructions on the packaging. Once cooked, drain the water and place them on a bamboo zaru (or in a sieve) and mix in a few ice cubes to cool them quickly.
Thinly slice the tomato and roughly cut the eggplant and okra.
Heat a frying pan on medium. Once it's hot, add sesame oil and ground beef with a pinch of salt and pepper. Fry until sealed.
Once the meat is cooked, add the eggplant and stir fry until slightly softened.
Add soy sauce, mirin, and miso paste and mix until evenly distributed.
Add the okra and stir-fry everything together for a few minutes or until slightly thickened.
Transfer the noodles to serving plates and divide the miso meat sauce between each portion by placing it on top of the noodles. Lay the tomato slices on the side of the plate.
Sprinkle with chopped green onions and a drizzle of sesame oil.
Enjoy!
Storage
Once assembled, this soba salad should be eaten as soon as possible.
Store the meat sauce separately and mix before eating if prepared in advance. The meat sauce can be stored in the fridge in a sealed container for 2-3 days.
Soba noodles can also be stored after boiling. However, they will start to dry out and stick together. If storing, divide them into individual portions and wrap them with plastic wrap, then store them in an airtight container in the fridge. Boiled soba noodles should be chilled and eaten within 2-3 days.
Room temperature - Not recommended.
Refrigerated - 2-3 days.
Frozen - Not recommended.
Other Japanese Summer Noodle Recipes
Check out my other chilled noodle recipes!
I hope you enjoy this delicious Soba Noodle Salad recipe! If you try it out, I'd really appreciate it if you could spare a moment to let me know what you thought by giving a review and star rating in the comments below. It's also helpful to share any adjustments you made to the recipe with other readers. Thank you!
Soba Noodle Salad with Summer Vegetables
How to make delicious Soba Noodle Salad with Summer Vegetables! Chilled soba noodles topped with a tasty miso-flavoured meat sauce topping mixed with aubergine and okra, then garnished with fresh tomato and spring onions.
Ingredients
200

g

dry soba noodles

-

100g per portion

ice

30

g

okra

100

g

tomato(s)

100

g

eggplant(s)

1

tsp

sesame oil

-

for cooking

100

g

ground beef

-

or pork

1 ½

tbsp

soy sauce

2

tbsp

mirin

1

tbsp

miso paste

- I used awase/yellow miso

sesame oil

-

garnish

finely chopped green onion(s) -

optional garnish
Instructions
First, boil

200 g dry soba noodles

as instructed on the packaging. Once cooked, drain and wash the noodles under cold water. Place on a tray with

ice

to cool.

Wash and dry your vegetables. Thinly slice

100 g tomato(s)

, roughly cut

100 g eggplant(s)

and cut

30 g okra

into thick pieces.

Heat a frying pan on medium. Once hot, add

1 tsp sesame oil

and

100 g ground beef

.

Once the meat is cooked through, add the eggplant and stir fry until slightly softened.

Add

1 ½ tbsp soy sauce

,

2 tbsp mirin

and

1 tbsp miso paste

, and mix thoroughly.

Add the okra and continue to stir fry until the liquid has reduced and thickened. Once thickened, remove from the heat.

Divide the soba noodles onto serving plates and top with the miso meat sauce. Place the sliced tomato on the side and top with

finely chopped green onion(s)

.

Drizzle with

sesame oil

and enjoy!
Notes
Make it vegetarian-friendly by using vegan miso paste and switching the meat out for tofu or a plant-based alternative.
Feel free to customize the dish with other summer vegetables such as bell peppers, zucchini or cucumber, etc!
FAQ
What are soba noodles made of?
Soba noodles are made from mainly buckwheat flour, wheat flour, and water.
Are soba noodles gluten-free?
Soba noodles are often made with buckwheat flour and wheat flour, meaning many are not gluten-free. However, if the soba noodles are 100% buckwheat flour, they're gluten-free. Check the packaging carefully to be sure.
What is the difference between soba and udon noodles?
Soba are greyish brown, the thickness of spaghetti, and made with buckwheat flour, contributing to their nutty and earthy taste. Udon, on the other hand, are thick, chewy and made with wheat flour so they have a less distinct flavor.
Can vegans eat soba noodles?
The noodles themselves are vegan. In this recipe you can replace the ground meat with soy meat and use vegan miso paste to make it completely plant-based.