Enjoy this unique pasta dish with a Japanese twist made with mushrooms, spinach, and bacon flavored with butter and soy sauce! Quick, simple and delicious!
Disclaimer: This post contains Amazon affiliate links. Sudachi Recipes earn a small percentage from qualifying purchases at no extra cost to you. See disclaimer for more info.
What is Wafu Butter Shoyu Pasta?
Wafu Pasta is a generic term for a fusion dish that combines spaghetti with a twist of Japanese flavors and seasonings.
Japanese-style pasta uses unique ingredients that are traditionally enjoyed with rice. Earthy Japanese mushrooms, iconic seafood treasures like sea urchin or cod roe, and flavor enhancers like nori, shiso leaves, soy sauce, dashi, and bonito flakes are all used to create these wafu pasta dishes.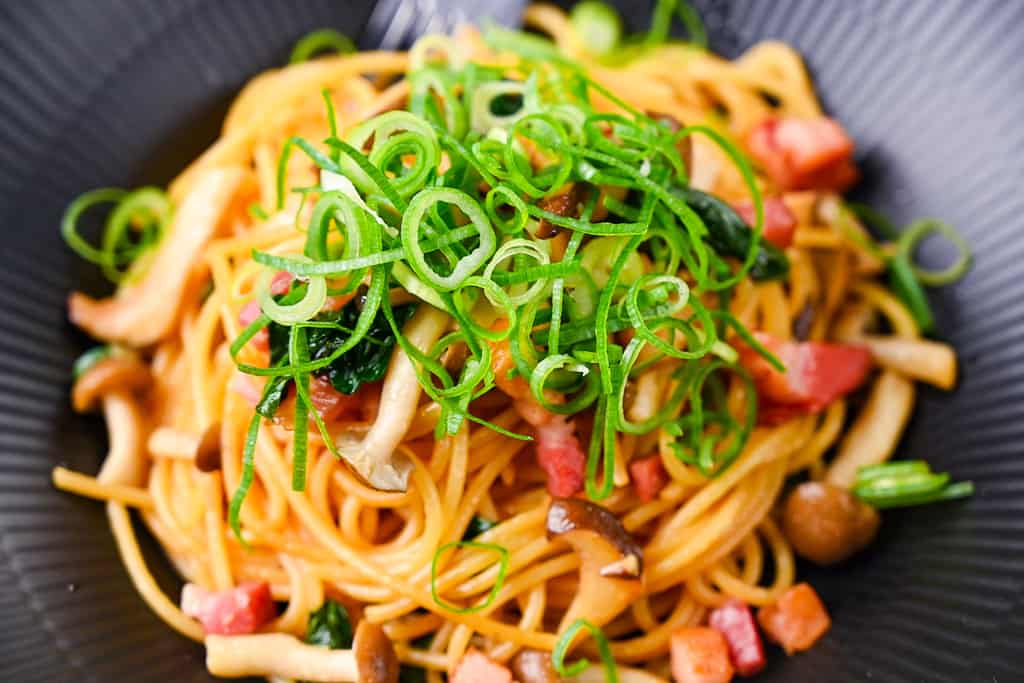 Meanwhile, Butter Shoyu Pasta is just an example of wafu pasta using butter and soy sauce (also known as golden combo in Japan). The result is a light, refreshing, and balanced dish with a hint of richness from the butter and umami from the soy sauce.
How I Developed This Recipe
When creating my butter shoyu pasta recipe, my main goal was effectively blending Japanese flavors with spaghetti.
To achieve this, I carefully selected the right Japanese essence and balanced it with other ingredients to ensure the soy sauce didn't overpower the dish.
My recipe combines butter and soy sauce, complemented by Japanese mushrooms, crispy bacon, and peppery spinach. The result is a delicious dish that is sure to please.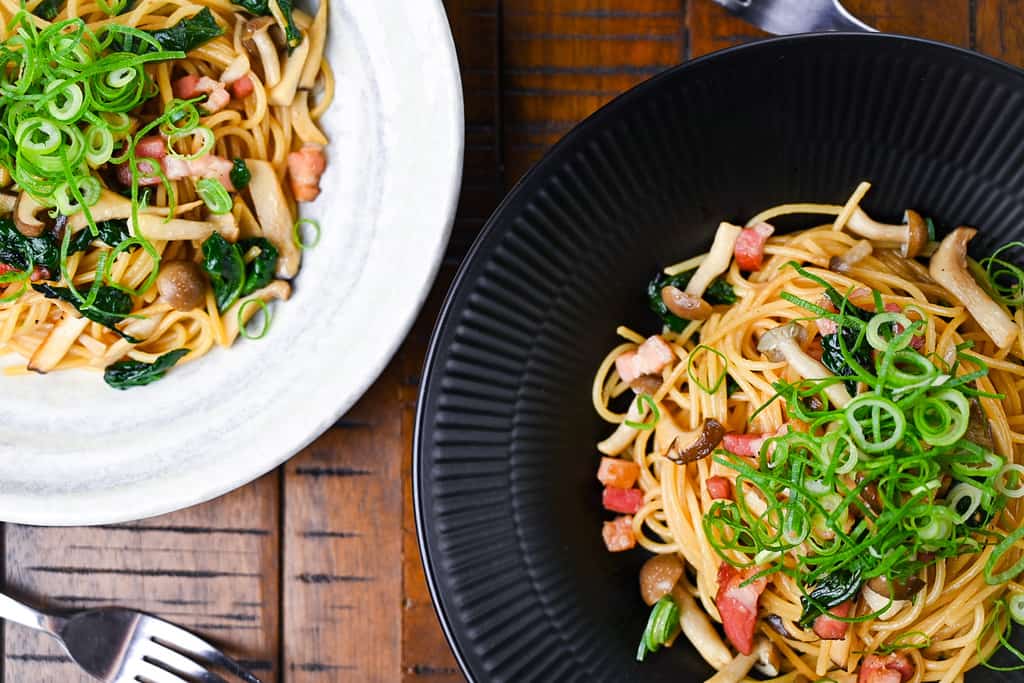 Ingredients and Substitution Ideas
This recipe only requires a handful of easily accessible ingredients:
Spaghetti: Use regular dried spaghetti.
Spinach: While I used oriental spinach, baby spinach or similar varieties are equally effective due to their availability.
Mushrooms: My choice includes Japanese mushrooms like shimeji and eryngii (king oyster). However, feel free to incorporate any mushroom variety you favor.
Bacon: Opt for unsmoked bacon to ensure a balanced flavor profile that doesn't dominate the dish.
Salt: Essential for both cooking the spaghetti and seasoning the spinach.
Cooking oil: Olive oil is my go-to for this recipe, complementing the dish's flavors. You can also use sesame oil for a hint of nutty flavor.
Unsalted butter: Using unsalted butter allows better control over the dish's saltiness. If you decide on salted butter, tweak the salt and soy sauce quantities in the recipe to balance the flavors.
Soy sauce: Kikkoman soy sauce is a solid choice for a budget-friendly option. For a comprehensive understanding of selecting the right soy sauce in Japanese cuisine, refer to our complete guide.
Green onion: A sprinkle of finely chopped green onion towards the end infuses the dish with a refreshing taste and a touch of Japanese flair.
Curious about the exact brands and products that bring my recipes to life? Discover the brands and ingredients behind my recipes at the Sudachi Amazon Storefront. Explore my handpicked pantry essentials and find your next kitchen favorites!
Step-by-Step Process
This recipe can be whipped up in just 15 minutes! Here are my step-by-step instructions with pictures. If you want to watch the video, check out the recipe card below!
Bring a pot of water to a rolling boil. While you wait, roughly cut the spinach and the bacon into squares or rectangles. Depending on what mushrooms you use, you can leave them whole or slice them.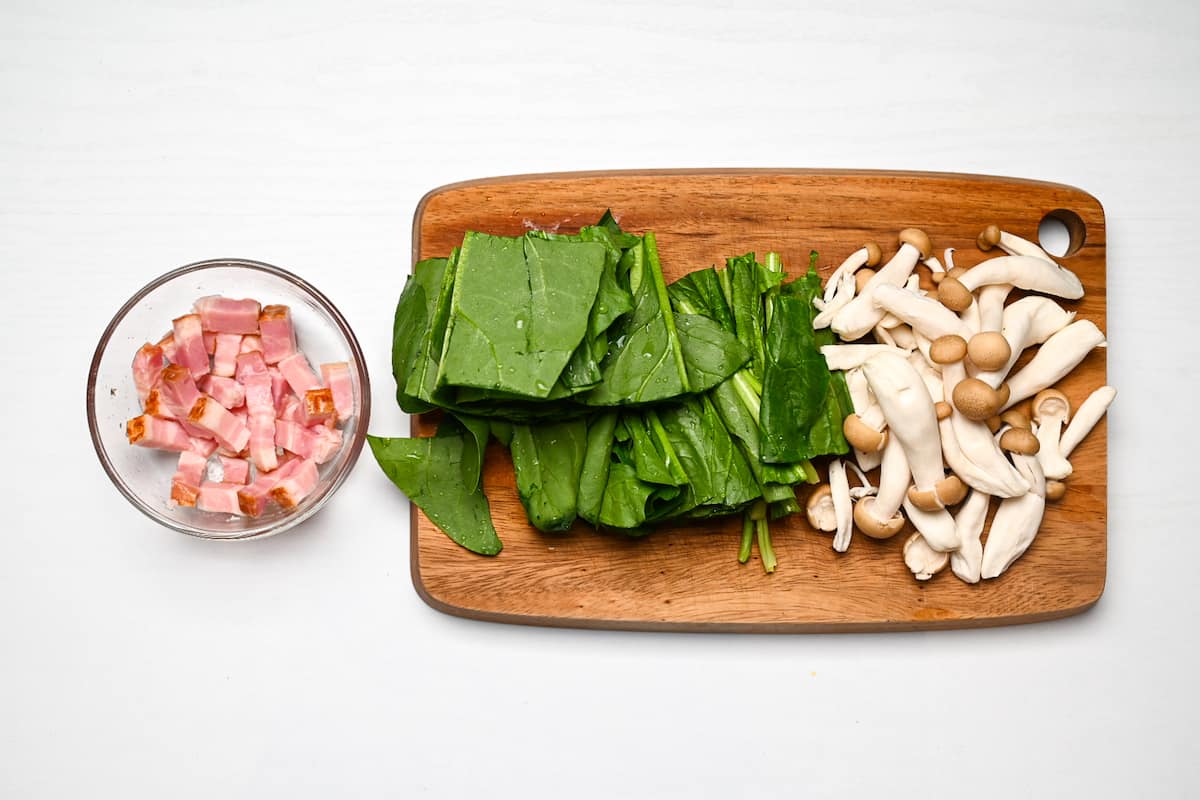 Once the water is boiling, add the salt and mix well. Add the pasta and boil for about 1 minute less than the packaging states so it's al dente (firm to the bite).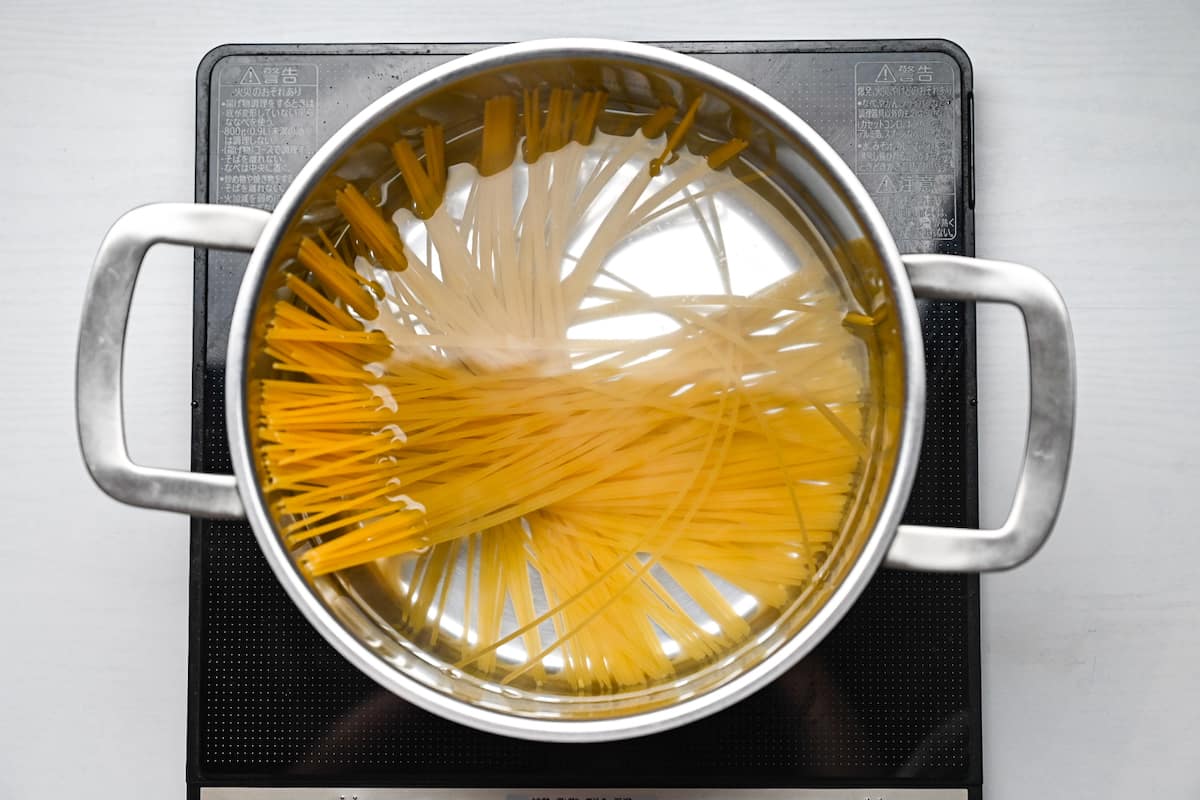 Water, salt and pasta ratio for the perfect pasta
Be sure to use plenty of water so the pasta has room to dance, and don't forget to salt the water! I follow this rule: 1 liter of water and 1 tsp salt per 100g pasta. It's easy to remember and works every time!
Fry the meat and vegetables
Heat a frying pan on medium and add cooking oil and butter once hot. It's time to add the bacon and mushrooms when the butter has melted. Cook until the bacon is slightly crispy and the mushrooms are softened.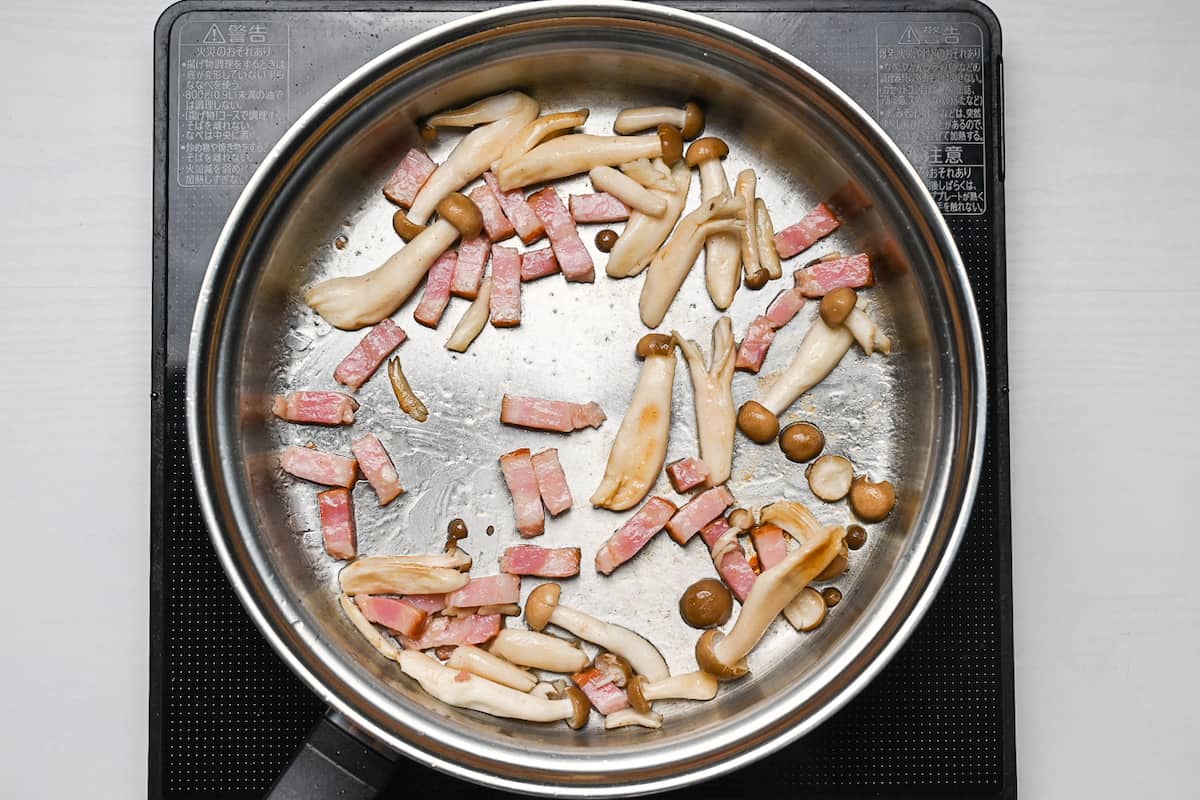 Once done, add the spinach with a pinch of salt and pepper.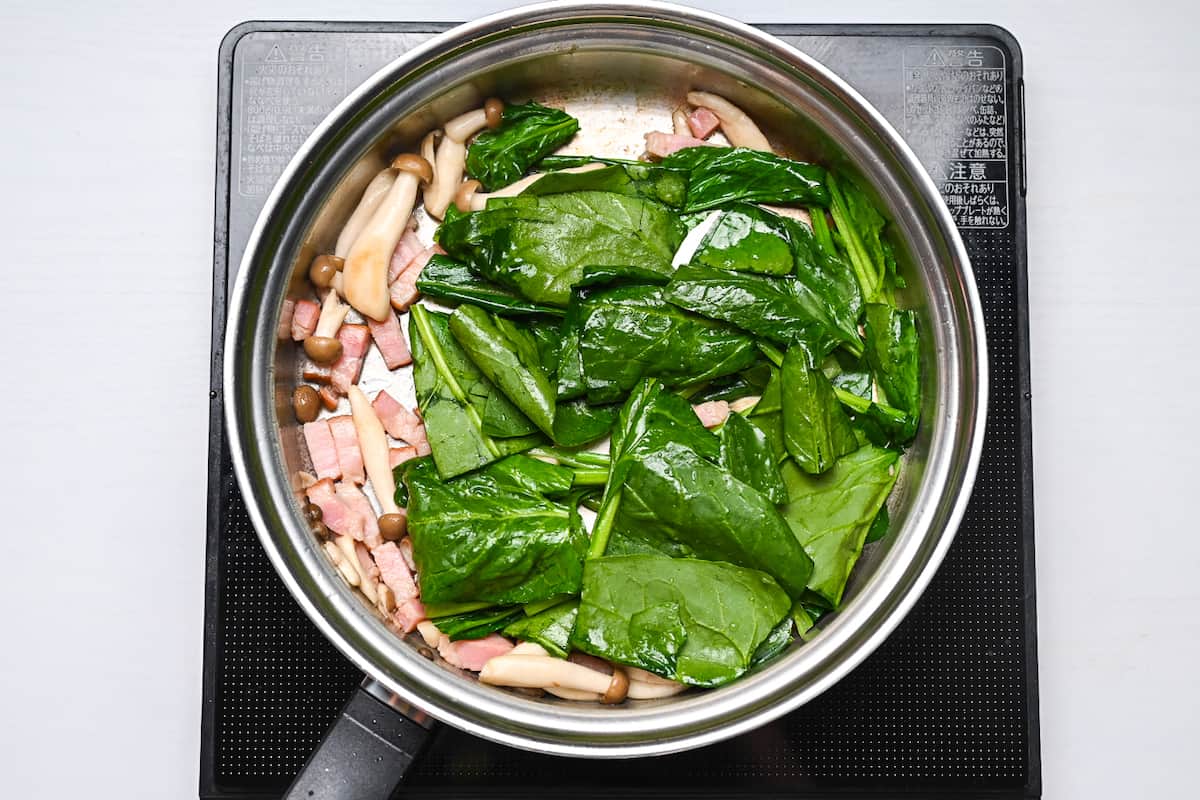 Drain the water and add the pasta to the frying pan once the pasta has finished cooking. Pour in the soy sauce and mix well.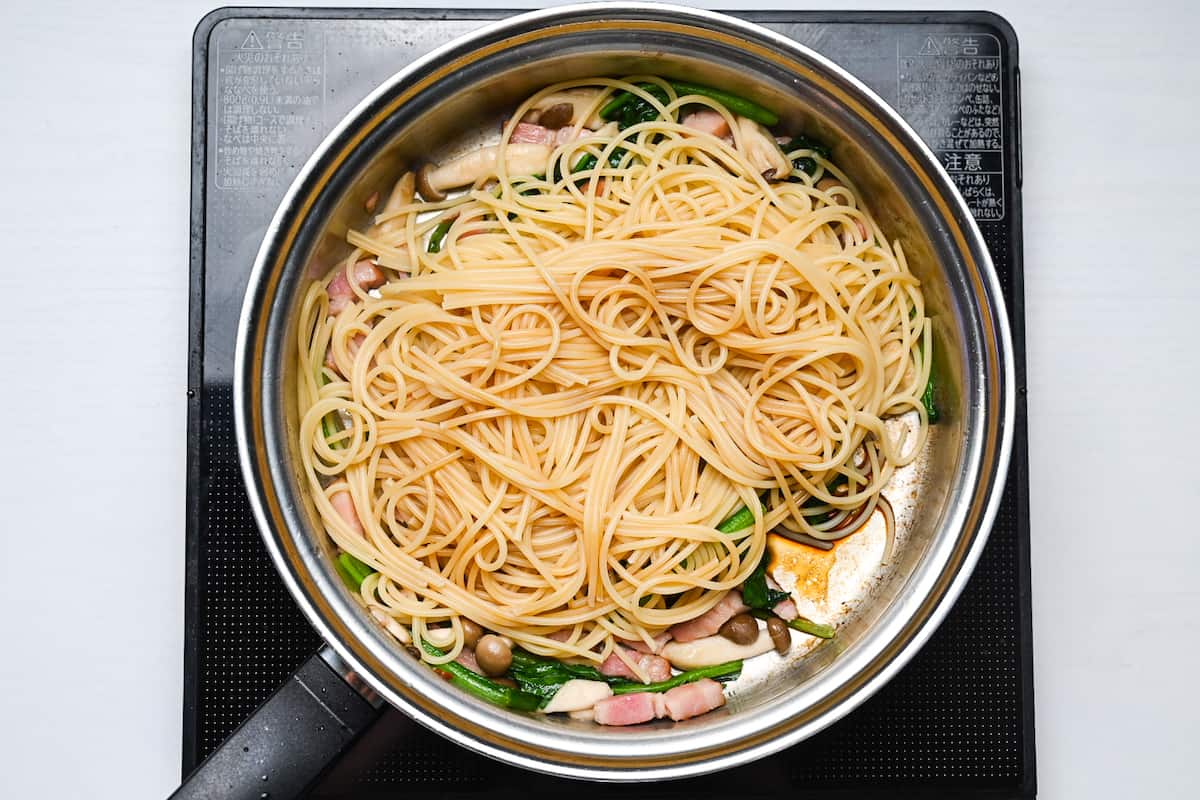 Plate up and sprinkle with chopped green onion.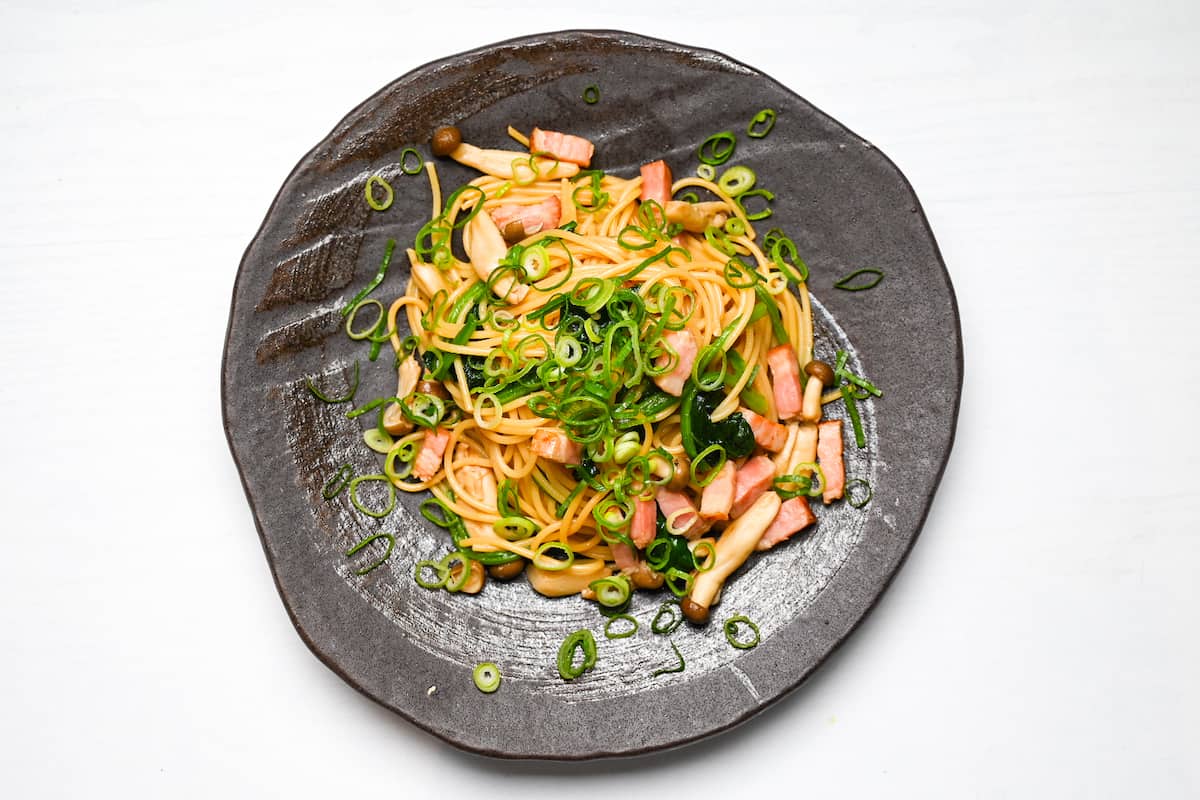 Enjoy!
Storage
If you made too much pasta, you can store it in a Tupperware in the fridge and reheat it within a day or two. However, it's best to cook only what you'll eat immediately for optimal taste and texture.
When reheating, a small amount of olive oil can help retain moisture and prevent dryness.
Room temperature – Not recommended.
Refrigerated – 1 to 2 days.
Frozen – Not recommended.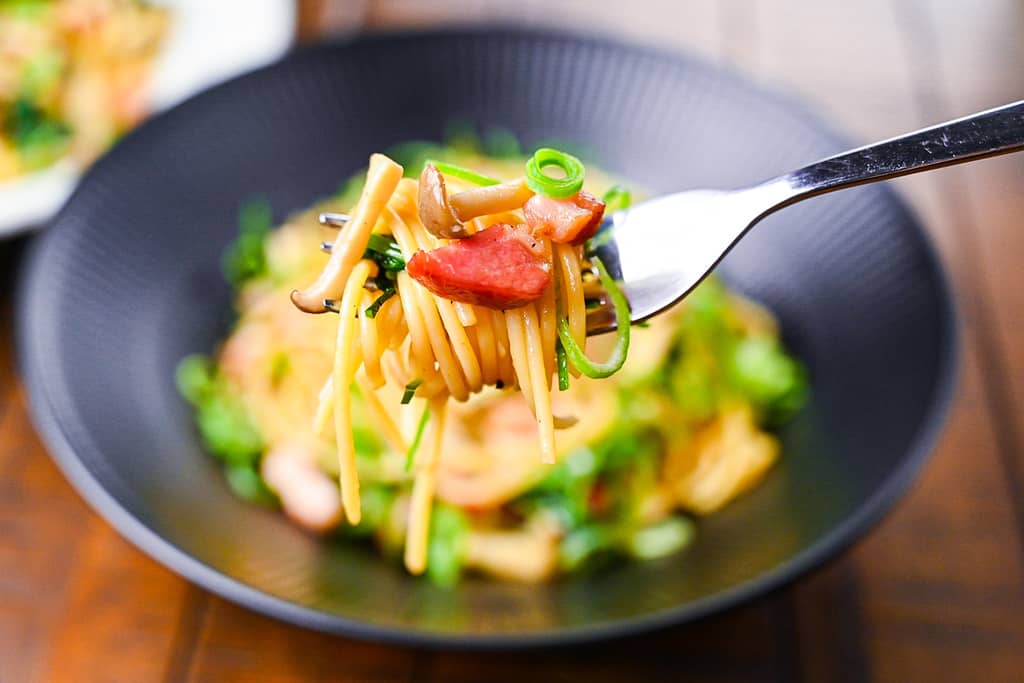 I hope you enjoy this pasta dish with a Japanese twist! If you tried the recipe, I'd love to know what you thought. Please spare a moment to review and give a star rating in the comments below. It's also useful to our other readers if you include any adjustments you made to the recipe. Thank you so much!
Other Japanese Pasta Recipes
Check out my other wafu pasta recipes!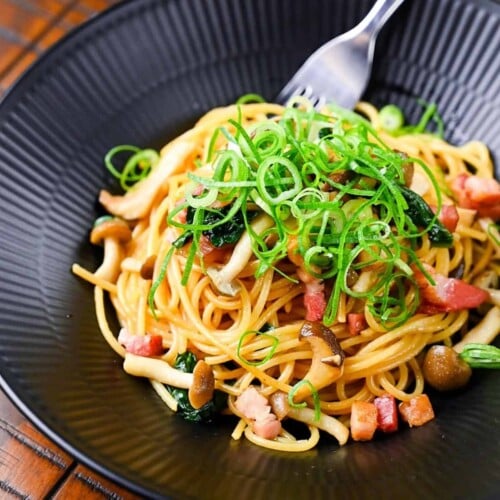 Wafu Pasta (Japanese Butter Shoyu Spaghetti)
---
Simple, quick and tasty Japanese-style "Wafu Pasta" made with spinach, mushrooms and bacon, then flavored with butter and soy sauce.
---
---
---
---
Ingredients
1600

ml

water

160

g

dry spaghetti

1½

tsp

salt

40

g

spinach

100

g

mushroom of your choice

I used shimeji and king oyster

40

g

bacon

1

tsp

cooking oil

2

tsp

unsalted butter

1

tbsp

soy sauce

1

pinch

salt and pepper

green onion(s)

(naganegi) finely chopped to garnish
Instructions
Roughly cut

40 g spinach

and

100 g mushroom of your choice

. Cut

40 g bacon

into cubes.

Bring a pot of

1600 ml water

to a rolling boil and add

160 g dry spaghetti

to a pan of boiling water along with

1½ tsp salt

. Cook according to the instructions on the packaging.

Heat a frying pan on medium and add

1 tsp cooking oil

and

2 tsp unsalted butter

. Once the butter has melted, add the bacon and mushrooms.

Once the bacon is slightly crispy and the mushrooms are soft, add the spinach and

1 pinch salt and pepper

.

Once the spaghetti is cooked, drain the water and transfer it to the frying pan. Add 

1 tbsp soy sauce

 and mix well.

Plate up and sprinkle with

green onion(s)

.
Nutrition
Calories:
439
kcal
|
Carbohydrates:
62.9
g
|
Protein:
14.3
g
|
Fat:
14.1
g
|
Saturated Fat:
5.6
g
|
Polyunsaturated Fat:
2.5
g
|
Cholesterol:
19
mg
|
Sodium:
742
mg
|
Fiber:
7.8
g