Make restaurant-worthy ramen at home with this amazing pork miso ramen recipe! Not only is the broth rich, creamy and delicious but the whole dish can be put together in just 15 minutes!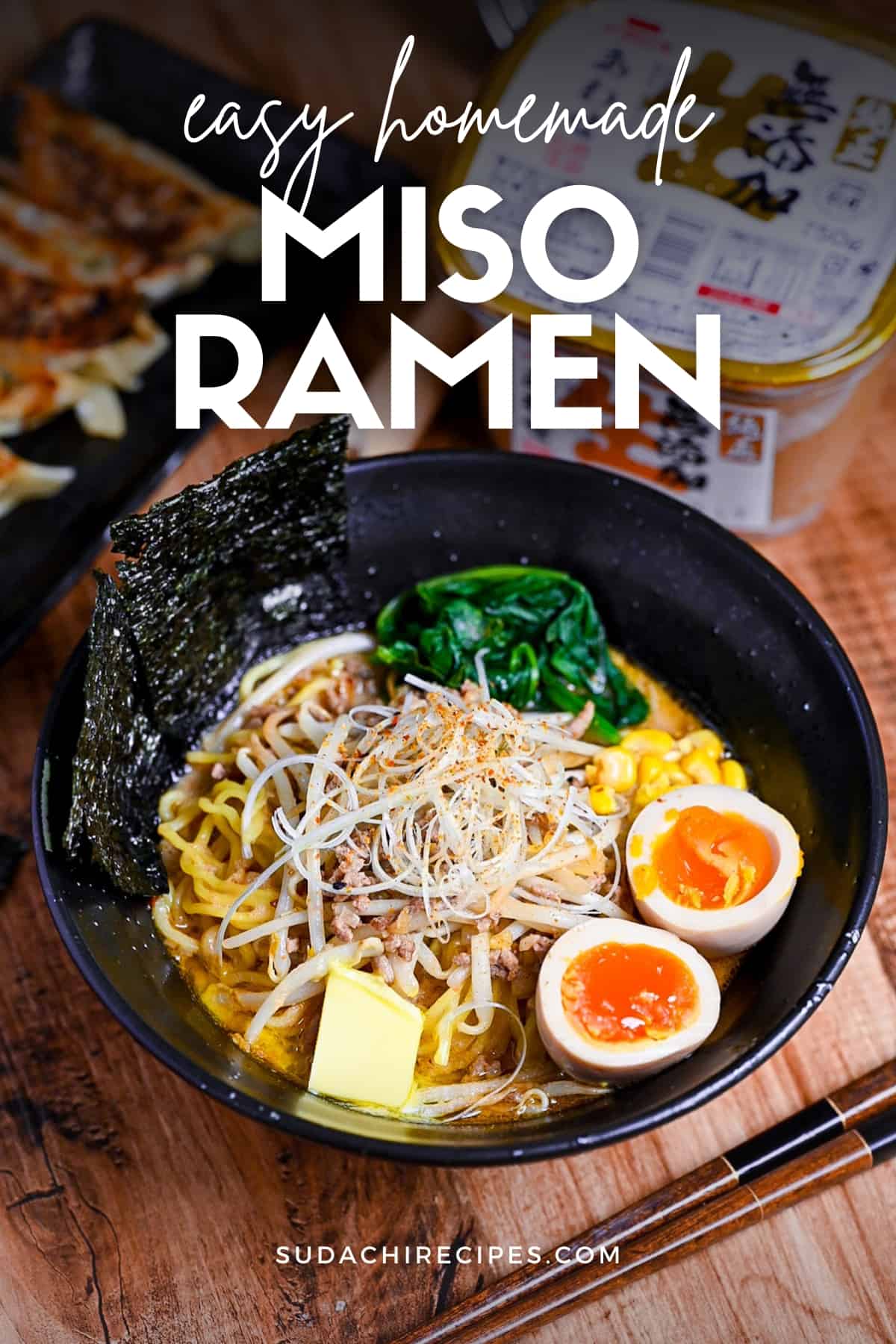 Disclaimer: This post contains Amazon affiliate links. Sudachi Recipes earn a small percentage from qualifying purchases at no extra cost to you. See disclaimer for more info.
What is Miso Ramen?
Miso ramen (味噌ラーメン) is a popular Japanese noodle dish made with a broth flavored with miso paste. Originally from Hokkaido, "Sapporo Miso Ramen (札幌味噌ラーメン)" is the most famous version, but there are also many other regional variations.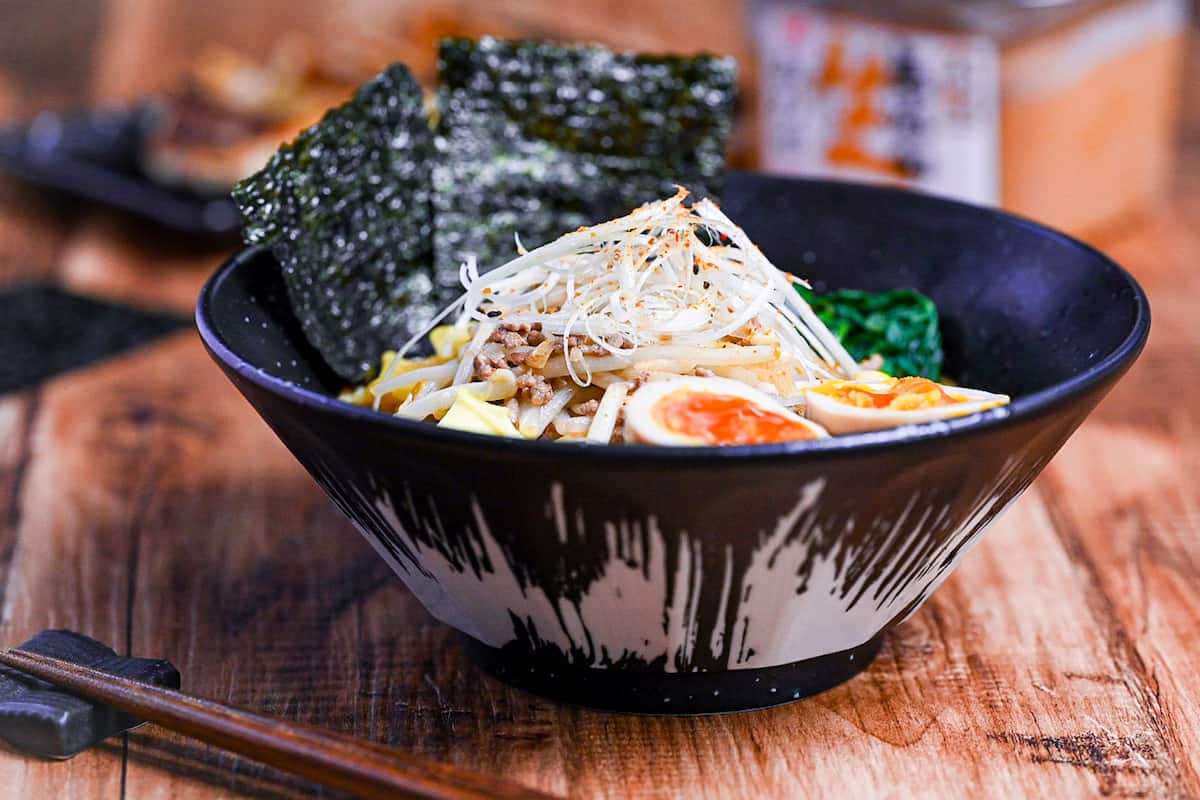 Sapporo ramen, which started in a restaurant called "Aji no Sanpei (味の三平)" in Hokkaido in 1955, is one of the most well-known miso ramen dishes in Japan. Although there are various theories about its origin, the owner was likely inspired by a regular customer's request for ramen in tonjiru (pork miso soup).
Since then, it has become one of Japan's most popular miso ramen dishes.
How I Developed This Recipe
Compared to shoyu ramen, shio ramen, and tonkotsu ramen, making miso ramen is easy to make at home as miso itself is an already umami-packed condiment.
Therefore, I did nothing complicated in this recipe and prioritized reproducing the authentic taste as quickly as possible.
For example, I added my twist using seasoned ground pork instead of chashu pork and peanut butter to create a creamy texture.
It only takes 15 minutes to make, it's easy to prepare and it tastes so good!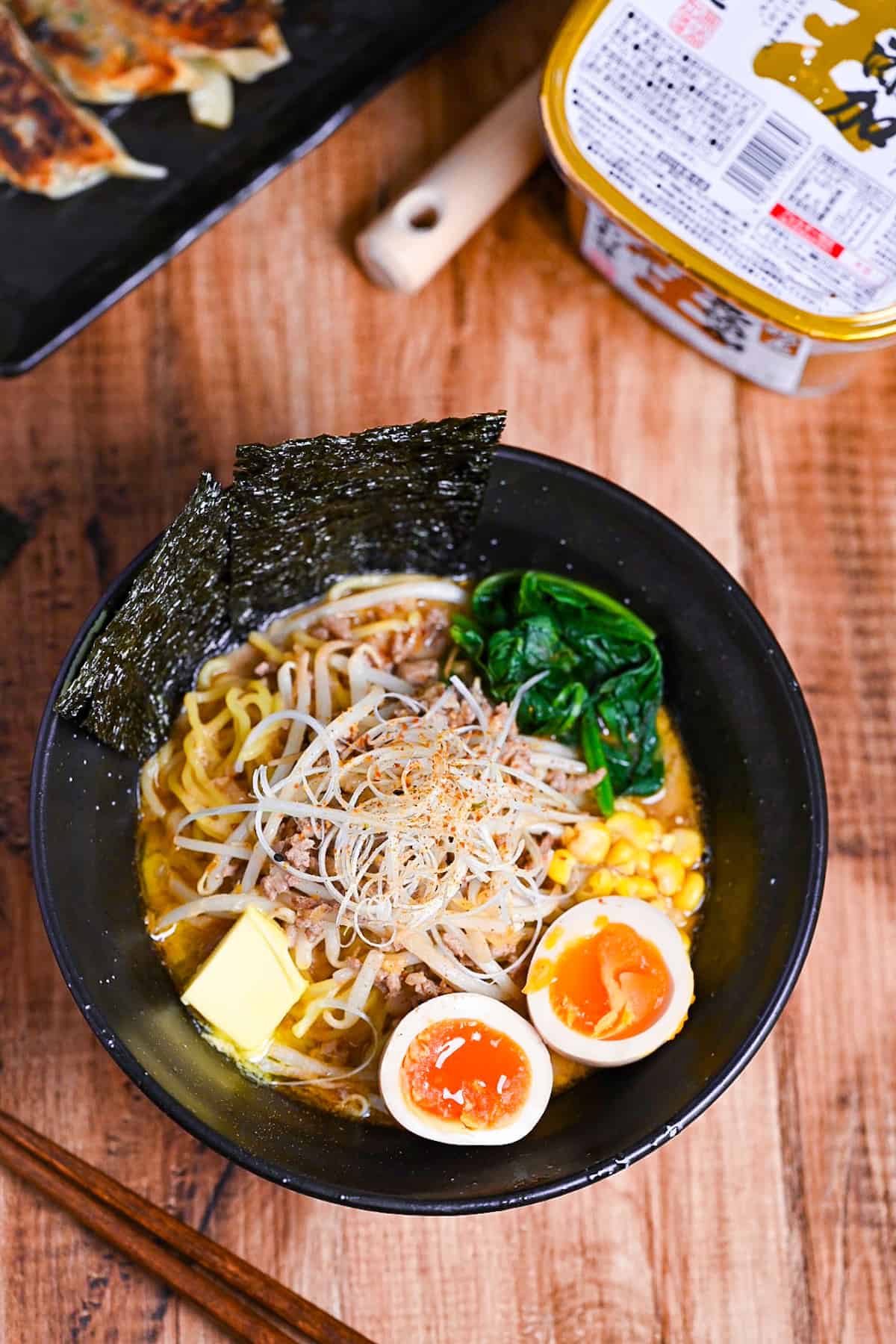 Ingredients and Substitution Ideas
Unsalted butter: Opt for unsalted to control the salt content. If you're leaning towards salted butter, reduce other salty condiments accordingly.
Ground pork: The classic choice, but ground beef, chicken or a plant-based substitute can be alternatives.
Garlic & Ginger: Ideally, these should be finely chopped. If this proves troublesome, consider store-bought garlic paste or ginger paste as substitutes.
Green onion: Harness the white part. Leeks or yellow/white onions can step in if needed.
Soy sauce: For a budget-friendly option, Kikkoman soy sauce is reliable. For a deeper dive into soy sauce choices in Japanese cooking, peruse our guide to soy sauce article.
Mirin: "Hon mirin" (本みりん) is the sought-after variant for its superior flavor. Hinode Hon Mirin gets my nod for its balance of quality and affordability. For more, check out my post on the 20 Most Useful Condiments and Seasonings for Japanese Cooking.
Oyster sauce: This introduces a flavorful depth and savoriness to the dish.
Chili bean sauce (Toban Djan): A pinch is all you need to add a subtle kick.
Chinese-style chicken bouillon powder: My personal favorite for a soup base is Youki's additive-free Garasupu. If you're looking to make the dish meat-free, feel free to swap this for your go-to plant-based alternative.
Plain smooth peanut butter: Enhances creaminess and depth in soups. Skippy peanut butter is my go-to.
Awase miso paste: The heart of this dish. While any miso paste works, Awase Miso gets my top recommendation because of its balanced flavor and versatility.
Ramen noodles: Fresh ramen noodles are ideal, however, if these aren't accessible, consider "my spaghetti hack" over instant variants. Check out the Spaghetti Ramen Hack article for a comprehensive guide on how to use regular dry spaghetti to make ramen (I've used this hack myself and it really works!).
Toppings: The suggested toppings include blanched spinach, bean sprouts, sweet corn, green onion, butter, ajitama eggs, and nori seaweed. But feel free to mix and match as per your taste.
This recipe is easy to adapt for vegetarians. Simply swap the meat out for crumbled tofu or TVP (textured vegetable protein) and omit the oyster sauce. The chicken stock powder can be swapped for your go-to vegetarian alternative stock powder. If you want more plant-based topping ideas, check out my spicy vegetarian miso ramen recipe!
Curious about the exact brands and products that bring my recipes to life? Discover the brands and ingredients behind my recipes at the Sudachi Amazon Storefront. Explore my handpicked pantry essentials and find your next kitchen favorites!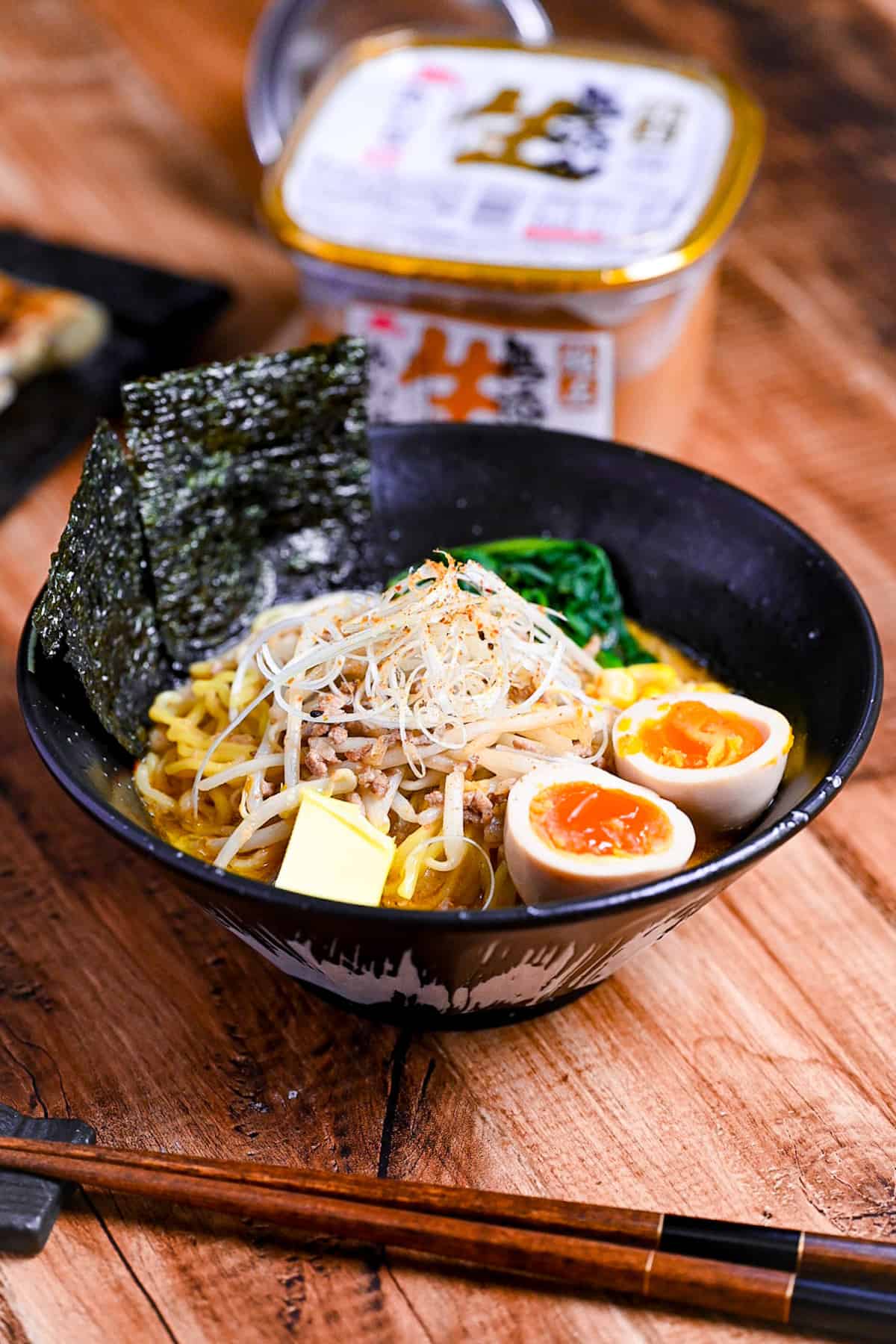 Step-by-Step Process
Here are my step by step instructions for how to make quick and easy pork miso ramen to rival a restaurant right in your own kitchen! For ingredient quantities and simplified instructions, scroll down for the printable recipe card.
Start by heating a pan on medium and melting a small amount of butter to grease the surface. Add finely chopped garlic, ginger and green onions. Once fragrant, add the ground pork and stir fry until cooked through.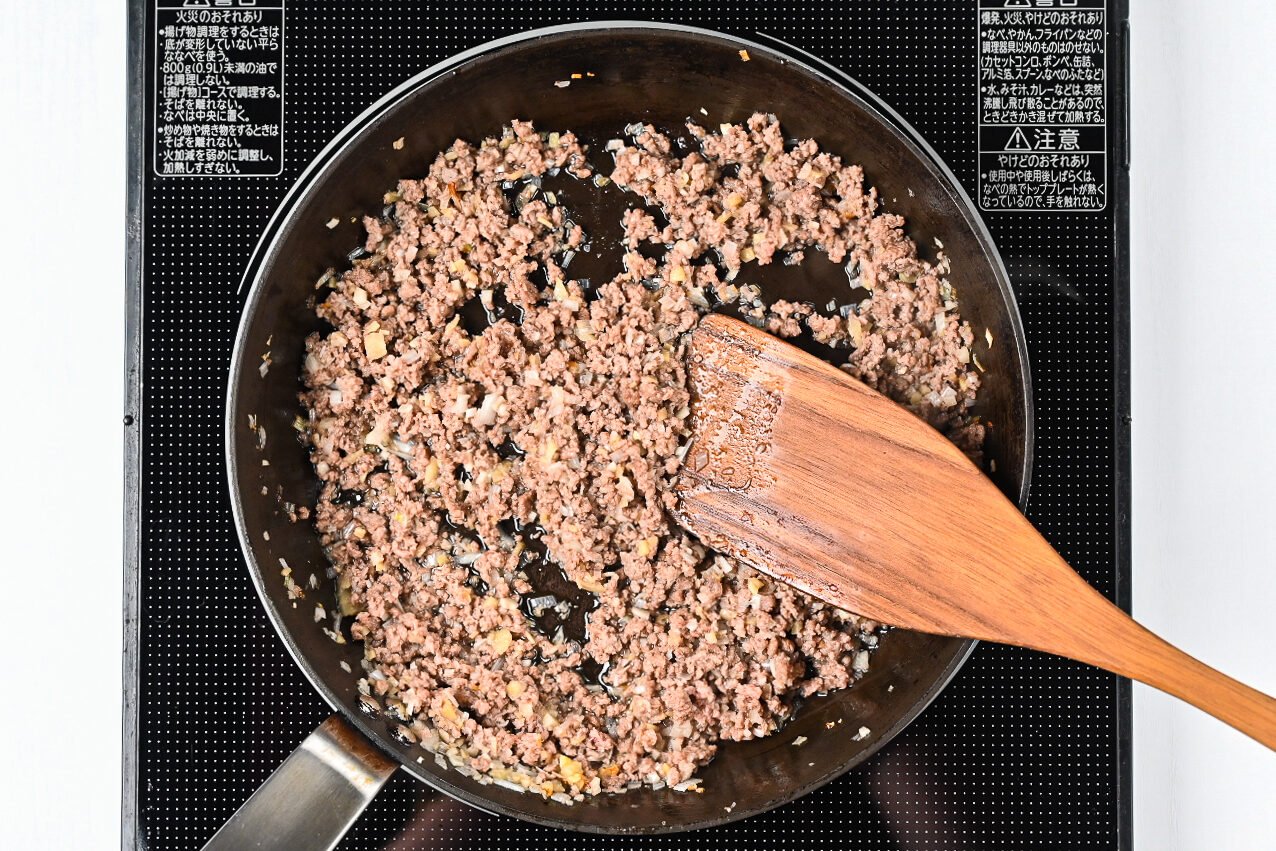 Add soy sauce, mirin, oyster sauce and chili bean sauce. Mix thoroughly and cook until the liquid has almost gone, then turn off the heat.
While you wait for the condiments to reduce, bring a pot of water to a boil for the noodles, and boil water for making the broth.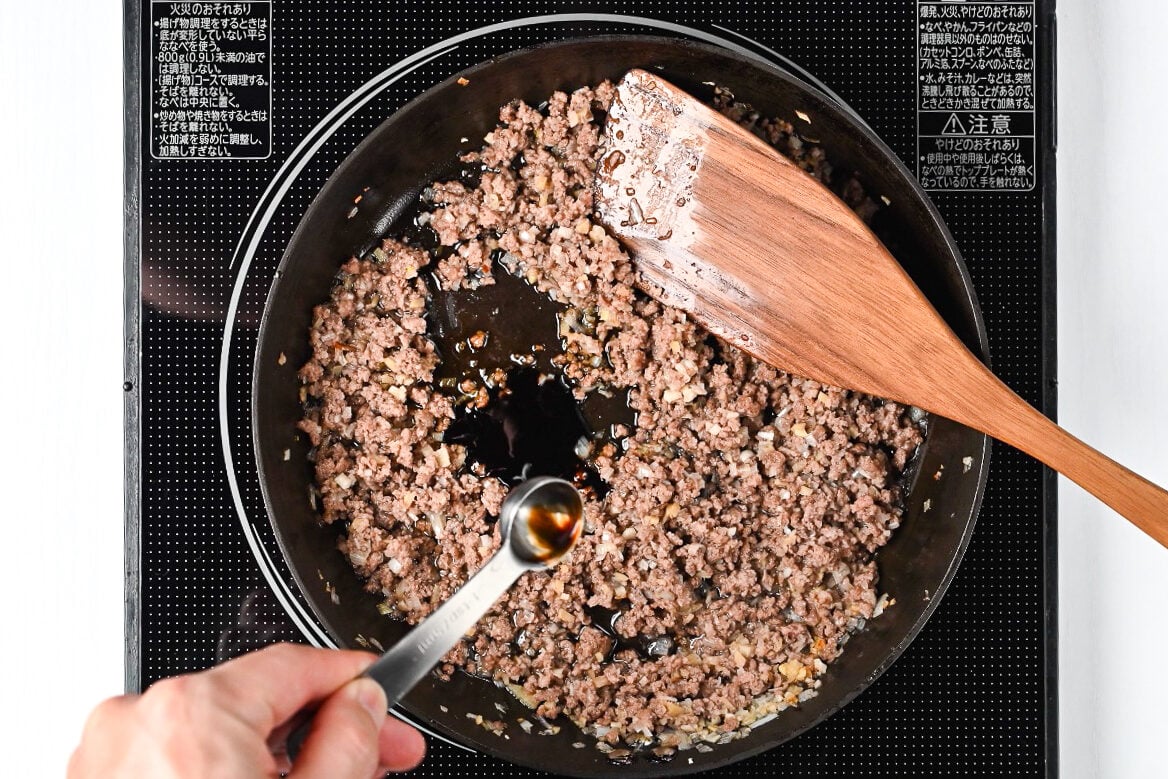 In a heatproof measuring jug, add freshly boiled water, chicken bouillon powder and smooth peanut butter. Whisk them together until dissolved and lump-free. Pour the broth into the pan and bring to a boil over a medium heat.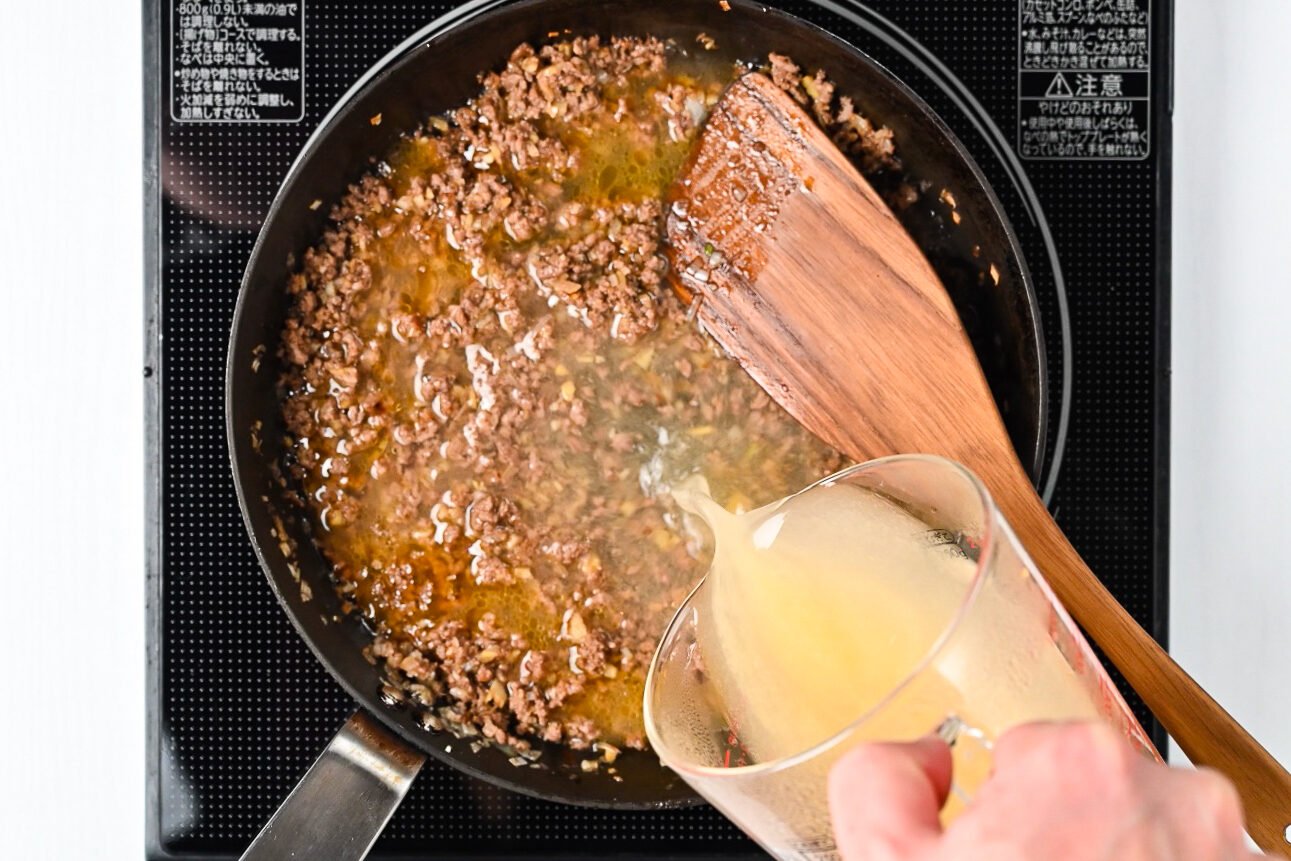 Once the broth starts to boil, turn off the heat and add the miso. Adding the miso paste after the heat is turned off will preserve its rich and unique taste. To avoid lumps, place the miso on a mesh spoon or ladle and submerge it in the broth to soften it, then lift it out and whisk it on the spoon before allowing it to seep into the rest of the cooking liquid.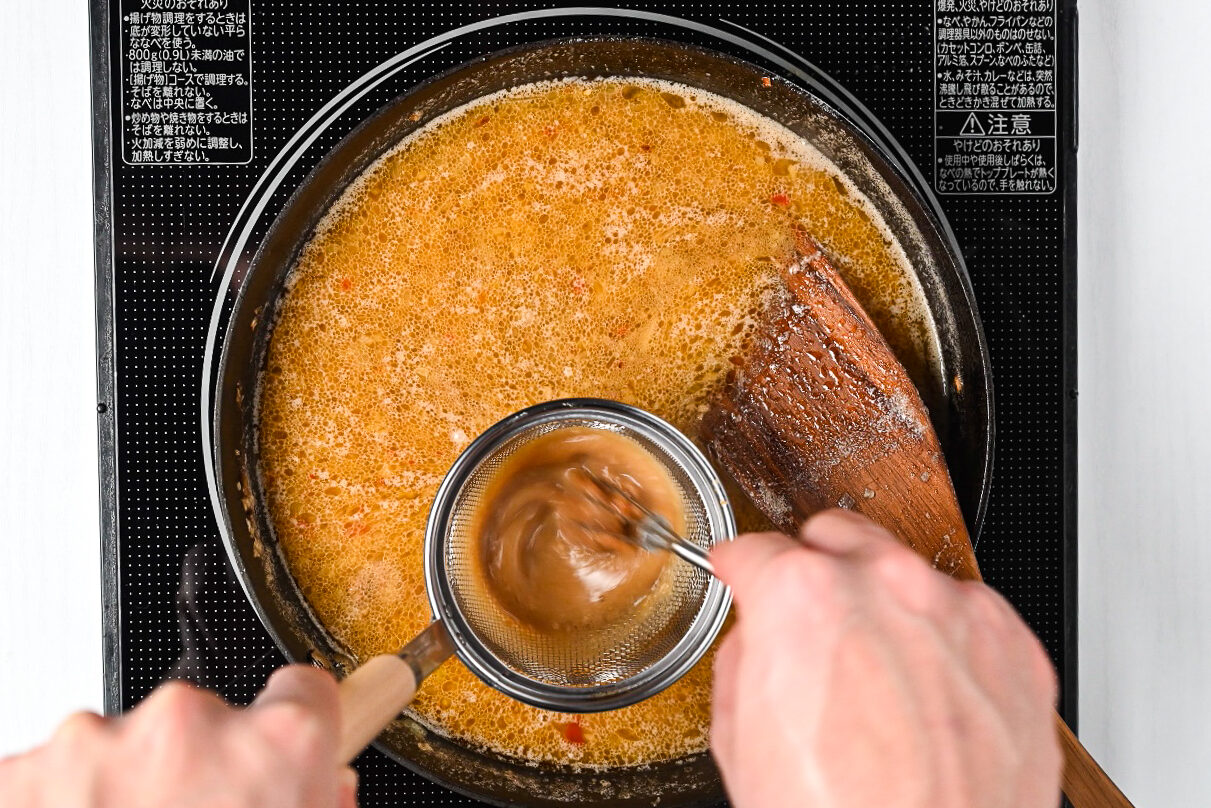 Tip: If you don't have a mesh spoon or ladle, place the miso paste in a small bowl and add a small amount of broth. Whisk until smooth and then pour it back into the pan.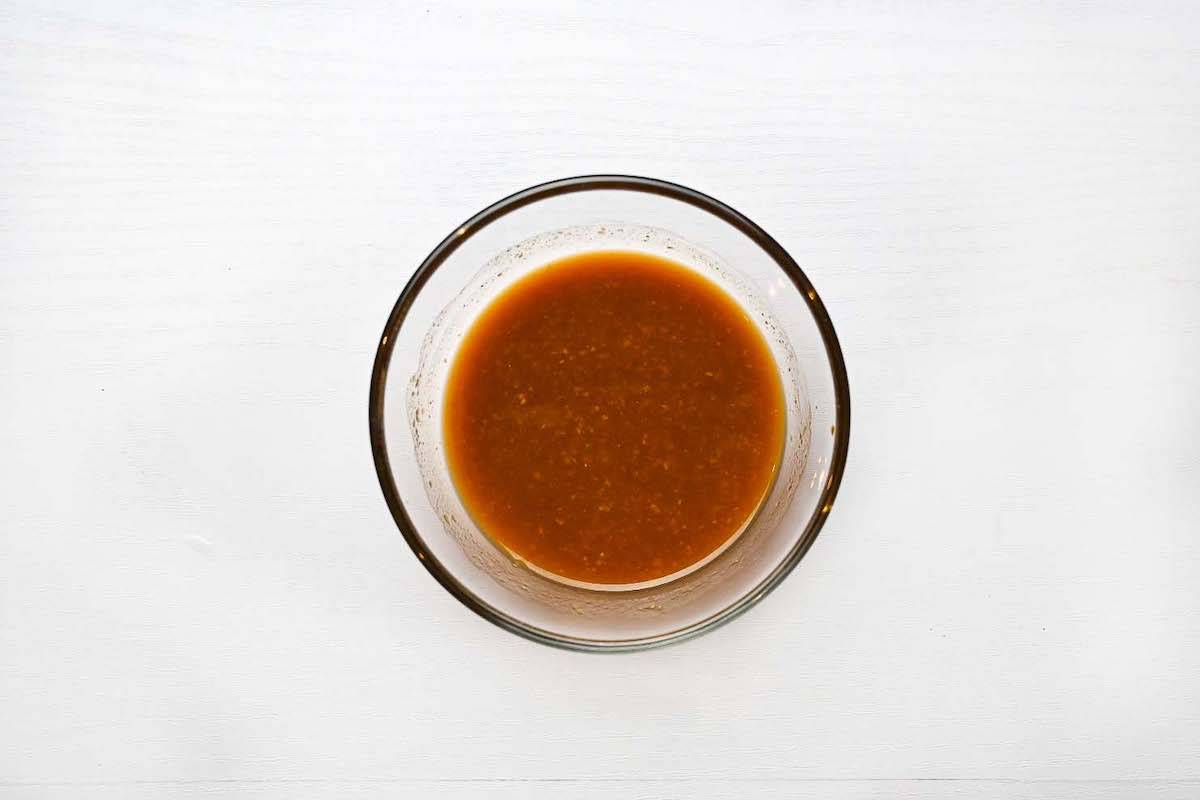 If using beansprouts, add them to the broth and leave them to cook in the residual heat for a few minutes while you cook the noodles. If you like your broth piping hot, feel free to reheat right before serving.
Cook the ramen noodles according to the instructions on the packaging. Make sure to use plenty of water to avoid them becoming too starchy.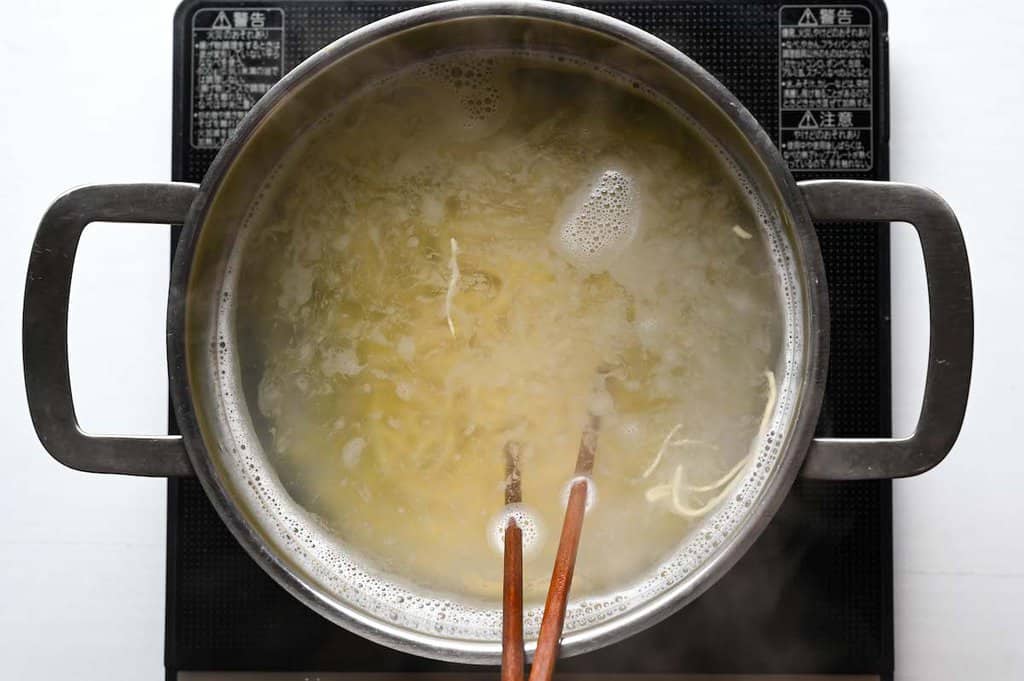 In the final minute, add spinach leaves.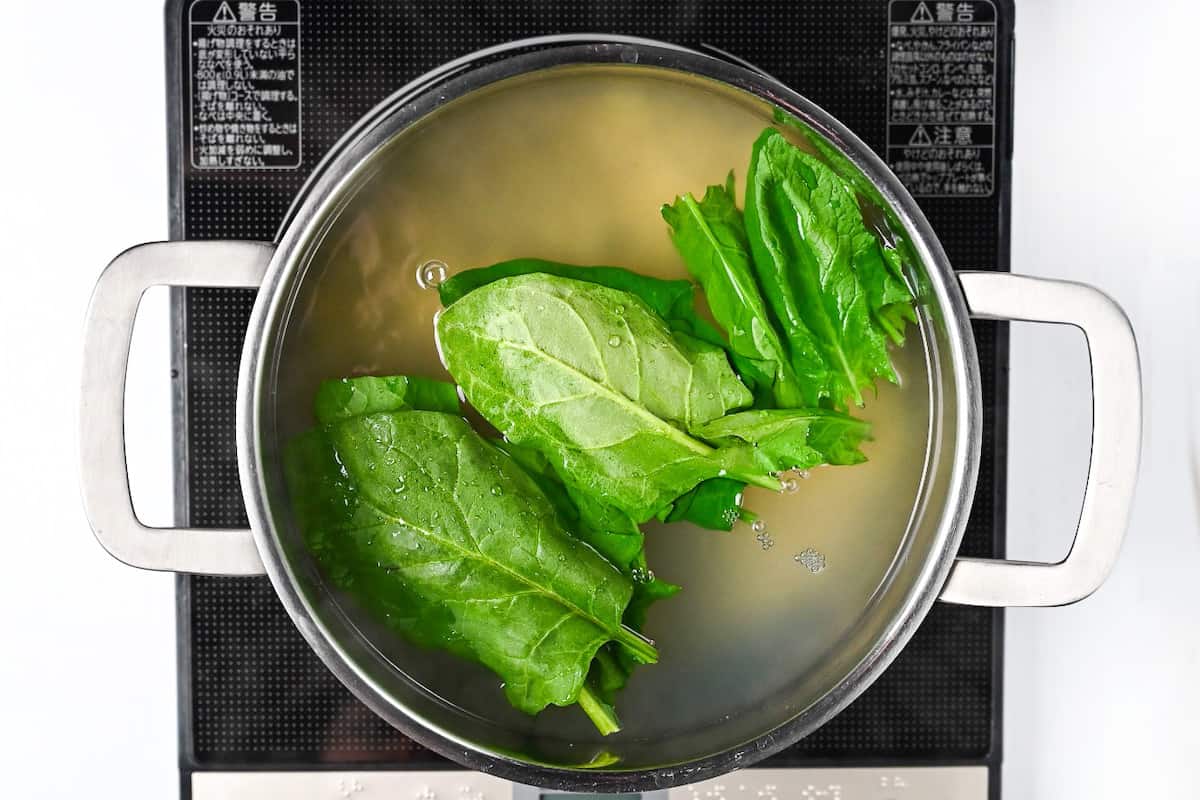 Once cooked, drain with a colander and rinse with hot water to wash off any excess starch.
Divide the noodles between serving bowls.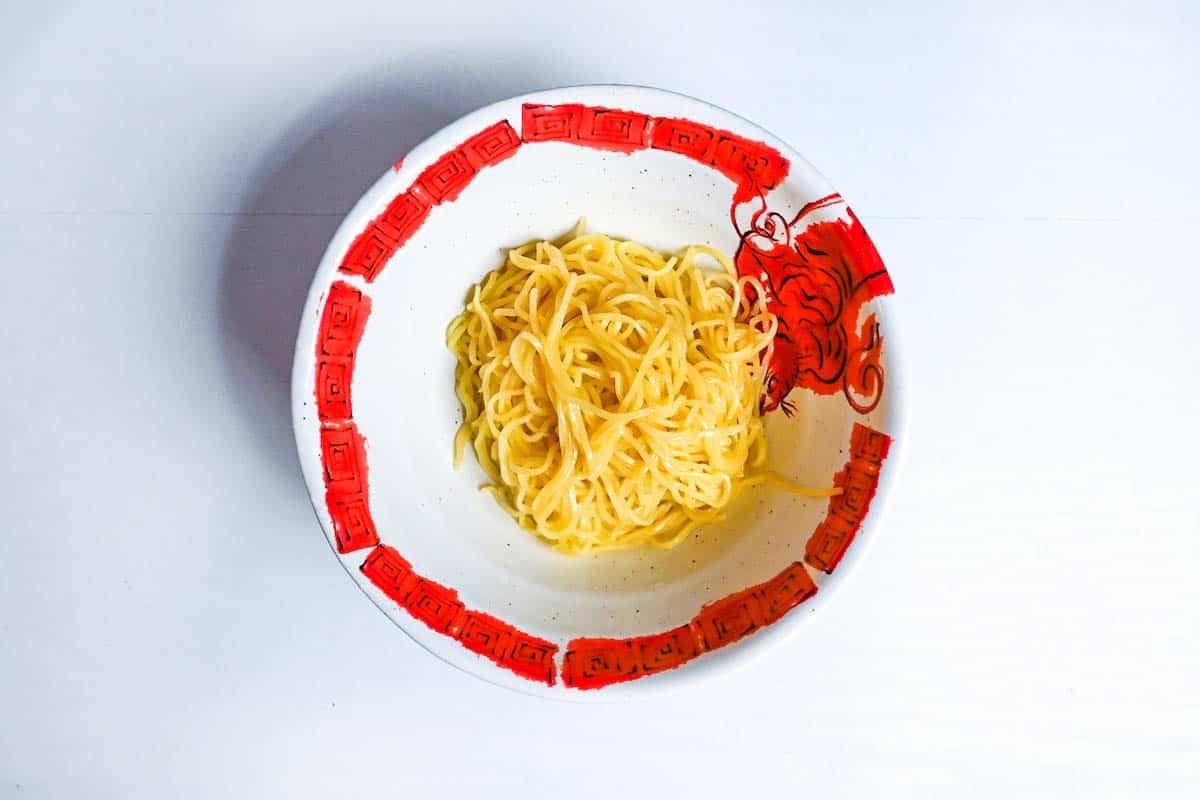 Pour the broth and ground pork over the noodles and arrange the toppings.
Enjoy!
Troubleshooting & FAQ
What Kind of Miso Paste Can I Use for this Recipe?
Miso is a savory paste crafted from fermented soybeans and comes in several varieties. While you can use miso paste for this recipe, I recommend starting with awase (yellow) miso.
Why Are My Ramen Noodles Mushy?
Add the freshly-cooked noodles immediately to the soup for the best ramen experience, whether at a restaurant or home. Any amout of waiting can make the noodles mushy as they absorb the broth, diminishing the dish's quality. Quick action is vital.
My Broth Seems Very Thick. Why?
This issue often arises from boiling fresh ramen noodles in insufficient water. Use a large pot and plenty of water (just like you would do to cook pasta) to prevent excess starch from adhering.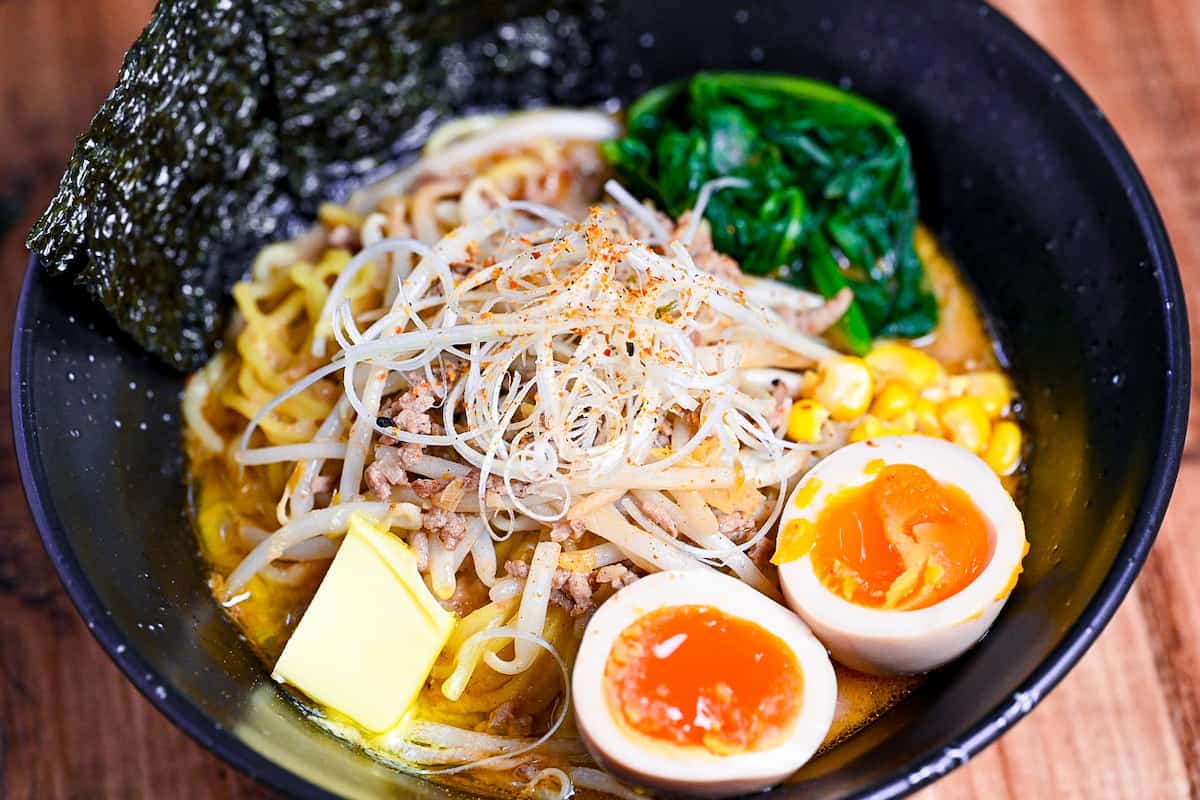 Storage Options
Storing ramen isn't typically recommended. However, if you must save leftovers, it's advisable to keep only the broth and not the noodles.
Ideally, ramen should be consumed immediately after preparation. Waiting even 5 to 10 minutes can compromise the dish, as the noodles absorb the soup and become overly soft and mushy, eventually not enjoyable.
If you have leftover broth, you can store it in the fridge or freezer container. When you're ready to enjoy it, reheat the broth on the stove or in the microwave, then cook fresh noodles to add in.
Note that this recipe is crafted to minimize leftover broth. If stored in the refrigerator, consume the broth within two days; if frozen, use it within two weeks.
Room temperature – Not recommended.
Refrigerated – About two days (broth only).
Frozen – About two weeks (broth only).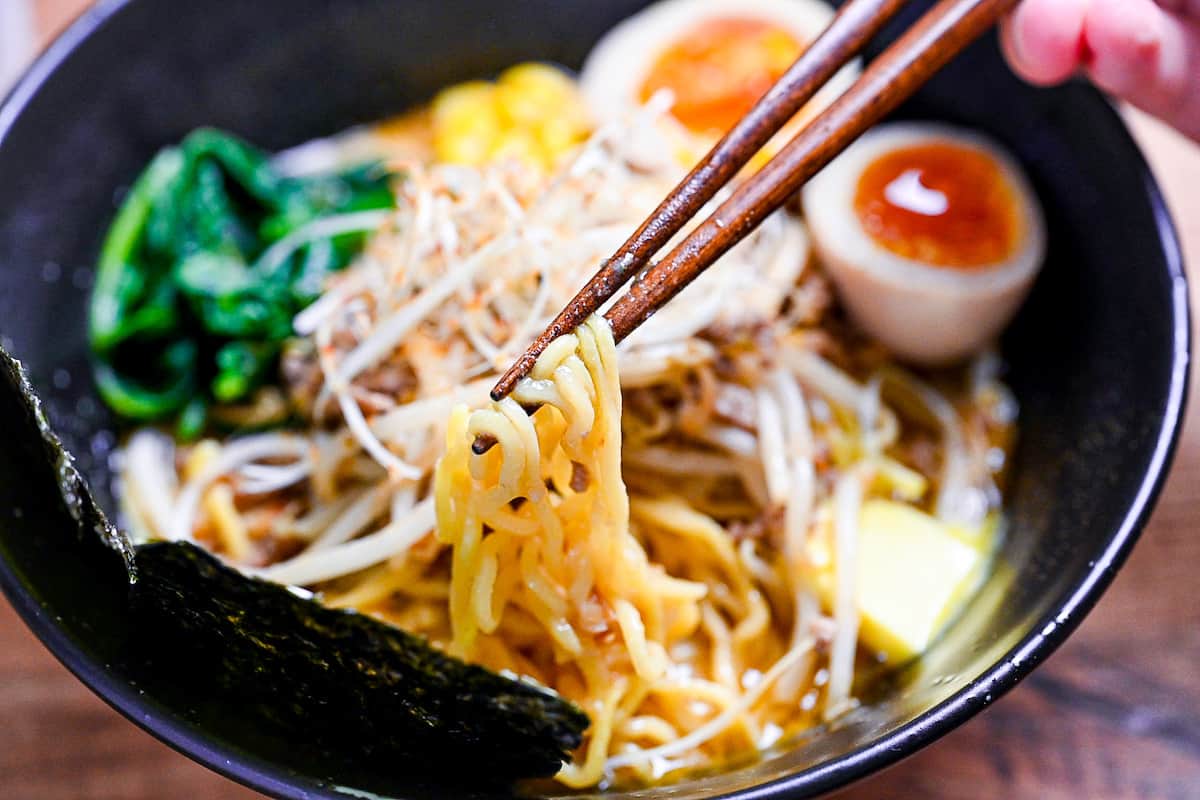 I hope you enjoy this quick and easy pork miso ramen recipe! If you try it out, I'd really appreciate it if you could spare a moment to let me know what you thought by giving a review and star rating in the comments below. It's also helpful to share any adjustments you made to the recipe with our other readers. Thank you!
More Ramen Recipes
If you love ramen, you'll love these!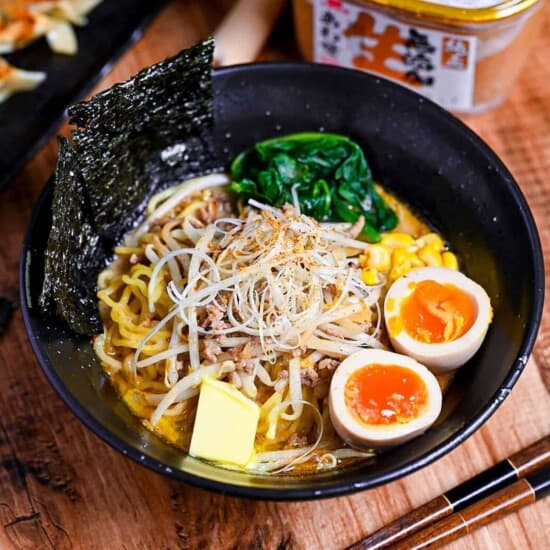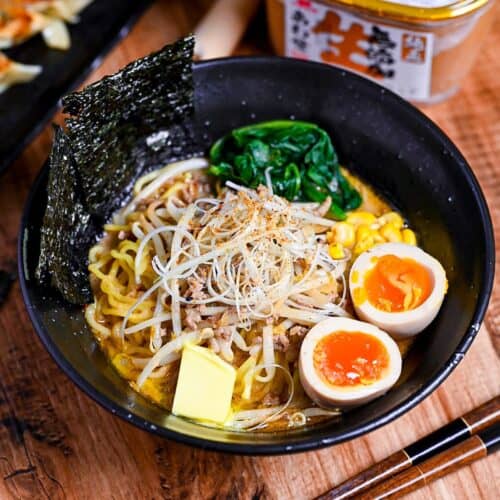 Pork Miso Ramen in 15 Minutes (Sapporo Style)
---
How to make quick, delicious Sapporo-style pork miso ramen from scratch with chewy noodles served in a rich, buttery broth topped with seasoned pork, vegetables and soft-boiled eggs.
---
---
---
---
Ingredients
Pork
1

tsp

unsalted butter

150

g

ground pork

4

cloves

garlic

finely diced

1

tbsp

fresh ginger

finely diced

2

tbsp

green onion(s)

white part, finely diced

1

tsp

soy sauce

1

tsp

mirin

1

tsp

oyster sauce

½

tsp

chili bean sauce

tobanjan
Broth / Noodles
500

ml

freshly boiled water

1

tsp

Chinese-style chicken bouillon powder

1

tbsp

smooth peanut butter

1 ½

tbsp

awase miso paste

2

portions

ramen noodles
Toppings (Optional)
30

g

spinach

100

g

beansprouts

2

tsp

sweet corn

2

tsp

green onion(s)

green part, finely sliced

2

tsp

unsalted butter

2

ramen egg(s)

or soft boiled egg

2

sushi nori seaweed(s)

nori
Instructions
Melt

1 tsp unsalted butter

in a pan over a medium heat and add

4 cloves garlic

,

1 tbsp fresh ginger

and

2 tbsp green onion(s)

. Once fragrant add

150 g ground pork

and stir-fry until cooked through.

Season with

1 tsp soy sauce

,

1 tsp mirin

,

1 tsp oyster sauce

and

½ tsp chili bean sauce

and mix thoroughly. Simmer until the liquid is almost gone and then turn off the heat.

Take a heatproof measuring jug and whisk

500 ml freshly boiled water

with

1 tsp Chinese-style chicken bouillon powder

and

1 tbsp smooth peanut butter

until dissolved. Pour the soup into the pan and heat on medium once more.

Bring to a boil and then turn off the heat. Place

1 ½ tbsp awase miso paste

on a mesh spoon or ladle, dip it into the soup and then whisk it to break it up. This technique makes it easier to incorporate the miso into the soup smoothly without lumps. (Alternatively, mix the miso paste with a small amount of broth in a separate bowl and pour back into the pan once smooth.)

Add

100 g beansprouts

to the broth and cook them in the residual heat for 1-2 minutes. (No need to turn the heat back on.)

Cook

2 portions ramen noodles

according to the instructions on the packaging and add

30 g spinach

to the water in the final minute. Drain using a colander and rinse both the noodles and spinach with fresh hot water to wash off any excess starch.

Dish up the noodles into a large bowl, pour the broth over the noodles and top with the pork, beansprouts and spinach. Garnish with green onion (green part), sweet corn (straight from the tin is fine but you can microwave them if you prefer them warm.) and unsalted butter in each bowl.

Enjoy!
Notes
The nutritional value is based on when you drink up the soup (we rarely drink up the soup when it comes to ramen)
Nutrition
Calories:
642
kcal
|
Carbohydrates:
81.8
g
|
Protein:
23.7
g
|
Fat:
22.8
g
|
Saturated Fat:
10.2
g
|
Polyunsaturated Fat:
3.6
g
|
Cholesterol:
73
mg
|
Sodium:
2264.5
mg
|
Fiber:
8.7
g