You'll never look at cabbage the same way again once you've tasted this Japanese Izakaya style "yamitsuki" cabbage! Crunchy pieces of fresh cabbage tossed in sesame seeds and seasonings to create the ultimate umami bomb. Even if you don't like cabbage, I guarantee this dish will change your mind!
Disclaimer: This post contains Amazon affiliate links. Sudachi Recipes earn a small percentage from qualifying purchases at no extra cost to you. See disclaimer for more info.
What is Izakaya Style Salted Cabbage (Yamitsuki/addictive Shio Cabbage)?
As the name suggests, Japanese salted cabbage is a simple side dish made with raw cabbage that has been sprinkled with salt and other seasonings. Despite its simplicity, it's truly a delicious and addictive dish.
Known as "yamitsuki" (やみつき) or "addictive" cabbage in Japanese, these salted cabbage side dishes are often served in izakaya (Japanese pubs) or yakiniku (Korean BBQ) restaurants, where people often gather to drink and eat.
This type of dish is sometimes called shio kyabetsu (salt cabbage) depending on the restaurant.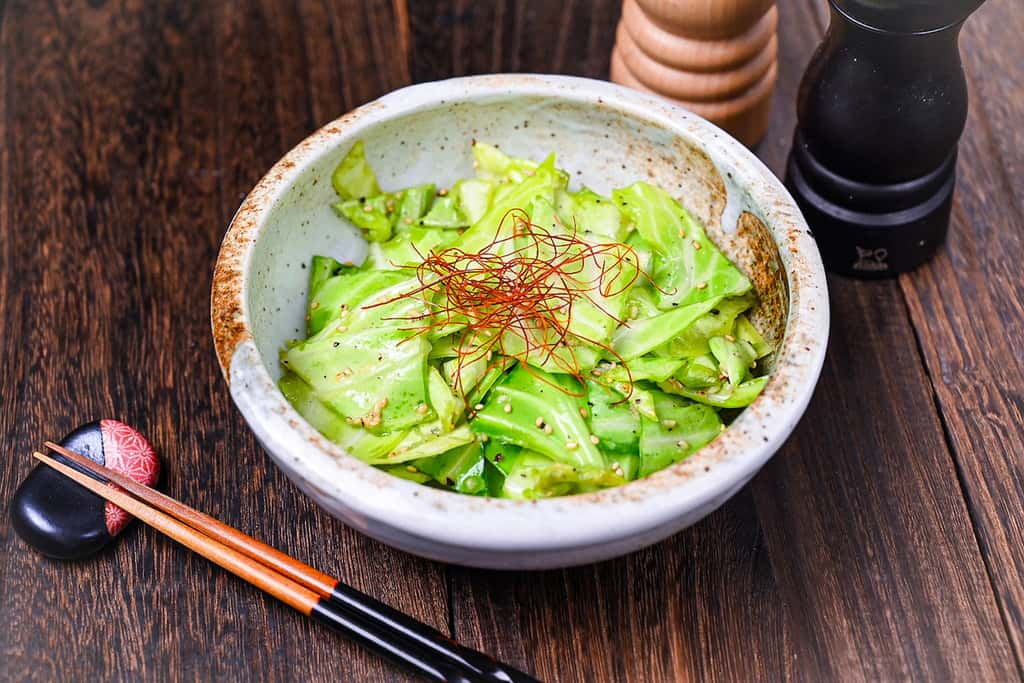 The cabbage has a fresh and crunchy texture while the seasonings add umami, yamitsuki cabbage is seriously addictive and some places even offer a free refill service. I always end up ordering refills without a fail. I absolutely love this dish!
This recipe is my version of an izakaya style "Addictive" salty cabbage. It's a 5 minute dish which is very cheap and easy to make, I highly recommend it!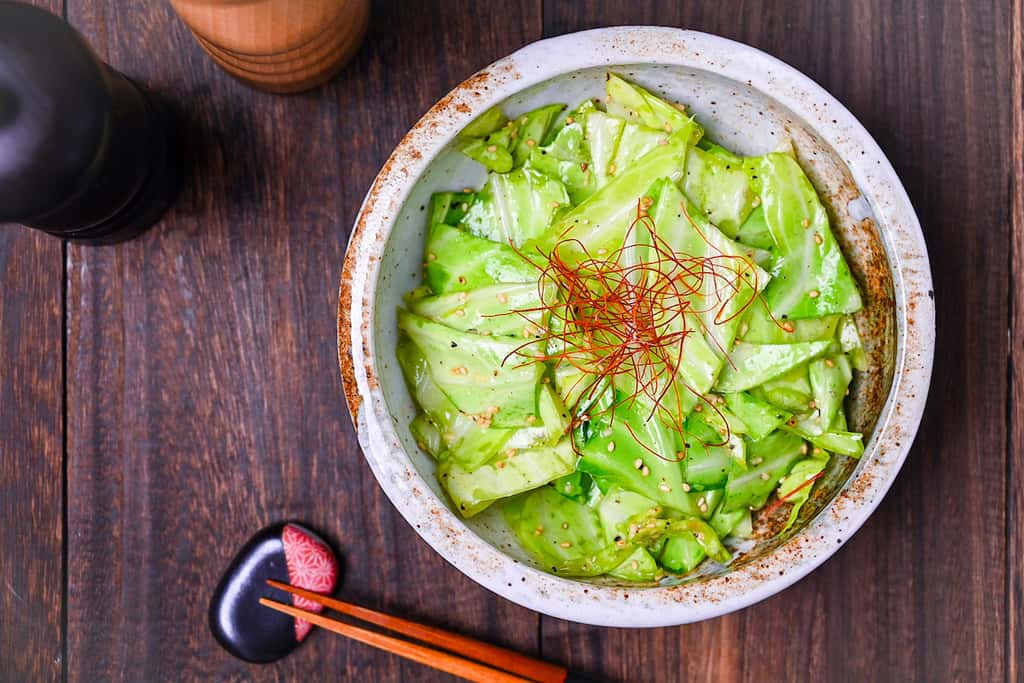 What does "yamitsuki" mean in Japanese?
We say "yamitsuki cabbage," but first let me elaborate on what "yamitsuki" means in Japanese.
"Yamitsuki (やみつき)" is a Japanese term for being so drawn to something that you can't help but enjoy it over and over. It's often used for food, drinks, hobbies, or habits that people find satisfying and fun.
For example, if someone can't stop eating a snack once they start, they're "addicted (yamitsuki)" to it. They love its taste and texture so much that they just want to keep eating.
What makes something "yamitsuki" varies for each person, but they all share the ability to bring joy and satisfaction, making people want to enjoy them over and over again.
What is an Izakaya (居酒屋)?
I mentioned that this yamitsuki cabbage is typically an izakaya dish, but you might be wondering what an "izakaya" is exactly. Izakaya is a traditional Japanese casual eatery that serves a wide variety of Japanese cuisine (tapas style) along with drinks and alcoholic beverages, making them great spots to hang out with friends or unwind after work. You can simply think of them as Japanese tapas bars or pubs.
Many types of alcoholic beverages are served in izakaya, but Japanese drinks such as sake, shochu, and beer are especially popular. The menu is packed with tasty choices like sashimi, sushi, yakitori, tempura, salads, stir-fries, and fried foods…and so on! Since dishes are served tapas-style, it's common to share with everyone and try new flavors together.
Izakayas have a lively, welcoming vibe, with cozy lighting and wooden furniture, in contrast to dimly lit bars. They're usually budget-friendly and might even offer all-you-can-eat (tabehodai) or all-you-can-drink (nomihodai) deals where you can order as much as you like within a time limit. So, if you're looking to enjoy Japanese food culture in a relaxed setting, izakayas are perfect for you!
If you're interested in more Izakaya style dishes, check out my post: 25 Izakaya Style "Otsumami" Recipes to make at home!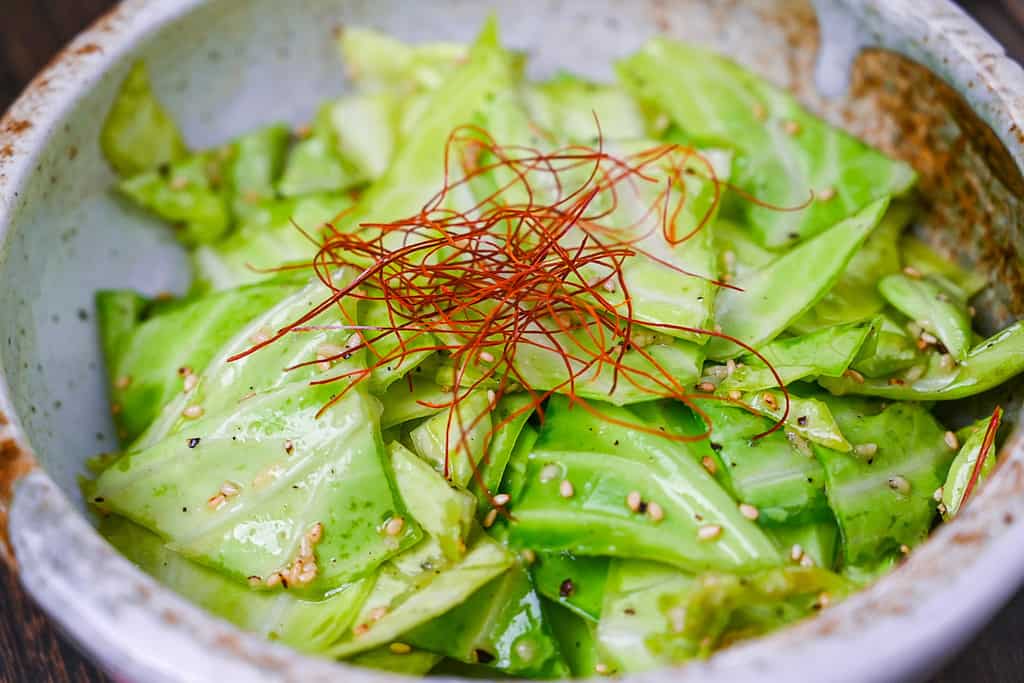 Japanese like to drink with vegetables: the perfect side dishes
What's your favourite beer snack? Chips? Fries? Nuts? Cheese?…the list goes on. But how about drinking beer with vegetables?
It might seem a bit unusual, but in Japan, there are a lot of vegetable dishes that are considered "beer snacks". Here are a few popular choices to enjoy with a drink:
Sure, the majority of food on the table would be meat and fish but there's always one or two in your group saying "Shouldn't we get some veg?" or "How about something refreshing?". It's good to have balance after all!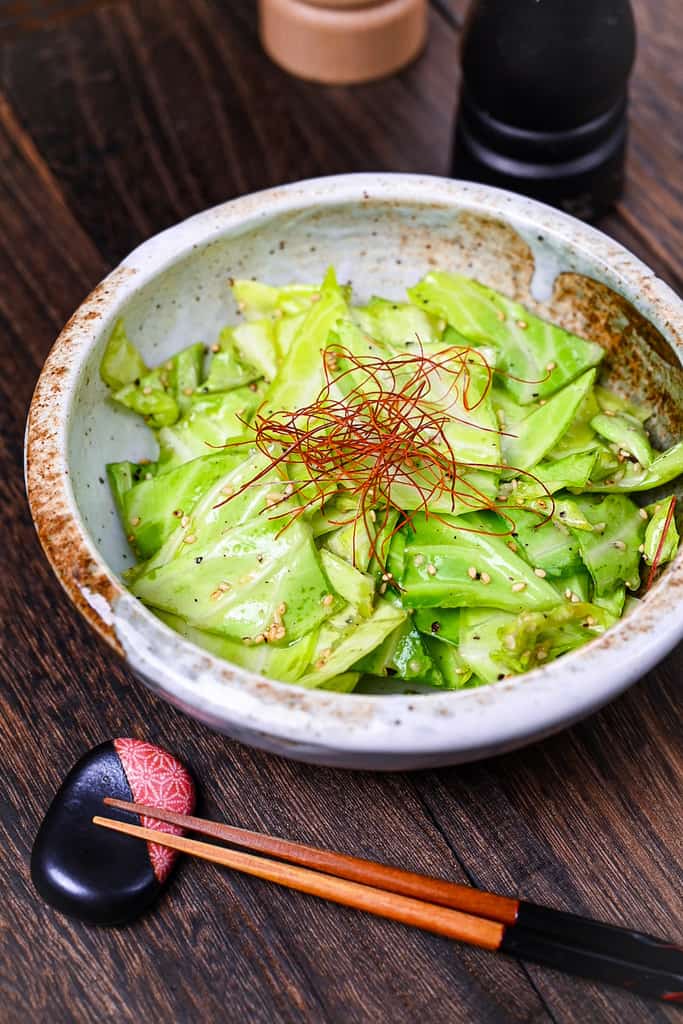 Ingredients to make this Japanese garlic shio cabbage
While some places keep it simple and just add salt, pepper and sesame oil to their yamitsuki cabbage, I used a couple of extra ingredients to turn this simple dish into the ultimate umami bomb!
I recommend mixing the ingredients altogether in a small bowl and then adding it to the cabbage (despite what I do on the video.) Mixing the seasonings first helps evenly distribute the flavors when you add the cabbage and using your hands to mix ensures all the leaves are covered.
If you have sensitive skin or any cuts on your hands, make sure to wear gloves!
Here is the complete ingredient list for this recipe. (Check the recipe card below for the measurements!)
Type of cabbage to use for this recipe
Cabbage types can differ based on where you live, but for this no-cook dish, I recommend using soft, green cabbage that is suitable to use raw instead of white, red, or napa cabbage.
If you're in Japan, the best option I recommend is "spring cabbage (春キャベツ)," harvested during springtime. When I lived in the UK I used to use a type called "Sweeheart cabbage" (also known as pointed / hispi cabbage or sugarloaf).
Other ingredient ideas to customize the flavour
We all have unique taste buds, and that's what makes yamitsuki cabbage so awesome! It has a simple base, letting you mix and match ingredients and seasonings to create your perfect dish.
Here are some popular add-ins you might find at Japanese izakayas or even in home kitchens:
Remember, don't add all the ingredients at once. Instead, add a little at a time and taste as you go to avoid making your dish too salty or in case some particular flavor becomes too strong. I recommend starting with the basic recipe on the recipe card below if you make use this recipe for the first time!
Adjusting its saltiness
Japanese people are known for their love for salty food, but it's easy to adjust the quantities to suit your taste. Feel free to reduce the salt and chicken stock if it's too salty for you.
If you want to make this dish suitable for vegetarians and vegans, you can simply substitute the chicken bouillon powder for vegetable stock powder or a little extra salt.
Instructions on how to make izakaya salted cabbage
Making izakaya style yamitsuki cabbage couldn't be simpler! It also only takes 5 minutes. Here are 3 simple steps, see the recipe card below for the ingredient quantities.
Mix condiments in a bowl
Mix the sesame oil, sesame seeds, chicken bouillon powder, salt, garlic paste and black pepper in a bowl. This step is a little different to my original video but I find by mixing all the condiments beforehand, the flavours are more evenly distributed through the dish.
Cut the cabbage
Roughly cut the cabbage and add it to the bowl. Mix everything together by hand, this will ensure all the cabbage pieces are evenly covered.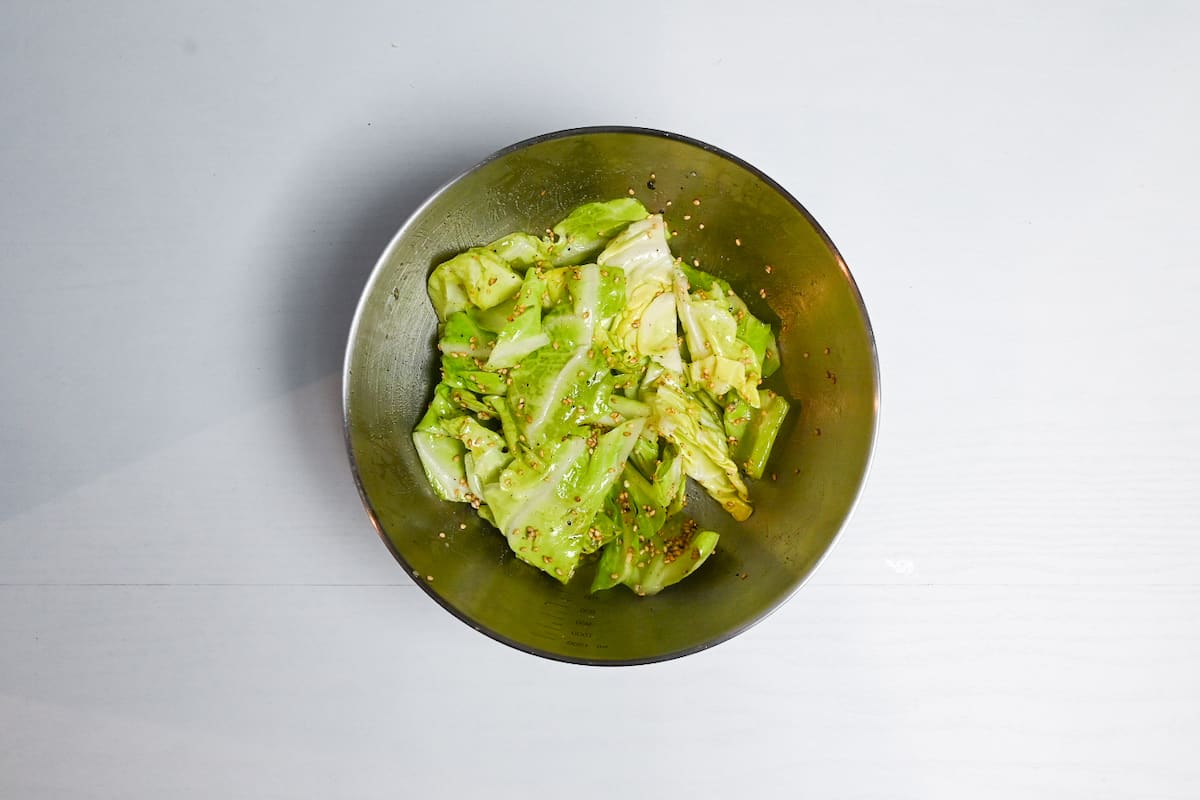 If you have any cuts on your hands, make sure they're covered or alternatively wear gloves.
Dish up
Transfer to a serving dish.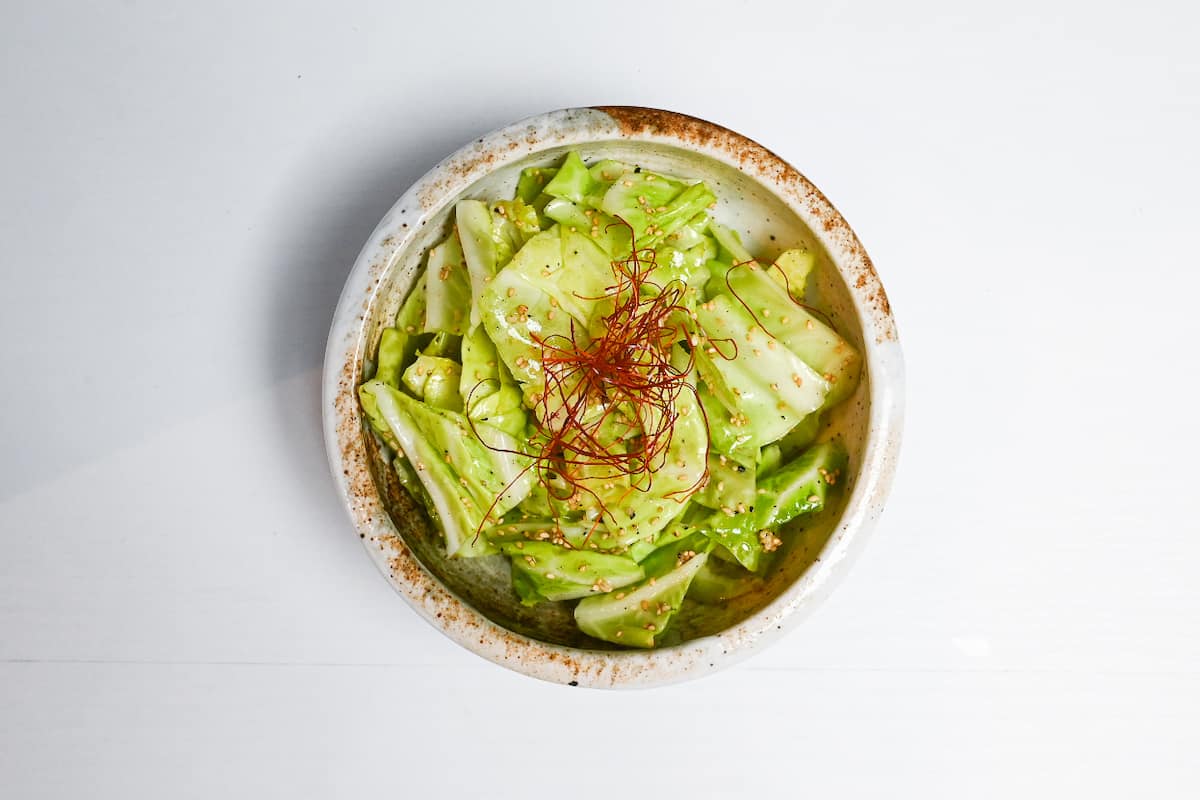 I like to decorate the top with chili threads for a pop of colour and spicy kick, but this is optional!
I hope you enjoy this super easy but equally delicious Izakaya style yamitsuki cabbage! If you try the recipe, let me know what you thought in the comments. Enjoy!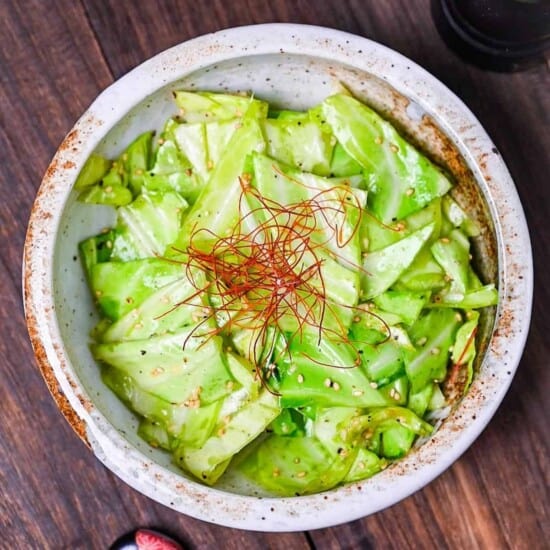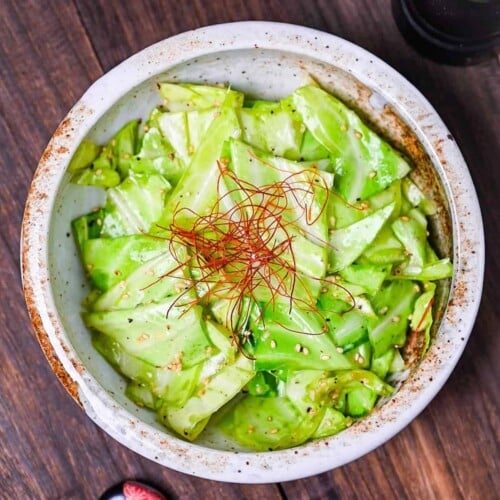 Addictive Izakaya Style Salted Cabbage (Yamitsuki Cabbage)
---
How to make Izakaya Style "Addictive" Salted Cabbage.
---
---
---
---
Ingredients
Instructions
Take a large mixing bowl and add

1 1/2 tbsp sesame oil

,

1 tbsp sesame seeds

,

1/2 tsp Chinese-style chicken bouillon powder

,

1/4 tsp salt

,

1/4 tsp garlic paste

and

1/4 tsp black pepper

. Mix thoroughly.

Wash

100 g green cabbage

and cut it into rough pieces.

Add the cabbage to the bowl and use your hands to rub the seasoning over the leaves, making sure it's evenly distributed. (Make sure to use gloves if you have sensitive skin or any cuts on your hands.)

Transfer to a serving dish and top with chili threads (optional).

Enjoy as a side or snack!
Notes
This is a small batch recipe for 2 people. Feel free to double or triple!
If the recipe is too salty or not salty enough, you can adjust the salt/chicken bouillon to suit your own tastes.
Seasoning can be made in advance and then applied to the cabbage just before serving.
Nutrition
Calories:
94
kcal
|
Carbohydrates:
4
g
|
Protein:
1.7
g
|
Fat:
8.6
g
|
Saturated Fat:
1.3
g
|
Polyunsaturated Fat:
3.5
g
|
Sodium:
418.5
mg
|
Fiber:
1.5
g