This simple, yet delicious Japanese style hamburg steak is made with 100% beef, onions and seasoned with salt, pepper and nutmeg, then drizzled with a rich and tangy homemade sauce. Not only is everything made from scratch, but it's packed with flavour and ready in just 30 minutes!
Disclaimer: This post contains Amazon affiliate links. Sudachi Recipes earn a small percentage from qualifying purchases at no extra cost to you. See disclaimer for more info.
What is Japanese Hamburg Steak!?
Burger without buns?
Okay, some of you might think it's crazy, but if I explain Japanese Hamburg Steak in the simplest way, that would be a hamburger without a bun or salad.
Yeah I know you might think "Why would you do that!?"
Well, but actually it's slightly different from just "burger without buns".
Origin of Hamburg
As you might have guessed from the name, the origin of this dish is Hamburg, Germany.
In the 17th or 18th century, people started making small meatballs from ground meat mixed with breadcrumbs called "Frikadellen" and that's the earliest story of the most basic form of hamburg.
Fast forward to the 19th century, German emigrants were making their way to the US and Hamburg steaks started popping up on menus around New York. It didn't take long for the popularity of Hamburg steak to spread across the US, not only were they delicious to eat but they were relatively cheap to make as well.
The Hamburg steak developed into hamburgers in a bun as we know them today, and became an iconic American dish.
Hamburg in Japan
It is said that the Hamburg traveled to Japan in early 20th century.
It was around the 1960's that the Hamburg started to gain popularity amongst Japanese families. Ground meat was fairly cheap to get compared to other meats back then.
Then in true Japanese fashion, they started to arrange the dish to their tastes serving it with rice and drizzling it with a Japanese style sauce.
What Ingredients are Used in Japanese Hamburg Steak?
Ground meat, Onion, Panko
These three ingredients are the heart of the dish.
People who like extra meaty hamburgs stick with these three simple ingredients, however some people add other vegetables such as carrot, cabbage, spring onion...etc.
As for the type of meat, usually 100% beef mince or a beef/pork mix are used.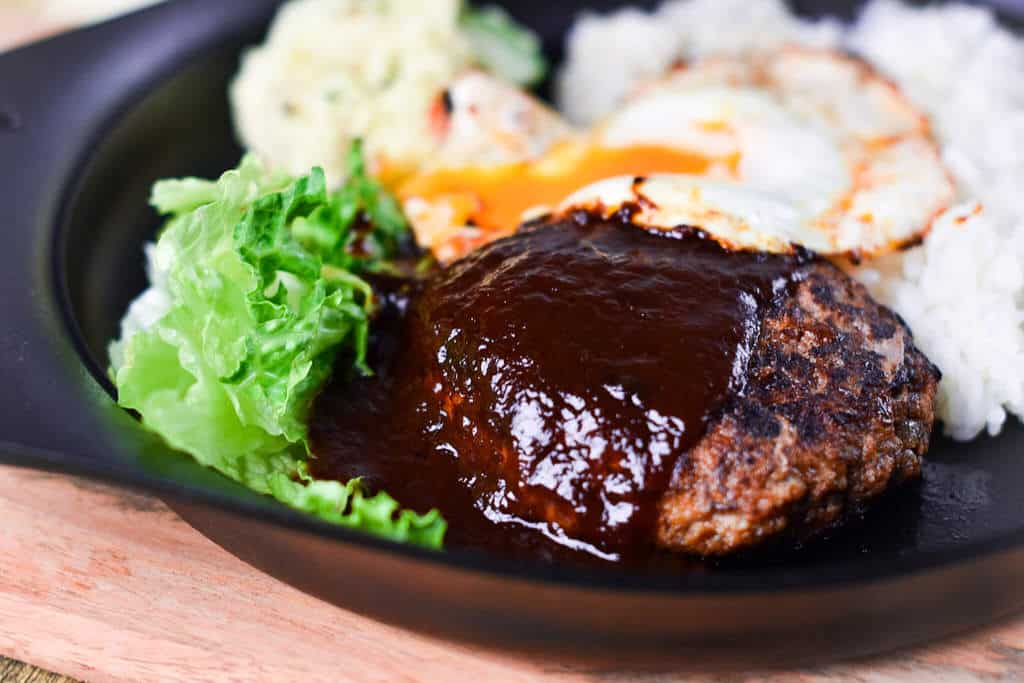 Sides
Japanese Hamburg steak goes with a whole range of different sides, here are a few ideas for you.
Rice
Fries
Wedges
Potato salad
Salad
Corn
Coleslaw
Fried egg
Hamburg Sauce
There are many different types of sauce for Hamburg steaks!
The most popular sauces are:
Demi-glace sauce
Soy sauce base wafu sauce
Tomato base sauce
Teriyaki sauce
Cheese sauce
There are so many kinds, just like regular steaks.
Real demi-glace sauce takes a long time to make so I've created my own special shortcut Hamburg sauce. Using juices from the meat mixed with a mixture of condiments such as ketchup and Worcestershire sauce creates a rich, sweet and delicious sauce with a slight zing. It's seriously good!
Check out our video for How to Make Juicy Japanese Hamburger Steak with Homemade Sauce
Print
Juicy Japanese Hamburg Steak (ハンバーグ)
---
Author:

Total Time:

30 minutes

Yield:

2

Portions

1

x
Description
How to make juicy and delicious, Japanese Hamburg Steak with special, rich homemade sauce.
---
For the Hamburg
300g

Beef mince (

10.5oz

)

½

White onion

4 tbsp

Panko breadcrumbs

3 tbsp

Milk

1

pinch Nutmeg

10g

Salted butter (

2 tsp

)

½ tsp

Black pepper

¼ tsp

Salt

1 tbsp

Vegetable oil
For the Sauce
---
Instructions
Making the Hamburg
First, finely dice ½ onion (as small as you can).

Put 3 tbsp of milk into a bowl and add 4 tbsp of panko. Mix and allow to soak, then set aside for later.

Take a frying pan and heat it on medium high, add the 10g of salted butter.

Add the diced onion to the pan and fry in the butter until soft and slightly transparent.

Transfer the onion to a cold plate and allow to cool for 5-10 minutes.
In a large bowl, put 300g of minced meat, ¼ tsp salt, ½ tsp black pepper, the cooked onion and a pinch of nutmeg.

Mix by hand until the seasonings and onions are distributed through the mince but try not to mix too much. Don't let the mince get warm or paste-like.

Add the milk and panko mixture to the mince, mix by hand again.

Now you can shape the hamburg.
Shaping the Hamburg
First, using the edge of your hand, divide the meat in two.
Take out one half and press it into a round shape.

Toss the patty from one hand to the other to shape it into a thick patty (about 2cm / 1 inch thick).

Once you're happy with the shape, press a slight indentation in the middle.

Lay carefully on a plate and repeat with the other half.
Cooking
Heat a frying pan on medium high and add 1 tbsp of vegetable oil.
Once hot, place the patties into the frying pan with the dent side facing up.

Fry for 2-3 minutes.
Using a spatula, carefully lift the patties slightly to check if the underneath is browned and slightly crisped up. If it's not, leave it to cook for longer. If it is, then flip it over.

After you've flipped the patties, turn down the heat to medium low. Continue to cook in the frying pan for 3-4 minutes.
Using a toothpick (or check with a meat thermometer, the centre should be at least 70°C or 160°F) pierce the patty. If no juice or red juice comes out then it's not cooked yet so reduce the heat to the lowest setting and add a lid to allow it to steam for an extra few minutes, this will stop it from burning.

If the juice comes out clear, it's ready. Turn off the heat and transfer the hamburgs to the serving plates.
Making the Sauce
In the same pan as you cooked the hamburgs, add 2 tbsp Worcestershire sauce, 4 tbsp tomato ketchup, ½ tbsp mustard and 2 tsp honey.

Mix and simmer for 2-3 minutes until slightly thickened.

Drizzle the sauce over the hamburg and serve! Hamburg is often served with salad, potato salad, rice, fries... however you like!

Enjoy!
Notes
You recommend 100% beef for this recipe, but if beef/pork mix is also okay. (Just make sure it's 100% cooked if it contains pork)
When mixing the hamburg minced meat and seasonings, try and work quickly with cold hands. If you take too long, the warmth from your hands will begin to melt the fat in the meat and makes it harder to form the hamburg shape as well as becoming more difficult to cook.
If you want to make the hamburgs ahead of time and cook later, you can prepare the mince and keep it in the fridge until you're ready to use it. Shape just before cooking.
Prep Time:

10 mins

Cook Time:

20 mins

Category:

Meat

Method:

Frying

Cuisine:

Japanese
Keywords: Japanese hamburg recipe,How to make Japanese Hamburg Steak,Why is mince called Hamburg,What is a Japanese burger,How to make hamburg steak sauce,hamburg recipes,hamburg sauce, Japanese hamburg, hamburg recipe,