Hambagu is a popular Japanese comfort food made from ground meat, onions, breadcrumbs, and seasonings. Learn everything you need about Japanese Hambagu, from crafting the perfect patty to making your own delicious homemade sauce!
Disclaimer: This post contains Amazon affiliate links. Sudachi Recipes earn a small percentage from qualifying purchases at no extra cost to you. See disclaimer for more info.
Jump to:
What is Hambagu (Japanese Hamburger Steak)?
Hambāgu (ハンバーグ) is Japan's inventive take on the hamburger, blending traditional and global flavors. Essentially, it's a patty made from a mix of beef, pork, onions, panko breadcrumbs, eggs, and seasonings, pan-fried to perfection.
The dish's roots trace back to the 13th-century "Steak Tartare" introduced by Mongols to Europe. As it traveled, it adopted various ingredients, eventually becoming the "Hamburg Steak" in Germany, which the US adopted.
Japan's introduction to this dish was in 1882 as the "German steak" or "minced ball," simply beef fried with tomato sauce.
Its popularity in Japan began in the 1960s, reflecting the nation's evolving tastes. While it might remind many of a bun-less hamburger, it fits seamlessly into Japan's rice-centric cuisine.
In the US, there's a dish that resembles hambagu called "Salisbury Steak". It's made with beef patties served in a thick gravy sauce, but they are not directly related despite their similarities.
How I Developed This Recipe
In my quest to develop this hambagu recipe, I set my sights on capturing the essence of a gourmet restaurant's hamburger steak, instead of home-cooked variants.
The line distinguishing a household hamburger from its restaurant counterpart is often drawn by two defining factors: the meat's juiciness and the sauce's depth.
My journey was laser-focused on the sauce, ensuring it resonates with the caliber and richness synonymous with restaurant-grade hambagu.
Meat Options for Hambagu
As I mentioned, historically in Japan, people often mix pricier ground beef with cheaper ground pork to enjoy tasty hambagu without breaking the bank.
Pork and beef mixture is often preferred even today, not only because of its cost-effectiveness but because it produces more flavor than beef alone. Additionally, the fat from the pork makes it delicious even when cooled, making the texture juicy and tender.
1. Ground Beef and Pork Mix (Recommended)
As for the ratio, if you want a solid beefy/meaty flavor, go for 7:3 or 8:2 beef-to-pork ratio. If you want a richer flavor and smooth texture, you can use a higher percentage of 6:4 beef-to-pork.
Also, if you grind these meats yourself, I recommend grinding beef coarsely but pork finely. This allows a small amount of pork evenly distributed throughout the beef.
2. 100% Ground beef
On the other hand, 100% beef hambagu can be dry and tricky to shape due to the mix of lean and fatty meat. Some specialty restaurants sell 100% beef hambagu, but if you want to make them yourself, you'll need to get creative with your choice of beef cuts, lean/fat ratio in mind.
The great thing about all-beef hambagu is that they don't need to be fully cooked so you can enjoy them rare or medium-rare.
3. 100% Ground pork
For a tender option, 100% pork hambagu is popular with kids. Although they're higher in fat, they have a rich, soft texture. However, hambagu with 100% pork mince can lack some meatiness.
4. Ground chicken (not recommended for this recipe)
While chicken hambagu certainly exist, they're not nearly as popular as beef or pork hambagu. For this recipe in particular, I don't recommend using chicken mince since you need different seasonings and quantities to compliment the flavor of the chicken.
Chicken hambagu also works better with a thicker, creamier sauce (rather than the rich demi-glace-inspired sauce that I included in this recipe).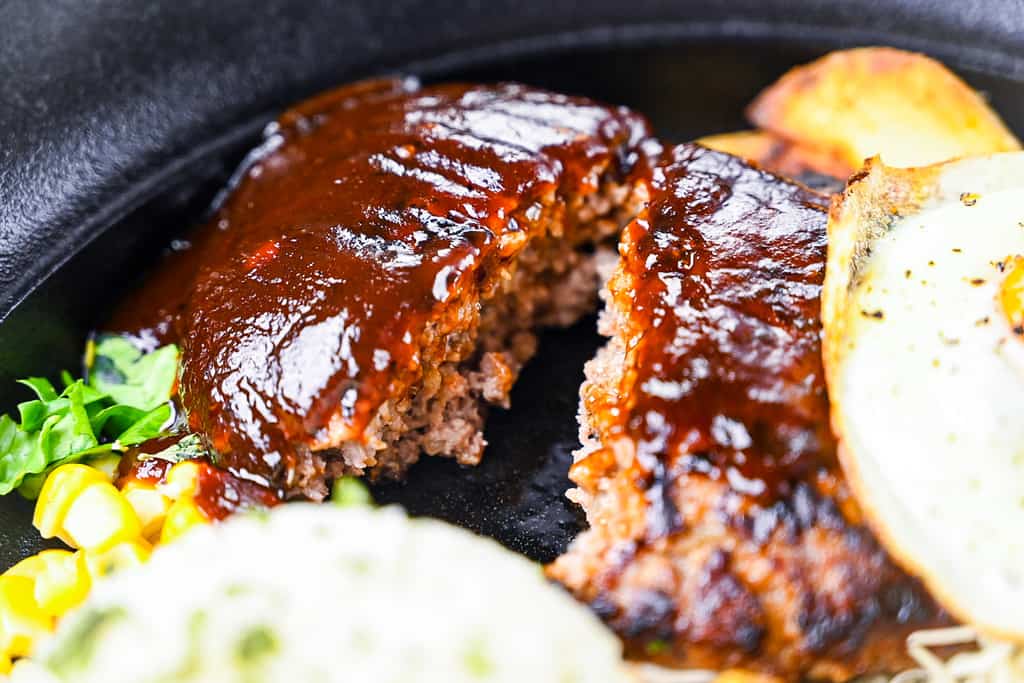 Ingredients and Substitution Ideas
Here, I will list some ingredients commonly used for Japanese Hambagu and how to prepare them.
Ground beef/pork: Opt for 100% beef or a blend of beef and pork, depending on your taste. See above for the details.
Yellow onion: Yellow onions are the go-to in Japan, but white onions are a suitable alternative. I recommend finely dicing the onion and sautéing it before incorporating it into the minced meat for enhanced sweetness and depth.
Panko breadcrumbs: These Japanese breadcrumbs lend a delicate, tender texture to the dish. You can either purchase them or explore how to craft your panko breadcrumbs.
Milk: Soaking the breadcrumbs in milk before adding them to the meat elevates the flavor and ensures a more tender result.
Nutmeg: This spice complements the meat's flavor and accentuates the sweetness of the onions.
Salted butter: I've chosen salted butter for this recipe. If you're using unsalted butter, add a touch of salt.
Worcestershire sauce: A pivotal seasoning, it's the essence of the sauce.
Tomato ketchup: While any standard ketchup works, I've opted for Heinz tomato ketchup in this recipe.
Dijon Mustard (smooth): This might be a secret ingredient in the sauce, but its significance can't be overlooked. Don't miss out on it!
Honey: It imparts a gentle sweetness to the sauce, rounding off the flavors beautifully.
I have listed my recommended Japanese condiments, tools, and ingredients in the Sudachi Recipes Amazon shop. If you want to keep making various Japanese foods at home, please check it out!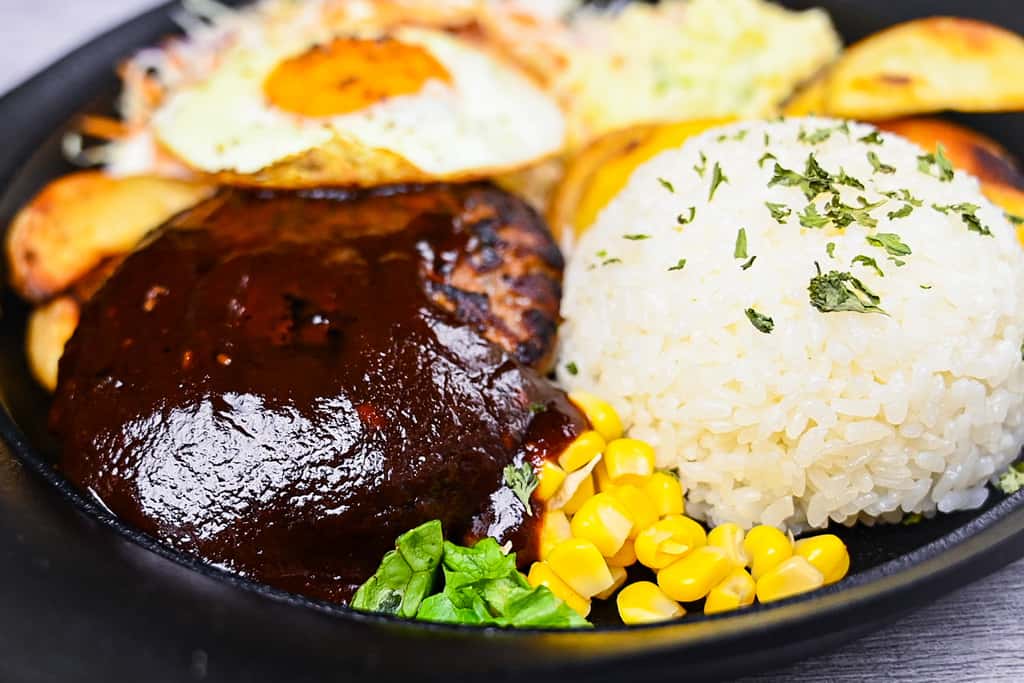 Step-by-Step Process
Japanese Hambagu is a simple and fun dish to make! Here is my step-by-step guide on making authentic Japanese Hambagu at home, with tips and tricks to make it perfect every time!
For added sweetness, I like to fry the onions before adding them to the patty mixture. Heat a pan on medium, melt some butter, and fry the finely diced onion until it becomes soft and slightly translucent.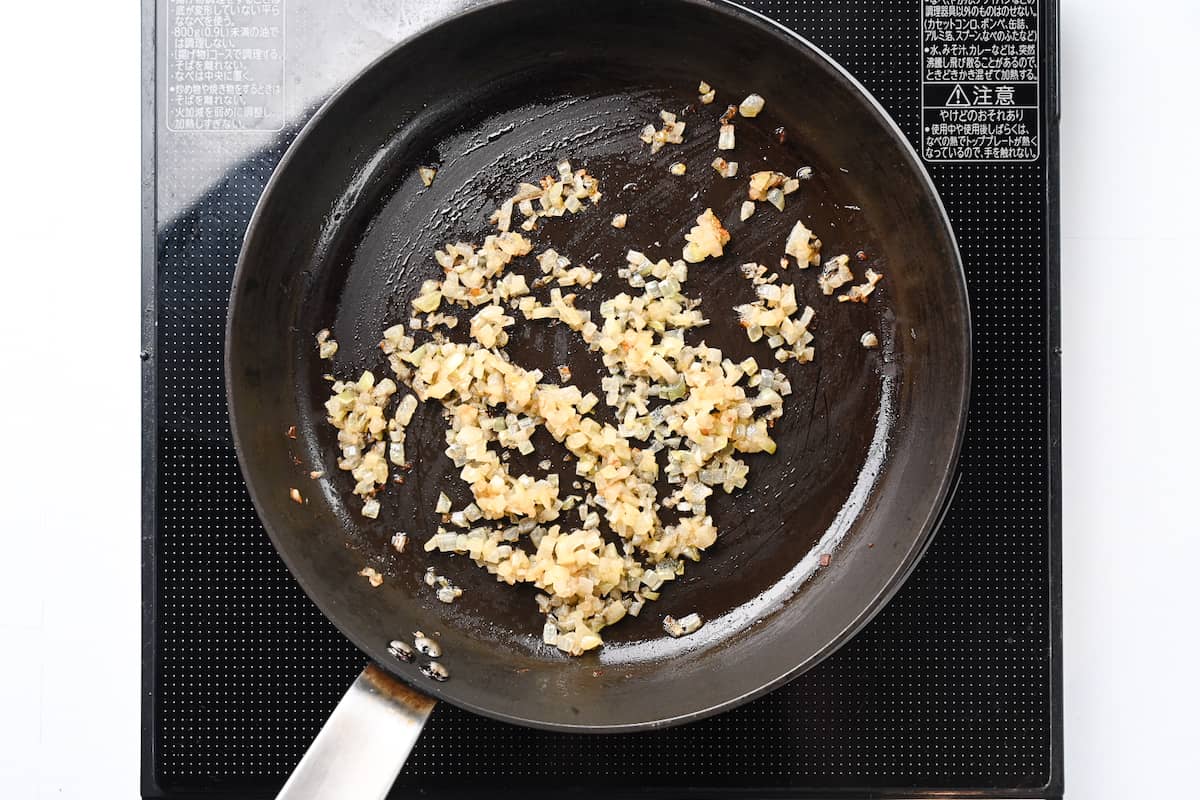 Once cooked, let it cool thoroughly before adding to the patty mixture. I recommend transferring it to a large plate to speed up the cooling process. (You could even chill the plate to speed it up further!)
Once your onions have cooled down, add them to a bowl with the ground meat and season with salt, pepper, and a pinch of nutmeg. Mix by hand until the ingredients are evenly distributed. In a smaller bowl, add the panko breadcrumbs and milk.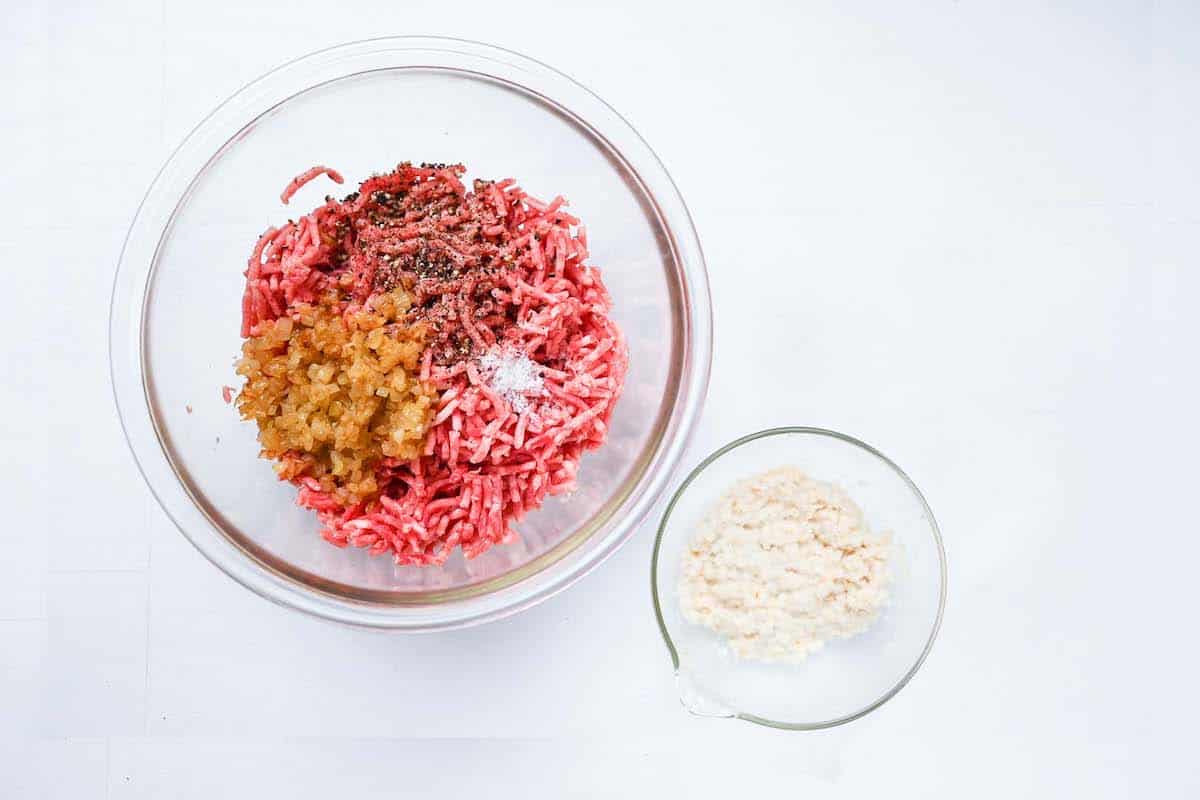 Keep the ingredients chilled
High room temperature, warm ingredients, or even the warmth from your hands can cause the fat in the meat to melt and lead to a dry patty. Keep the patty mixture as cool as possible by chilling the ingredients and avoiding over-mixing.
If you're making this dish in summer, mixing the ingredients over a bowl of ice water is a great way to keep them cold!
Add the panko and milk mixture to the bowl and mix again.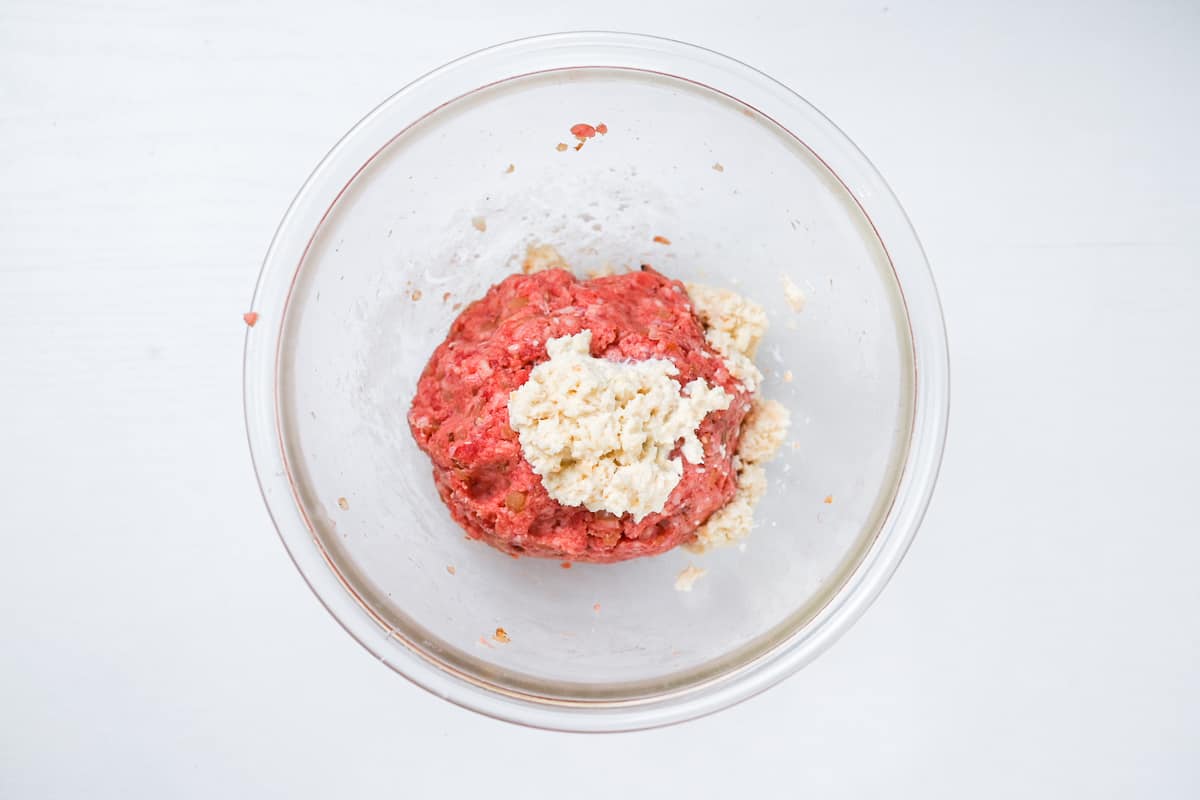 Kneading by hand will ensure the ingredients are evenly distributed throughout the mixture!
Divide the mixture and shape them into patties. Avoid handling the patties too much, otherwise, the texture will become dense and dry.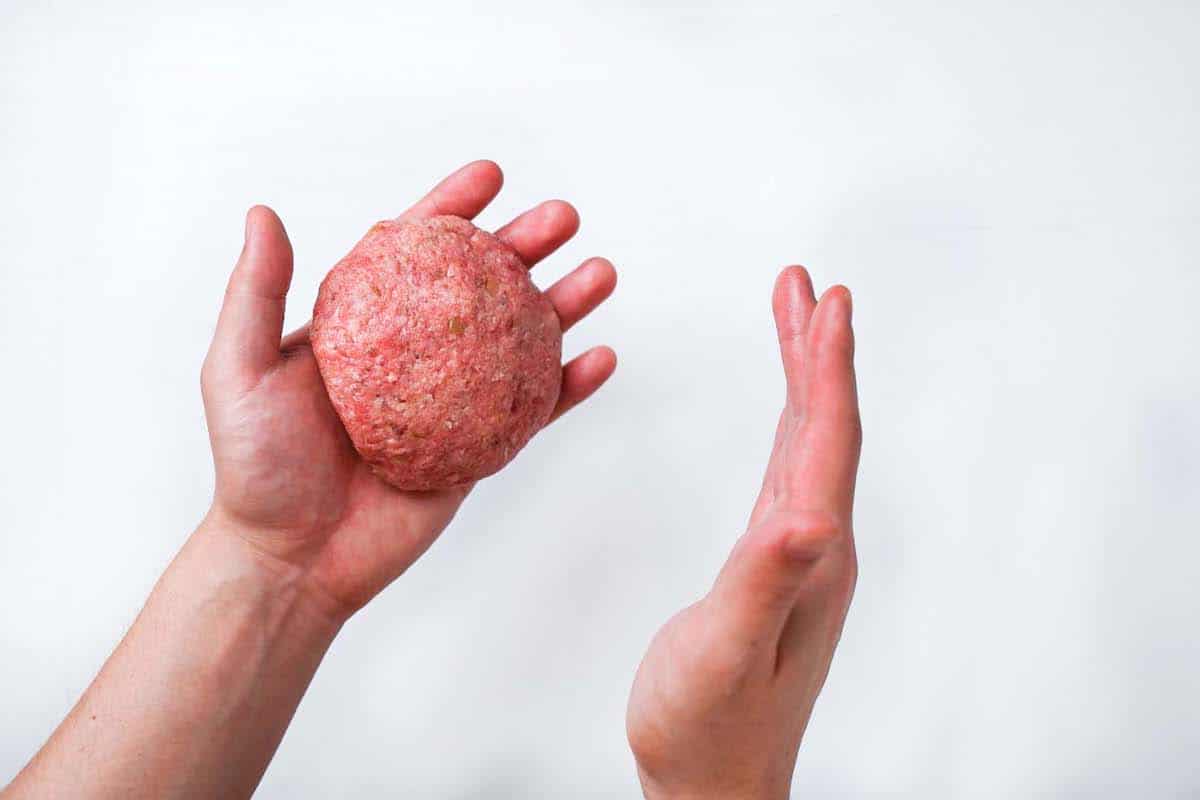 Knock the air out of each patty by throwing them from one hand to the other a few times. If air is left in the mixture, it can expand when cooking, causing cracks on the surface. Not only does this ruin the appearance, but it can also cause the juices to leak out, resulting in a dry hambagu.
Tossing the patties also helps prevent them from becoming too warm and over-handled.
When you shape the patty, ensure the surface is smooth. This will help seal the surface evenly when cooking, trapping the juices and ensuring your hambagu is moist and flavourful.
Meat tends to shrink as it cooks, and in the case of hambagu, the bottom and edges start to shrink first, which can cause the center to puff up and make a dome shape. Make a dent in one side of the patty to stop it from puffing up. It will cook more evenly too!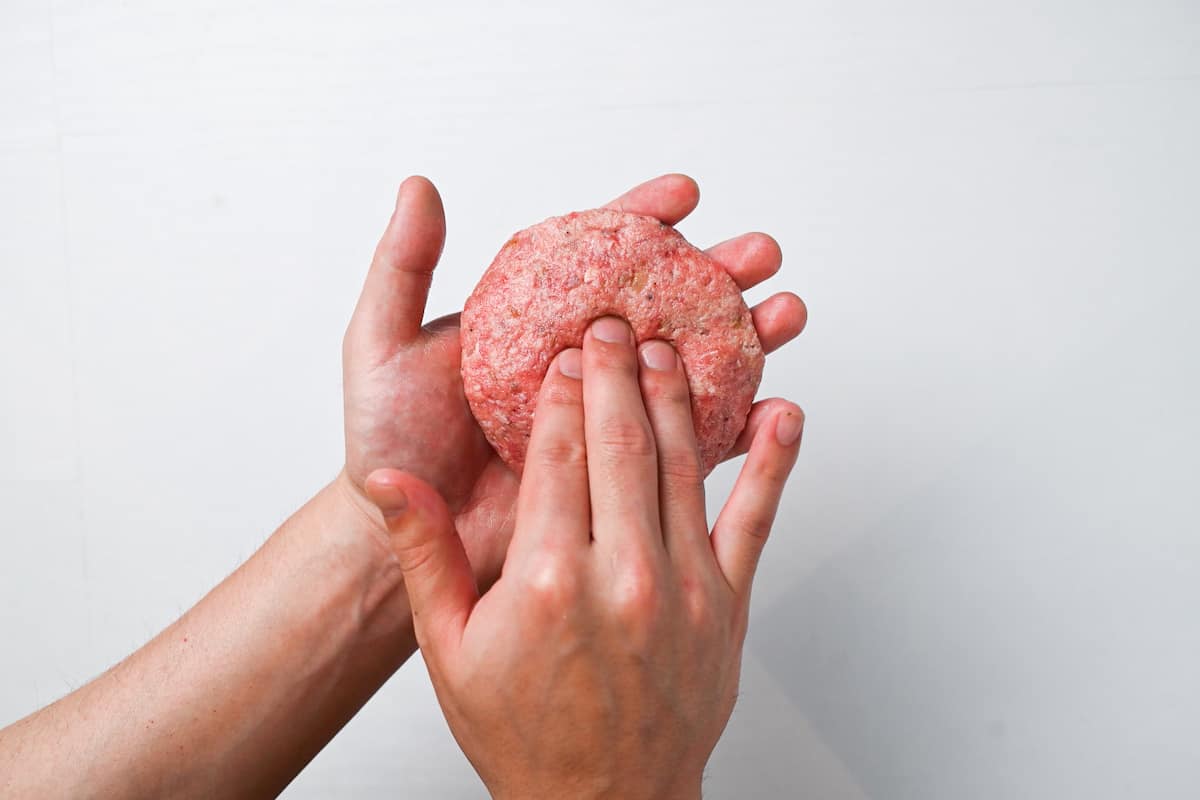 Once you've shaped the patties, cover them and rest them in the refrigerator for 30 minutes. Not only does this stabilize the shape, but it also allows the seasonings to absorb deeper into the meat, creating a richer flavor.
Preheat your frying pan on a medium-high setting. Once hot, add vegetable oil and place the patties in the pan with the dented side facing up. Fry for a few minutes or until browned and crispy on one side.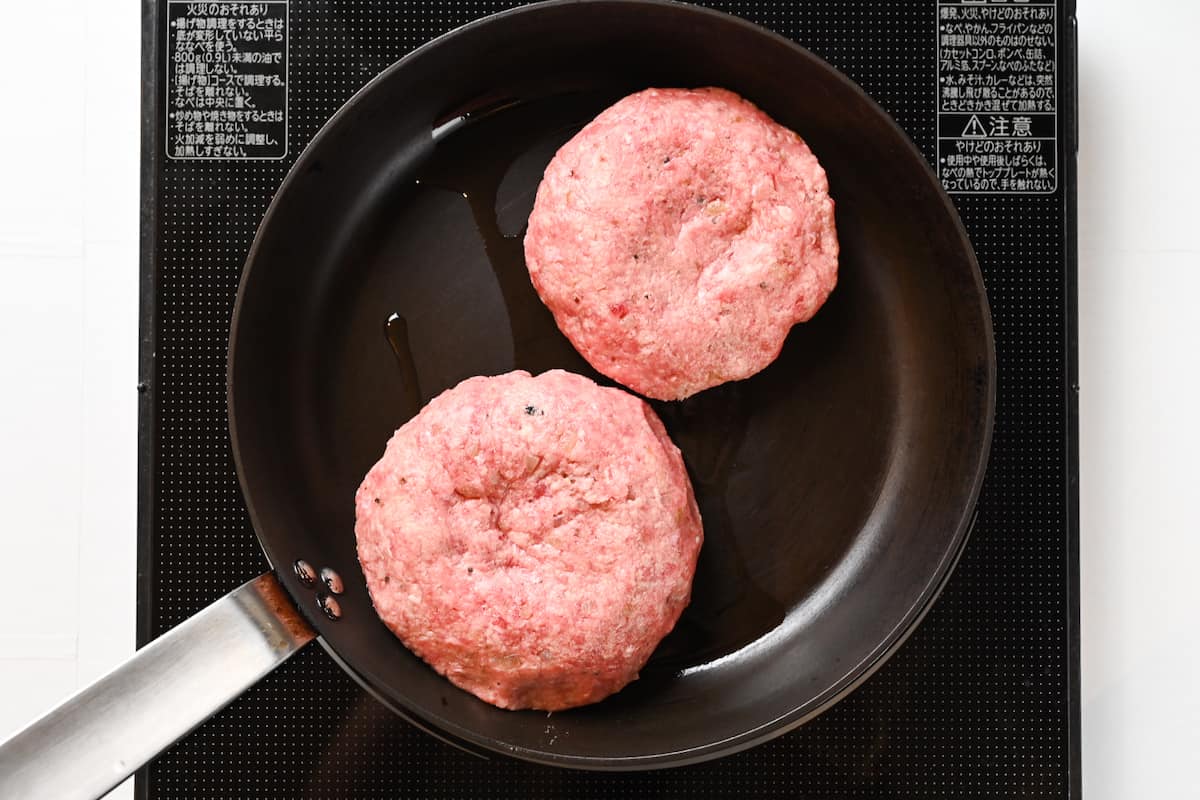 Once crispy, turn the patties over and lower the heat to medium-low. Continue to fry for 3-4 minutes.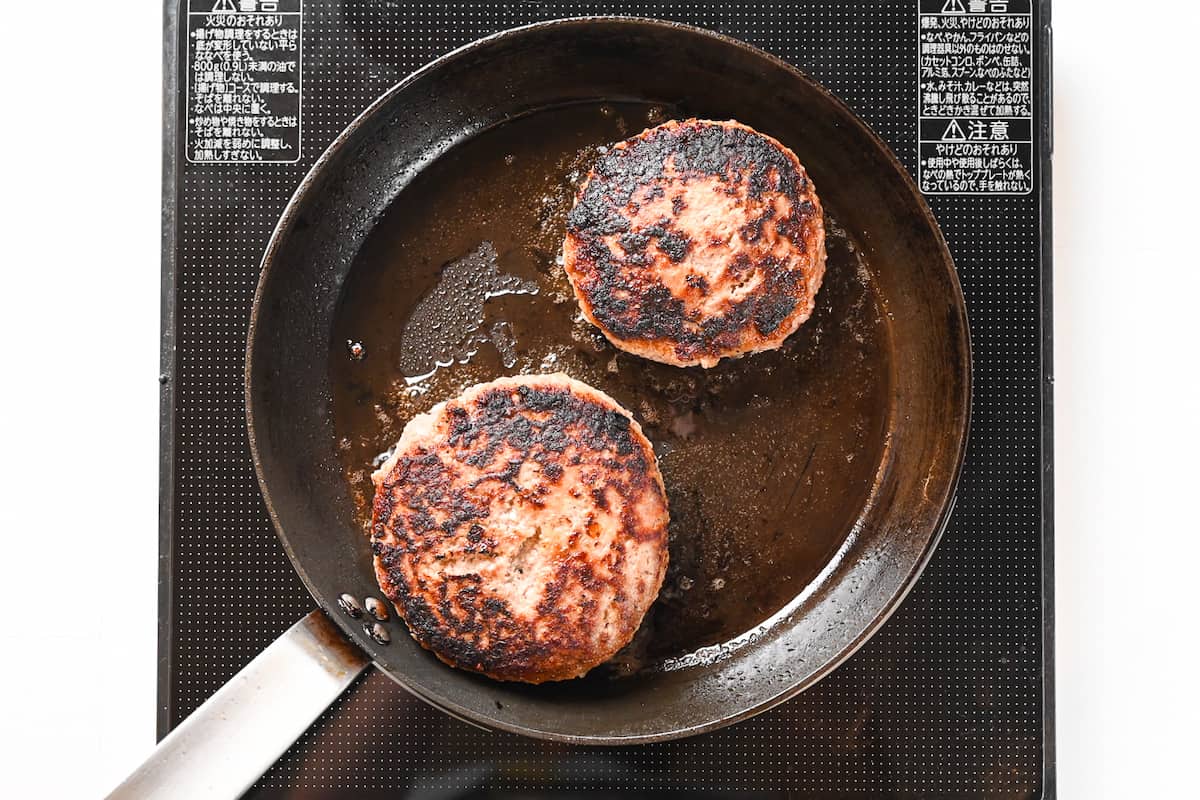 Check the doneness by piercing the thickest part of the patty. If the juices run clear, then they're cooked. If they are red or pinkish, then they need longer. Alternatively, you can use a cooking thermometer. Hambagu should reach an internal temperature of 70°C (160°F) before serving.
Tip: If the hambagu isn't fully cooked through and is starting to burn on the outside, lower the temperature and place a lid on top. This will help it continue to cook without drying out or burning.
Once cooked, transfer to serving plates.
To fully use the juices from the meat, use the same frying pan and add ketchup, Worcestershire sauce, mustard, and honey.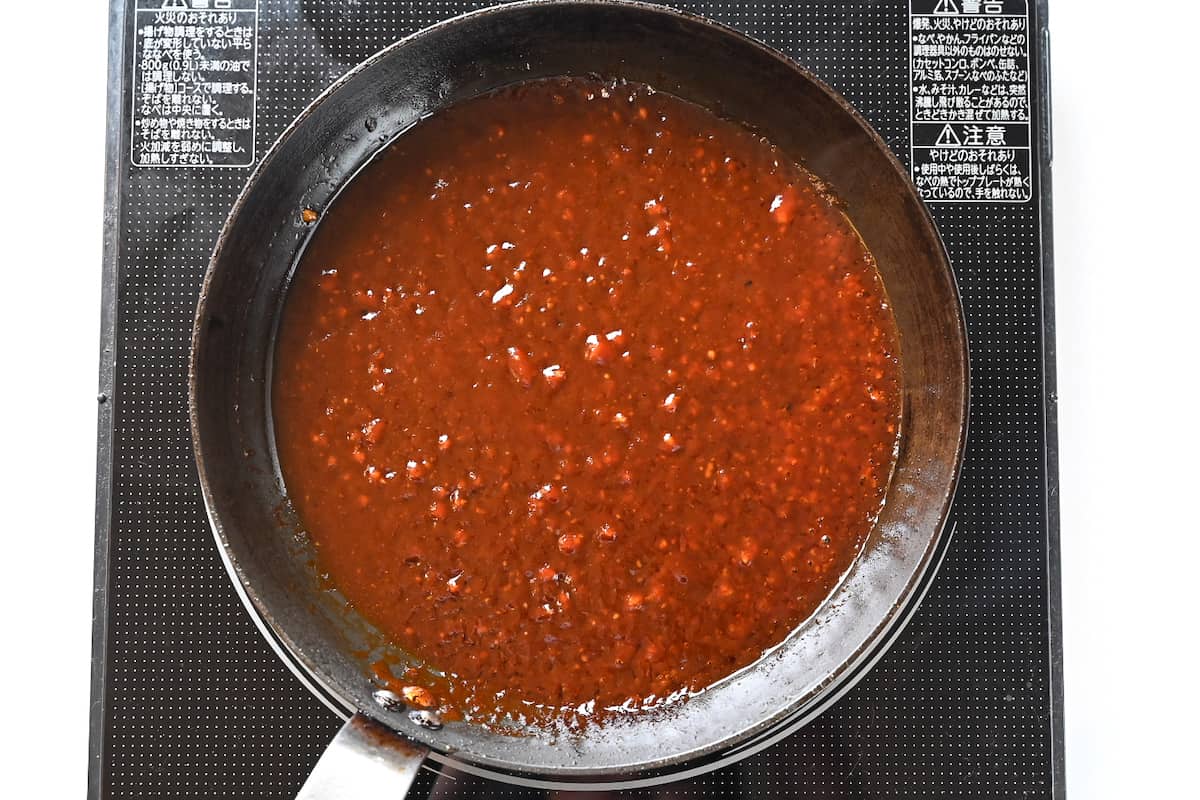 Mix well and simmer for 2-3 minutes or until slightly thickened.
Serve your homemade Japanese hambagu with your favorite sides and add a generous helping of your cheat demi-glace style sauce!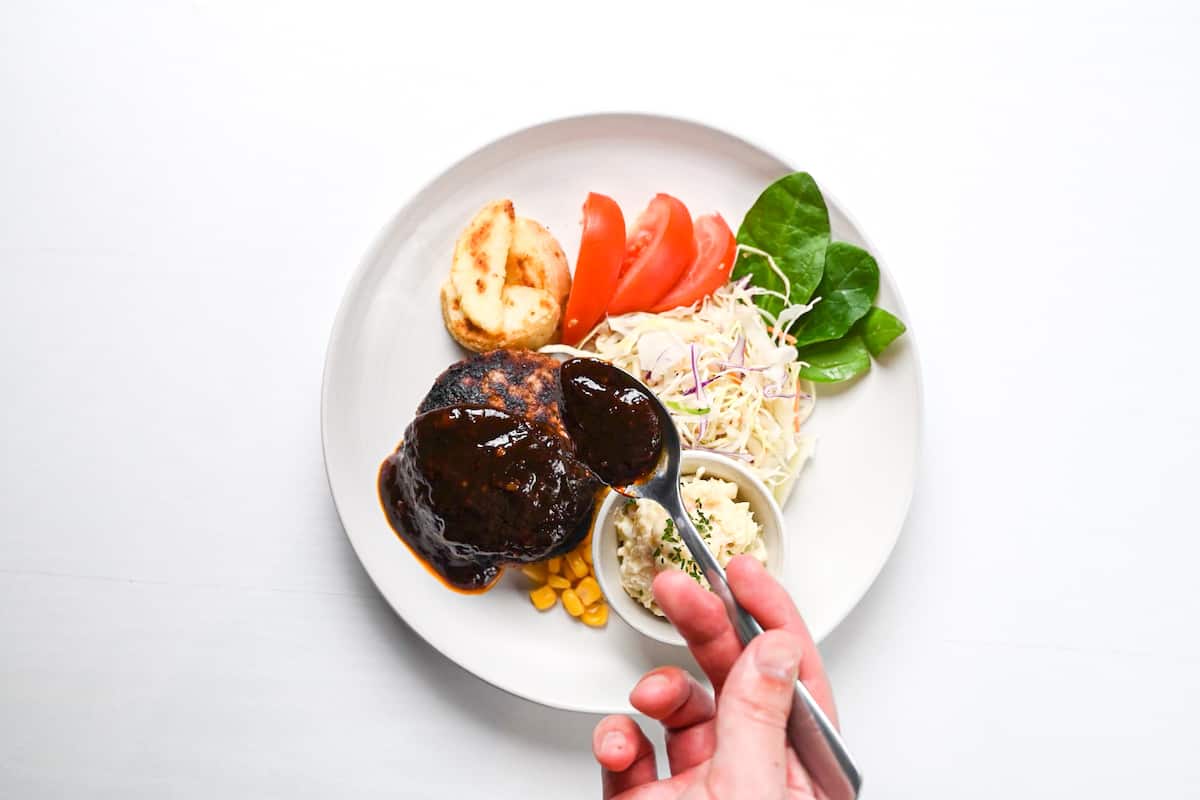 Enjoy!
Storage
To store cooked hambagu, freezing is the best option. First, wrap each hambagu loosely in plastic wrap, but ensure it's sealed well.
Place in a freezer bag, remove as much air as possible and store for up to a month. To reheat, microwave the frozen burger, still wrapped, at 600W. Small to medium patties can take as little as 2 minutes, but increase the time for larger hambagu and ensure it's piping hot before serving. The sauce should be stored separately and will last 3-4 days in the refrigerator or approximately 1 month in the freezer.
If refrigerated, consume within 2 days.
Room temperature - Not recommended.
Refrigerated - Hamburg, up to 2 days. Sauce only, 3-4 days.
Frozen - Up to a month.
Pairing and Side Dish Suggestions
Enjoy Japanese hambagu with some of these tasty sides!
Fried eggs
Potato wedges
Sweetcorn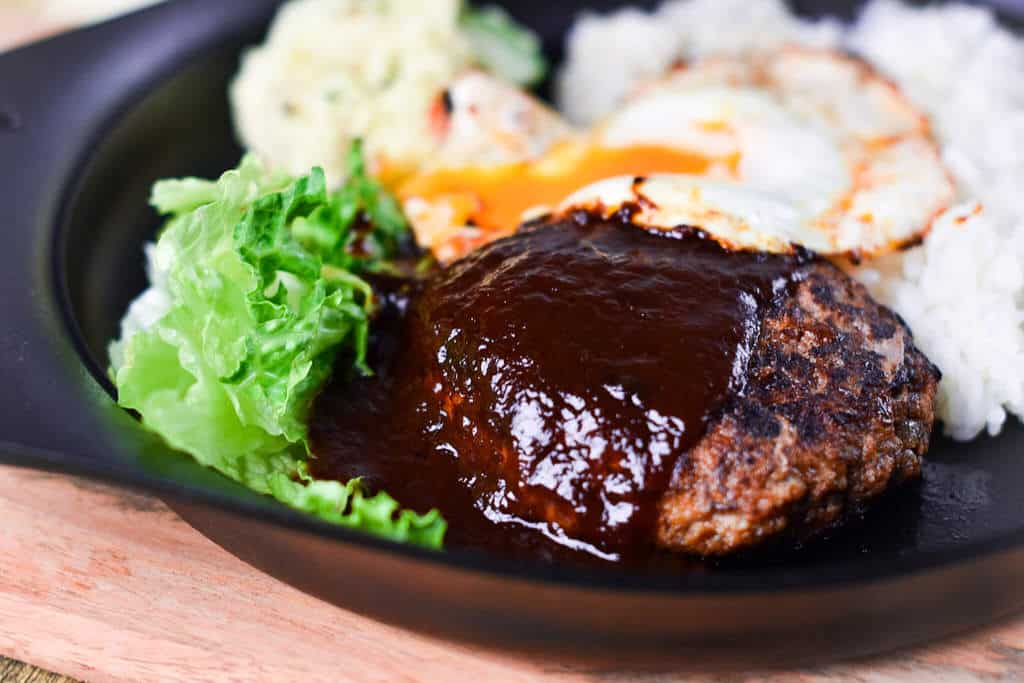 I hope you enjoy this delicious Japanese hambagu recipe! If you try it out, I'd really appreciate it if you could spare a moment to let me know what you thought by giving a review and star rating in the comments below. It's also helpful to share any adjustments you made to the recipe with our other readers. Thank you!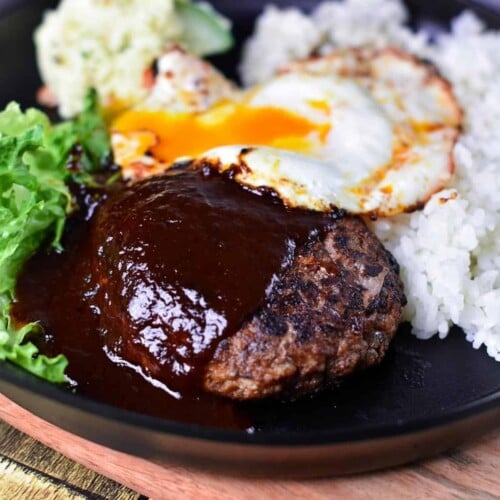 Hambagu (Japanese Hamburger Steak) with Egg and Rice
How to make juicy and delicious, Japanese Hambagu (hamburg steak) with a rich and flavorful homemade sauce.
Ingredients
Hambagu patties
10

g

salted butter

½

yellow onion(s) -

finely diced

4

tbsp

panko breadcrumbs

3

tbsp

milk

300

g

ground beef

1

pinch

nutmeg

¼

tsp

black pepper

¼

tsp

salt

1

tbsp

cooking oil
Hambagu Sauce
2

tbsp

Worcestershire sauce

4

tbsp

ketchup

½

tbsp

dijon mustard

-

smooth

2

tsp

honey
Instructions
Hambagu patties
Heat a frying pan on medium. Once hot, add

10 g salted butter

and

½ yellow onion(s)

(diced). Fry until slightly soft and translucent, then remove from the heat and cool completely before moving to the next step.

Mix

3 tbsp milk

and

4 tbsp panko breadcrumbs

in a small bowl. In a separate large mixing bowl, add

300 g ground beef

,

¼ tsp salt

,

¼ tsp black pepper

,

1 pinch nutmeg

and the cooled onions. Mix by hand until the ingredients are evenly distributed (but be careful not to overmix).

Add the milk/panko mixture to the bowl and mix by hand again until evenly distributed.

Divide the meat into portions, shape them into patties and then toss each one from one hand to the other to remove any air bubbles.

Make a dent on one side and place them on a plate. Cover and chill in the refrigerator for 20-30 minutes.
Cooking
Heat a frying pan on medium-high high and once hot, add

1 tbsp cooking oil

. Place the patties in the frying pan with the dent side facing up. Fry for 2-3 minutes or until browned and crispy.

Flip the patties and reduce the heat to medium-low. Continue to fry for 3-4 minutes.

Check the patties are cooked through by piercing the thickest part with a toothpick. If the juices run clear then they're cooked. Alternatively, check with a cooking thermometer, the internal temperature should reach

70

°C

 .

Tip: If the hambagu isn't cooked all the way through and it's starting to burn, reduce the heat to the lowest setting and place a lid on top.

Once cooked through, turn off the heat and transfer the hamburgs to the serving plates.
Sauce
Using the same pan with the meat juices, add

2 tbsp Worcestershire sauce

,

4 tbsp ketchup

,

½ tbsp dijon mustard

and

2 tsp honey

.

Mix well and allow to bubble for 2-3 minutes until slightly thickened.

Drizzle the sauce over the hamburg, serve with rice, fried egg, potato salad or your favourite sides. Enjoy!
Notes
If you want to make the hambagu patties ahead of time, you can mix, shape and refrigerate until it's time to cook.
Nutrition
Calories:
432
kcal
Carbohydrates:
29
g
Protein:
27.2
g
Fat:
22.6
g
Saturated Fat:
8.8
g
Polyunsaturated Fat:
3.2
g
Cholesterol:
105.5
mg
Sodium:
1437.5
mg
Fiber:
1.6
g
FAQ
What is Japanese Hamburg made of?
Japanese hambagu are usually made by blending ground meat (like beef or pork), onions, breadcrumbs, eggs, salt, and pepper. After forming a shape, they're either pan-fried or sometimes baked in an oven. Adding sauces and toppings makes them even tastier!
What do you eat with hambagu?
Hamburg steak pairs well with cheese, fried eggs, potato salad, mashed potatoes, potato wedges, coleslaw, rice, and soup as toppings or sides.
Why is hamburger steak popular in Japan?
Hamburger steak, or hambagu, gained popularity in Japan for its affordability, versatility, and adaptability to Japanese tastes. The budget-friendly mix of beef and pork, along with its convenience, contributed to its widespread appeal.