Give your salads a Japanese twist with this popular Japanese "goma" sesame dressing. Delicious, creamy and nutty, this dressing is perfect for drizzling over salad or using as a dipping sauce. You only need a few simple ingredients and it's ready in minutes!
Disclaimer: This post contains Amazon affiliate links. Sudachi Recipes earn a small percentage from qualifying purchases at no extra cost to you. See disclaimer for more info.
Jump to:
What is Japanese sesame dressing?
Japanese sesame dressing, known as "goma dressing (ごまドレッシング)" in Japanese, is a thick and creamy dressing made with ground sesame seeds, mayonnaise, rice vinegar, sugar, soy sauce and sesame oil. These 6 simple and accessible ingredients come together to make a rich, tangy and decadent salad dressing like no other!
Even though the bottles of sauce are cheap and easy to find in Japan, I noticed that it's not so easy to find abroad and can sometimes be expensive. Fortunately, it's cheap to make at home, and it's super easy too!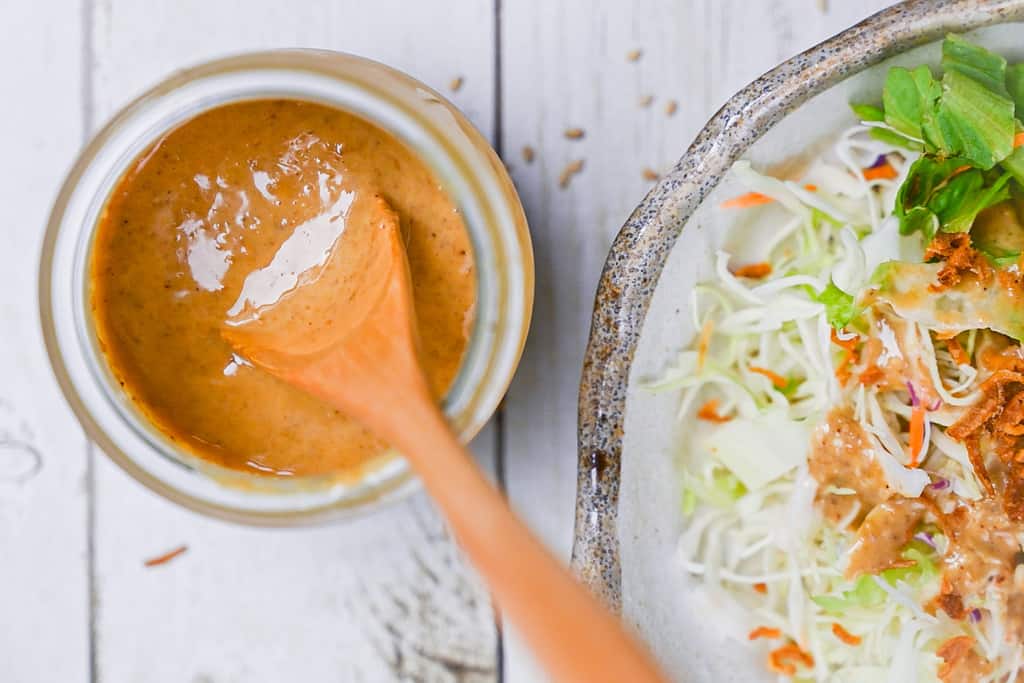 A brief history of sesame dressing
Sesame dressing has a pretty short history. It was first created by Kewpie Corp, the company behind the best-selling "Kewpie mayonnaise" and was distributed for business use in 1999.
By 2000, Kewpie had released their bottled "Deep Roasted Sesame Dressing" in supermarkets and its popularity soared. In fact, to this day it is the number one selling salad dressing in Japan and sold approximately 76 million bottles in 2022! (Kewpie, 2022)
When it comes to salad dressings in Japan, sesame dressing is the most popular by far and this comes down to a number of factors. Not only does it tick every box in terms of flavor, but it's versatile and can be used on many different kinds of salads. It can also be used on noodles, as a dipping sauce, or even as a marinade!
Ingredients to make this Japanese sesame dressing
Making this recipe only requires 6 simple and accessible ingredients! To make Japanese sesame dressing, you will need:
Sesame seeds - known as "iri goma" in Japanese, white toasted sesame seeds are a must-have for this recipe! We will toast them again, but for the best flavor, buy them already toasted.
Japanese mayonnaise - I recommend using Kewpie's mayonnaise (affiliate) for the perfect creamy, umami-rich taste. You can also make it with your usual mayonnaise, but the taste will be slightly different.
Rice vinegar - for added tanginess. Apple cider vinegar is a great substitute.
Sugar - caster or granulated sugar works best since it dissolves easily even in cold liquid.
Soy sauce - helps add balance to the sweetness and tanginess of the sauce.
Sesame oil - not only adds a deeper sesame flavor but also helps thin out the dressing so that it becomes easier to pour.
The great thing about making your own salad dressing is that you can adjust it to suit your taste! If it's too sweet, reduce the sugar. Needs more tang? Add a little extra vinegar. It's totally up to you!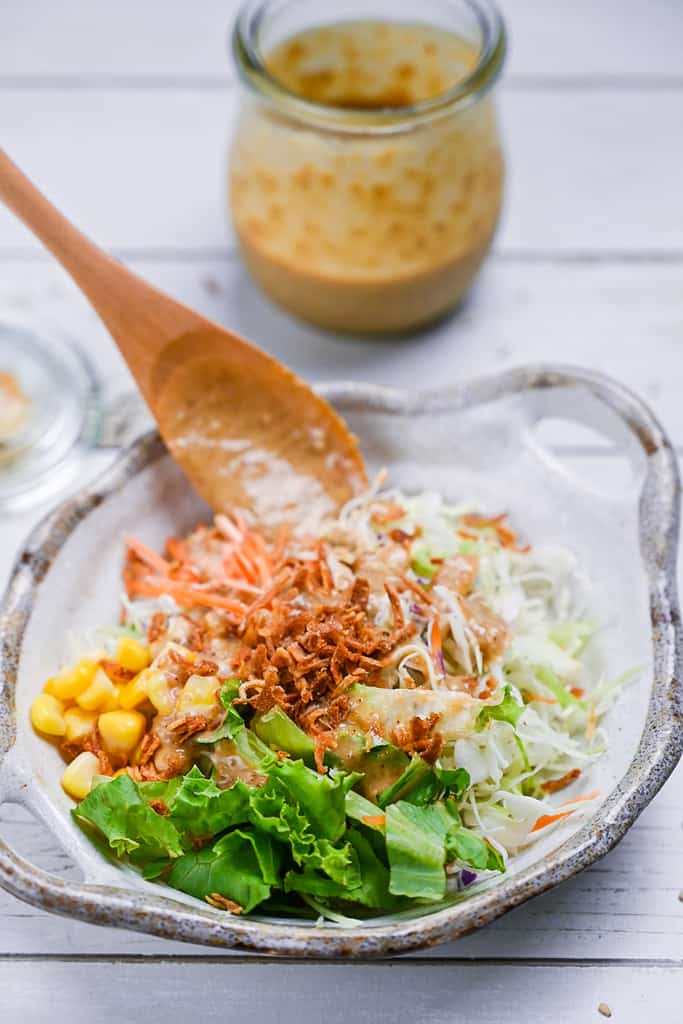 How to Make Japanese Sesame Dressing from Scatch
This simple recipe can be ready in just 5 steps in 10 minutes or less! Here is how to make Japanese sesame dressing step by step:
Add the sesame seeds to a pan
Pour the sesame seeds into a dry cold pan. I recommend not using non-stick pan, as the seeds might scratch and damage it. Place on the stove over a medium-high heat.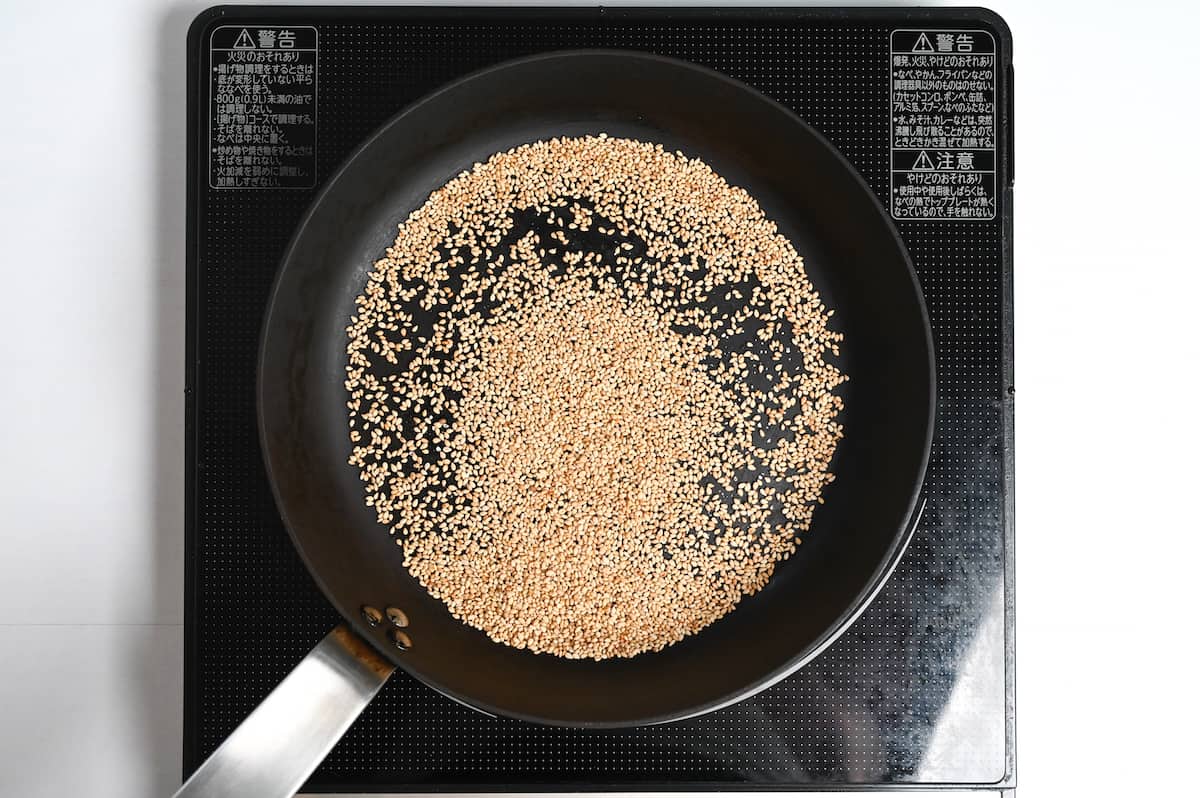 Toast the seeds until golden and fragrant. I recommend swirling the pan around occasionally to prevent burning, and removing the pan from the heat as soon as they're done.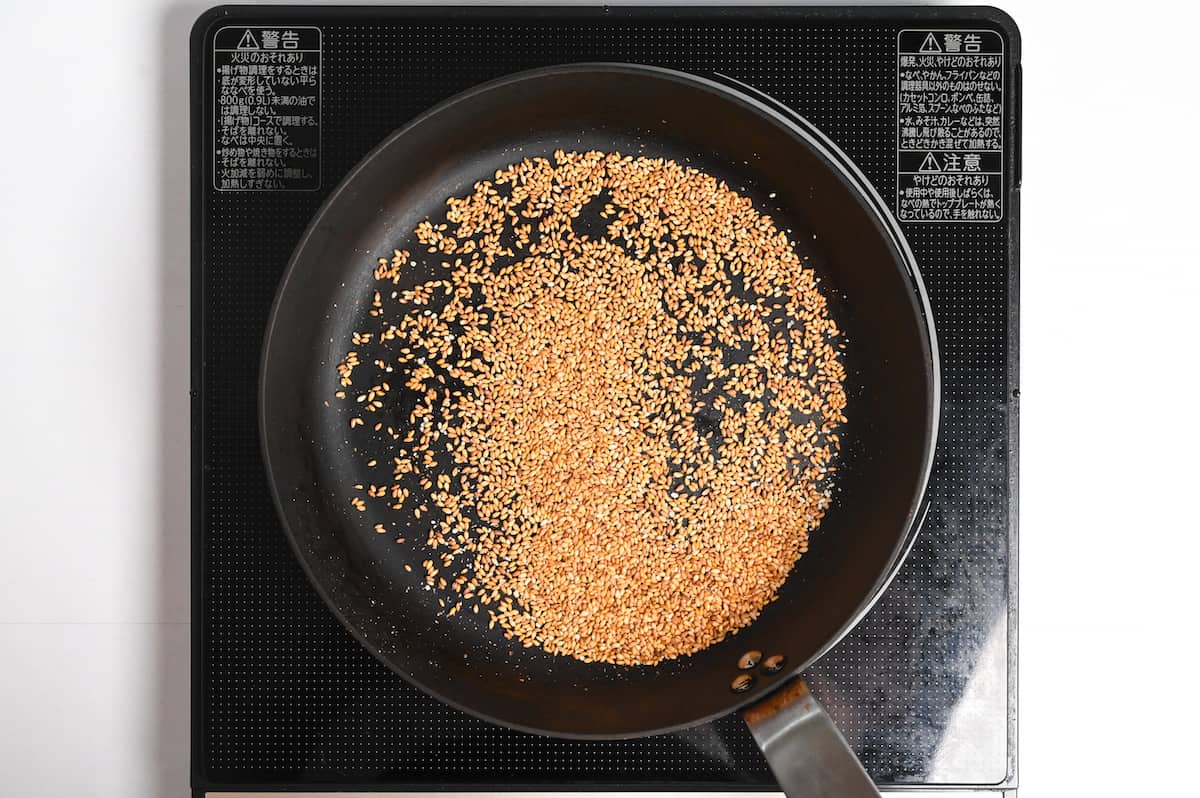 If you're making a small batch, grind the toasted sesame seeds into a fine powder using a mortar and pestle. (If you're making a large batch, you can use a food processor to speed things up.)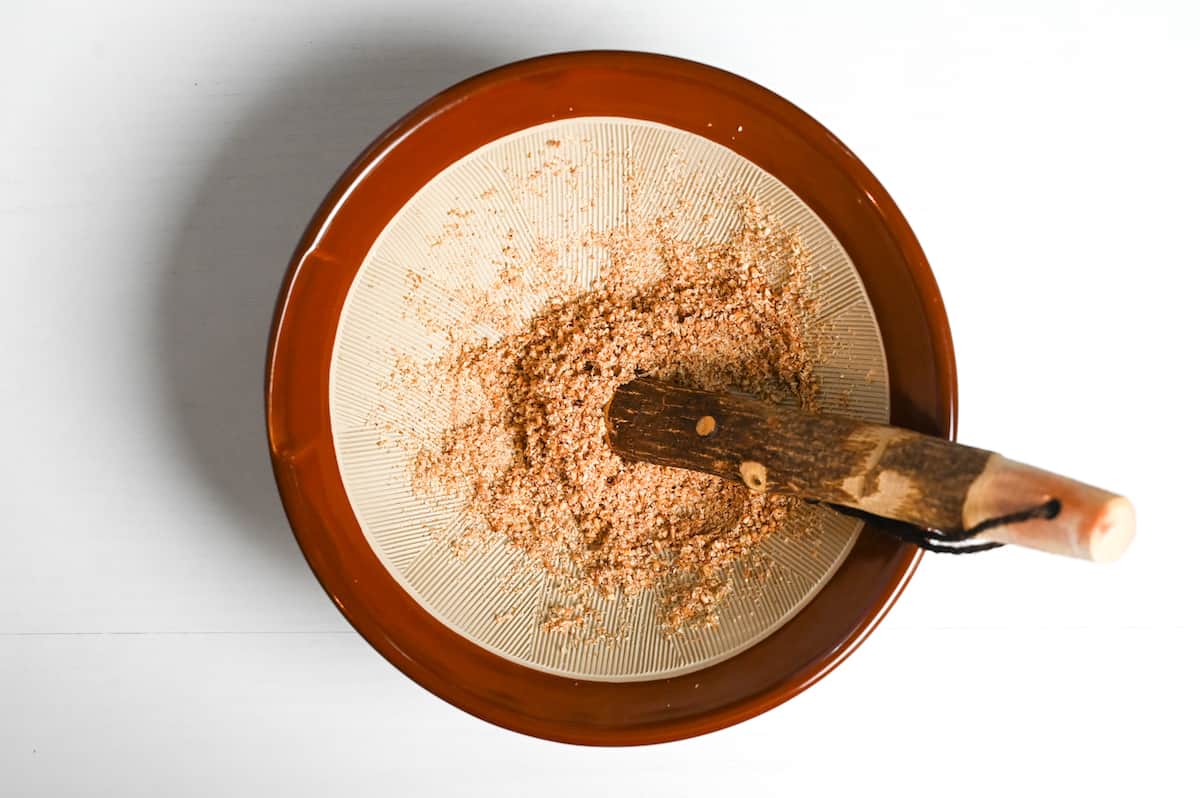 Transfer the ground sesame seeds to a bowl and add the mayo, rice vinegar, sugar, soy sauce and sesame oil.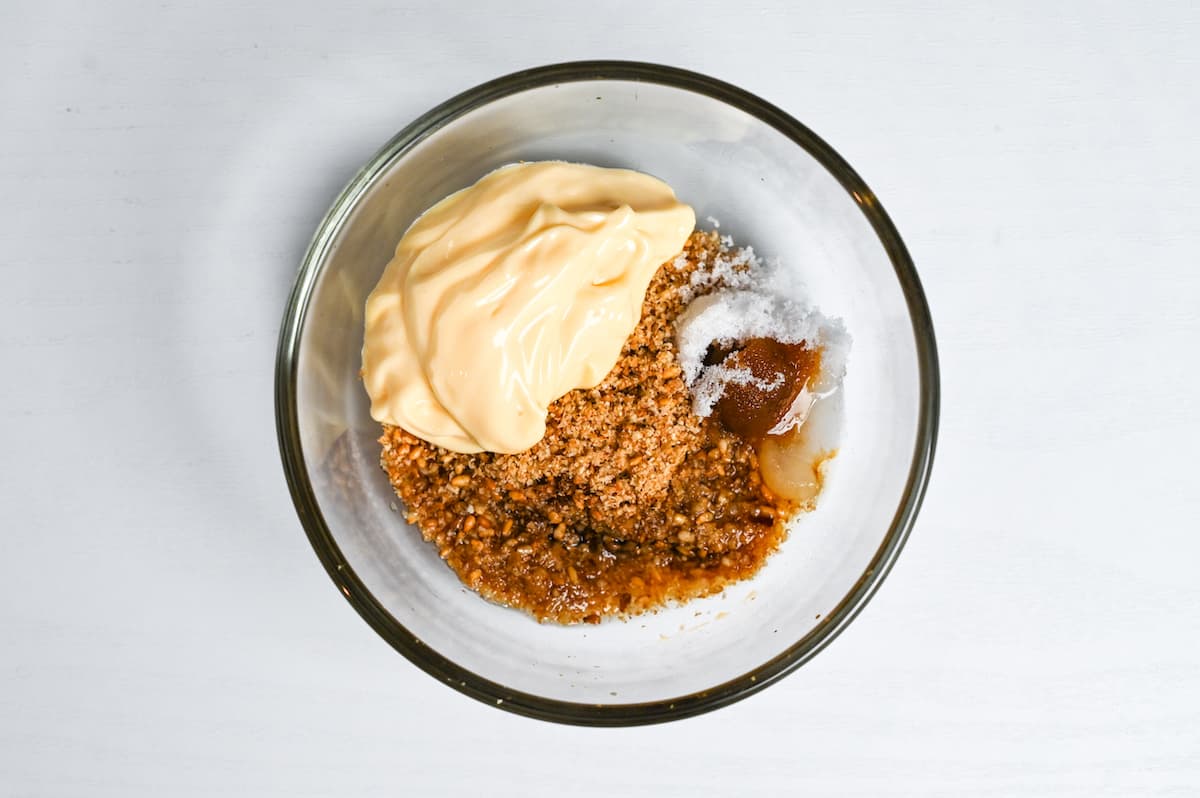 Mix everything together until the ingredients are evenly distributed.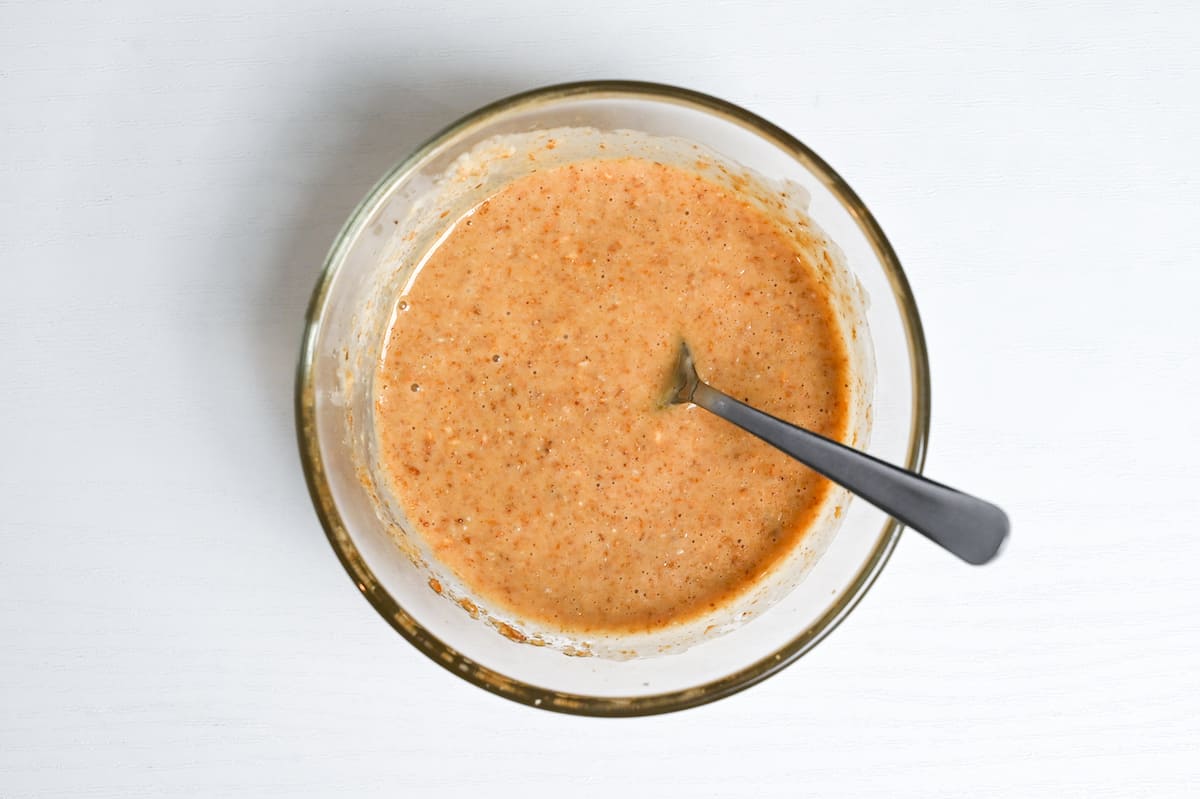 Enjoy!
Can I make this sesame dressing without a mortar/pestle or food processor?
If you don't have the equipment to grind the sesame seeds, you can buy already ground sesame seeds called "surigoma" (すりごま). They should be available in well-stocked Japanese food stores.
Alternatively, you could use a coffee grinder, pepper mill, blender or place them in a ziplock bag and use a rolling pin to crush them (although this will take a long time to make them into a fine powder).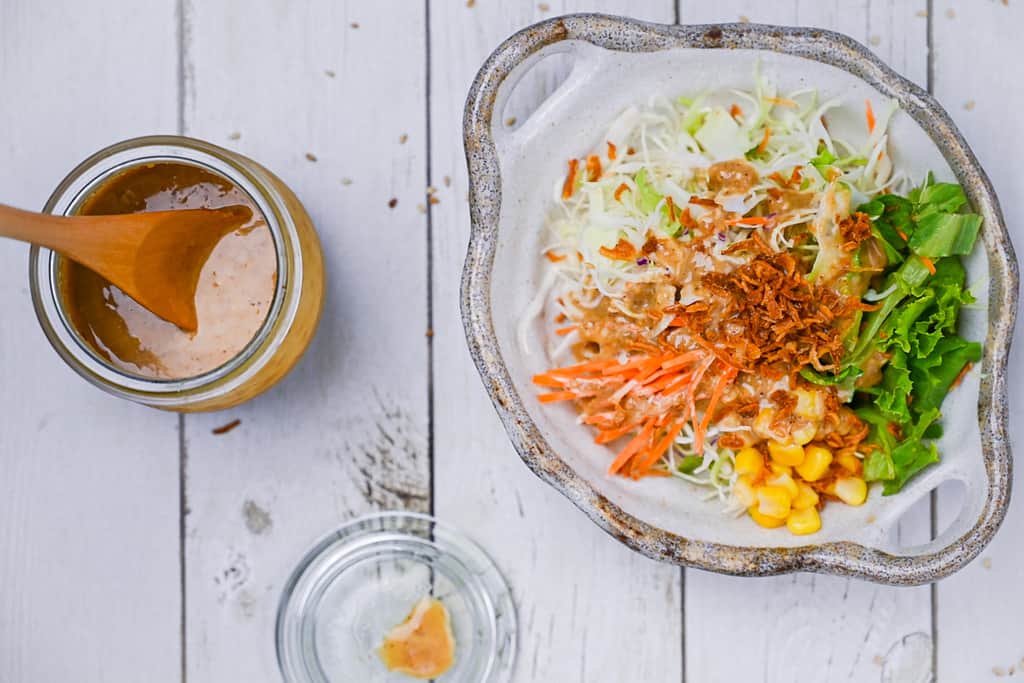 Storing
Once the sesame dressing ingredients are mixed together, they should be stored in a clean airtight container in the refrigerator and used within 1 week.
If you love this dressing, I recommend blitzing a large batch of sesame seeds to a powder and storing them in a cool dry place for up to 3 months, or in the fridge for up to 6 months. With ground sesame seeds in your pantry, this recipe goes from 10 minutes to 1!
If you make sesame dressing without mayonnaise, it can be kept for 2-3 weeks in the fridge.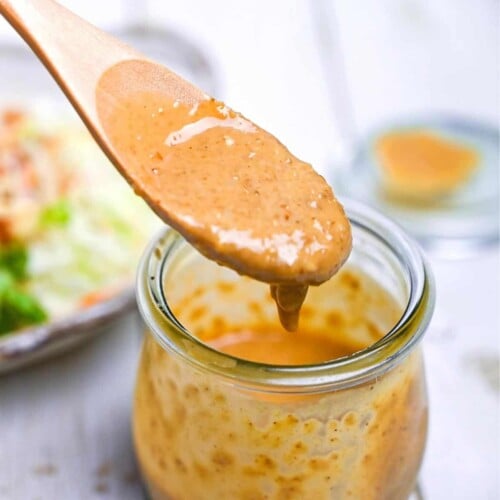 Japanese Sesame Dressing (ごまドレッシング)
How to make creamy, nutty and delicious Japanese style "goma" sesame dressing. Perfect for salads, noodles or used as a dipping sauce. 
Ingredients
Small batch (serves 2)
2

tbsp

white sesame seeds

2

tbsp

Japanese mayonnaise

1

tsp

rice vinegar

1 ½

tsp

sugar

1

tsp

soy sauce

1

tsp

sesame oil
Large batch (serves 16)
115

g

white sesame seeds

190

g

Japanese mayonnaise

40

ml

rice vinegar

35

g

sugar

40

ml

soy sauce

40

ml

sesame oil
Instructions
Small batch (2 portions)
Add

2 tbsp white sesame seeds

to a large dry pan.

Toast the sesame seeds over a medium-high heat until fragrant and slightly golden. Shake the pan regularly and remove from the heat as soon as they're done to prevent burning.

Grind the sesame seeds using a mortar and pestle until you have a fine powder.

Pour the ground sesame into a container and add

2 tbsp Japanese mayonnaise

,

1 tsp rice vinegar

,

1 ½ tsp sugar

,

1 tsp soy sauce

and

1 tsp sesame oil

.

Mix until well combined and enjoy!
Large batch (16 portions)
Toast

115 g white sesame seeds

in a large dry pan until golden and fragrant.

Pour into a food processor and blitz until they become a powder.

Add

190 g Japanese mayonnaise

,

40 ml rice vinegar

,

35 g sugar

,

40 ml soy sauce

and

40 ml sesame oil

. Blitz again until all the ingredients are evenly distributed.
Notes
Store in an airtight container in the fridge for 1 week.
The 2 servings batch doesn't work in a food processor since the amount is too small. I recommend a food processor for large batches.