Sunomono is a light and refreshing Japanese salad made with seafood and vegetables marinated in a vinegar based sauce called "sanbaizu". This addictive dish makes the perfect appetizer or side dish to cleanse the palate!
Disclaimer: This post may contain affiliate links. Sudachi Recipes is part of the amazon associates programme and earns a small percentage from qualifying purchases at no extra cost to you. See disclaimer for more info.
Jump to:
What is sunomono?
Sunomono (酢の物) is a simple dish usually made with fish, shellfish, and vegetables mixed with vinegar, soy sauce and sugar. It's refreshing and very easy to make so it's a perfect dish to make in the summer.
"Su" (酢) is the Japanese word for vinegar and "mono" (物) means "thing", so essentially, sunomono means "things in vinegar".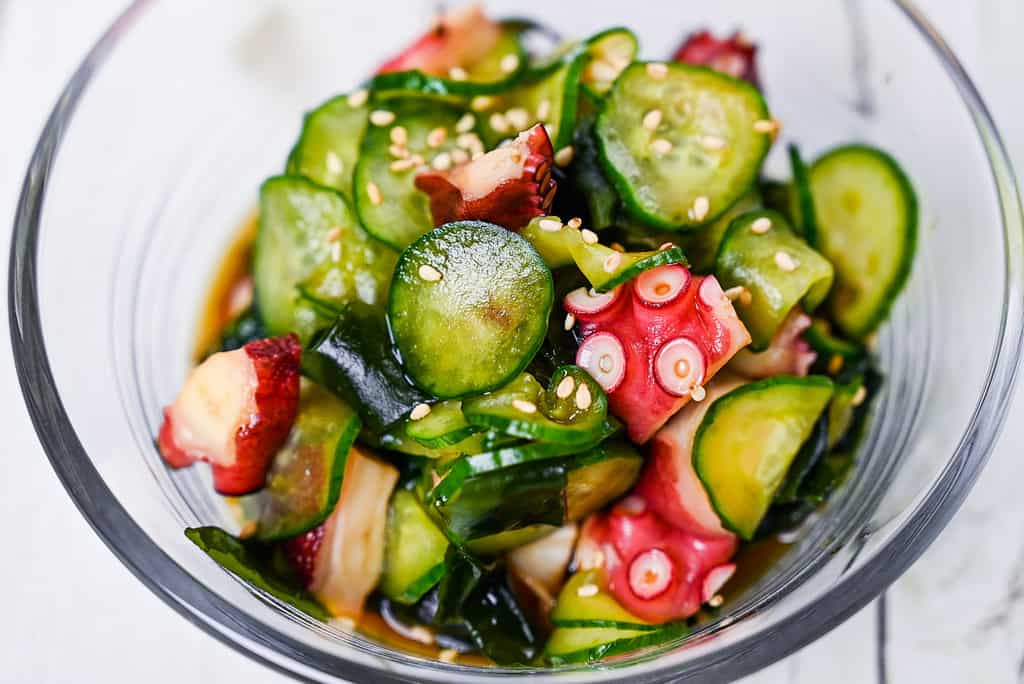 Ingredients
While it's common to make sunomono with cucumber alone (kyuri no sunomono), in Japan, we have many different kinds of sunomono and use a whole range of different ingredients. Seafood and vegetables are most common, for example:
Cucumber
Wakame (seaweed)
Octopus
Whitebait
Crab
You could also use things like shredded carrot, eggplant, okra, enoki mushrooms, shrimps, and scallops.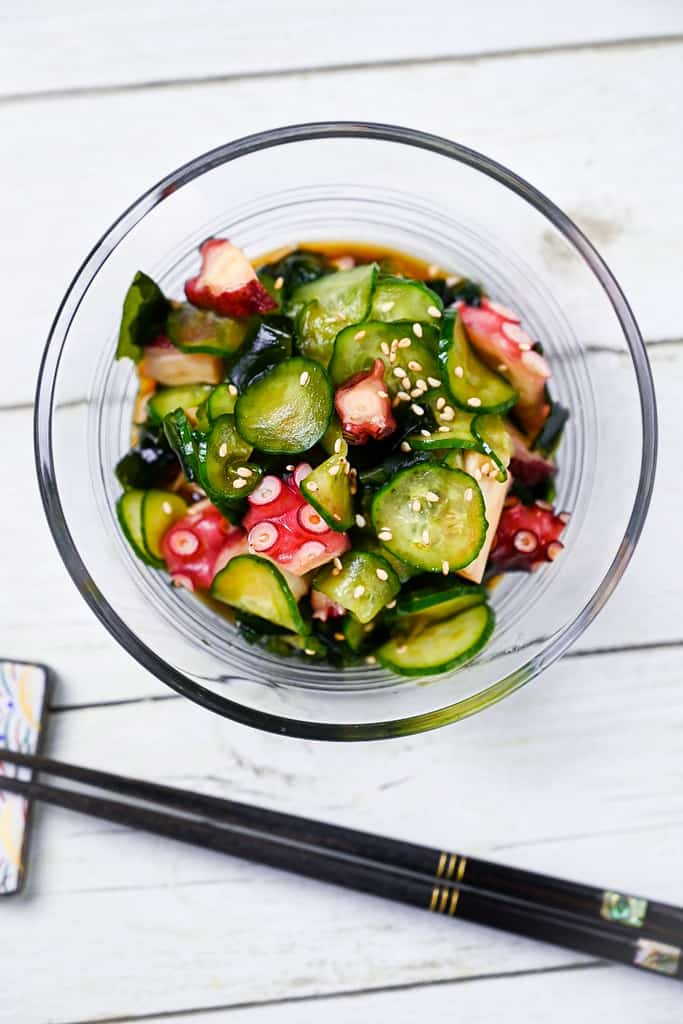 Tako to Kyuri no Sunomono (たこときゅうりの酢の物)
Octopus and cucumber sunomono (tako to kyuri no sunomono) is a regional dish from the province of Sanuki in Kagawa Prefecture.
Sanuki is right next to the Seto Inland Sea and is famous for its fresh octopus. Not to mention, the octopus from this region is known to be slightly sweet because of its diet of mainly shrimp and blue crabs. While it can be enjoyed all year round, the peak season is in summer.
In fact, in Japan there is a custom of eating octopus in summer. It is said that the origin of this custom is the hope that the roots of the seedlings planted in the rice paddies will take root firmly in the earth, just like the suckers of an octopus.
Using Sanbaizu (三杯酢)
In this recipe, I use a mixed condiment we call "sanbaizu" (三杯酢). Sanbaizu contains equal parts of the following 3 ingredients; soy sauce, rice vinegar and sugar or mirin.
Sanbaizu is sometimes mixed with dashi or boiled sake. You can use sanbaizu to make many different kinds of sunomono!
We also have another sauce called "nibaizu" (二杯酢) which contains only two ingredients, a 1:1 ratio of soy sauce and vinegar. This can also be used to make sunomono if you can't find mirin (or you don't want to use sugar). Nibaizu is often used as a dipping sauce for gyoza and spring rolls.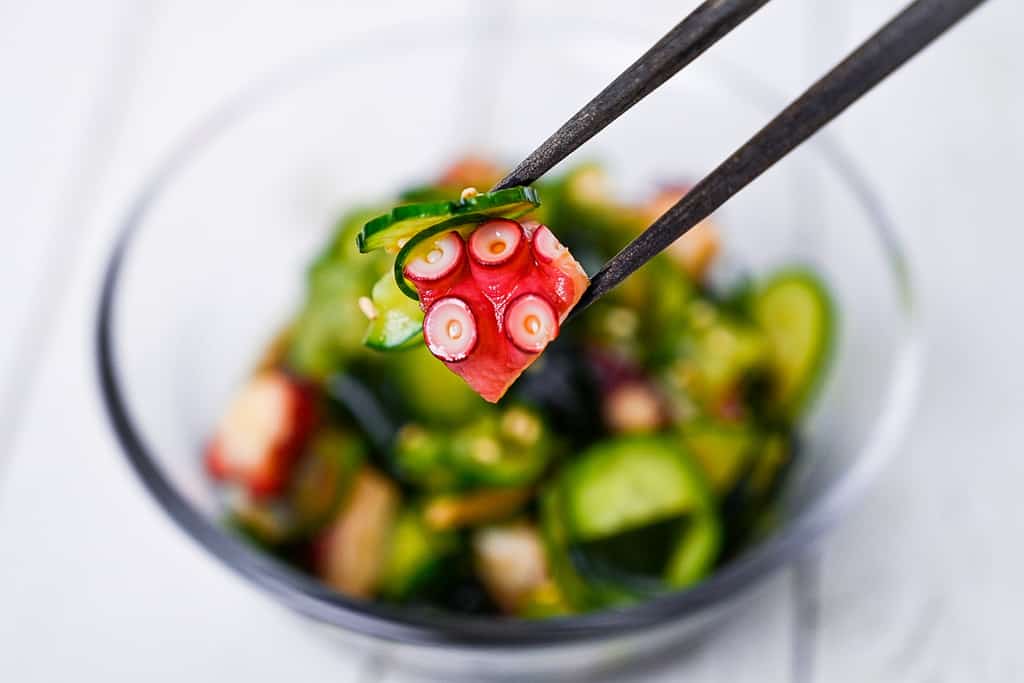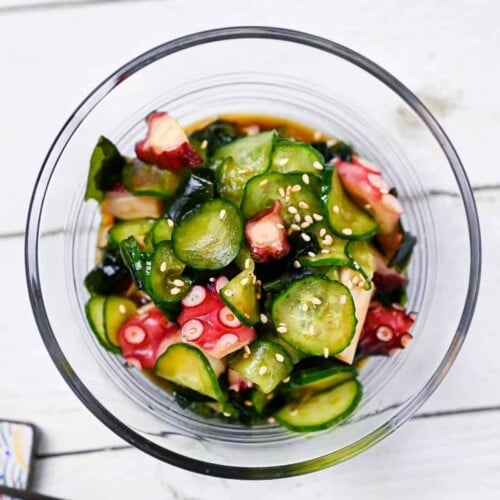 Sunomono Salad (with octopus and cucumber)
How to make light and refreshing Japanese sunomono with cucumber, octopus and wakame seaweed. (タコときゅうりの酢の物)
Ingredients
2

tsp

soy sauce

2

tsp

mirin

2

tsp

rice vinegar

1

tbsp

dried wakame seaweed(s)

100

g

Japanese or Persian cucumber(s)

½

tsp

salt

80

g

boiled octopus

sesame seeds

-

optional garnish
Instructions
Add

2 tsp soy sauce

,

2 tsp mirin

and

2 tsp rice vinegar

to a small pan and heat on medium. Boil for 2 minutes to burn off the alcohol, then remove from the heat and leave to cool.

Add

1 tbsp dried wakame seaweed(s)

to a bowl of cold water and soak it for a few minutes to rehydrate.

Cut

100 g Japanese or Persian cucumber(s)

into thin slices, place it in a bowl and add

½ tsp salt

. Use your hands to rub the salt over the cucumber and set aside for 5 minutes. 

Cut

80 g boiled octopus

into small bitesize pieces or thinly slice according to preference.

Wash the cucumber under cold water and squeeze out the excess liquid. Drain the water from the wakame and place them in a bowl with the octopus.

Add the cooled sauce and mix well.

Dish up and sprinkle with

sesame seeds

.

Enjoy!
Notes
If making ahead of time, chill in the fridge until serving.
Can be stored in a sealed container in the refrigerator for 2-3 days depending on the freshness of your ingredients.