This delicious tofu steak is pan fried until golden and crispy then coated in a sticky Japanese style glaze. You won't believe how satisfying a simple tofu dish can be until you try this recipe! Ready in just 15 minutes!
Disclaimer: This post may contain affiliate links. Sudachi Recipes is part of the amazon associates programme and earns a small percentage from qualifying purchases at no extra cost to you. See disclaimer for more info.
Jump to:
What is tofu steak?
Tofu steak is a dish made by coating firm tofu with potato starch and pan frying it in butter, a little like how you might pan fry a steak. It is believed that this dish was first invented by Susumu Saito, head chef of the Takamatsu Washington Hotel chain. It is now known as a healthy (and cheap) version of steak that can easily be made at home!
As for sauces, they range from a simple Japanese steak sauce to a starchy sauce with mushrooms. In my recipe, I use classic Japanese combination of soy sauce, mirin and sake with bit of ginger and garlic. It has a teriyaki sauce-like feeling with some added fragrance!
What is tofu steak made of?
Tofu steak is literally made of tofu, however, it's important to use firm tofu here for the best texture and taste. Silken tofu will be too soft and it will break easily which can end up being a big mess.
Both silken (kinu) and firm (momen) tofu are both made from soy milk, but there is a major difference in the way they are made. While silken tofu is made by adding a coagulant to soybeans that are thicker than firm tofu, firm tofu is made by adding a coagulant to soy milk and allowing it to set. The tofu is then broken down, squeezed dry, and hardened again.
In addition, firm tofu contains more protein, calcium, iron, and other nutrients than silken tofu.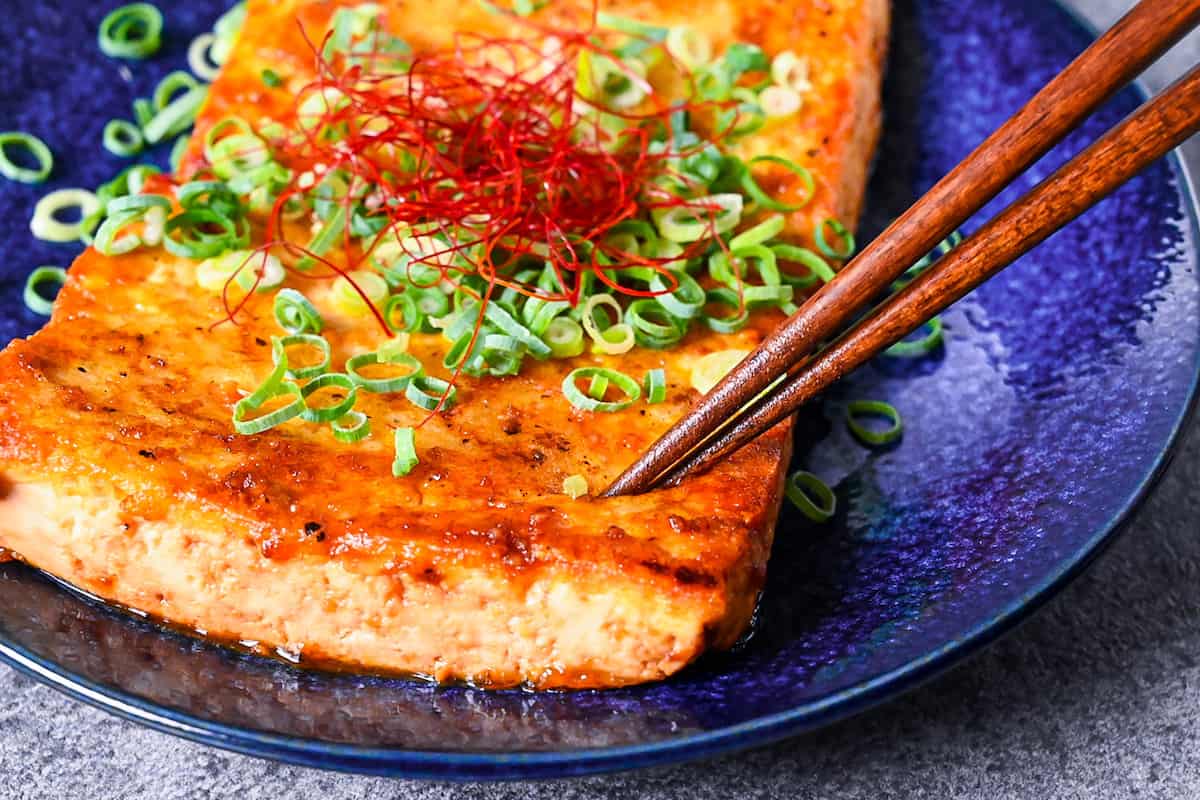 What does tofu steak taste like?
I think the word "steak" is kind of misleading here because while tofu steak is delicious without a doubt, it does not taste like beef steak or any meat steaks. The idea of tofu steak is not to replicate beef taste, but rather making tofu more satisfying and turn it into main dish.
But I can assure you that tofu steak is definitely satisfying and one of the best ways to cook tofu on its own!
Ingredients to use for my tofu steak
In this tofu steak recipe, I use following simple ingredients:
Firm tofu
Olive oil
Sake
Garlic paste
Chopped spring onion
See recipe card for details and quantities.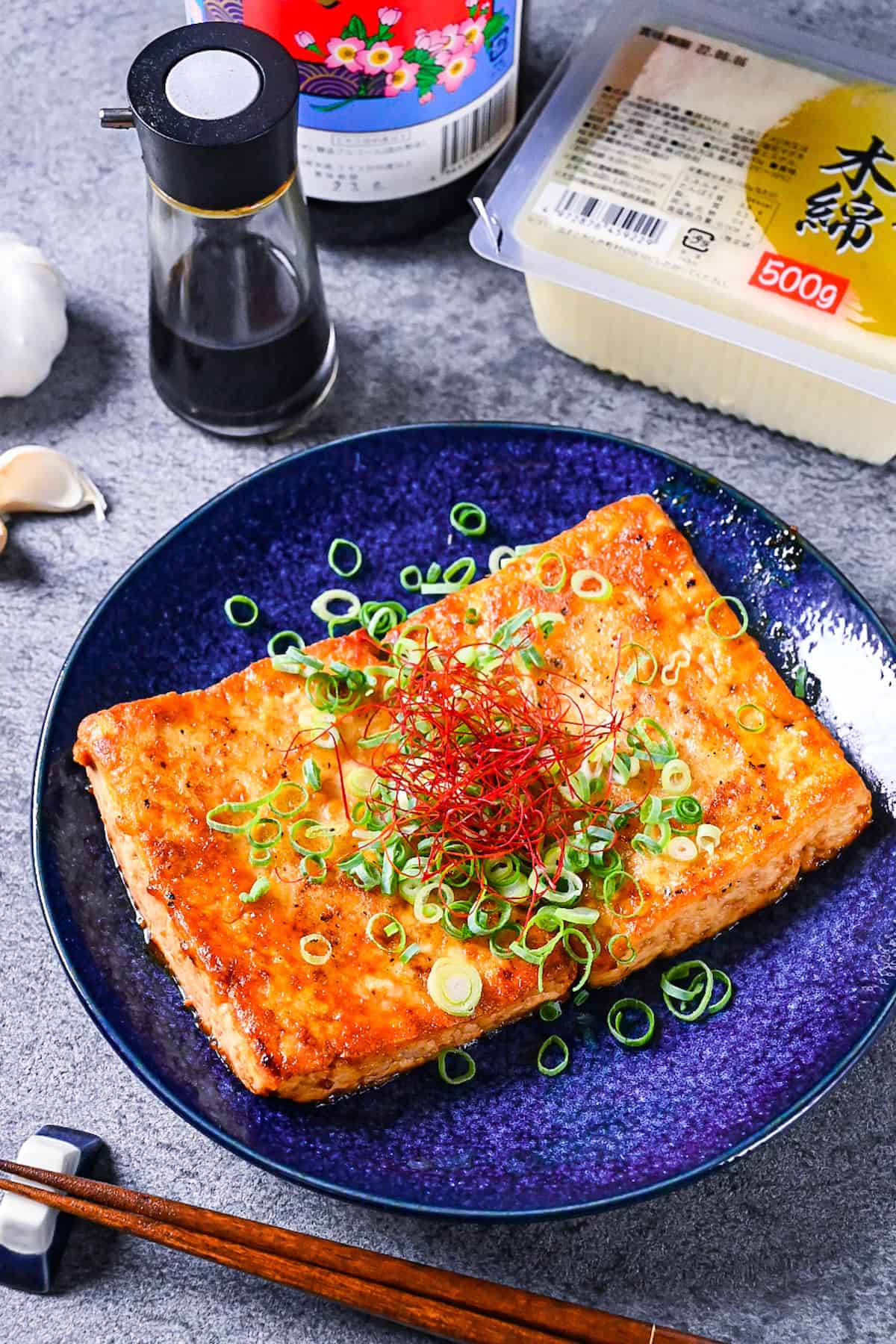 Instructions on how to make tofu steak with Japanese sauce
Tofu steak is a simple recipe, but the tofu requires a little preparation before you cook it in the pan. Follow these steps for the perfect tofu steak!
Cut the tofu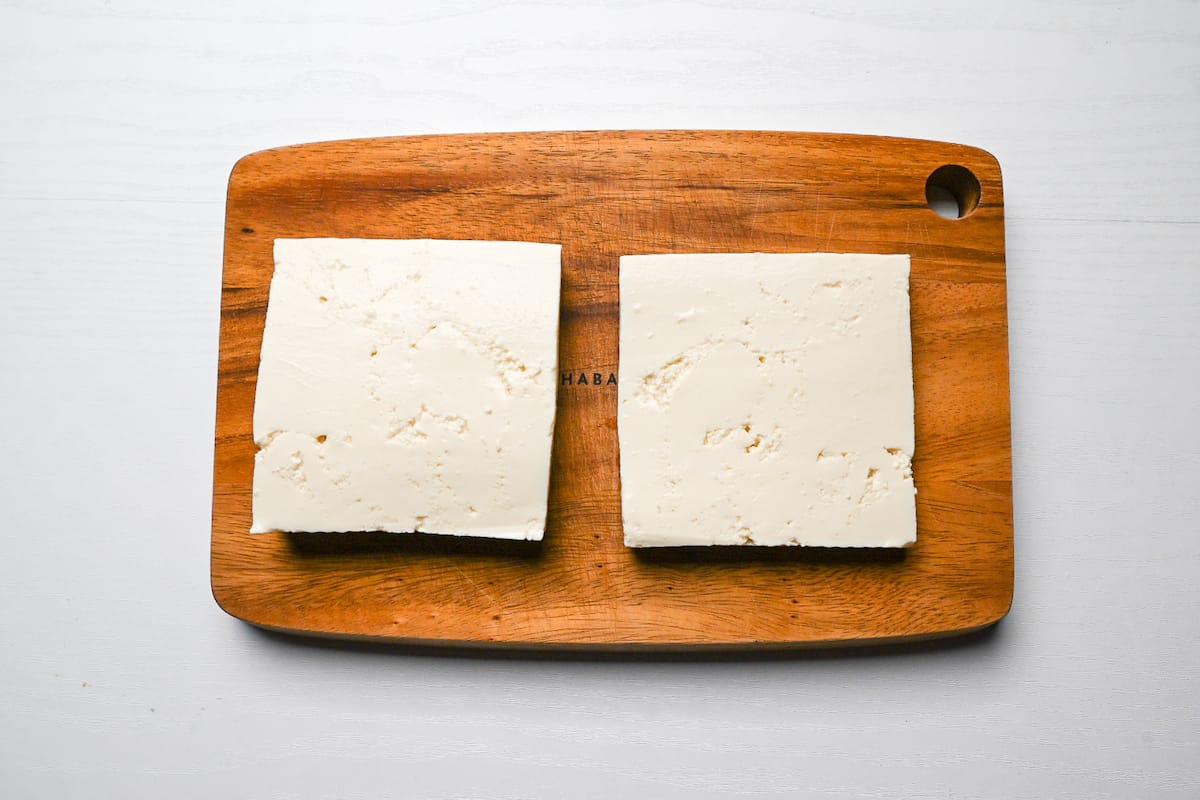 For this recipe you will need a large block (approx 300-400g) of firm tofu. Because the tofu is very thick, you will need to cut it in half so it's a similar thickness to a piece of steak.
To cut the tofu, place it on a level surface and hold it still by placing one hand gently on the top. In the other hand, hold your knife parallel to the cutting board and cut horizontally through the middle. Try and cut them so that they are the same thickness to ensure even cooking.
Remove the excess water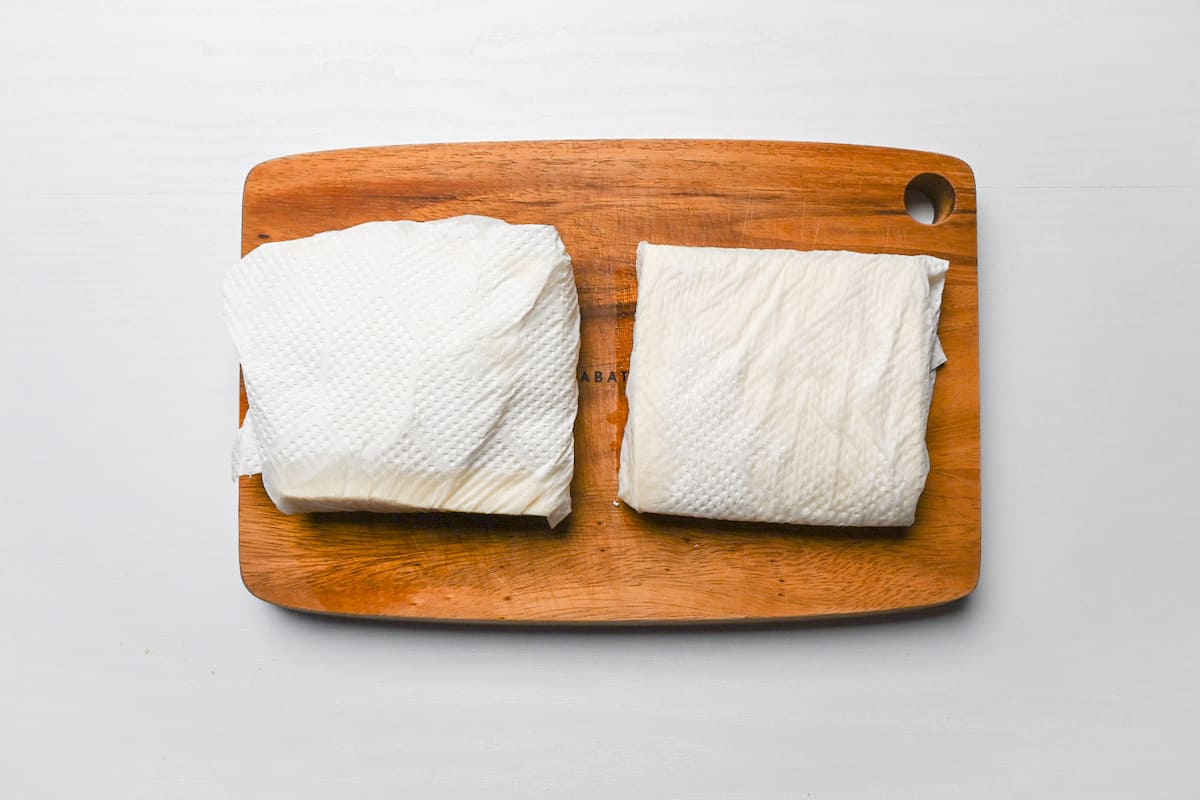 Even firm tofu has quite a lot of excess water and if you try to fry it straight, it might start to steam which will prevent it from becoming brown and crispy. Some people like to place a weight on top of the tofu to push out the excess liquid, but this technique would flatten the tofu and make it a bit too thin for tofu steak.
I remove the excess liquid by wrapping it in kitchen paper, placing it on a microwavable plate and then microwaving it for 1 minute and 30 seconds at 600W.
Season
Next, remove the kitchen paper and sprinkle both sides with a pinch of black pepper. We don't add any salt here because there is plenty of salty flavour from the soy sauce in the glaze.
Fry the tofu
Preheat a large frying pan on medium and once it's hot, add drizzle of oil (or butter) and swirl it around. Coat the tofu with a thin even layer of potato starch right before adding it to the pan.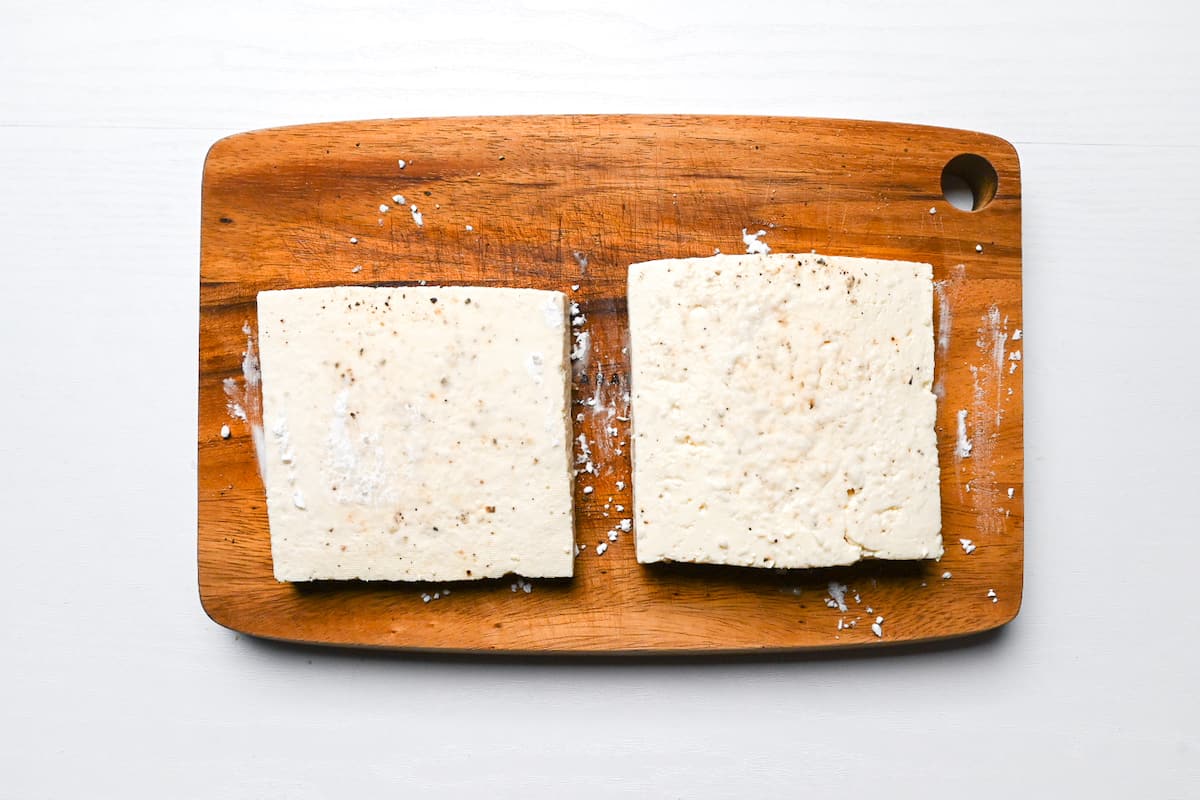 The potato starch helps make the surface crispy and golden and also thickens the sauce slightly which helps it stick to the surface of the tofu. However, it's worth noting that if you coat it too early, the potato starch can become wet and sticky, so be sure to coat it right before frying.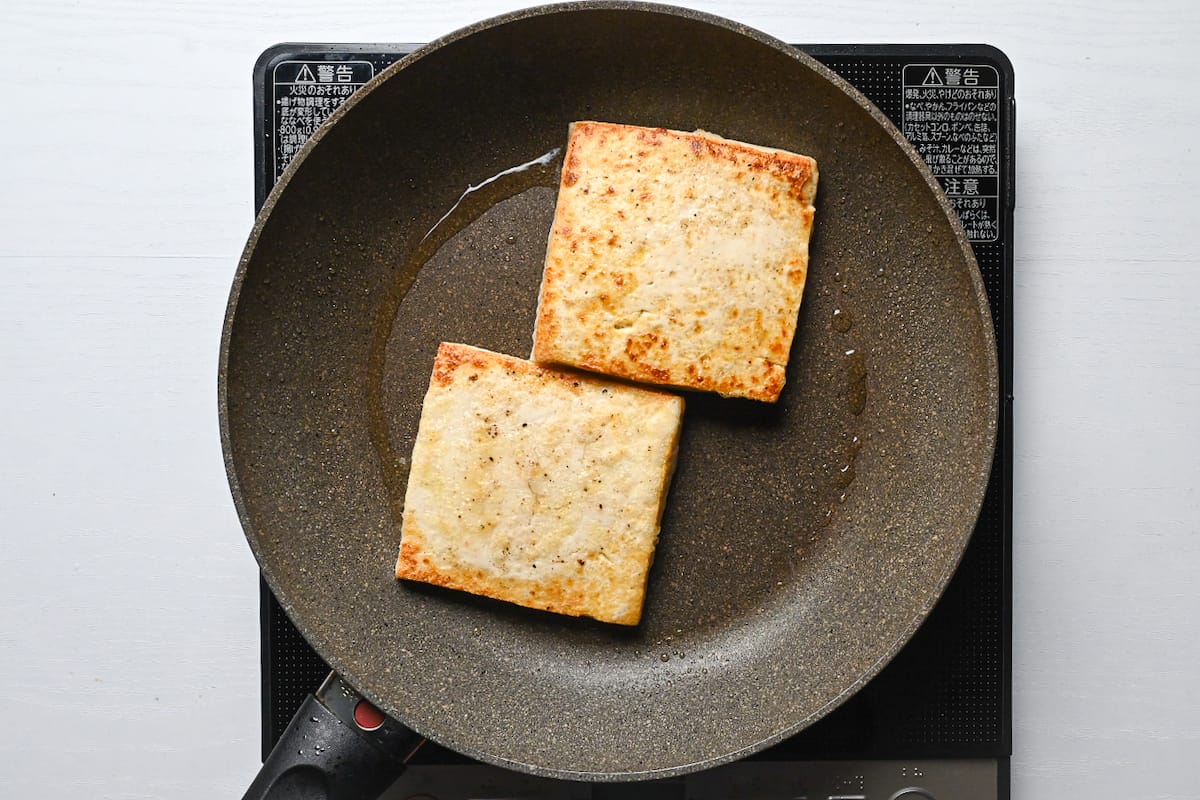 Coat with corn starch right before frying
I recommend preheating your pan and coating the tofu with the cornstarch right before adding it to the pan. This will prevent the starch from absorbing the moisture in the tofu and becoming sticky and wet.
Fry the tofu on both sides until crispy and golden.
Make the sauce
The sauce for this recipe is very similar to my teriyaki recipes. Simply mix the soy sauce, mirin, sake, grated ginger and grated garlic in a bowl and mix thoroughly.
Cook the sauce
Turn down the heat to low/medium-low and pour the sauce into the pan. As it cooks, it will become thick and glossy and the potato starch on the tofu will help thicken it further. Move the tofu around the pan to help it absorb the sauce, then after a few minutes flip them using a spatula and repeat on the other side.
Once the tofu is thoroughly coated with sauce on both sides, remove it from the heat and dish up!
Garnish tofu steak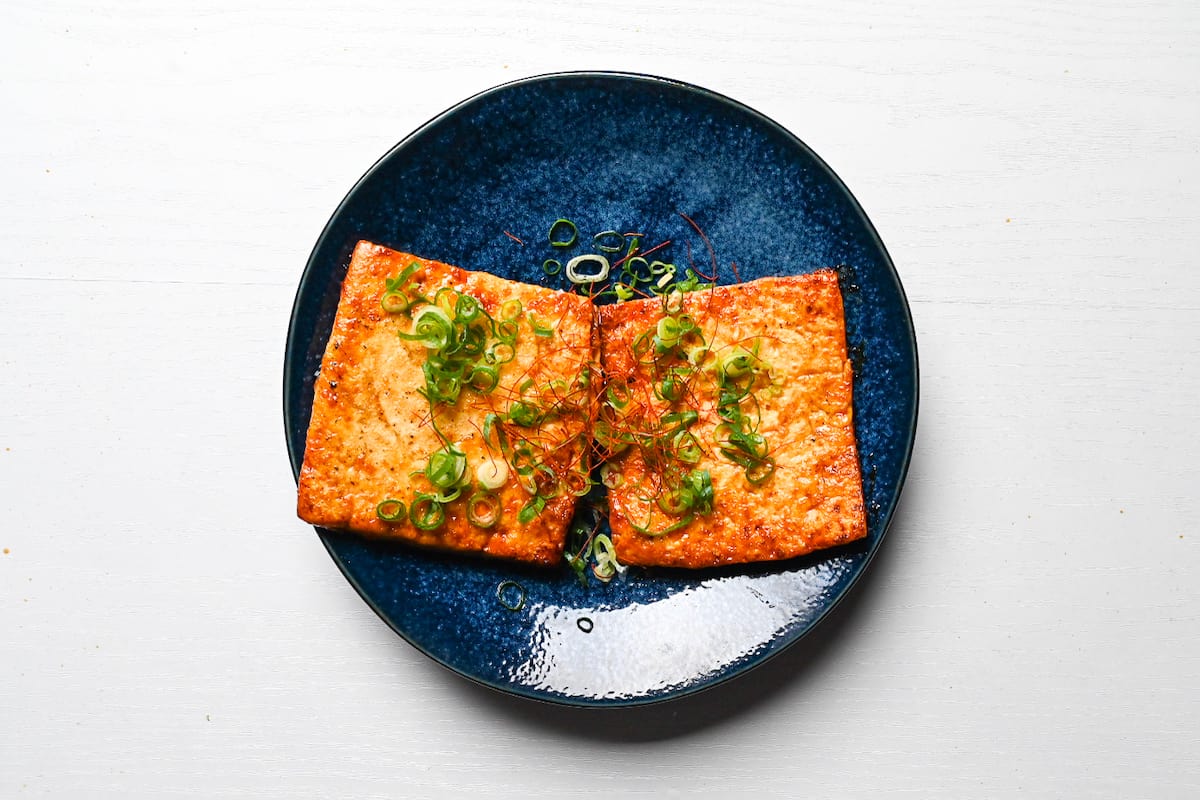 Plate the tofu on serving places and drizzle with any sauce that is leftover in the pan.
Finish the dish by sprinkling it with some chopped spring onion and some chilli threads for some extra flavour and colour. You could also top with sautéed mushrooms, onions or kizami nori.
Enjoy!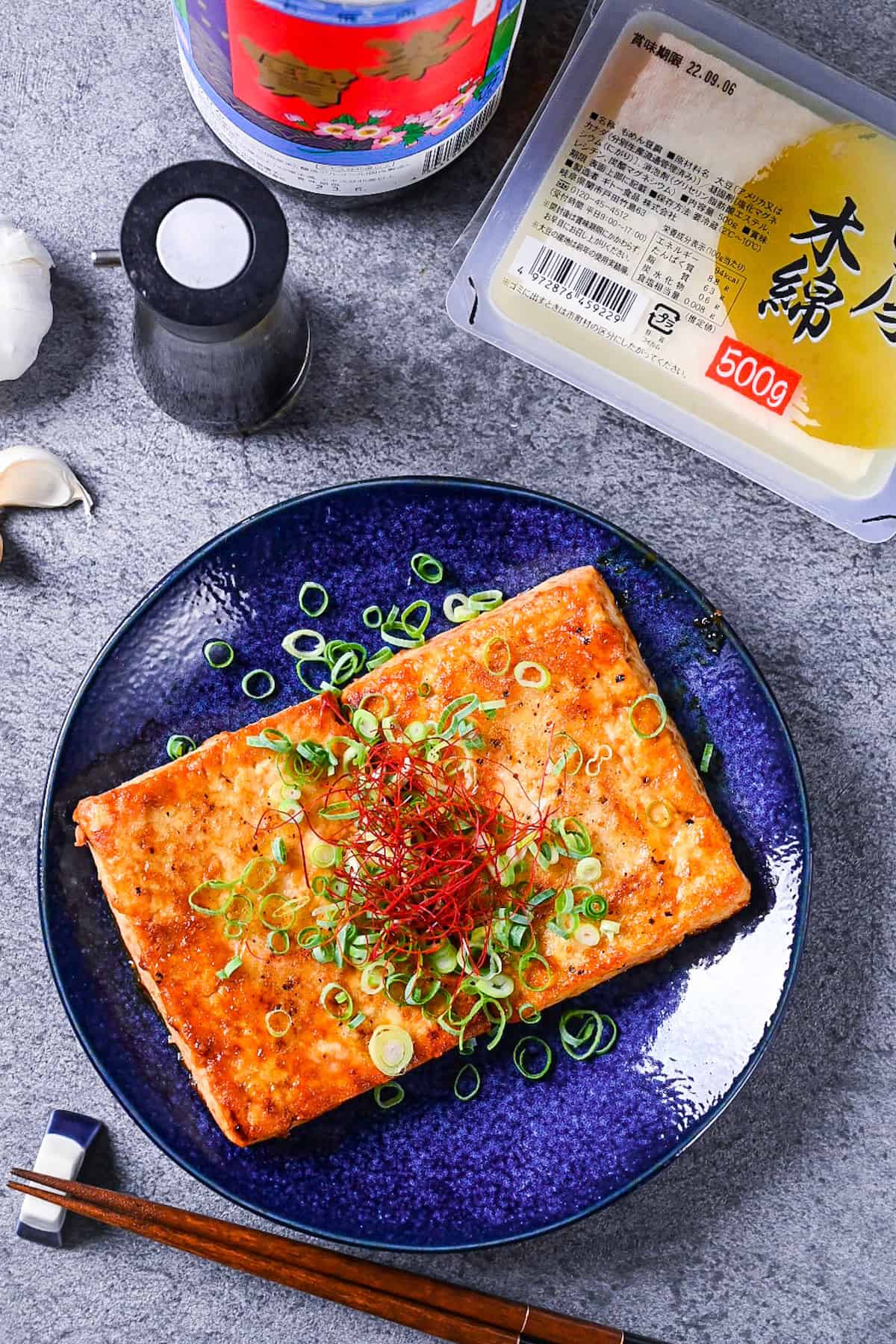 How to eat tofu steak
Just like a regular steak, tofu steak can be served with a number of different sides. I often eat it with rice, miso soup and some kind of vegetable side. Here are some suggestions:
Miso soup (see here for vegan miso soup recipe)
Sautéed vegetables (mushrooms, onions, asparagus etc)
Steamed vegetables (broccoli, carrot etc)
Boiled vegetables (peas, corn, etc)
Salad
I hope you like this delicious way to enjoy tofu!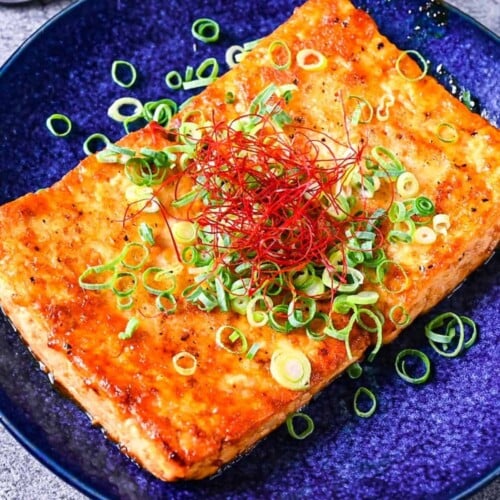 Pan-fried Tofu Steak with Japanese Sauce (vegetarian)
How to make simple, delicious and satisfying tofu steak coated with a glossy Japanese style sauce.
Ingredients
400

g

firm tofu

4

pinches

black pepper

2

tbsp

potato starch

1

tbsp

olive oil

1

tbsp

finely chopped green onion(s) -

optional garnish

1

tsp

chili threads

-

optional garnish
Tofu Steak Sauce
1½

tbsp

soy sauce

1

tbsp

mirin

1

tbsp

sake

½

tsp

fresh grated ginger

-

or ginger paste

1

tsp

grated garlic clove

-

or garlic paste
Instructions
Lay

400 g firm tofu

flat on a chopping board, place one hand on top to hold it in place and hold your knife parallel to the chopping board. Make a horizontal cut through the middle, trying your best to keep them the same thickness.

Wrap each piece with kitchen paper and place on microwavable plate. Microwave for 1 min 30 seconds at 600W.

Remove the kitchen paper and sprinkle both sides of each piece with

4 pinches black pepper

.

Heat a large frying pan on medium and add

1 tbsp olive oil

. 

Once the pan is hot, evenly coat both sides of each piece of tofu with a thin layer of

2 tbsp potato starch

and immediately place them in the pan.

Fry until the underneath is crispy and golden, then flip and repeat on the other side.

While the tofu is cooking, mix the

1½ tbsp soy sauce

,

1 tbsp mirin

,

1 tbsp sake

,

½ tsp fresh grated ginger

and

1 tsp grated garlic clove

in a small bowl to make the sauce.

Once both sides are browned, turn down the heat to low/medium-low and pour the sauce into the pan. Move the tofu around so that the sauce sticks to the surface, flip and repeat until the sauce is thickened and the tofu is evenly coated.

Dish up and sprinkle with

1 tbsp finely chopped green onion(s)

and

1 tsp chili threads

(optional).

Enjoy!
Nutrition
Calories:
240
kcal
Carbohydrates:
16.7
g
Protein:
12
g
Fat:
13.5
g
Saturated Fat:
2
g
Sodium:
849.5
mg
Fiber:
2.1
g