Japanese "shogayaki" is a fragrant dish made up of thin slices of pork cooked in a sweet and aromatic ginger sauce. It's seriously delicious and ready in just 30 minutes!
Disclaimer: This post contains Amazon affiliate links. Sudachi Recipes earn a small percentage from qualifying purchases at no extra cost to you. See disclaimer for more info.
Jump to:
What is Shōgayaki?
Shogayaki (生姜焼き) is a delicious Japanese dish made with thinly sliced pork pan-fried in a fragrant ginger sauce. In Japanese, "shōga" means ginger, and "yaki" means to fry. Since it's easy to make and tastes so good, it's a popular home-cooked dish amongst Japanese families.
Although pork is not mentioned in the name, this dish is made almost exclusively with pork. The full name would be "Buta no Shogayaki" (豚の生姜焼き), which means "pork fried with ginger."
Shōgayaki appeared in Japan around the early 20th century. Ginger was initially used to soften the smell of pork, which can have quite a strong odor when cooking.
This dish started as a home dish, but in the 1920s, its popularity grew, and restaurants began serving it too. Shōgayaki was supposedly invented in Tokyo and spread across the Kantō (east) area, but now it's one of the most popular Japanese pork dishes nationwide!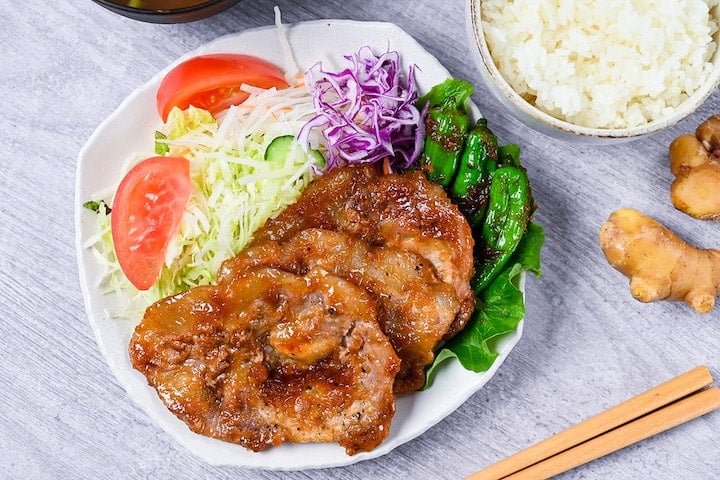 How I Developed This Recipe
I've created my own unique version of shogayaki that may differ from the traditional recipe. Along with ginger, I add grated apple and honey for natural sweetness and garlic for a complex flavor.
I've developed hundreds of recipes on this website, but it's safe to say that this buta no shogayaki is one of my top three. Definitely worth a try!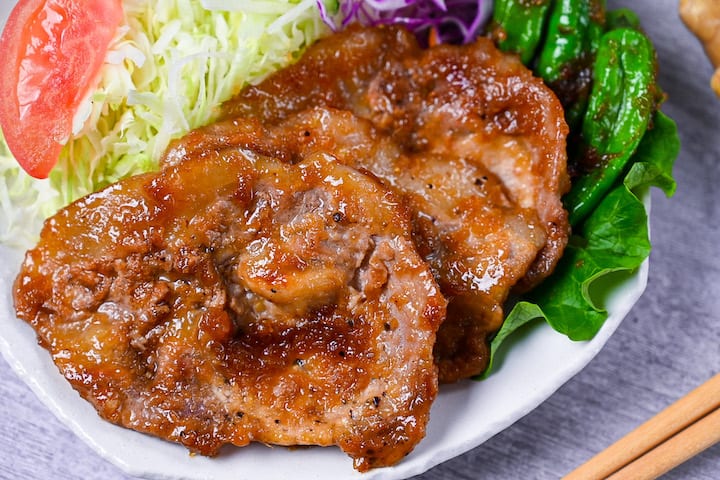 Ingredients and Substitution Ideas
Fresh ginger: Use with the skin on. Its aroma helps neutralize the scent of pork and oil.
Apple: Grate to infuse natural sweetness. This ingredient is pivotal in this recipe. Given that only a small quantity of apple is needed for the sauce, you can opt for apple juice or smooth apple sauce if you'd rather not purchase a whole apple.
Yellow onion: Grate for use. While yellow onions are prevalent in Japan, white onions are a suitable alternative.
Grated garlic: Alternatively, opt for garlic paste for convenience.
Soy sauce: Kikkoman soy sauce is a solid pick for a budget-friendly choice. For insights on selecting the proper soy sauce in Japanese cuisine, refer to our guide to soy sauce.
Sake: If unavailable, white wine or dry sherry are good substitutes.
Mirin: When shopping for mirin, aim for "hon mirin" (本みりん) for optimal flavor. Hinode Hon Mirin is a top-quality yet affordable choice. For more condiment and seasoning suggestions, check out my post on the 20 Most Useful Condiments and Seasonings for Japanese Cooking.
Dashi stock: Given its minimal use, use leftover homemade dashi stock or instant granules. For homemade versions, delve into recipes like my favorite dashi, simple awase dashi, or vegan dashi. If dashi isn't accessible, simply replace it with water to maintain the desired sauce consistency.
Honey: Choose a mild, golden runny honey over rich or set honeys. I used Acacia honey.
Pork: In Japan, while there's debate over the best pork cut for shogayaki, the loin with balanced fat is favored and often labeled "for shogayaki" in supermarkets; however, the flavorful shoulder and rich belly are also suitable alternatives.
All-purpose flour: Used for dusting the meat which improves the texture, thickens the sauce and helps it stick better to the surface of the pork.
Shishito peppers: These are optional. I favor shishito peppers for their mild bitterness and hint of spice, plus they cook rapidly. If you're looking for alternatives, consider mini sweet peppers or bell peppers.
I have listed my recommended Japanese condiments, tools, and ingredients in the Sudachi Recipes Amazon shop. If you want to keep making various Japanese foods at home, please check it out!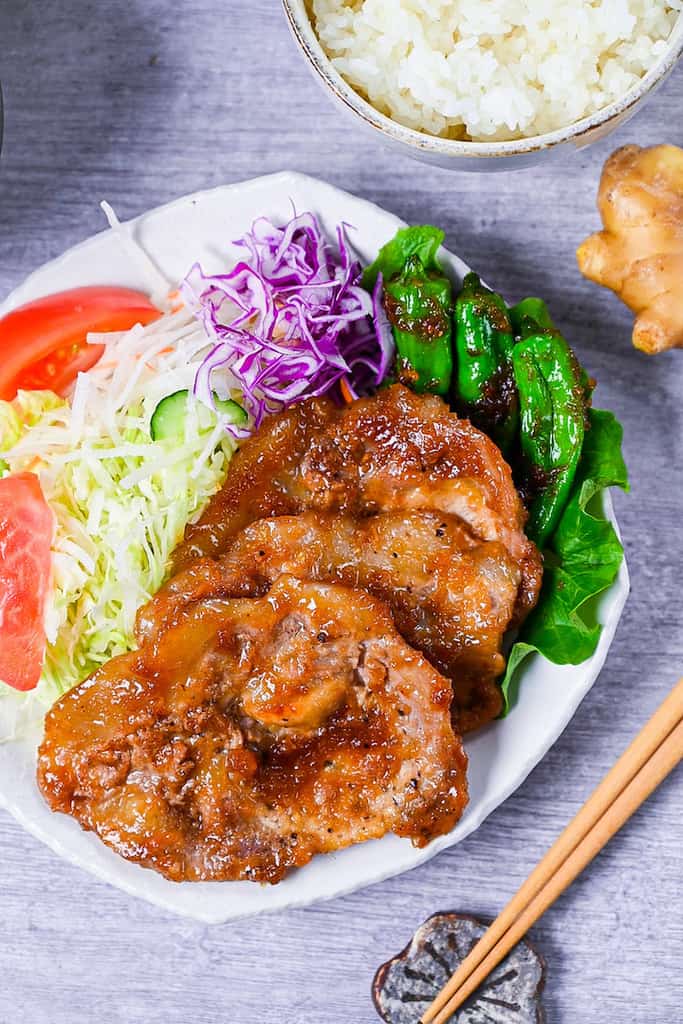 Step-by-Step Process
Grate the fresh ingredients
Start by grating your ginger, garlic cloves, apple and onion. Not only does this add fantastic depth of flavor to the sauce, but it also gives it a bit more texture.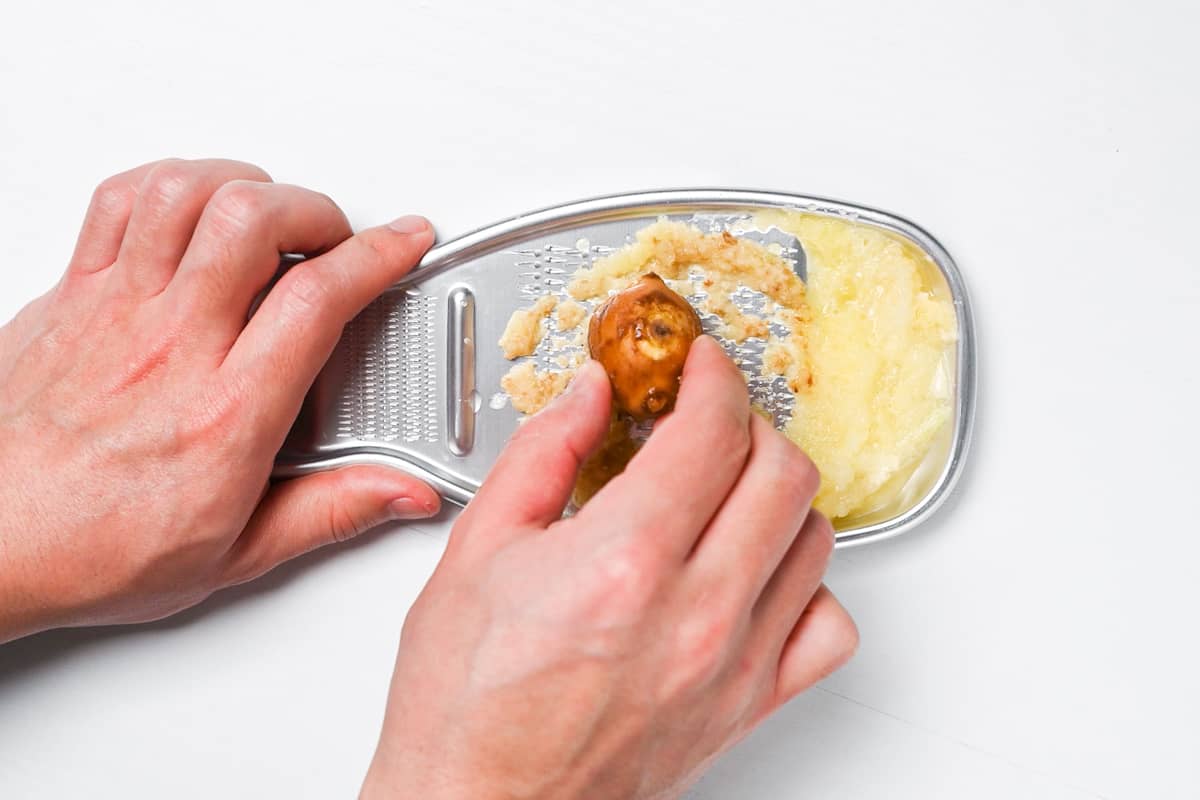 Tip: Grate ginger with skin on
Ginger has a lot of flavor in its skin. For this reason, I recommend grating your fresh ginger with the skin on for a more pronounced ginger flavor. Just make sure to wash it beforehand!
Mix the soy sauce, mirin, sake, dashi (or water) and honey in a small bowl and then add your grated ingredients. Give it another mix and set it aside for later. It's as simple as that!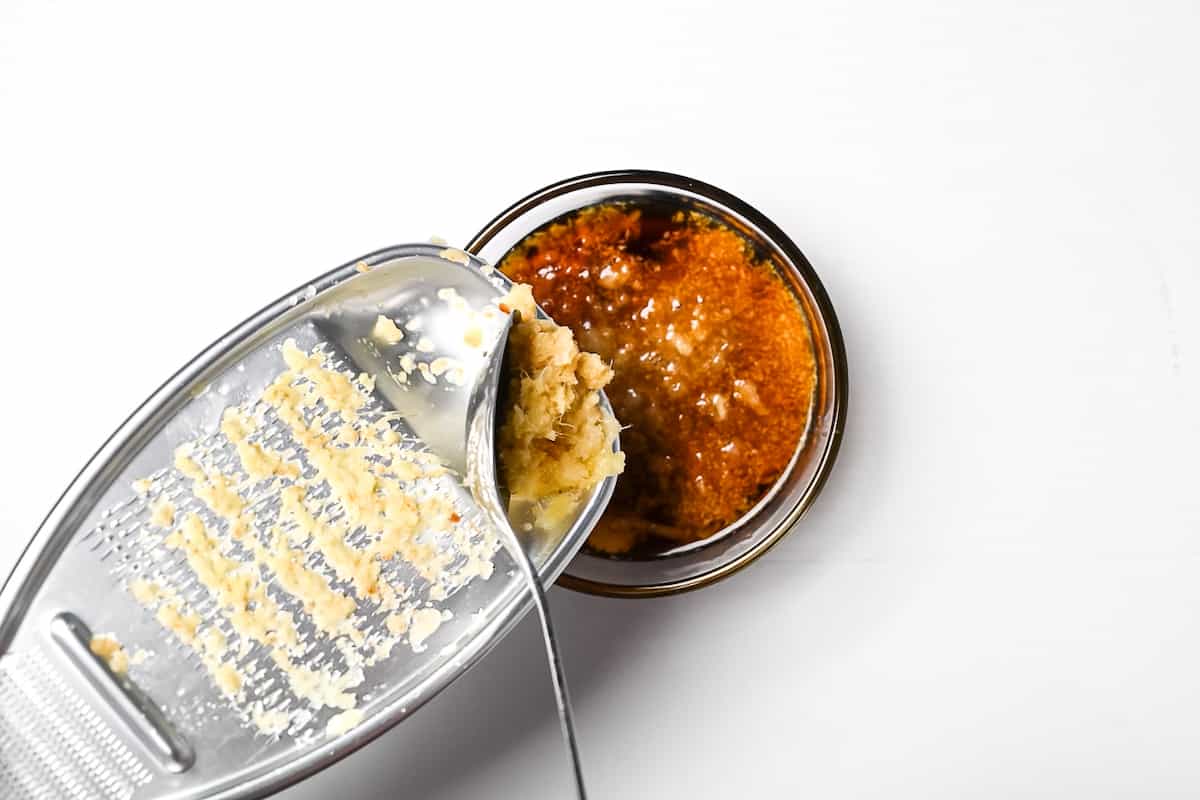 Make a few cuts across the fatty parts and muscles to prevent the meat from curling during the cooking process.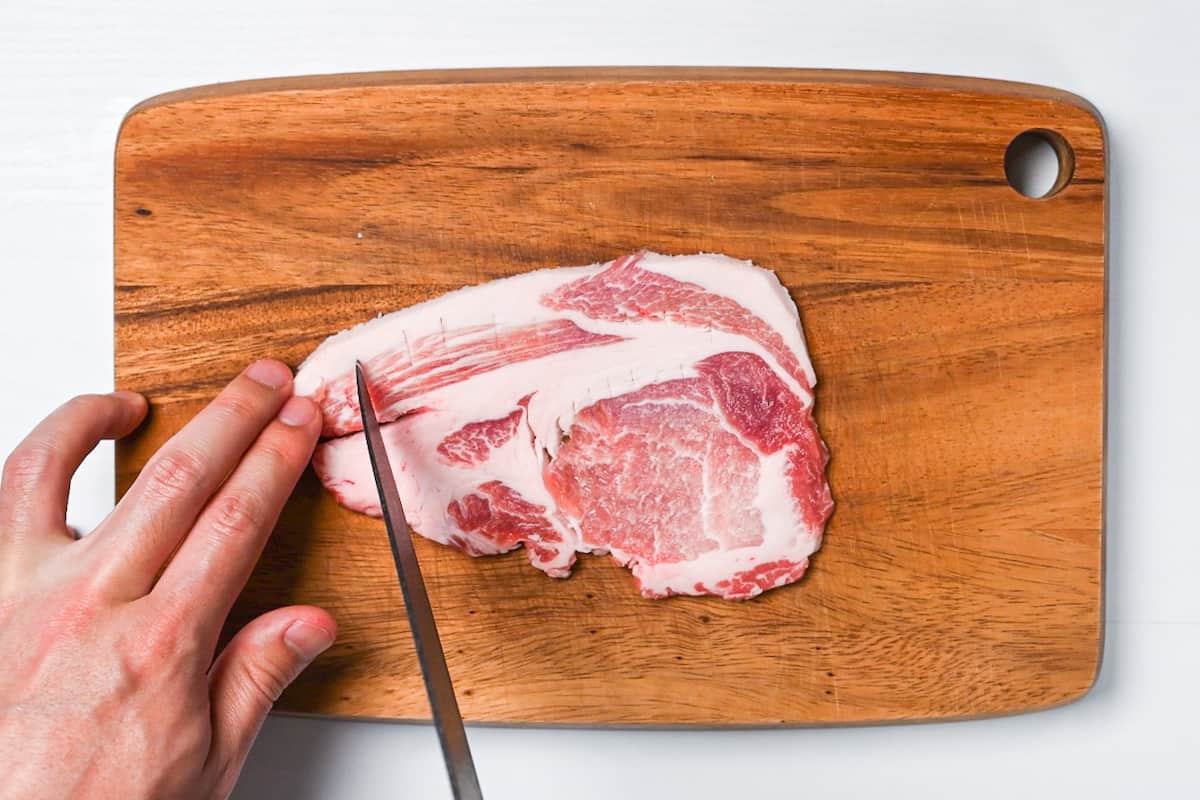 Tip: Bring the pork to room temperature
For best results, take the pork out of the fridge about 20-30 minutes before you want to cook it and bring it to room temperature. Meat cooked from room temperature tends to be more tender than meat cooked straight from chilled.
Sprinkle both sides of the pork with a pinch of salt and pepper, then coat with a thin layer of plain flour.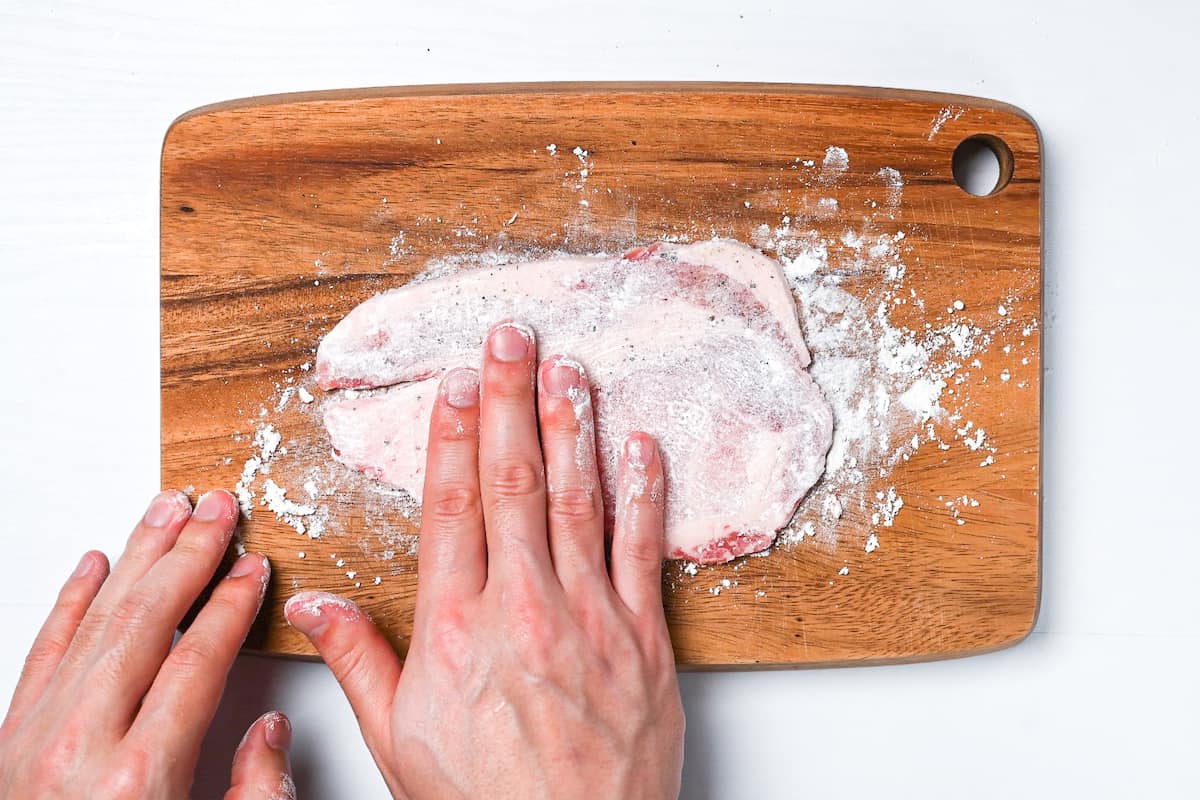 Sprinkle the surface of the pork with flour to help the meat brown more beautifully and pick up more flavor as it cooks. Dredging also thickens the sauce slightly and helps it stick better to the surface of the meat.
Add about 1 tbsp of vegetable oil in a large frying pan while the pan is still cold. Place one piece of meat in the pan and move it around in a circular motion to spread the oil, then carefully place the other slices of pork so that they lay flat. (Try to avoid overlapping.)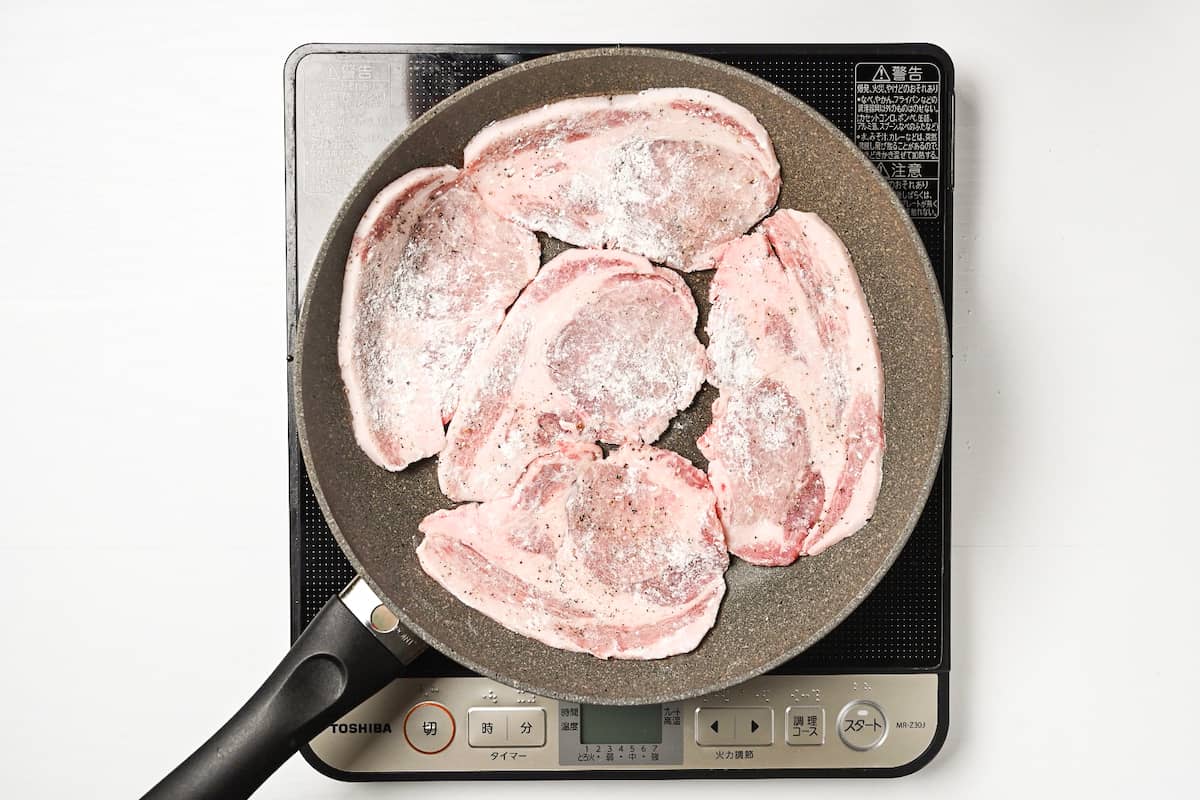 Why start with a cold pan?
Placing the meat in a cold pan and allowing it to heat up gradually will prevent the proteins from coagulating due to the sudden temperature change. This stops the meat from shrinking and becoming tough.
It is said that it reduces the rate of contraction of the muscle fibers by half compared to placing the meat straight into a hot pan.
Place the pan on the stove and heat on medium. Brown the pork underneath, then flip over and add the sauce.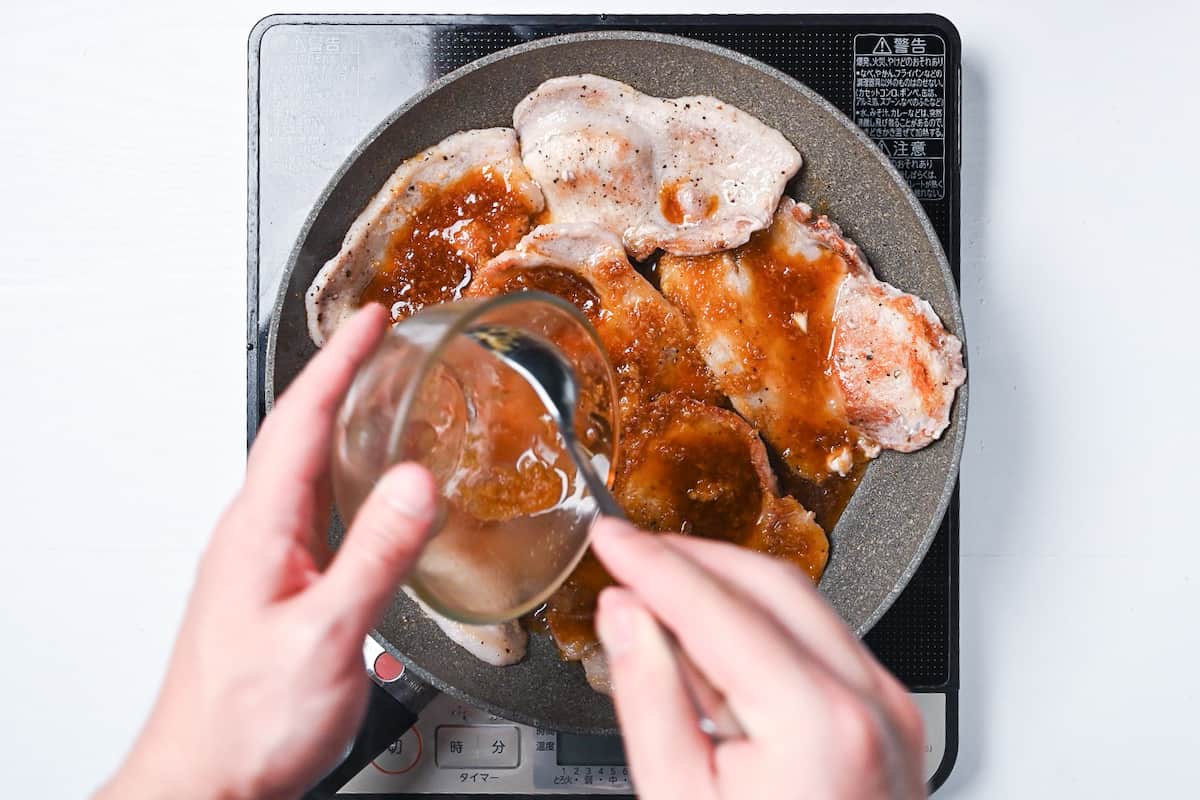 Fry for a few minutes until the pork is cooked all the way through. Once it's fully cooked, remove it from the pan and place it on serving plates.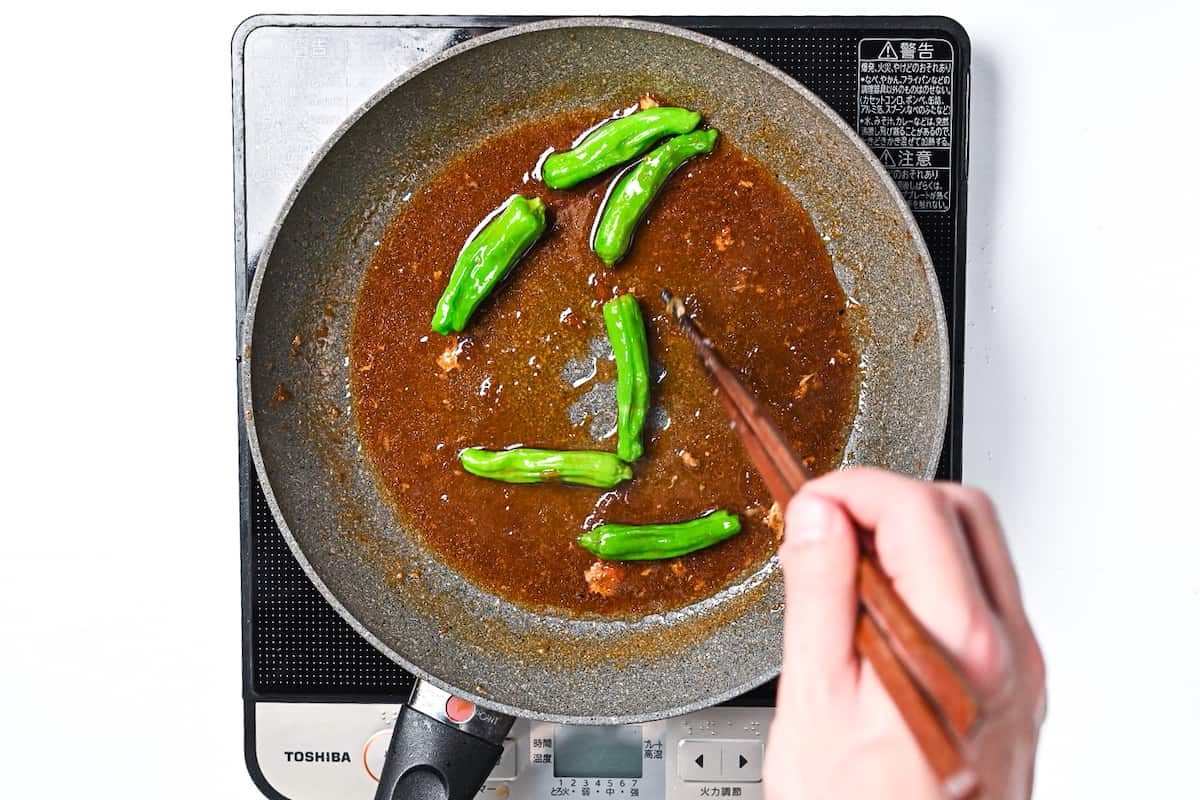 Use the sauce leftover in the pan to cook the shishito peppers (or another vegetable of your choice). Fry until the peppers are slightly charred and the sauce has thickened.
Serve the pork with shredded cabbage and the charred shishito peppers. Pour the leftover sauce generously over each serving.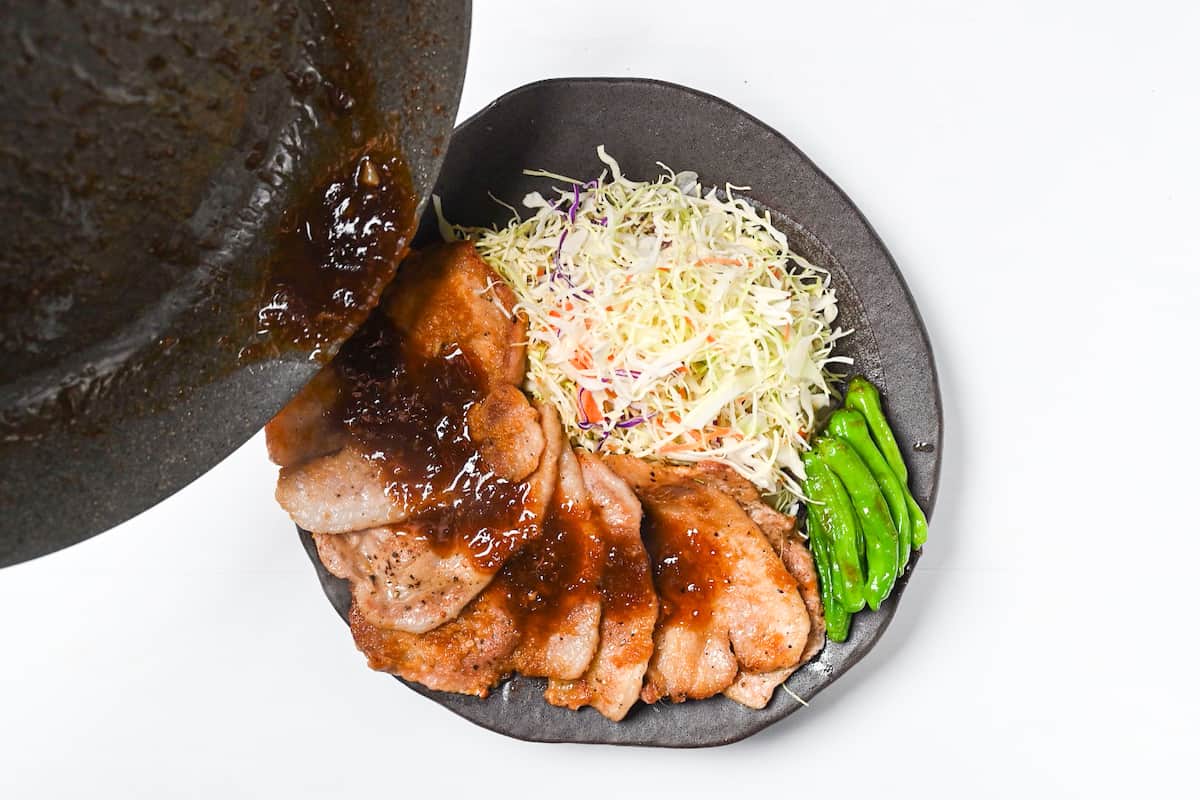 I recommend serving this dish with a small bowl of rice.
Storage Instructions
In the rare case of leftovers, shogayaki can be stored in the fridge for 2-3 days. Freezer storage is also possible and can be kept to 3-4 weeks in a sealable freezer bag. Thaw in the fridge overnight and then reheat in the frying pan for best results. Keep in mind that freezing shogayaki can cause the flavor of the sauce to deteriorate.
If you want to use this recipe for meal prep, make the sauce in advance, keep it in an airtight container in the fridge and use it up within 4-5 days.
Room temperature - Not recommended.
Refrigerated - Shoyakai, 2-3 days. Sauce only, 4-5 days.
Frozen - Up to 1 month.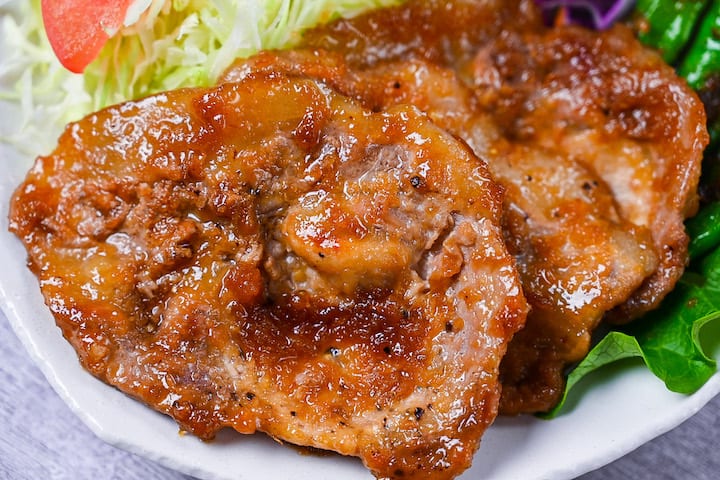 I hope you enjoy this delicious homemade shogayaki recipe! If you try it out, I'd really appreciate it if you could spare a moment to let me know what you thought by giving a review and star rating in the comments below. It's also helpful to share any adjustments you made to the recipe with our other readers. Thank you!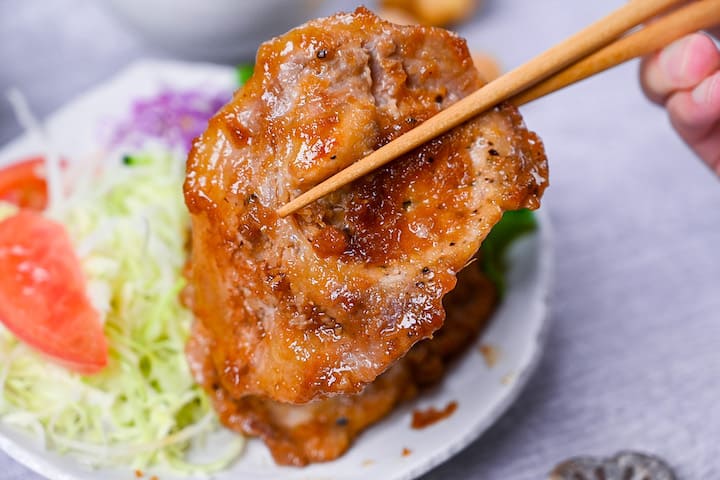 Pairing and Side Dish Suggestions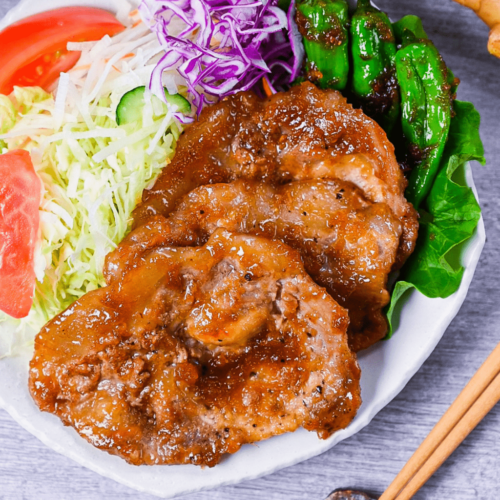 Buta no Shogayaki (Japanese Ginger Pork)
How to make delicious Japanese Buta no Shogayaki made with thinly sliced pork loin cooked in a fragrant homemade ginger sauce.  Perfect with rice.
Ingredients
Shogayaki
250

g

pork loin

-

or pork belly, thinly sliced

salt and pepper

-

for seasoning

all-purpose flour

-

for dusting

1

tbsp

cooking oil

6

shishito peppers
Instructions
Finely grate

20 g fresh ginger

,

1 tsp apple(s)

,

1 tsp yellow onion(s)

and

1 clove garlic

.

Add

2 tbsp soy sauce

,

3 tbsp sake

,

2 tbsp mirin

,

1 tbsp dashi stock

and

1 tsp honey

to a small bowl, then add the grated ingredients and mix well. Set aside for later.

Take

250 g pork loin

and make small incisions in the fat to prevent curling.

Sprinkle each slice of pork with a pinch of

salt and pepper

on both sides and then lightly dust with

all-purpose flour

.

Take a large pan and add

1 tbsp cooking oil

. While it's still cold, place one piece of pork in the pan and move it in a circular motion to spread the oil evenly around the pan.

Place the rest of the pork slices in pan laying flat, be careful not to overlap.

Turn on the heat to medium and fry until the pork is browned underneath.

Once it's browned, flip it over and add the sauce.

Move pork around the pan to distribute the sauce evenly.

Once pork is cooked through, remove it from the pan and place on serving plates.

Fry

6 shishito peppers

in the same pan with the leftover sauce for 2-3 minutes or until the peppers are slightly charred and the sauce has thickened.

Turn off the heat and dish up the peppers, drizzle any leftover sauce over the pork. Serve with rice and salad and enjoy! 
Notes
Buta no shogayaki is usually served with shredded cabbage/salad and Japanese style rice on the side.
Nutrition
Calories:
476
kcal
Carbohydrates:
23.5
g
Protein:
20.9
g
Fat:
29.2
g
Saturated Fat:
9.9
g
Polyunsaturated Fat:
5
g
Cholesterol:
95
mg
Sodium:
1403.5
mg
Fiber:
1.6
g