Delicious and quick to make, this Japanese "shogayaki" ginger pork (生姜焼き) consists of thinly sliced pork cooked in a fragrant sauce made with fresh ginger. It's ready in less than 30 minutes and is perfect for lunch or a midweek dinner.
Disclaimer: This post contains Amazon affiliate links. Sudachi Recipes earn a small percentage from qualifying purchases at no extra cost to you. See disclaimer for more info.
Jump to:
What is shōgayaki?
Shogayaki is a delicious Japanese dish made with thinly sliced pork pan fried in a fragrant ginger sauce. In Japanese, shōga (生姜) means ginger and yaki (焼き) means fry. Since it's easy to make and tastes so good, it's a popular home cooked dish amongst Japanese families.
Although pork is not mentioned in the name, this dish is made almost exclusively with pork. The full name would be "Buta no Shogayaki" (豚の生姜焼き) which literally means "pork fried with ginger". While it's possible to use a different kind of meat, it's not common or associated with the name of the dish.
A brief history of shōgayaki
Shōgayaki appeared in Japan around the early 20th century. Ginger was originally used to soften the smell of pork, which can have quite a strong odor when cooking.
This dish started off as a home dish, but in the 1920's it's popularity grew and restaurants began serving it too. Shōgayaki was a dish supposedly invented in Tokyo and spread across the Kantō (east) area, but now it's one of the most popular Japanese pork dishes nationwide!
Ingredients
In order to make this shogayaki perfectly fragrant, sweet and balanced, I make the sauce with the following ingredients:
Fresh ginger grated
Apple peeled and grated
Onion grated
Garlic cloves grated
Sake
Dashi stock (or water)
Honey
You will also need:
Thinly sliced pork loin
Salt and pepper
Plain flour
Vegetable oil (or your preferred cooking oil)
4-6 shishito peppers (optional)
See below for substitutions and check the recipe card for the ingredient quantities.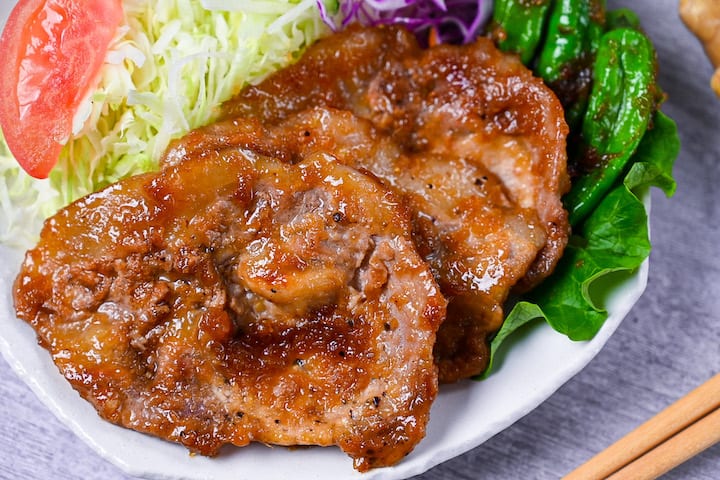 Does the pork need to be marinated?
Shogayaki is one of the most popular dishes in Japanese households and there are tons of different recipes out there. Some people marinate and the others don't. The method is simply different depending on the household. But as far as I can tell, in order to reduce the preparation time, more and more recipes choose not to marinate these days. My recipe does not require marinating.
The sauce also varies from family to family, some people prefer a strong ginger taste, while others enjoy a salty or sweet sauce. My recipe tries to balance all these flavours but leans slightly more towards the sweet side.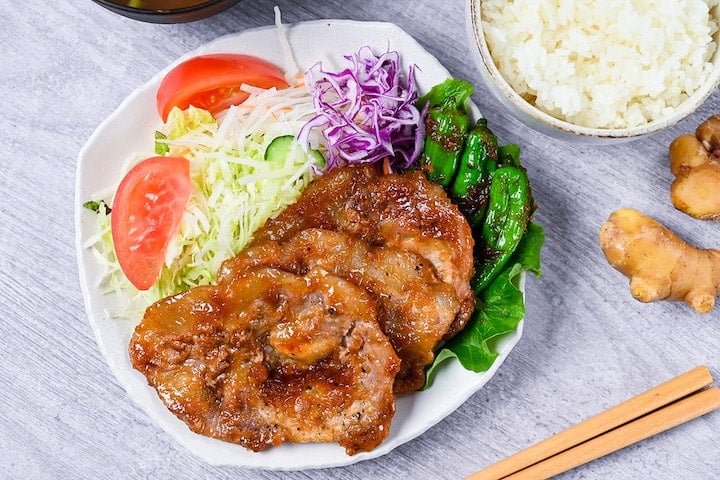 Benefits of cooking with ginger
The smell of ginger softens the smell of pork and oil
Ginger can help reduce nausea and increase your appetite, so it's a good dish to eat in the summer when your appetite might be lower than usual
It's delicious! The ginger sauce is even used in restaurants to garnish steaks and Japanese style hamburg steaks!
Which part of pork to be used?
There is always some discussion of which part of the pork is best to use for shogayaki in Japan.
Loin - Tender with a good balance of lean and fat (recommended).
Shoulder - This is the dorsal part of the shoulder. It has a fine, slightly coarse lean flesh with a web of fat. It has a rich, full-bodied flavour.
Belly - Pork belly can also be used for shogayaki. This part is rich in flavour and fat and is very satisfying.
The general meat of choice is thinly sliced pork loin since it's fine and tender with a good amount of fat on the outside of the lean meat. In Japanese supermarkets, this cut is specifically labelled "for shogayaki", however, other parts listed above can also be used.
Keep in mind that whichever part you decide to use, shogayaki is best made with thinly sliced pork.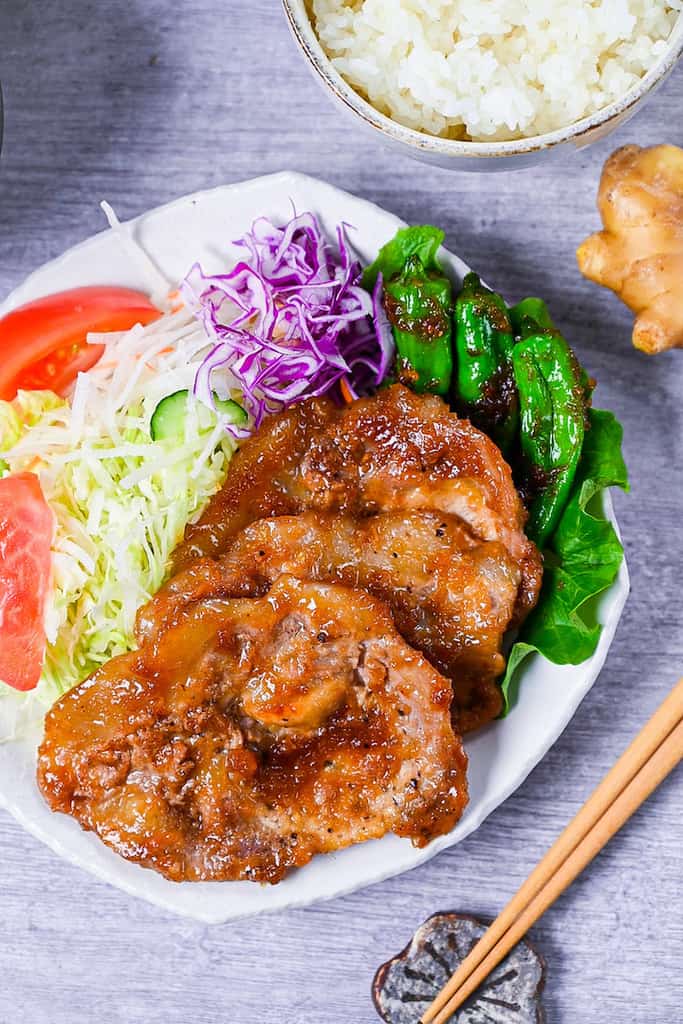 Instructions on how to make the ultimate shogayaki
Shogayaki is a quick and simple dish with great flavour, that's why it's so popular! Here I explain the method step by step along with a few tips and tricks to ensure your shogayaki is fail free and delicious every time.
Grate the fresh ingredients
Start by grating your ginger, garlic cloves, apple and onion. Not only does this add amazing depth of flavour to the sauce, but it also gives it a bit more texture.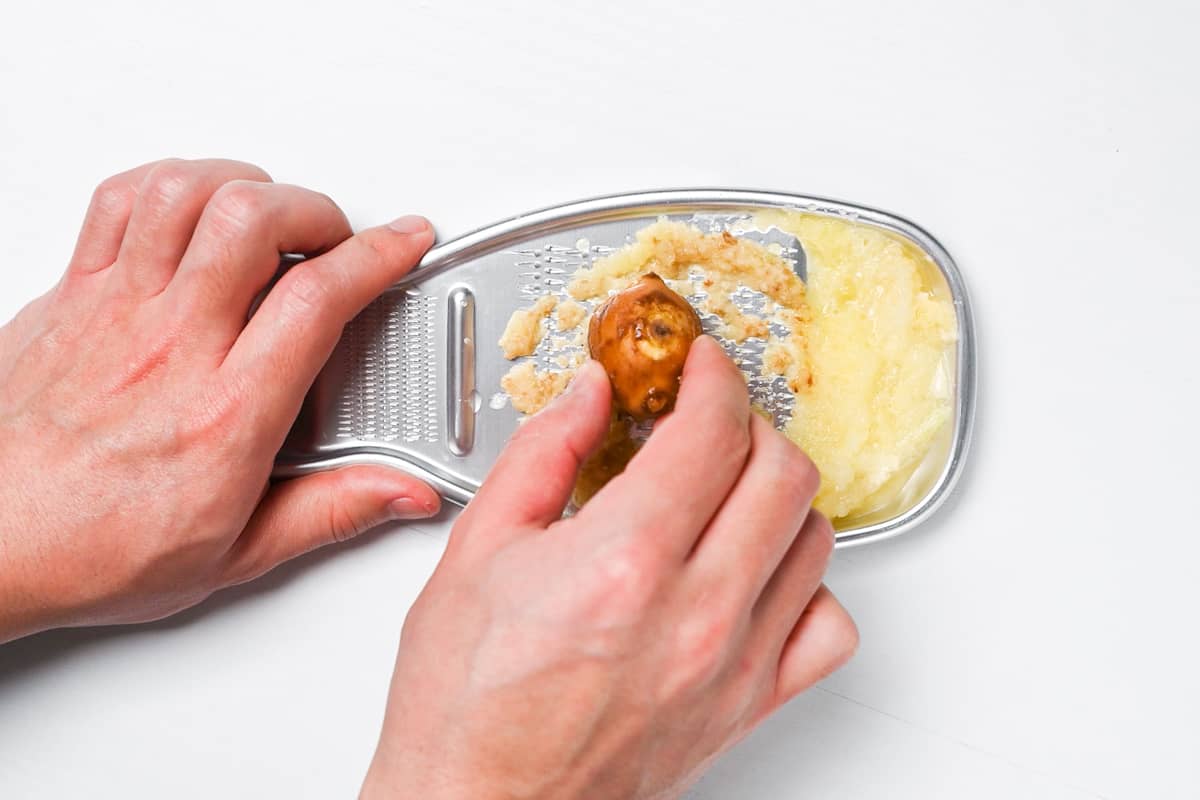 Tip: Grate ginger with skin on
Ginger has a lot of flavour in its skin. For this reason, I recommend grating your fresh ginger with the skin on for a more pronounced ginger flavour. Just make sure to wash it beforehand!
Make the sauce
Mix the soy sauce, mirin, sake, dashi (or water) and honey in a small bowl and then add your grated ingredients. Give it another mix and set it aside for later. It's as simple as that!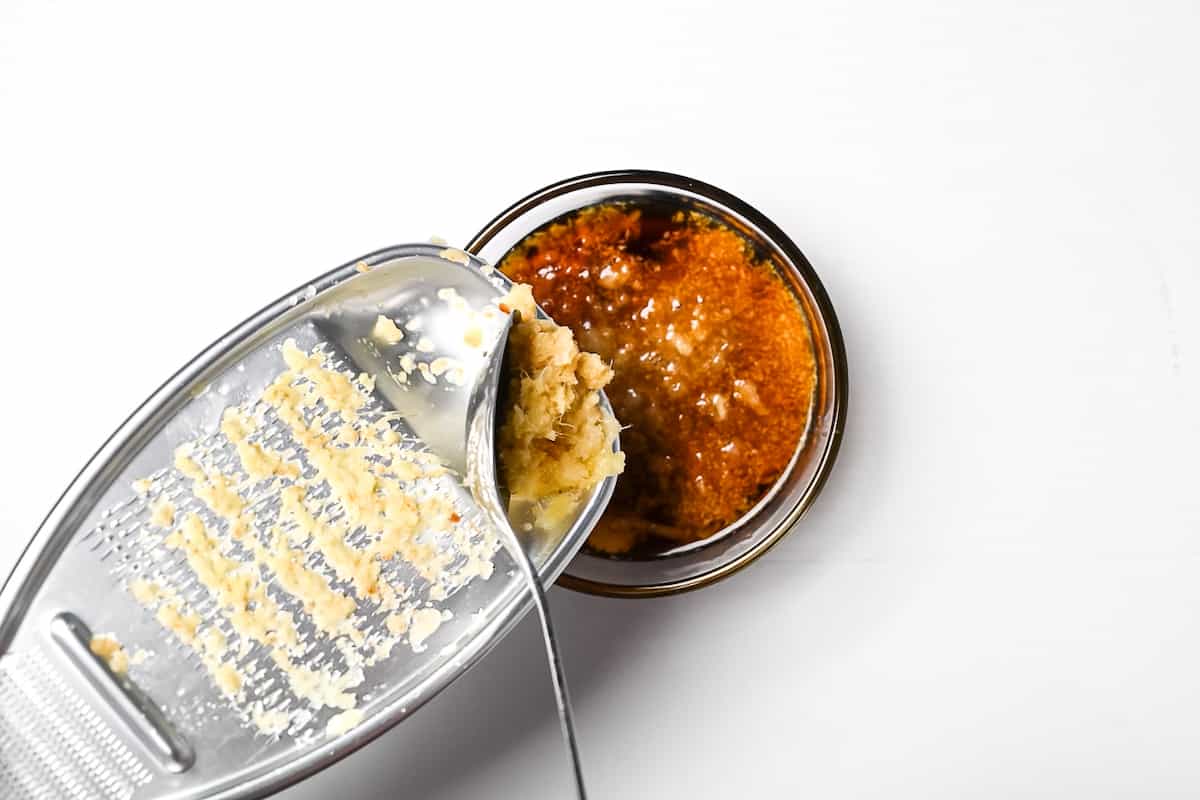 Prepare the pork
To prevent the meat from curling during the cooking process, make a few cuts across the fatty parts and muscles.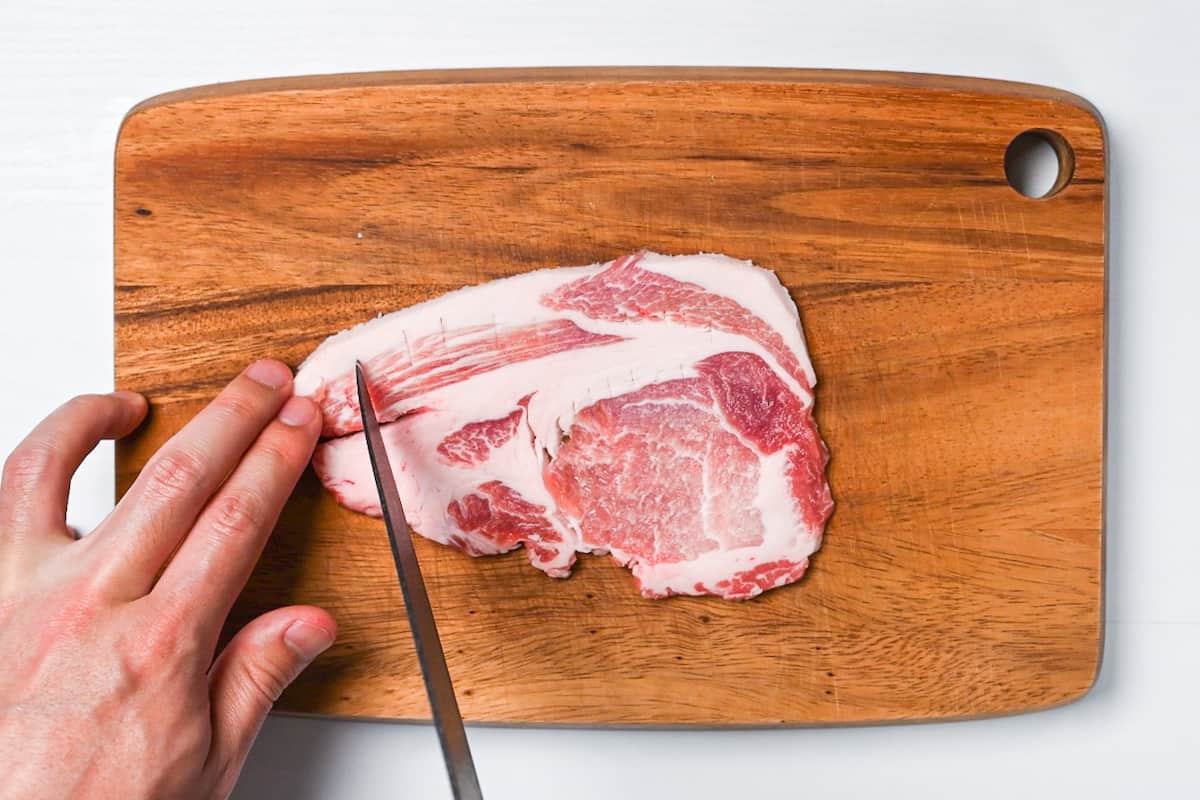 Tip: Bring the pork to room temperature
For best results, take the pork out of the fridge about 20-30 minutes before you want to cook it and bring it to room temperature. Meat cooked from room temperature tends to be more tender than meat cooked straight from chilled.
Season and dredge
Sprinkle both sides of the pork with a pinch of salt and pepper, then coat with a thin layer of plain flour.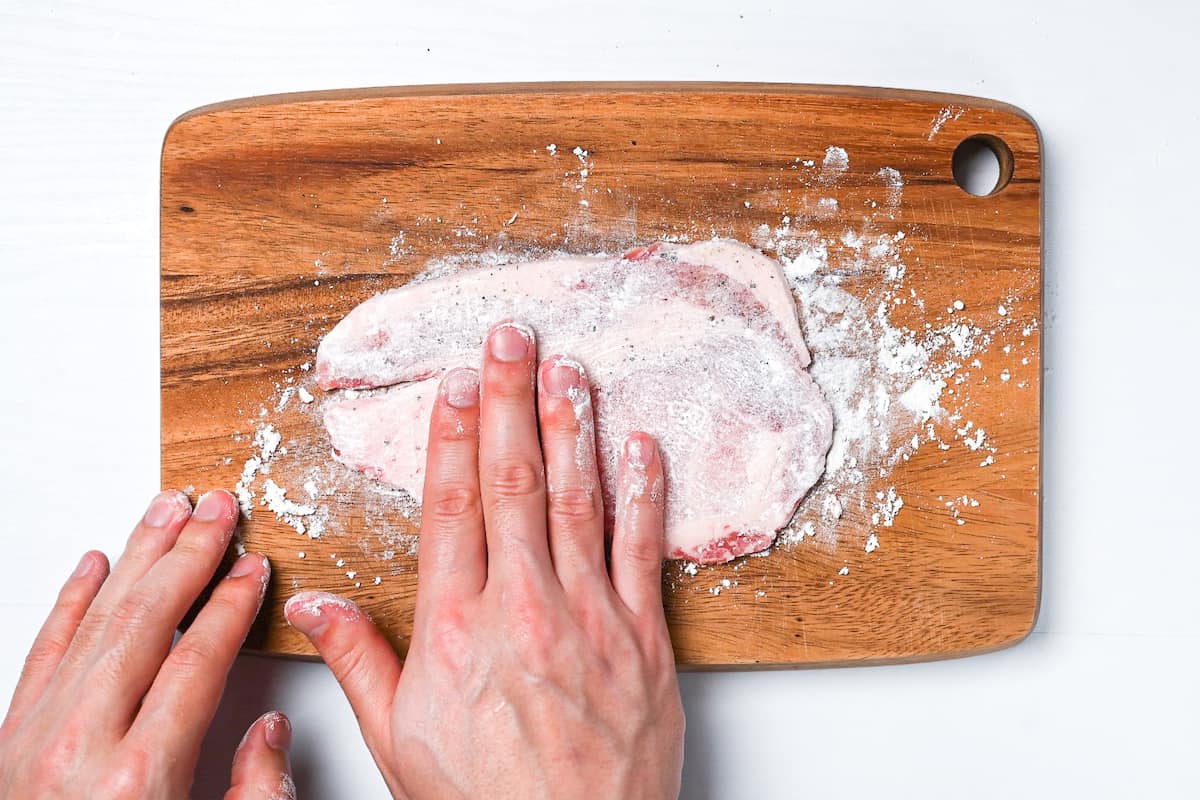 Sprinkle the surface of the pork with flour to help the meat brown more beautifully and pick up more flavour as it cooks. Dredging also thickens the sauce slightly and helps it stick better to the surface of the meat.
Fry the pork
Take a large frying pan and add about 1 tbsp of vegetable oil while the pan is still cold. Place one piece of meat in the pan and move it around in a circular motion to spread the oil, then carefully place the other slices of pork so that they lay flat. (Try to avoid overlapping.)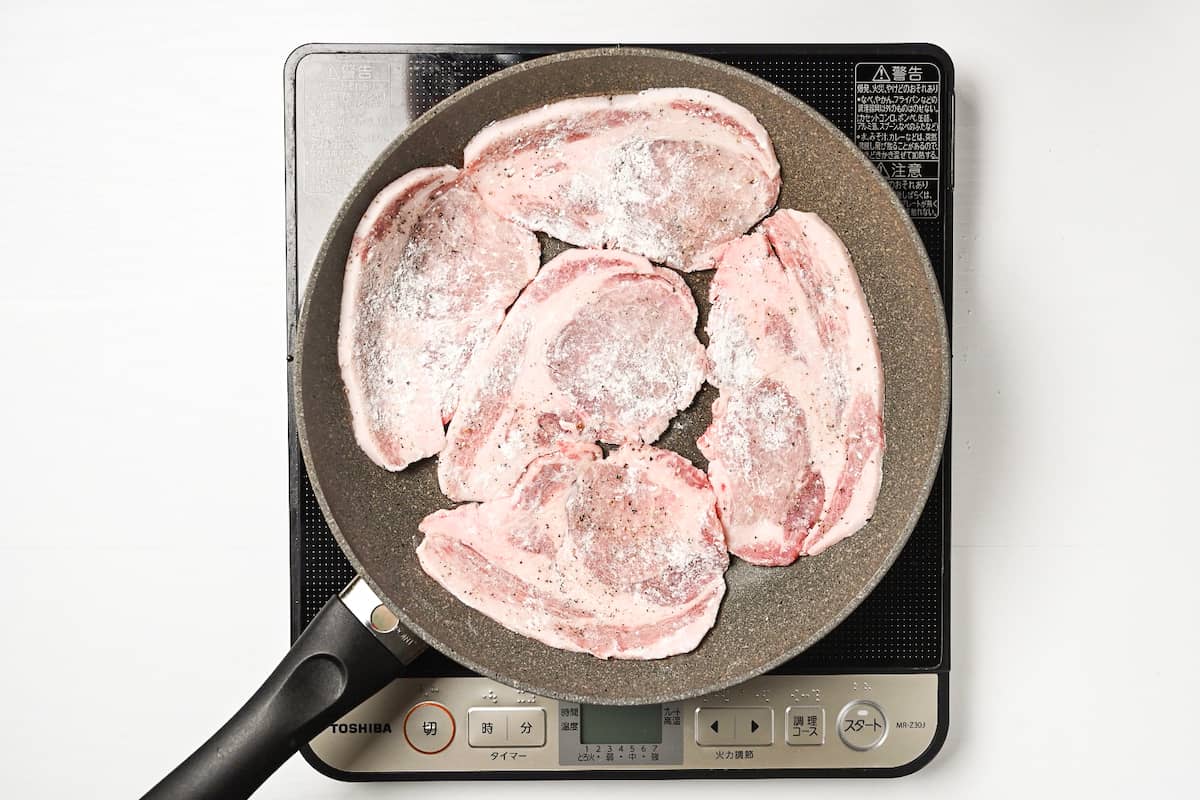 Why start with a cold pan?
Placing the meat in a cold pan and allowing it to heat up gradually will prevent the proteins from coagulating due to the sudden temperature change. This stops the meat from shrinking and becoming tough.
It is said that it reduces the rate of contraction of the muscle fibres by half compared to placing the meat straight into a hot pan.
Place the pan on the stove and heat on medium. Brown the pork underneath, then flip over and add the sauce.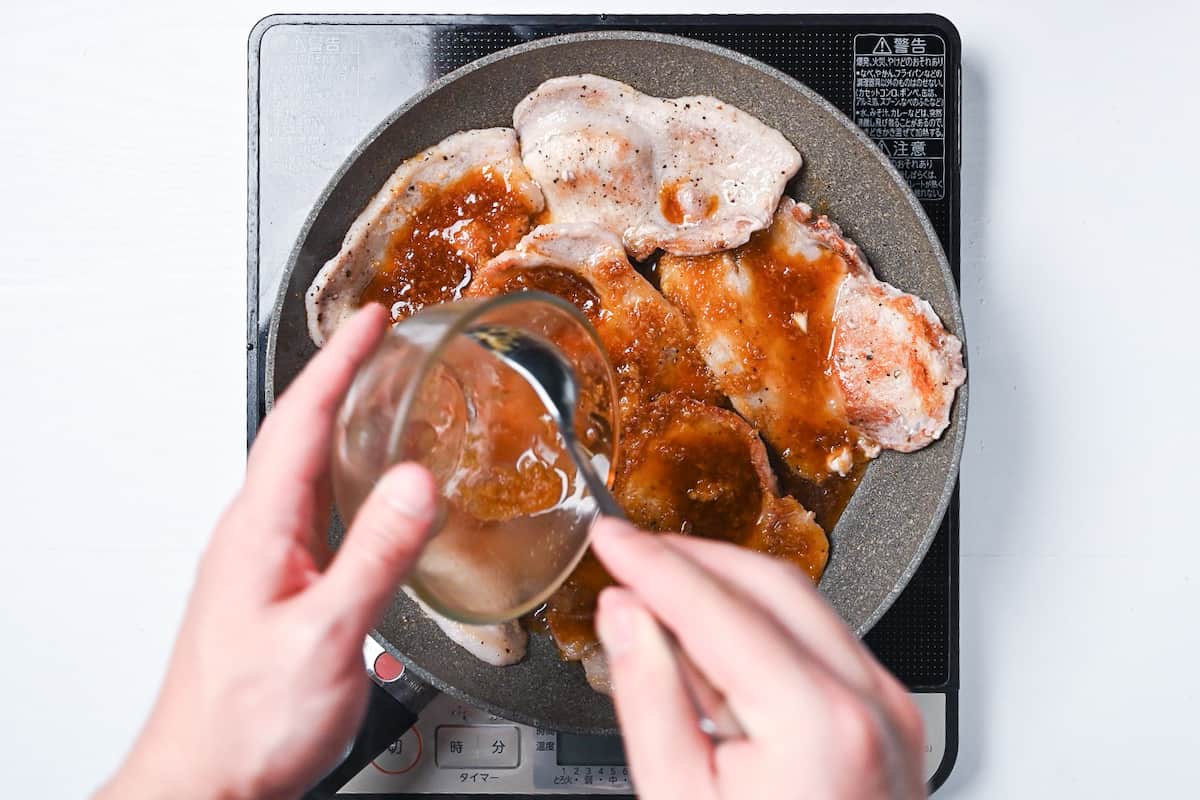 Fry for a few minutes until the pork is cooked all the way through. Once it's fully cooked, remove it from the pan and place it on serving plates.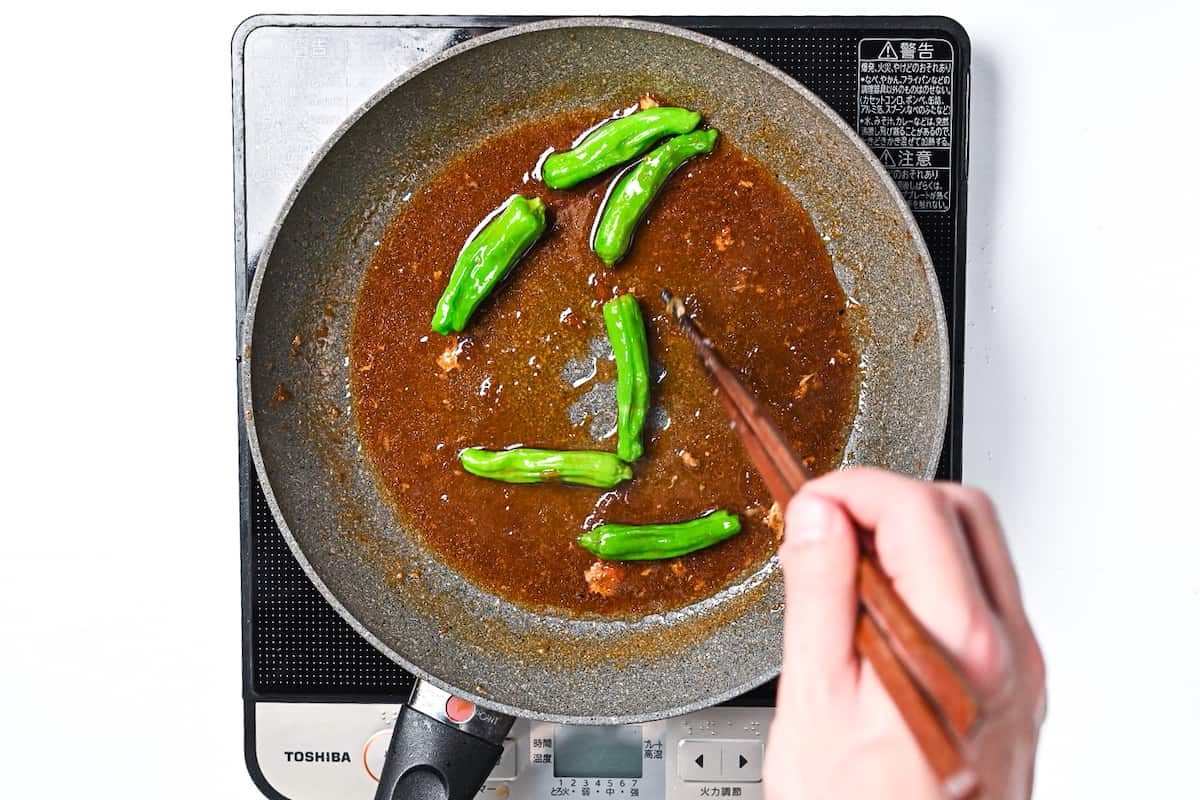 Use the sauce leftover in the pan to cook the shishito peppers (or another vegetable of your choice). Fry until the peppers are slightly charred and the sauce has thickened.
Plate up
Serve the pork with shredded cabbage and the charred shishito peppers. Pour the leftover sauce generously over each serving.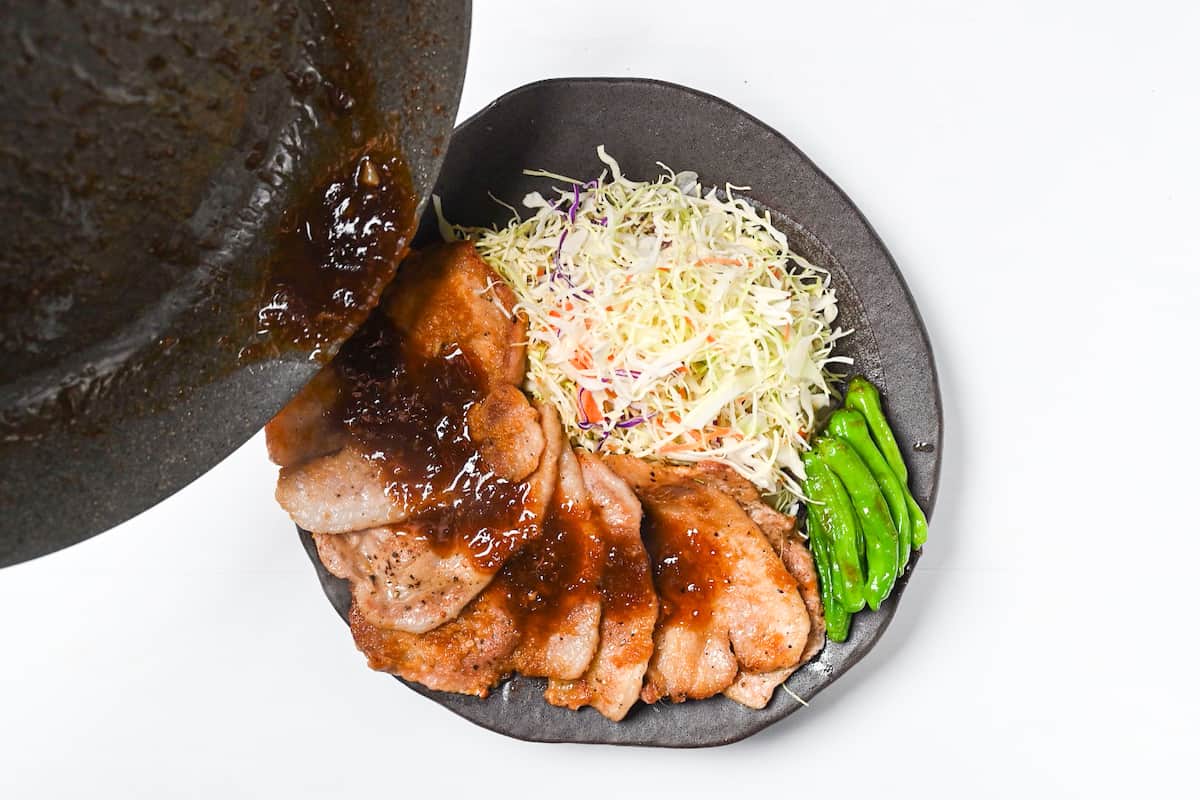 I recommend serving this dish with a small bowl of rice.
Enjoy!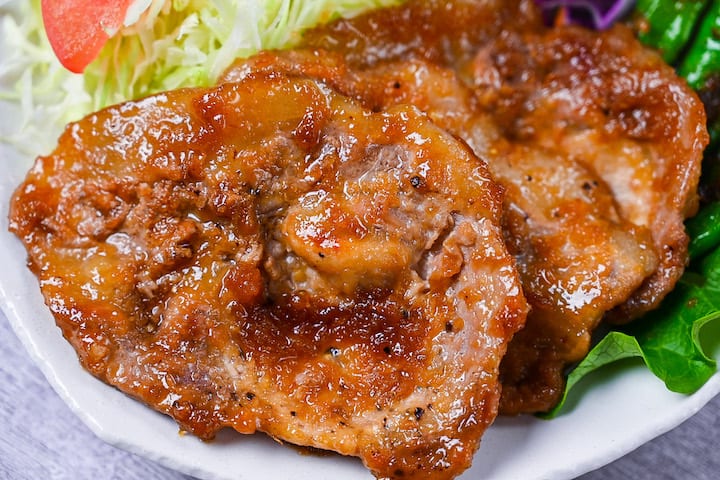 Substitutions and alternative ingredients
Here is a list of substitute ingredients you can use to make shogayaki:
Dry white wine or sherry (instead of sake in the sauce) - alcohol helps tenderize the meat and adds umami to the sauce.
Water (instead of sake or dashi) If you can't use sake or dashi, switch them out for water in order to keep the sauce at the right consistency.
Mini sweet peppers or bell peppers (instead shishito peppers) I like to use shishito peppers for a hint of bitterness and spiciness, they're quick to cook too. Try to use something similar when substituting such as mini sweet peppers or sliced bell peppers.
Apple juice or smooth apple sauce (instead of grated apple) the sauce only requires a small amount of apple, so if you don't want to buy a whole apple for this recipe, feel free to use apple juice or smooth apple sauce instead!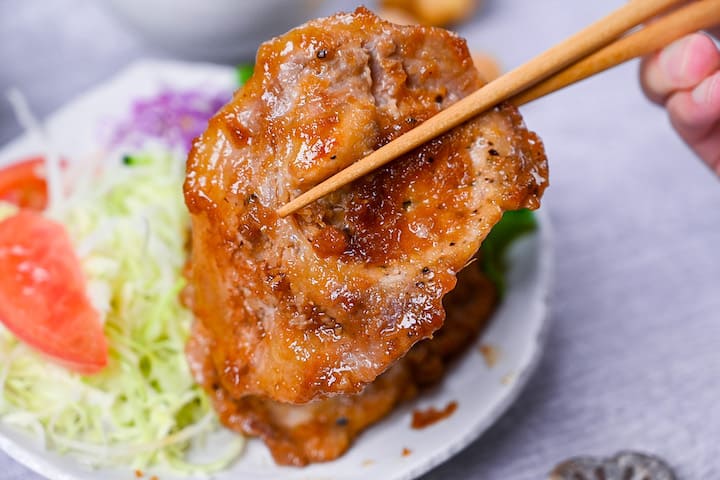 I hope you enjoy this delicious Japanese shogayaki. If you try the recipe, be sure to let me know what you thought in the comments below! Happy cooking!
Watch my video for how to make homemade shogayaki
Print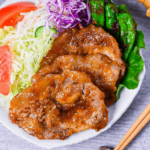 Buta no Shogayaki (Japanese Ginger Pork)
---
Author:

Yuto Omura

Total Time:

25 minutes

Yield:

2 Servings
Description
How to make delicious Japanese Buta no Shogayaki (生姜焼き) made with thinly sliced pork loin cooked in a fragrant homemade ginger sauce.  Perfect served with rice and shredded cabbage or salad. (Serves 2)
---
Sauce
20g

fresh ginger skin on

1 tsp

apple peeled

1 tsp

onion 

1

clove garlic

2 tbsp

soy sauce

3 tbsp

sake

2 tbsp

mirin

1 tbsp

dashi stock (or water)

1 tsp

honey
Shogayaki
250g

pork loin thinly sliced
Salt and pepper for seasoning
Plain flour for dusting

1 tbsp

vegetable oil

4

-

6

shishito peppers
---
Instructions
Finely grate the fresh ginger, garlic cloves, apple and onion.
Add the soy sauce, sake, mirin, dashi (or water) and honey to a small bowl, then add the grated ingredients and mix well. Set aside for later.
Take the pork slices and make small incisions in the fat to prevent curling.
Sprinkle each slice of pork with a pinch of salt and pepper on both sides and then lightly dust with plain flour.
Take a large pan and add a drizzle of vegetable oil. While it's still cold, place one piece of pork in the pan and move it in a circular motion to spread the oil evenly around the pan.
Place the rest of the pork slices in pan laying flat, be careful not to overlap.
Turn on the heat to medium and fry until the pork is browned underneath.
Once it's browned, flip it over and add the sauce.
Move pork around the pan to distribute the sauce evenly.
Once pork is cooked through, remove it from the pan and place on serving plates.
Fry the shishito pepper in the same pan with the leftover sauce for 2-3 minutes or until the peppers are slightly charred and the sauce has thickened.
Turn off the heat and dish up the peppers, drizzle any leftover sauce over the pork. Serve with rice and salad and enjoy! 
Notes
See in post for alternative ingredients.
Buta no shogayaki is usually served with shredded cabbage/salad and Japanese style rice.
Prep Time:

10 mins

Cook Time:

15 mins

Category:

Pork

Method:

Fry

Cuisine:

Japanese
Keywords: shogayaki, how to make shogayaki, shogayaki ginger pork, shogayaki recipe, Japanese shogayaki, Japanese ginger pork, ginger pork stir fry, ginger pork recipe, how to make ginger pork, ginger pork sauce, grated onion, what pork to use for shogayaki, pork shogayaki, what is shogayaki, shougayaki,buta no Shogayaki, Japanese buta no Shogayaki,