Make your own succulent, melt-in-mouth ramen restaurant-style chashu at home with this easy-to-follow recipe! Perfect on ramen, donburi or in fried rice!
Disclaimer: This post contains Amazon affiliate links. Sudachi Recipes earn a small percentage from qualifying purchases at no extra cost to you. See disclaimer for more info.
What is Pork Chashu?
Chashu (チャーシュー or 焼豚) is a Japanese dish made by braising fatty pork belly in a soy-based sauce. It is commonly served on top of a bowl of hot ramen or rice (chashu don), and its slow cooking process results in an incredibly tender, melt-in-mouth texture.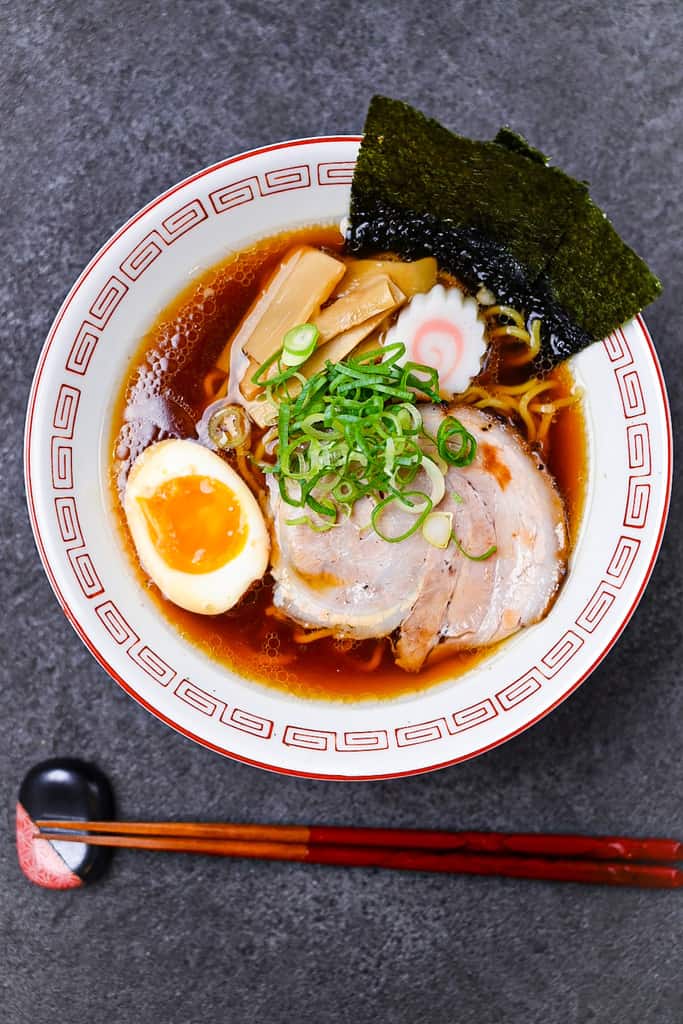 Although chashu originated from the Cantonese "Char Siu", the Japanese version differs in both cooking method and flavor. Firstly, Japanese chashu is braised or simmered rather than barbecued or roasted. Additionally, Japanese chashu is glazed with leftover broth to create a teriyaki-like effect, while Cantonese char siu has more of a barbecue flavor.
When making Japanese Chashu, the most common meat to use is pork belly. However, it can also be made with pork loin or shoulder or even chicken for a variation called tori chashu.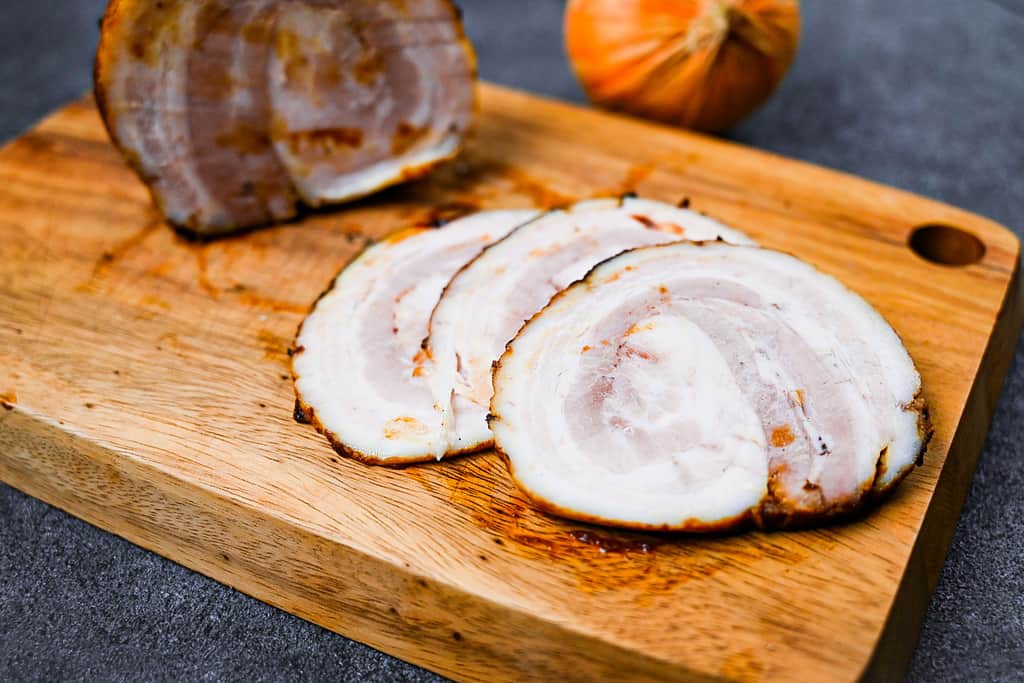 Ingredients and Substitution Ideas
Pork belly block – While other pork parts can be used, chashu for ramen is predominantly made with pork belly blocks.
Green onion – The green part helps neutralize odors and improves the flavor of the pork. It also adds sweetness to the broth.
Fresh ginger (unpeeled) – Aids in odor removal. Ginger compounds like gingerol, trimethylamine, and piperidine bind with meat proteins to mask odors. Meanwhile, cineole, zingyrol, and zingiberine overpower the odor-causing amines found in meat.
Fresh garlic – As a potherb, garlic enhances taste while diminishing odors more effectively.
Yellow onion – Used for its odor-neutralizing properties.
Rice vinegar – Add sparingly to soften meat. The proteolytic enzymes in meat are activated when vinegar is introduced and simmered, facilitating tenderization.
Sake – Although I often suggest white wine or dry sherry as substitutes in small quantities, I'd advise against replacing sake in this context. Its unique flavor profile is essential for the authentic Japanese marinade.
Mirin – When buying mirin, opt for "hon mirin" (本みりん) to ensure a premium taste. I suggest trying Hinode Hon Mirin as a top-notch yet affordable choice. For further suggestions, refer to my post on the 20 Most Useful Condiments and Seasonings for Japanese Cooking.
Soy sauce – If you are looking for something reasonably priced, you can't go wrong with Kikkoman soy sauce. Please see our guide to soy sauce article to learn more about how to choose soy sauce in Japanese cuisine.
Sugar – Regular sugar works well, but I've recently favored light brown cane sugar in most of my everyday cooking.
Curious about the exact brands and products that bring my recipes to life? Discover the brands and ingredients behind my recipes at the Sudachi Amazon Storefront. Explore my handpicked pantry essentials and find your next kitchen favorites!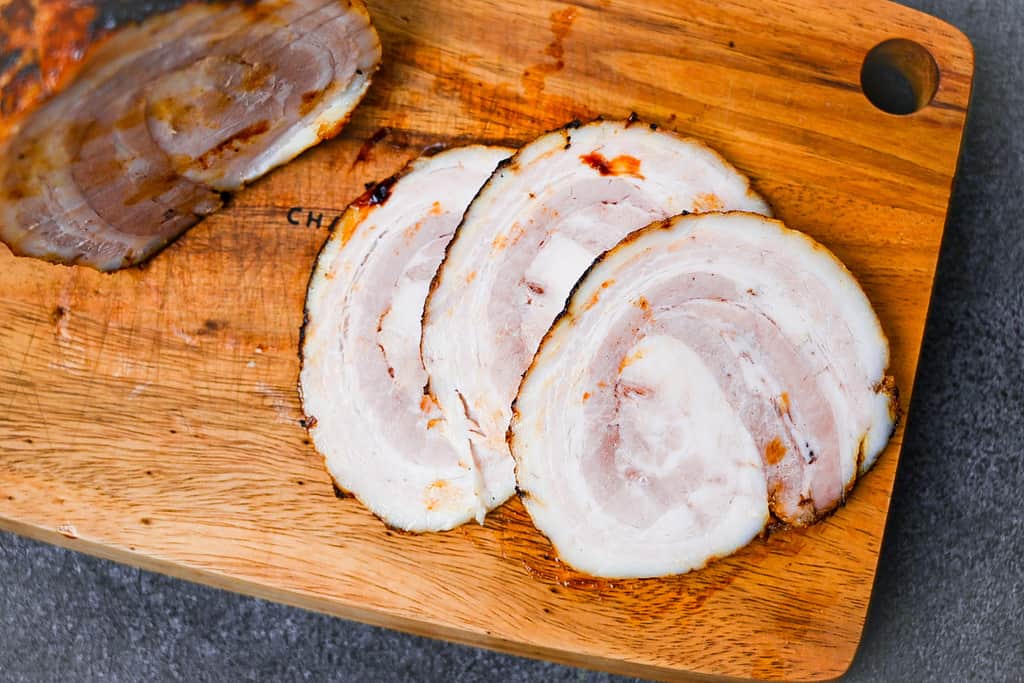 Step-by-Step Instructions
Here are my step-by-step instructions for how to make melt-in-mouth Japanese pork chashu from scratch at home. For ingredient quantities and simplified instructions, see the printable recipe card below.
Cooking the Pork
Stab the surface of the pork belly with a fork on both sides. This not only helps the pork absorb more flavor from the broth, but it also helps break down some of the tendons and proteins which will result in a more tender chashu.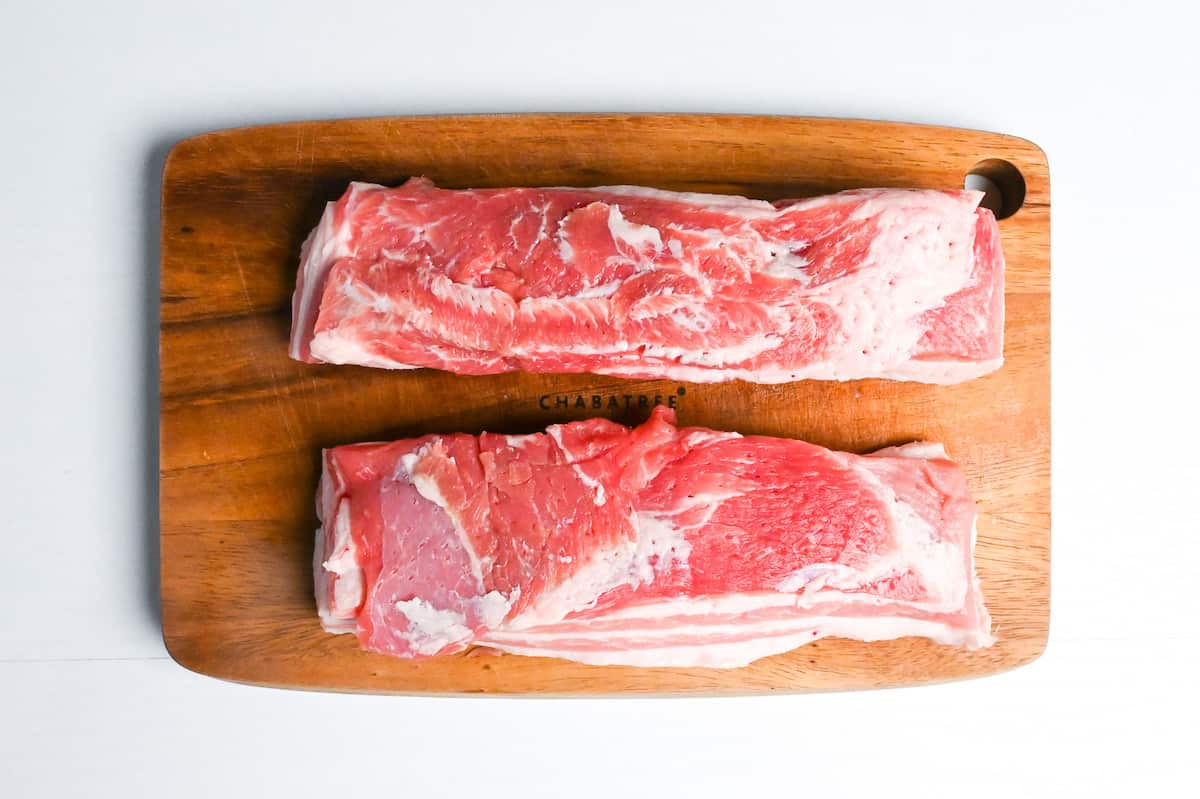 Start with the thinner side and roll up the pork. You can secure it either with butcher's twine or a stretchable meat net.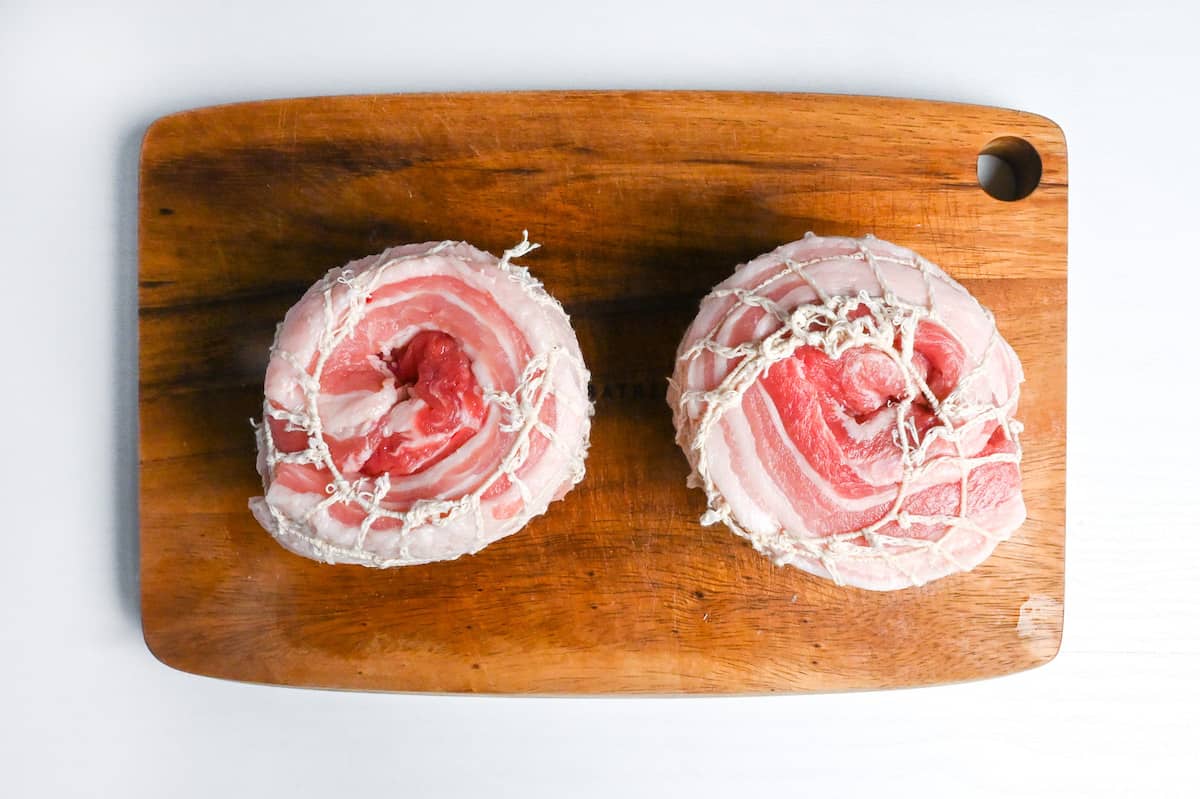 Rolling the pork is mainly for the presentation and doesn't affect the flavor, but if you decide not to roll it then you will need to shorten the cooking time to 1 hour 30 minutes.
Place the rolled pork belly in a large pot and fill with water until submerged (it's okay if it's poking out slightly). Bring to a boil over a medium-high heat and then lower to a simmer. Scoop out any scum that forms on the top of the water.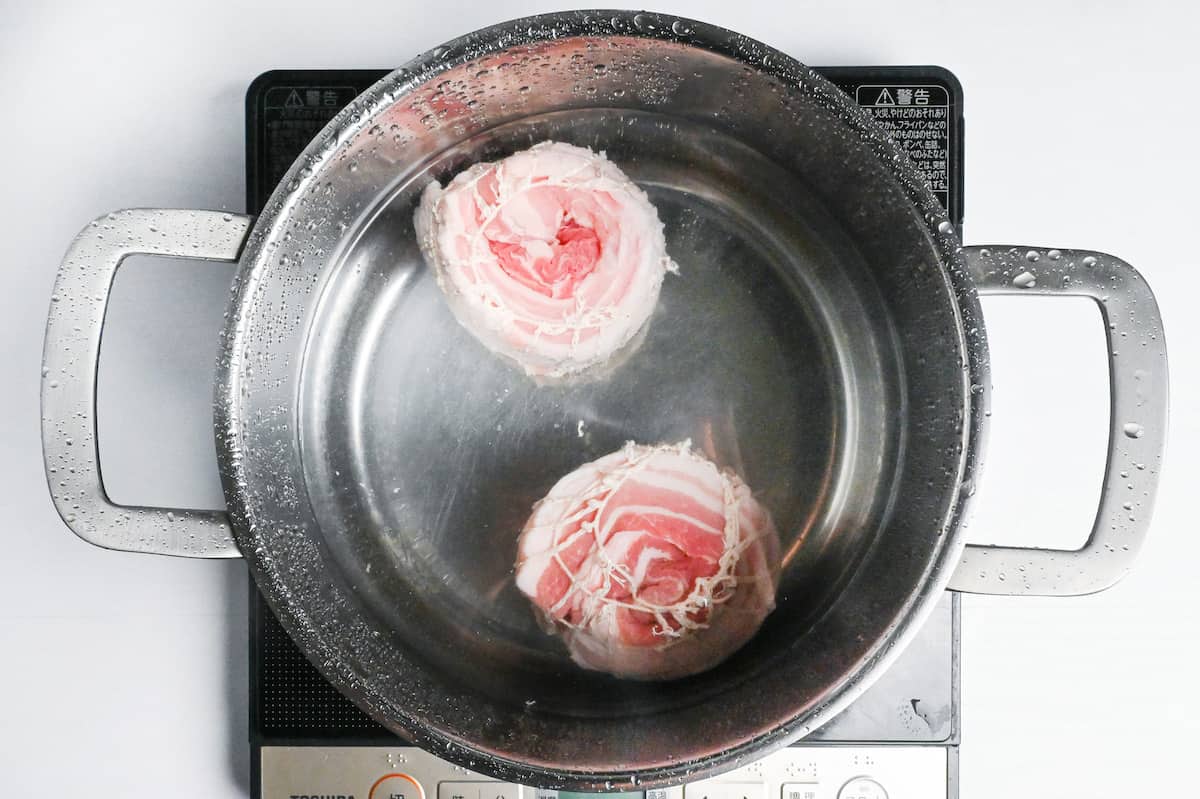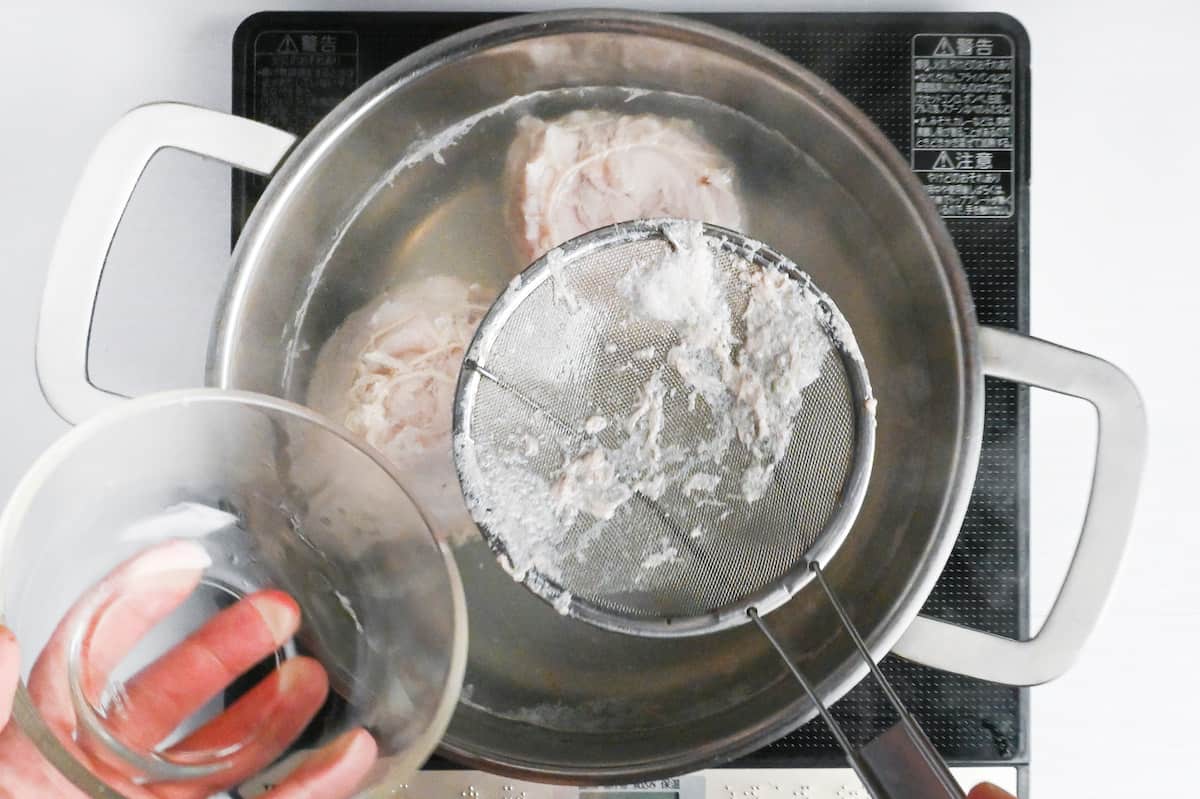 Add the green part of a green onion, roughly chopped yellow onion, thick slices of fresh ginger, whole garlic cloves and rice vinegar to the pot and then cover with a drop-lid. If you don't have a drop-lid, you can use foil or baking paper. Check out my "How to Make a Drop Lid" post for more info.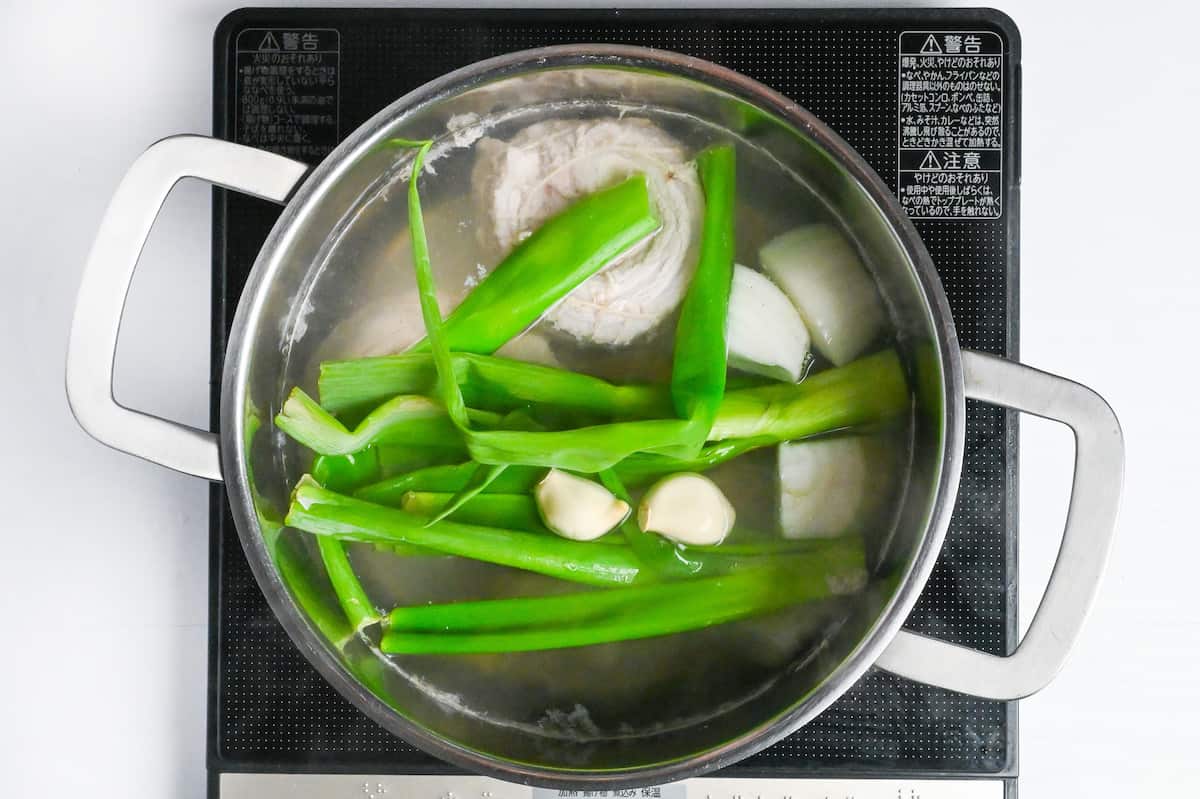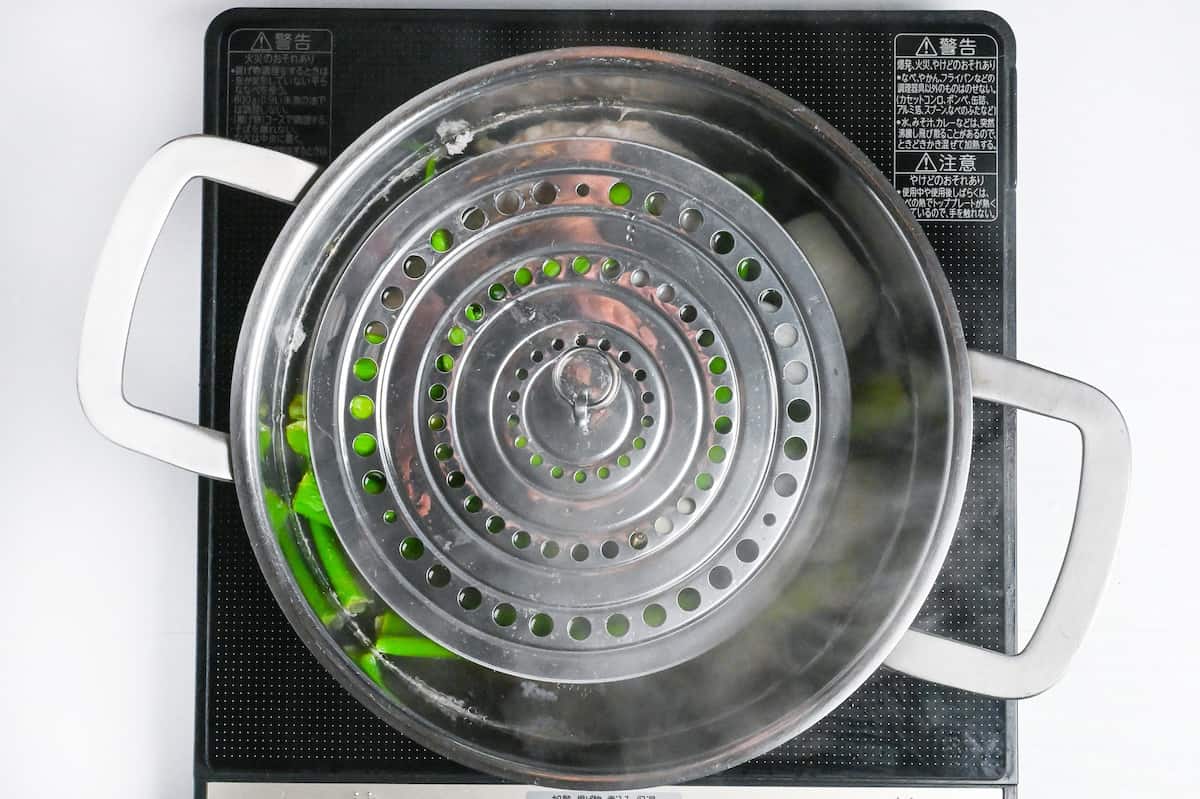 Adding vinegar to the broth helps tenderize the pork even further. Just be careful only to add a little as we don't want to make the broth sour.
Simmer on a low heat for one hour, then turn the pork over and simmer for another hour. The total simmering time is 2 hours. (Reduce to 45 minutes on each side if your pork isn't rolled.)
Once the two hours are up, transfer the chashu to an open zip-lock bag and leave to cool. Set aside 250ml of the pork broth ready to make the marinade.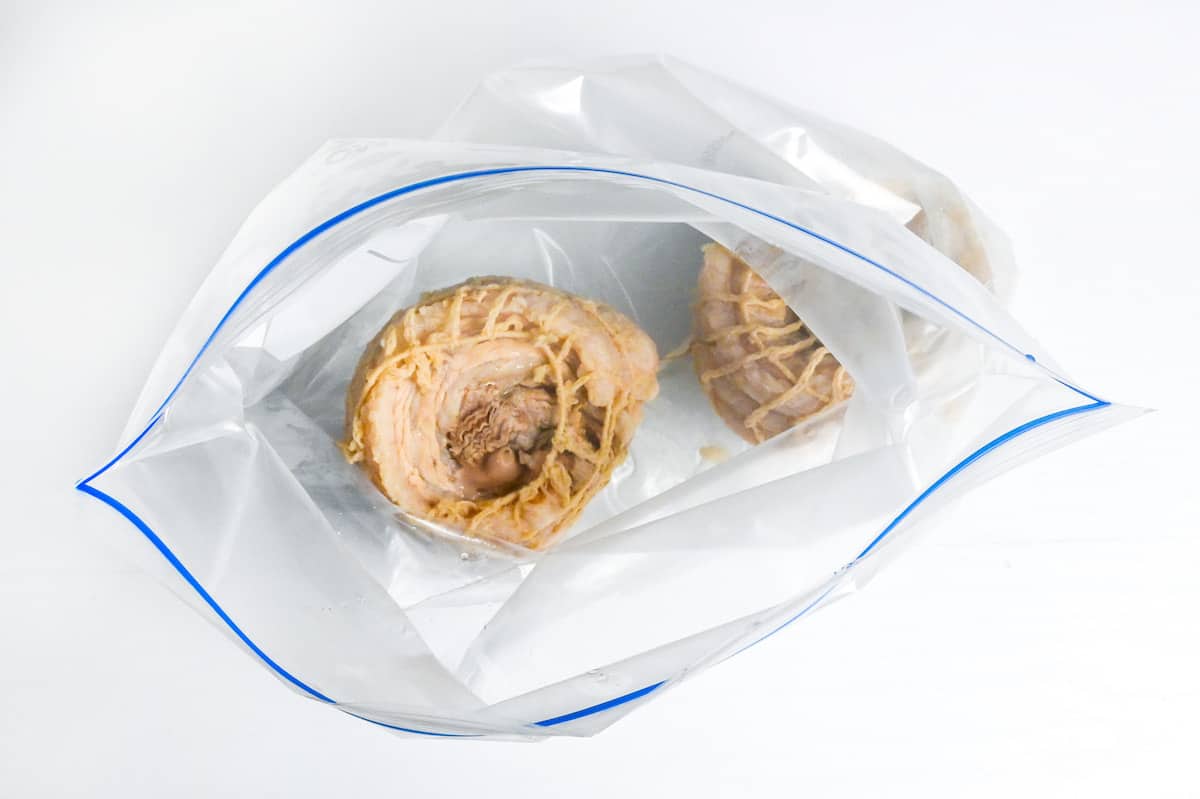 How to make the Marinade
Start with the pork broth
Pour 250ml of the pork broth into a small sauce pan. This will give the marinade more depth.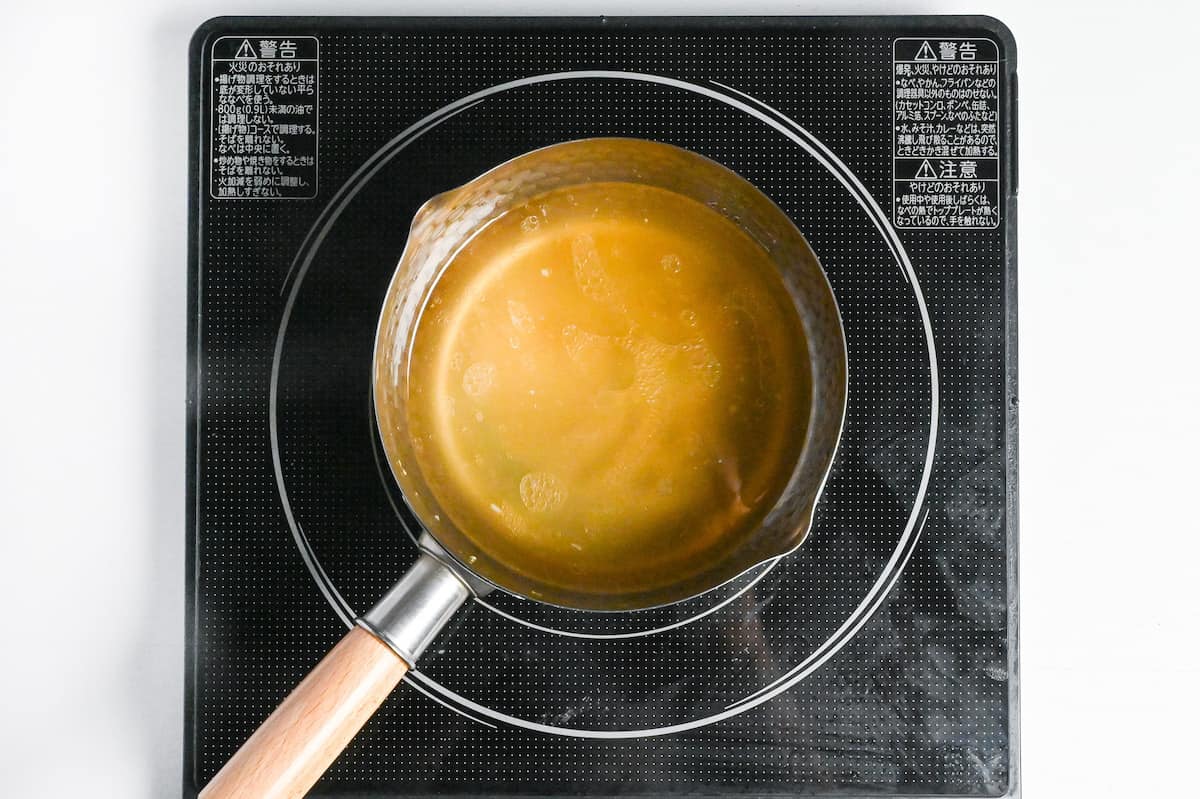 Add sake, mirin, soy sauce and sugar to the pan and bring to a boil. Allow to boil for 1 minute and then remove it from the heat. Let it cool to room temperature.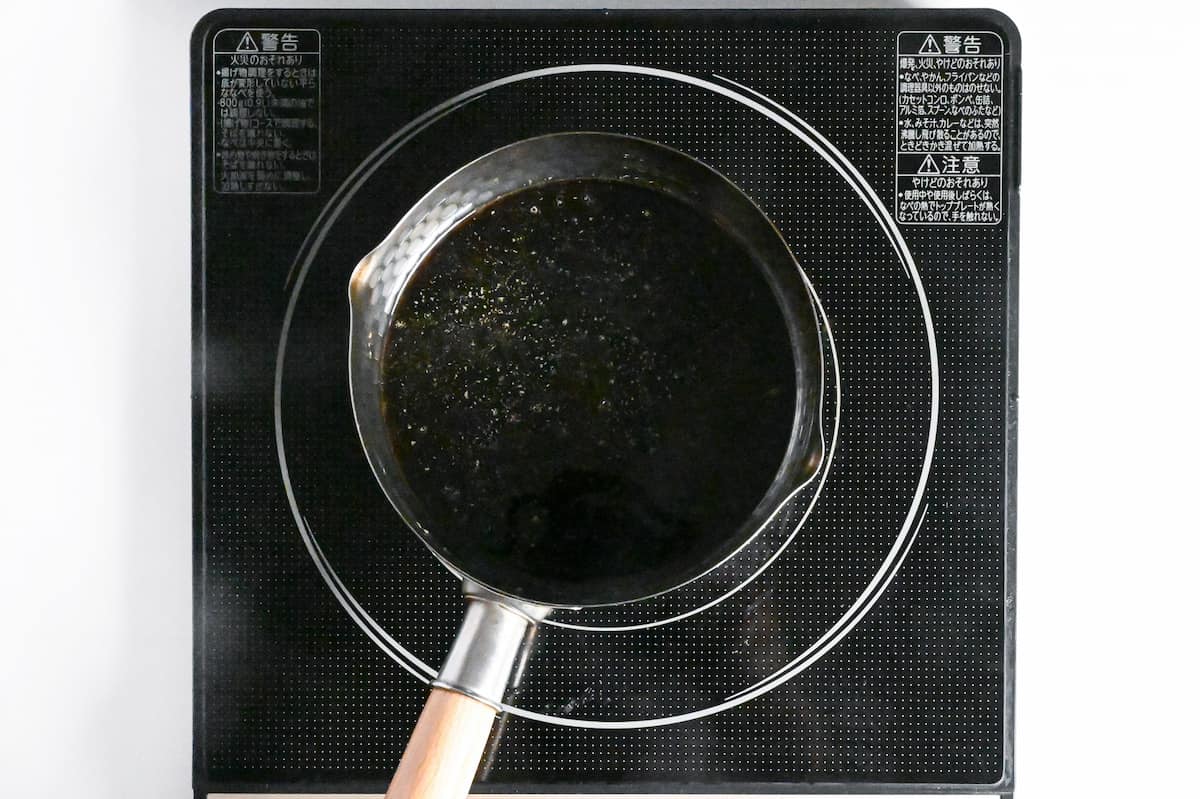 Pour the cooled marinade into the ziplock bag with the pork and marinate in the refrigerator for at least 12 hours (preferably overnight).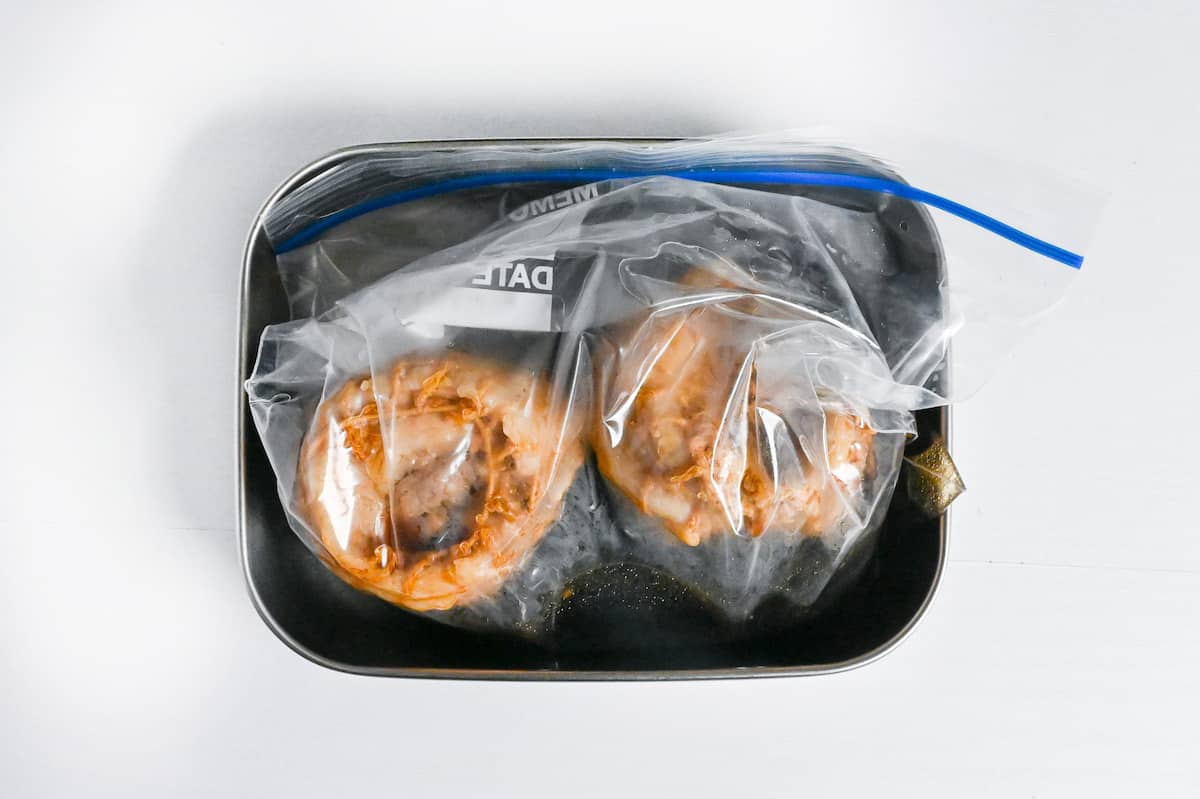 I usually place the bag in a tray to prevent any leaks and turn the pork every few hours to ensure it's evenly marinated all over (this is optional though).
Glaze
Heat a dry pan (without oil) on medium-high and once hot, add the marinated chashu. Rotate occasionally to seal and slightly char all of the surface. This will improve both the texture and the taste. (You can leave the string on for this to stop it from falling apart.)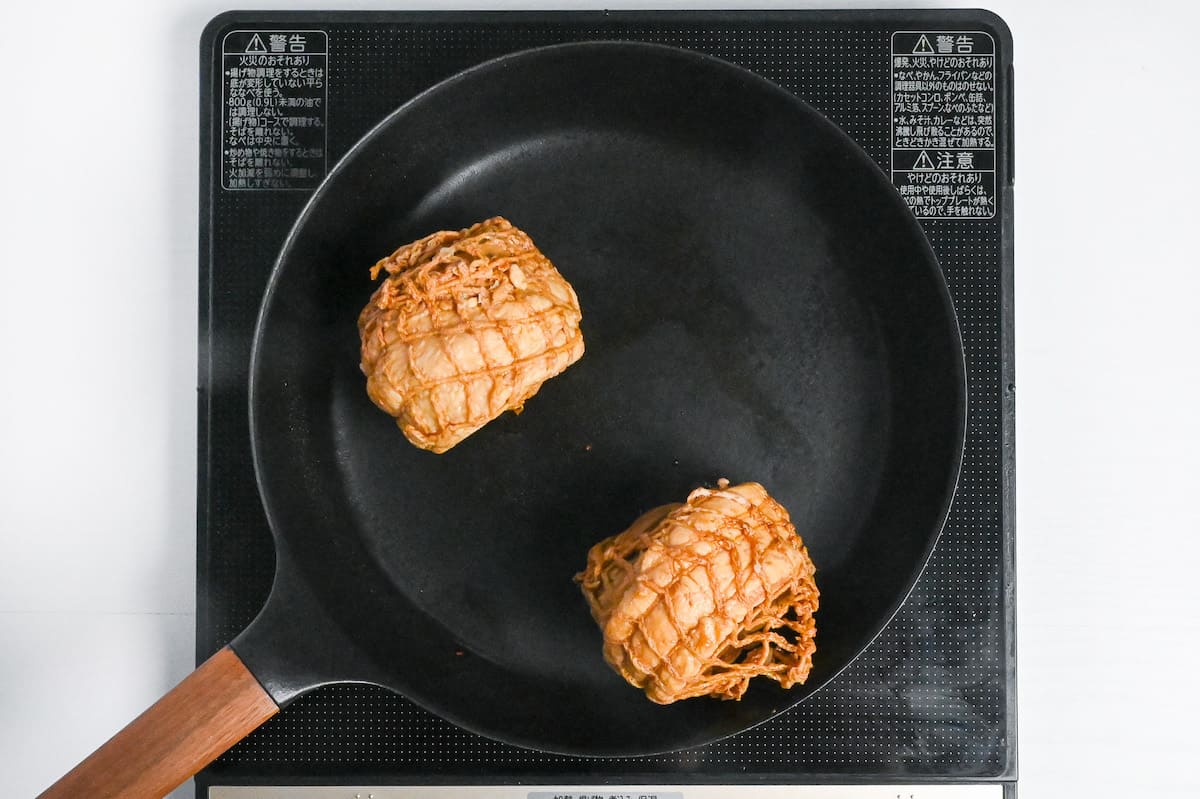 Once sealed, set aside on a plate.
Lower the heat to medium and pour in 100ml of leftover marinade.
Once the marinade starts to thicken, place the pork back in the pan and rotate until it's fully covered in the glaze. If the marinade starts to burn, take it off of the heat.
Heating the marinade in the pan like this causes the sugars in the liquid to caramelize, giving a bit of a teriyaki effect.
Once fully coated, leave to rest for 5-10 minutes.
Remove the string and slice to your desired thickness.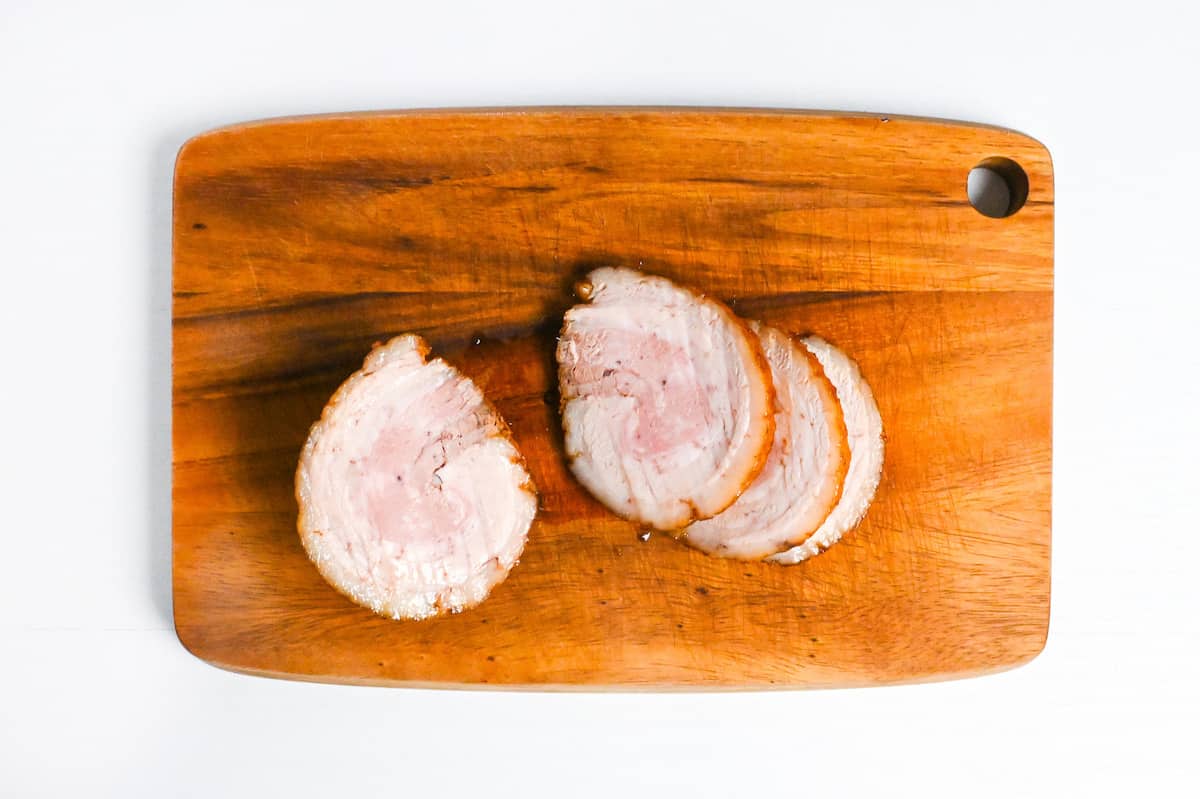 Enjoy on ramen, donburi or even as a snack!
Reusing the Broth and Marinade
After cooking, there will be leftover pork broth that can be used for ramen broths and soups. While some ramen restaurants keep adding new broth to old broth, there is no need to do this at home.
The leftover broth can be kept in the fridge for 3-4 days or in the freezer for up to 3 months so that it won't go to waste.
After marinating the pork, there will be leftover marinade which can be reused once you remove the hardened fat. It can be used as a condiment in place of soy sauce, as well as used to make ramen restaurant-style fried rice and marinate boiled eggs to make ajitama eggs.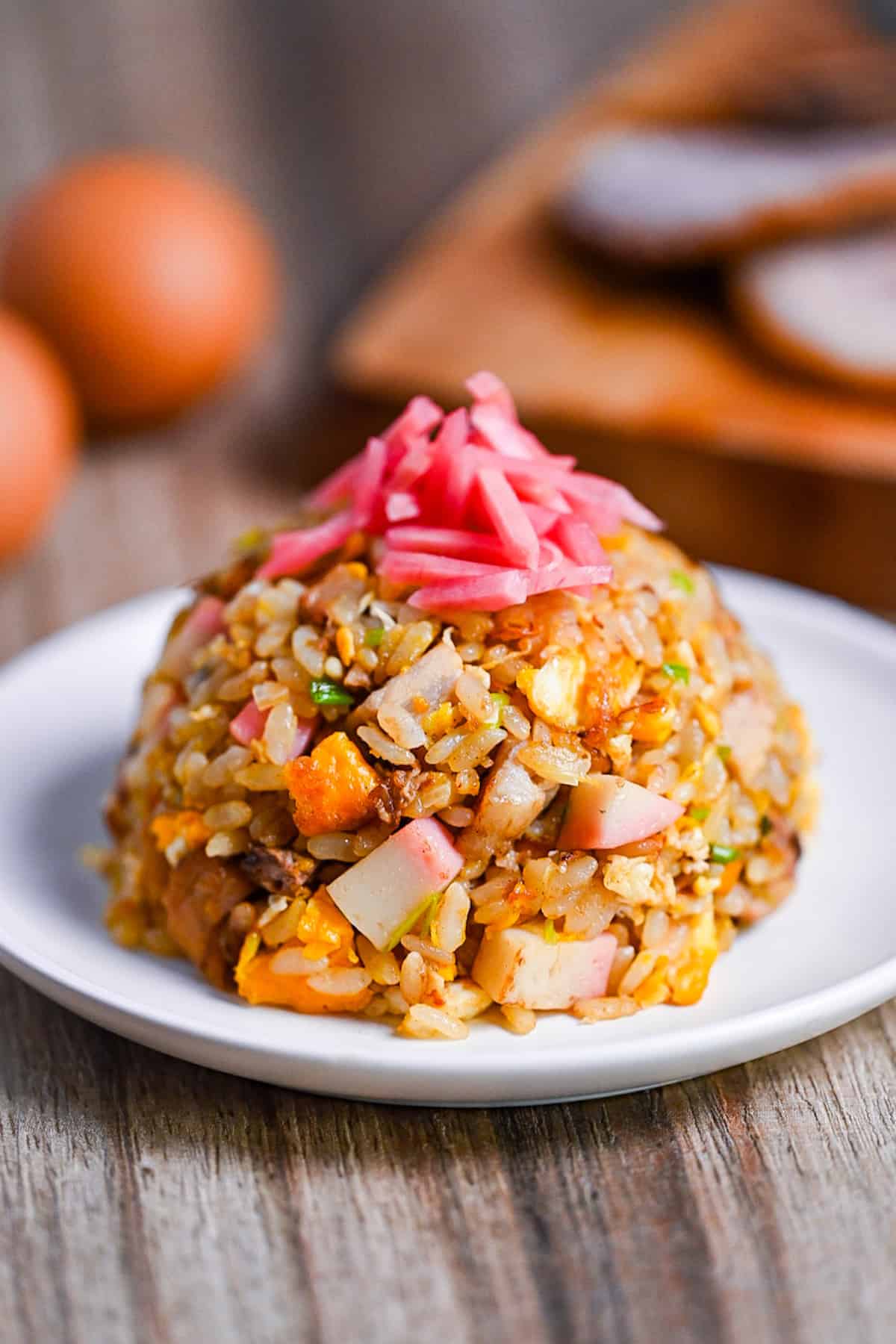 Storage Options
It takes time and effort to make homemade chashu, but the effort is worth it. It should always be refrigerated or frozen to keep it fresh and delicious for as long as possible.
Refrigerated, it can last up to 3 days in an airtight Tupperware container. If freezing, slice the chashu before wrapping it in food-grade plastic wrap and placing it in a zipper freezer bag. Make sure to remove any air and seal the bag before placing it in the freezer.
Room temperature – Not recommended.
Refrigerated – Up to 3 days.
Frozen – Up to a month.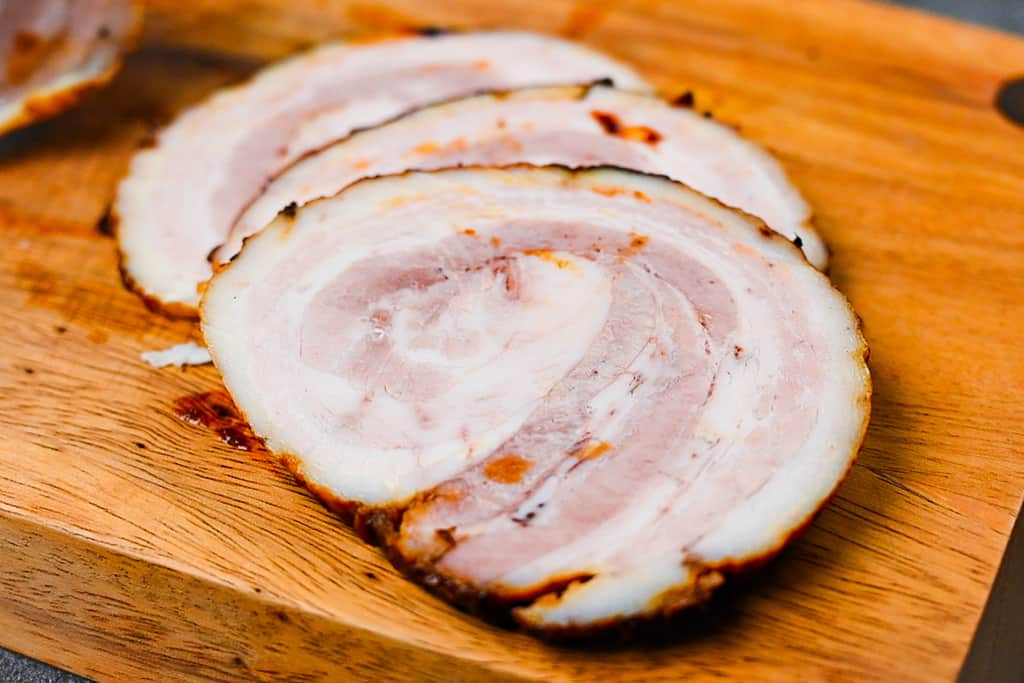 Recommended Recipes Where You Can Use Your Homemade Chashu
Chashu doesn't only have to be served on ramen. Enjoy your delicious homemade chashu in a number of ways!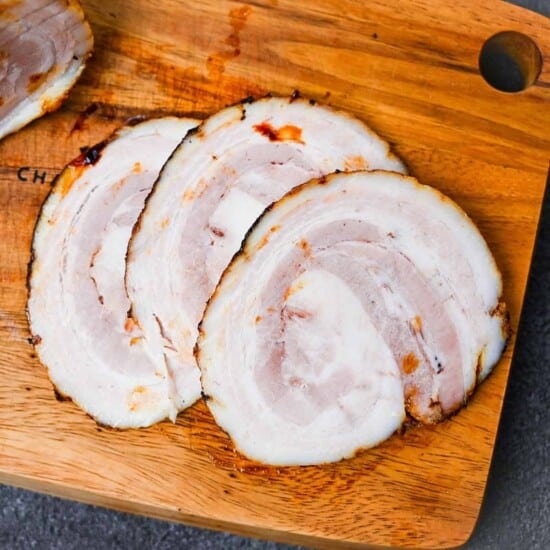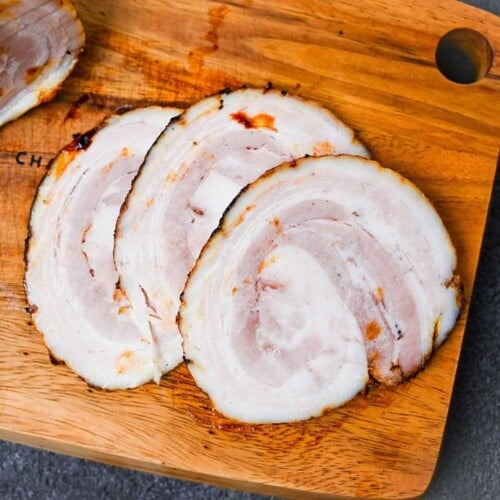 Chashu Pork (Braised Pork Belly for Ramen)
---
How to make delicious, tender, melt-in-the-mouth Japanese ramen restaurant-style rolled chashu (braised pork belly) from scratch.
---
---
---
---
Ingredients
Part 1
700

g

pork belly block

50

g

green onion(s)

green part

50

g

fresh ginger

thickly sliced

3

cloves

garlic

whole with skin removed

100

g

yellow onion(s)

roughly cut

1

tsp

rice vinegar
Part 2
50

ml

sake

1

tbsp

mirin

250

ml

pork stock

from part 1

150

ml

soy sauce

30

g

sugar
Instructions
Part 1
Take

700 g pork belly block

and pierce both sides with a fork. 

Dry the pork belly with a paper towel and roll. Start with the thinnest side and roll it up, secure with string or meat netting. (See video for how to tie with string.)

Place the pork into a deep pot, fill with cold water until the pork is just about submerged. (It's okay if the highest part is slightly poking out the top.)

Turn the heat on a medium-high setting and bring the water to a boil. If any scum floats on the top, scoop it out.

Once it's boiling, lower the heat to a simmer and add

50 g green onion(s)

,

100 g yellow onion(s)

,

50 g fresh ginger

,

3 cloves garlic

and

1 tsp rice vinegar

. 

Once the time has passed, remove the drop lid, carefully flip the pork over onto the other side and place the drop lid back. Simmer for another hour.

After the time is up, turn off the heat, remove the pork from the broth and place it in a large ziplock bag.
Part 2
Scoop

250 ml pork stock

leftover from the pot and pour it into a saucepan.

Add

50 ml sake

,

1 tbsp mirin

,

150 ml soy sauce

and

30 g sugar

to the pan and boil for 1 minute.

Turn off the heat and leave it to cool slightly. Once cooled, pour it into the ziplock bag with the pork. Seal the bag and marinate in the fridge for at least 12 hours (preferably overnight).
Part 3
Heat a frying pan on a medium-high heat. Once it's hot, add the pork belly to the pan and lightly char the outside. Keep turning the pork to make sure all the edges are evenly charred.

Transfer the pork to a plate and pour 100ml of the leftover chashu marinade into the pan.

Allow the sauce to thicken slightly and place the pork back in.

Keep turning the pork to coat the surface with the glaze. Once fully covered, remove it from the pan and allow it to rest for 5-10 minutes.

Remove the rope or net and then cut the chashu into slices.
Notes
Remove the ginger, spring onion and garlic at the end of the simmering time and store leftover pork stock in the fridge for up to 1 week or 1 month in the freezer. You can use it for soups and broths.
You can soak boiled and peeled eggs in the ziplock bag with the leftover broth to make ramen eggs. Scoop out the pork fat before adding the eggs.
The chashu pork can be kept in the fridge for 3 days or 1 month in the freezer. I recommend slicing it first for convenience.
Rolling the pork belly is for decoration and is optional. You can still make delicious chashu without rolling it. If you don't roll it, reduce the cooking time to 45 mins on each side. (1 hour 30 minutes total)
FAQ
What cut of pork is chashu?
The most common cut used for Japanese chashu pork is pork belly, but some restaurants and families opt for other cuts of pork or even chicken.
Is Chashu Chinese or Japanese?
There's no doubt that chashu originates from Chinese Char Siu. It traveled to Japan, then Japanese people found their own way to cook it.
What do you eat Chashu with?
It's usually served on Ramen but sometimes with rice bowls. You can check out my chashu donburi recipe here. There are even some izakayas (Japanese Tapas-style restaurant) that serve Chashu on its own as a beer snack!
Is Chashu pork the same as pork belly?
Chashu is a block of pork belly that has been simmered and braised.
What is pork belly in Japan?
Pork belly is called "buta bara niku (豚バラ肉)" and the block form is called "buta bara block (豚バラブロック) in Japanese.