Turn your favourite ingredients into delicious tempura with this light and crispy Japanese tempura batter! Using my tips and tricks, you can achieve perfect tempura every time!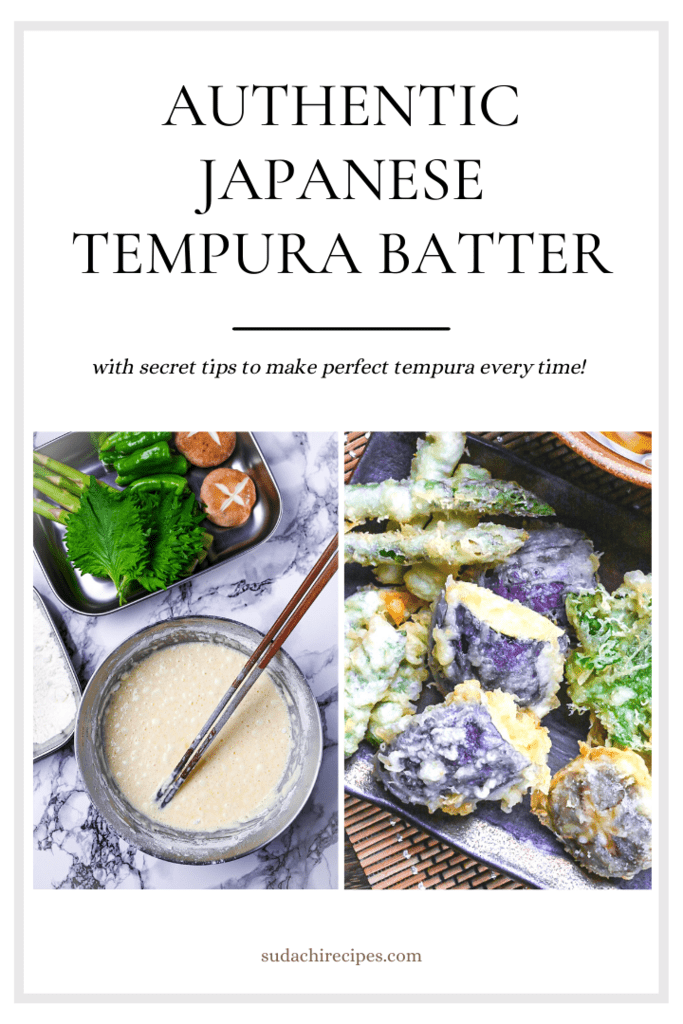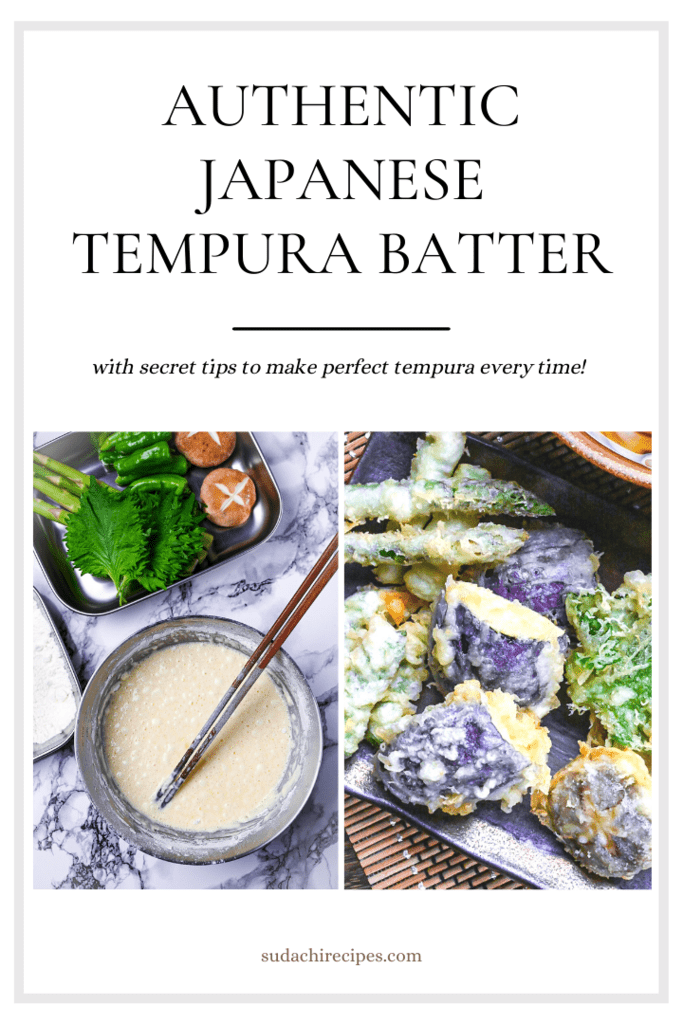 Disclaimer: This post contains Amazon affiliate links. Sudachi Recipes earn a small percentage from qualifying purchases at no extra cost to you. See disclaimer for more info.
Jump to:
What is tempura?
Tempura is an ancient Japanese dish most commonly made with seafood or vegetables coated in a light and crispy deep fried batter. The batter is a simple mixture of flour, egg and water.
Although tempura is known around the world as a Japanese dish, tempura came to Japan through Portuguese introduction. It started in Nagasaki and then spread to the east of Japan, where it became one of the "three flavours of Edo (Tokyo)" and a speciality of Edo (Tokyo).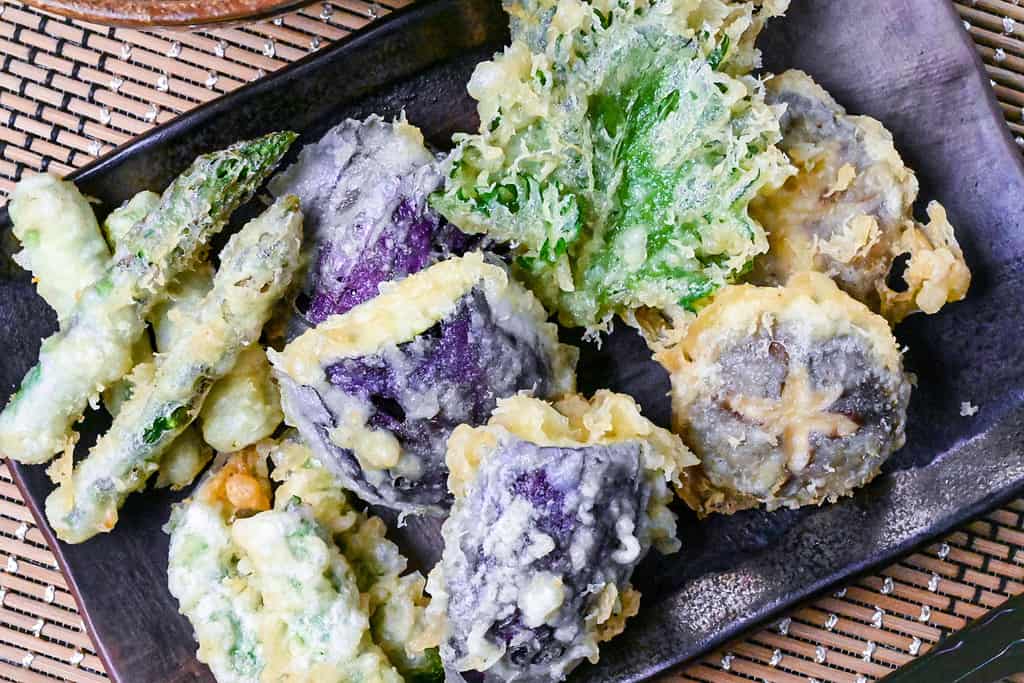 History of tempura
An interesting fact is that the original form of tempura was heavily inspired by a Portuguese dish called "Peixinhos da horta" in 16th century.
It might seem random, but Portugal was one of very a few countries that Japan traded with back then and before that point, there was not really a culture of deep frying or cooking things with a batter. There is even a theory that the name "tempura" comes from the Portuguese word "tempero" which means "seasoning".
In addition to tempura, there are a few other traditional Japanese dishes that were inspired by Portuguese dishes such as castella cake and konpeito candy.
And the influence isn't only limited to food either, there are also a lot of Japanese words that originate from Portuguese language:
Botan (botão): button
Kappa (capa): raincoat
Manto (manto): cloak
Joro (jarro): watering can
Karuta (cartas): a type of card game
I thought it's interesting to point that out!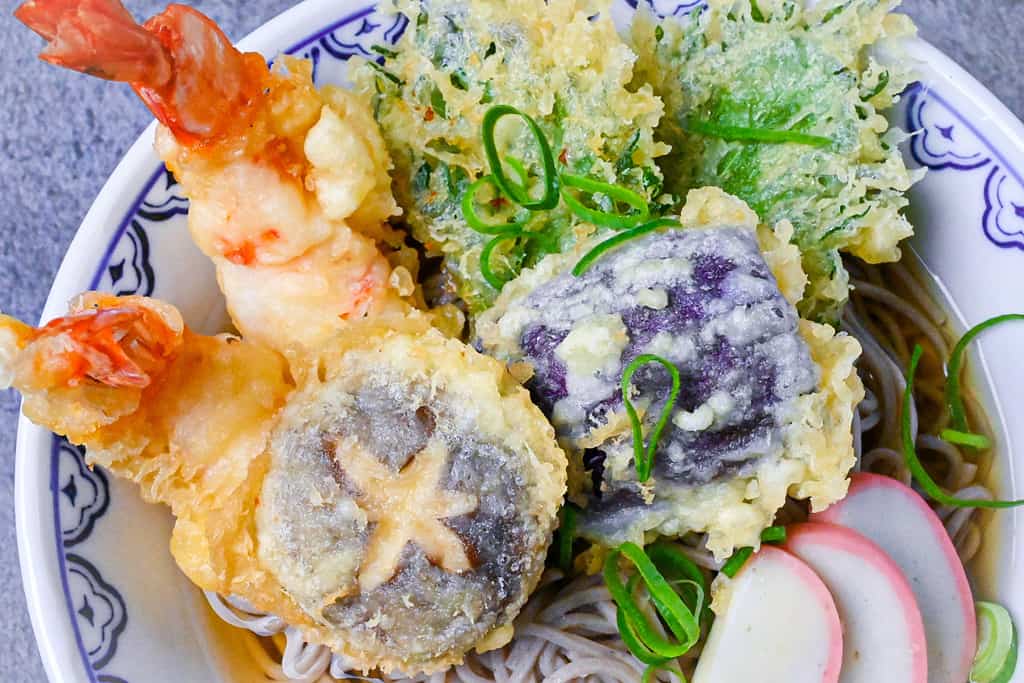 Popular ingredients to use for tempura
Ingredients used for tempura are often called "tane" (タネ). Although there is no set rule, tempura is most commonly made with seafood or vegetables.
Here is a list of some of the most commonly used tempura ingredients in Japan:
Squid
Kakiage (mixed vegetable tempura)
Pumpkin
Conger eel
Sand borer
Lotus roots
(List in based on the ranking done by Livedoor News (2018).) Feel free to click on the links to see my specialised recipes for each ingredient. (Chicken especially uses a slightly different batter than the tempura in the recipe below.)
There is no doubt that shrimp tempura is the king of tempura, I think everyone in Japan would agree on that.
But other than shrimp, my personal favourite in this list is eggplant tempura! What's your favourite tempura ingredient? Let me know in the comments below!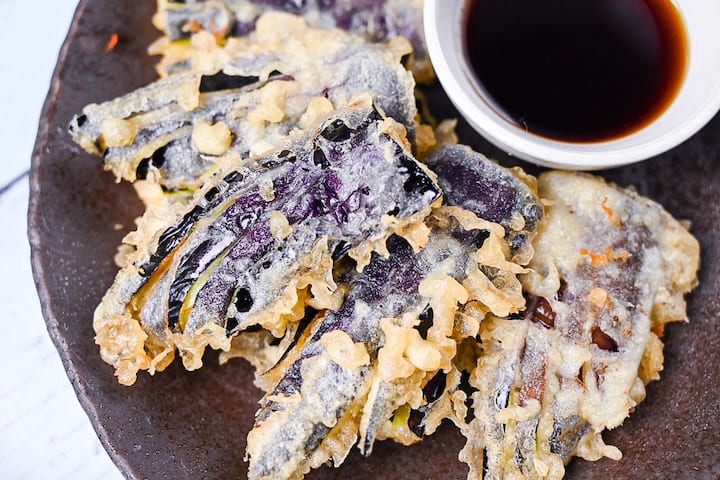 What to eat with tempura
When at home, we rarely eat tempura on its own. That only happens in expensive specialist tempura restaurants.
Here are a few examples of Japanese dishes that are served or made with tempura:
Tendon (rice bowl with tempura)
Tempura udon (udon noodles soup with tempura)
Tempura soba (soba noodles soup with tempura)
Zaru udon (cold udon)
Zaru soba (cold soba)
Tenjyu (Tempura on rice in a box)
Tentoji (Tempura on rice with egg)
My personal favourite is zaru udon with tempura in summer! It's the best!
Right enough background talk, now let's get down to how to make the perfect tempura batter!
How to eat tempura in Japan
Tempura is one of the wide spread dishes in the world, so the way of eating tempura and style of tempura batter can be very different in Japan compared to the rest of world. Some might be more like a fritter and eaten on its own as it is, but in Japan, we don't eat tempura as it is. Here are the most common ways to eat tempura in Japan:
Dip it in a special dipping sauce
Eat with salt (especially common in fancy tempura specialty restaurant)
Drizzle with thick sweet tendon sauce (for tendon)
That being said, the batter is not flavoured and barely salted and the coat is very thin. Partly because we don't want the batter to be overpowering, the goal is to allow the unique flavour of each ingredient to shine through.
In this tempura batter recipe, I make it the simple and authentic way, so it's not suitable for following usage:
Rolled sushi (because the thin coat will become soft and peel off easily in the cooked rice)
Tenmusu (tempura style shrimp rice ball)
If we're talking about sushi with tempura, in Japan it is usually "nigiri sushi" with the tempura served on top of rice (rather than rolled). To add more flavour, it's often drizzled with a special sweet sauce so that the tempura has added flavour. If you want to use this recipe for sushi, nigiri style and sweet tempura sauce are must.
Other than above, you can use tempura for other dishes such as tempura udon or tempura soba!
Dos and don'ts when making tempura batter
"Tempura batter is basically mixture of water, flour and egg". If you put it this way, it sounds so simple and easy, but tempura is actually very delicate and easy to fail.
Here is a list of the key dos and don'ts that I know and an explanation as to why each point is so important.
| Do | Don't |
| --- | --- |
| Use "weak" (cake) flour | Use strong (bread) flour |
| Sift flour | Leave the mixed batter out |
| Use icy cold water | Use warm water |
| Remove foam from the whisked egg | Leave foam / bubbles in the whisked egg |
| Leave some lumps | Overmix / Make it smooth |
| Make the batter right before frying | Make in advance |
Flour
One of the most important elements of good tempura is its light and crispy texture. To achieve such results, we need to prevent gluten forming as much as possible.
Tempura is generally made with wheat flour with a low protein and gluten content. I recommend using a weak flour like cake flour or plain flour.
You shouldn't use strong flour like bread flours, otherwise the batter will become sticky, heavy and chewy.
You should also sift the flour as this will allow air to enter the batter, making it lighter.
After sifting, store it in the fridge for 30 minutes to make it cold. (Keep reading to learn why we should chill our ingredients!)
Do use icy cold water (Don't use warm water)
Another way to prevent gluten from forming is to use ice cold water.
It takes longer for gluten to form when the batter is mixed at a low temperature so it's essential to use cold (preferably ice cold) water when making your tempura batter.
In addition to this, cold batter reacts more dramatically with the hot oil making it extra puffy and light so it's pretty vital for successful tempura batter.
If it's summer (or your house is very warm) it is recommended to use ice cubes. I also recommend keeping the batter in the fridge between batches to maintain the cold temperature.
Do remove foam from whisked egg
Before adding flour, we whisk the egg with water. However, when we do that, some bubbles and foam starts to appear on the surface.
Do not leave it in there as it can cause stickiness or burning. Remove the foam by scooping it out with a spoon.
Don't overmix
It might sound a bit strange, but when it comes to making tempura batter, it is better to have lumps of flour than a perfectly smooth mixture.
Again, if the flour and water are mixed too much, gluten will form and the batter will become chewy, not crispy.
Not only that, but your tempura won't have the iconic bubbly look that it's supposed to have. In other words, tempura shouldn't be smooth!
I recommend using chopsticks (rather than a whisk) to mix the flour and water roughly a few times and leave some lumps.
Do chill ingredients / make the batter right before frying
The longer your batter is hanging around, the more time the gluten has to form. Over time the mixture will become stickier and stickier, leading to chewy and thick tempura.
This is why rather than mixing the batter and putting it in the fridge, I chill the ingredients separately and mix them together just before frying.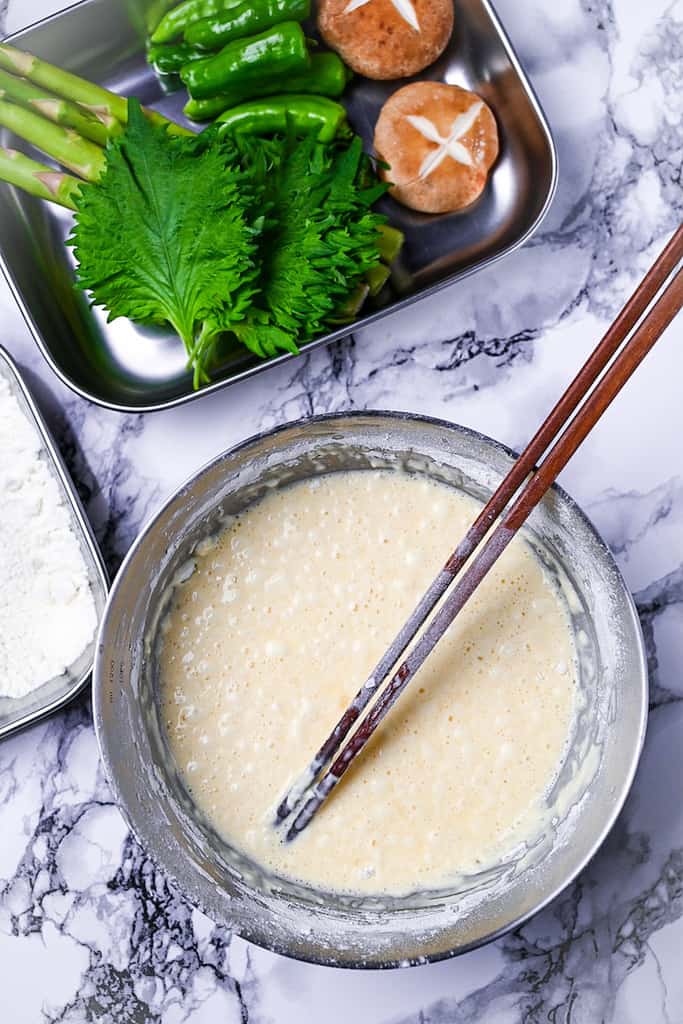 Extra tips and tricks to make amazing tempura batter
We've gone through dos and donts, but I have a few more tips and tricks to share with you. I always use these techniques when I make tempura batter!
Use sparkling water / soda
This goes for any fritter type dish, but using sparkling water or even lager beer creates superior results. In my recipe, I use 200ml cold water and 100ml sparkling water.
Using sparkling water allows the carbon dioxide gas to heat the batter from inside as well. This helps to release the moisture from the batter and makes it extra crispy.
Some people completely replace the water with sparkling water, but I personally like to mix sparkling with normal water.
Mix flour with potato / corn starch
I mentioned before but one of the key points in making tempura batter is to prevent gluten from forming as much as possible. If gluten forms, the tempura won't be crispy.
Adding potato starch or cornstarch to regular flour makes it more difficult for the gluten to form, this will ensure crispy and delicious tempura! In fact, most pre-made "tempura flours" contain potato starch or corn starch.
In my recipe, I mix 30g potato starch into 150g cake flour. (The "katakuriko" potato starch that I use can be purchased here on Amazon.)
Use mayonnaise instead of egg if necessary
Don't get me wrong, I still prefer using egg to make tempura batter. However, there are a few situations when using egg can be a hassle:
you want to make small batch
you're out of eggs
you don't want leftovers
Using mayonnaise is usually good when you want to make small batch. (Measuring ½ or ¼ of one egg is such a pain!)
The general substitute ratio of mayonnaise is, 1 egg = 1 tbsp mayonnaise.
It is not gonna have any mayonnaise-like flavour but please note that it only works with mayonnaise that contains egg. I currently live in Japan, so I always use Kewpie mayonnaise.
Dry and dust with flour
One of the most common problems people face when making tempura is the batter falling off.
This can be prevented by drying each ingredient thoroughly with a paper towel and then coating them with a thin layer of flour before dipping them in the tempura batter to help it stick.
This step is most important for shrimp and fish.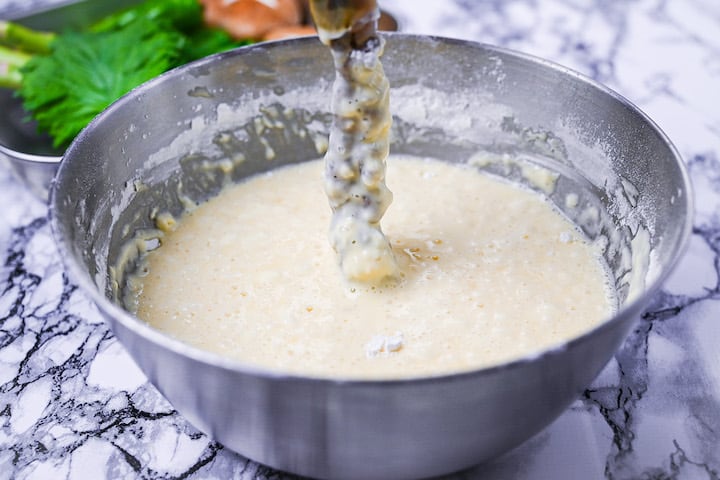 Best oil type and temperature for frying tempura
Tempura needs to be deep fried in an oil with a high smoke point. You can use vegetable oil, canola oil or peanut oil for example.
Interestingly, many professional tempura chefs in Japan use white sesame oil made from raw sesame seeds. It does make a perfectly light and crisp batter, but it's pretty expensive.
I recommend heating the oil to about 180°C (355°F). If the temperature is too low, the batter becomes oily and soggy whereas a high temperature will cook the outside too quickly making it raw in the middle and too golden on the outside.
Clean oil / Make tenkasu
When frying tempura, you will find pieces break off and float around in the oil. Keep your oil clean by removing them between each batch.
Leaving the crumbs in the oil will cause them to burn and make your oil bitter and discoloured, spoiling future batches.
We actually use these little pieces of tempura batter. They are called "tenkasu" (天かす) and you can use them as a topping in noodle soups or in recipes like devil's onigiri!
You can even drizzle any leftover batter straight into the oil to make a large batch of tenkasu! Just place them on kitchen paper to absorb the excess oil and then keep them in a zip lock bag in the freezer.
I hope you enjoy making delicious homemade tempura with this authentic Japanese tempura batter recipe!
How to cook tempura dishes by ingredients
Despite what it seems, Japanese tempura is very delicate and actually very hard to make it perfect. Each ingredient requires a different temperature and preparation. In some cases, you need to modify the batter slightly to make it work every time.
In this section, I will add specific process and ideas to cook tempura by ingredient. I will keep adding more and more when I make individual tempura recipe post here.
FAQ
Can I use this batter with chicken?
You can with chicken thigh, but I do not recommend using it with chicken breast. It's because this tempura batter is very thin and the surface of chicken breast is so smooth.
However, whether you use chicken breast or thigh, I recommend using my toriten (regional chicken tempura) batter for chicken in general for the fail-free result.
Is this suitable for tempura sushi?
Yes and no. This would not particularly be suitable if you're thinking of using tempura in a rolled sushi (in fact, we rarely put tempura for rolled sushi in Japan). If you want to use it for rolled sushi, you would need thicker batter ideally. However, if you put the tempura on top of rice (nigiri style), it will work and that's how we combine tempura and sushi in Japan.
The batter does not taste like much, am I doing it right?
In Japan, tempura batter is almost plain. There are two reasons for this. Firstly, we don't want the batter to be overpowering, the goal is to allow the unique flavour of each ingredient to shine through. Secondly, tempura is not expected to be eaten as it is but rather dipped in a dipping sauce or dipped in salt (the high-end Japanese tempura restaurant way). It can also be served with special sweet sauce (e.g. tempura rice bowl). So, authentic tempura batter should taste plain.
Can I use this batter with air fryer?
Unfortunately not. Because this batter is thin, it is not suitable for air fryer cooking and you would need a tempura recipe specifically created for air fryer use.
How high should the cooking temperature be?
Generally, tempura is best deep fried between 160°C (320°F) and 190°(375°F). I realise this is not very specific, but the best temperature varies depending on the ingredient you use, the size, width, texture and how it's cut. For popular ingredients, I've made a guide so please see above for more information. I will keep adding individual tempura recipes as I go so stay tuned. (Feel free to comment below for more advice!)
Print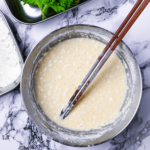 Authentic Japanese Tempura Batter (with secret tips!)
---
Author:

Yuto Omura

Total Time:

55 minutes

Yield:

3-4 Servings
Description
How to make authentic light and crispy Japanese tempura batter. (Enough batter for 3-4 servings of tempura.)
---
200

ml cold water

100

ml sparkling water

30g

 potato starch or corn starch

150g

 weak flour (cake flour or all purpose) + extra for dusting

1

 medium egg chilled
Oil for frying (vegetable, canola, peanut or white sesame)
---
Instructions
Measure out 200ml of water into a jug and place it in the fridge for 20-30 minutes. Place sparkling water in the fridge too. (Preferably an unopened bottle.)
Sift 30g potato starch and 150g cake flour into a bowl. Mix them and place the bowl in the fridge for 20-30 minutes.
While you are waiting for the water and flour to chill, prepare your tempura ingredients by washing, cutting and drying them with a paper towel.
Once 30 minutes have passed, start preheating your oil to 180

°

C (356

°

F). (This is a generalised temperature, please refer to the post above for temperatures for specific ingredients.)
Pour the chilled water and 150ml of chilled sparkling water into a bowl.
Crack the egg into the bowl and whisk. (If bubbles or foam forms on top, scoop it out with a spoon.)
Add the flour/starch one third at a time, gently drawing crosses through the mixture with the chopsticks to incorporate it. (Do not whisk or over mix.)
Test your oil by adding a drop of batter, if it sizzles and floats you're ready to fry.
Coat your ingredients in a thin layer of flour and then dip them in the batter. 
Carefully place them into the oil and allow to fry until crispy but before they turn golden. (I recommend frying one type of ingredient at a time to ensure even cooking.)
Once cooked, place on a wire rack to allow the excess oil to drip off.
Serve and enjoy!
Prep Time:

5 minutes

Chilling time:

30 minutes

Cook Time:

20 minutes

Category:

Sides

Method:

Deep frying

Cuisine:

Japanese
Keywords: tempura batter, how to make tempura batter, tempura batter recipe, how to make crispy tempura, tempura tips, what is in tempura batter, japanese tempura batter, authentic tempura batter, tempura batter with corn starch, tempura batter with soda, homemade tempura batter, tempura batter for shrimp, tempura batter for fish,