Saba no shioyaki is a simple yet delicious dish made with beautifully grilled mackerel fillets seasoned with salt. The perfectly crispy skin and tender flesh will allow you to enjoy the taste of fresh mackerel to the full!
Disclaimer: This post contains Amazon affiliate links. Sudachi Recipes earn a small percentage from qualifying purchases at no extra cost to you. See disclaimer for more info.
What is Saba no Shioyaki (Japanese-style Grilled Mackerel)?
Saba no shioyaki (鯖の塩焼き) is a traditional dish crafted with mackerel fillets seasoned lightly with salt and then grilled to perfection. In Japanese, "Saba" translates to "mackerel," while "shioyaki" denotes "salt grill."
This dish is special in Japanese households, often gracing dinner tables accompanied by freshly cooked rice, miso soup, and pickles. However, it's versatile enough to be a choice for lunch, dinner or even breakfast.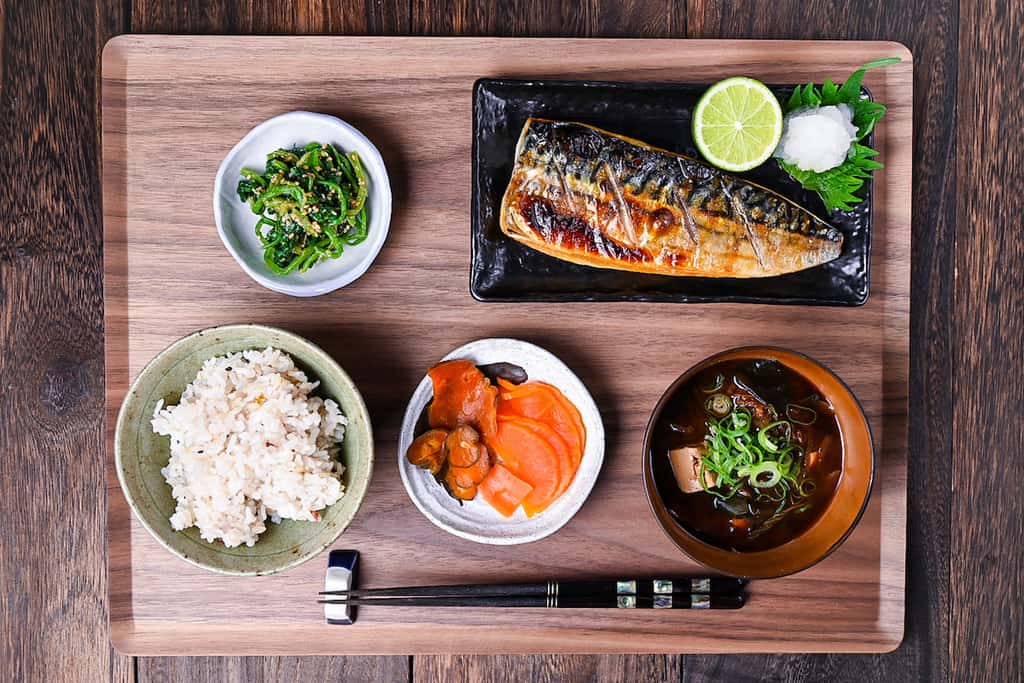 Japan boasts a variety of mackerel, including:
Blue mackerel
Indian mackerel
Double-lined mackerel
Chub mackerel
Strolling through Japanese supermarkets, one might notice a significant portion of mackerel imported from Norway, in fact, 90% of imported mackerel in Japan is from Norway.
Mackerel's presence in Japanese culture is longstanding. Archaeological findings from the Jomon era (circa BC 3000 to BC 100) have revealed mackerel bones, suggesting its consumption dates back to ancient times.
Historically, mackerel wasn't just a staple for the common folk; it also graced the plates of the aristocracy.
How I Developed This Recipe
In developing this recipe, my focus was simplicity and authenticity, ensuring that it encapsulates the essence of saba no shioyaki. By integrating many tips and techniques, I've curated a dish that resonates with tradition and can be finished in under 30 minutes.
Having experimented with numerous fish recipes over the years, I highly recommend this recipe as one of the best fish recipes I have ever made, so please give it a try!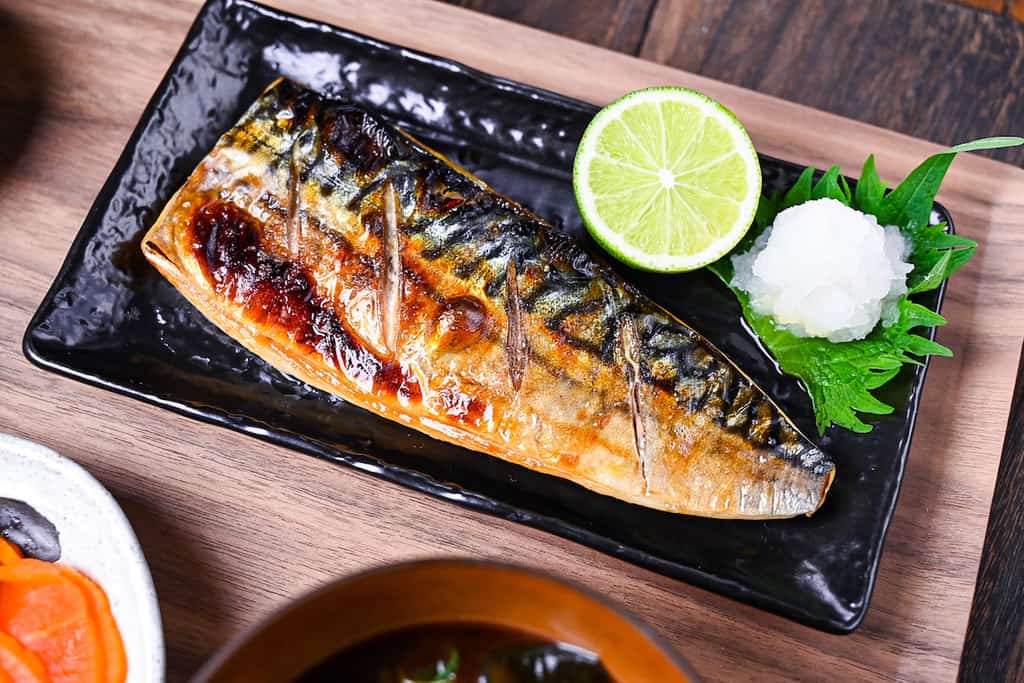 How We Eat Mackerel in Japan
As one of the most popular types of fish in Japan, we eat mackerel in many different ways, such as:
Salted and grilled (saba no shioyaki)
Karaage (deep fried)
Sushi
Shime saba (pickled)
Saba katsu (breaded deep-fried mackerel)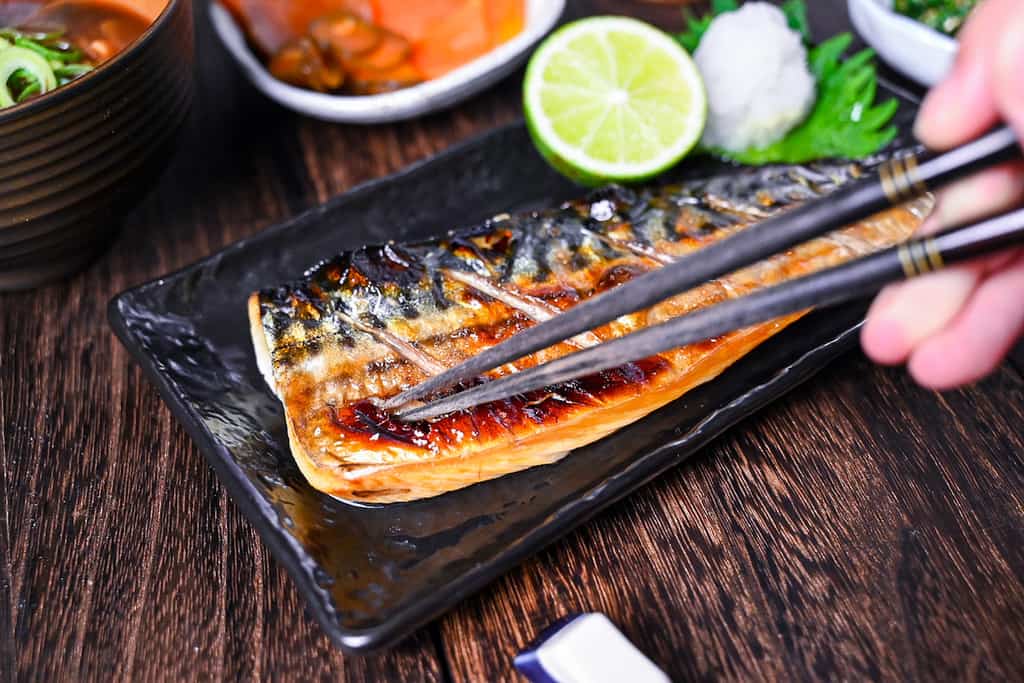 Ingredients and Substitution Ideas
This is a simple recipe that only requires a few ingredients. To make saba shioyaki, you will need:
Mackerel fillets (skin-on): For the best fish dishes, particularly with mackerel, which can deteriorate in freshness swiftly, prioritize fish with firm flesh, snug skin, and distinct white lines on the fillet, signaling fat content. Aim for wild, seasonally relevant mackerel. For instance, chub mackerel is ideal in Japan from fall to winter, while blue mackerel shines from summer to early fall.
Sake: This serves to neutralize odors and tenderize the fish. For a deeper dive into sake's role in Japanese cuisine, refer to my post on the 20 Most Useful Condiments and Seasonings for Japanese Cooking.
Salt: Essential for seasoning and accentuating the mackerel's natural flavors.
Sudachi (optional): This citrus counters the fish's salty notes and elevates the overall flavor profile. While I've incorporated sudachi due to my location in Japan, using local citrus from your area is recommended. Other citrus varieties that harmonize with grilled mackerel encompass lemon, lime, kabosu, yuzu, and bitter orange.
Grated daikon (optional): Grated daikon radish, termed oroshi daikon or daikon oroshi, is a cherished accompaniment, particularly for fish. It offers sterilization, aids in fat digestion, and promotes overall digestion. Combined with grilled fish, it enhances digestion and mitigates fishy aromas, resulting in a flawless flavor fusion. If you can source daikon radishes in your region, it's a pairing worth exploring!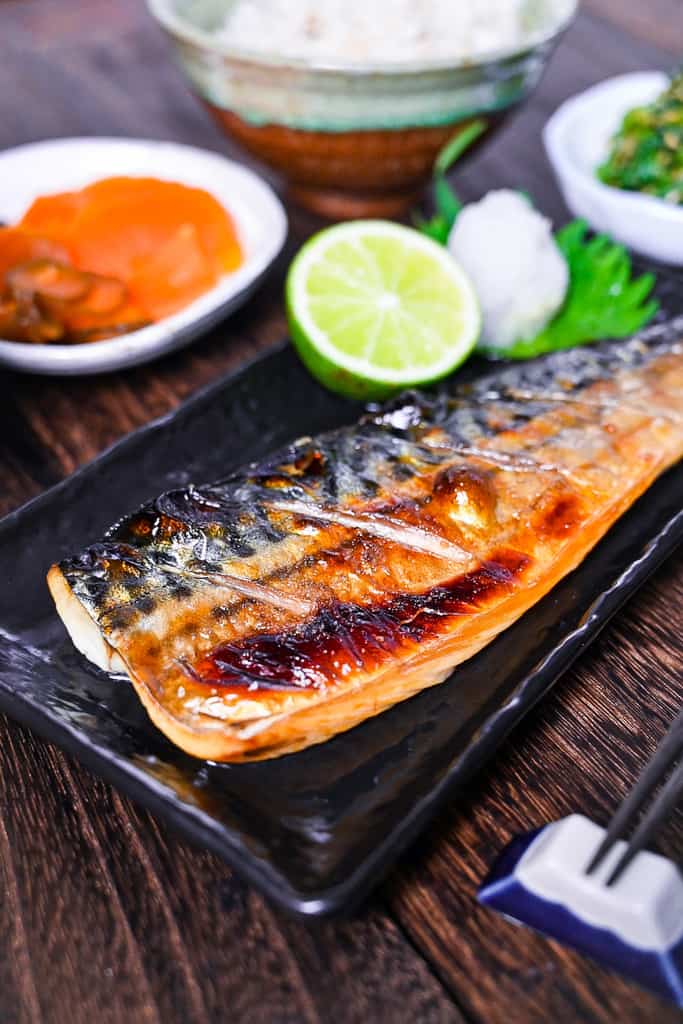 Step-by-Step Process
Here is my step-by-step guide on how to make the perfect saba no shioyaki every time! I've included pictures for clarity and a few tips and tricks. For ingredient quantities, see the printable recipe card at the bottom of the page.
Take your mackerel fillets and wash them with cold running water. Next, place them in a sealable container and rub a small amount of sake over the top.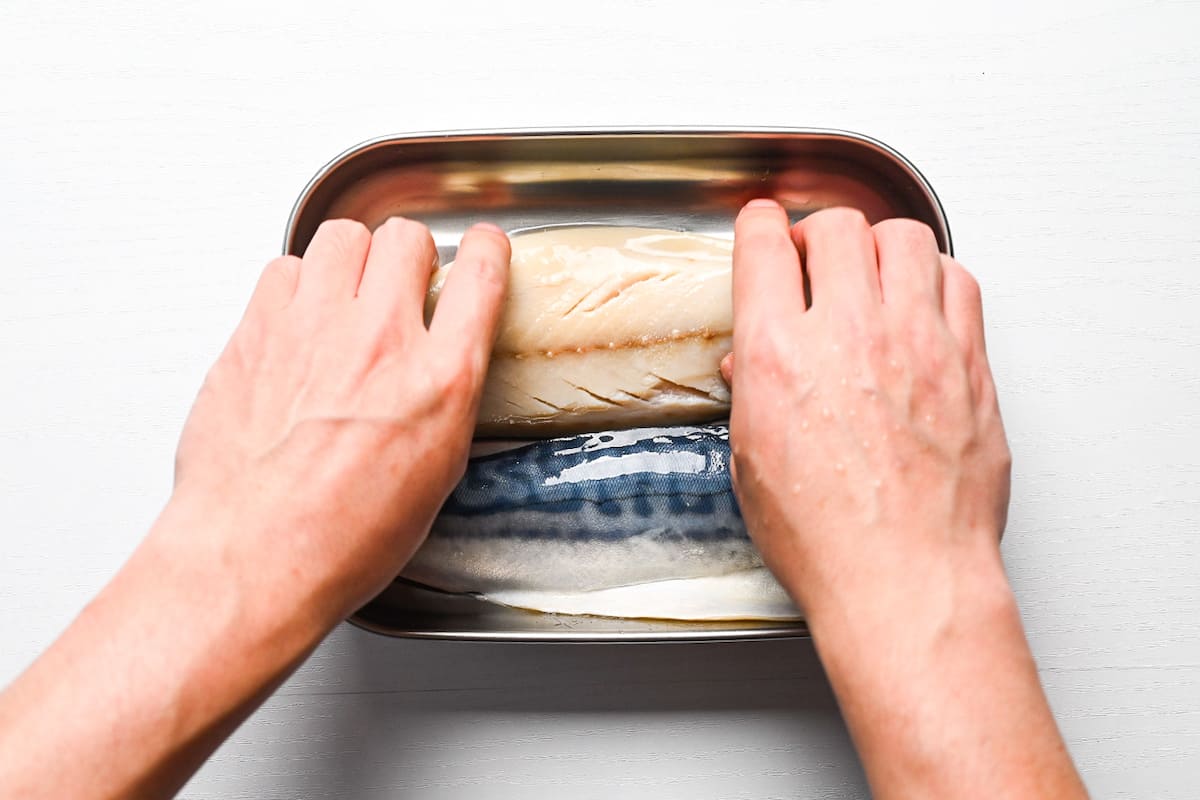 Seal with a lid and rest in the fridge for 15 minutes, 30 minutes if you have time.
Nearly every Japanese home has a fish grill for dishes like saba no shioyaki or salted salmon. It's like a grill oven or broiler and can be used in a similar way.
Before grilling fish, it is important to ensure the oven grill is well-preheated. 3-5 minutes on a medium-high to high heat setting is usually about enough time, although this can depend on your grill, and electric grills generally take longer. Be sure to thoroughly preheat before placing your fish under the heat source.
Placing fish on a cold grill takes longer to cook and causes the skin and flesh to stick to the grill. This can negatively effect the texture of the fish, ruin the appearance, and be annoying when it's time to wash up.
Additionally, you can lightly oil the surface of the wire rack inside the grill oven to prevent the skin and meat from sticking.
While the grill is preheating, pat the mackerel dry with kitchen paper on both sides.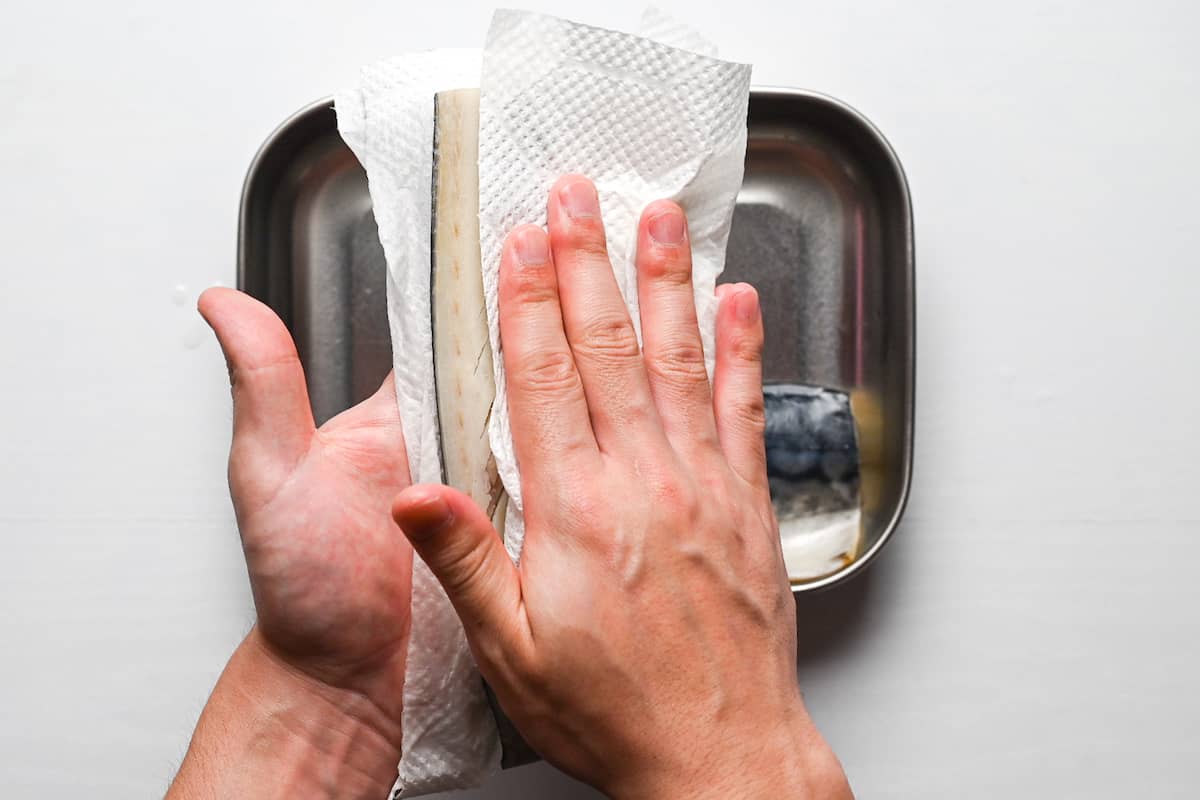 Sprinkle both sides with a generous pinch of salt. Sprinkling the salt from a height will help evenly distribute it over the surface and stop the salt clumping together in one place.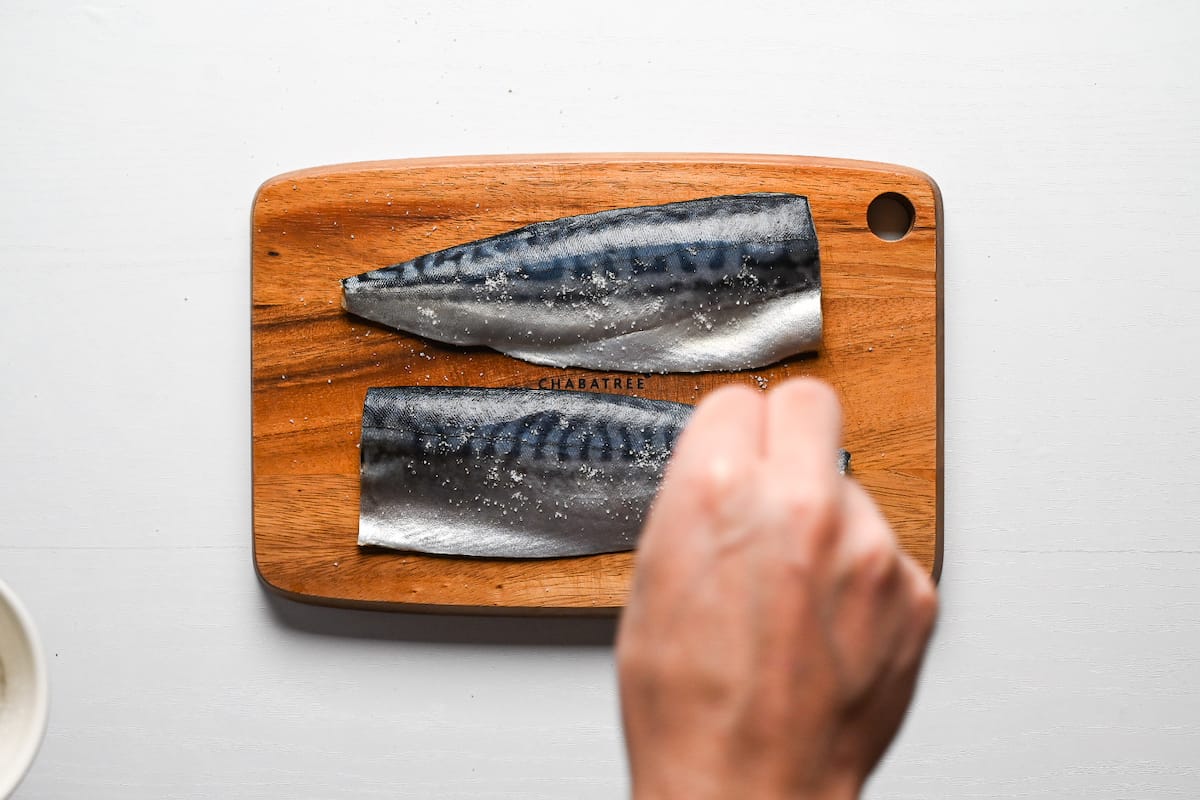 Make 3 to 4 shallow, diagonal cuts on the skin side of the mackerel, being careful not to cut too deep.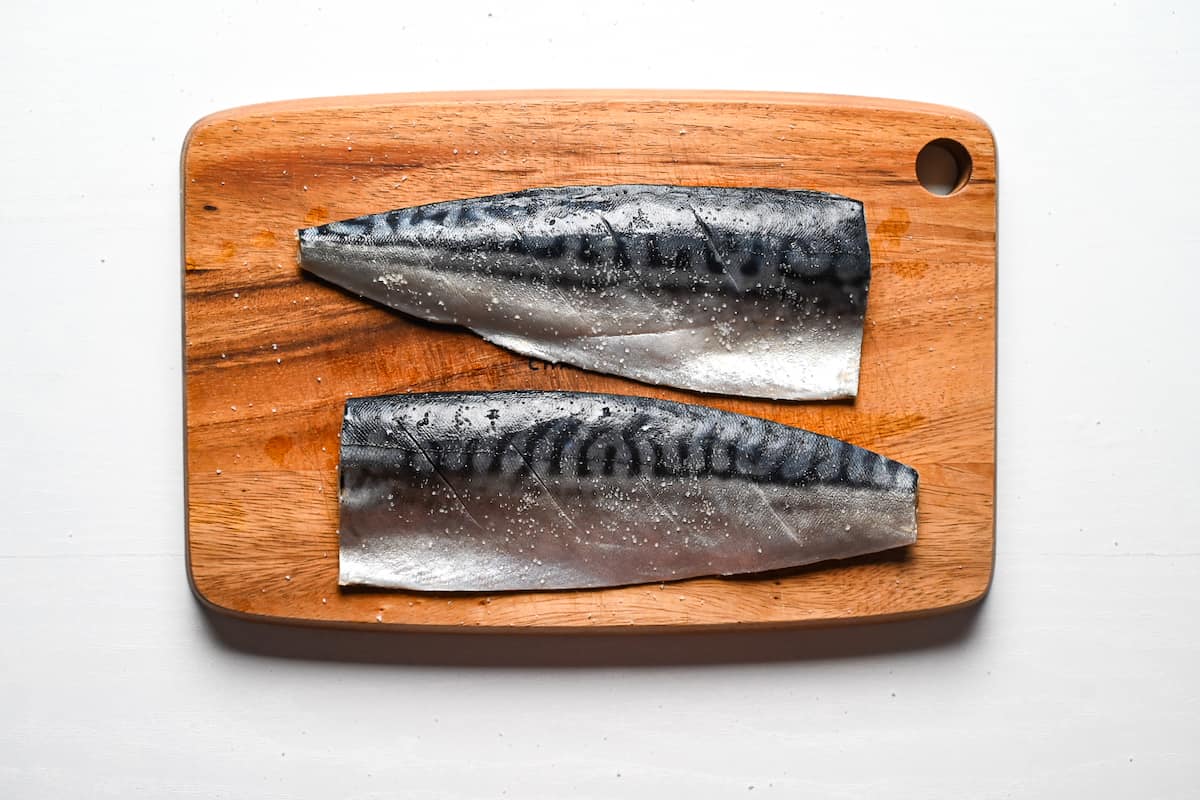 Grill the flesh side first
Place the mackerel fillets on the grill with the skin side down and cook for 4 minutes. You might need to increase the time by a few minutes depending on the strength of your oven grill and the thickness of your fillets.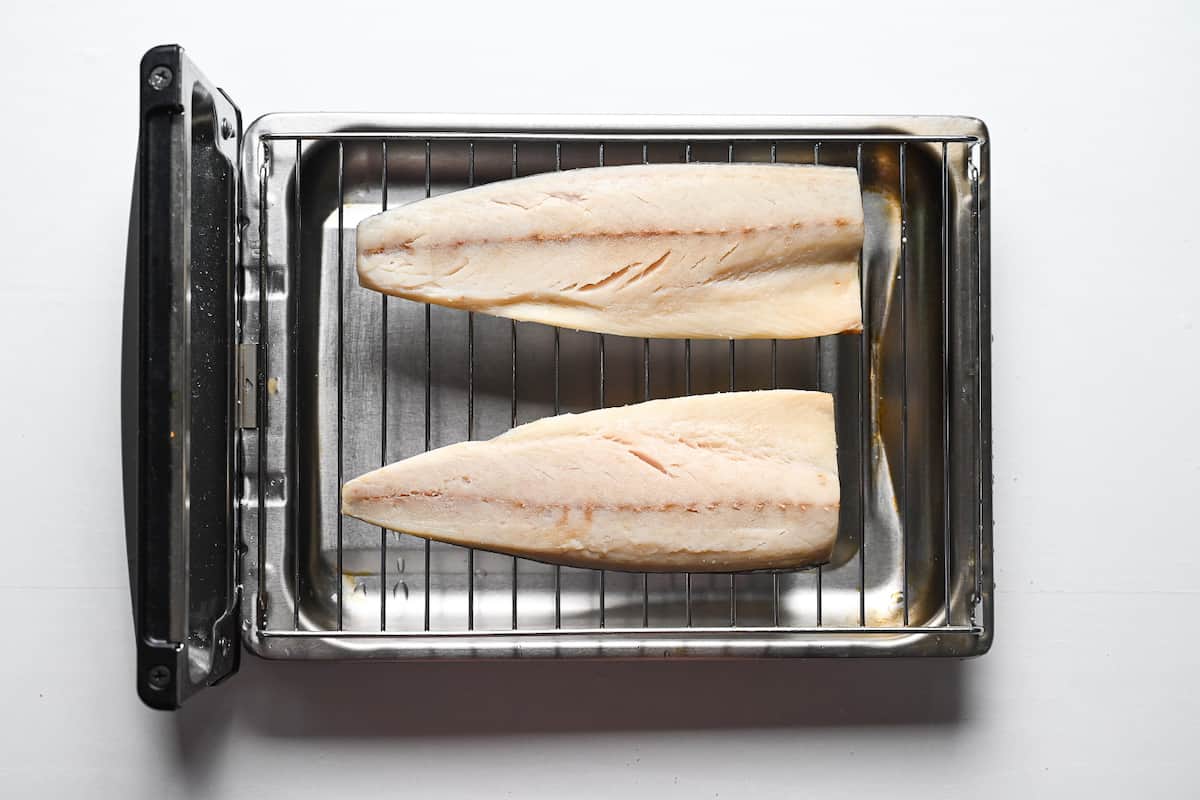 Flip and grill the skin side
Flip the mackerel fillets over and grill the skin side for 3 minutes or until lightly charred and crispy.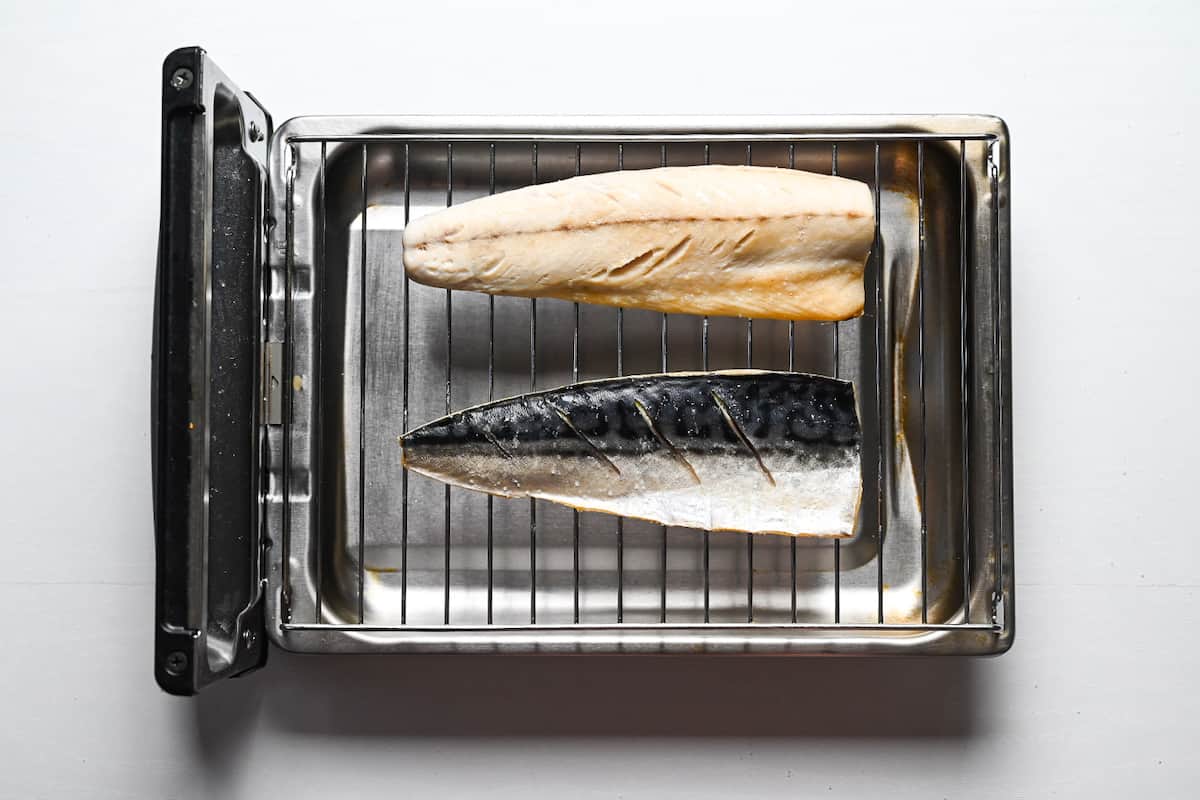 Once done, place on serving plates and serve as you like! I recommend serving with a slice of sudachi (or citrus of your choice) for squeezing and grated daikon drizzled with a touch of soy sauce for a refreshing kick!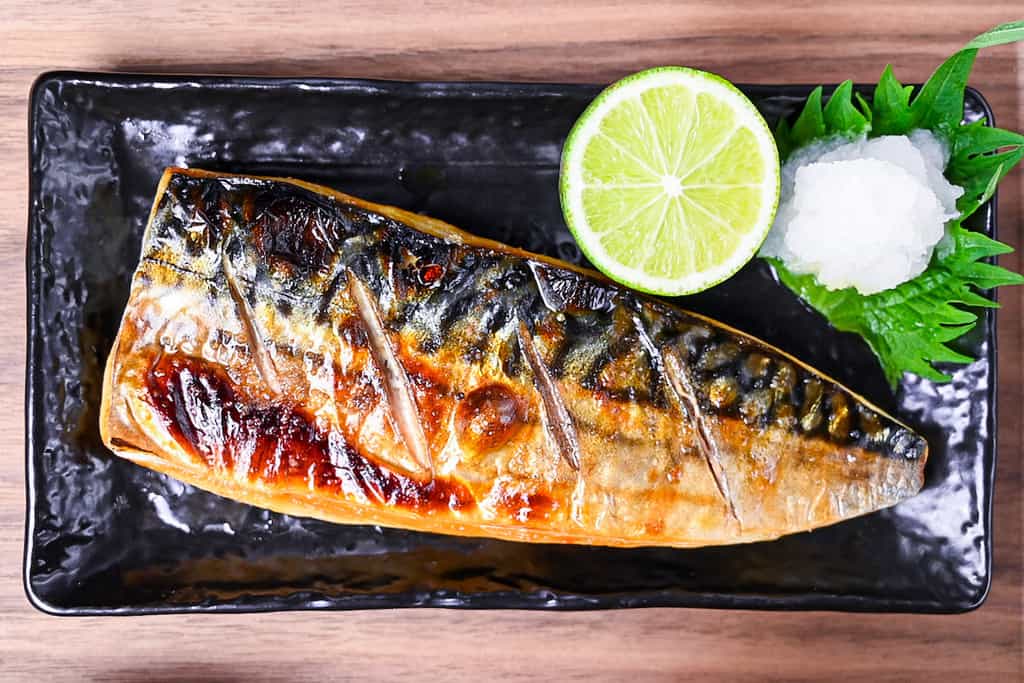 Tips and Tricks
Japanese-style grilled mackerel is a simple dish that is easy to make. However, with just a few small tricks you can ensure your home-grilled saba no shioyaki is the best it can be!
Choose the best mackerel: For the best result, choose mackerels with firm flesh, tight skin, and visible white fat lines.
Use sake or salt to remove unwanted odor: To mitigate the fishy aroma of mackerel when cooking, you can either sprinkle salt to draw out excess water or rub with 1 tbsp of sake. After treating, let the fillets sit for at least 15 minutes (preferably 30), then pat dry with a paper towel.
Be generous with heat: Using low heat for grilling fish can cause it to lose essential oils and flavor, yielding a dry mackerel. It's best to grill on medium-high to high heat: 4 minutes on the flesh side and 3 minutes on the skin side. While I use a gas oven grill, remember that cooking times might differ based on your specific grill.
Storage
For grilled fish, freezing preserves moisture, preventing dryness. To store, while still warm, tightly wrap the fish in plastic wrap, then place in a freezer bag, expelling air before sealing.
This way, it will keep up to a month.
To reheat, unwrap the frozen mackerel, sprinkle a tablespoon of water per slice, and microwave at 500W for about two minutes per fillet.
Room temperature – Not recommended.
Refrigerated – Not recommended.
Frozen – Up to a month.
Pairing and Side Dish Suggestions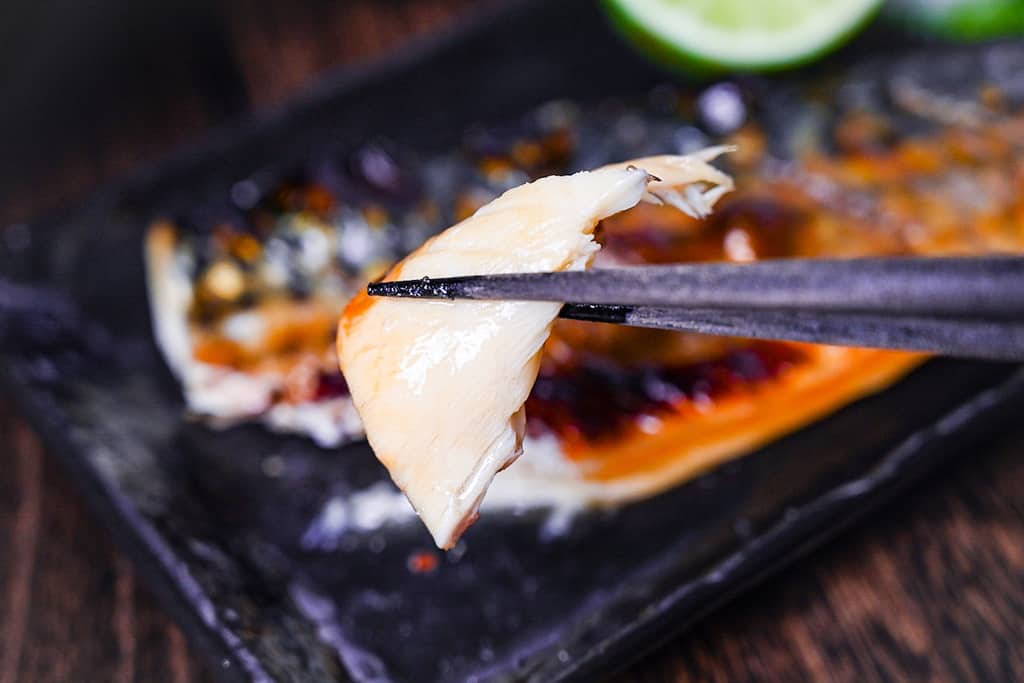 I hope you enjoy this traditional saba no shioyaki recipe! If you try it out, I'd really appreciate it if you could spare a moment to let me know what you thought by giving a review and star rating in the comments below. It's also helpful to share any adjustments you made to the recipe with our other readers. Thank you!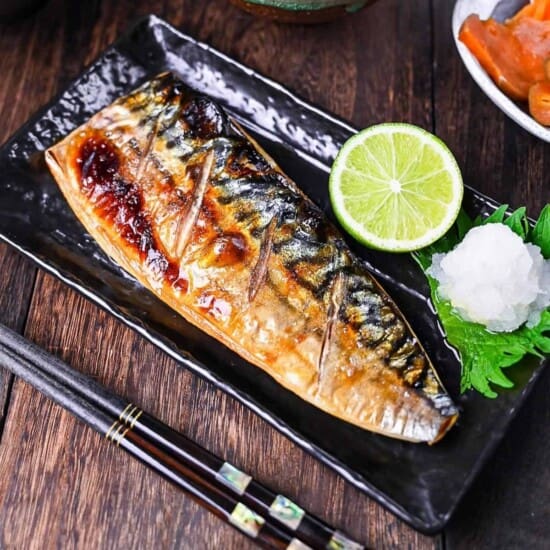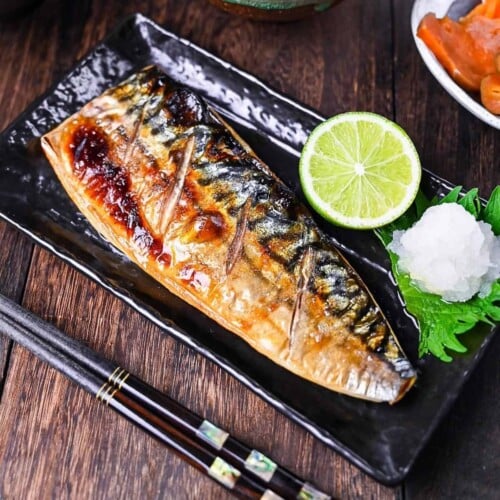 Saba no Shioyaki (Japanese Style Grilled Mackerel)
---
How to make simple yet delicious Japanese saba no shioyaki with fresh mackerel seasoned with salt and grilled to perfection.
---
---
---
---
Ingredients
2

mackerel fillets

skin-on

1

tbsp

sake

salt

1

wedge

sudachi

optional

grated daikon radish

(daikon oroshi) optional
Instructions
Wash

2 mackerel fillets

under cold running water and place them in a container. Pour 

1 tbsp sake

 over the surface and rub it over both sides.

Cover the container and rest in the fridge for 15 minutes, 30 minutes if you have time.

Once rested, remove the mackerel from the fridge and preheat your oven grill or broiler on a medium-high/high setting.

Dry the surface of the mackerel with kitchen paper on both sides.

Sprinkle a generous pinch of

salt

from a height on each side, this will help evenly distribute it.

Make 3 shallow, diagonal incisions on the skin of the mackerel.

Place the fillets on the grill with the skin side down and cook for 4 minutes. (Exact time might vary depending on the strength of your oven grill and the thickness of your fish.)

Flip over and grill the other side for 3 minutes.

Serve each portion

1 wedge sudachi

and

grated daikon radish

drizzled with a dash of soy sauce (optional).

Enjoy!
Notes
Serving suggestion: I usually enjoy this dish with Japanese rice, pickles and miso soup. It can also be served in bento boxes.
Nutrition
Calories:
218
kcal
|
Carbohydrates:
6.5
g
|
Protein:
18.3
g
|
Fat:
12.8
g
|
Saturated Fat:
4.6
g
|
Polyunsaturated Fat:
2.6
g
|
Cholesterol:
61
mg
|
Sodium:
234
mg