Nothing beats a steaming bowl of curry udon on a cold day! Made with chewy udon noodles served in a thick curry flavoured dashi soup, this dish can be easily customized with your favourite ingredients!
Disclaimer: This post contains Amazon and Dokodemo affiliate links. Sudachi Recipes earn a small percentage from qualifying purchases at no extra cost to you. See disclaimer for more info.
Jump to:
What is Curry Udon?
Curry udon is a soupy noodle dish made with chunky Japanese udon (wheat noodles) served in a thick, glossy curry flavoured dashi soup. You could say that it's a dish where Indian spice meets Japanese noodles, and it's a surprisingly amazing combination!
While most traditional udon dishes are served in a light and thin broth, curry udon is basically on another level. The base of the broth is essentially the same (made with dashi, soy sauce and mirin), however, curry udon is thick, spicy and filling. Regular udon dishes feel quite humble whereas curry udon feels rich and decadent.
Curry udon contains meat (most commonly pork) and can be customized with a wide variety of vegetables. However you could easily make this a vegetarian dish by using vegan/vegetarian dashi and switching the pork out for a meat free alternative!
Rich and sweet curry soup
Making it from scratch without instant dashi or curry roux cubes
Very easy-to-follow step by step recipe
A brief history of curry udon
If you look at the long history of udon, you could say that curry udon is something completely unique. Curry udon is a noodle dish created by fusing yoshoku (Western-inspired Japanese food) culture and Japanese noodle culture, but when was the dish invented?
Today, curry udon is famous for being a type of Nagoya-meshi (food from Nagoya and surrounding areas), but actually, it wasn't born in Nagoya at all. Actually, I'm from the Nagoya area, and there are many people who misunderstand that it originated from around here.
It is said that the real place of origin is a restaurant called "Sancho-an" (now closed) located in Waseda, Tokyo. Apparently it appeared around the late Meiji period, which is over 100 years ago, I'm actually very surprised that curry udon has such a long history.
Speaking of Waseda in Tokyo, Waseda University is one of the most famous universities in Japan, and it is said that as soon as this novel menu of eating udon with curry soup appeared, it quickly gained popularity amongst students at the time.
Curry udon as "Nagoya-meshi"
Okay, so curry udon is from Tokyo, but why is it considered as Nagoya's specialty in recent years? I'm from the area so I haven't really noticed, but it turns out that curry udon in Nagoya and curry udon in Tokyo are slightly different despite having the same name.
Curry udon in Nagoya is characterized by a very thick broth and especially thick noodles to match the broth, the curry itself is also spicier than that of Tokyo. On the other hand, Tokyo's curry tdon has a lighter broth and is more like a curry flavored ankake udon (udon noodles in a sweet thick sauce). Simply put, Nagoya's curry udon uses a curry roux which is more similar to curry rice.
Nagoya-style curry udon originates from Shachinoya, a long-established chain restaurant that has been around since 1976. The new flavor created by the famous restaurant at that time became very popular among Nagoya people, who love the rich taste.
By the way, people in Nagoya have a tendency to prefer strong or rich flavors and I am no exception. Because of this, my recipe leans towards Nagoya style.
Other examples of Nagoya-meshi recipes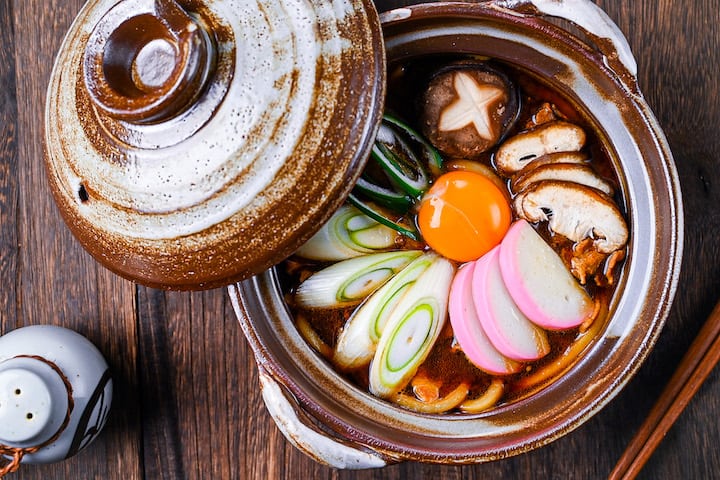 How to eat curry udon safely
It might sound a bit ridiculous, but curry udon is actually considered a "dangerous" food to some and there are many blogs in Japanese that offer advice on how to eat it safely.
"How is it dangerous?" you might ask. Well, because the soup is especially thick, it retains the heat meaning that the soup stays hotter for longer. Also, udon noodles are known for being slippery and heavy which can cause them to fall and splash while you eat them. Slippery noodles in an extra hot curry soup is a recipe for danger. Not only could you get burnt by the splashes, but also the curry soup could stain your clothes so it's a double disaster!
Don't let the danger deter you from this extremely delicious dish though. Here are a few tips I've gathered on how to safely eat curry udon.
Wear dark clothes / napkin
This one might seem obvious, but the best way to prevent curry stains is to of course, wear dark clothes or protect your clothes by covering them with a napkin. Basically, don't wear white! Keep this in mind if you're planning on cooking curry udon or going to an udon restaurant. (Even if you don't order curry udon, a friend or family member might!)
Mix well
First, gently loosen the noodles in the bowl with chopsticks before you start eating. This will help some of the heat escape and also break the noodles apart so it will be easier to pick them up, making them less likely to fall and splash. You can also blow on the soup while mixing to help bring the temperature down more, this will prevent you from burning your mouth too.
Prevent splashes
The biggest danger of curry noodles is splashing, this is what we want to avoid. The best way to prevent this is to not pick up too many noodles at once. If you pick up too many, you're more likely to drop some and the weight of many noodles creates a bigger splash than just a few noodles.
It's also recommend to bow your head slightly when eating and move your face a little closer to the bowl so that the noodles can be slurped up vertically. This puts more distance between the soup and your clothes and less distance between your mouth and the noodles meaning less distance to fall.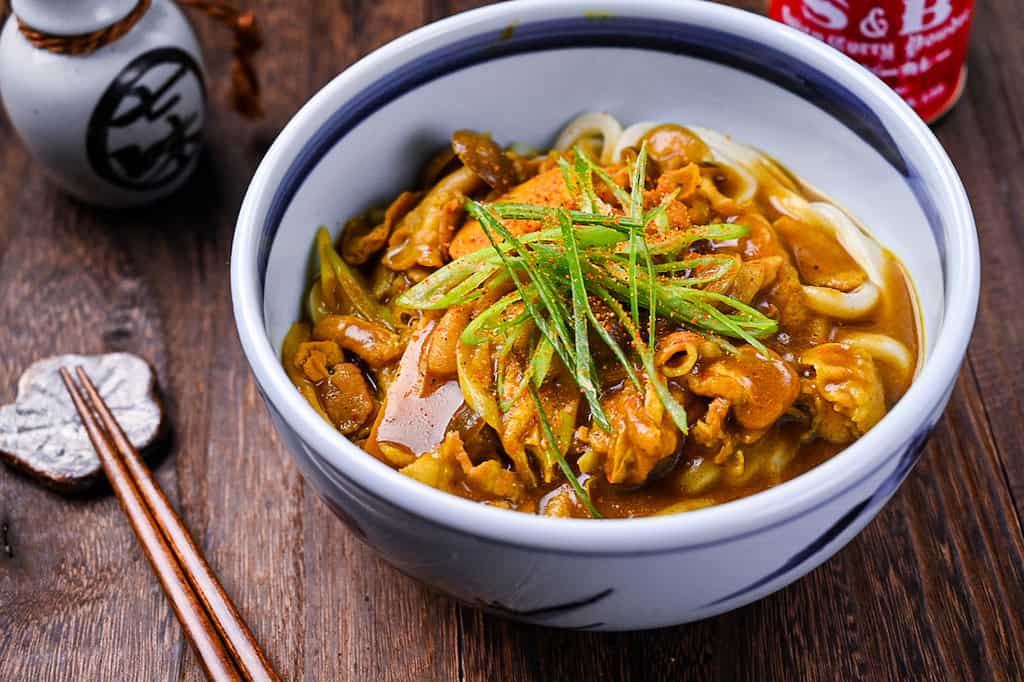 Ingredients to make homemade curry udon
Curry udon contains a wider variety of ingredients than other kinds of udon soups. Here is the basic list of ingredients for this recipe:
Homemade dashi (made with kombu and bonito flakes, plus dried sardines are optional)
Sugar
Curry powder (I used S&B brand)
Potato starch
Thinly sliced pork belly
Spring onions
Shimeji mushrooms
Kamaboko (Japanese fish cake) optional
Aburaage (twice fried tofu) optional
Udon noodles
Here I'll go over the key ingredients in a little more detail.
Dashi
To give the curry broth an authentic Japanese flavour, it's important not to skip the dashi. Dashi is a Japanese soup stock made from dried kelp (kombu), bonito flakes (katsuobushi) and sometimes other ingredients such as shiitake mushrooms or dried sardines. When it contains 2 or more ingredients, it's known as "awase dashi".
It's easy to make your own dashi from scratch and only takes about 35-45 minutes from start to finish. If you're interested in learning more about homemade dashi, check out my post on how to make a basic awase dashi. I've also included instructions in the recipe card below.
If you're making a vegetarian version of the dish, make sure to use vegetarian dashi stock. You can check out my recipe for vegan dashi if you want to try making it yourself too!
If you want to save yourself some time, you don't necessarily have to make your own dashi from scratch. You can also buy the following on Amazon:
Instant dashi powder is usually made mainly from bonito (skipjack tuna) powder, the one I've linked above also contains kombu, or you can choose sardine or vegetarian too.
The dashi bags contain kombu, bonito, niboshi and shiitake.
You can simply add dashi bags or dashi powder to water to make a quick dashi, they only take a few minutes so it can cut 30 minutes off your cooking time.
Meat (Pork, beef or chicken)
Classic curry udon is usually made with thinly sliced pork, and I must say it's my favourite meat to use for this dish. The flavours from the fat in the pork add to the broth and give it an authentic flavour that you would expect when you eat curry udon in Japan.
You can also make it with beef, chicken thigh or even top it with a delicious tonkatsu (トンカツ) pork cutlet depending on your preference.
Vegetables
The main vegetables in this dish are spring onions and shimeji mushrooms, but you can also add other vegetables to make it more to your taste. Here are some ideas:
White onion
Any kind of mushrooms
Carrots
Snow peas
Aubergine (eggplant)
Courgette (zucchini)
Bell Peppers
Baby Corn
If you're adding other vegetables, make sure you add them early to ensure they're properly cooked. If using white onion, I'd recommend sautéing them before sealing the meat to make them soft.
Curry Powder
One of the best things about this recipe is that you can use any curry powder. It doesn't have to be Japanese curry roux or anything like that because you're already getting Japanese flavours from the dashi and condiments.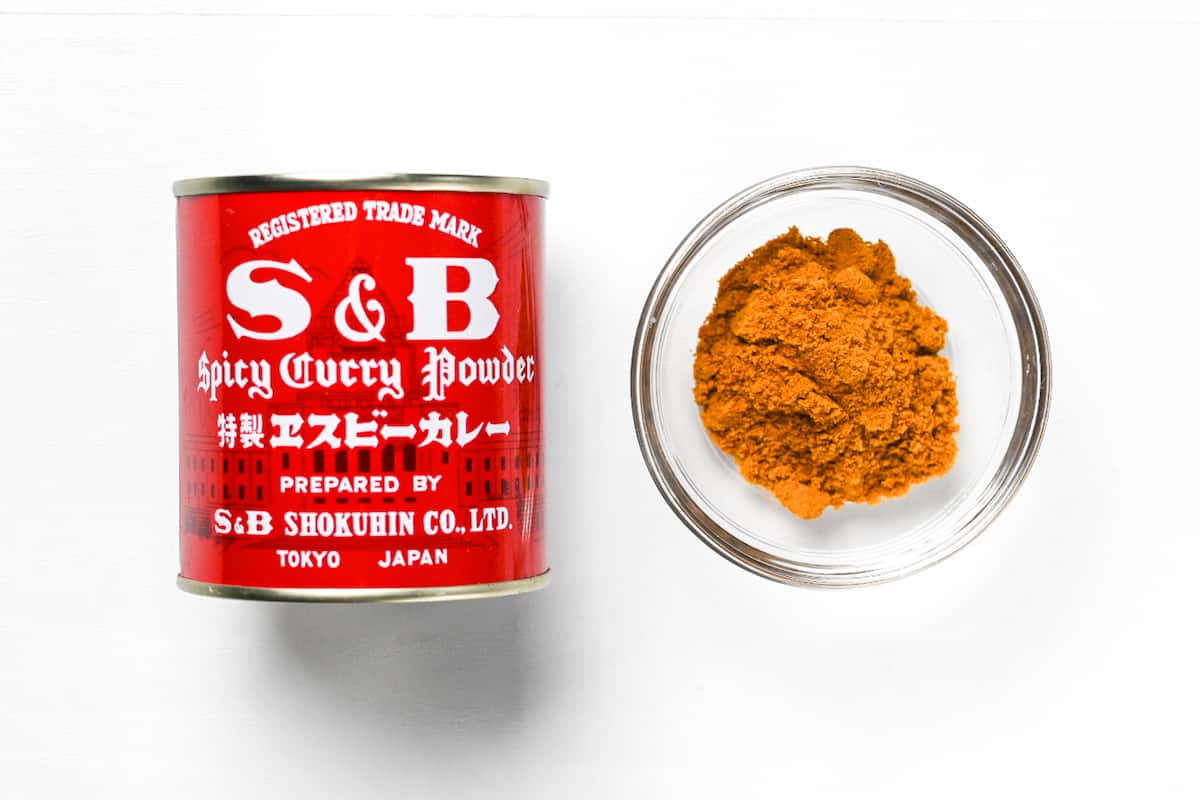 I've tried using a mild Indian curry powder and S&B Japanese curry powder to make this dish, both were delicious. I didn't really have a preference here.
I think this recipe tastes best made with curry powder, but you can use Japanese curry roux cubes instead if you prefer.
If you go down the curry roux route, use one cube of Japanese curry roux for each tablespoon of curry powder in the recipe. So 2 tbsp curry powder = 2 cubes of curry roux.
Udon noodles
Udon noodles are thick and chewy noodles made with flour, water and salt.
They come dried, fresh and frozen. Frozen ones have a great texture and can be microwaved for convenience, but any kind of udon works. Simply cook them separately by following the instructions on the packaging, divide them into serving bowls and pour the curry broth over the top!
Extra ingredients
In Japan, udon dishes are usually served with slices of a pink and white Japanese fishcakes called "kamaboko" (かまぼこ) and a sweet deep fried tofu called "aburaage" (油あげ). But these can be hard to find in other countries and they're not essential for the dish.
If you want to upgrade your curry udon, maybe you can add a boiled egg or something deep-fried like tempura or a breaded cutlet on top. That's the ultimate curry udon in my opinion!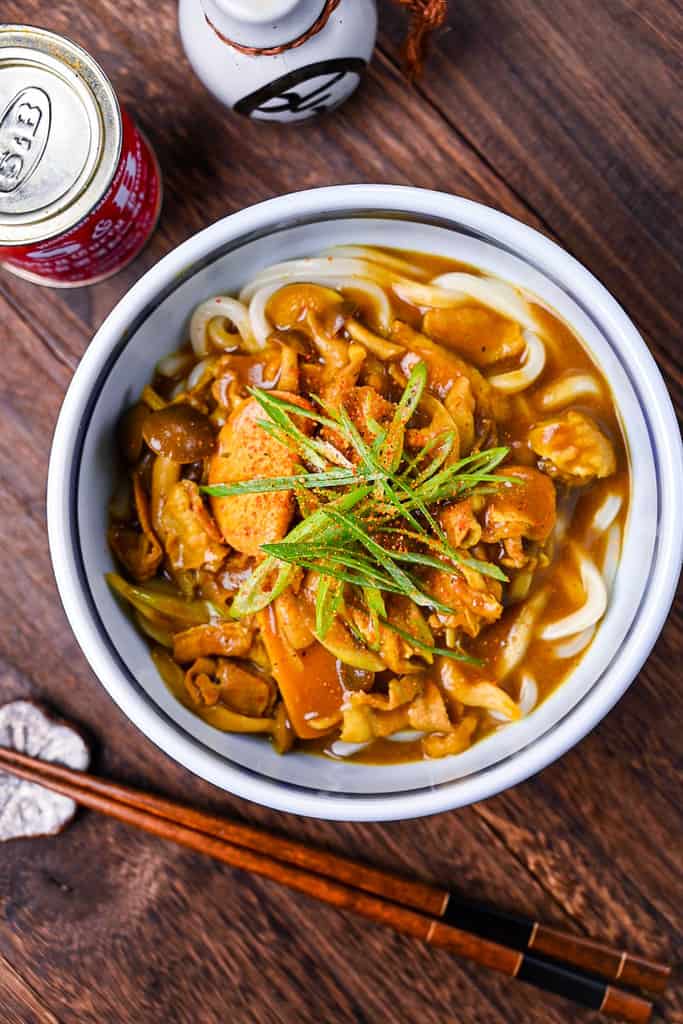 Instructions on how to make Japanese curry udon
Here are my step by step instructions on how to make the most delicious Japanese curry udon completely from scratch! For ingredient quantities, check the recipe card at the bottom on the page.
Make dashi
It's perfectly fine to use instant dashi for this dish (and in that case you can skip this step) but this is a "from scratch" recipe so I want to show you how to make your own dashi. It's easy and elevates the depth of flavour!
Start by soaking the kombu (dried kelp) in cold water for 30 minutes. (I also added a few dried sardines but this is totally optional)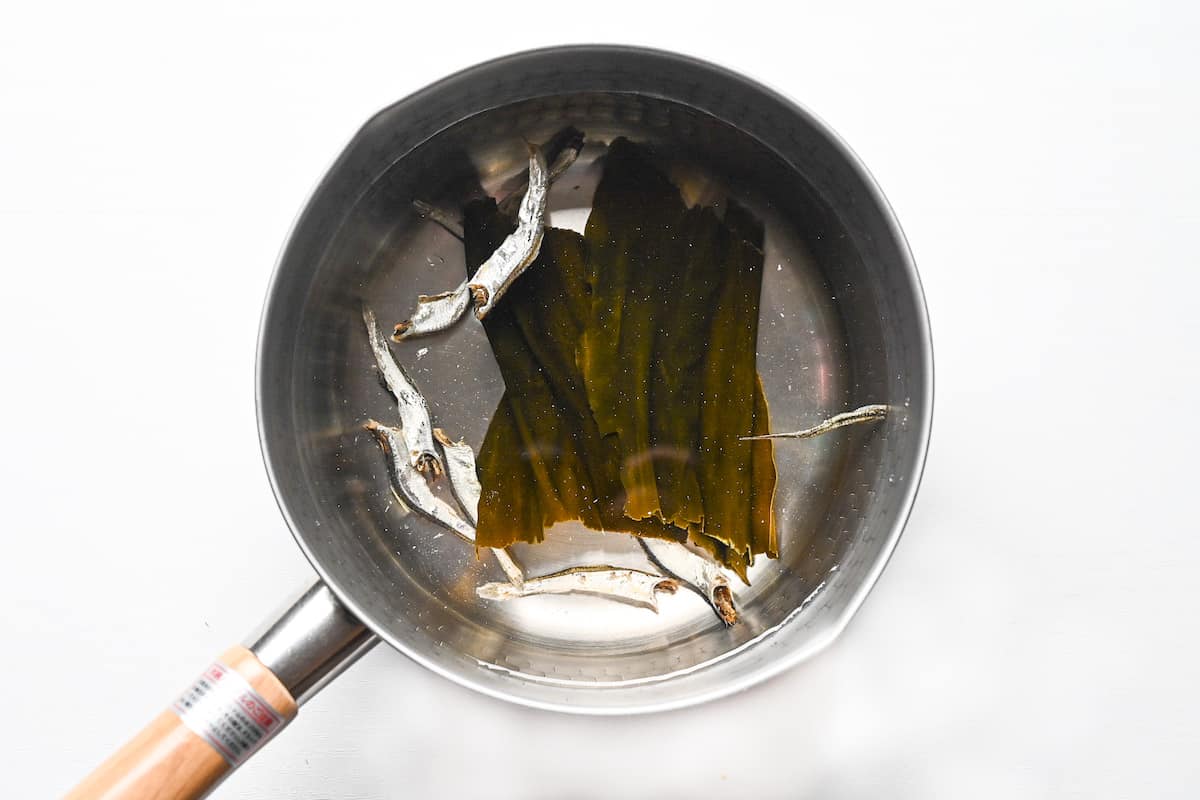 After 30 minutes, place the pan on the stove and bring it to almost boiling over a medium heat.
Once small bubbles start to appear, lower the heat to a simmer and add bonito flakes.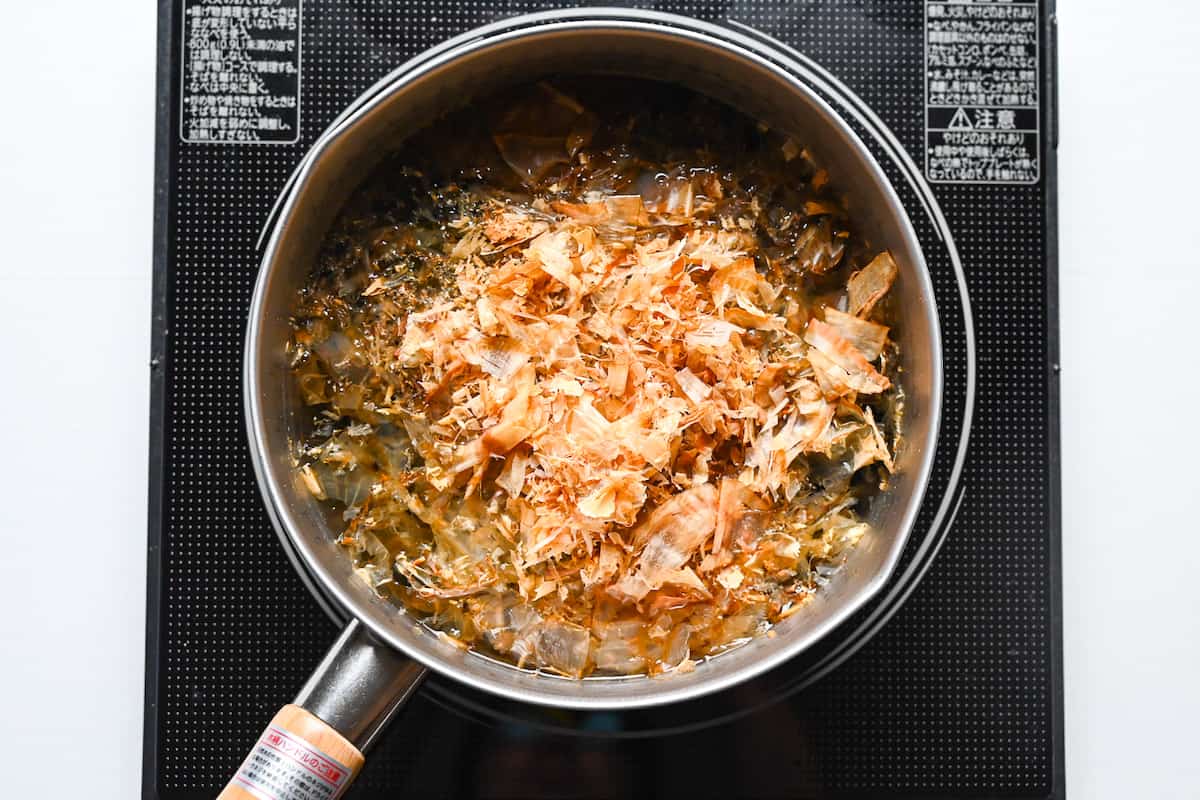 Leave it to simmer for 10 minutes and then strain the dashi through a mesh sieve lined with kitchen paper.
Strain through kitchen paper
For a perfectly clear broth, I recommend straining the dashi through kitchen paper to catch all the small flakes of katsuobushi!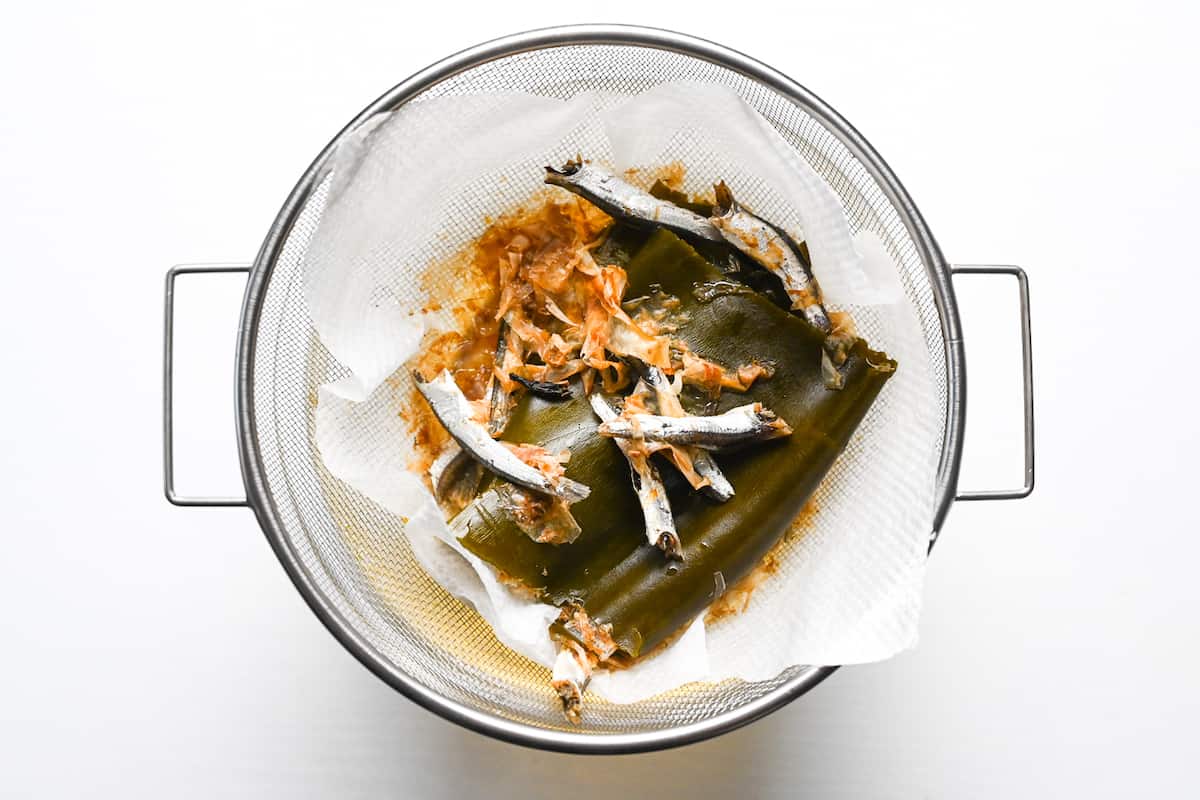 You'll end up with a beautiful golden dashi that looks like this: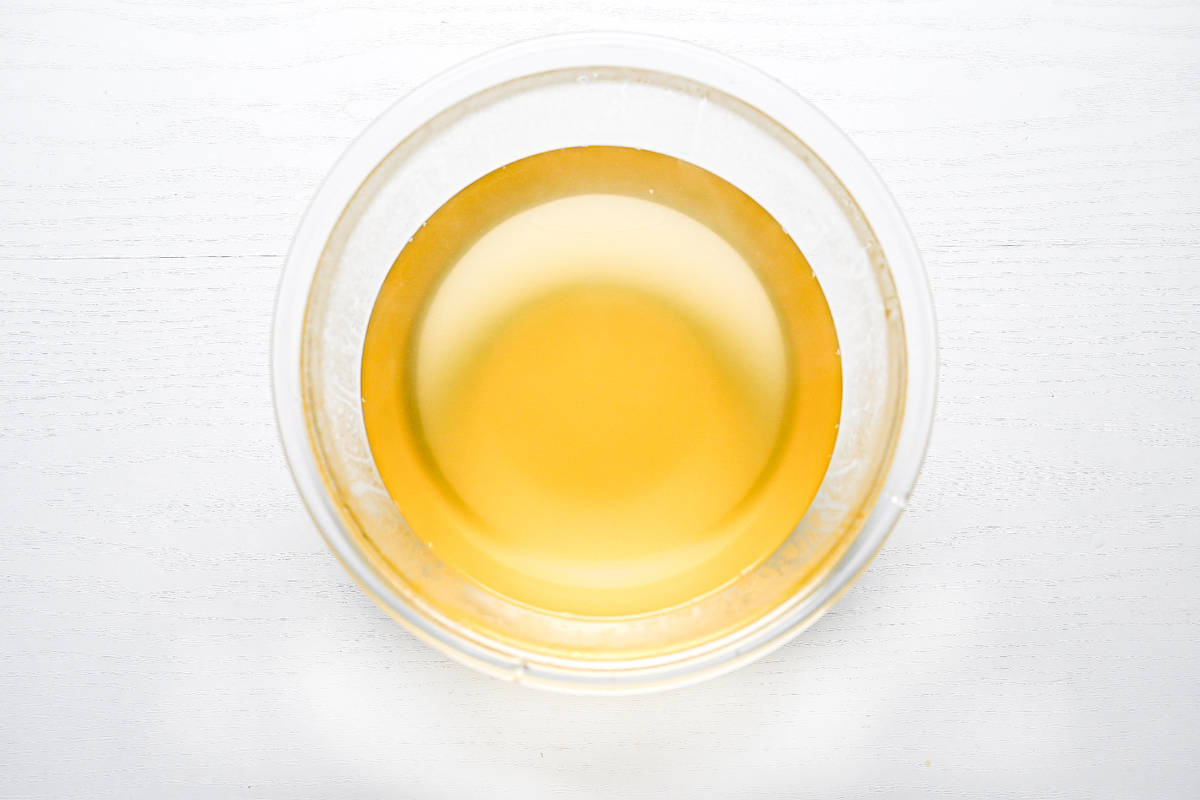 Brown the meat
For the best flavour and texture, brown your meat first. I used thinly sliced pork belly which is most common for curry udon in Japan, but you could also use beef or chicken if you prefer.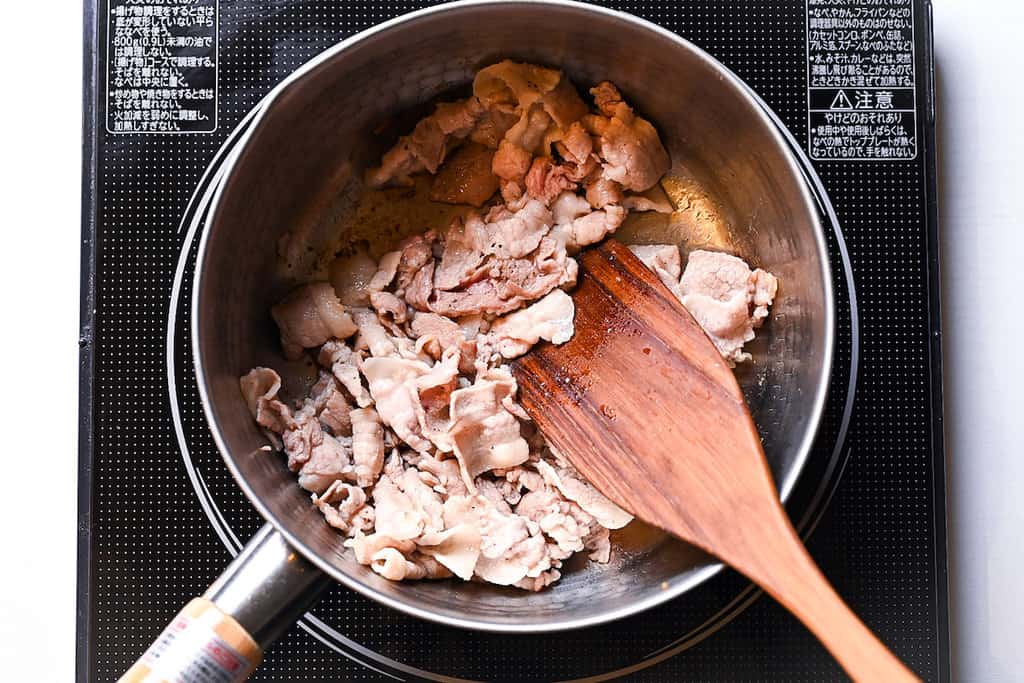 This step also helps render the fat in the meat will add more flavour to your broth!
Add dashi and condiments
Once the meat is sealed, add the dashi, soy sauce, mirin and sugar to the pot.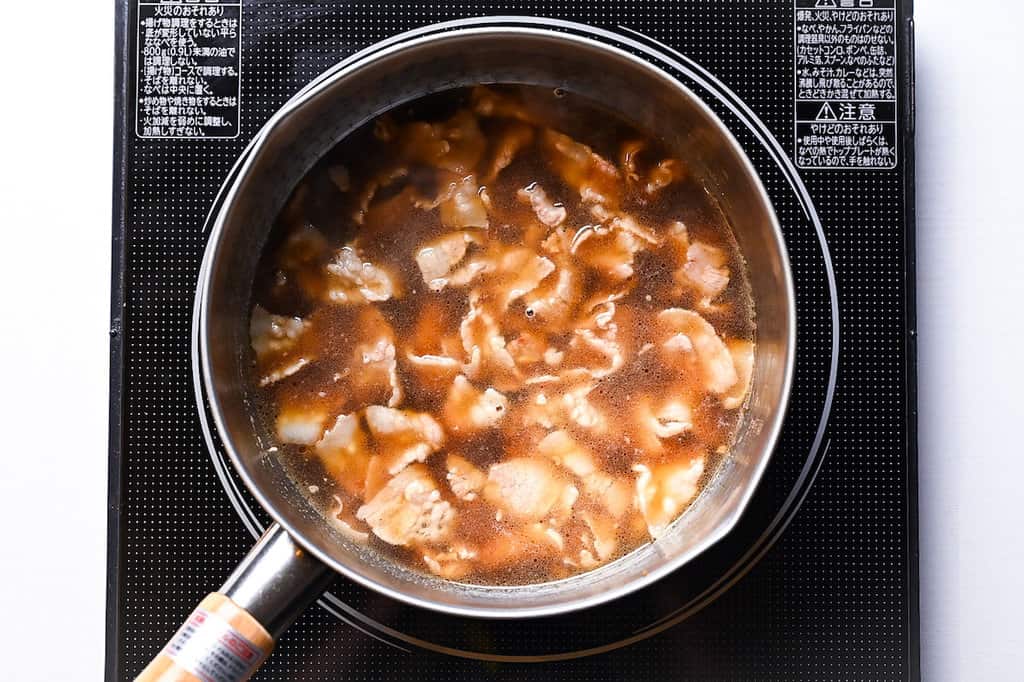 Bring it to a boil over a medium heat and then lower the heat to a simmer.
Make a quick curry paste
Okay, the term "paste" is used loosely here, but basically I made a curry flavoured slurry which will not only help the curry powder distribute evenly throughout the broth without lumps, but also thicken the broth to give it a true "Japanese curry udon" consistency!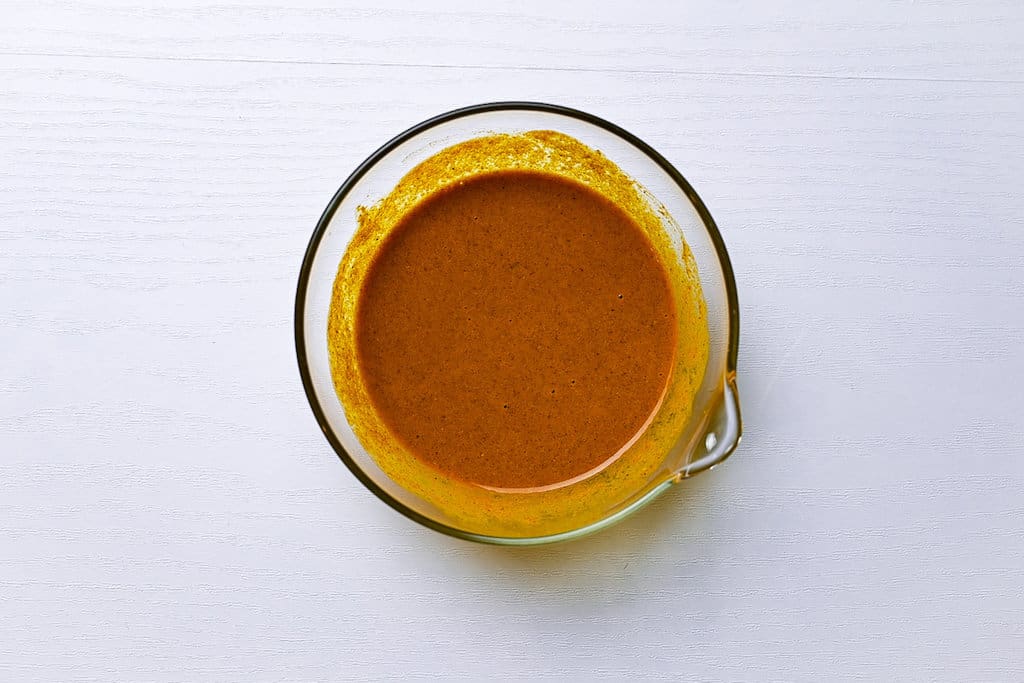 Whisk the curry powder, potato starch and cold water in a small bowl until smooth. The consistency should be similar to pancake batter, if it's too thick then feel free to add a little more water.
Whisk the curry mixture into the broth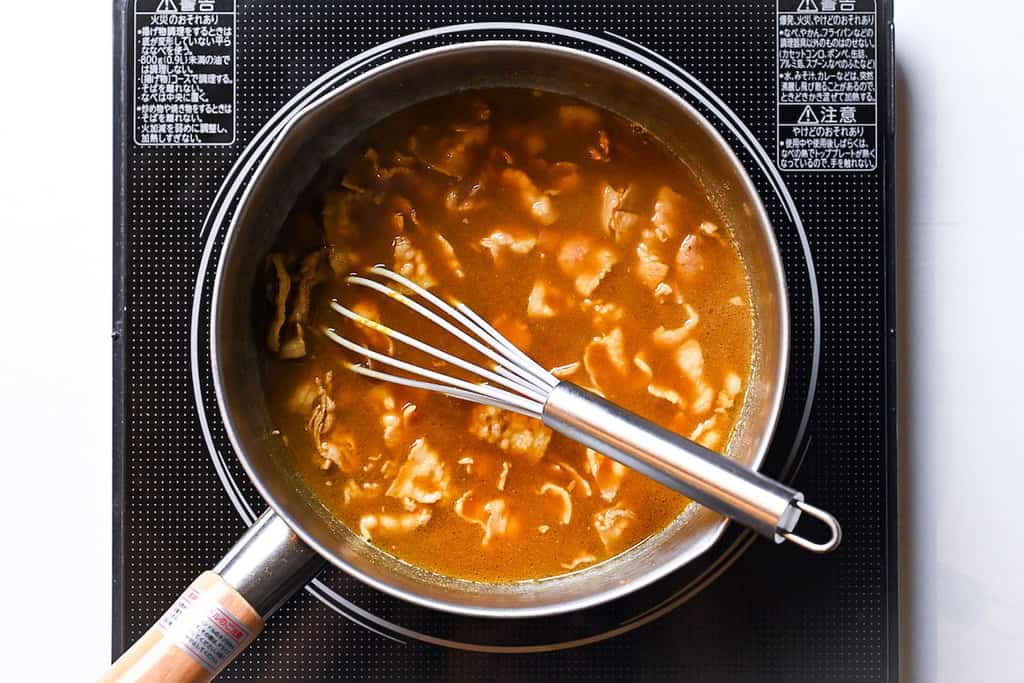 Pour the curry mixture into the broth and mix it well. I used a whisk to make sure it was thoroughly mixed into the soup.
Add the rest of the ingredients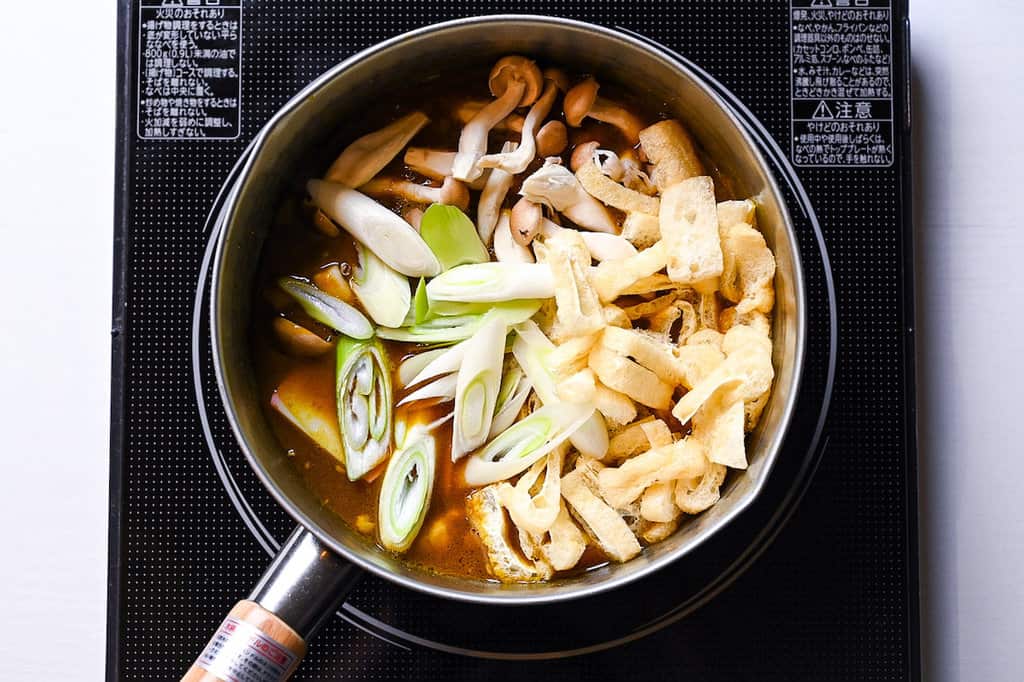 Add the rest of the ingredients to the pot. In this recipe I use spring onion, shimeji mushrooms, kamaboko (a Japanese fish cake commonly used in udon dishes) and aburaage (twice fried tofu). For more ingredient ideas, check the substitutions below!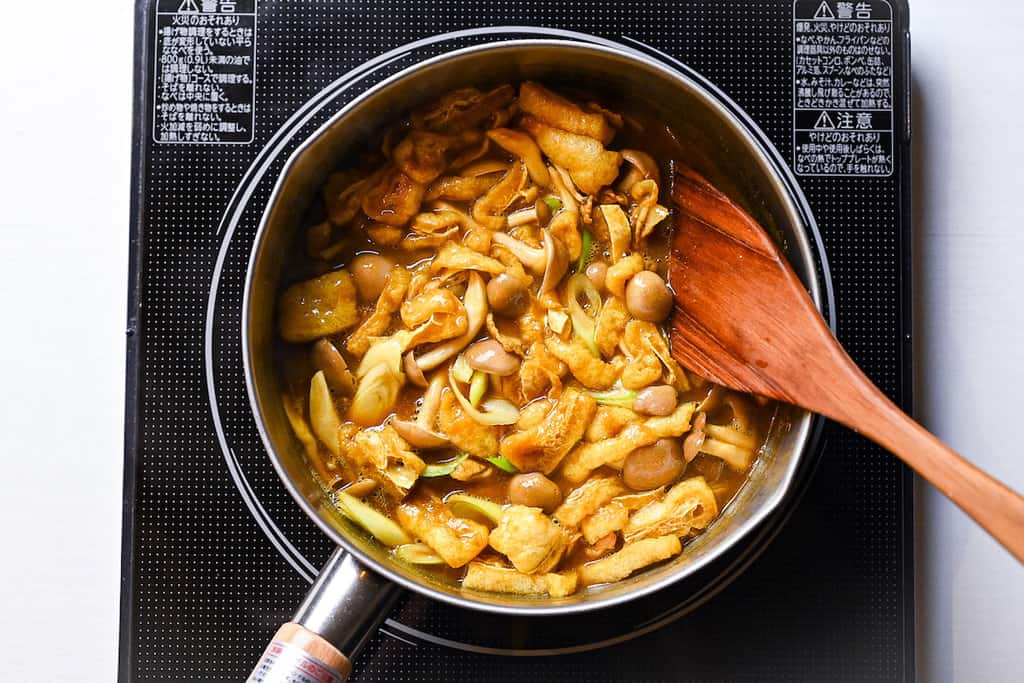 Simmer on a low heat without a lid for about 15 minutes. Mix from time to time to ensure even cooking.
Cook the udon
While the soup is simmering, cook your udon noodles in a separate pot. This is to ensure that the starch from the noodles don't make the soup too thick or floury.
Once cooked, drain the water by pouring them into a colander and rinse with freshly boiled water for the best results.
Dish up
Transfer the cooked udon to serving bowls and pour the soup over the top. Garnish with thinly sliced spring onions and a sprinkle of shichimi chili pepper.
Substitutions and variations of this curry udon recipe
In this section, I will list all the alternative ingredients, substitutions and variations against the recipe card below to make the best Japanese curry udon to your preference:
Chicken or beef (instead of pork belly)
Your choice of mushroom (instead of shimeji mushroom)
Onion (as an additional vegetable)
Carrot (as an additional vegetable)
Sweetcorn (as an additional vegetable)
Spinach (as an additional vegetable)
Melty cheese (as a guilty pleasure)
Tonkatsu (as the most naughty topping)
Shrimp tempura (another naughty topping)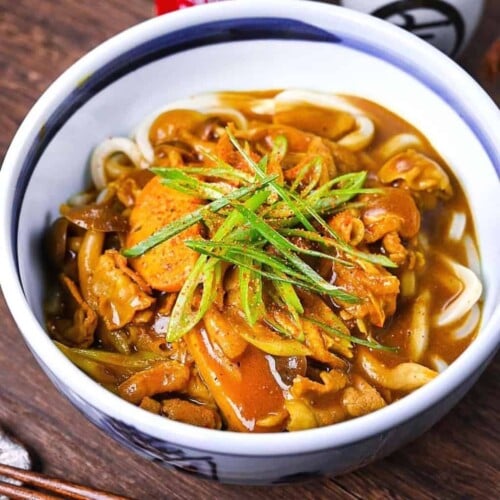 Japanese Curry Udon
How to make delicious Japanese Curry Udon from scratch with homemade dashi. Made with chewy udon noodles served in a Japanese style curry soup and mixed with meat, vegetables, kamaboko and fried tofu. Cooking time includes making dashi.
Ingredients
Curry Udon
1

tsp

cooking oil

150

g

pork belly

-

thinly sliced

100

g

green onion(s) -

diagonally sliced

50

g

shimeji mushroom(s)

8

slices

Japanese fish cake "kamaboko"

-

kamaboko, optional

2

fried tofu pouch(s)

-

thinly sliced, optional

2

portions

udon noodles

2

tbsp

green onion(s) -

green part, finely chopped (garnish)
Instructions
Dashi (If you have instant dashi you can skip this part.)
Take a pot and add

600 ml cold water

and

12 g dried kelp(s)

. (If using

5 g dried sardines

, add them here with the heads removed.) Leave to soak for 30 minutes.

After 30 minutes, place the pot on the stove and turn on the heat to medium. Bring to almost boiling and then turn the heat down to a simmer.

Add the

15 g bonito flakes

and simmer for 10 minutes.

Place a sieve over a large pot or heatproof bowl and line it with kitchen paper. Pour the dashi through for a clear broth. 

Set aside for later.
Curry Udon
Heat a large pot on medium. Add

1 tsp cooking oil

and add

150 g pork belly

. Fry until seared on both sides.

Once the meat is seared, add the dashi to the pot with

3 tbsp soy sauce

,

2 tbsp mirin

and

1 tsp sugar

. Mix and bring to a boil, once boiling lower the heat to a simmer.

In a small bowl, mix

3 tbsp S&B curry powder

and

1 tbsp potato starch

. Once combined, add

5 tbsp cold water

and mix it into a thin curry paste. (It have the thickness of pancake batter.)

Pour the curry paste mixture to the pot and whisk to incorporate it into the broth.

Add

100 g green onion(s)

and

50 g shimeji mushroom(s)

to the pot. (You can also add

8 slices Japanese fish cake "kamaboko"

and

2 fried tofu pouch(s)

here if you are using them.)

Simmer for 15 minutes or until thickened, stir occasionally.

While the soup is simmering, cook

2 portions udon noodles

in a separate pot following the instructions on the packaging. Once cooked, drain in a colander and rinse with freshly boiled water.

Transfer the cooked udon to serving bowls and pour the curry soup over the top.

Garnish with chopped spring onion and shichimi (Japanese chili pepper) optional

Enjoy!
Notes
If you use chicken thigh, I recommend using skin-on and frying it with the skin side down first.
You can add extra vegetables to this dish such as onion or carrots. Add them early on to ensure long enough cooking time.
Nutrition
Calories:
713
kcal
Carbohydrates:
75.2
g
Protein:
17.9
g
Fat:
36.1
g
Saturated Fat:
12.5
g
Polyunsaturated Fat:
5.7
g
Cholesterol:
54
mg
Sodium:
1975
mg
Fiber:
6.3
g
FAQ
What is curry udon?
Curry udon is a noodle dish flavored by adding curry powder to dashi broth. While most udon noodle dishes are usually served in a light and thin broth, curry udon is very thick and indulgent.
Is Curry udon popular in Japan?
Yes and no. It is definitely a very well-known dish across Japan but I would not say it's something very popular that people eat very regularly like ramen. It's one of those things that are always on the menu at udon restaurants.
How do you eat udon curry?
First, gently loosen the noodles in the bowl with chopsticks before you start eating. This will not only prevent the entangled noodles from falling and splashing into the soup to a certain extent, but also allows the trapped heat to escape. Only pick up a few noodles at a time so that the noodles do not slide off the chopsticks and cause a big splash. It is also recommended to bend forward slightly so that you can suck up the noodles vertically, creating less chances for them to splash.