This beautifully golden and crispy Japanese Tonkatsu is made with meaty pork fillets coated with a thick layer of panko breadcrumbs and served with a tangy homemade sauce. Learn how to make the best tonkatsu ever with my tips and tricks!
Disclaimer: This post contains Amazon affiliate links. Sudachi Recipes earn a small percentage from qualifying purchases at no extra cost to you. See disclaimer for more info.
Jump to:
What is Tonkatsu?
Tonkatsu (とんかつ) is a Japanese succulent pork cutlet crafted from a generous slice of pork loin or fillet. This slice undergoes a meticulous process of being coated in egg and panko breadcrumbs, then deep-fried until it achieves a golden, crispy exterior.
The appearance of tonkatsu traces back to around 1899. Its origins, though shrouded in mystery, hint at inspirations from French cuisine. Originally beef-based, it has since become predominantly pork in Japan, a personal favorite for many. Today, katsu is a staple in homes and eateries, standing as one of Japan's most cherished dishes.
The term "ton" (豚) is derived from the Japanese kanji character signifying "pig," a common prefix in various pork-based dishes such as tonjiru (pork miso soup) and tonteki (pork chop steak). The suffix "katsu" resonates with the Japanese articulation of "cutlet."
It's probably one of the most popular dishes in Japan and the cutlet itself can be used in many other dishes such as katsudon, katsu curry or katsu sando.
Traditionally, tonkatsu is elegantly complemented with a tangy tonkatsu sauce, served alongside fluffy rice, crisp shredded cabbage, and a bowl of miso soup. While the classic "tonkatsu" is synonymous with pork, the culinary world of "katsu" is diverse, boasting variations like:
Chikinkatsu: A golden chicken cutlet.
Gyuukatsu: A rich beef cutlet.
Kushikatsu: Skewered deep-fried meat or vegetables.
Miso katsu: A pork cutlet lavished with a unique red miso sauce.
How I Developed This Recipe
Tonkatsu holds a special place in my heart, making it an unwavering favorite. This sentiment fueled my determination to develop a recipe that embodies perfection, leaving no room for compromise.
While tonkatsu's essence lies in its simplicity, making it accessible for anyone to recreate, my journey was paved with meticulous trials and refinements. My dedication didn't just stop at the cutlet; I've also curated a signature sauce that elevates the dish to new heights.
I invite you to experience my rendition of tonkatsu which rivals the offerings of the finest teishoku restaurants.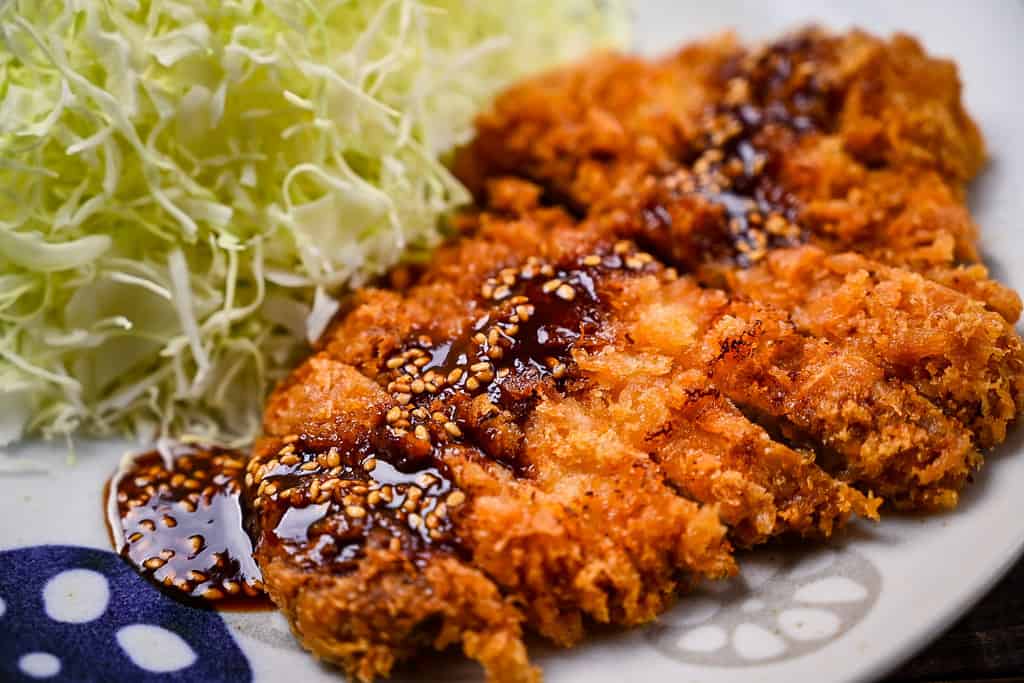 Ingredients and Substitution Ideas
Thick boneless pork chops or similar: The right pork cut is vital for authentic tonkatsu, aiming for a thick, satisfying slice. The top choices are loin or tenderloin, which are leaner, and boneless ribs for a meatier, richer experience. If you want to use chicken instead, check out my chicken katsu recipe.
Cooking oil: Intended for deep frying. Neutral oils with high smoke points, such as canola, sunflower, and peanut oil, are recommended. My recent go-to's are rice bran oil and extra virgin (white) sesame oil for both shallow and deep frying.
All-purpose flour: Used for dusting the meat and helping the egg stick.
Egg: Used to help the panko stick to the surface of the pork. The proteins in eggs also help make the meat more tender.
Whole milk: Mixed with the egg not only helps stretch it further, but also contributes to softening the meal. Opt for whole milk over skim milk when possible.
Panko breadcrumbs: Panko breadcrumbs are the secret to the distinctiveness of Japanese katsu. There are two kinds: "dry" and "nama" (fresh). While dry panko is fine-grained and pantry-friendly, "nama panko" is made from fresh bread, resulting in larger, fluffier crumbs. If you're up for a hands-on experience, crafting your own panko is straightforward. For a deeper understanding of panko, see my homemade panko post!
Worcestershire sauce: A key ingredient in tonkatsu sauce for its iconic tangy taste.
Tomato ketchup: While any regular ketchup works, I've used Heinz tomato ketchup in this recipe.
Soy sauce: Kikkoman soy sauce is a reliable choice for a cost-effective option. Refer to my soy sauce guide for more insights on selecting the right soy sauce in Japanese cuisine.
Brown sugar: Brown sugar imparts a deep flavor, but regular sugar is also fine.
White sesame seeds: These are optional but can add a nice touch.
I have listed my recommended Japanese condiments, tools, and ingredients in the Sudachi Recipes Amazon shop. If you want to keep making various Japanese foods at home, please check it out!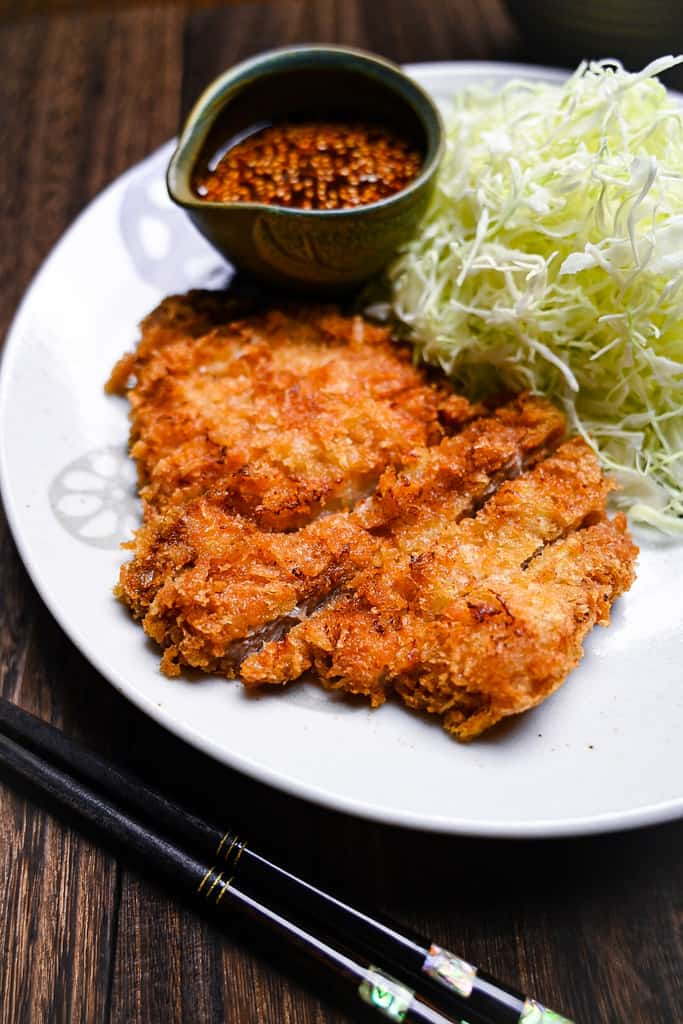 Step-by-Step Process
Here are my step-by-step instructions for how to make the ultimate crispy and tender Japanese tonkatsu at home. For ingredient quantities and simplified instructions, scroll down for the printable recipe card below.
Add the Worcestershire sauce, ketchup, soy sauce, brown sugar and white sesame seeds to a small bowl and whisk until well combined. Set aside for later.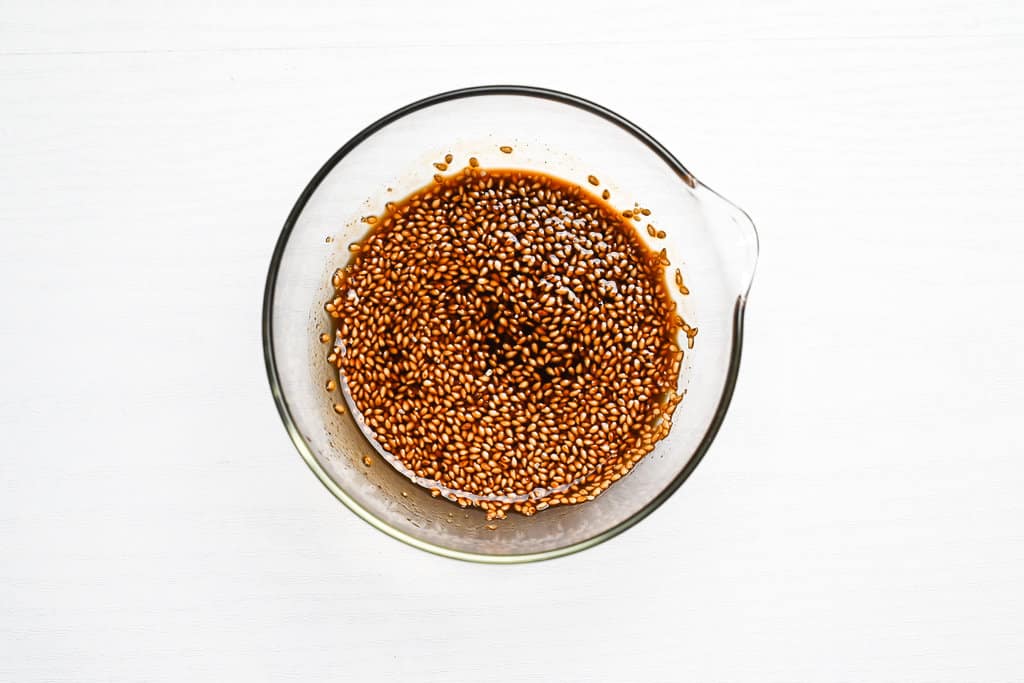 Preheat your oil to 170 °C (338 °C), while you wait, prepare the pork.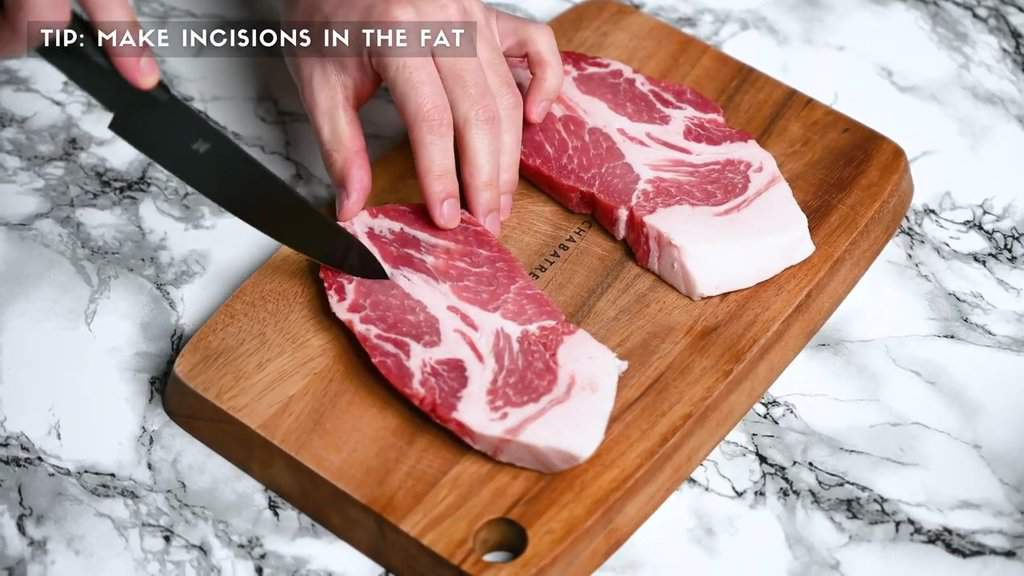 Start by piercing the fat and muscle. Muscles connect the pink meat and the white fatty parts. By using the tip of the knife and stabbing the connection line to cut through the muscle, the texture will be improved and the meat is less likely to curl.
Next, sprinkle both sides with a pinch of salt and pepper and lightly pound to tenderize and flatten the meat. The end result should be about 2cm thick (¾ inch) so be careful not to pound too much.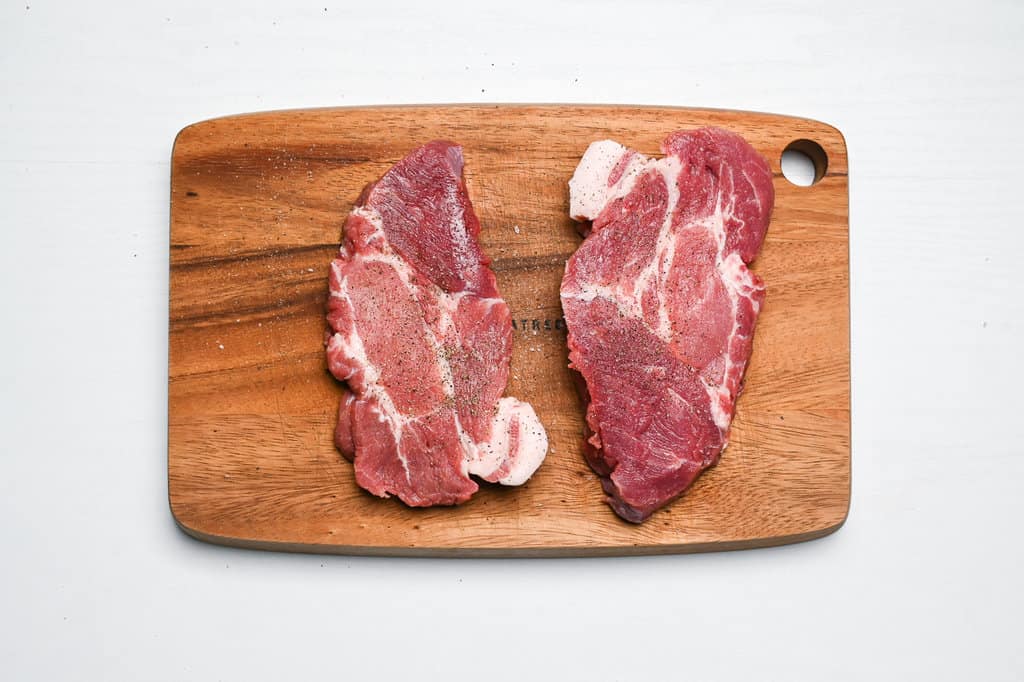 Prepare a "coating station" with 3 wide containers. Add flour to one and panko breadcrumbs to another. Crack an egg into the last one and add a small amount of whole milk and cooking oil. Whisk together until smooth.
Place the pork in the flour and coat both sides.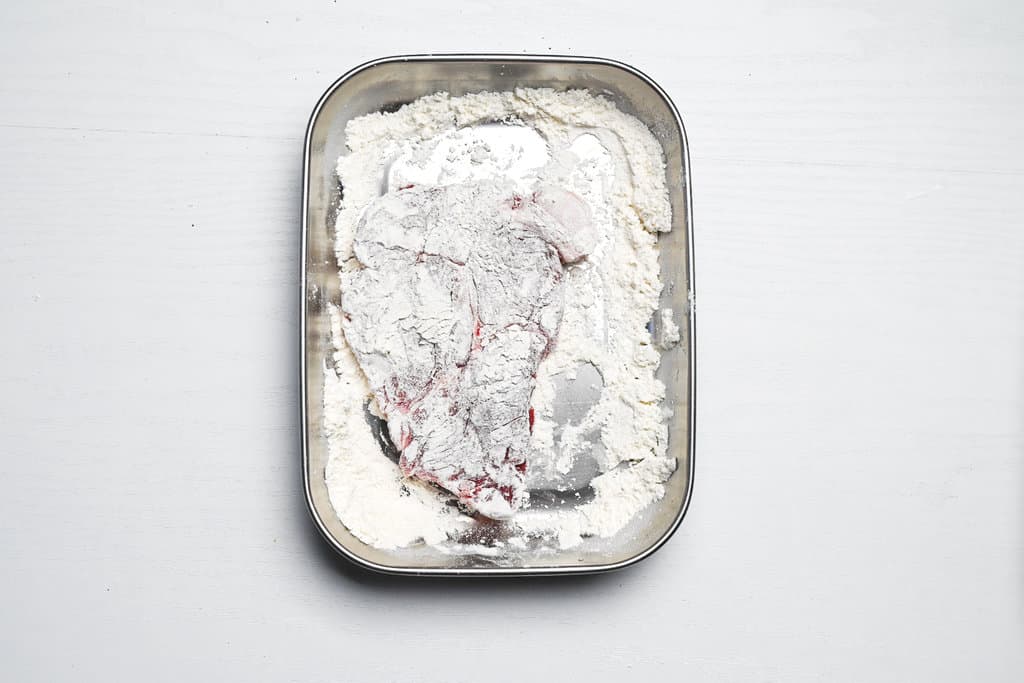 Lift the pork out and pat off the excess flour before placing it in the egg mixture.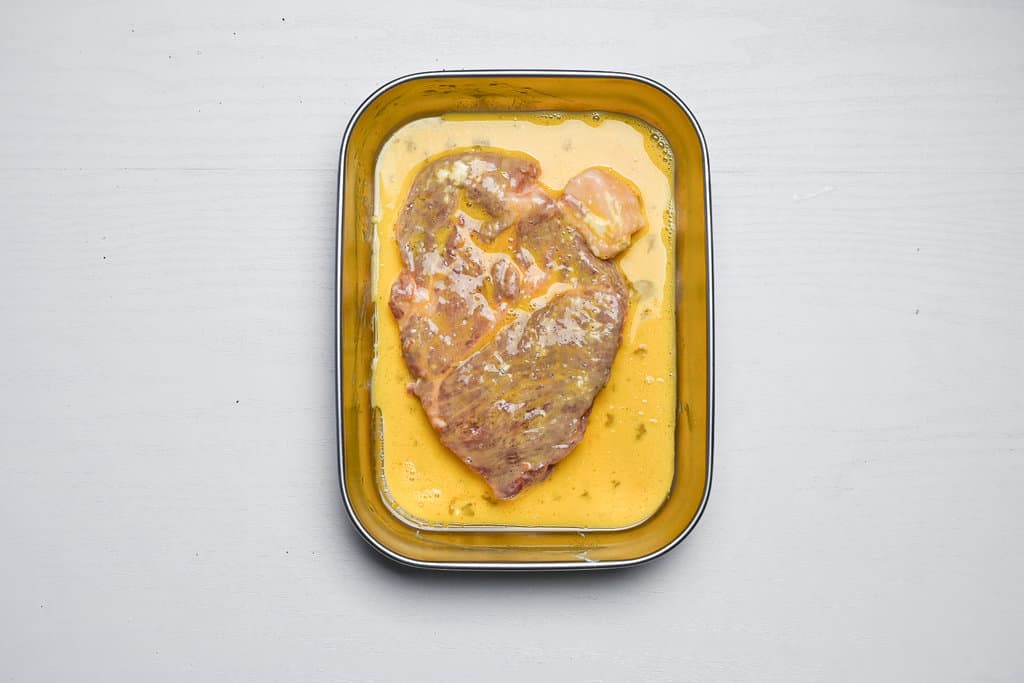 Once fully coated, place the pork in the panko and coat generously. Gently press the crumbs down to secure them to the surface.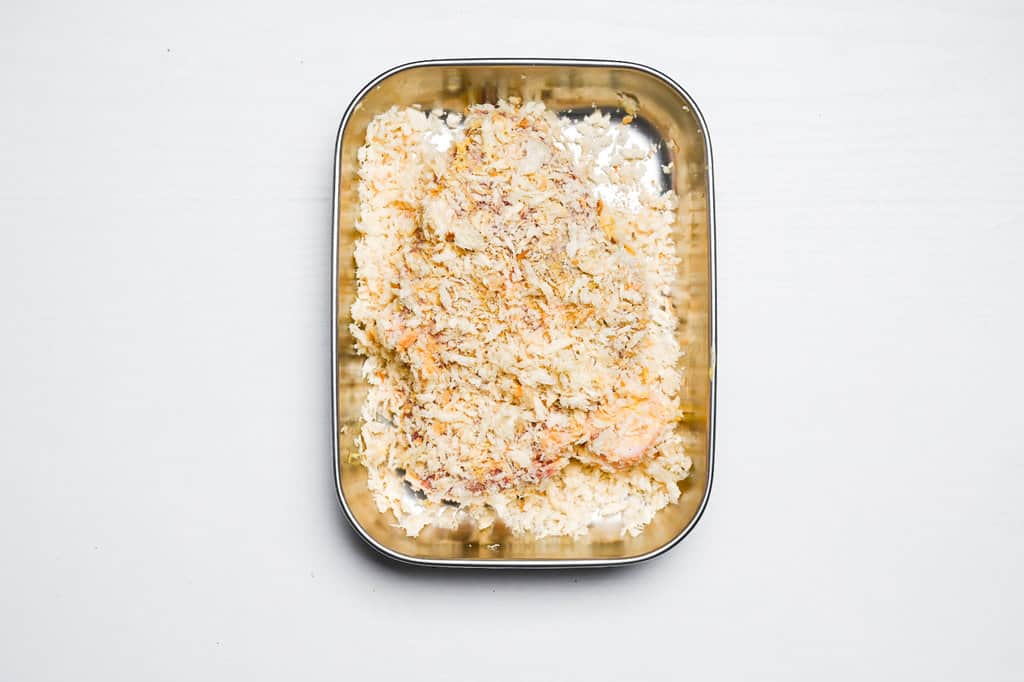 Once the oil has finished preheating, add the pork and fry for 4 minutes on each side. When you first add it to the oil, it will crackle loudly. This is the reaction between the oil and the moisture in the meat. As it cooks, the crackling gets quieter, this is how you can tell if its cooked all the way through by sound.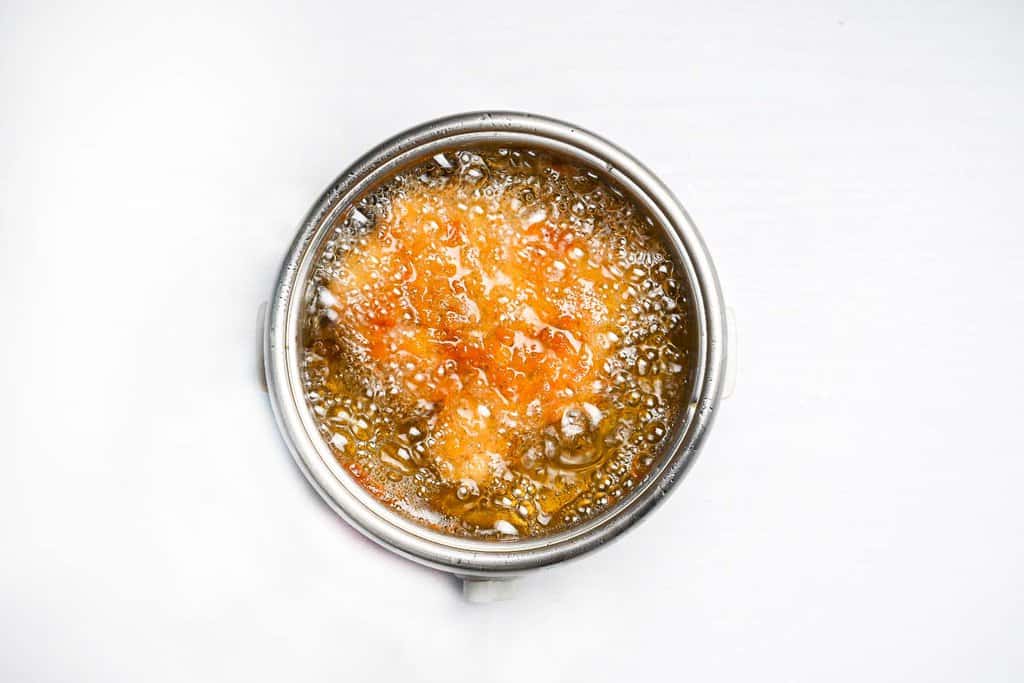 Once golden and cooked all the way through, transfer to a wire rack to drain the excess oil and rest for a few minutes.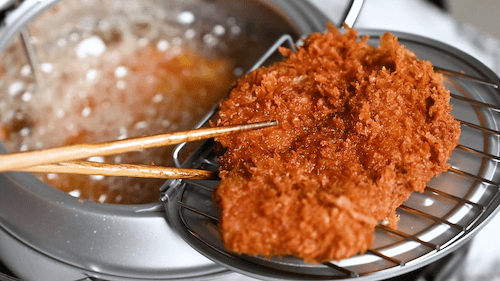 Cut the tonkatsu into slices and serve with your homemade sauce and choice of sides.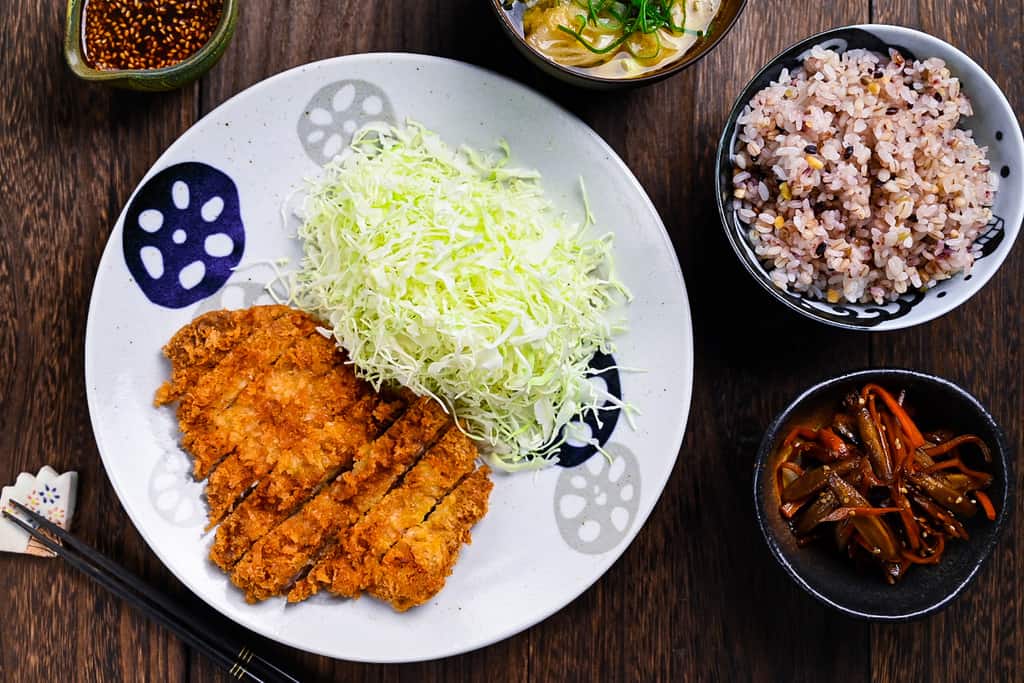 Enjoy!
Tips and Tricks for Perfect Tonkatsu
Once you know these simple tips and tricks, you can make perfect, restaurant-worthy tonkatsu every time without fail!
Use thick cuts of pork - Starting with a thick cut will give you a bigger and better tonkatsu that can be tenderized without becoming too thin.
Make incisions - This is important enough that I added it as a step in my recipe. By piercing the muscle that connects the fat and meat, the texture of the overall cutlet is improved (less chewy) and it's less likely to curl (better presentation).
Tenderize - Again, so important that it's a step! Pounding the meat helps make it softer. This also makes it a bit thinner, making it cook quicker and more evenly.
Don't pound too thin - If the meat is pounded too thin, your tonkatsu will cook too quickly and become dry. In addition to this, the structure will be weak, resulting in a floppy tonkatsu. Not cool.
Add oil to the egg - A little bit of oil whisked into the egg will act as a binder, helping it stick more securely to the surface of the pork. This means the panko layer will be less likely to fall off. Additionally, the thin layer of oil protects the meat to some extent, helping it stay juicy and tender.
Dust evenly - It might be tempting to add thick layers of flour, egg and panko to make it extra crispy, but balance is essential here. A thin, even layer of flour absorbs excess moisture, but too much will cause the egg to fall off, so be sure to pat off the excess.
Be generous with panko - A generous coating of panko is necessary for the perfect crispy and even tonkatsu, so add as much as possible and lightly press it down with your palm (sprinkling doesn't adhere well).
Use plenty of oil - The amount of oil should be at least twice as deep as the thickness of the tonkatsu. If you don't use enough oil, the katsu will touch the bottom of the pan and will burn your panko, ruining both the look and taste.
Shallow-frying - If you want to use less oil, shallow-frying is possible. Just remember that it takes more care since the panko burns easily if it touches the bottom of the pan.
Don't interfere for the first few minutes - The minute the tonkatsu hits the oil, it's in a delicate state. Mixing, poking or checking it in the first few minutes can damage the surface and cause the panko to fall off.
Maintain 170°C (338°F) - If the oil temperature is too low then the pork will become dry and overcooked while the panko will be pale and soggy. On the other hand, if the oil is too hot then the panko might burn and the pork could be raw in the middle. The sweet spot is 170°C (338°F), so try and maintain this temperature the best you can.
No thermometer? No problem! - You can check your oil's temperature by dropping a crumb of panko in there. If it sinks, the heat is too low. If it browns too quickly, you might need to reduce the heat. Ideally, the panko should float and sizzle consistently, this means the oil is a good temperature for frying.
Check by sound - You can mostly tell if your katsu is cooked by the sound. When it's first added to the oil, it crackles loudly and bubbles aggressively. This is due to the reaction between the hot oil and the moisture in the raw meat. As it cooks, it will become quieter and the bubbles will become smaller.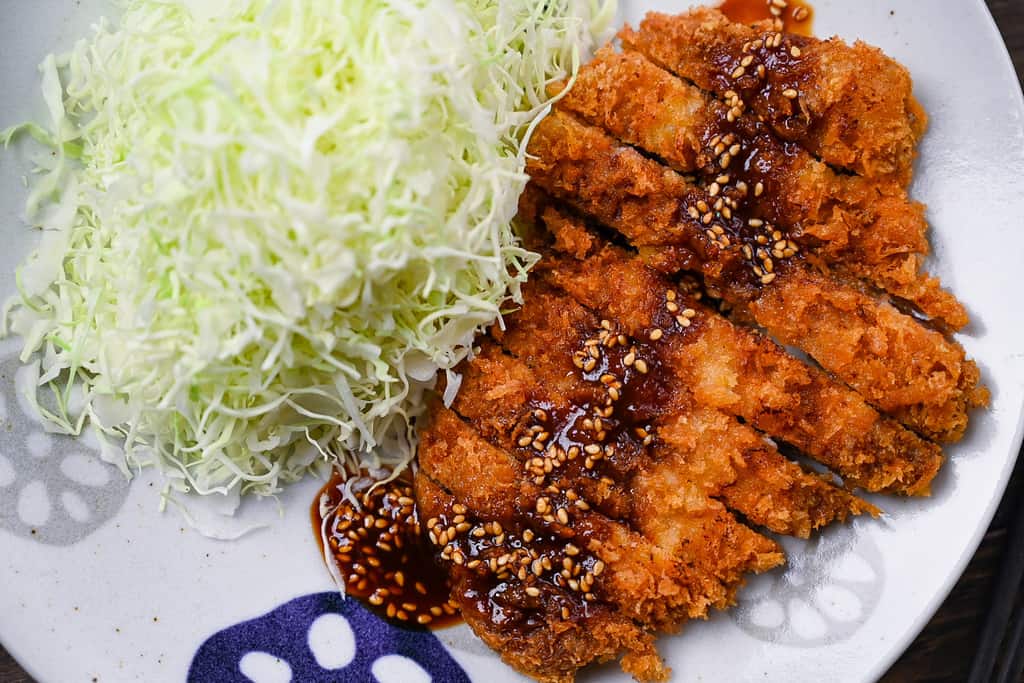 Troubleshooting and FAQ
One of the biggest problems you might face when making homemade tonkatsu is the crumb layer not sticking to the surface of the pork. Uneven and messy tonkatsu with gaps is my worst nightmare!
Let's look at the potential causes and how to prevent them!
My batter peeled off the pork.
Meat, including tonkatsu, tends to shrink when heated, leading to gaps between the batter and meat, causing the batter to peel off. To prevent this, it's essential to pound the pork chops before cooking. However, it's crucial to start with thick pork cuts; pounding too thin results in a less desirable, floppy tonkatsu. Thus, using thick, pounded pork chops is key to ensuring the batter stays intact.
The surface of tonkatsu seems uneven.
The batter for traditional tonkatsu consists of flour, eggs, and breadcrumbs, each vital to the dish's integrity. Any inconsistency in one layer affects the subsequent ones. Inadequate coating can cause the batter to peel off over time. It's essential to apply each layer generously but without overdoing it, striking a careful balance. Ensuring a firm and even battering for each layer is undoubtedly crucial.
My tonkatsu seems very dark, what did I do wrong?
Achieving the ideal golden crust for tonkatsu hinges on using plenty of oil and maintaining the right frying temperature. Too hot, and you risk burning the batter with undercooked pork. Too cool, and the outcome is a pale batter with dry, tough pork. To sidestep these pitfalls, opt for oils with high smoke points and maintain a frying temperature of 170°C (340°F).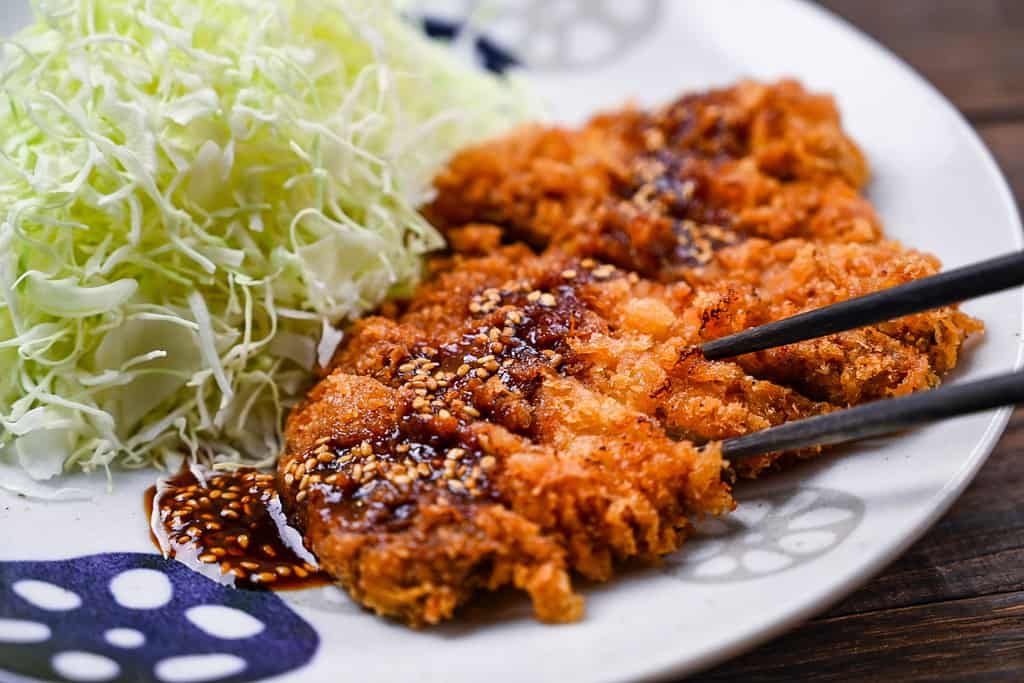 Storage
To store tonkatsu, freezing is the ideal option; avoid prolonged room temperature or refrigeration.
After frying, drain the oil and let them cool for about 30 minutes. Wrap each cutlet in plastic, place in a freezer bag without overlapping, and store for up to a month.
When defrosting, use a microwave oven to defrost the cutlets to a certain extent, and then grill or bake to revive the crispy surface.
Room temperature - Not recommended.
Refrigerated - Not recommended.
Frozen - Up to a month.
I hope you enjoy this ultimate Japanese tonkatsu recipe! If you try it out, I'd really appreciate it if you could spare a moment to let me know what you thought by giving a review and star rating in the comments below. It's also helpful to share any adjustments you made to the recipe with our other readers. Thank you!
Other Japanese Deep-Fried Recipes
Check out some of my other Japanese deep-fried recipes!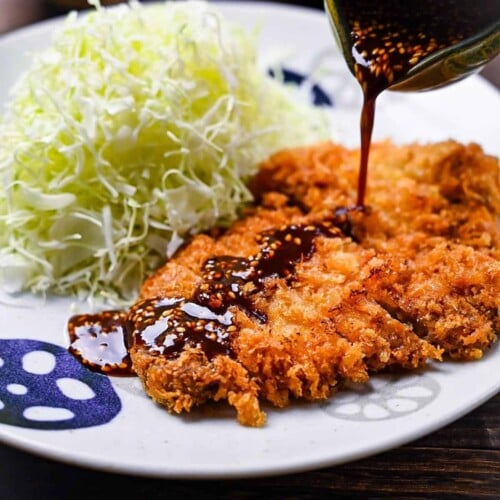 The Best Tonkatsu (Japanese Pork Cutlet)
Delicious pork fillets coated with Japanese panko breadcrumbs and deep-fried until crispy and golden, then served with a tangy homemade tonkatsu sauce!
Ingredients
Tonkatsu Sauce
2

tbsp

Worcestershire sauce

1

tbsp

tomato ketchup

1

tbsp

soy sauce

1

pinch

brown sugar

1

tbsp

white sesame seeds
Tonkatsu
2

thick boneless pork chops

-

or loin/tenderloin

1

pinch

salt and pepper

cooking oil

-

for deep frying

all-purpose flour

-

for dusting

1

medium egg(s)

1

tbsp

whole milk

1

tsp

cooking oil

100

g

panko breadcrumbs
Instructions
Tonkatsu Sauce
Mix

2 tbsp Worcestershire sauce

,

1 tbsp tomato ketchup

,

1 tbsp soy sauce

,

1 pinch brown sugar

and

1 tbsp white sesame seeds

in a small bowl and set aside for later.
Tonkatsu
Preheat the oil to

170

°C

. While you wait, prepare the pork.

Take

2 thick boneless pork chops

and make incisions in the fat and muscle (this improves texture and prevents curling).

Rub

1 pinch salt and pepper

onto both sides of the meat.

Pound the pork chops to tenderize and thin the meat until about 2cm thick. (Approx ¾ inch)

Set up a coating station with 3 containers. One with

all-purpose flour

, one with whisked

1 medium egg(s)

and one with

100 g panko breadcrumbs

.

Add

1 tbsp whole milk

and

1 tsp cooking oil

to the egg and whisk until combined.

Coat the pork with flour on both sides. Make sure to pat off the excess.

Transfer to the egg mixture and coat on both sides.

Next place it into the panko breadcrumbs. Make sure it's fully covered and gently press the panko down to secure them.

Carefully place the coated pork chops into the oil and cook for about 4 minutes on each side (8 minutes total) or until golden brown.

Place the katsu on a wire rack to drain the excess oil and rest for a few minutes.

Cut the tonkatsu into strips.

Plate up next to the shredded cabbage, drizzle the sauce (or serve on the side) and garnish with lemon (optional).

Serve with rice, miso soup and pickles for the perfect teishoku set meal.
Notes
You can drop a piece of panko into the oil before cooking, if it sizzles and floats then it means your oil is hot enough to cook with. (If it sinks it needs to be hotter.)
Try not to touch or move the tonkatsu during the first minute of frying otherwise the breadcrumbs may start to fall off.
Nutrition
Serving:
249.8
g
Calories:
701
kcal
Carbohydrates:
47
g
Protein:
30.7
g
Fat:
44.6
g
Saturated Fat:
11.7
g
Polyunsaturated Fat:
10.94
g
Cholesterol:
172
mg
Sodium:
1619
mg
Fiber:
3.1
g