Japanese salted salmon is a classic breakfast dish, commonly served with rice and miso soup. Made with fresh salmon fillets and seasoned simply with salt, the fact that you only need two ingredients almost makes this dish too good to be true! Here, I will share all the tips to make it perfect every time.
What is Shiozake (Japanese Salted Breakfast Salmon)?
Shiozake (塩鮭) is a simple dish of salted and grilled salmon. The name of the dish is derived from the Japanese words shio (塩) meaning salt, and sake or jake (鮭), meaning salmon.
Salted salmon is commonly grilled, but many people these days prefer to pan-fry it. This dish is a popular breakfast food in Japan and has been featured in Japanese TV shows, anime, and manga.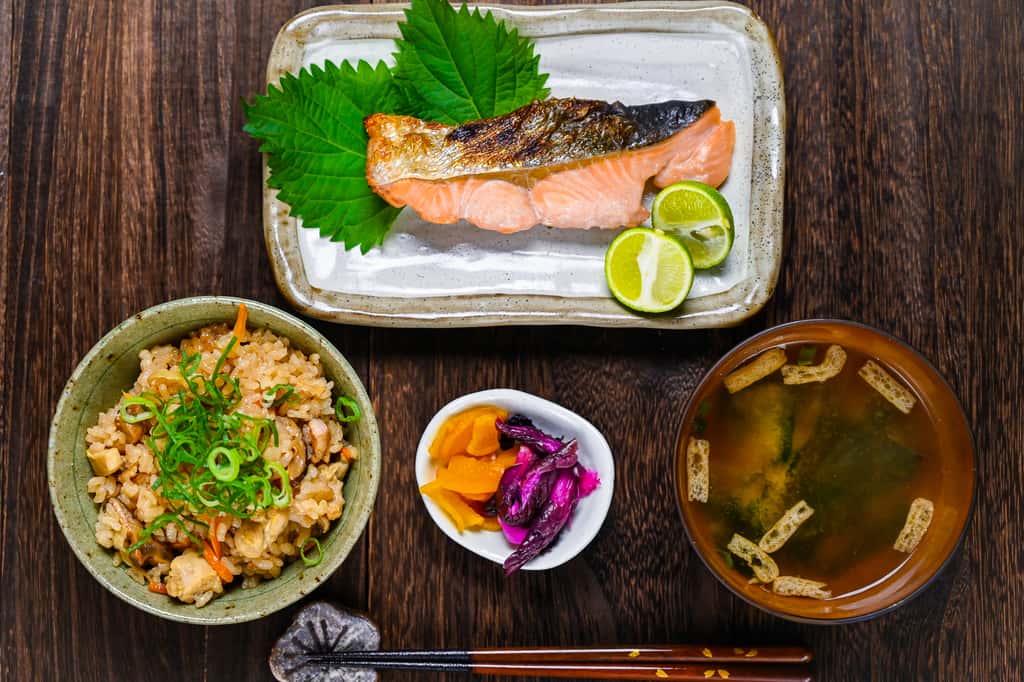 Whenever we think of a traditional breakfast, most Japanese people would probably say:
Nori seaweed
Some pickles
Salted salmon
Of course, not many people have all of these for breakfast these days, but I believe my grandmother, who's in her 80's still has this type of breakfast regularly.
If you have a chance to stay in a traditional Japanese hotel (ryokan), I'm sure you will see all of these things as breakfast (and it's usually HUGE!).
I'm always surprised by how big the breakfast they offer!
How I Developed This Recipe
When I started to craft this recipe, authenticity was at the forefront of my mind. After all, we're delving into the heart of a traditional Japanese breakfast, and I wanted to honor its rich heritage.
Although you can find already salted salmon in Japanese supermarkets, in this recipe, I will show you how to season salmon from scratch at home, as well as tips on how to make a more delicious breakfast salmon.
If the idea of a Japanese-style breakfast intrigues you, why not dive in and give this recipe a whirl?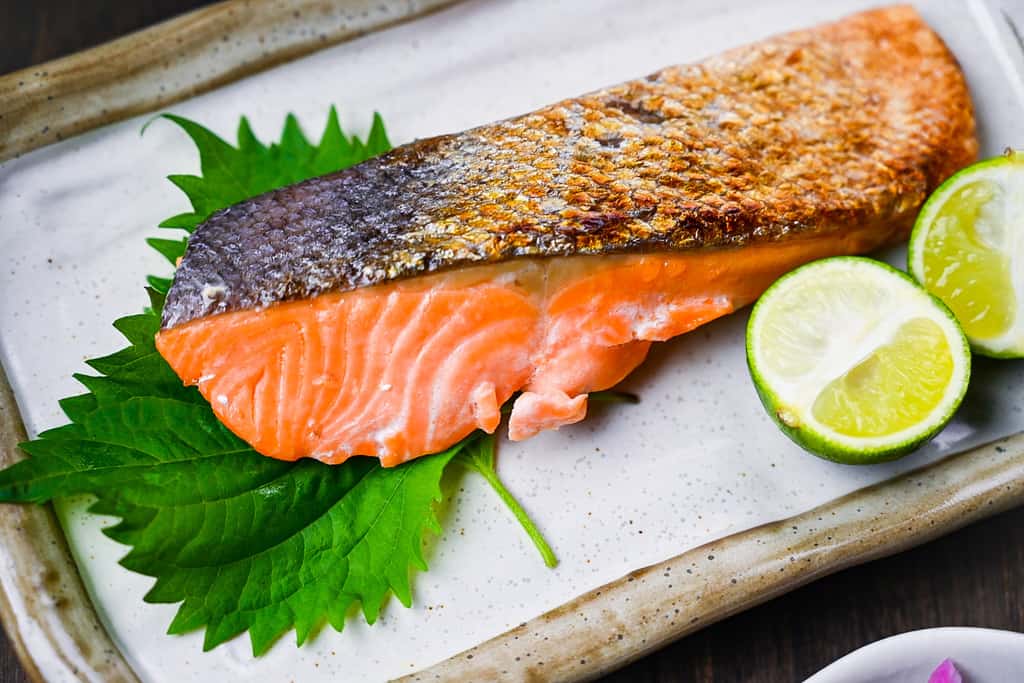 How to Pick Salmon for Shiozake
For the best taste and flavor, it is important to choose good quality salmon. This dish is only seasoned with salt, so pay attention to the following tips when selecting your salmon:
Look for vibrant colors (bright pink, not too dull)
Choose salmon with thick flesh
Select salmon with the least amount of drips
For people who live in Japan, the best season for salmon in Japan is from autumn to winter when the salmon are migrating up the river.
Although salmon can be enjoyed in the spring and summer months due to farming and preservation technology, the best salmon is available during the colder months. This could be different depending on where you live though.
If you want to use frozen salmon, you should always defrost the salmon fillets before cooking. If you try to cook them while frozen, they might end up burnt on the outside and raw in the middle. I recommend defrosting the salmon in the fridge overnight to achieve the best texture and flavor.
It's also important to wipe off any moisture that accumulates during the defrosting process.
This type of moisture can cause a fishy smell, so wipe it off thoroughly with kitchen paper before cooking.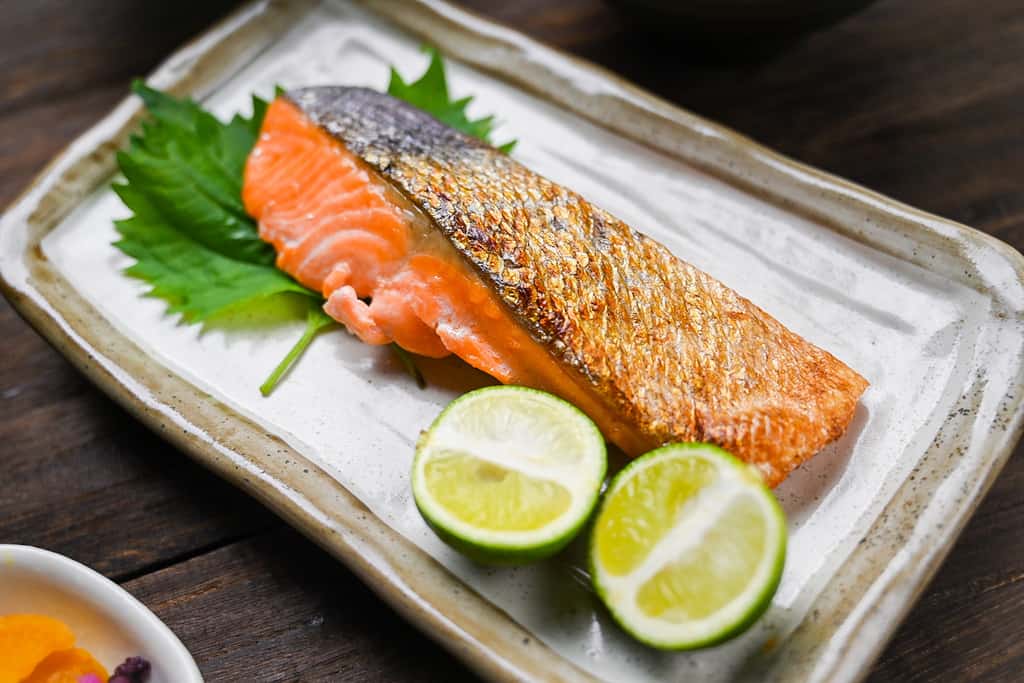 Step-by-Step Process
For this recipe, you will need the following ingredients: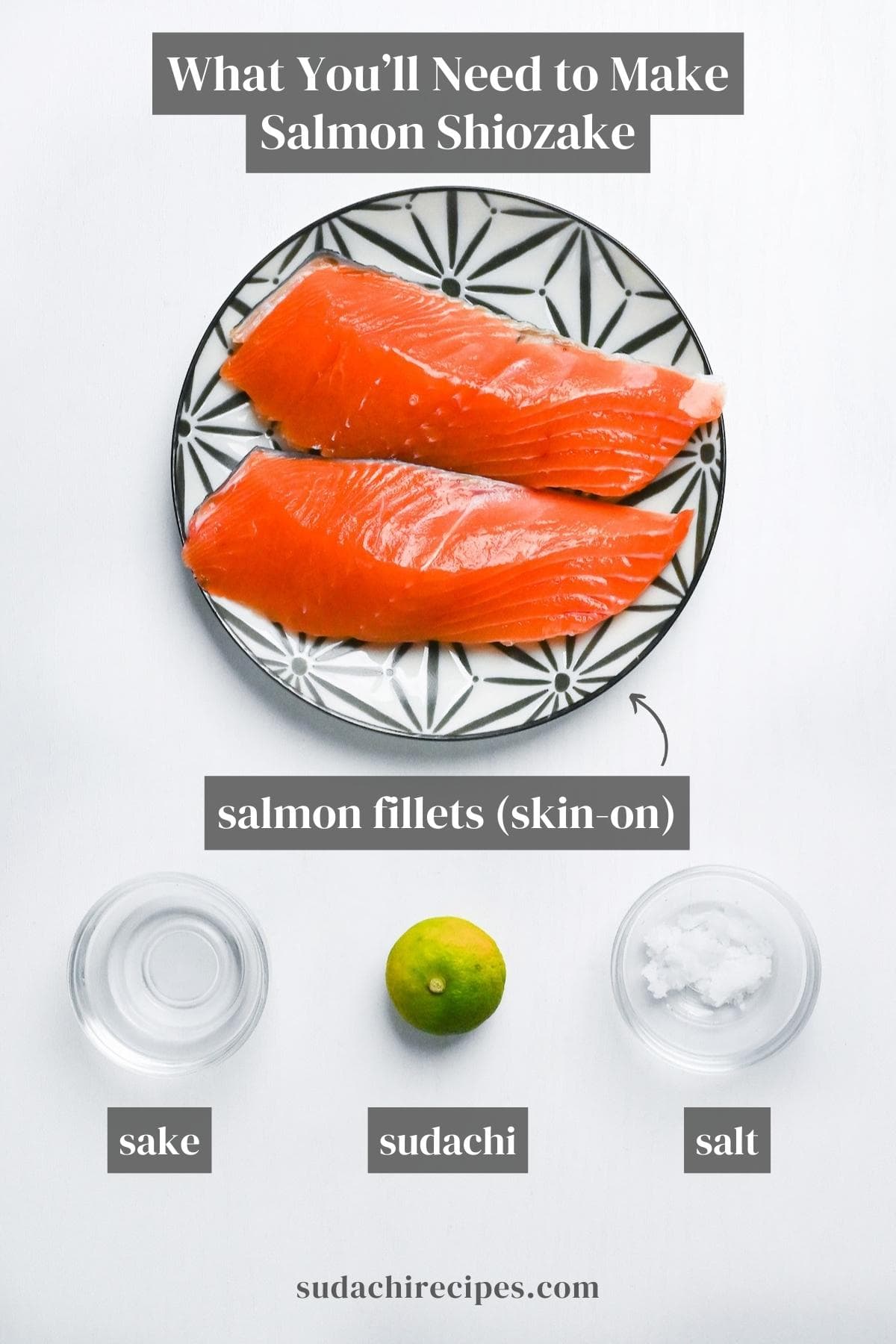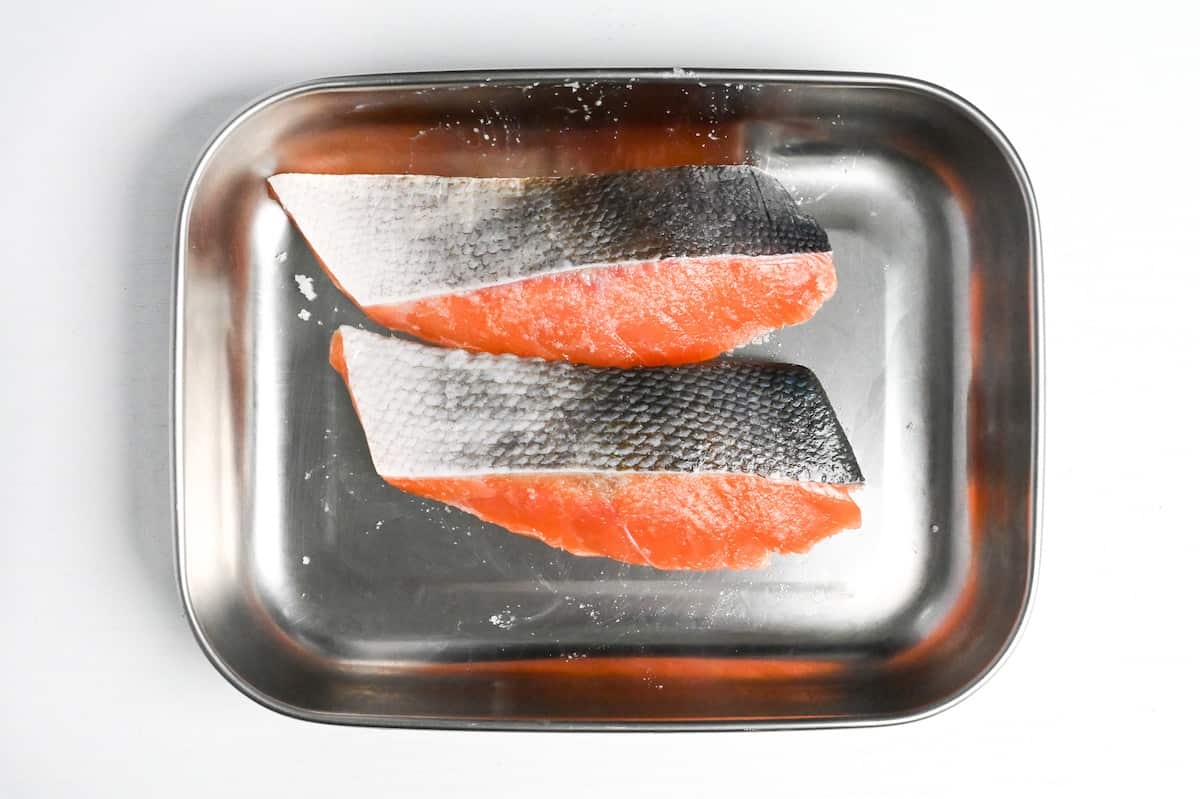 Start by laying out your salmon fillets. Sprinkle them with 1-2% of salmon's weight of sea salt on both sides.
Gently rub the salt over the salmon, ensuring even seasoning. For the best flavor, let the salmon marinate in the fridge for at least 3 hours, preferably overnight.
This will allow the salt to penetrate deeply into the salmon, resulting in a more flavorful dish.
The best salt ratio for authenticity
If you want to prepare authentic Japanese-style salted salmon, then it is important to use the right amount of salt. The ideal amount of salt should be around 2% of the salmon's weight.
However, it is worth noting that this salt level is for salmon served with a big bowl of plain rice, which is how Japanese people traditionally enjoy it.
If you don't want your salmon to be too salty or don't plan on serving it with plain rice, you might want to use less salt, around 1% or 1.5% of the salmon's weight.
To give you an idea of the amount of salt required, for 200g of salmon fillets, 1% salt would be 2g, 1.5% would be 3g, and 2% would be 4g. It is also worth noting that 3g of salt is approximately half a teaspoon.
Final Touches Before Grilling
Once your salmon has marinated, take it out of the fridge. Pat it dry with kitchen paper to remove any excess moisture.
Why do you need to dry the already salted salmon?
If you refrigerate salmon fillets overnight, the salt draws out the moisture. This moisture sitting on the surface of the fish or in the container might develop a fishy smell. To reduce unwanted odors, dry the salmon with paper towels before cooking.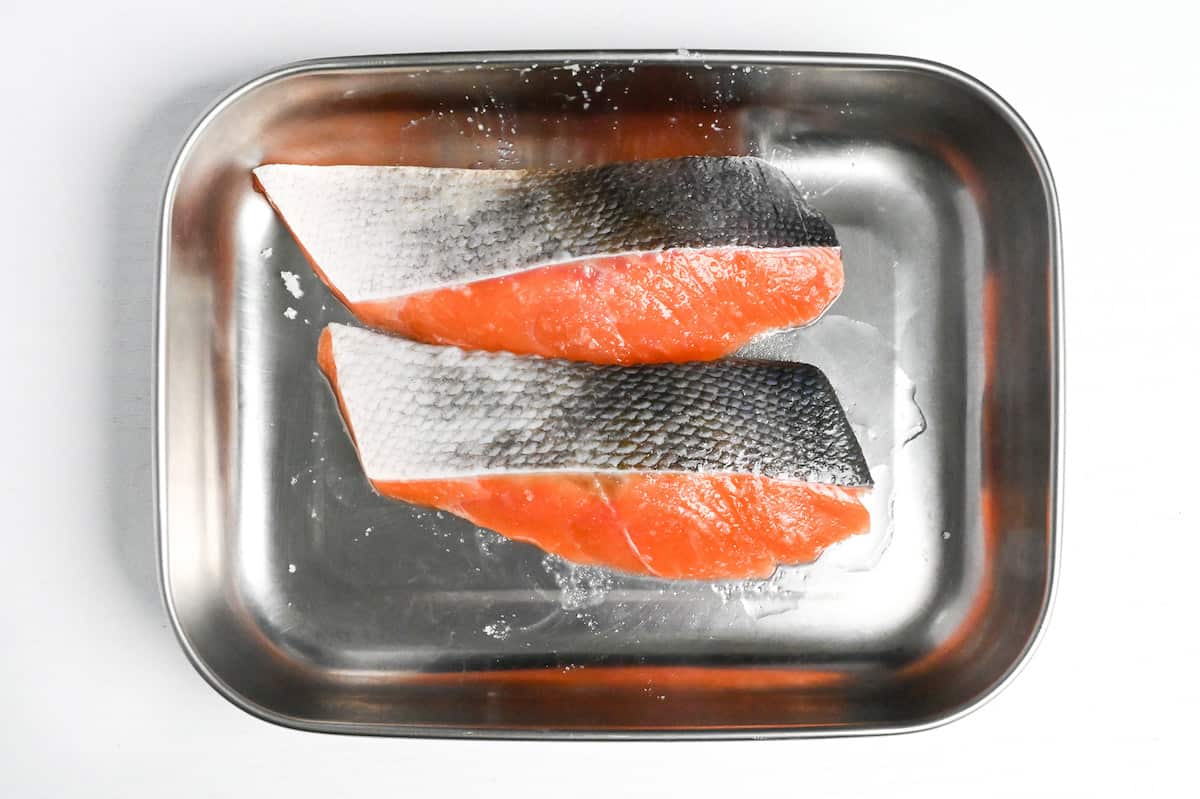 Then rub 1 tsp of sake over the salmon.
In Japan, a common tip when grilling salmon is to add sake. It's kind of funny because, in Japanese, salmon is also called sake (鮭).
Adding sake to salmon enhances its flavor, adds umami, softens the fishy smell, and improves its texture, making it more fluffy and tender.
If you can't find sake, it's okay to skip it. This technique is used to level up the salmon, but you can still make delicious Shiozake without it.
Preheat your oven grill or broiler to a medium-high setting. Gas grills usually warm up in about 5 minutes, but electric ones might take longer.
Why is preheating important?
Properly preheating the grill is essential for achieving perfectly grilled fish.
This simple tip not only prevents the fillets from sticking to the grill but also creates beautiful grill marks on the surface of the fish.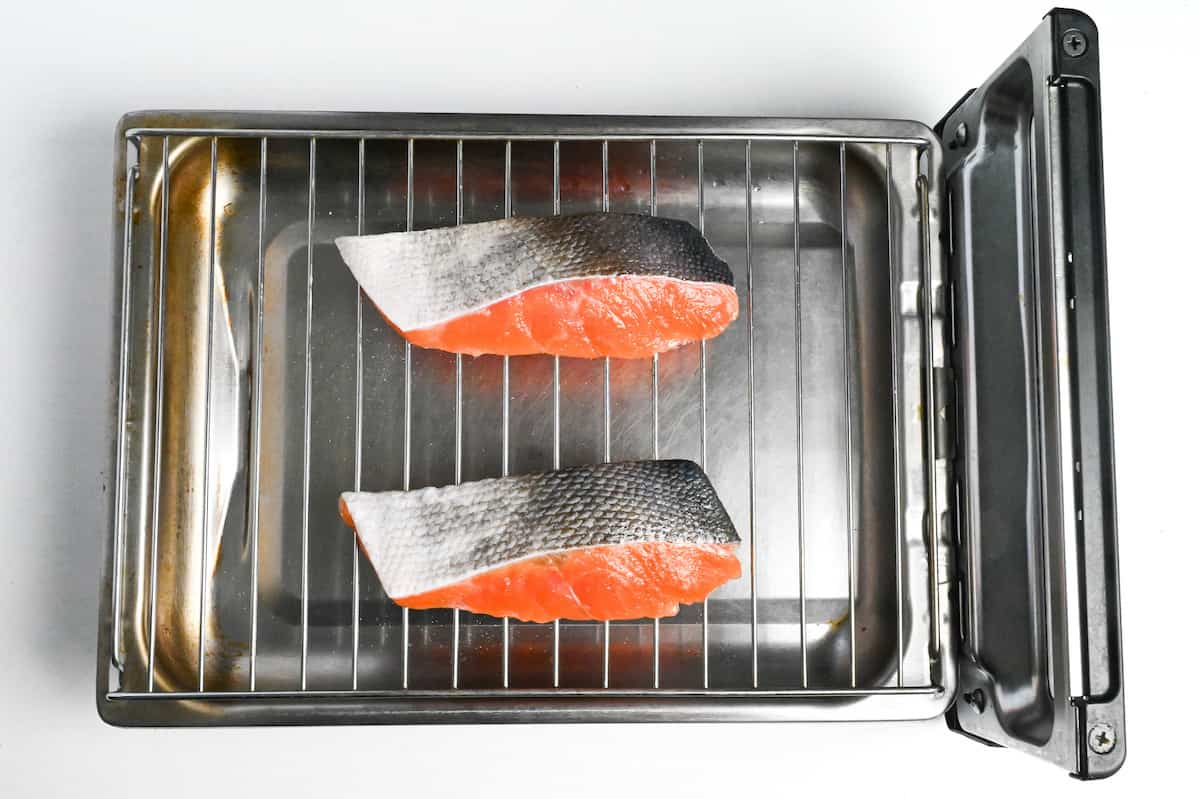 Place the salmon under the grill, skin side up. Be mindful of the grill's heat distribution and position the salmon directly underneath the heat source for even cooking.
If you want to minimize the cleaning…
When grilling salmon, you can use aluminum foil to prevent fish juice from leaking into the grill. To do this, I place the salmon on top of a piece of foil and fold the edges of the foil up to create walls.
For perfectly cooked salmon, cooking for 3-4 minutes on the skin side and then 4-5 minutes on the other side is recommended. However, the exact cooking time may vary depending on the size and thickness of the fillets.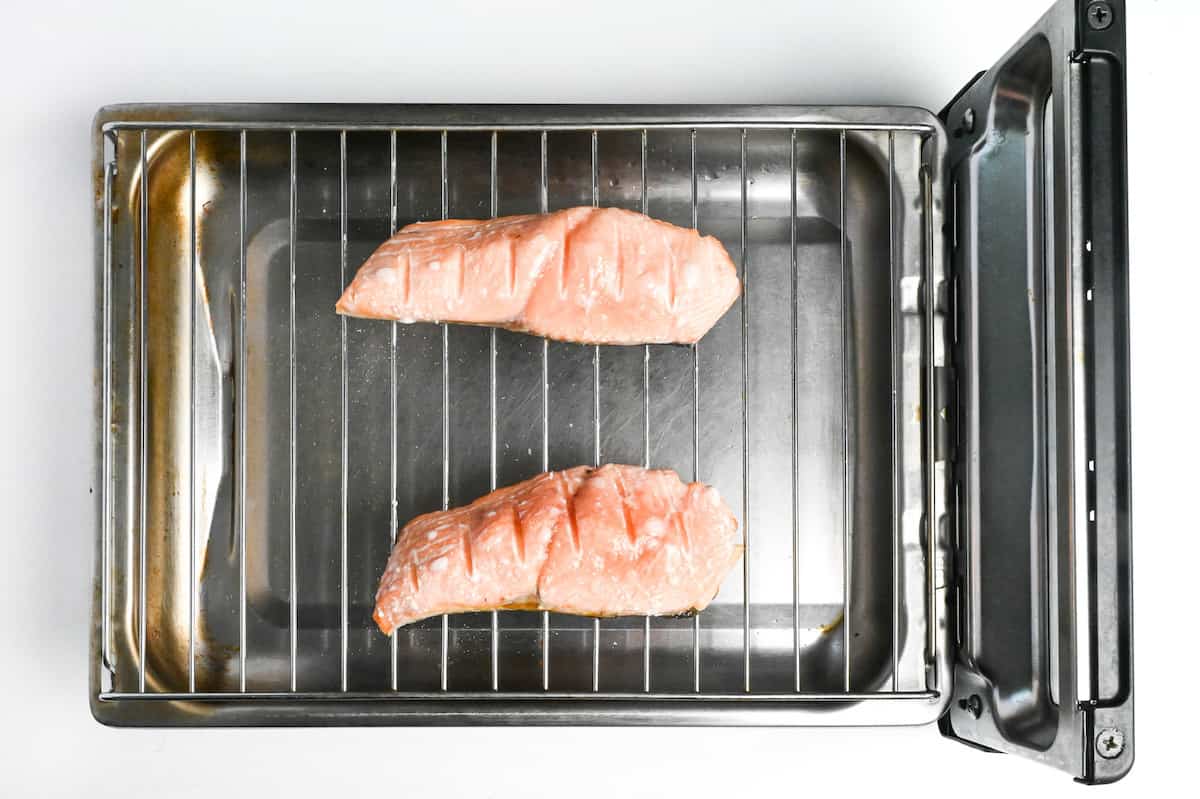 The key is to cook the skin side on medium heat until it becomes crispy, ensuring it doesn't burn. After that, flip the fillet and grill the other side until it's fully cooked.
If the meat side is still pink, reduce the heat to medium-low or low and check the salmon's doneness. You'll know it's ready when the color turns paler pink.
Perfect salted salmon should be crispy on the skin, cooked through, fluffy, juicy, and not dry.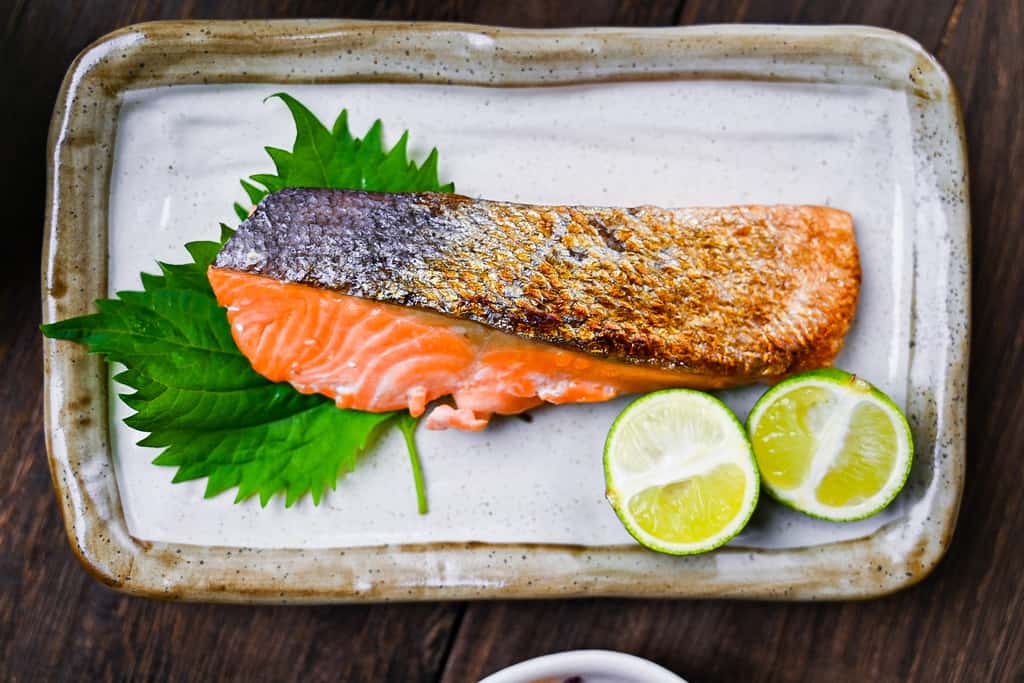 Using a Frying Pan to Cook Shiozake
Even though Shiozake is usually grilled and the recipe here shows today uses a grill, some people prefer using a frying pan for this dish. I only recommend this if you don't have a grill.
To give you more options, I will quickly go through how to cook this dish with a frying pan.
Laying baking paper out in the pan
We never use oil for cooking Shiozake, so to avoid burning the salmon fillets and prevent them from sticking to the bottom of the pan, using baking paper is recommended.
First, line the frying pan with a sheet of baking paper and then place the salted salmon fillet on top of it, skin side facing down, and cook over medium heat.
Not only is it easy to cook the salmon, but it is also much easier to wash the pan after cooking.
Cook one side for 3 minutes
With a medium heat, fry the skin side for 3 minutes.
It is important to cook with medium heat here because if you use low heat, you end up cooking for too long, and the umami will escape.
On the other hand, if you cook them with high heat, the surface will burn, but the inside is still raw.
Adding 1 tbsp of sake or water
After 3 minutes, gently turn the salmon over and sprinkle with a tablespoon of sake or water, then reduce the heat to low and cover with a lid.
Sake adds umami, makes the fish more tender, and helps soften the fishy taste and smell, but the primary purpose is steaming here, so it's perfectly fine to use water instead.
Allow the salmon to steam on low for 3 to 5 minutes (depending on the thickness), then remove the lid and turn up the heat so that the excessive moisture will evaporate.
Then, turn the fillets over again to remove the moisture from the other side.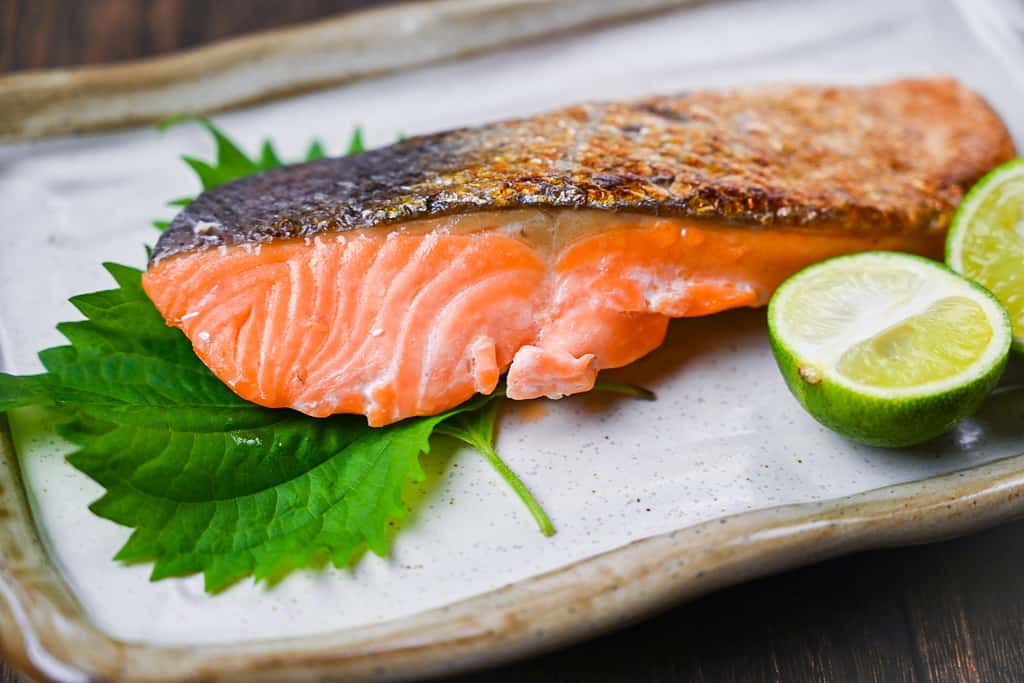 Storage
To preserve shiozake's freshness, refrigerate or freeze it. Before refrigerating, let it cool, then wrap and store it; consume within two days.
For longer storage, freeze the cooled salmon wrapped tightly in plastic. Frozen salmon lasts about a month but shouldn't be refrozen after thawing.
Thaw in the fridge for the best flavor and texture.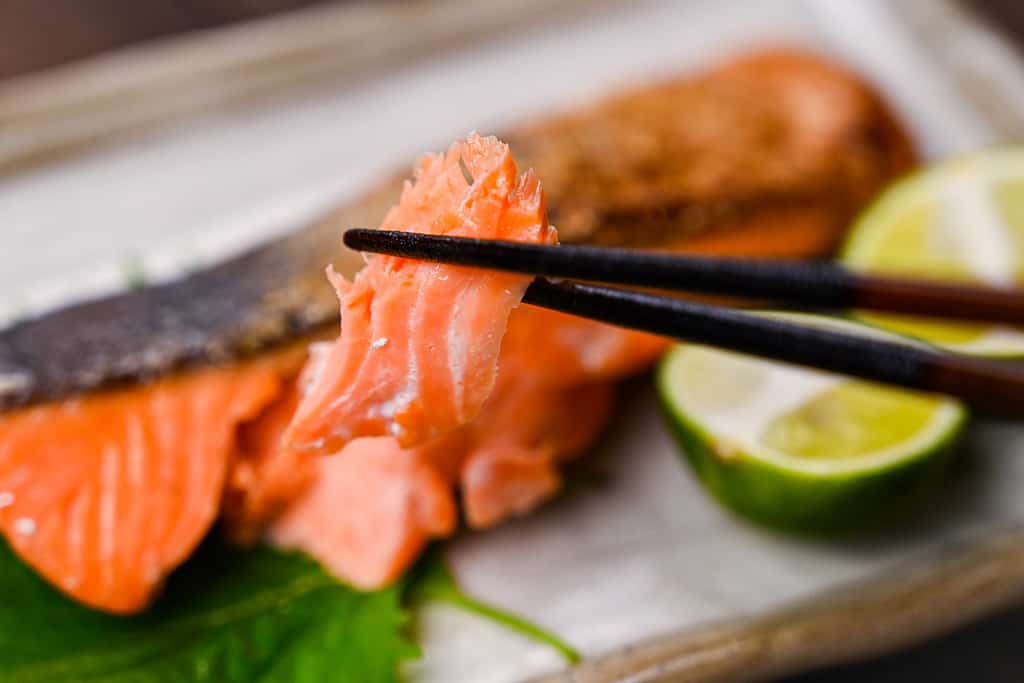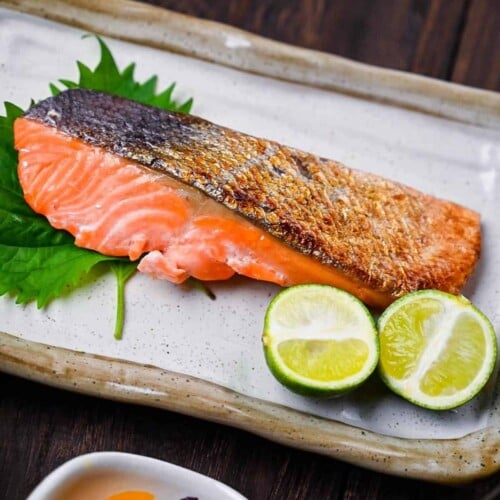 Shiozake (Japanese Salted Breakfast Salmon)
---
How to make Japanese Salted Salmon (shiozake) best served with rice, miso soup and pickles. Perfect for breakfast, lunch or dinner.
---
---
---
---
Ingredients
200

g

salmon fillets

2-4

g

sea salt

1-2% of salmon weight

1

tsp

sake

optional

1

sudachi

or other citrus – optional
Instructions
First, sprinkle

200 g salmon fillets

with

2-4 g sea salt

spread over both sides. Use your hands to rub the salt over the surface, making sure it's evenly seasoned. Store in the fridge for at least 3 hours, preferably overnight for the best flavor.

Preheat your oven grill or broiler on a medium-high setting. (Gas takes about 5 minutes, electric takes a little longer.)

Remove the salmon from the fridge and dry the surface with kitchen paper to remove any excess moisture. Rub

1 tsp sake

over the salmon to improve the texture and taste (optional).

Place the salmon under the grill with the skin side facing up. Be aware of the shape of the grill's heat source and place the salmon directly underneath to ensure even cooking. Cook for 3-4 minutes or until the skin becomes golden and crispy.

Carefully flip the salmon over, lower the heat to medium and cook on the other side for 4-5 minutes or until cooked through.

Transfer to a plate and serve with rice and miso soup. Squeeze the juice of

1 sudachi

over the salmon and enjoy!

Enjoy!
Notes
Cooking time is approximate and can vary depending on the thickness of your salmon. 
Best made with fresh salmon. If using frozen salmon, defrost it in the refrigerator before salting.
Once cooked, store any leftover salmon in the fridge and eat within 2-3 days. (Tip: Use leftovers to put in a bento, onigiri or make ochazuke!)
Nutrition
Calories:
124
kcal
|
Carbohydrates:
3.9
g
|
Protein:
18.9
g
|
Fat:
3.7
g
|
Saturated Fat:
0.8
g
|
Polyunsaturated Fat:
1
g
|
Cholesterol:
59
mg
|
Sodium:
651
mg