Butadon is a comforting dish that originates from Tokachi, a region in the northern Japanese island of Hokkaido. Made with succulent pork belly fried in a caramel soy sauce glaze and served on top of Japanese steamed white rice, not only is it delicious, but it's also quick and easy to make!
Disclaimer: This post contains Amazon affiliate links. Sudachi Recipes earn a small percentage from qualifying purchases at no extra cost to you. See disclaimer for more info.
What is Butadon?
Butadon (豚丼) is a simple yet delicious pork rice bowl dish. Pork butt or pork belly is cut into thin slices and then fried in a homemade caramel soy sauce, a little similar to teriyaki. Because this sauce has a high sugar content, the pork becomes caramelized and the texture is just amazing. The taste is complex and has a slight bitterness (in a good way).
Butadon is always made using Japanese short-grain white rice and I highly recommend using Japanese rice for donburi dishes. The sticky texture allows you to pick it up easily with chopsticks! If you're unsure how to cook Japanese-style rice, I have a post about it here (no rice cooker required!).
Finally, butadon is usually topped with green peas, edamame or "shiraganegi" (the white part of a long Japanese onion cut into strings). You can also serve it with pickles and miso soup for a complete Japanese set meal!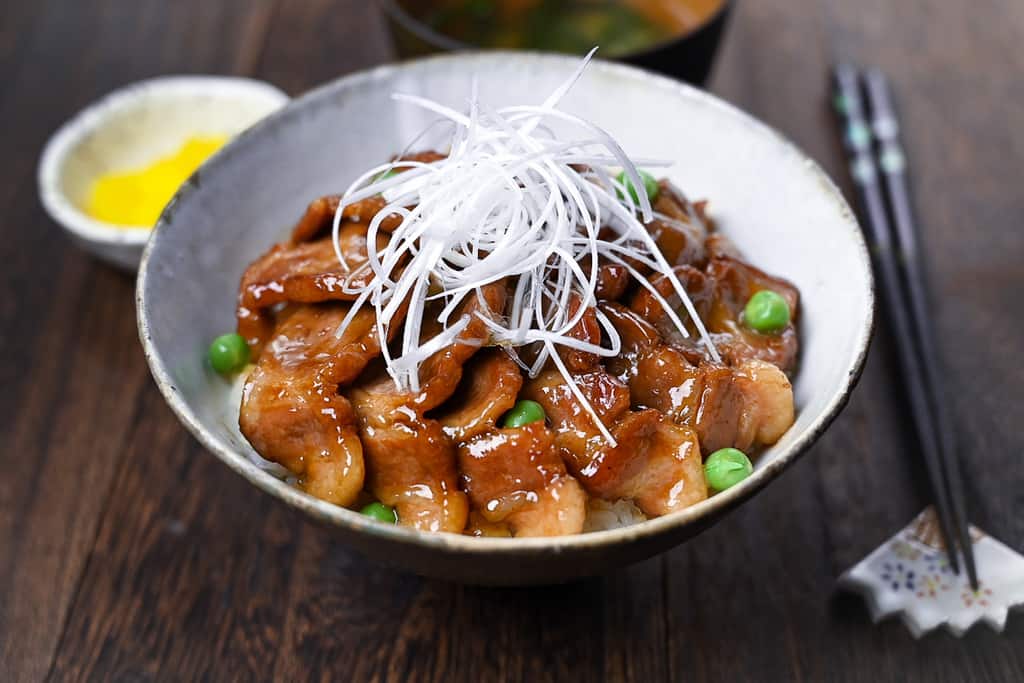 History and Origin of Butadon
Butadon originates from a region in Hokkaido called "Tokachi" (十勝). It's well known for it's high quality pork and locally grown rice, served together it creates the most comforting rice bowl dish.
Pig farming started in the early 1900's in the Tokachi region and the pork was simply steeped in sugar and soy sauce and then cooked on a grill, creating a charred effect. Although grilling is preferred, my recipe only requires a frying pan and I can promise you, it's still delicious.
Butadon is now a regional dish that Tokachi is extremely proud of, if you ever get a chance to go there you should definitely try it out!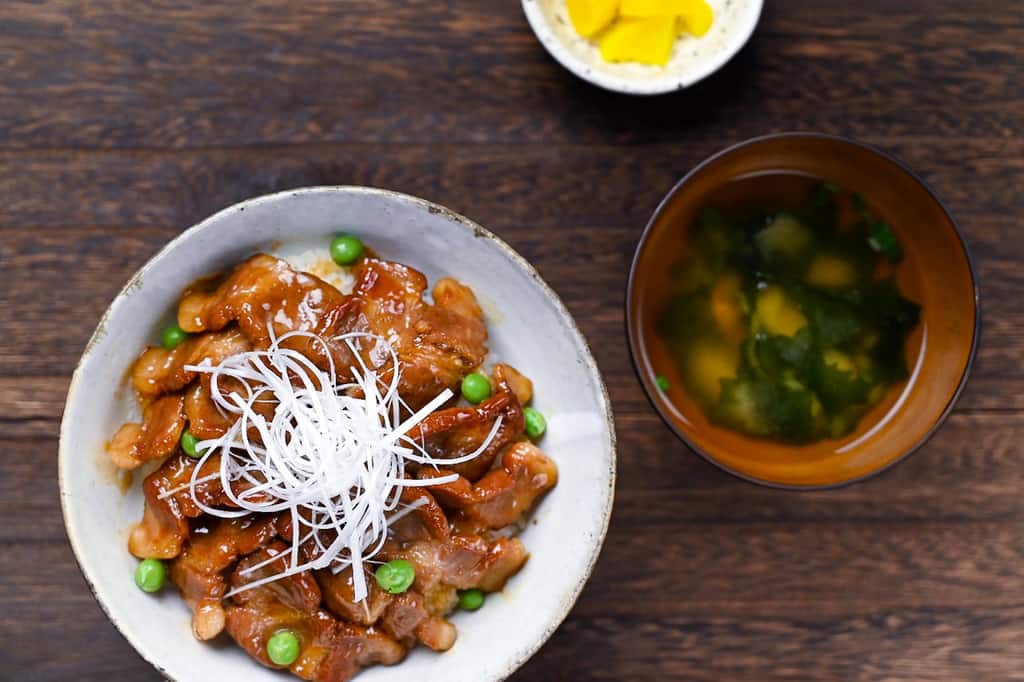 Ingredients for Tokachi Butadon
Butadon only needs a few ingredients, it's a simple and accessible dish no matter where you are in the world! Even harder to find Japanese ingredients like sake or mirin can be substituted. Read below for more information on each ingredient!
You will need:
Pork – fatty cuts work best, I recommend pork belly, butt or shoulder. I usually buy a block and cut it into thick slices myself (it doesn't need to be thinly sliced).
Japanese short-grain white rice – either cooked in a rice cooker or steamed on the stove.
Spring onion – also known as green onion, Welsh onion, long onion or "naganegi" in Japanese. The white part is cut into thin strips to make "shiraganegi", which means "white hair" and refers to how thinly it's cut. It's an iconic topping for butadon.
Green peas – another classic topping adds extra bite and color to the dish. You could also use edamame instead.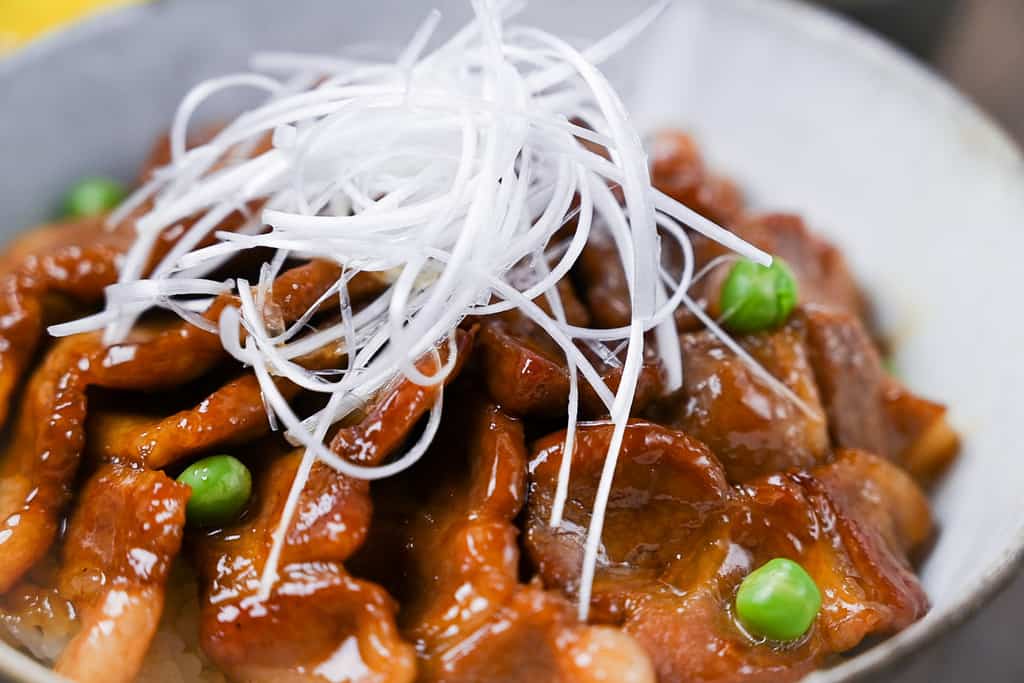 Sauce
The sauce also only requires a handful of ingredients! The Japanese ingredients should be easy to find in Asian supermarkets.
White sugar and water – needed to make the caramel from scratch. Unfortunately, you can't decrease the sugar in this recipe! Caster or granulated works best.
Soy sauce – for saltiness and umami, another vital ingredient to make the sauce.
Sake – helps soften both the taste and texture of the pork. Can be omitted (replace with water) or substituted with Chinese rice wine, dry white wine or dry sherry.
Mirin – adds extra sweetness, umami and authentic Japanese flavor. If you can't use mirin, replace it with water or a little extra sake and sugar.
Honey – another element of sweetness that also adds extra flavor and depth to the sauce.
Sake and mirin are types of alcohol made from rice and are commonly used in Japanese cooking. I can assure you that the alcohol will be burned away during the cooking process, however, if you really don't want to or can't use them you can just substitute for water to keep the consistency the same.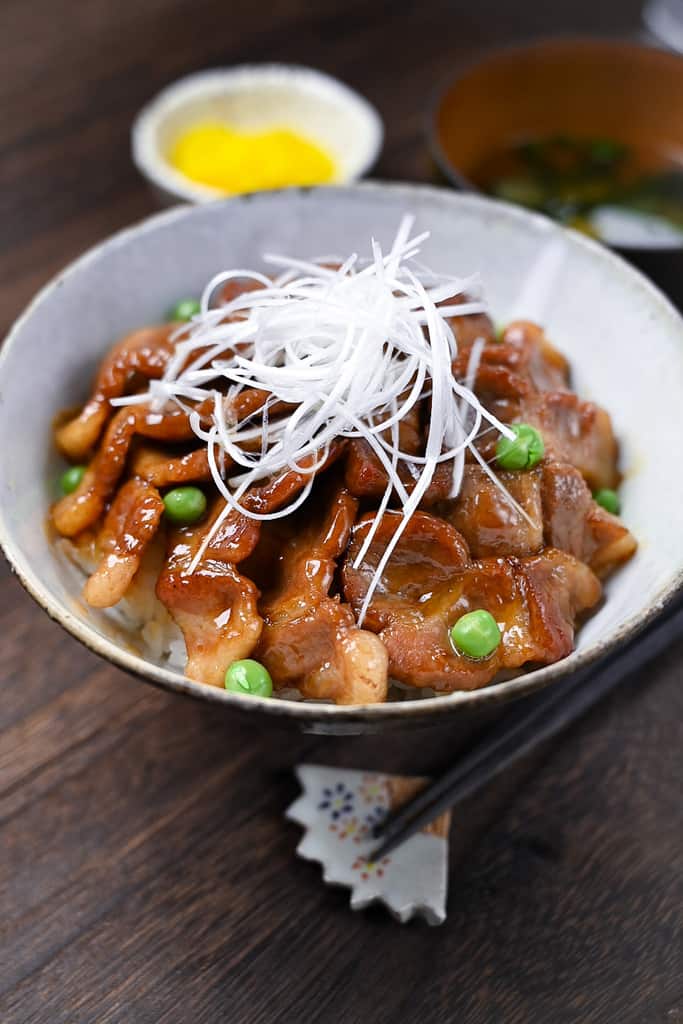 How to make Tokachi Buta Don (step by step)
Here are my step-by-step instructions on how to make Tokachi Buta Don at home like a pro! Scroll down for the ingredient quantities and printable recipe!
Prepare shiraganegi (spring onion)
Shiraganegi is made by cutting the white part of a green onion into thin strips. I usually make a single cut lengthways from top to bottom, peel off the layers and flatten them before cutting (see video for how to). Soak them in a bowl of cold water until serving time.
If you place the shiraganegi in a sieve and submerge it in a bowl of water, it will be easier to drain and dry them later!
The pork for butadon doesn't need to be thinly sliced, but it shouldn't be too thick either. I recommend buying your meat in a block and cutting it into slices about 4-5mm thick.
It's easier to cut uniformly when the pork block is properly chilled. Store it at the back of the fridge until you plan to cut it or freeze it until it's firm (not frozen). Also, be sure to use a sharp knife!
Add sugar and about 1/3 of the water to a saucepan. Mix until the sugar has dissolved and place it on the stove. Heat on medium and wait for it to turn golden. Do not mix once the heat is on as this can cause it to crystalize.
If the caramel starts to change color unevenly, move the pan so that the heat is directed at a different point. You can also swirl the pan around to distribute the heat better.
Once golden, add the other 2/3 of water and swirl it around. Stand back while you do this and be careful of splashing and sizzling. (I often wear oven gloves to protect my hands/arms just in case.)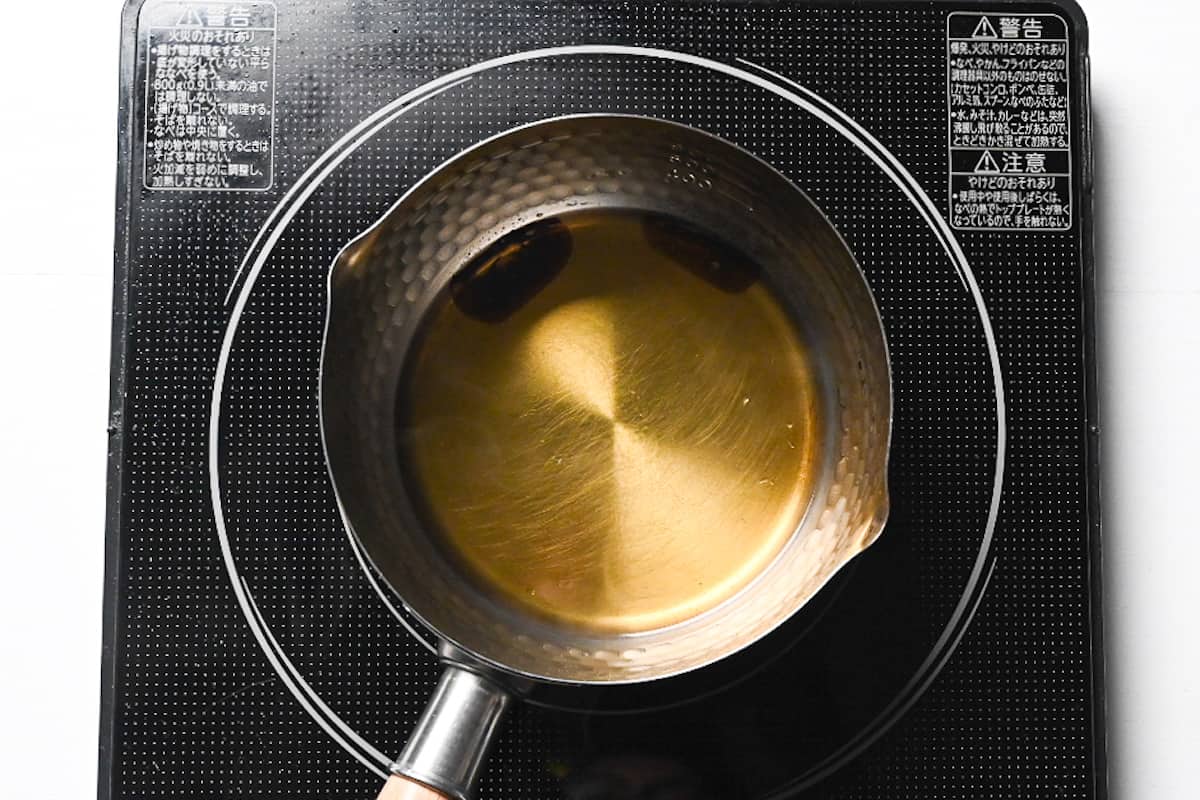 Lower the heat and add the soy sauce, sake, mirin and honey. Swirl the pan around to evenly distribute the ingredients.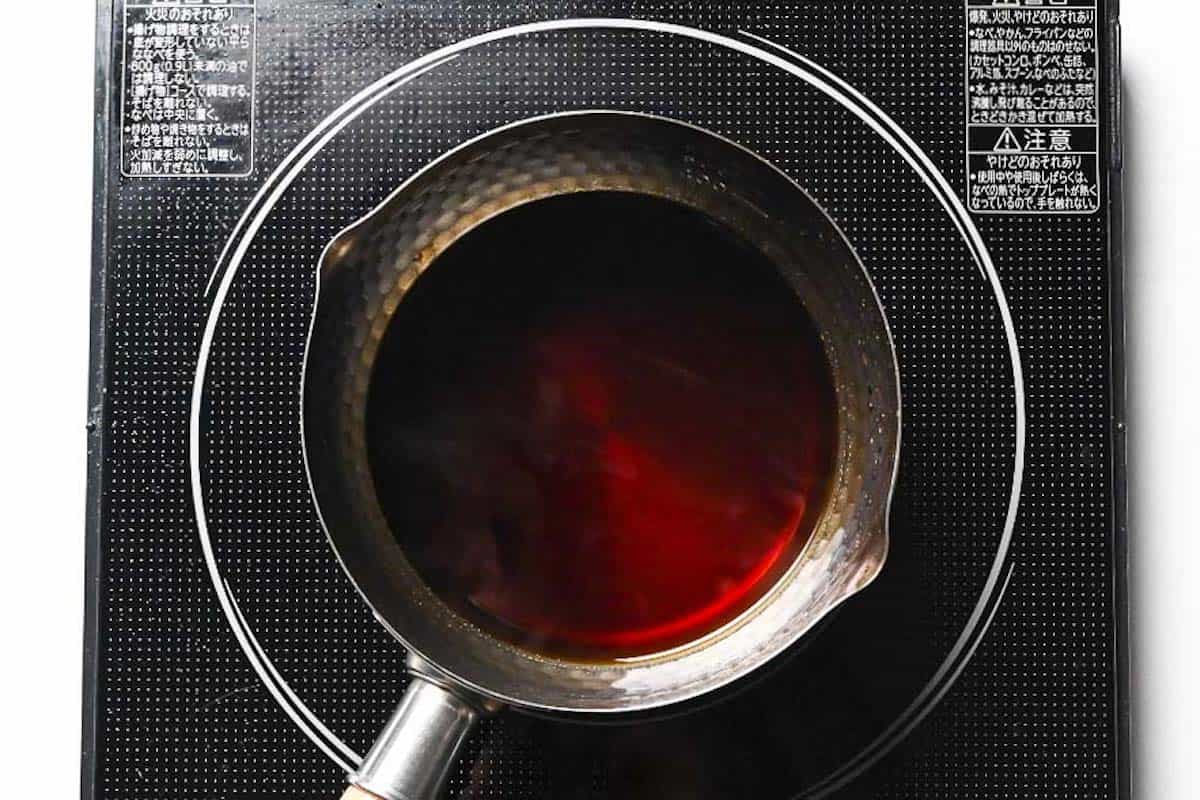 Continue to heat until slightly thickened to a syrup-like consistency. Be careful not to let it get too thick. Remove the pan from the heat and set aside for later.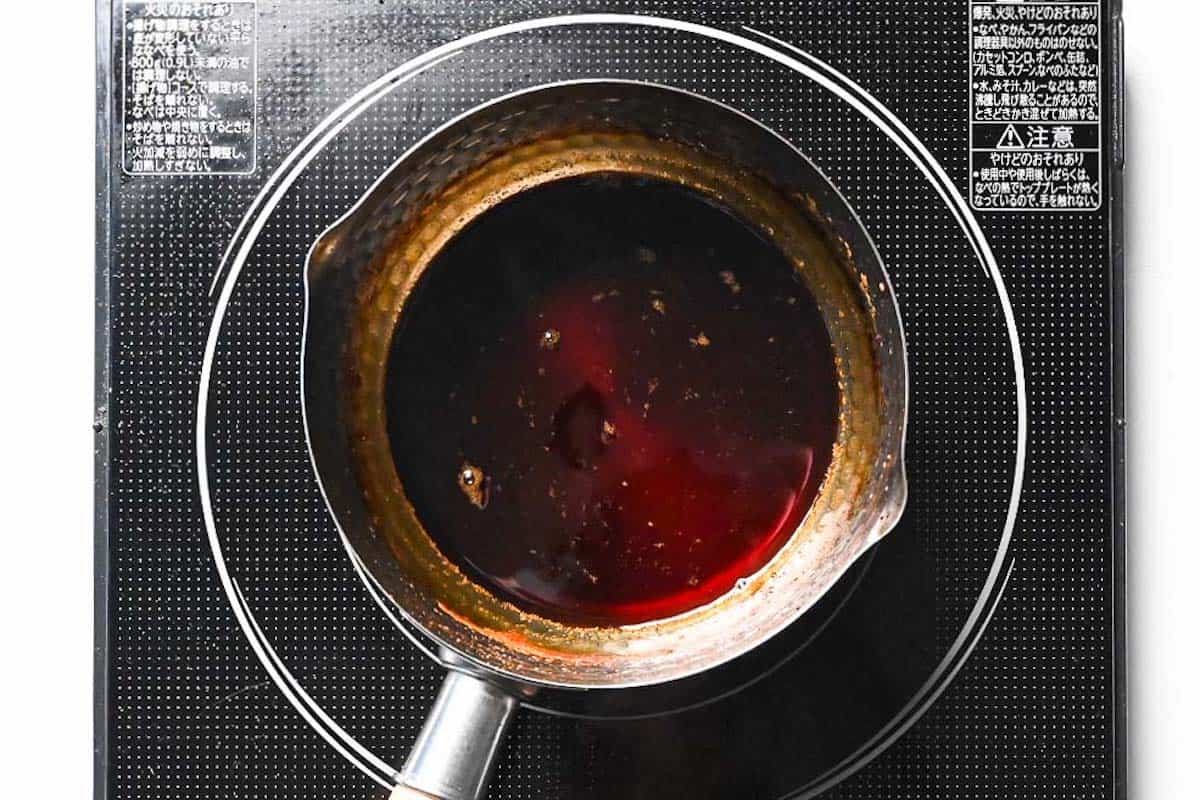 Heat a large frying pan on medium-high and once hot, add a drizzle of oil. Place the pork flat in the pan, and try to keep it to one layer.
Fry until thoroughly golden on one side and then flip.
Immediately after flipping the pork, pour the caramel sauce around the pan.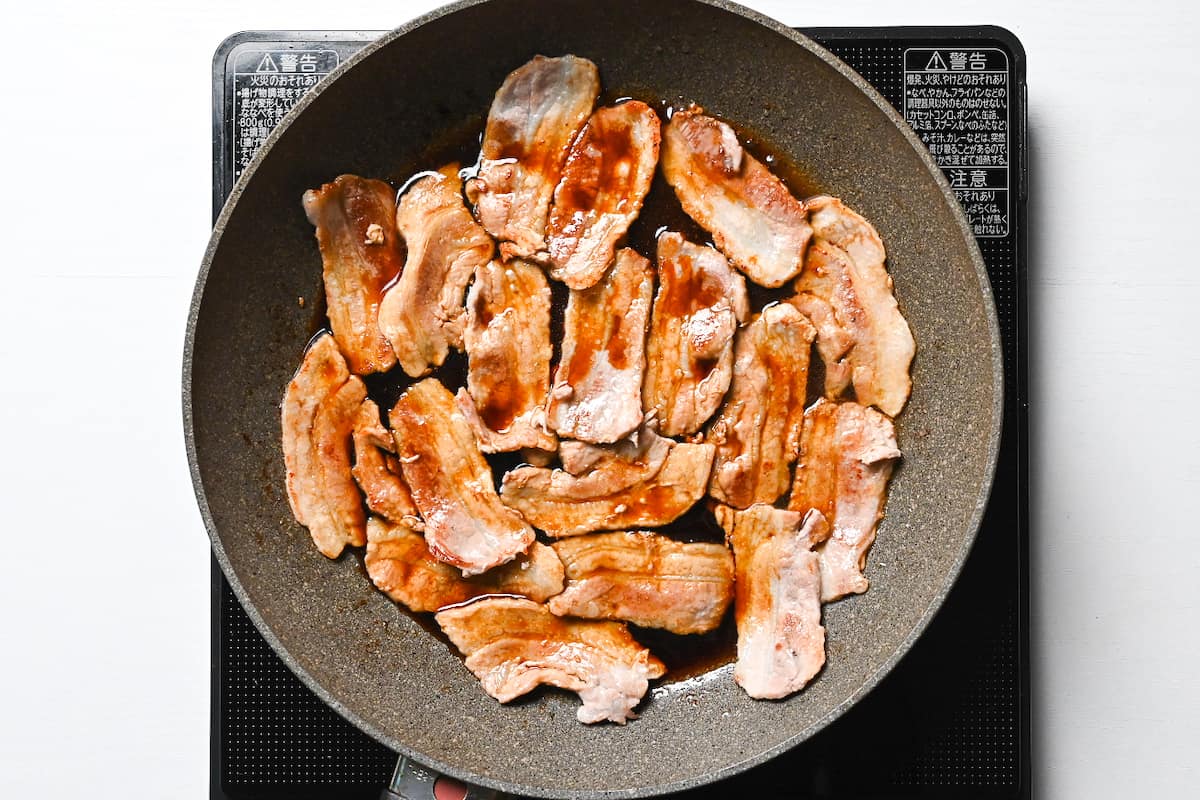 Move the pork around the pan and flip occasionally until the sauce has thickened and evenly coated both sides.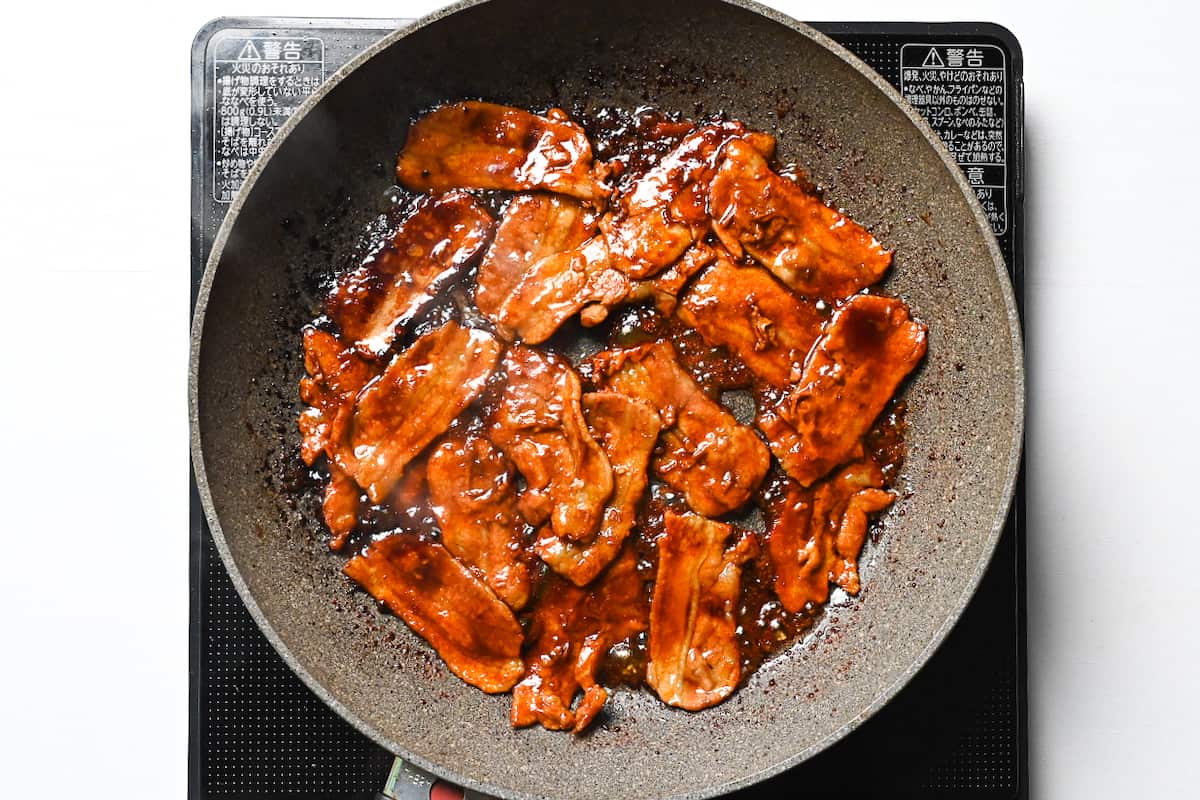 Remove the pan from the heat and move on to assembling the dish.
Divide the rice between serving bowls and arrange the pork on top. Sprinkle with green peas and place the drained shiraganegi in the middle.
Enjoy!
Tips and Tricks
Here is a summary of all my tips and tricks to achieve the perfect Tokachi Butadon every time!
For perfect Tokachi Butadon:
Soak the spring onion (shiraganegi) to soften the flavour and bitterness.
Cut the pork block while it's properly chilled, it will be easier to cut uniform pieces!
Use a silver or white pan to make the caramel, it will be easier to see when it changes color. (Don't use non-stick, the high temperature of the caramel can destroy non-stick coatings!)
Use hot water when making caramel to reduce the amount of splashing.
Wear protective clothing (oven mitts, apron, long sleeves etc) when making caramel.
Don't mix the caramel once it's on the heat. Instead, rotate the pan to move the heat source or swirl it around.
Once the soy sauce and other ingredients are added, thicken to a thin syrup-like consistency. Don't let it get too thick, otherwise you won't be able to pour it over the pork later.
Fry the pork on a medium-high heat to help achieve the golden color.
Add the caramel sauce immediately after flipping the pork to prevent overcooking.
More Donburi Recipes
If you enjoyed this butadon dish, check out some of my other rice bowl recipes!
I hope you enjoyed this recipe! If you tried it out, please let me know what you thought by leaving a review and star rating in the comments below. It's also valuable to me and other readers if you mention any changes you made to the recipe. Thank you so much!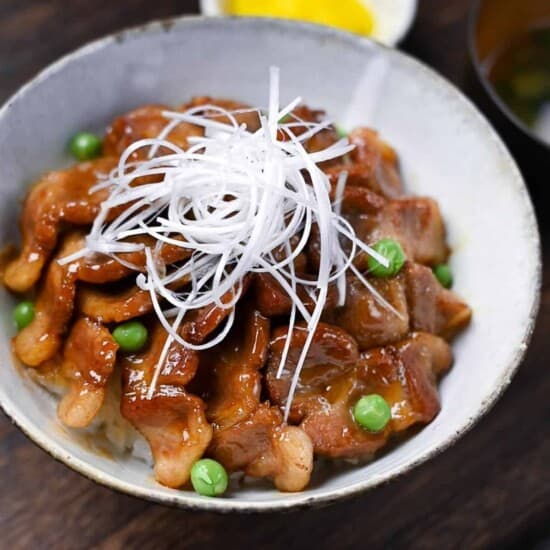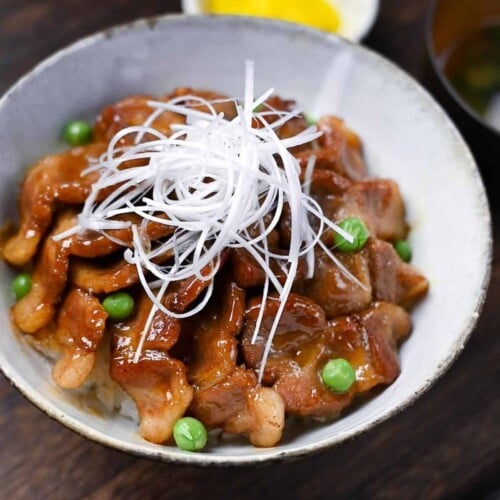 Tokachi Butadon (Hokkaido Pork Rice Bowl)
---
How to make comforting and delicious Tokachi Style Butadon (Pork Rice Bowl). Succulent pork belly fried in a caramel soy sauce, served on a steaming bowl of white rice and topped with onion strings and green peas. (Does not include time/instructions for cooking rice.)
---
---
---
---
Instructions
Cut

30 g green onion(s)

(white part) into thin strips to make "shiraganegi". Place in a bowl of cold water and set aside until later.

Cut

300 g pork belly block

into thick slices about 4-5mm thick (a little less than 1/4 inch).

Measure out

60 ml water

. Take a saucepan and add

15 g sugar

and about 1/3 of the water. Mix until the sugar has dissolved.

Place the pan on the stove and heat on medium. Once it's on the stove, avoid mixing and instead, turn or swirl the pan around to prevent burning. Once it turns golden, add the rest of the water and swirl it around. (Be careful of splashing, protect your skin with oven mitts and long sleeves.)

Reduce the heat to medium-low and add the

25 ml soy sauce

,

1 tsp sake

,

1 tsp mirin

and

1 tsp honey

.

Continue to heat until it reaches a thin syrup-like consistency ,and then turn off the heat and set aside for later.

Heat a frying pan on medium-high, once it's hot, add

2 tsp cooking oil

. 

Place the pork slices in the pan (try and keep it to one layer) and fry until golden brown on one side.

Flip the pork slices and pour the caramel sauce all over. 

Move the pork around in the caramel sauce and continue to heat until thickened and the pork is fully covered. Once done, remove from the heat.

Dish up

2 portions cooked Japanese short-grain rice

in serving bowls and arrange the pork slices on top. Garnish with the shiraganegi and

cooked green peas

(or edamame). 

Enjoy!
Notes
I recommend using a silver or white sauce pan to make the caramel so you can easily see it change color. Avoid using pans with non-stick coatings as the high temperature of caramel can damage them.
Nutrition
Calories:
817
kcal
|
Carbohydrates:
67.5
g
|
Protein:
18.5
g
|
Fat:
53
g
|
Saturated Fat:
19.8
g
|
Polyunsaturated Fat:
5.6
g
|
Cholesterol:
87.5
mg
|
Sodium:
932
mg
|
Fiber:
2.3
g
Frequently Asked Questions
What does Butadon mean?
"Buta" (豚) is the Japanese word for pig or pork, "don" is short for "donburi"(丼) which means rice bowl. So together it simply means pork rice bowl.
What cut of meat do I use for Butadon?
I recommend a fatty cut of pork, preferably pork belly, butt or shoulder. Lean cuts tend to get dry/tough in this dish.
Where can I try Butadon in Japan?
If you have a chance, you should try butadon in the region it's famous for! Tokachi in Hokkaido!