This Japanese chicken salad is made with a perfectly tender and juicy chicken breast served over fresh salad vegetables, boiled eggs and drizzled with my special homemade Japanese dressing. It's extremely easy to make a packed with nutrients!
What is Japanese Chicken Salad?
Japanese chicken salad is exactly what is says on the tin, a simple salad made with chicken and vegetables with some Japanese element added. However, to tell you the truth, "Japanese Chicken Salad" is technically not a real dish. Sure, there are tonnes of chicken dishes that we eat with salad, but the term "chicken salad" is not really used in Japan.
To make the salad "Japanese", we need to cook the chicken using Japanese methods and add a Japanese salad dressing we call "wafu dressing" (和風ドレシング). Today I will be showing you how to make a Japanese style chicken salad specifically with an ingredient we call "salad chicken". It's simple, nutritious and easy to make too!
What is "Salad Chicken"?
The first element of my Japanese Chicken Salad recipe is something we call "Salad Chicken" (サラダチキン). Salad chicken is the Japanese term for skinless chicken breast that has been boiled or steamed with distinctive seasonings.
Chicken breast is actually the cheapest and least popular part of the chicken Japan. This is because other fattier cuts like thigh are of course, juicier and tastier whereas chicken breast has a reputation of being dry or lacking in flavour. However, by steaming or boiling, chicken breast can become tender and succulent, and seasoning well before cooking ensures that the flavour is absorbed right to the core.
Salad chicken is a low calorie, high protein dish and can be used in a variety of recipes. You can find it in any Japanese convenience store or supermarket and it comes in a variety of flavours.
Actually, in recent years, Japanese people have been becoming more health conscious and foods that are rich in protein and low in fat have been growing in popularity. One of the dishes that has benefited from this boom is salad chicken, which is why you can now find it in so many flavours!
Salad chicken is great for a quick meal or can even be eaten as a snack. It's also extremely easy to make at home too, all you need is a microwave!
Japanese style "Wafu" Dressing
The second important element of this recipe is the dressing. Japanese style dressings are generally known as "wafu" (和風) and usually contain typical condiments used in every day Japanese cooking such as soy sauce, mirin, miso paste etc. It's also common to add fragrant ingredients such as garlic or ginger to give them more punch. Japanese dressings don't tend to contain herbs so much.
Wafu dressing is the key to giving this salad some Japanese flair!
Next let's look at the ingredients.
Japanese Chicken Salad Ingredients
This recipe is made up of three parts: the chicken, the wafu dressing and the salad itself. Here I will explain what ingredients you will need for each element.
Salad Chicken
To achieve flavourful and succulent chicken breast, I make a kind of marinade to cook it in. For this, I use the following ingredients:
Chicken breast – make sure it's skinless and remove any tendons. If its a particularly large piece, you might need to cut it in half. (Each piece should be no more than 250g.)
Salt – for sprinkling and adding to the "marinade"
Corn starch – to coat the chicken and improve the texture. Corn starch helps the meat retain its moisture and become extra soft.
Chinese chicken stock powder – improves flavour and adds umami. (I use Youki's Garasupu)
Sake – makes the chicken more tender and softens odors. If you can't get sake, use dry white wine or sherry instead.
Mirin – for sweetness and umami.
Sugar – additional sweetness.
Wafu Dressing
My wafu dressing combines Japanese flavours with some Western ingredients. For this recipe I use the following ingredients:
Soy sauce – Japanese koikuchi (dark) soy sauce works best.
Mirin – adds sweetness and umami. The alcohol content is cooked away by boiling the dressing in a saucepan for 1-2 minutes.
Sugar – for sweetness and slightly thickens the sauce.
Sesame seeds – for a nutty flavour and nice presentation.
Toasted sesame oil – adds a nutty flavour and helps the dressing coat the salad more evenly.
Olive oil – adds richness and helps the dressing coat the salad more evenly.
Garlic paste – a small amount for flavour!
Lemon juice – helps create a balanced flavour.
White pepper – compliments the chicken.
Chicken juices – the leftover cooking juices are added to the dressing at the end. This adds depth of flavour and avoids waste!
Salad Ingredients
There's no real rule for what vegetables to use with salad chicken and it's easy to customize. I personally use:
Broccoli – steamed in the microwave for a short time so it's still quite crunchy (instructions on how to do this in the recipe).
Boiled eggs – cooked to your preference. I cooked mine for 7-8 minutes to achieve a slightly soft yolk.
Mini tomatoes – large tomatoes also work just fine!
Mixed leaves – lettuce, radicchio, baby spinach etc.
Feel free to switch up or omit ingredients to suit your tastes. Other great options are ingredients like cucumber, avocado, cabbage etc.
How to Make Japanese Chicken Salad
Here are my step by step instructions on how to make Japanese Chicken Salad and Wafu Dressing from scratch! For the ingredient quantities, see the printable recipe card at the bottom of the page.
Salad Chicken
Start by drying the chicken with kitchen paper.
Use a fork to pierce both sides thoroughly. Not only does this tenderize the meat but it also helps it absorb more flavour from the marinade.
Next, sprinkle with salt and rub the surface with a thin layer of corn starch on both sides.
Take a microwavable bowl and add the sake, Chinese chicken stock powder, sugar, mirin and salt. Mix well.
Place the chicken breast in the bowl and place plastic wrap loosely over the top. Microwave for 2 mins at 600W.
Carefully peel back the plastic wrap and turn the chicken breast over. Cover tightly and microwave for another 2 minutes at 600W.
Once microwaved, the final and most important step is to leave the chicken in the microwave for 10 minutes without opening the door. During these 10 minutes, the chicken will continue to cook in the steam and residual heat. If you take it out too early, there's a good chance the chicken won't be cooked. In the meantime, you can prepare the dressing and vegetables.
Wafu Dressing
Add the soy sauce, mirin and sugar to a small saucepan and bring to a boil.
Let it boil for about 30-40 seconds to burn off the alcohol in the mirin and dissolve the sugar, then remove it from the heat.
Mix the other ingredients
Take a jug and add the sesame seeds, sesame oil, olive oil, garlic paste, lemon juice and white pepper.
Swirl the pan around to help cool it slightly and then pour the soy sauce, mirin and sugar mixture into the jug.
When the chicken has finished the 10 minutes of steaming time, transfer it to a chopping board and pour the juices left in the bottom of the bowl into the dressing.
Mix thoroughly and store in the fridge until serving time.
Assemble the salad
If using broccoli, wash it and cut it into florets. Place them in a microwavable bowl with 1 tbsp of water and cover. Microwave for 3 minutes at 600W.
Be careful of the steam when uncovering.
Cut the chicken into slices. This is not only for presentation and easy eating, but also a good opportunity to ensure it's fully cooked in the middle.
Arrange your choice of vegetables into serving bowls and place the chicken on top. I also placed soft boiled eggs around the edge.
Mix the dressing again before drizzling it over the chicken and vegetables.
Enjoy on its own or as a side!
Tips and tricks
As chicken breast has a reputation for being dry, one of the most important elements of salad chicken is maintaining the moisture. Here are a few tips and tricks I use to ensure the chicken breast stays moist and tender!
Follow these tips for perfect salad chicken
Remove the skin – chicken skin becomes rubbery when microwaved. I usually fry it in a frying pan and enjoy it as a snack!
Remove tendons – to make sure every slice of chicken is melt in the mouth soft!
Cut larger chicken breasts in half – if it weighs over 250g then cut in half to ensure it cooks all the way through and increase the cooking time by 30 seconds on each side.
Pierce the chicken thoroughly all over – to ensure the marinade can be absorbed. This also allows the steam to reach the thicker parts of the chicken which helps it cook more evenly.
Use sake in the marinade – this helps tenderise meat as well as neutralise any odors, that's why it's commonly used in Japanese marinades!
Turn the chicken half way through – I cook for 4 minutes in total (600W), turning after 2 minutes. I know the microwaving time seems short, but the steaming time is more important. Microwaving the chicken for too long can cause it to dry out.
Don't open the microwave door – the chicken will continue to cook in the steam. If there are any holes in the plastic wrap and you open the door, all the steam will escape and the chicken will stop cooking.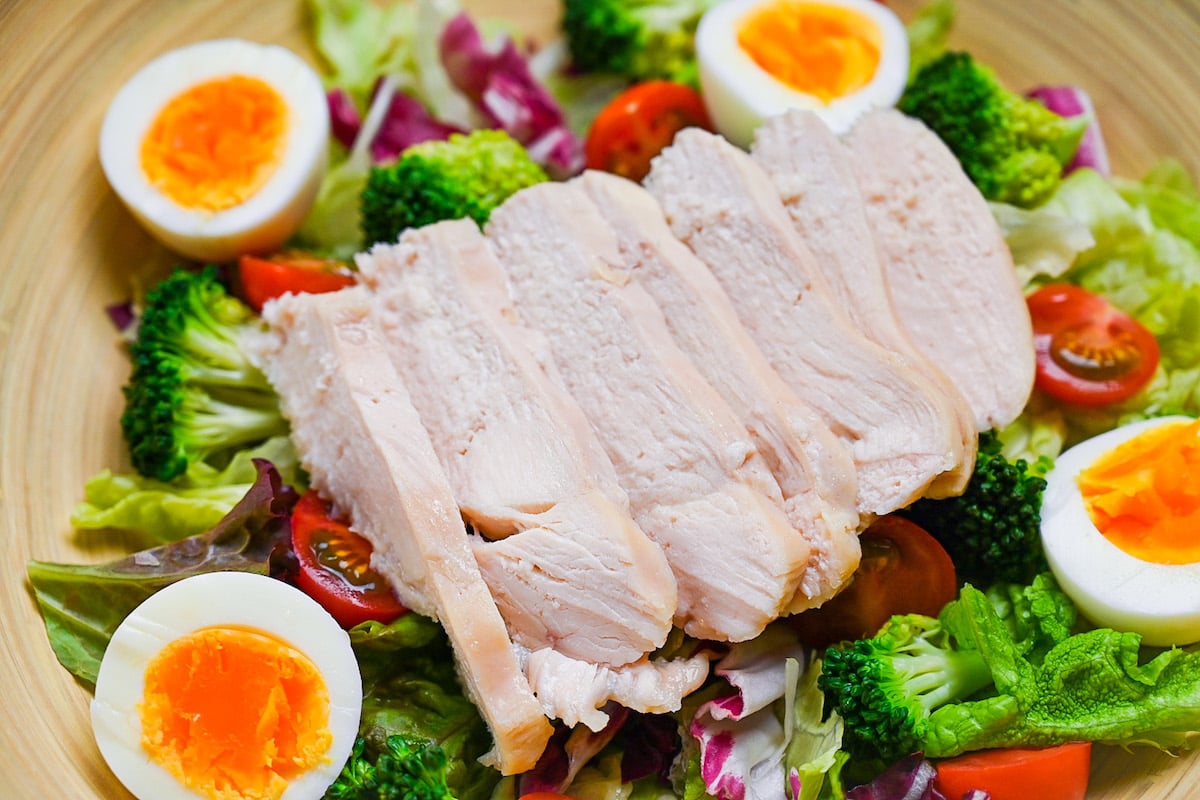 How do I know if the chicken is cooked through?
Chicken breast is fully cooked when an instant-read thermometer reads 73ºC or 165ºF in the thickest part. However since the chicken is left to finish cooking slowly in the steam, it might be difficult to get an accurate temperature once its done.
This recipe is served with the chicken cut into slices, and it should have no pink spots when it's cut. If you notice any parts are undercooked, return it to the microwave and cook in 30-second increments until fully cooked.
Additionally, microwave times vary depending on wattage and the exact cooking time depends on the size of the chicken breast. I find that giving each 250g chicken breast 4 minutes at 600W with 10 minutes of steaming time creates a soft and juicy result. If using a larger chicken breast, cut it in half, place them in the bowl together and increase the cooking time by 1-2 minutes (30 seconds – 1 minute on each side). If using chicken tenderloins (approx 100g each), reduce to 3 minutes per tenderloin and remember to turn halfway through.
If you find the chicken is dry, that probably means you microwaved it too long. Make a note of the weight and how long you microwaved it for, you can use it to adjust your cooking times next time.
Storing
Once cooked, you can store leftover salad chicken in the fridge for 3-4 days or up to 1 month in the freezer. To defrost, thaw overnight in the fridge. Stored chicken should be wrapped thoroughly with plastic wrap and stored in an airtight container or ziplock bag.
The dressing can be kept for 5 days in the fridge so feel free to make it in advance!
If making this dish in advance, store all the prepared ingredients separately and assemble right before eating.
Serving Suggestions
Japanese salad chicken is versatile and goes with many different dishes, not only salad! Here are a few of my favorite ways to enjoy salad chicken.
Shio Ramen (Ramen noodle soup with salt-based broth)
Typically, ramen dishes are topped with a melt-in-mouth piece of tender braised pork called "chashu". Chashu can be difficult and time-consuming to make, so salad chicken is a great alternative! I especially recommend serving it on this shio ramen with a salt-based broth, it really lets the chicken shine through!
Somen Noodle Soup
Looking for a refreshing alternative to ramen? Well, look no further than this delicious somen noodle soup served in a light, chilled broth flavored with citrus. Salad chicken is a perfect topping for this zingy summer dish!
Hiyashi Chuka (Ramen Noodle Salad)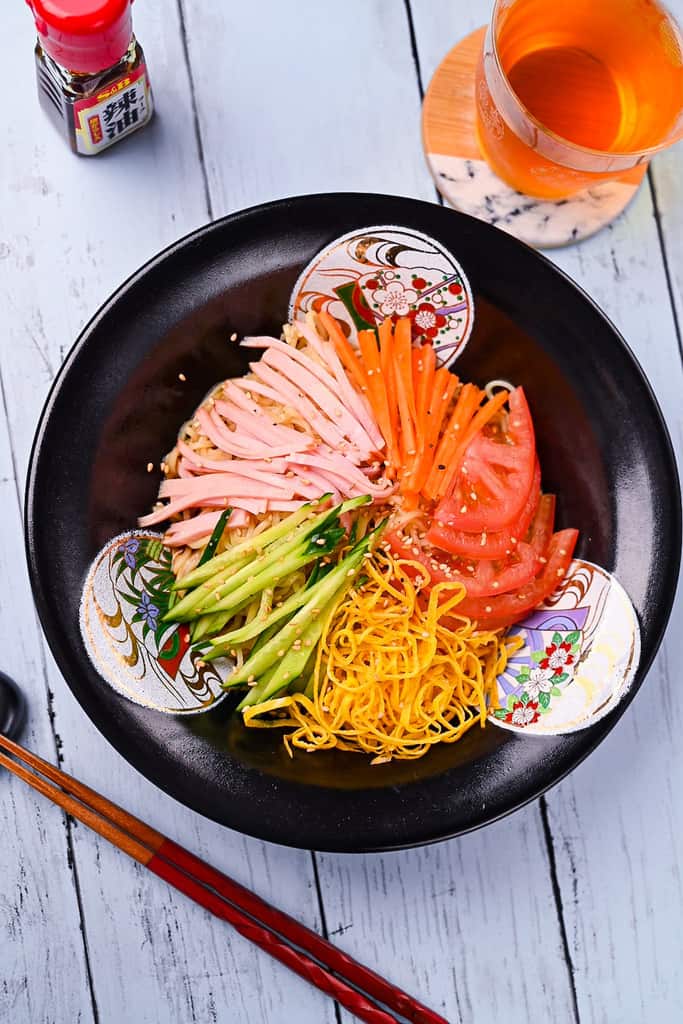 Not sure if you want noodles or salad? Enjoy the best of both worlds with this delicious Hiyashi Chuka made with ramen noodles topped with strips of crunchy vegetables and egg crepe. It's often made with ham or imitation crab, but salad chicken cut into thin strips makes a perfect substitution!
Tried this recipe? I would really appreciate it if you could spare a moment to let us know what you thought with a review and rating in the comments below. Thank you so much!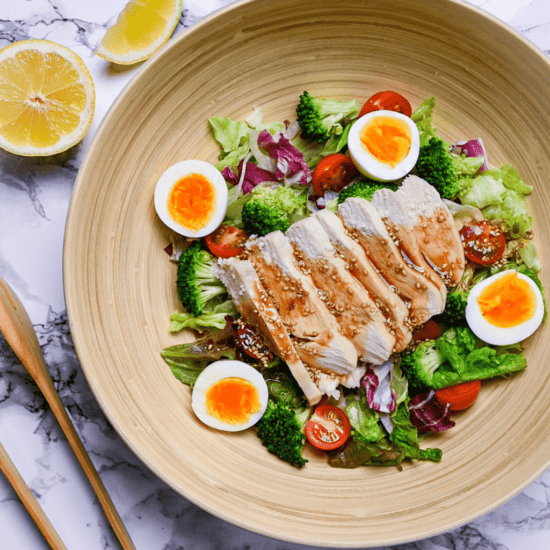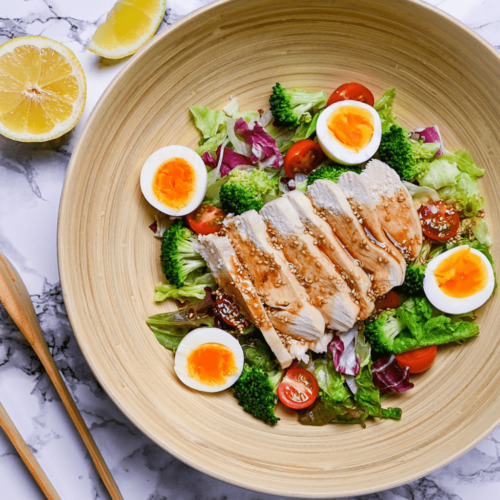 Japanese Chicken Salad (with homemade dressing)
---
How to make a light, refreshing and nutritious chicken salad with Japanese style "salad chicken" and homemade soy based dressing.
---
---
---
---
Ingredients
Salad Chicken
250

g

chicken breast

2

pinches

salt

1

tsp

cornstarch

½

tbsp

sake

½

tsp

salt

¼

tsp

sugar

1

tsp

mirin
Homemade Wafu Dressing
1

tbsp

soy sauce

1

tbsp

mirin

1

tsp

sugar

½

tbsp

white toasted sesame seeds

½

tbsp

sesame oil

½

tbsp

olive oil

½

tsp

garlic paste

½

tsp

lemon juice

1

pinch

white pepper

juice from the chicken
Suggested Salad Ingredients
2

boiled egg

200

g

broccoli

steamed, bitesize florets

150

g

mixed leaf lettuce

100

g

mini tomatoes
Instructions
Dry the surface of

250 g chicken breast

with a paper towel.

Stab with a fork all over on both sides.

Sprinkle both sides with

2 pinches salt

and

1 tsp cornstarch

.

Take a microwavable bowl and add

1/2 tbsp sake

,

1 tsp Chinese-style chicken bouillon powder

,

1/4 tsp sugar

,

1 tsp mirin

and

1/2 tsp salt

. Mix well. 

Add the chicken breast to the bowl and place cling film loosely over the top. Microwave for 2 mins on 600W.

Flip the chicken over (be careful of the steam), place the cling film tightly back on and heat for another 2 mins 600w.

Leave the bowl in the microwave and allow the chicken to rest in the steam for 10 minutes. It will continue to cook in the residual heat.

To make the dressing, add

1 tbsp soy sauce

,

1 tbsp mirin

and

1 tsp sugar

together in a small saucepan. Heat up and allow to boil for 30 seconds, then remove from the heat.

Take a jug and add

1/2 tbsp white toasted sesame seeds

,

1/2 tbsp sesame oil

,

1/2 tbsp olive oil

,

1/2 tsp garlic paste

,

1/2 tsp lemon juice

and

1 pinch white pepper

. Pour the contents of the sauce pan into the jug and mix.

Remove the chicken from the microwave, transfer it to a chopping board and leave to cool for a few minutes. Pour the chicken juices from the bowl into the dressing and mix.

Once the chicken is cool to the touch, cut into slices.

Arrange your salad vegetables in a large bowl and place the chicken on top.

Drizzle with sauce just before serving.

Enjoy!
Notes
To quick steam the broccoli, wash thoroughly, cut into bitesize pieces and place in a microwavable bowl. Add 1 tbsp of water and lightly wrap with clingfilm (or place a plate on top) and microwave for 3 minutes on 600W. Be careful of the steam when uncovering.
Wrap and store leftover chicken in the refrigerator, consume within 3-4 days or freeze and use within 1 month.
Cover and store leftover dressing in the refrigerator for up to 5 days.
Nutrition
Calories:
387
kcal
|
Carbohydrates:
22.8
g
|
Protein:
43.1
g
|
Fat:
15.7
g
|
Saturated Fat:
3.3
g
|
Polyunsaturated Fat:
3.4
g
|
Cholesterol:
279
mg
|
Sodium:
1719.5
mg
|
Fiber:
6.7
g