Taco rice is a delicious and vibrant fusion dish that hails from Okinawa. Made with Japanese white rice topped with taco style ground beef, fresh salad, crispy tortilla chips and a soft boiled egg, taco rice is quick to make and every bite is packed with flavour!
Disclaimer: This post contains Amazon affiliate links. Sudachi Recipes earn a small percentage from qualifying purchases at no extra cost to you. See disclaimer for more info.
What is Taco Rice?
Taco Rice, known as "takoraisu" (タコライス) in Japanese, is one of the most famous regional dishes to come from Okinawa. This dish made with sticky Japanese style rice and topped with typical taco ingredients seasoned with Japanese condiments creates a surprisingly delicious fusion dish that combines the best flavours and textures from Tex-mex and Japanese cuisine.
Quick and easy Okinawa style taco rice
Visually colorful dish
Sweet and spicy sauce for the mince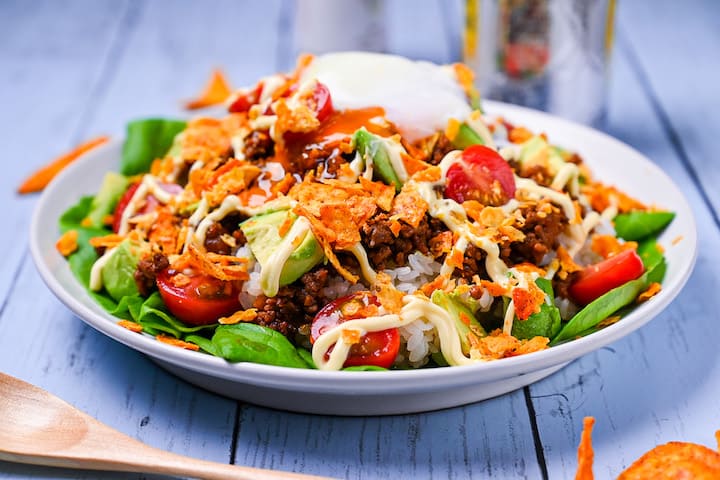 History of Taco Rice
Taco rice originates from the southwestern prefecture of Okinawa. Okinawa is made up of a group of subtropical islands called "Ryukyu Islands" which are located south west of Kyushu, lying between Japan and Taiwan.
Since WW2, Okinawa became home to the largest U.S. military base in Japan and this had a huge impact on the culture and food. The Americans brought their love for tacos and by using local ingredients, taco rice was born!
The first taco rice was created by a chef named Matsuzo Gibo in 1984. He owned a restaurant located near the U.S. military base and wanted to create a dish that would be popular amongst the American military. Combining their love for tacos with Japanese rice was some simple genius on his part and taco rice became a well loved dish, not only in Okinawa, but across all of Japan!
Apparently it's even served in school lunches in Okinawa!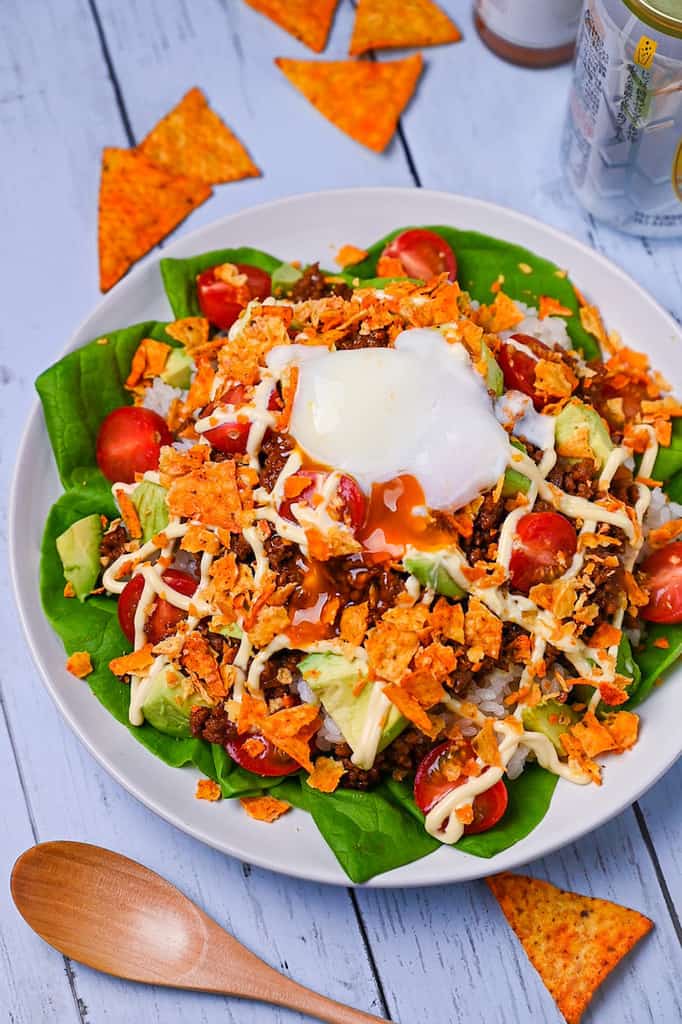 Taco / Tako confusion in Japanese language
In Japan, Mexican tacos are known as "takosu" (タコス), we use the plural form even if it's just one "taco". However, for some reason, this dish is called "taco rice" not "takosu rice". This can cause some confusion since the word "tako" (タコ) sounds exactly the same and means "octopus" in Japanese.
When I was a kid, I saw Okinawan taco rice on a TV drama and my immediate thought was…"If it's called "tako" rice, why does it not have octopus!?" Now that I'm older, it's obvious that taco does not mean octopus here. But hopefully you understand the confusion I went through as a kid!
Taco rice variations in Okinawa and above
Okinawa's famous taco rice has spread beyond its borders, delighting taste buds all over Japan! Restaurants have put their own creative spin on this dish, making it even more exciting. Check out some of these interesting variations:
Taco Rice Omelet: The omelette is wrapped around the taco rice and is served with cheese and sauce.
Taco Rice Salad: Swap out the rice for a fresh salad base, like lettuce or cabbage, for a lighter, healthier version of the dish.
Taco Rice Doria: Taco rice ingredients are placed in a oven proof dish, covered with cheese and baked. The cheese melts and gives the dish a gratin-like texture. If you want to know more about doria, check out my seafood doria or Milano style doria recipes!
Taco Rice Pizza: Top pizza dough with taco rice ingredients, bake with cheese, and voila – an interesting pizza fusion!
Taco Rice Burger: Swap the burger patty for tasty taco meat, then sandwich it with vegetables and sauce between two buns.
Taco Rice Rolls: Mix taco meat and vegetables with rice, wrap it all up in nori seaweed, and enjoy a unique Japanese twist on taco rice.
Some of them are not that famous, but the possibilities for taco rice are endless.
Okinawan Taco Rice Ingredients
Preparing this taco rice recipe is both convenient and efficient, as it utilizes ingredients that are easily accessible worldwide. In this section you will find a list of ingredients for each part of the recipe.
General taco rice ingredients
First, the basic ingredients for this taco rice are as follows:
Cooked white rice – since this is an Okinawan dish, it's only natural that it uses Japanese style white rice. You can learn more about cooking Japanese rice here.
Lettuce – Frilly lettuce is great for presentation and adds a nice crunch.
Avocado – ripe and slightly soft is best!
Grated cheese – I recommend a mild and meltable cheese such as Cheddar or Gouda
Tortilla chips – Lightly salted or flavoured depending on your preference.
Japanese Mayonnaise – For drizzling at the end, adds a creamy taste. (I use Kewpie brand.)
Soft boiled eggs (or onsen tamago) – adding an egg is typical for "cafe style" taco rice.
Taco Seasoning
While taco seasoning is pretty accessible in Okinawa, it wasn't so easy to find in mainland Japan back then. Even these days, you can only really find it in big supermarkets or import stores and the selection is limited, not to mention pricy.
Because of this, Japanese people had to be creative and used local ingredients and condiments to create a taco-like taste with a Japanese twist.
In my recipe I use the following condiments to season the beef:
Sake
Sugar
Tomato ketchup
Chili powder
Of course, it's fine to use premade taco seasoning, but if you want your taco rice to have more of a Japanese flavor, you should definitely try my recipe! You'll be surprised how good it is!
Spicy tomato
Finally, I make a simple "salsa" using just three simple ingredients!
Tomato – I use mini tomatoes cut into halves or quarters. You could also cut a large tomato into small cubes.
Lemon juice – I recommend freshly squeezed for the best flavour, but from a bottle also works here.
Chili sauce – Be sure to use your favourite chili sauce, you can add more or less depending on your spicy tolerance!
Simply mix the ingredients in a bowl and let them soak for a while. Go ahead, give it a try – you won't be disappointed!
Instructions on how to make Okinawan taco rice
Taco rice is such an easy and comforting dish, you can throw it together in 20 minutes or less! (Recipe doesn't include cooking rice.) Here are my step by step instructions with pictures, see the recipe card at the bottom of the page for the ingredient list.
Easy "salsa"
To make the shortcut salsa, cut the tomatoes and add them to a bowl with lemon juice and chili sauce. Mix well and rest in the fridge until it's time to serve.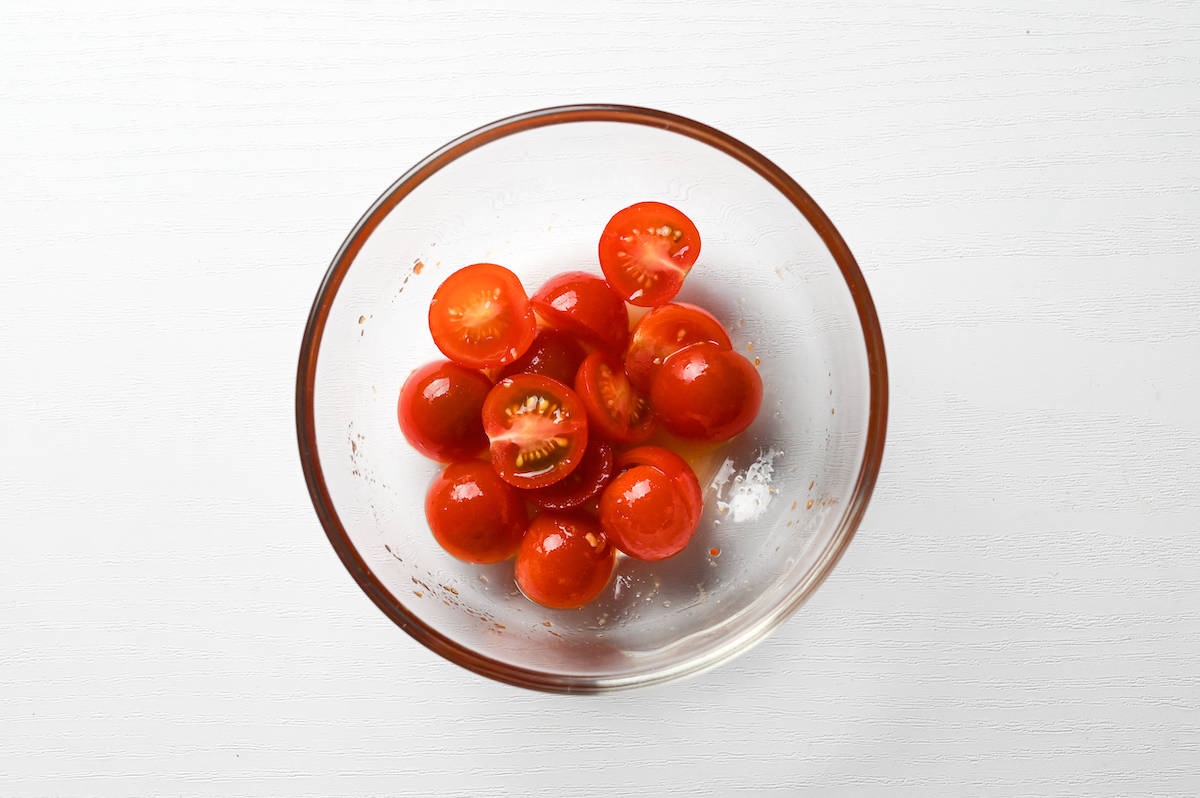 I used mini tomatoes cut into halves, but feel free to use a large tomato cut into cubes to make it more salsa-like.
Japanese style taco mince
Heat a large frying pan on medium and once hot, add a drizzle of oil. Add the onion and garlic and fry until the onion becomes slightly soft and transparent.
Next, add the mince meat and fry until browned.
Once the meat is cooked, season with soy sauce, sake, sugar, Worcestershire sauce, ketchup and chili powder. Mix well and continue to cook until the sauce is reduced by half.
Assemble
Once the taco style meat is cooked, you're already ready to assemble!
Rip the lettuce by hand and arrange it around the edge of each plate, then place a portion of rice in the middle.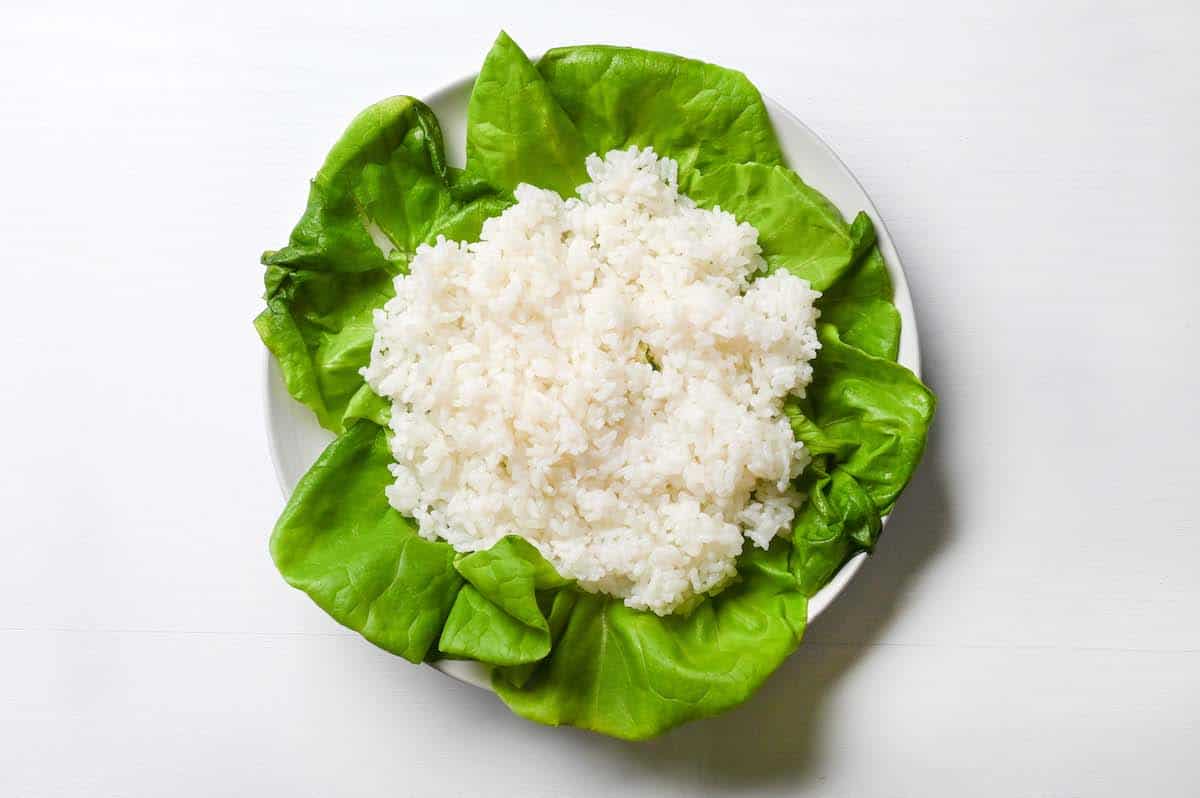 Next add the Japanese style "taco meat".
Scatter the easy "salsa" and cubed avocado over the top.
Finally top with crushed tortilla chips, grated cheese, a drizzle of mayonnaise and a soft boiled egg.
And enjoy this ultimate Okinawan comfort dish!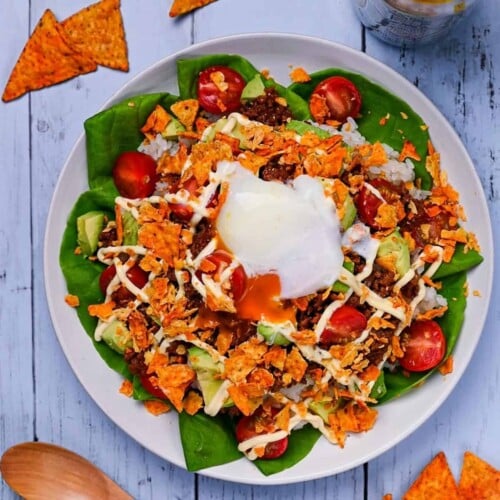 Okinawa Taco Rice And Cheese (Cafe Style)
---
How to make delicious, colorful Okinawa Style Taco Rice. (タコライス) Japanese rice topped with seasoned beef, fresh salad vegetables, crispy tortilla chips and an onsen egg. (Recipe doesn't include cooking rice.)
---
---
---
---
Ingredients
Easy "salsa"
150

g

tomato(s)

or mini tomatoes, halved

1

tsp

lemon juice

¼

tsp

chili sauce of your choice
Japanese Style Taco Mince
1

tsp

cooking oil

neutural oil

1

garlic clove

minced

100

g

yellow onion(s)

finely diced

150

g

ground beef

1

tbsp

sake

1

tsp

sugar

2

tsp

soy sauce

2

tbsp

Worcestershire sauce

2

tbsp

tomato ketchup

1

tsp

chili powder
Taco Rice
2

portions

cooked Japanese short-grain rice

preferably white rice

100

g

lettuce

50

g

avocado(s)

cubed

2

tbsp

grated cheese

cheddar cheese or gauda cheese

30

g

tortilla chips

crushed

1

tbsp

Japanese Mayonnaise

optional

2

soft-boiled egg(s)

optional
Instructions
In a small bowl, mix

150 g tomato(s)

,

1 tsp lemon juice

and

1/4 tsp chili sauce of your choice

. Rest in the fridge until serving time.

Heat the pan on medium and once hot, add a drizzle of

1 tsp cooking oil

.

Add

100 g yellow onion(s)

and

1 garlic clove

to the pan and cook until the onion becomes slightly soft and transparent.

Next, add

150 g ground beef

to the pan and fry until browned.

Once the mince is cooked through, add

2 tsp soy sauce

,

1 tbsp sake

,

1 tsp sugar

,

2 tbsp Worcestershire sauce

,

2 tbsp tomato ketchup

and

1 tsp chili powder

. Mix thoroughly and cook until the sauce is reduced by half.

Rip

100 g lettuce

by hand and arrange them around the edge of each plate, leaving the middle empty.

Place

2 portions cooked Japanese short-grain rice

in the middle of the lettuce leaves and top with the taco style meat.

Scatter the tomato "salsa" and

50 g avocado(s)

decoratively over the top.

Sprinkle with

2 tbsp grated cheese

and

30 g tortilla chips

, then drizzle with

1 tbsp Japanese Mayonnaise

and top with

2 soft-boiled egg(s)

.

Serve and enjoy!
Nutrition
Calories:
846
kcal
|
Carbohydrates:
91.2
g
|
Protein:
37.7
g
|
Fat:
40.9
g
|
Saturated Fat:
14.38
g
|
Polyunsaturated Fat:
3.46
g
|
Cholesterol:
85.5
mg
|
Sodium:
1831
mg
|
Fiber:
8.6
g
FAQ
Why is taco rice popular in Okinawa?
Taco Rice is popular in Okinawa for its unique blend of American and Okinawan cultures, originating near an American military base. This tasty, easy-to-make dish is perfect for home cooking and street food. Its simple ingredients create a delicious combination of spicy taco flavors and comforting rice. Taco Rice is also versatile, allowing for various ingredients and cooking styles that add a fresh spin to Okinawan cuisine. All these factors contribute to its widespread popularity on the island and beyond.
Is taco rice from Okinawa?
Yes, taco rice originated in Okinawa. Born near an American military base, this dish is a unique fusion of Okinawan and American cultures, blending their flavors in a delicious and exciting way.
Where did taco rice come from in Okinawa?
Taco rice was created in Kincho, a town near the U.S. military base Camp Hansen in Okinawa. Gibo Matsuzo, founder of u0022Parlor Senri,u0022 invented the dish. His restaurant was in the lively area right outside Camp Hansen's gate.
What is taco rice made of?
Taco rice is made with cooked rice, taco meat (ground beef stir-fried with spices and seasonings), fresh vegetables such as lettuce, tomatoes, and onions, shredded cheese, and a spicy tomato-based salsa sauce. By layering the taco meat, vegetables, cheese, and salsa sauce on top of the cooked rice, you create a delicious dish that can be easily customized with your favorite ingredients and toppings.
What food is Okinawa famous for?
Famous Okinawan dishes include Goya Chanpuru (bitter melon stir-fry), Soki Soba (Okinawan-style noodles), Rafute (stewed pork cubes), Mimiga (stewed pig ears), Jushi (rice cooked with pork), and Sata Andagi (Okinawan doughnuts). These dishes, made with unique ingredients and cooking techniques, are loved by locals and tourists alike.