Niku no yasai itame is a delicious and fragrant Japanese stir fry dish made with thinly sliced meat and a variety of vegetables cooked in an savoury, umami-rich sauce. It's quick to cook, nutritious and tastes so good!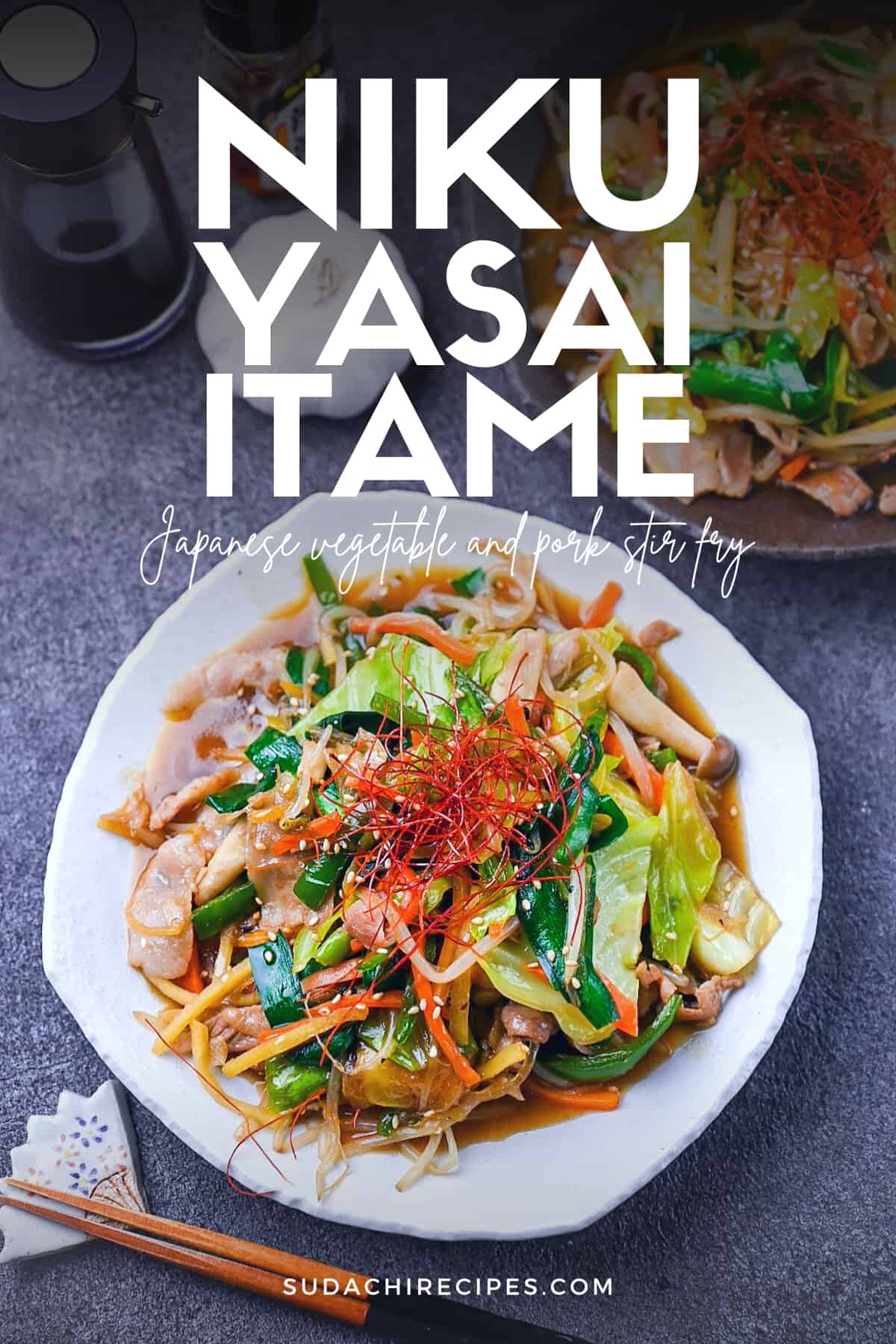 Disclaimer: This post contains Amazon affiliate links. Sudachi Recipes earn a small percentage from qualifying purchases at no extra cost to you. See disclaimer for more info.
What is yasai itame?
Yasai itame is a simple Japanese stir fry dish made with vegetables and meat. The full name is actually "niku no yasai itame" which when translated literally means meat (肉 – niku) and vegetable (野菜 – yasai) stir fry (炒め – itame).
The vegetables are actually the main ingredient in this dish and because of this, it's more commonly known as "yasai itame" or "vegetable stir fry". However, this can be a little misleading as the dish nearly always contains meat, most commonly, thinly sliced pork.
The point to make here is that the pork is not the star ingredient and you could easily substitute it for something else or omit completely.
Yasai itame is often served with rice and pickles.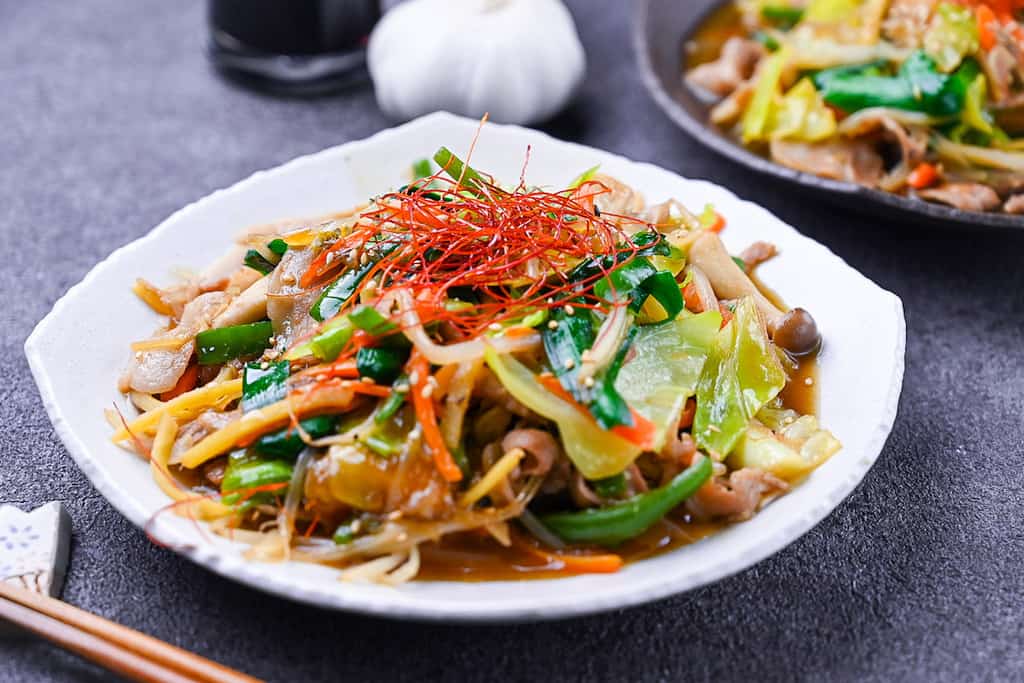 A brief history of yasai itame
Stir fry as a cooking method became common practice in households in Japan from the 1950s and 1960s onwards, especially during the period of high economic growth.
The main reasons for its popularity are believed to be the lower price of cooking oil at the time, the effect of satisfying children's big appetites at a low cost by adding more vegetables and less meat, and the fact that it is quick and simple to prepare. It is also easily customisable and a great way to use up leftovers.
Since then, yasai itame has definitely become one of the most widely cooked home recipes in Japan.
Ingredients to use for yasai itame
As with many stir fry dishes, there's no real rule when it comes to the ingredients. You can add and omit whatever you like to suit your tastes. In this section I will break down the ingredients for the stir fry, sauce and substitutions.
Meat and vegetables
Here are the ingredients I personally use in my recipe:
Pork belly (thinly sliced)
Garlic cloves
Fresh ginger
Shimeji mushrooms
Carrot
Onion
Green cabbage
Beansprouts
Chinese chives
Piman (small Japanese bell pepper)
Sesame seeds (optional garnish)
Chili threads (optional garnish)
Sauce
This dish is cooked with a glossy and umami packed sauce. For the sauce I use:
100ml Chinese chicken soup stock (1 tsp bouillon powder mixed with 100ml warm water)
2 tsp oyster sauce
1 tsp soy sauce
½ tsp salt
2 tsp sugar
Slurry (1 tbsp water and 1 tbsp of potato starch)
Substitutions
The beauty of stir fry dishes is the fact you can customize them easily! Here are a few ideas for additional ingredients and substitutions.
Pak choi
Chinese cabbage (napa cabbage)
Shiitake mushrooms
Wood ear mushrooms
Bell peppers
Tenderstem brocolli
Baby corn
Bacon
Firm tofu
To make this dish vegetarian, you'll need to substitute chicken stock for vegetable stock or something similar, oyster sauce for "vegetarian oyster sauce" (usually made with mushrooms) and omit the meat.
There are no rules so feel free to use any stir fry vegetables that are easily accessible to you! One thing to note: Be careful when adding vegetables with a high water content since they can make the dish soggy.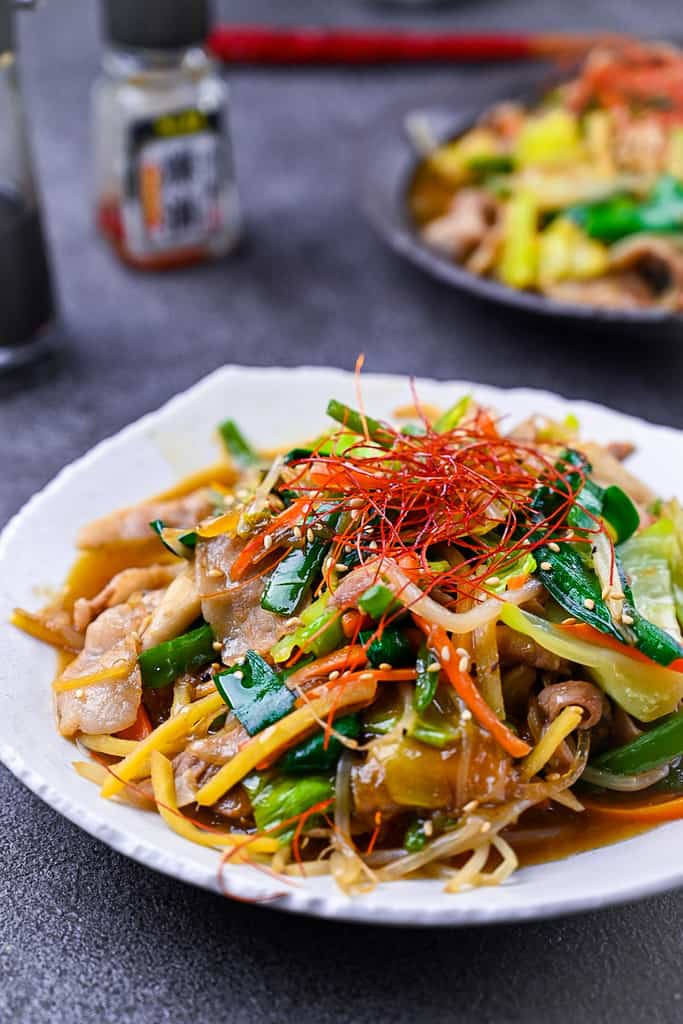 Instructions on how to make delicious yasai itame at home
Niku no yasai itame is one of those dishes where the preparation takes longer than the cooking time. However, once you've cut all your ingredients, the cooking is finished in a flash! You could even prepare the vegetables in advance and have an easy meal ready to throw together anytime!
Here are my step by step instructions on how to make niku no yasai itame including process pictures. See the recipe card at the bottom of the page for the ingredient quantities.
Cut the vegetables
The first step is to measure out all of your ingredients and cut them according to the picture below. Generally, the vegetables should be cut small and thin to minimize cooking time, this applies to carrots and onions especially since they take longer to cook.
Here is a list on how I cut my vegetables for the quickest cooking time:
Garlic – thinly sliced
Chinese chives – cut into 5cm pieces
Fresh ginger – peeled and julienned
Carrot – peeled and julienned
Onion – thinly sliced
Shimeji mushrooms – whole
Cabbage – roughly cut bitesize pieces
Piman/bell pepper – thinly sliced
Beansprouts (not pictured) – whole
Cut your vegetables accordingly
If all your vegetables are cut in all different shapes and sizes, some might quickly become overcooked while others remain raw.
It's important to cut the hard vegetables (like carrots) small and the softer vegetables (like cabbage) bigger so that they cook in a similar time. This way you can avoid burnt or watery/soggy vegetables in your stir fry!
Seal the meat
Once all your ingredients are ready, heat a wok on medium and add a drizzle of oil. Once it's hot, add the pork and sprinkle with salt and pepper. Add the garlic slices and fry them together until the pork is sealed.
When it comes to yasai itame, we tend to think of frying quickly with high heat. However, stir-frying vegetables with high heat at once at home can break down the vegetables' cells and draw out their water content, especially in regular frying pans.
Frying over a medium heat is the safe option at home.
Add the vegetables
Next, I add the vegetables according to the cooking time. Ginger, carrot, onion and mushroom go first.
Once the carrot and onion are softened slightly, add the cabbage and bell pepper. Stir fry for about 1-2 minutes.
It's good to add things like carrots and onions to the pan first because they require a bit more cooking time. I also add mushrooms quite early on so that they release more umami to the dish.
Things like cabbage and beansprouts only need a short cooking time otherwise they become watery, so I tend to add them last.
Add the beansprouts and stir fry for one more minute.
Don't overcrowd the wok/pan
Yasai itame is a quick and easy dish that uses a variety of vegetables, but if you just throw everything in the wok at once without any thought, the ingredients will release water and start to steam, creating a soggy stir fry.
This ties in with timing, but frying the vegetables at different times is the best way to avoid this. It's also a good idea to fry the watery ingredients (like cabbage) for a short time on a high heat so that they cook faster and have less time to release too much water.
Add the condiments
Next, add the chicken stock, oyster sauce, soy sauce, salt and sugar.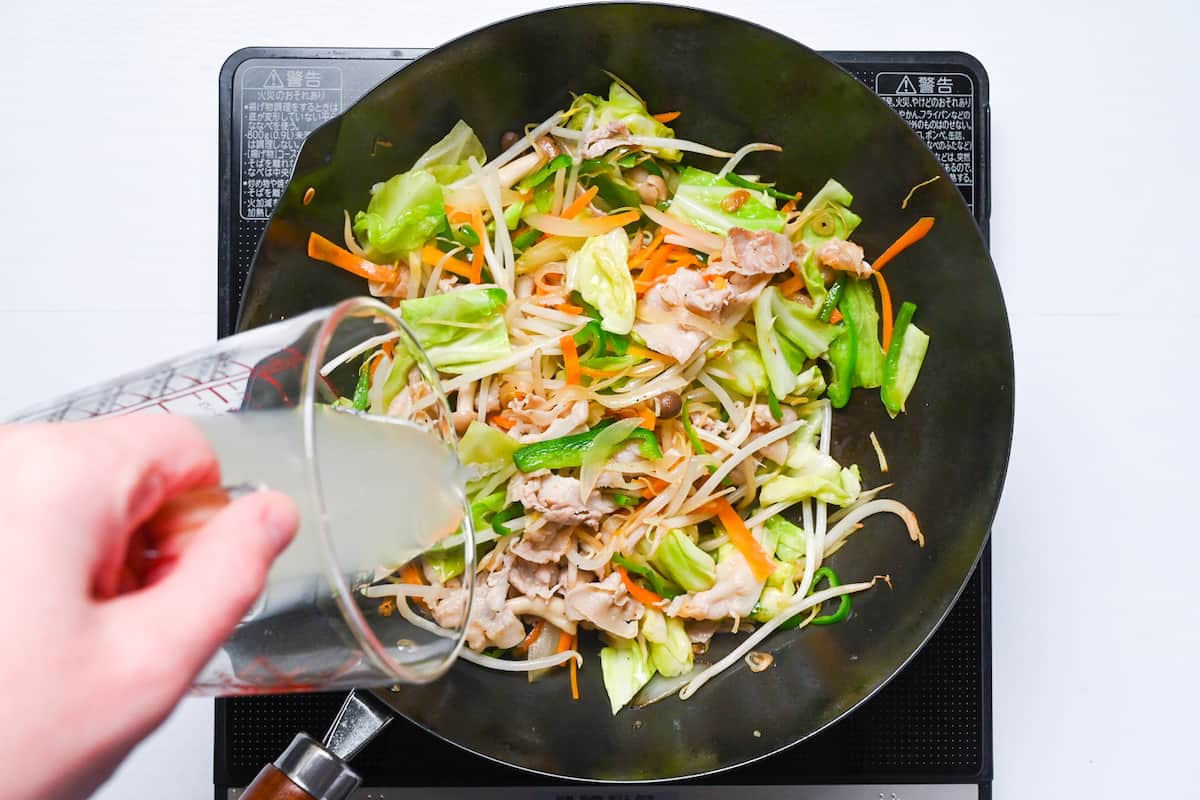 Mix thoroughly and then add the Chinese chives.
Thicken the sauce with a slurry
Take a small bowl and mix 1 tbsp of cold water with 1 tbsp of potato starch. This is a slurry that will make your sauce thick and glossy.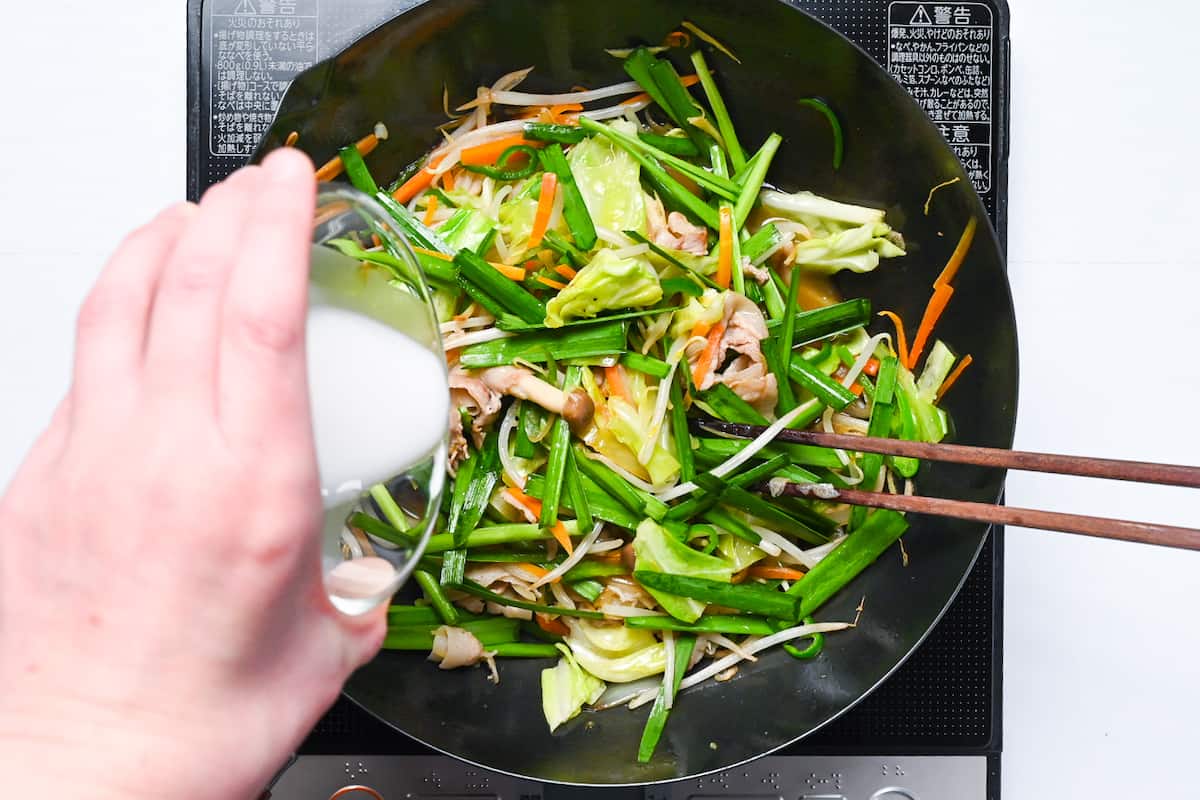 Stir fry until thickened
Continue to stir fry over a medium heat until the sauce has thickened. This should only take a few minutes.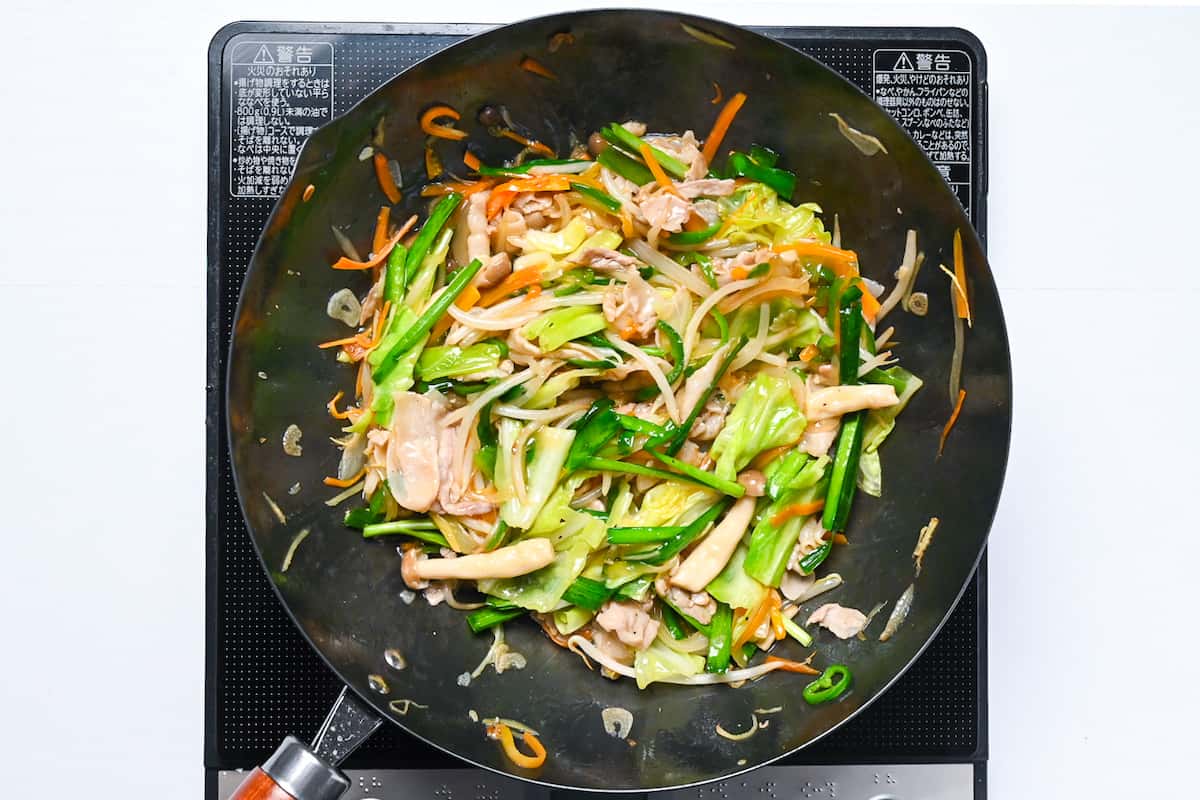 Once thickened, remove the pan from the heat.
Dish up and garnish
Transfer the completed niku no yasai itame to serving plates.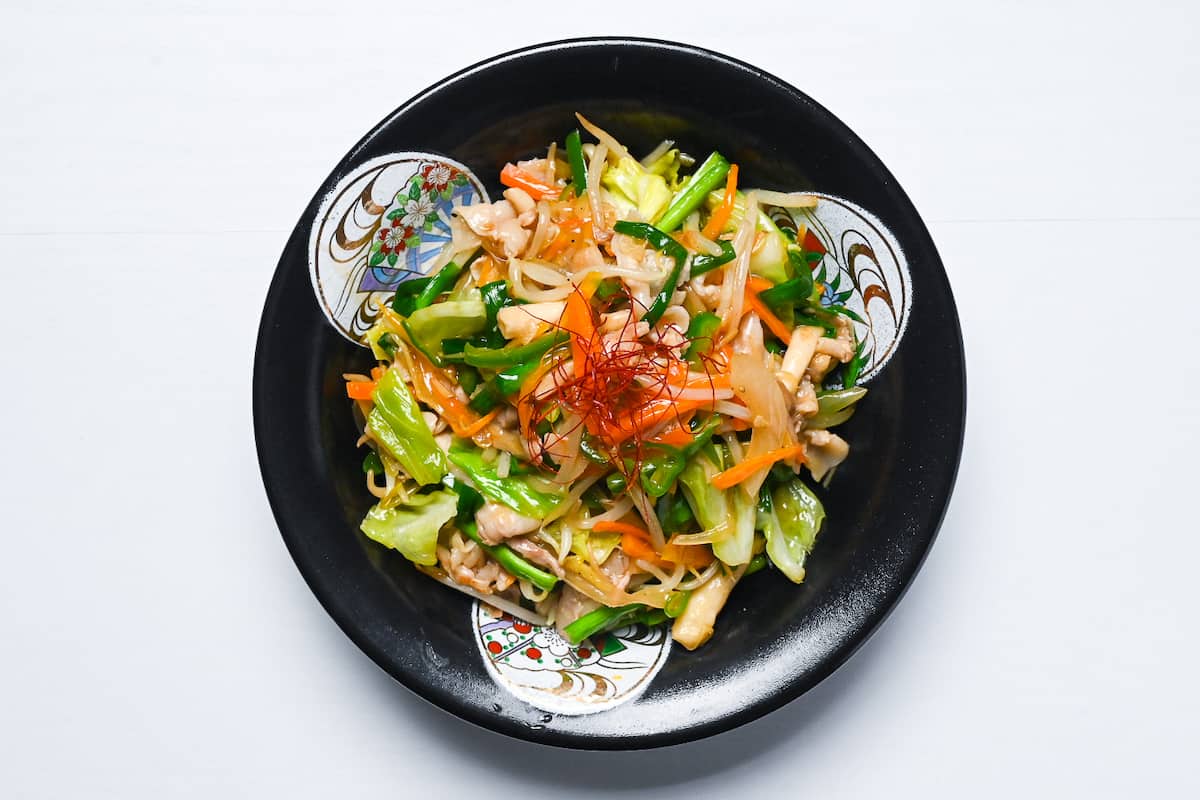 I like to add chili threads for a final touch, it adds a nice pop of color and a hint of heat for those who enjoy spicy foods.
I usually eat niku no yasai itame with rice, but it also goes well with noodles!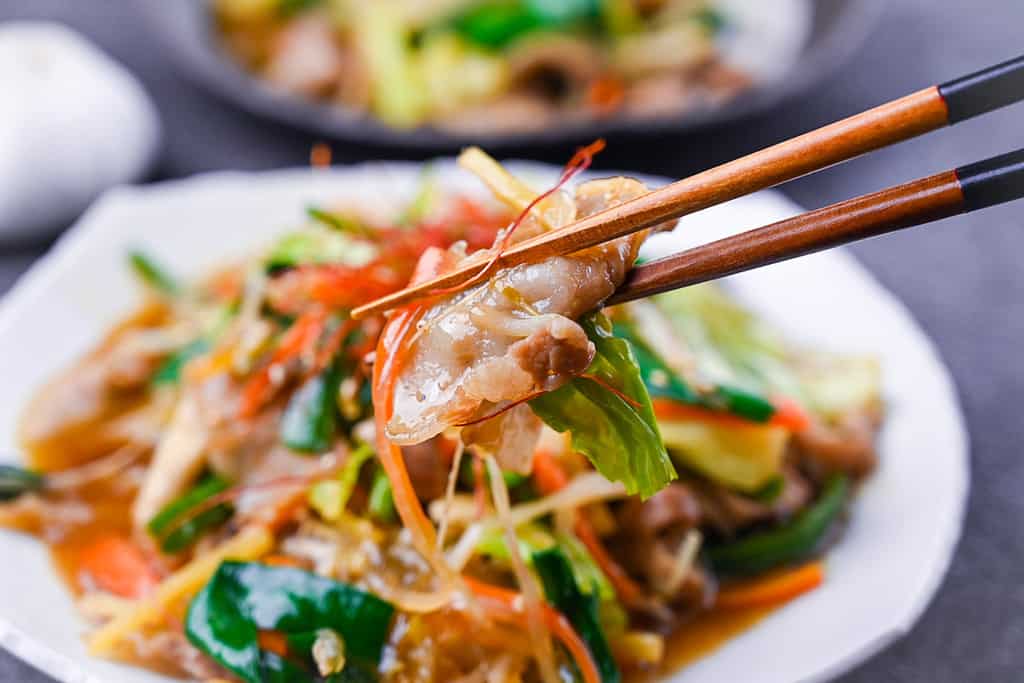 I hope you found these tips useful, enjoy making delicious niku no yasai itame at home!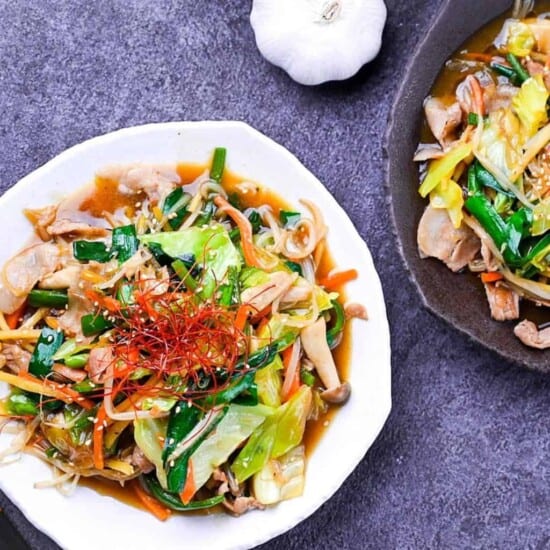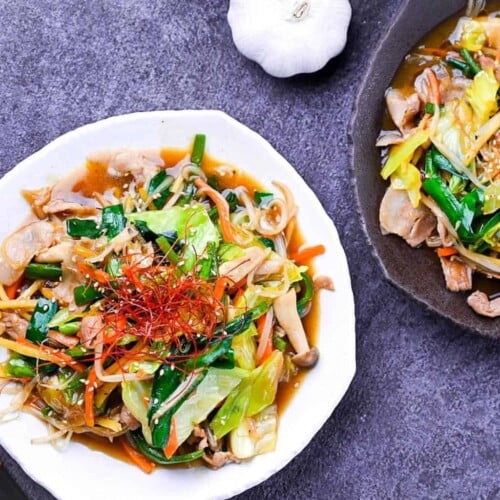 Buta Yasai Itame (Japanese pork and vegetable stir fry)
---
How to make fragrant and delicious Japanese stir fry dish "Buta Yasai Itame" (pork and vegetable stir fry).
---
---
---
---
Ingredients
1

tsp

cooking oil

100

g

pork belly

thinly sliced

1

pinch

salt and pepper

2

cloves

garlic

thinly sliced

15

g

fresh ginger

julienned

50

g

carrot(s)

peeled and julienned

50

g

yellow onion(s)

thinly sliced

50

g

shimeji mushrom whole

or any sliced mushroom of your choice

100

g

green cabbage

roughly chopped

50

g

bell pepper(s)

thinly sliced

100

g

beansprouts

30

g

garlic chive(s)

cut to 5cm in length
Sauce
1

tsp

Chinese-style chicken bouillon powder

100

ml

warm or hot water

2

tsp

oyster sauce

1

tsp

soy sauce

½

tsp

salt

2

tsp

sugar

1

tbsp

cold water

to make slurry

1

tbsp

potato starch

or cornstarch, to make slurry
Garnish (optional)
1

tsp

sesame oil

1

tbsp

white sesame seeds

1

tsp

chili threads
Instructions
Heat a wok on medium and add

1 tsp cooking oil

. Once hot, add

100 g pork belly

and sprinkle with

1 pinch salt and pepper

. Add the sliced

2 cloves garlic

and fry together until pork is sealed.

Once the pork is sealed, add

15 g fresh ginger

,

50 g carrot(s)

,

50 g yellow onion(s)

and

50 g shimeji mushrom whole

and stir fry for a few minutes or until softened slightly.

Next add

100 g green cabbage

and

50 g bell pepper(s)

, stir fry for a minute or two.

Add

100 g beansprouts

and stir fry for another minute.

Mix

1 tsp Chinese-style chicken bouillon powder

and

100 ml warm or hot water

, then pour in the chicken stock soup along with

2 tsp oyster sauce

,

1 tsp soy sauce

,

1/2 tsp salt

and

2 tsp sugar

.

Add

30 g garlic chive(s)

and mix.

Make the slurry in a small bowl with

1 tbsp cold water

and

1 tbsp potato starch

. Pour it into the wok and mix well.

Once the sauce is thickened, remove from the heat and dish up.

Drizzle with

1 tsp sesame oil

for finishing touch and garnish with

1 tbsp white sesame seeds

or

1 tsp chili threads

. (Optional.)

Enjoy with rice or noodles!