This delicious, crispy Japanese teriyaki chicken is made with succulent, skin-on chicken thigh coated in a glossy, sweet, sticky homemade teriyaki glaze. Incredible flavor ready in just 15 minutes!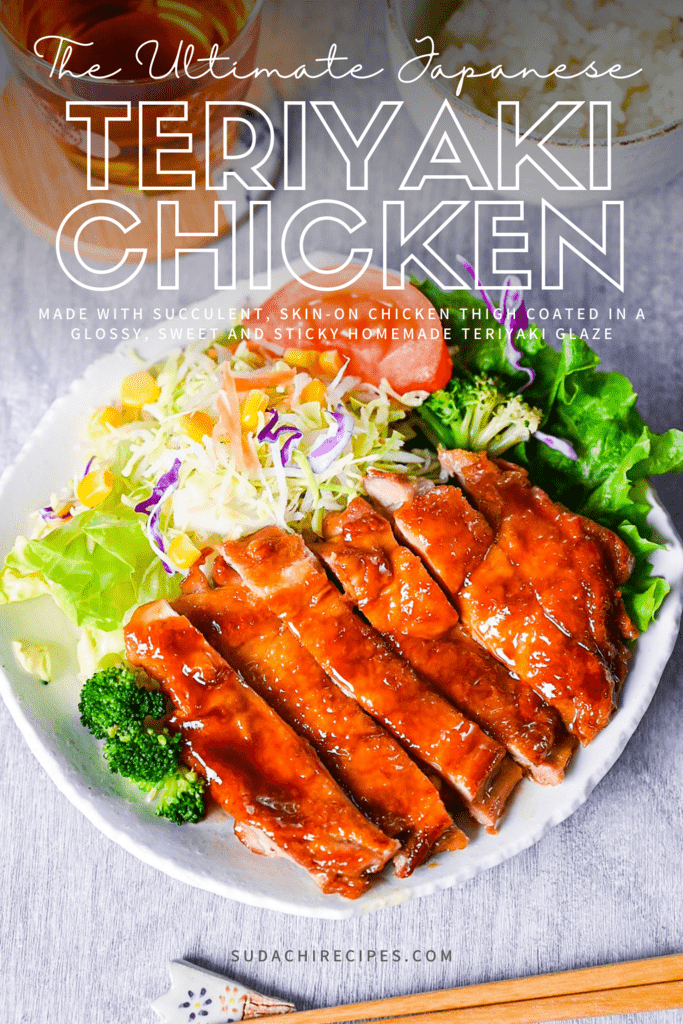 Disclaimer: This post contains Amazon affiliate links. Sudachi Recipes earn a small percentage from qualifying purchases at no extra cost to you. See disclaimer for more info.
Jump to:
What is teriyaki chicken?
Teriyaki chicken (照り焼きチキン) is arguably one of the most well-known Japanese dishes in the world, and for good reason! Juicy chicken thigh with crispy skin and a sweet and sticky soy sauce-based glaze, what's not to love?
Despite the dish's popularity, the term "teriyaki" is often misunderstood.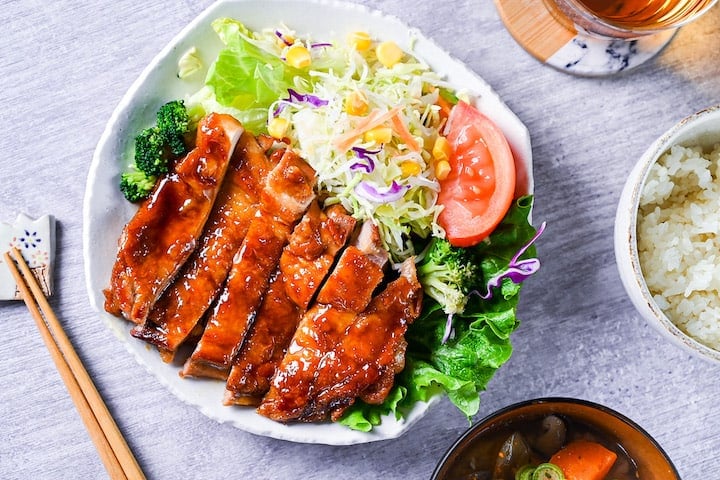 How I Developed This Recipe
When I developed this teriyaki chicken recipe, my primary goal was to achieve crispy chicken and create the best teriyaki in an authentic way.
After many attempts, it's now one of my top favorites on this site.
If you're keen on making teriyaki chicken the Japanese way, this recipe is a must-try!
Teriyaki is Technically Not a Sauce
Teriyaki (照り焼き) is not merely a sauce but a traditional Japanese cooking technique. In Japanese, "teri" (照り) signifies gloss, while "yaki" (焼き) denotes cooking or frying.
The sweet, soy sauce-based glaze used in teriyaki, often containing sugar, caramelizes during cooking, sealing in the flavor and creating a syrup-like consistency. This method is reminiscent of kabayaki, a grilling technique.
While the exact origins of the teriyaki cooking method are unclear, it likely emerged around the 18th century, given that kabayaki's inception coincided with the development of soy sauce in Eastern Japan.
Interestingly, "teriyaki sauce" available internationally often lacks traditional ingredients like mirin or sake. Instead, it might resemble a soy-based barbecue sauce. In other words, there is a divergence in definition between teriyaki in Japan and teriyaki in the rest of the world.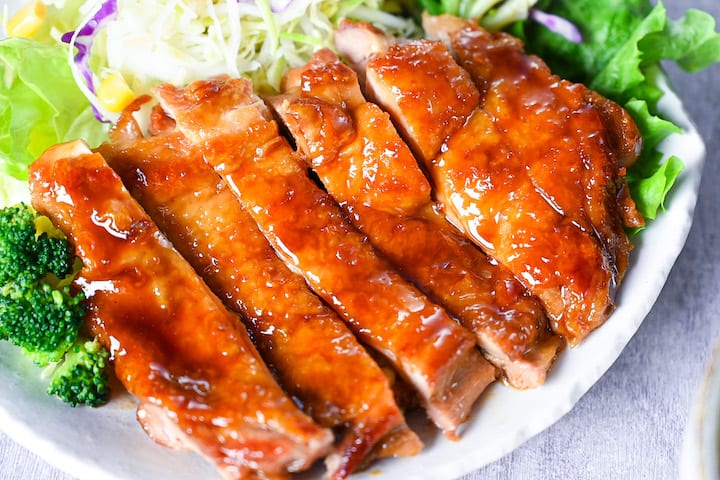 Authentic Teriyaki Chicken isn't Marinated
I realize using pre-made teriyaki sauce or marinade to make teriyaki chicken outside Japan is common. Don't get me wrong, there's nothing wrong with it. However, the authentic way does not use pre-made sauce or marinade because teriyaki is not considered a sauce but a cooking method.
The four vital ingredients in the "teriyaki method" are soy sauce, sake, mirin, and sugar.
I will explain more about it later and in the recipe card at the bottom of the page.
Making Authentic Teriyaki Chicken without Pre-made Sauce
It might come as a surprise, but pre-made teriyaki sauce is not commonly found in Japan. There's little demand for a pre-packaged version since soy sauce, sake, mirin, and sugar are staples in Japanese kitchens.
While there are variations that incorporate additional ingredients, these four remain the quintessential components of teriyaki. I strongly advise against omitting or substituting any of them!
Ingredients and Substitution Ideas
Chicken thigh (boneless skin-on): The optimal choice for teriyaki chicken due to its inherent juiciness, enhanced flavor, and the skin's crispiness when cooked. Using boneless thigh provides superior taste, eases preparation, and reduces cooking time.
Salt: Your everyday salt should work perfectly.
Potato starch or Cornstarch: I favor potato starch for "dredging", a technique involving a light coat of flour or starch on meat before cooking. This method is particularly beneficial for dishes where meat is cooked in a sauce. The dredging enhances texture, helps thicken the sauce slightly, and gives the meat an excellent finish. Alternative starches like tapioca starch can also be considered.
Soy sauce: Kikkoman soy sauce is a great economical choice. Delve deeper into the intricacies of soy sauce with our dedicated soy sauce guide.
Mirin: Opt for "hon mirin" (本みりん) when buying mirin to ensure a top-tier flavor profile. Hinode Hon Mirin, in particular, offers a harmonious balance of quality and affordability. Check out my 20 Most Useful Condiments and Seasonings for Japanese Cooking post for more insights.
Sake: While certain dishes might accommodate substitutions like dry sherry or white wine, with teriyaki, it's best to stick to authentic sake to retain the genuine taste.
Brown sugar: Standard sugar can serve as an alternative.
Liquid dashi: Acting as a secret ingredient, it infuses an added layer of flavor. If it's unavailable, water can be a backup—your choice of dashi works, with dashi bags and instant granule variants offering convenience. For a homemade touch, explore options like my favorite dashi, simple awase dashi, or vegan dashi recipes.
Honey: Honey plays a dual role by introducing a unique sweetness distinct from sugar and imparting the ideal stickiness for the teriyaki glaze. The blend of honey and sugar results in a rich and intricate teriyaki glaze that's hard to resist.
I have listed my recommended Japanese condiments, tools, and ingredients in the Sudachi Recipes Amazon shop. If you want to keep making various Japanese foods at home, please check it out!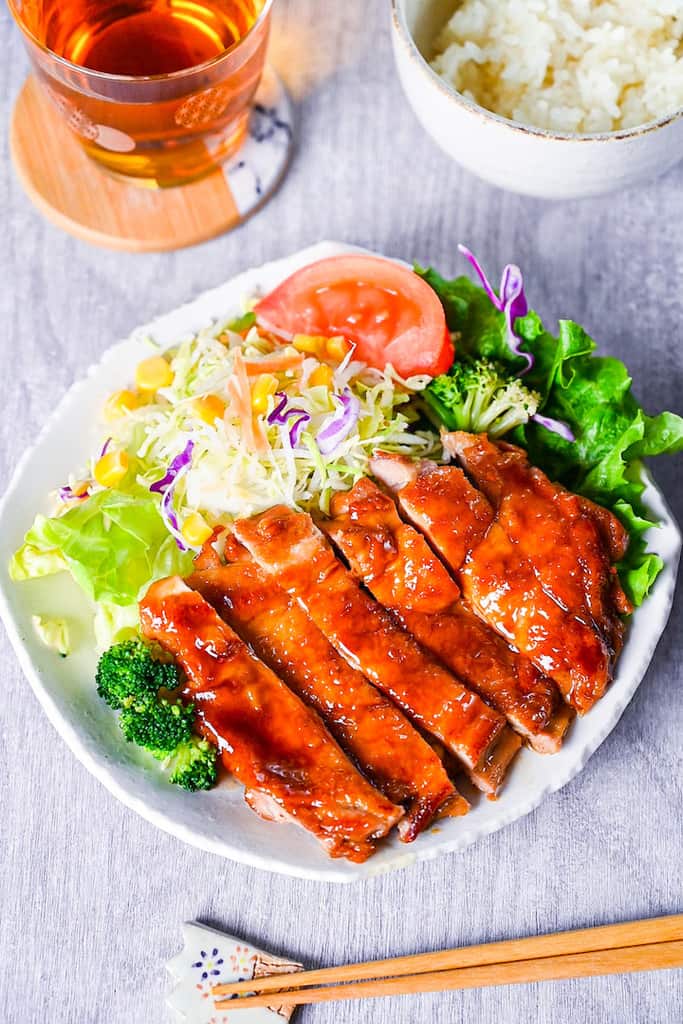 Step-by-Step Process
Follow these steps for the perfect teriyaki chicken! I also include tips and tricks along the way. Check out the recipe card at the bottom of the page for ingredient quantities and a simplified version of this recipe.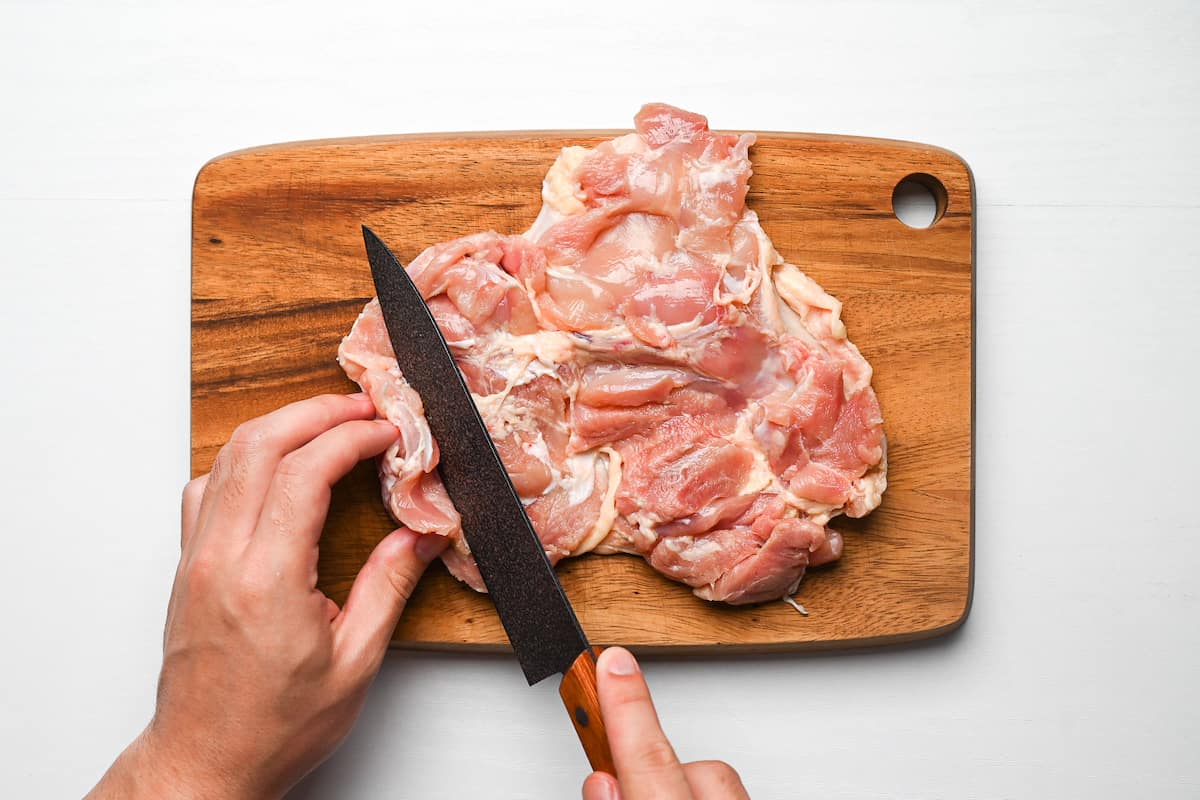 Chicken thigh is quite thick, so to ensure it's evenly cooked all the way through, I like to make horizontal cuts on the thickest parts and then fold them out.
Turn the chicken over so the skin is facing down, and cut the thickest parts of the underside to make flaps you can pull out.
If you make a diagonal/horizontal cut, you should be able to open out each flap and flatten out the chicken thigh, making it an even thickness all over. The larger surface area also ensures maximum flavor because more of the sauce is in direct contact with the chicken.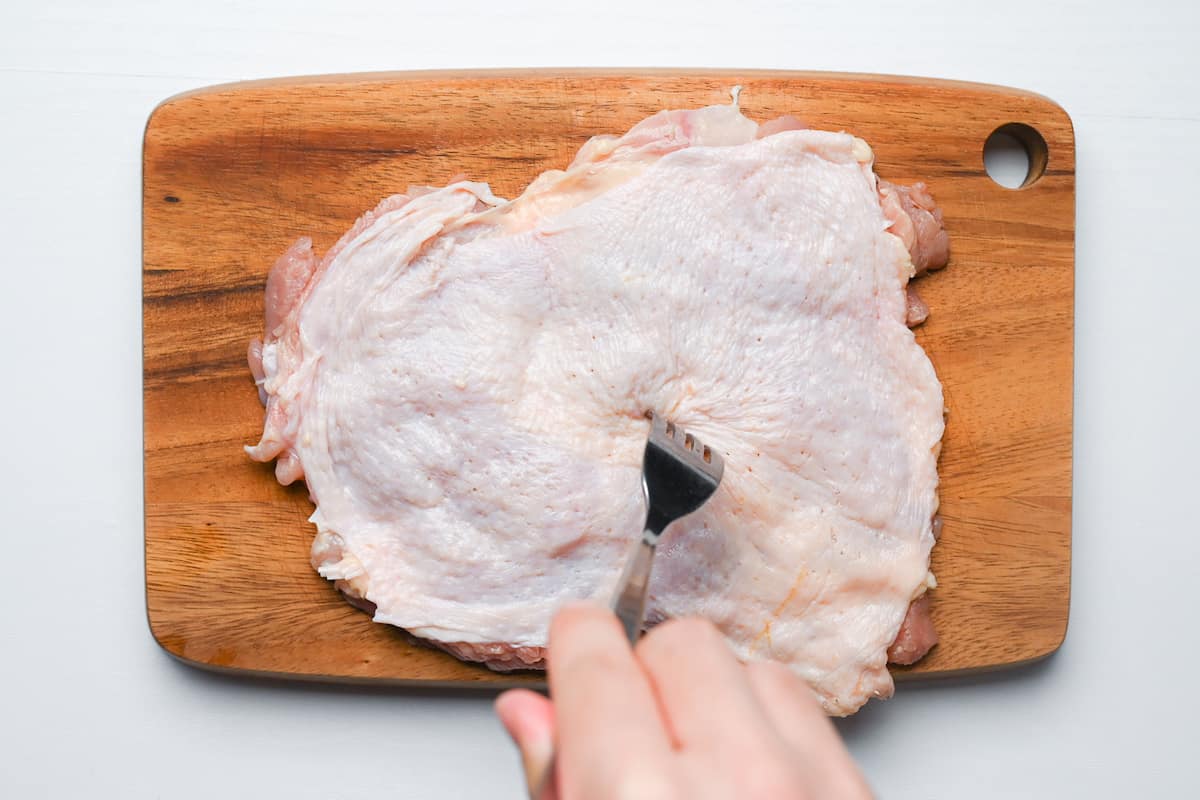 The skin acts as a barrier, so I stab the skin side all over using a fork to ensure the flavor can reach the chicken meat. This will make the chicken juicer and more flavorful.
After piercing the chicken, sprinkle a pinch of salt on both sides.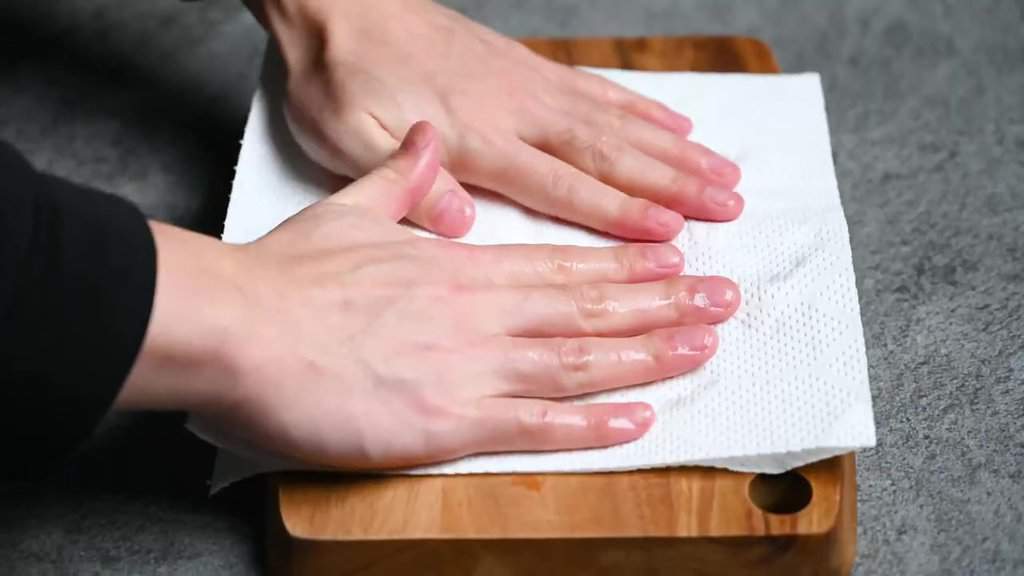 Patting the surface of the chicken dry before cooking results in a crispier skin that helps the sauce to stick better.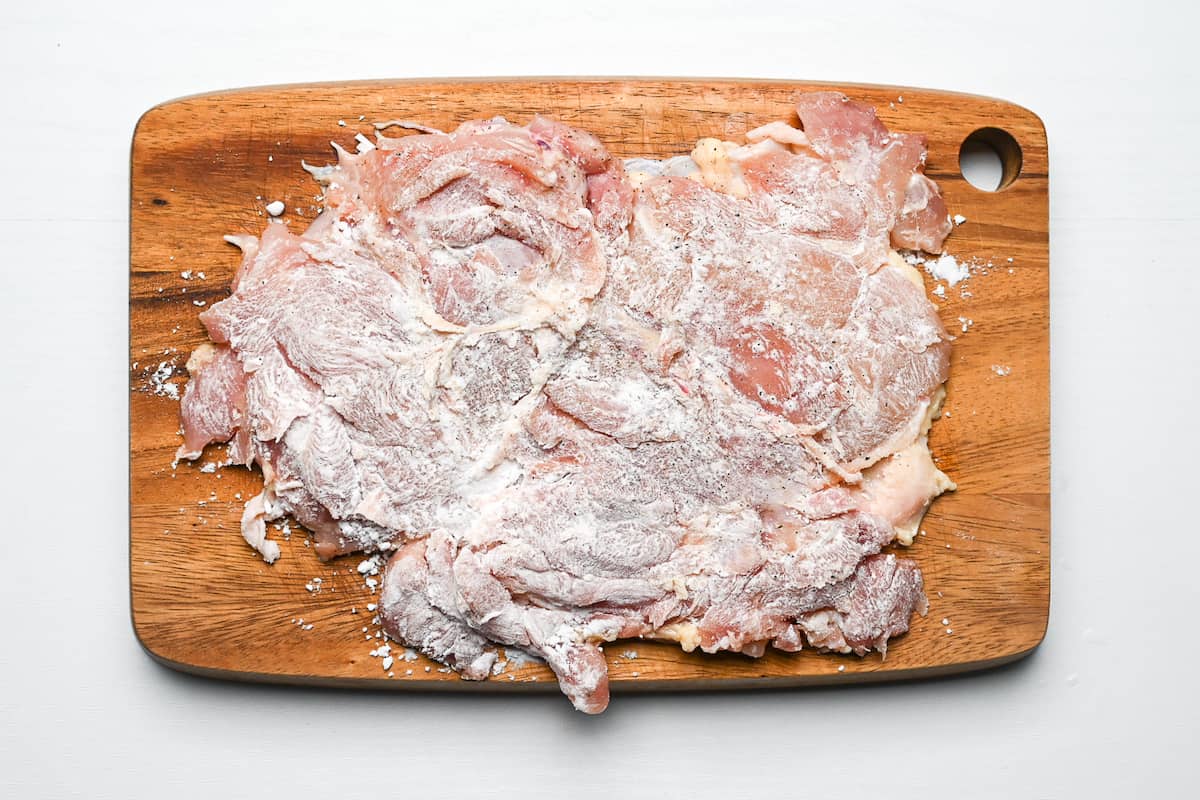 I mentioned this in the ingredients section, but after drying the surface of the chicken with kitchen paper, I coat the underneath with a thin layer of potato starch.
This improves the color and flavor and helps the sauce stick better underneath!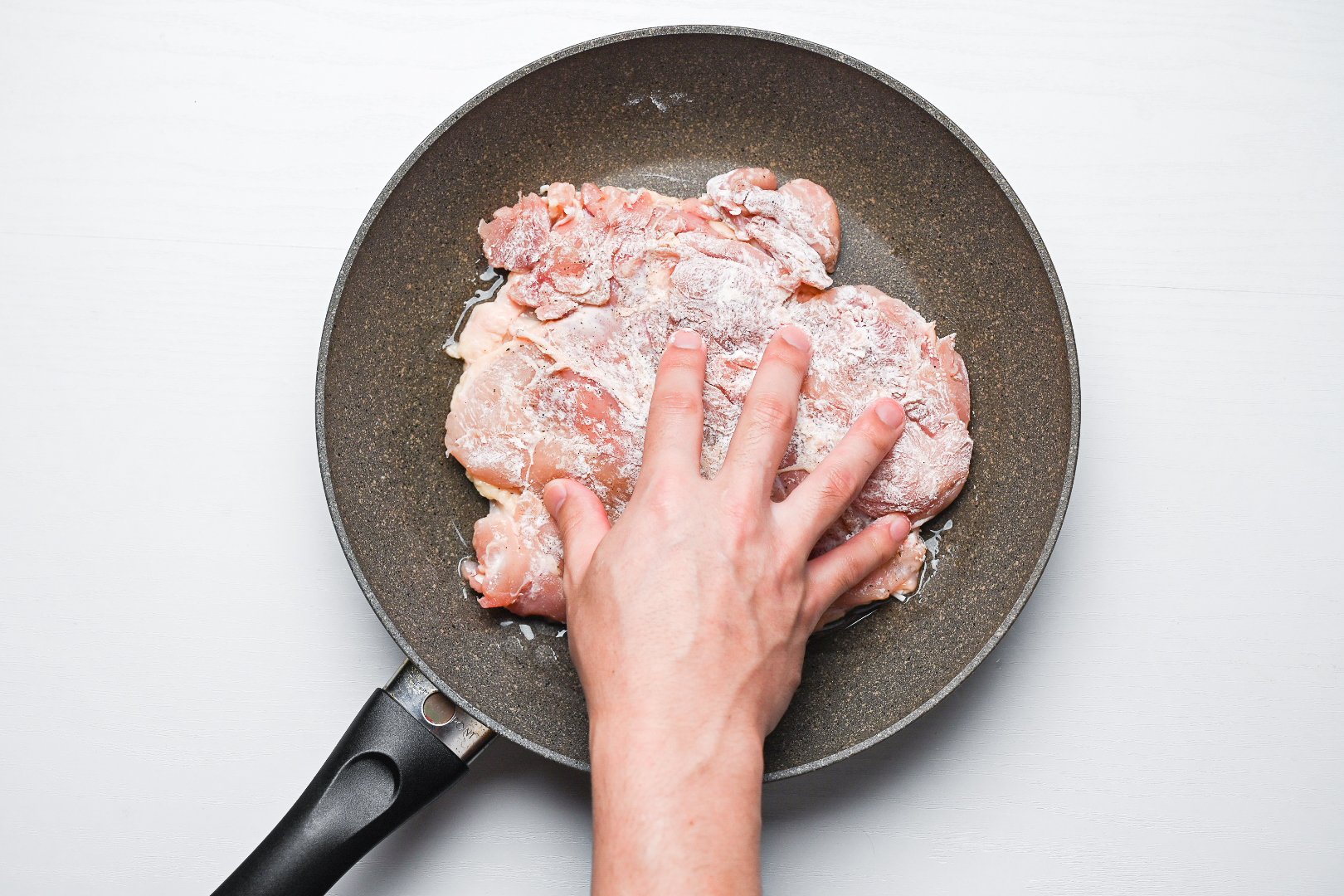 Next, drizzle a small amount of oil into a cold pan and place the chicken in with the skin side facing down. Move it around in a circular motion to ensure the skin is evenly coated with oil, and then heat the pan on medium for 7 minutes. Move the chicken from time to time to prevent burning.
For the perfect crispy chicken skin...
Start with a cold pan!
Gradually bringing up the heat allows the fat to render more slowly and makes the skin extra crispy! It creates a fantastic texture, and the teriyaki sauce sticks better, too.
Just note this technique is specifically for skin-on chicken thigh, so if you're using skin-less or chicken breast, you should preheat your pan as usual.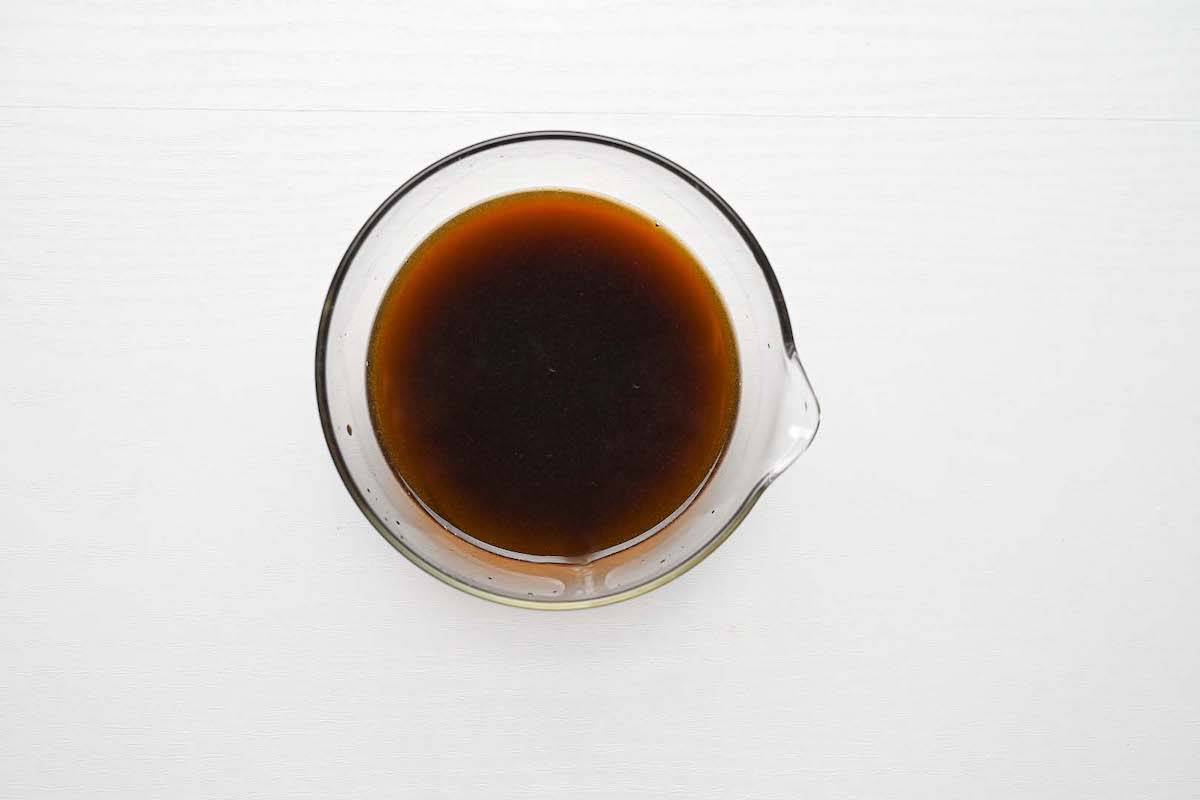 While the chicken is cooking, mix the soy sauce, mirin, sake, brown sugar, dashi, and honey in a small bowl.
Flip and remove excess oil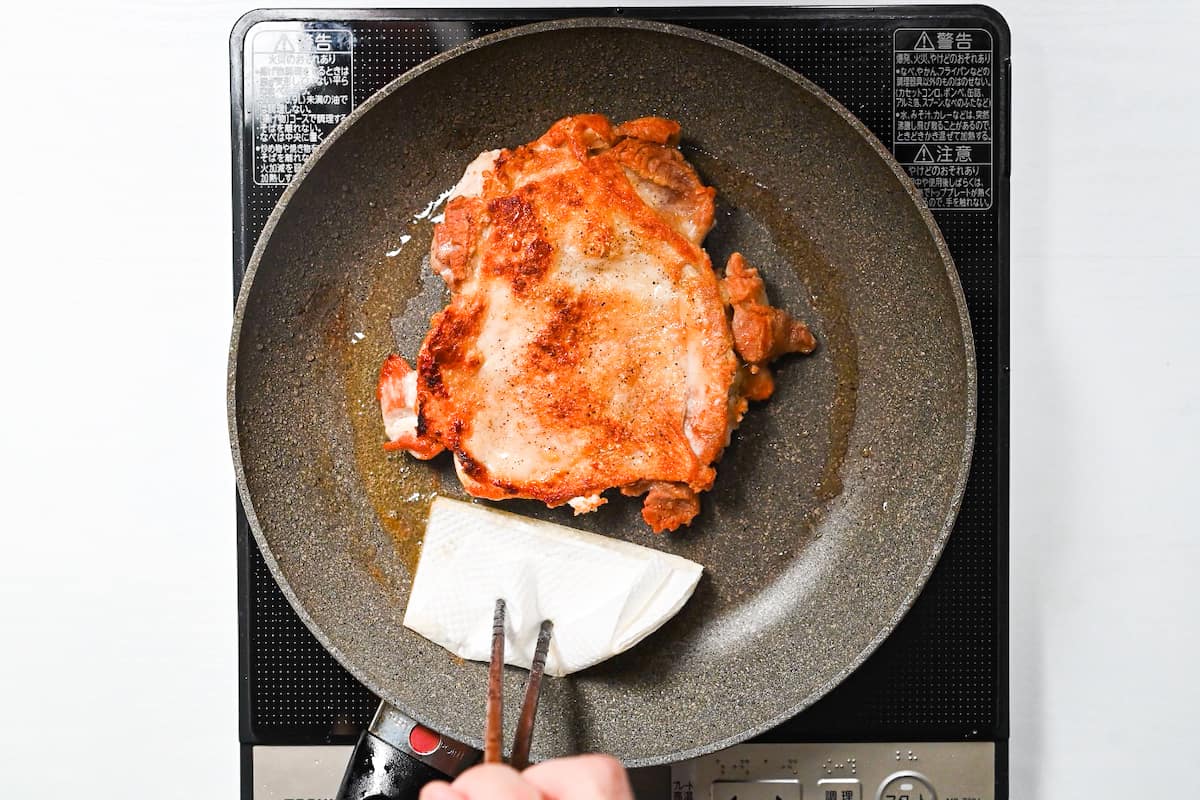 After 7 minutes, flip the chicken over and fry it for 2 minutes. Use a sheet of kitchen paper to wipe up the excess oil in the pan. This is to prevent oil from mixing in with the teriyaki sauce.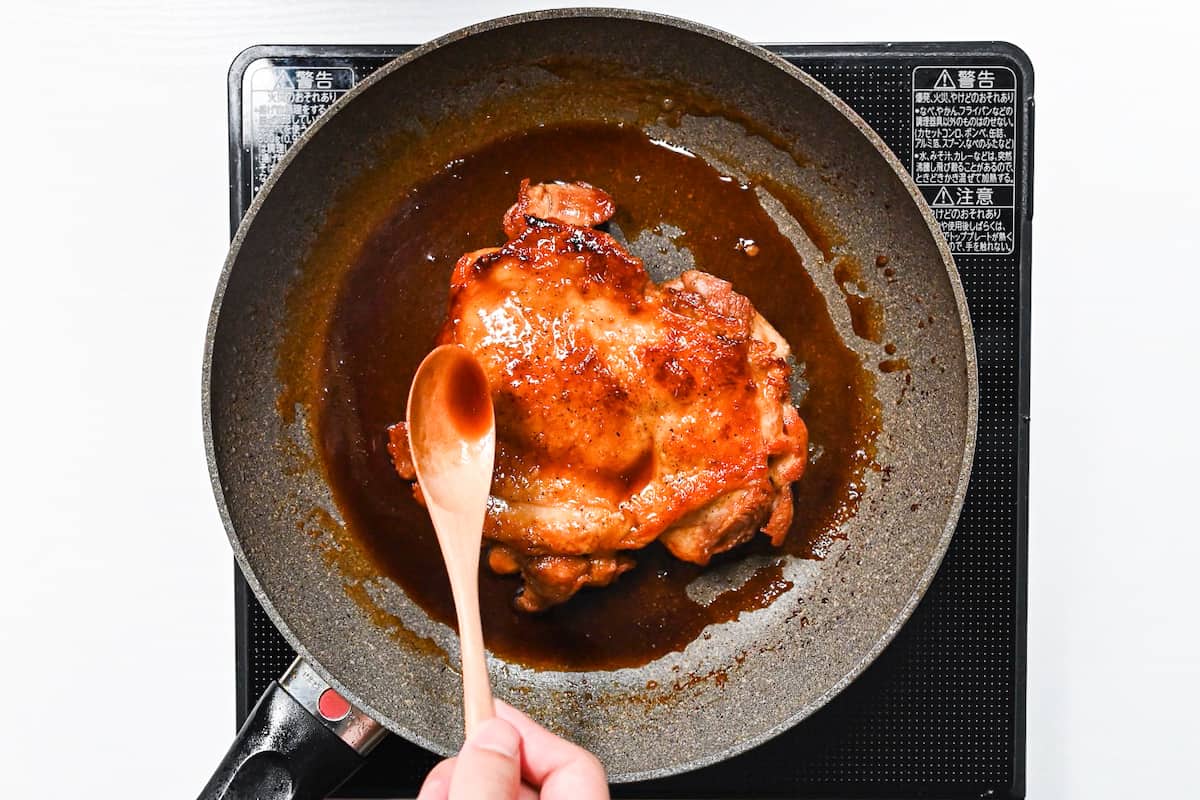 Turn up the heat to medium-high and pour the sauce into the pan. Baste the chicken with the sauce continuously until it has thickened. Occasionally move the chicken around in a circle to ensure the underneath is coated too.
Spooning the sauce over the top prevents the sauce from burning and ensures the top absorbs an equal amount of sauce as the underneath.
Remove the chicken from the pan and allow it to rest for a few minutes, and then cut it into equal slices.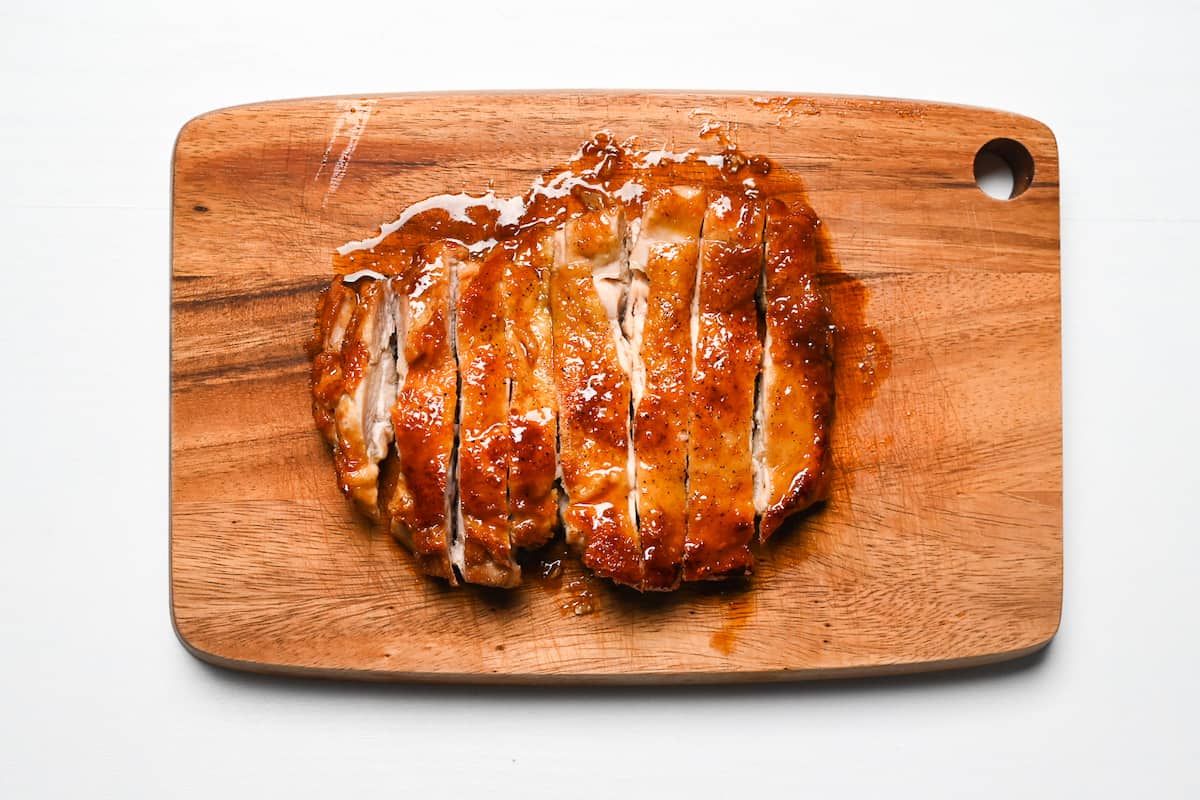 Finally, you can serve it up and enjoy! Teriyaki chicken is versatile and can be used in a whole variety of different dishes!
Storage
Storing teriyaki chicken at room temperature isn't advisable. While it remains safe for consumption a few hours post-cooking, it's best enjoyed immediately.
If refrigerated, teriyaki chicken retains its freshness for up to two days. Ensure you reheat it thoroughly, using a microwave or frying pan, until it's piping hot.
When frozen, its quality is best within the first two weeks, even though it remains safe to eat up to three weeks. However, flavor and texture may degrade over time. Ideally, prepare just the amount you plan to consume.
Room temperature - Not recommended.
Refrigerated - About 2 days.
Frozen - Up to 3 weeks.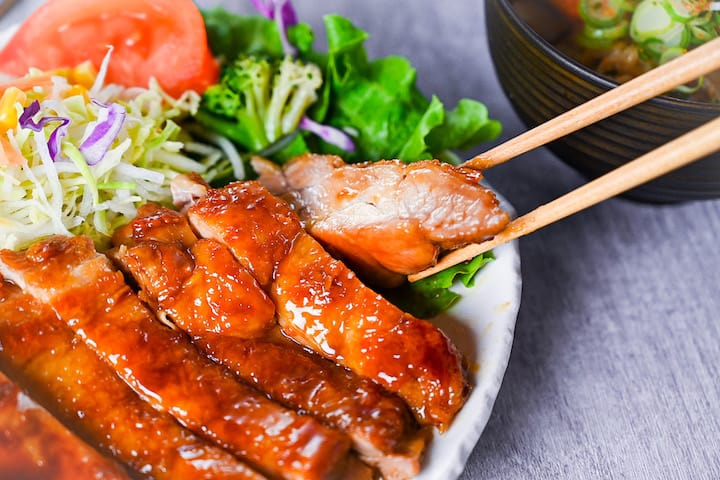 I hope you enjoy this ultimate teriyaki chicken recipe! If you try it out, I'd really appreciate it if you could spare a moment to let me know what you thought by giving a review and star rating in the comments below. It's also helpful to share any adjustments you made to the recipe with our other readers. Thank you!
Other Japanese Teriyaki Recipes
Check out my other teriyaki recipes!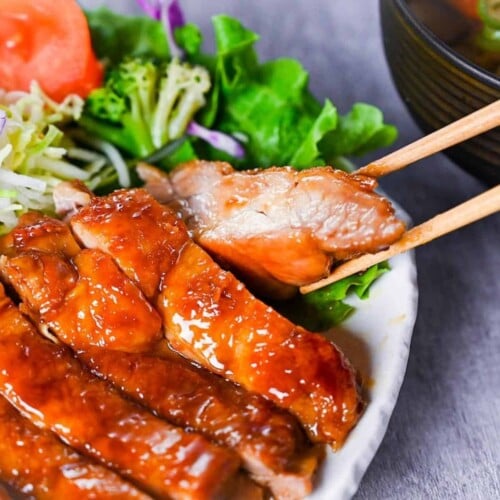 Authentic Crispy Japanese Teriyaki Chicken
How to make quick and easy Japanese Teriyaki Chicken! Crispy pan fried chicken thigh coated in a sweet and delicious homemade teriyaki sauce!
Ingredients
250

g

boneless chicken thigh(s)

-

skin-on

1

pinch

salt

½

tbsp

potato starch

-

or corn starch

½

tbsp

cooking oil

2

tbsp

soy sauce

2

tbsp

mirin

2

tbsp

sake

2

tsp

brown sugar

2

tbsp

dashi stock -

or water

1

tsp

honey
Instructions
First, place

250 g boneless chicken thigh(s)

on a chopping board with the underneath facing up (skin-side down) and make horizontal incisions on the thickest parts to make small flaps. Pull out the flaps so that the chicken thigh is more or less an even thickness all the way through.

Flip the chicken over and pierce the skin with a fork all over.

Sprinkle with

1 pinch salt

on both sides and rub it over.

Dry the surface with a paper towel.

Thinly coat the underneath with

½ tbsp potato starch

. Make sure to brush off any excess.

Add

½ tbsp cooking oil

to a cold pan and place the chicken thigh inside with the skin side facing down.

Move the chicken around the pan in a circular motion so that the skin and surface of the pan are evenly coated in oil.

Place the pan on the stove and turn the heat on a medium setting. Fry for 7 minutes, rotating the chicken from time to time to ensure that the skin is evenly browned.

While the chicken is cooking, take a small bowl and add

2 tbsp soy sauce

,

2 tbsp mirin

,

2 tbsp sake

,

2 tsp brown sugar

,

2 tbsp dashi stock

and

1 tsp honey

. Mix until the sugar and honey are dissolved.

After 7 minutes have passed, flip the chicken thigh over and fry for 2 minutes on the other side.

Use a paper towel to wipe up excess oil in the pan.

Once 2 minutes have passed turn up the heat to medium high and pour the sauce into the pan.

Scoop up the sauce with a spoon and pour it over the surface of the chicken. Keep spooning the sauce over the chicken until it becomes thick and glossy.

Remove from the heat and rest for a few minutes before cutting it into strips.

Enjoy!
Nutrition
Calories:
369
kcal
Carbohydrates:
18.9
g
Protein:
22.6
g
Fat:
19.8
g
Saturated Fat:
5.8
g
Polyunsaturated Fat:
3.5
g
Cholesterol:
111.5
mg
Sodium:
1299
mg
FAQ
What's the difference between teriyaki sauce and soy sauce?
Soy sauce is a single ingredient; teriyaki usually contains at least four components. (Soy sauce, sake, mirin, and sugar.)
What does teriyaki chicken taste like?
It has a savory taste from the soy sauce, yet a sweet and caramelized taste from the sugar and mirin.
Do they eat teriyaki in Japan?
Yes, indeed! But maybe not as often as you think Japanese people would. It's not really something I personally eat often.
Can I substitute teriyaki sauce with soy sauce?
Teriyaki sauce contains soy sauce, but soy sauce on its own won't be close to tasting like teriyaki.