This luxurious Japanese uni cream pasta is made by coating al dente spaghetti with a creamy sauce flavoured with sea urchins and a hint of tomato and garlic. If you love creamy seafood pasta dishes, you've gotta try this!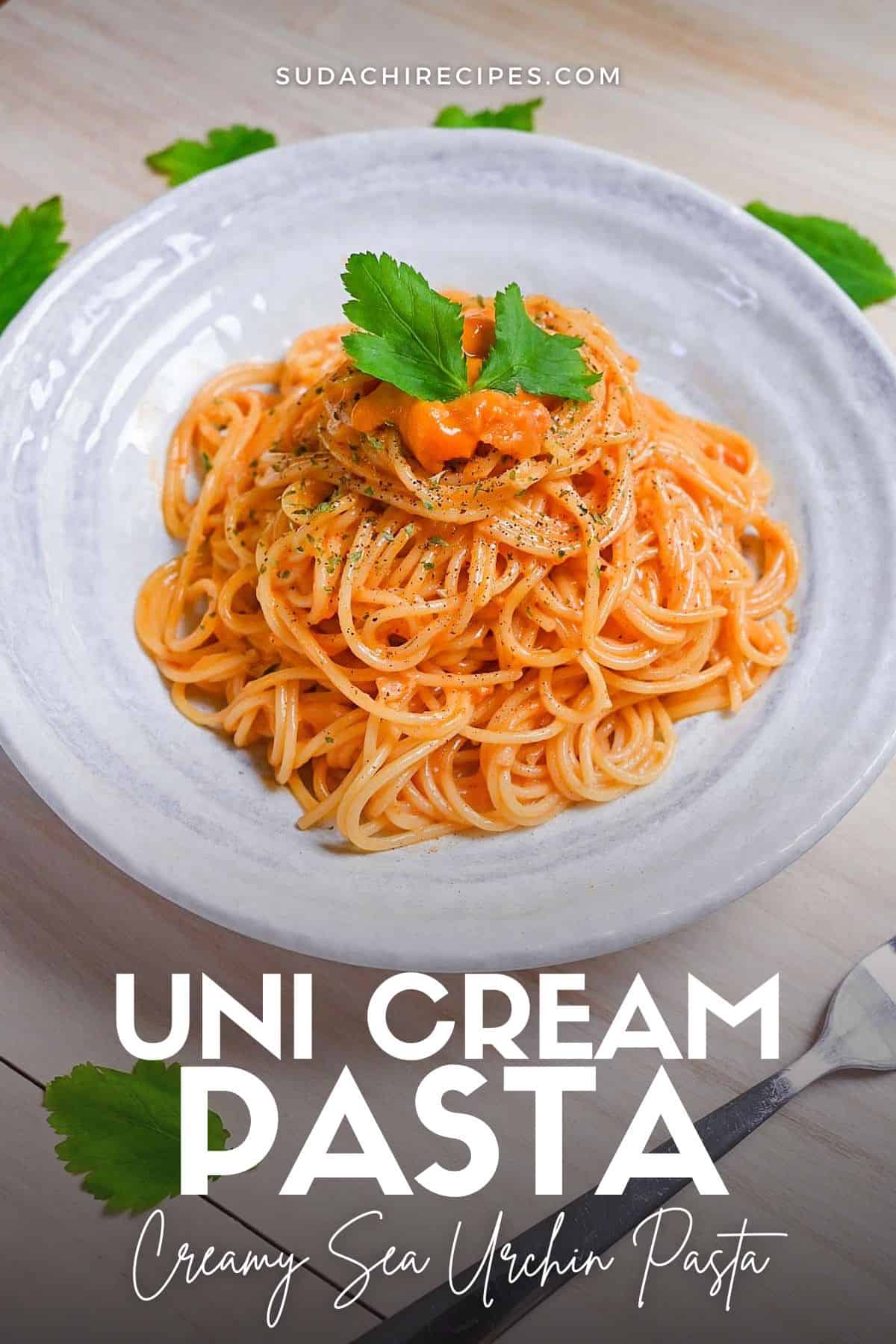 Disclaimer: This post contains Amazon affiliate links. Sudachi Recipes earn a small percentage from qualifying purchases at no extra cost to you. See disclaimer for more info.
What is uni pasta?
Uni cream pasta (うにのクリームパスタ) is a decadent dish made with spaghetti served in a creamy sauce flavoured with sea urchins. Uni (うに or ウニ) is the Japanese word for sea urchin roe and this popular seafood ingredient is characterized by its creamy, rich and distinctively sweet flavor.
The specific preparation methods vary, but in general, uni is combined with a cream sauce or olive oil-based sauce and mixed with al dente-cooked spaghetti. Other ingredients such as garlic, chili flakes, parsley, and lemon juice may be added to enhance the flavor.
Since uni is a luxury ingredient, it is often more expensive than other pasta dishes when eaten at restaurants that use proper fresh sea urchin.
However, this is not to say that it is a uniquely Japanese dish. Pasta flavored with sea urchin can also be found in Italy, the kingdom of pasta dishes, especially in Southern Italy where sea urchin is caught.
Distinctively sweet uni flavor
Recipe to make creamy uni pasta
Information about sea urchin in Japan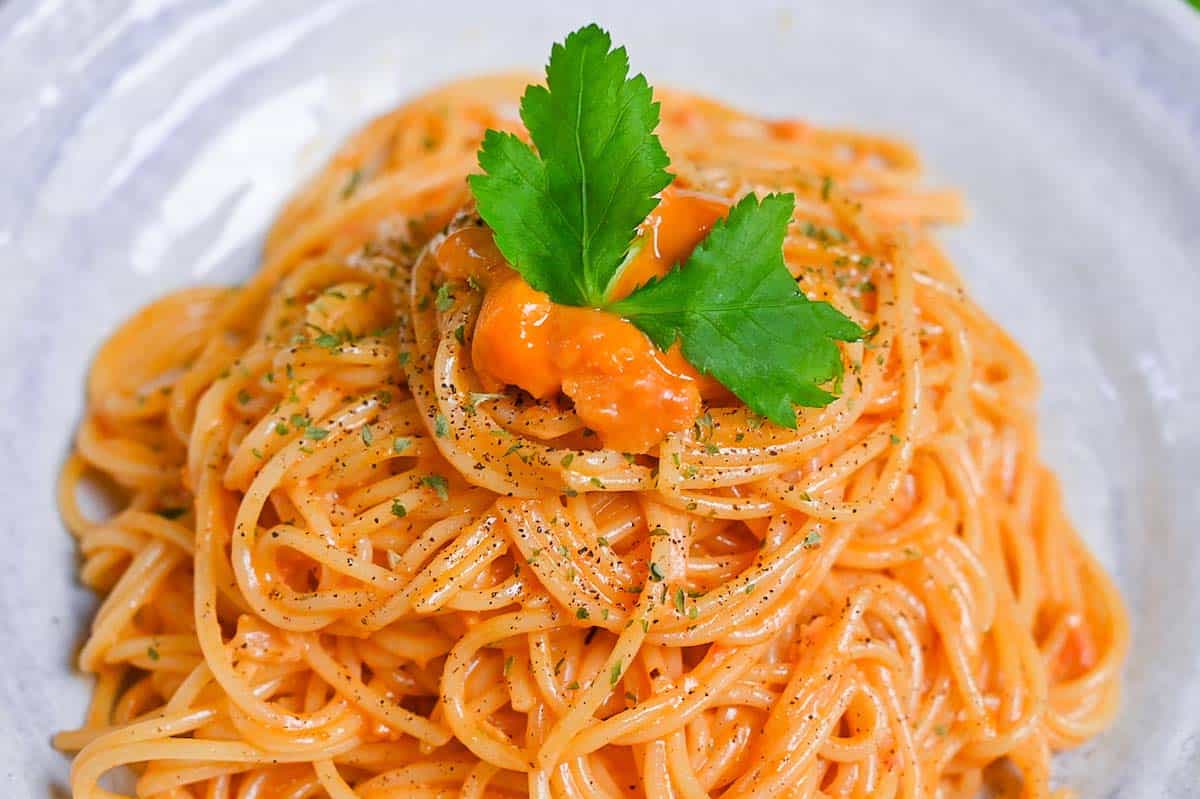 What is uni? Sea urchin and Japanese cuisine
Sea urchins themselves are found in oceans all over the world, from deep sea bottoms to rocky shores. In Japan alone, there are around 140 species, contributing to a whopping total of about 870 known species globally!
If you ever taste them, you'll notice differences. For instance, sea urchins from Japan and Italy have slight variations in their look, taste, and size.
Did you know the biggest catch of sea urchins in Japan is in Hokkaido? In 2019, they caught in a staggering 57.5% of the national total. Hokkaido, along with Iwate and Aomori, the second and third largest catchers, are all in northern Japan. Together, they bring in about 77% of all the sea urchins caught in the country.
Japan's love for sea urchins goes way back. They've been preserving them with salt since ancient times, marking them as one of Japan's top three delicacies. Nowadays, they value freshness because sea urchins often star as raw ingredients in sashimi, sushi, and seafood bowls.
Be warned, though, the taste can vary a lot, and so does the price. A box of fresh sea urchins could set you back from about $4.50 (500 yen) all the way up to over $900 (100,000 yen).
Japan is the world's biggest fan of sea urchins, consuming about 80% of the global catch!
Why is uni so expensive?
Ever wondered why Japanese sea urchins are so expensive? There's a mixture of reasons behind this.
Firstly, consider where sea urchins live – in rocky areas. Using a net to catch them doesn't work because of the rocks, and so they have to be caught by hand, one at a time.
Another factor is freshness. Sea urchins lose their freshness more quickly than other seafood, which makes storage more challenging. Also, there was a time when sea urchins were overfished due to high demand. Now, with catch restrictions in place, the number of sea urchins available has decreased, affecting supply.
You might ask, "Why not farm sea urchins?" Farming sea urchins is extremely difficult, and even if successful, it takes at least two years before they're ready for shipment. As a result, farmed sea urchins are few, and the supply doesn't meet the demand. When supply can't meet demand, prices stay high.
In conclusion, the strong love for sea urchins in Japan outpaces the supply, hence the high prices.
What does uni taste like?
To be honest, it is not easy to describe the taste of sea urchin in words. It usually has a sweet, salty, sea flavor and the texture is quite creamy and smooth, with some describing it as "butter of the sea".
Now, here's the thing. Not all sea urchins taste the same. It's kind of like how apples from different places taste different. The type of sea urchin, where it was caught, and the season can all change the flavor. It's a game of fresh versus not-so-fresh. Fresh sea urchins, though pricier, pack a punch with their rich flavor and pronounced sweetness. On the flip side, older or badly stored urchins might taste bitter.
But hey, if you're whipping up some sea urchin pasta at home, no need to break the bank. Affordable sea urchin works just fine, especially because it's mixed into the sauce with other ingredients. After all, it is when eaten raw, such as at sushi restaurants, that the difference in freshness and taste of sea urchin can be felt the most.
Ingredients to make this uni cream pasta
Spaghettini/Spaghetti – Other recommended pastas include linguine, tagliatelle, and fettuccine…ect.
Extra virgin olive oil – Regular olive oil is also fine.
Garlic cloves – The garlic itself is not used in the final dish but is cooked with olive oil to extract the garlic flavor. It would be a waste to throw it away, so I usually eat the fried garlic straight after this process is complete or save it for salads etc. Alternatively, you could use garlic-infused olive oil as a shortcut.
Red onion – red onions are recommended for sea urchin pasta due to their sweet flavour, but white onion can be used in a pinch.
Cream – I use fresh cream with 36% milk fat (whipping cream) but heavy cream (48%) also works. Avoid using single cream (18%) as it shouldn't be boiled and tends to curdle.
Sea urchin – Frozen sea urchin is fine since it is not eaten raw, but fresh raw sea urchin is sweeter and tastes better with pasta.
Tinned tomato – Cut tomatoes are easier to use than whole tomatoes since not the whole can is used.
White wine – In particular, Vermentino, Sauvignon Blanc, Albariño, Chablis, Pinot Grigio would be great choices if they are already in the house.
Anchovy fillet – I use jarred anchovies in olive oil. Use a small amount to add deep saltiness and umami to the dish.
Butter – I recommend unsalted butter if you follow this recipe, using salted butter makes it more difficult to control the salt content of the dish.
Salt – to avoid bland spaghetti, it's vital to properly salt the water. I add 1 tsp of salt for every 1 liter of water, which is enough for 100g of pasta.
Black pepper – Used as a topping, slightly coarse pepper is delicious.
Parsley – Either dried parsley or finely chopped fresh parsley can be used.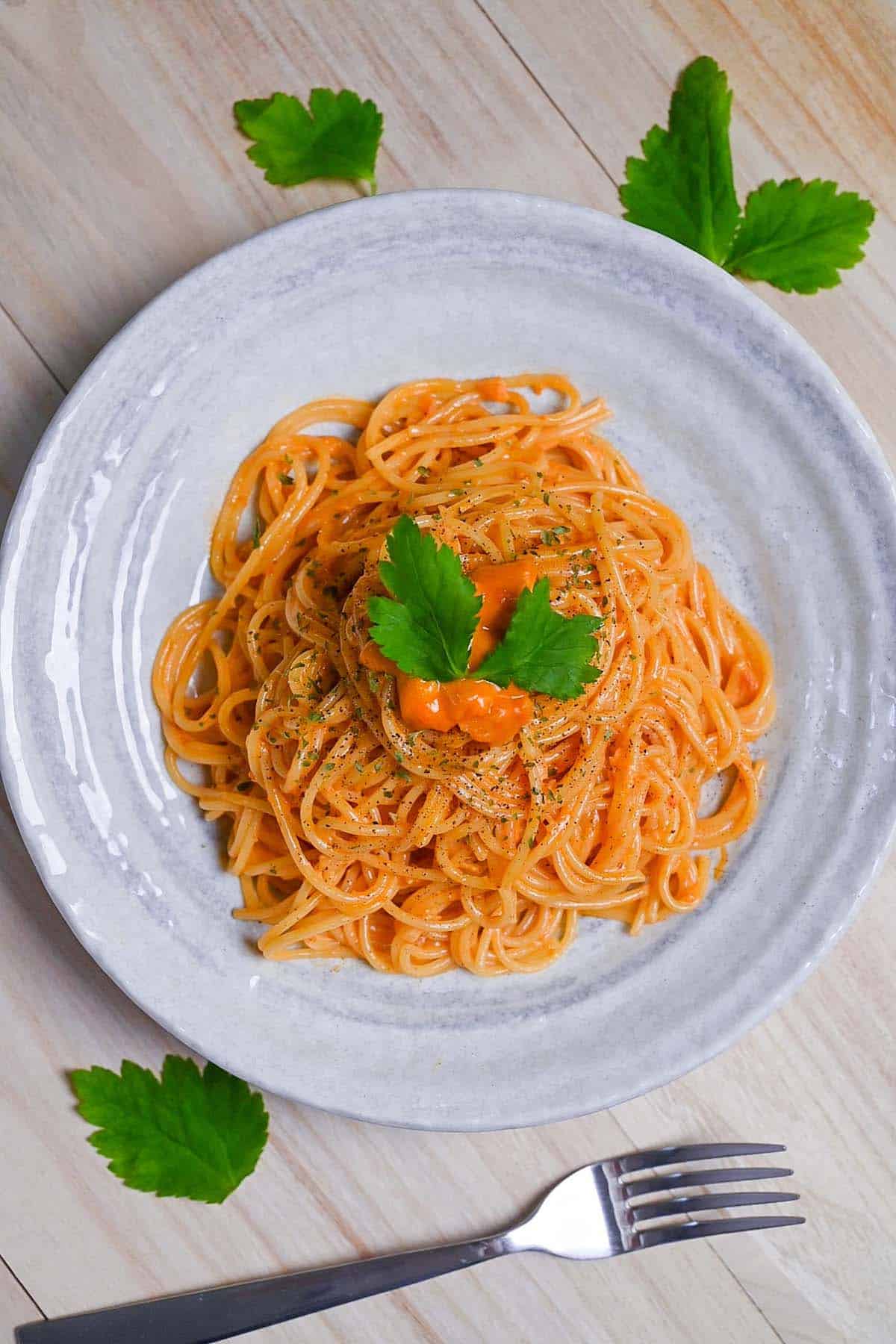 Instructions on how to make this uni pasta recipe
Here are my step by step instructions for how to make the best uni cream pasta at home!
Start boiling a large pot of water with salt for the pasta. While you wait, add oil and sliced garlic to a frying pan and heat it on low.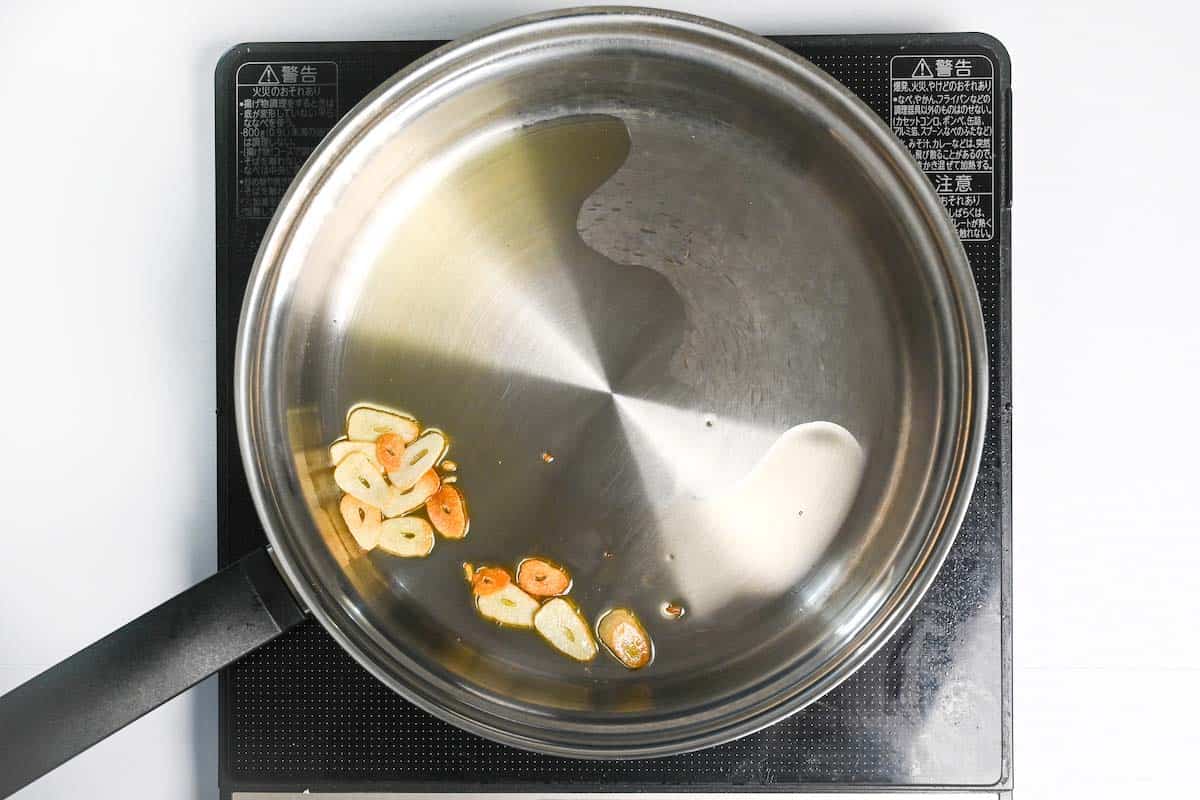 When the garlic starts to turn golden, remove them from the oil. They won't be used again in this recipe, so you can either eat them or serve them on another dish (they're great with salads etc!).
Add the red onion and anchovy to the garlic-infused oil and fry until onions have softened.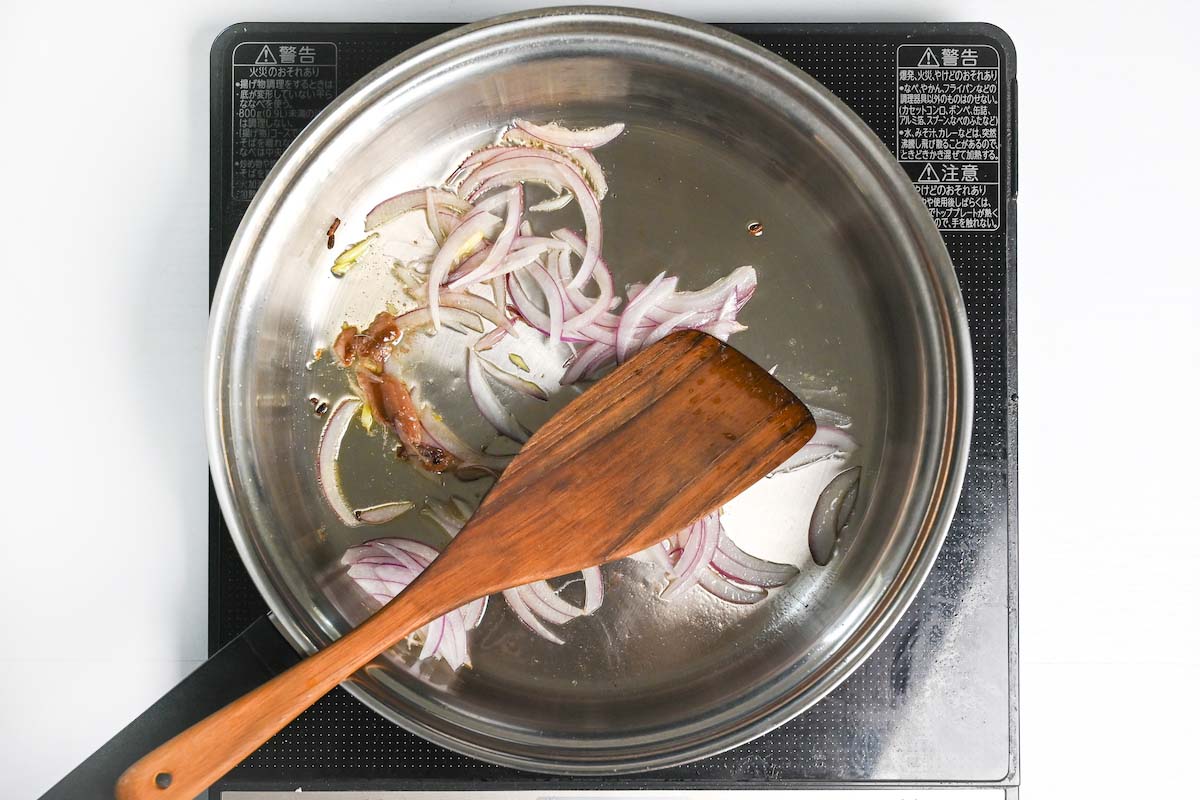 Once the onions are soft, add the pasta to the pot of boiling water and cook until al dente (chewy and firm). This is usually 1-2 minutes before the time stated on the packaging.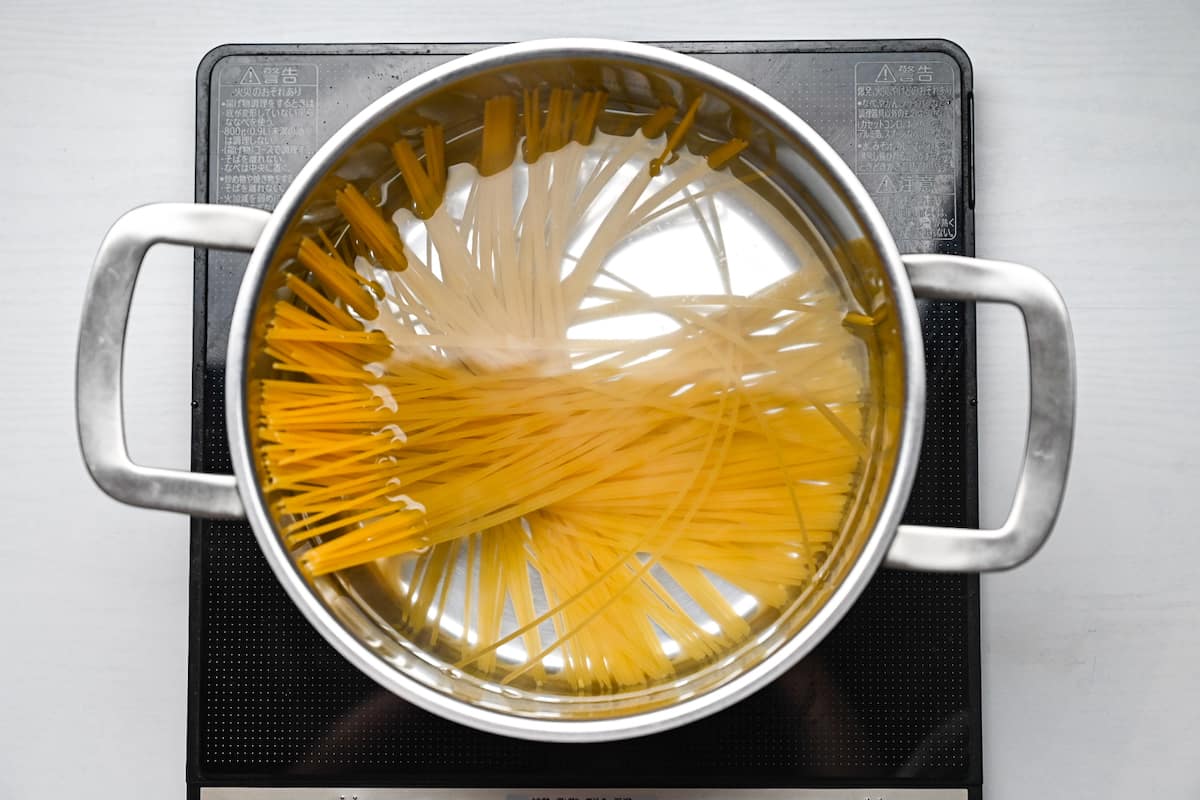 Add tomatoes and white wine
Add the crushed tomatoes and white wine to the frying pan and mix well.
Pour the cream into the pan and bring to almost boiling, stirring occasionally.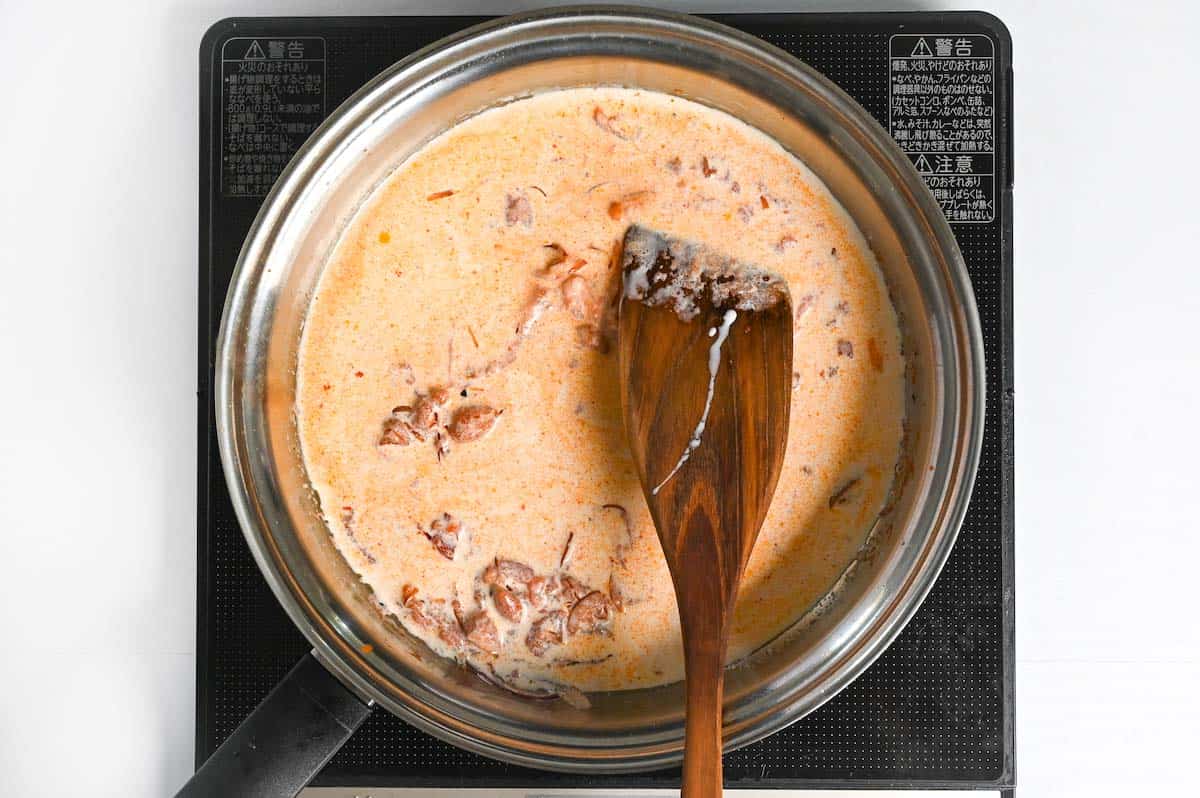 Once the cream is warmed through and almost boiling, add the uni, break it up and mix it into the sauce. Optional: save a small amount of uni to decorate the top at the end!
Continue to simmer the sauce while you wait for the pasta to finish cooking. If it gets too thick then add a small amount of pasta water to thin it out and make it glossy.
Once the pasta is cooked, transfer it to the frying pan along with the unsalted butter and turn off the heat.
Mix until the pasta is fully coated in the sauce and the butter has melted.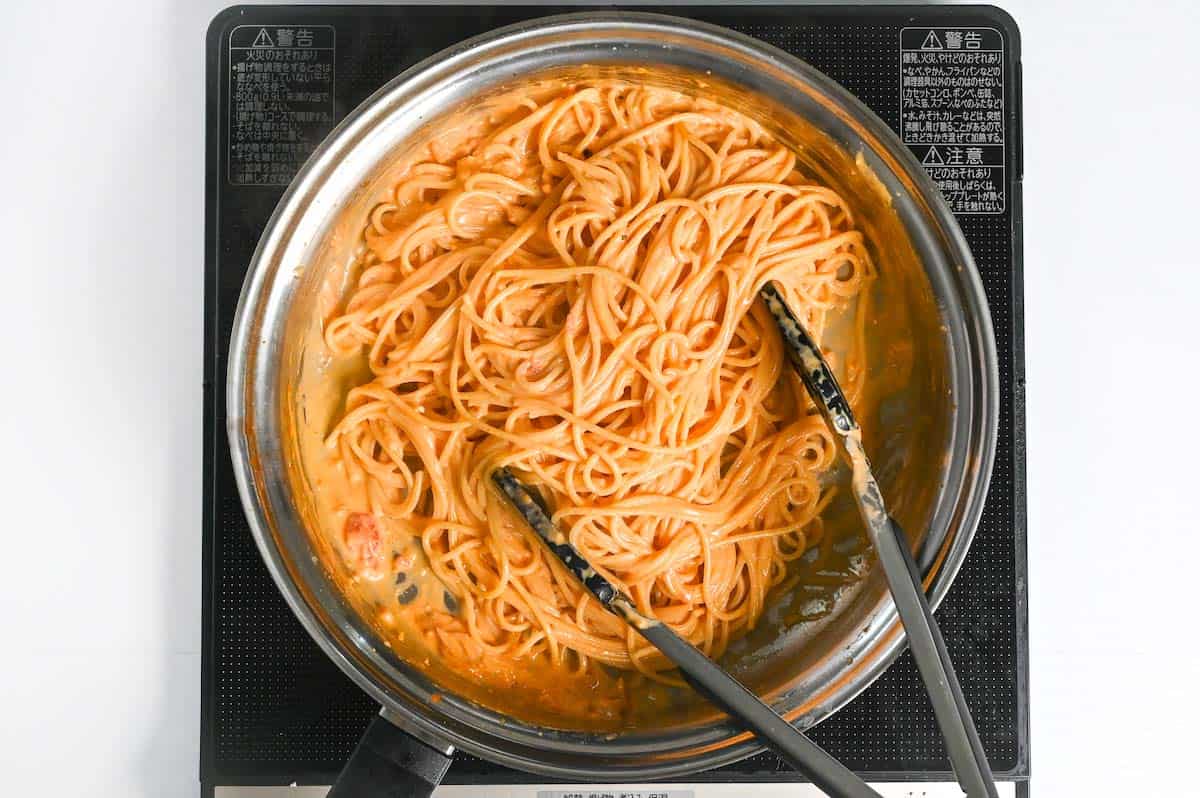 Dish up and top with a sprinkling of freshly ground black pepper and chopped parsley. If you saved some uni you can place it on the top with a parsley leaf for added decoration!
Enjoy!
I hope you enjoy making this luxurious uni cream pasta at home! If you try the recipe, we'd love to know what you thought so let us know by leaving a review and star rating in the comments below. It's also helpful to our other readers if you mention any substitutions you made. Thank you!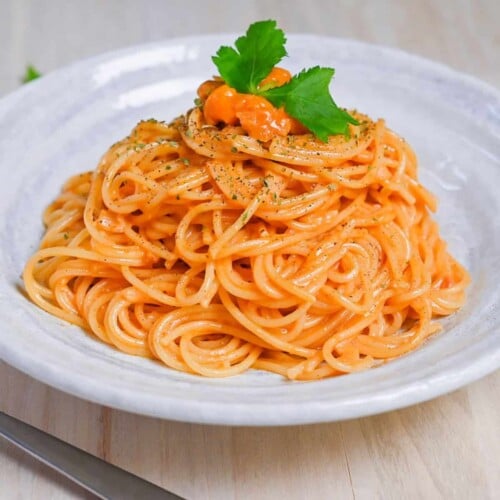 Uni Cream Pasta (Creamy Sea Urchin Pasta)
---
How to make rich and delicious Japanese Uni Cream Pasta made with al dente pasta coated in a creamy tomato sauce flavored with sea urchin.
---
---
---
---
Ingredients
200

g

dry pasta

2000

ml

water

2

tsp

salt

2

tbsp

olive oil

2

cloves

garlic

sliced

50

g

red onion

sliced

1

anchovy fillet

jarred anchovy in oil

3

tbsp

canned tomato

crushed or diced

3

tbsp

white wine

150

ml

heavy cream

36% milk fat

¼

tsp

salt

50-100

g

sea urchins "uni"

uni

1

tsp

unsalted butter

2

pinches

freshly ground black pepper

parsley

to garnish
Instructions
Bring a

2000 ml water

to a boil and add

2 tsp salt

. 

Add

2 tbsp olive oil

and

2 cloves garlic

to a cold frying pan. Heat on low and fry until the garlic is lightly golden and fragrant. Remove the garlic pieces and eat them on their own or save them for another dish (great with salads etc!)

Add the

50 g red onion

and

1 anchovy fillet

. Fry until the onion is slightly softened. 

Once the onion is softened, add

200 g dry pasta

to the boiling pot of water and cook until al dente (generally 1-2 minutes less than the packaging states). 

Add

3 tbsp canned tomato

and

3 tbsp white wine

to the frying pan. 

Mix well and then add

150 ml heavy cream

.

Once the cream is heated through and almost bubbling, add

1/4 tsp salt

and

50-100 g sea urchins "uni"

. Break up the uni and mix it into the sauce.

Allow the sauce to continue simmering while you wait for the pasta to finish cooking. If the sauce becomes too thick, add a small amount of pasta water to loosen it up and make it glossy.

Once the pasta is cooked, transfer it to the pan with the sauce and turn off the heat. Add 

1 tsp unsalted butter

.

Mix until the pasta is fully coated and the butter has melted into the sauce.

Transfer to serving plates and top with

2 pinches freshly ground black pepper

and

parsley

.

Enjoy!
Nutrition
Serving:
304.4
g
|
Calories:
856
kcal
|
Carbohydrates:
87.4
g
|
Protein:
19.9
g
|
Fat:
49.4
g
|
Saturated Fat:
23.13
g
|
Polyunsaturated Fat:
3.09
g
|
Cholesterol:
124
mg
|
Sodium:
3591
mg
|
Fiber:
6.6
g
FAQ
What does uni taste like?
Describing the taste of sea urchin is difficult, but it typically has a sweet, salty, and sea flavor with a creamy and smooth texture. However, the taste can vary depending on the type of sea urchin, where it was caught, and the season, with fresher ones being more flavorful and sweeter while older or poorly stored ones may taste bitter. When using sea urchin in dishes like pasta, affordable options work well since the difference in freshness is not as noticeable in cooked dishes compared to when eaten raw, such as in sushi.
What is uni pasta made of?
Uni pasta is made by tossing cooked pasta in a sauce made with sea urchin (uni), garlic, olive oil, butter, and sometimes cream, resulting in a rich and flavorful dish. For more details about the ingredients used in my recipe, please see the content in the article above.
Why is sea urchin so expensive?
Japanese sea urchins are expensive due to the labor-intensive process of hand-catching them from rocky habitats, their rapid loss of freshness challenging storage, limited supply from overfishing and catch restrictions, and the difficulty and time required for farming them, all of which fails to meet the high demand.
What is uni pasta?
Uni pasta is a dish that uses sea urchin (called "uni" in Japanese) as the main ingredient. Characterized by its creamy, rich and uniquely sweet flavor, uni is typically combined with a cream or olive oil-based sauce and served with al dente cooked spaghetti.
Is uni eaten raw?
Yes, uni is a common ingredient for sushi and raw sashimi bowls known as "kaisen don".