Ajitama (also known as ramen eggs) are one of the most popular ramen toppings, and for good reason! These soft-boiled eggs, gently soaked in a flavorful umami-rich sauce, are a perfect complement to a comforting bowl of ramen or a delightful snack all on their own.
Disclaimer: This post contains Amazon affiliate links. Sudachi Recipes earn a small percentage from qualifying purchases at no extra cost to you. See disclaimer for more info.
Jump to:
What is Ajitama Egg? (Nitamago/Ajitsuke Tamago)
Ajitama (味玉) is a dish made by marinating boiled eggs in a special soy sauce base broth or sauce. It is also known as "ajitsuke tamago" (味付け卵), "nitamago" (煮卵), or simply "ramen egg" in English due to the fact that it is most often used as a topping in ramen dishes.
Even though ajitama eggs are most commonly seen on ramen dishes, we also eat them as a snack in Japan. It's easy to buy them already flavored in the supermarket too!
A Brief History
The well-loved ajitama, one of the most ramen toppings, has an origin story that might raise a few eyebrows. One theory suggests that its roots trace back to Taiwan. There, a notable dish known as Danzai noodles sometimes comes topped with a boiled egg marinated in soy sauce. Many believe this Taiwanese dish served as the muse for what we now know in Japan as "ajitama."
While its true origins remain a bit hazy, one thing's almost certain: Kan Chin Tei (now closed), a ramen joint tucked away in Ogikubo, Tokyo, is credited as the first in Japan to introduce ajitama as a ramen topping. However, it was at another eatery, Chibakiya, where soft-boiled eggs made their ramen debut. The man behind this innovation was a chef (Kenji Chiba) who originally specialized in traditional Japanese cuisine.
Chiba found himself awestruck by Taishoken, a ramen restaurant where people queued up just for a taste of their incredible noodles regardless of the look and atmosphere. At the age of 40, he left his executive chef position and decided to follow his newfound passion for ramen.
Before Chiba, the eggs on ramen were typically hard-boiled or had a heavily seasoned surface. Using the culinary techniques he'd learned from traditional Japanese cuisine, he pioneered the perfect soft-boiled egg, a game-changer in the world of ramen.
Nowadays, you'll find half-boiled ajitama in nearly every ramen restaurant, but before Chibakiya, this innovation was simply not a part of the ramen scene. Chiba's contribution was not just an ingredient; it was a transformation of tradition.
Ajitama vs Nitamago: Is There a Difference?
You might have noticed that I've been using "Ajitama," "Ajitsuke tamago," and "Nitamago" to describe this delicious egg dish. So, you're probably wondering, "What's the difference?" In short, ajitama is just an abbreviation of ajitsuke tamago, so they're exactly the same thing. But Nitamago, strictly speaking, is a little different.
Here's how it breaks down: Ajitama is mostly soft-boiled and flavored by being placed in a container like Tupperware or a Ziploc bag with marinade added to it. Nitamago, on the other hand, starts as a boiled egg, which is then simmered further in a pot with seasoned broth, resulting in a hard-boiled egg. To give a simple example, a nitamago would be made by boiling a boiled egg with Kakuni (Japanese braised pork belly) or Oden (Japanese winter stew).
These days, however, the line between the two has become quite blurry, and half-boiled eggs also started to be called nitamago. If you google nitamago recipes in Japanese, you'll mostly find recipes with half-boiled eggs. Perhaps hard-boiled nitamago has fallen out of favor in the face of the popularity of half-boiled eggs in general. So, all in all, it does not really matter which term you use to describe marinated soft-boiled eggs to use for ramen.
Ingredients and Substitutions
Tsuyu sauce - This is a concentrated condiment made with dashi (Japanese soup stock), soy sauce, mirin (sweet cooking sake), and sugar. You can either use a store-bought one like this, or I have instructions on how to make homemade tsuyu sauce.
Soy sauce - If you want to know more about soy sauce used for Japanese cooking, please see my 20 Most Useful Condiments and Seasonings for Japanese Cooking post.
Water - Use to thin the marinade slightly.
Mirin - Choosing the right mirin can be tricky, as there are various "mirin-style condiments" that are not true mirin. When purchasing mirin, it is recommended to look for "hon mirin" (本みりん) for the best flavor. In the US, Hinode Hon Mirin is a high-quality and affordable option. Another premium hon mirin available on Amazon US is Kokonoe Jun Mikawa Hon Mirin. If you prefer a more budget-friendly option that is not hon mirin, Kikkoman's Manjo Aji Mirin would be a suitable choice.
Sake - If you do not have it, substitute white wine or dry sherry.
Sugar - I use light brown sugar, but white sugar is also fine.
Medium-sized eggs - Use pasteurized eggs, as they are eaten half-cooked.
Salt - Regular sea salt used for general cooking.
I have listed my recommended Japanese condiments, tools, and ingredients in the Sudachi Recipes Amazon shop. If you want to keep making various Japanese foods at home, please check it out!
Boiling an Egg: Timing, Techniques, and Tips
Ajiatama, especially the ones used for ramen is always soft-boiled! It's one of their characteristics! Here is my way to get perfect soft-boiled eggs every time!
Firstly, make sure the pan fits enough water to completely cover your eggs.
Bring the water to a gentle rolling boil and carefully lower your eggs in using a ladle. (The eggs should be cold and straight from the fridge.)
Set the timer for 7 minutes to achieve firm whites and outer yolk with a soft, slightly runny center.
As soon as the timer is up, put the eggs straight into ice-cold water to stop the cooking process. If you skip this step, the eggs will continue to cook with the residual heat which will lead to firm yolks.
Cool for 10-15 minutes and peel them in the bowl of water. Once the shell is cracked, the water will seep in and help separate it from the egg, making it easier to peel.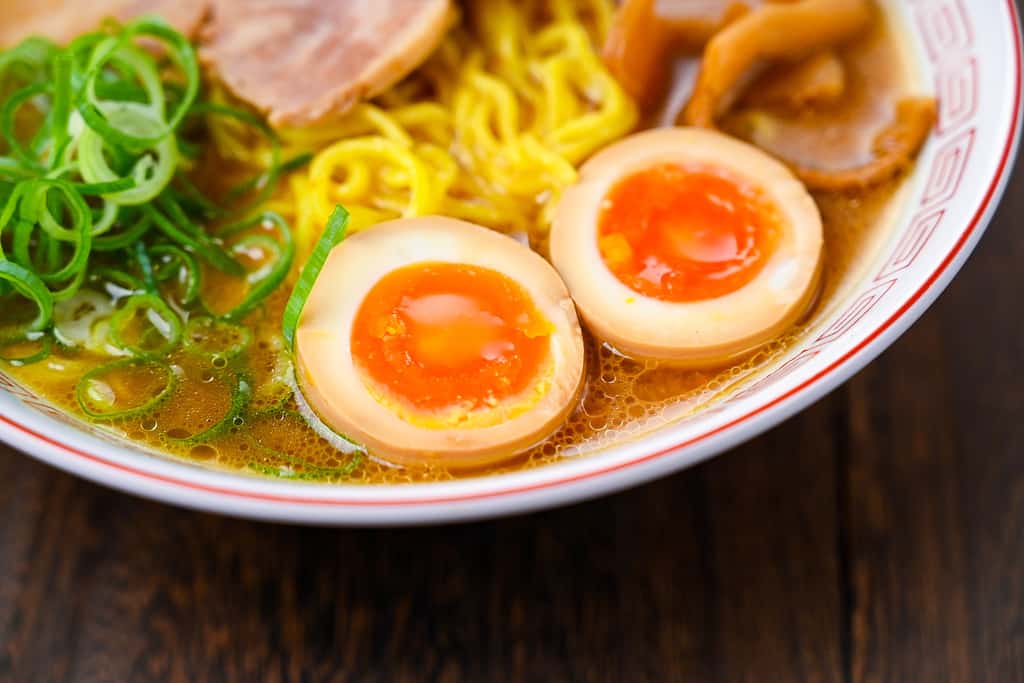 Step-by-Step Process
Add tsuyu sauce, soy sauce, water, mirin, sake and sugar to a saucepan and bring to a boil over a medium heat. Boil for 1-2 minutes to cook off the alcohol in the sake and mirin, then remove from the heat and leave to cool.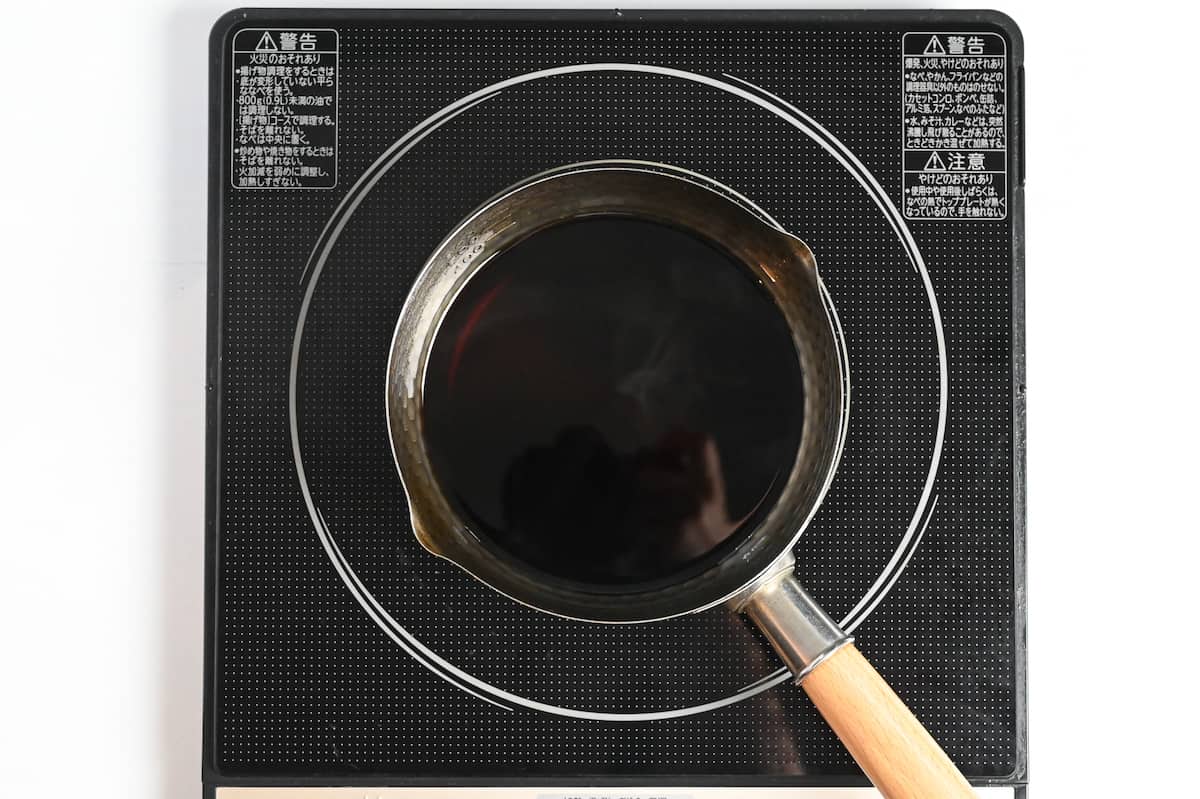 Bring a pot of water to a rolling boil and add salt. Keep the eggs in the fridge until it's time to add them to the water. Salt water will help prevent the egg white leaking out if the shell happens to break.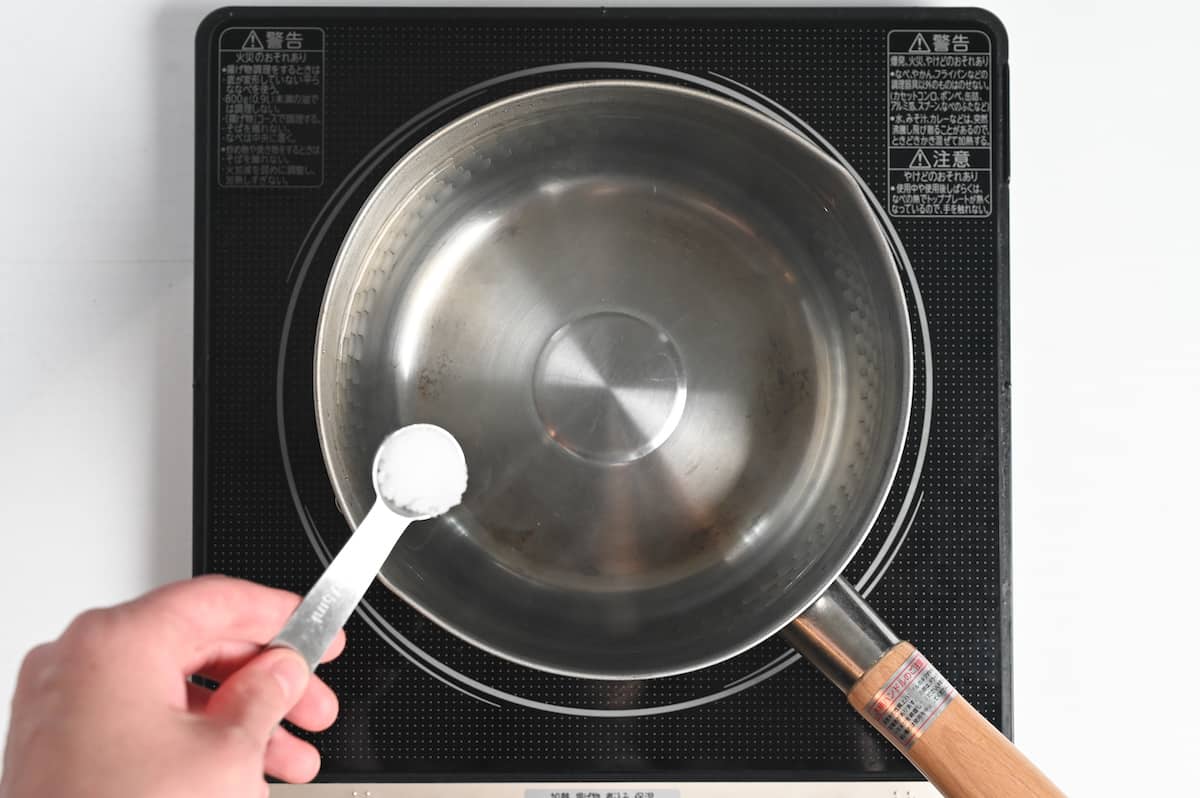 Once the water is boiling, use a ladle to gently lower the eggs into the pot to prevent them from breaking.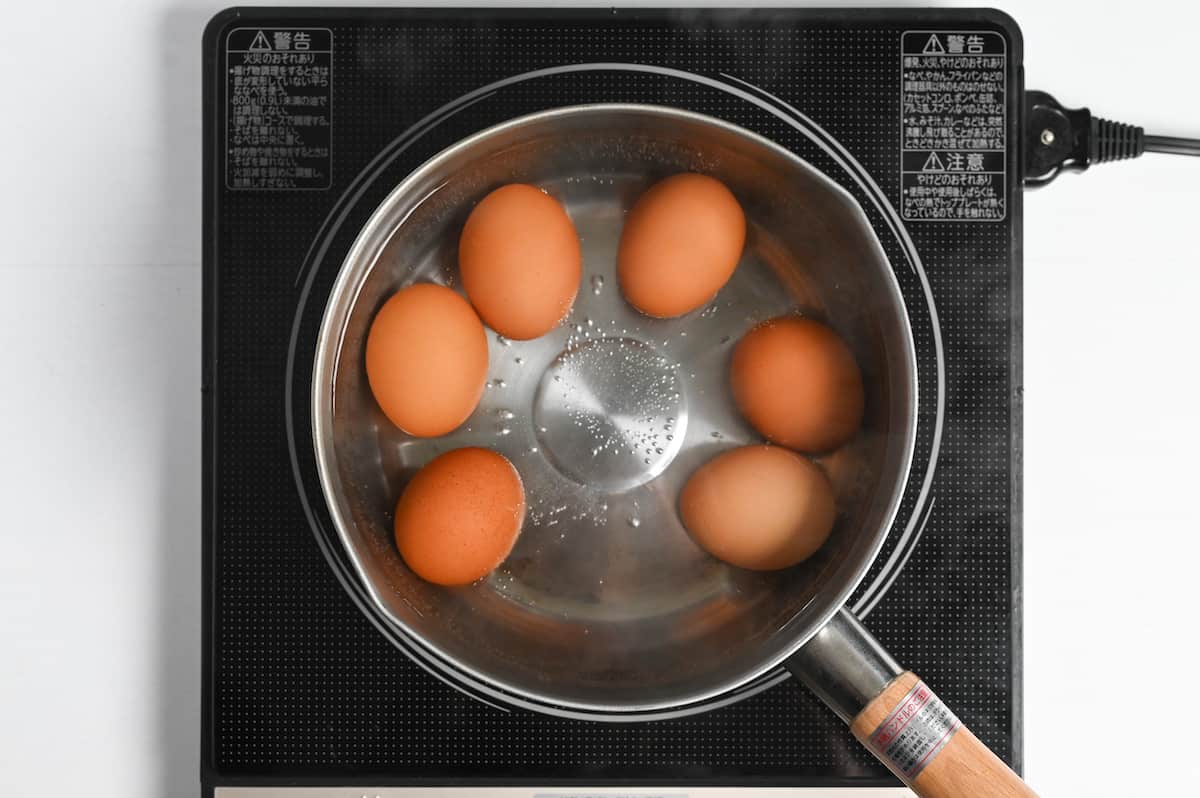 As soon as the eggs are in the pot, set a timer for 7 minutes. This will cook the egg whites and the outside of the yolk, but leave the center slightly runny. (If you don't like runny yolks, feel free to cook them for up to 9 minutes for a hard boiled egg.)
Place a lid on to stop the water from evaporating.
While you wait for the eggs to cook, prepare a bowl of ice water.
After the timer goes off, transfer the eggs straight to a bowl of ice-cold water. This halts the cooking process and prevents the yolk from becoming overcooked. Leave to cool for 10 minutes.
Peel the shells off of the eggs and dry them with kitchen paper. Drying them with stop your marinade becoming watered down.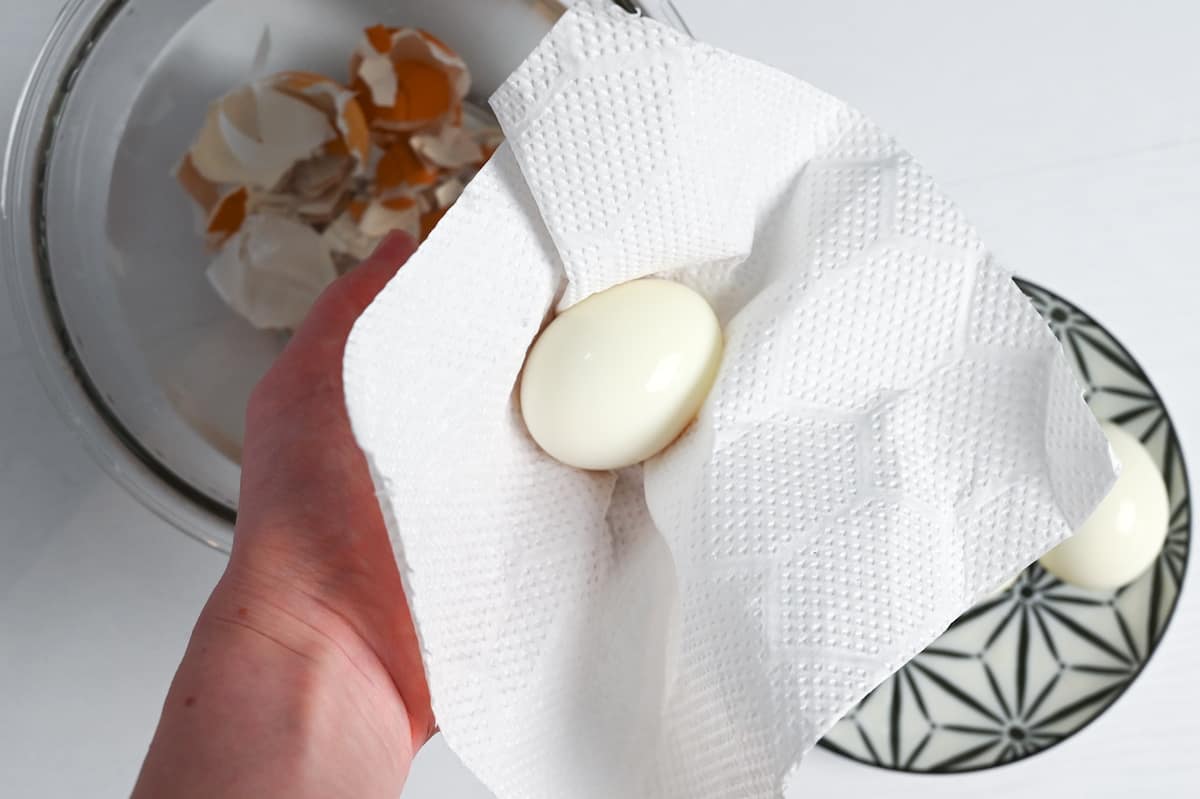 Place the eggs in the marinade
The marinade should be cool by now, so pour it into a ziplock bag and add the soft-boiled eggs. It's important that the marinade is cool before adding the eggs! If it's still warm, wait a bit longer.
Can I use a lunchbox or Tupperware to marinate instead?
The reason I use a ziplock bag is because I only use a small amount of marinade and the ziplock bag makes it easy to ensure all of the eggs are covered. If you use a square container, you will need more marinade OR you will need to turn the eggs occasionally to ensure they're evenly flavored.
Seal the bag and place it on a tray in the refrigerator. The tray helps prevent leaks (just in case!).
Marinate for at least 45 minutes up to overnight.
Enjoy your perfectly cooked and seasoned soft-boiled ajitsuke tamago on top of your favorite ramen or as a satisfying snack!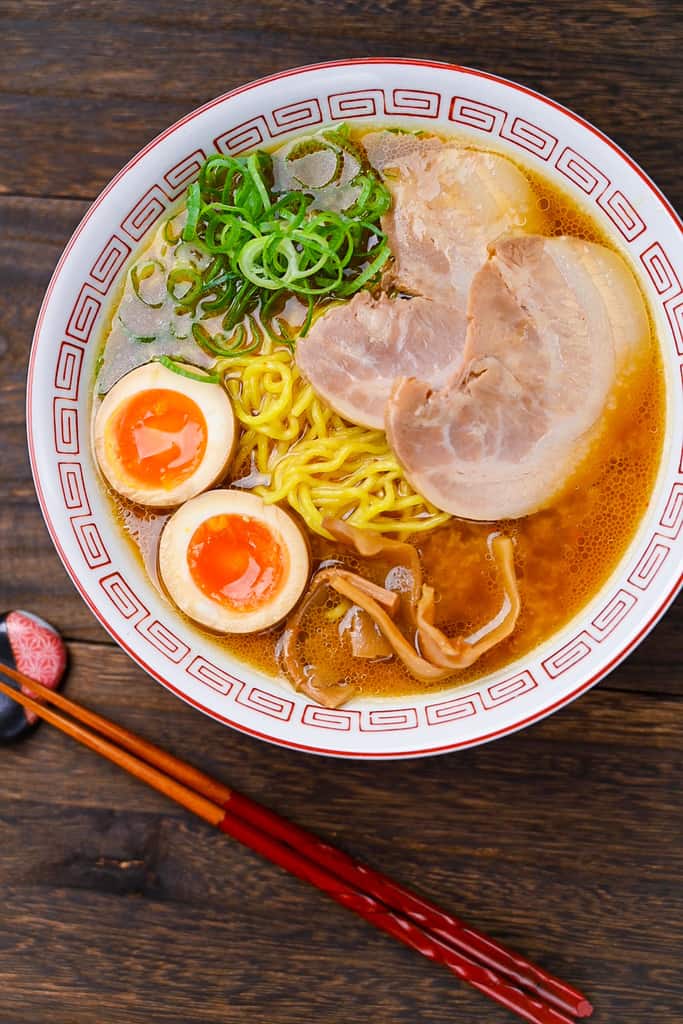 Storage options
The best way to store ajitsuke tamago is to keep them in the refrigerator in a sealed container soaking in the marinade. Since the marinade is quite salty, it helps preserve the eggs longer.
Keep in mind that the longer the eggs are in the marinade, the stronger the taste will be. You can store them in the marinade for about 3-4 days.
If you find the taste starts to become too strong for your liking, remove them from the marinade and store them in a new, clean container. Consume within 24 hours of removing them from the marinade.
Integrating the Perfect Ajitama Egg in Ramen Recipes
Ajitama eggs are delicious and eaten on their own as a snack, but of course the best way to eat them is in a bowl of hot ramen! Check out some of my recipes that are delicious with ajitama!
Shoyu ramen (soy sauce base ramen)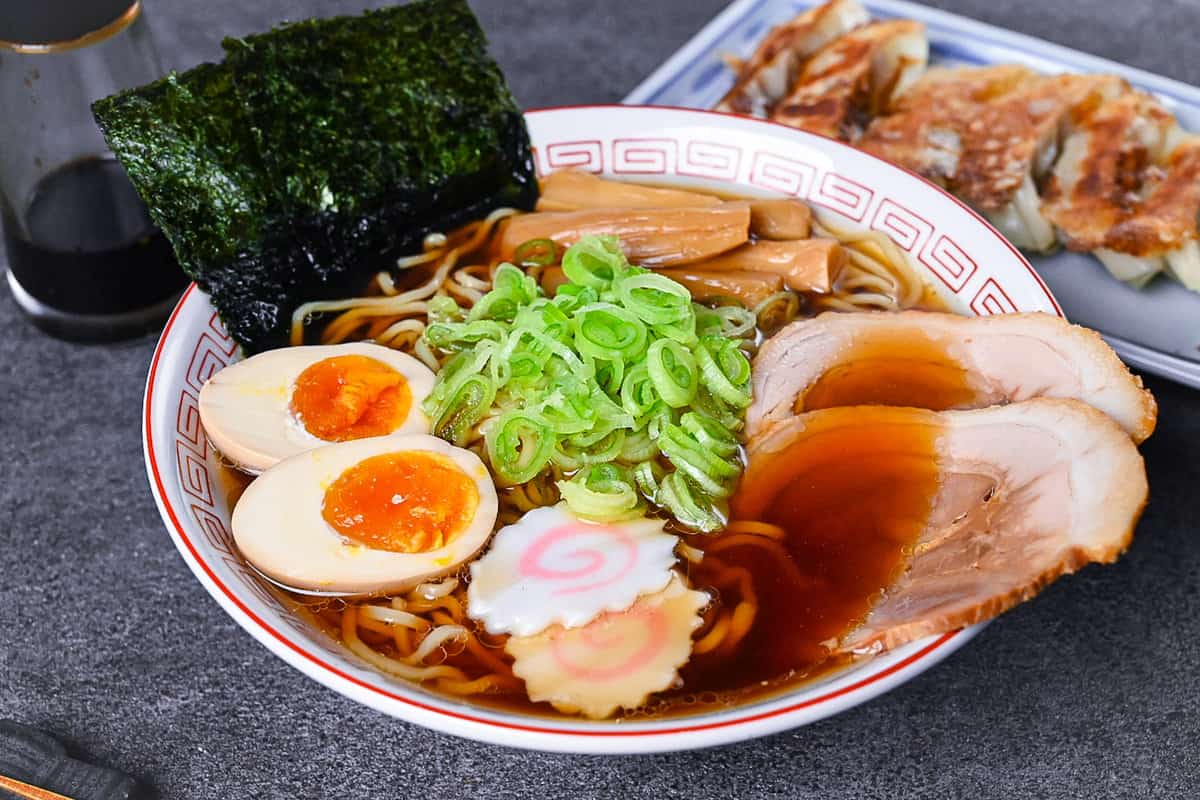 Shoyu ramen, a traditional Japanese dish often called "chuka soba," is known for its unique soy sauce-based tare (sauce), and is considered one of the most authentic forms of ramen.
This particular recipe remains true to the classic shoyu ramen origins, using a combination of chicken wings and dashi stock for the soup base, rather than incorporating modern adaptations. For those eager to try an authentic taste of Japan, I encourage you to give this recipe a shot.
Homemade Shoyu Ramen Noodles (soy sauce flavored chuka soba)
How to make classic Japanese shoyu ramen with a soy sauce flavoured broth from scratch!
Check out this recipe →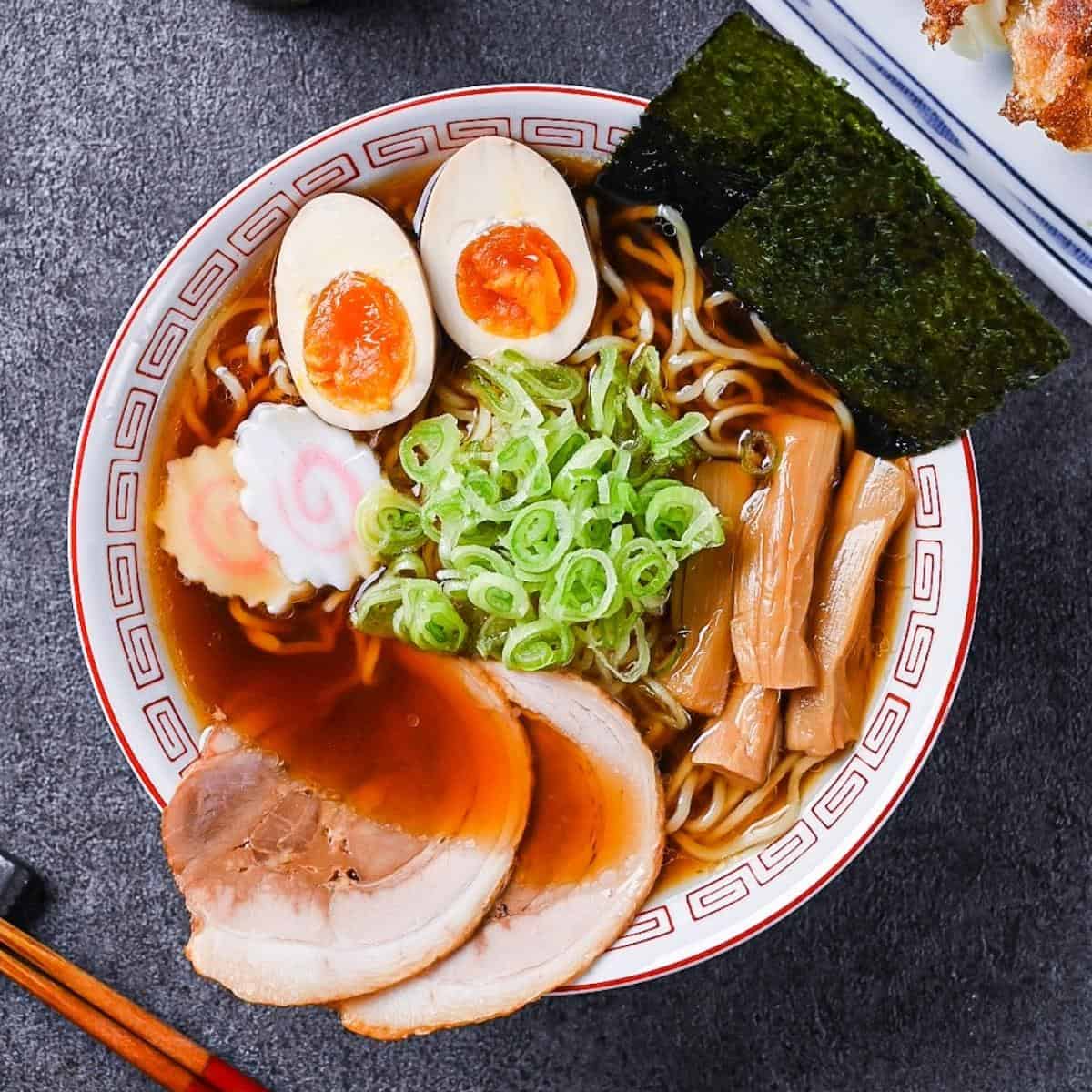 Chicken shio ramen (salt base ramen)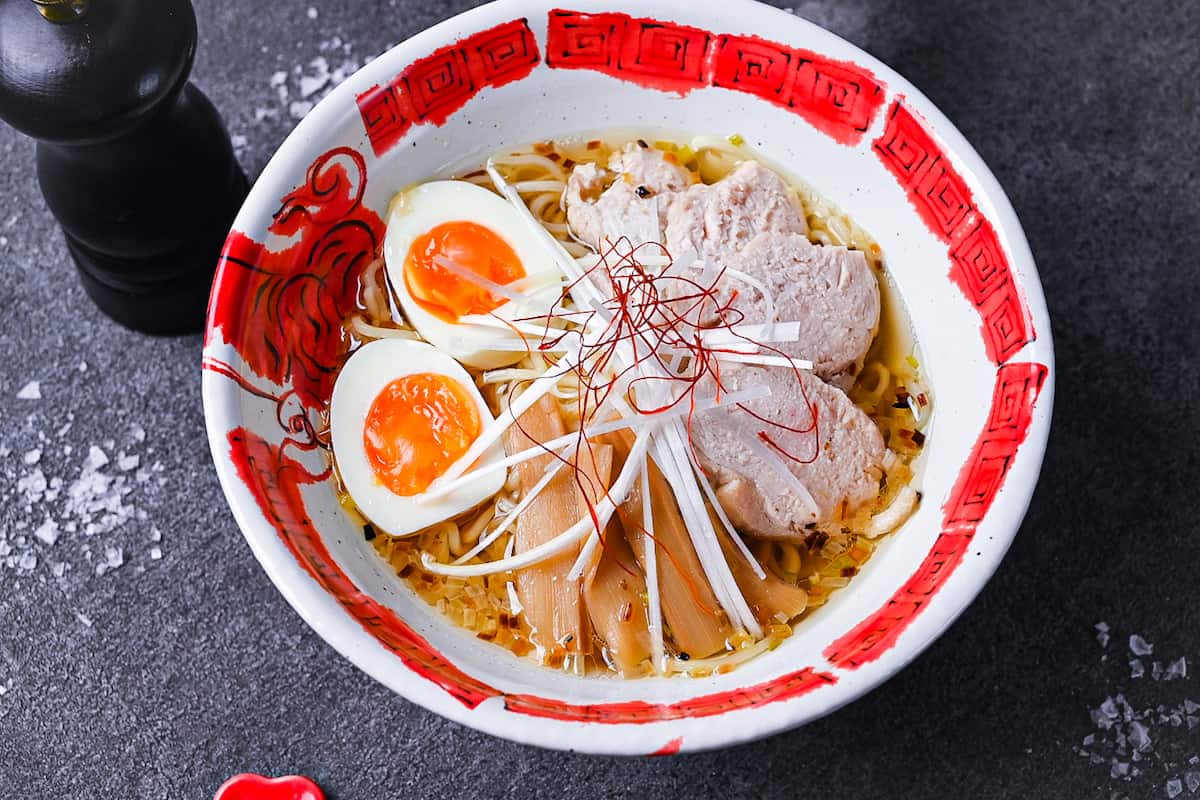 Shio ramen is another traditional type of ramen, characterized by its distinctive salt-based tare (sauce) and dashi. Alongside shoyu ramen, it's considered one of the oldest ramen varieties in Japan.
Given its simplistic and clear broth, free of heavier condiments like soy sauce or miso, shio ramen presents a unique challenge to chefs—its plainness leaves no room for flavor imperfections to hide. If you're looking to try a unique, lighter take on traditional ramen, I highly recommend exploring this shio ramen recipe—it might just become your new favorite!
Chicken shio ramen (salt base broth)
How to make delicious Chicken Shio Ramen with salt based broth from scratch at home!
Check out this recipe →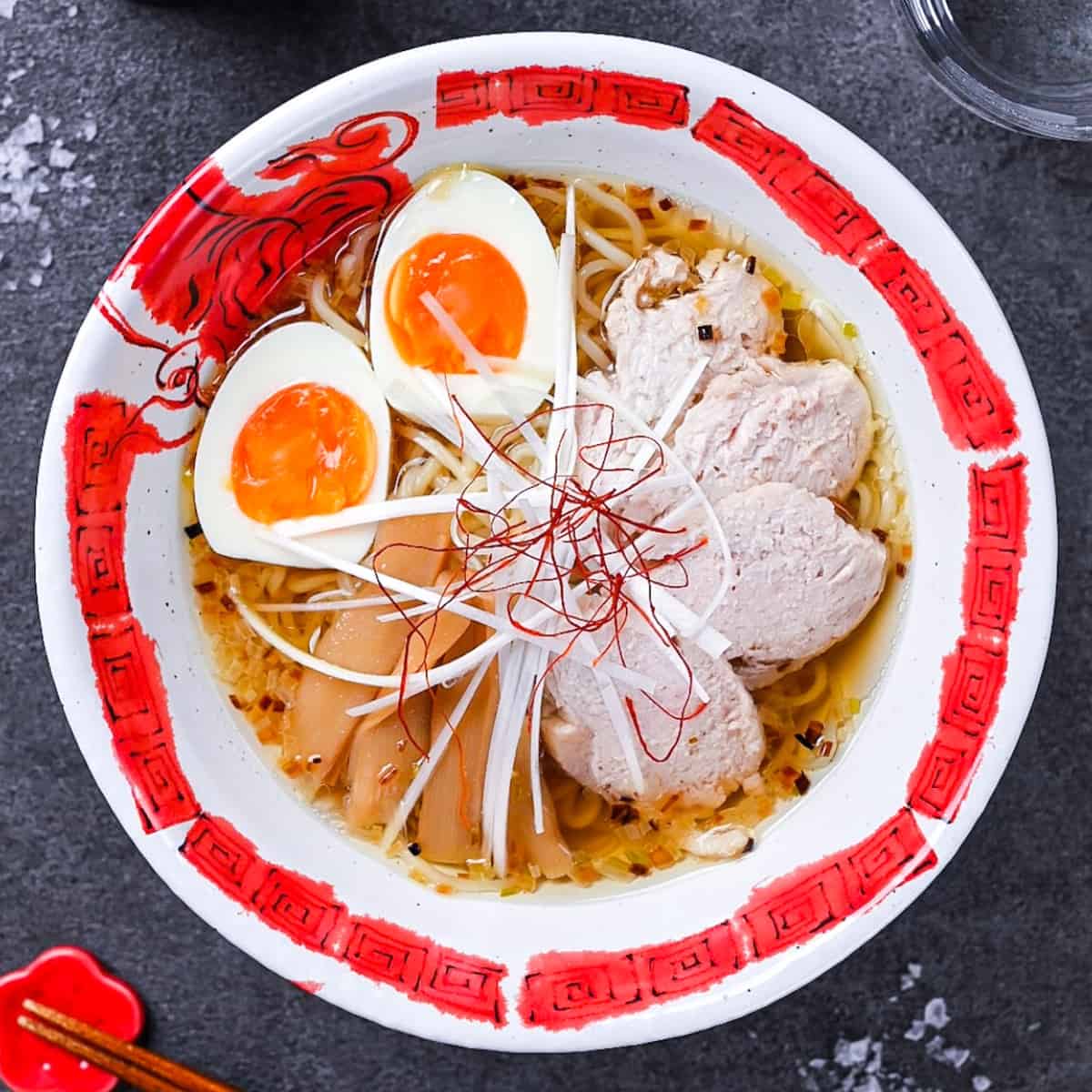 Abura soba (soupless ramen)
Abura soba is a distinctive type of ramen characterized by its unique sauce and lack of soupy broth, typically garnished with an assortment of toppings like chashu, ajitama eggs, green onion, and menma.
Prior to consumption, it's essential to thoroughly mix the ingredients, ensuring every bite is bursting with flavor. The addition of vinegar and chili oil is also common. Given the versatility and rich flavor profile of abura soba, I highly encourage you to give this recipe a try—it might introduce you to a whole new way of enjoying ramen!
Abura Soba (Soupless Ramen) 油そば
How to make quick and easy "Abura Soba" (soupless ramen) with delicious homemade tare.
Check out this recipe →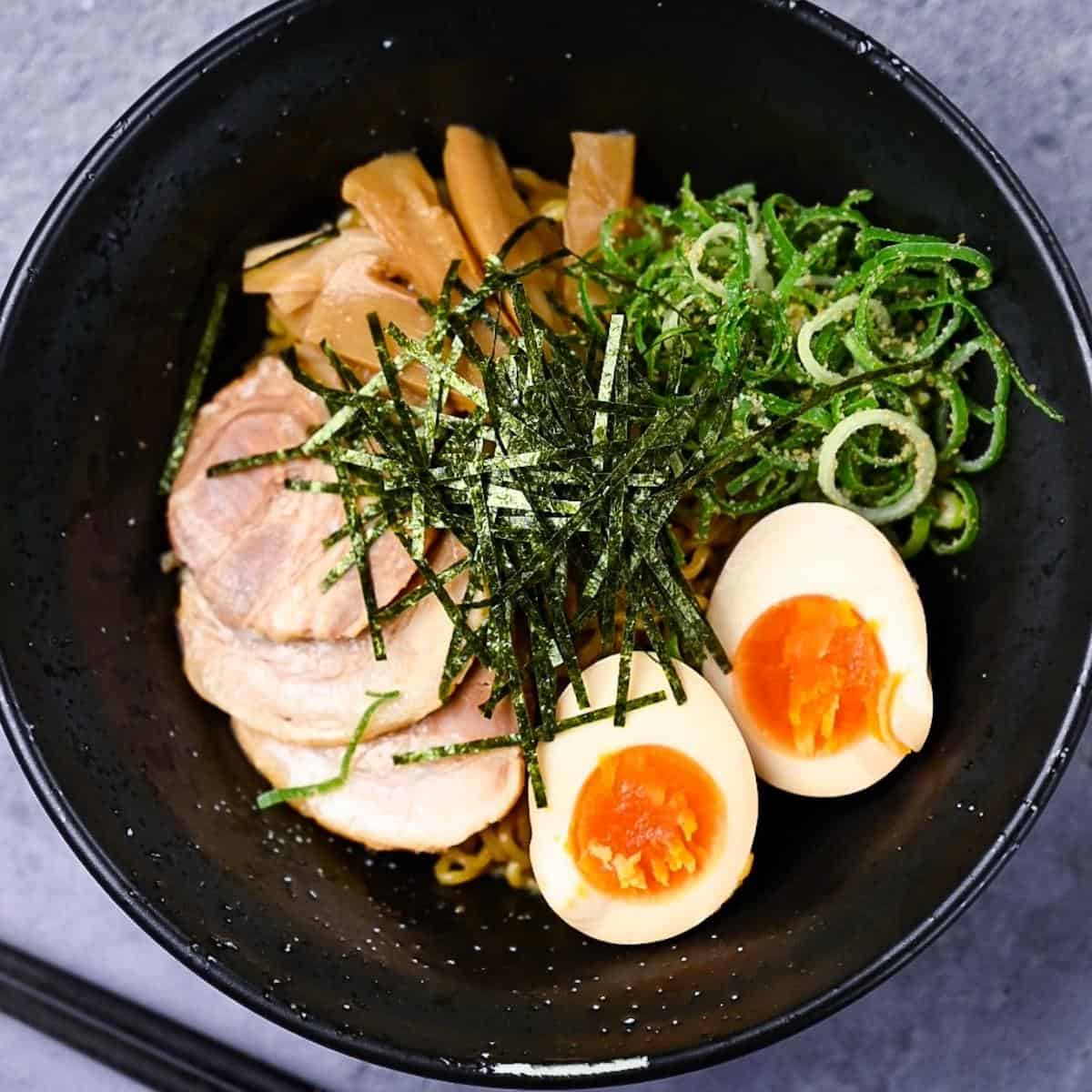 So far, I have only selected three recipes, but you can use this ajitama egg for other ramen recipes such as the following!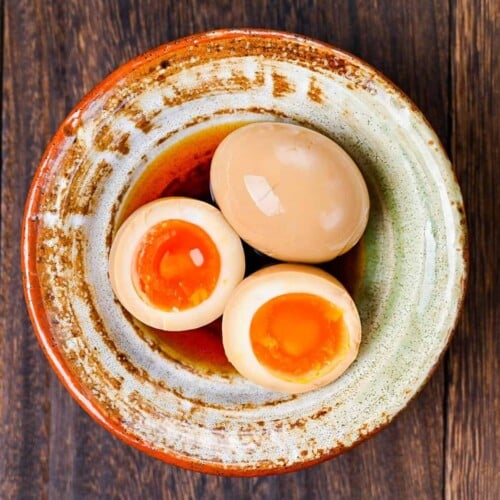 Ajitama Egg (Nitamago/Ajitsuke Tamago)
How to make the perfect ramen egg (ajitsuke tamago/nitamago). Soft boiled egg marinated in a homemade, umami-rich sauce. Serve on top of a delicious bowl of ramen or enjoy on its own as a snack!
Ingredients
75

ml

tsuyu sauce

25

ml

soy sauce

75

ml

water

25

ml

mirin

10

ml

sake

4

g

sugar

water

1

tsp

salt

6

medium egg(s)

1

bowl

ice-cold water
Instructions
In a small pan, add 75 ml tsuyu sauce,

25 ml soy sauce

,

75 ml water

,

25 ml mirin

,

10 ml sake

and

4 g sugar

. Mix and bring to a boil over a medium heat. Boil for 1-2 minutes, then remove from the heat and leave to cool.

Next, bring a pan of

water

to a rolling boil and mix in

1 tsp salt

. (It should be enough water to completely cover the eggs)

Add

6 medium egg(s)

to the pot and set a timer for

7 minutes

to make soft-boiled eggs. (Increase the time to up to 9 minutes for a firmer yolk.)

Place a lid on top to stop the water from evaporating.

Once the time is up, immediately transfer the eggs into a

1 bowl ice-cold water

to halt the cooking process.

Leave the eggs to cool for about 10 minutes and then peel them in the water. Dry with kitchen paper to prevent watering down the marinade.

Once the sauce is cool, place the eggs and sauce together in a zip-lock bag and store them in the fridge for 45 minutes. (Tip - place the bag on a tray to prevent any leaks or spills!)

Enjoy with ramen or as a snack! 
Notes
Keep the ramen eggs in the fridge for up to 3 days (the flavor gets stronger each day) and discard the sauce after one use.
Use a ziplock bag rather than a Tupperware to make sure the eggs are fully covered. If using a box container, you will need to turn the eggs occasionally to make sure they're evenly flavored/colored.
Refrain from reusing the sauce (for both taste and hygiene reasons). Discard after use and make a fresh marinade for each batch of eggs.
You don't need to reheat the eggs, they will warm up in the ramen soup. 
If you want to heat them up, place them in warm water that is no hotter than 70 degrees C/ 158 degrees F for a few minutes.
Nutrition
Serving:
79.2
g
Calories:
101
kcal
Carbohydrates:
4.1
g
Protein:
7.3
g
Fat:
5.6
g
Saturated Fat:
1.72
g
Polyunsaturated Fat:
0.79
g
Cholesterol:
204
mg
Sodium:
875
mg
FAQ
What is a ramen egg?
Ramen egg is a soft-boiled egg soaked in a marinade. It's also known as ajitsuke tamago, ajitama or nitamago in Japanese.
What kind of eggs are used for ramen eggs?
Ramen egg is made with chicken eggs.
How do you soft boil an egg?
Bring water to a boil, cook the eggs for 7 minutes, and transfer to ice-cold water as soon as they're done. See in post for a more detailed explanation.
How do you reheat ramen eggs?
We usually don't reheat them as you can risk making the yolk too firm. The ramen egg tends to warm up in the ramen soup. If you really want to reheat them, you can place them in hot water, no warmer than 70C/158F to ensure they don't start cooking again.
How long can I keep ramen eggs?
They should be kept in the fridge and eaten within 3-4 days in the marinade or 24 hours once removed from the marinade.
Can I reuse ajitama marinade?
Not only does the marinade lose its flavor after soaking the first batch of eggs, but reusing it increases the risk of bacteria forming. The marinade can only be kept for 3-4 days which means that each batch of eggs will have a shorter life. I recommend making a new marinade for every batch of ramen eggs.