This rich and creamy Japanese style cream stew is made with chicken and vegetables simmered in a delicious homemade soup. All you need is one pot and 30 minutes, it's so easy! Serve this dish with warm baguette for a delicious and comforting meal, especially great in the winter.
Disclaimer: This post contains Amazon affiliate links to help our readers find the products used by us. Sudachi Recipes earn a small percentage from qualifying purchases at no extra cost to you. See disclaimer for more info.
What is Japanese Cream Stew?
Japanese cream stew (クリームシチュー) is one of many "yoshoku dishes", a type of Japanese dish with Western influence. Made with chicken thigh and a variety of vegetables such as brocolli, bell peppers and carrot, Japanese cream stew is somewhat similar to the French stew, "Blanquette de veau".
However, the main difference between French "blanquette de veau" and Japanese cream stew, is that blanquette de veau is made with veal rather than chicken.
Japanese cream stew is supposed to be a family dish, it uses less sophisticated ingredients so that it can be enjoyed by the whole family including kids. It's even on the Japanese school lunch menu!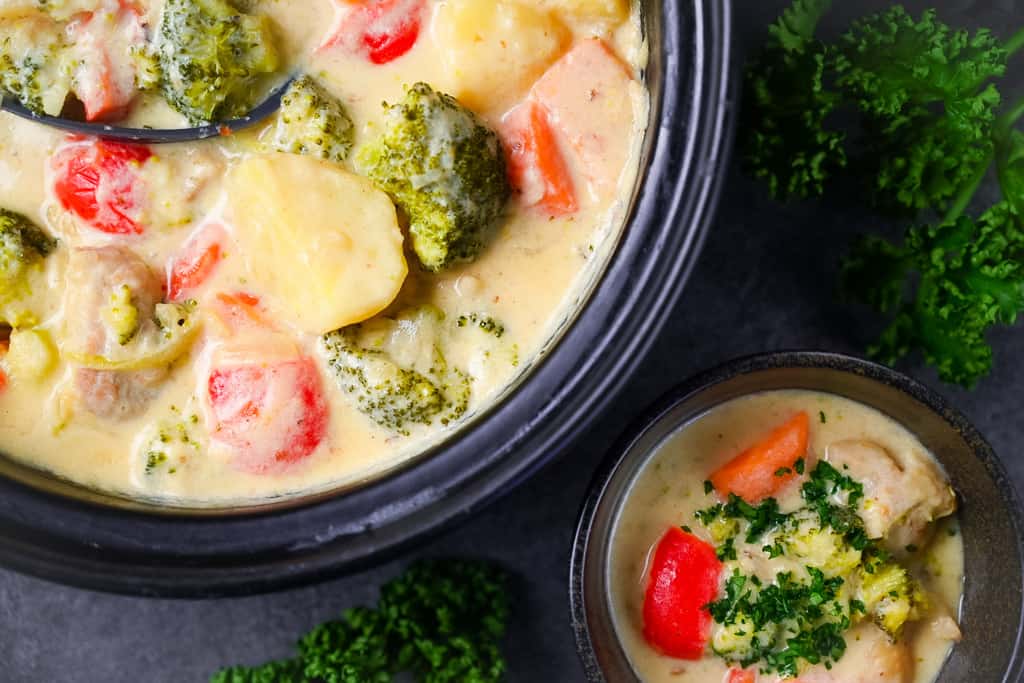 Brief history
Curry rice and nikujaga are probably the most common comfort foods eaten in the winter at home in Japan. These are known as dishes that were originally arranged in Japan after the Meiji era (1868-1912), when meat consumption became common.
The history of cream stews, though, is a mystery. One cookbook published in 1872 lists beef and pork stews, as well as vegetable stews such as tomato stew, but there is no description of what appears to be a cream stew made with chicken.
Although records of a similar white-sauce dish have been around since the Taisho era (1912-1926), it was not until after 1945 that its existence became widespread. It is said that the original cream stew was created as a school lunch at a time when the food situation was not good, and the government took the lead in providing nutritious meals to children.
However, in the beginning, skimmed milk powder was used instead of milk in order to keep costs down. Over time, milk and cream became more common cooking ingredients and are used to make the cream stew as we know it today.
Japanese cream stew roux cubes box
In 1966, an event occurred that would further change the history of cream stew. House Foods launched a "Stew Mix". The development of this product began with the idea of recreating the white stew that was popular at school lunches as a powdered product that could be easily made at home. From there, cream stew further spread as a common household dish in Japan.
In fact, many families still make cream stew using pre-made roux cubes. However, it's surprisingly quick and easy to make at home from scratch (unlike curry rice) so there is no need to go to the trouble of buying expensive Japanese cream stew roux cubes and making cream stew abroad.
If you still want to use pre-made Japanese cream stew roux, I would recommend House or S&B but I personally want you to carry on reading this post to see how simple it is to make Japanese cream stew from scratch at home using accessible ingredients!
Japanese cream stew on midnight diner
Japanese cream stew has appeared in the Japanese drama "Midnight Diner," which is available on Netflix worldwide.
The episode in which the cream stew appeared was episode 6 of the second season, a touching story about a mother and daughter. If you are interested, you can watch it on Netflix.
Ingredients You Will Need
Japanese cream stew usually contains:
Chicken (I use thigh)
Potato (Waxy type)
Carrot
Onion
Broccoli
Bell pepper
Cream or/and Milk
These days, pre-made white stew stock cubes are often used and you can just add water, meat and vegetables (similar to using Japanese curry roux cubes). It's especially for convenient home cooking and you can find them here on Amazon (affiliate link). But it's very easy to cook from scratch as well.
While you can eat Japanese cream stew with rice, I think it's especially good with warm baguette!
Curious about the exact brands and products that bring my recipes to life? Discover the brands and ingredients behind my recipes at the Sudachi Amazon Storefront. Explore my handpicked pantry essentials and find your next kitchen favorites!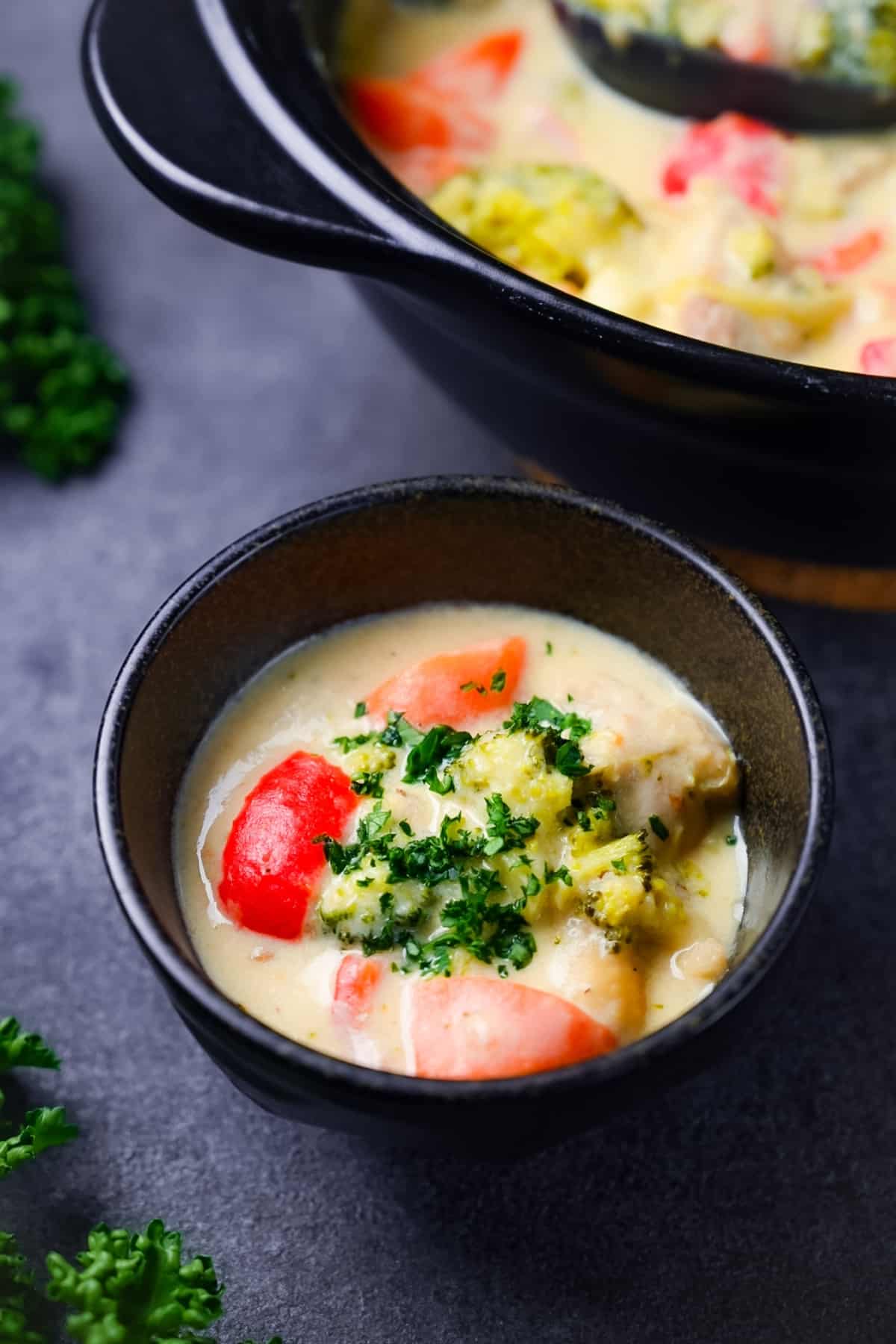 Step-by-Step Process
Here are my step by step instructions on how to make Japanese chicken cream stew from scratch including process pictures and extra tips and information! For an ingredient quantities and a simple, printable version of the recipe, see the recipe card at the bottom of this post.
Cut the vegetables
Wash and cut the vegetables according to this list:
Carrots roughly chopped into bitesize pieces
Potatoes roughly cut into bitesize pieces
Broccoli cut into bitesize florets
Bell pepper cut into small cubes
Onion thinly sliced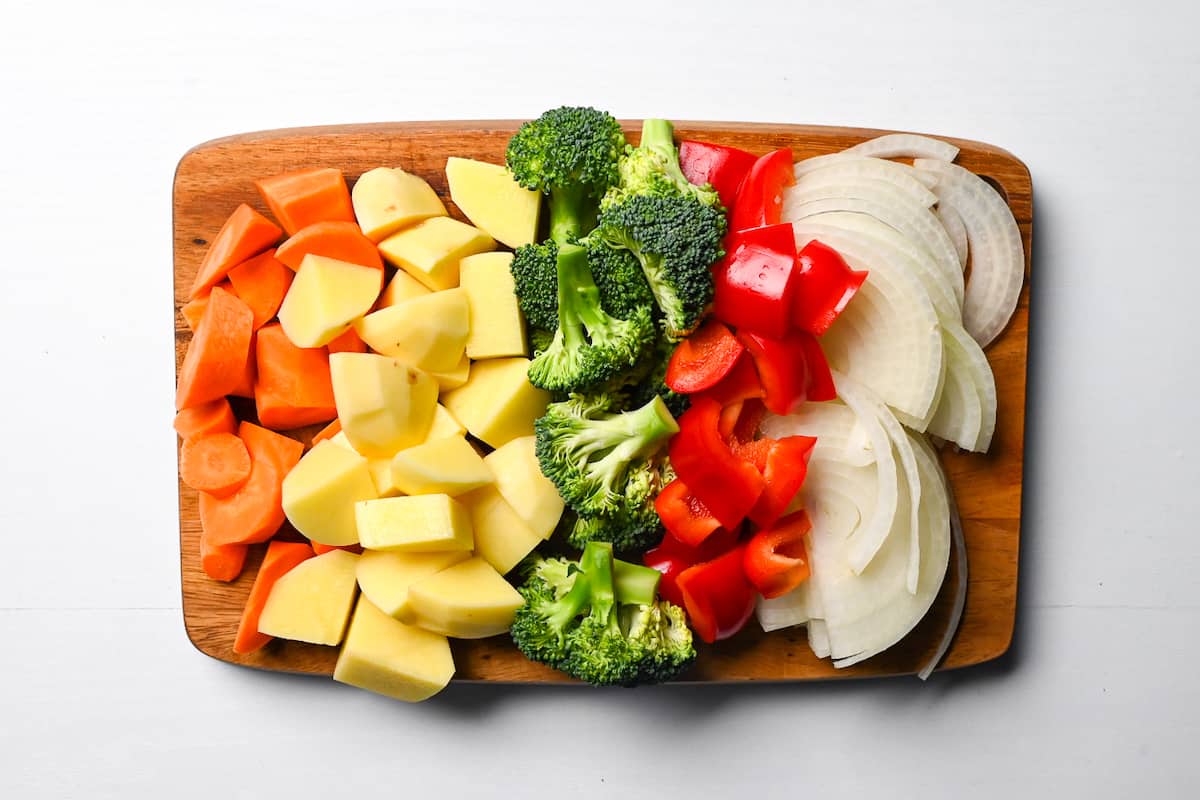 The size of the vegetables is quite important for this recipe. They should be small enough to cook quickly but not so small that they fall apart when simmering in the broth. You should also take care to cut the vegetable to similar sizes so that they cook evenly, most of them are added to the pot at the same time.
Coat the chicken in flour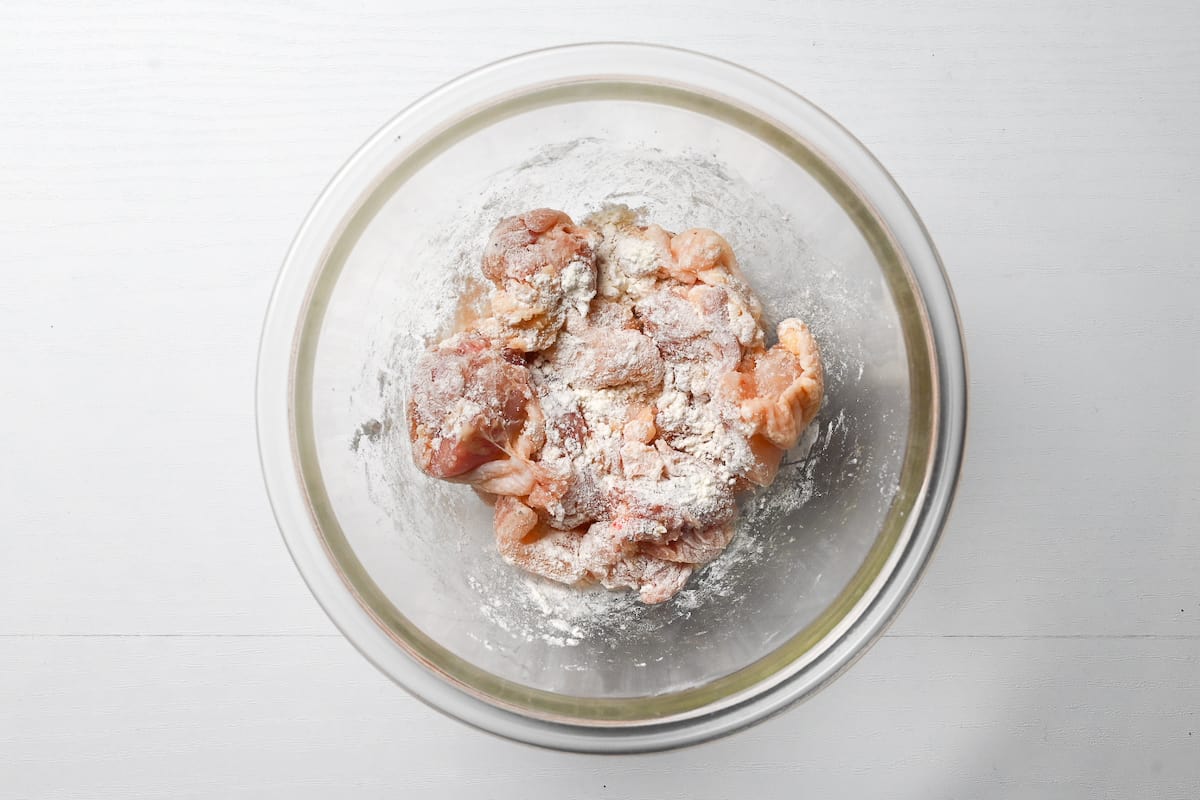 Cut the chicken into bitesize pieces, sprinkle with a pinch of salt and pepper and then coat with a thin layer of flour. The flour will protect the chicken and help create a delicious crust, in turn each piece will pick up more flavour and help the broth stick to the surface. This step not only improves the taste and texture of the chicken, but also it will also contribute to thickening and flavouring the broth later.
Sear the chicken
Heat a pot or large pan on medium-high and add a drizzle of oil. (I used olive oil.)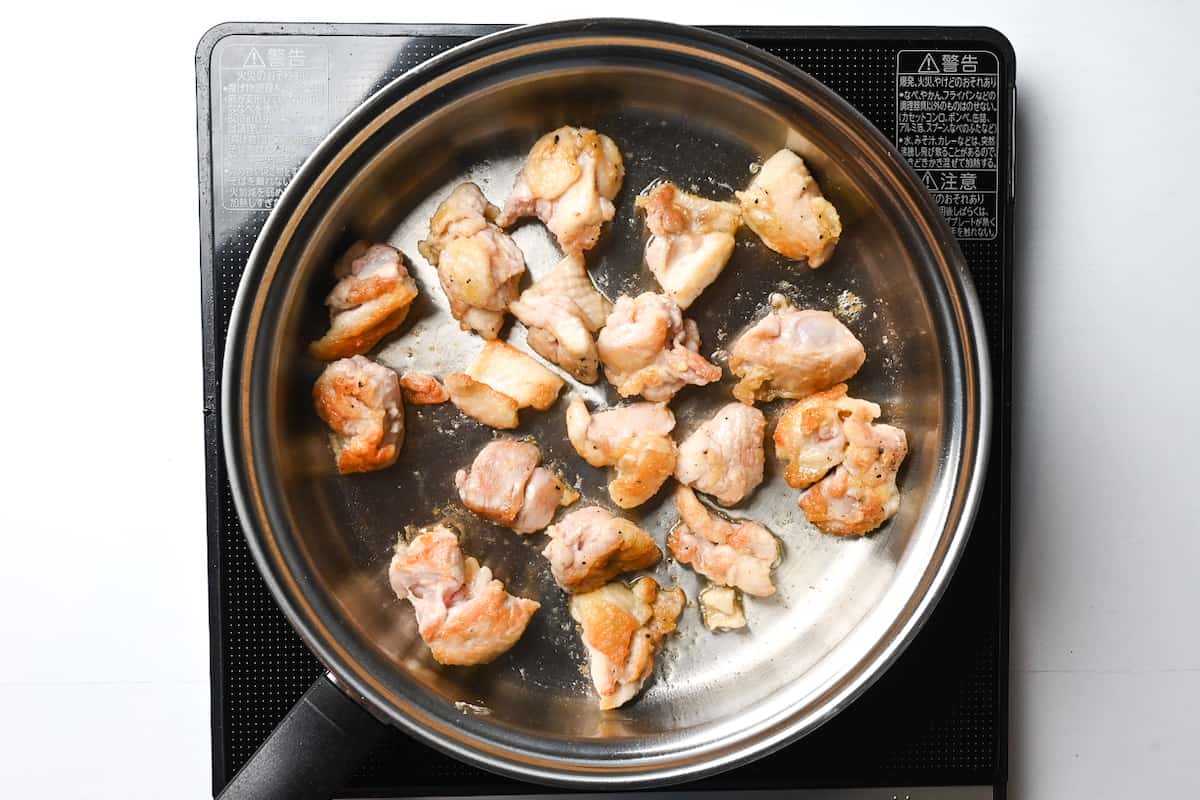 Once hot, add the chicken and fry until browned all over. Once fully sealed, remove the chicken from the pan and set aside for later.
Fry the vegetables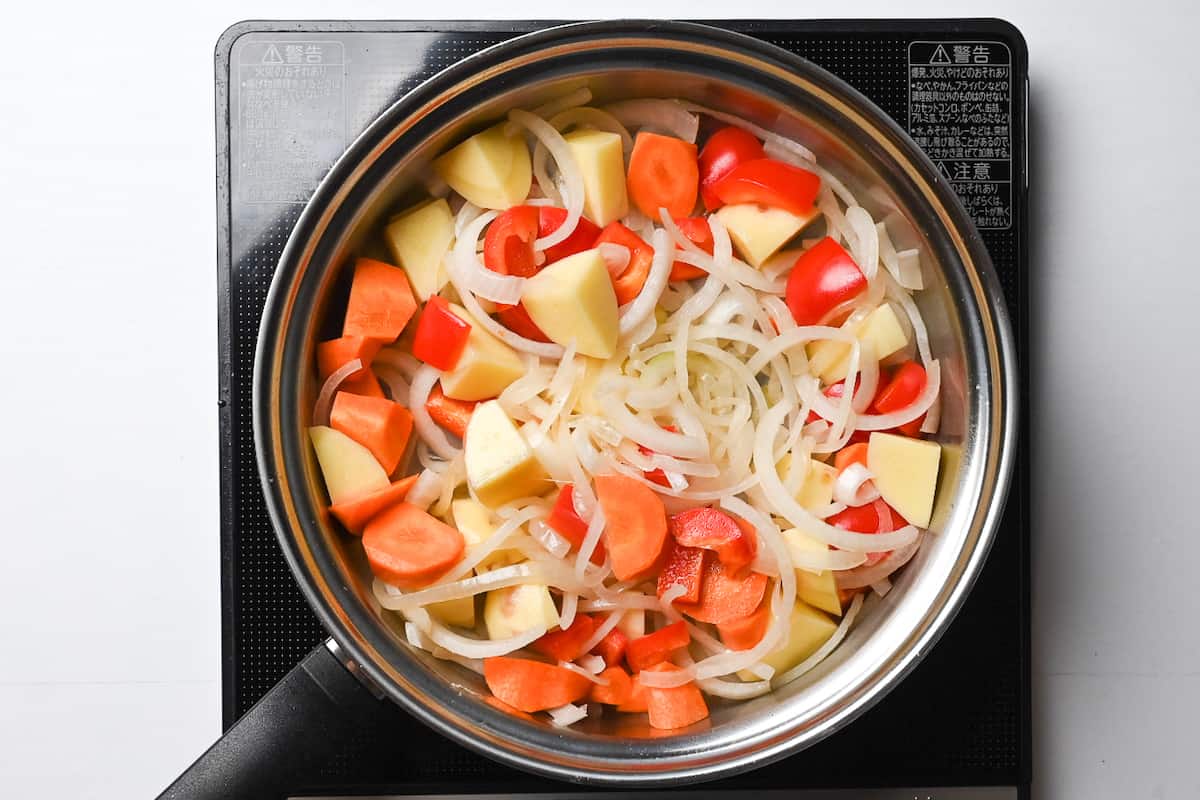 Using the same pan, pour in a little more oil and add the onions, carrots, potatoes and bell peppers altogether. Fry for about 4-6 minutes or until the onions are slightly softened.
Add the chicken back in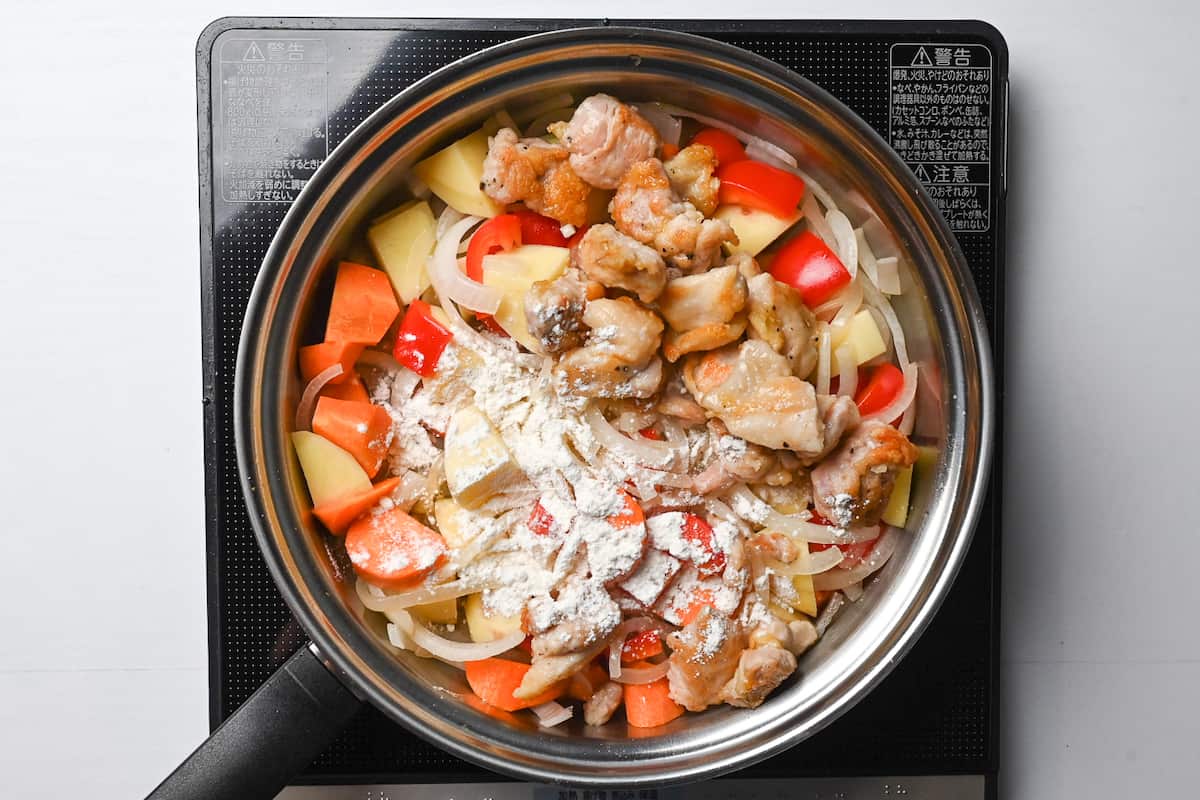 Place the chicken back in the pan and add flour and white wine. Mix over the heat for about 3 minutes.
Add milk and chicken stock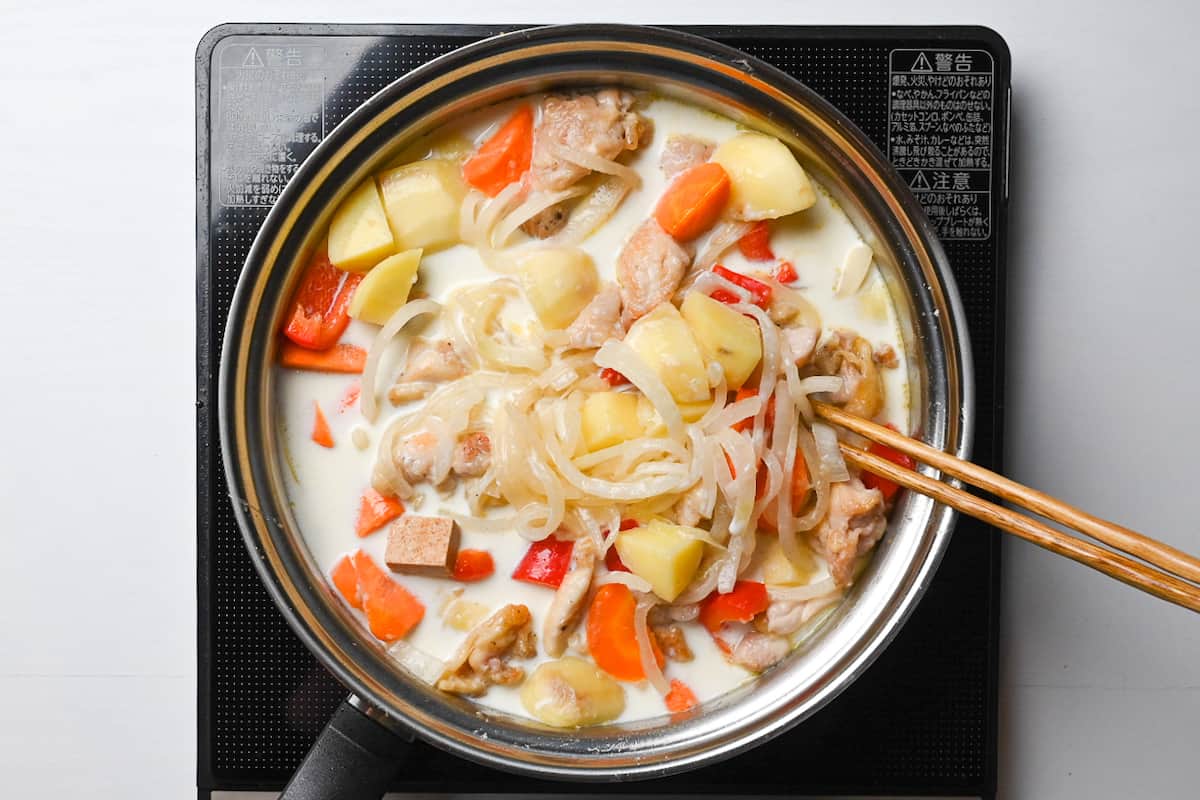 Lower the heat and add the whole milk and chicken stock cube. (I use Knorr chicken stock cubes in this recipe.) Mix thoroughly until the chicken stock cube is dissolved.
I lower the heat at this point to prevent the milk from heating up too quickly which can scold the milk and make it curdle. Bringing the heat up slowly on a lower setting will ensure the stew is smooth, be careful not to let it boil from this point. Gentle simmer is best!
Add the other ingredients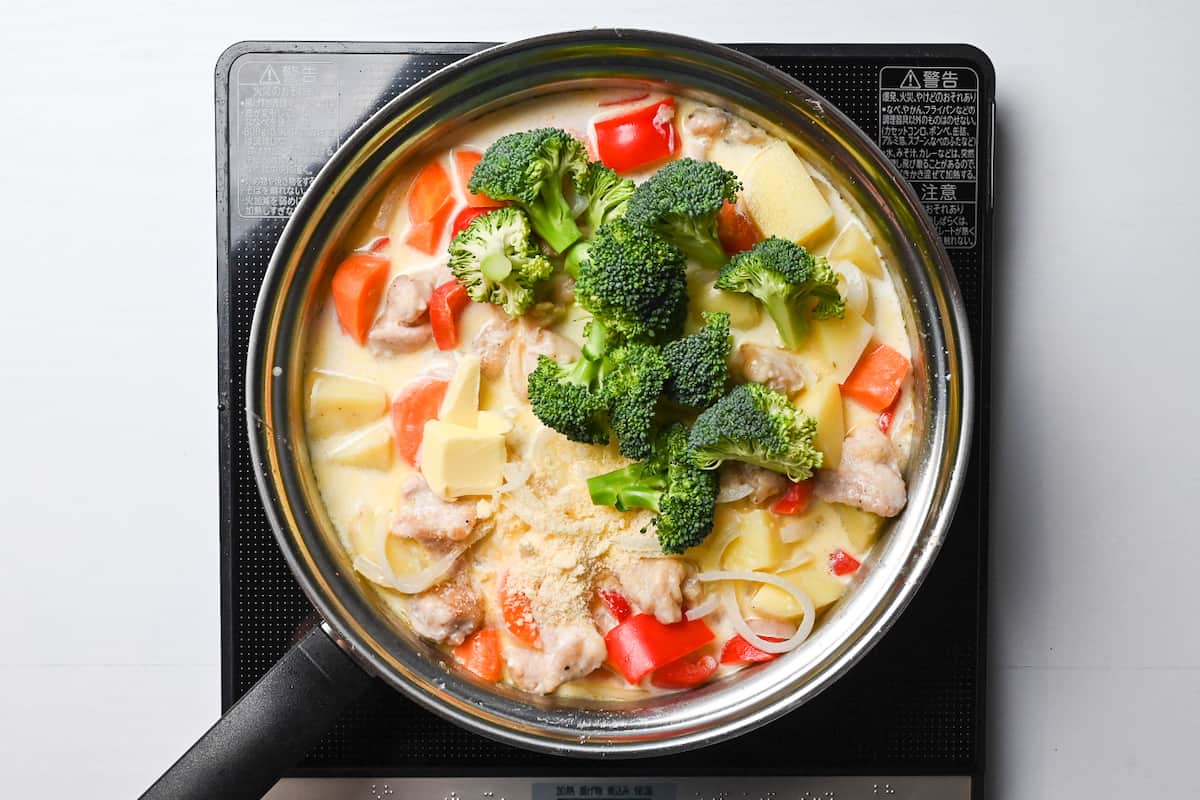 Add the broccoli, butter and grated parmesan cheese. Mix thoroughly, add the cream and then mix again.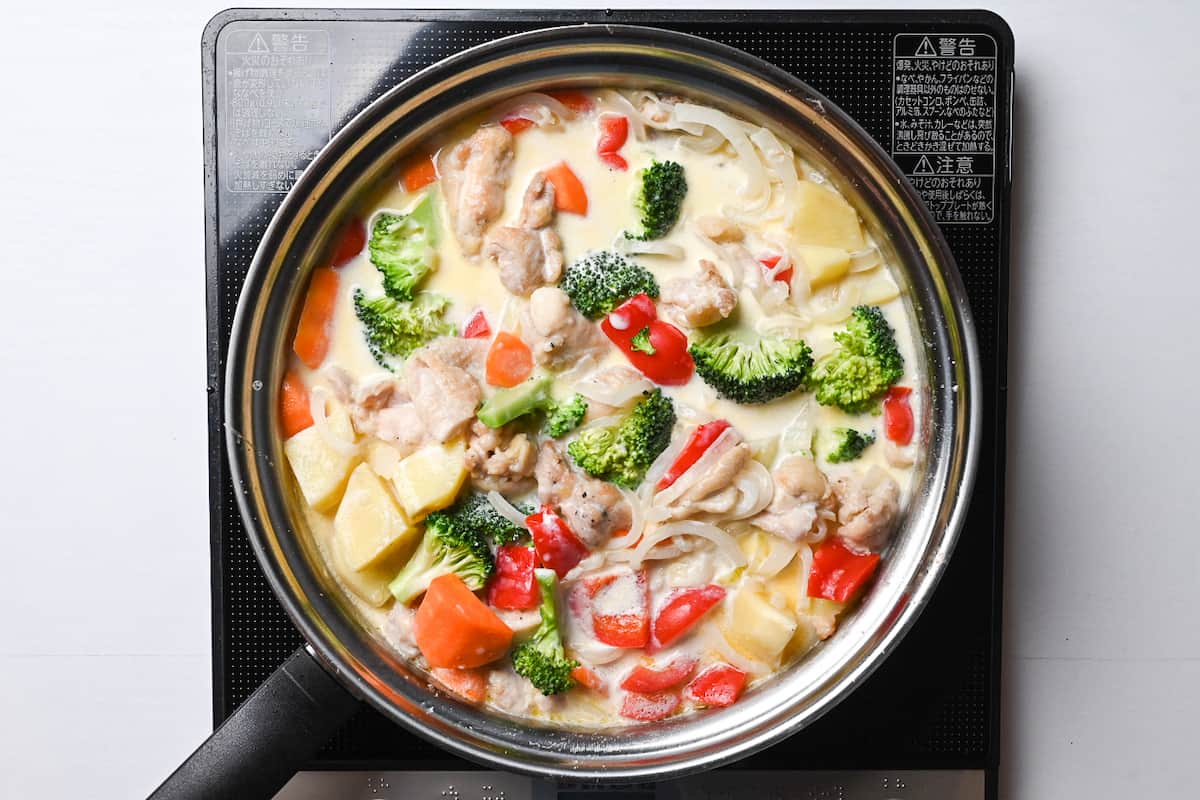 Continue to simmer until the potato and carrots are softened and the broth is slightly thickened, this usually takes about 8-10 minutes. Mix occasionally to prevent the ingredients burning or sticking to the bottom of the pan.
Serve
I recommend serving Japanese cream stew with warm toasted baguette!
Enjoy!
Substitutions and variations of this Japanese cream stew recipe
In this section, I will list all the alternative ingredients, substitutions and variations against the recipe card below to make the best Japanese cream stew to your preference:
Alternative ideas:
Chicken breast (instead of chicken thigh)
Bacon (instead of chicken thigh)
Salmon (instead of chicken thigh)
Seafood mix (instead of chicken thigh)
Sweet potato (instead of regular potatoes)
Variations/additional ideas:
Sweet corn
Mushrooms (button mushrooms or similar)
Asparagus
Zucchini (courgette)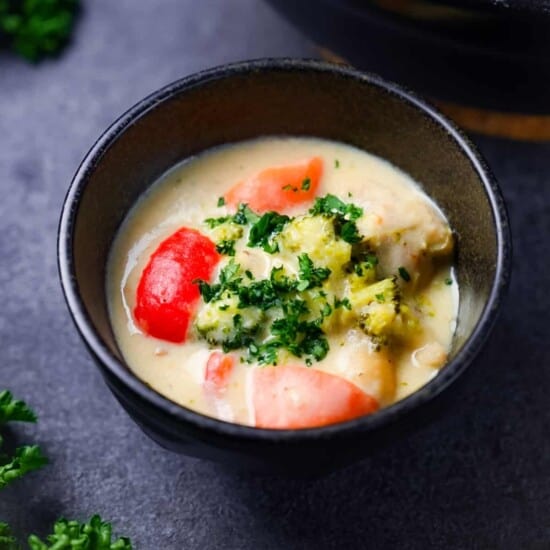 Japanese Chicken Cream Stew (White Stew)
---
How to make Japanese Cream Stew made with succulent chicken thigh cooked in a delicious creamy white sauce with a fresh vegetables including potato, broccoli and bell pepper. Best served with warm baguette.
---
---
---
---
Ingredients
300

g

boneless chicken thigh(s)

cut into bitesize pieces

1

pinch

salt

1

pinch

black pepper

2

tbsp

all-purpose flour

1 tbsp for coating and 1 tbsp for thickening the stew

2

tbsp

olive oil

200

g

yellow onion(s)

thinly sliced

150

g

potato(s)

waxy type, peeled and cut into bitesize pieces

150

g

carrot(s)

peeled and cut into bitesize pieces

150

g

red bell pepper

cubed

2

tbsp

white wine

400

ml

whole milk

1

chicken stock cube

I used knorr's chicken bouilon cube

100

g

broccoli

bitesize florets

2

tbsp

heavy cream

1

tbsp

grated cheese

preferably hard cheese like parmesan or pecorino

10

g

unsalted butter

½

tsp

parsley

finely chopped for garnish
Instructions
Sprinkle

300 g boneless chicken thigh(s)

with

1 pinch salt

and

1 pinch black pepper

, then coat with 1 tbsp all-purpose flour.

Heat a pot or large pan on medium high and add

2 tbsp olive oil

. Once hot, place the chicken pieces in the pot with the skin side down and stir fry until browned on all sides.

Take the chicken out of the pan and set aside for later.

Using the same pan, fry

200 g yellow onion(s)

,

150 g potato(s)

,

150 g carrot(s)

and

150 g red bell pepper

together for 4-6 minutes or until the onions have softened.

Put the chicken back in the pot and add

2 tbsp white wine

and 1 tbsp all-purpose flour. Mix thoroughly.

Turn down the heat to a simmer and add

400 ml whole milk

and

1 chicken stock cube

. Mix until the stock cube is dissolved.

Add

100 g broccoli

,

1 tbsp grated cheese

and

10 g unsalted butter

, mix well and add

2 tbsp heavy cream

.

Simmer for about 10 minutes or until the carrots and potatoes are softened. Stir occasionally.

Garnish with

1/2 tsp parsley

and serve with warm baguette.

Enjoy!
Notes
If it gets too thick, you can add extra milk to thin it out (add a little at a time).
Nutrition
Serving:
393.5
g
|
Calories:
408
kcal
|
Carbohydrates:
27.9
g
|
Protein:
20.3
g
|
Fat:
26.7
g
|
Saturated Fat:
10.06
g
|
Polyunsaturated Fat:
2.27
g
|
Cholesterol:
91
mg
|
Sodium:
387
mg
|
Fiber:
7.1
g