Mabo Nasu is a mildly spicy, flavor-packed eggplant dish influenced by Chinese cuisine. If you're already a fan of Mabo Tofu, you're gonna love this dish! I've also used all plant-based ingredients for this recipe so it can be enjoyed by anyone and everyone who loves a bit of spice!
Disclaimer: This post contains Amazon affiliate links. Sudachi Recipes earn a small percentage from qualifying purchases at no extra cost to you. See disclaimer for more info.
What is Mabo Nasu?
Mabo Nasu is a rich and spicy dish made with eggplants and ground meat (usually pork) fried with aromatics such as ginger, garlic and chili paste which is then simmered in a flavorful broth. This dish is a cross between a stir-fry and a soup, and its warming taste and satisfying range of ingredients makes mabo nasu a true comfort dish that pairs perfectly with rice.
While mabo nasu is usually made with pork and chicken stock, I've decided to opt for plant-based ingredients for this recipe. If you prefer a meatier option, you should check out my mapo tofu recipe here.
Origin of Mabo Nasu
It is believed that Mabo Nasu originated from Sichuan, and is similar to a dish called "Yú Xiāng" (鱼香茄子) known in English as "Sichuan Eggplant". Sichuan eggplant is made by stir-frying pork and eggplants in a "Yu Xiāng" sauce made with chili peppers, garlic, ginger, black vinegar and soy sauce. Interestingly, if you translate "Yú Xiāng" directly into English, it actually means "fish fragrant". This is not because the sauce has a fishy flavor, but actually because the sauce works especially well with fish.
Although many Japanese people don't have a high tolerance for spicy food, Sichuan cuisine is surprisingly the most popular type of Chinese food in Japan. This is thanks to the famous Sichuan-born chef, Chen Kenmin, who introduced Sichuan dishes to Japan and adapted the flavors to suit the Japanese palate. A few of his most popular creations include Mabo Dofu and Ebi Chili.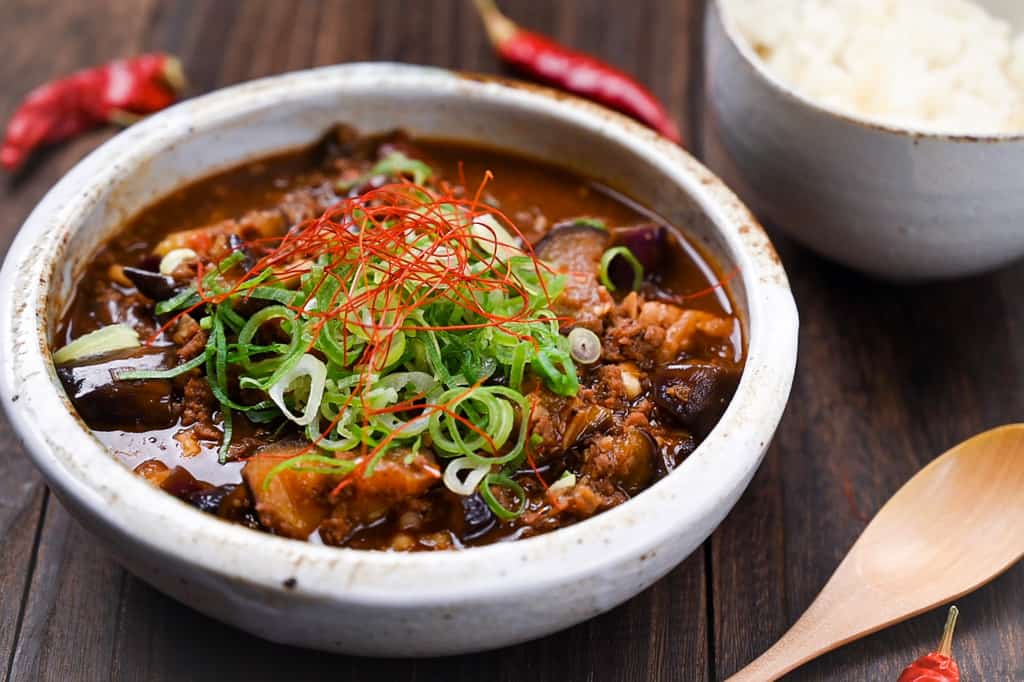 In Japan however, the dish seems to be an adaptation of "Mabo Dofu" using eggplants instead of tofu. The influence can be seen clearly in the name, replacing "dofu" (tofu) with "nasu" which means eggplant in Japanese.
Mabo nasu became popular after Japanese companies started selling pre-made Chinese-style sauce packets at supermarkets, which made them accessible for home cooking. However, don't worry if you don't have access to these premade sauces, it's easy to make it from scratch at home using my recipe!
As you can probably guess, the Japanese take on this dish is less spicy. It is also more soupy than your typical stir-fry dish, although the amount of liquid can be reduced to suit personal preferences.
Ingredients You Will Need
For my recipe, you will need the following ingredients:
Eggplant – The star of the dish is perfect for soaking up the flavors of the sauce. I use Japanese eggplant, but most kinds of eggplant work for this recipe.
Garlic – One of the key flavors for the sauce. I recommend fresh garlic cloves for the best results.
Ginger – Another key aromatic in this dish. Again, I recommend fresh ginger for this recipe rather than pre-grated ginger pastes.
Green onion – also known as long onion, Welsh onion and "negi" in Japanese. The white part adds sweetness, depth and complexity to the sauce, while the green part can be finely sliced and used as a garnish.
Sichuan chili bean sauce – known as "tobanjan" in Japanese, this fermented spicy bean paste is another essential ingredient for adding flavor and spiciness to the dish. Most brands are plant-based, but make sure to check the ingredients just in case. I use Lee Kum Kee's chili bean paste and you can find the full list of ingredients on their official website. It should be easy to find in well-stocked Asian supermarkets.
Soy meat – or "texturized vegetable protein" (TVP) is not only to replace the pork, it also adds a fimer texture to the dish and absorbs all the flavors from the sauce.
Cashew nuts – not a traditional ingredient by any means, but adding crushed cashew nuts brings a delightful crunchy texture to the dish. You can use peanuts or walnuts if you prefer.
Sake – for depth of flavor and umami. Substitutes include dry white wine, dry sherry or Chinese Shiaoxing wine. If you can't use alcohol for any reason, feel free to omit or replace with a small amount of rice vinegar. (This substitute is not a general rule and works only for this recipe.)
Soy sauce – I use Japanese "koikuchi shoyu" (dark soy sauce). For more information about Japanese soy sauce and brand recommendations, see my post 20 essential condiments for Japanese cooking.
Vegetable stock – I usually opt for stock powder mixed with water for convenience, but feel free to use your own homemade vegetable stock!
Cornstarch – to make a slurry to thicken the broth. Potato starch or tapioca starch can be used instead.
Rice (optional) – this dish pairs perfectly with fluffy Japanese white rice. If you don't have a rice cooker, check out my post on how to cook Japanese rice on the stove here!
Curious about the exact brands and products that bring my recipes to life? Discover the brands and ingredients behind my recipes at the Sudachi Amazon Storefront. Explore my handpicked pantry essentials and find your next kitchen favorites!
Step-by-Step Process
Here are my step by step instructions for how to make delicious plant-based mabo nasu at home. For ingredient quantities and simplified instructions, see the printable recipe card below.
Wash the eggplant, cut off each end, and then cut in half lengthways (if the eggplant is especially thick, cut into quarters lengthways). From there, cut it into rough bitesize pieces.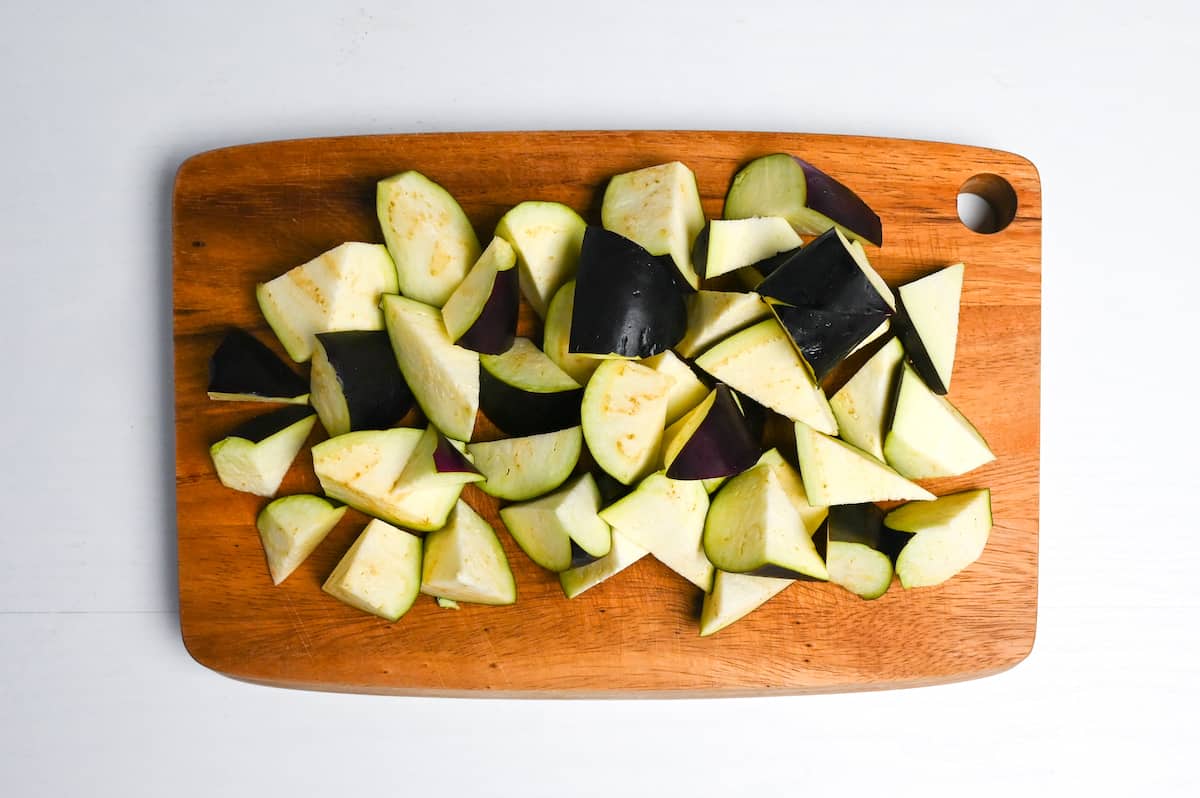 Fill a bowl with cold water and add a pinch of salt. Place the eggplant inside and soak for 5 minutes. This softens any bitterness and stops the eggplant from becoming discolored or absorbing too much oil during cooking.
After 5 minutes, drain the water and dry the eggplant with kitchen paper.
I crush the cashew nuts using a mortar and pestle. Feel free to chop them with a knife or crush them with a rolling pin instead.
Heat a wok on medium and add sesame oil. Once hot, add finely diced garlic cloves, fresh ginger and the white part of a green onion.
Stir fry until fragrant and then add the chili bean sauce, sugar and black pepper.
Add the soy meat and crushed nuts from earlier, and mix.
Add sake and soy sauce and stir fry for 1-2 minutes or until the soy meat is heated through and evenly coated in the sauce.
Add the eggplant to the wok and drizzle with sesame oil. Stir fry until the eggplant has picked up some of the flavors from the sauce.
Pour the vegetable stock into the pan and bring it to a boil.
Mix cornstarch and cold water in a small bowl to make a slurry.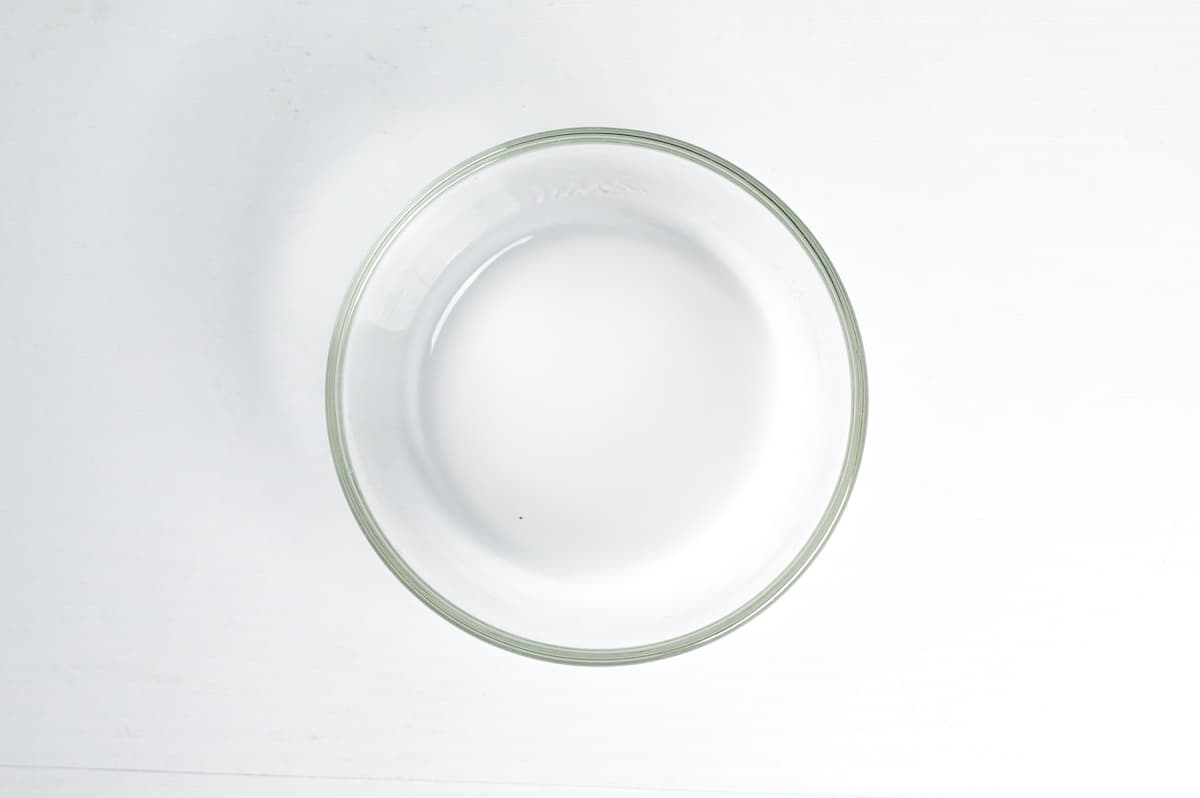 Pour the slurry into the broth and mix over the heat until it becomes thick and glossy.
Once thickened to your liking, turn off the heat and dish up!
Transfer to serving bowls and top with a sprinkle of finely chopped green onion and a bunch of chili threads.
Enjoy!
Storage
Mabo nasu is best eaten as soon as possible, but it can be kept in a sealed container in the fridge for up to 2-3 days.
Unlike mapo tofu, mabo nasu can be frozen for up to 1 month. Regular tofu doesn't freeze well, but soy meat or TVP can be frozen with no loss of texture. Reheat from frozen in the microwave or on the stove until piping hot (no need to defrot).
Room temperature – Not recommended.
Refrigerated – 2-3 days.
Frozen – Up to 1 month.
I hope you enjoy this delicious plant-based version of Japanese mabo nasu! If you try it out, I'd love if you could spare a moment to let me know what you thought by giving a review and star rating in the comments below. It's also helpful to share any adjustments you made to the recipe with other readers. Thank you!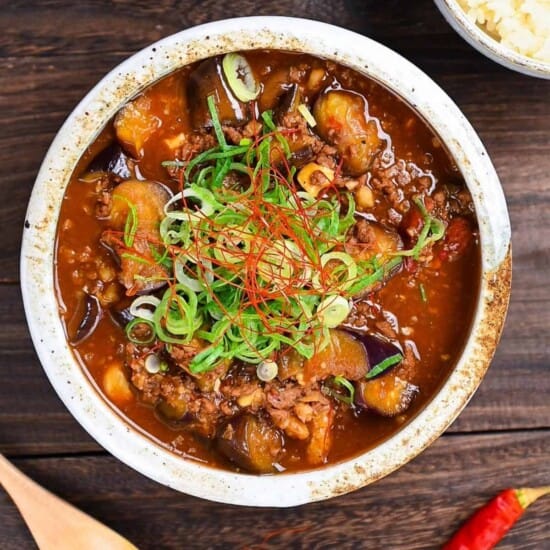 Plant-Based Mabo Nasu (Japanese Mapo Eggplant)
---
How to make fragrant Mabo Nasu (Japanese style Mapo Eggplant) made with fresh eggplants and soy meat stir-fried in a mildly spicy Chinese-inspired sauce made with garlic, ginger and chili bean paste.
---
---
---
---
Ingredients
200

g

eggplant(s)

1

bowl

cold water

for soaking

1

pinch

salt

2

tbsp

cashew nuts

(optional)

1

tbsp

sesame oil

for cooking

2

cloves

garlic

finely diced

1

tbsp

fresh ginger

finely diced

1

tbsp

green onion(s)

white part, finely diced

1

tbsp

chili bean sauce

toban djan

½

tsp

sugar

1

pinch

black pepper

70

g

soy meat

mince style

1

tbsp

sake

1 ½

tbsp

soy sauce

1

tbsp

sesame oil

for drizzling

300

ml

vegetable stock

2

tbsp

water

1

tsp

cornstarch

2

portions

cooked Japanese short-grain rice

1

tbsp

green onion(s)

optional, finely chopped, to garnish

1

tsp

chili threads

optional, to garnish
Instructions
First, wash

200 g eggplant(s)

and cut off the stems. Cut them down the middle, lengthways and then cut into rough chunks.

Place the eggplant pieces into

1 bowl cold water

and add

1 pinch salt

. Leave to soak for 5 minutes, then drain the water and dry the eggplant with kitchen paper.

Crush

2 tbsp cashew nuts

. (I used a mortar and pestle but you can roughly chop them with a sharp knife or crush them with a rolling pin.)

Heat a pan on medium and add

1 tbsp sesame oil

. Once hot, add

2 cloves garlic

,

1 tbsp fresh ginger

and

1 tbsp green onion(s)

. Fry until fragrant.

Next, add

1 tbsp chili bean sauce

,

1/2 tsp sugar

and

1 pinch black pepper

to the pan and mix. 

Add

70 g soy meat

and the crushed cashew nuts, and mix.

Add

1 tbsp sake

,

1 1/2 tbsp soy sauce

to the pan and stir fry for a few minutes.

Add the eggplant to the pan and drizzle with

1 tbsp sesame oil

. Stir fry until the eggplant pieces are lightly coated with the flavours from the pan and changed colour slightly.

Next, add

300 ml vegetable stock

and bring to a boil.

In a small bowl, mix

2 tbsp water

and

1 tsp cornstarch

together. Pour the mixture into the pan and mix well.

Continue to mix on the heat until the liquid thickens and reaches the desired consistency. 

Sprinkle with

1 tbsp green onion(s)

and

1 tsp chili threads

. Serve with

2 portions cooked Japanese short-grain rice

.

Enjoy!
Nutrition
Calories:
503
kcal
|
Carbohydrates:
69.7
g
|
Protein:
11.7
g
|
Fat:
18.4
g
|
Saturated Fat:
3
g
|
Polyunsaturated Fat:
7.8
g
|
Cholesterol:
1.5
mg
|
Sodium:
1741
mg
|
Fiber:
9.3
g