This smooth and creamy Japanese style potato salad is packed with crunchy carrots, refreshing cucumber and crispy bacon then seasoned with Japanese condiments to make it the ultimate crowd-pleaser! It's perfect for parties, sides or bento boxes!
Disclaimer: This post contains Amazon affiliate links. Sudachi Recipes earn a small percentage from qualifying purchases at no extra cost to you. See disclaimer for more info.
Jump to:
What is Japanese Potato Salad?
Potato salad might not spring to mind when you think of Japanese cuisine, but it's one of the most popular side dishes in Japan and has been around for more than 100 years!
Also known as "poteto sarada" or "potesara" (ポテサラ) for short, you'll often see the Japanese adaptation of this world renowned dish in supermarkets, convenience stores and bento boxes across Japan. Since its a side dish, it's often served with fried dishes like karaage (fried chicken) or even used as a sandwich filling! (Who doesn't love a helping of double carbs once in a while?!)
A brief history of Japanese potato salad
Potato salad is a worldwide dish and most countries have their own twist on this classic recipe, Japan is no different in that respect.
One theory suggests that it all started with Lucien Olivier, a chef at Moscow's famed "Hermitage" restaurant in the 19th century. His Olivier Salad, as it's called, ventured across the globe, inspiring countless unique interpretations.
In Japan, the popular belief is that potato salad (a luxury dish back then!) first graced the menu at the Imperial Hotel during the Taisho era (1912-1926). As Japanese food culture underwent a huge transformation, potato salad found its way into school lunches, blossoming into a taste that is quintessentially Japanese.
These days, potato salad has many faces. Some swear by a hearty, home-style version slathered in Kewpie mayonnaise. Others favor the izakaya-style potato salad I'll be sharing with you, which has been tweaked just right to accompany your favorite drinks. Isn't it amazing how one dish can take on so many delicious forms?
How is Japanese potato salad different from the others?
As I mentioned, every country puts its own spin on potato salad, making it a global culinary star. But how is the Japanese potato different from the others? In this section, I will introduce the differences using an American-style potato salad as an example.
One of the biggest differences is that most American-style potato salads feature chunks of potato mixed with boiled eggs and then coated with dressing, whereas Japanese potato salad is more like creamy mashed potato mixed with meat and vegetables. Sometimes eggs are added, but not always.
In addition, Japanese potato salad is often seasoned simply with salt and pepper and often uses Japanese mayonnaise (such as Kewpie mayonnaise) as one of the base ingredients which creates a much smooth texture with a strong mayonnaise taste. On the other hand, most American potato salad recipes are flavoured with herbs and vinegar, although some contain mayonnaise too.
As can be said when comparing potato salad from countries other than the U.S., it is interesting how similar yet dissimilar they are when it comes to potato salad!
What is Izakaya-style potato salad?
An Izakaya (居酒屋) is a place that serves food and alcoholic drinks, a bit like a Japanese version of a bar or pub. Munching and drinking are equally important there and dishes are usually served in tapas (small dish) style.
You might be surprised to find that there are quite a lot of izakayas that serve potato salad! To give it a more "adult" taste, this recipe uses bacon rather than ham and is seasoned generously with pepper, giving it a little bit of a spicy kick.
It's easy and quick so it will be good as a snacky salad with your beer as well as a suitable side for many dishes!
Ingredients to make this Japanese potato salad
Medium potatoes - In contrast to American or European style, Japanese potato salad thrives on starchy potatoes, crafting a smooth, creamy blend without any chunks.
Salt - Simple sea salt is fine, use whatever you have in your kitchen.
Carrot - I used a medium-sized carrot for this recipe.
Cucumber - Japanese cucumber/Persian cucumber is preferred. If using larger varieties such as English cucumber, scoop out the seeds first to reduce the water content.
Bacon - We want to make it crispy and flavorful so fatty pork belly bacon would be a great option! This can also be substituted for ham or sausage.
Mayonnaise - Preferably Japanese-style mayonnaise such as kewpie.
Black pepper - I prefer coarse freshly ground black pepper rather than fine pepper for this dish but it's down to your personal preference.
Sugar - I normally opt for light brown sugar, but of course, white sugar is perfectly fine too.
Sesame oil - Ones with a strong aroma are recommended such as Kadoya's.
Dried parsley - as a finishing touch!
Although I didn't personally include them in my recipe, some other great additions include onion (either raw or sautéed depending on your preference), grated Parmesan cheese and boiled eggs.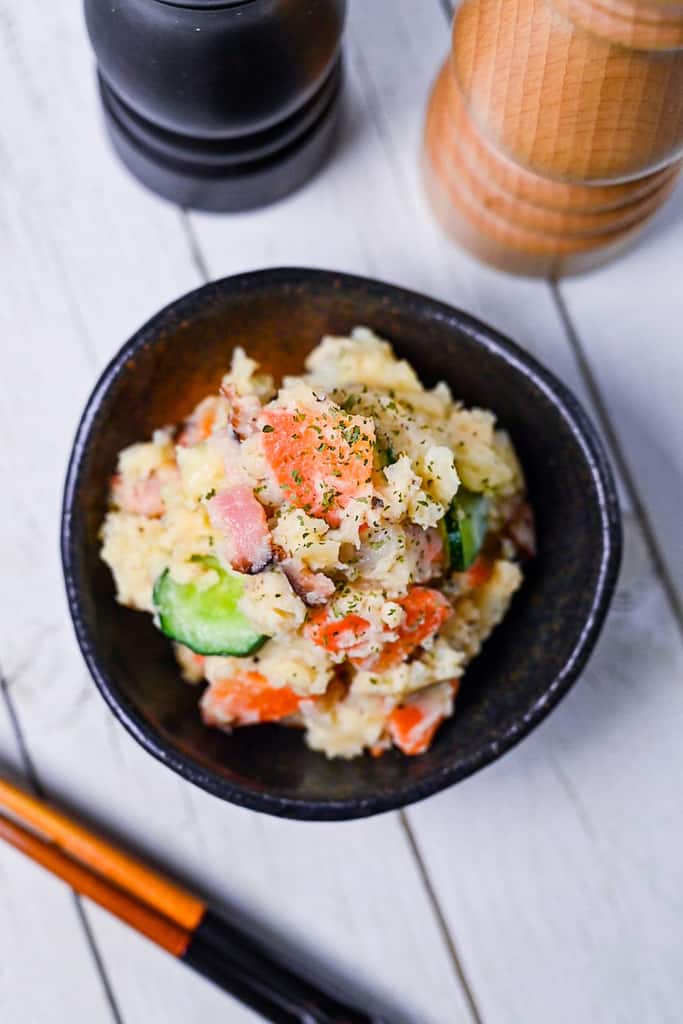 Instructions on how to make this Japanese potato salad recipe
Wash, peel and cut the potatoes into quarters. Place them in a pot of cold water, add salt and bring to a boil over a high heat. Once boiling, lower to a simmer and cook for 12-15 minutes. I recommend setting a timer for this since we will be adding the carrots to the pot before the potatoes are fully cooked.
Prepare the other vegetables
While you wait for the potatoes, peel the carrot and slice it. Cut each slice into quarters. Cut the cucumber into 1-2mm slices. (I used Japanese cucumber, but if you're using a watery variety of cucumber such as English cucumber, cut it in half lengthways and scoop out the seeds before slicing.)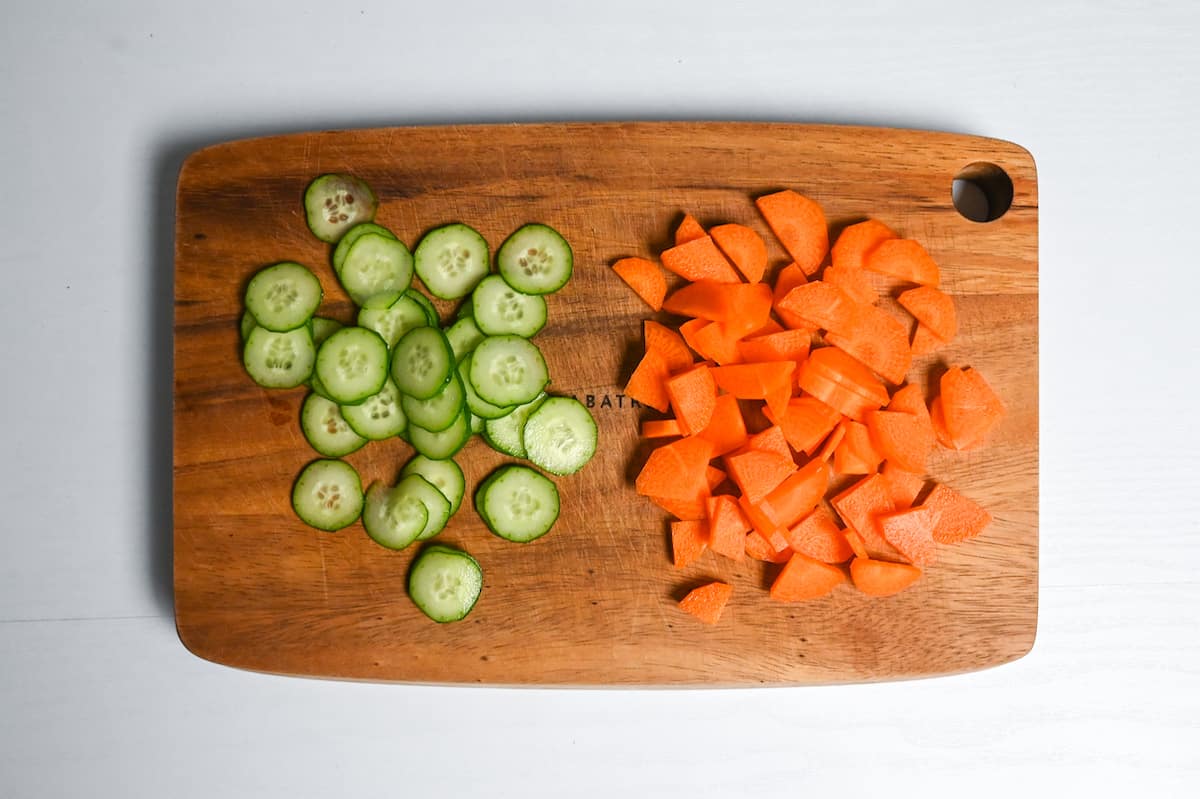 Place the cucumber slices in a bowl of cold water with a pinch of salt and set aside for later.
Cut the bacon slices into squares. Heat a frying pan on medium-high and once hot, add a drizzle of cooking oil. Add the bacon to the pan and fry until crispy.
Once cooked, remove from the heat and set aside for later.
Add carrots to the pot of potatoes
Once the potatoes have been boiling for 12-15 minutes, add the carrots to the pot and continue to simmer for 5 minutes.
Once the potatoes are soft enough to easily pierce with a fork, remove the pot from the heat and drain the water using a colander.
Separate the carrots and potatoes by placing the potatoes in a mixing bowl. Mash the potato until smooth.
Add the carrots and bacon first and mix thoroughly.
Once evenly distributed, drain the water of the bowl of cucumber and add them to the potato salad.
Add the Japanese mayonnaise, freshly ground black pepper, sugar and sesame oil to the bowl.
Mix thoroughly until all the ingredients are evenly distributed.
Once mixed and cool to the touch, cover the bowl (or transfer to a storage container) and chill in the fridge for 30 minutes to one hour.
Plate up and enjoy!
Tips and Tricks for Making the Best Japanese Potato Salad
Your Japanese potato salad is sure to be a crowd-pleaser if you follow these simple tips and tricks!
Tips for making perfect Japanese potato salad
Cut the potatoes - okay this is an obvious one, but if you throw whole potatoes in boiling water they're going to take so much longer to cook. Cut them into quarters to speed up the cooking time.
Salt the water - this is important for avoiding bland potato salad!
Start with cold water - place the potatoes in a pot of cold water and bring it to a boil. This will ensure the potato cooks evenly all the way through. (If you start with hot water, the outside will cook too quickly and flake off while the middle will still be raw.)
Parboil the carrots - not only does this soften them slightly but it also releases some of the carrots' natural sweetness.
Use Japanese mayonnaise - sure you can use your regular brand of mayonnaise, but for a more authentic Japanese taste you should stick to using Japanese condiments.
Chill before eating - I know it's tempting to tuck right in, but potato salad tastes better cold. I recommend chilling for 30 minutes to an hour, not only to chill it but also to allow the flavors to develop more.
Storage options
Your homemade potato salad should stay tasty for around three days, tucked away in the fridge. To keep it fresh, store it in a lidded container or cover it with plastic wrap. With summer's heat and humidity, it's best to eat it up sooner rather than later, as these conditions can speed up spoilage. Avoid storing at room temperature in any conditions.
You could freeze it, but that's not the best plan. Freezing can dial down the flavors and alter the texture, leaving your salad a shadow of its former self. Better to enjoy it fresh!
Pairing/Serving Suggestions for Japanese potato salad
As you all know, potato salad is a side dish and even in an izakaya, we wouldn't eat it on its own. So, what goes well with Japanese potato salad? Here are a few of my top suggestions for perfect pairings to go with your freshly homemade Japanese potato salad!
Japanese Hamburg Steak (Hambagu)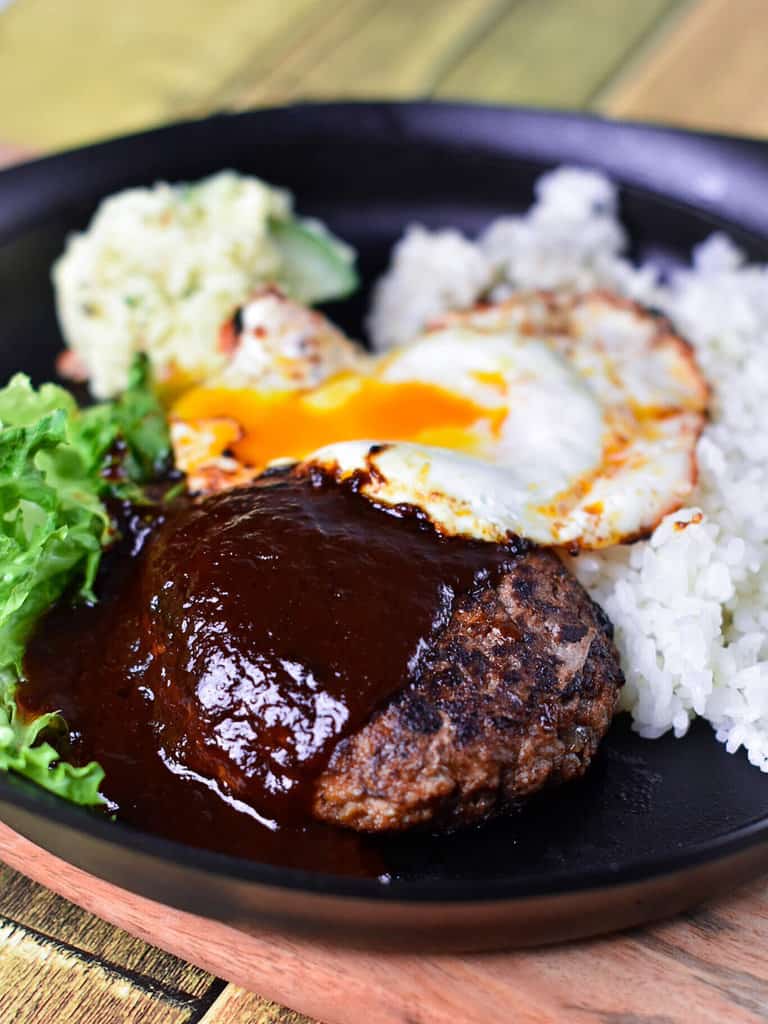 Hamburg steak is made by mixing ground beef with onions and other ingredients, molding it, and grilling it, and is called hambagu in Japan. It is more than just a hamburger without a bun, the juicy patty topped with a rich demi-glace style sauce is truly mouth-watering!
As you can see from my picture, hambagu, and potato salad go very well together and are served together in many restaurants. It is my top pick!
Tonteki (Pork steak)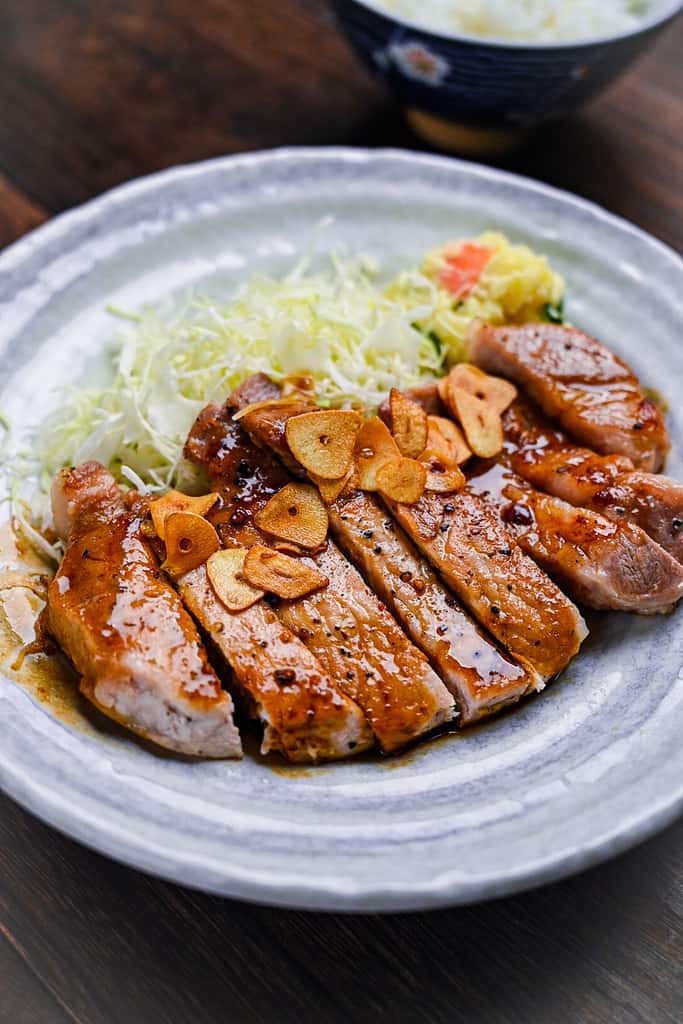 If you prefer to use pork instead of beef, tonteki is recommended! It is one of my favorite dishes among the many recipes on this site. It definitely goes well with potato salad!
My tonteki recipe is very easy to make, so if you are in the mood for pork chops, give it a try!
Teriyaki chicken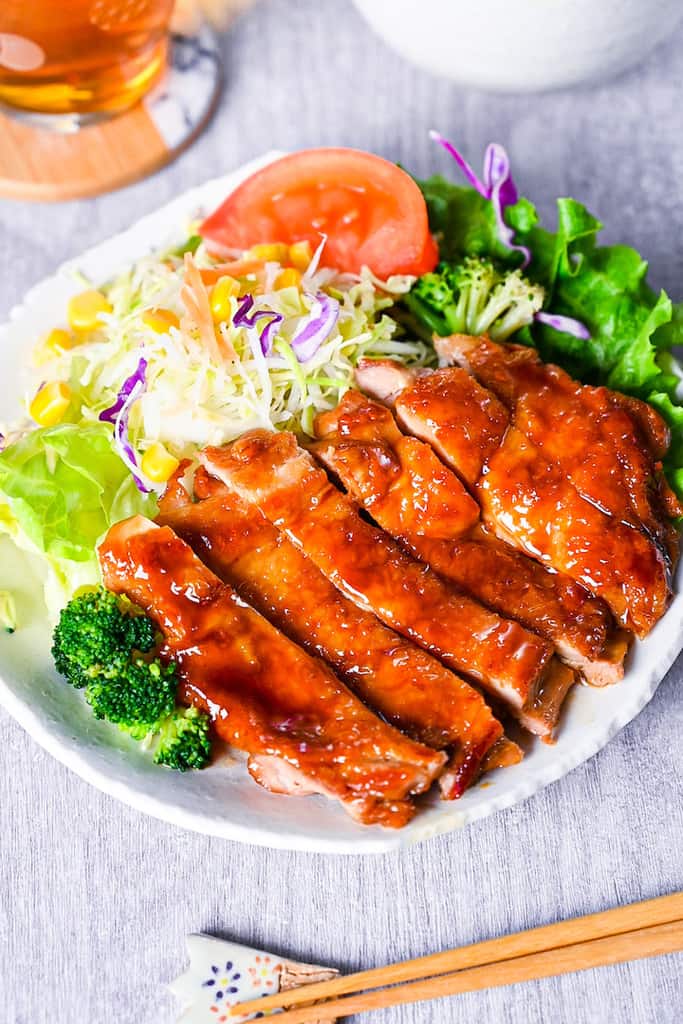 No, not beef or pork, but chicken! If that's the case, I recommend teriyaki chicken.
It is an authentic Japanese teriyaki recipe that is easy to make and another one of my personal favorites, so please give it a try!
Teriyaki salmon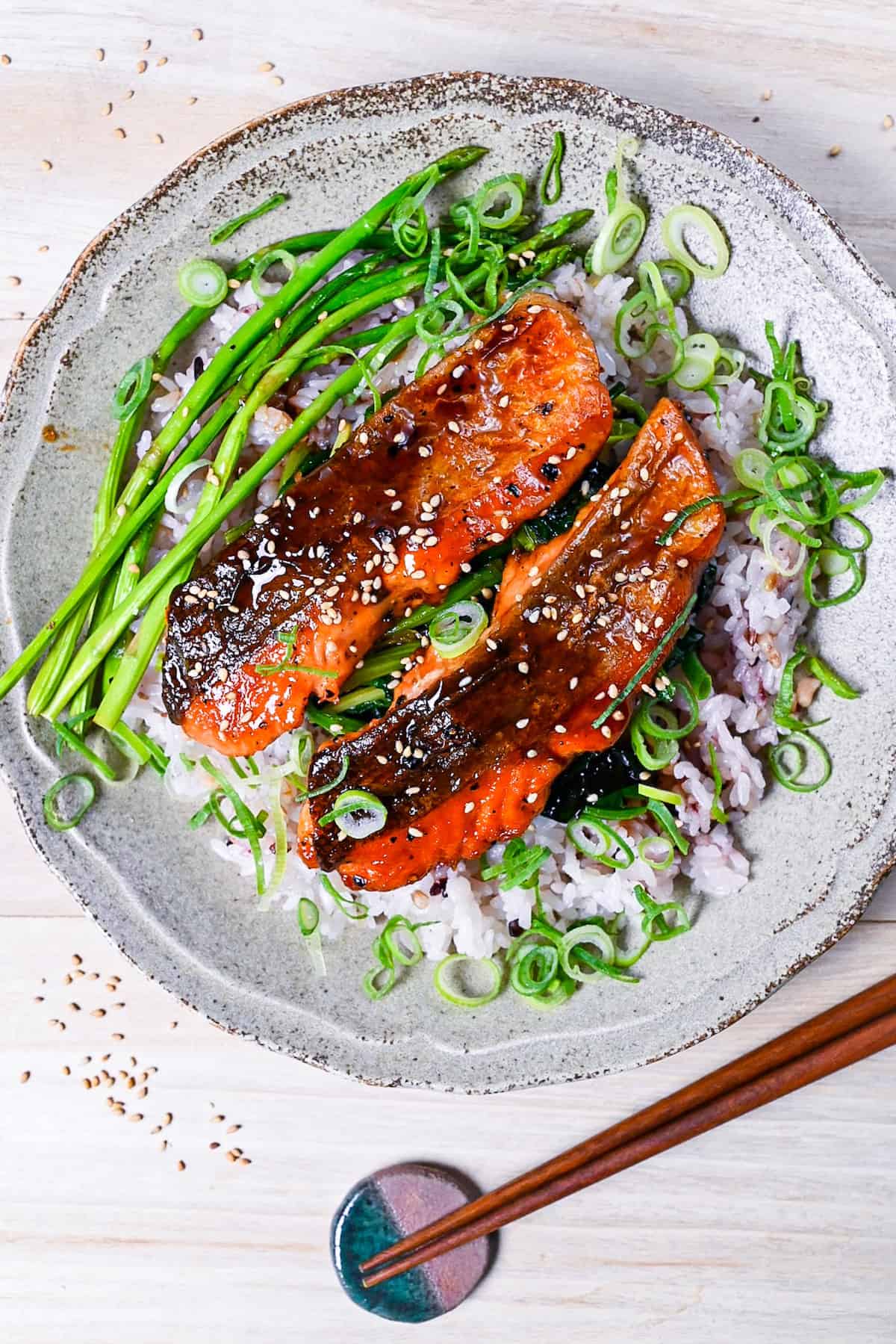 Teriyaki salmon is recommended for those who want to eat potato salad with fish instead of meat!
My recipe not only shows how to make authentic teriyaki salmon but is designed as a one-plate meal, so just combine this recipe with potato salad to make a complete dinner! Please give it a try!
Tonkatsu (deep fried pork cutlet)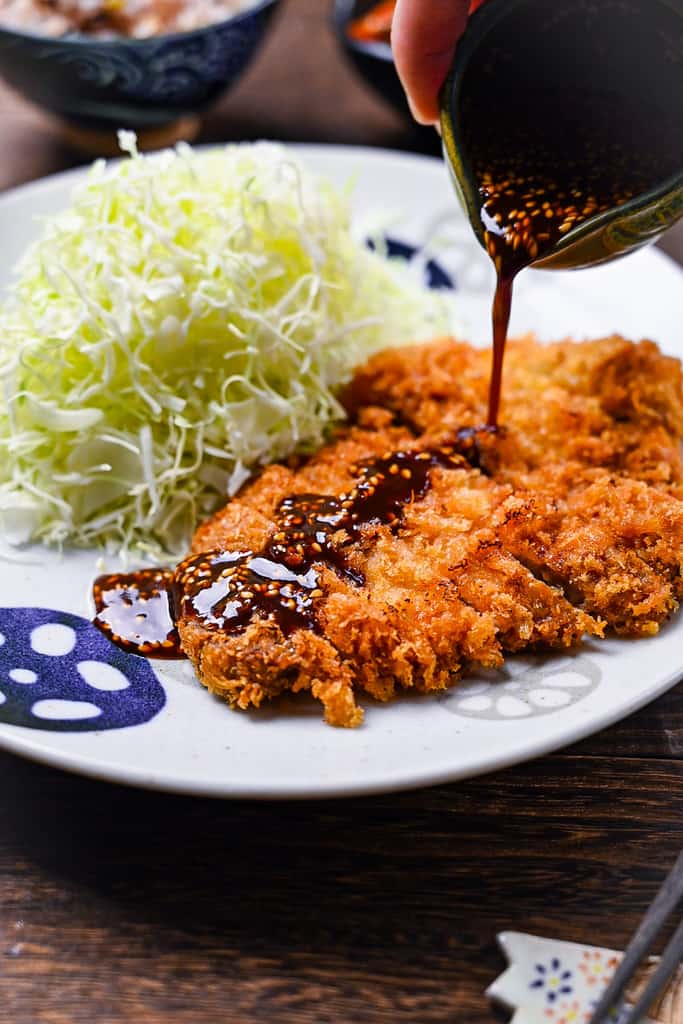 Finally, if you are in the mood for a deep-fried dish, I recommend tonkatsu, one of my top three favorites dishes of all time.
Please also see my other recipes for chicken katsu and tonkatsu sauce if interested.
Watch our video for how to make Izakaya-style Japanese potato salad
Print
Japanese Potato Salad (Izakaya Style)
---
Author:

Yuto Omura

Total Time:

1 hour

Yield:

4 servings
Description
How to make addictive Izakaya Style Japanese Potato Salad (居酒屋風ポテトサラダ) with smooth and creamy potato mixed with crispy bacon and vegetables. (Serves 4)
---
3

medium potatoes peeled and cut into thirds or quarters

½ tsp

salt

⅓

medium carrot peeled

⅓

medium cucumber
Bowl of cold water with a pinch of salt

40g

(approx

5

slices) bacon cubed

4 tbsp

mayonnaise (preferably kewpie)

1 tsp

black pepper

1

pinch sugar

½ tsp

sesame oil
Sprinkle of dried parsley (optional)
---
Instructions
Fill a pot with cold water and add the potatoes and salt. Bring to the boil over a high heat and then lower to a simmer for 12-15 minutes.
While the potatoes are boiling, prepare the other ingredients. Cut the carrot into slices and then cut each circle slice into quarters.
Cut the cucumber into 1-2mm slices and place them in a bowl of cold water with a pinch of salt. Set aside for later.
Heat a frying pan on a medium-high setting and once hot, add a drizzle of oil. Fry the bacon until crispy and then remove from the heat.
After the potatoes have been simmering for about 12-15 minutes, add the carrots and simmer for another 5 minutes.
When the potatoes are soft (a knife should slide in without resistance), remove them from the heat and drain. The carrots should be slightly softened but not mushy.
Divide the carrots and potatoes, and mash the potatoes in a large mixing bowl. 
Once the mashed potato is smooth, add the bacon and carrot, then mix well.
Drain the cucumber and add them to the mashed potato, mix again.
Season with Japanese mayonnaise, black pepper, sugar and sesame oil, and mix well.
Allow to cool to room temperature and then store in the fridge for 30 minutes to 1 hour or until it's time to serve.
Sprinkle with dried parsley (optional) and enjoy!
Notes
See in post for additional ingredient ideas. 
Best served chilled. Store in the fridge and eat within 3-4 days.
Prep Time:

10 minutes

Cooling:

30 minutes

Cook Time:

20 minutes

Category:

Sides

Method:

Boiling / mashing

Cuisine:

Japanese
Keywords: Japanese potato salad, japanese potato salad recipe, how to make japanese potato salad, Izakaya style potato salad, potato salad japanese style, how long to boil potatoes for potato salad, best japanese potato salad, potato salad recipe, potato salad, potato sarada,
FAQ
What is Japanese potato salad made of?
A typical potato salad in Japan is made with potatoes, mayonnaise, onions, carrots, cucumbers, ham, sausage and mayonnaise, but the ingredients vary widely from household to household. See the recipe card above for the ingredients used in my recipe.
What is Japanese Kewpie mayo?
Kewpie Mayonnaise is a Japanese mayonnaise brand produced by food manufacturer Kewpie and is known as one of the first mayonnaise produced in Japan. Characterized by its unique flavor and creamy texture, it is widely used in Japanese home cooking and restaurants and has become an indispensable part of various dishes such as takoyaki and okonomiyaki.
What is the Japanese famous potato?
Various potato varieties with different characteristics are produced in Japan. For example, Danshaku (男爵), Me-kuin (メークイン), and Kitaakari (キタアカリ) are well-known varieties. Danshaku potatoes are generally recommended for potato salad.
What are Japanese potatoes called?
In Japanese, potatoes are called "jagaimo" (ジャガイモ) however for Western inspired dishes, we often borrow the name and apply Japanese pronounciation. In this case, potato salad is "poteto sarada" (ポテトサラダ) or pote-sala (ポテサラ) for short.