Goya champuru is a famous stir-fry dish made with Okinawan bitter melon. It's a popular home-cooked dish all across Japan due to its unusual bitter yet refreshing taste. It's also quick and easy to make!
Disclaimer: This post may contain affiliate links. Sudachi Recipes is part of the amazon associates programme and earns a small percentage from qualifying purchases at no extra cost to you. See disclaimer for more info.
Jump to:
What is Goya Champuru?
Goya champuru (ゴーヤチャンプルー) is a beloved Okinawan dish where bitter melon (goya) is stir-fried with island tofu (島豆腐) and eggs, softening its flavor.
While island tofu is unique to Okinawa, regular firm tofu (momen) is a common substitute outside the region. Goya is a vegetable with a distinct bitterness, loved by many but often avoided by children due to its strong taste.
According to the Ministry of Agriculture, Forestry, and Fisheries' Annual Production of Regional Specialty Vegetables (2020), goya shipments totaled 17,900 tons nationwide, with Okinawa (6,070 tons), Miyazaki (2,600 tons), and Kagoshima (1,670 tons) as the main production areas. Most production areas in Japan are in the south.
"Champuru" in Okinawan means "jumbled" and refers to dishes made with tofu and various ingredients. For instance, if the dish is made with beansprouts (māminā in Okinawan), it becomes "māminā champuru". The funny thing is that "champuru" is believed to originate from the Malay or Indonesian word "campur"!
How I Developed This Recipe
In developing this goya champuru recipe, my primary focus was to moderate the bitterness of the goya through careful preparation, ensuring an authentic taste.
I've minimized the salt content, allowing the natural flavors of the bitter melon and pork belly to shine. If you're keen on experimenting with bitter melon, I highly recommend this recipe!
Ingredients and Substitution Ideas
Okinawan Bitter Melon (Goya): Choose bright, dark green melons with a substantial weight when held. The surface should have firm warts that are evenly distributed and undamaged. Although a fresher goya boasts higher nutritional value, it's notably more bitter. If you cannot find goya or prefer a milder taste, consider cabbage, beansprouts, or papaya.
Thinly Sliced Pork Belly: Pork is the preferred choice for an authentic flavor, with thinly sliced pork belly being the top recommendation. Unsmoked bacon is an ideal substitute.
Firm Tofu: If island tofu is unavailable, firm tofu is an excellent substitute.
Medium Egg: Incorporating beaten eggs makes the dish more balanced, softening the bitterness of the goya.
Soy Sauce: Kikkoman soy sauce is a reliable and reasonably priced choice. For a comprehensive guide on selecting the right soy sauce, refer to our complete soy sauce guide.
Bonito Flakes (Katsuobushi): Sprinkle these on top as a finishing touch. These are optional.
You can easily make goya champuru suitable for vegetarians. Simply omit the pork belly and katsuobushi!
I have listed my recommended Japanese condiments, tools, and ingredients in the Sudachi Recipes Amazon shop. If you want to keep making various Japanese foods at home, please check it out!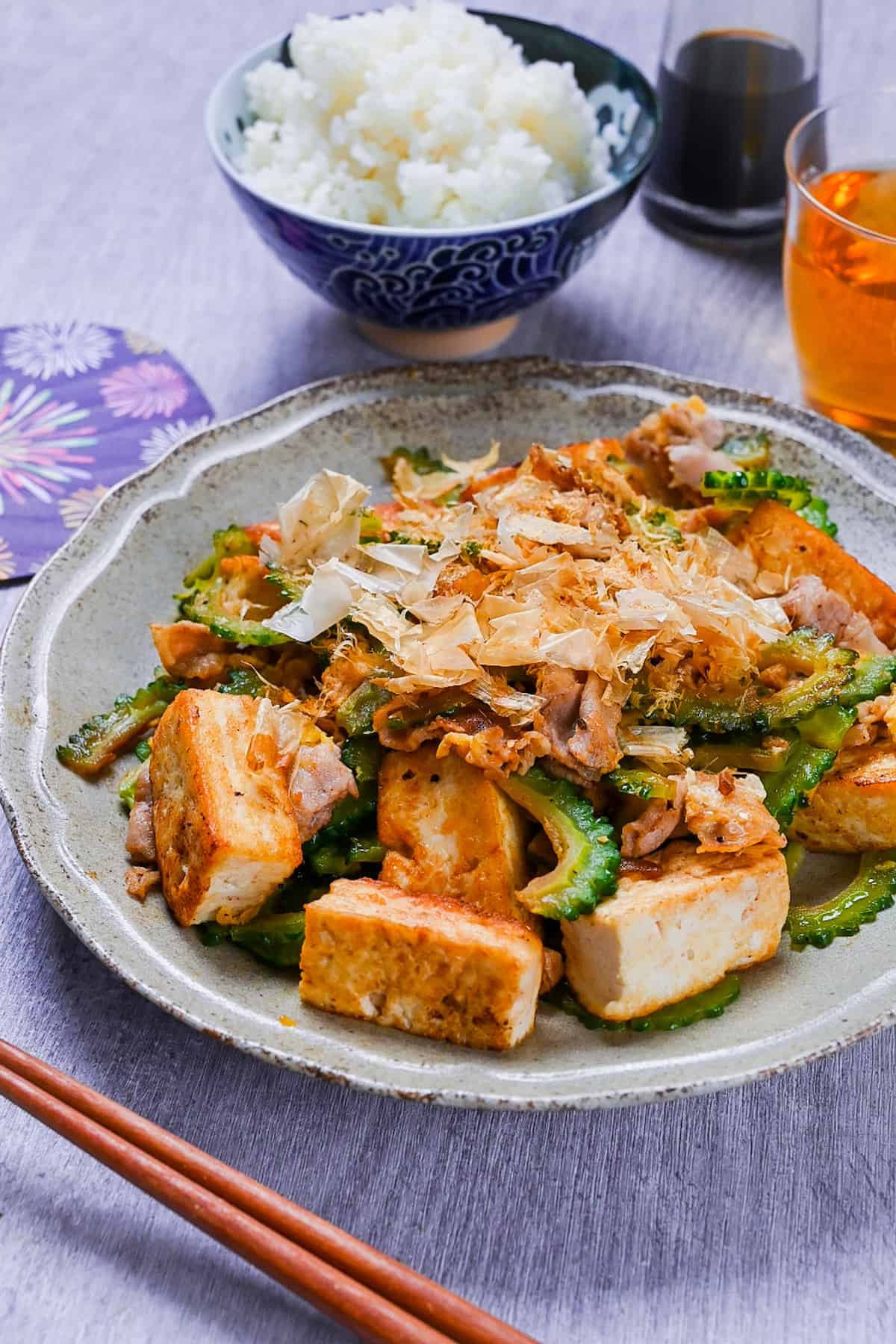 Instructions on how to make homemade goya champuru
Goya champuru is an easy dish, but here are a few critical steps to cook each ingredient!
Here is my step-by-step recipe including how to prepare the goya and tofu. For the full ingredients list, see the recipe card at the bottom of the page.
I must admit goya is one of the most bitter vegetables I have had in my whole life, but the bitterness is part of the beauty of this unique vegetable. It is vital to prepare goya properly to soften the bitterness slightly and improve the overall flavor.
First, wash the goya and cut off the top. Next, cut them in half lengthwise and scoop out the seeds using a spoon.
The inside is not quite as bitter as the outer green part, so don't worry about getting every last bit here.
Next, turn the goya halves over (this will stop them from rolling) and cut slices about 5mm thick.
If it's cut too thin, the texture will be lost, and if cut too thick, the bitter taste will become stronger and more obvious, so it is important to cut at just the right thickness.
Next, rub the sliced goya with salt and sugar. The salt helps bring out the flavor, while the sugar helps balance the bitterness. Leave it to rest for 10 minutes.
After the 10 minutes are up, wash the goya with cold water.
Pour the contents of the bowl through a sieve or colander to drain the water and set the goya aside for later.
Before stir-frying tofu, you need to remove the excess liquid. Rather than pressing the tofu (which takes time), I wrap it with kitchen paper and microwave it for 1 ½ minutes at 600W.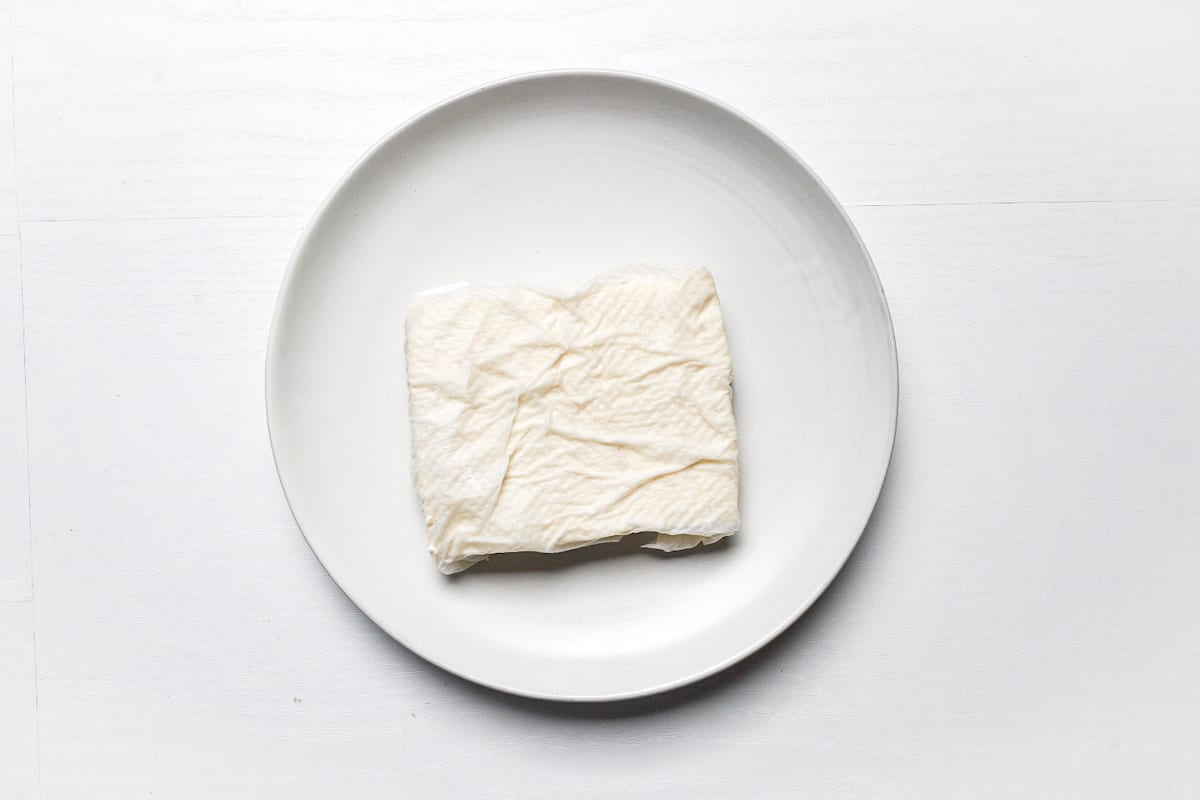 Allow it to cool for a few minutes, remove the kitchen paper, and pat it dry.
You can now cut it into bitesize cubes like this.
It's now ready to cook!
For this recipe, I like to stir-fry the tofu on its own. This allows it to become crispy and turn a beautiful golden color without interference from the fats and liquids from the other ingredients.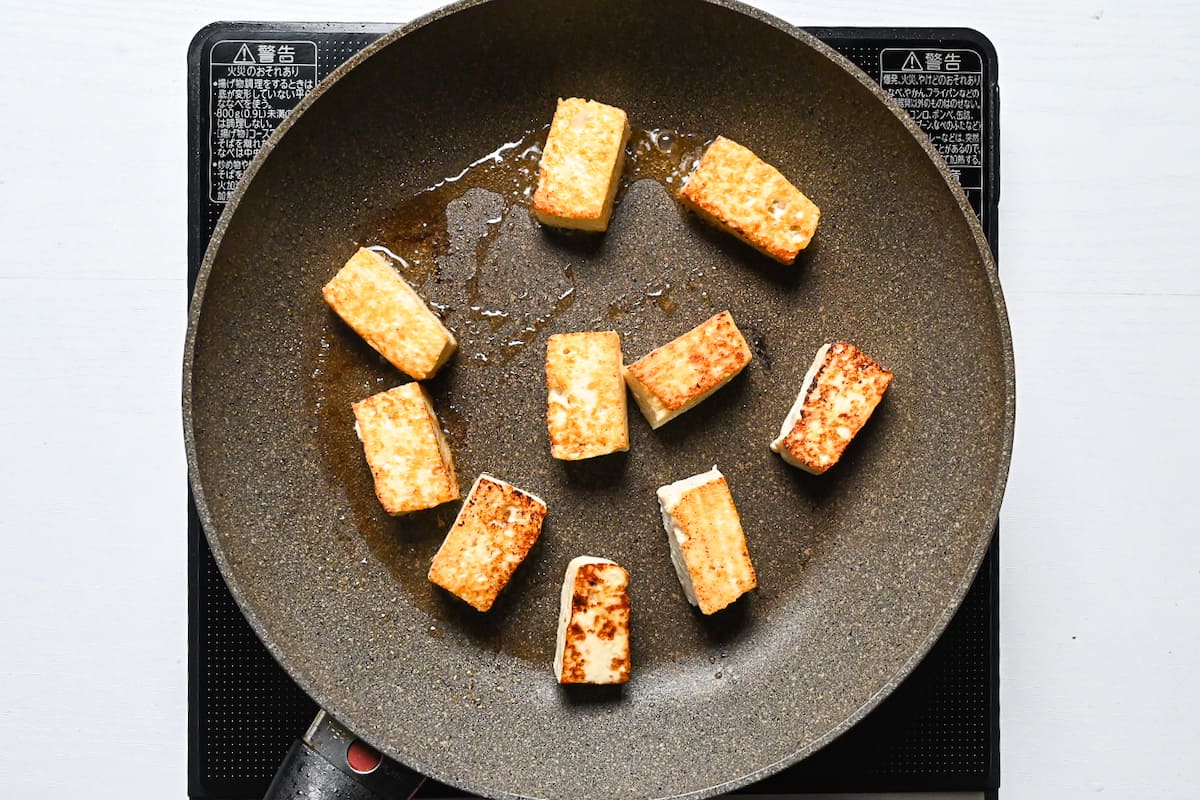 Remove it from the pan and set it aside so it stays beautiful and doesn't break or become overcooked!
Brown the pork, then stir fry with goya and tofu
Using the same pan, fry the pork belly until it's sealed on both sides and add the sliced goya. Stir fry them together for 2-3 minutes.
Next, add the tofu back in with a pinch of salt and pepper and mix.
Add a dash of soy sauce and mix again.
Whisk the egg in a separate bowl and pour it into the pan.
Allow the eggs to become half-cooked before mixing. If you mix too early, the egg will break up into small pieces and become lost amongst the other ingredients.
Once the egg is half cooked, add a dash of soy sauce, mix quickly, and remove from the heat.
The eggs will continue to cook in the residual heat from the other ingredients. Taking it off the stove early prevents overcooked rubbery egg!
Dish up and sprinkle with kastuobushi (bonito flakes).
Goya Champuru goes well with rice or noodles!
Storage
The best way to store goya champuru is through refrigeration. However, due to the presence of eggs and tofu, it should not be kept for more than 2 days.
Freezing is possible, but it is not advisable as it may affect the taste and texture of the dish. Additionally, eggs and tofu are not suitable for freezing.
Room temperature - Not recommended.
Refrigerated - Up to 2 days.
Frozen - Not recommended.
I hope you enjoy this classic Okinawan Goya Champuru recipe! If you try it out, I'd really appreciate it if you could spare a moment to let me know what you thought by giving a review and star rating in the comments below. It's also helpful to share any adjustments you made to the recipe with our other readers. Thank you!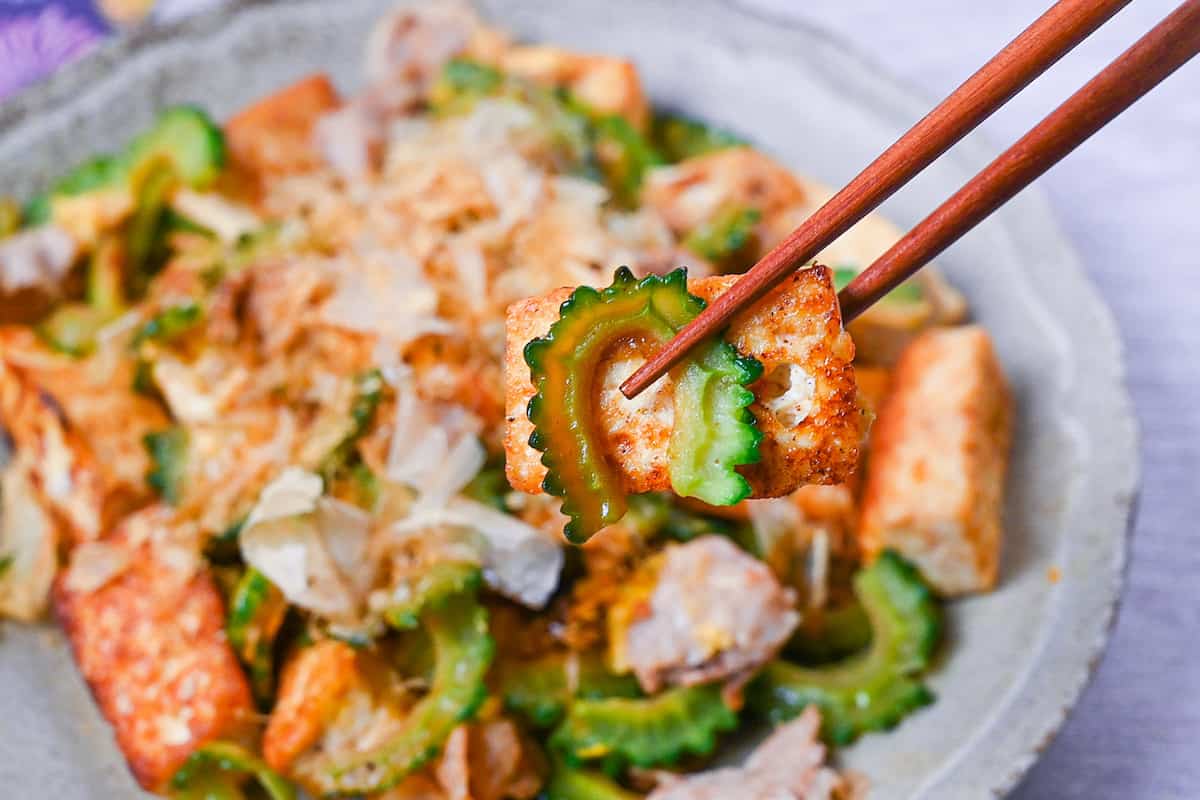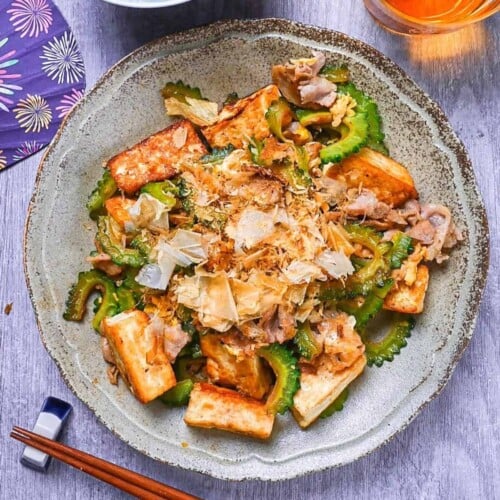 Goya champuru (Okinawan Bitter Melon Stir Fry)
How to make simple and refreshing Okinawan bitter melon stir fry (goya champuru) with firm tofu, thinly sliced pork belly and goya topped with bonito flakes. (Serves 2)
Ingredients
150

g

Okinawan bitter melon

-

(goya)

½

tsp

salt

¼

tsp

sugar

150

g

pork belly

-

thinly sliced

1

pinch

salt and pepper

200

g

firm tofu

1

medium egg(s)

-

whisked

2

tsp

soy sauce

1

tbsp

cooking oil
Instructions
First, cut

150 g Okinawan bitter melon

in half lengthways and scoop out the seeds.

Cut it into 5mm slices and place in a bowl.

Add

½ tsp salt

and

¼ tsp sugar

to the bowl and massage into the surface of the bitter melon. Set aside for 10 minutes.

Next, take

200 g firm tofu

and wrap it with kitchen paper. Place it on a microwavable plate and microwave for 1 ½ minutes at 600W to remove excess liquid. (No need for plastic wrap.) Leave to cool for a few minutes.

In the meantime, fill the bowl of goya with fresh water and drain to wash.

Once the tofu is cool enough to touch, cut it into bitesize cubes and heat a frying pan on medium.

Once the pan is hot, add

1 tbsp cooking oil

. Add the tofu and brown on each side. Once it's brown and slightly crispy on the outside, remove it from the pan and set aside for later.

Using the same pan, add

150 g pork belly

and fry until the surface is sealed on both sides. 

Add the goya to the pan and stir fry with the pork for 2-3 minutes.

Add the tofu back into the pan and sprinkle with

1 pinch salt and pepper

. Mix together and add half of the

2 tsp soy sauce

.

In a small bowl, whisk

1 medium egg(s)

. Pour it into the pan and allow it to cook until half done (do not mix at this point).

Once it's half cooked, add the other half of the soy sauce and mix thoroughly. Remove from the heat.

Enjoy!
Nutrition
Calories:
463
kcal
Carbohydrates:
5.6
g
Protein:
24
g
Fat:
40.2
g
Saturated Fat:
13.5
g
Polyunsaturated Fat:
8.1
g
Cholesterol:
151.5
mg
Sodium:
1080.5
mg
Fiber:
3.1
g
FAQ
What is goya?
Goya is the Okinawan name for the cucurbitaceous plant often known as bitter melon or bitter goard in English. In Japanese, it is known as both goya (ゴーヤー) and nigauri(苦瓜) which directly translates as bitter melon. This unique ingredient is primarily used as a vegetable in its green, unripe form.
What is the meaning of champuru?
Champuru is an Okinawan word that means jumbled and is said to be derived from the Malay or Indonesian word campur. Champuru generally refers to stir fry dishes containing several different ingredients, the most popular being goya champuru and māminā champuru (beansprouts).
Where does goya come from?
It is believed that goya originated in Africa and spread across Asia. It is commonly used in East Asian, South Asian, and Southeast Asian cooking.