I've been making curry with roux for longer than I can remember, and this post is my life's research. I want to share some tips on how to make the ULTIMATE Japanese-style curry using roux. Bring your homemade curry to the restaurant level with these tips!
Disclaimer: This post contains Amazon and Dokodemo affiliate links to help our readers find the products used by us. Sudachi Recipes earn a small percentage from qualifying purchases at no extra cost to you. See disclaimer for more info.
What is Japanese Curry Rice?
It's safe to say that Japanese curry rice or "kare raisu" (カレーライス) is one of the most popular dishes in Japan. It is eaten and enjoyed at home, in restaurants, diners, and takeaways. I must say, Japanese curry rice is an authentic comfort dish for me!
It's pretty easy to make if you have the premade roux in your cupboard. Japanese curry roux is so tasty, you can't fail… but why stop at tasty? Why not make it the best it can be? I'll share secret tips and ingredients to help you make the best curry you've ever made!
In this post, I will explain everything you need to know to start with Japanese-style curry. I'll admit that the post is very long, but I made it so that you can keep coming back and check whatever you need to know whenever you're making Japanese curry (I appreciate it if you bookmark this page!).
Everything you need to know to make Japanese curry at home with roux cubes
Tons of tips and tricks, ideas and information included
Easy-to-follow instruction
First, let's learn a little about how Japanese curry came to be. Curry rice has an interesting history. As most people probably already know, curry originated in India, the land of spice. It then traveled to the U.K. and went from the U.K. to Japan in the early Meiji period (1868-1912).
That's right, Japanese curry is based on the U.K.'s version of curry. Japanese curry rice is not so spicy compared to its Indian counterparts; it's also quite sweet and thick, like a stew or gravy.
I love how curry has traveled worldwide, picking up new styles and flavors.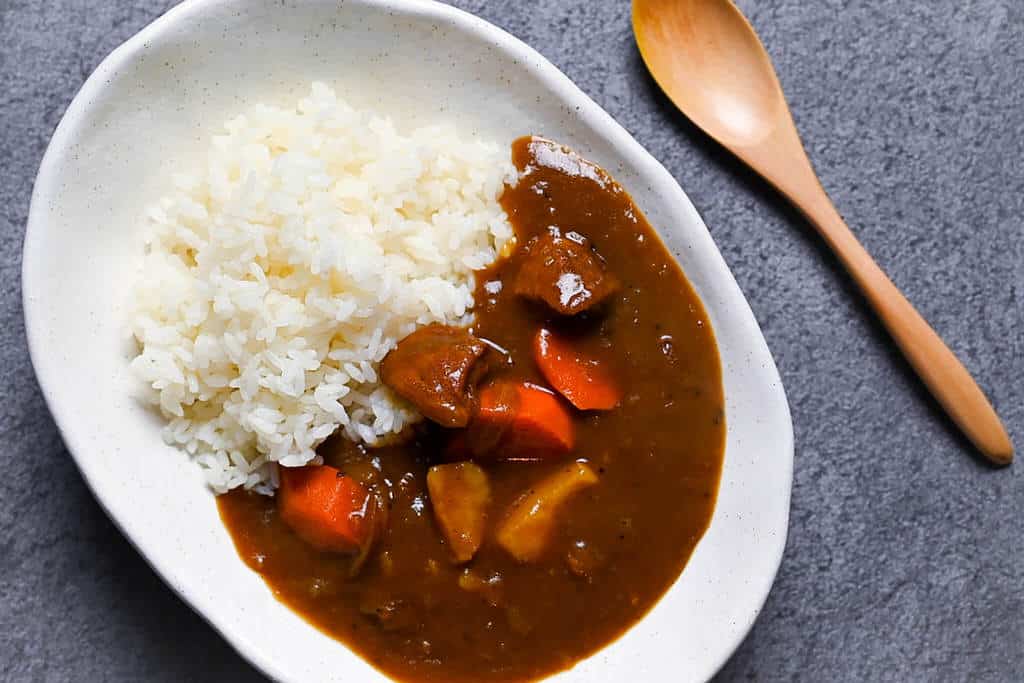 Choosing the Right Japanese Curry Roux
The chocolate bar-shaped Japanese curry roux comes in many brands, spice levels, and flavor varieties, so here are some valuable things to know.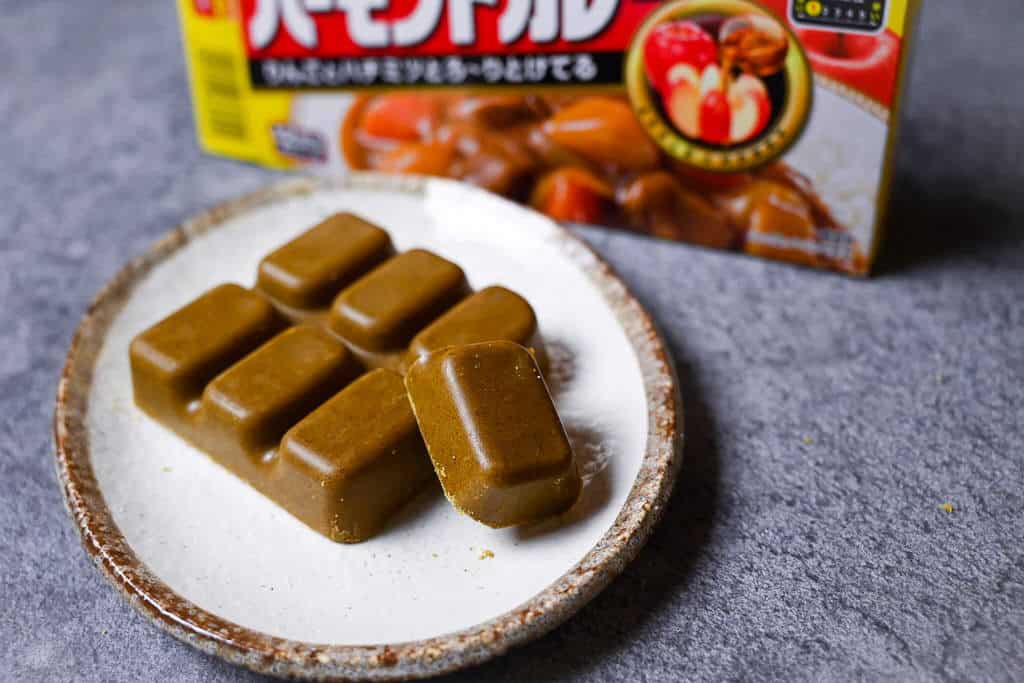 Levels of Spiciness
There are three primary levels of spiciness when it comes to curry roux in Japan, ranging from sweet and mild to hot and spicy. Here are the symbols that you need to look out for.
甘口 (amakuchi) – Sweet, mild, and even kids can easily eat it. Not spicy at all. Usually labeled as level 1-2.
中辛 (chuukara) – A little spicy but still pretty easy to handle. They are usually labeled Level 3 in spiciness.
辛口 (karakuchi) – Hot and spicy curry roux will usually be labeled as level 4,5, or 6, with 6 being the spiciest. Great for spice lovers.
Sticking with the middle option is always a safe bet if you're unsure.
Recommended Curry Roux Brands
There are so many different brands to choose from that it can be overwhelming, especially if you're in a Japanese supermarket or shopping online.
Read more about the characteristics of these brands below.
Golden Curry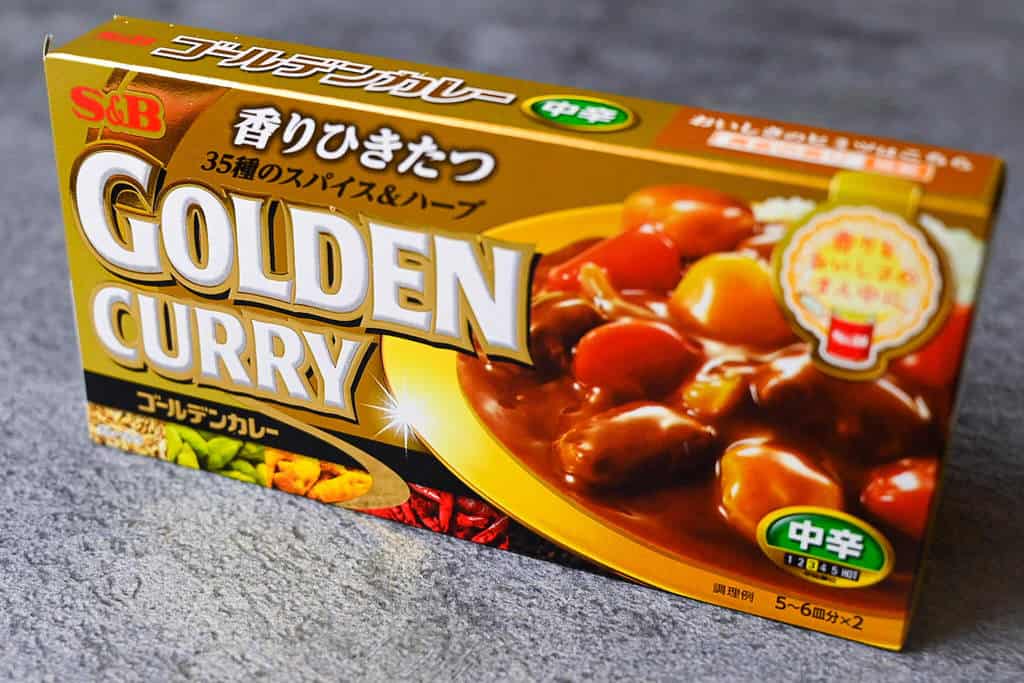 As far as I know, Golden Curry by S&B is the brand that is the most accessible outside Japan. I even saw it in Sainsbury's (a U.K. supermarket chain) when I lived in England.
You can buy mild, medium, and hot S&B Golden Curry on Amazon. I recommend getting one of each, or you can purchase it as a bundle for a lower price here.
Characteristics:
The aroma of different spices (many people in Japan say Golden Curry has the most excellent aroma)
Spicier than average Japanese curry
Rich flavor
Vermont Curry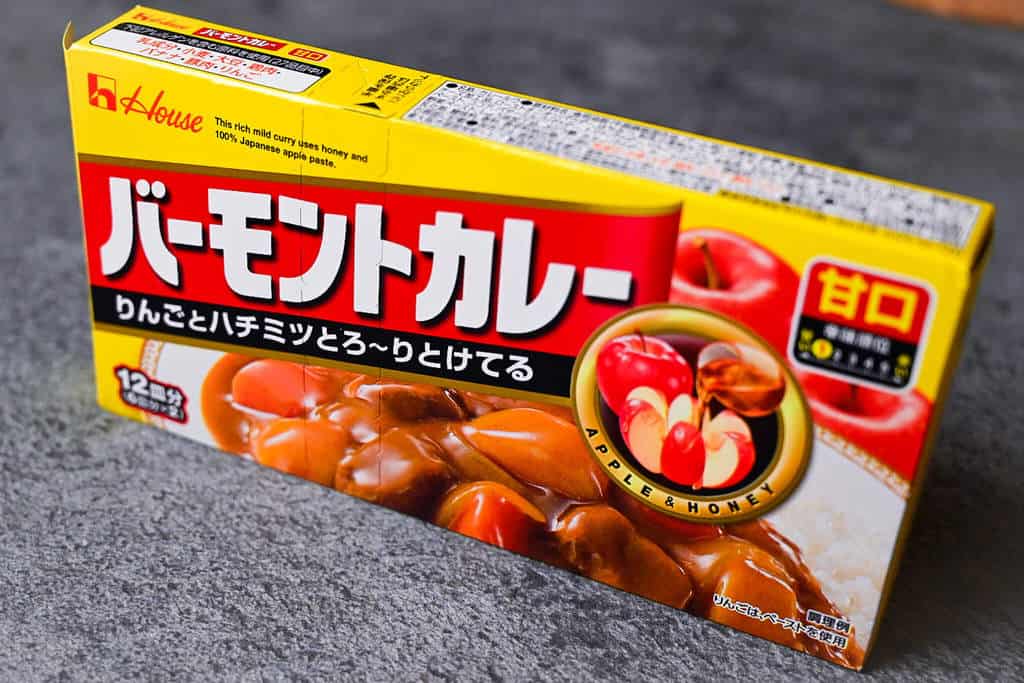 I've always known Vermont Curry by House as the curry with the apple and honey on the package. As you can expect, Vermont Curry is sweeter than the others and smells a bit sweet too.
You can buy mild or medium Vermont curry on Amazon.
Characteristics:
Sweet flavor and smell
Fruity
Lighter in color
Kid-friendly
Java Curry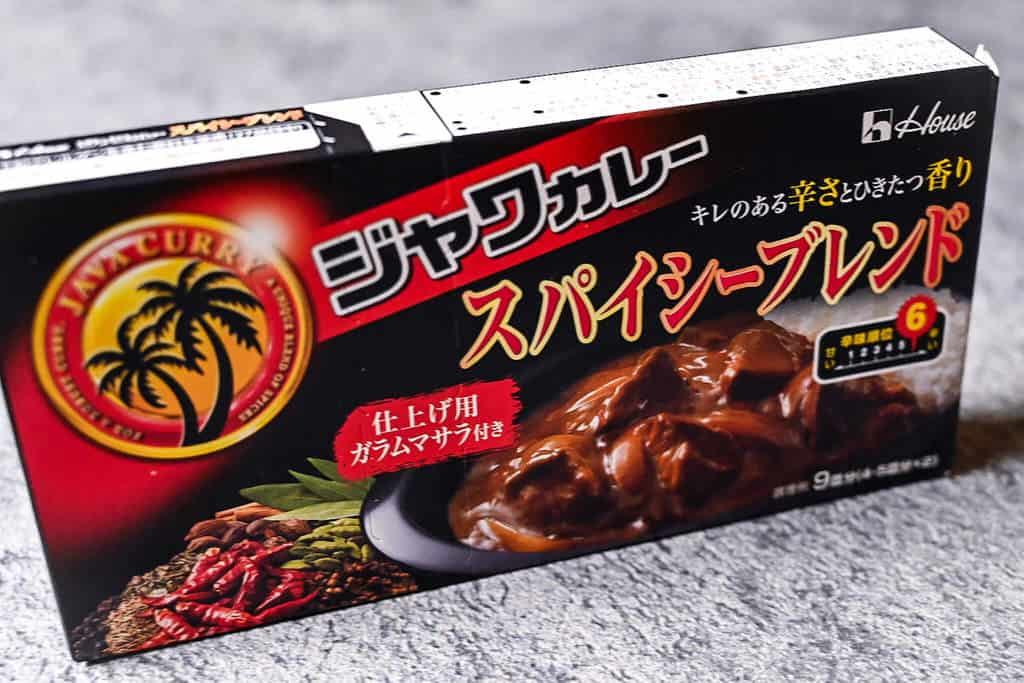 Even though it might not be as accessible as the two above, Java Curry has always been my favorite. It's known as a spicy brand, and its products have many different spice levels. The one in the picture above is the spiciest curry by Java.
You can buy medium hot and hot Java curry on Amazon.
Characteristics:
Spicy and hot
Rich and sharp
Slightly sour
Other brands available in Japan
There are many other curry roux brands available in Japan, such as:
Dinner Curry (ディナーカレー) – Elegant.
Premium Juku Curry (プレミアム熟カレー) – Complex flavor.
S&B Curry Prince (カレーの王子さま) – Especially for kids, sweet and mild taste.
PLATINUM – Most gourmet and expensive curry blocks I have found in Japan so far, made by CANYON SPICE company.
The Reason Why I Mix Different Brands
Even though each product has many different spices, I always mix at least 2-3 different brands. Why? I don't have a logical explanation for it, but I genuinely believe that one secret of good Japanese curry is jumbling all the different flavors to a certain degree.
I usually try to mix at 2-3 different spice levels (Sweet, Medium, Spicy) because that way, you can get the sweet apple and honey flavor from a mild one like Vermont and complex spiciness and heat from brands like Java.
Mixing brands is a common thing you can see in ordinary Japanese home cooking as well. If you use one brand and stick to the instructions, your curry won't be unique. Complexity is key.
For this recipe, I mixed two cubes of golden curry (medium), two cubes of Java (hot), and two cubes of Vermont (sweet).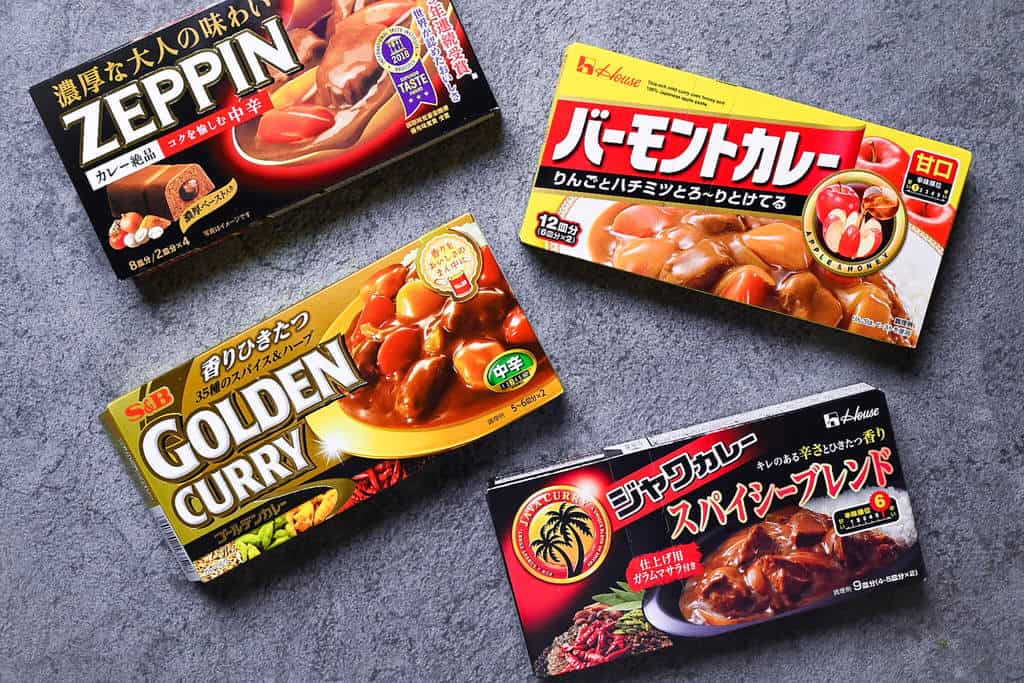 If you want to experiment with different brands, I highly recommend these bundles on Amazon.
Protein/Meat Options
After buying a few of these Japanese curry blocks explained above, it's time to consider what kind of meat you want. Although beef curry is classic for Japanese curry rice, it's not uncommon to use other protein sources.
In this section, I will explain popular meat options people opt for in Japan.
Beef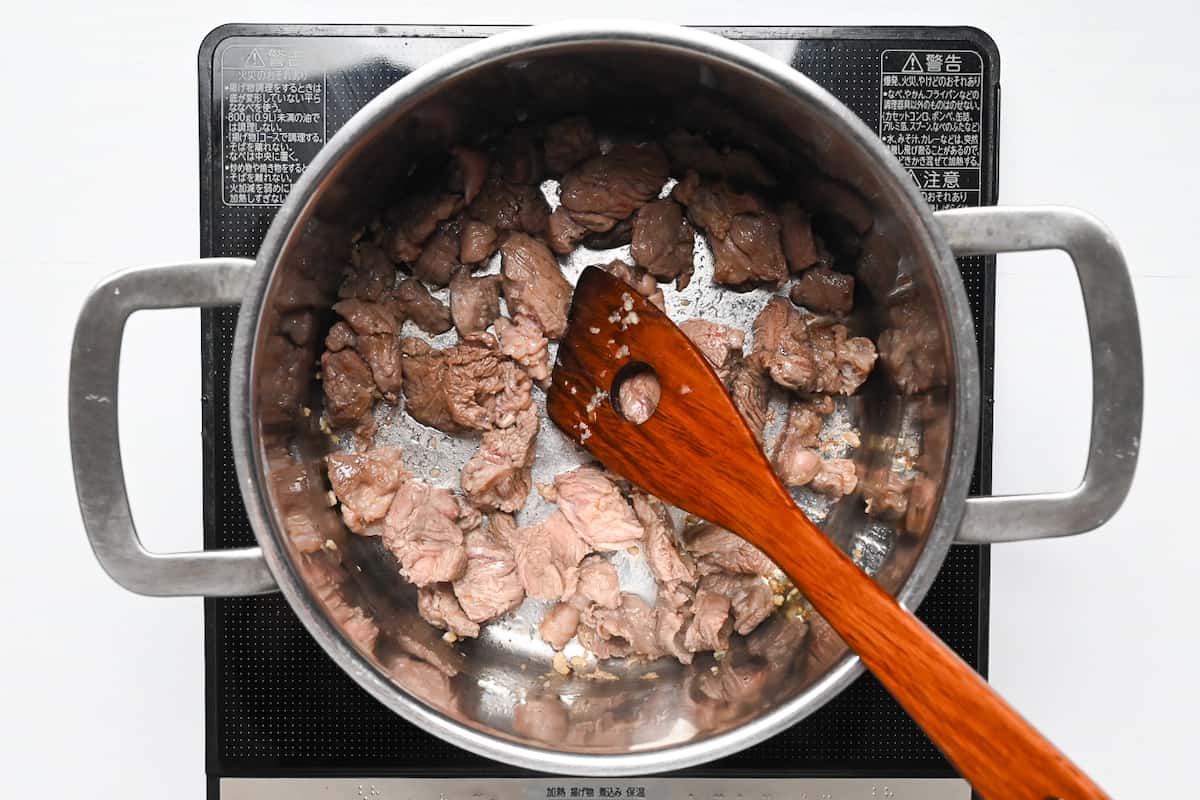 As I mentioned, "the Japanese curry rice" is beef curry. Beef gives it an incredible richness and flavor to go very well with Japanese-style curry roux. However, choosing part of beef to use is very important.
Short ribs
Shank
Sinew
Shoulder loin
Whichever part you choose should be cut into small chunks (like when you make beef stew). I mostly opt for 70% shank and 30% sinew.
Beef shank and sinew are the parts that become more tender as they are stewed. However, I limit beef sinew to about 30% because its texture can be chewy (but if you stew for too long, it melts into the curry) and has considerable fat, even though the dissolved collagen makes the beef curry richer. I also want beefy meat in my curry!
I recommend beef shoulder if you want a cut that does not require so much braising time.
Pork
The good thing about using pork instead of beef is it's easier, cheaper, and quicker to cook. You can also use most parts of pork for Japanese curry.
Shoulder
Shoulder loin
Loin
Medallion
Belly
Leg
When choosing, you should consider whether you want to make your curry lean or fat and rich. I recommend pork leg or medallion if you prefer lean, easy-to-eat pork curry.
On the other hand, if you want to enjoy the richness of fatty meat, pork belly is the best choice. Cut the block into cubes and use them to enjoy a rich pork curry. I would say shoulder, shoulder loin, and loin would be between those.
Chicken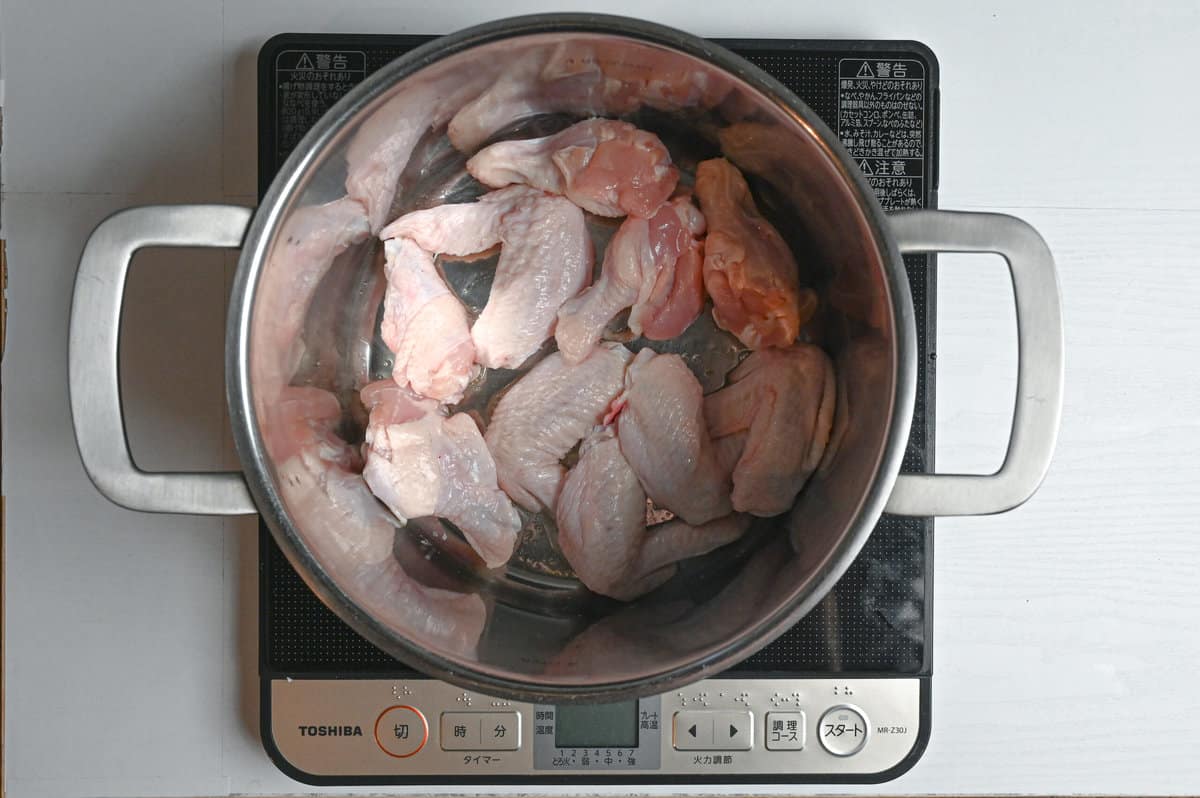 You might be surprised, but chicken is not as popular a meat choice as beef and pork for Japanese-style curry. However, I'm not saying chicken doesn't work! More than anything, it's pretty important to choose the right parts of the chicken.
Commonly used chicken parts
I recommend thighs, wings, or drumsticks for the best result for Japanese chicken curry. If you have time, use chicken wings and simmer them until the meat comes off the bones to make a chicken curry full of rich flavor. Chicken thigh is more for a quicker option.
Chicken breast is passable, but I think it's too lean and dry to go with Japanese curry. I feel like chicken breast and curry roux don't mingle well, in my opinion.
Seafood
I must say, seafood is a hidden gem for Japanese curry. If I have to rank the protein ingredients, seafood comes second after beef for me. It's that good, and I would like you to try it someday! The umami from different varieties of seafood is indescribable.
Shrimp/prawns
Squid
Mussels
Scallops
Unlike the other meat options, it's important to use a few different seafood and mix rather than choosing one here. So I recommend using a small portion of each seafood or frozen seafood mix!
Also, seafood options for Japanese curry are endless; you can experiment with other seafood from your area (for example, crab, lobster, etc.).
Three Popular Vegetable Variations
Once you choose the meat/protein option, now it's time to consider vegetables to use for your Japanese curry. This section will explain a few popular variations for your inspiration.
Classic curry: Onion, Carrot and Potatoes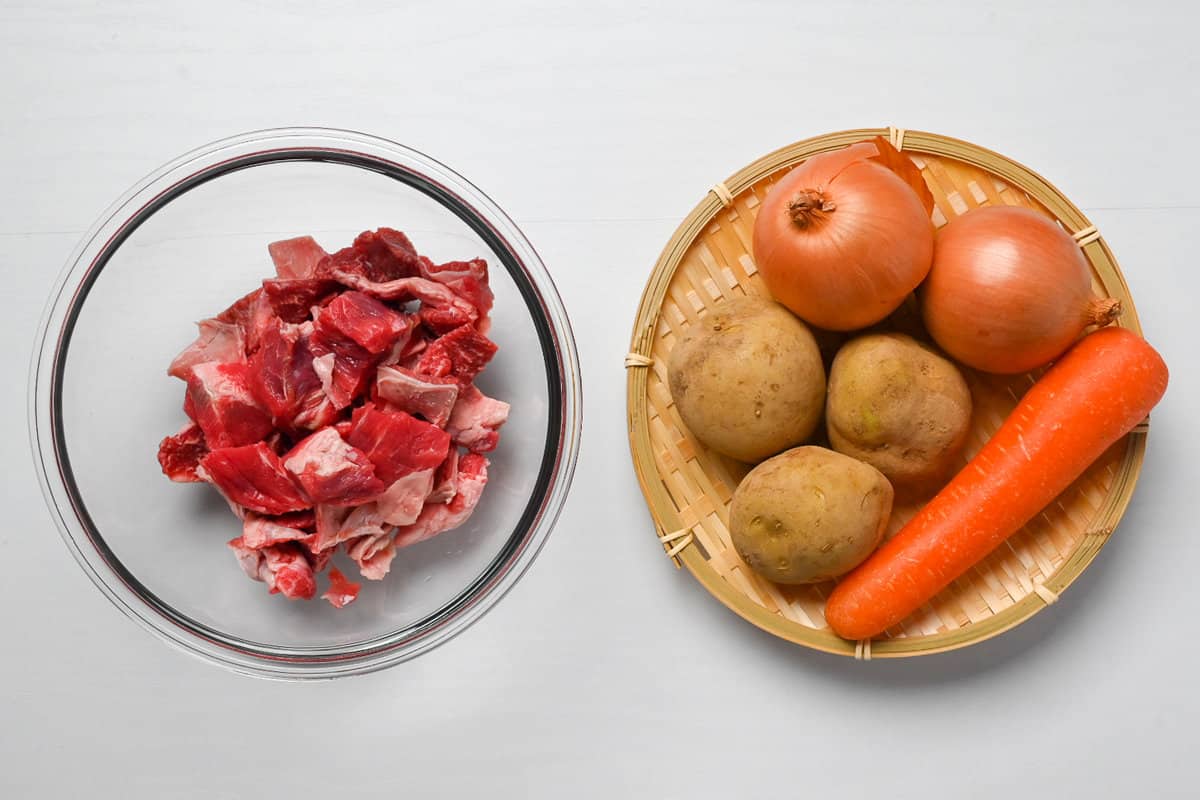 The most standard home-cooked Japanese curry has onion, carrot, and potatoes. What is so good is wherever you live in the world, you can get these ingredients easily.
I recommend this standard vegetable combination if you have never had Japanese curry.
Most commonly used vegetables
White onion
Carrot
Potatoes
Summer Curry: Eggplant, Okra, Pumpkin…etc
This combination is also known as "summer vegetable curry" in Japan. Tomatoes, zucchini, and bell peppers are also commonly used, and many summer vegetables are beautifully colored, making the dish vibrant and fresh.
The difference is that these vegetables are grilled separately rather than simmered with the curry roux. This is because many summer vegetables are soft and lose shape and texture.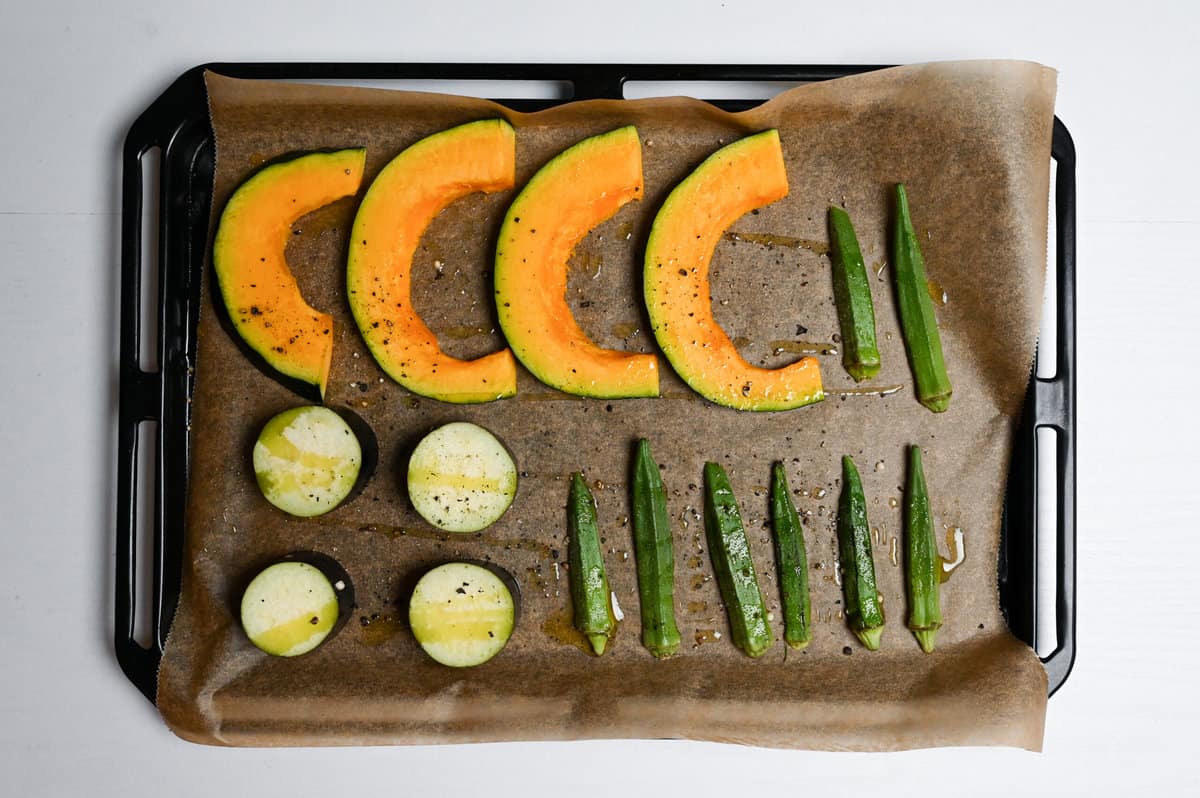 Some people even use grilled tomatoes for summer vegetable curry!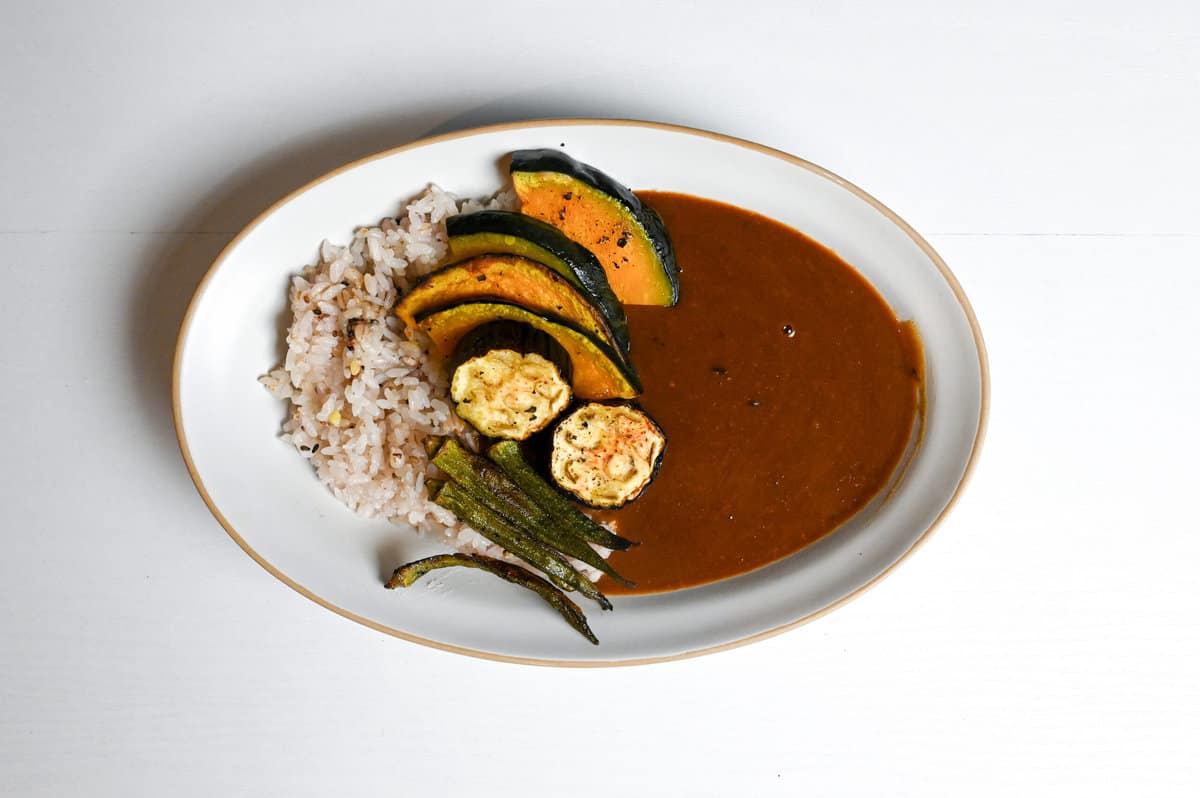 Commonly used vegetables for summer variant
Eggplant (Aubergine)
Okra
Pumpkin
Bell pepper
Tomato
Zucchini (Courgette)
Goya (bitter melon)
Winter Curry: Turnip, Broccoli, Napa cabbage…etc
On the contrary to summer vegetables, these are the winter vegetable variation. Since there are more root vegetables, they will taste even better when cooked together. However, some exceptions include vegetables like broccoli or spinach, as they can break easily in the roux, so it's best to boil and garnish them at the end.
Commonly used vegetables for winter variant
Turnip
Broccoli
Sweet potatoes
Napa cabbage
Spinach
Lotus roots
Cabbage
However, there is no rule about which vegetables to use for Japanese curry. My best advice is to use your local and favorite ingredients and experiment! Remember, creativity is always a key to making Japanese curry.
Water Substitutions to Maximize Flavor
So all the curry roux cubes will tell you to mix with x amount of water, but you're certainly not limited to plain water. The liquid added to curry is yet another opportunity to add extra flavor.
This section will list a few alternative liquids you can add to your Japanese-style curry instead of plain water. These range from not-so-scary to quirky ones you probably haven't heard of.
Be aware of the salt content
Be careful when using liquids with salt, as it can make the curry too salty.
Unsalted stock/broth
If you can get unsalted beef, chicken, vegetable, etc., these would be a significant flavor boost for Japanese curry.
Stock powders/Bouillon
Since stock powders can be pretty salty, you must be careful if you want to add them. I recommend using water initially, then adding small amounts of stock cubes/powders after mixing in the curry roux. This way, you can taste test as you go to prevent having an overly salty curry!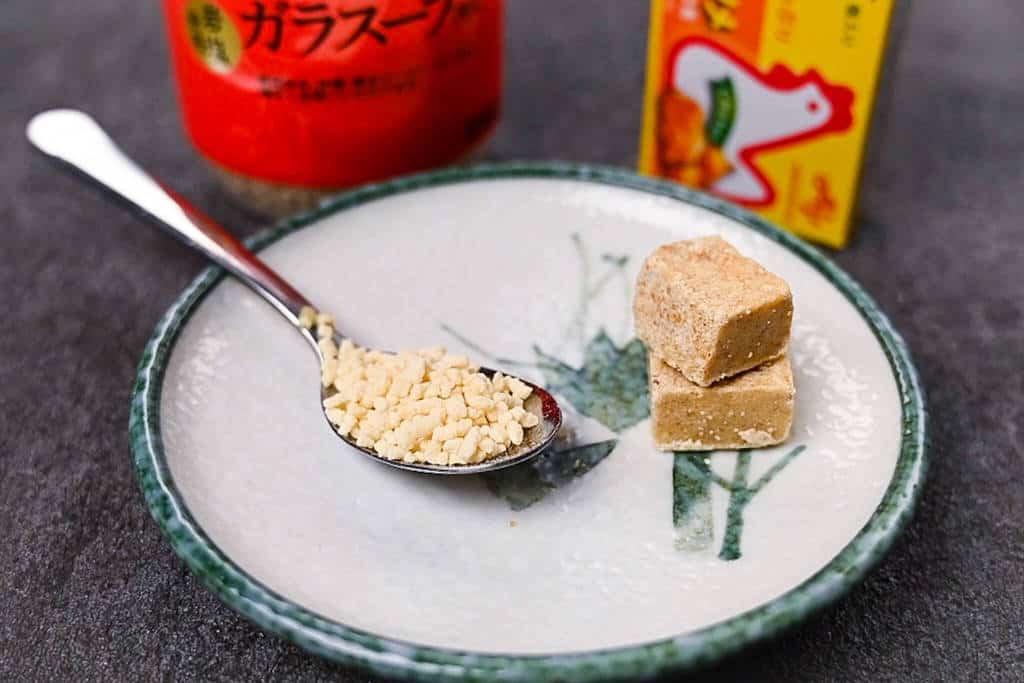 Dashi stock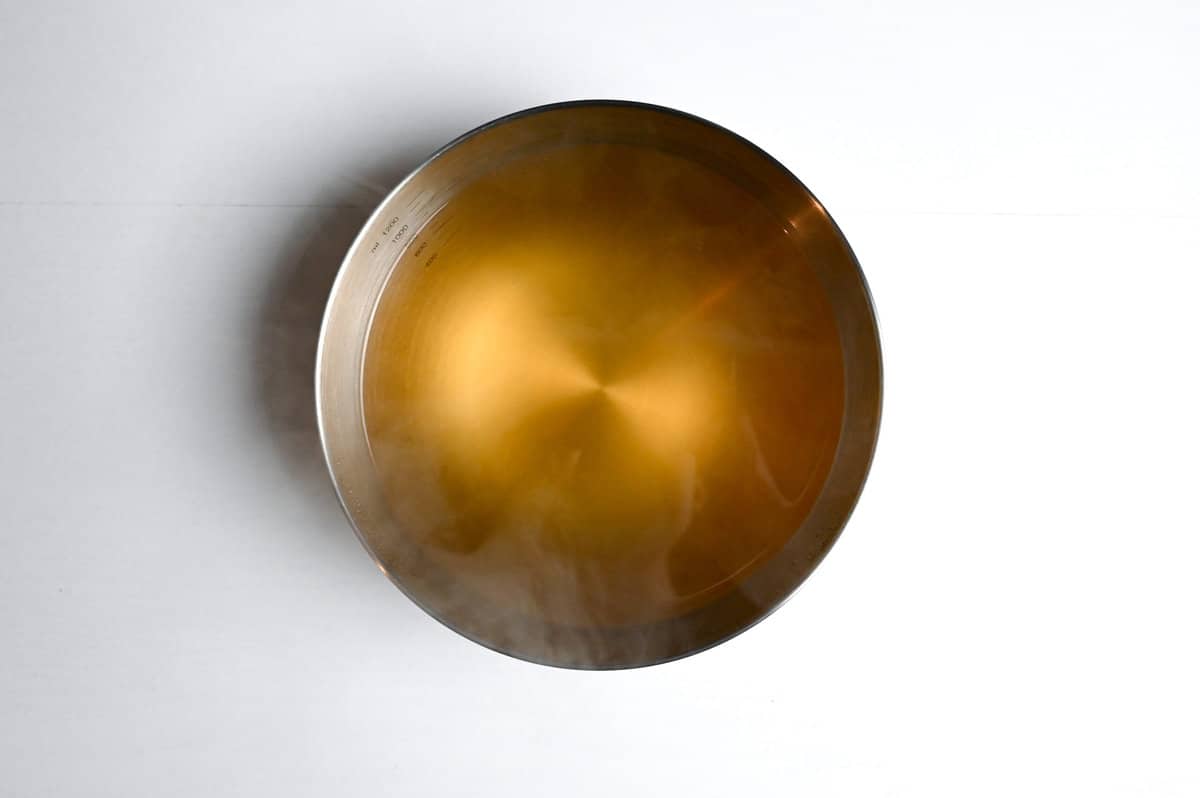 Do you want to make your curry extra Japanesey? In that case, you might consider using dashi stock for the liquid. The good thing about dashi is that they don't contain any salt, so you can replace it with water.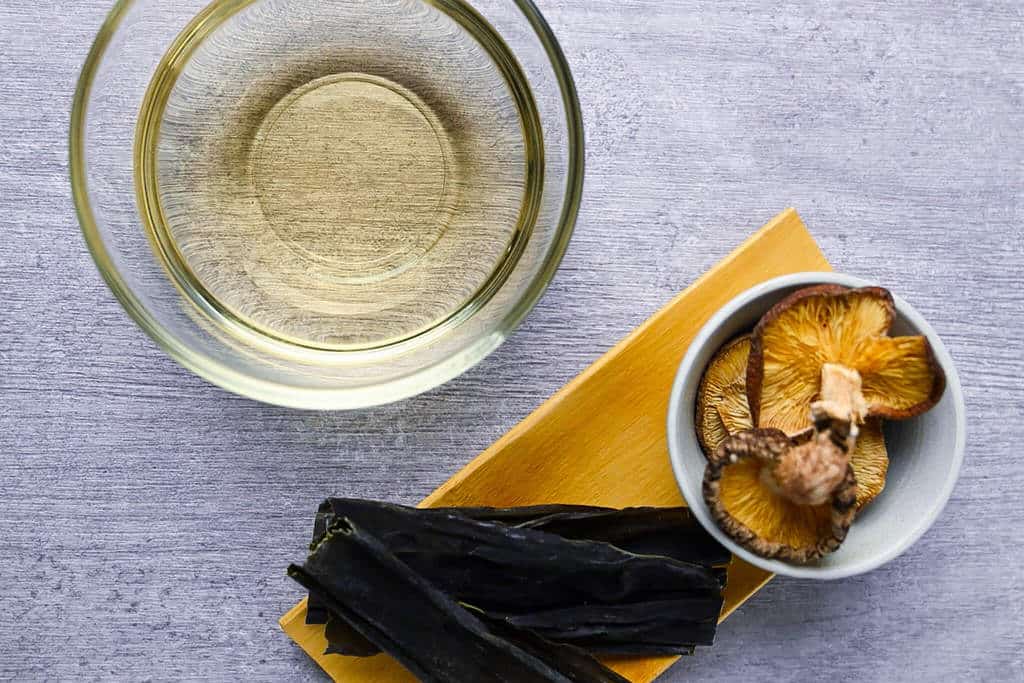 Some Japanese curry specialty restaurants use this technique as well. If you're interested in making dashi, I have a recipe for homemade dashi here!
Fond de veau
If you want to make your curry more elegant, French fond de veau is a great option! Fond de veau is a French broth made by simmering veal bones and meat with aromatic vegetables and other ingredients for a long time.
Even in Japanese supermarkets, fond de veau jelly/powder is sold in the Japanese-style curry aisle, so it's safe to say this is a top choice!
Black tea
This is the quirky one that I was talking about. This is an idea that I found when I was randomly watching a TV show a few years ago. The show featured the curry development society at Kyoto University (one of the best universities in Japan). Interestingly, one of Japan's most brilliant people studies curry as a club activity, but using black tea for curry was mind-blowing.
According to them, the use of black tea mellows the curry. The program was exciting as it introduced various other science-based techniques. But instead of substituting all water for tea, you may start with a small amount.
Wine / Juice
Other than these, you can replace 10% of the water with red wine for beef/pork curry or white wine for chicken or seafood curry. If you don't want to use alcohol, you can use a bit of apple juice, grape juice, or something like that instead!
Type of rice to serve with Japanese curry
You might wonder what kind of rice works best with Japanese-style curry. The short answer is short-grain Japanese sticky rice (Japonica rice). Like some other curries in the world work better with long-grain rice (for example, Indian curry or Thai curry), Japanese-style curry works best with short-grain rice.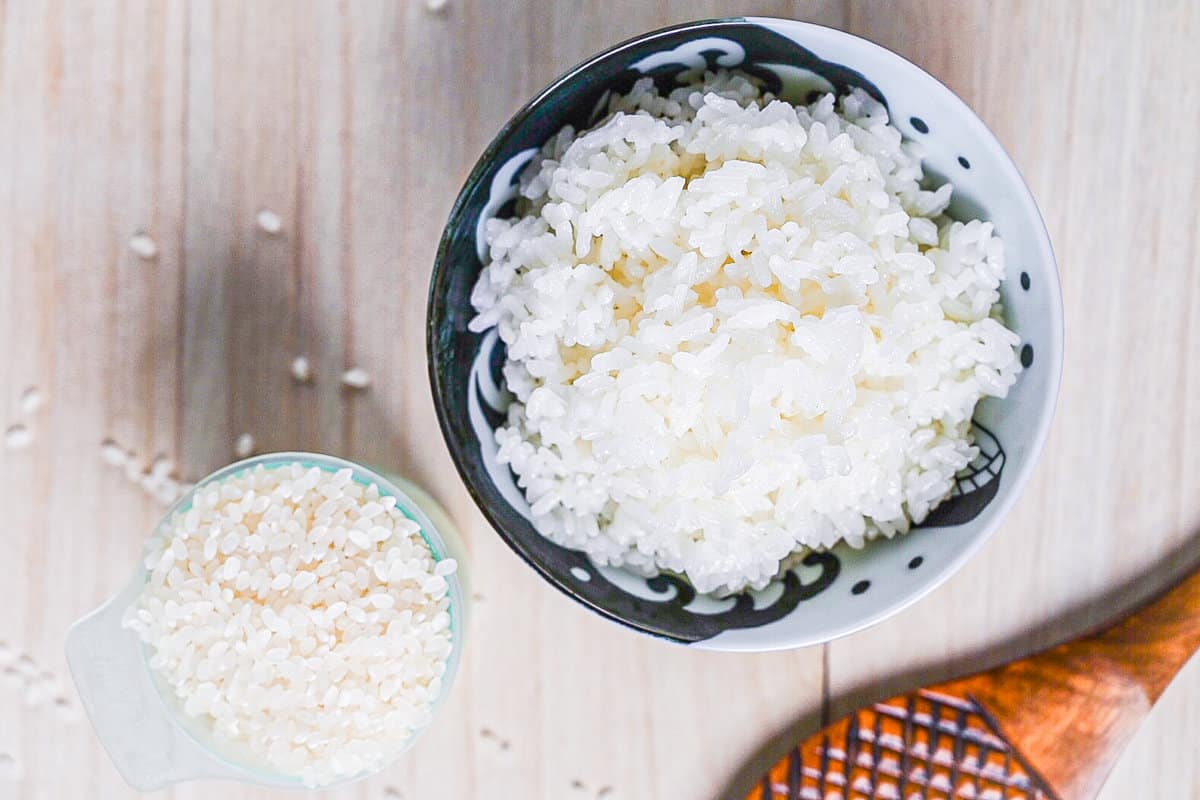 Incidentally, more than 300 rice varieties are grown in Japan, and more than 1,000 rice varieties are grown worldwide. The rice grown in Japan is collectively called "japonica rice," characterized by its rounded oval shape, stickiness, and sweet taste.
Popular Japanese rice variety
Koshihikari (コシヒカリ)
Akita komachi (あきたこまち)
Hitomebore (ひとめぼれ)
Haenuki (はえぬき)
Sasanishiki (ササニシキ)
Look out for these types for the most authentic Japanese curry experience! If you want to cook Japanese-style rice without a rice cooker, check out my How to Cook Japanese Rice on Stove recipe.
If you don't mind extra effort for richer Japanese curry rice, you can make the garlic rice that I used for Hayashi Rice recipe.
7 Topping variations
Now we come to the topping section. You can customize your Japanese-style curry using all the techniques we have discussed, but you can also make a big difference with toppings.
So in this section, I will list every popular curry rice topping in Japan and explain how they can change your Japanese-style curry.
Fukujinzuke pickles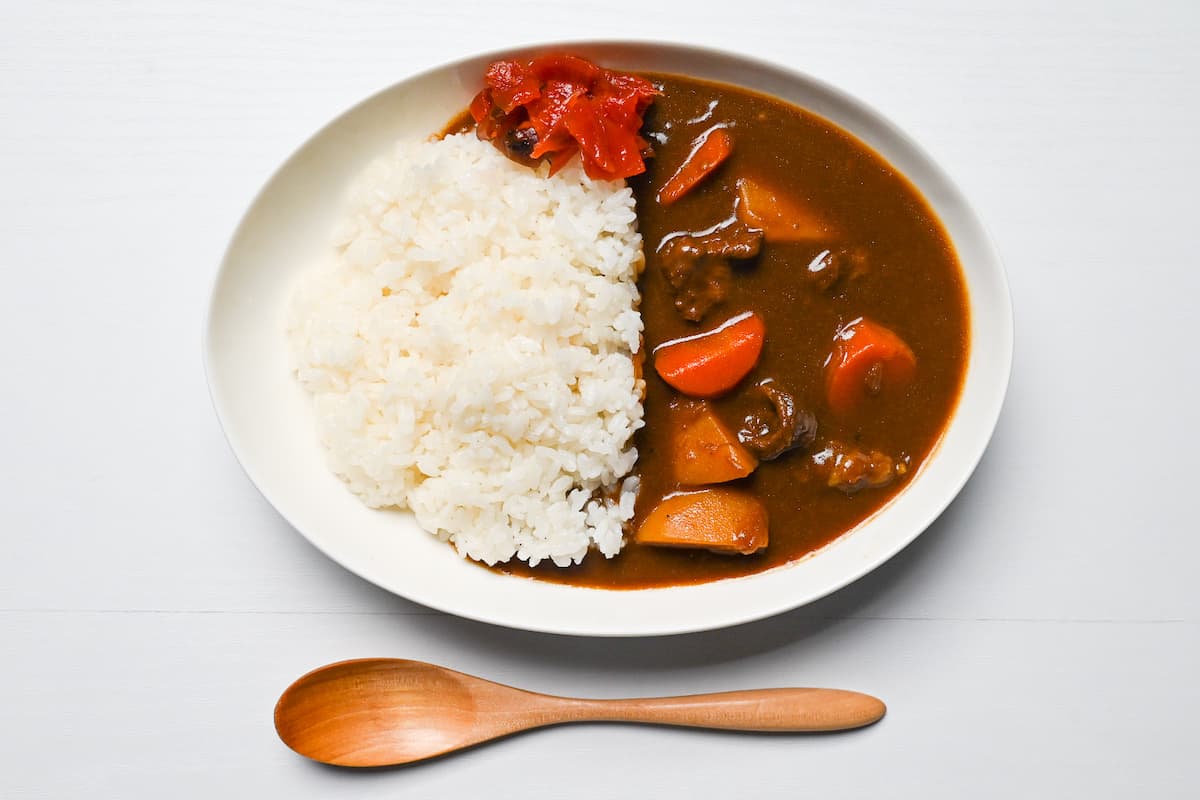 Fukujinzuke is a non-fermented sweet pickle made by seasoning vegetables such as radishes, eggplants, lotus roots, cucumbers, and shiitake mushrooms with soy sauce, sugar, mirin, and other seasonings.
I said, "topping variation," but this is almost a must-item to go with Japanese curry. I personally think it's not complete without fukujinzuke.
You might recognize it as "red pickles," but the red color is made by food coloring to make it contrast with the dark curry roux. Naturally, fukujinzuke is orangey brown.
Shredded cheese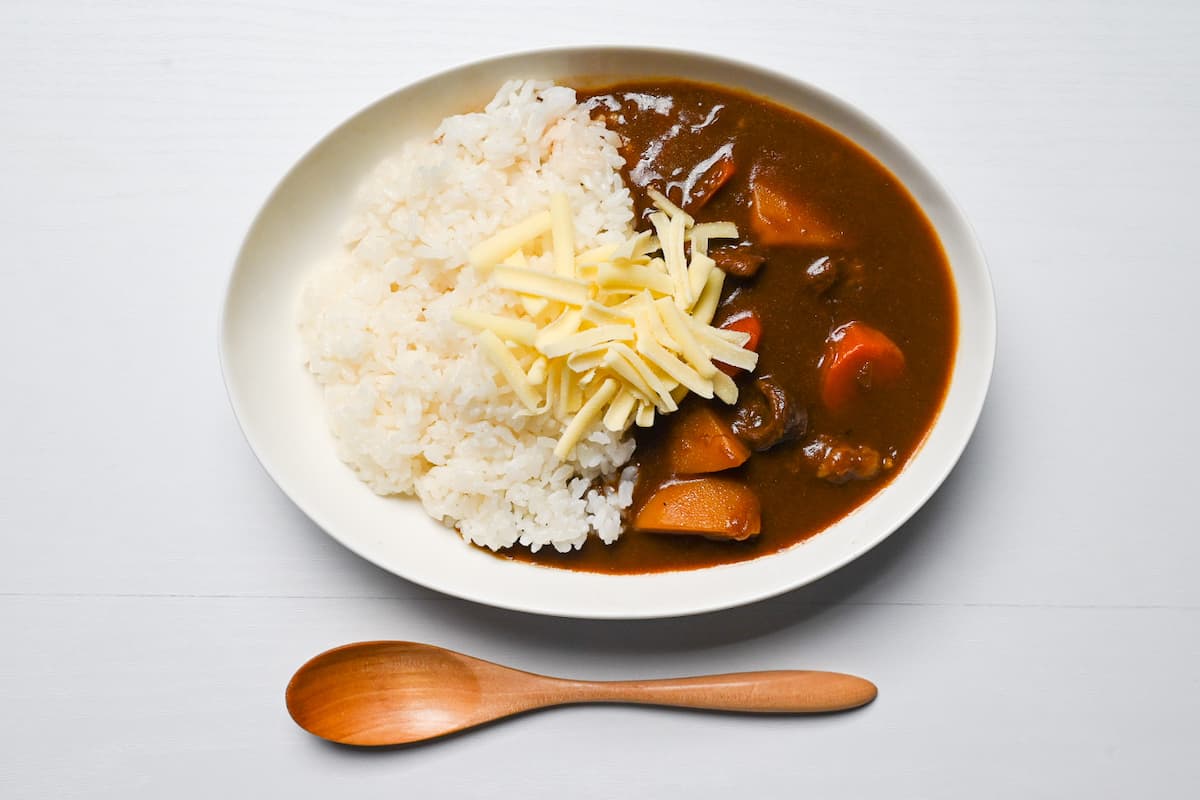 Melty cheese is also a popular topping option for Japanese curry. The addition of cheese gives the curry a unique dairy richness and depth. It may also soften the spiciness of curry when it is too hot. Other than shredded cheese, some people use powdered cheese for a tangier taste.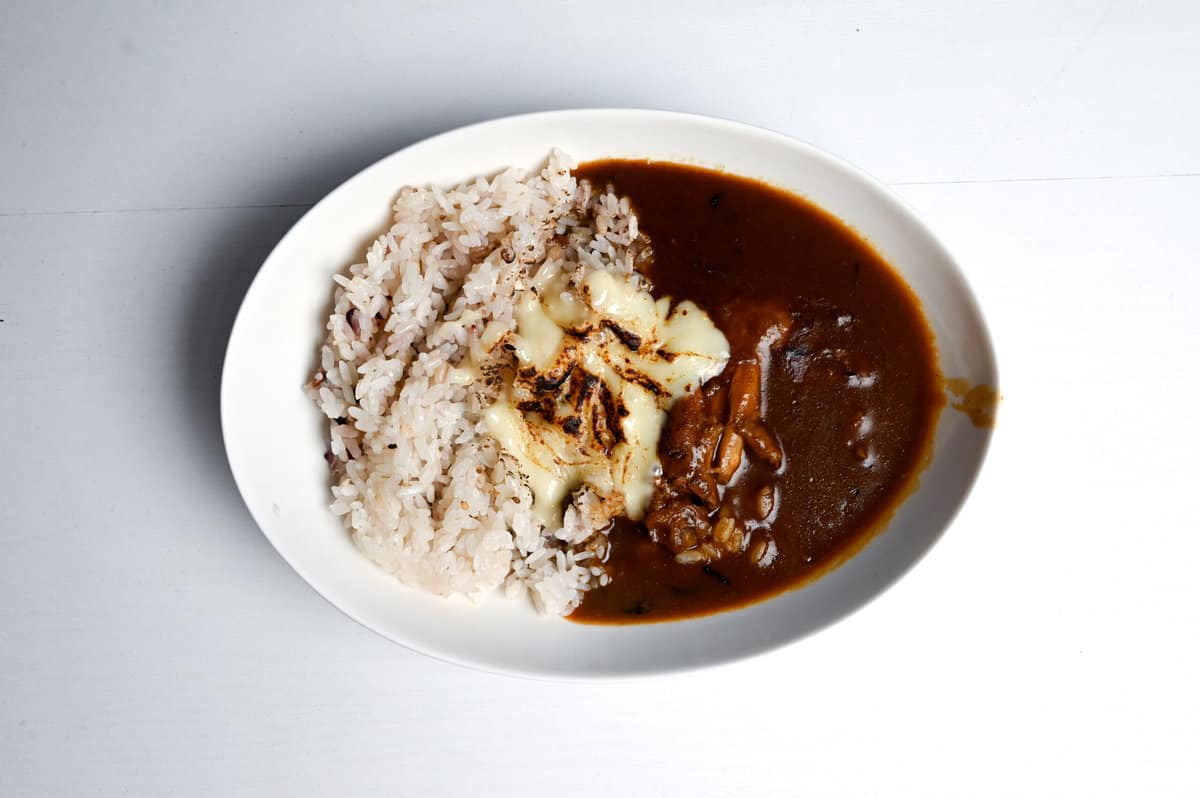 If using melty cheese, I'd recommend cheddar or gouda cheese, and if using powdered cheese, Parmesan or Pecorino cheese will add a more robust cheesy flavor to Japanese curry.
Egg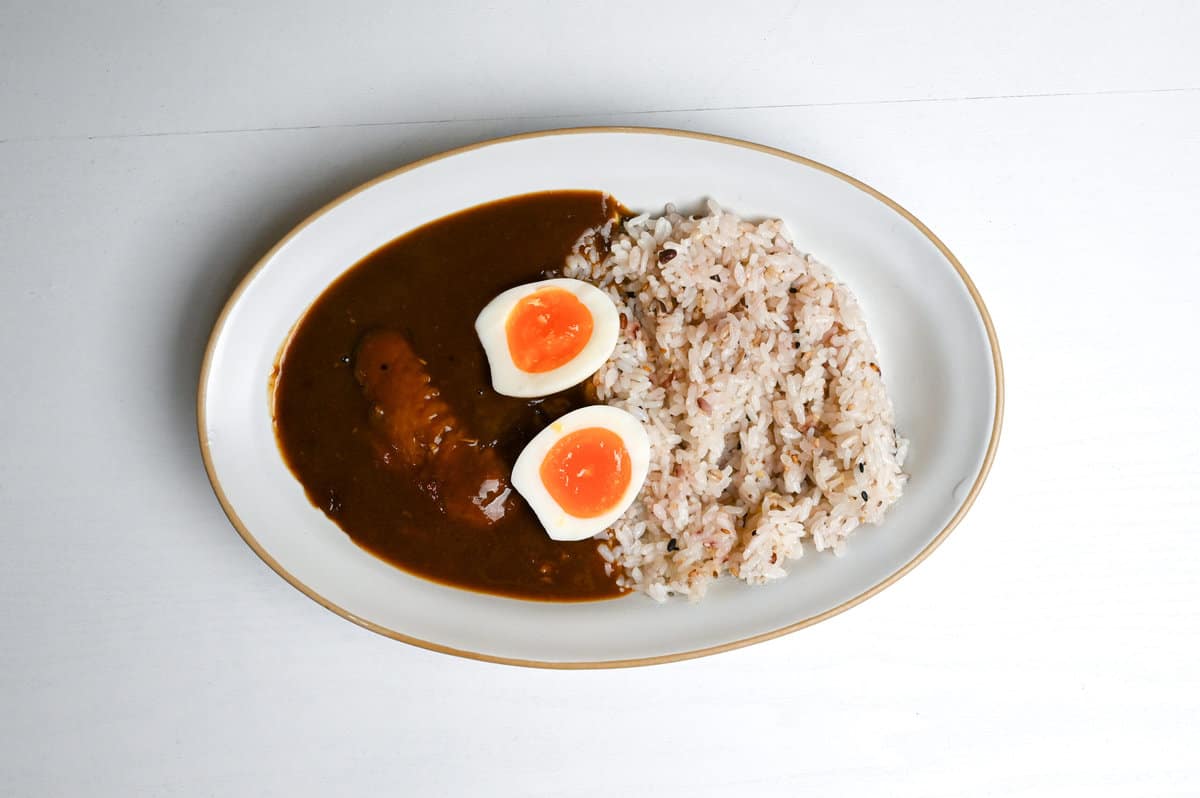 Eggs as a topping for curry can be used in all forms: raw, semi-cooked, onsen, boiled, and fried. I especially recommend the half-boiled egg, which blends easily with curry.
It is a popular topping in Japan because the curry roux becomes milder when mixed with egg and is a common household ingredient you likely already have in your fridge.
Tonkatsu
Tonkatsu is a Japanese deep-fried pork cutlet. You might already know it, but when Japanese-style curry topped with tonkatsu is called "katsu curry." It's safe to say it's the ultimate version of Japanese curry, and it's so good.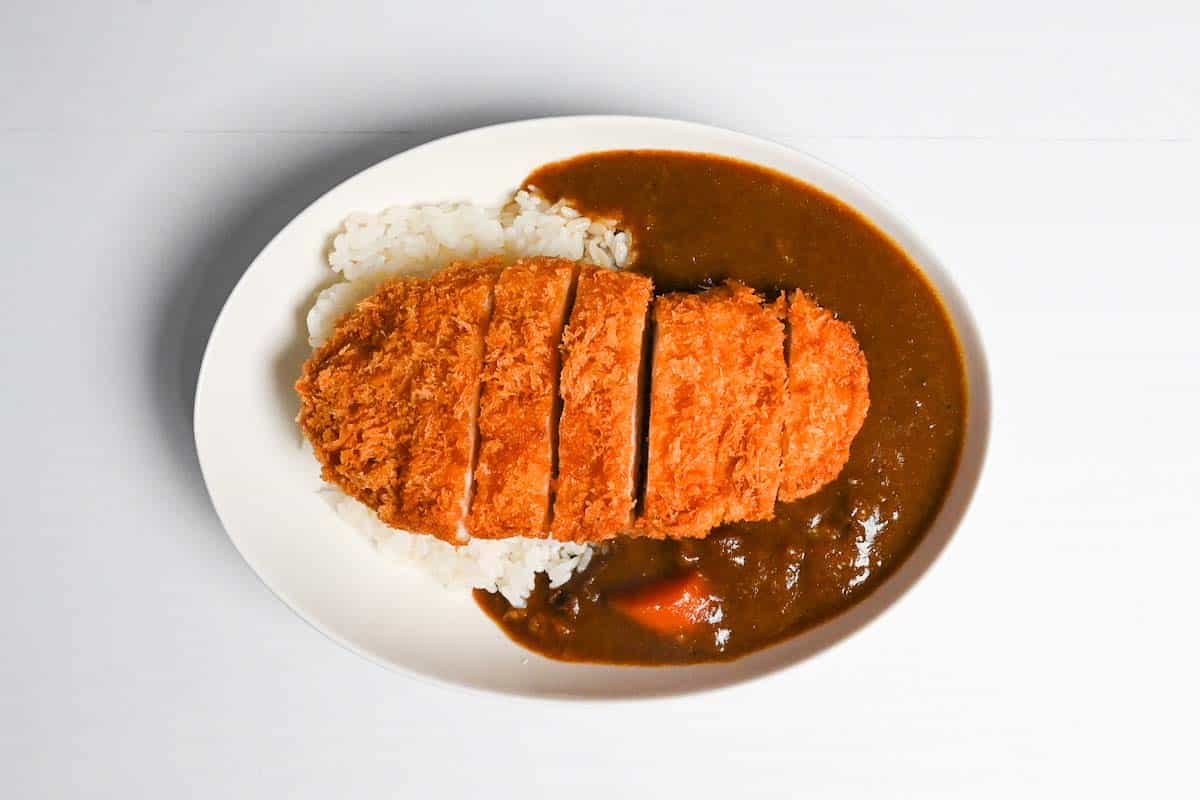 To make an ultimate homemade tonkatsu, check out my Tonkatsu recipe! You can also make it with Chicken Katsu variation as well!
Karaage
Karaage is a Japanese-style fried chicken, and it's not as popular a topping as tonkatsu, but many people like it with Japanese curry.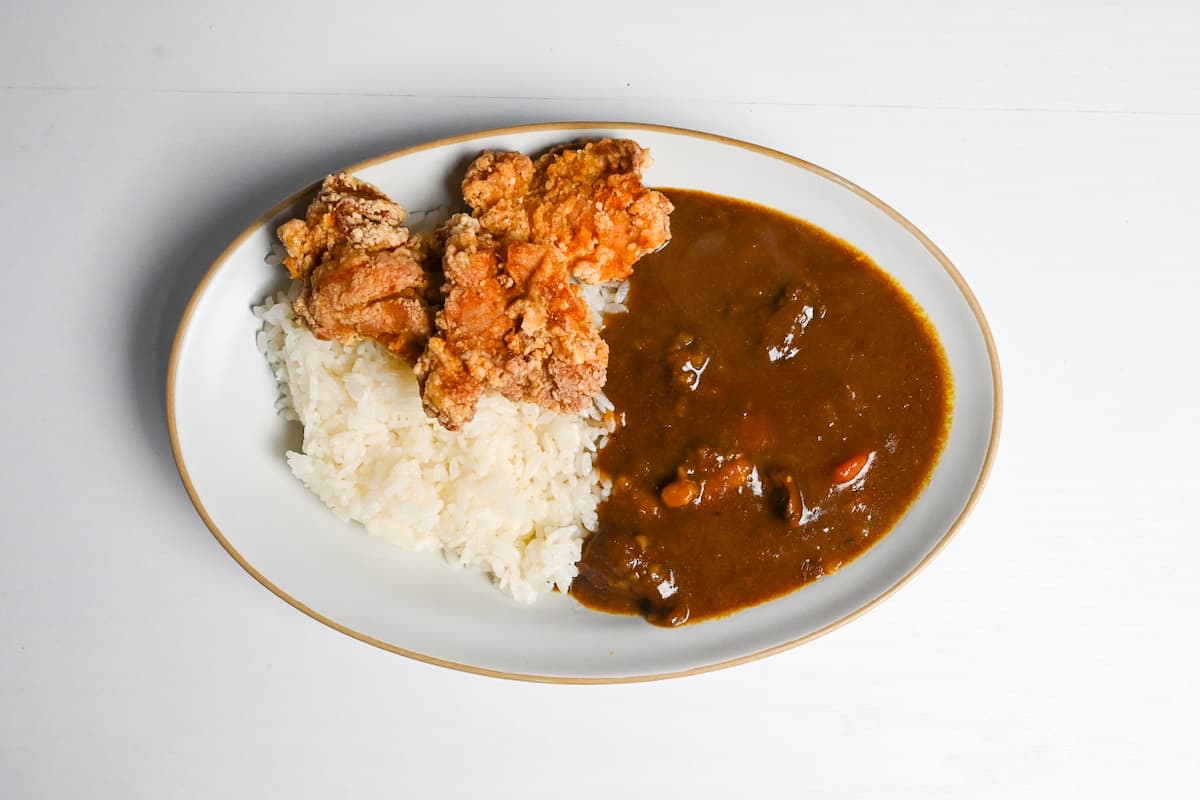 If you want to use Japanese fried chicken as a topping, you can check out my Karaage or Tatsuta age recipe.
Rakkyouzuke
Rakkyo (Allium Chinense) is a vegetable from the Liliaceae family and the leek genus. In English, it has many names, such as "Chinese onion," "Chinese scallion," and "Japanese scallion," and looks a bit like a cross between a garlic clove and a shallot. It has a unique aroma and pungent taste. When rakkyo is pickled in sweet vinegar, it's called rakkyozuke.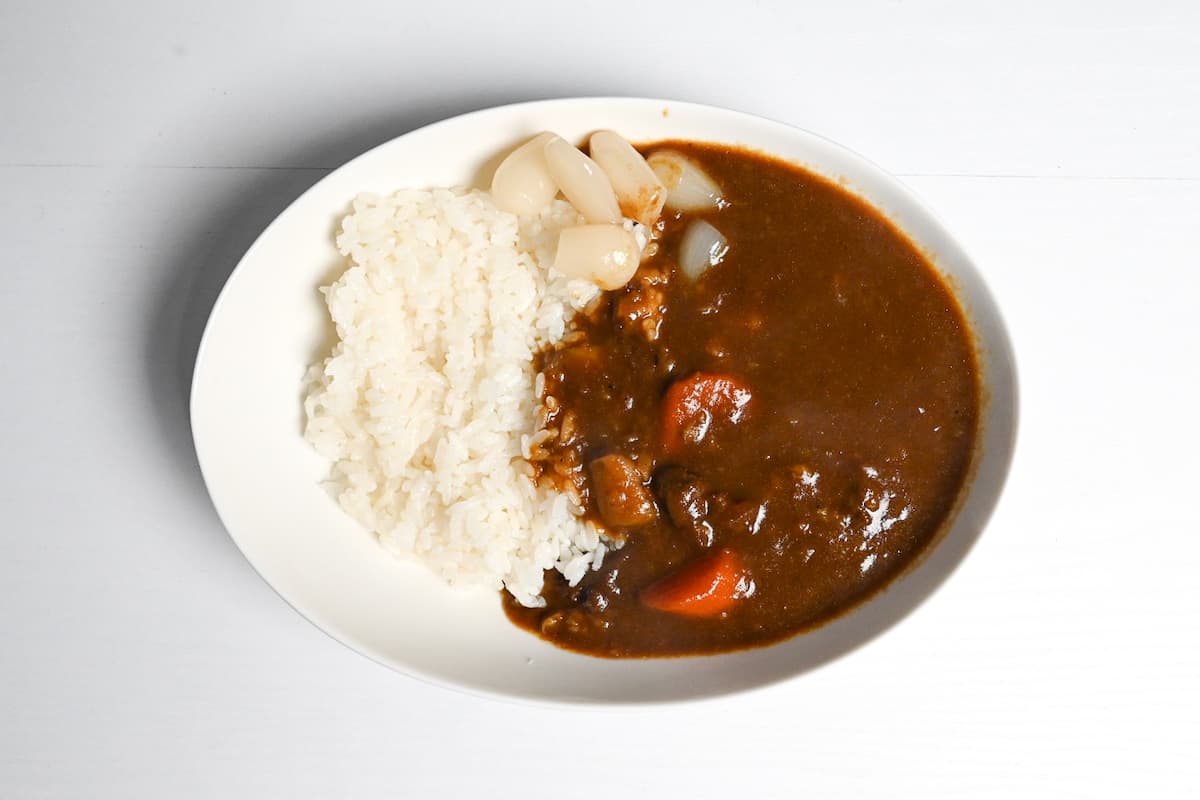 Some people use it as a topping for curry instead of fukujinzuke. While some people love the unique flavor of rakkyo, quite a few dislike it.
Natto
This can be the most surprising topping, but it is one of the most well-known toppings for Japanese curry. Natto is a fermented food made from softened soybeans boiled, steamed, and fermented by the bacillus natto.
You might think, "It's never going to work," but they go well together. I liked it as a kid and still like it to this day.
However, natto is a food that can be loved or hated, so do not put it on your curry unless you're 100% sure you like it first. If you want to know more about natto, I have a comprehensive article about Natto.
Secret tips for making Japanese curry (Surprise Ingredients)
Now we have come to the last part, secret ingredients! Using only curry roux cubes makes excellent curry, but using secret ingredients with roux cubes makes pro curry and rice.
Did you know most restaurants serving curry rice do not make curry from scratch? They often use wholesale roux cubes! So what makes them unique compared to home-cooked curry? The answer is in the secret ingredients.
I'll give you some ideas of secret ingredients that improve the taste of home-cooked curry rice. Use different secret ingredients every time, and then see how it's different from the last time!
Caramelized onions
This is a pretty recent discovery for me. I always add onions to curry, and I always thought that frying them until softened is enough. That is until I tried adding "caramelized onions," which was a game changer!
Whether you have Japanese curry roux or not, caramelized onions will add a rich, gravy-like taste to your curry and improve the color. It's time-consuming but worth putting in that time to level up your curry. I've included steps on how to caramelize onions in the recipe below.
Timing: 40 mins
Amount: 1.5 – 2 onions
Recommended: Someone who wants depth of flavor
Effect: Richer, more gravy-like taste, deepens the brown color
If you love caramelized onions but don't want to spend so much time making them every time you make curry, make a large batch and freeze them in smaller batches. Store them in zip lock bags and add them directly to your curry; no need to defrost! Frozen caramelized onions will keep for several months if stored properly. (Be careful to prevent freezer burn or ice crystals forming by ensuring the container/zipper bags are correctly sealed and airtight.)
Chocolate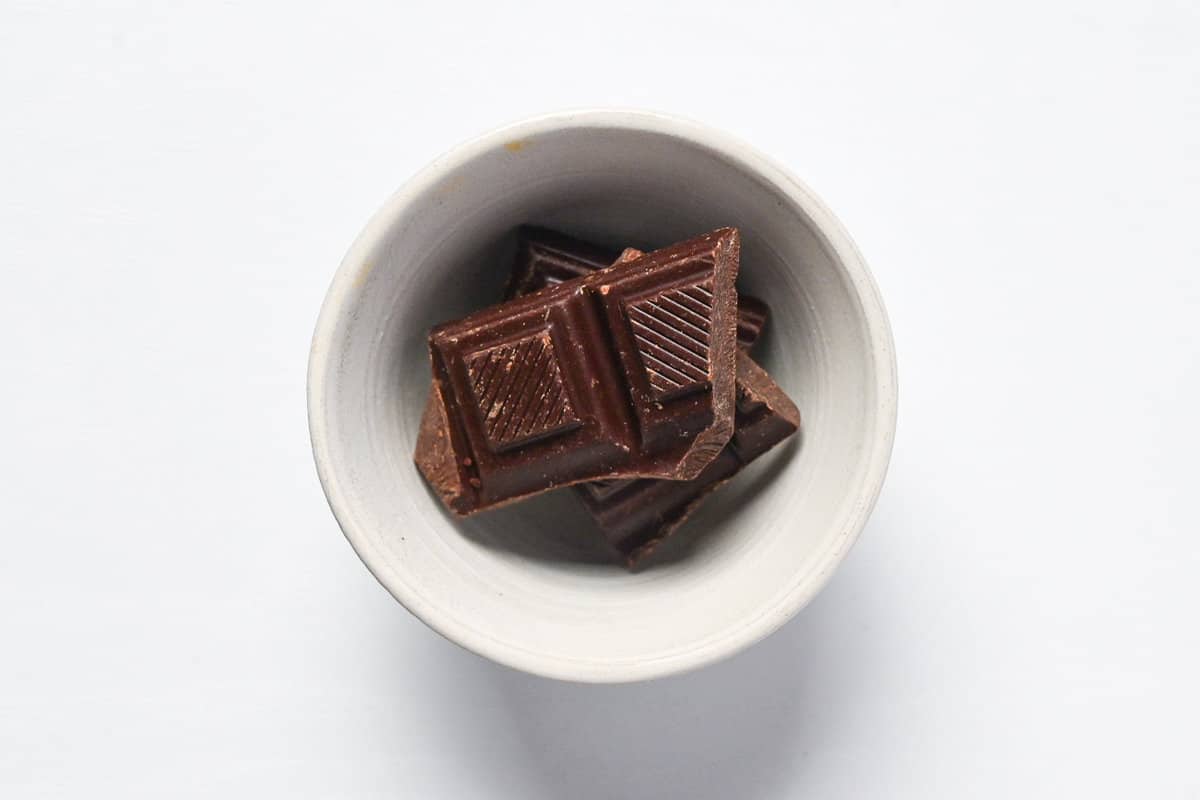 This one is kind of understandable. A small amount of chocolate will make the curry richer. It's a secret ingredient, so don't put too much!
Timing: After the roux has melted
Amount: 2-3g
Recommended: Someone who's not good with spice
Effect: Softening the spiciness
Instant coffee Powder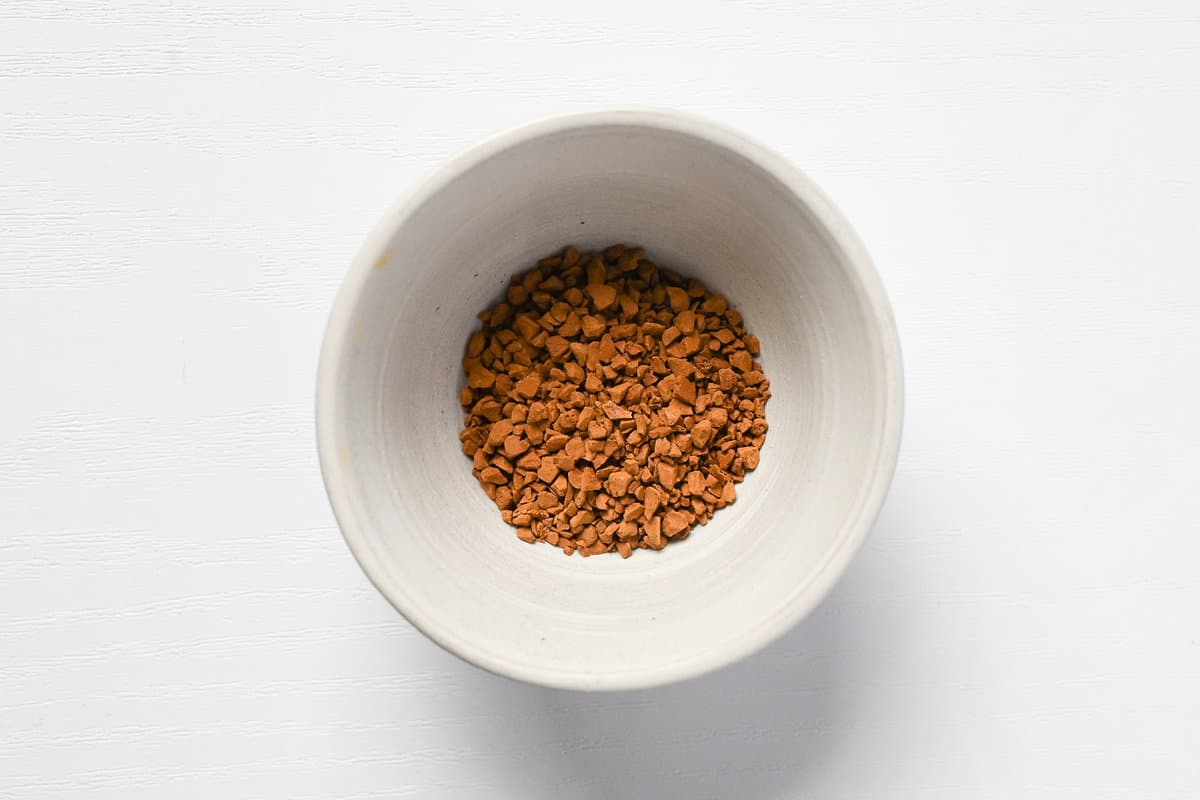 I add instant coffee whenever I make curry and rice with roux cubes. It significantly contributes to a richer taste, for sure!
Timing: After the roux has melted
Amount: 2 tsp
Recommended: Someone who wants a deeper and richer taste
Effect: Richen the curry
Red wine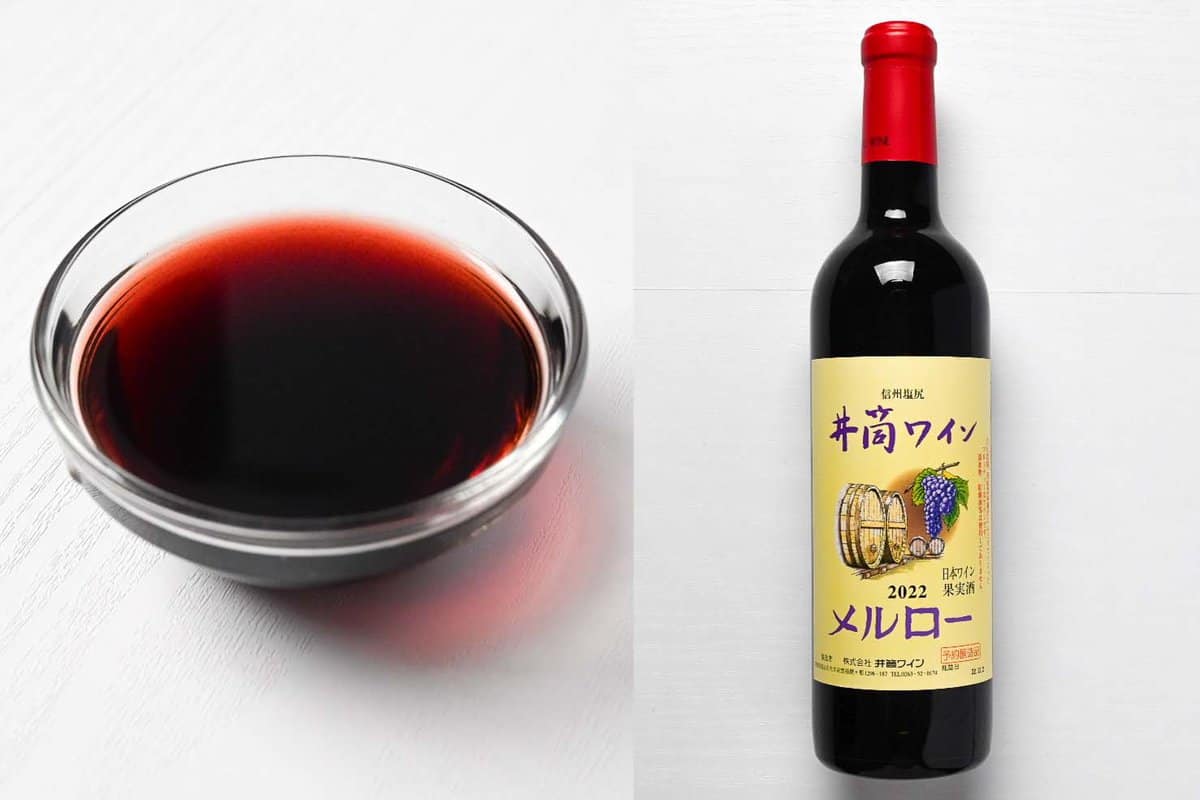 This is another secret ingredient that I use regularly. It will add a nice punch to the roux and give it some European stew taste.
Timing: Same time as the water
Amount: Substitute 10% of the water amount (so this recipe would be 720ml water 80ml wine)
Recommended: Someone who wants to add some sourness
Effect: Making it more refreshing adds a touch of sourness
Soy sauce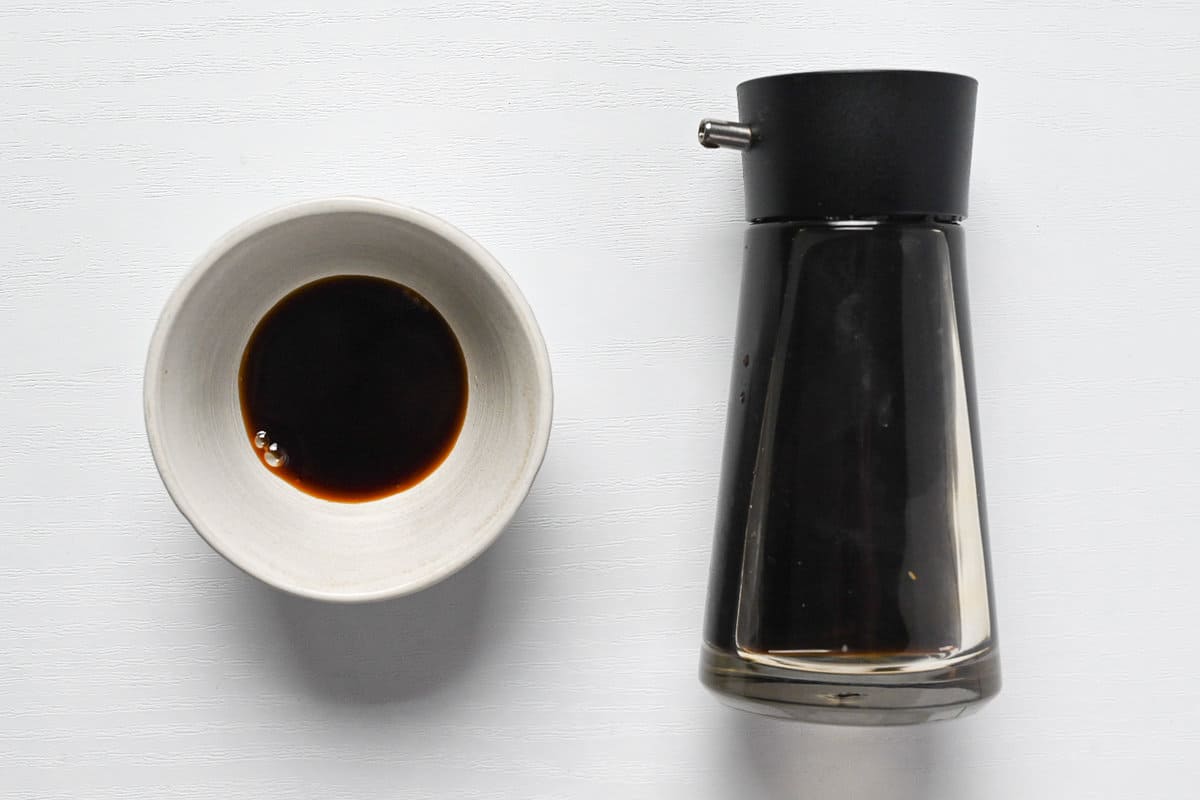 I add a bit of soy sauce every time. As you can guess, it will add a bit more umami and Japanese taste to the curry!
Timing: Right before the roux cubes
Amount: 1 tbsp
Recommended: Someone who wants to add Japanese/Wafu taste
Effect: Making it more Japanesey / adding umami
Tomato juice/puree/ketchup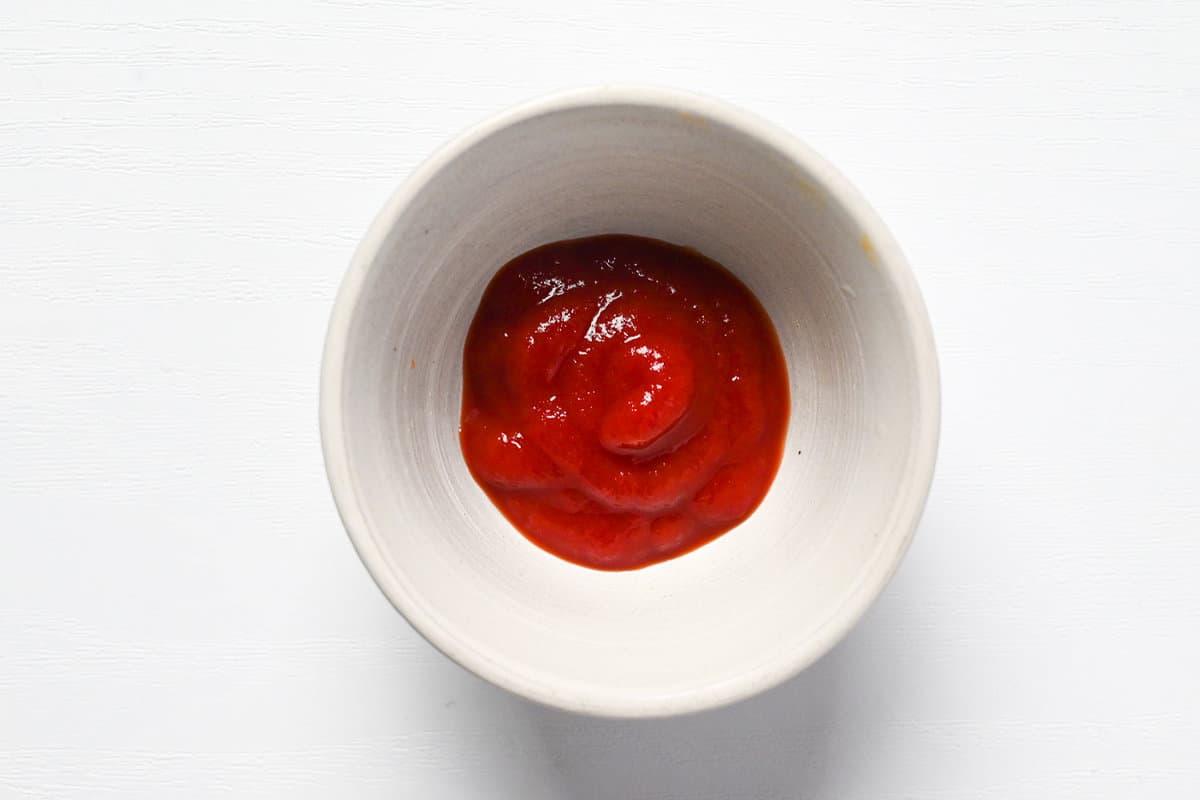 This is a popular addition, but I don't use it because I'm not a massive fan of my curry being too sour.
You can add any of these products if you want to add tomato sourness. But be careful with tomato puree; a little goes a long way, and adding too much can make it too tomato-y. (Speaking from my experience)
Timing: When you add the vegetables
Amount: 1 tbsp-3 tbsp
Recommended: Someone who wants to add sourness
Effect: Making it sour and tomatoey
Additional secret ingredients
There are endless possibilities when it comes to curry, and I'm always on a mission to create the best curry there can be, but in the end, it all comes down to personal preference.
Here are a few more ingredients you can try depending on whether you want to make your curry sweeter, richer, spicier, or more sour.
Sweetness
Sugar
Grated apple (peeled)
Honey
Jam
Apple sauce
Spiciness
Chili powder
Garam Masala
Chili sauce
Fresh chili
Mustard
Richness
Butter
Coffee
Dark chocolate
Caramelized onion
Wine
Sourness
Worcestershire Sauce
Ginger
Tomato Puree
Canned Tomato
Wine
If you know any other ingredients that have improved your curry, comment below, and I'll add them!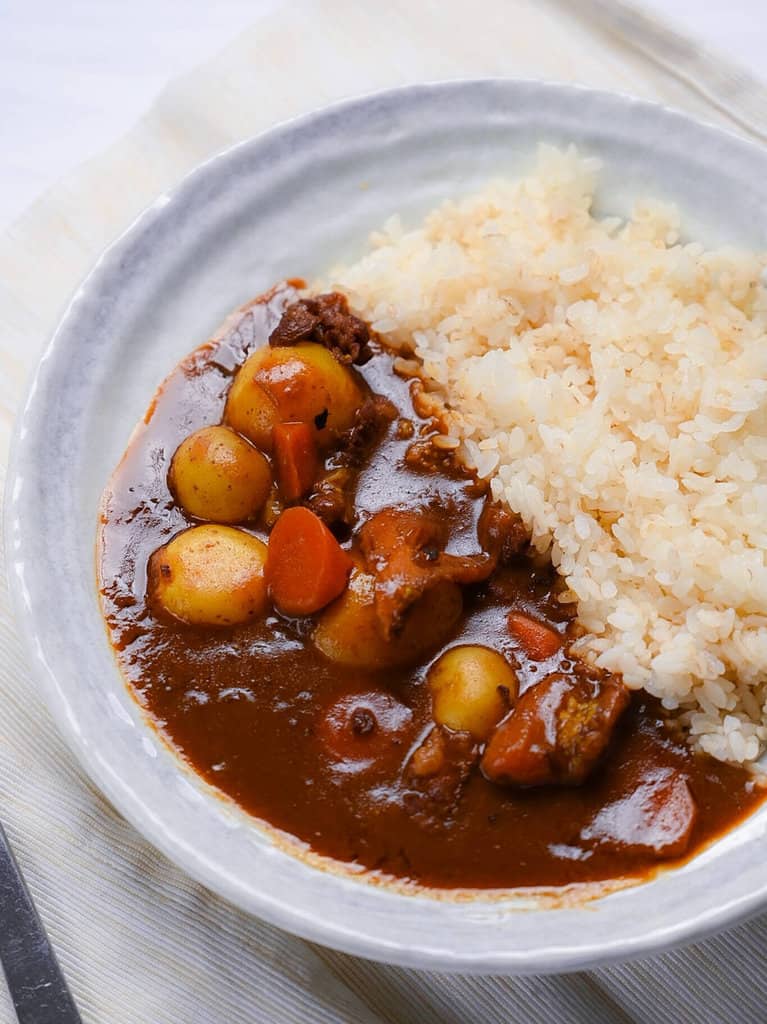 Storing and reheating
Lastly, I will add helpful tips for storing and reheating leftover Japanese curry. As you might expect, there are two methods you can use, refrigerated or frozen. Avoid storing at room temperature to prevent foodborne illness.
Refrigerated for up to 2-3 days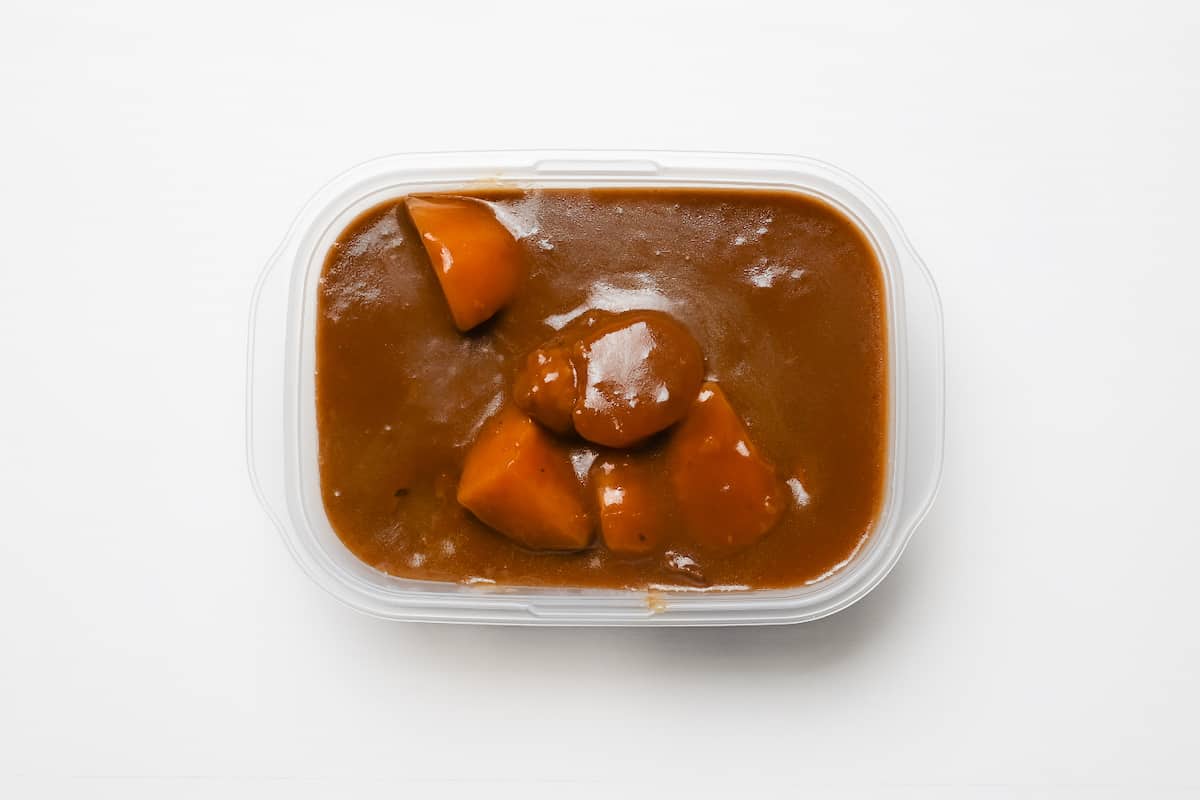 First, remove the pot of curry from the heat and allow to cool for about 20 minutes.
After it's cooled down, divide the curry into smaller portions, such as one or two servings, and place them in storage containers (preferably glass to prevent staining) or zipped storage bags.
Since storing in small portions allows for quicker cooling, choosing smaller containers rather than large ones is recommended. This is also more convenient for reheating individual portions. If you want to store curry in a zippered storage bag, keep it as flat as possible.
To reheat chilled curry, place it in a saucepan and heat slowly over low heat, stirring constantly.
Microwaving is not recommended as it tends to cause uneven heating; however, if you want to microwave it anyway, microwave for 1 minute at a time and mix well between intervals.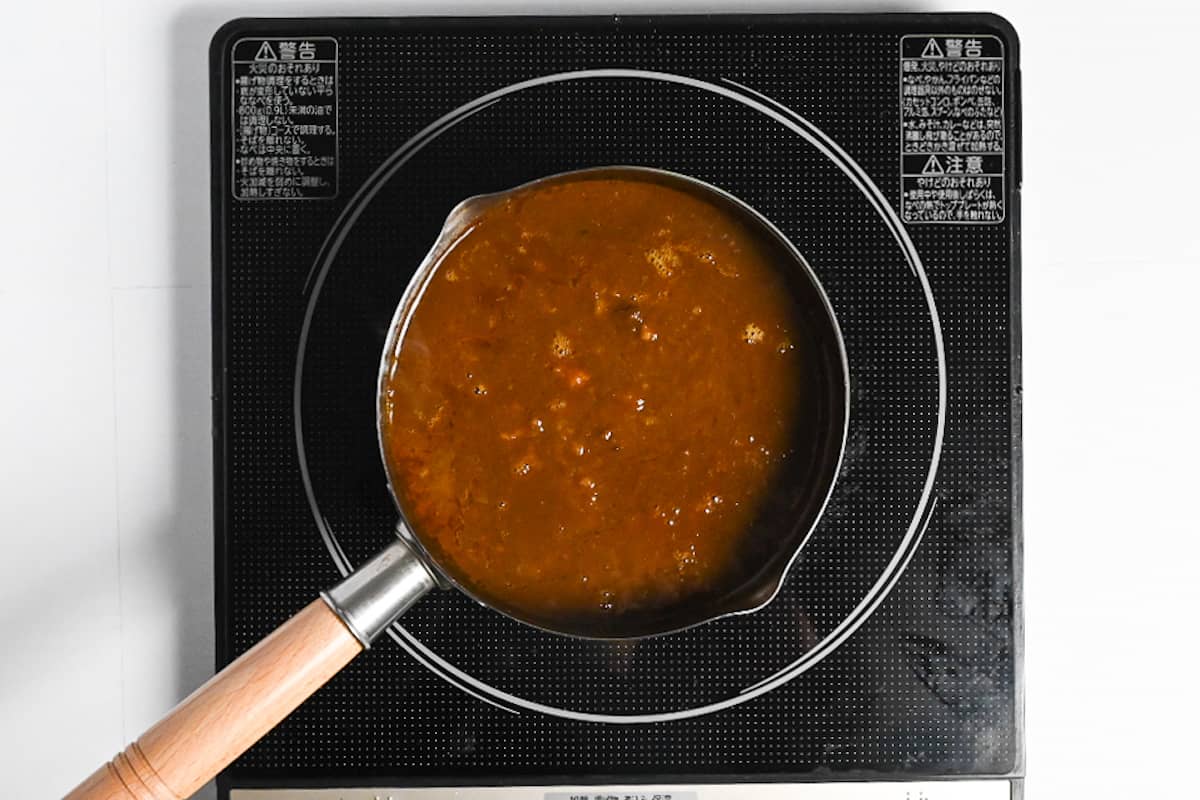 If you can't eat it in a couple of days, please consider freezing it, as explained below.
Frozen for up to 1 month
The standard storage guideline for freezing curry is one month, which allows for long-term storage, but there are a few things to keep in mind when freezing and reheating from frozen.
When freezing curry, you need to be careful about the ingredients. For example, potatoes and carrots, common vegetables used in curry, will lose water and become dry in texture when frozen, ruining the curry. Potatoes, especially, tend to fall apart after freezing and reheating.
Therefore, remove such ingredients before placing the curry in the storage container.
Refrigerate or thaw in hot water
The recommended method for thawing frozen curry is to place it in the refrigerator and thaw it slowly (overnight). If you freeze your curry in zipper bags, you can defrost it in hot water.
Once defrosted, place the curry in a saucepan and heat slowly over low heat, stirring constantly, just as you would if you had kept it refrigerated.
Microwaving frozen curry removes flavor and moisture, and the taste deteriorates. However, if you want to microwave it anyway, heat it one minute at a time and stir well between each interval.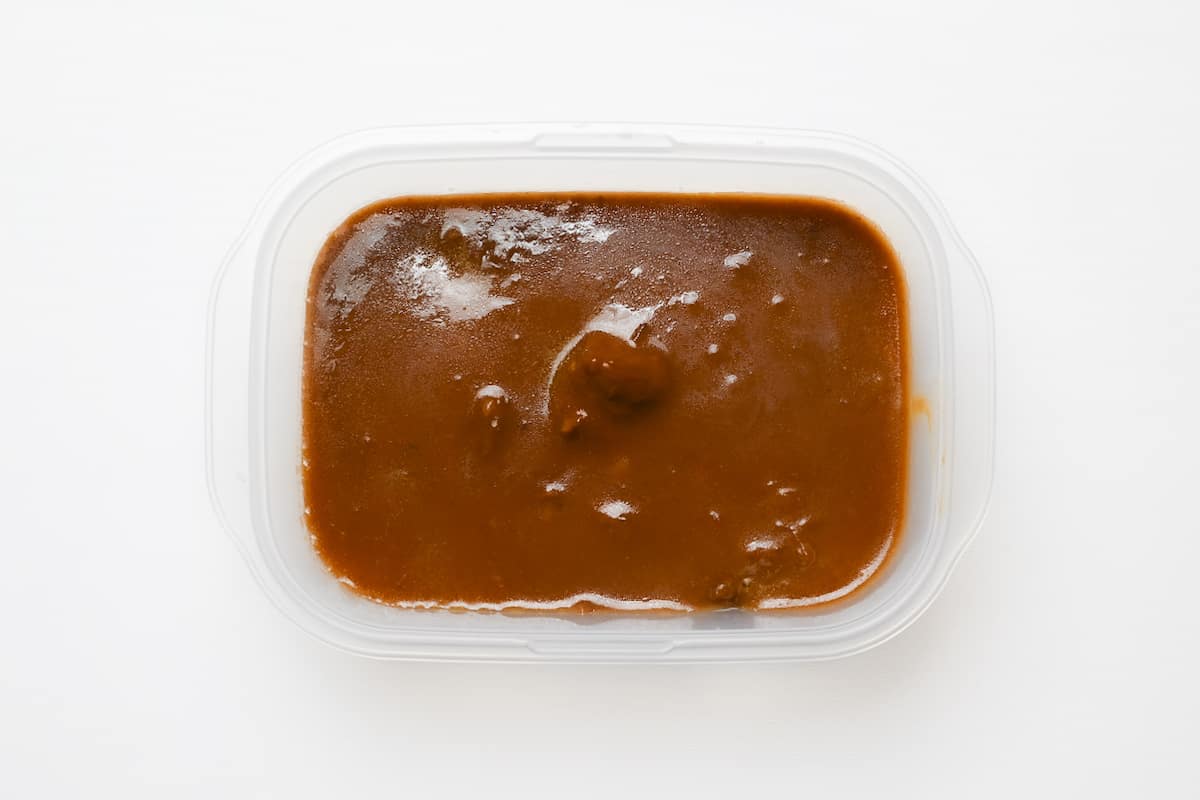 Next day curry is better? (Myth?)
What every Japanese family knows about curry is "Second-day curry is the best curry," meaning Japanese curry tastes better the next day than on the day it's cooked. As a Japanese person myself, I think that is true. Well, I did some research and found a scientific reason for that.
Overnight, the ingredients (vegetables and meat) in curry start to give out "umami" (glutamic acid) as well as fructose, starch, fiber…etc.
So it generally builds up the depth of flavor and thickness overnight and becomes richer. Eating it the next day is better if you can wait! Or why not eat it two days in a row with different toppings and compare the difference?
I hope this post inspires you to try new ingredients and helps you make the best curry you've ever made! And if you don't have access to Japanese roux cubes, check out my post on how to make Japanese curry from scratch here!
My favorite secret ingredient is coffee; I add it every time! What's your favorite surprise ingredient? Comment below and let us know!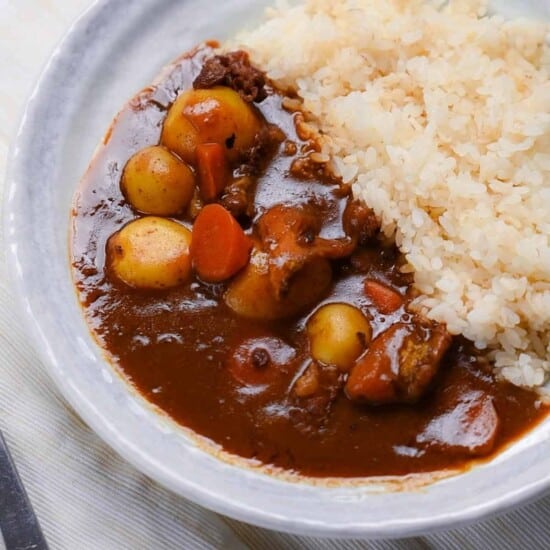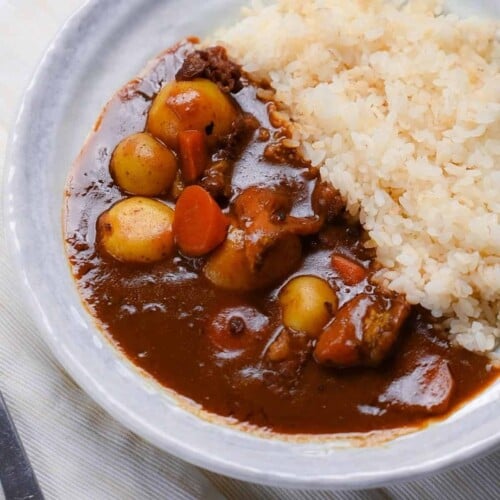 Japanese Curry Using Roux Cubes (Including Lots of Secret Tips)
---
How to make the ultimate Japanese Curry at home using roux cubes (recipe includes a few of my favourite secret ingredients to add depth of flavour and complexity).
---
---
---
---
Ingredients
Caramelized Onions (optional)
Curry
300

g

beef

or protein of your choice, diced

1

tbsp

unsalted butter

2

cloves

garlic

150

g

carrot(s)

200

g

potato(s)

½

a box of Japanese curry roux

approx 100g

700 – 900

ml

water

or other liquid (see the post), this is an average, check the box for exact measurements

6

portions

cooked Japanese short-grain rice

approx 960g, or 3 rice cups before cooking

your choice of secret ingredients

I used red wine, coffee, dark chocolate, soy sauce – all optional!
Instructions
Caramelizing the onions
(Optional step. If you don't want to caramelize onion, then skip these steps and fry the onion in the pot with the butter and fry for 5-10 mins before adding the garlic and meat.)

Thinly slice

300 g yellow onion(s)

. (The thinner they are, the quicker they'll cook.)

Heat a pan on medium. Once hot, drizzle

1 tbsp olive oil

and add the sliced onions.

Fry the onions for 10 minutes, stirring occasionally so that they don't burn. After 10 minutes, add

1 pinch salt

and mix well.

Reduce the heat to low and continue cook for another 20-30 minutes, stir every few minutes prevent burning. (If the onions stick to the pan, add 1-2 tsp of water at a time to help unstick them.)

While they're cooking, prepare the rest of the ingredients. Once they're complete, they should look something like this:
Making the curry
Peel

200 g potato(s)

and

150 g carrot(s)

, and cut them into large pieces, slightly bigger than bitesize. (Try not to cut them too small otherwise they will fall apart during the cooking process.) Cut

300 g beef

into bite size pieces.

Heat a large pot on medium and add the

1 tbsp unsalted butter

. Once it's melted, add

2 cloves garlic

(grated or crushed) and fry until fragrant.

Once the garlic is fragrant, add the meat to the pan and sprinkle with a pinch of salt. Brown the surface to seal the meat.

Once the meat is seared, add the carrot and potato to the pot. Stir and cook together for a 1-2 minutes.

Add the caramelized onion to the pot and stir thoroughly to break it up.

Pour in

700 – 900 ml water

(depending on your roux) and bring it to the boil. (If you want to add red wine, swap 10% of the water for the wine. Example: 850ml water becomes 765ml and 85ml of wine. You can also add tomato puree etc here if desired.)

Once it's boiling, turn the heat down to medium-low and simmer for 20 mins with the lid slightly ajar.

While you're waiting, check back from time to time and use a spoon to skim the foamy residue from the top of the simmering liquid. (If you want to add soy sauce, add it now)

After 20 mins, turn the heat down to low and add your Japanese curry roux. Mix it until the roux has dissolved into the broth and simmer without a lid for 5-10 minutes or until thickened to your preference. (If it becomes too thick, you can add more water, 50-100ml at a time. If it's too thin, simmer for a little longer and check every 5 minutes.)

Optional: If you want to add chocolate or coffee powder you can add them now.

Once you reach your desired consistency, remove it from the stove.

Serve with white rice and your favourite toppings, and enjoy!
Notes
Please refer to the roux packaging for exact roux and water measurements.
If you have leftover curry, let it cool down for 20-30 mins, before dividing and storing in airtight freezer-proof containers. Store in the fridge for 2-3 days or up to one month in the freezer. (Remove potato and carrots before freezing.)
Note that curry will stain plastic containers so it's recommended to store in glass/pyrex containers if you have them. Alternatively, you can store in properly sealed freezer bags with a zip.
Leftovers can be reheated on the stove or in the microwave. (Be sure to heat in intervals and mix between each interval if microwaving, this will help it heat more evenly.)
Leftover curry is often thicker the next day so add more water if necessary.
Frequently Asked Questions
What does Japanese curry taste like?
Compared to Indian curry, I would say Japanese curry is less spicy but thicker and sweeter. And you can usually taste a little bit of a dashi-like flavor.
How do you make Japanese curry thicker?
You can add 1 tbsp of water and flour mix slurry, but I don't recommend doing that. Even if it's thin, as you simmer, it will be thicker and thicker and richer the next day; I think patience is mostly needed here.
Is Japanese curry spicy?
It depends on what kind of roux cubes you use. In Japan, there are usually three types and six levels.
• Sweet (level 1-2)
• Medium (level 3)
• Hot (level 4,5,6)
The sweet one is kids friendly, so it's pretty sweet and not spicy at all; on the other hand, the hot one is quite hot (by Japanese standards, anyway).
What is Japanese curry called?
It's either カレーライス (Curry rice) or カレー (Curry)
Which Japanese curry is the best?
It depends on your preference, but I like the following:
Java curry (ジャワカレー, Hot)
Golden curry (ゴールデンカレー, Spicy)
Vermont curry (バーモントカレー, Sweet)
And I usually get these three above and mix them rather than only using one brand.
What is usually in Japanese curry?
Most standard Japanese-style curry contains cooked rice, curry roux, beef, potatoes, carrots, and onions.
What is different about Japanese curry?
The main difference between Indian and Japanese curries is the thickening of the curry. While most Indian curries are relatively thin, Japanese curries are characterized by flour's thickening of the curry. Incidentally, Japanese curry was introduced by England rather than directly from India.