Whether you're an onion-lover or simply a fan of Japanese food who has found themselves with more onions than they know what to do with, here is a collection of delicious Japanese recipes that put those onions to good use!
Onions might not have a long-standing history in traditional Japanese cuisine. Still, they've become a staple in Yoshoku, which is Western-inspired Japanese cuisine, as well as in contemporary Japanese dishes.
Interestingly, as highlighted in my article on tamanegi, yellow onions are the most common type in Japan. In this article, we'll explore 15 recipe ideas that prominently feature these onions!
1. Gyudon (Japanese Beef Bowl)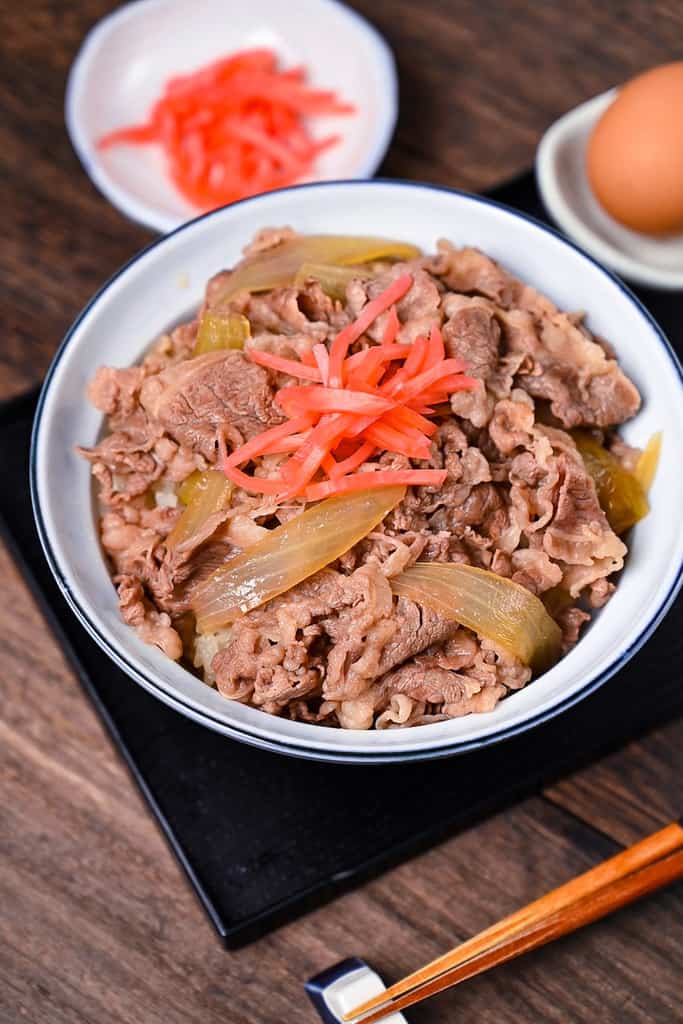 Gyudon is a delightful harmony of thinly sliced beef and onions simmered in a flavorful dashi sauce, served atop a bed of rice. This creates an incredible blend of flavors as the beef absorbs the sauce, seeping into the rice, culminating in a truly delicious meal.
The dish is exclusively prepared with beef, but a pork variation, called "butadon," also exists. Typical toppings include red pickled ginger or "benishoga," green onion, a raw pasteurized egg or yolk, and a dash of "shichimi togarashi," a seven-spice blend, for an extra kick.
2. Katsudon (Deep-fried Pork Cutlet Bowl)
Katsudon, a beloved Japanese classic among both children and adults, is a delicious rice bowl dish crowned with a breaded, deep-fried pork cutlet (tonkatsu) and onion, all simmered in a rich soy sauce and kombu dashi broth, then topped with a luscious drizzle of egg.
Regarded as the king of donburi dishes, Katsudon brings a harmonious blend of textures and tastes; Katsudon truly embodies the ultimate comfort dish.
3. Japanese-style Curry and Rice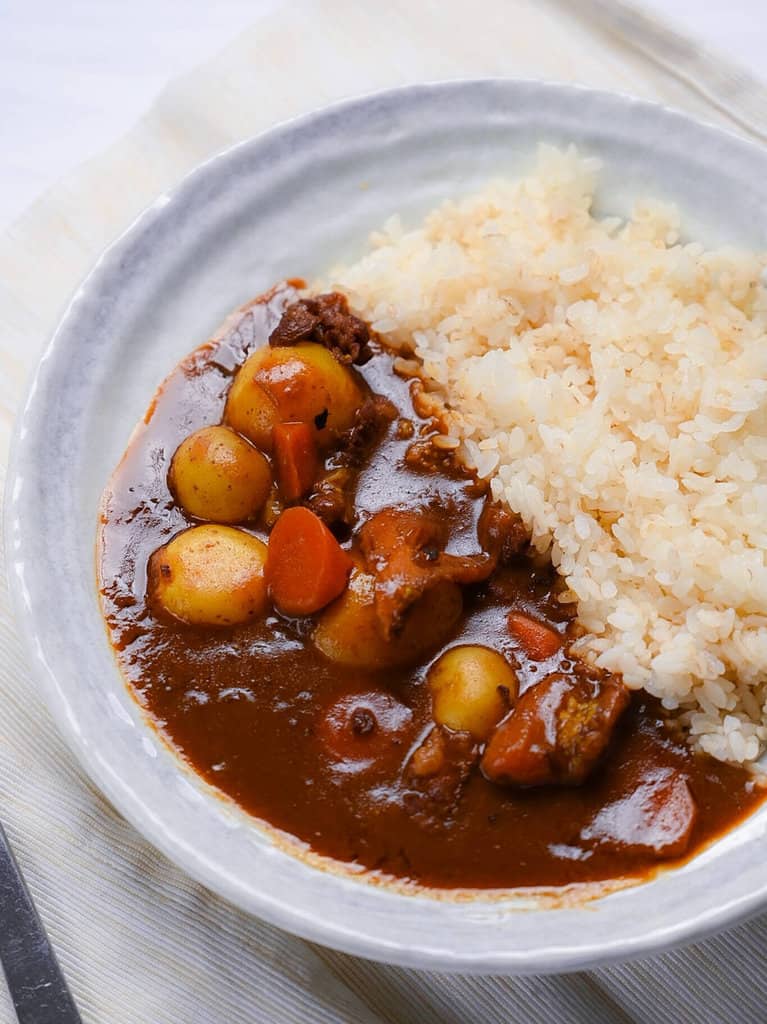 Japanese curry rice, or "kare raisu," is undoubtedly a beloved staple in Japan, savored at home, in restaurants, diners, and takeaways. This comforting dish is a breeze to prepare, particularly with the help of a premade roux. However, we aim to elevate your curry game from merely tasty to absolutely stellar, and this post will unveil secret tips and ingredients to craft the finest curry you've ever prepared.
In addition to the recipe using commercial curry roux, there are also homemade roux, beef curry from scratch, curry udon, and chicken katsu curry!
4. Nikujaga (Japanese maet and potato stew)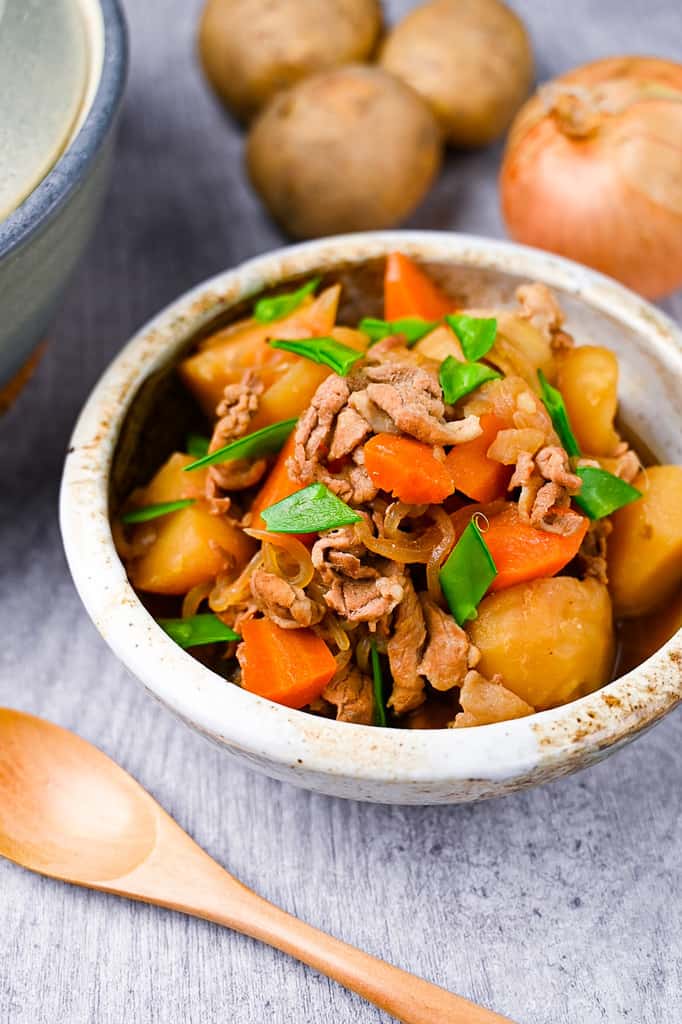 Nikujaga is a classic Japanese one-pot dish that offers a comforting blend of thinly sliced meat and chunky vegetables simmered in a flavorful Japanese-style broth. Its name, "nikujaga," marries "niku" or meat, and "jagaimo," or potato, captures the essence of this humble yet delicious dish.
Though its ingredients might hint at a Western-style stew, the unique Japanese broth infuses the dish with an unmistakable Eastern character. Loved for its versatility, Nikujaga can star as a main course served with freshly cooked Japanese rice or complement grilled fish, miso soup, and pickles as a side.
5. Beef Udon Noodles Soup (Niku Udon)
Niku Udon, translating to "meat udon," is a heartwarming dish featuring udon noodles in a hot dashi broth, topped with thin slices of beef or pork and onions. The choice of meat largely depends on regional preferences in Japan. While the Kanto region in the East often opts for pork, the Kansai region in the West leans towards beef.
Both variations bring their unique nuances to the dish. While the pork version carries its distinct flavor, beef udon offers a richer, meatier experience with a touch of elegance. Regardless of the choice of meat, Niku Udon serves up a comforting bowl of umami-rich goodness that's sure to satisfy.
6. Buta Yasai Itame (Japanese Pork and Vegetable Stir fry)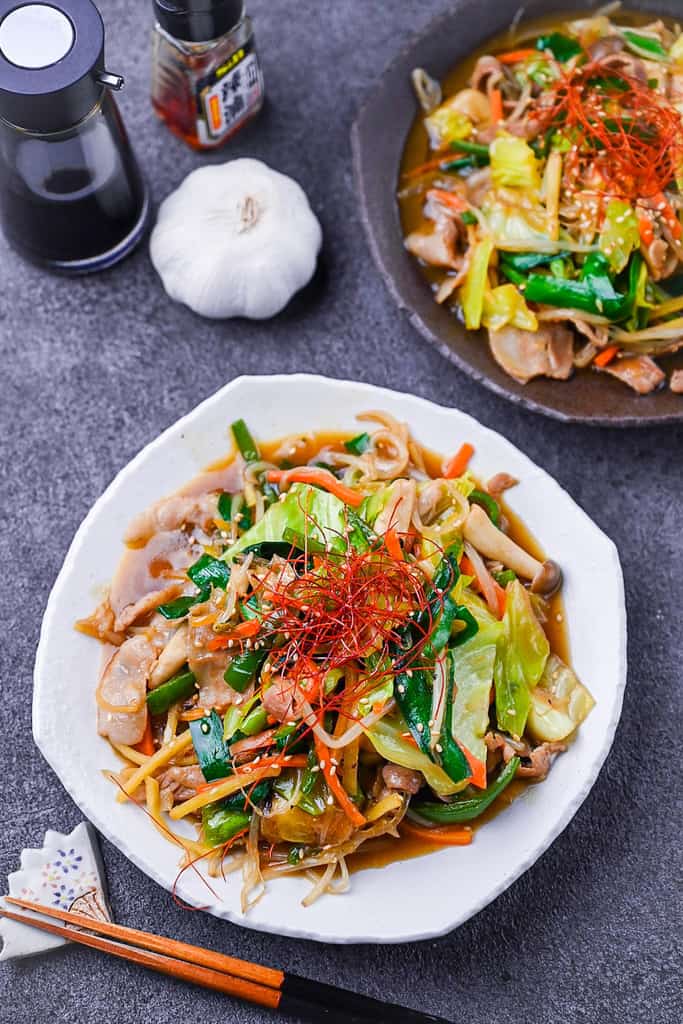 Yasai Itame, commonly known as "vegetable stir fry," is a delightful Japanese dish that combines a colorful medley of vegetables with tender meat. Although it's formally referred to as "niku no yasai itame," translating to meat and vegetable stir fry, the spotlight is truly on the vegetables.
Often, thinly sliced pork is used to enhance the dish's flavors. However, the meat component is flexible as it is not the star of the show. You can easily substitute it with another protein or omit it altogether, making Yasai Itame a versatile dish catering to varying dietary preferences and needs.
7. Nagasaki Champon Ramen Noodles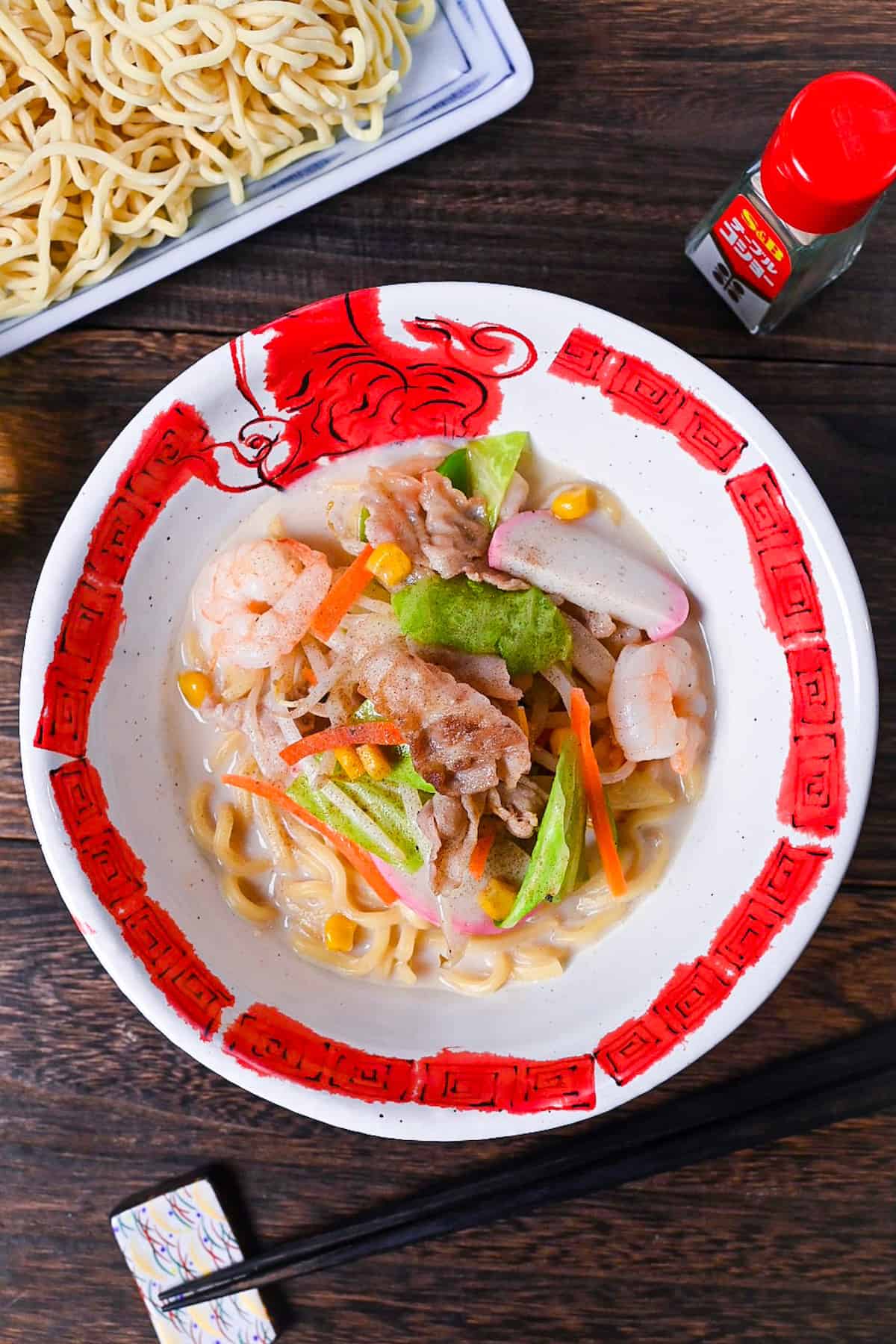 Nagasaki Champon, the soul food of Nagasaki City in Kyushu, Japan, sets itself apart from other ramen dishes with its diversity of ingredients. Including pork, seafood, and various vegetables, this dish strikes a wonderful balance of flavors and nutrition.
Served in a chicken or pork-based broth, Champon presents a colorful, soupy noodle dish topped with an array of sautéed ingredients. Its roots trace back to Fujian Province in China, inspired by the dish "tonniishiimen," embedding a rich cultural heritage in every bowl.
8. Crab Cream Croquette (Kani Kurimu Korokke)
A luxurious variant of Japanese croquette, the Crab Cream Croquette or Kani Cream Korokke, deviates from the traditional potato base, replacing it with a creamy béchamel sauce enriched with crab meat and onions. Crab, a winter delicacy, pairs perfectly with the creamy sauce, enhancing the dish's richness. You can opt for fresh or canned crab as per preference.
In addition to crab cream croquettes, there are also recipes for korokke made with potatoes and ground meat and pumpkin variation!
9. Seafood Doria (Japanese Rice Gratin)
Seafood Doria is a comfort dish that's oven-baked, featuring succulent shrimp and seasoned rice beneath a velvety homemade béchamel sauce, finished with a layer of melted cheese. Each layer of this dish offers a burst of flavor, combining to create a sumptuous dining experience.
I also have a copycat recipe for Milano Doria, a signature dish of the popular Japanese family restaurant "Saizeriya."
10. Beef Hayashi Rice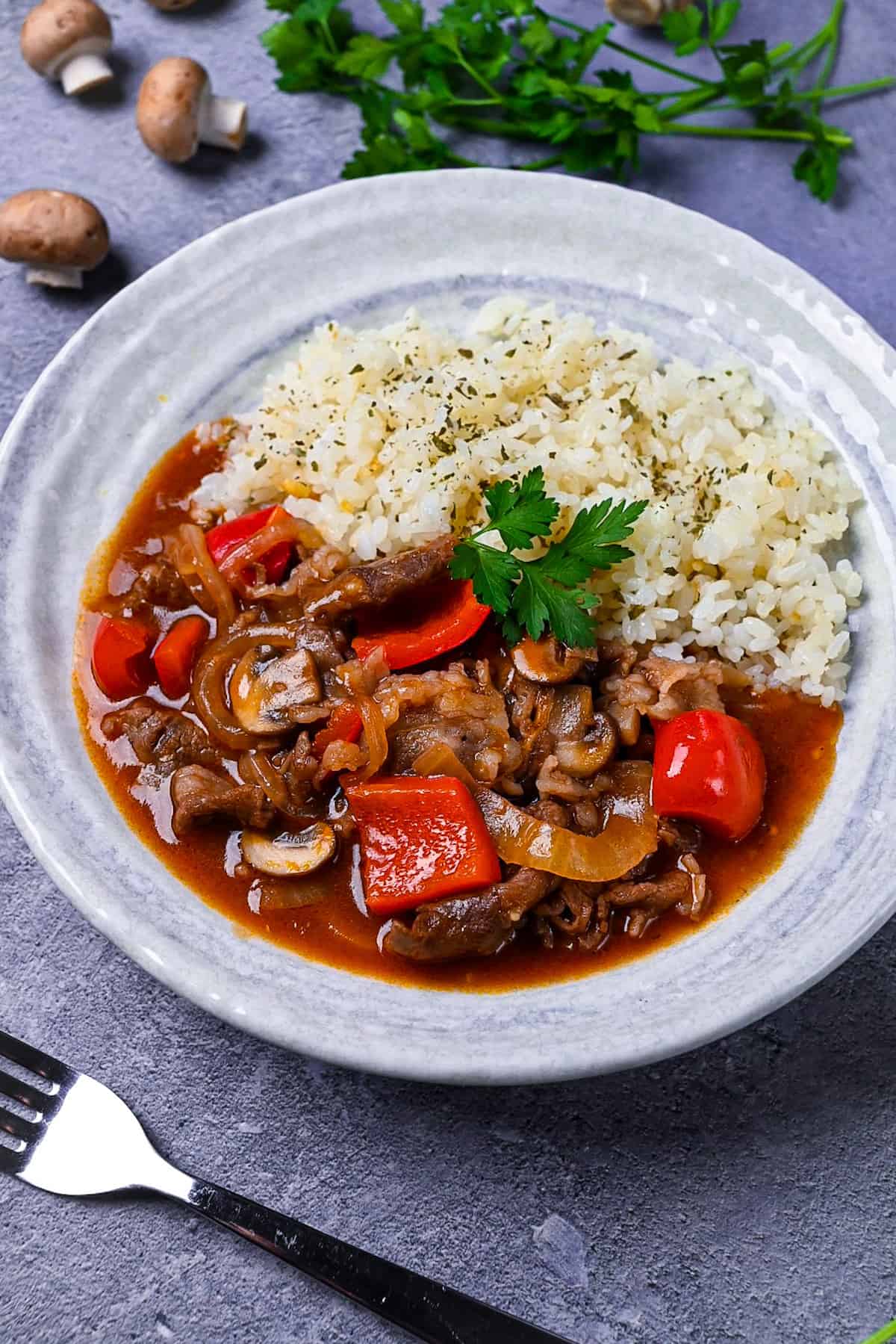 Hayashi Rice is a popular Western-inspired Japanese dish. It's a flavorful medley of tender, thin-sliced beef, soft onions, crunchy bell peppers, and earthy mushrooms simmered in a tasty demi-glace-like sauce.
Often found in yoshoku restaurants in Japan, it's also typically made at home using store-bought roux cubes. While traditionally served with rice, as suggested by its name, Hayashi Rice can also be paired with bread or mashed potatoes.
11. Black Vinegar Sweet and Sour Chicken (Tori Kurozu An)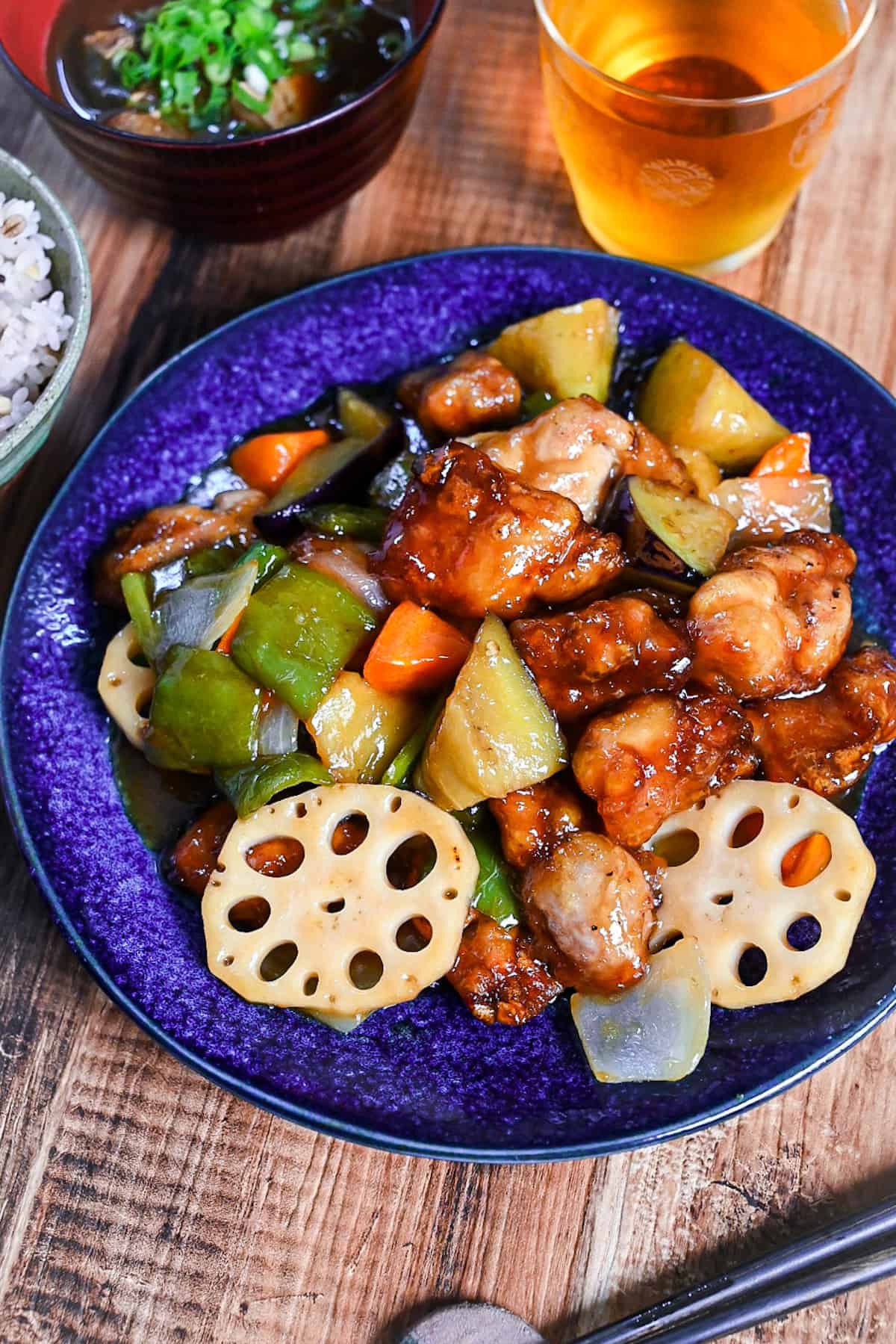 Ootoya is a renowned Japanese restaurant chain known for its comforting home-style dishes. One of its standout dishes is the "Tori to Yasai no Kurozuankake," or "Sweet and Sour Chicken and Vegetables with Black Vinegar."
The dish's key component is Kurozu Ankake, a unique sweet and sour sauce made with black vinegar. This aged rice vinegar, characterized by its dark hue and mild flavor, closely resembles balsamic vinegar but is slightly less sweet. While premade Kurozu Ankake is readily available in stores in Japan, this recipe takes you through the fulfilling process of creating it from scratch.
12. "Subuta" Sweet And Sour Pork
Subuta, the Japanese version of sweet and sour pork, is a beloved classic in many households. It features tender fried pork and crispy vegetables in a perfectly balanced sweet and tangy sauce.
The beauty of this dish lies in its simplicity and the use of easily accessible ingredients, making it a great homemade meal option.
13. Jingisukan (Hokkaido-style Lamb BBQ)
Jingisukan, a specialty from Hokkaido, features lamb either raw or marinated, grilled alongside vegetables like onions, bean sprouts, peppers, and carrots on a distinctive pan.
This dish is widely enjoyed throughout Hokkaido and served in jingisukan restaurants across Japan. Paired with a homemade dipping sauce, rice, and possibly a refreshing Sapporo beer, it's a treat.
14. Chicken Yaki Udon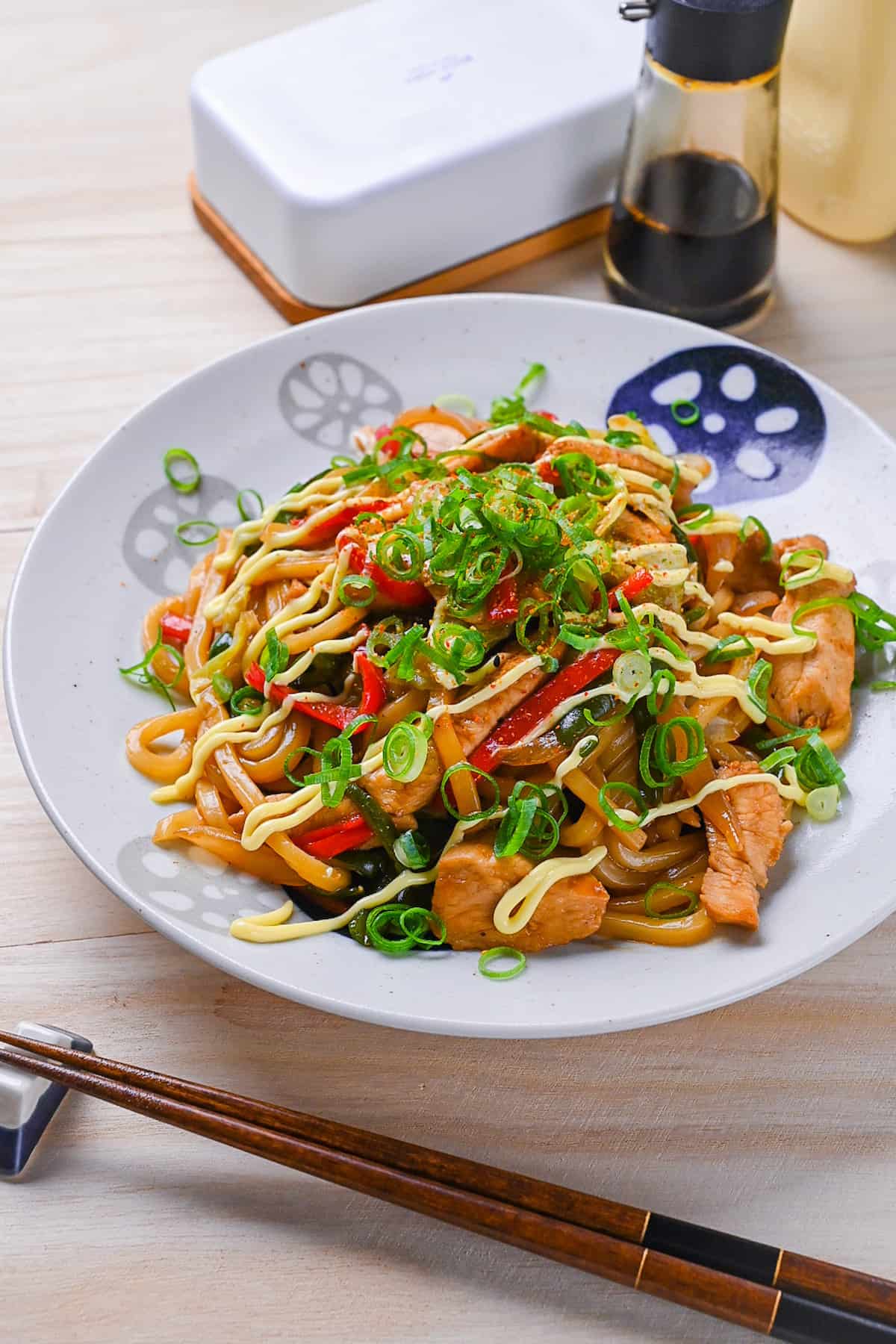 Yaki udon is a Japanese stir fry featuring thick udon noodles. There's a lot of room for creativity with yaki udon, allowing you to experiment with different meats, vegetables, and sauces.
In my recipe, I highlight the flavors of soy sauce, butter, and garlic. It's a quick, easy, and utterly delicious dish! Another recipe for lemon seafood yaki udon is also available!
15. Oyakodon (Chicken and Egg Rice Bowl)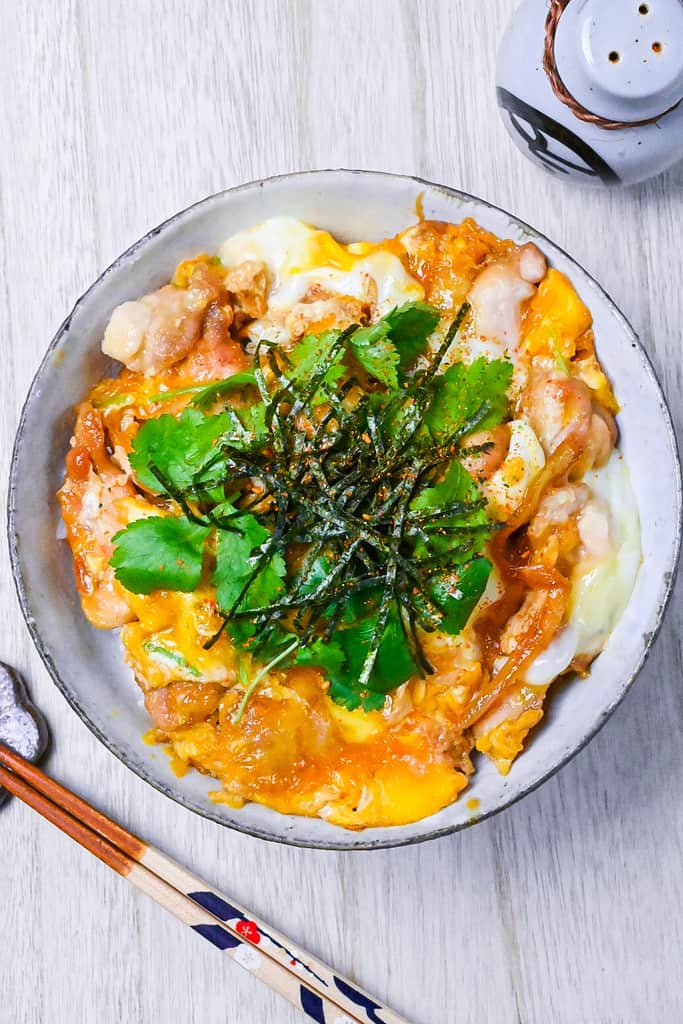 Oyakodon is a rice bowl with pan-fried chicken, succulent onions and fluffy egg flavored with dashi and other Japanese condiments. The name is a nod to the chicken and egg used in the dish. This humble yet flavor-packed dish is believed to have been created during the Meiji period (1868-1912), making it one of the oldest donburi recipes.
The exact origin remains unknown, but it likely originated in Tokyo or Osaka. Regardless of its origin, its simplicity and satisfying flavors have made it a popular choice in Japan and beyond.