Japanese kani cream korokke is a luxurious dumpling filled with crab and onions in a béchamel sauce that is then shaped, coated in panko breadcrumbs and deep fried to crispy perfection. It can be enjoyed for lunch, dinner, in bento lunchboxes or even as a party appetizer!
Disclaimer: This post contains Amazon affiliate links. Sudachi Recipes earn a small percentage from qualifying purchases at no extra cost to you. See disclaimer for more info.
Jump to:
What is Crab Cream Croquette (kani cream korokke)?
Korokke (コロッケ) is a type deep fried dumpling often filled with potatoes, meat or seafood. In Japan, korokke is considered a type of "yoshoku dish", in other words a Japanese dish with strong Western influence. Korokke is inspired by the Dutch croquette or "kroket".
As you can assume from the name, crab cream croquette is a type of korokke with a creamy filling. Rather than using potatoes, cream korokke is made with white béchamel sauce and then mixed with other ingredients such as crab, shrimp or chicken.
Crab is a luxury food often enjoyed in the winter months, not to mention, it goes especially well with white sauce. You can make kani cream croquette with fresh crab meat or the canned variety.
Kani cream croquette is definitely one of the most loved and most elegant forms of korokke in Japan.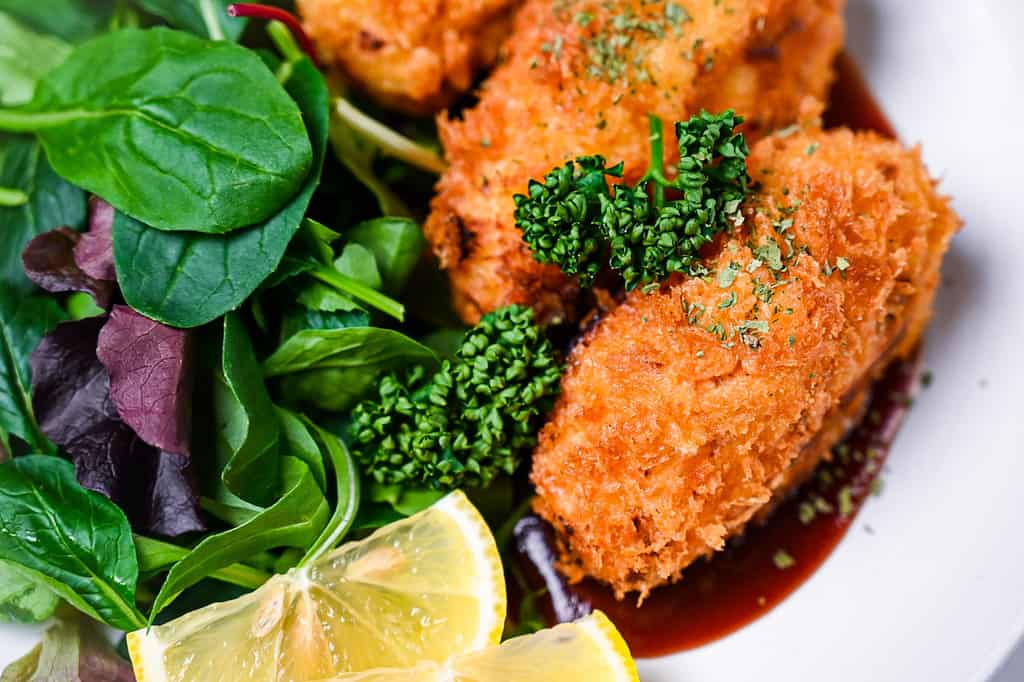 History of cream korokke
During the Meiji era (1868-1912), French and Dutch croquettes were introduced to Japan. However, because dairy processing technology was not well established in Japan back then, the potato croquette (now known as standard Japanese korokke) was invented as the first Japanese korokke.
Korokke had already appeared in a cookbook titled "Seiyo Ryori Shinan" (Western Cooking Guide) as early as 1872 and the popularity of the dish grew and grew, appearing in more cookbooks throughout the Meiji era. It is said that the first recipe for cream korokke was published in 1895.
Japanese korokke is coated with panko breadcrumbs and often drizzled with a simple tangy sauce made with Worcestershire sauce and ketchup.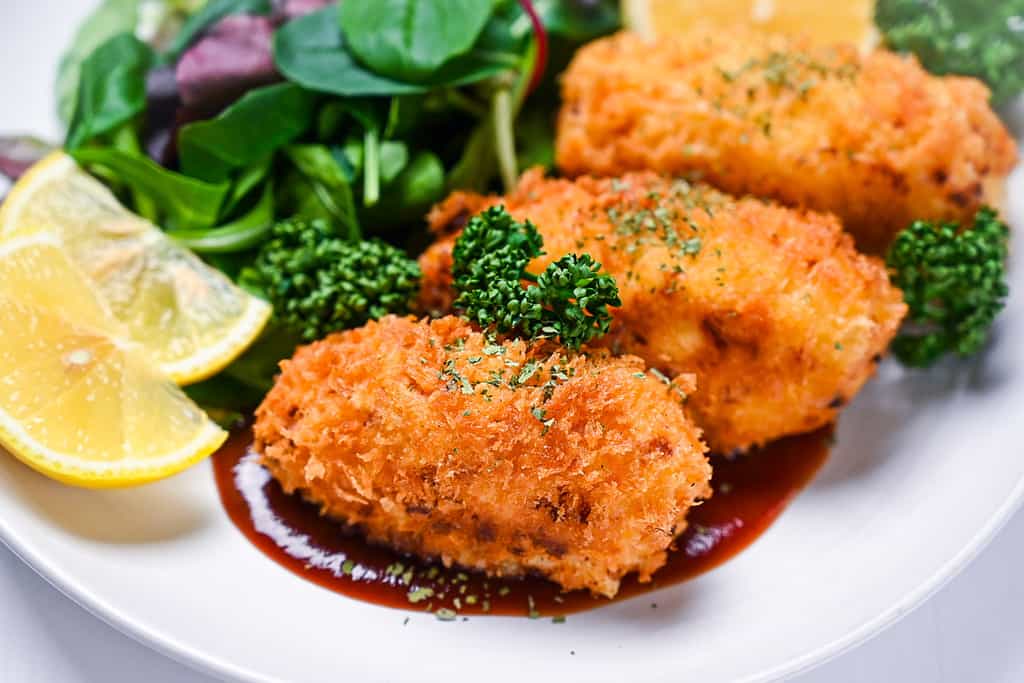 Types of Korokke
Korokke is extremely popular in Japan and there are many different types! The standard korokke is filled potatoes and ground meat, but there are other korokke that are popular in Japan such as:
Plain potato croquette (ポテトコロッケ)
Kabocha pumpkin croquette (かぼちゃコロッケ)
Ground meat croquette "menchi katsu" (メンチカツ)
Curry croquette (カレーコロッケ)
I have recipes for some of the korokke above too, so if you're interested, please check them out!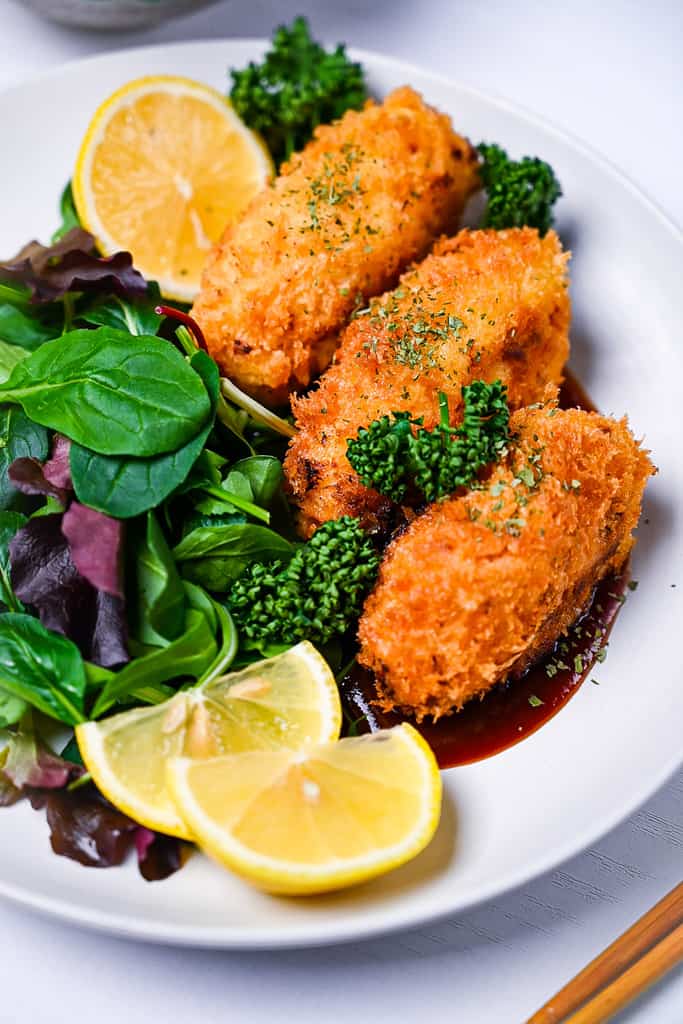 Tips and tricks to make elegant crab cream croquette at home
Compared to standard potato croquette, cram cream croquette is definitely harder to perfect. Because the filling is very soft, there are a more of pitfalls that you need to avoid such as not being able to shape the korokke or the filling exploding out of the middle.
Here are my tips and tricks to make an delicious crab cream croquette at home!
Make a smooth béchamel sauce
For the perfect kani cream croquette, we need silky smooth bechamel sauce. Here are my tips for making fail-free béchamel sauce:
Measure out the ingredients in advance and keep them at arms reach.
Use cold or room temperature milk to prevent lumps.
Add the milk one third at a time to keep it smooth.
Use a whisk to break up any lumps.
Whisk continuously.
Allow the filling to cool completely
In order to shape kani cream croquette, the filling needs to be completely cool. Once you've finished cooking it in the pan, transfer it to a wide container (wider containers will allow it to cool faster) and then once it's cool to the touch, place it in the freezer for 30 minutes.
It's important not to let the filling freeze completely, just enough so that it becomes firm and easy to shape.
Once you've shaped your kani cream croquettes, I recommend keeping them in the freezer until it's time to fry.
Barrel shape is the safest
Cream croquettes are a lot more difficult to form than potato korokkes. While most other korokke are disk or oval-shaped, cream croquettes are usually in the shape of a barrel.
This is because cream korokke are softer in texture, so by reducing the corners and making the croquettes into barrels, it is less likely to explode or leak out.
If you take too long shaping the cream korokke, the temperature of your hands will cause the filling to melt so it's important to work quickly. Once you've shaped them, you can place them back in the freezer until it's time to batter and fry.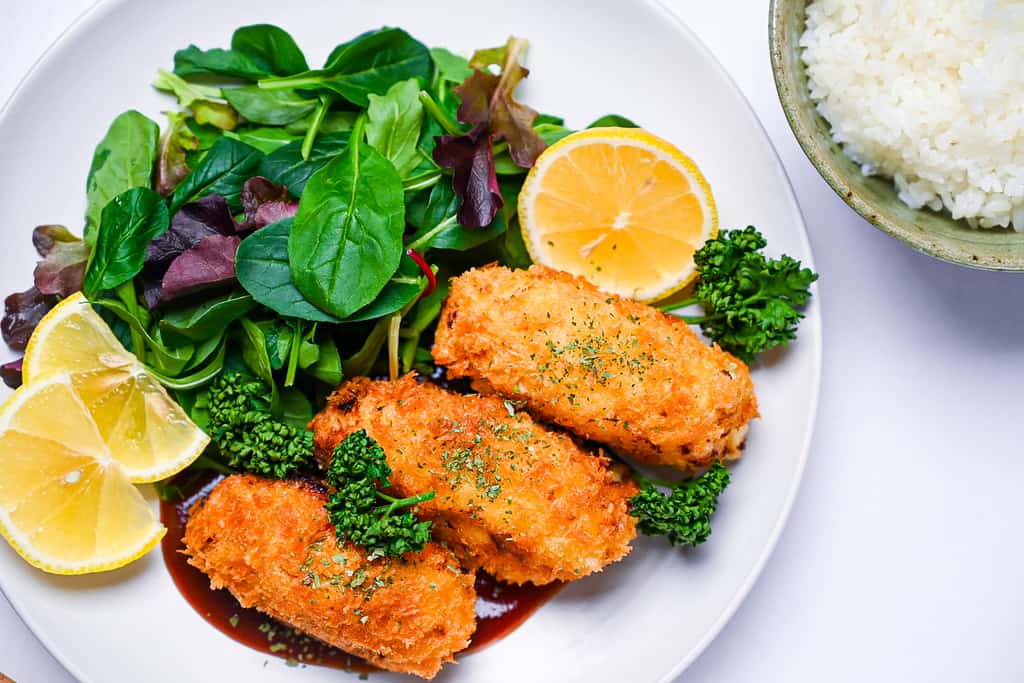 Apply panko breadcrumbs evenly and thoroughly
If the batter and panko are unevenly applied, it becomes easy for the thinner areas to explode. Rather than battering with flour and egg separately, I recommend making a thick batter and then coating it in panko breadcrumbs. (I will explain more in the recipe.)
The thicker the batter, the more it will act as a wall to prevent the sauce from leaking out.
Fry as soon as they're battered
It is important to fry korokke as soon as the batter and breadcrumbs are applied.
For this reason, please heat the oil in advance at the temperature of 180 degrees Celsius (approx 355°F).
If your oil isn't hot enough, place the shaped korokke in the freezer until you're ready to batter and fry them.
Deep frying
It really depends on your preference, but I recommend deep frying so that the whole korokke is submerged in the oil.
If you shallow fry cream croquette, you might find that the filling explodes. This is because the part exposed to the air is not cooking directly, it's just warming up and becoming unstable. Once you flip it over, it is likely to break and the filling will leak out.
Deep frying is definitely better for cream korokke!
Fry at 170-180°C (340-355°F)
The key to perfectly cooked korokke is to fry them at a temperature of 170 to 180 degrees Celsius (340-355°F). This temperature allows outer coat to become beautifully crispy while sufficiently heating the filling.
If the temperature of the oil is too low, it will take too long to fry and the batter can peel off and the white sauce may come out. That is literally the worst nightmare for crab cream croquette!
If the heat is too high, the panko might burn while the middle is still cold. Since the inside is already cooked, there is no need to cook the ingredients when frying it in oil but you do want it to be hot all the way through!
Do not overcrowd the oil
It is important to maintain the temperature of the oil to cook the korokke properly. If you add too many at once, it will lower the temperature of the oil. This can result in greasy korokke and also increase the chance of the filling exploding!
It depends on the size of your pan, but I try to fry two or three korokke at a time.
Do not touch too much while frying
Try not to interfere with the korokke once you've placed them in the oil. They're quite delicate and mixing or turning them can cause them to break or the panko batter to fall off.
If this happens, the filling might leak out or explode! Wait until the crumb coat has cooked and hardened before turning them or removing them.
I also recommend using a mesh spoon to lift them out (rather than chopsticks or tongs).
Crab Cream Croquette (Kani Kurimu Korokke)
How to make delicious Japanese creamy crab croquette (kani kurimi korokke / カニクリームコロッケ)
Ingredients
Filling
30

g

unsalted butter

-

unsalted

170

g

yellow onion(s) -

finely diced

110

g

crab meat

-

canned

1

tsp

ketchup

4

tbsp

all-purpose flour

200

ml

whole milk

¼

tsp

salt

1

pinch

black pepper

1

pinch

nutmeg

2

tbsp

cheese

-

grated cheddar or similar
Batter
50

ml

cold water

1

medium egg(s)

5

tbsp

all-purpose flour

-

plus extra for dusting

cooking oil

-

for deep frying
Korokke sauce
2

tbsp

ketchup

1

tbsp

Worcestershire sauce
Instructions
Filling
Take a medium saucepan and melt

30 g unsalted butter

over a medium-low heat.

Add

170 g yellow onion(s)

(diced) and sauté until soft and translucent (don't let it brown).

Once the onion is soft, add

110 g crab meat

and

1 tsp ketchup

. Mix until well combined.

Sift in

4 tbsp all-purpose flour

and mix thoroughly.

Measure out

200 ml whole milk

, then add one-third to the pan and whisk until smooth.

Continue to add the milk one third at a time while whisking continuously.

Add

¼ tsp salt

,

1 pinch black pepper

,

1 pinch nutmeg

and

2 tbsp cheese

. 

Switch to a spatula and keep mixing until the filling is thickened to the consistency of mashed potato.

Transfer to a wide container and leave to cool.

Once cool enough to touch, place in the freezer for 30 minutes or until firm and easy to shape. 
Shaping and frying
Preheat your

cooking oil

to

170

°C

to

180

°C

.

Take a bowl and add

50 ml cold water

,

1 medium egg(s)

and

5 tbsp all-purpose flour

. Whisk together until smooth. This is the batter.

Prepare two plates, one with flour for dusting and one with

75 g panko breadcrumbs

.

Remove the crab filling from the freezer and cut into 8 equal pieces.

Roll each piece into a barrel shape.

Once the oil is hot, coat the barrels in plain flour, then egg batter, then a generous coating of panko breadcrumbs.

Once coated, immediately place each croquette straight into the hot oil, I recommend cooking them in batches. (Place the uncoated croquettes in the freezer while you're waiting for the others to cook.)

Fry the korokke until crispy and golden.

Remove them from the oil, place them on a wire rack and then repeat until all of the croquettes are fried.

While the final batch are cooking, mix

2 tbsp ketchup

and

1 tbsp Worcestershire sauce

to make your easy korokke sauce.

Serve and enjoy!
Notes
You can shape and batter kani cream croquette in advance, keep them in the freezer and then fry just before serving.