Jingisukan is a regional dish from Hokkaido made with thinly sliced lamb (sometimes marinated) which is grilled with crunchy vegetables and served with a fruity Asian sauce. Learn how to make this classic Hokkaido speciality at home!
Disclaimer: This post contains Amazon affiliate links. Sudachi Recipes earn a small percentage from qualifying purchases at no extra cost to you. See disclaimer for more info.
Jump to:
What is jingisukan?
Jingisukan is a Hokkaido speciality dish, where lamb is cooked raw or marinated in a sauce and grilled in a distinctive pan with vegetables such as onions, bean sprouts, peppers and carrots. It is eaten in almost all parts of Hokkaido, as well as jingisukan restaurants all across Japan.
It's typically served with a sweet dipping sauce and rice. (Keeping with the Hokkaido theme, I also enjoy eating Jingisukan with a refreshing Sapporo beer!)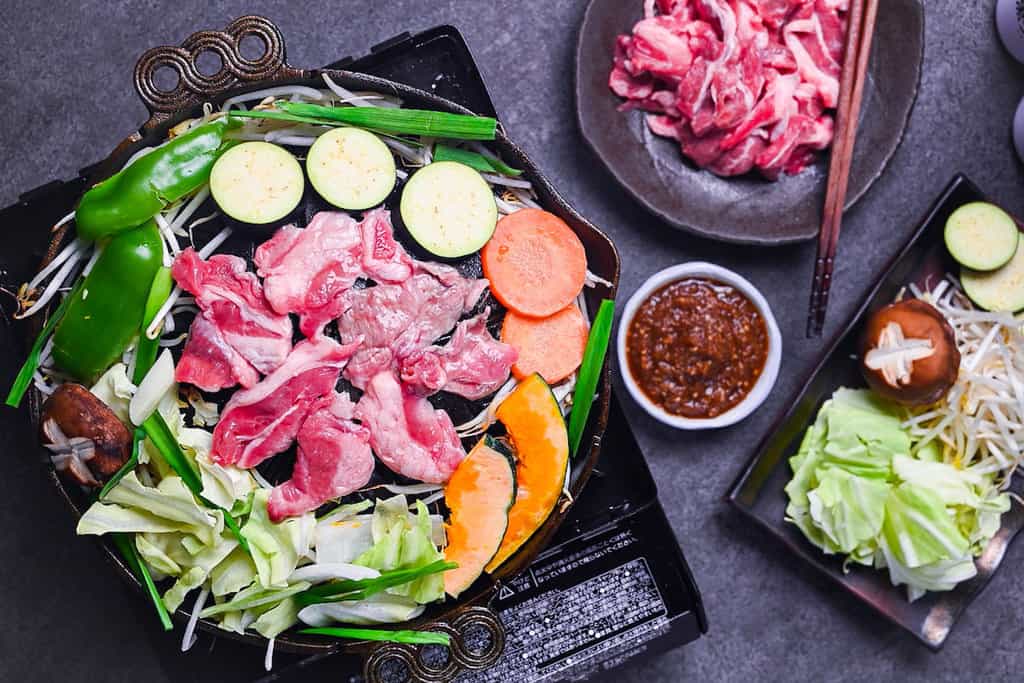 Brief history of jingisukan
In the Taisho era (1912-1926), when wool imports saw a steep decline, cotton sheep farming was encouraged as a national policy. At that time, cotton sheep farming also became popular in Hokkaido, and it is said that the locals began consuming lamb. Since then, farming has changed from cotton to lamb because the amount of imported cotton began to increase again.
If you often eat Japanese food, you might have noticed that lamb dishes are not so common. Jingisukan is one of a few lamb dishes in Japanese cuisine.
There are various theories as to the origin of jingisukan, but it is said to have been invented around the beginning of the Showa period (1926-1946) with reference to a Chinese roast lamb dish.
As you may have guessed, jingisukan is believed to be named after the infamous Genghis Khan. I'm sure it's not a coincidence, but another interesting fact is that the grill used to cook jingisukan looks almost identical to the Mongolian grill.
Two different types of jingisukan
As lamb has a distinctive odour, there are two ways of eating jingisukan:
Grilled raw and dipped in jingisukan sauce
Marinated in soy sauce based sauce
There is no right or wrong in this, but in my recipe, I make my own jingisukan dipping sauce and don't marinate. You can find that in Japanese supermarket's lamb section if they have one, where they always offer those two kinds. At the end of the day, it's all to do with your preference or which type you're more familiar with.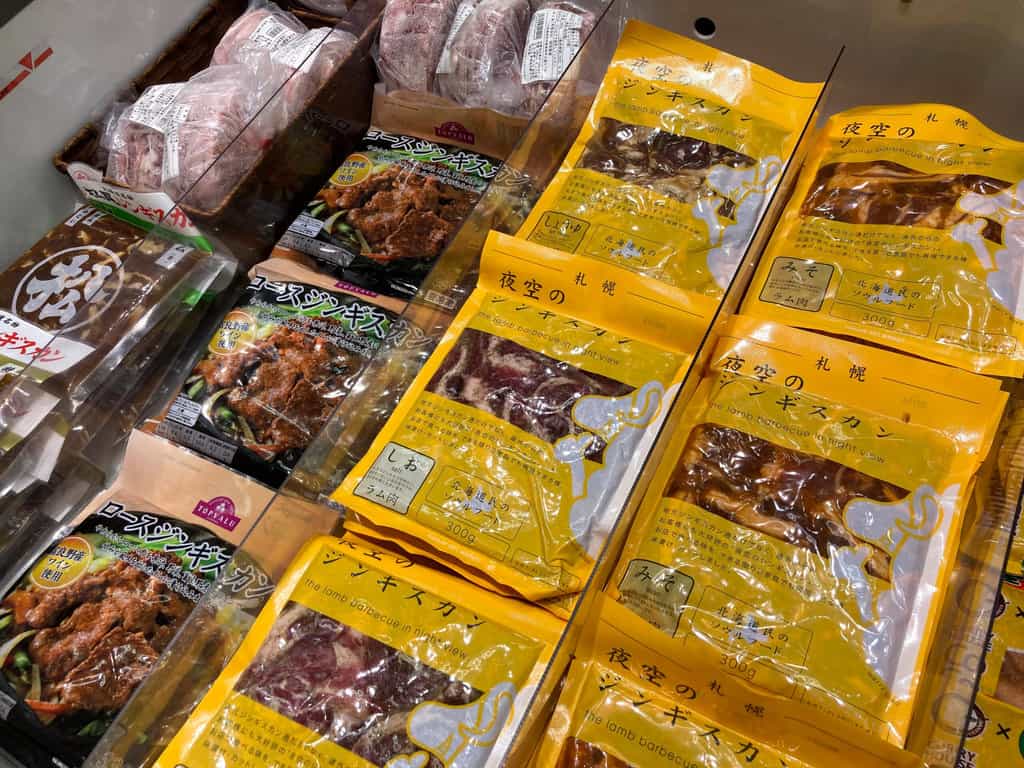 Jingisukan grill
You might wonder where you can get the distinctive jingisukan grill. It's actually not widely available even in Japan (outside of Hokkaido at least). I bought mine online from wholesale shop for restaurants.
There are two types of jingisukan grills: one with holes and and one without. The one with holes is similar to a Korean style grill and the one without holes is more like a "Mongolian grill". These grill plates are mainly made of cast iron, such as Nambu ironware, and have a unique shape with a raised central section like a helmet.
This is designed to cook the lamb in the raised centre and the vegetables in the lowered periphery, so that the juice and fat from the lamb can drip downwards along the grooves to season the vegetables.
If a jingisukan grill is not available, especially at home, a frying pan is used instead. You just have to make sure to mix the vegetables around the pan so they cook in the fat from the lamb.
However, as I mentioned earlier, the "Mongolian BBQ grill" I found on Amazon USA is almost identical to the jingisukan grill I have! If you want to make jingisukan in proper setup, it's worth checking it out! You can buy it here. (Affiliate link)
Vegetables to use for jingisukan
You might wonder, what kind of vegetables you can use for jingisukan? Again, there is no solid rule on that. However, the vegetables listed below are the most common ones to use for jingisukan. A lot of them are easily accessible around the world, so pick what you like and make your own jingisukan!
Beansprouts
Pumpkins
White onions
Carrots
Bell peppers
Cabbage
Chinese chives
Eggplant
Asparagus
Potatoes
Sweet corn
Any kind of mushrooms...etc
When I took the picture, I personally used:
Beansprouts
Green cabbage
Carrot
Pumpkin
Eggplant
Shiitake mushroom
Onion
Chinese chives
I hope this list helps you decide what kind of vegetables you would like to eat with your own personal jingisukan!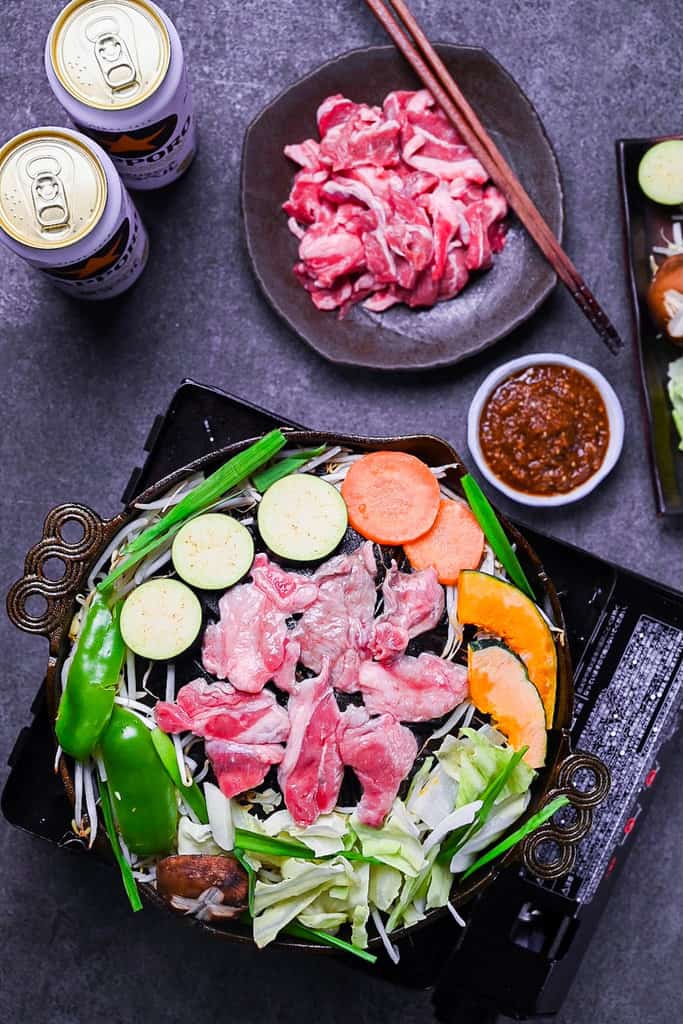 Jingisukan sauce
Compared to yakiniku sauce, jingisukan sauce is more sour, less sweet, less garlicy and more gingery. In Japan, you can sometimes find pre-made sauce at supermarkets.
However, pre-made sauce is not so accessible, so I decided to make my own homemade jingisukan sauce in this recipe. Because it needs to have a lot of different ingredients to create a deep and complex flavour, I made it from following ingredients:
Apple
Carrot
Onion
Pineapple
Garlic
Ginger
Lemon juice
Honey
Chilli powder
Rice vinegar
Soy sauce
Red wine
Brown sugar
Mirin
Sesame seeds
The list seems a lot but I basically cut solid ingredients into small chunks and make them into paste with food processor (the quantities and steps can be found in recipe card at the bottom) then heat up in a small pan.
If you do no have any food processor, you can grate each solid ingredient instead. In that case, you can use apple juice instead of apple, pineapple juice instead of pineapple to make it easier.
My way of eating jingisukan at home
As I mentioned already, there are different ways of cooking and eating jingisukan and there is no single right way. So, in here, I will explain how I eat jingisukan with my recipe at home.
Cook the lamb meat first to season the grill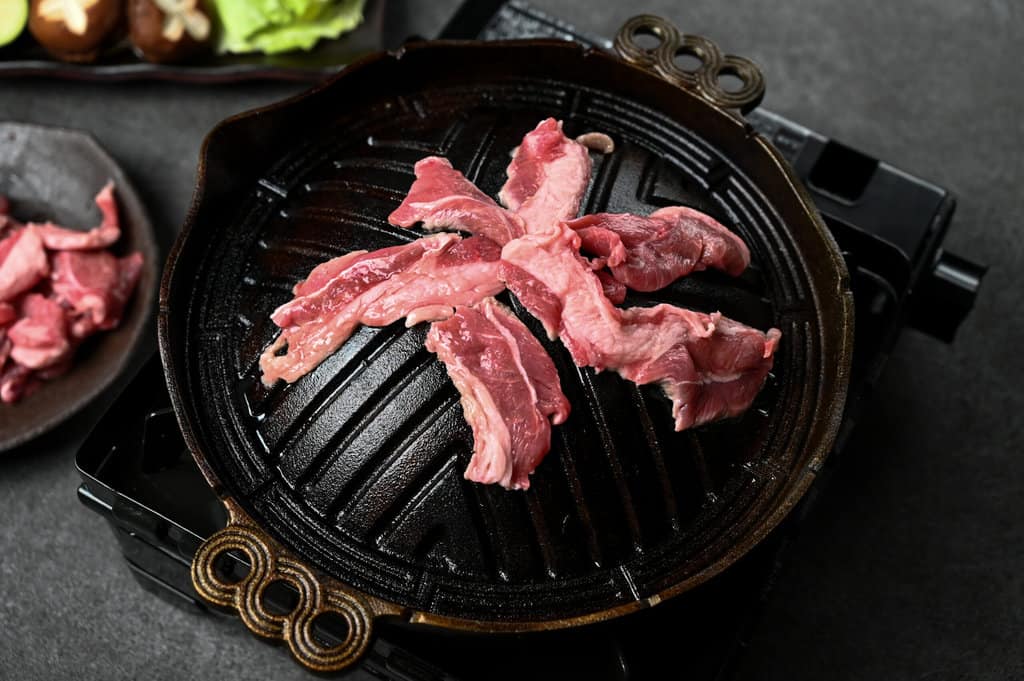 First, I only cook the lamb meat without any vegetables. The reason is simple, that is to let the lamb meat release its fat and juice all around the grill, in a way it's oiling the surface. That way, vegetables that will be added after will be cooked in the juices from the lamb, delicious!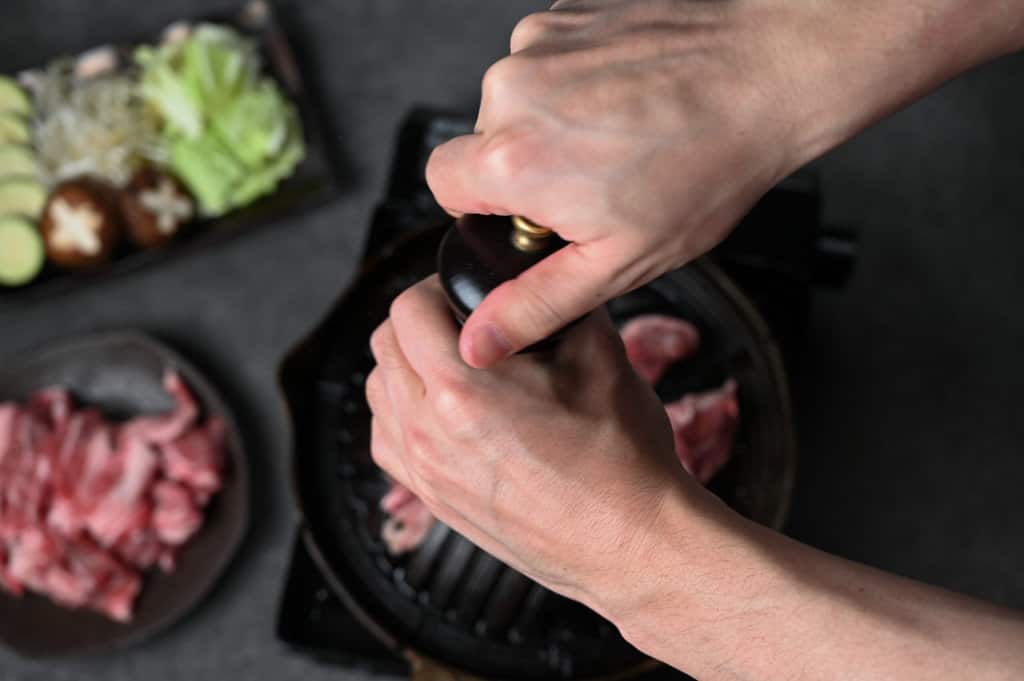 Preheat the grill on a medium heat and add the lamb. Be sure to season it with salt and pepper and cook until browned.
Flip them over and eat as they are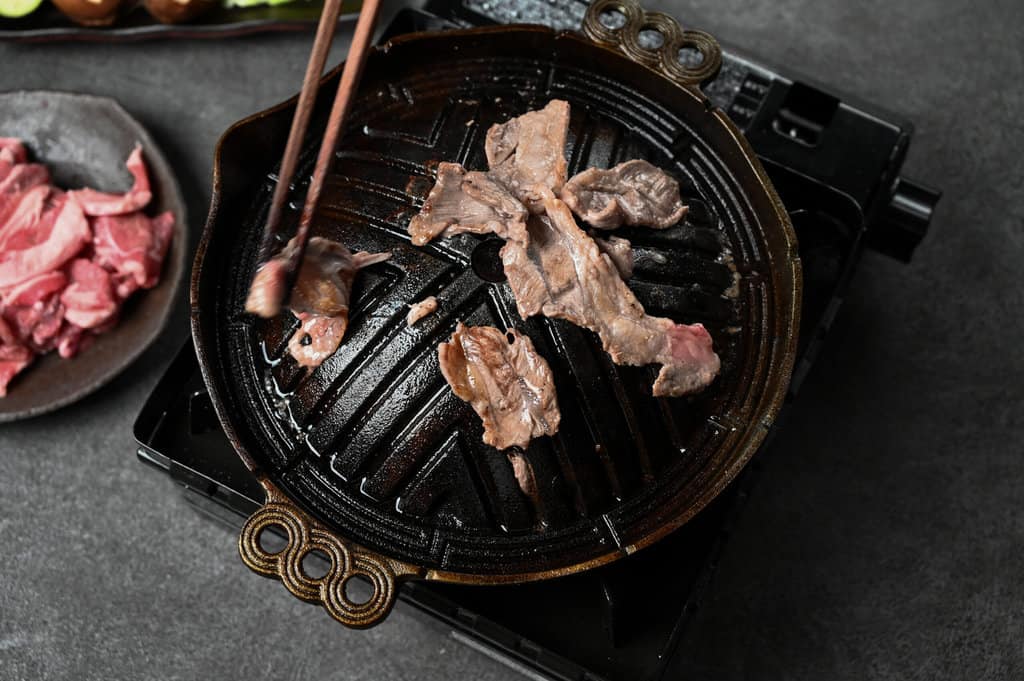 Once one side is browned, flip them over and cook the other side until browned as well. For the first batch, you can either eat them as they are (simply seasoned with salt and pepper) or dip in the sauce already.
I personally eat the first ones only with salt and pepper to enjoy the lamb meat as it is!
Add more lamb and vegetables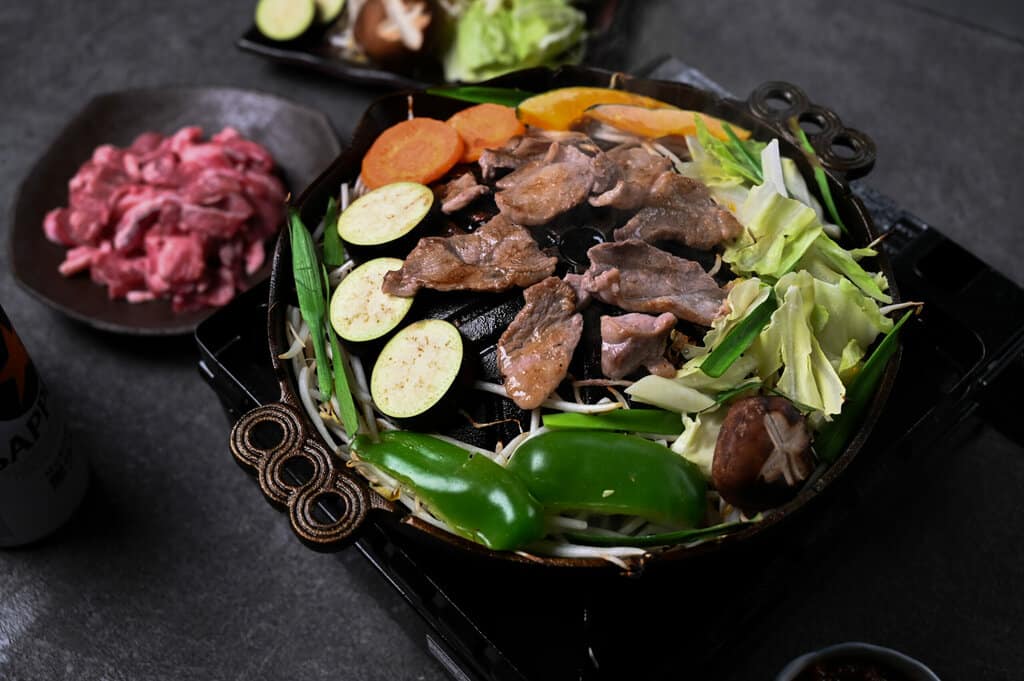 Add another batch of lamb meat on top and vegetables around lower edges. The idea is lamb meat's juice and fat drizzles down to vegetables. This adds extra jingisukan flavour to the vegetables too!
Enjoy with homemade sauce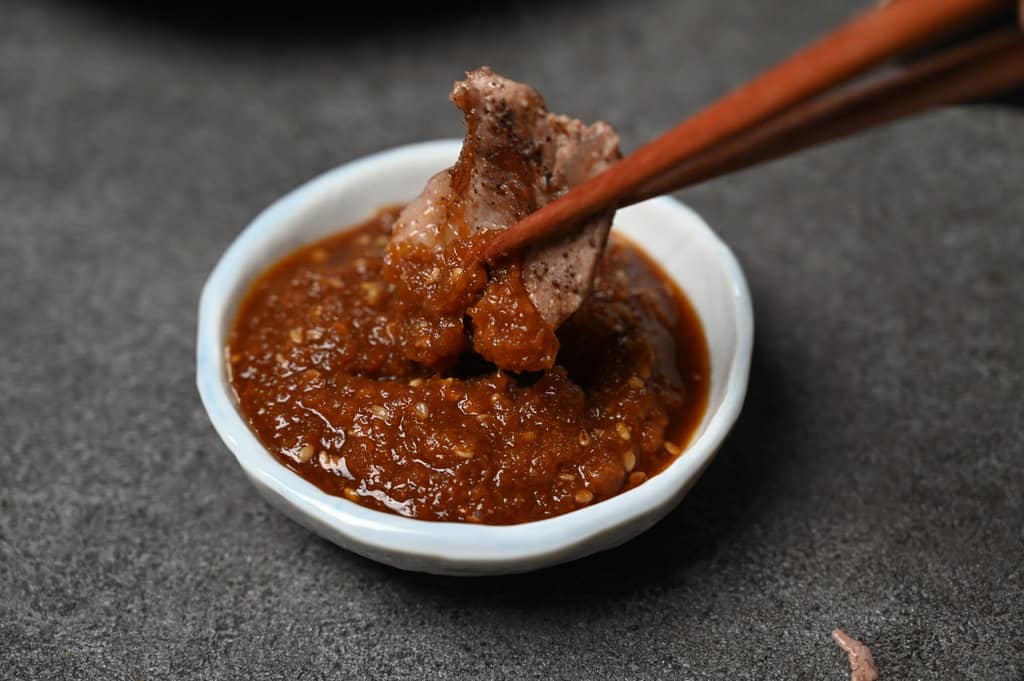 Once the lamb and vegetables are cooked enough, dip them into the homemade sauce and enjoy! It's basically a BBQ so repeat the process until your ingredients run out!
Jingisukan is one of the most famous regional dishes to come from Hokkaido and it's truly delicious! I hope you enjoy my take on this special Japanese lamb dish with my homemade fruity sauce!
Jingisukan (Hokkaido style lamb BBQ)
How to make Hokkaido style lamb BBQ "Jingisukan" with crunchy vegetables and my own homemade fruity sauce.
Ingredients
Jingisukan Sauce
150

g

apple(s)

-

peeled

30

g

carrot(s)

-

peeled

50

g

yellow onion(s)

30

g

pineapple

1

clove

garlic

10

g

fresh ginger

½

tbsp

lemon juice

1

tsp

honey

1

tsp

chili powder

-

cayenne pepper

¼

tsp

rice vinegar

100

ml

soy sauce

25

ml

water

25

ml

red wine

1

tsp

brown sugar

1

tsp

mirin

1

tsp

ground sesame seeds

½

tbsp

white sesame seeds
Jingisukan (Main ingredients suggestion)
250

g

lamb shoulder

-

thinly sliced

salt and pepper

-

to taste

30

g

carrot(s)

-

peeled and cut in rounds

50

g

yellow onion(s) -

cut into wedges

50

g

eggplant(s)

-

cut in rounds with skin on

2

fresh shiitake mushroom(s)

-

stem removed

50

g

pumpkin

-

kabocha, thinly sliced with skin on

100

g

beansprouts

50

g

green cabbage

-

roughly chopped

50

g

bell pepper(s)

-

cut into strips

25

g

garlic chive(s)
Instructions
Jingisukan Sauce
Roughly cut

150 g apple(s)

,

30 g carrot(s)

,

50 g yellow onion(s)

and

30 g pineapple

into small chunks and place them in a food processor.

Add

½ tbsp lemon juice

,

1 tsp honey

,

1 tsp chili powder

,

1 clove garlic

,

10 g fresh ginger

,

1 tsp ground sesame seeds

and

¼ tsp rice vinegar

to the food processor, then blend everything together until no more large chunks remain. 

Take a small saucepan and add

100 ml soy sauce

,

25 ml water

,

25 ml red wine

,

1 tsp brown sugar

,

1 tsp mirin

,

½ tbsp white sesame seeds

along with the contents of the food processor.

Place the pan on the stove and bring the sauce to a boil while stirring continuously to prevent burning.

Once boiling, turn down the heat to medium low and allow it to bubble for 3 minutes.

When 3 minutes are up, remove the pan from the heat and allow the sauce to cool down. If you have time, place it in the fridge until serving. 
Jingisukan
Heat the pan/grill on a medium heat. Once hot, place a few slices of lamb in the center and sprinkle with a pinch of salt a pepper. If using a frying pan, move the lamb around the pan to season the surface.

Flip the lamb and cook on the other side. Once cooked, remove from the pan. (You can eat it now or save it for later.)

Add more lamb, then the vegetables, starting with

50 g pumpkin

,

50 g yellow onion(s)

,

30 g carrot(s)

,

2 fresh shiitake mushroom(s)

and

50 g eggplant(s)

. (These take longer to cook.)

Once slightly softened, flip everything over and add

50 g green cabbage

,

100 g beansprouts

,

50 g bell pepper(s)

and

25 g garlic chive(s)

. Make sure all the vegetables are touching the fat and juices from the lamb to flavour them.

When the meat and vegetables are cooked, eat by dipping the ingredients in the homemade sauce and enjoy with rice.

Repeat steps 3-5 until all of your ingredients are finished.

Enjoy!
Notes
If you don't have a food processor, you can grate your ingredients and use pineapple juice instead of pineapple chunks. 
Keep leftover sauce in the fridge in an airtight container and use within 3 days.