This homemade awase dashi made with dried kelp, bonito flakes, and dried sardines is my favorite dashi of all time! It's depth, umami and robust flavor will elevate your Japanese soups, noodle broths and hot pots!
Disclaimer: This post may contain affiliate links. Sudachi Recipes is part of the amazon associates programme and earns a small percentage from qualifying purchases at no extra cost to you. See disclaimer for more info.
What Does My Favorite Dashi Broth Contain?
The essence of Japanese cuisine lies in its dashi broth, a liquid gold that infuses dishes with a depth of flavor that's both subtle and profound.
In this recipe, I used a combination of niboshi (dried sardines), katsuoboshi (dried bonito flakes), and kombu (dried kelp).
While dried bonito flakes and dried sardines are rich in inosinic acid, kelp brings forth the robust umami of glutamic acid. Niboshi, with its peptides, adds a layer of richness and mildness, making it a valuable addition to the foundational duo of dried bonito flakes and kombu.
How I Developed This Recipe
When crafting this Awase Dashi recipe, I aimed to elevate beyond the basic bonito flakes and kelp dashi. I ventured to add more depth and layers to the flavor profile.
The outcome was so good that it earned the title "My Favorite Dashi."
Its versatility shines through in many dishes, from the comforting embrace of miso soup to the flavorful depths of simmered dishes and takikomi gohan.
Ingredients You Will Need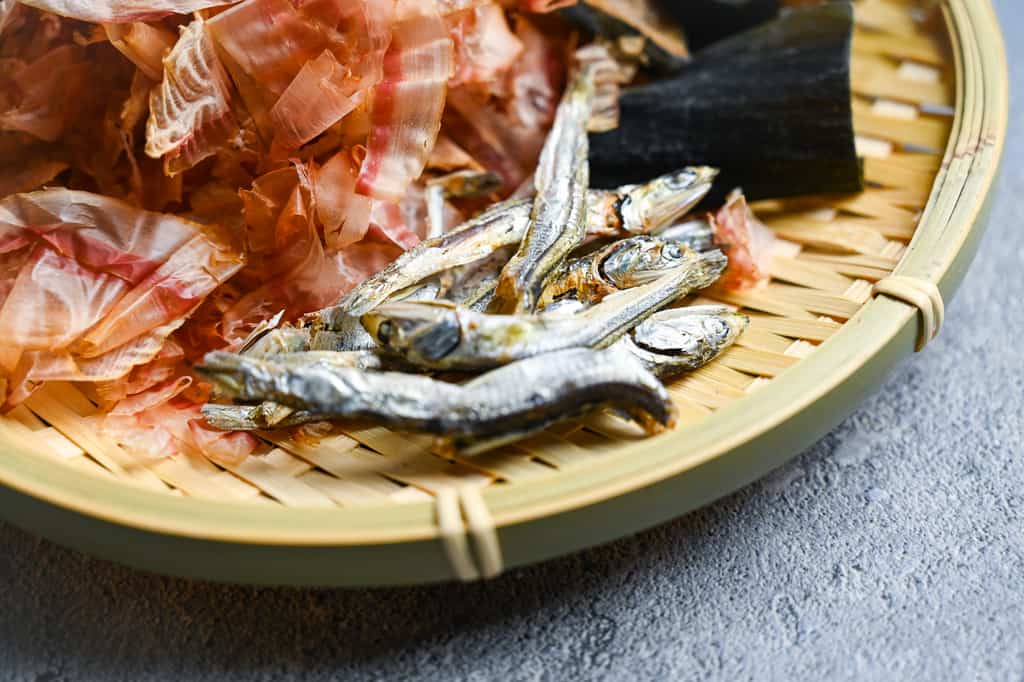 Cold Water: To achieve the optimal Japanese dashi, it's recommended to use soft water with a hardness between 0 to 30. This type of water is ideal for drawing out the rich umami flavors. Conversely, hard water can interact with the proteins in kelp, which might lead to a slightly bitter aftertaste.
Dried Sardines (Niboshi): Niboshi, or iriko, are tiny dried sardines. Even if you're not a fan of sardines, these dried ones impart a deep, savory flavor, making the dashi exceptionally tasty.
Dried Kelp (Kombu): Among the various kelp types, Rausu, Rishiri, Ma, and Hidaka kelp stand out. Dive deeper into the characteristics of each in my complete kombu guide.
Bonito Flakes (Katsuobushi): Like kombu, Bonito flakes also have multiple types and grades. For a more precise understanding and to make an informed choice, refer to my in-depth katsuobushi guide.
Curious about the exact brands and products that bring my recipes to life? Discover the brands and ingredients behind my recipes at the Sudachi Amazon Storefront. Explore my handpicked pantry essentials and find your next kitchen favorites!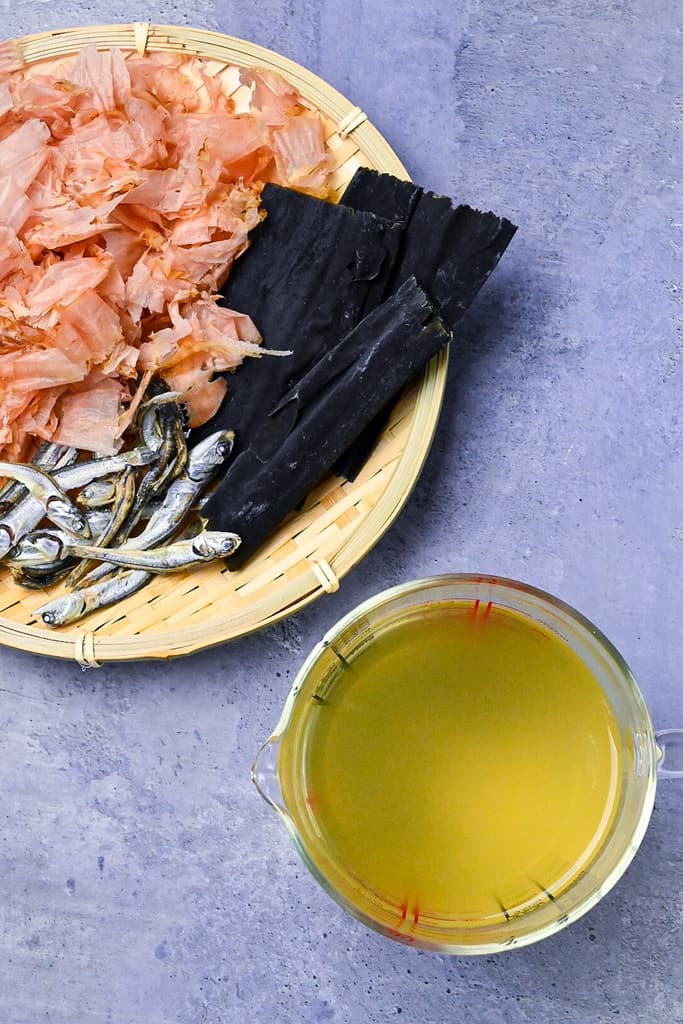 Step-by-Step Process
Here are my step-by-step instructions for how to make my favorite homemade awase dashi using kombu, bonito flakes and dried sardines. For ingredient quantities and simplified instructions, scroll down for the printable recipe card below.
Prepare the dried sardines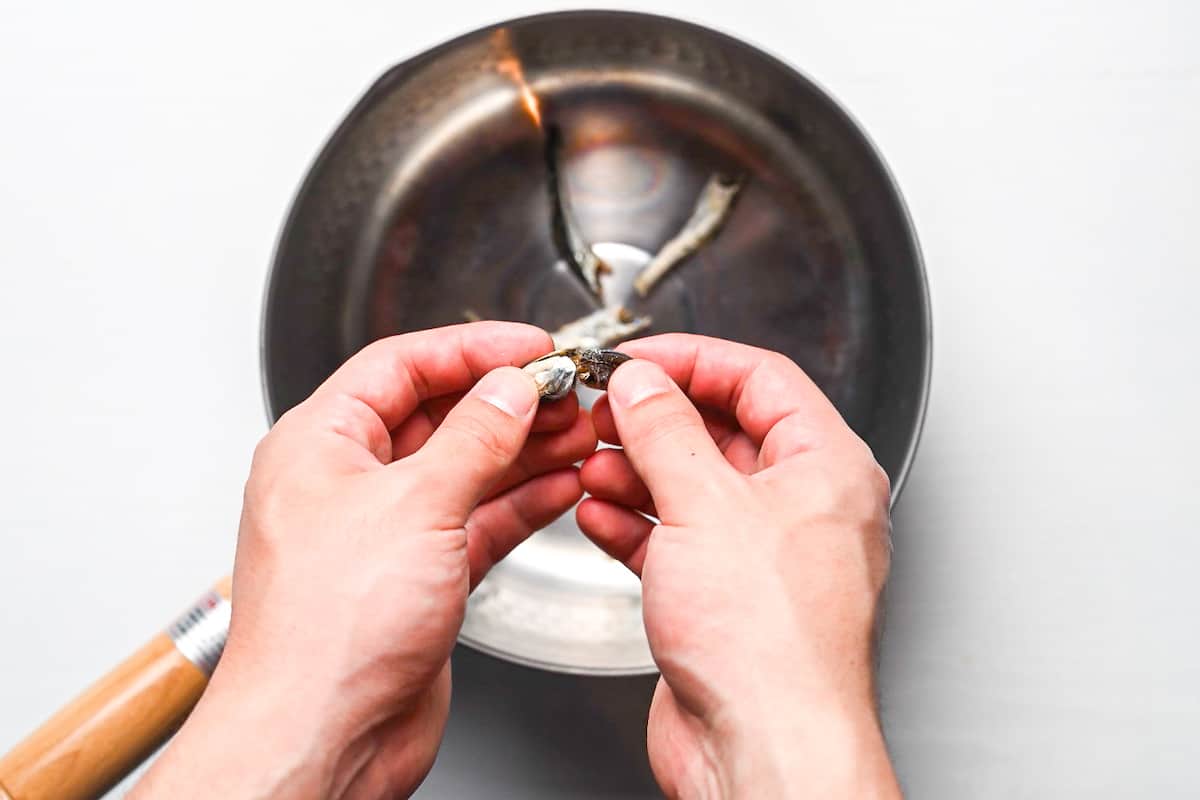 Break the heads off of the dried sardines and discard, leaving them on can create a bitter taste in your dashi. Place the bodies in a large pot.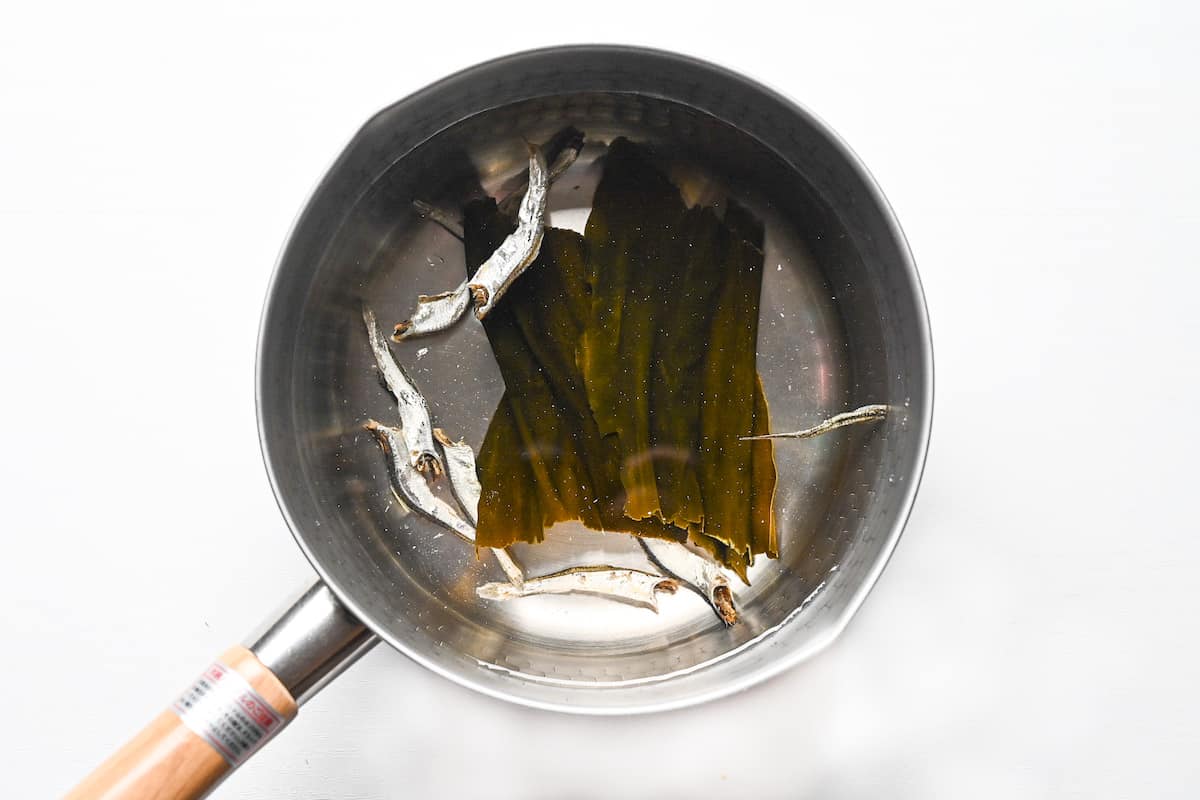 Add kombu and water, then soak for at least 30 minutes or until the kombu has expanded and softened. For a stronger taste, some people soak overnight. If you choose to do this, cover the pot and store in the refrigerator.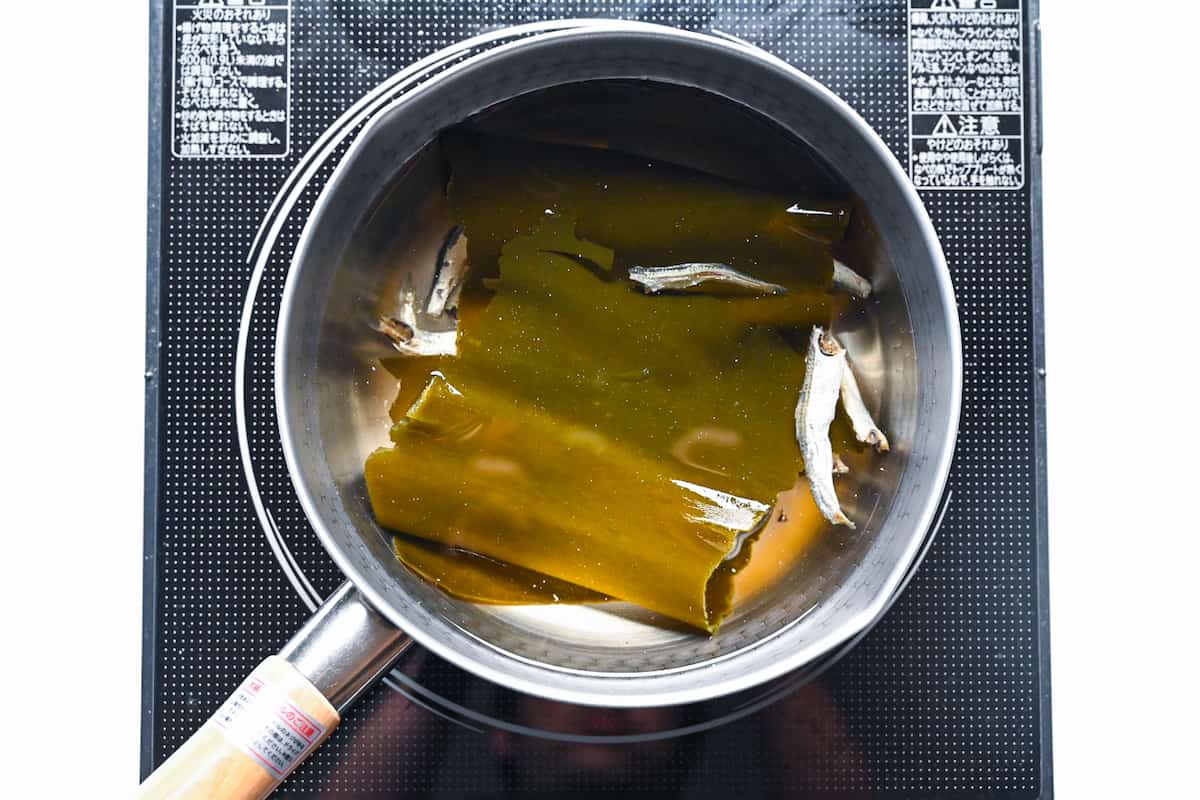 Place the pot on the stove and heat slowly over medium or a medium-low setting. Slow heating will gently extract all the goodness in the kombu and niboshi. Be careful not to let it boil as this can make the dashi bitter or slimy.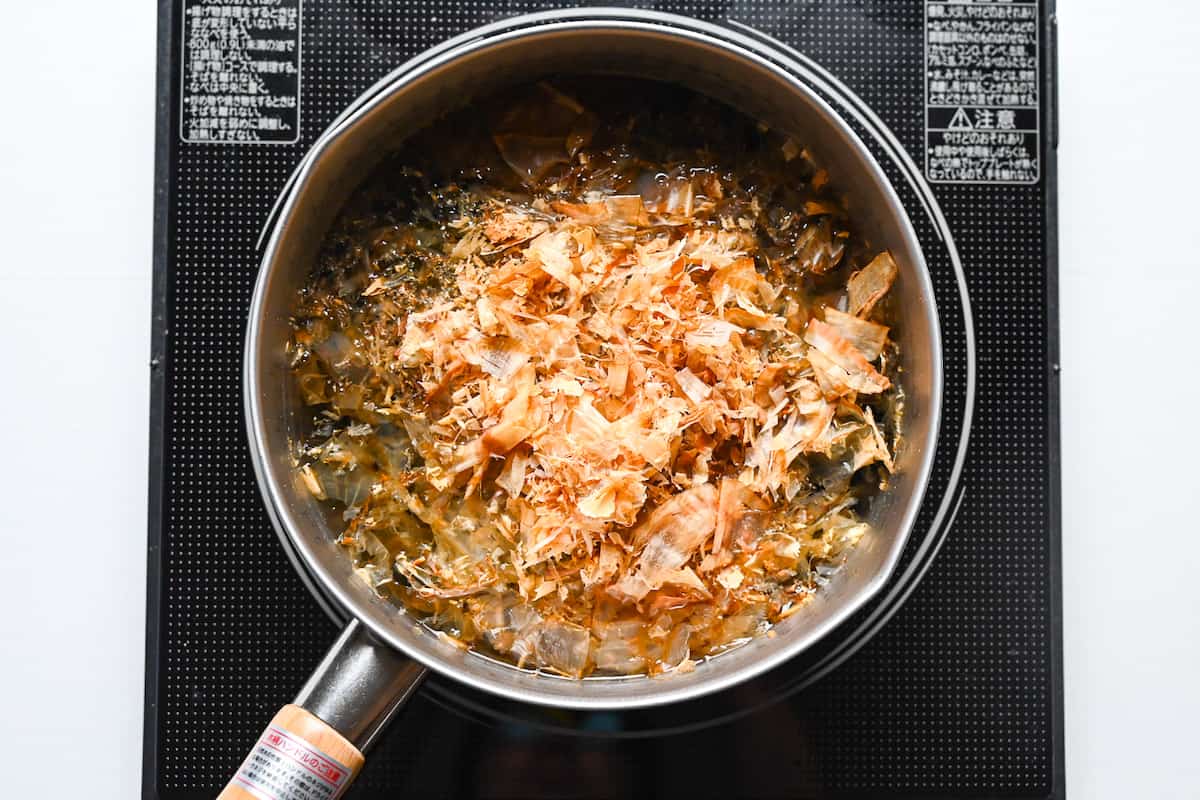 Once small bubbles start to appear around the edge, reduce the heat to the lowest setting and add the bonito flakes.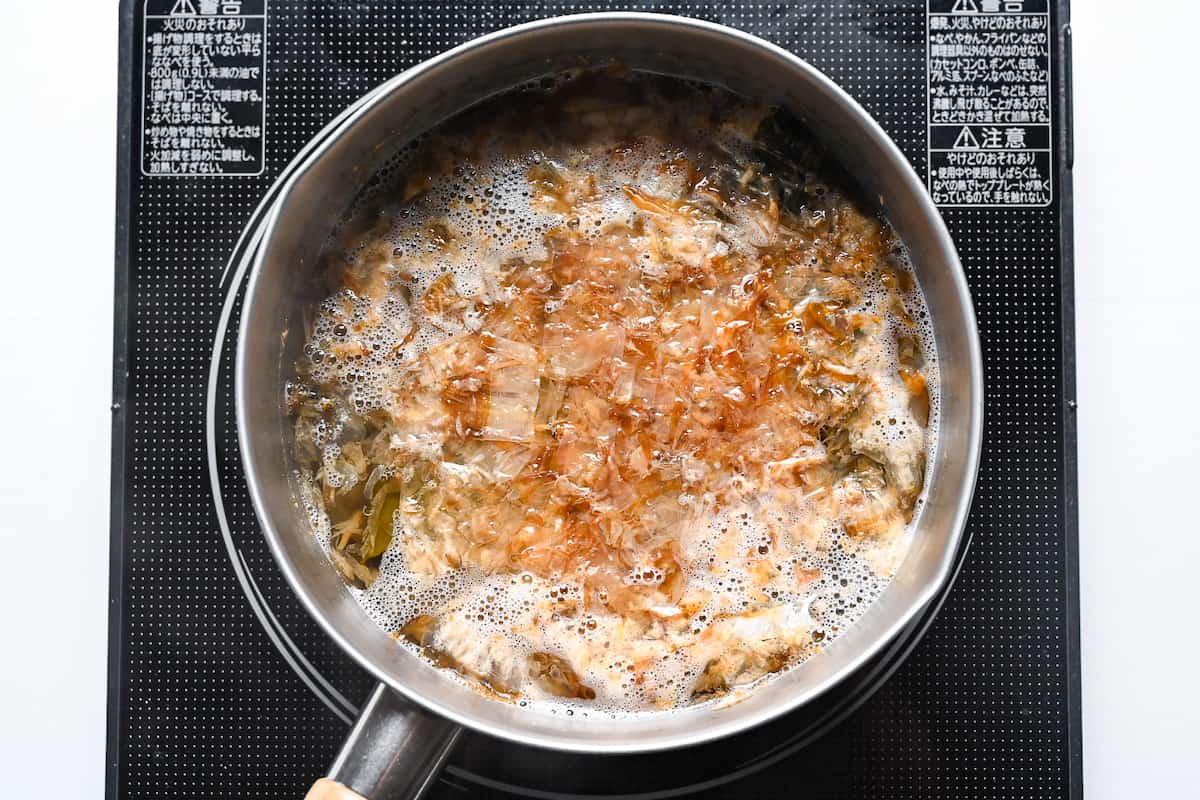 Simmer on low for 10 minutes and then remove from the heat.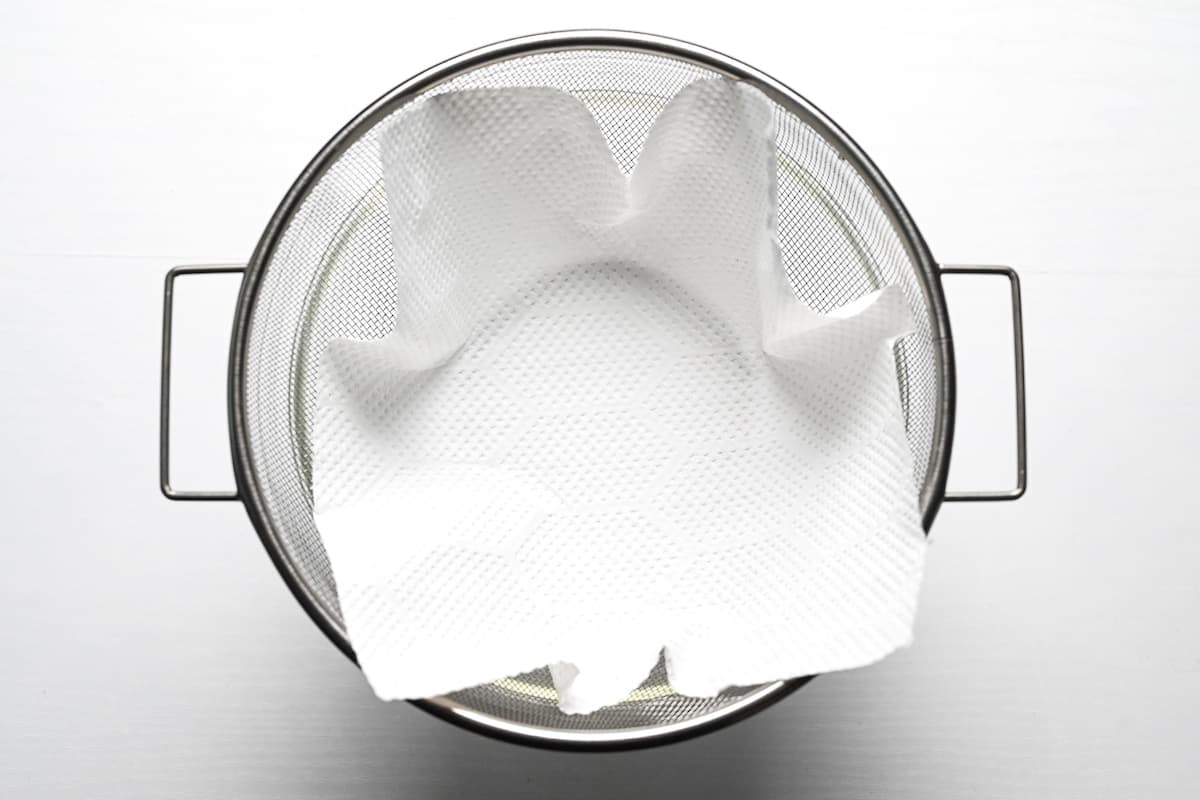 Place a sieve over a heatproof bowl and line it with kitchen paper. This will catch the tiny flakes of bonito, ensuring your broth is clear and flake-free.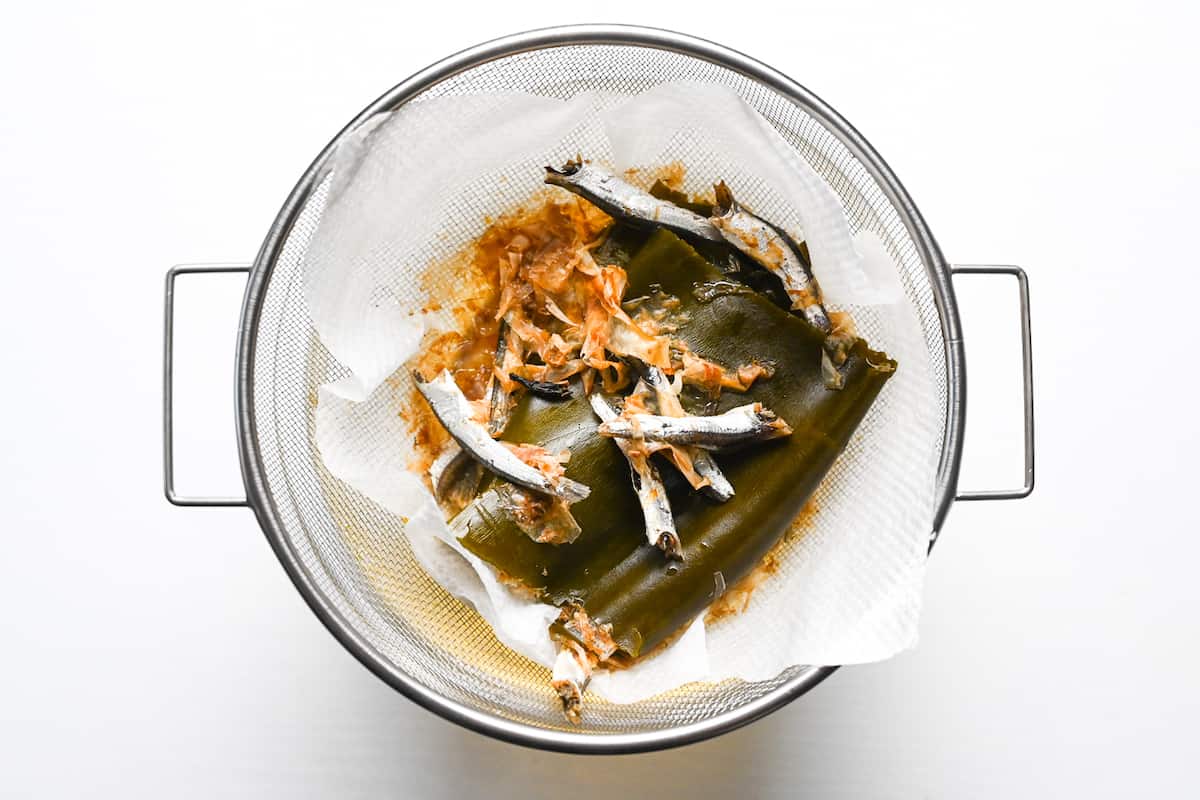 Pour the dashi through the sieve and gently squeeze the kitchen paper to try and save the dashi that has been absorbed.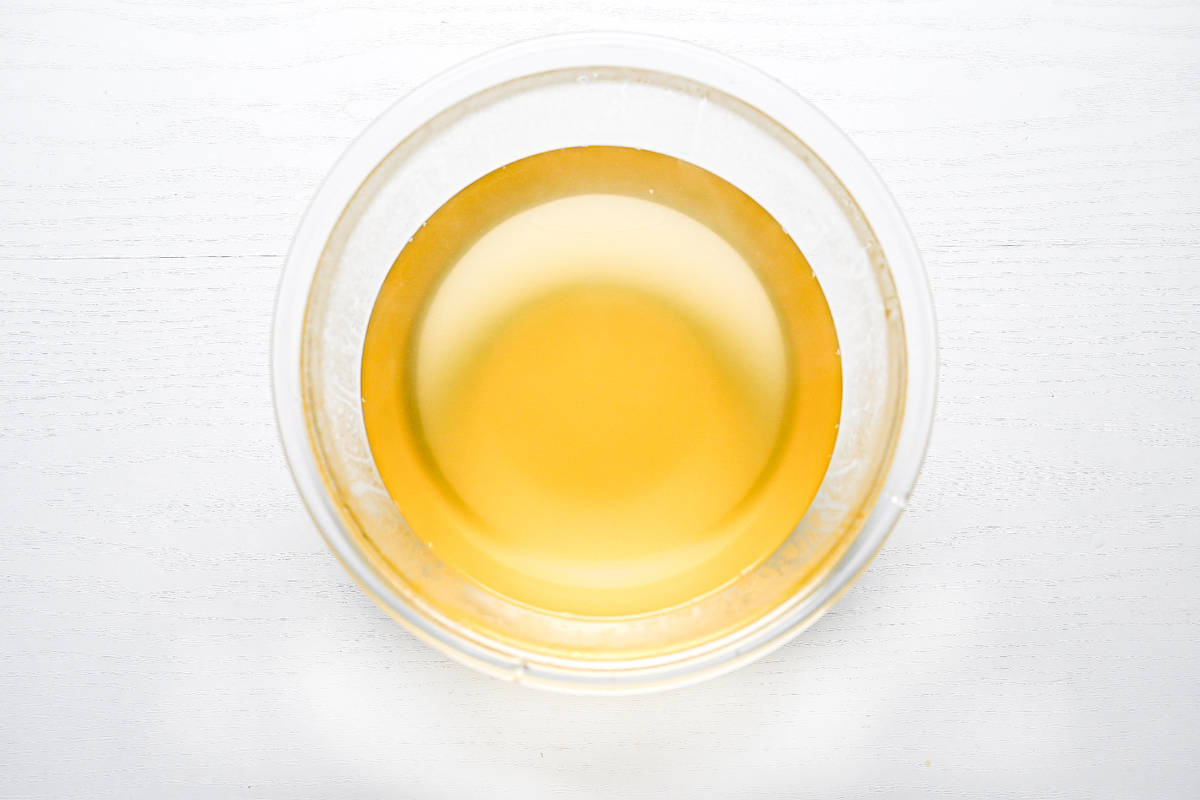 Use your homemade dashi to bring your Japanese cooking to the next level.
Enjoy!
Reusing dashi ingredients
If it's hard or expensive to find dashi ingredients in your country, you'll be pleased to know that it's possible to reuse them to make a second batch! Simply follow these steps:
Take your used dashi ingredients and place them in a pot.
Add 1 liter of water and an additional 7g of unused katsuobushi.
Turn the heat on medium-high and bring to a boil.
Once boiling, turn the heat on medium and cook until the liquid is reduced by 20%.
Remove from the heat and strain the dashi with a sieve and kitchen paper like before.
Rest until it's cool to the touch, then pick up the kitchen paper and squeeze to release any excess dashi.
Use immediately or store in the refrigerator and use within 1 week. (Be aware that the flavor deteriorates every day that you keep it, so try to use it sooner rather than later!)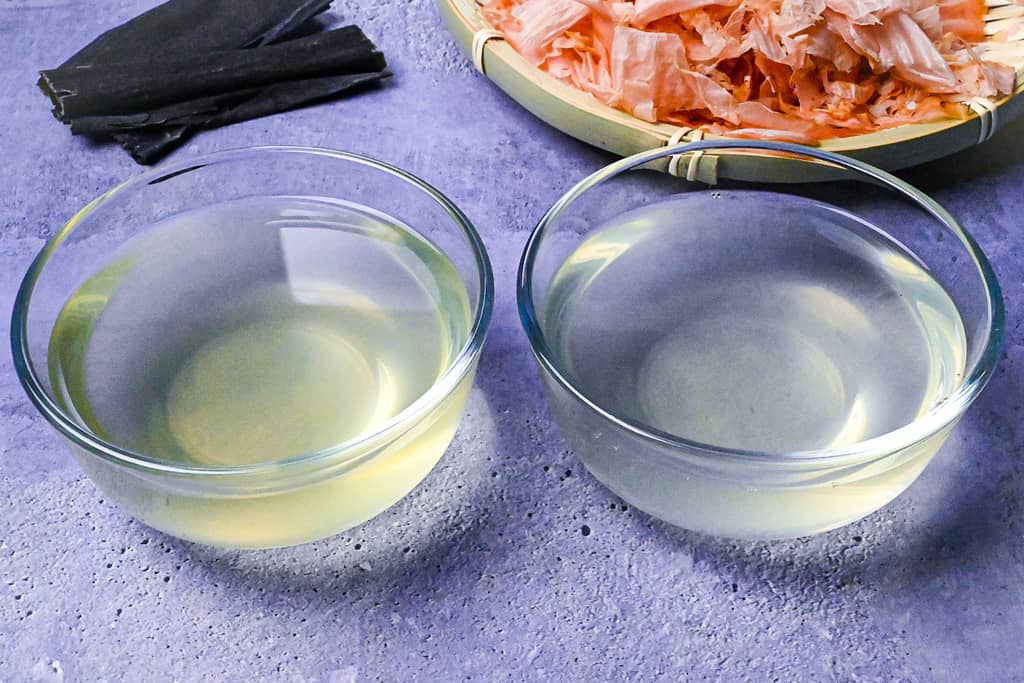 Alternatively, you can use leftover kombu to make onigiri rice balls! Check out my kombu onigiri recipe!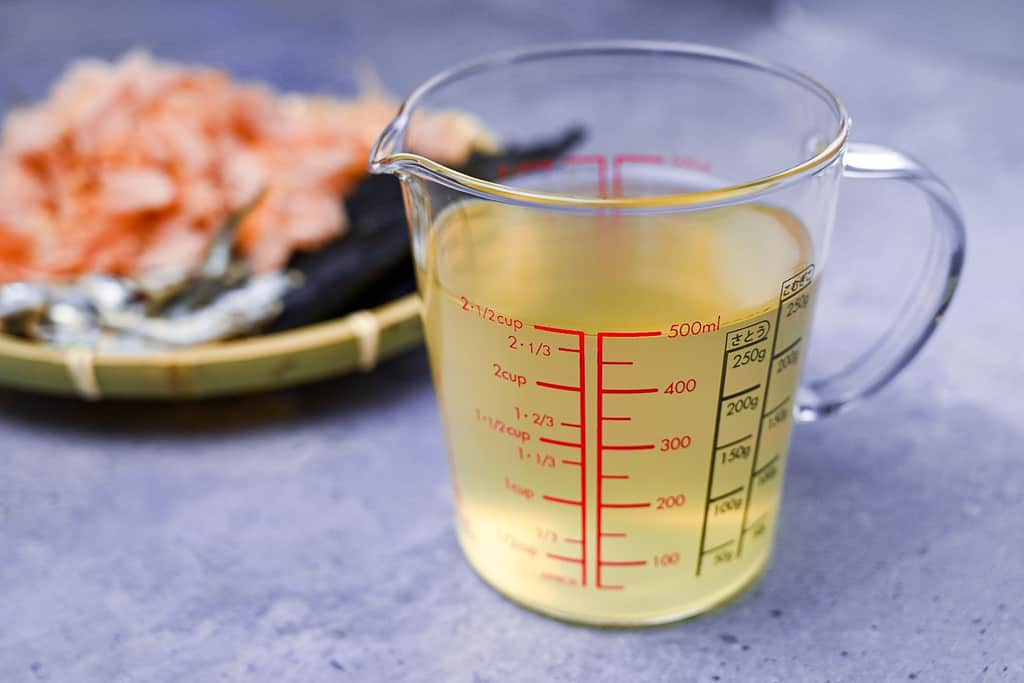 Storage
Preparing a big batch of dashi in advance can save time, but it's important to store it correctly to preserve its freshness and flavor. Avoid storing dashi at room temperature as it can quickly spoil.
Refrigeration is a suitable option for those who intend to use the dashi within a short time. However, it's crucial to let the hot dashi cool to room temperature before transferring it to an airtight container such as a jar or Tupperware. Seal the container and store it in the fridge for up to a week.
To keep a larger stock of dashi for future use, freezing is the best option. Ensure the dashi has cooled down before sealing it in an airtight container, and divide into portions for convenience. Properly stored dashi can be kept in the freezer for up to a month.
Room temperature – Not recommended.
Refrigerated – Up to a week.
Frozen – Up to a month.
My Favorite Awase Dashi with Niboshi, Katsuobushi and Kombu
---
How to make my favourite "awase dashi" with dried kelp, bonito flakes and dried sardines, a robust and umami-packed dashi that can be used to make miso soup, noodle broths and hot pots.
---
---
---
---
Instructions
Start by removing and discarding the heads of

10 g dried sardines

and placing the bodies in a large pot.

Add

10 g dried kelp(s)

and

1100 ml cold water

. Leave to soak for at least 30 minutes (or up to 24 hours) until the kombu has expanded and rehydrated.

Transfer the pot to the stove and slowly heat over medium or a medium low setting. Be careful not to let it boil.

Reduce the heat and add

15 g bonito flakes

.

Simmer on low for 10 minutes.

Place a sieve over a heatproof bowl and line it with kitchen paper.

Pour the dashi through the sieve to catch the small pieces of bonito flakes.

Enjoy using your homemade dashi to make miso soup, noodle broths or hot pots!
Notes
Refrigerate in a sealed container for up to 1 week, or in the freezer for up to 1 month. (Freeze in portions for convenience.)