Subuta is a delicious Chinese-inspired dish made with crispy pieces of pork belly and crunchy vegetables cooked in a homemade sweet and sour sauce. Skip the take-away and make the most addictive sweet and sour pork from scratch at home!
What is Subuta?
Subuta (酢豚), which translates directly to "vinegar pork" in Japanese, is a Chuka (Chinese-inspired Japanese cuisine) dish made of cubed pork that has been seasoned, coated in potato starch, and deep-fried.
The pork is then stir-fried with fried vegetables and a sweet-and-sour sauce.
Sweet and sour is a well-known and popular flavor worldwide, and this dish is no exception. In Japan, we love Chinese food and sweet and sour pork can be found on the menu of every Chinese restaurant without fail.
Sweet and sour dishes are quite popular in Japan, with subuta being the most common Chinese-style dish. However, there's another dish called "Kurozu Ankake" made with black vinegar that is also worth mentioning.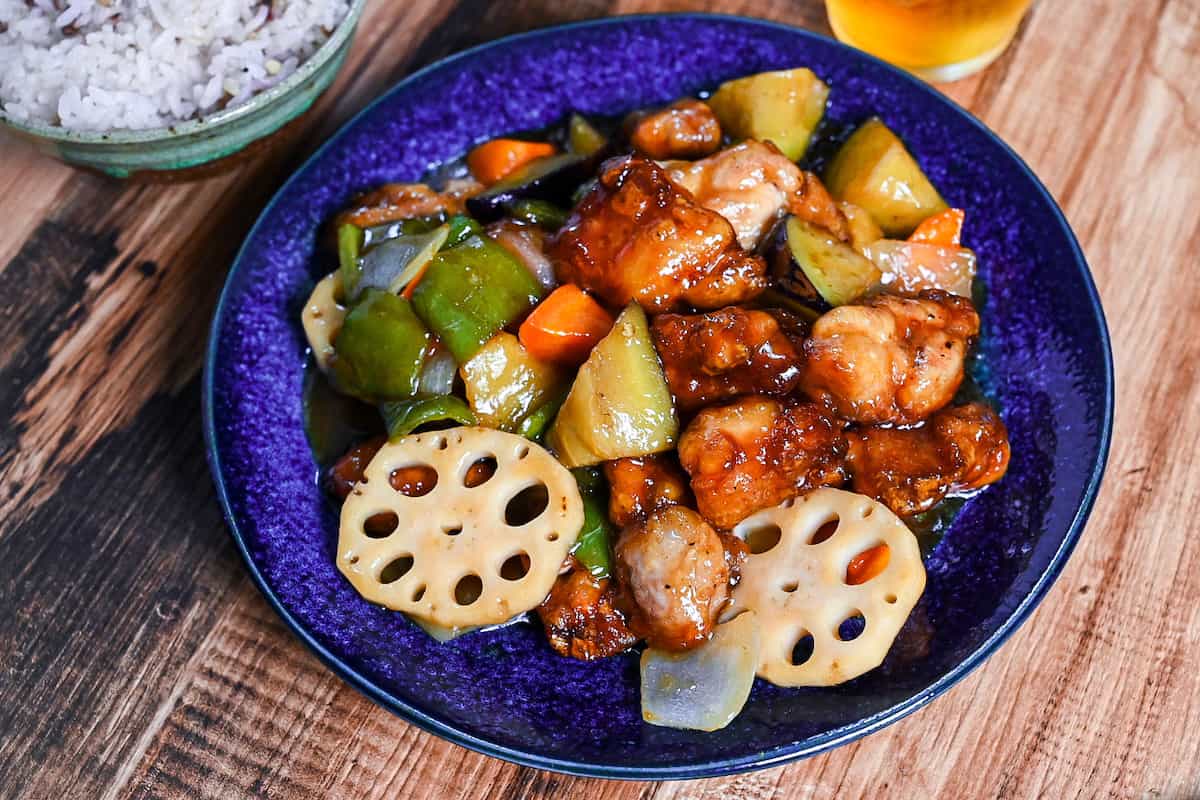 Kurozu an is a Japanese dish made using black vinegar and common Japanese vegetables like eggplant and lotus root. It's not as sweet as subuta and is usually served with rice, miso soup, and pickles. You'll find Kurozu An in Japanese Teishoku (set meal) restaurants instead of Chinese restaurants like subuta.
I guess what I'm trying to say here is that subuta is a Japanese take on a Chinese dish, where as kurozu-an is a Japanese dish that has similarities to sweet and sour. If you love sweet and sour dishes, I highly recommend kurozu-an!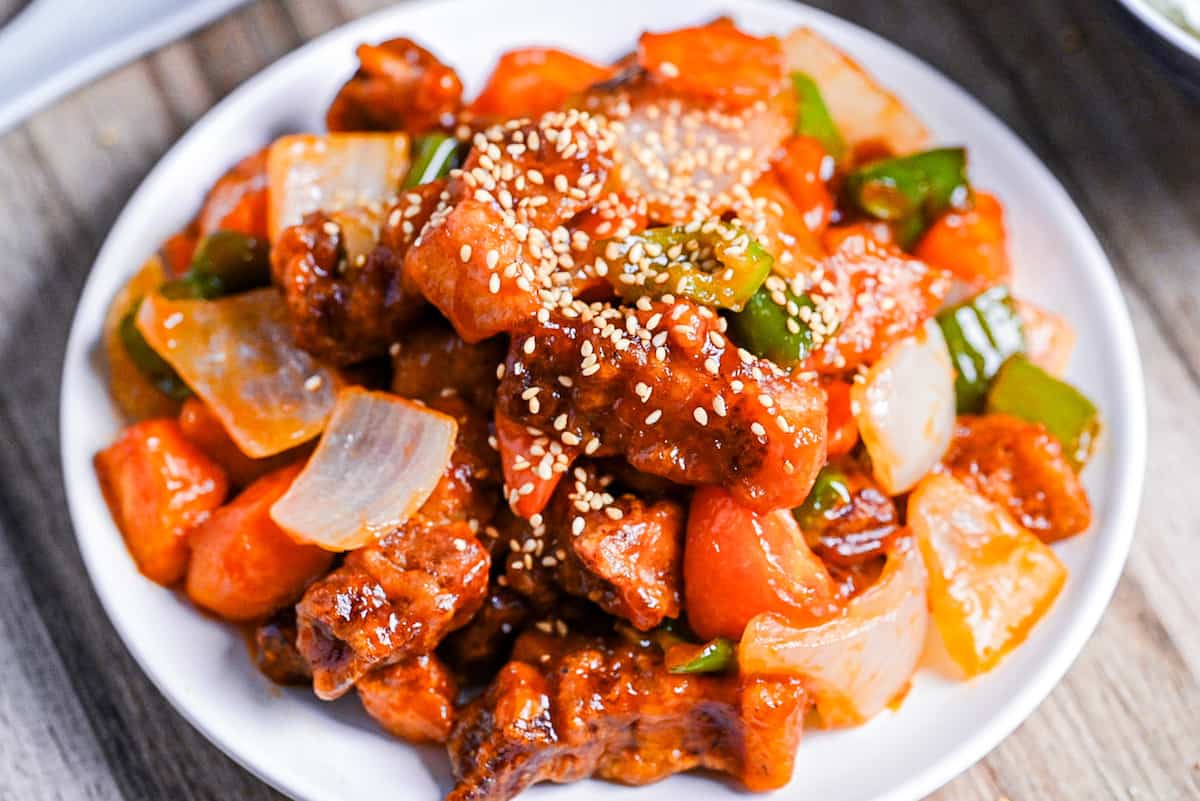 How I Developed This Subuta Recipe
At its core, my aspiration of crafting this Subuta recipe was clear: to emulate the good Subuta pork that graces the tables of Japanese Chinese restaurants.
My focus was channeled toward two pivotal elements: the rich, tangy sauce and the crispy, golden-fried pork. Every step, every ingredient, and every technique was chosen, ensuring that the final dish was a harmonious blend of flavors and textures.
Honestly, I have managed to craft a Subuta that's both authentic and delicious. So, if you're a fan of the classic sweet-and-sour profile, why not try this Japanese-style version?
Ingredients and Substitution Ideas
Pork Belly: I like using pork belly in Subuta because of its rich flavor and crispy fried edges, but it's all about what you prefer. Pork loin is an excellent alternative if you're aiming for something leaner. I've used pork loin chops, and they work just as well. If pork's not your thing, chicken, beef, or even firm tofu can step in. The sauce is the star and pairs well with almost anything!
Vegetables: I used a colorful mix of green bell peppers, yellow onion, and carrots. They add a nice crunch and vibrant colors to the dish.
Seasoning & Coating: To season and coat the meat, I keep it simple with salt, pepper, all-purpose flour, egg yolk, and cornstarch. This combo ensures a beautiful crispy finish and the use of egg yolk helps tenderize the pork.
Cooking Oil: For frying, I recommend neutral oils with high smoke points, like canola, sunflower, or peanut oil. Personally, I often lean towards rice bran oil and extra virgin (white) sesame oil for deep-frying.
Sweet and Sour Sauce: This sauce is where the magic happens. I blend tomato ketchup, rice vinegar, sake, white sugar, water, soy sauce, Chinese-style chicken bouillon powder, and cornstarch.
White Sesame Seeds: A sprinkle of these for garnish adds a nice touch of texture and look.
Curious about the exact brands and products that bring my recipes to life? Discover the brands and ingredients behind my recipes at the Sudachi Amazon Storefront. Explore my handpicked pantry essentials and find your next kitchen favorites!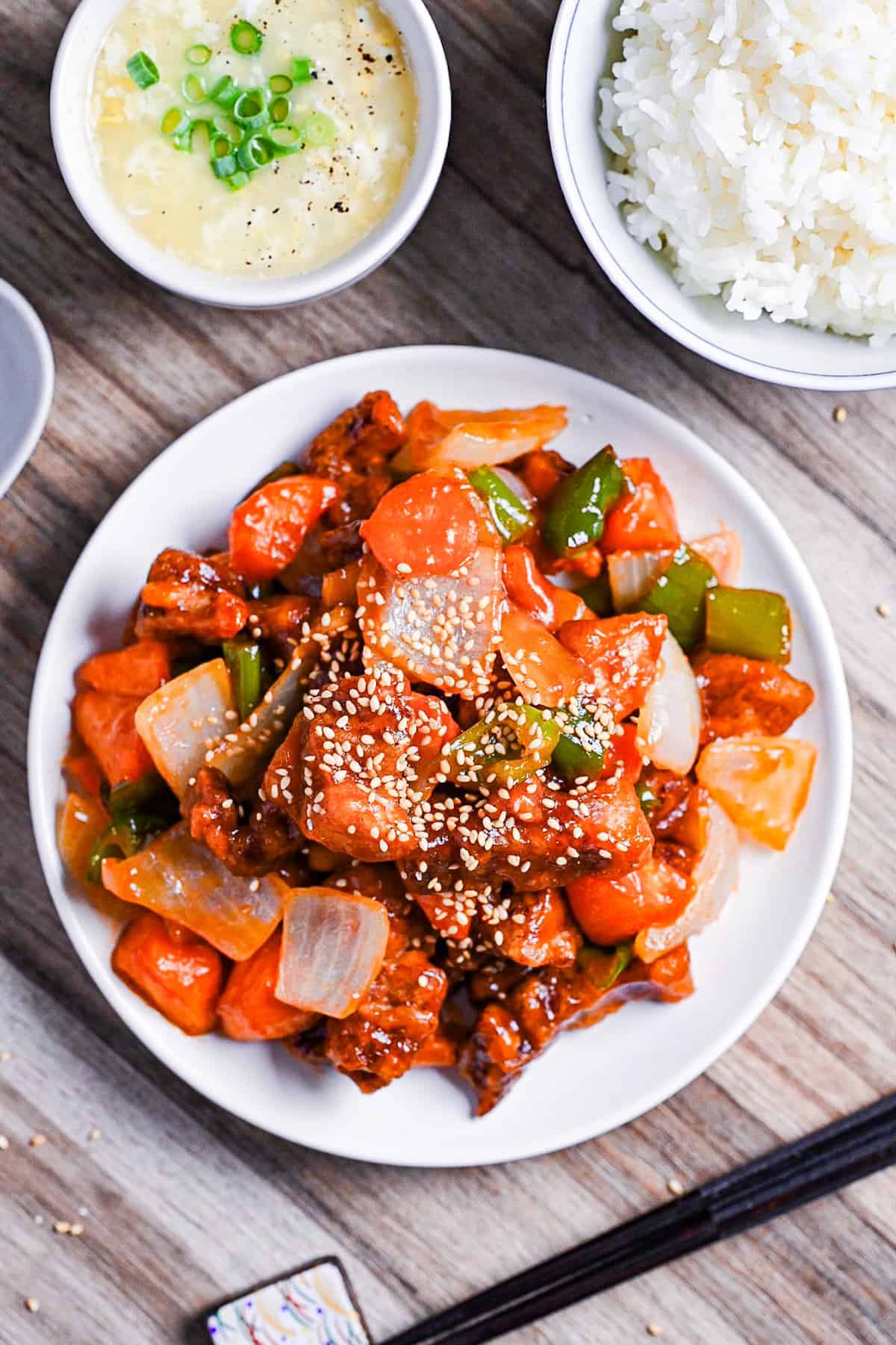 Step-by-Step Process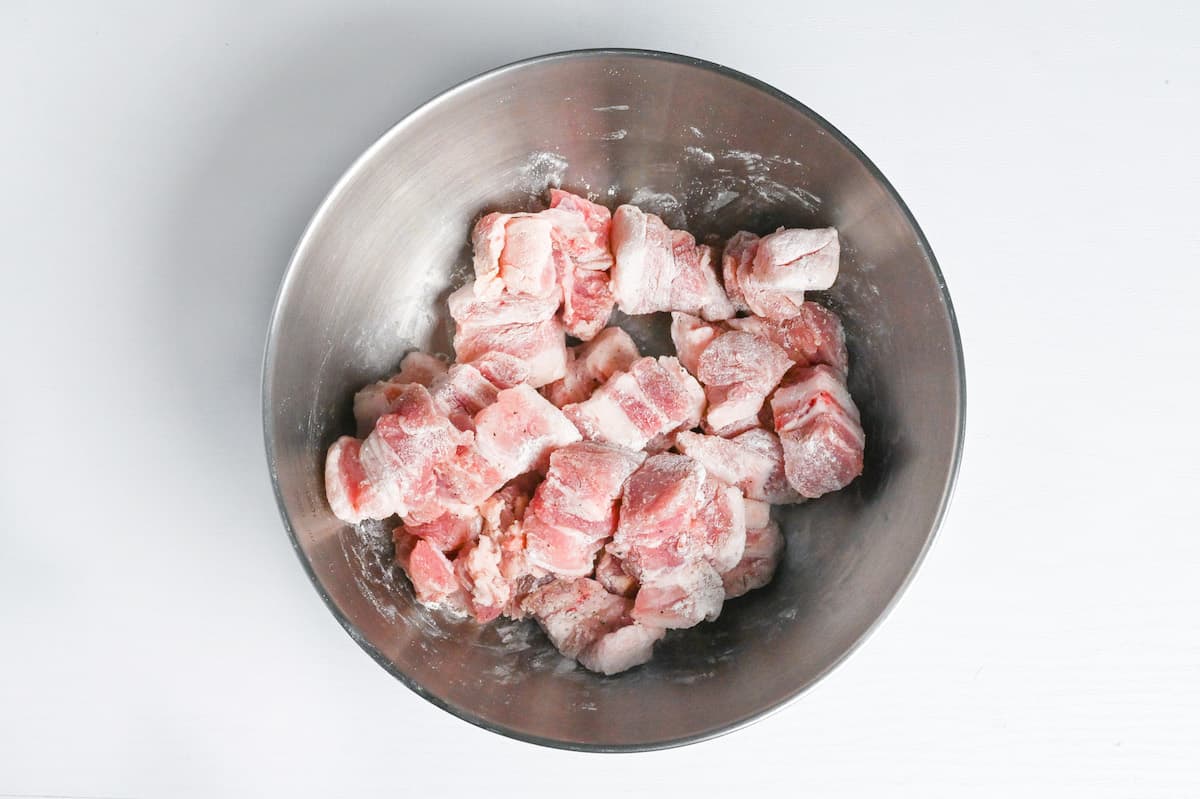 Cut the pork belly into bite-sized pieces. Combine pork, salt, black pepper, and all-purpose flour in a bowl. Mix until pork is evenly coated.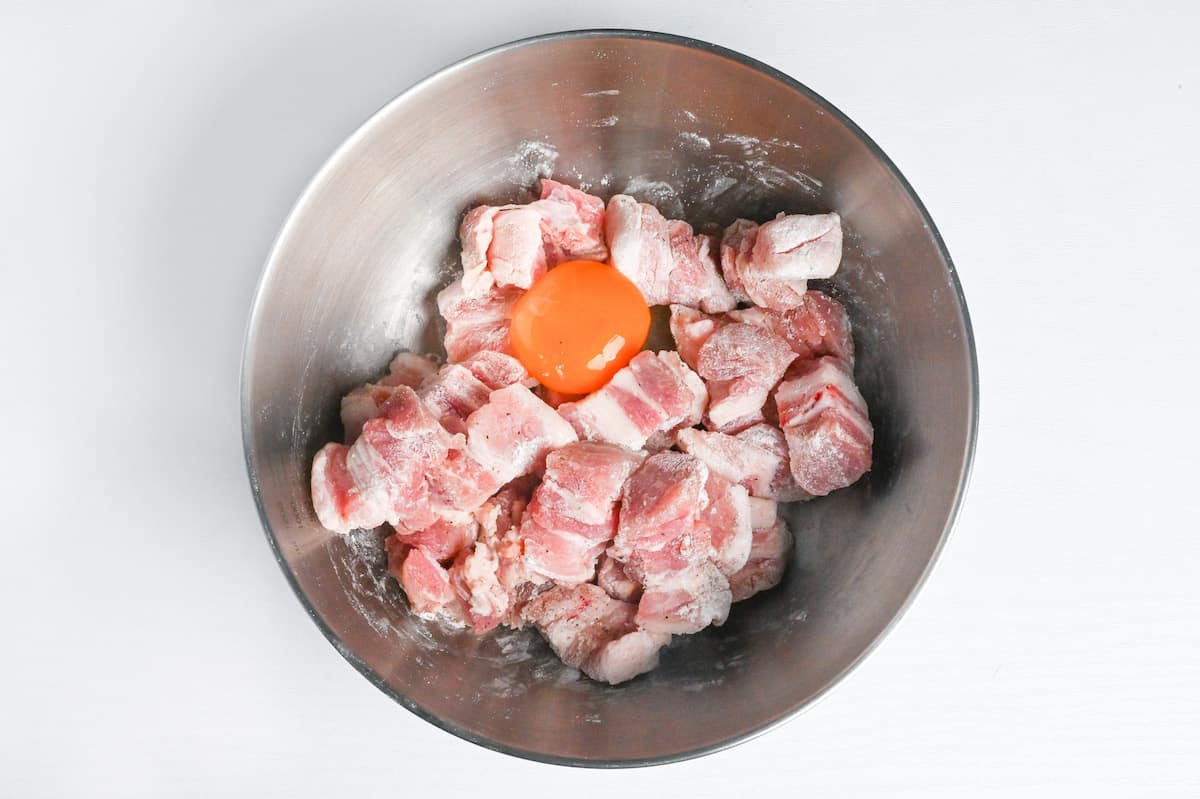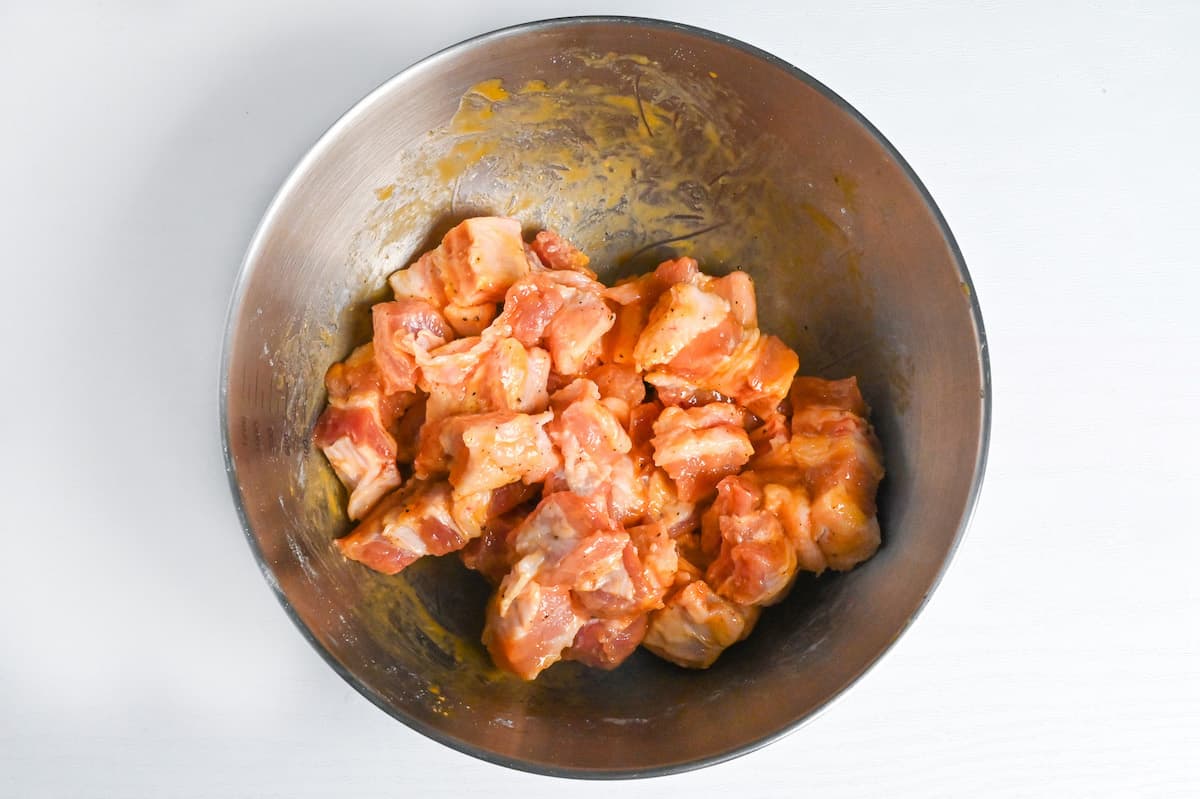 Add the egg yolk and mix to form a batter around the pork.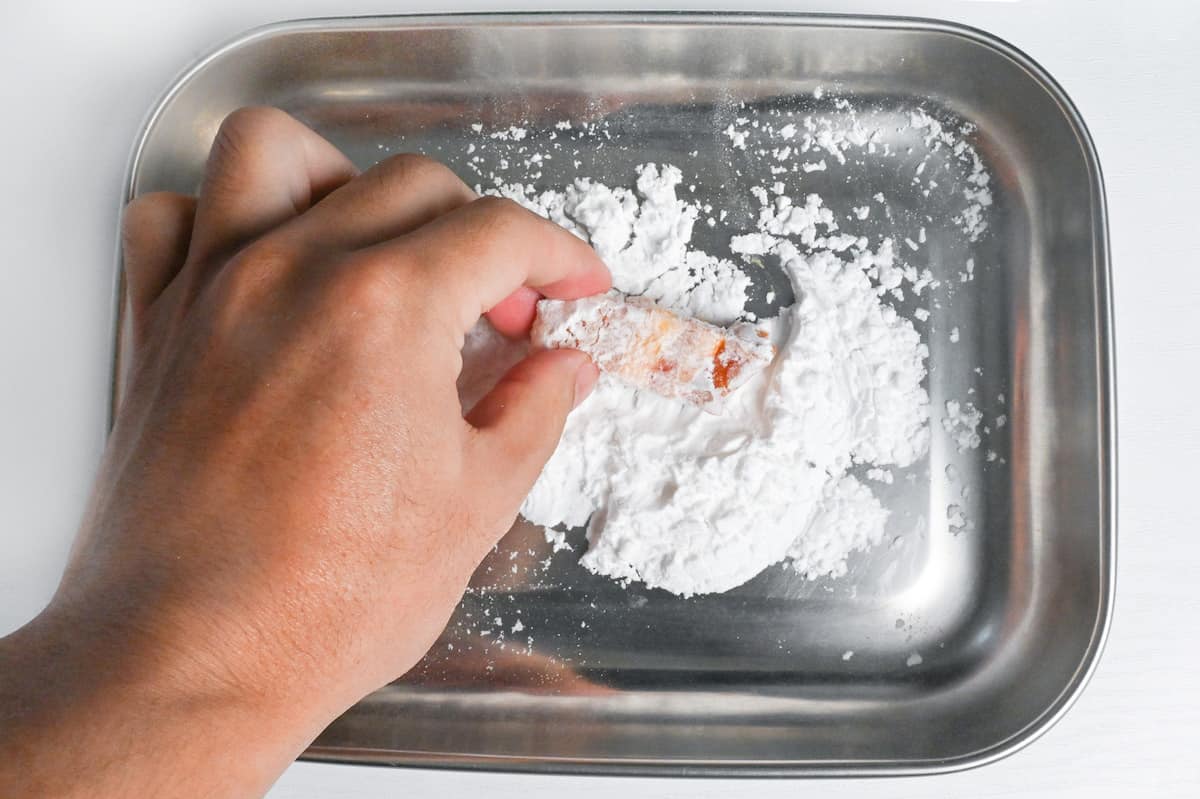 Heat your cooking oil to around 180 °C (356 °F) for frying.
Once the oil is ready, roll each pork piece in cornstarch and drop them straight into the oil.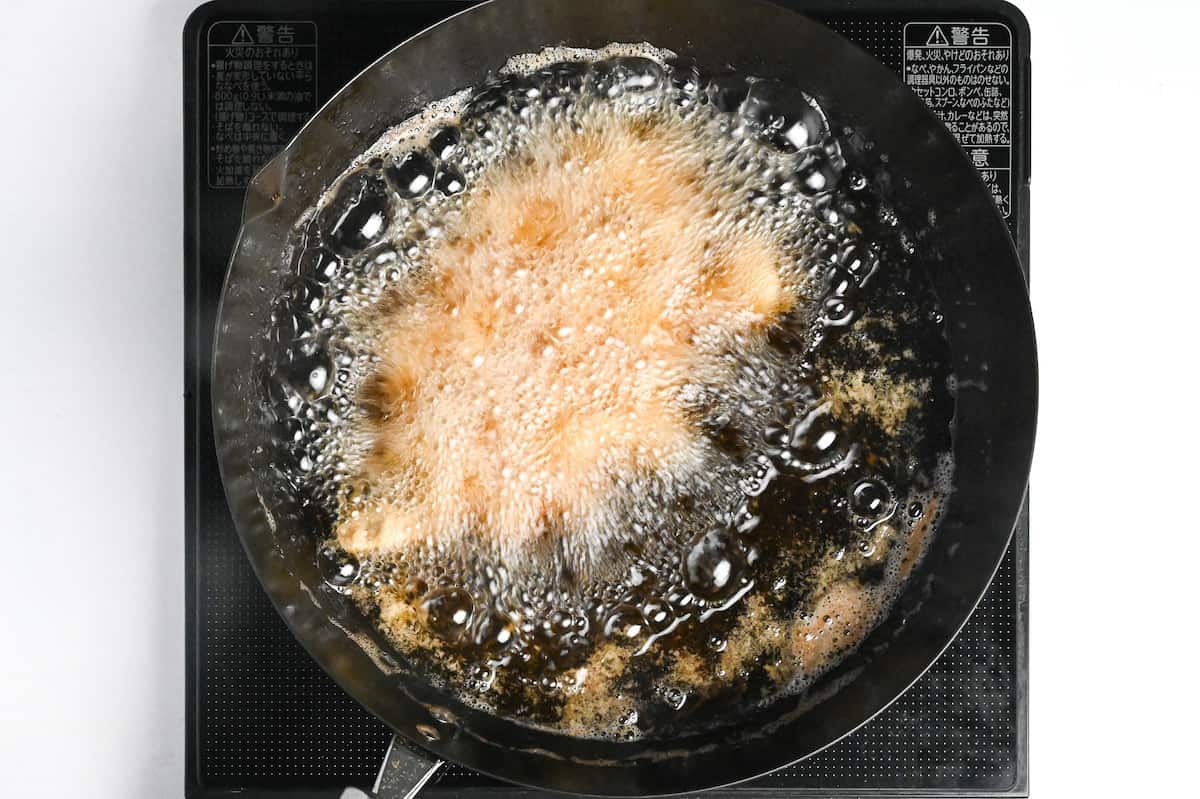 Fry until crispy and cooked through (about 3-4 minutes).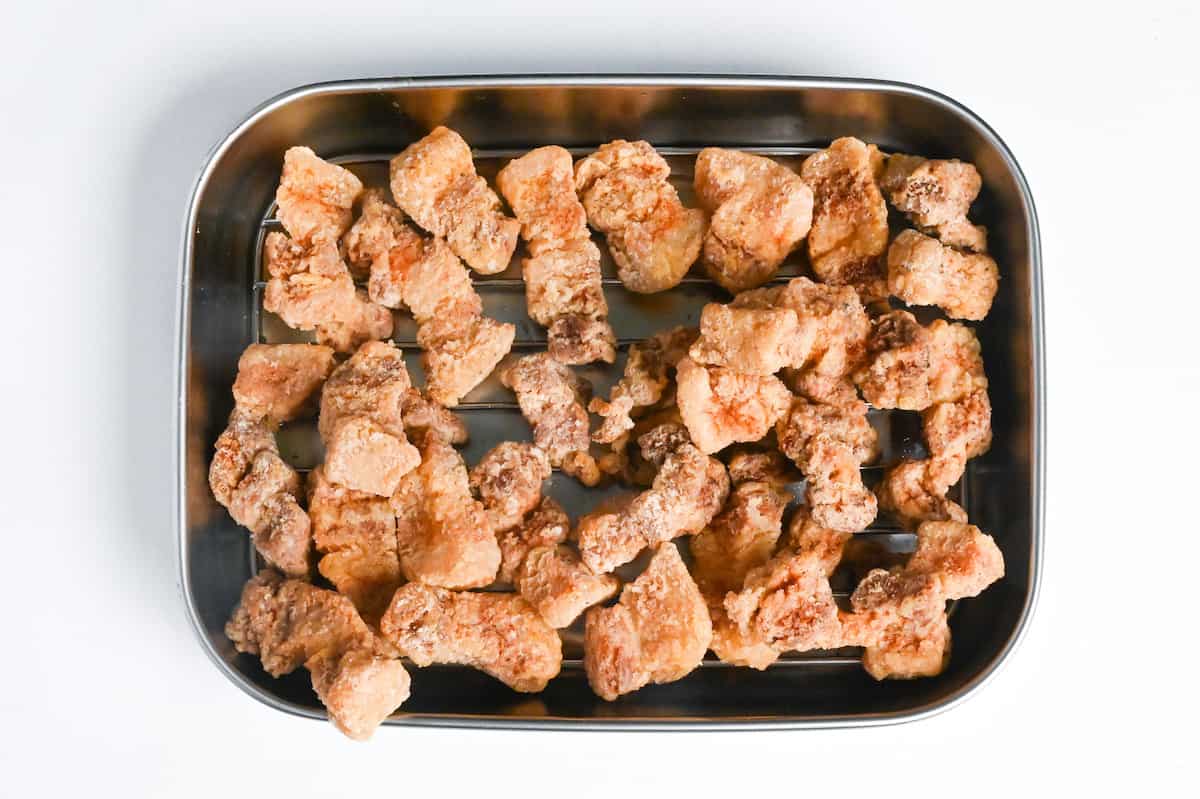 Remove and drain on a wire rack or paper towel.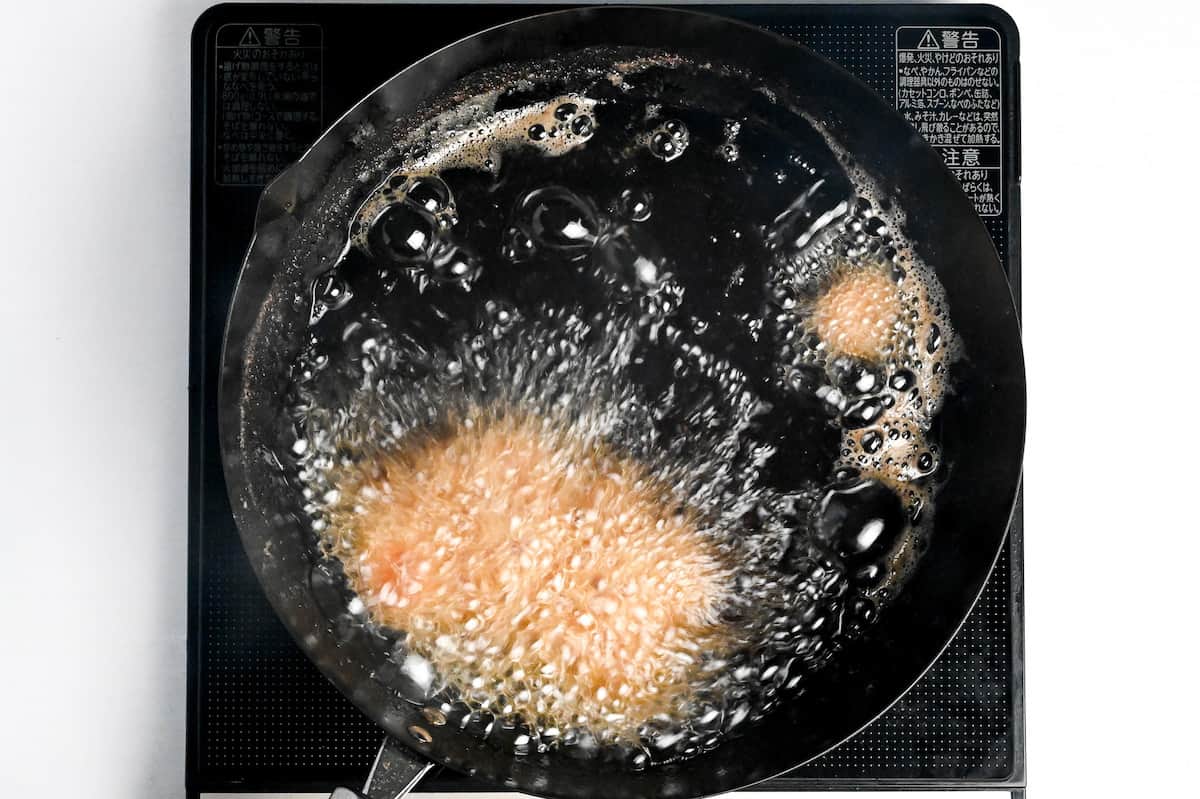 In the same oil, fry roughly cut bitesize pieces of carrots for 1 minute.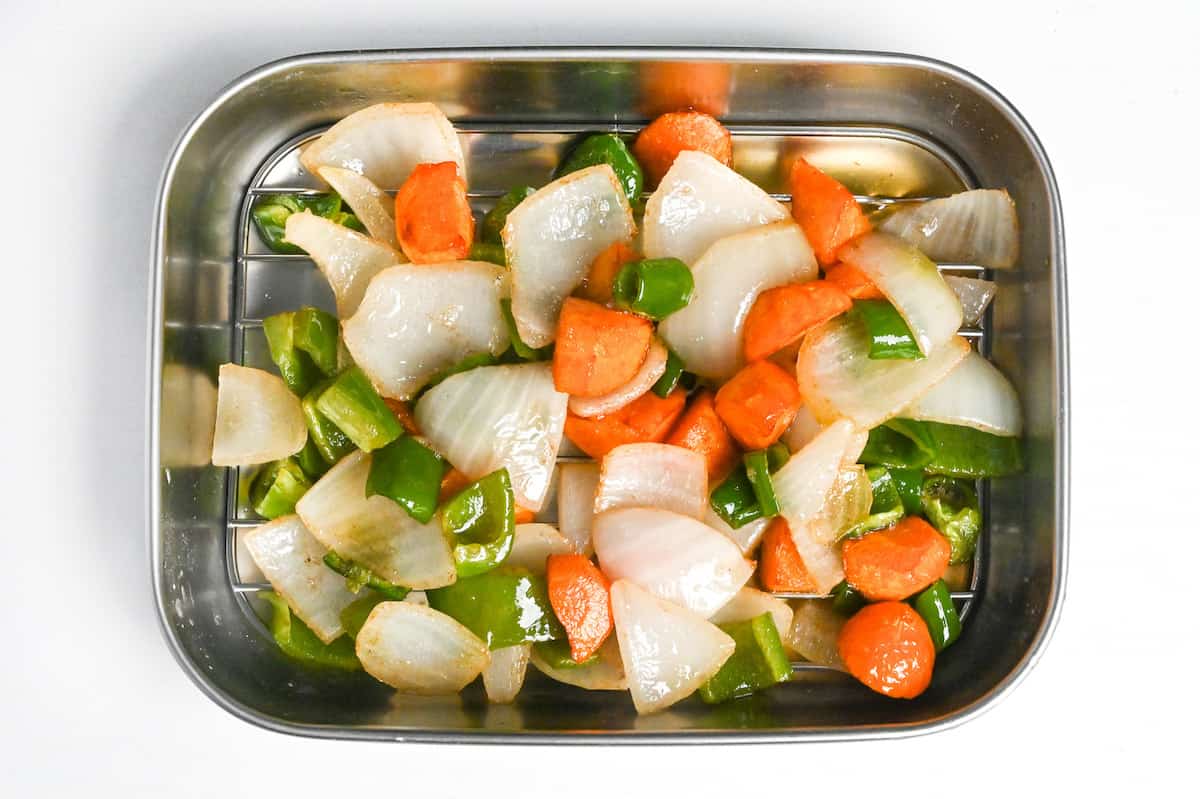 Add onions and bell peppers and fry for an additional minute. Remove and drain.
Why deep-fry the vegetables?
When cooking authentic Subuta, one of the key elements is deep frying everything, not just the pork but also the vegetables.
This speeds up the cooking process and maintains the vibrant color and natural crunchy texture of the vegetables. However, if you're not a fan of deep frying, you can also opt for shallow frying.
Stir-frying is another option, but remember that the texture will differ from the deep-fried or shallow-fried versions.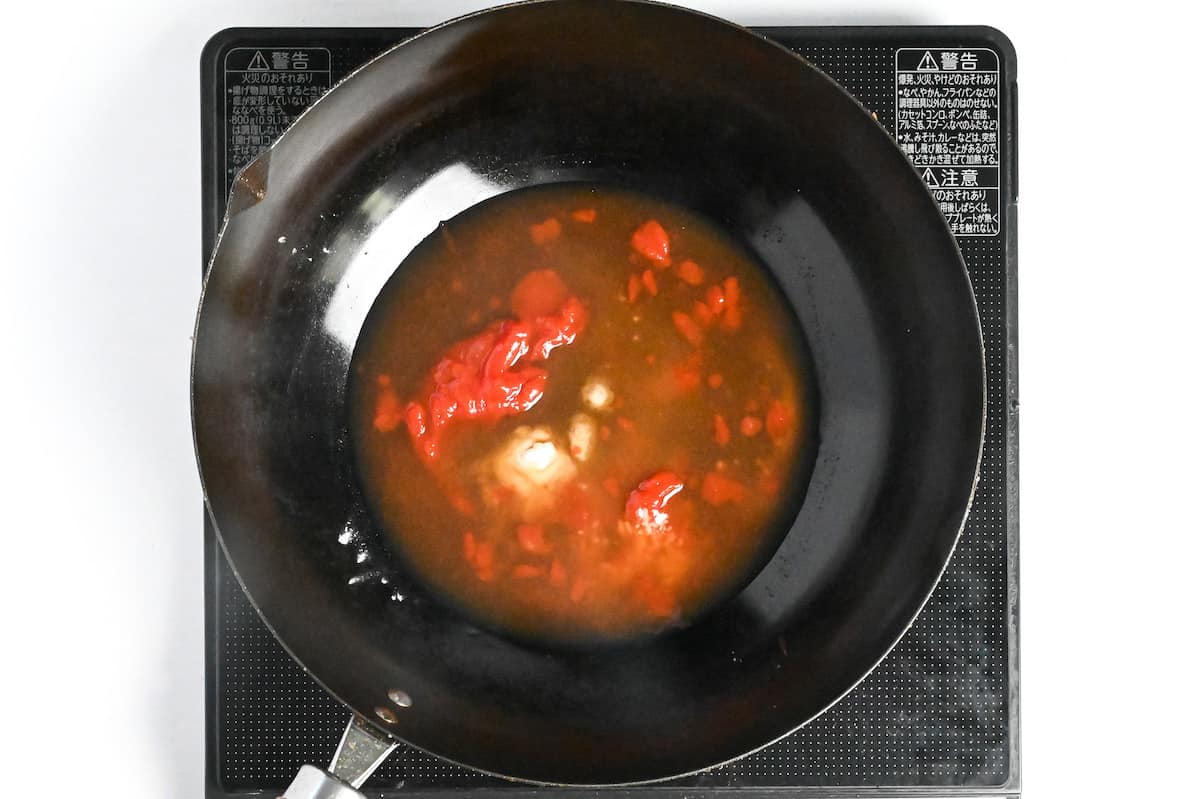 In a cold frying pan, combine all sauce ingredients. Mix well before turning on the heat. Cook on medium heat, stirring continuously until the sauce thickens and becomes glossy.
The Sauce is Highly Customizable
Adjust the sweetness or sourness of the sauce according to your preference. You can also add other vegetables or even chunks of pineapple for added sweetness.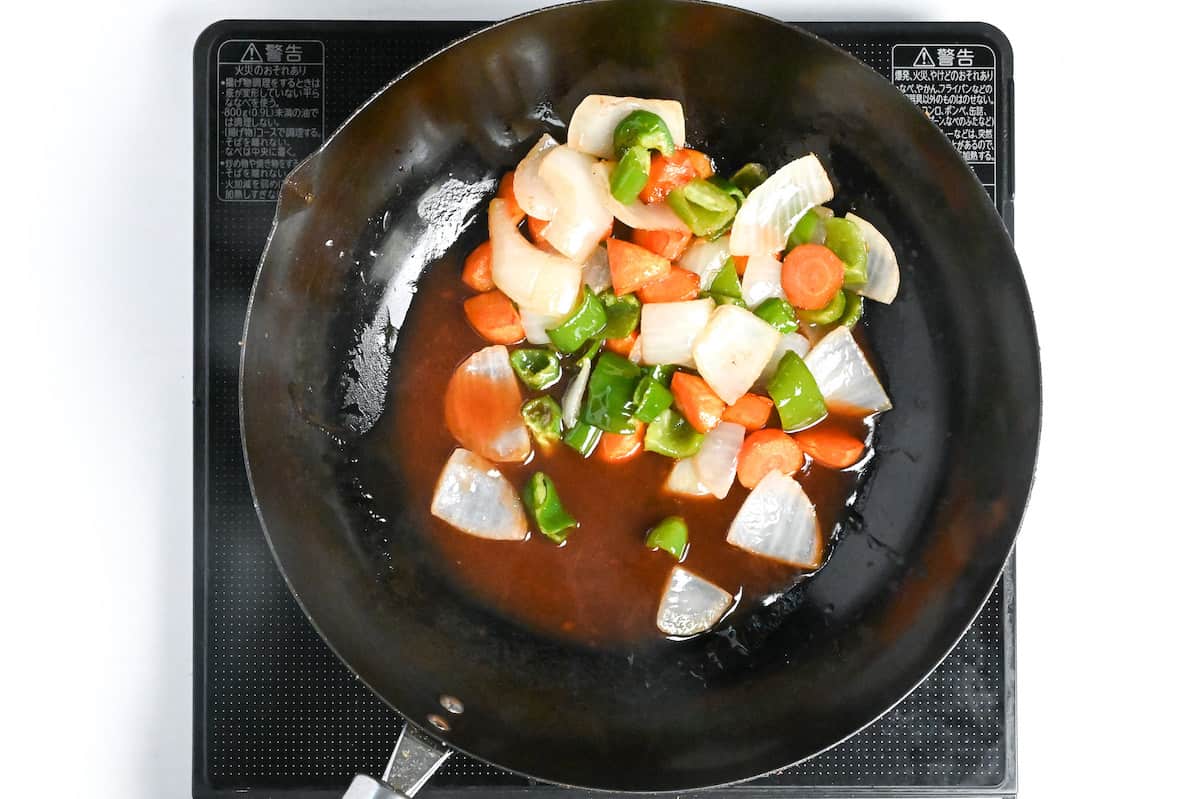 Add the fried vegetables to the sauce and stir.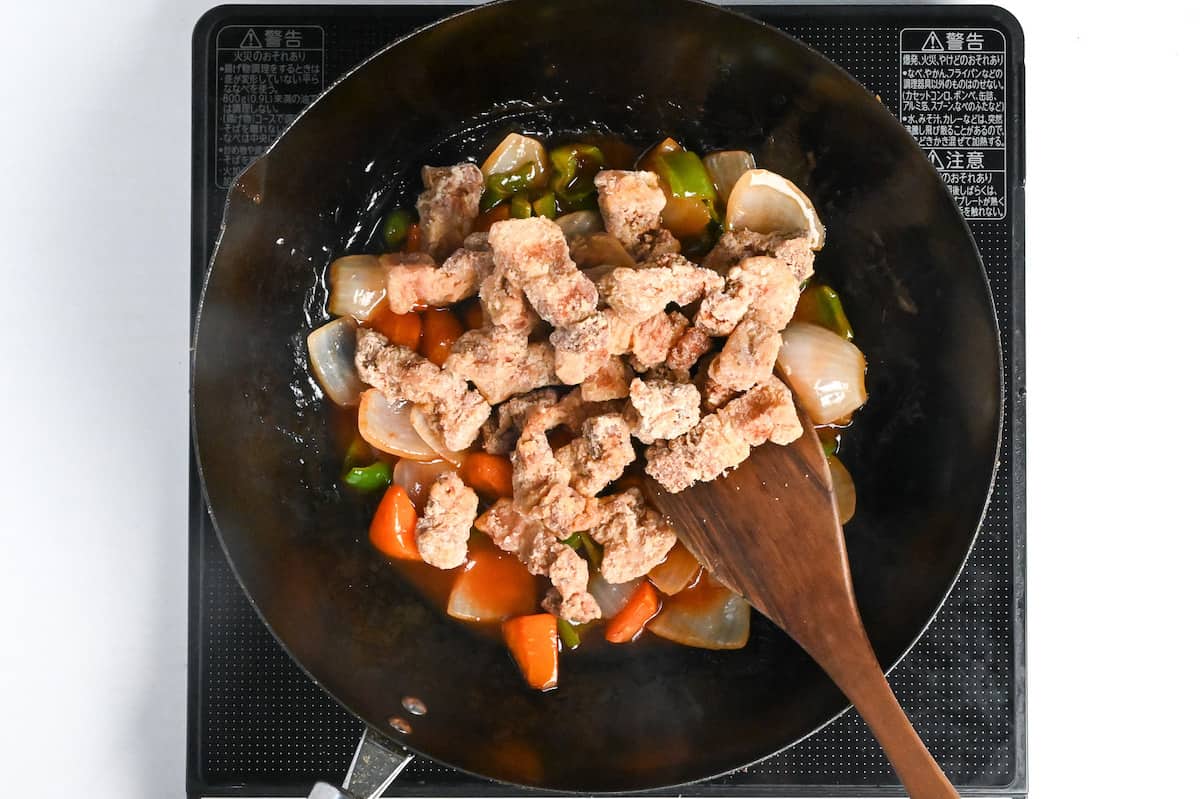 Add the fried pork and mix until everything is coated and the saucy is thick and glossy.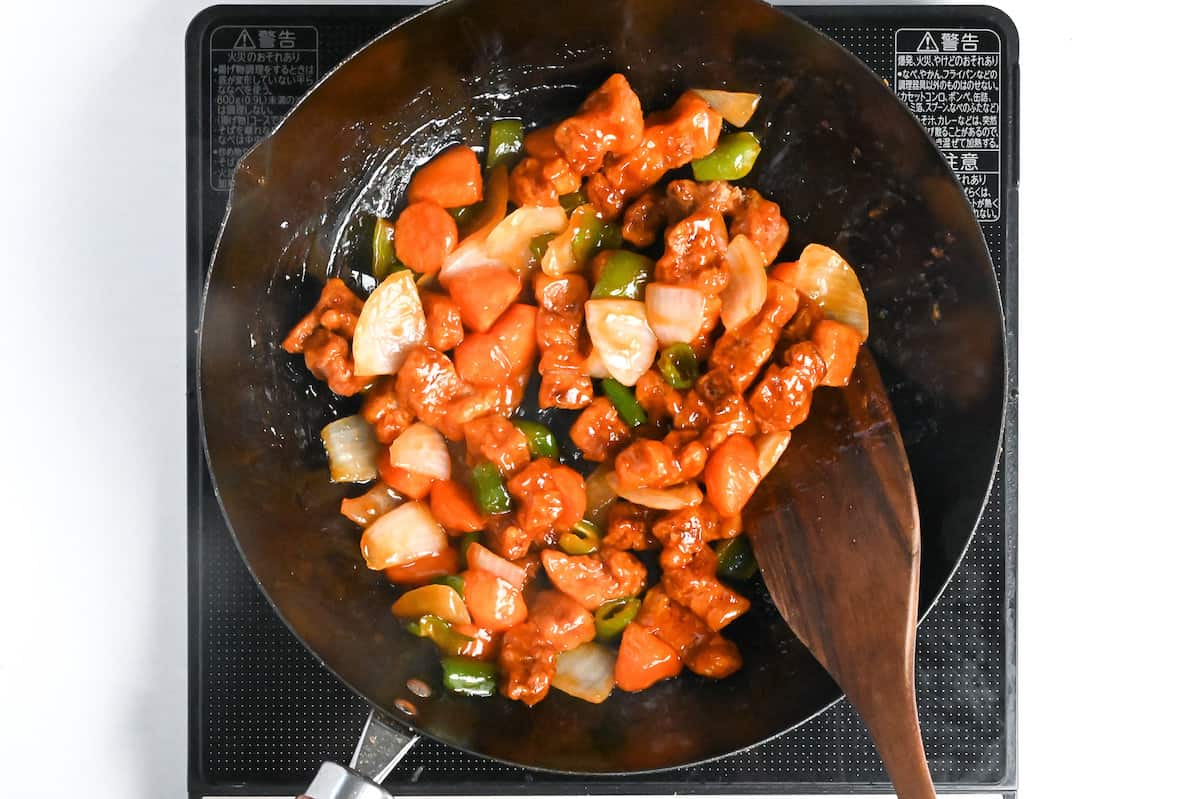 Dish out the sweet and sour pork and sprinkle with white sesame seeds. Subuta goes perfectly with white rice.
Enjoy!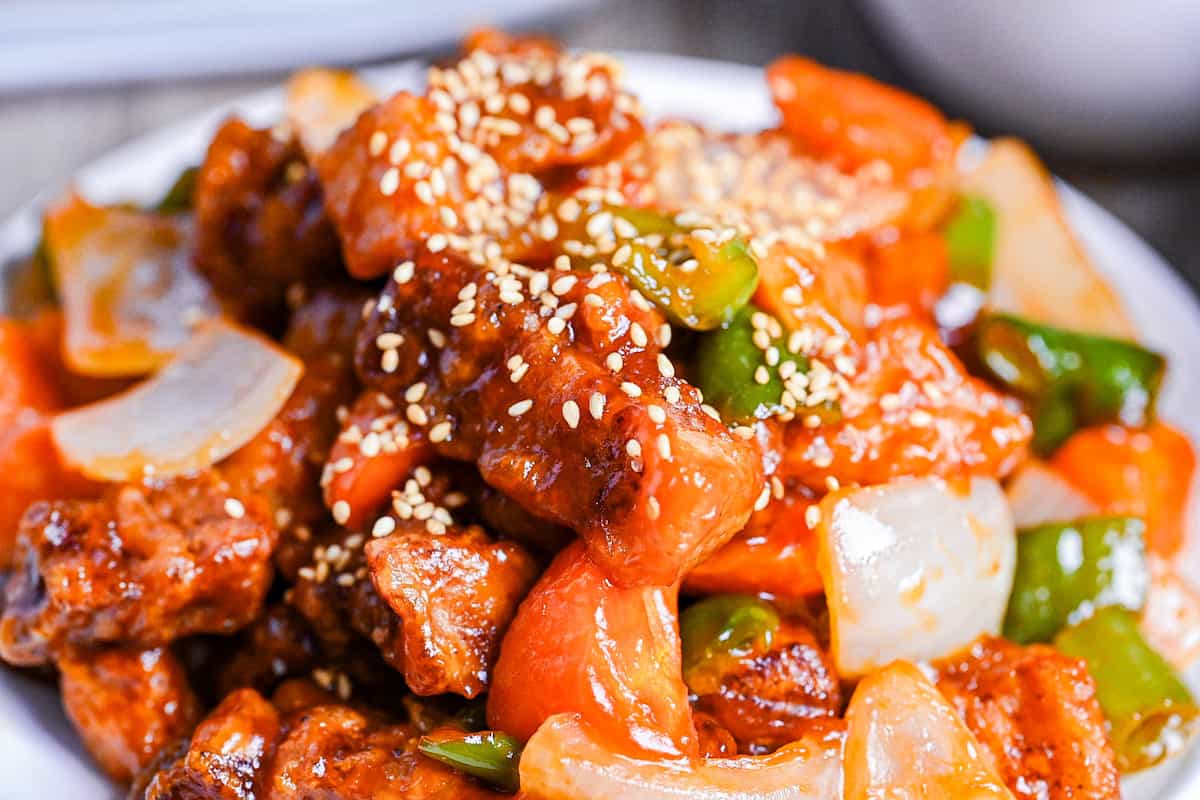 Storage
Subuta should be either refrigerated or frozen once cooled.
When refrigerated, it can be stored for 3 days by wrapping it tightly to avoid gaps, making sure that the heat is completely removed. However, it is advisable to consume it as soon as possible to avoid any possible loss of flavor.
For frozen storage, the food can be kept for about 3 weeks by wrapping each portion in a plastic wrap and placing it in a storage container.
Room temperature – Not recommended.
Refrigerated – Up to 3 days.
Frozen – About 3 weeks.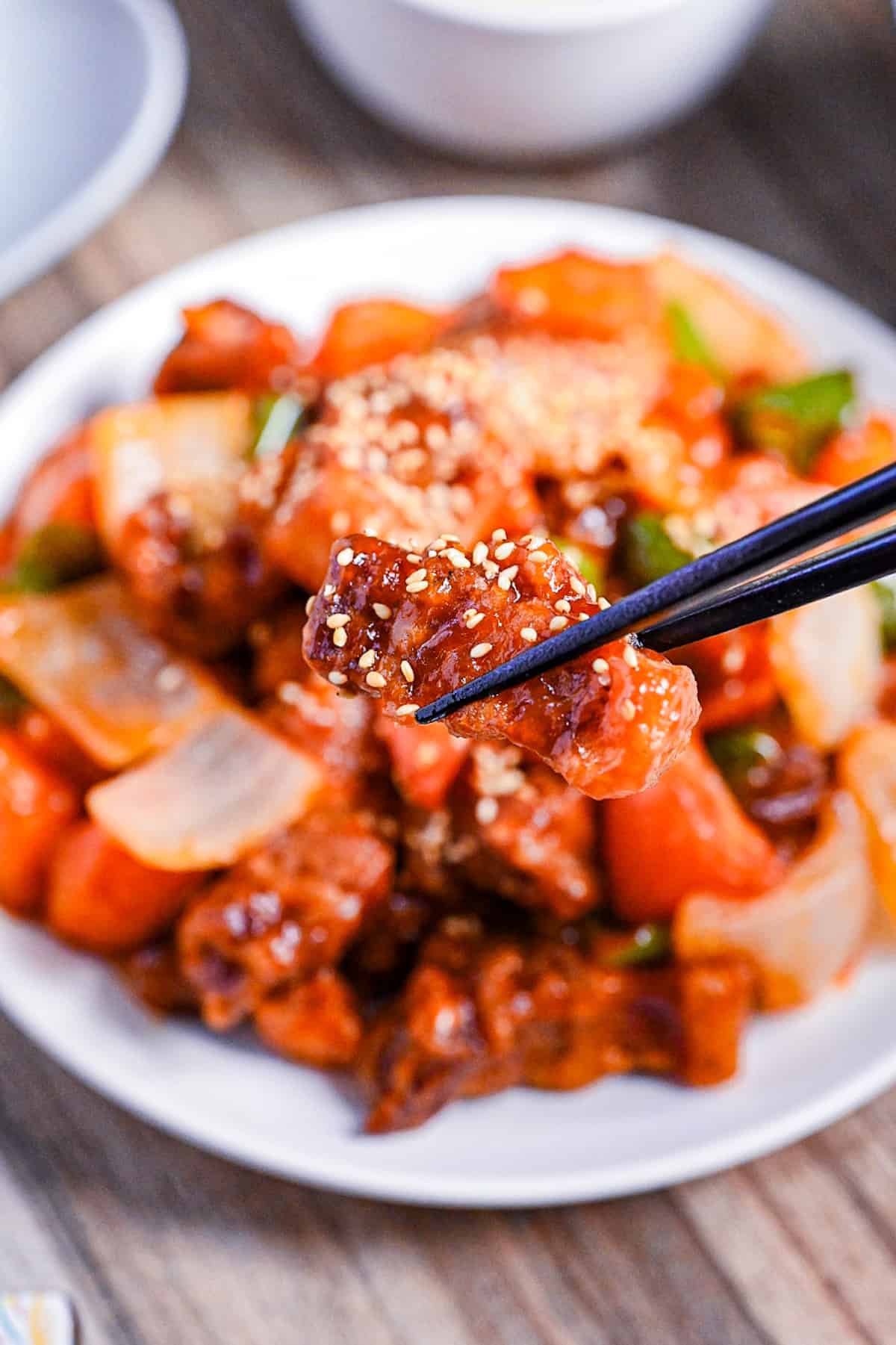 I hope you enjoy this Japanese style sweet and sour recipe! If you try it out, I'd really appreciate it if you could spare a moment to let me know what you thought by giving a review and star rating in the comments below. It's also helpful to share any adjustments you made to the recipe with our other readers. Thank you!
More Chuka Recipes
If you love Chinese-inspired dishes with a Japanese twist, check out some of my other Chuka recipes!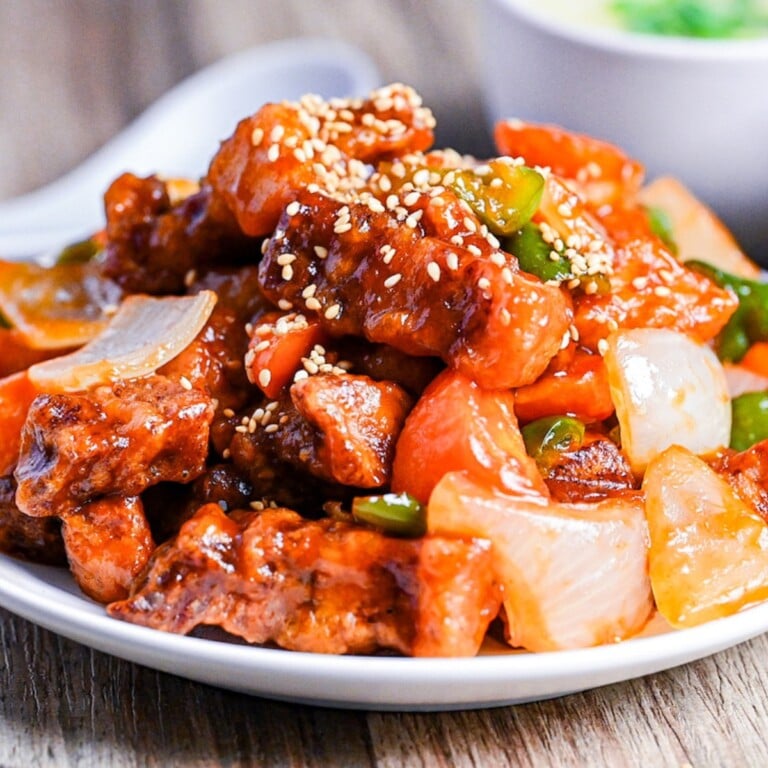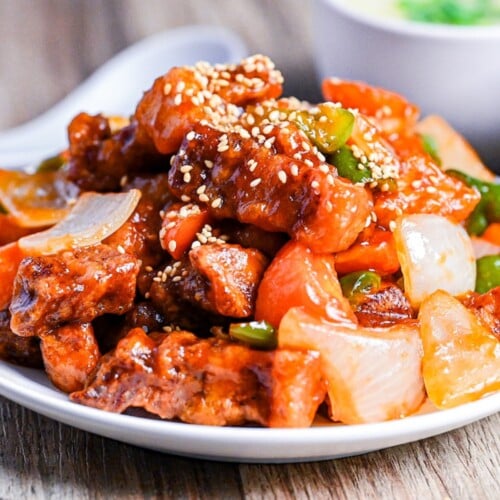 Subuta (Japanese Style Sweet And Sour Pork)
---
How to make Subuta, a delicious Chinese-inspired dish made with crispy pieces of pork belly and crunchy vegetables cooked in a homemade Japanese style sweet and sour sauce.
---
---
---
---
Equipment
Stainless steel cooking tray with wire rack
Ingredients
Vegetables
100

g

green bell pepper(s)

cubed

100

g

yellow onion(s)

thick slices

75

g

carrot(s)

peeled and roughly cut
Pork
200

g

pork belly

1

pinch

salt

1

pinch

black pepper

1

tbsp

all-purpose flour

1

egg yolk

2

tbsp

cornstarch

cooking oil

for frying
Sauce
2

tbsp

ketchup

2

tbsp

rice vinegar

½

tbsp

sake

2

tbsp

white sugar

3

tbsp

water

1

tsp

soy sauce

½

tsp

Chinese-style chicken bouillon powder

½

tsp

cornstarch

½

tsp

white sesame seeds

to garnish
Instructions
Start by heating your

cooking oil

for deep or shallow frying to around

180

°C

(

356

°F

). While you wait for it to heat up cut

100 g green bell pepper(s)

,

100 g yellow onion(s)

and

75 g carrot(s)

into rough bitesize pieces and set aside for later.

Cut

200 g pork belly

into rough cubes and place in a bowl along with

1 pinch salt

,

1 pinch black pepper

and

1 tbsp all-purpose flour

. Mix until all of the pork pieces are evenly coated.

Next, add

1 egg yolk

to the bowl and mix thoroughly until evenly coated once more.

Once the oil is fully heated, sprinkle

2 tbsp cornstarch

onto a plate. Roll each piece of pork in the cornstarch and place it straight into the oil.

Fry the pork until crispy and cooked through. This should take about 3-4 mins depending on the size of the pieces.

Once the pork is cooked and crispy, transfer to a wire rack or kitchen paper to drain the excess oil.

Add the carrots to the oil and set a timer for 1 minute, then add the onion and bell pepper and deep-fry for 1 more minute.

Transfer the vegetables to a wire rack to drain.

Take a new pan and while it's still cold, add

2 tbsp ketchup

,

2 tbsp rice vinegar

,

½ tbsp sake

,

2 tbsp white sugar

,

3 tbsp water

,

1 tsp soy sauce

,

½ tsp Chinese-style chicken bouillon powder

and

½ tsp cornstarch

. Mix it well before turning on the heat.

Heat on medium and continue to mix the sauce. After a few minutes it should start to become thick and glossy. Add the vegetables and fry them together for a minute or so, allowing the sauce to thicken a little more.

Finally, add the pork and mix thoroughly, ensuring everything is coated in sweet and sour sauce.

Turn off the heat and dish up. Sprinkle with

½ tsp white sesame seeds

.