No rice cooker? No problem! With this fool-proof recipe, you can make delicious, fluffy, and sticky Japanese-style rice on the stove perfectly every time!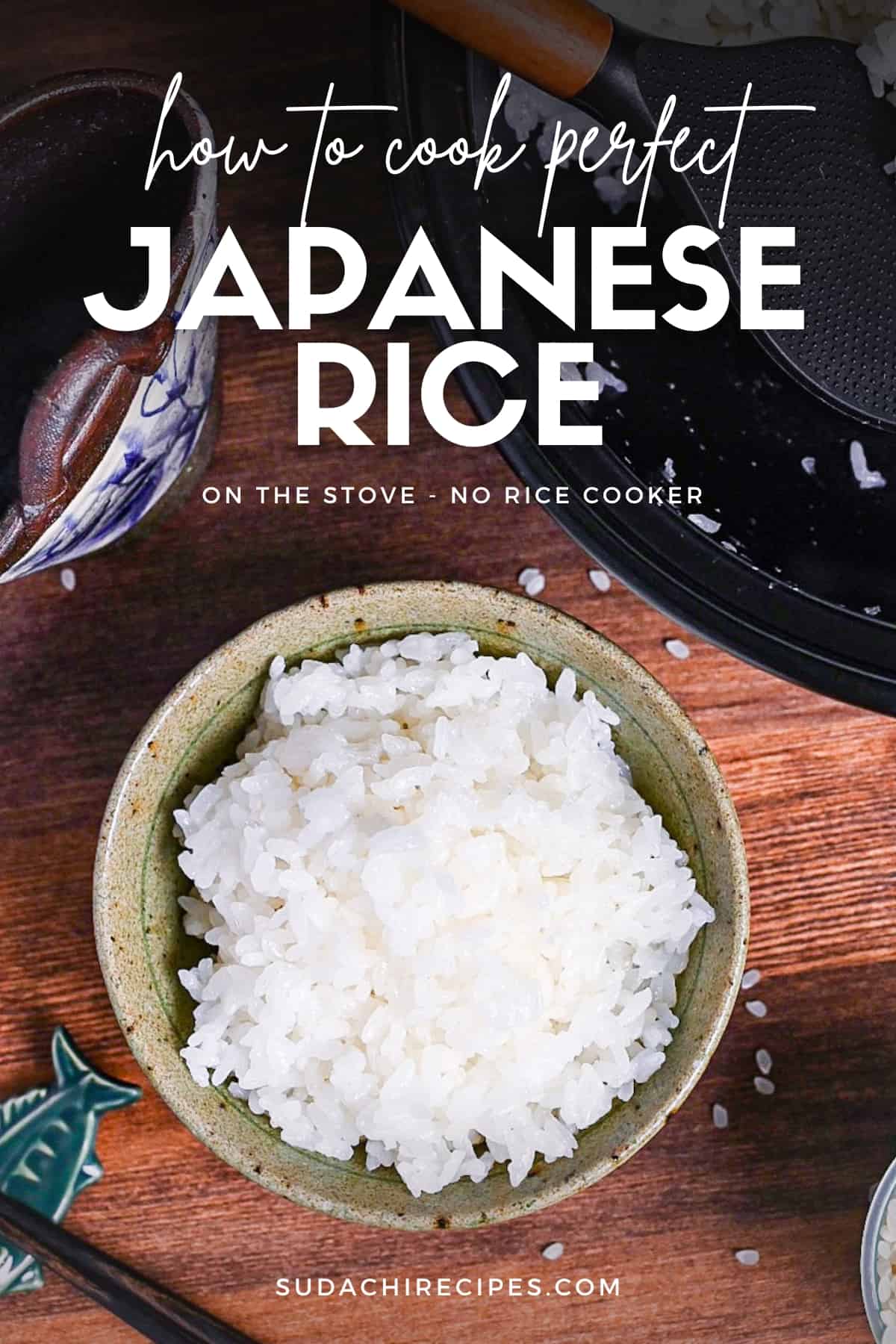 Disclaimer: This post contains Amazon affiliate links. Sudachi earns a small percentage from qualifying purchases at no extra cost to you. See disclaimer for more info.
What is Japanese-Style Rice?
Did you know that there are over 1,000 different types of rice worldwide? These varieties can be categorized into Japonica rice, Indica rice, and Javanica rice. Japonica rice, also known as the Japanese type, is the most commonly produced rice in Japan with its unique rounded, oval shape. It's often labeled "sushi rice" outside of Japan.
One unique characteristic of Japanese rice is its stickiness, which allows it to maintain its shape when molded, making it perfect for creating sushi and onigiri (rice balls). However, the texture of this rice is also firm and slightly sticky, making it a versatile option for pairing with a variety of Japanese dishes.
To clarify, this article does not discuss how to cook rice produced exclusively in Japan. Instead, it refers specifically to Japanese-style short-grain white rice. It's important to note that this type of rice can also be grown in other countries, such as the United States.
The Reason Why You Need Japanese Rice for Your Japanese Cooking
There are many types of rice, and different cuisines use different kinds of rice.
India – Long grain Basmati rice
Italy – Short grain Arborio rice (for risotto)
Thailand – Long grain Jasmine rice for savory, short grain sticky rice for sweets
Mexico – Medium-long grain Sinaloa
Japan – Short grain rice
These are just a few random examples, but the type of rice usually perfectly compliments the cuisine!
Is Japanese rice necessary when cooking Japanese food? This is a common question. While some dishes can be made with both Indica or Japonica rice (such as curry rice or chahan), most Japanese dishes require Japanese rice to maintain authenticity.
For example, sushi and onigiri (rice balls) need sticky Japanese rice to hold their shape. Dishes served on top of rice, like donburi, or as a side dish may not work well with non-Japanese rice as it lacks the needed stickiness or the particular sweetness.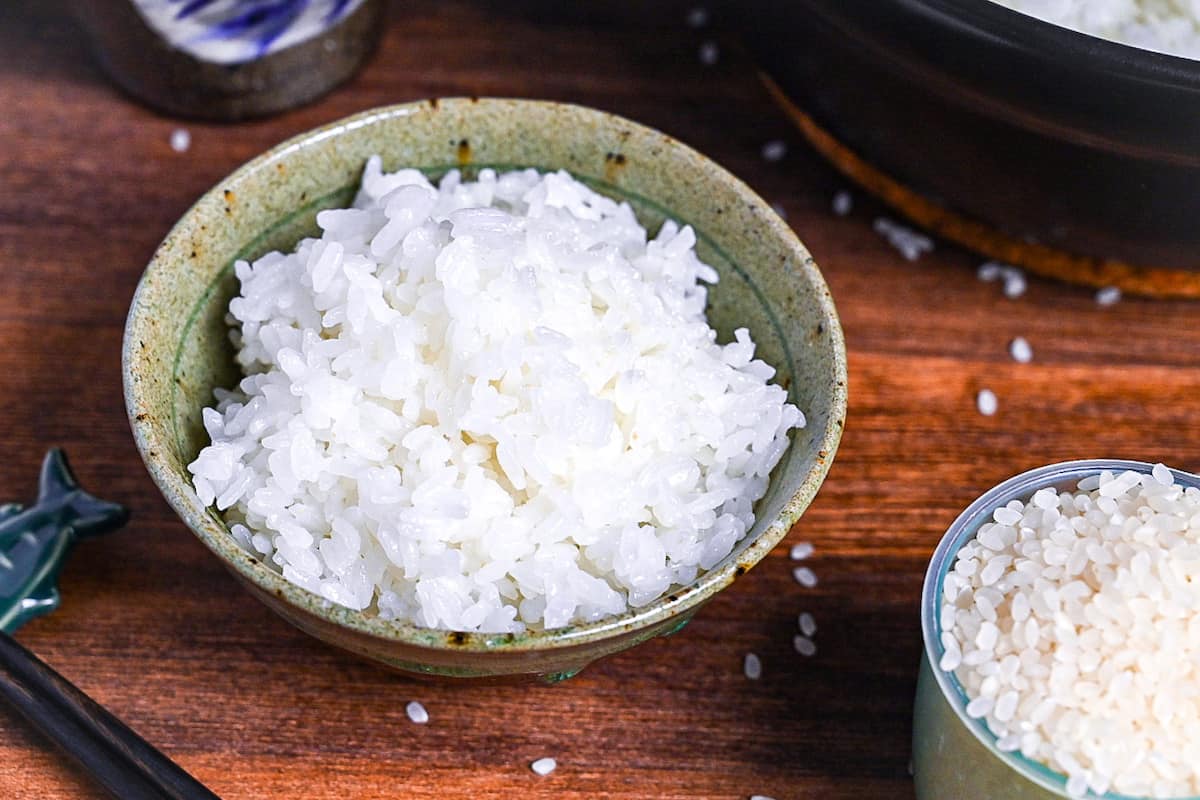 Japanese Rice Available In the US
Japanese rice refers to a style of rice grown in the Japanese tradition rather than rice specifically imported from Japan. Japanese-style rice is produced in places like California too.
Suppose you're interested in purchasing the U.S.-grown Japanese rice, several online options are available. Here are a few examples.
Koshihikari (コシヒカリ): A variety of Japanese rice that was created in 1956 and is sweet, sticky, and has an excellent luster and aroma. Since 1979, it has been produced throughout Japan, except Hokkaido and Okinawa, and continues to be the top rice variety produced, making it the most mainstream rice variety in Japan.
Step-by-Step Process
In Japan, rice cookers are must-have household appliances with valuable features like timers and warming settings. Many people rely on them for perfectly cooked rice, but I know this is not the case outside Japan or Asia.
Here is a step-by-step process that includes the scientific aspects and current best practices related to Japanese rice cooking. Once you get the gist, it is very easy!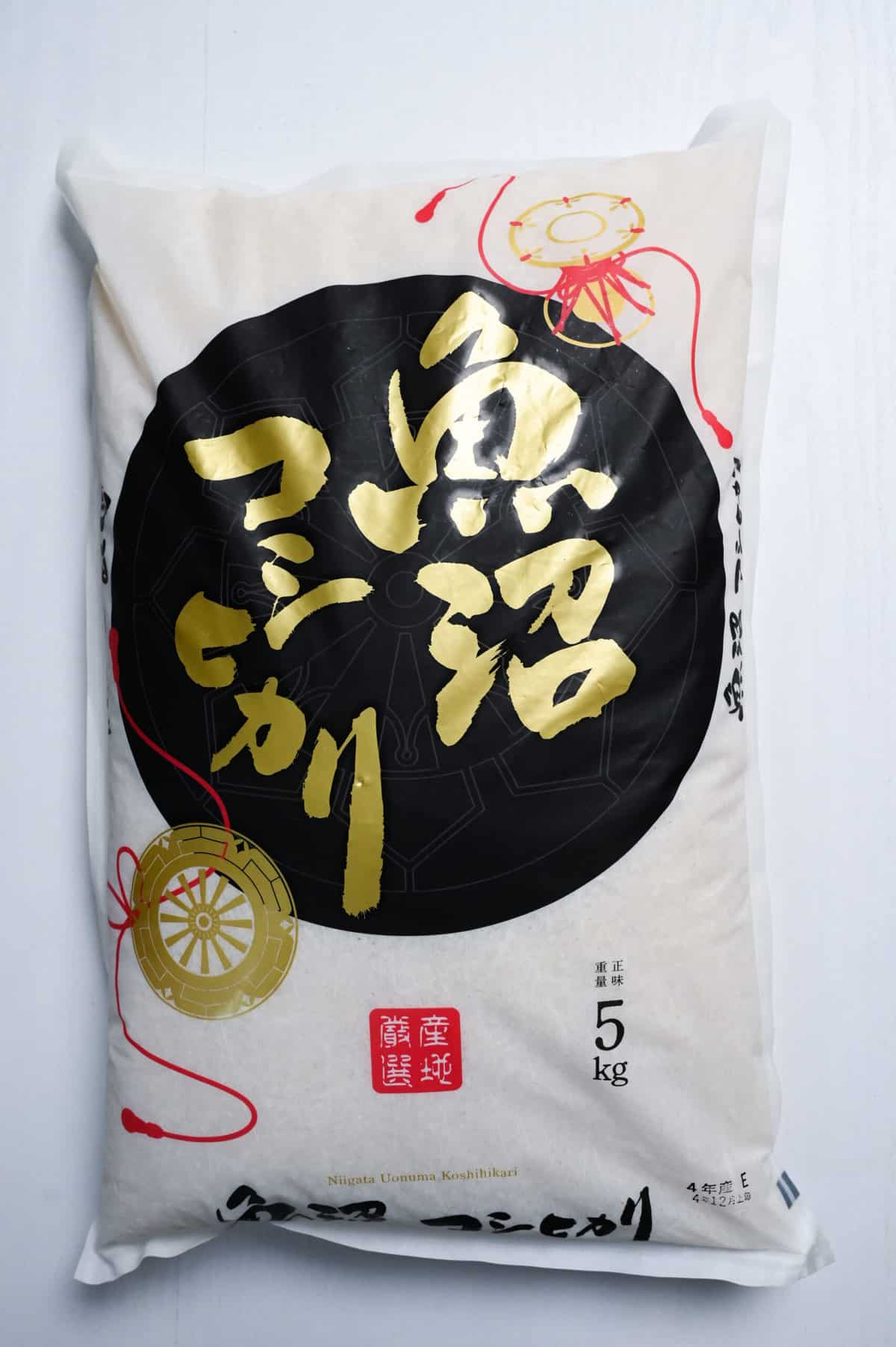 Gelatinization (α化, 糊化): The process of gelatinization involves heating starch with water, causing the starch molecules to lose their regularity and become glue-like, also known as alpha. The soft and glutinous texture of freshly cooked Japanese rice is due to the starch being in a glutinous state.
Measuring rice by weight instead of volume is important, with grams being the most accurate method. Weighing is directly related to the final firmness, making it a crucial step in preparation.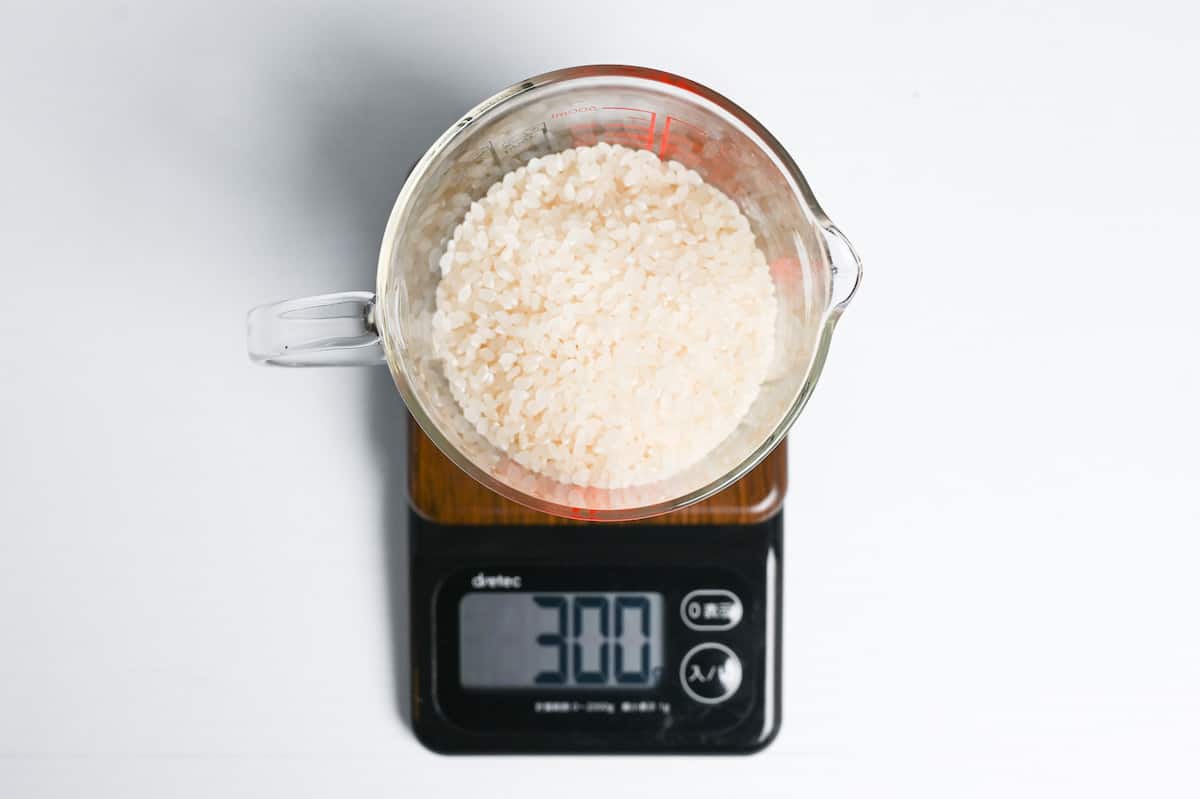 To prepare rice, it is essential to wash it first to remove dirt and excess bran. When rice is dry, it absorbs water quickly, which means that the first water it comes into contact with is the water it absorbs the most. Once water is added, the bran smell becomes more prominent.
To avoid this pungent bran smell, it is recommended to place the rice in a sieve, pour water over it and then drain immediately. Additionally, using good-quality water is preferable for this process and some professionals even use bottled water for this.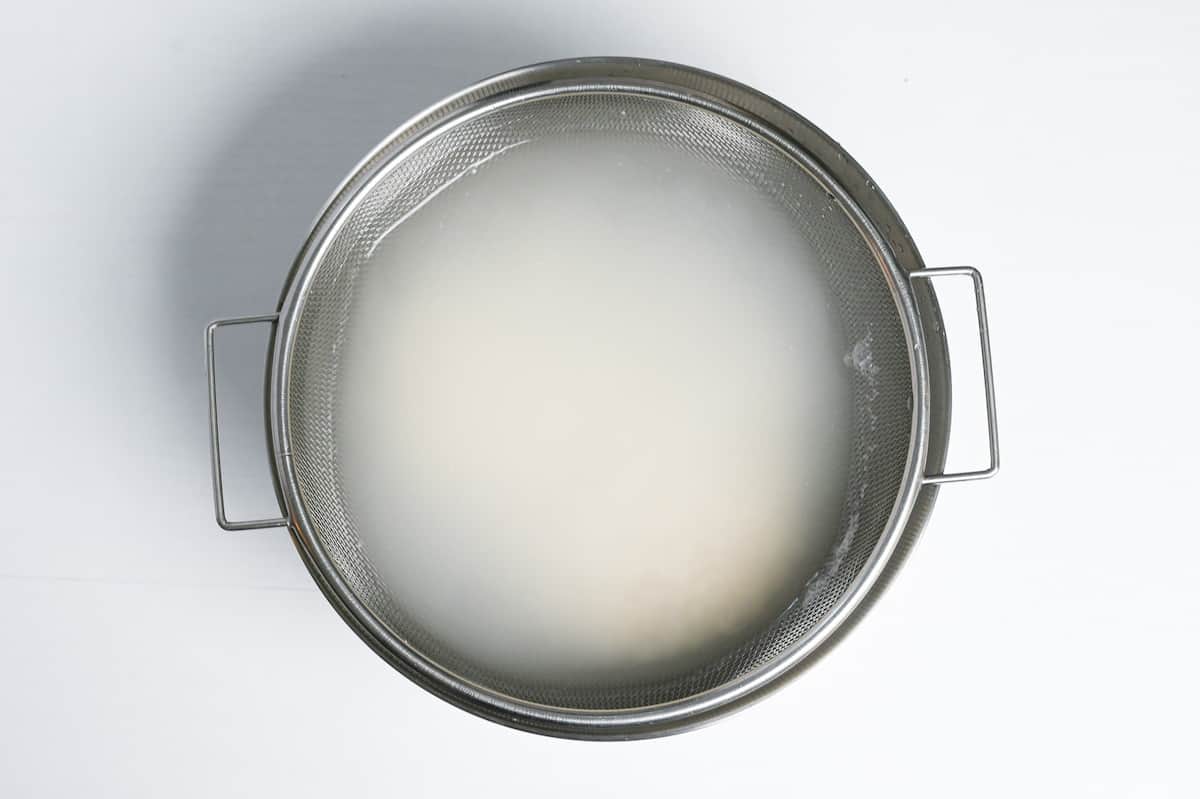 To prevent cracks, it's recommended to mix the rice gently using fingers bent like a cat's paw. It was believed that washing rice vigorously was the best practice in the past, but with advancements in rice milling technology, rice can break if rubbed too hard.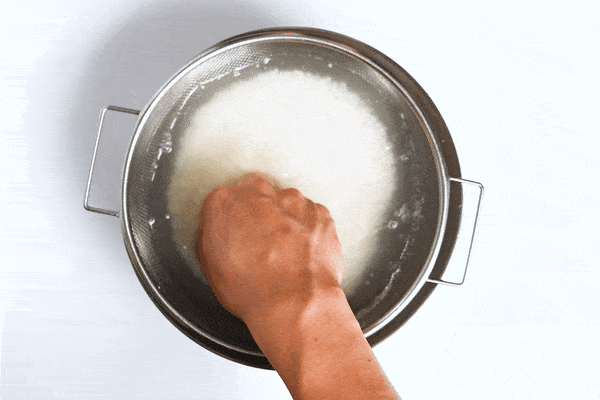 It's important not to do this too strongly or for too long, as the rice is easily damaged. Drain and repeat five times each time the water becomes cloudy.
Let the rice absorb water
Transfer the rice to a bowl and add fresh water until all of the rice is submerged. Cover the bowl and leave it to soak for 30 minutes to 2 hours (more details below).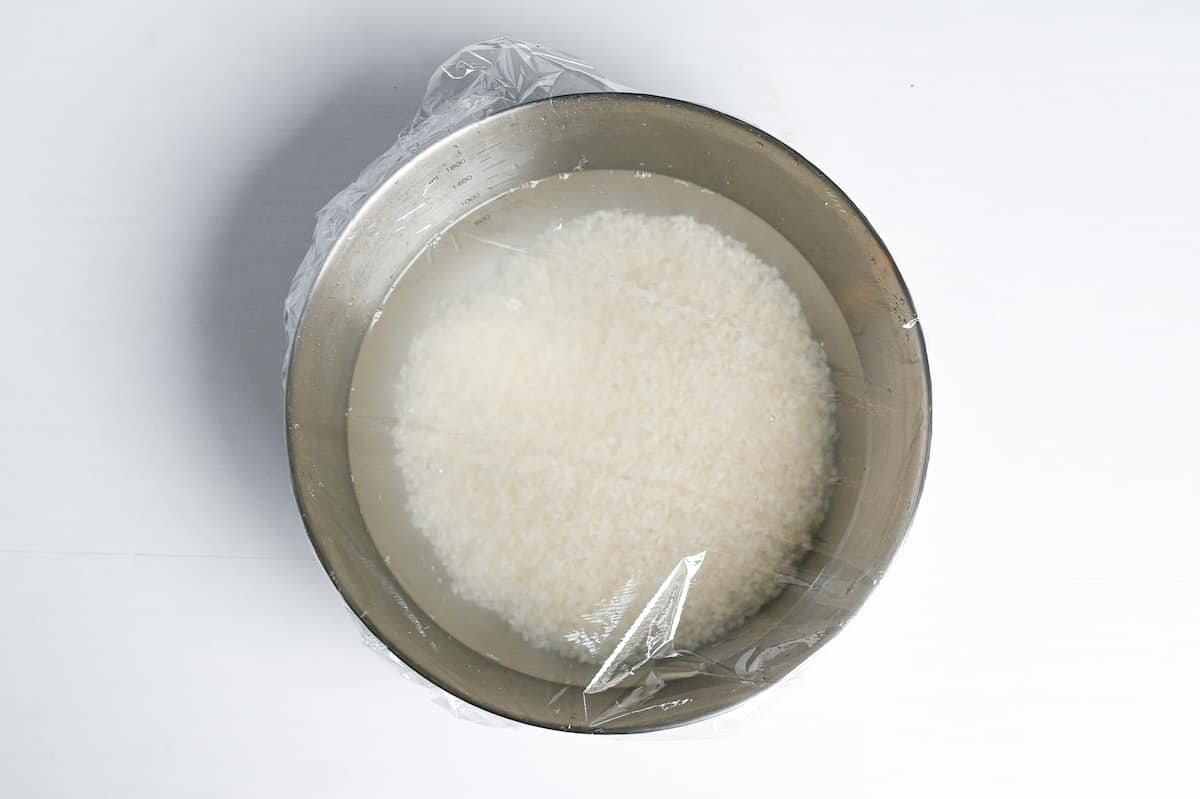 Japanese rice gets its fluffiness, stickiness, and delicious taste from its abundant starch content. Adding enough water and heat transforms this starch into a mouth-watering flavor. The water helps the starch to penetrate deep into the rice, causing it to gelatinize and become fluffy and glutinous.
The rice looks and feels completely different before and after soaking, and it's essential to soak it before cooking to ensure that the beta-starch transforms evenly into alpha-starch.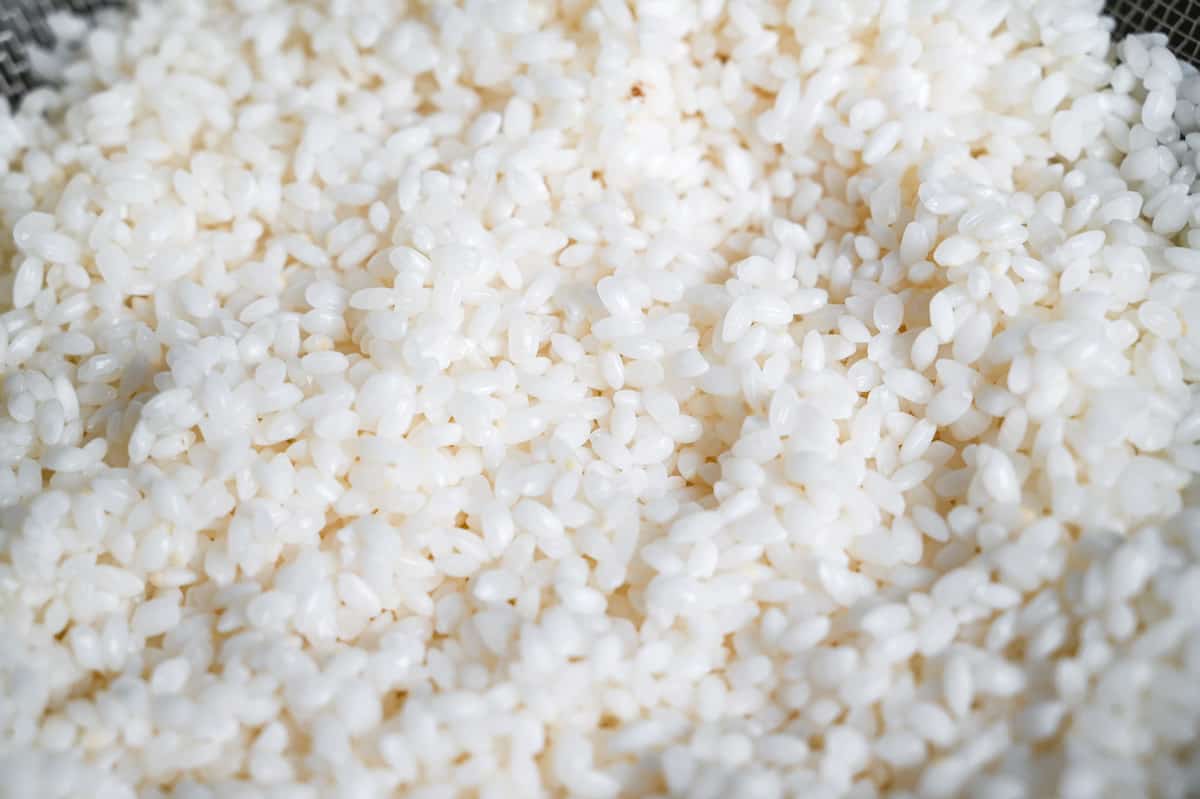 Water absorption time increases with higher water temperatures, so adjusting the soaking time accordingly is important based on the season and your location. When I took this picture, the room temperature was 20-25 degrees Celsius.
If you live in a colder area during the winter, water absorption may take up to 2 hours. Also, if you live in a hot area, you can put the water in the refrigerator while the rice absorbs the water to maintain a low temperature.
If you start cooking rice immediately after soaking, you cannot accurately measure the amount of water, so pour the rice into a sieve and place it over an empty bowl to dry for 5-10 minutes before cooking.
Add the rice to the pot and pour in 200ml (6.75 floz) of cold water for every 150g (5.3oz) of rice based on the weight before soaking (there's no need to weigh the rice after it's been soaked).
One Japanese rice cup holds 150g of uncooked rice and 175 ml of water, so the correct ratio is 1.15 cups of water for every 1 cup of rice.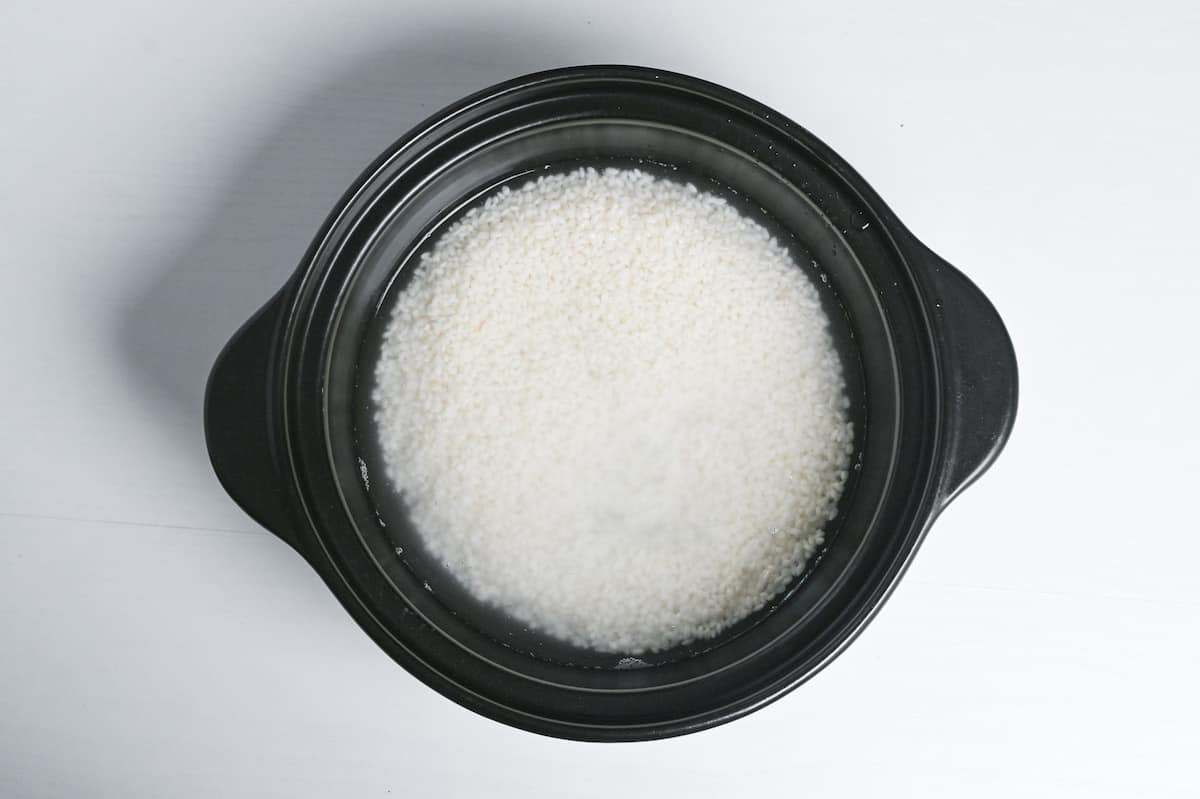 For the best taste, it is recommended to use soft water when cooking rice. Hard water contains minerals that can stick to the surface of the rice and make it difficult to absorb water, resulting in dry rice.
It's also important that the water is cold so that the temperature of the rice can rise gradually and cook evenly to its core. Starting with hot water will cook the outside too quickly, leaving you with rice that is mushy on the outside and hard in the middle.
Shake the pot to flatten the rice into an even layer, place a lid on the pot and transfer it to the stove. Heat on medium and bring to a boil.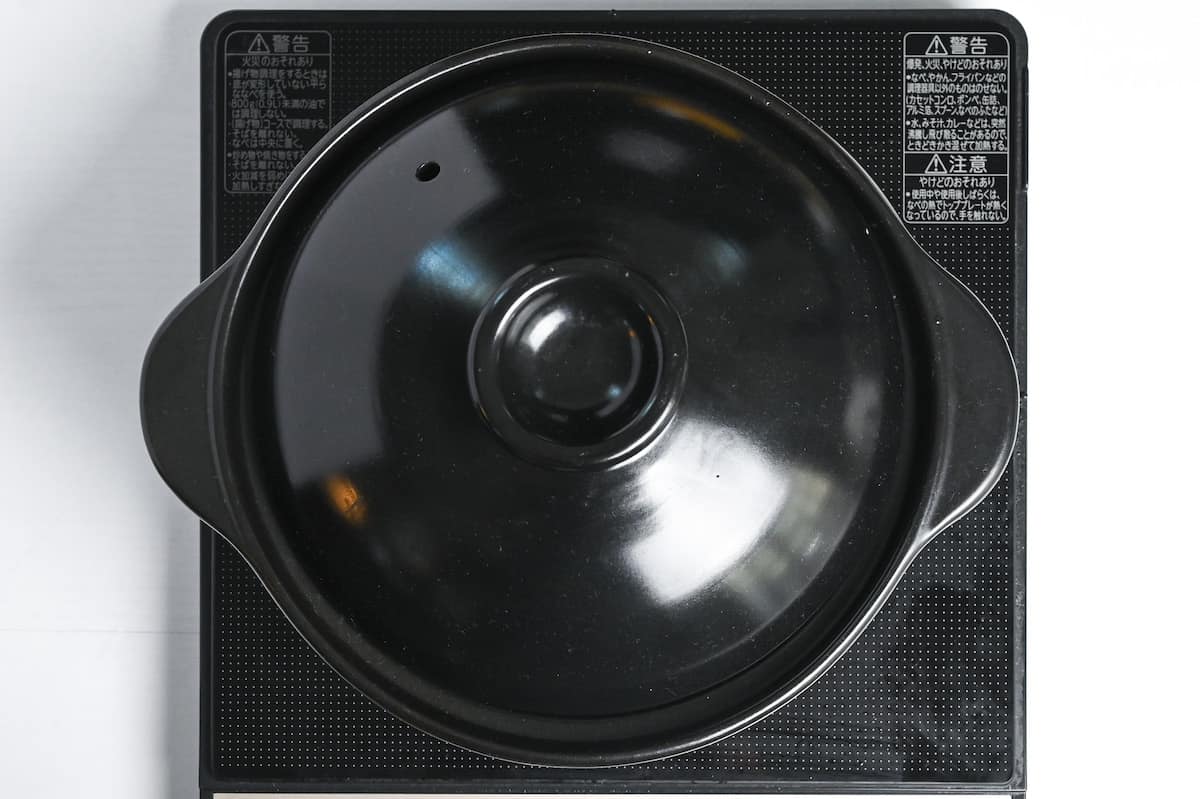 From this point, do not remove the lid as the steam will escape and mess up the ratio of water to rice.
Stay near the pot and listen out for the sound of bubbling. The water should be bubbling continuously before moving onto the next step.
Once bubbling, set a timer for 30 seconds.
After 30 seconds, reduce the heat to medium-low and set a timer for 2 minutes.
Reduce the heat setting to low and simmer for 5 minutes.
Blast the heat on high for 10 seconds and then turn off the heat.
Let it steam with the residual heat
Leave the pot on the stove to steam for 10 minutes.
Why is it important to steam rice? Steaming rice is a method that allows the starch in the rice grains, which have absorbed enough water, to be gelatinized.
When rice is cooked with the correct amount of water, the water is almost completely absorbed by the rice by the time the heating process is finished, leaving no water. If the cooking process is stopped at this point, the rice will not be fully gelatinized, and cores may remain.
In the past, rice was kept warm for 15 to 20 minutes over the remaining heat to complete pre-gelatinization. Many Japanese rice cookers have already considered this when designing cooking time.
It is also important never to open the lid during the 10 minutes of steaming. This is so significant that there is a Japanese saying, "Don't take off the lid even if the baby cries."
Once 10 minutes are up, remove the lid and mix the rice.
Use a rice paddle to scoop the rice from the bottom and fold it over the top, then use the side of the rice paddle to break it apart. This will prevent the grains from becoming crushed.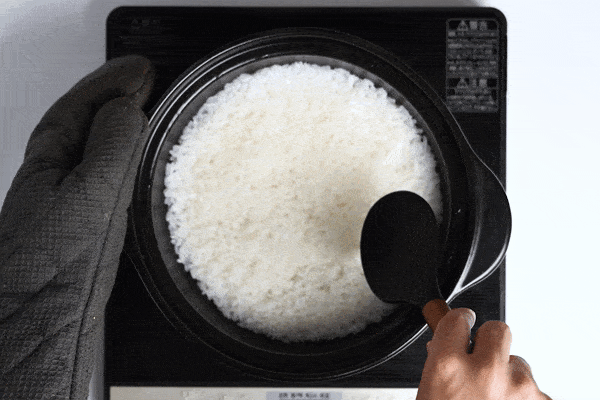 Mixing is especially important because excess moisture can accumulate around the rice, making it soggy if left untouched.
Mixing the rice immediately after steaming can distribute moisture evenly and promote evaporation.
Use your fresh stove-cooked Japanese white rice with any Japanese meal, from teishoku and donburi, to onigiri and bentos! And if you made too much, see below for storage instructions!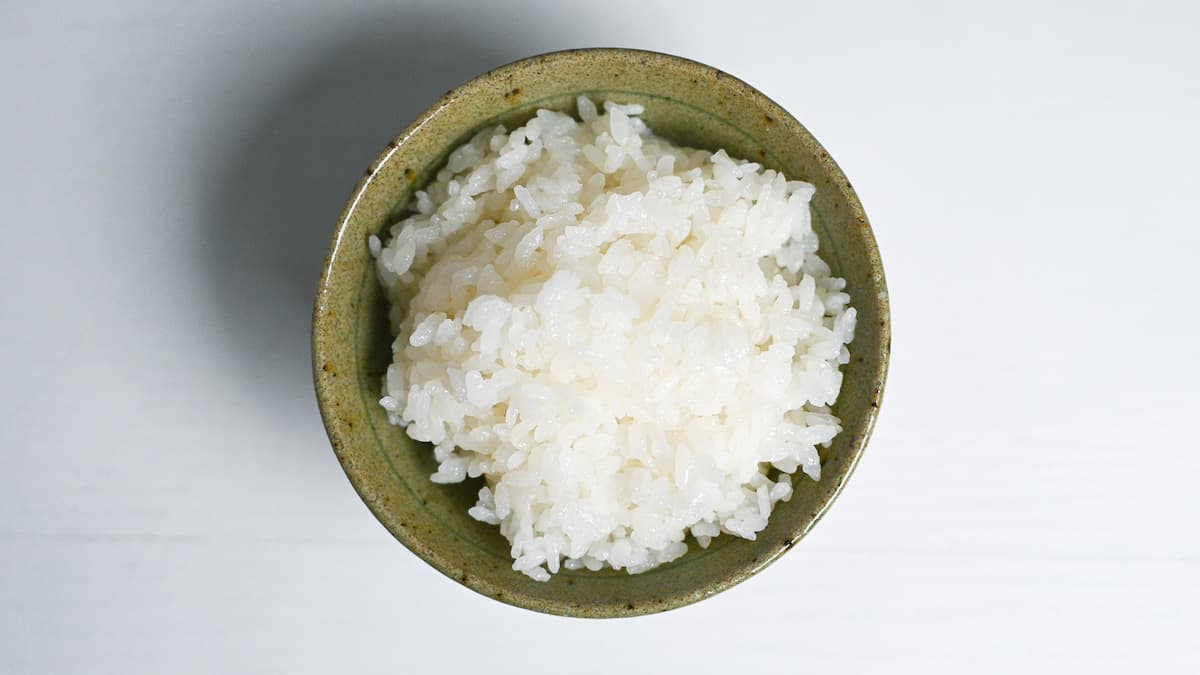 Storage and Reheating Guide
While rice cookers have a keep-warm feature, it's not the case if you cook rice in a pot. Firstly, it is not advisable to store rice at room temperature. This is because Bacillus cereus is present in uncooked rice, and cooking rice does not completely eliminate this bacteria. Hence, leaving rice at room temperature for an extended period may cause the remaining Bacillus cereus to breed, so it should not be stored at room temperature for more than an hour.
Storing cooked rice in the refrigerator is also not a good idea. As explained earlier, when rice is cooked with water, its starch absorbs water and becomes soft and sticky. But as it cools down, the starch gradually returns to its original beta state, becoming dry, bad-tasting, and hard to digest.
It is believed that rice is most likely to revert to its beta state at around 0 to 4 degrees Celsius, the same as the temperature inside a refrigerator. Therefore, refrigerated storage of cooked rice is not recommended.
So, to store cooked rice, freezing is the best option. It can last up to a month, but consuming it within a week is best to maintain its taste. After cooking, wrap the rice in plastic wrap and freeze it as soon as it's cool enough to touch. For easy reheating, divide the rice into small servings and freeze them flat.
The microwave is the only method for defrosting. If you defrost the rice naturally, the moisture will be lost, and the rice will be sticky on the surface and dry on the inside. One serving can be heated for about 3 minutes at 600W or 3 minutes and 30 seconds a 500W, but adjust the time according to the amount of rice and the microwave oven you use. Avoid refreezing the rice, as it can become dry.
Room temperature – Not recommended.
Refrigerated – Not recommended.
Frozen – Up to a month, best within one week.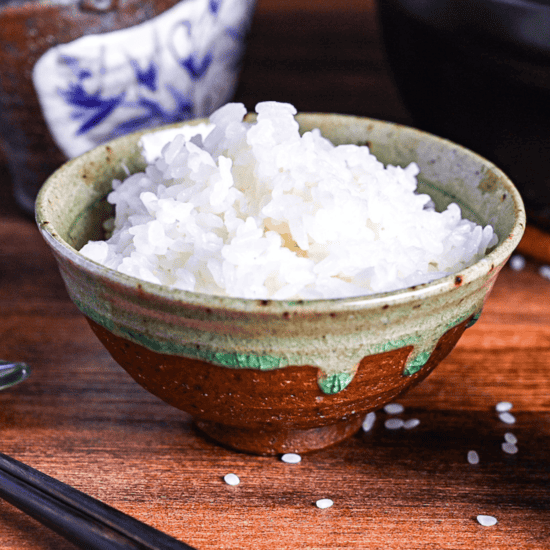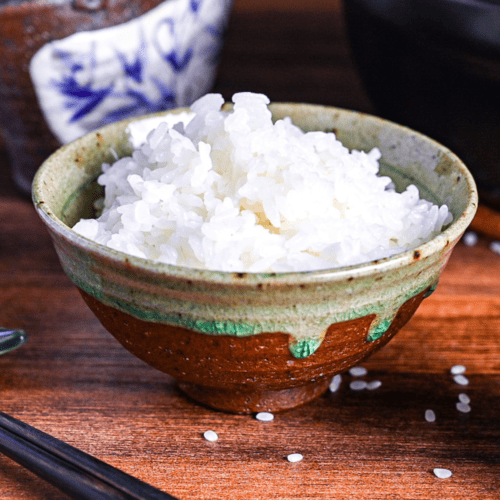 How to Cook Perfect Japanese Rice on the Stove
---
No rice cooker? No problem! With this fool-proof recipe, you can make delicious, fluffy and sticky Japanese-style rice on the stove perfectly every time!
---
---
---
---
Ingredients
300

g

uncooked Japanese short-grain rice

often labeled "sushi rice" outside of Japan

400

ml

cold water
Instructions
First, measure out

300 g uncooked Japanese short-grain rice

. We recommend weighing it out using kitchen scales or a Japanese rice cup. (See note)

Next, pour the rice into a sieve and place the sieve over a large bowl. Pour cold water onto the rice so that the bowl fills up and drain immediately.

Fill up the bowl again but this time, swish the rice around gently to wash. When the water becomes cloudy, drain it out and repeat 5 times in total.

Pour the rice into a mixing bowl and submerge in cold water. Cover and soak for 30 minutes in summer or up to 2 hours in winter.

Once the rice has finished soaking, pour it back through the sieve and place over an empty bowl to dry for 5 minutes.

Transfer the rice into a pot with a thick base. Pour in

400 ml cold water

, place a lid on top and transfer to the stove. Bring to a boil over a medium heat and do not remove the lid at any point.

Don't take off the lid, just listen out for the boiling water. Once you can hear it bubbling consistently, set a timer for

30 seconds

.

Once 30 seconds are up, reduce the heat to medium-low and set a timer for

2 minutes

.

After 2 minutes, reduce the heat to low and simmer for

5 minutes

.

Turn up the heat to max for 10 seconds and then turn off the heat completely, leave the rice to steam in the pot on the warm stove for

10 minutes

. Don't be tempted to take off the lid or mix it before the 10 minutes are up.

After 10 minutes remove the lid. Scoop and fold with the rice with a rice paddle, and use the edge of the rice paddle to break up the rice. (If you don't have a rice paddle, use a spoon or silicone spatula dipped in water to prevent the rice from sticking.)
Notes
One Japanese rice cup holds 150g of uncooked rice and 175 ml of water, so the correct ratio is 1.15 cups of water for every 1 cup of rice (200 ml water:150g rice).
To store, cool and wrap with plastic wrap or transfer to airtight containers. Freeze for up to 1 month.
3 Recommended Recipes that Goes Perfectly with Freshly Cooked Japanese Rice
For Japanese people, including myself, freshly cooked rice is an indispensable part of life. Many dishes go well with white rice. In this section, I would like to introduce three recipes I like best with freshly cooked rice.
Chicken Karaage (Japanese Fried Chicken)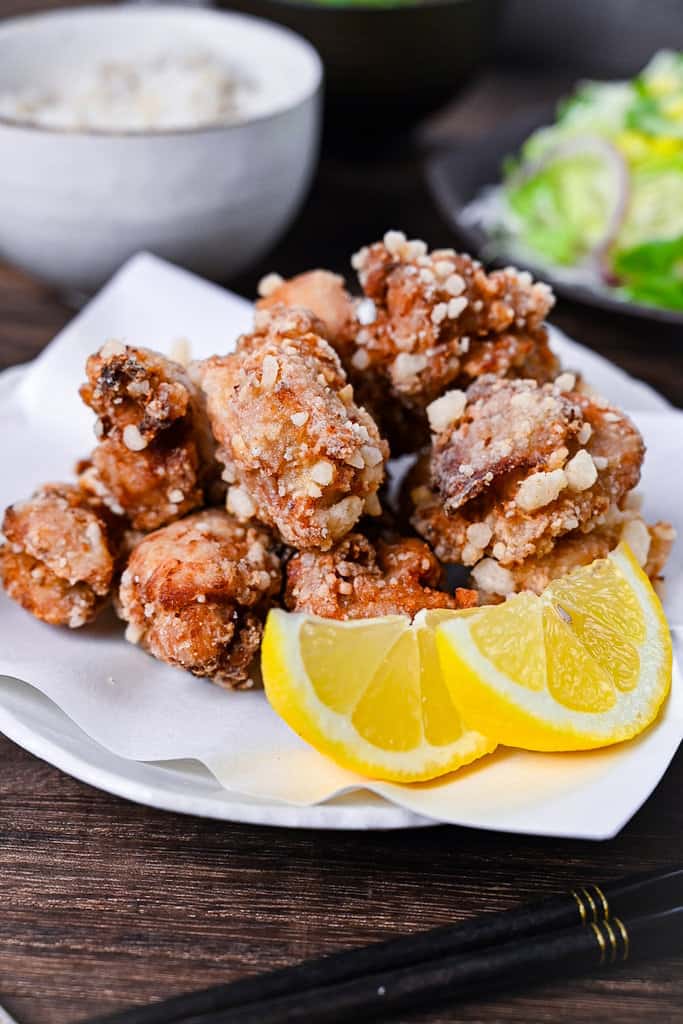 I think karaage (Japanese fried chicken) is the ultimate compliment to freshly cooked rice in Japanese cuisine. It isn't easy to find a side dish that pairs as well with rice as karaage does.
Karaage holds a special place in my heart. As a child, my biggest dream was to open my karaage food stand, and although it seemed like a strange dream at the time over 20 years ago, in the 21st century, karaage specialty food stands have become the biggest trend in Japan.
Authentic Chicken Karaage (Crispy Japanese Fried Chicken)
How to make authentic chicken karaage (Japanese fried chicken).
Check out this recipe →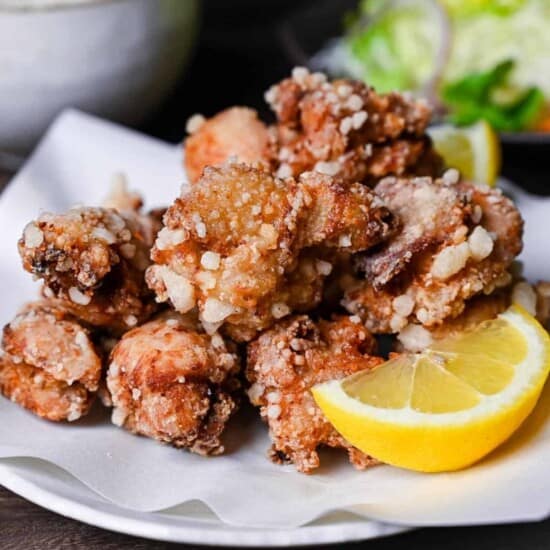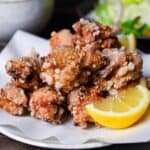 Shogayaki (Japanese Ginger Pork)
Have you ever tried Shogayaki? It's a Japanese-style ginger pork that's perfect if you're in the mood for a hearty meal with lots of rice. The pork is seasoned with a sweet and spicy flavor that goes really well with rice, so you can enjoy it with as much rice as you like!
I use grated apples in my recipe to make the shogayaki more flavorful. It is one of my personal favorite recipes on the site so I highly recommend giving it a try!
Buta no Shogayaki (Japanese Ginger Pork)
Japanese "shogayaki" is a fragrant dish made up of thin slices of pork cooked in a sweet and aromatic ginger sauce. It's seriously delicious and ready in just 30 minutes!
Check out this recipe →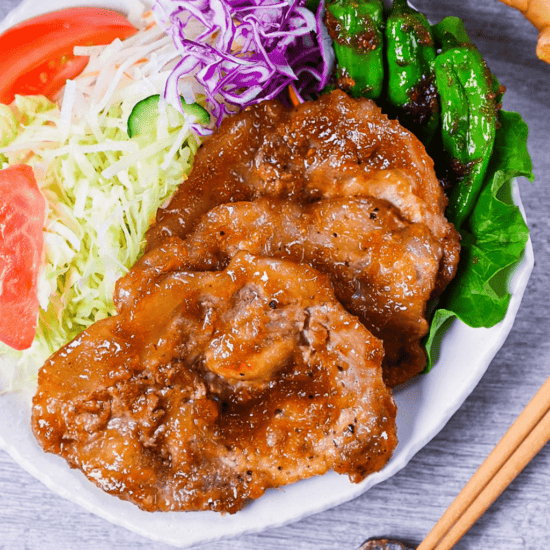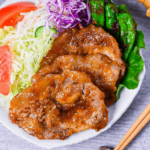 Pan-fried Gyoza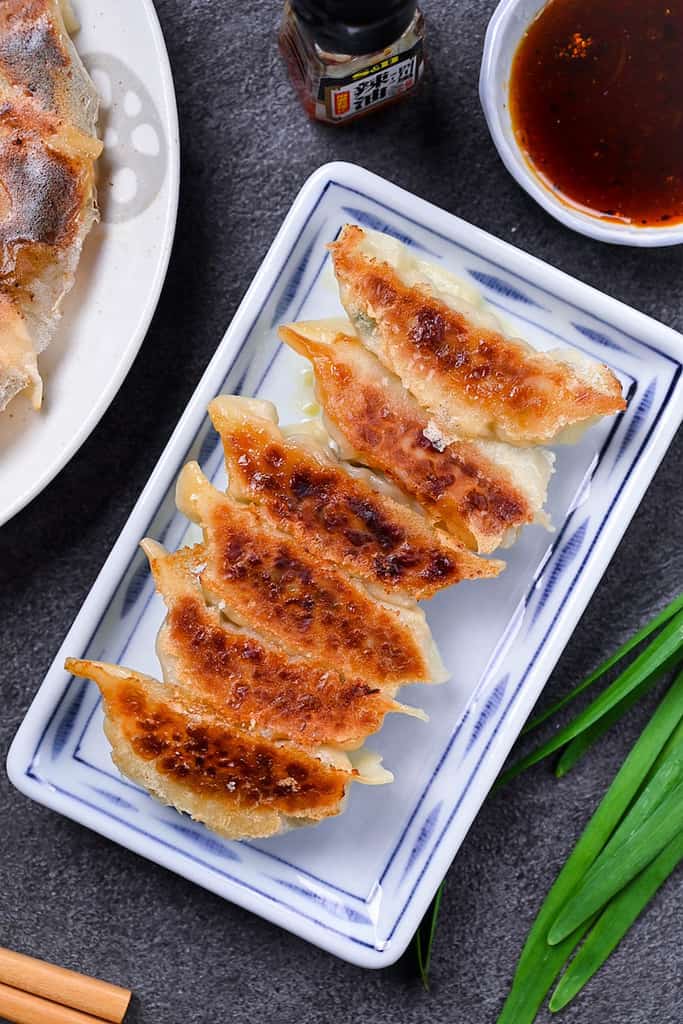 Have you heard of Gyoza? They are dumplings typically filled with meat, vegetables, and seasonings and then wrapped in thin gyoza wrappers. Even though they are eaten throughout Japan, the dish originates from China and is called "Jiaozi."
Gyoza go perfectly with rice and there are plenty of options are available if you're interested in trying out different types of dumplings. Some of my recipes include shrimp gyoza, plant-based tofu gyoza, curry-flavored deep-fried gyoza, and authentic gyoza dipping sauce. Give them a try and see which ones you like best!
Crispy Pork Gyoza (Japanese Pan Fried Dumplings)
How to make crispy and juicy Pork Gyoza (Japanese Pan Fried Dumplings) from scratch at home!
Check out this recipe →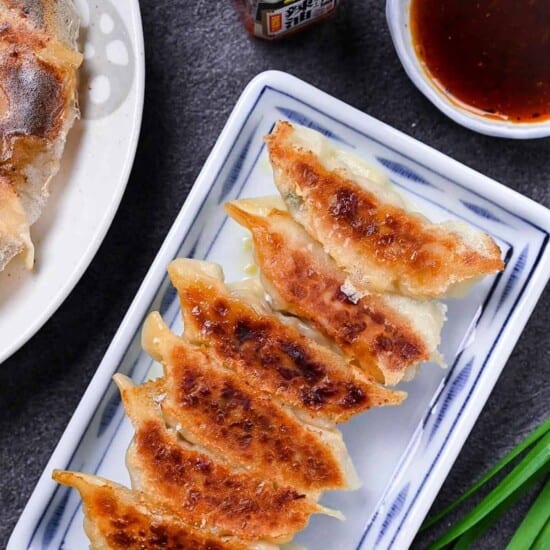 FAQ
What happens if you don't soak Japanese rice?
If you use a Japanese rice cooker to cook Japanese rice, there is no problem. However, if you cook Japanese rice in a pot and do not allow it to absorb water before cooking, a glue layer will form on the surface of the rice grain. This glue layer prevents water and heat transfer, resulting in rice with uncooked core. Therefore, water absorption is a necessary step.
Do the Japanese wash their rice before cooking?
In a way, we do. But that does not mean you wash it literally with soap; it's like rinsing and gently mixing to remove the bran by soaking the rice in water and rubbing it against each other. Recently, however, due to the development of rice milling technology, little bran remains in the rice, so it is sufficient to rinse lightly.
Why is my Japanese rice not sticky?
The causes of Japanese rice becoming dry can be attributed to the amount of water, not soaking enough, or rice being too old.
Why is my Japanese rice mushy?
If the rice is broken when rinsing, the starch in the rice will dissolve into the water, resulting in mushy rice. Also, too much water will result in a porridge-like texture, so adjusting the amount of water is very important.
Why do the Japanese put uncooked rice in the fridge?
Rice dries and oxidizes in direct sunlight and at high temperatures; when it oxidizes, it loses its flavor. Many people store rice in the refrigerator because it is not exposed to sunlight, and the low temperature slows the oxidation process.
Do the Japanese add salt to rice?
No, we do not add salt to rice unless there are special circumstances, such as making salted rice balls.