"Tori to Yasai No Kurozu An" is a vibrant dish made with crispy fried chicken and crunchy flash-fried vegetables coated in a glossy black vinegar sauce. It's one of the most popular dishes by the popular chain restaurant "Ootoya" and now you can make it at home with my easy recipe!
Disclaimer: This post contains Amazon affiliate links. Sudachi Recipes earn a small percentage from qualifying purchases at no extra cost to you. See disclaimer for more info.
Jump to:
What is Ootoya-style Black Vinegar Chicken?
Ootoya is a restaurant chain specializing in Japanese cuisine. It is well known for it's humble and comforting home-style dishes served in "teishoku" style with rice, salad, pickles and miso soup. As of 2020, there are 147 directly operated and 200 franchise restaurants across Japan, and 15 directly operated and 101 franchise restaurants overseas.
The slight mouth-full of a name, "Tori to Yasai no Kurozuankake" (鶏と野菜の黒酢あん) translates to "Sweet and Sour Chicken and Vegetables with Black Vinegar," a fitting testament to its vibrant taste palette.
At the heart of this dish lies Kurozu Ankake, a Japanese variant of sweet and sour sauce featuring black vinegar or "kurozu." Aged rice vinegar, notable for its dark hue and subtle flavor, is the secret ingredient in its creation. Since it's not too sour, kurozu often finds itself compared to balsamic vinegar, but a little less sweet.
Ankake, translating to a thick, sweet sauce, defines the nature of this preparation. Its syrup-like consistency lovingly clings to the fried chicken and vegetables, ensuring every bite is flavorful.
While pre-made Kurozu Ankake can be found in Japanese supermarkets, I'll guide you through the rewarding process of making it from scratch.
This balanced sweet and sour sauce is a perfect companion for stir-fries! While this recipe features chicken, the versatile Kurozu Ankake embraces other key players with equal zest. It pairs wonderfully with the following:
Pork
White Fish
Prawns
Beef
Vegetables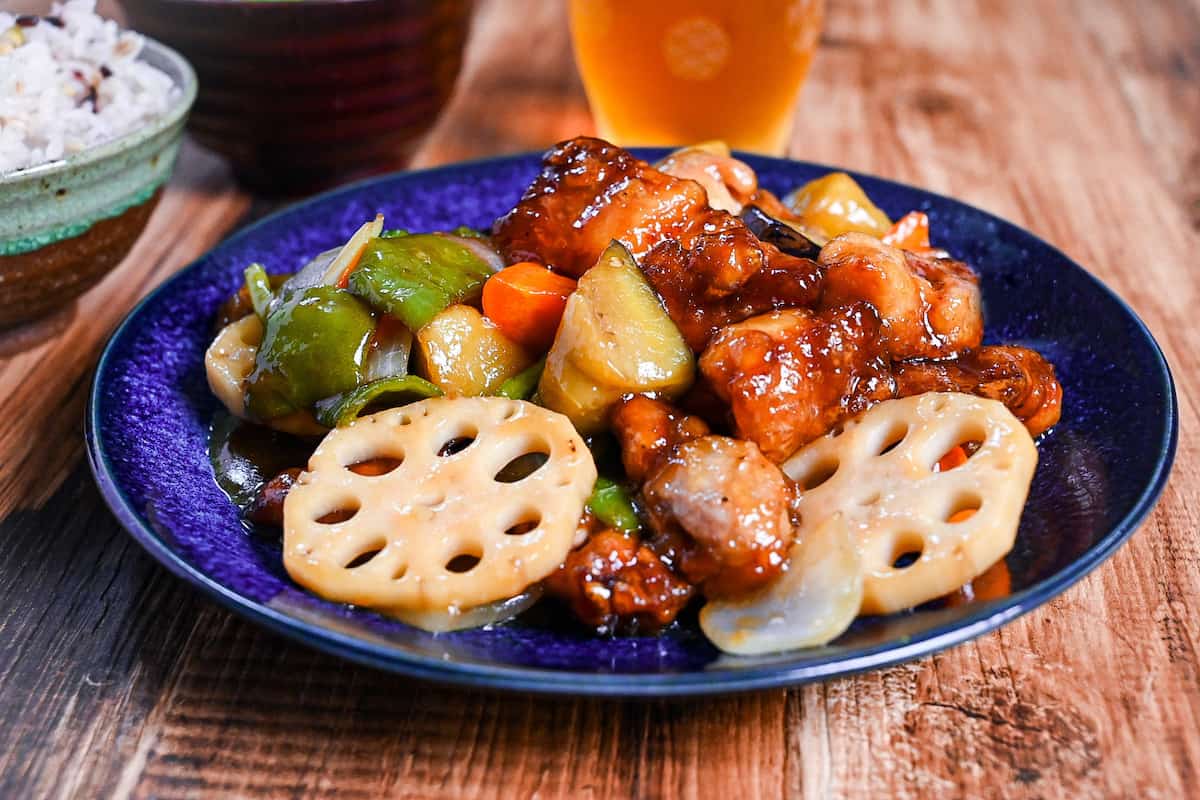 How I Developed The Recipe
Okay, to be completely honest, this recipe hasn't been created totally from scratch. Why? That is, Otoya has published a recipe for kurozu an online in Japanese only (although it's not the same as what they serve at their restaurants) And, of course, I am not following the recipe exactly to write this article, but took inspiration from it.
Rather, my version is simplified and uses more accessible ingredients, and the way I make fried chicken is completely different from theirs.
Anyhow, if you visit Japan, I recommend going there! They have a great range of typical Japanese dishes on the menu, their ingredients are fresh and everything is made on-site (no frozen stuff).
The main cooking method used for this dish is shallow frying. The vegetables are fried first and then the chicken is coated in starch and fried too. The reason for flash-frying vegetables in oil instead of other methods, is to cook them quickly. Cooking them fast in the very hot oil helps lock in the flavor of the vegetables, preserve their crunchy texture and maintain their vibrant colors.
Frying is the technique that Ootoya uses, so for this recreation recipe, I will be following the same technique. But there are other options if you don't want to shallow fry.
Stir-frying the vegetables
Blanching or boiling the vegetables for a short time
Baking the chicken
Use store-bought battered chicken
So there are other ways to prepare the meat and vegetables, but the texture and richness won't be so close to Ootoya's version. The final step is to add everything to a frying pan with the sauce and let it thicken up!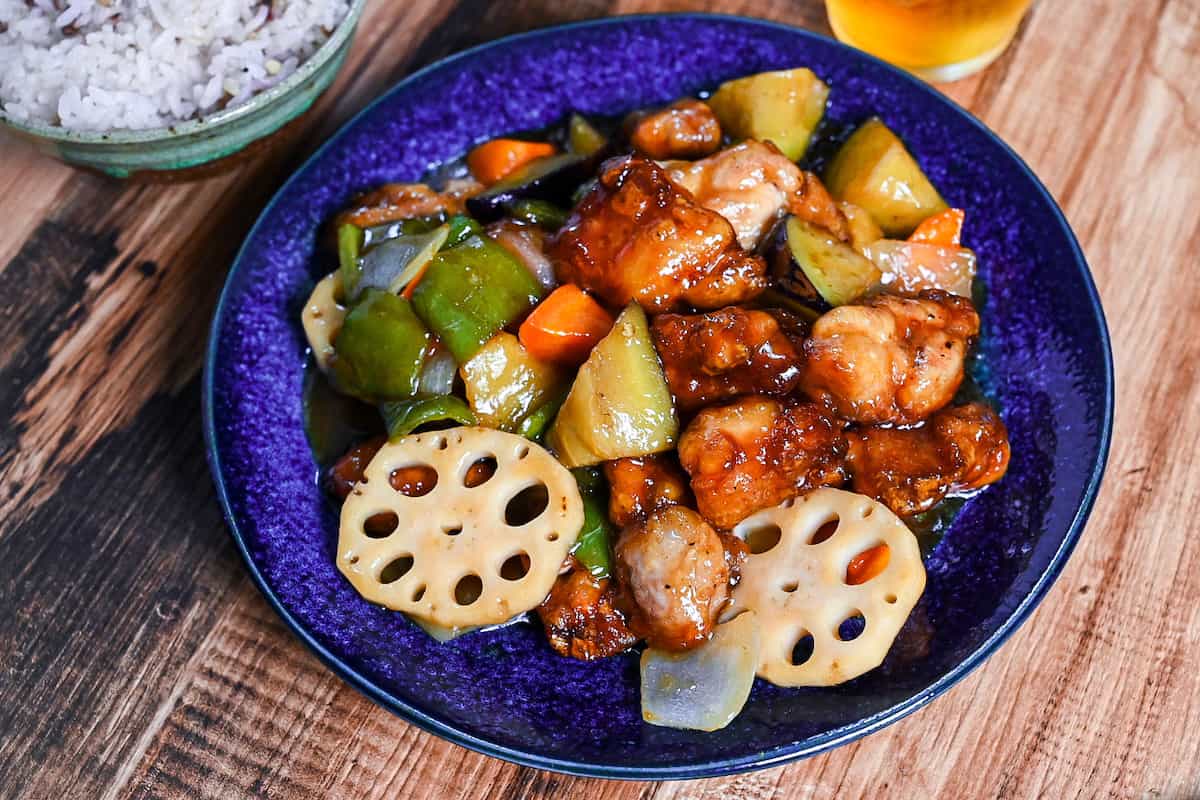 Ingredients and Substitutions
Marinade for chicken:
Boneless chicken thigh - The flavor and juiciness of chicken thigh can't be beat. I opt for skin-on chicken thigh so that the outside becomes extra crispy. This recipe does not work well with chicken breast. If you want to use chicken breast, follow my chicken tempura recipe for the batter and cooking method.
Soy sauce- To flavor the chicken. If you want to know more about soy sauce used for Japanese cooking, please see my 20 Most Useful Condiments and Seasonings for Japanese Cooking post.
Sake - Softens the texutre and taste of the chicken, If you do not have it, substitute white wine or dry sherry.
Black pepper - White pepper can also be used.
Grated garlic - Garlic paste can also be used for convenience.
Grated ginger - Ginger paste can also be used for convenience.
Potato starch - My favorite choice of starch for karaage, potato starch creates a light and crispy coating. Cornstarch or tapioca starch will also work.
Kurozu an sauce
Light brown sugar - I usually use cane sugar for my cooking. You can use an equal amount of caster sugar or granulated sugar if you want to use white sugar.
Apple vinegar - Apple vinegar (りんご酢) and apple cider vinegar are extremely similar, so there is no problem using apple cider vinegar.
Soy sauce
Japanese black vinegar (kurozu) - This dish's core condiment, so substitution is not recommended.
Mirin - I recommend "hon mirin" (本みりん) for the best flavor. In the US, Hinode Hon Mirin is a high-quality and affordable option. If you want to know my other mirin recommendations, check out my 20 essential condiments for Japanese cooking here.
Sake - If you do not have it, substitute white wine or dry sherry.
Water - to balance the flavor and prevent the sauce from becoming too thick too quickly.
Cornstarch - This is to thicken the sauce and give it a glossy texture. Potato starch or tapioca starch will also work.
Vegetables
Cooking oil - This is for shallow frying. Use neutral with high-smoke point oils such as canola, sunflower, peanut, etc.
Carrot - crunchy, sweet and add great color to the dish.
Eggplant - another vibrant choice that is great at soaking up the flavor of the sauce.
Lotus root - known as "renkon" in Japanese, this unusual root vegetable is great for adding extra crunch and texture to the dish. It will need to be peeled, cut into slices and soaked before frying. I usually purchase it preboiled as a shortcut option.
Yellow onion - Adds depth and sweetness, not to mention pairs perfectly with the sauce. White onion is also fine.
Green bell pepper - Adds a hint of bitterness. In Japan, "piman" (Japanese green peppers) are often used. Feel free to use red, yellow or orange peppers if you prefer.
Cornstarch - Potato starch or tapioca starch will also work.
To be honest, this recipe is pretty customizable and you can substitute or omit whatever vegetables you like. Some other great options for this dish include mushrooms, zucchini or sugar snap peas just to name a few. Try adding your favorite vegetables and let us know what you used in the comments below!
I have listed my recommended Japanese condiments, tools, and ingredients in the Sudachi Recipes Amazon shop. If you want to keep making various Japanese foods at home, please check it out!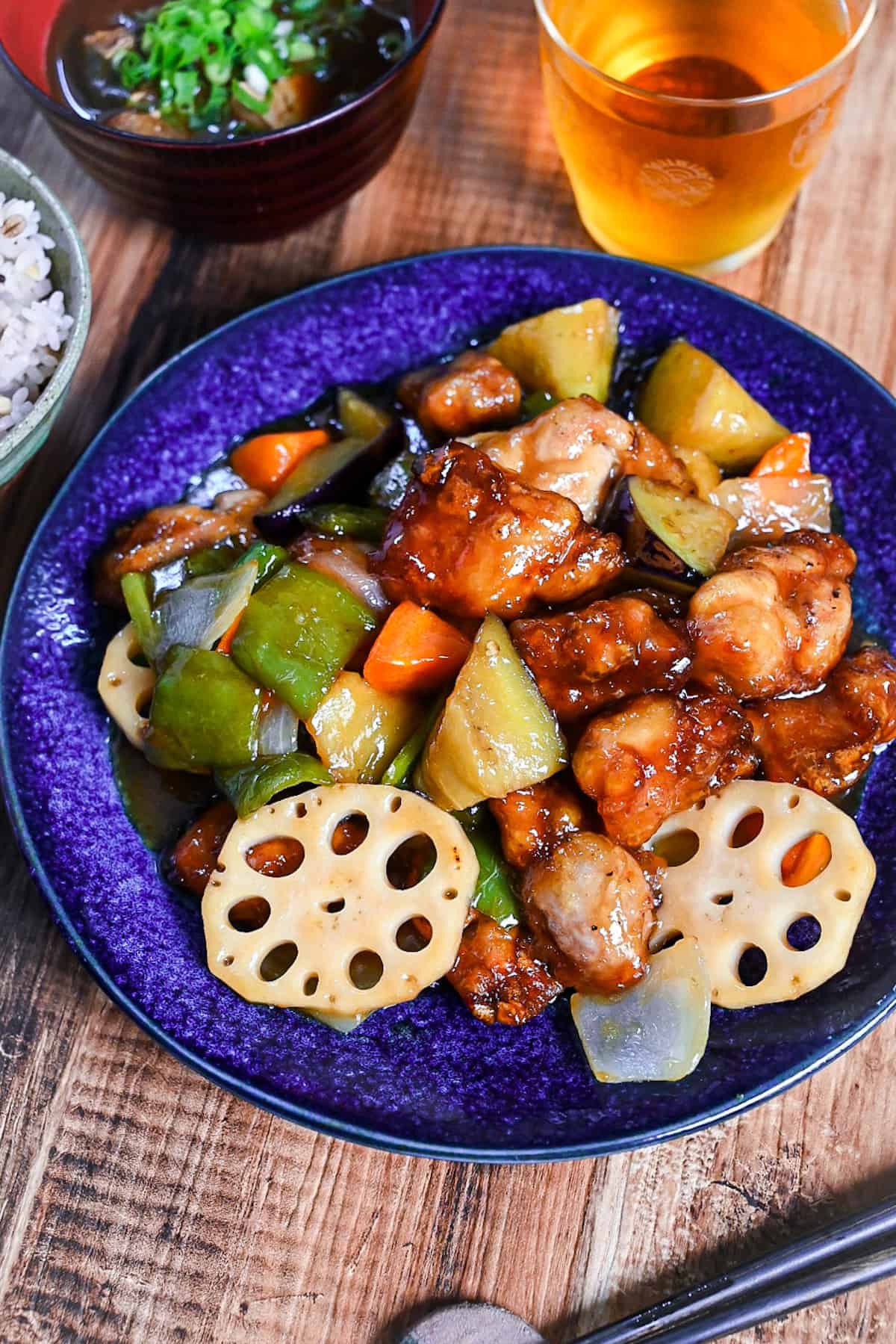 Step-by-Step Process
Here are my step by step instructions for how to make delicious Ootoya style black vinegar chicken and vegetables at home. For ingredient quantities and simplified instructions, see the printable recipe card below.
Cut the chicken thigh into medium bitesize pieces.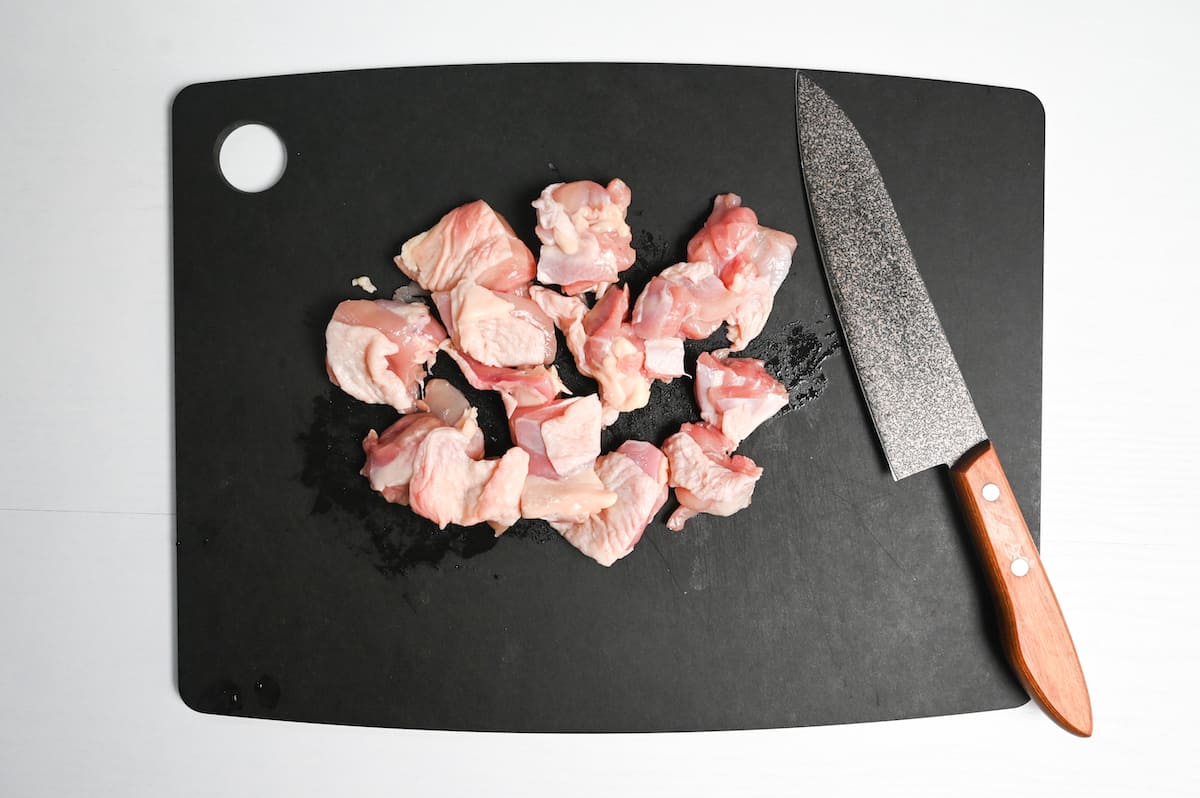 Place them in a container and add soy sauce, sake, grated ginger and grated garlic. Mix thoroughly until the chicken is evenly coated. Cover and leave to marinate in the refrigerator until the vegetables are cooked.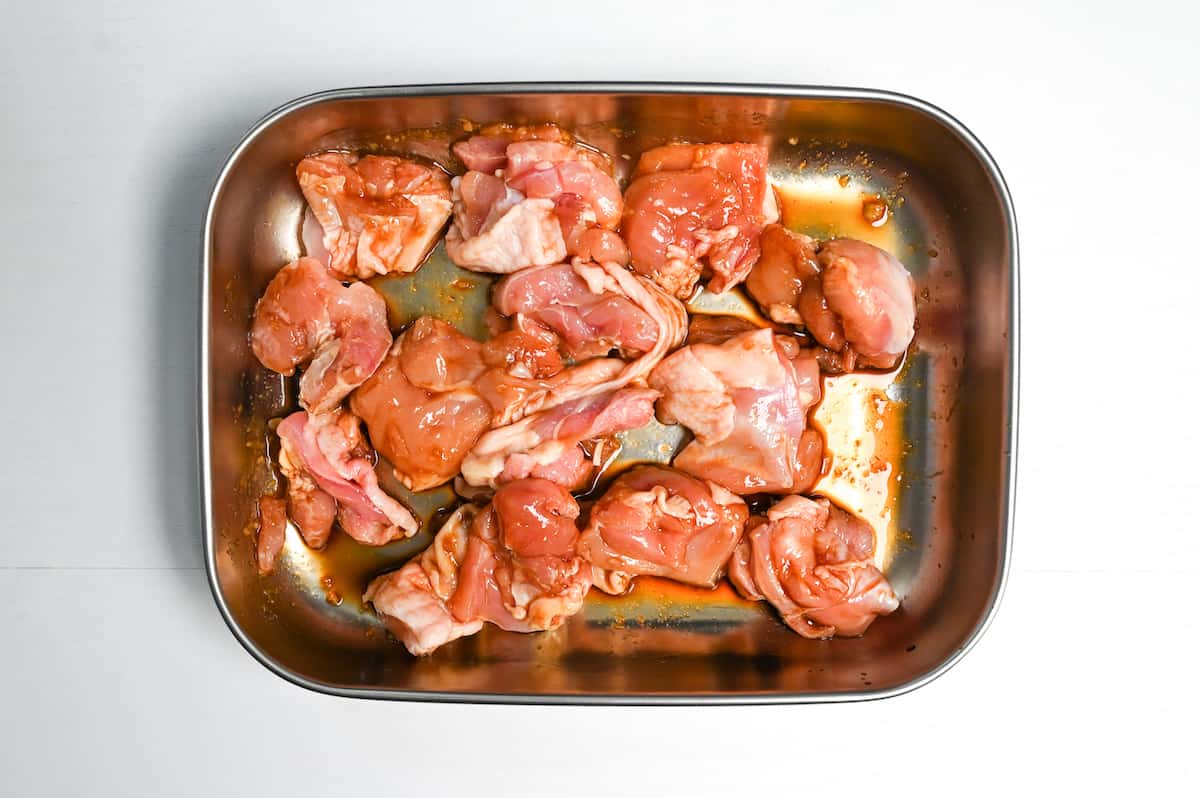 Take a measuring jug and add light brown sugar, apple vinegar, soy sauce, Japanese black vinegar, mirin, sake, water and cornstarch.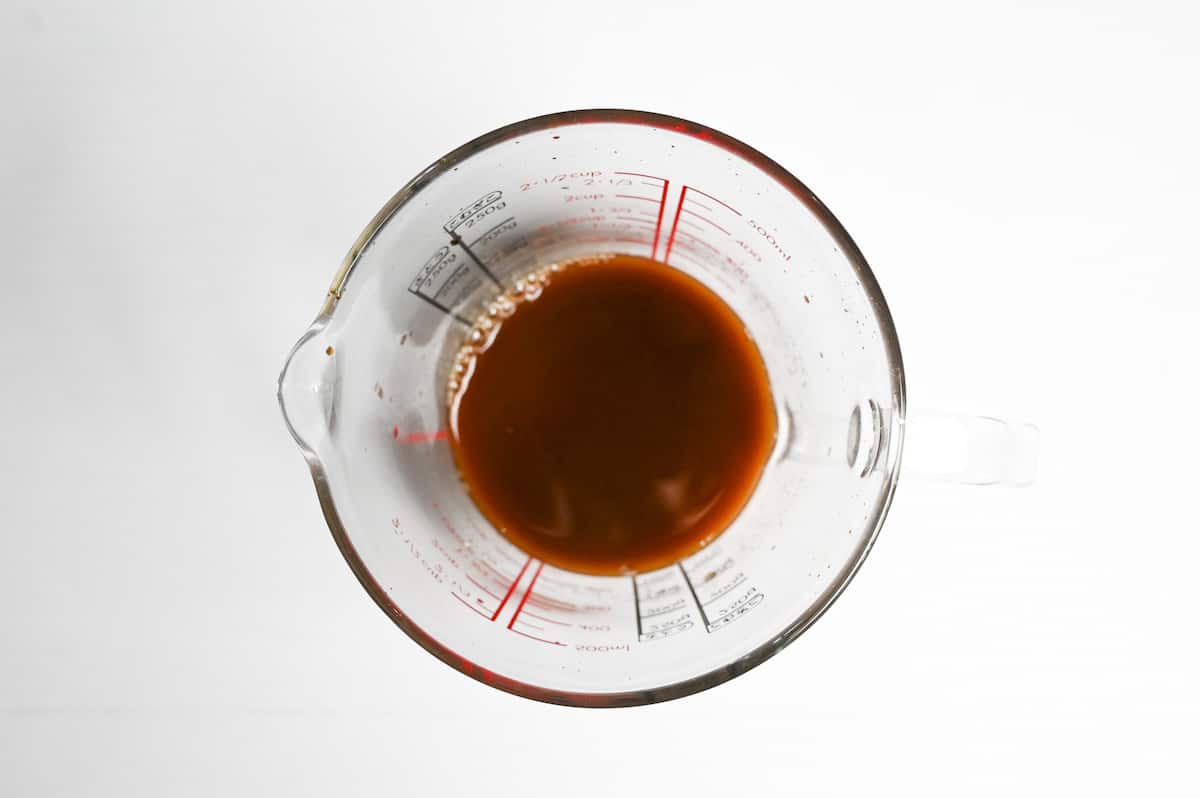 Mix until the sugar and starch have dissolved, and set aside for later.
Start preheating your oil to 180°C (356°F). Since this recipe is shallow fried, use a pan wide enough to place all your ingredients in one layer. The oil should be about 3cm high (approx just over 1 inch).
Cut the eggplant into rough pieces with the skin on and place them in a bowl of water for 5 minutes. This will prevent the eggplant absorbing too much oil when it's fried.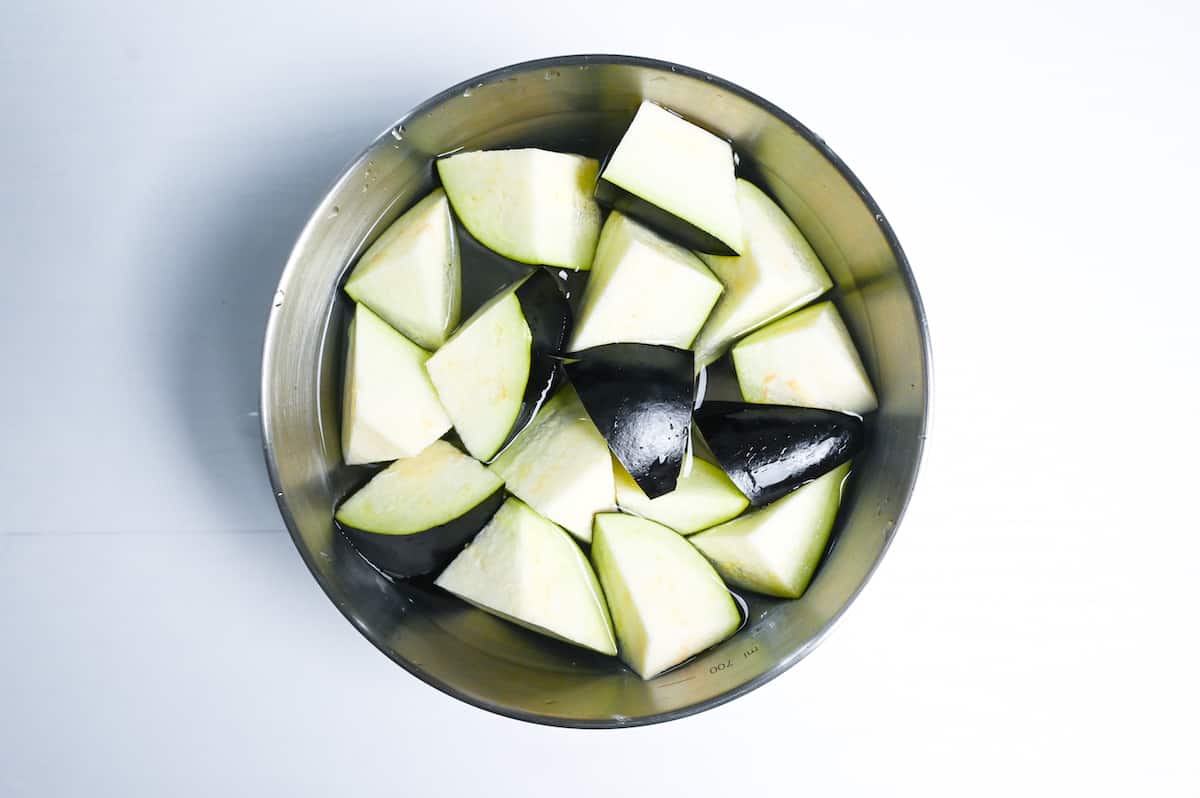 Peel the lotus root and carrot, then cut the lotus root into thick slices and place them in the bowl with the eggplant. Roughly cut the carrot, onion and bell pepper.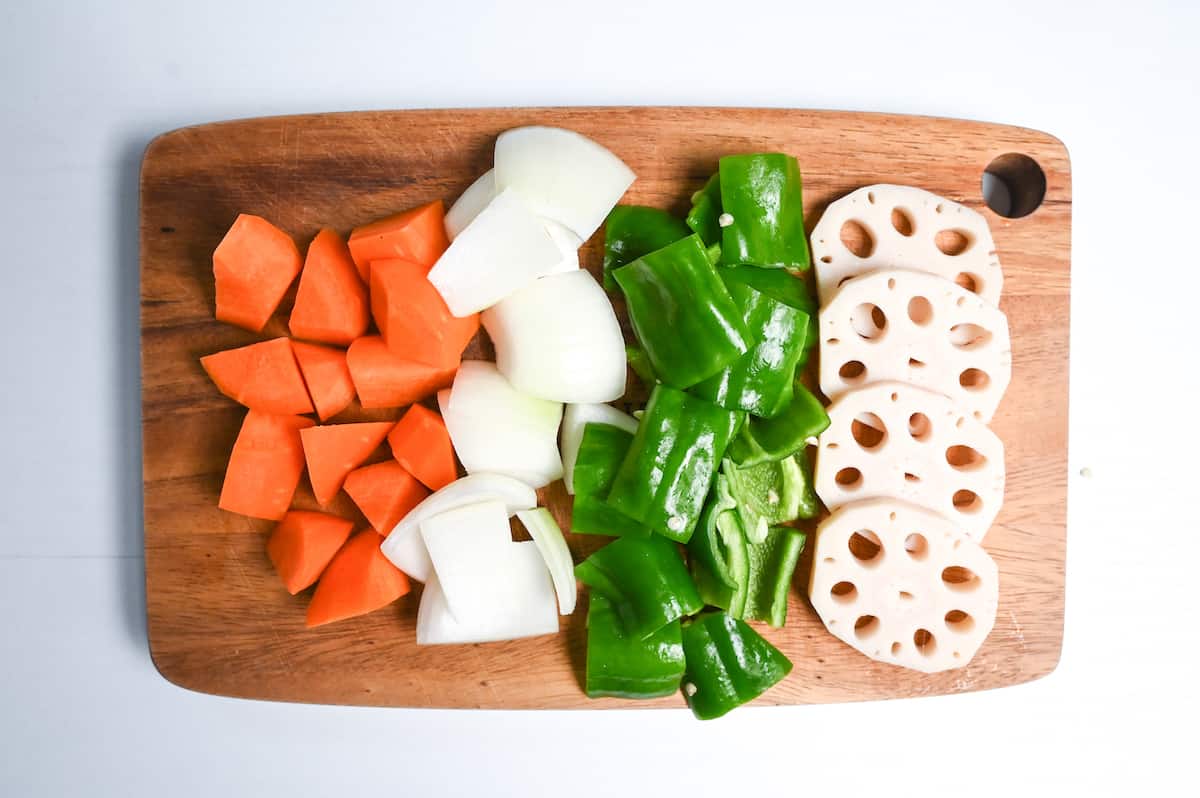 Once the oil is hot, add the carrots to the pan and fry for 3 minutes on each side.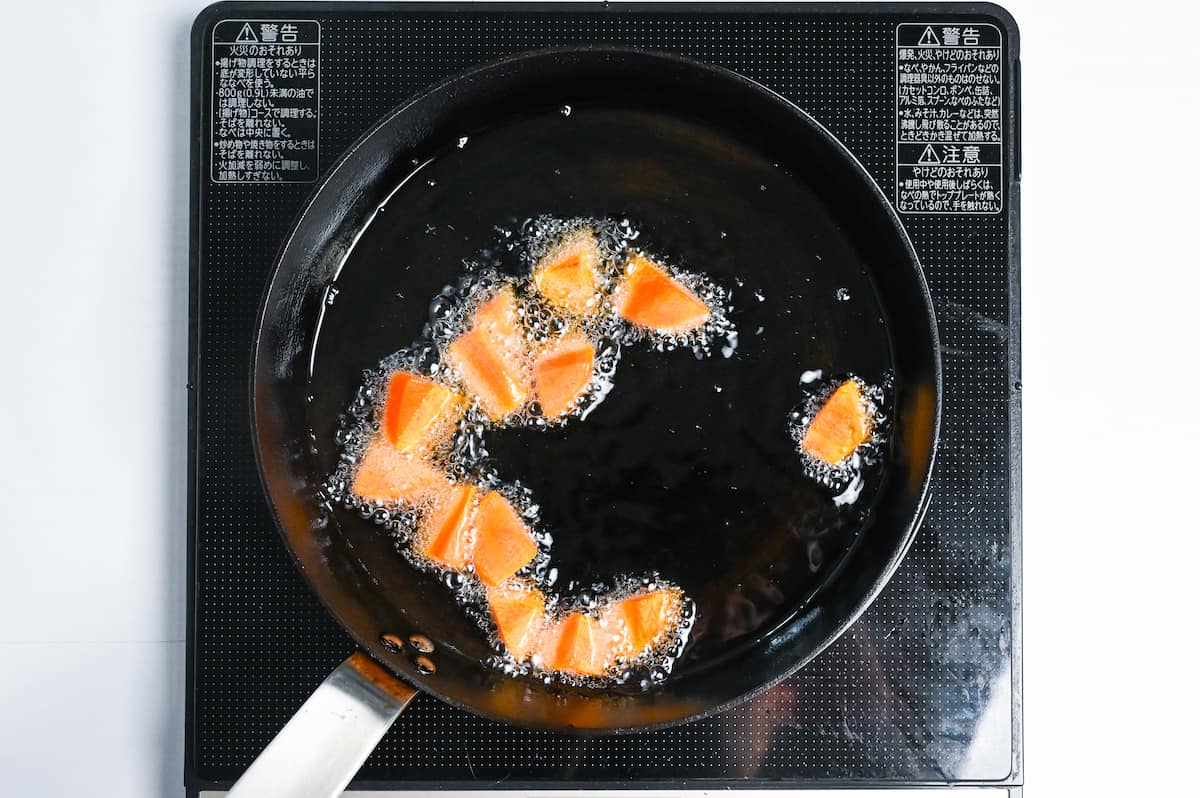 Once cooked, use a mesh spoon to scoop them up and transfer them to a wire rack to drain the excess oil.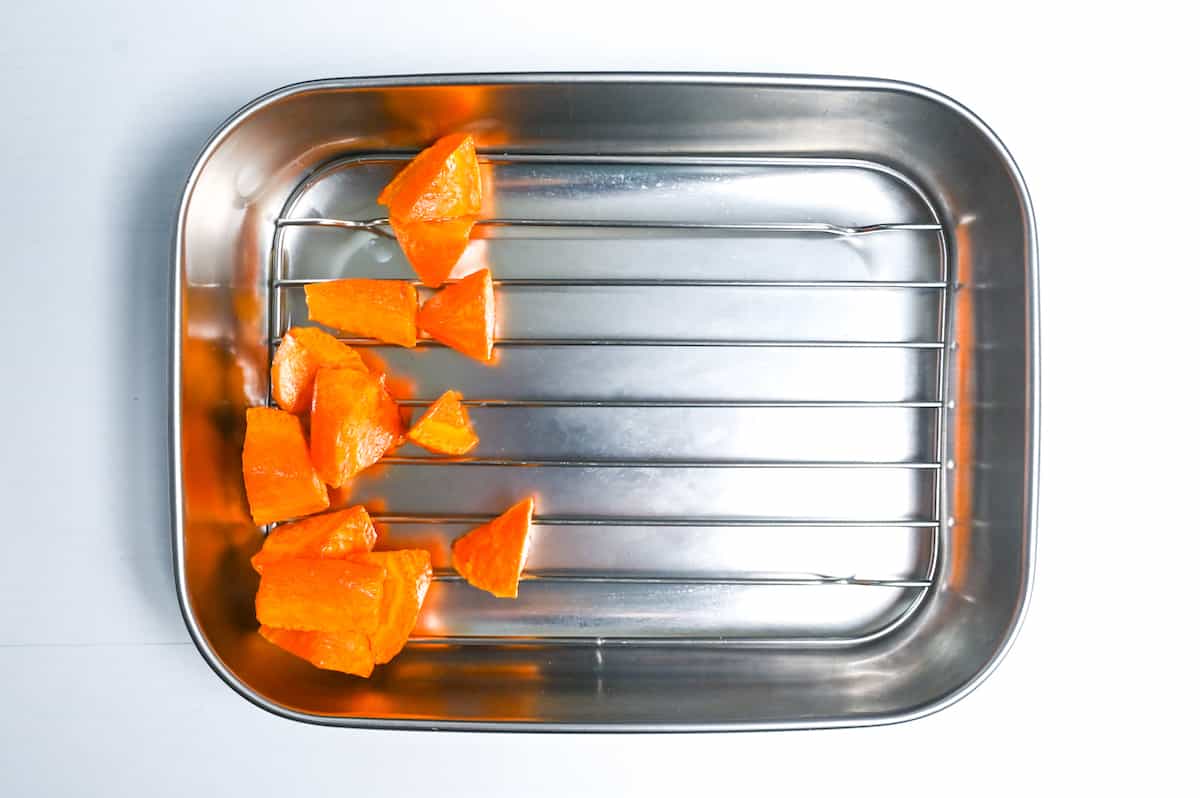 Remove the eggplant and lotus root from the bowl of water and dry them thoroughly with kitchen paper. Place them in the oil with the bell pepper and fry for 1 minute.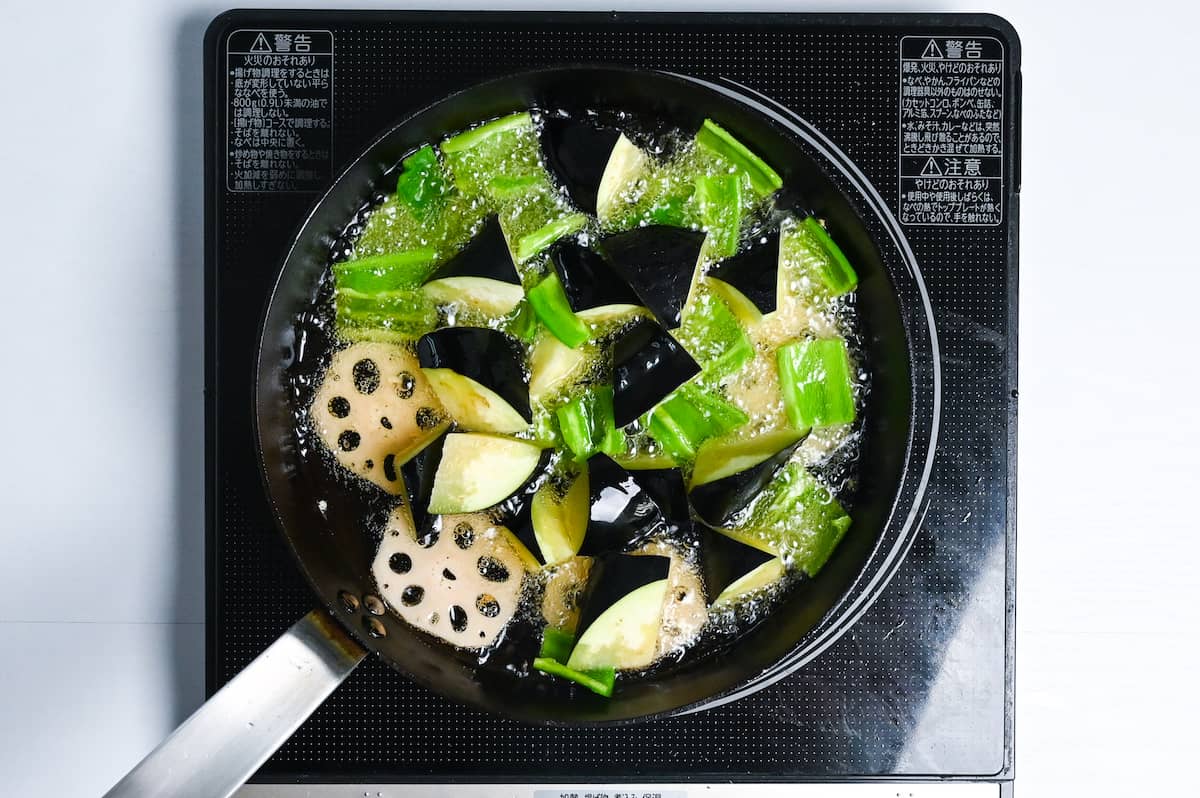 Then transfer to the wire rack to drain.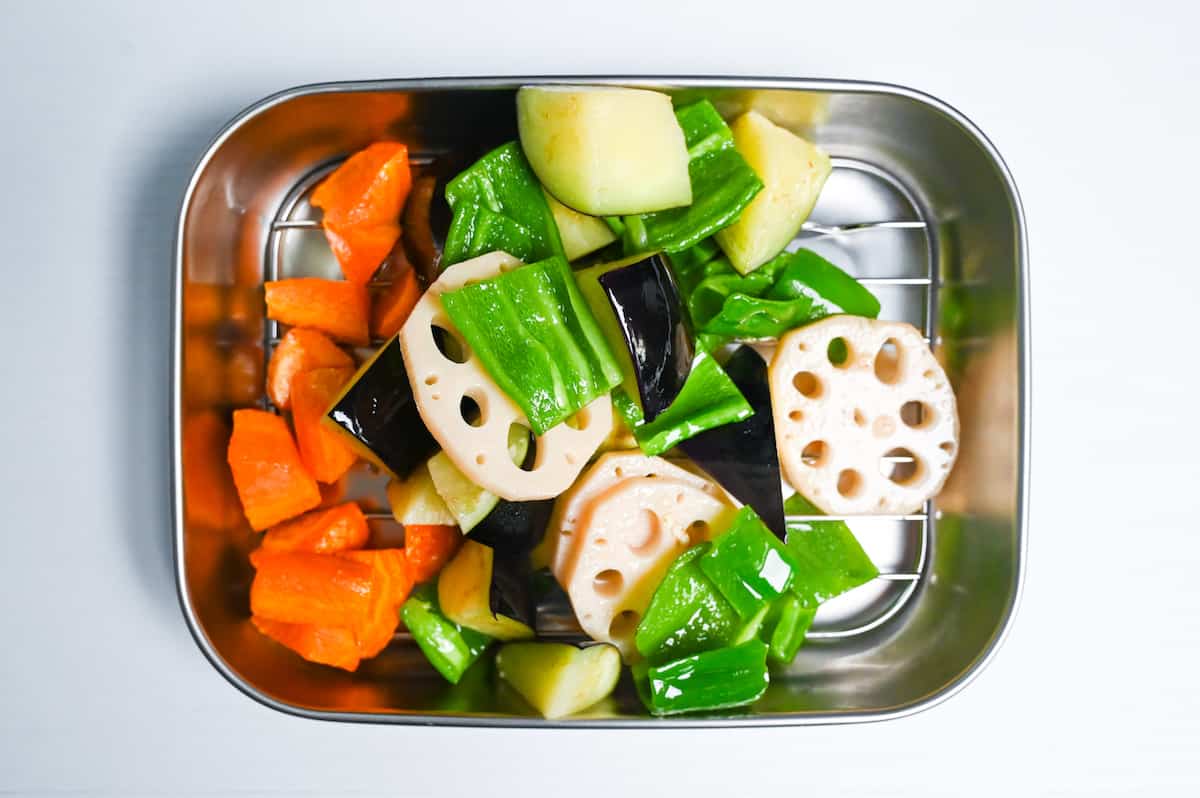 Finally add the onion and fry for one minute.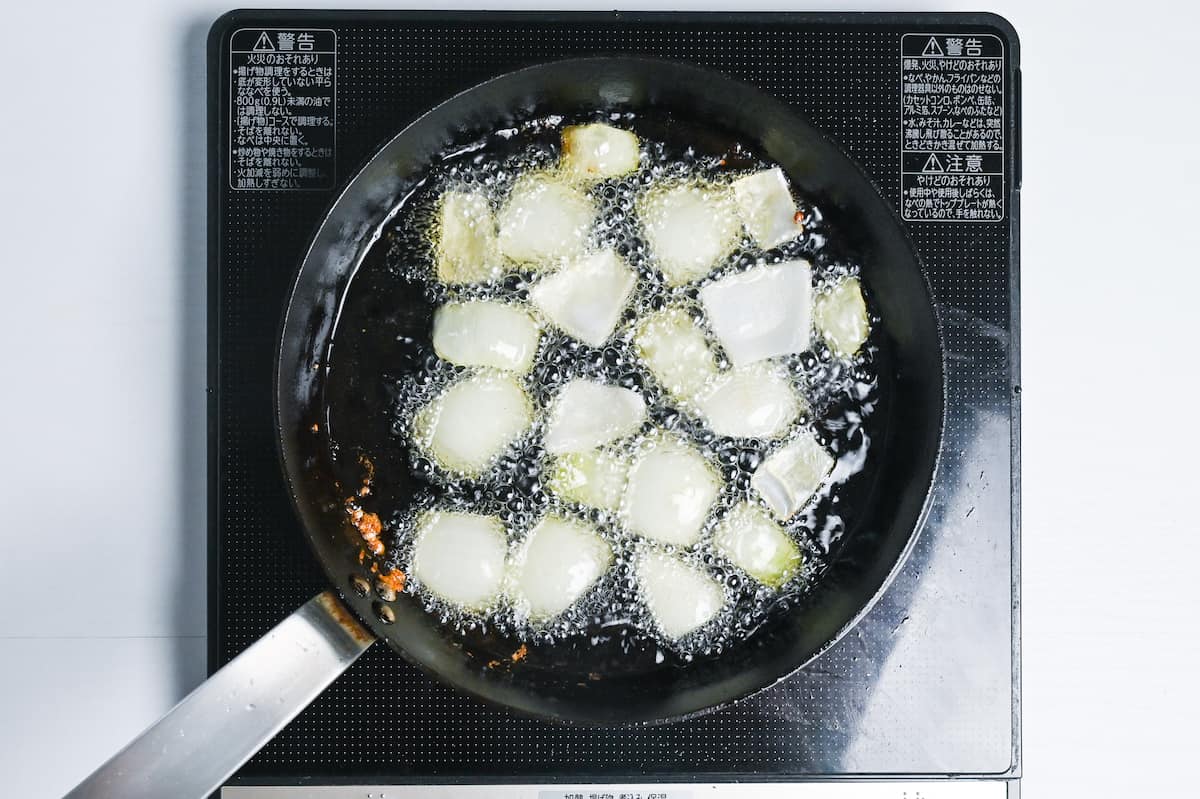 Transfer to the wire rack and lower the heat of the oil to 170°C (338°F).
Add cornstarch to a container and take the chicken from the fridge. Shake the excess marinade off each piece and then roll it in the cornstarch until generously covered.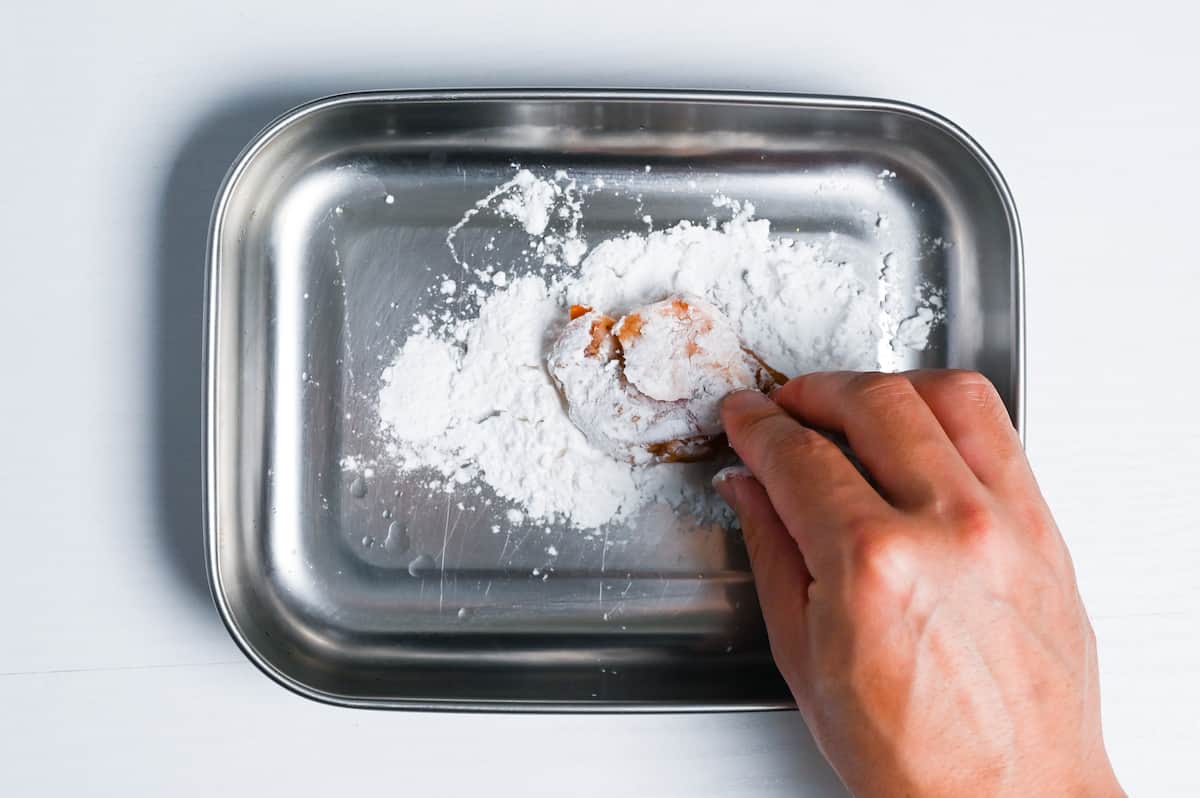 Place the chicken in the oil and fry for 3 minutes on each side.
Increase the heat to 190°C (374°F) and fry for another 1 minute on each side.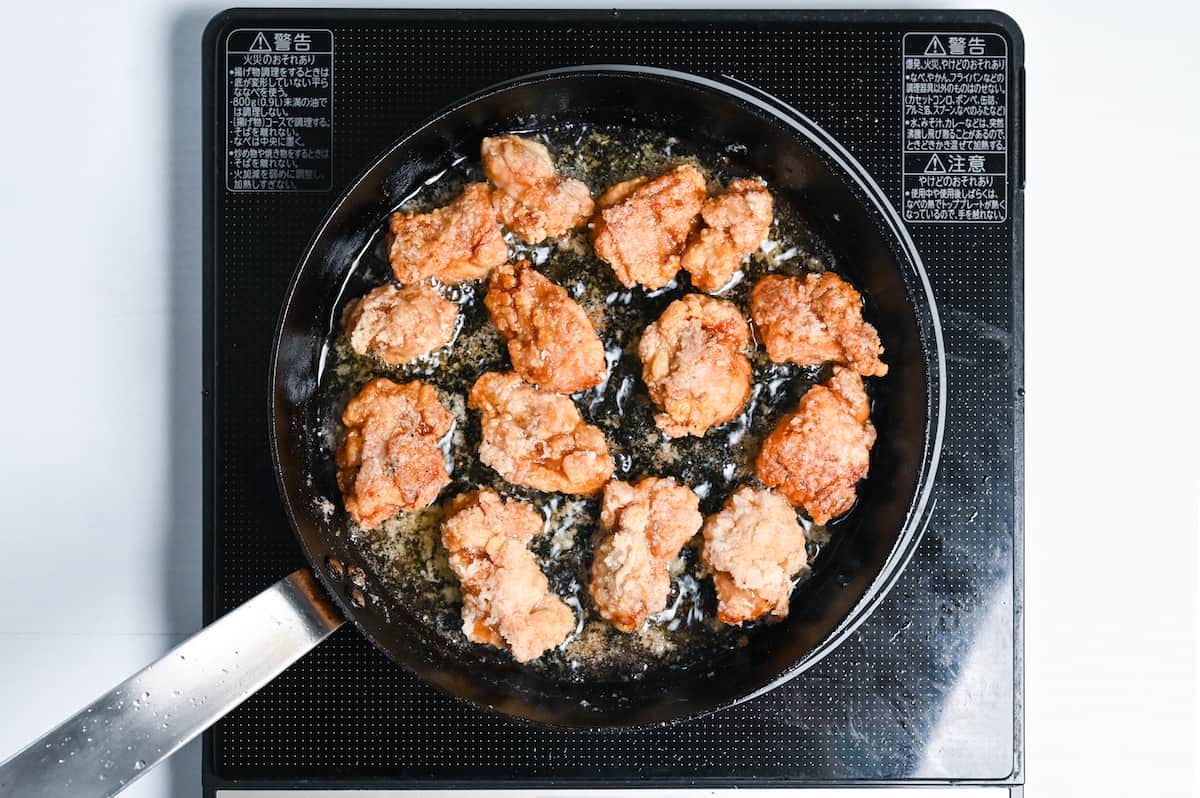 Transfer to a wire rack to allow the oil to drain off.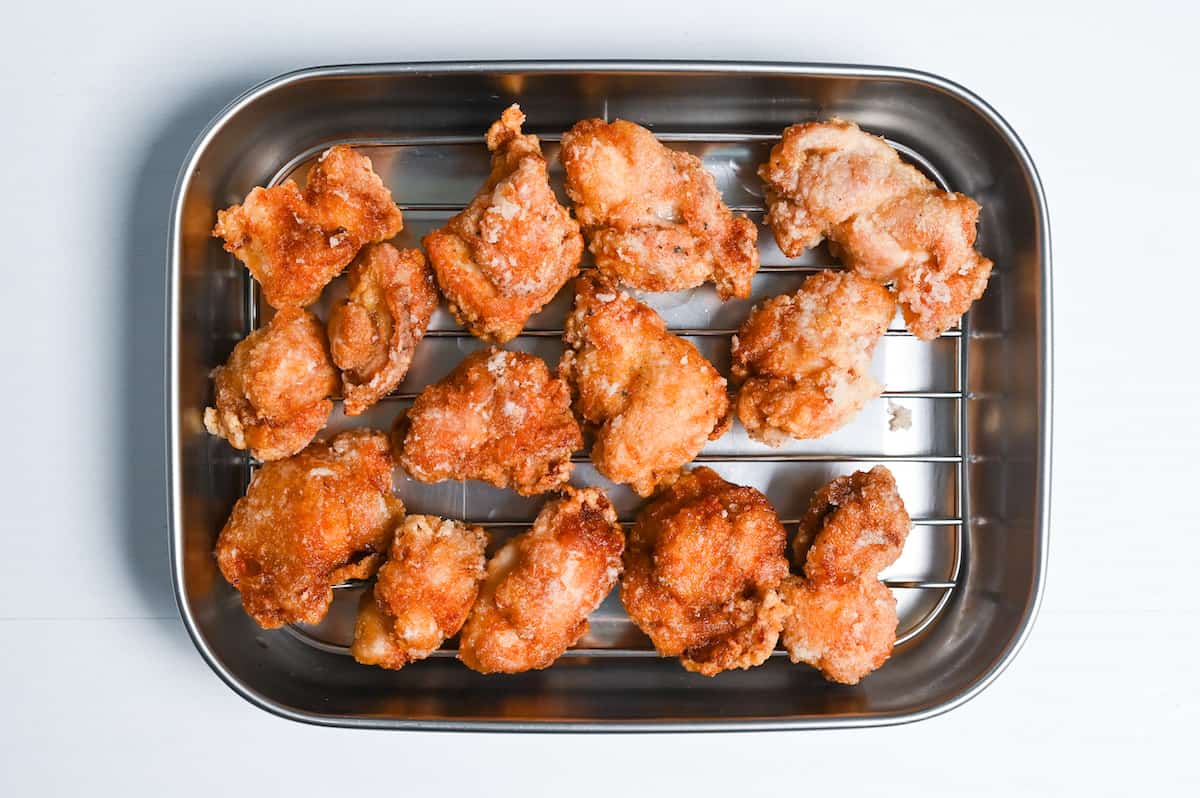 Fry in the black vinegar sauce
Heat a wok, add a small amount of oil and add the vegetables and chicken. Take the jug of sauce from earlier and mix well before pouring it into the wok.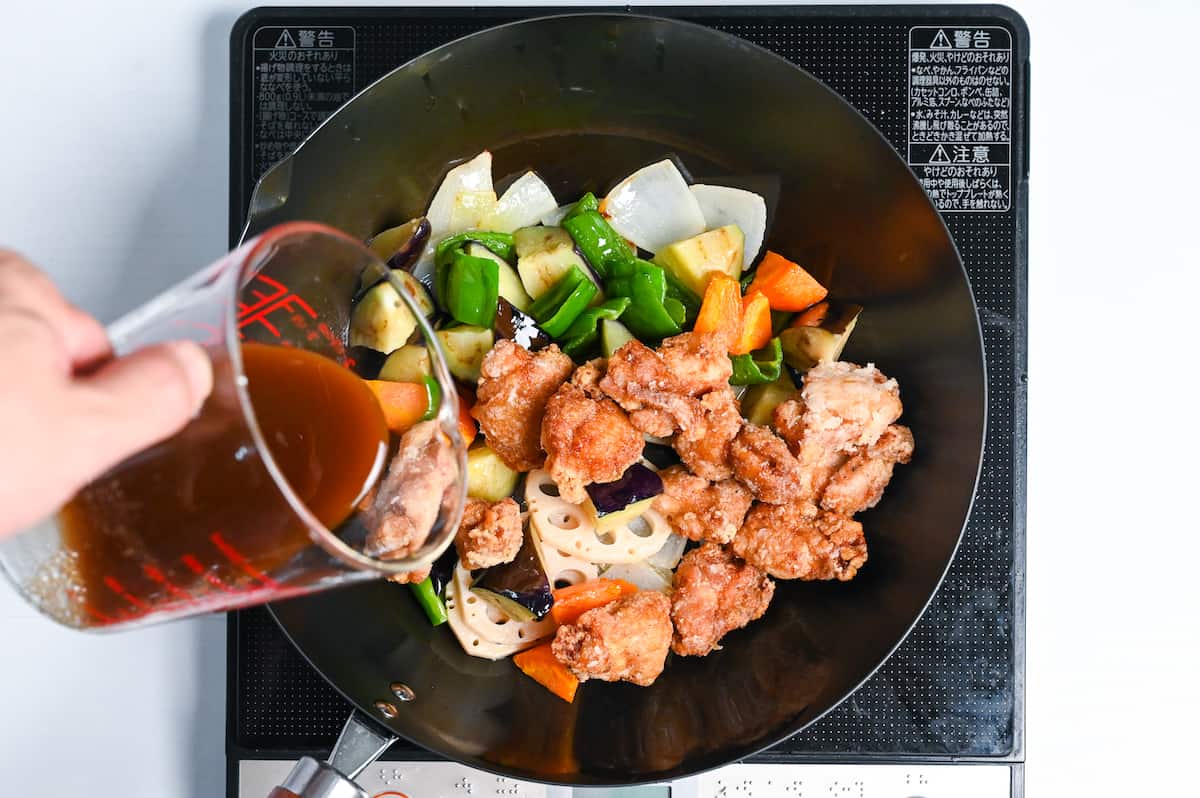 Stir fry until the sauce is thick and glossy.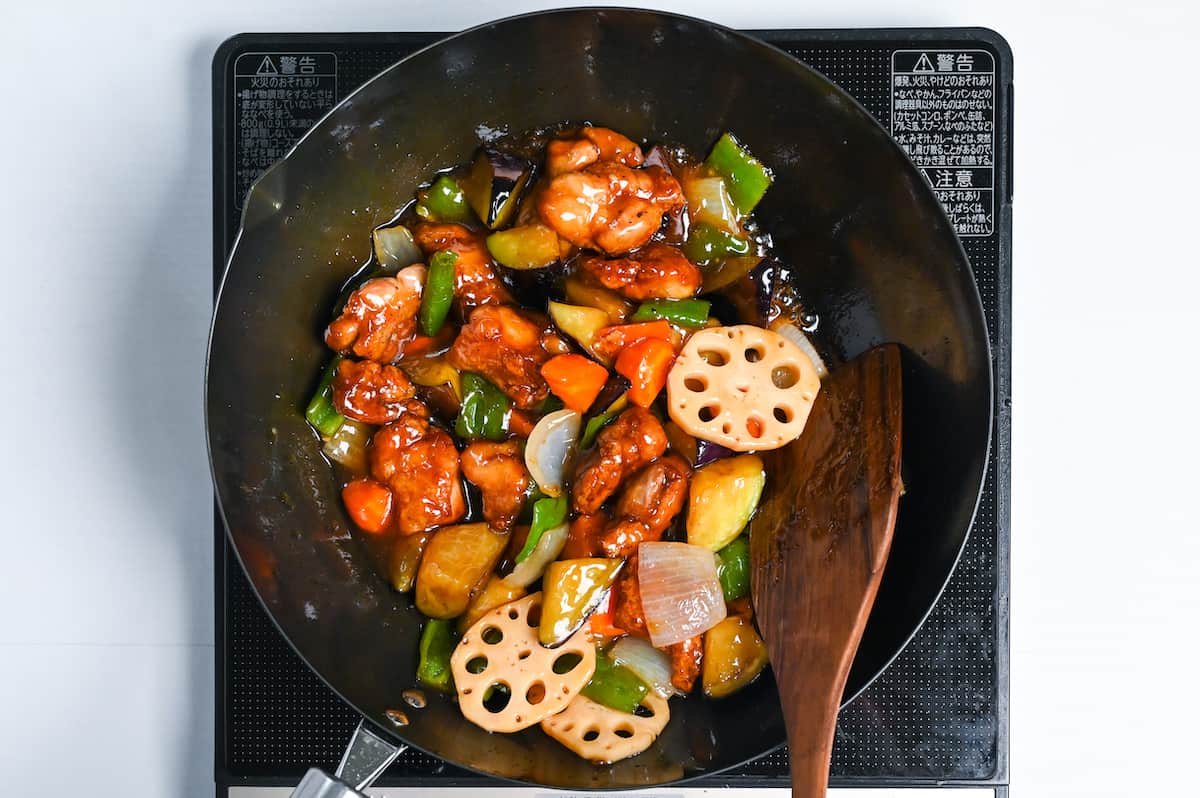 Once thickened, remove the pan from the heat.
Transfer to a serving plate and enjoy with rice, miso soup and a pickles or salad for the full Ootoya experience!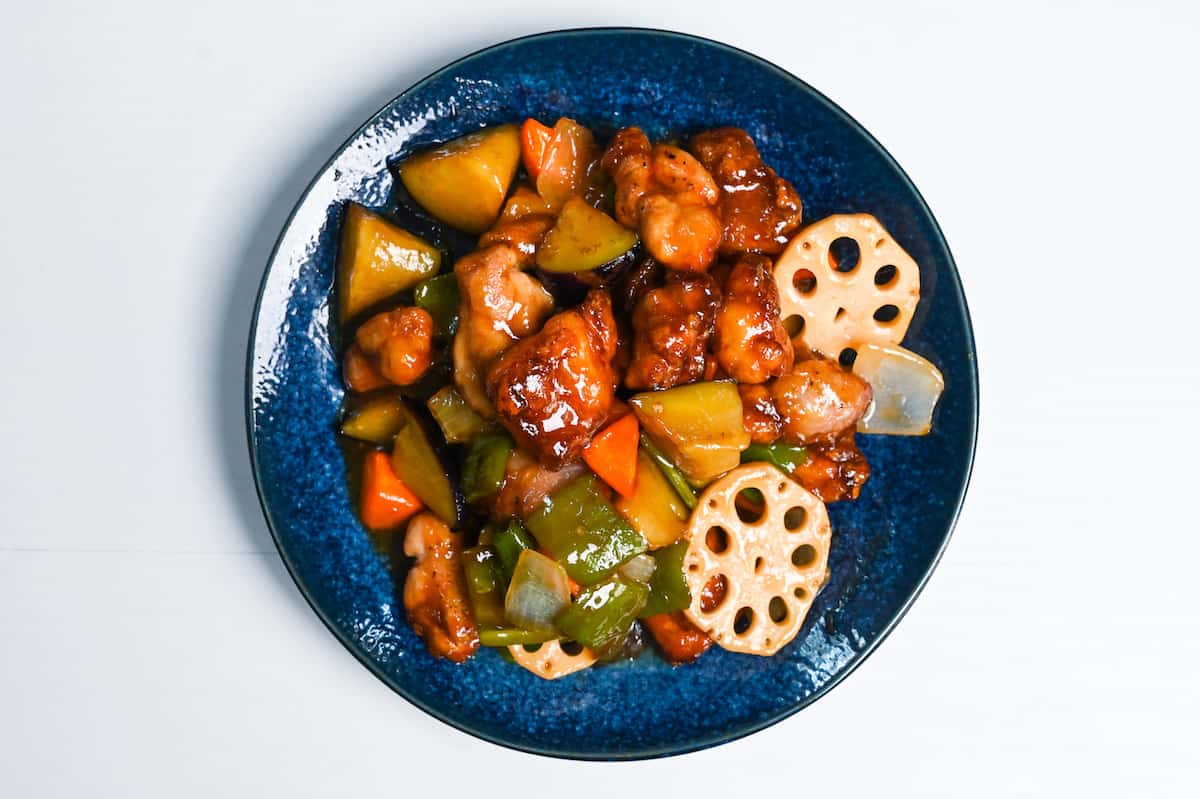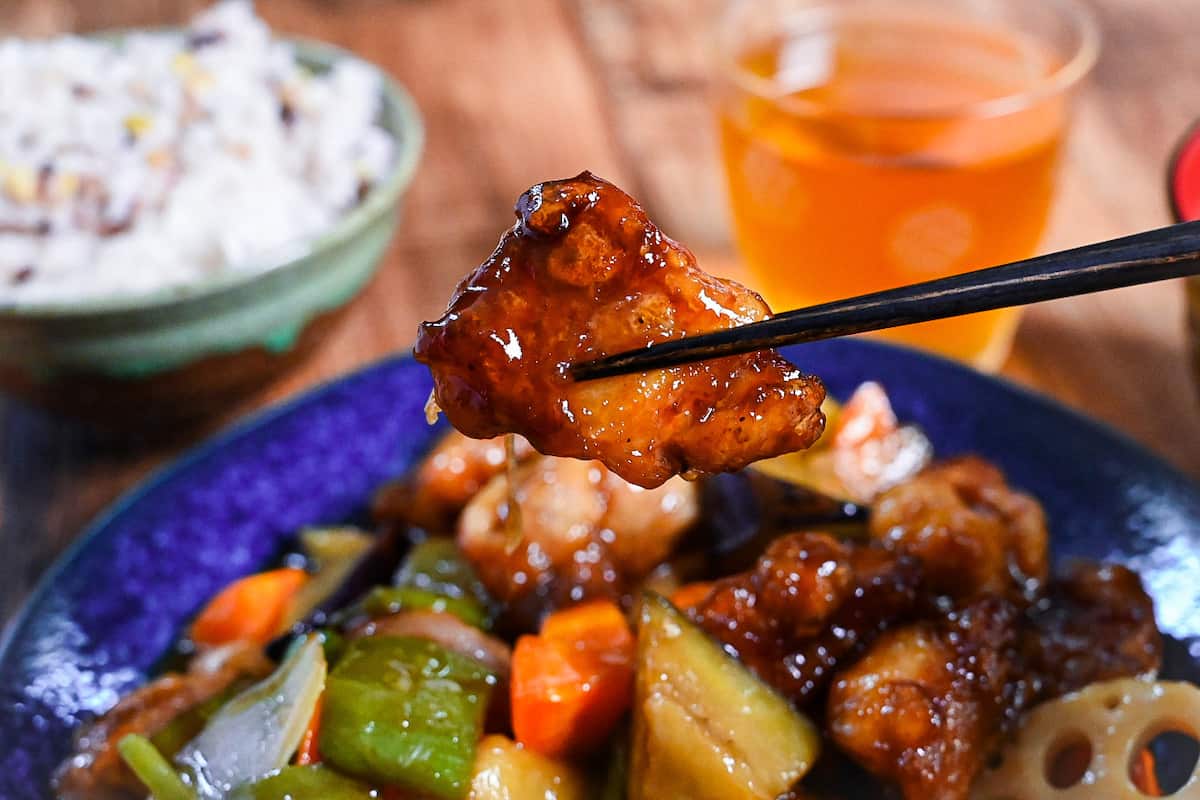 Storage options
Storing your Ootoya-style Black Vinegar Chicken involves choosing between two simple options - refrigeration or freezing. Both storage methods pose no issues for the dish. However, it's crucial to note the thickening effect brought about by starch diminishes as the sauce cools. This is a characteristic property of starch, one that might slightly alter the texture of your dish.
Given this, it's recommended to prepare a quantity that can be enjoyed in one sitting, maintaining the dish's ideal consistency and flavor. Nevertheless, should there be a need for storage, refrigeration is ideal for one to two days, while freezing extends this window up to a month.
Room temperature - Not recommended.
Refrigerated - 1-2 days.
Frozen - Up to a month.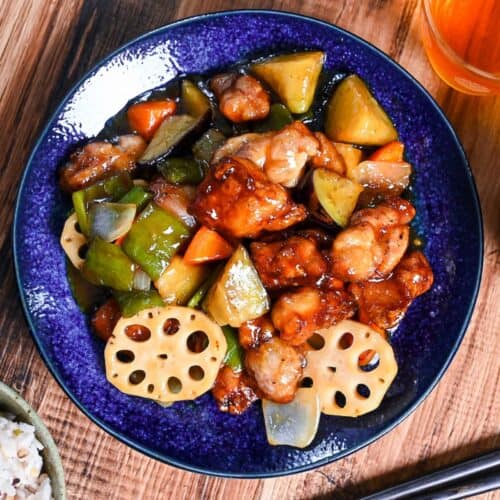 Ootoya's Black Vinegar Sweet and Sour Chicken (Tori Kurozu An)
Learn how to make one of Ootoya's most popular dishes, "Tori to Yasai no Kurozuan". Delicious fried chicken with crunchy vegetables in a sweet and sour black vinegar sauce.
Ingredients
For the chicken
250

g

boneless chicken thigh(s)

-

boneless, skin-on

2

tsp

soy sauce

1

tsp

sake

-

or white wine

½

tsp

grated ginger

-

or ginger paste

½

tsp

grated garlic

-

or garlic paste

2

tbsp

potato starch
Sauce
3½

tbsp

light brown sugar

2

tbsp

apple vinegar

1½

tbsp

soy sauce

2

tsp

Japanese black vinegar

-

(kurozu)

2

tsp

mirin

1

tbsp

sake

-

or white wine

1

tbsp

water

1

tsp

cornstarch
Vegetables
cooking oil

-

for shallow frying

75

g

carrot(s)

100

g

eggplant(s)

50

g

lotus root

-

(renkon) optional

75

g

yellow onion(s)

100

g

green bell pepper(s)
Instructions
Marinating the chicken
Cut

250 g boneless chicken thigh(s)

into bitesize pieces and place them in a container.

Add 

2 tsp soy sauce

, 

1 tsp sake

, 

½ tsp grated ginger

 and 

½ tsp grated garlic

. Mix thoroughly and make sure all of the chicken is coated, then cover and marinate in the fridge for 10 minutes.
Kurozu an Sauce
Take a jug or bowl and add

3½ tbsp light brown sugar

,

2 tbsp apple vinegar

,

1½ tbsp soy sauce

,

2 tsp Japanese black vinegar

,

2 tsp mirin

,

1 tbsp sake

,

1 tbsp water

and

1 tsp cornstarch

. Mix until the sugar and cornstarch are fully dissolved and set aside for later.
Prepping
Take a large frying pan and add about 2cm

cooking oil

(approx 1 inch). Heat the oil to

180

°C

. While you wait for the oil to heat up, cut the vegetables.

Roughly cut

100 g eggplant(s)

with the skin on, and soak in cold water for 5 minutes. If you're using 

50 g lotus root

, peel it and cut it into thick slices, then place them in the bowl with the eggplant.

Peel

75 g carrot(s)

and cut it into rough pieces. Cut the 

100 g green bell pepper(s)

 and 

75 g yellow onion(s)

 into roughly 2cm (approx 1 inch) squares.
Frying
Once the oil has finished heating, add the carrot and fry for 3 minutes on each side.

Remove the carrot and place on a wire rack to allow the excess oil to drip off.

Remove the eggplant and lotus root from the water and dry each piece thoroughly with kitchen paper. Place each piece into the oil along with the green pepper and fry for 1 minute.

After one minute, remove and drain on the wire rack.

Add the onion to the oil and fry for 1 min. Once finished, transfer to the wire rack.

Lower the heat of the oil to

170

°C

.

Sprinkle

2 tbsp potato starch

onto a plate and roll each piece of marinated chicken in the starch before placing it into the oil.

Fry the chicken for 3 minutes on each side.

After 6 minutes in total, increase the heat to

190

°C

and fry for 1 more minute on each side.

Transfer the chicken to a wire rack to allow the excess oil to drip off.

Finally, heat a large frying pan or wok on medium, add a small drizzle of oil and then add the fried vegetables and chicken. Take the jug of sauce from earlier and give it a mix before pouring it into the pan.

Stir fry until the sauce has thickened and coats the chicken and vegetables.

Serve up and enjoy!
Notes
If you don't want to shallow fry the vegetables, you can stir-fry the vegetables. Just note that this will change the overall texture and look of the dish, and will also take longer to cook.
If you can't get black vinegar, mix 1 tsp of rice vinegar with 1 tsp balsamic vinegar.
Pairing/Serving Suggestions For Black Vinegar Chicken
Are you wondering "What pairs beautifully with my black vinegar chicken?" Rest assured, I've got you covered.
In this section, I'll introduce you to five delicious side dishes and accompaniments, each carefully selected to harmonize with the flavors of your delectable black vinegar chicken.
Freshly cooked Japanese rice
Naturally, freshly prepared white rice makes an outstanding partner for black vinegar chicken. The aromatic allure of the chicken masterfully enhances the warmth and simplicity of Japanese rice, creating a duet that sings in perfect harmony.
And if a rice cooker isn't part of your kitchen arsenal, fear not! Check out my step-by-step guide on cooking Japanese rice without a rice cooker. It's got you covered, ensuring you serve up flawlessly fluffy rice every time.
How to Cook Perfect Japanese Rice on the Stove
No rice cooker? No problem! With this fool-proof recipe, you can make delicious, fluffy and sticky Japanese-style rice on the stove perfectly every time!
Check out this recipe →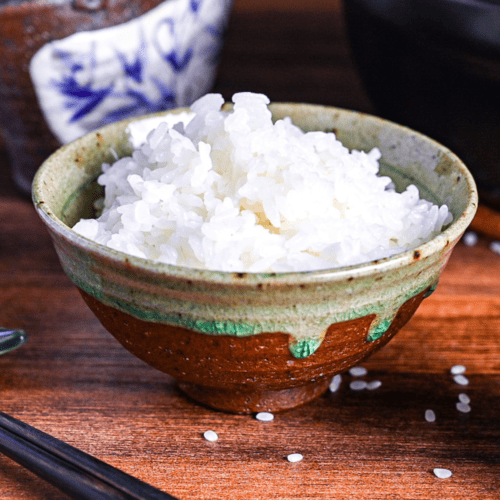 Miso soup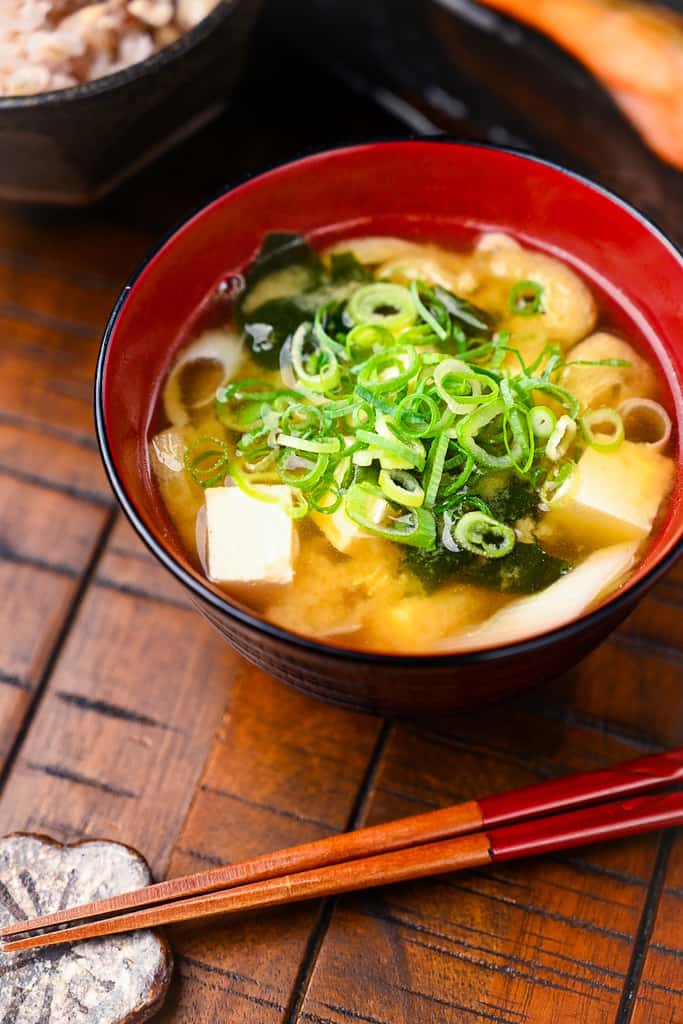 Pairing Kurozu Ankake, white rice, and miso soup presents an Ootoya classic trio! This combination promises a delightful teishoku-style set meal that is satisfying and varied.
The versatility of miso soup is indeed a charm. You can explore a myriad of combinations by varying the ingredients and types of miso. For inspiration, check out my miso soup recipes, including mushroom miso soup and plant-based miso soup. There's a universe of delicious variations waiting to be explored!
If you're seeking a soup with a different personality, consider kakitamajiru. This Japanese-style egg drop soup is a wonderful alternative, adding a unique flair to your meal.
Authentic Homemade Japanese Miso Soup (味噌汁)
How to make authentic Japanese miso soup from scratch with homemade dashi stock.
Check out this recipe →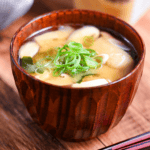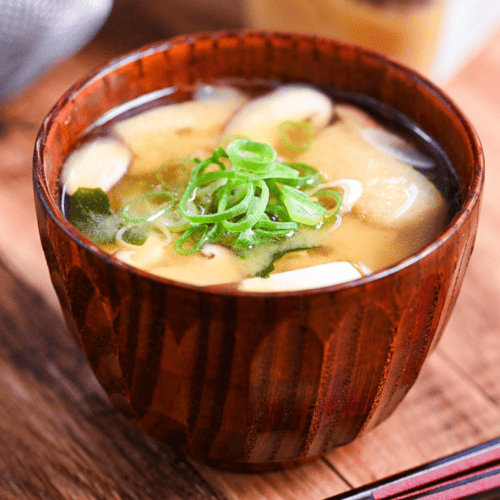 Pickled cucumber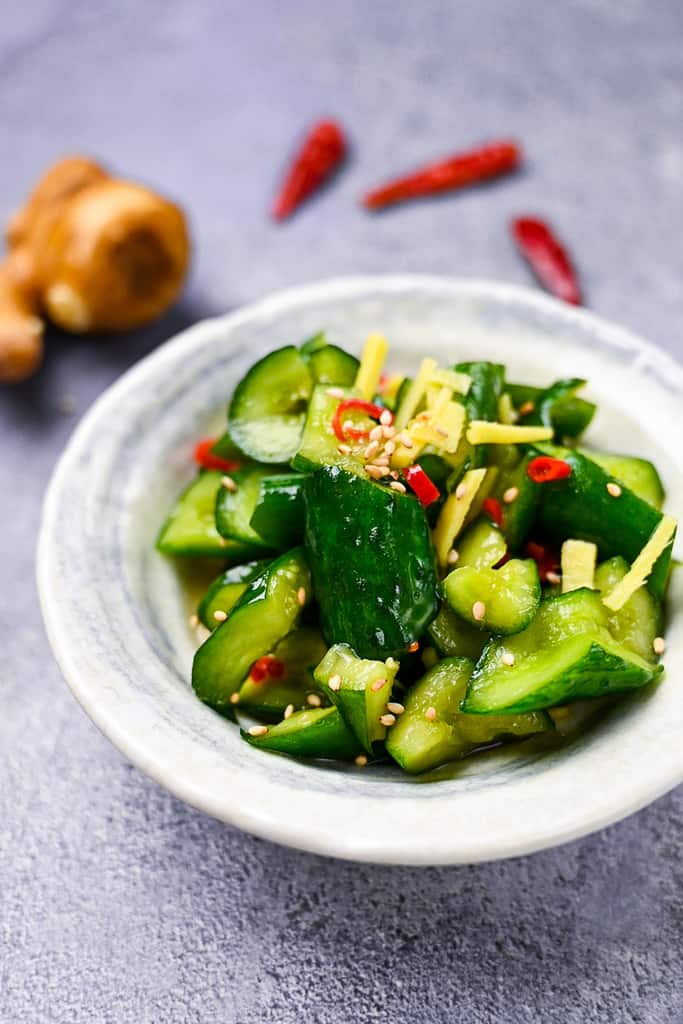 Pickled cucumbers hold a cherished place in traditional Japanese cuisine. I invite you to try my take on this classic side dish, spiced with dried chili peppers and ginger for a zesty and straightforward pickle.
For a unique spin, peek at my wasabi pickled cucumber recipe. It adds a sharp, spicy twist to the classic version, guaranteed to tickle your tastebuds.
No matter which one you choose, these pickles stand ready to complement a vast array of Japanese dishes, making them a versatile addition to your culinary repertoire.
Quick Japanese Pickled Cucumber with Ginger (Tsukemono)
How to make crunchy, refreshing Japanese cucumber pickles (tsukemono) with a ginger and chili kick. 
Check out this recipe →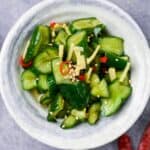 Kiriboshi Daikon
Enter Kiriboshi Daikon no Nimono, a cherished side dish straight from the heart of Japan. This beloved recipe features rehydrated strips of daikon radish, simmered in a broth teeming with flavors from carrots, shiitake mushrooms, and your choice of satsuma-age (fried fish cake) or aburaage.
The dish exudes a gentle sweetness, thanks to a touch of sugar and a hearty infusion of dashi, making it a delightful counterpoint to rice dishes. A commonplace sight in numerous Japanese homes, this comforting side dish enjoys widespread popularity and will surely charm your palate.
Simmered Kiriboshi Daikon Radish
How to make flavorful Kiriboshi Daikon no Nimono with strips of dried daikon radish simmered in a sweet and savoury Japanese sauce with carrots, shiitake mushrooms and fishcakes.
Check out this recipe →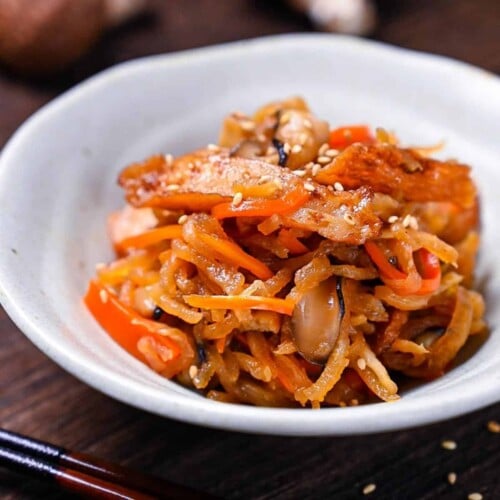 Addictive Salted Cabbage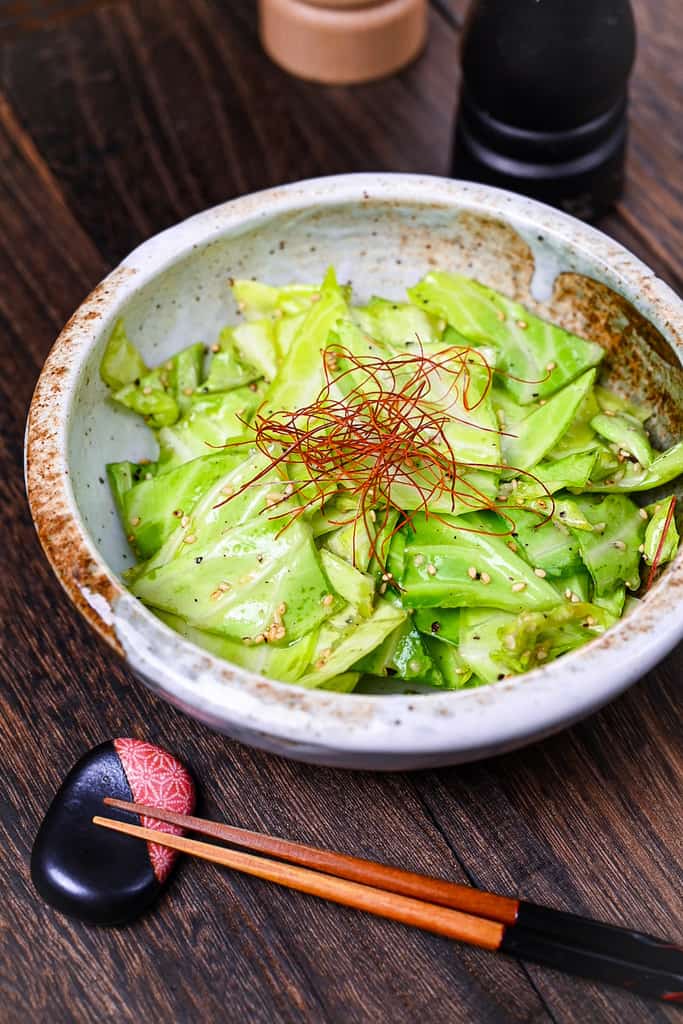 Introducing the Japanese salted cabbage, affectionately termed "yamitsuki," translates to "addictive" cabbage, a name that rings true to its irresistible taste. This simple yet appetizing side dish starts with raw cabbage lightly sprinkled with salt and other seasonings. The result is a refreshing, crunch-filled bite, enhanced with a dash of umami.
This delight is a common sight in izakaya or yakiniku restaurants, famed for its addictive quality. Some establishments even offer the treat of free refills. This quick, economical, and easy-to-prepare dish is bound to win your heart. Dive into this izakaya-style recipe and discover a delightful 5-minute treat that you're sure to relish!
Addictive Izakaya Style Salted Cabbage (Yamitsuki Cabbage)
How to make Izakaya Style "Addictive" Salted Cabbage.
Check out this recipe →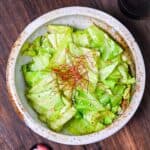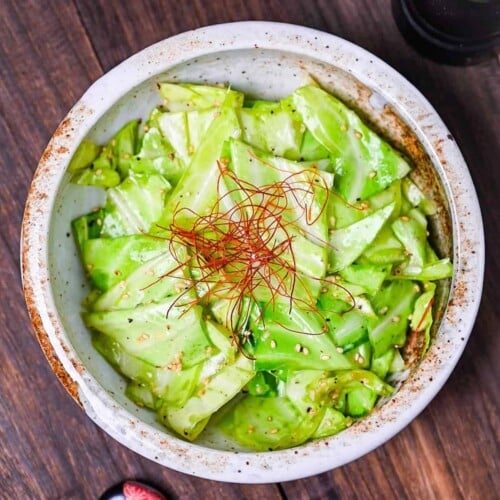 FAQ
What is Japanese black vinegar?
When it comes to black vinegar, Chinese black vinegar is also well-known. However, while Japanese black vinegar is made from brown rice, Chinese one is made from glutinous rice.
Can I use other meat for this dish?
Yes, it can also be made with pork, white fish, prawns, or beef.
What is Ootoya?
Ootoya is a Japanese teishoku-style chain restaurant that focuses on the quality of ingredients and on-site cooking (no frozen stuff). The restaurant features a well-balanced menu that is similar to home cooking and has restaurants throughout Japan and around the world.