Learn how to make Saizeriya's most loved dish, Milano Meat Doria! Turmeric rice topped with creamy béchamel sauce, flavourful meat sauce and tangy pecorino cheese.
Disclaimer: This post contains Amazon affiliate links. Sudachi Recipes earn a small percentage from qualifying purchases at no extra cost to you. See disclaimer for more info.
Jump to:
What is Saizeriya's Milano doria?
Milano doria (ミラノ風ドリア) is a signature dish (along with other favourites like karami chicken) served at the famous Italian-Japanese family restaurant chain "Saizeriya". The dish is made with white sauce, meat sauce, and powdered cheese served over buttery turmeric rice and baked until golden.
Even though the name contains "Milano", it is an original menu by Saizeriya and doesn't have any relevance to Milan in Italy.
I grew up going to Saizeriya very often as a kid and still go there sometimes, it's safe to say the "Milano Doria" is the most iconic and loved dish in there. It's also one of my personal favourites so I'm excited to share this recipe so you can make it at home too!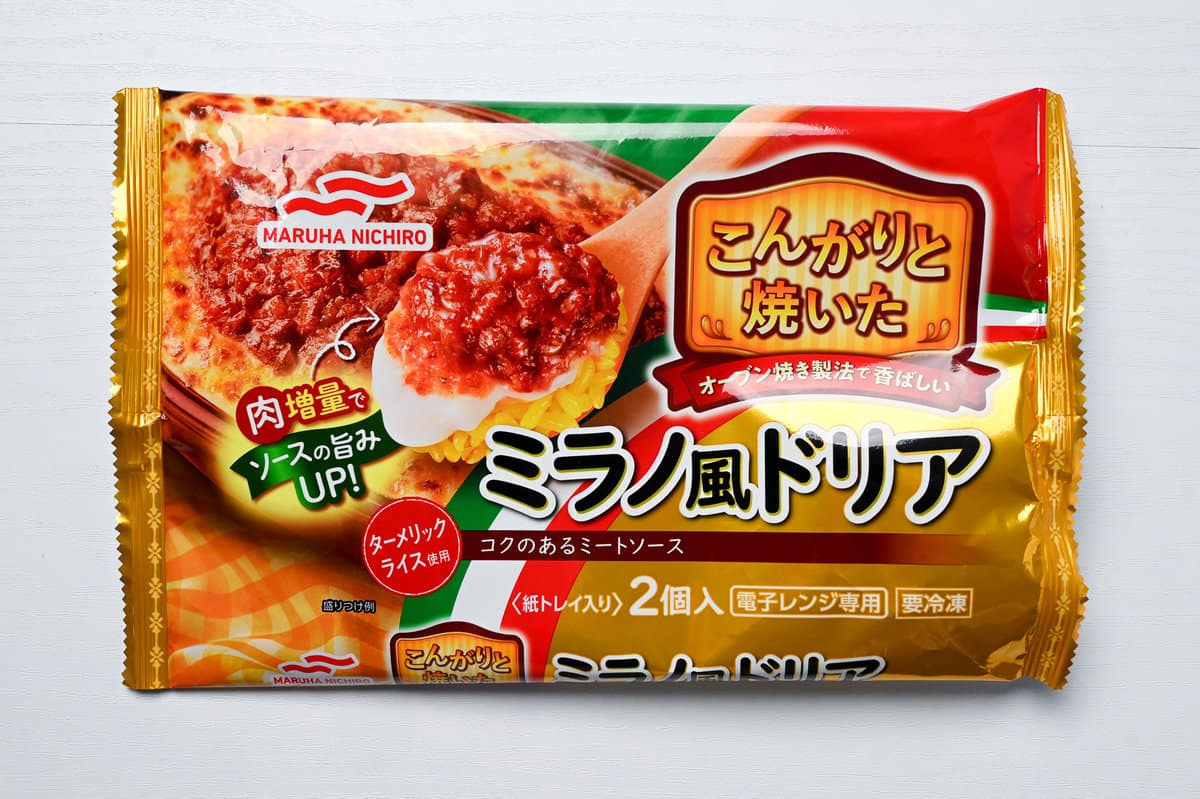 Brief history of milano doria
Milano doria has been a long-selling product for more than 40 years, and is still so popular that a total of approximately 60,000 servings are sold per day across all branches nationwide.
It is believed that Milano doria was born around 1969, when a regular customer saw an employee eating white sauce, meat sauce, and powdered cheese on rice as a meal, and asked the worker if he can try it too.
Surprisingly, the response was so positive that for a while it was offered as a "secret" menu item, but as word gradually spread, the restaurant decided to add it to the menu as a regular item.
As you all may know, doria is not an Italian dish, but a Japanese dish inspired by Italian cuisine. Then how did it end up being called "Milano"?
Initially, it was actually called "Meat Gratin," but the number of menu items with similar names increased, making it easy to make a mistake, so the decision was made to change the name. The meat sauce, which is a characteristic of Milanese doria, originates from the Bologna region, so they took the name of Milan, which is close to this region, and named it "Milano doria".
I personally think "meat gratin" would be a lot less confusing though...
Then what is doria?
As I explained, the specific dish "Milano doria" is Saizeriya's original creation, however this is not the case for all types of doria. Doria generally refers to an oven baked dish made up of flavoured short grain rice topped with white sauce and cheese. You could say it's a rice gratin.
In fact, doria was invented by the Swiss chef Sally Weil in Japan, more precisely at the Hotel New Grand in Yokohama in 1930. He was hired as their head chef from Paris in 1927 and is said to have been skilled not only in French cuisine, but also in Italian and Swiss cuisine.
A banker staying at the hotel asked him to prepare something easy to eat and comforting for him as he was not feeling well. The dish he improvised was the first example of doria. The original version was simply risotto topped with bechamel sauce and baked in the oven. This dish was so well received that it became the hotel's signature dish, "Shrimp Doria".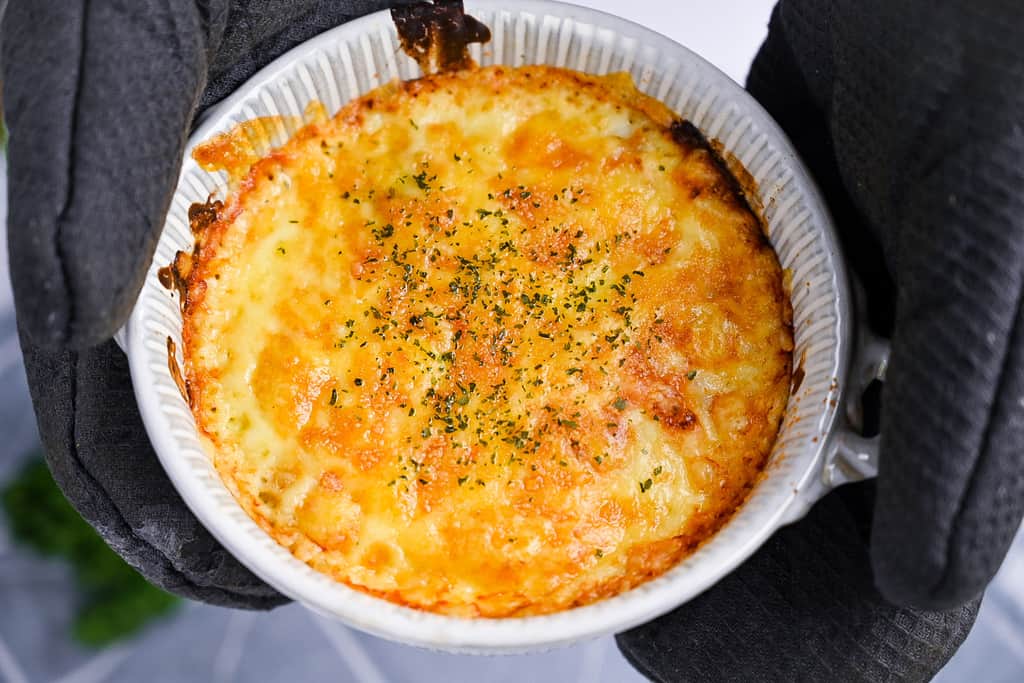 That was the origin of every type of doria in Japan. In fact, still to this day, it's more common to use seafood for doria. If you want to make seafood doria, check out my seafood doria recipe!
What kind of cheese is used for doria?
It came to my attention that the term "cheese" in Japan is quite vague. If you go to supermarkets in Japan, lots of packed shredded cheese are labelled simply as "Mixed cheese (ミックスチーズ)" which is generally a mixture of Gouda, Cheddar, Mozzarella and/or Steppen cheese.
In this recipe, I originally used gouda and cheddar mixed shredded cheese and a hard cheese powder, but in fact, Saizeriya only uses pecorino cheese, not melted cheese.
Grated hard cheese like pecorino or parmigiano are important for adding a rich, cheesy flavour to the doria but you can add melty cheese too. I love cheese so I sprinkled extra meltable cheese over the top. It becomes golden and delicious once baked in the oven too.
Hard Cheese
Pre-grated hard cheese products in Japan are also often a mixture of different cheeses and are simply labelled as "powdered cheese" (粉チーズ).
For flavour (and a more authentic Saizeriya taste) use a hard grated cheese:
Pecorino

Parmigiano (parmesan)
Meltable Cheese
For a stringy melty texture, use one of these cheeses:
Gouda
Light Cheddar
Gruyere
Emmental
Mozarella
Raclette
Basically, if it's a cheese that you would use on lasagna, then you can definitely use it in doria too. The truth is, many different cheeses work in this recipe so have fun making milano meat doria with your favourite cheese!
Ingredients to make homemade milano doria
Meat doria has evolved over time and the Saizeriya version is made up of the following elements:
Turmeric rice
Meat sauce
Bechamel sauce
Cheese
In this recipe, I used the following ingredients for each part:
Buttery turmeric rice
Water
Turmeric powder
Unsalted butter
Salt
Meat sauce
Ground meat (beef or pork/beef mix)
Onion
Garlic
Canned tomato (diced type)
Flour
Olive oil
Salt
Sugar
White sauce
Unsalted butter
All purpose flour
Salt
Black pepper
Milk
Single cream
TOPPING
Pecorino cheese
Gouda cheese
Instructions on how to make milano doria at home
Here are my detailed instructions on how to make milano doria from scratch with process pictures! For the simplified printable recipe and ingredient quantities, see the recipe card below!
Flavour the rice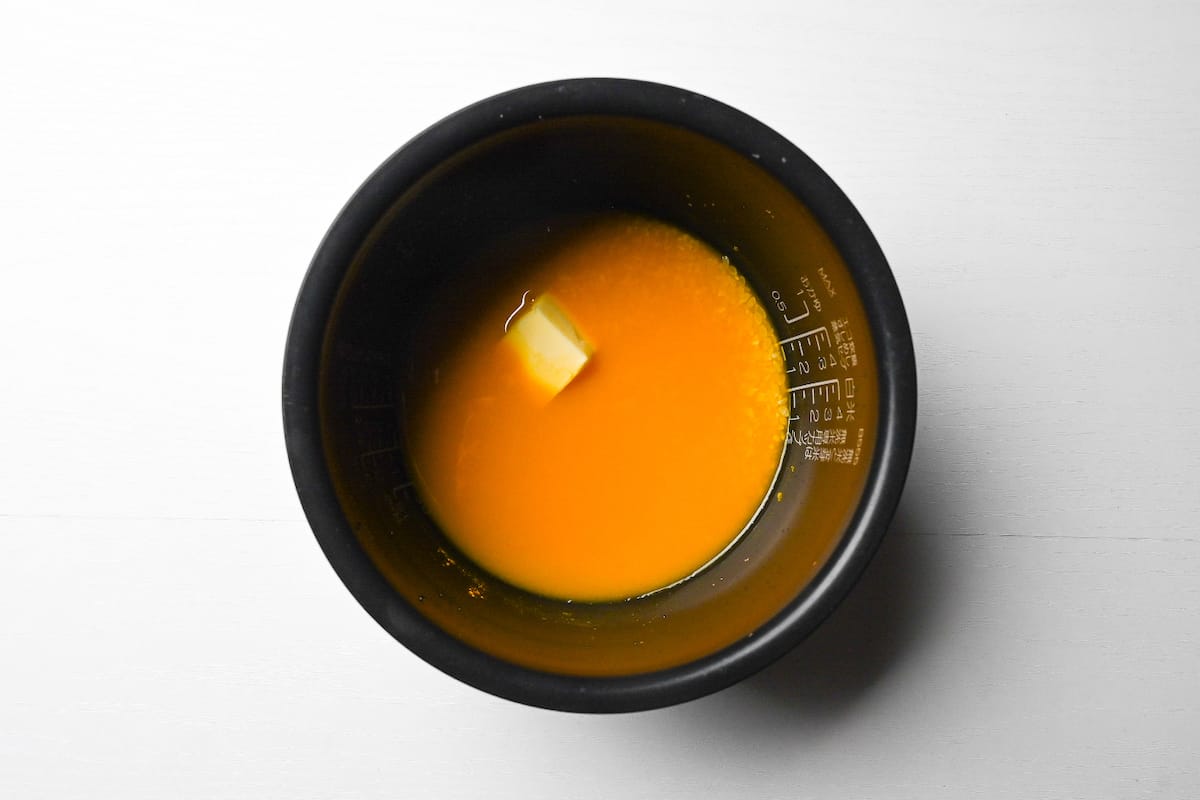 The first step is to prepare your rice as you would with any other rice dish. My routine is to pour the rice into a sieve over a mixing bowl, fill it up with water and wash the rice three times, emptying the starchy water between each wash.
Once that's done, place the rice in the cooking pot with the correct ratio of water (3:4 rice in grams to water in ml) and soak for 30 minutes to 1 hour.
When it's soaked for long enough, add the butter, turmeric and salt and mix before cooking using your usual method. I highly recommend using a rice cooker, but if you don't have one and need some guidance to cook perfect Japanese rice, check out my guide on how to cook Japanese rice on the stove here.
While it's soaking/cooking, you can prepare the other parts of the dish!
Making the meat sauce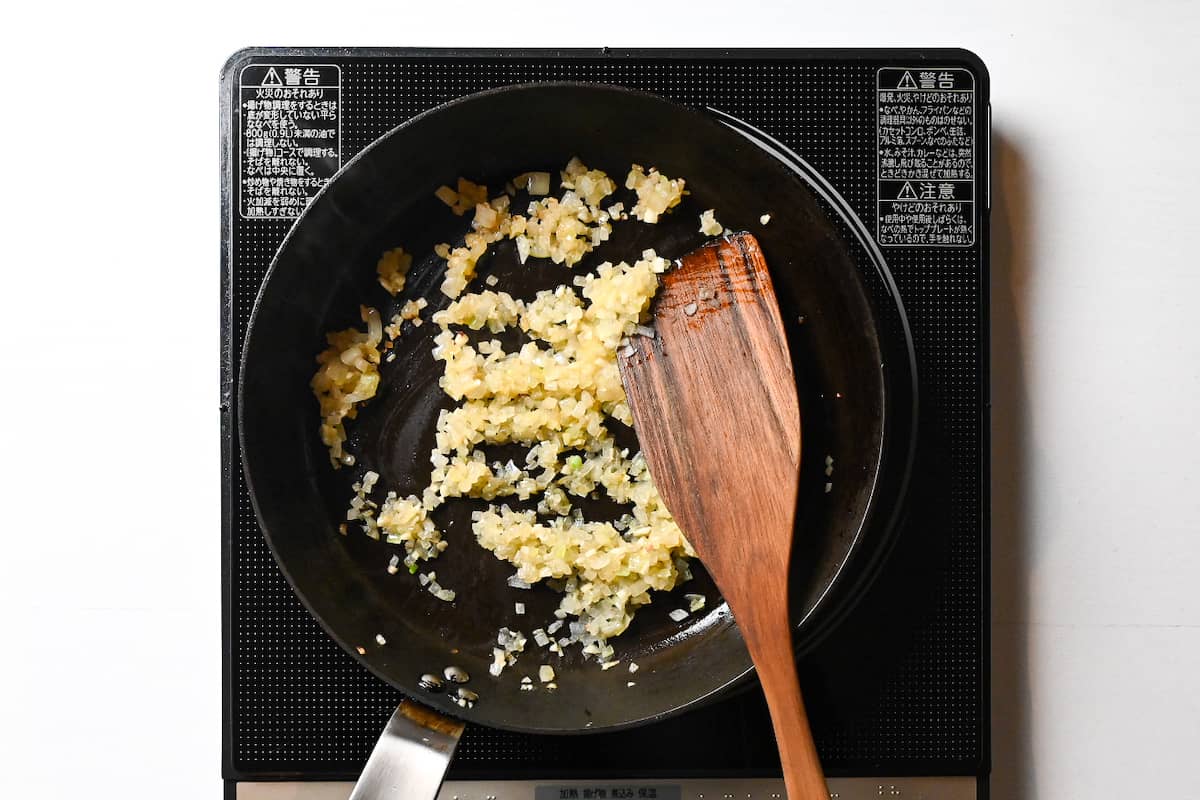 First, heat a pan on medium and add a drizzle of olive oil. Once it's hot, add diced onion and crushed garlic and fry them for a few minutes until the onion is slightly translucent.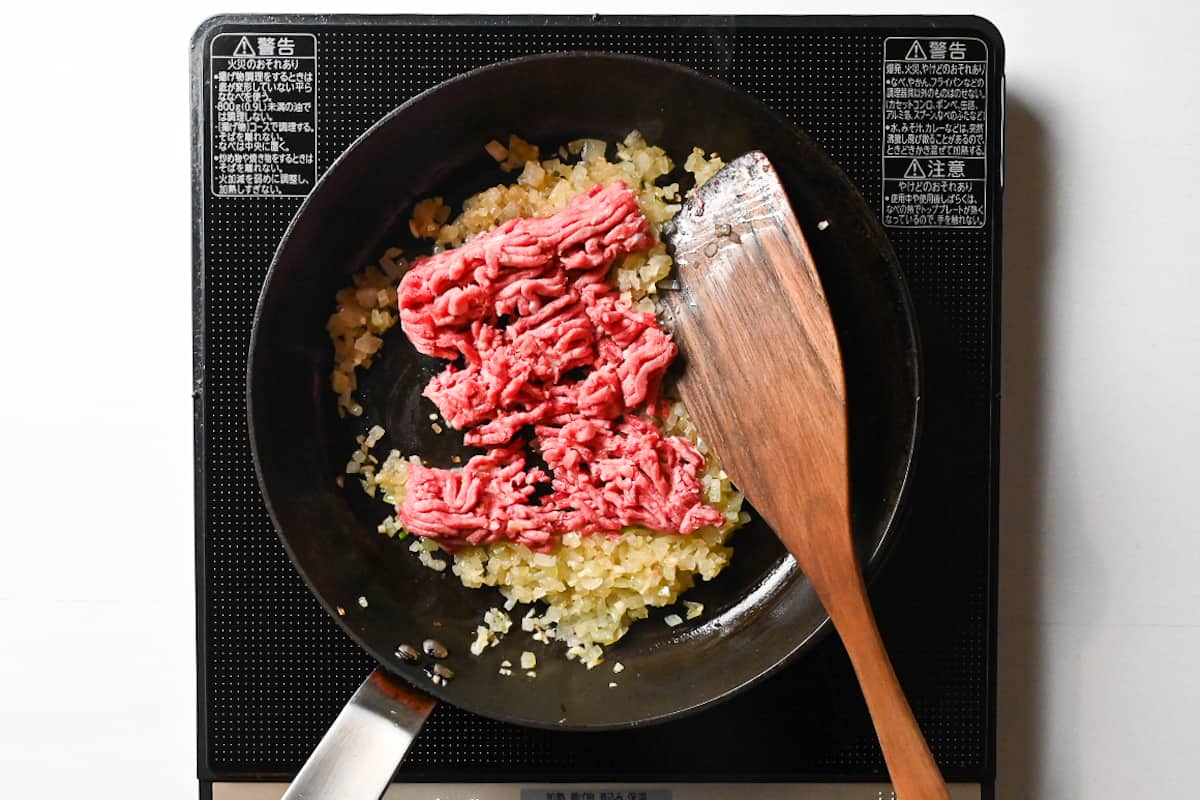 Add the mince meat (I used beef, but you can use beef/pork mixture) and fry until browned.
Next sprinkle with salt and pepper, add the flour and mix. This will not only help the meat hold onto more flavour, but also thicken the sauce.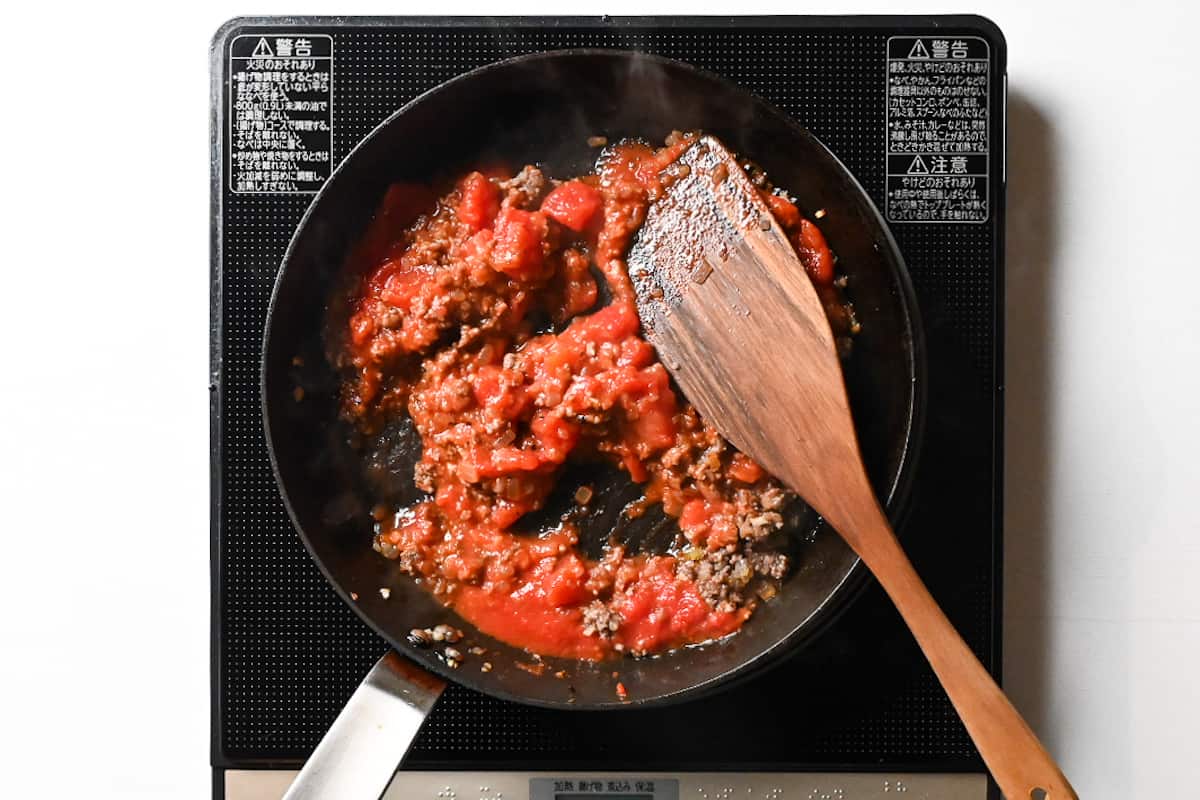 Add the canned tomatoes and mix over the heat. Once it starts to bubble, turn the heat down to low.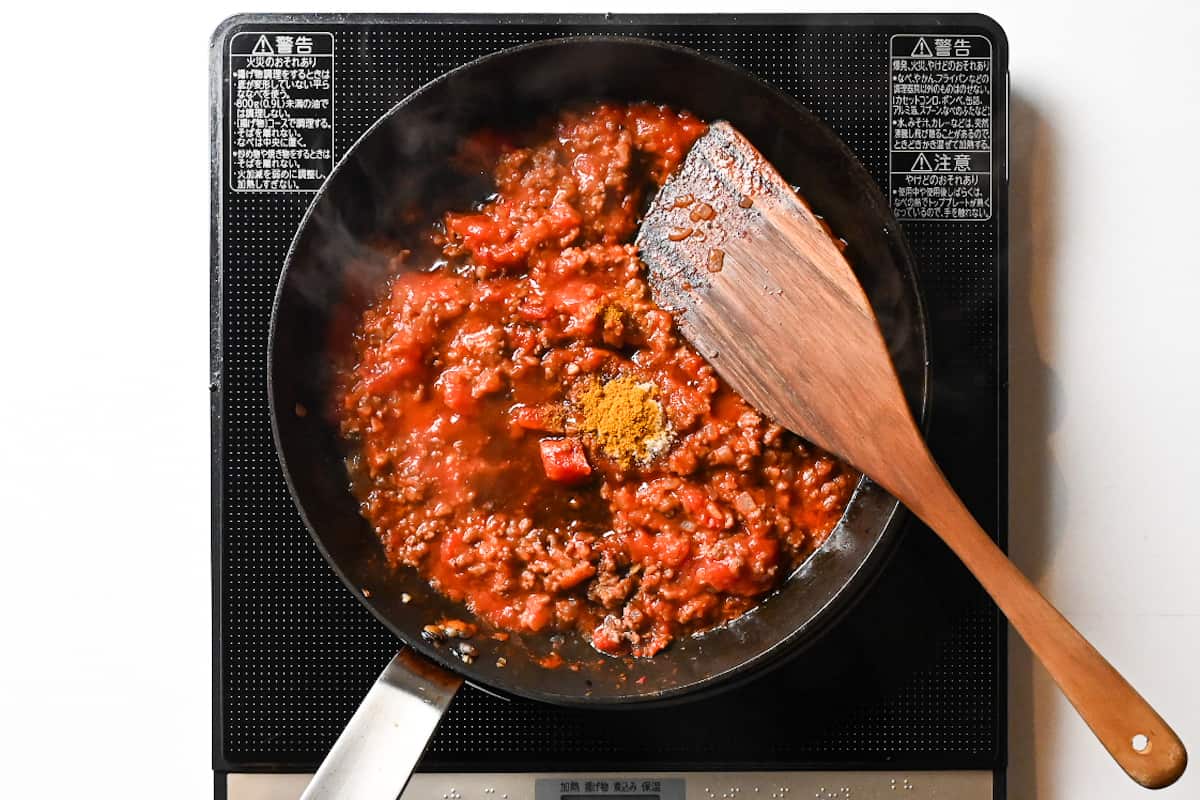 Season with soy sauce, sugar and curry powder. Mix well, place a lid on top and allow to simmer on low for 10 minutes.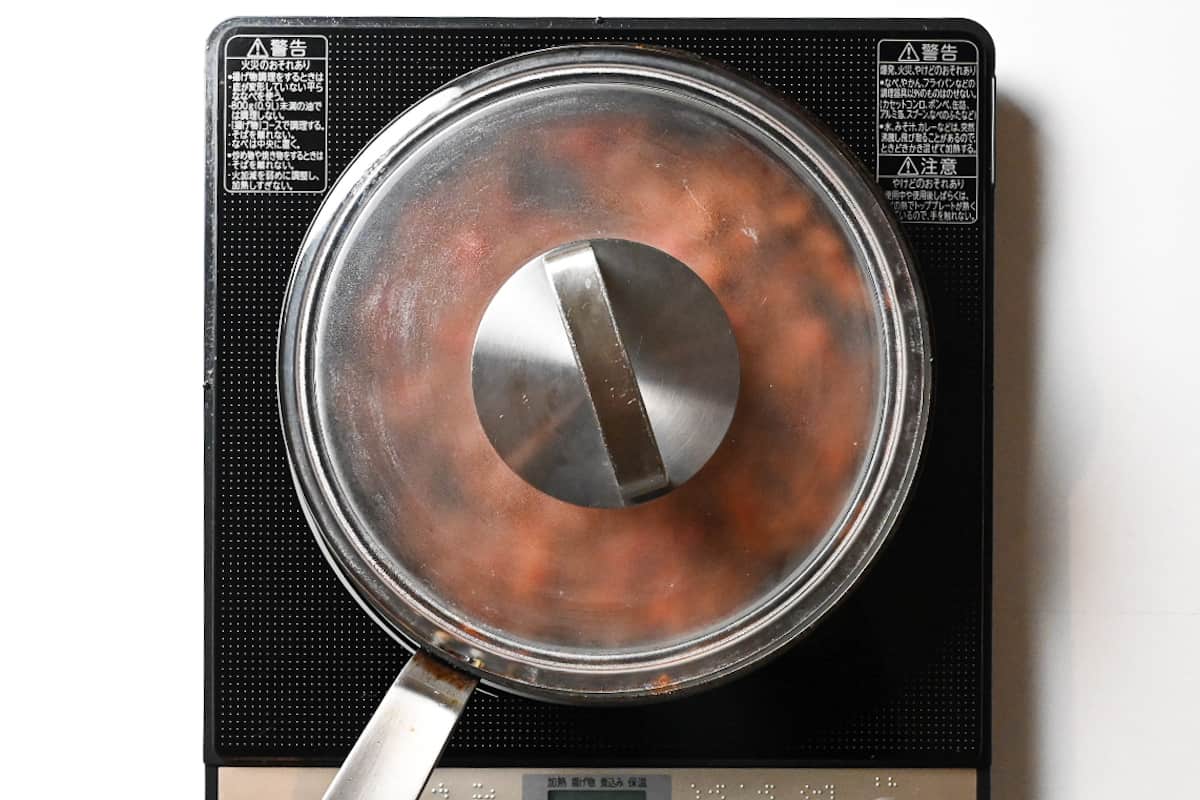 Once it's done, turn off the heat and set aside for later!
Making the white sauce (Béchamel style sauce)
Melt the unsalted butter in a pan on a low heat.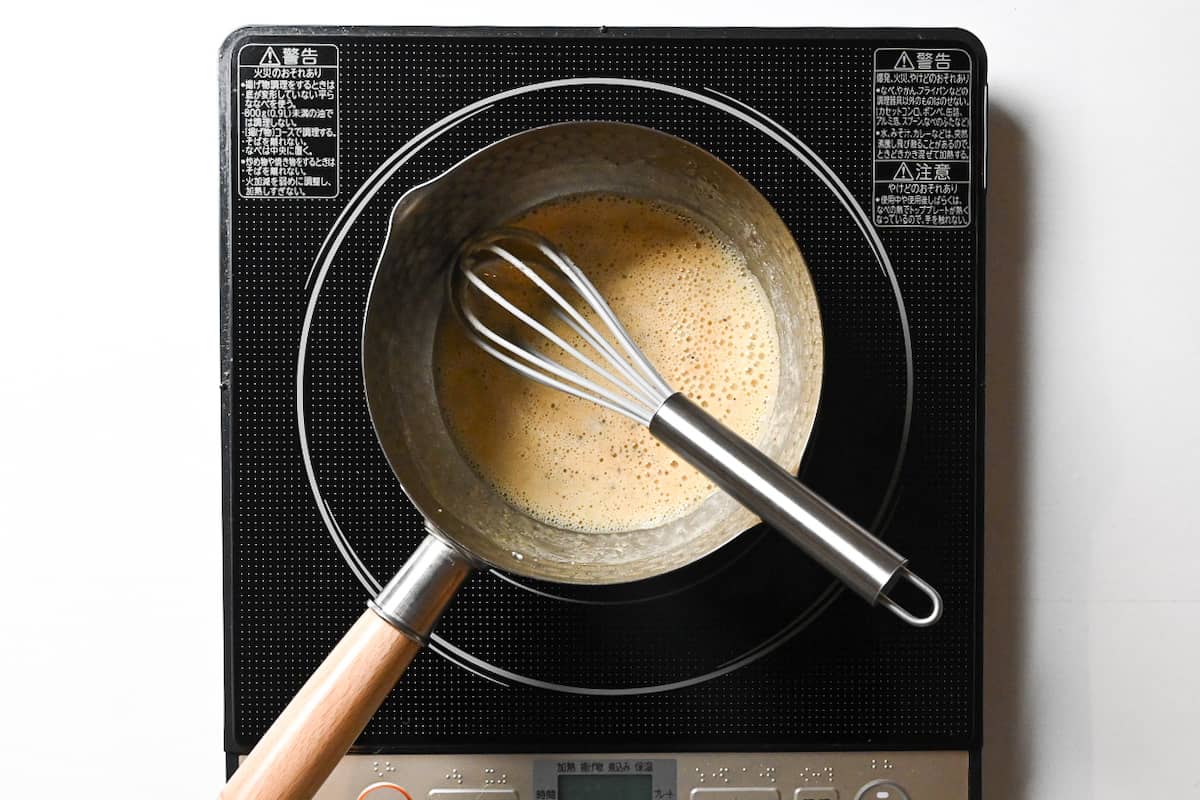 Add flour, salt and pepper and mix continuously to make a roux. Once it's thickened, add the milk and cream gradually while whisking.
It's important that you don't stop whisking, this prevents the mixture at the bottom from forming lumps.
Continue to whisk over the low heat until the sauce is thick, creamy and coats the back of a spoon.
Once it's done, remove it from the heat and set aside.
Assembly
Preheat your oven to 220°C (or 430°F).
Take an oven proof dish and make a layer of turmeric rice.
Next, add the white sauce and spread it evenly so it covers the rice.
The next layer is the meat sauce. To make it like Saizeriya's signature Milano Doria, I place it in the middle like this:
Sprinkle meltable grated cheese around the meat sauce and powdered/finely grated hard cheese all over.
Bake it in the oven on the middle shelf for approximately 10 minutes. Move it to the top shelf and continue to bake for 5 more minutes to help crisp up the cheese.
I made two individual servings, but you can multiply the recipe and make one big one if you prefer!
Storage
Milano meat doria is perfect for making in advance, once you've made all the elements, just assemble and store it in the fridge for up to 1-2 days. Bake before serving.
Alternatively, you can assemble it and store it in the freezer for up to 3 months.
Keep in mind that chilled or frozen doria takes longer to cook. Here are the cooking times and temperatures:
Freshly cooked and assembled - uncovered at 220°C (430°F) on middle shelf for 10 minutes, top shelf for 5 minutes. (15 minutes in total)
From chilled - uncovered at 200°C (392°F) for 20 minutes on middle shelf, then move to the top shelf for 5-10 minutes. (25-30 minutes in total)
From frozen - covered with foil at 190°C (375°F) for 40 minutes, remove the foil and move to the top shelf for 10 minutes (50 minutes in total)
In the unlikely case that the top starts to burn, cover it with foil and continue to bake for the times stated above to ensure it's heated all the way through.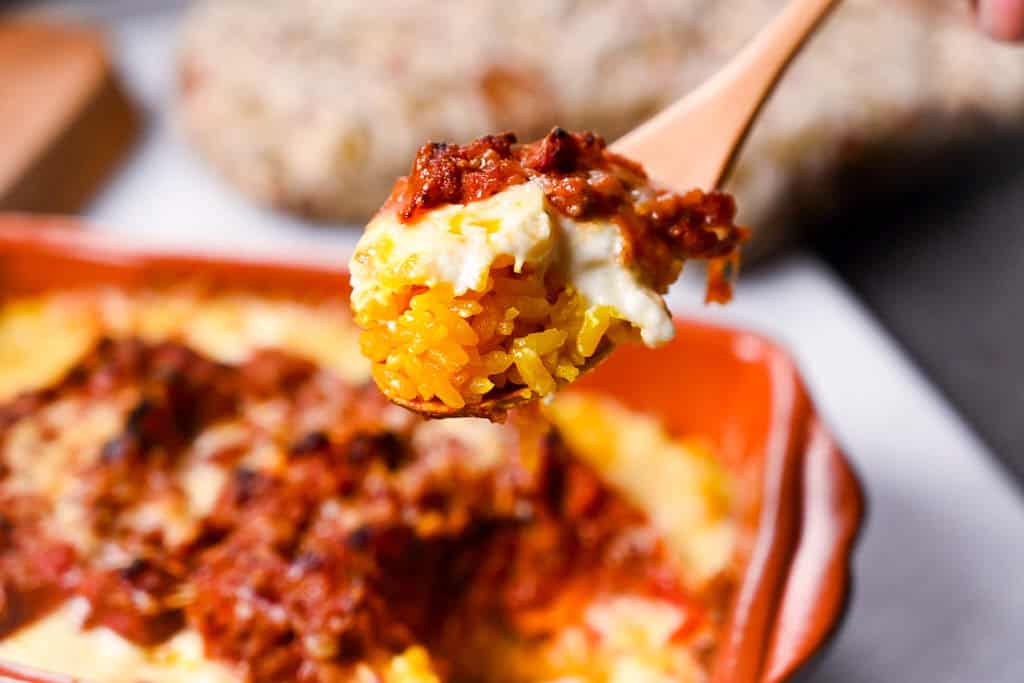 Anyway, for anyone who's missing Saizeriya dishes, this recipe is definitely for you!
Let's enjoy homemade Saizeriya style milano meat doria at home!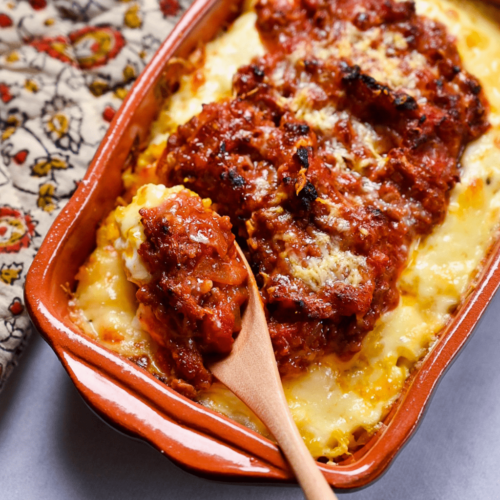 Saizeriya Milano Doria Recreation Recipe (Japanese Meat Gratin)
A recreation recipe of Saizeriya's most loved dish, Milano Meat Doria. Turmeric rice topped with creamy béchamel sauce, tomato meat sauce with a kick and tangy pecorino cheese.
Ingredients
Turmeric Rice
150

g

uncooked Japanese short-grain rice

200

ml

water

1

tsp

turmeric powder

1

tbsp

unsalted butter

1

pinch

salt
Meat sauce (see note)
100

g

ground beef

100

g

yellow onion(s) -

finely diced

1

clove

garlic

-

finely diced

200

g

canned tomato

-

diced

1

tsp

all-purpose flour

1

tsp

olive oil

1

pinch

salt

1

tsp

soy sauce

½

tbsp

sugar

1

pinch

curry powder
White sauce (see note)
2

tbsp

unsalted butter

2

tbsp

all-purpose flour

1

pinch

salt

1

pinch

black pepper

150

ml

milk

125

ml

heavy cream

-

or half & half
Topping
2

tbsp

hard cheese

-

pecorino or parmesan

preferred melting cheese

-

e.g. cheddar or gouda
Instructions
Cooking the Rice
Wash the rice and transfer it to the cooking pot. Pour the water in and leave to soak for 30 minutes.
Meat sauce
Heat a pan on medium and once hot, add

1 tsp olive oil

. Add

100 g yellow onion(s)

and

1 clove garlic

and fry for 2 minutes.

Add

100 g ground beef

and cook until browned.

Sprinkle

1 pinch salt

,

1 pinch black pepper

and

1 tsp all-purpose flour

into the pan and mix thoroughly.

Add

200 g canned tomato

, mix and bring the mixture to a boil. Once bubbling, turn the heat down to low.

Season with

1 tsp soy sauce

,

½ tbsp sugar

and

1 pinch curry powder

, mix and simmer on a low heat with the lid on for 10 minutes.
White Sauce
Melt the

2 tbsp unsalted butter

in a saucepan on a low heat.

Add

2 tbsp all-purpose flour

, a pinch of salt and pepper, then mix thoroughly to make a roux.

Gradually add

150 ml milk

and

125 ml heavy cream

while whisking contiuously.

Turn up the heat to medium-low and continue to stir over the heat until thick and creamy.

Once thick, remove the pan from the heat. 
Assembling The Doria
Preheat your oven to

220

°C

.

Spread a layer of turmeric rice in an ovenproof dish. (You can use 1 medium size or 2 small/individual size)

Pour the white sauce over the rice and spread evenly using the back of a spoon.

Place the meat sauce in the centre and sprinkle grated hard cheese over the top and meltable cheese around the edges.

Bake in the oven for 10 mins on the middle shelf. Move it to the top shelf for the last 5 minutes to help brown the cheese.

Serve up and enjoy!
Notes
If you want to make this recipe in advance, I recommend to cook, assemble and store it in the refrigerator ready to bake the next day. (Chill for a maximum of 1-2 days.) 
Freeze unbaked doria for up to 3 months. Cook from frozen at 190°C (375°F) covered with foil for 40 mins then remove the foil and bake for another 10 mins uncovered.
Store cooked leftovers in the refrigerator for 1-2 days and reheat in the microwave until piping hot.
Nutrition
Serving:
572.5
g
Calories:
962
kcal
Carbohydrates:
85.9
g
Protein:
26.5
g
Fat:
60.7
g
Saturated Fat:
34.01
g
Polyunsaturated Fat:
2.99
g
Cholesterol:
150
mg
Sodium:
591
mg
Fiber:
3.1
g