Nagasaki Champon is a vibrant noodle dish made with thick and chewy noodles topped with pork, seafood and a variety of vegetables served in a rich and milky broth. It's comforting, nutritious and extremely easy to make! This recipe is a recreation of Ringer Hut's Nagasaki Champon so you can enjoy it at home!
Disclaimer: This post contains Amazon affiliate links. Sudachi Recipes earn a small percentage from qualifying purchases at no extra cost to you. See disclaimer for more info.
What is Nagasaki Champon Ramen?
Nagasaki champon (長崎ちゃんぽん) is considered the soul food of Nagasaki City located in Nagasaki Prefecture on the island of Kyushu, Japan. The ingredients include pork, seafood, and a variety of vegetables, making it a very well-balanced dish that is different from other ramen dishes. You can enjoy a soupy and colourful noodle dish that is served in a chicken or pork based broth and then topped with a satisfying array of sautéed ingredients.
Nagasaki champon is believed to be inspired by a Chinese dish from Fujian Province called "tonniishiimen" (湯肉絲麵).
The History of Nagasaki Champon
The story goes, that champon was created by the owner of a Chinese restaurant called "Shikairou" in Nagasaki City during the mid-Meiji period (1868-1912). He invented champon to provide a cheap and nutritious meal for Chinese exchange students visiting Japan at that time.
The word "champon" means "mixture of various things" and it represents the champon dish having many different kinds of vegetables.
Many people don't realise that champon is actually an example of "chuka ryori" (中華料理) which are dishes born in Japan, but are actually inspired by Chinese cuisine. As mentioned above, champon is very different from other types of ramen dishes such as shoyu ramen or shio ramen.
Champon vs Ramen: what are the diffrences?
At first glance, champon may give the impression of a ramen dish with a variety of ingredients, but there are several technical differences.
For example, strictly speaking, the noodles used for chanpon are different from those used for ramen (although for convenience, this recipe uses thick ramen noodles). The noodles used for champon noodles are thick and firm, and are made with "touaku (唐灰汁)," which is different from the lye water used to make regular ramen noodles. While lye water is mainly composed of potassium carbonate, the main ingredient in touaku is sodium carbonate, which gives champon noodles their unique flavor and chewy texture.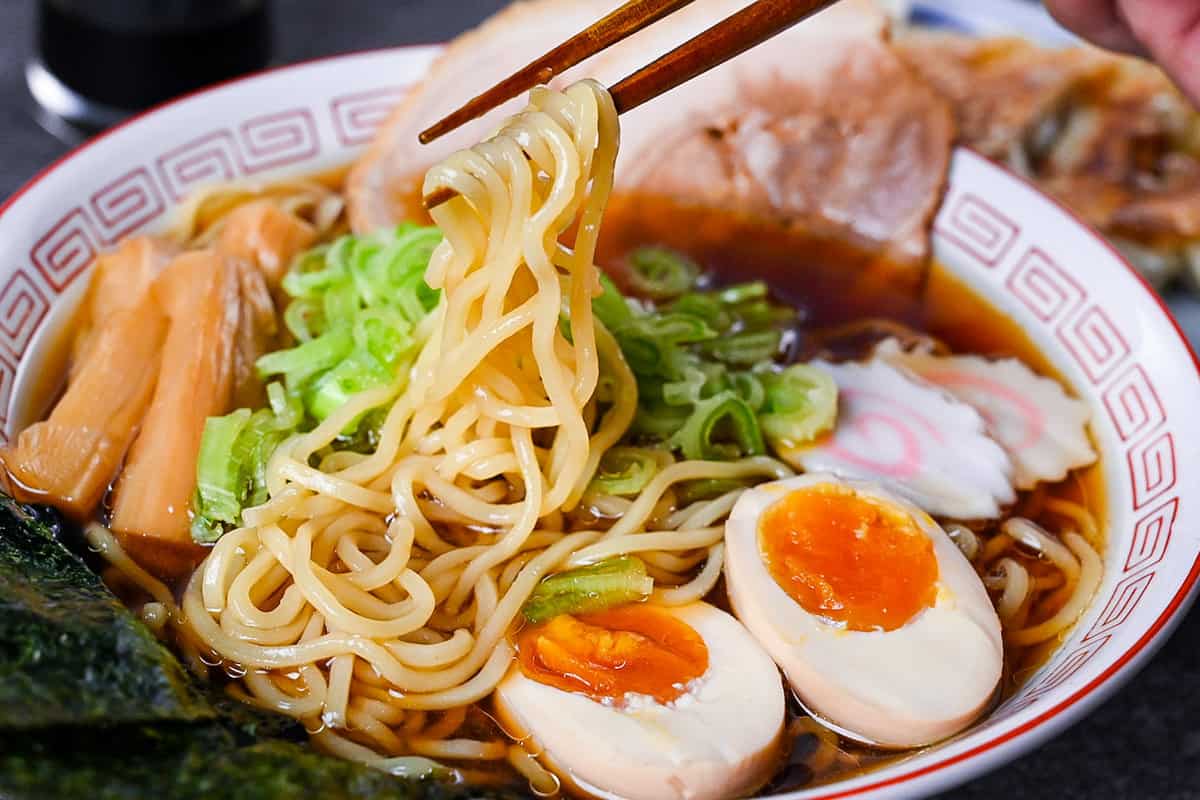 In addition to the different noodles, Nagasaki Champon isn't served with traditional ramen toppings such as chashu, ramen eggs or menma (fermented bamboo shoots). Instead it's topped with sautéed pork and seafood such as (prawns and octopus) and a variety of crunchy stir fried vegetables.
Soup and noodles
Champon's soup and noodles used to make Nagasaki champon are very distinctive.
The soup is usually pale in colour and flavoured with pork or chicken broth. To skip the long simmering time of making broth from scratch, I used "garasupu" Chinese chicken bouillon granules in my recipe. (You can purchase it here on Amazon.)
As for the noodles, fresh ramen noodles are best because they cook in the shortest time. Usually the thicker variety are used (using cutting blade number 16) so just use the thickest ramen noodles you can find. I recommend cooking the noodles separately to avoid making the broth starchy and thick.
What is Ringer Hut?
I've mentioned the name "Ringer Hut" quite a few times, but what exactly is Ringer Hut? Well, Ringer Hut is a popular Japanese fast food restaurant that specializes in Champon and another Chinese-inspired dish from Nagasaki called "Sara Udon" (crispy noodles with vegetables and seafood).
It was created by a company named "Hamakatsu Co." which was founded in Nagasaki prefecture in 1970. They opened their first Ringer Hut restaurant in 1977.
The name "Ringer" was taken from an English merchant who was very influential in Nagasaki in the 1890s. (He was actually from Norwich, UK which is where I lived and studied for 4 years!)
The popularity of Ringer Hut and their signature dishes spread across Japan and in June 1985, the 100th Ringer Hut restaurant opened. Not only that, but in October of that same year, the company got listed on the Fukuoka Stock Exchange (8200).
To this day, there are over 550 Ringer hut restaurants across Japan and Taiwan. Hamakatsu Co. also owns more than 100 tonkatsu (pork cutlet) restaurants too.
As for their operations abroad, there are restaurants in:
There also used to be restaurants in San Jose, New York and Hong Kong but they have since closed down.
Well, if you don't live near Ringer Hut there's no reason to fear. With my recipe, you can make delicious homemade Nagasaki Champon in your own kitchen!
Ingredients used in Nagasaki champon
Using specific ingredients kind goes against the spirit of "mixing a variety of stuff", but as an example, Nagasaki champon served at Ringer Hut consists of:
Pork belly
Small shrimps
Carrot
Cabbage
Beansprouts
Kamaboko (Japanese fish cakes)
Sweetcorn
Wood ear (a type of mushroom)
Onion
I don't can't think of any other noodle dishes that contains this many toppings! Of course you can omit/replace some ingredients according to your preference.
And for the broth I use the following: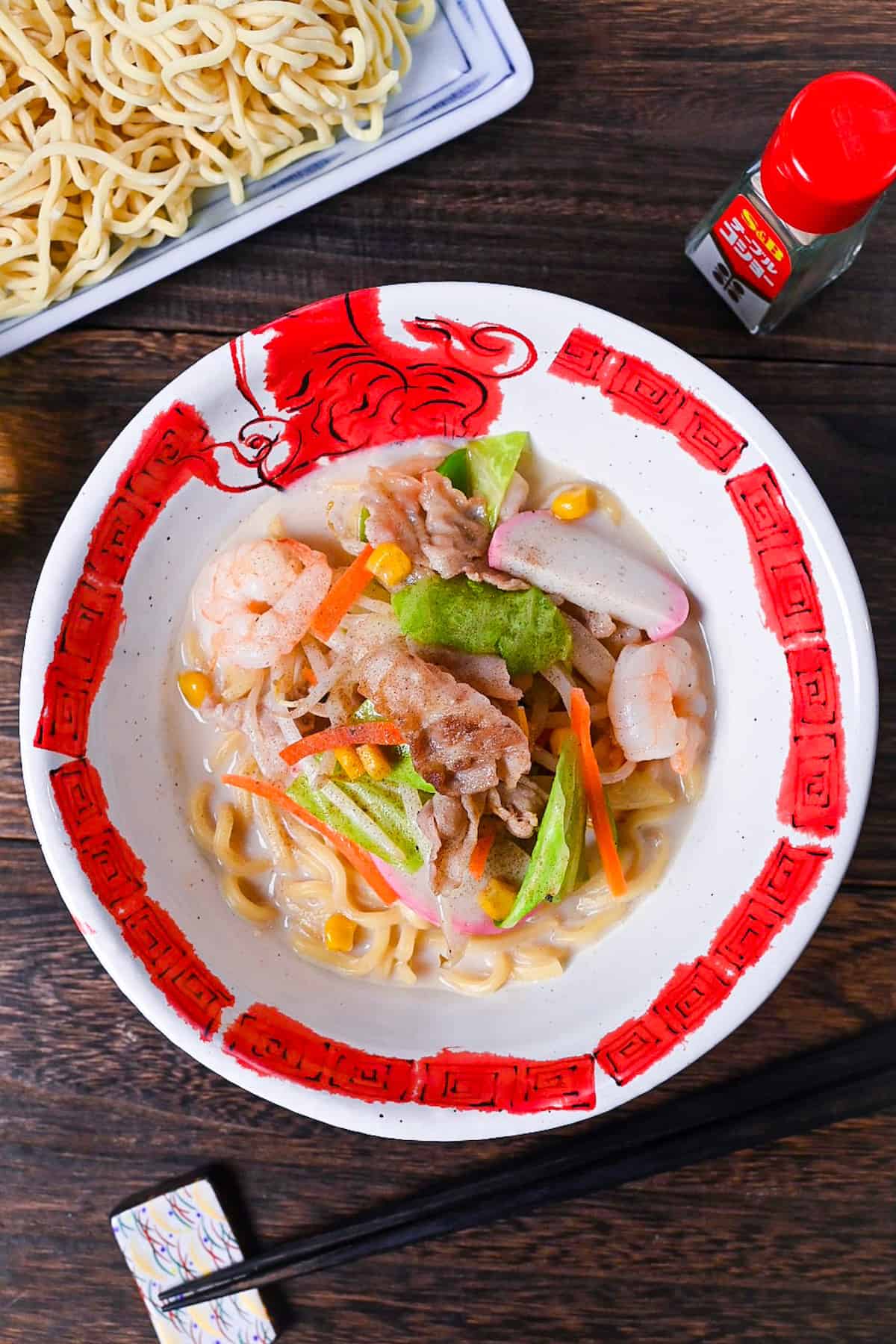 Instructions on how to make nagasaki champon at home
Nagasaki champon is a great recipe to make at home due to the simple broth and quick to cook toppings. Here are my step by step instructions with process pictures. See the recipe card at the bottom of the page for ingredient quantities.
Prepare the toppings
Since the toppings are only going to be sautéed for a few minutes, I recommend cutting them thin and small.
From left to right I prepare the vegetables and kamaboko as follows:
Onion – thinly sliced
Beansprouts – as they are
Cabbage – roughly cut
Kamaboko (pink and white fish cake) – thinly slices
Spring onion (naganegi) – thin, diagonal slices
Sweetcorn – pre-cooked from can
Carrot – julienned
Of course you don't have to cut them exactly the same or even use the same ingredients, this is just a guide.
Fry the proteins
Start by heating a wok or large frying pan on medium and once it's hot, add lard or cooking oil. Add your meat first and seal on both sides. I used thinly sliced pork belly. Once it's sealed, add the shrimp (or seafood of your choice) and sprinkle with a generous pinch of salt and pepper.
Add the vegetables
Once the meat and seafood are cooked, add the vegetables and kamaboko altogether.
If there are certain vegetables that you prefer to be a bit softer (such as onion or carrot), you can add those first to fry them for a bit longer. However, one of the appeals of this dish is the crunchy and refreshing toppings so be careful not to overcook!
Stir fry everything for a few minutes until it looks like this:
Once cooked, remove from the heat and set aside for later.
Make the broth
To make the broth, add the dashi, soy sauce, grated garlic, grated ginger and oyster sauce to a saucepan. Heat on medium and once warm, add the Chinese chicken bouillon granules and stir.
When the chicken bouillon has dissolved into the liquid, turn off the heat and add the whole milk.
To prevent the milk from curdling in the broth, heat just before serving and be careful not to let it boil. Alternatively, heat it on low while the noodles are cooking and turn off the heat if you start to see small bubbles appear around the edges.
Cook the noodles and heat the broth
Bring a pot of water to a rolling boil and add your ramen noodles. Boil according to the instructions on the packaging.
When the noodles only have a few minutes left, heat up the broth.
Because the broth contains milk, it's prone to curdling. Be careful not to overcook or heat it up too quickly. For best results, heat it on low to medium-low and don't let it get any hotter than 75°C (167°F). If bubbles start appearing around the edges or you start to hear bubbling, turn off the heat.
Assemble
Divide the cooked ramen noodles into serving bowls.
Add about 250ml of broth per person.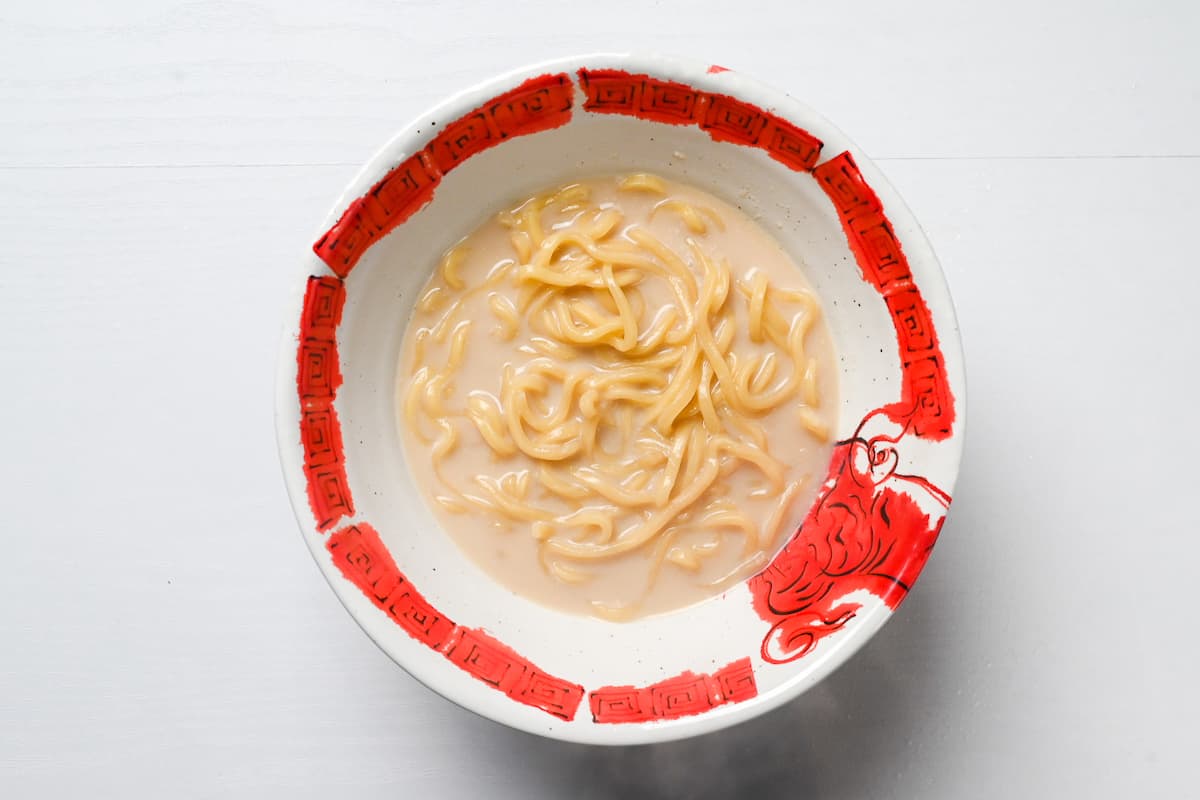 Place the meat, seafood and vegetables on top.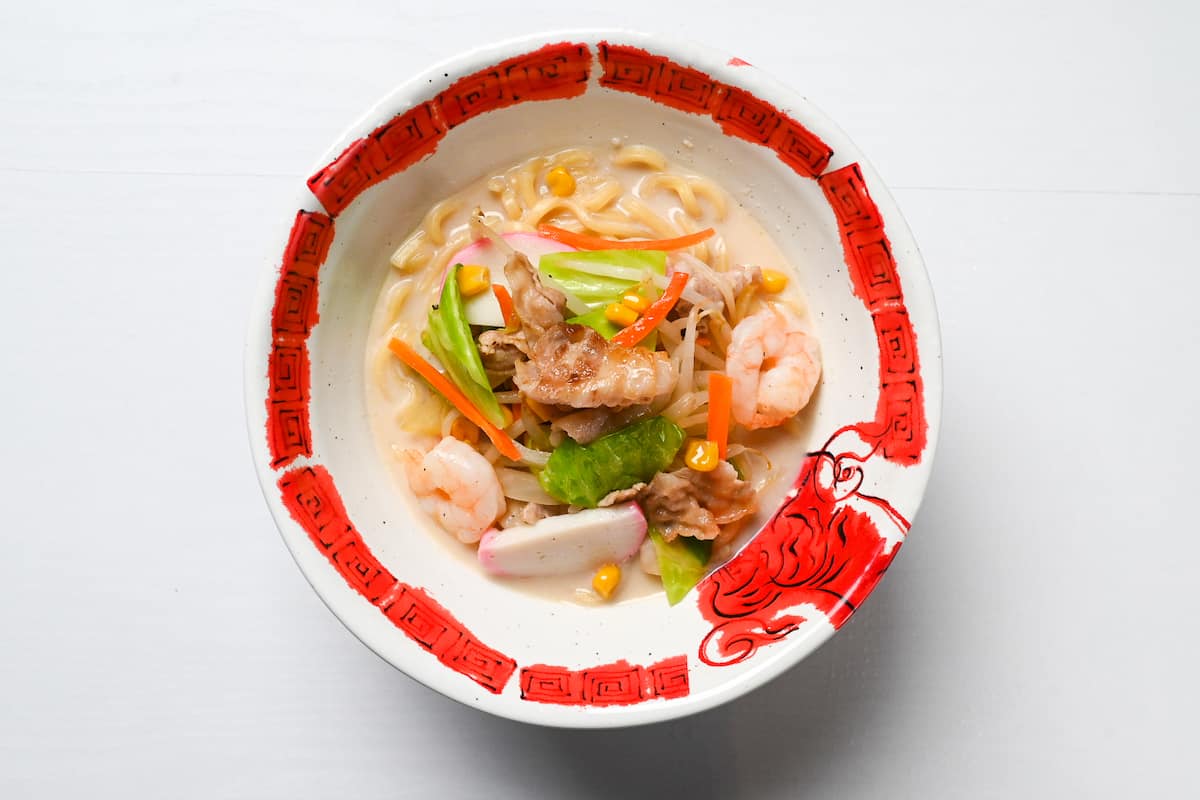 Sprinkle with white pepper and enjoy!
Substitutions and variations of this champon recipe
In this section, I will list all the alternative ingredients, substitutions and variations against the recipe card below to make the best champon to your preference:
Other type of seafood such as scallops, squid, mussels: Instead of or in addition to shrimp.
Chikuwa: instead of kamaboko
Woodear mushroom: additional vegetable for a nice hint of umami and pleasant texture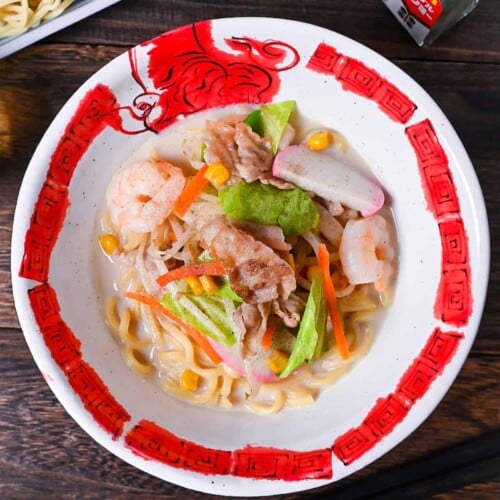 Nagasaki Champon Ramen Noodles (Ringer Hut Style)
---
How to make vibrant, colourful and delicious Ringer Hut Style Nagasaki Champon Noodles with thinly sliced pork, juicy shrimps and crunchy vegetables in a rich, milky broth.
---
---
---
---
Equipment
Red dragon ramen bowl

Noodle strainer
Ingredients
1

tsp

lard

or cooking oil

100

g

pork belly

thinly sliced

8

shrimp

deshelled, deveined with tails removed

1

pinch

salt and pepper

50

g

yellow onion(s)

thinly sliced

100

g

beansprouts

50

g

green cabbage

roughly cut

20

g

green onion(s)

thin diagonal slices

8

slices

Japanese fish cake "kamaboko"

kamaboko

20

g

sweet corn

20

g

carrot(s)

julienned
Broth
400

ml

dashi stock

100

ml

milk

1

tbsp

Chinese-style chicken bouillon powder

½

tbsp

soy sauce

1

tsp

garlic paste

or grated

1

tsp

ginger paste

or grated

1

tsp

oyster sauce

2

portions

ramen noodles

preferably thick type

white pepper

sprinkle at the end, optional
Instructions
Heat a wok or large frying pan or wok on medium and add

1 tsp lard

.

Once hot, fry

100 g pork belly

until both sides are sealed and add

8 shrimp

with

1 pinch salt and pepper

.

Once the pork and shrimps are cooked on the surface, add

8 slices Japanese fish cake "kamaboko"

and

50 g yellow onion(s)

,

100 g beansprouts

,

50 g green cabbage

,

20 g green onion(s)

,

20 g sweet corn

, and

20 g carrot(s)

together.

Stir fry everything together until cabbage is softened and the pork and shrimps are cooked all the way through. Turn off the heat and set aside for later.

Take a saucepan and add

400 ml dashi stock

,

1/2 tbsp soy sauce

,

1 tsp garlic paste

,

1 tsp ginger paste

and

1 tsp oyster sauce

.

Heat the broth on medium. Once hot, add

1 tbsp Chinese-style chicken bouillon powder

and mix.

Once the chicken bouillon has dissolved, turn off the heat and add

100 ml milk

. Heat up on medium just before serving.

Boil

2 portions ramen noodles

in a separate pot according to instructions the packaging. When the ramen has 2-3 minutes left, reheat the broth. (Important: Be careful not to let the soup boil to prevent the milk curdling.)

Once the noodles are cooked, dispose of the water and place the noodles in the serving bowls. 

Pour broth over each serving of noodles.

Top the noodles with the stir fried meat and vegetables.

Sprinkle with

white pepper

(optional) and enjoy!
Notes
To prevent the milk from curdling be sure not to let the broth boil!
What is Nagasaki Champon?
Nagasaki Champon is a vibrant noodle dish made with thick and chewy noodles topped with pork, seafood and a variety of vegetables served in a rich and milky broth.
What is champon in Japanese?
Other than this noodle dish, the word "champon" also means a mixture or mixture of various things in Japanese.