Pork udon is a delicious noodle dish made with thin slices of juicy pork belly, soft sautéed onions and thick, chewy udon noodles served in a rich dashi broth. It's quick, easy and comforting on those chilly days!
Disclaimer: This post may contain affiliate links. Sudachi Recipes is part of the amazon associates programme and earns a small percentage from qualifying purchases at no extra cost to you. See disclaimer for more info.
Jump to:
Pork udon
Pork udon (豚肉うどん) or "butaniku udon" is a type of hot noodle dish made with thick udon noodles served in a tasty dashi broth and topped with marinated pork and sautéed onions.
It's also often called "niku udon" (肉うどん) for short, which simply means "meat udon" in Japanese.
Meat udon can actually be made with beef or pork. In fact, the meat preference for this dish depends on the region. In Eastern Japan (Kanto), pork is most commonly used while in the West (Kansai) they tend to use beef more.
I live in central Japan so I don't have a strong preference, I eat both often! However, if you're interested in making beef udon, check out my recipe here.
I find that beef udon is quite rich and meaty, while pork udon is a bit lighter but packed with umami. They're both delicious, that's for sure!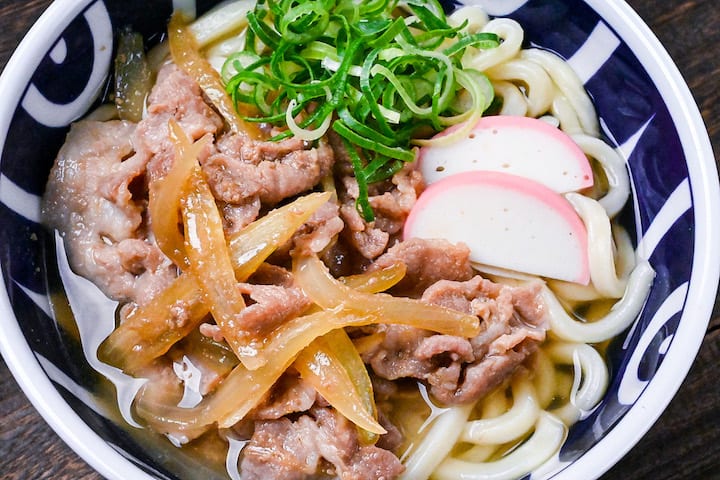 Parts of pork to use
Generally speaking, you can use any parts of pork for pork udon, but I personally recommend thinly sliced pork belly. You could also use shoulder or end cuts if you prefer.
Using a fatty cut adds more flavour and sweetness to the broth.
The reason why I like to use thin slices specifically is because they cook quickly without becoming chewy or tough.
If you can't purchase thinly sliced pork belly in your country, I recommend freezing a block of pork for a short time and then once it's firmed up, cut it into thin slices using a sharp knife. The pork shouldn't be completely frozen, just cold enough that it's firm and easier to cut.
Udon Broth
One of the most vital ingredients in an udon soup is "dashi" (出汁). Dashi is a type of Japanese soup stock and can be made with a number of different ingredients.
The most common ingredients used to make dashi are:
Homemade Dashi
For the perfect udon broth, I highly recommend making your own dashi from scratch. It's easy to do and doesn't take too long either! Check out my recipes below:
Dashi Shortcut
If you can't access the ingredients or simply don't want to spend time making homemade dashi, I recommend using dashi bags (Amazon link). They're kind of like tea bags that you brew in hot water. These will produce a decent quality dashi in just a few minutes!
Shirodashi
When making pork udon in particular, I like to use a condiment called "shirodashi" (白だし).
Despite the name, shirodashi is not a type of dashi and instead a seasoning made from light soy sauce, mirin and sugar combined with a dried kelp and bonito flake dashi. It's basically a type of "mentsuyu sauce".
"Mentsuyu sauce" is a concentrated sauce used to make noodle broths and dipping sauces. I have a homemade tsuyu sauce recipe if you want to try making it from scratch!
The main element that makes "shirodashi" different to regular mentsuyu, is that it's made with light soy sauce instead of regular soy sauce. This gives the sauce a lighter colour yet it's slightly saltier than using regular soy sauce.
Shirodashi perfect for dishes where you want to maintain the vibrant colours of the ingredients or keep the broth light in colour without compromising the taste.
You can purchase shirodashi on Amazon here.
If you can't buy shirodashi, you could use regular soy sauce instead, just keep in mind that the broth will be darker and the ingredients might become more brown.
Print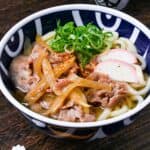 Pork Udon Noodles Soup (豚肉うどん)
---
Author:

Yuto Omura

Total Time:

25 mins

Yield:

2 servings
Description
How to make rich and delicious Pork Udon (豚肉うどん) from scratch. Serves 2.
---
Marinating the pork
150g

pork belly thinly sliced

¼

white onion cut into thin wedges

1 tbsp

shirodashi (or soy sauce)

1 tbsp

mirin

1 tsp

oyster sauce

½ tsp

sugar

½ tsp

ginger paste

50

ml water

½ tsp

salt
Broth
Cooking / Serving
1 tsp

vegetable oil

2

portions of udon noodles
Chopped spring onion (to garnish)

4

slices kamaboko fish cakes (optional)
Shichimi Togarashi (optional)
---
Instructions
Marinating Pork and Onion
Place 150g thinly sliced pork belly into a container and add 1 tbsp shirodashi, 1 tbsp mirin, 1 tsp oyster sauce, ½ tsp sugar and ½ tsp ginger paste and 50ml water. Allow to marinade for at least 10 minutes.
In a separate bowl, add ¼ a sliced onion, ½ tsp salt and mix well. Set aside until it's time to cook.
Making the broth
Take a pot and add 500ml dashi, 1 tbsp shirodashi (or soy sauce), 1 tbsp mirin and 1 tsp sugar.
On a medium heat, bring the broth to a boil. Allow it to boil for 1-2 minutes to burn off the alcohol in the mirin.
Turn off the heat but leave the pot on the stove to keep it warm. 
Cooking
Heat a pan on medium, once hot add 1 tsp of vegetable oil and the salted onion. Fry until softened.
Once onions are softened, add the pork belly and marinade to the pan and fry everything together until the meat is browned.
While the meat and onions are cooking, boil the udon in a separate pot. Follow the instructions on the packaging.
Once the udon is cooked el dente (firm to the bite), pour the noodles into a colander to drain the water, and rinse with boiling water.
Divide the udon into two bowls and pour half of the broth into each bowl.
Place the pork and onions on top of the udon. Make sure to pour the juice from the pan over the top of the dish.
Garnish each bowl with a few slices of kamaboko, some chopped spring onion and a sprinkling of shichimi (optional).
Mix well before eating and enjoy!
Notes
If you can't find shirodashi, you can use regular soy sauce instead. (The colour of the broth will be darker.)
Check out my beef niku udon recipe here.
Prep Time:

15 mins

Cook Time:

10 mins

Category:

Noodles

Method:

Boiling

Cuisine:

Japanese
Keywords: pork udon, how to make pork udon, pork udon soup, pork udon recipe, how to make pork udon soup, pork niku udon, pork udon noodles, pork and udon noodle soup, buta niku udon, niku udon pork, niku udon with pork, pork belly noodle soup, Japanese pork belly soup, buta udon, buta udon recipe, how to make buta udon,